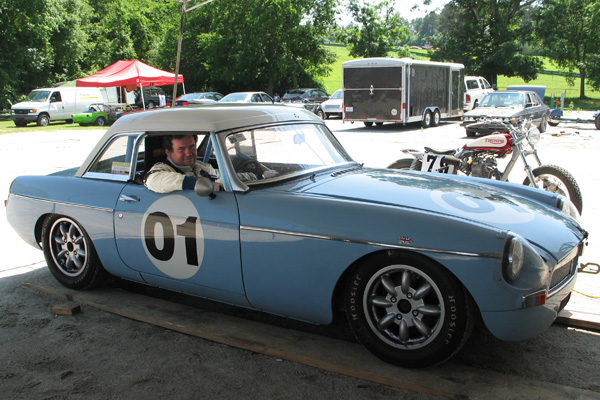 Alan Tosler's MGB Race Car, Number 01
Owner: Alan Tosler
City: New York, NY
Model: 1964 MG MGB
Engine: BMC B-Series 1.8L
Built by: Mike Kusch at Hourglass Motorsport
Features and Specifications
Engine:
BMC B-Series, five-main-bearing engine block, nominally 3.16" bore by 3.50" stroke, bored 0.047" over. Carrillo rods and forged pistons. Fab-tek roller rockers. Dual S.U. HS6 carburetors with shortie aluminum velocity stacks. Crane Cams FireBall multiple spark, capacitive discharge, electronic ignition. Lucas Sport Coil. Internal oil pump. K&N oil filter. Oil cooler.

Cooling:
Howe aluminum radiator (part# 342MG1).

Exhaust:
Fab-tek header.

Transmission:
MGB four synchro transmission with straight-cut, close ratio gears.

Rear Axle:
MGB banjo axle with tube axle ends (for heavier bearings, etc.) and, depending on the track, a choice of two ring and pinion sets sets: 4.1:1 and 4.3:1 (the latter with Salisbury-type clutch pack limited slip differential.)

Front Susp.:
dropped spindles. Uprated front springs. Rebuilt Armstrong shock absorbers. Fab-tek anti-sway bar.

Rear Susp.:
MGB leaf springs, with two of the six leafs removed. Knee action shock absorbers. Fab-tek anti-tramp bars and anti-sway bar.

Brakes:
(master) later model MGB (dual-circuit), with Wilwood bias valve on the rear circuit.
(front) stock MGB rotors and calipers.
(rear) MGB drums, with MGB GT slave cylinders.

Wheels/Tires:
Minilite MagStyle aluminum wheels. Hoosier "Street T.D." P205/60D14 bias ply tires.

Electrical:
lead/acid battery. (No charging system.)

Instruments:
(left to right) Stewart Warner oil temperature (140-320F) gauge, Westach dual EGT gauge (700-1700F), TraqMate Classic Display (digital electronic lap timer), Stewart Warner oil pressure gauge (0-100psi), Smiths speedometer, AutoMeter SportComp tachometer (0-10000rpm)

Fuel System:
ATL fuel cell. Holley "red" fuel pump. Fram HPG1 fuel filter. Holley fuel pressure regulator.

Safety Eqmt.:
ButlerBuilt seat. Willans 6-point cam-lock safety harness. Moto-Lita steering wheel with quick release hub.

Body:
deep section front apron with oil cooler hole. Sebring headlamp fairings. Fiberglass Sebring-style rear valance. Factory hardtop. Leather bonnet and boot hold-down straps.

Racing Class:
3DP


Please support the sponsoring companies who make www.BritishRaceCar.com possible, including:

Engine Installation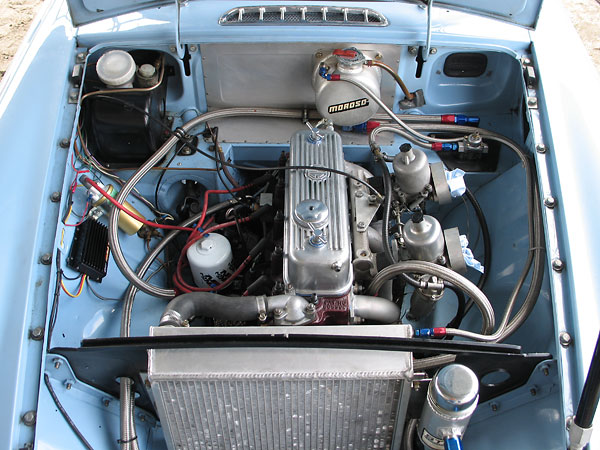 BMC B-Series 1.8L four cylinder engine.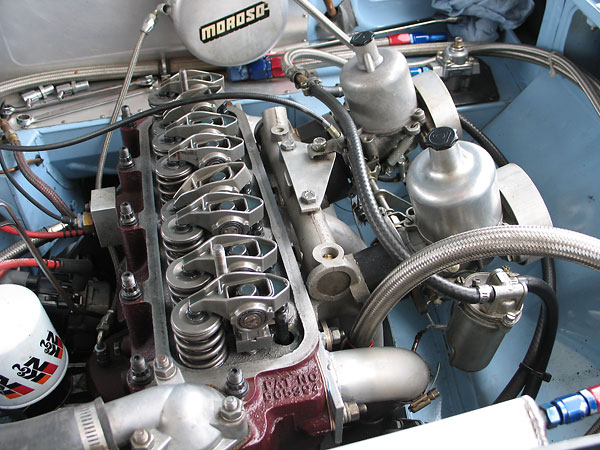 Fab-Tek roller rockers provide a higher lift ratio (1.6:1) and more stability at high engine speeds.
The rocker arms themselves are actually Chevrolet Cavalier parts. Their use on an MGB requires
machine work on the cylinder head, plus adjustable pushrods, a mounting plate, and an oil spray
bar mounted to the valve cover and fed by a braided hose from the main oil galley, as shown.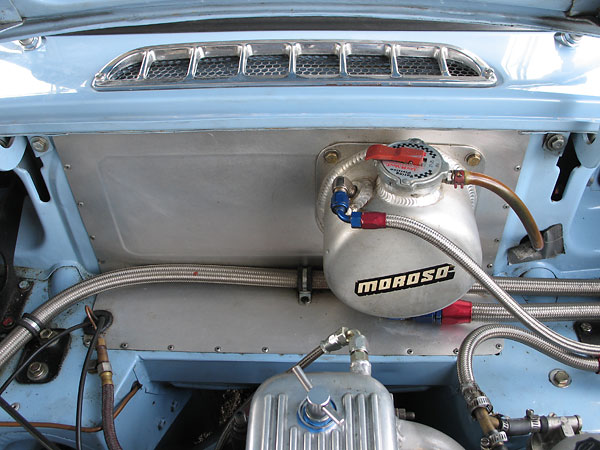 Moroso cooling system expansion tank.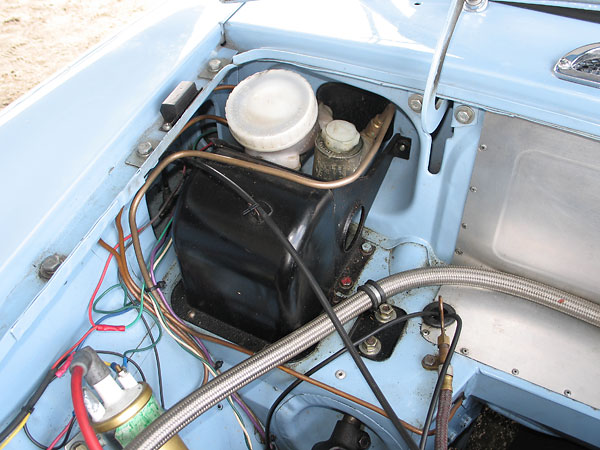 Later model MGB dual-circuit master cylinder.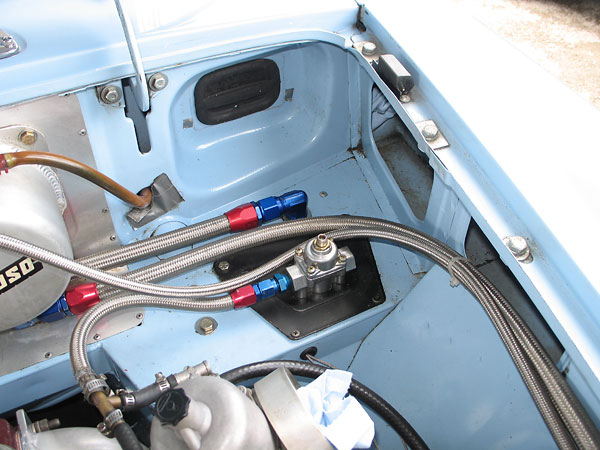 Holley fuel pressure regulator.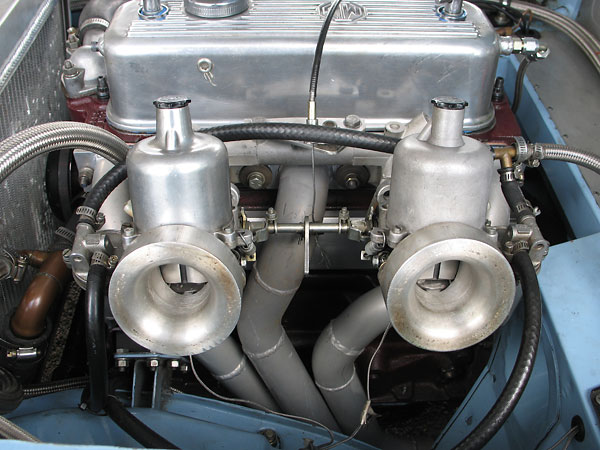 Fab-tek exhaust header. Note also shortie aluminum velocity stacks.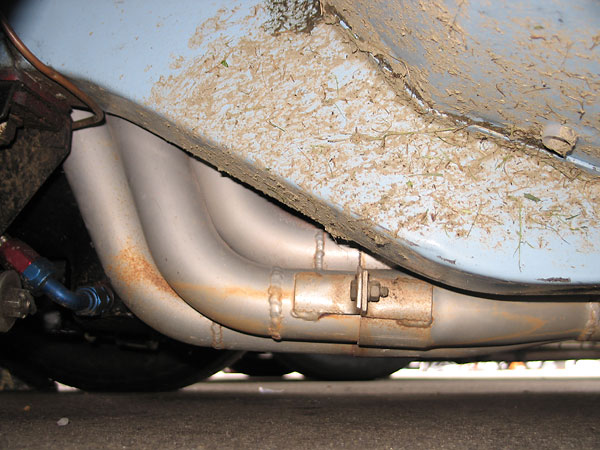 Header collector.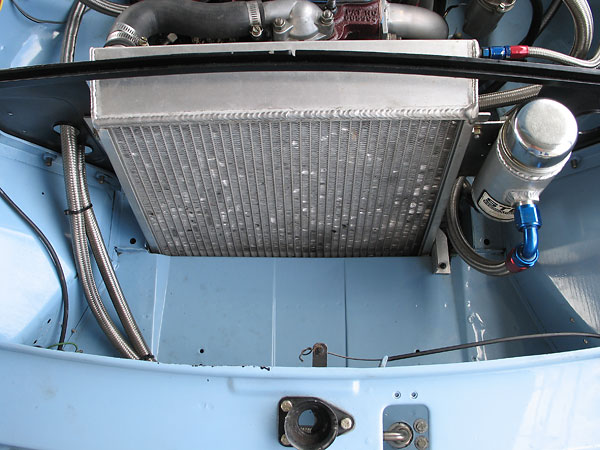 Howe aluminum radiator (part# 342MG1).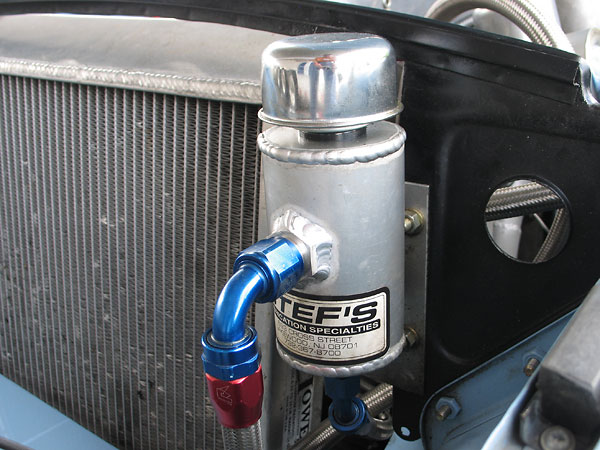 Stef's Fabrication Specialties overflow/breather tank.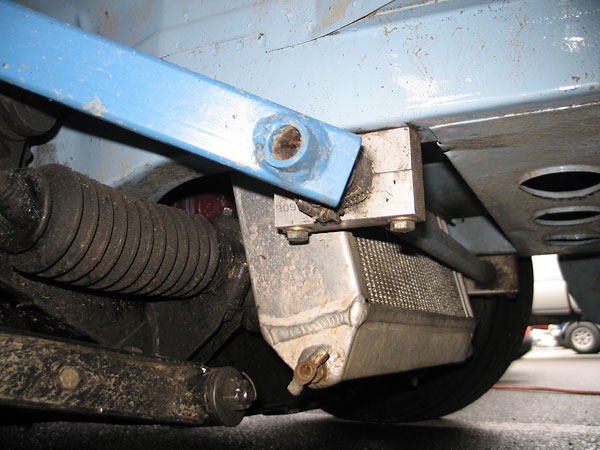 Howe aluminum radiator's lower tank and drain petcock.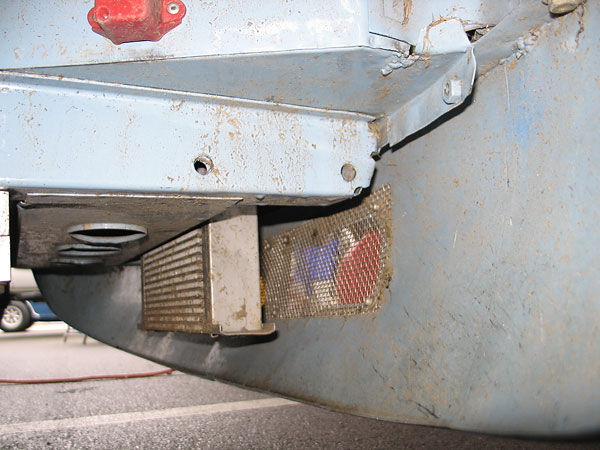 Oil cooler. Note also aluminum front valance.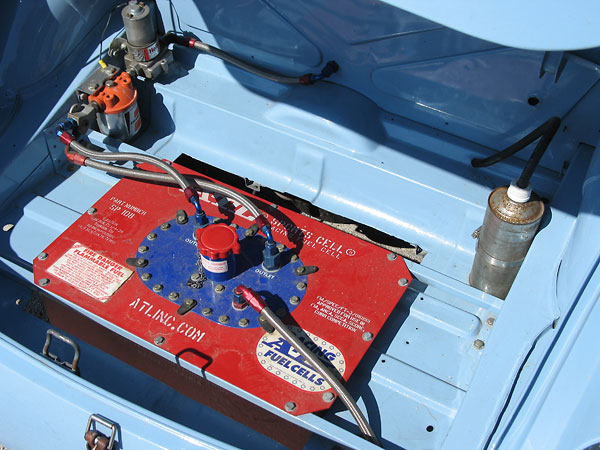 ATL fuel cell. Holley "red" fuel pump. Fram HPG1 fuel filter.


Enjoying this article? www.BritishRaceCar.com is partially funded through generous support from readers like you!
To contribute to our operating budget, please click here and follow the instructions.
(Suggested contribution is twenty bucks per year. Feel free to give more!)
Front Suspension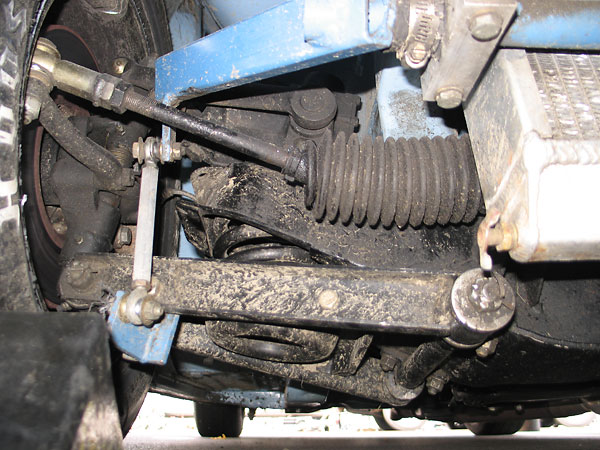 Dropped spindles...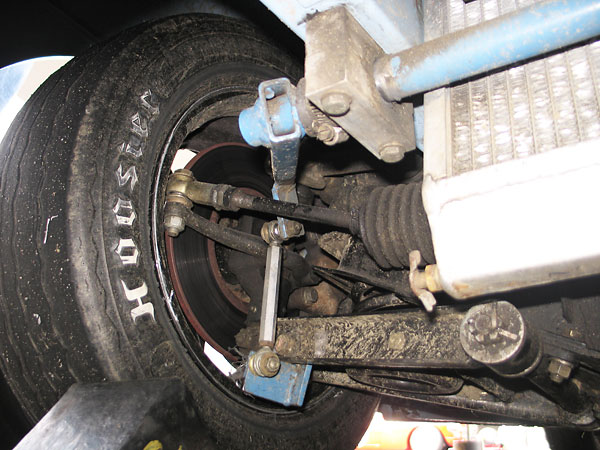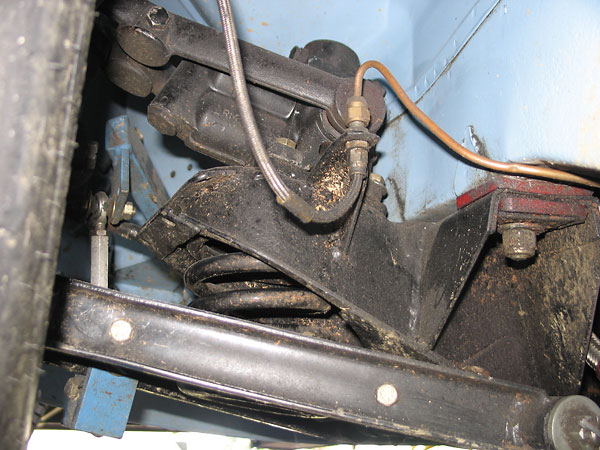 The suspension crossmember is mounted on polyurethane pads.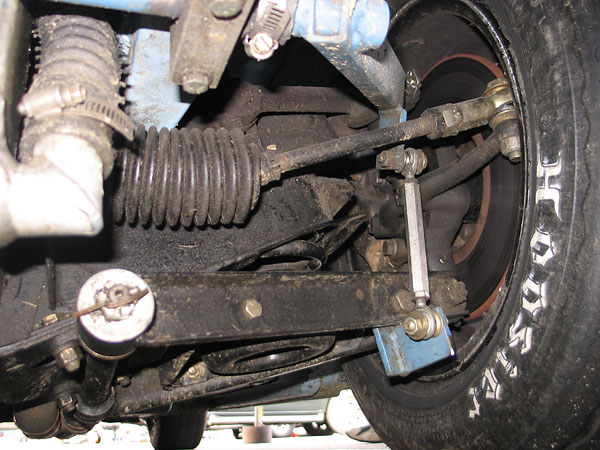 Fab-tek tubular front anti-sway bar, on aluminum pillow blocks.



Rear Suspension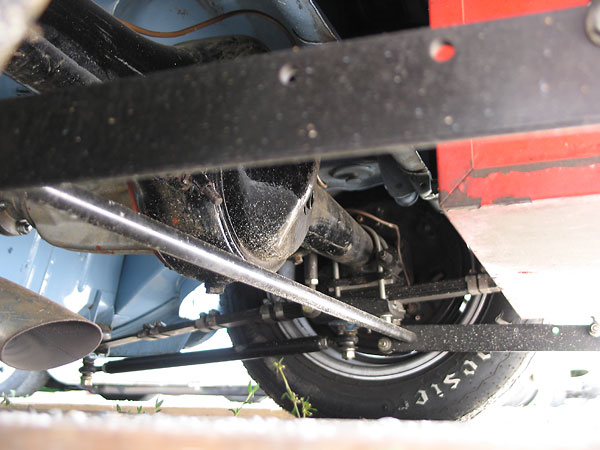 Early-model MGB "banjo" axle, except with later-model "Salisbury" tube axle ends spliced on because
they provide heavier duty bearings. Banjo and Salisbury MGB axles utilize the same brake components.
The banjo axle is preferred because it's lighter, and because more appropriate gear ratios and differentials
are readily available for it. (The aluminum "pumpkin", shown here, is a standard feature of the banjo axle.)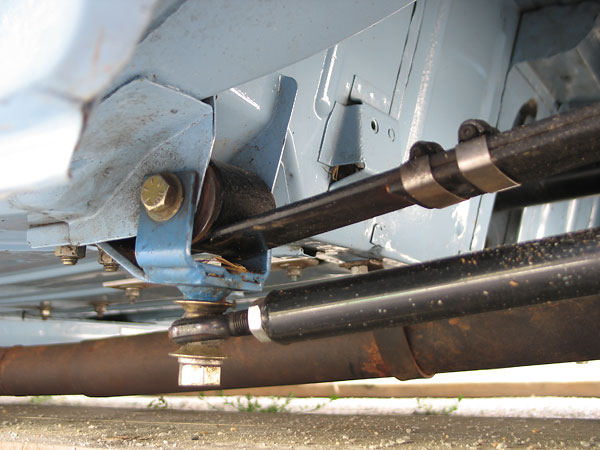 Fab-Tek anti-tramp bars.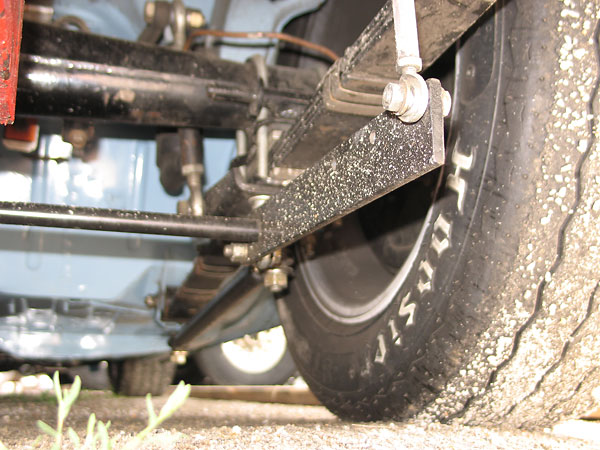 Fab-Tek rear anti-sway bar.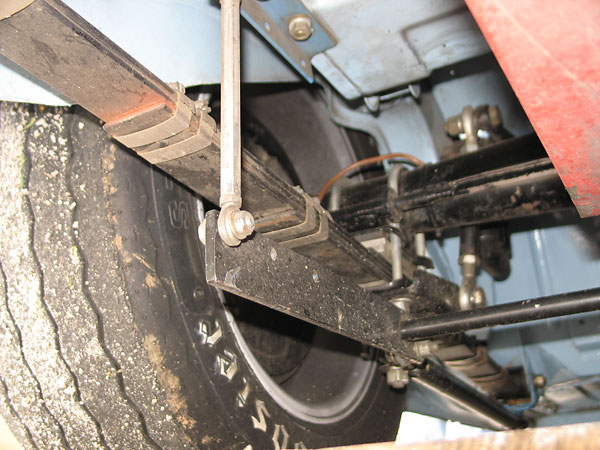 Note that knee action shock absorbers are being used, except with adjustable Heim-jointed links.


Interior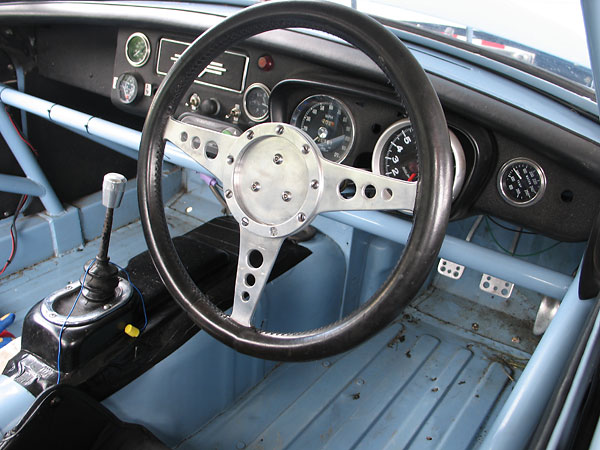 A quick release steering wheel hub makes it easier to get in and out of the car.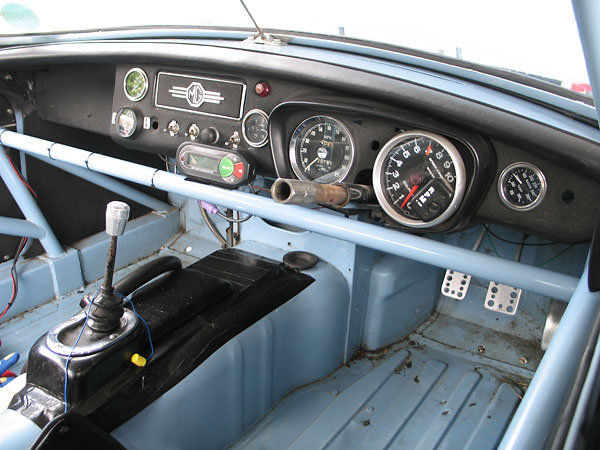 The electronic module (left of the steering column) is part of a Traqmate GPS data acquisition system.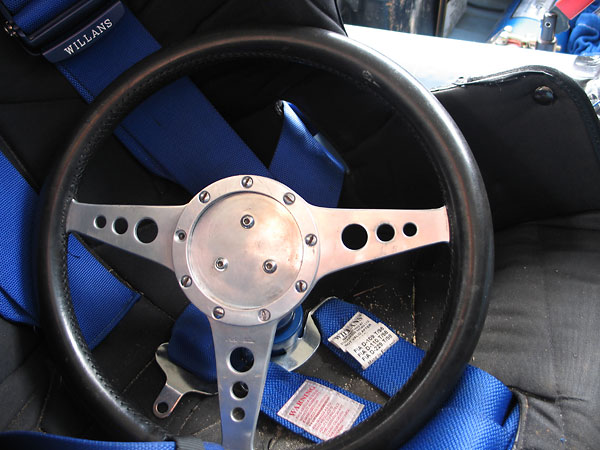 Moto-Lita steering wheel.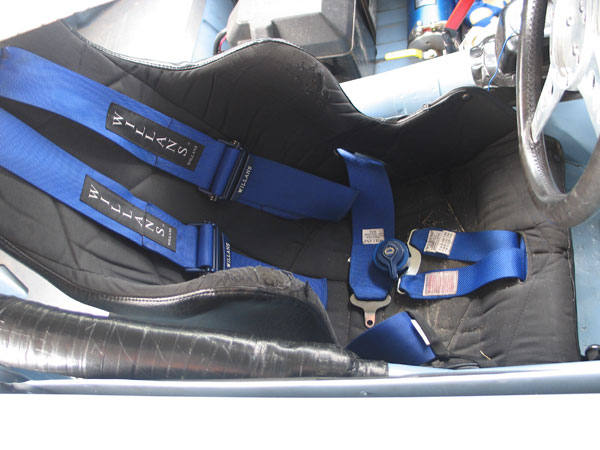 ButlerBuilt seat and Willans 6-point cam-lock safety harness.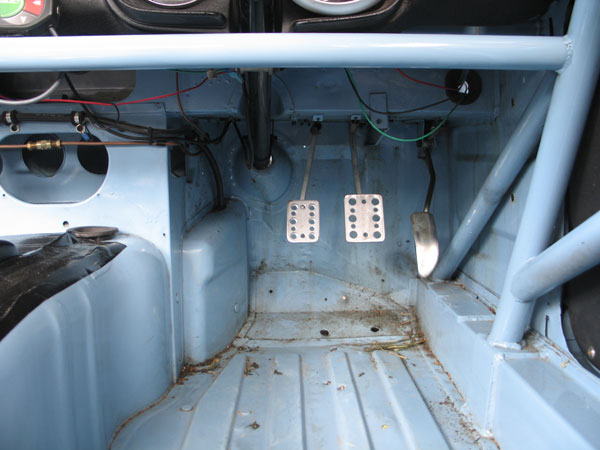 This car was converted to right-hand-drive. Alan learned to drive on the right, back home in England.
Another reason to prefer right-hand-drive is that all the tracks Alan races on are clockwise. In terms
of weight bias and driver visibility, right hand drive provides a small advantage on right hand corners.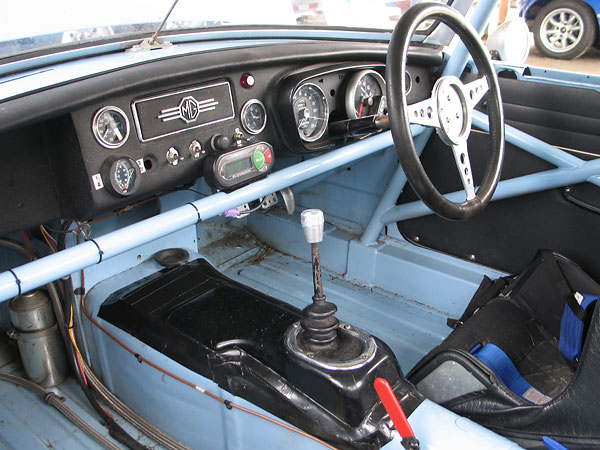 The red lever (in foreground) is for the Wilwood adjustable brake bias valve.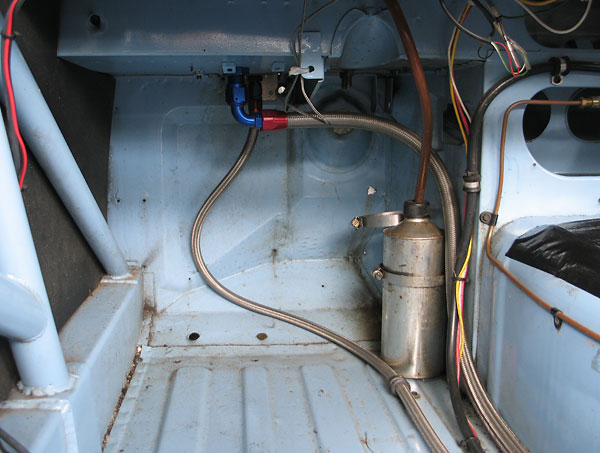 Cooling system overflow tank, fuel supply line (3/8") and the oil hose to the Accusump (1/2").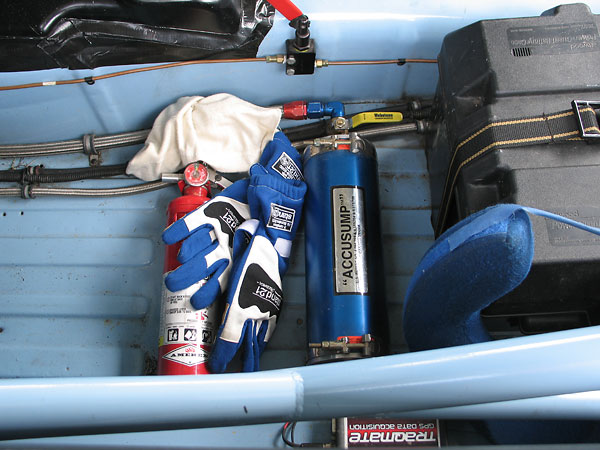 2 quart capacity Accusump cylinder. Accusump provides oil flow before engine start-up.


Exterior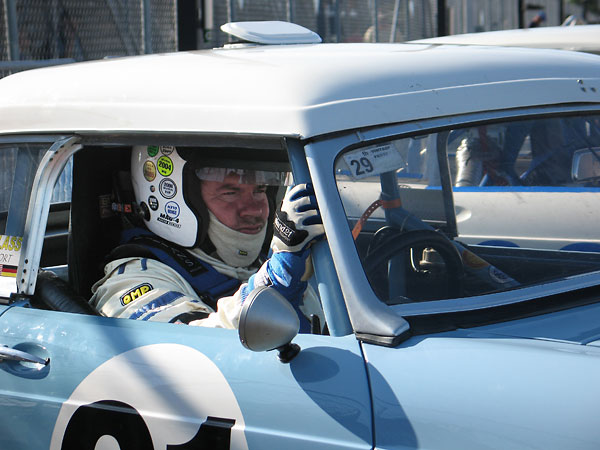 Alan awaits the start of the 2009 Collier Cup Feature Race at Watkins Glen International.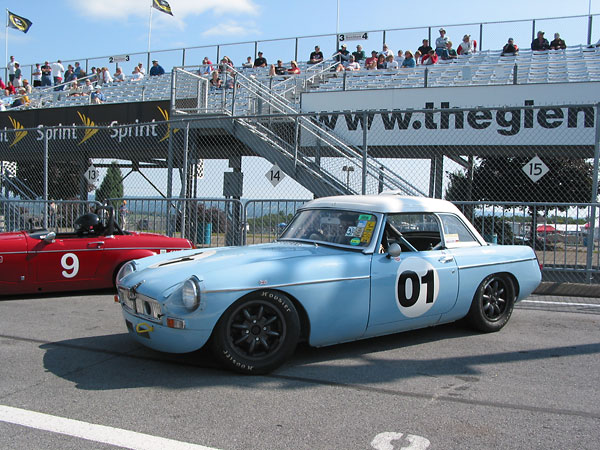 Genuine Minilite "MagStyle" Made-in-England wheels from Targett MotorSport.
(These wheels are available in silver, gold, white, anthracite, satin black and gloss black.)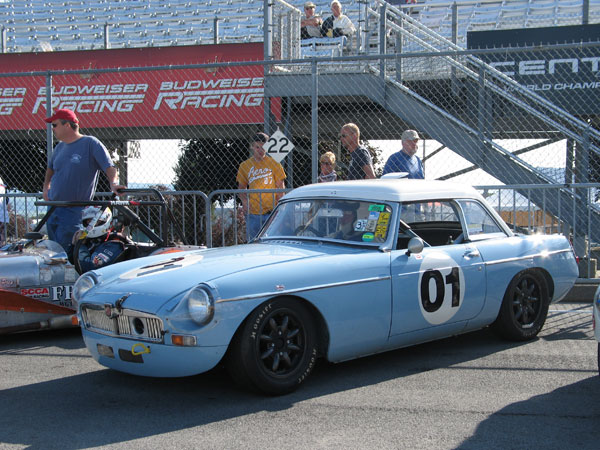 A reliable MGB like Alan's can compete in five different races in one Watkins Glen
Vintage Grand Prix weekend, plus multiple qualifying and practice sessions.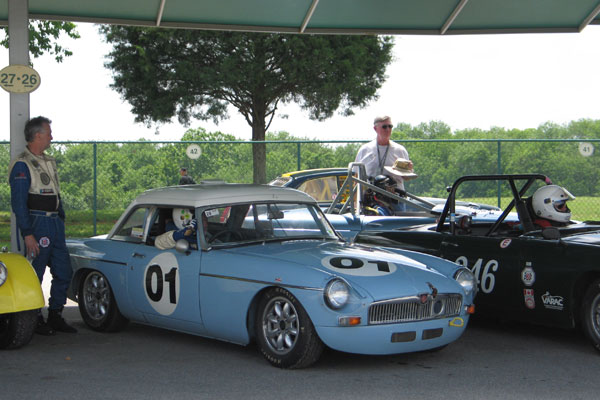 Staging for a race at V.I.R. - Les Gonda stands by.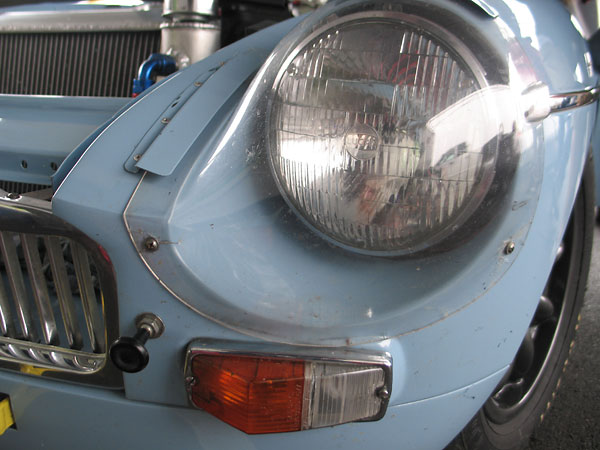 Sebring headlight cover. Note also the re-located bonnet release knob.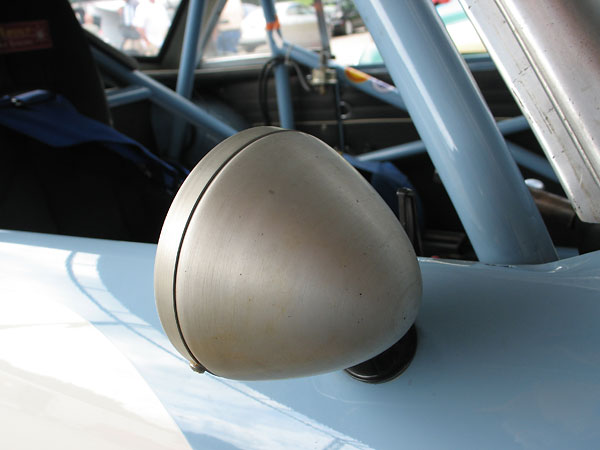 GT Classic mirror.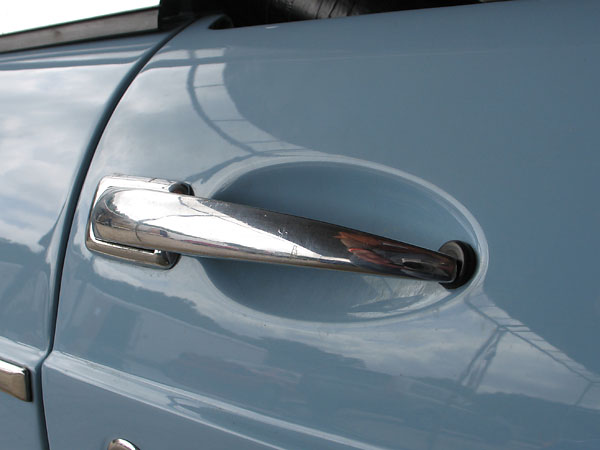 Pull handle.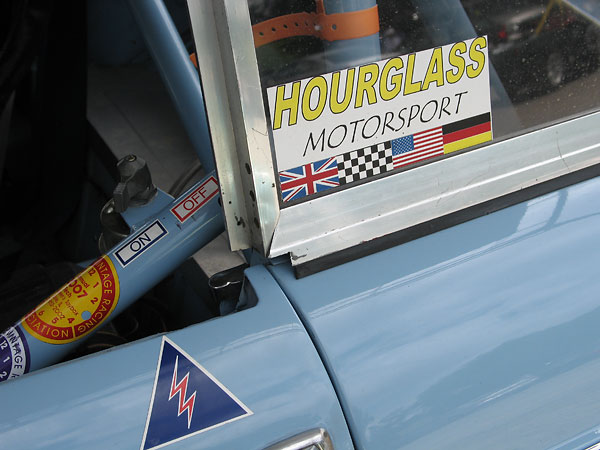 Hourglass Motorsport.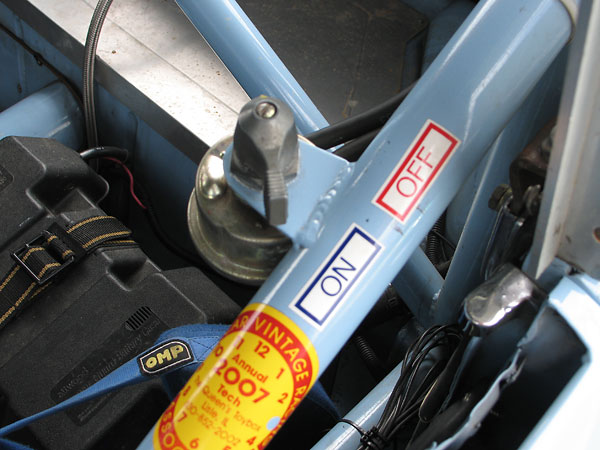 Emergency shut-off and battery disconnect switch.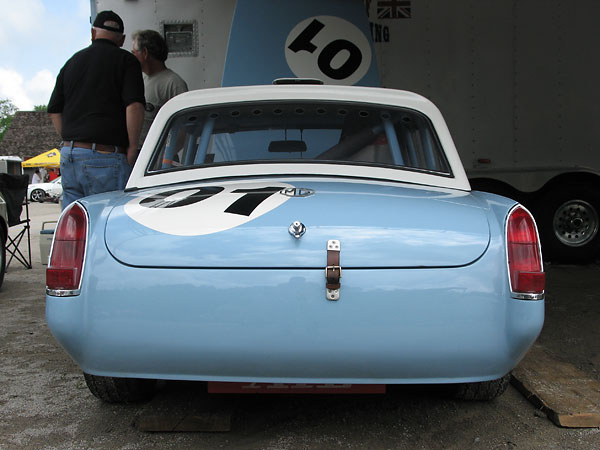 Factory hardtop, and "Sebring style" rear valance.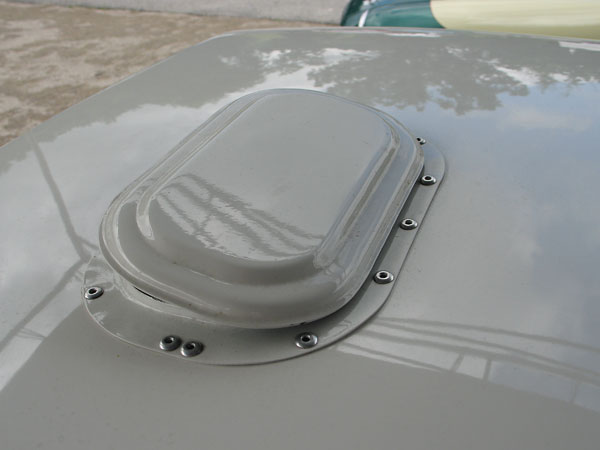 This is a period vent, as fitted to some of the Competitions Department's MGB's.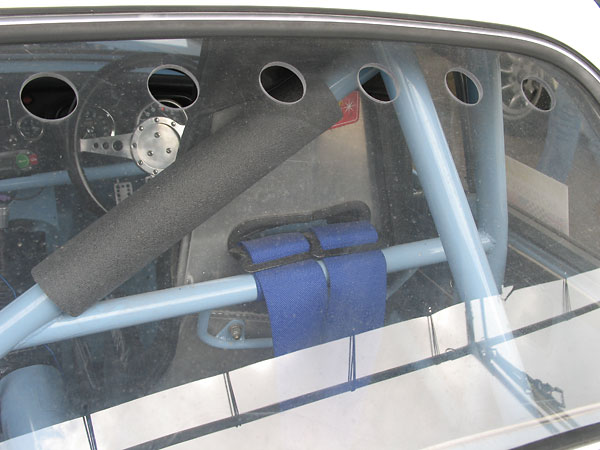 Shoulder harness attachment bar.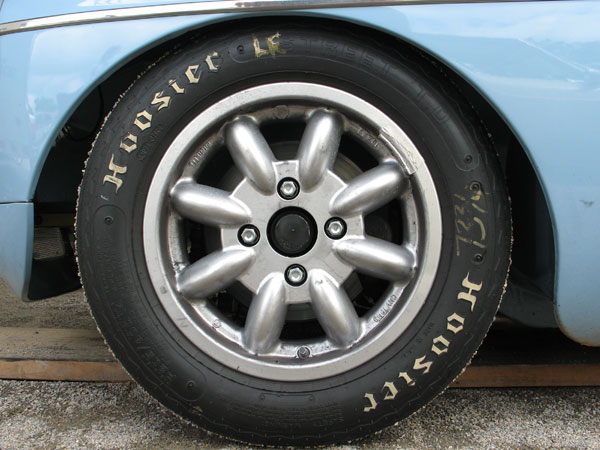 Minilite MagStyle aluminum wheels.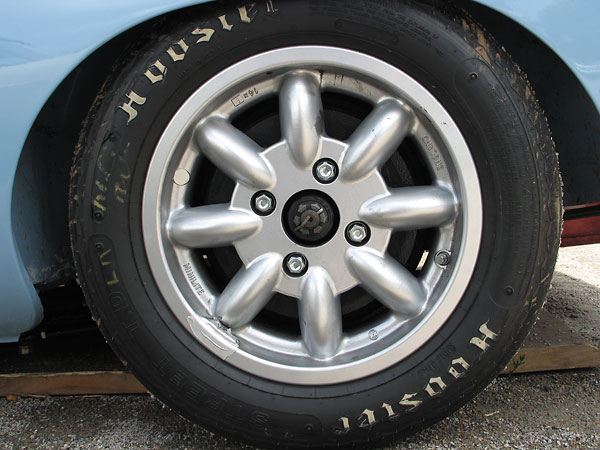 Hoosier "Street T.D." P205/60D14 bias ply tires.


All photos shown here are from June 2009, when we viewed the car at The Heacock Classic Gold Cup at Virginia International Raceway, or from September 2009 when we viewed the car at The US Vintage Grand Prix at Watkins Glen. All photos by Curtis Jacobson for BritishRaceCar.com, copyright 2009. All rights reserved.



Notice: all the articles and almost all the photos on BritishRacecar.com are by Curtis Jacobson.
(Photos that aren't by Curtis are explicitly credited.) Reproduction without prior written permission is prohibited.
Contact us to purchase images or reproduction permission. Higher resolution images are optionally available.