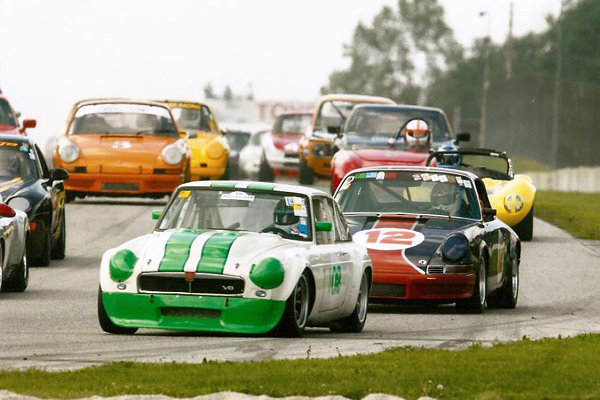 Turn One at Road America - Kohler International Challenge (SVRA Group 8) - July 20, 2008

Les Gonda's 1973 MGB GT V8 Race Car
as published in BritishV8 Magazine, Volume XVI Issue 2, October 2008
Owner: Les Gonda
City: Keswick, VA
Model: 1973 MG MGB-GT
Engine: Rover aluminum V8
Built by: owner
Currently the Fastest MG in North American Roadracing
This year's BritishV8 meet was scheduled back-to-back with the Kohler International Challenge at Road America. One of the world's fastest tracks, with long straight-aways and a famously challenging "kink", the 4.05 mile Road America circuit was made famous in the 1960's by the Can-Am racing series. Can-Am prominently featured outrageous American V8 engines in lightweight English racecars. Many of those Lola and McLaren racecars were back this year for a busy, exciting weekend of Sportscar Vintage Racing Association sanctioned racing.

Although SVRA has classes for all makes and sizes of vintage sports car, the most popular models from MG and Triumph simply don't feature prominently at Road America. Nonetheless, MG and BritishV8 enthusiasts had a hero to cheer for this year and he certainly didn't let us down!

Les Gonda built his spectacular MGB GT V8 for racing in SVRA's Group 8, A-production class. This is a popular and very competitive class that features crowded fields of Porsches (914/6 2.4L, 911E/S/T 2.4L, 911RS/SC 2.7L, and 944 turbo). A-production occasionally includes Triumph TR8, Morgan "+8", Datsun 280Z/ZX, and Ferrari (Dino and 308 GTB) racecars too. (Note: Les also races under other sanctioning organizations, whose regulations and class descriptions vary somewhat.)

Les's MGB GT V8 conversion is quite competitive - even racing against Porsches! On Saturday at Road America, Les started 23rd out of about 60 cars and quickly moved up to 13th in a four-lap qualifying race that ended early when an accident blocked the track. On Sunday, Les started in 13th position and passed eight cars to finish in 5th. The feature was an eight lap race: with a couple more laps he very likely would have moved up further.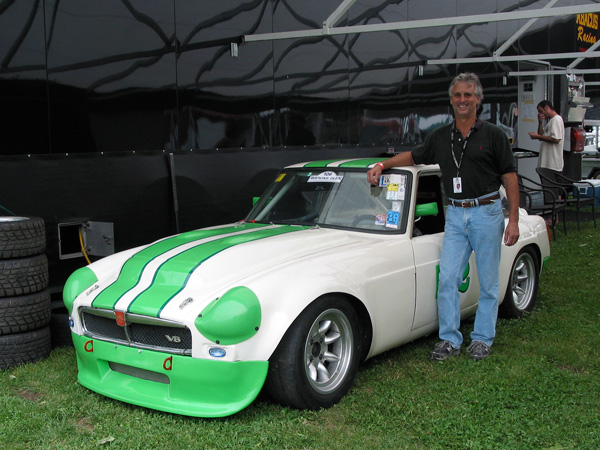 2008 Collier Cup Race Winner, Les Gonda


This is Les' fifth season racing his MGB GT V8. That's about 30 or 40 race weekends so far. During this time, Les has earned six Group wins and eleven Class wins. In late-breaking news, Les has also just won his second "Collier Cup" race! The Collier Cup race is a special annual event open to all MG race cars regardless of model, engine, or racing class. The Collier Cup race is held each September at Watkins Glen International as part of the U.S. Vintage Grand Prix.



In total, Les has about 15 years of racing experience. His first car, a 1964 MGB introduced him to vintage racing and carried him to Watkin's Glen in 1998 to win his first Collier Cup race. His second race car, a right hand drive Elva Courier Spider, which he describes as scary fast, came several years later. These were both nominally 1800cc cars, and they are now classed in SVRA's "Group 3" (C-production and D-production, respectively).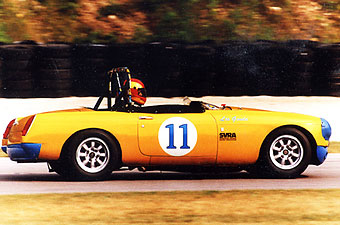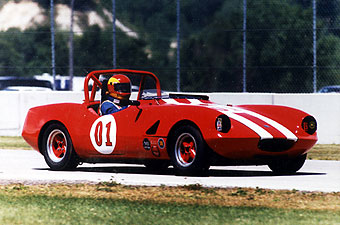 Although Les had a great time racing the Group 3 cars, he prefers racing in Group 8. Les feels that the MGB GT V8 is actually easier to drive than a standard four cylinder MGB racecar because it's better balanced, has larger tires and bigger brakes. It's also simply more fun and it goes a lot faster! For example, at Road America, Group 3 cars average about 85.3 mph around the circuit, whereas Group 8 cars average about 94.6mph. (Les's V8 hits about 150 mph on Road America's uphill front straight, and even faster on the backside straights.) Les's team name, "Battle of Britain Racing", hints at another reason he enjoys racing in Group 8: the sheer joy he feels when passing gaggles of Porsches!

The initial cost to build an MGB GT V8 racecar is higher than the cost to build a four cylinder MGB, but Les has discovered that the cost to race is much lower. The 3.5L V8 engine and the T5 5-speed transmission are very lightly stressed compared to a competitively prepared four cylinder "B-series" engine and its transmission. To be competitive with an 1800cc MGB you need to build a very strong, high revving engine and push it to "105%". Consequently, you tend to break a lot of parts. Not only do broken parts and blown engines become very expensive, but over time they tend to squelch one's enthusiasm!

The savings used to be even bigger. Until last year, tires cost were approximately $40 more per tire for a Group 3 MGB because racers were required to run old-fashioned Hoosier bias-ply tires. The bias ply tires only lasted about two race weekends. Group 8 includes more modern car models, and racers were consequently permitted to run more modern radial tires. The radial tires Les uses last six to eight race weekends.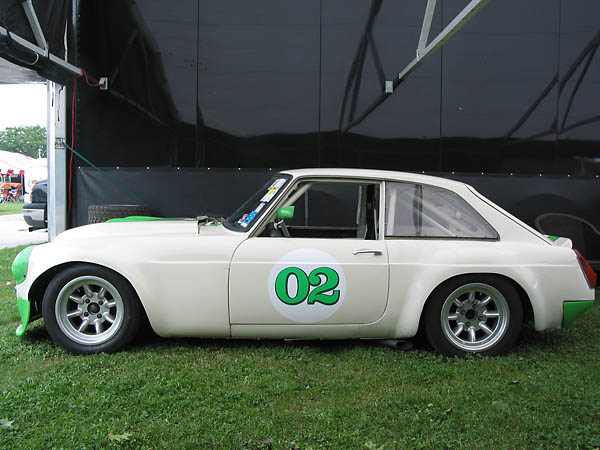 What does it cost to get into MGB GT V8 racing? Les suggests that a budget of about $20K can produce a competitive (300hp, 7200 rpm) engine. An additional $20-40K should cover the racing transmission, rear end, body, cage, tires, wheels, etc. This price will vary considerably based on the amount of work you can do yourself.
The Culture of Vintage Racing
In the rest of this article, BritishV8 is going to display approximately sixty-five large, clear photos of Les Gonda's MGB GT V8. With Les's support, we're going to describe the car in more technical detail than you could read about ANY competitive racecar in any newsstand magazine anywhere. You've never seen an article like this before! As you study the photos and captions, you might wonder "Why would a racer give-up such hard-earned knowledge so freely?"

Les hopes readers will perceive this article as an open invitation to get involved in vintage racing, and possibly even for more MGB (Class 3, et al) racers to consider building their own V8 racecars. You don't need an authentic "factory" V8 to comply with the rules of this racing organization, and you don't need a vintage "logbook" either. This is a great class to compete in, but it would only be better with more competition!

Les himself is quick to credit good friend Jerry Richards for encouraging him to get involved. Jerry is a British ex-patriot who brought a V8 racecar (built from a factory MGB GT V8) to the United States and has been successfully racing it here for years. Jerry has now converted a 4-cylinder MGB GT into a V8-spec racecar, and BritishV8 hopes to feature Jerry's story and both his cars soon. The point is, this is a racing community where competitors are especially friendly and willing to help each other along.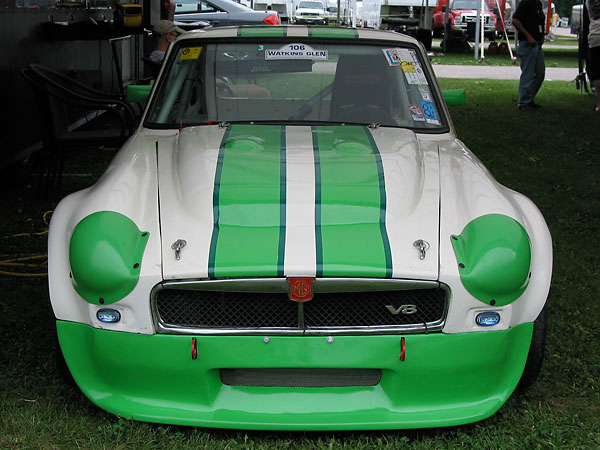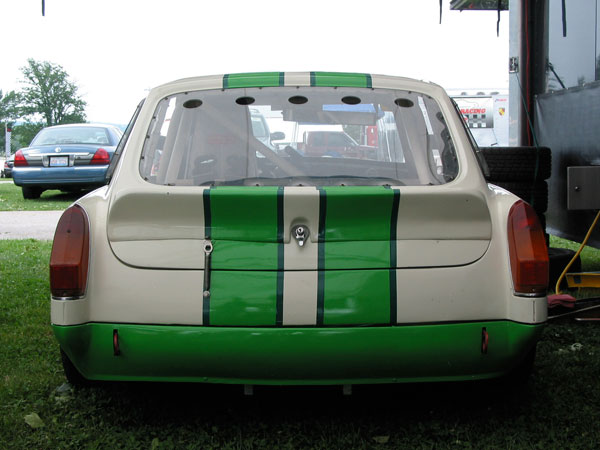 Features and Specifications
Engine:
class rules restrict the engine to standard displacement (3.5L), bore (3.547" or less) and stroke (2.8"). However, Chuck at "Abacus Racing & Machine Shop" got to those dimensions by starting with a late-model Rover (4.0L, 4-bolt main) engine block. The block was re-sleeved down from 3.702" diameter bore to 3.5". The new cylinder sleeves that Chuck installed are "t-topped" (aka "flanged") and the block deck was "o-ringed". These provisions were deemed necessary for reliability because this race engine is running 13.5:1 compression. Late-model Rover cylinder heads (which have larger, better flowing ports to begin with) have been ported, polished, and flowed. Roller rockers complement a custom-ground cam.


Induction:
Les built his own intake manifolds from 2" diameter steel tubing. The manifolds are fed by four Weber 48DCOE two-barrel, side-draft carburetors. On this race engine, the carburetors are fitted with velocity stacks in lieu of air filters. Twin fabricated air boxes are screened to capture large debris, and they're fed cool air by a custom-fabricated cowl-induction bonnet of Les' own unique design. (Note: Les also sometimes races with a more conservative set-up consisting of a Holley 390 4-barrel carburetor with air fed from the driver-side headlight bucket.)


Ignition:
Mallory Unilite distributor. MSD6AL ("multiple spark discharge") ignition controller, with 7200rpm rev-limit selected. MSD "Blaster 2" coil.


Lubrication:
an ARE dry-sump oil system is used for reliability, and for a significant reduction in viscous drag on the crankshaft (which probably translates to as much as 15 horsepower.) It's a 12 quart capacity oil system, with reservoir located behind the driver's seat. Twin oil coolers are fitted on either side of the radiator, vented into the fenderwells (instead of into the engine compartment.) The Racor oil filter has a reusable filter screen: it's opened-up and checked after every second race so that bearing failures and other problems can be detected early. Les runs Red Line synthetic engine oil.


Cooling:
C&R Racing aluminum radiator and remote thermostat/housing. Silicone hoses. There is no cooling fan! If Les stays above 30 mph, there's enough natural airflow to feed the radiator.


Exhaust:
custom step-up 4-into-1 headers with 24" primaries. Dual exhaust with a crossover pipe. (No mufflers.)


Transmission:
Borg-Warner T5z 5-speed. RAM dual-disc 6.25" button clutch, actuated by a Tilton hydraulic throw-out bearing. Aluminum flywheel. D&D Fabrications bellhousing.

Note: the "T5z" is a special variant of the more familiar later-model "world class" T5. It is available from Ford Motorsport for racing applications. (Early production examples of the T5z were made by Borg-Warner, but newer examples are made by Tremec to the exact same specs.) The T5z has a longer input shaft than the Camaro-spec T5 that many people use with a Rover engine, and thus it requires a thick spacer between the bellhousing and transmission housing. The transmission comes with a short-throw "slik stik" shifter, and improved synchronizers and bearings. Les's transmission has been set up with a 2.95:1 first-gear and a 0.80:1 fifth-gear.
Continued...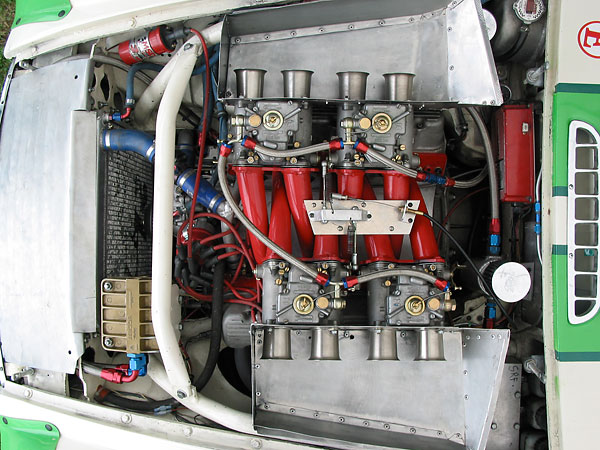 Les built his own intake manifolds from 2 inch diameter steel tubing.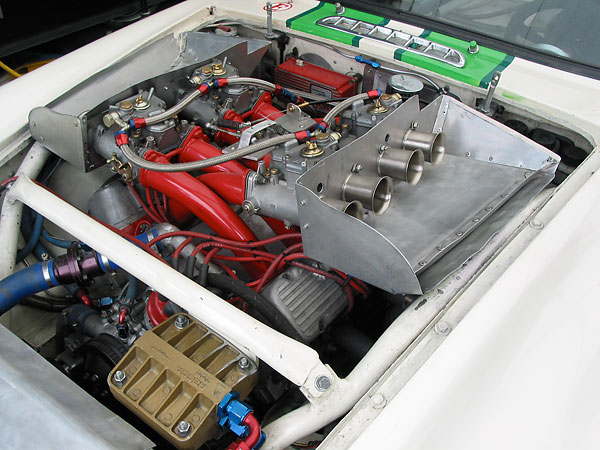 The manifolds are fed by four Weber 48DCOE two-barrel, side-draft carburetors.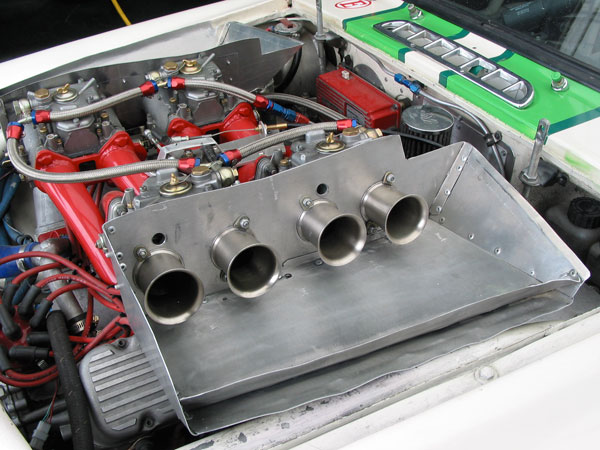 On this race engine, the carburetors are fitted with velocity stacks in lieu of air filters.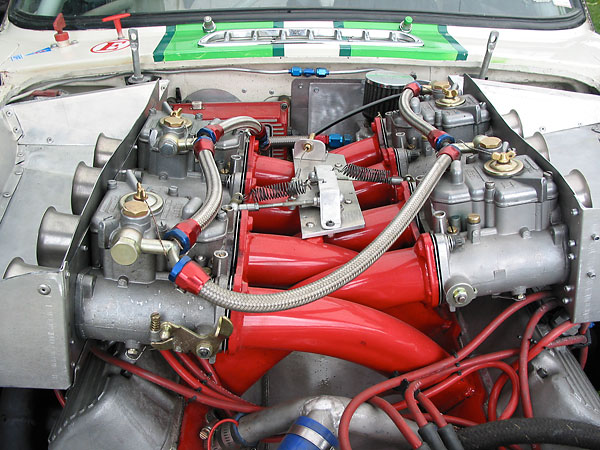 All operated by one throttle cable, the tricky part is getting all four carbs synchronized.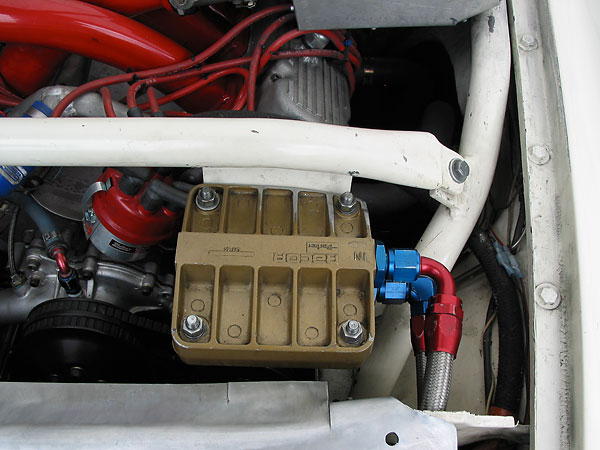 This Racor screen type oil filter is easily opened-up after a race to check for debris.
Its purpose is to identify bearing failures and other problems in their earliest stages.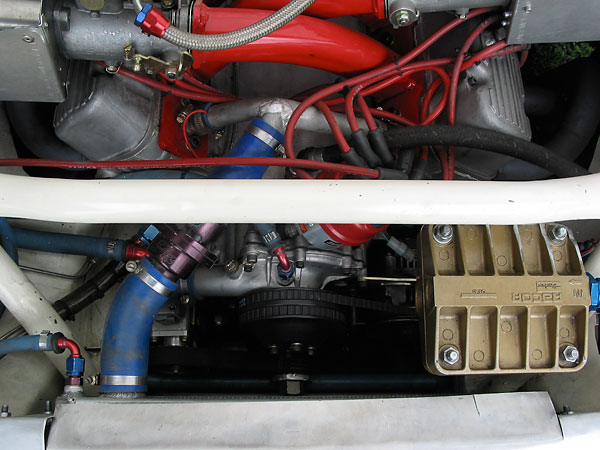 Note: there is no radiator fan on this race car.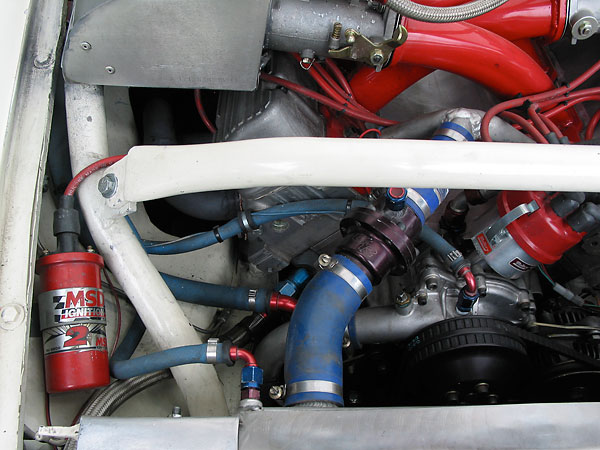 C&R Racing inline coolant thermostat / thermostat housing.
(Although it's not connected, one feature of this thermostat housing is that it includes a
bypass fitting for circulating water through the engine block before the thermostat opens.)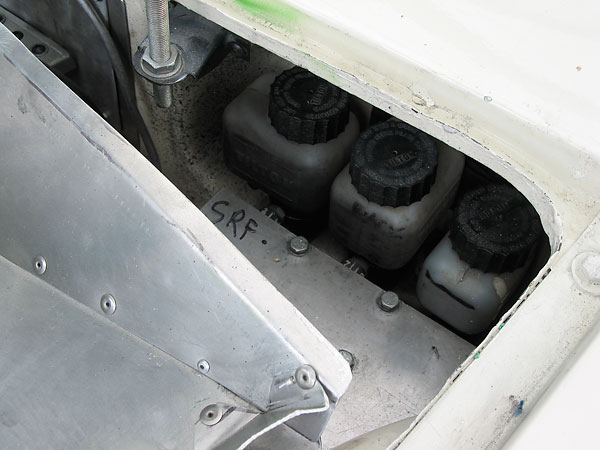 Tilton brake and clutch reservoirs. (Use only high-temp Castrol "SRF" brake fluid!)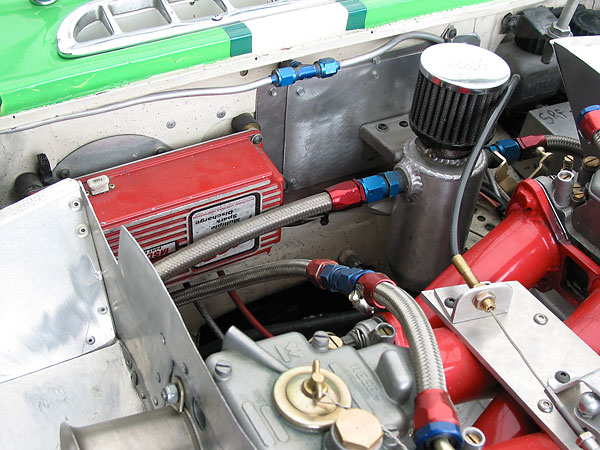 left: multiple spark discharge ignition system. The white plug is the rev-limiter (7200rpm) selector chip.
right: the engine/crankcase breather and its oil catch tank. The aluminum lines plumbed across the
top edge of the firewall are for the fire suppression system.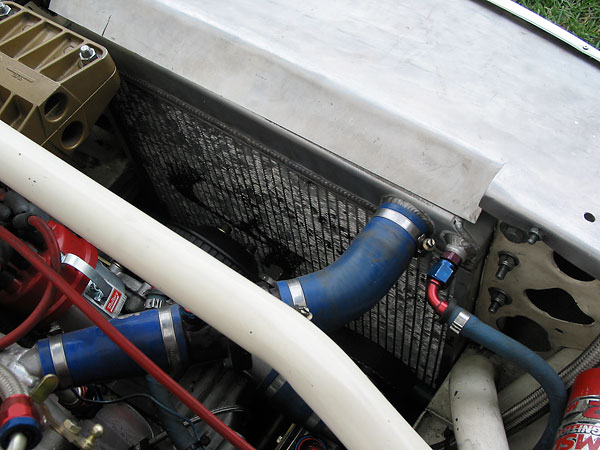 Huge C&R Racing aluminum radiator.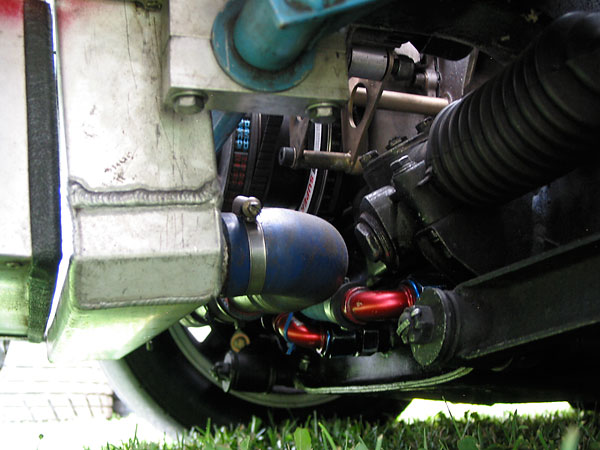 In this view you can better see how thick - and how deep - the radiator core is.
Notice also that the oil lines actually go through the front crossmember.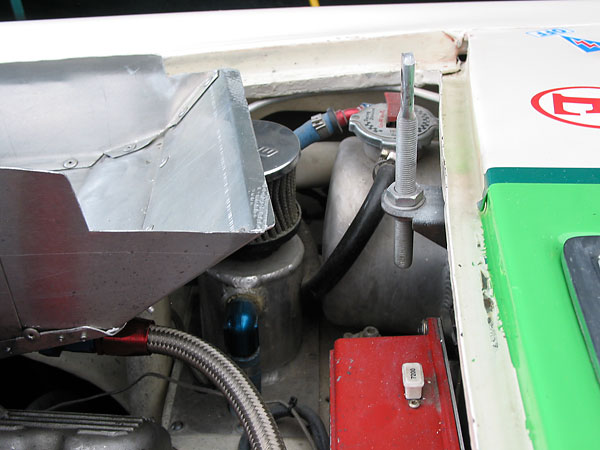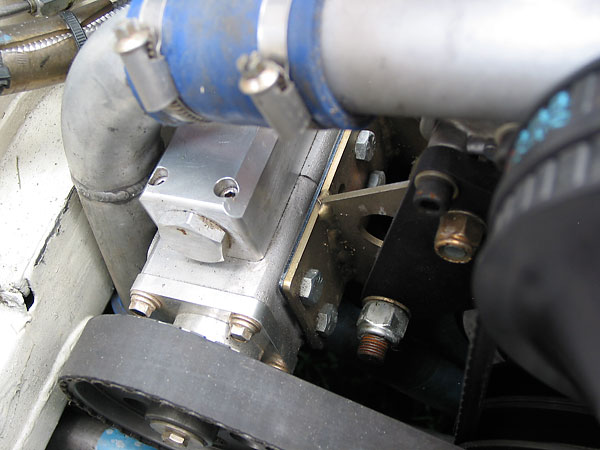 This is the remote oil pump for the dry sump lubrication system. All dry sump oil pumps are
at least "two stage". There may be multiple pump stages for oil scavenging, but there's also
always a stage just for pumping oil from the remotely mounted reservoir back to the engine.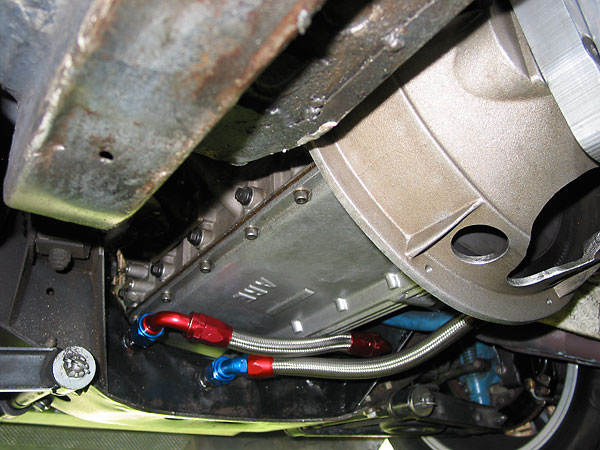 Here's a good look at the ARE dry sump oil pan and its plumbing (which passes through the X-member.)
Note: bolts on the side of the engine block support the four-bolt main bearing caps.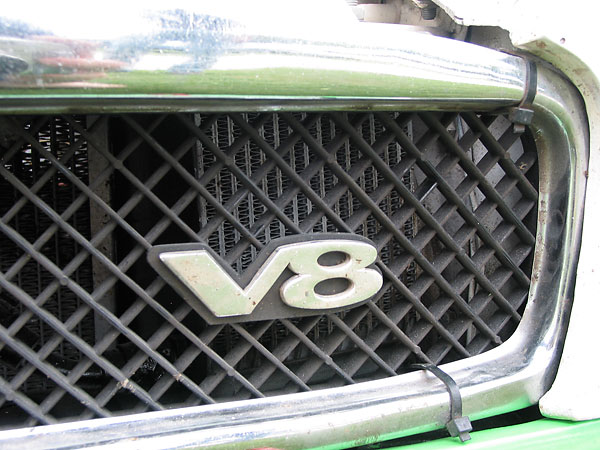 Downflow oil coolers are mounted on either side of the radiator, instead of in front of or below it!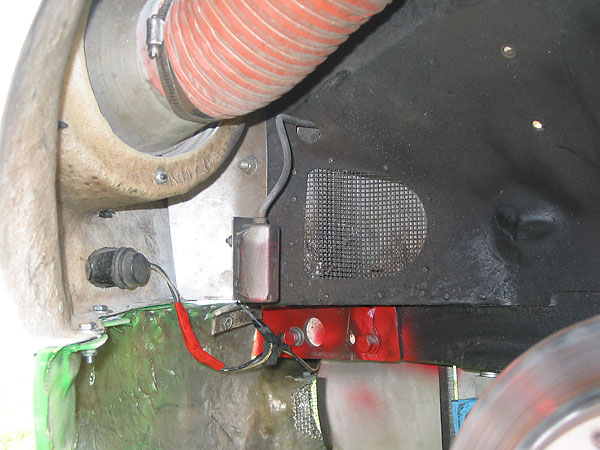 After passing through the driver-side oil cooler, air exhausts through this grille.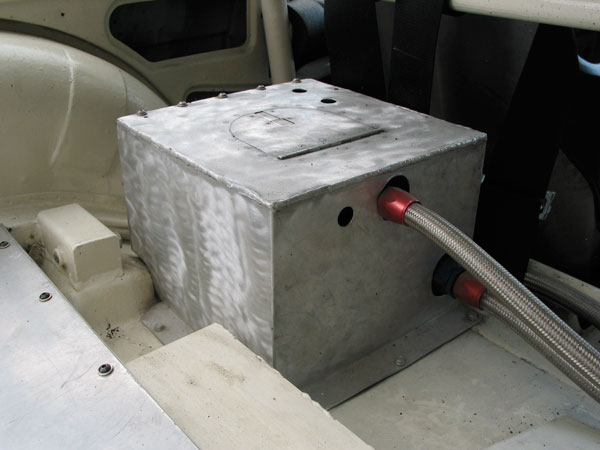 This is a custom fabricated aluminum cover for the engine oil reservoir. Incidentally, in
this photo you can also spot the upper shock absorber mounts for the rear suspension, and
you can see how the floor has been modified to allow more suspension travel in bump.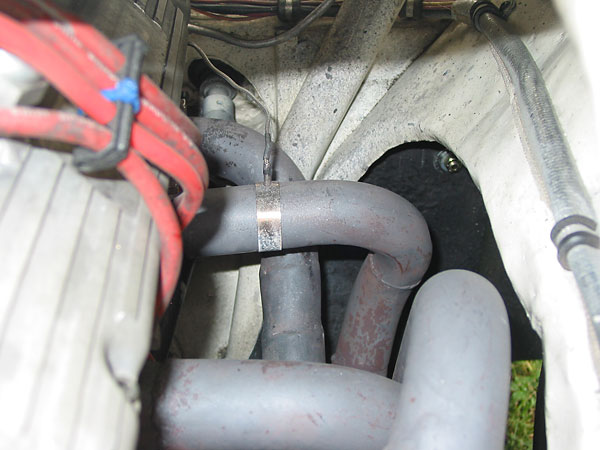 An EGT probe to read head temperature on the left bank. There is also one on the right bank.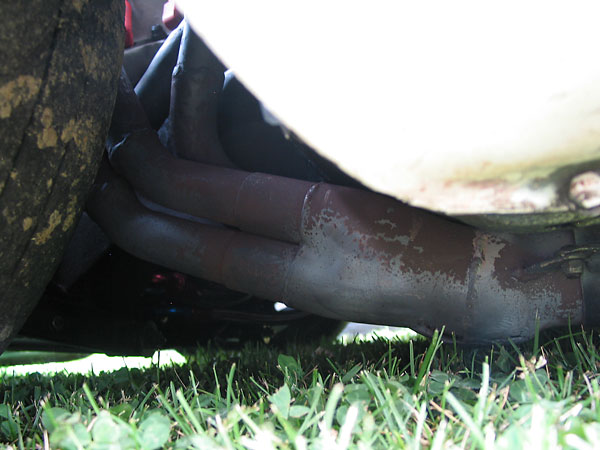 Ground clearance is only 2.5 inches, so a skid plate on the bottom of the
4-into-1 header collector protects it from being crushed or ground through.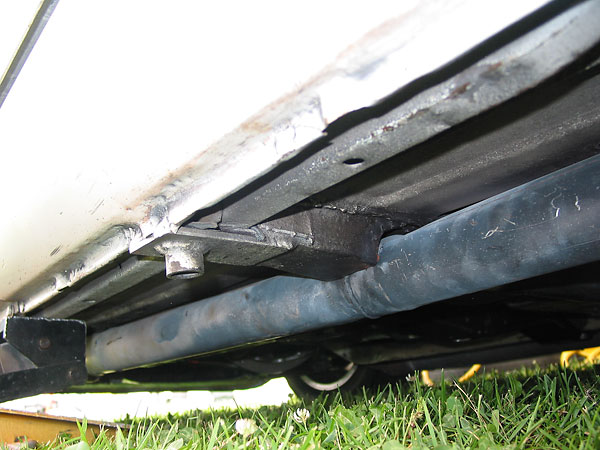 2.5 inch exhaust pipe for each side.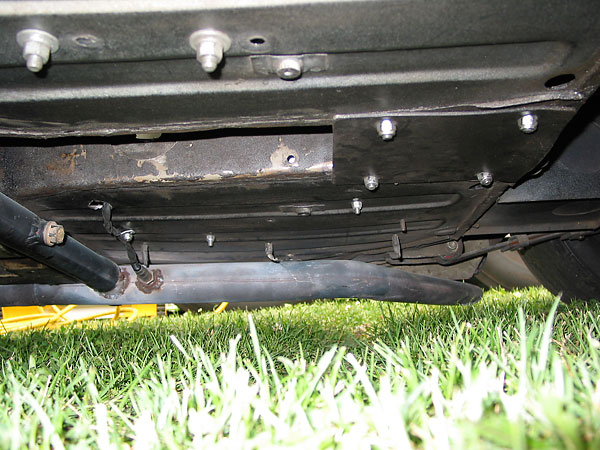 Between the exhaust pipes, there's a crossover. Note also the wide band oxygen sensor.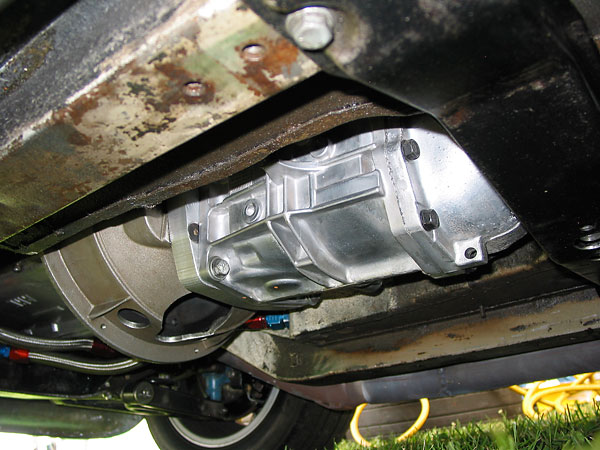 Between the T5z transmission and the D&D bellhousing, you find an aluminum spacer
which accommodates the longer input shaft that came on this Ford-style transmission.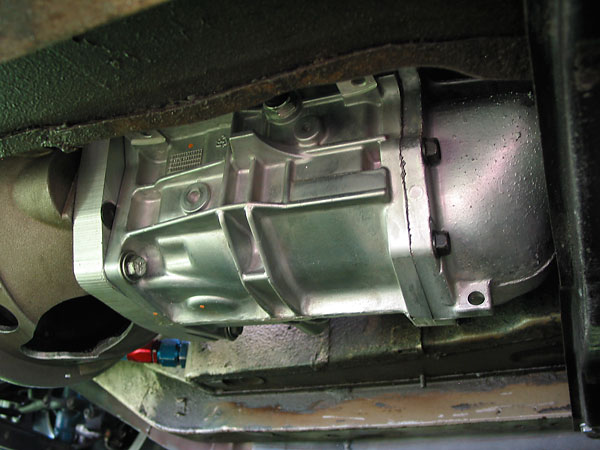 Features and Specifications - Continued
Front Susp.:
class rules limit track to 51.5" +/- 2", restrict replacement or relocation of the front crossmember, and also limit the control arms to the original MGB type. (Specifically, the lever-arm shocks must remain in place and function as the upper control arms. The lower control arms must be similar to the original MGB design, although they may be modified to alter camber.)

Changes to Les' front suspension include fitment of Fab-Tek dropped spindles, which lower the front-end while avoiding bump steer. Les' stock lower control arms are only very slightly modified to provide the desired camber. (The outboard holes were enlarged before assembly with eccentric washers, and then the washers were tack-welded into place after being rotated to achieve the desired camber angle.) Targett MotorSport castor reduction wedges were utilized. A 1" front anti-sway bar was installed, mounted on pillow blocks.


Rear Susp.:
class rules limit track to 51.5" +/- 2", and expressly forbid relocation of the forward leaf spring mount or installation of remote-reservoir shock absorbers.

Changes to Les' rear suspension include modification of the leaf springs, specifically by removing two leafs and de-arching the remaining leafs. Extra bump travel is provided by (a) removing the bump stops and (b) raising the floor. (See photos.) SPAX telescoping rear shocks have been installed, and Les had Abacus Racing install a very stout Panhard rod to restrict side-to-side axle movement.

Instead of using dual anti-tramp bars to eliminate spring wind-up and restrict pinion angle change, Les fitted a single link from the top of the differential housing to the heelboard (i.e. the bulkhead next to the driveshaft tunnel opening.) The mounting height at the heelboard-end is adjustable. The special benefit of this approach is apparently that - like the third link on many "three-link" coil-over rear suspensions - this link's installation angle can be set to provide a moderate amount of anti-squat characteristic. A Fab-Tek adjustable rear sway bar has been installed. If the car is showing oversteer or understeer, the usual correction is first making a change in the tire pressure. If that doesn't work, it's time to adjust the rear sway bar.


Rear Axle:
narrowed Ford 8" rear axle with Currie aluminum gear case, Moser billet axle shafts, Ford limited slip differential, and 3.9:1 or 4.1:1 gear set (depending on the race track).


Brakes:
(front) 10.75" vented/finned brake rotors and Outlaw calipers.
(rear) stock Ford drum brakes (less than 10" diameter, per class rules).

Dual Tilton master cylinders are used, with a remotely adjustable bias-bar. Additionally, a lever-type brake bias valve has been installed on the rear brake circuit. Les explains that the bias bar is only for rough tuning (e.g. when more major chassis changes are being made) and that usually the bias valve is used for any and all fine tuning within the course of a race weekend. He also noted that dual brake bias gauges have been helpful for dialing-in the system during practice.

Hawk "blue brake pads and Castrol SRF high-temp/racing brake fluid are used.


Wheels/Tires:
genuine Minilite wheels (15"x7.5") with Toyo Proxes RA1 225/50 tires.


Continued...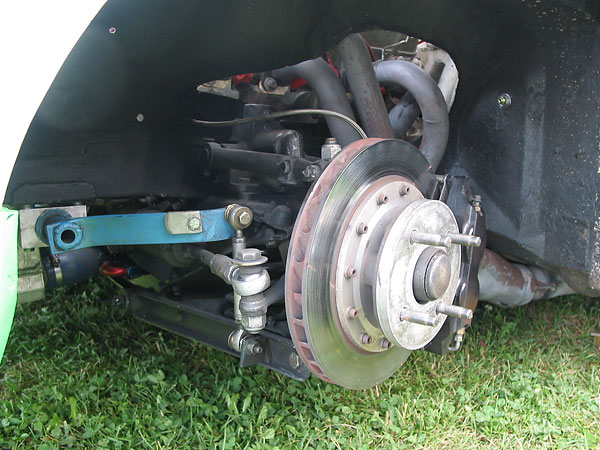 10.75 inch vented/finned brake rotors and Outlaw calipers.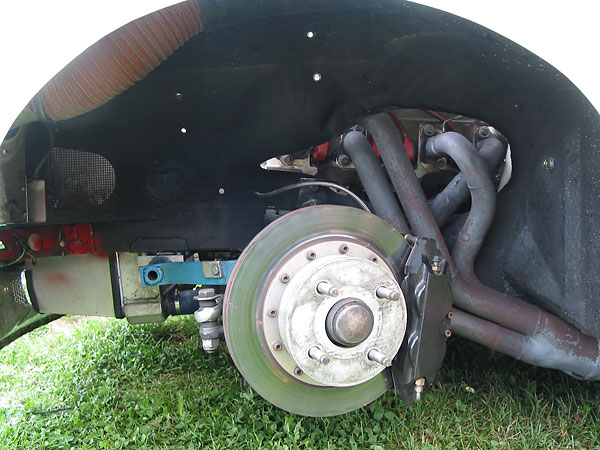 Note: the little clip you see on the anti-sway bar would be for mounting a brake cooling
duct if Les were using one this particular weekend.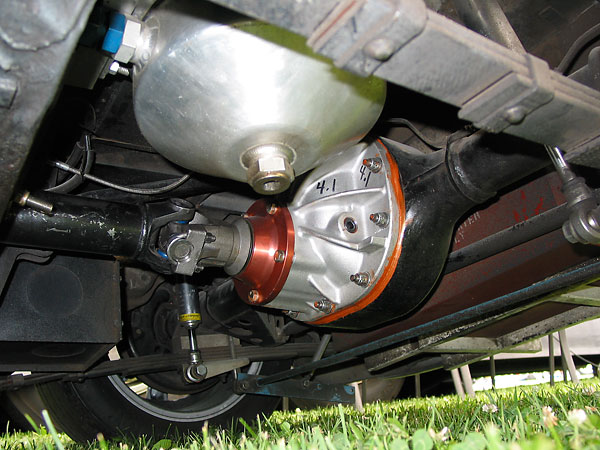 Note: in the foreground of this photo you can see the bottom of the engine's oil reservoir.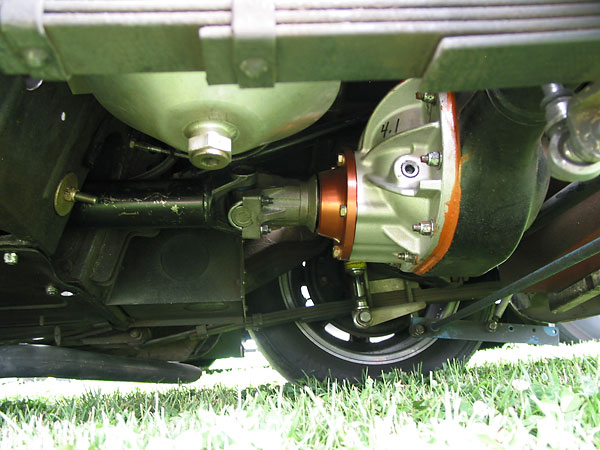 Ford 8" rear axles are significantly stronger than MGB's original "Salisbury" axle. They're lighter
when you upgrade to a Currie aluminum gear case. They're also cost effective, especially if
you need a limited slip differential. The label you see here, "4.1", indicates the gear ratio. Many
ratios are available for a Ford 8". (Les sometimes switches to a 3.9:1 final drive ratio gear set.)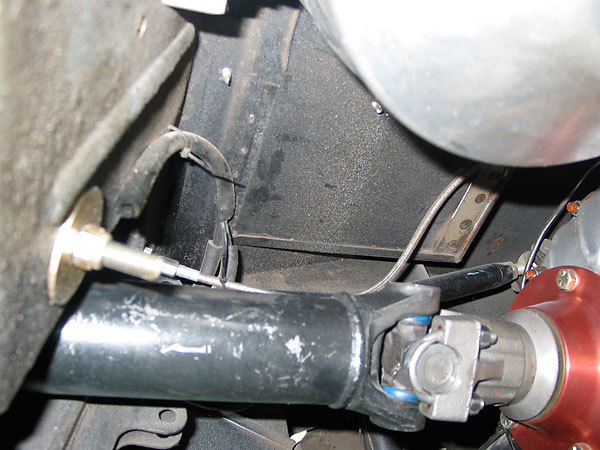 Behind the driveshaft, a "third link" is being used to restrict pinion angle change.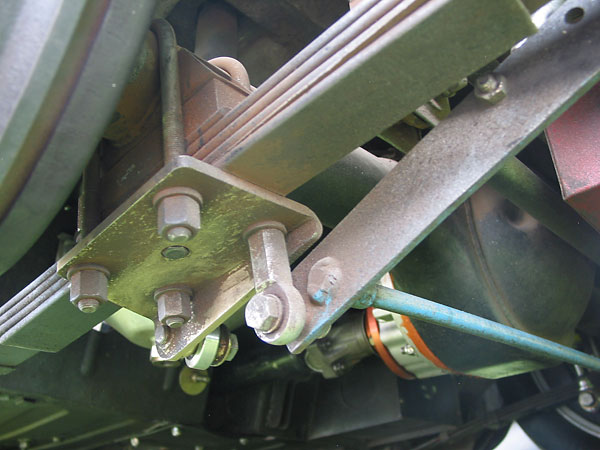 Just four leafs in this leaf spring! (Factory MGB GT V8 cars came stock with seven leafs, four-cylinder
GT's came with six, and convertibles came with five.) Because the driver's side of the rear axle was
jacked-up for taking photos, some of the photos in this section seem to exaggerate the amount of sag
in the passenger-side leaf springs.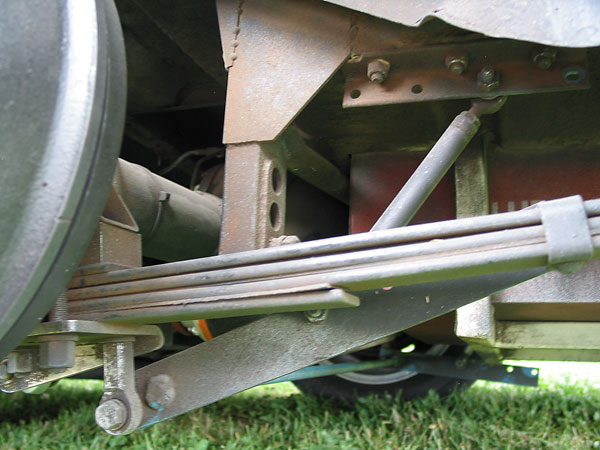 Simulating roll: this is what the Fab-Tek rear anti-sway bar does when you jack-up one end of the axle.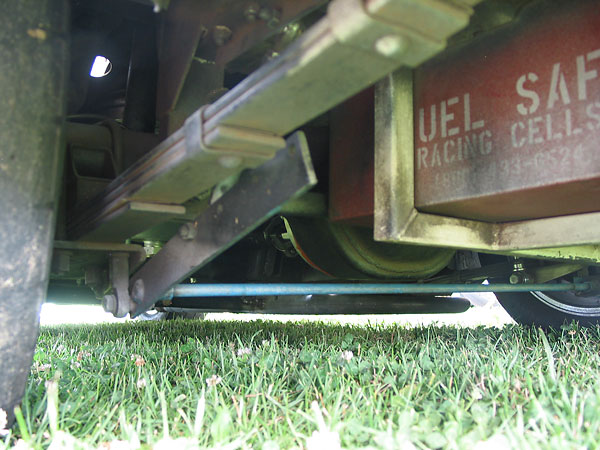 With the car level, the "wings" of the anti-sway bar move back to being parallel (at about this angle.)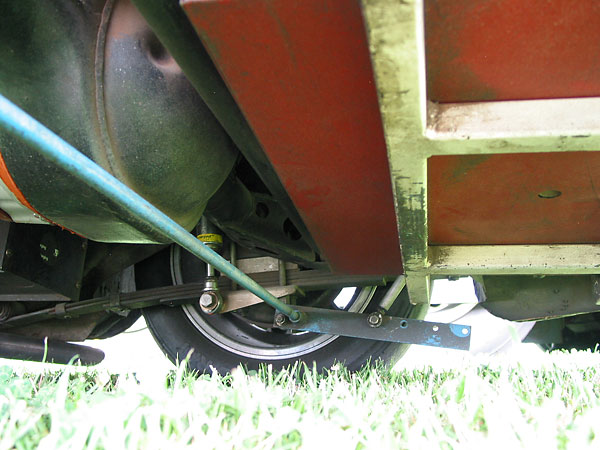 Adjustment of the Fab-Tek rear anti-sway bar is convenient because it's mounted low and behind the axle.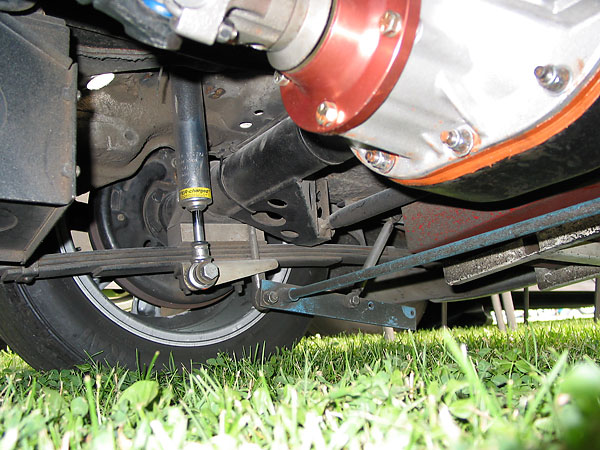 The Panhard rod bracket on the axle is very stout and the Heim joint is supported in "double-shear."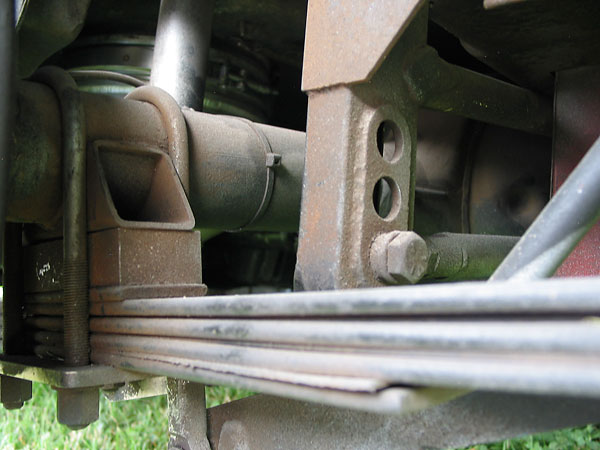 The Panhard rod mounts to the body here. Notice that holes in both Panhard rod brackets are larger
diameter than the bolts, and the difference is filled by spacer bushings. It's a really neat design!
Also, the height of the bar is adjustable at both ends, so it can be leveled easily. It's in the
lowest position feasible - even lower than axle centerline - because the mounting height of the
Panhard rod determines the rear suspension's roll center, and "lower" is usually desirable.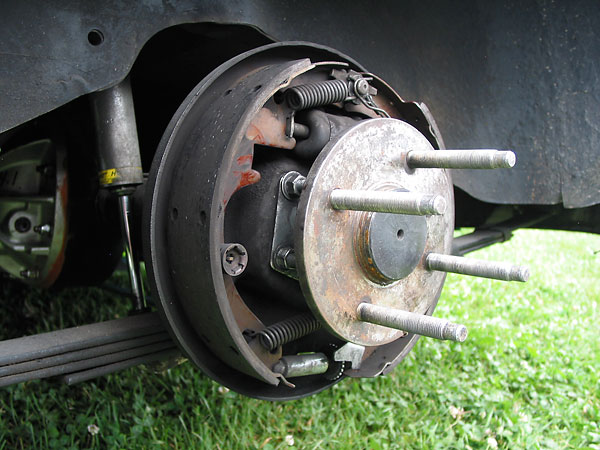 These are Moser Engineering full-billet axle shafts... heavy duty! Yet, you'll
note that there has apparently been no need to "upgrade" to five-lug hubs.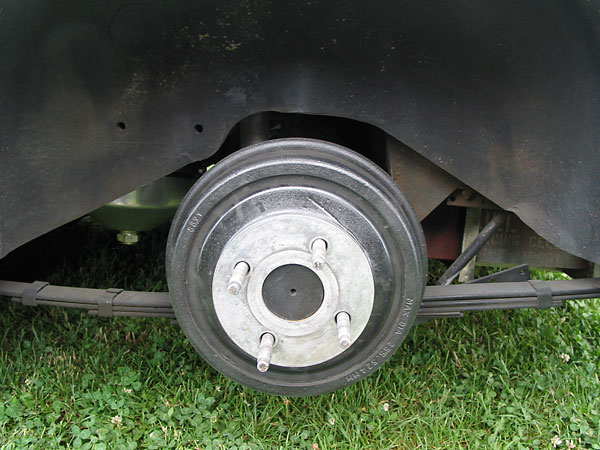 Ford brake drum with wheel spacer.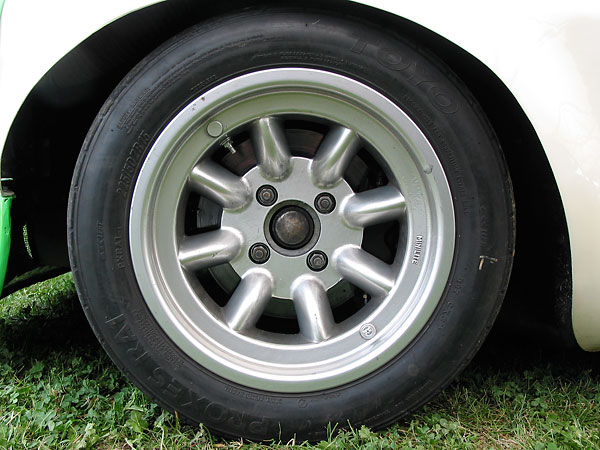 The traditional choice: Genuine "Minilite" Wheels are Still Made-in-England!
(They're available in North America from Targett MotorSport.)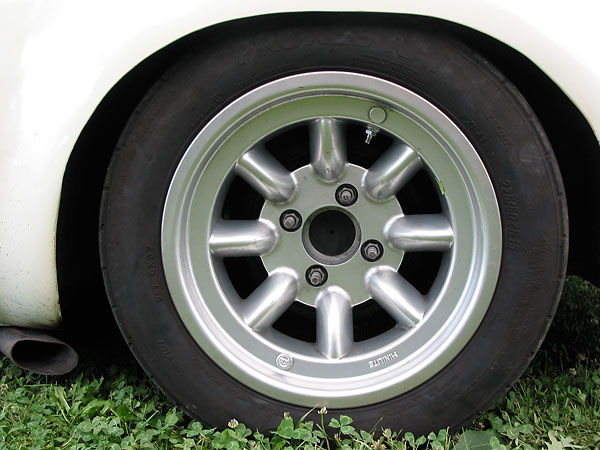 Features and Specifications - Continued
Body:
as you can see in the photos, the body has been extensively modified. The fiberglass front fenders with Sebring-style flares are from Targett MotorSport. Sebring headlamp covers (from Targett MotorSport) have been painted green. (The trick is to paint the back side...) Fiberglass Sebring-style flares (from Targett MotorSport) have been applied to the rear quarterpanels. A fiberglass MGC bonnet (from Targett MotorSport) has been modified by addition of a custom-fabricated cowl induction hood scoop. Clear polycarbonate rear quarter windows provide a substantial weight savings. The original steel doors are used, except that their guts have been removed. Similarly, the original steel GT hatch skin is used although its interior reinforcements have been cut away and a polycarbonate pane replaces the heavy original glass. A rear spoiler from Targett MotorSport has been fitted to the GT hatch. Finally, a fiberglass Sebring-style rear valance (from Targett MotorSport) has been installed.

Note: Les uses different front valances for different tracks! The one shown here in our photos is used for fast tracks like Road America and Road Atlanta, where Les especially needs high-speed stability. A different valance with brake cooling ducts is used on tighter tracks.


Interior:
obviously, Les' racecar features a "stripped-out" interior, with full rollcage and other important safety features substituted for luxury trim. The joke is that the rollcage was designed by Les' wife; it's quite a bit more substantial than required by the rules. Most notably, it features "NASCAR-style" side-impact protection in the door areas on both sides, where most road racing rollcages would use a single horizontal tube. The rollcage has been designed to connect suspension points and to add a tremendous amount of chassis stiffness.

Other interior features include a ButlerBuilt racing seat, a Momo steering wheel, a Firecharger fire suppression system, and a Cool Shirt driver cooling system. The dashboard was custom made, apparently by utilizing the structure from a 1968-1971 "Abingdon pillow" MGB dashboard.


Electrical:
dry cell battery.


Instruments:
AutoMeter "Z Series" gauges for (left-to-right) volts (8-18V), fuel pressure (0-15psi), oil temperature (140-300F), oil pressure (0-100psi), water temperature (100-250F). Autometer "Sport-Comp" tachometer (10,000rpm, with remote-mounted shift light.) Westach dual-channel exhaust gas temperature gauge. AEM "UEGO" air/fuel mixture gauge (which uses a Bosch wideband oxygen sensor). QuickCar mini brake pressure gauges (0-1000psi, liquid filled). Stewart Warner / Hobbs hour meter.


Fuel System:
two Holley fuel pumps supply fuel from a 12 gallon Fuel Safe fuel cell. An inertia switch has been installed to automatically turn-off the fuel pumps in the event of an accident. (It's made by a company called "First", and it can be seen in the photos below, mounted to the left of the fuse block on the center console.) Les runs 112 octane race gas and gets about 4 miles per gallon.


Weight:
the minimum allowed weight for Les's car is established by class rules... 1975#, plus an adjustment/penalty of 50# for the non-standard transmission and an adjustment/penalty of 25# for not using an alternator. In current trim, Les's car weighs 2120#.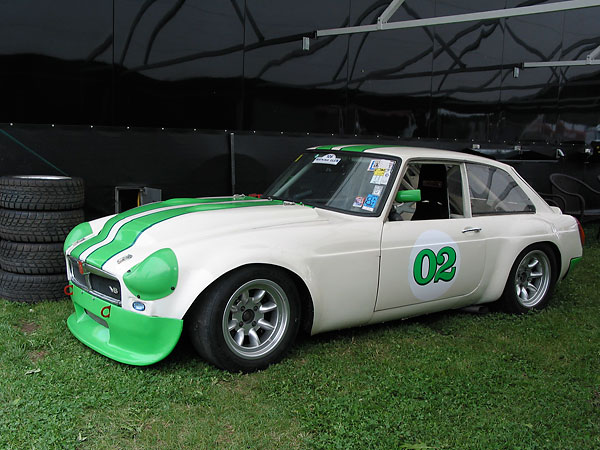 Fiberglass front fenders with Sebring-style flares are from Targett MotorSport.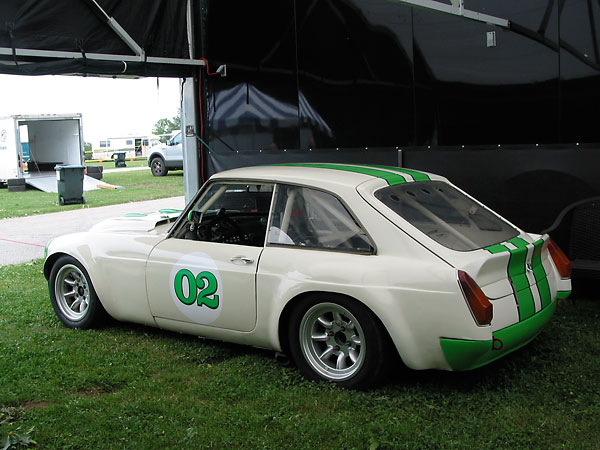 Sebring rear flares and rear valance... even the rear spoiler - all came from Targett.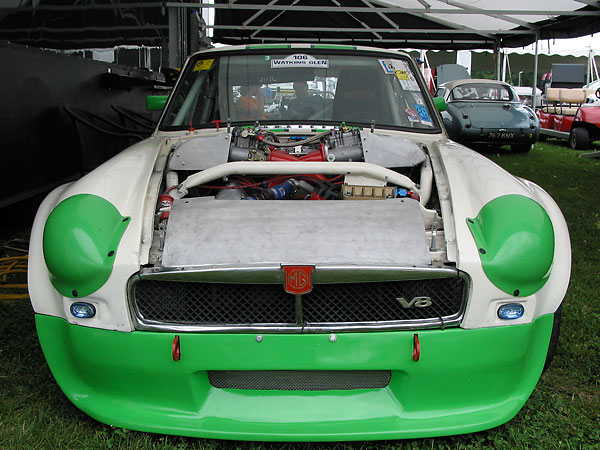 This is Les's "fast track" front spoiler. On slower tracks he swaps it for one with brake cooling ducts.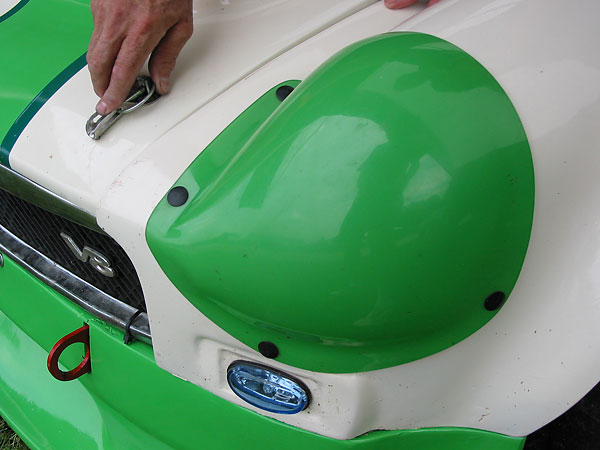 Sebring headlamp covers (from Targett MotorSport) have been painted green. Tip:
paint the back side. That way, they look extra glossy and they resist scuffs.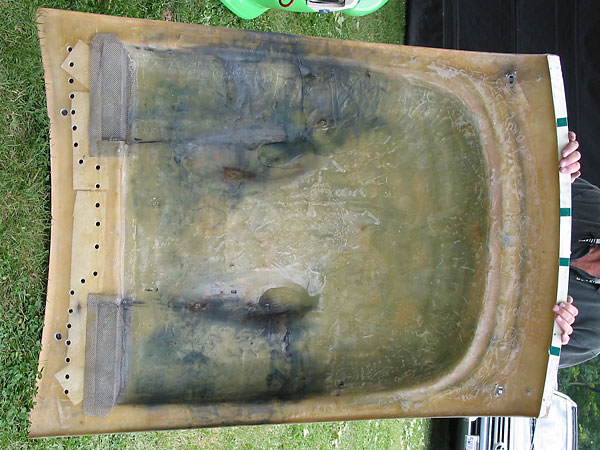 This fiberglass "MGC style" bonnet has been substantially modified to provide "cowl induction"!
(The blue stain is from the dye of 112 octane fuel.)


Enjoying this article? www.BritishRaceCar.com is partially funded through generous support from readers like you!
To contribute to our operating budget, please click here and follow the instructions.
(Suggested contribution is twenty bucks per year. Feel free to give more!)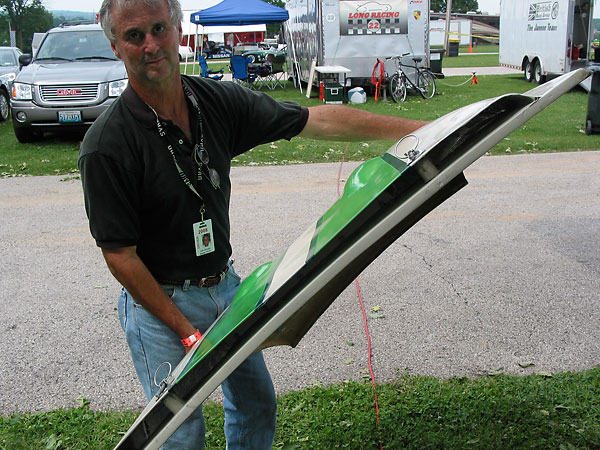 At high speed, air pressure in front of the windshield builds-up. This reverse scoop
is very effective at directing that cool, high-pressure air to the carburetors.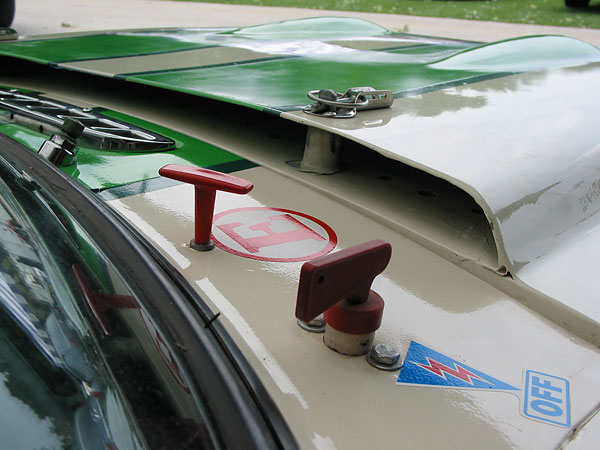 Emergency engine "kill" switch and fire suppression system pull-handle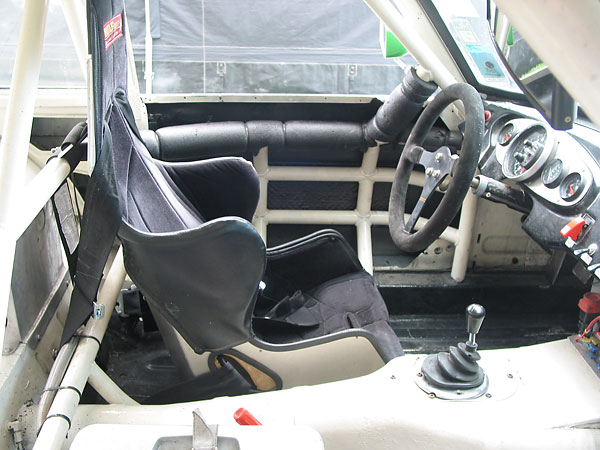 Most of the car's safety equipment is found inside the cockpit. The Momo steering wheel is
mounted on a quick-release hub, so that the driver can more easily enter or exit the car.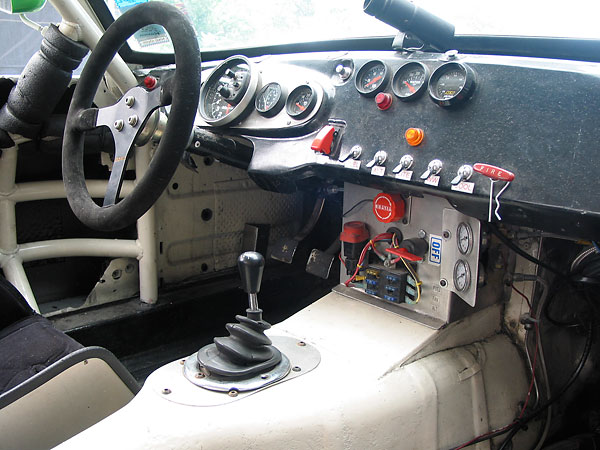 Electrical fuses are mounted conveniently on the center console. To the right of them is
a second engine "kill switch" (it also disconnects the battery). To the left is an inertia
switch, which would turn "off" the fuel pumps in the event of an impact. A switch for the
fire suppression system is also within the driver's reach.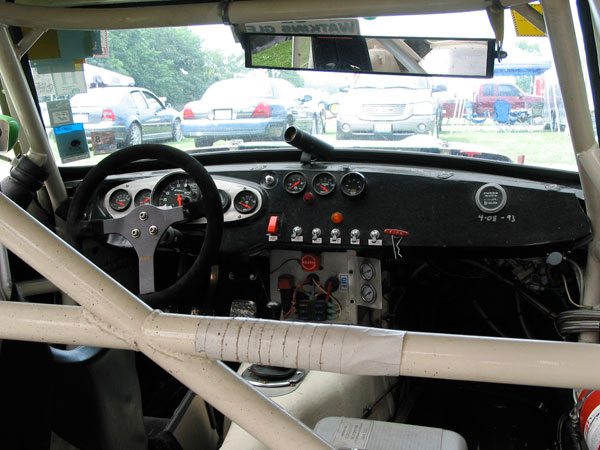 Custom dashboard created by stripping the padding from a 1968-1971 MGB "Abingdon pillow".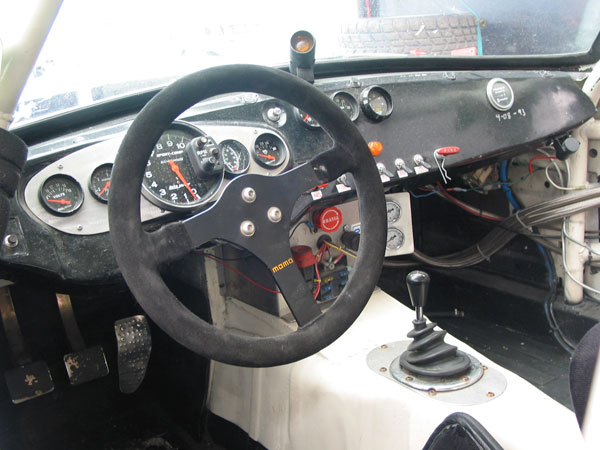 Most of the gauges are from AutoMeter's "Z Series" product line. Exceptions are listed below.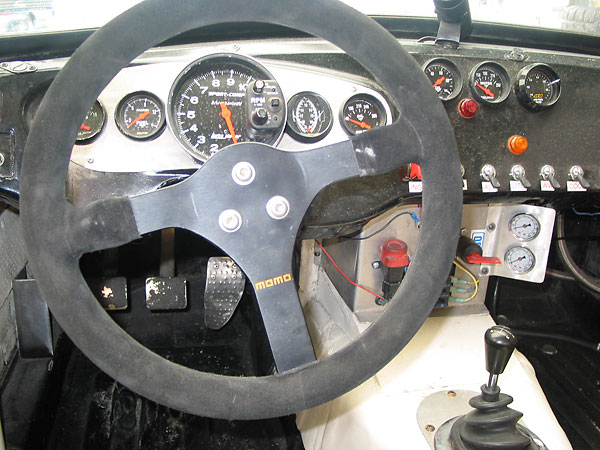 center: Autometer "Sport-Comp" tachometer with remote-mounted shift light.
right: Westach dual-channel exhaust gas temperature gauge.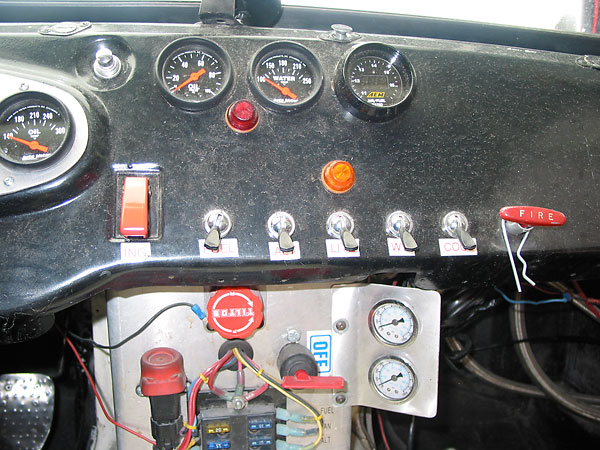 top right: AEM air/fuel mixture gauge, which uses a Bosch wideband oxygen sensor.
bottom right: QuickCar mini brake pressure gauges (0-1000psi, liquid filled).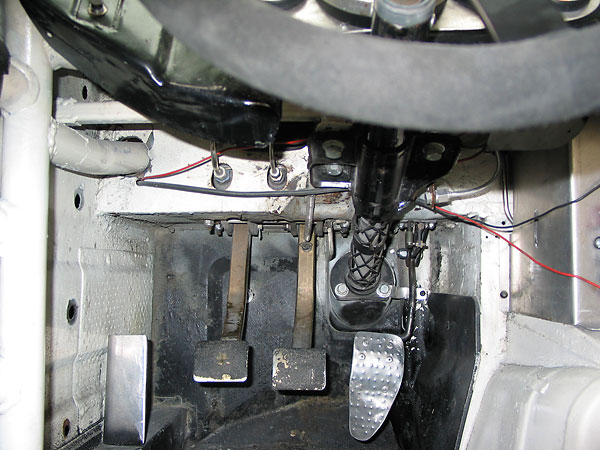 The pedals have been positioned for easy heel-and-toe driving technique.
Note also that this racecar still has the original collapsible steering column.
Brake and clutch pedals are from Tilton Engineering (72-606).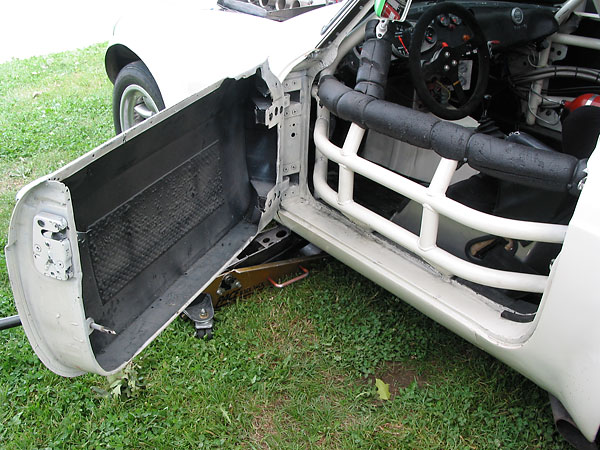 Elbow room was increased by removing the inner door panels, and extending the rollcage outward.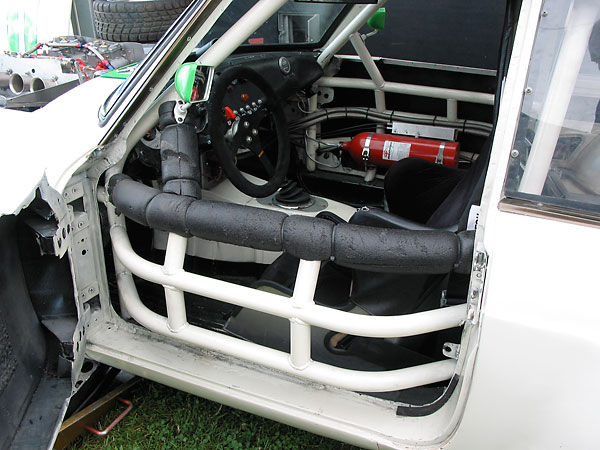 Side view mirrors are mounted directly to the "NASCAR" style rollcage.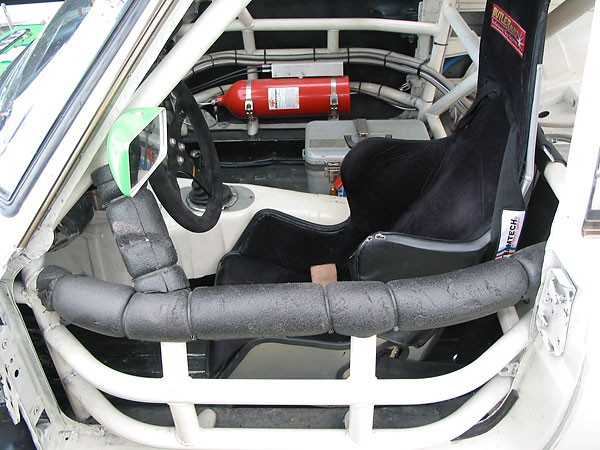 ButlerBuilt fabricated aluminum racing seat.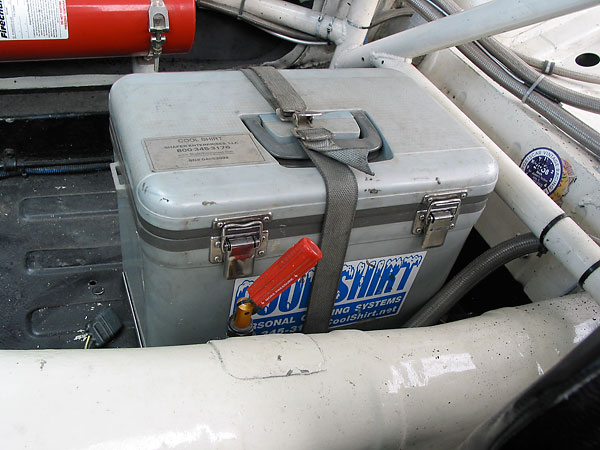 Cool Shirt: cold water pumped through tiny hoses embedded in a T-shirt worn underneath the
driver's fireproof safety suit keep the driver reasonably comfortable throughout the race.
Foreground: a seven-position Tilton Engineering brake proportioning valve is used for fine tuning.
For example, it can be used during a race to compensate for reduced fuel load.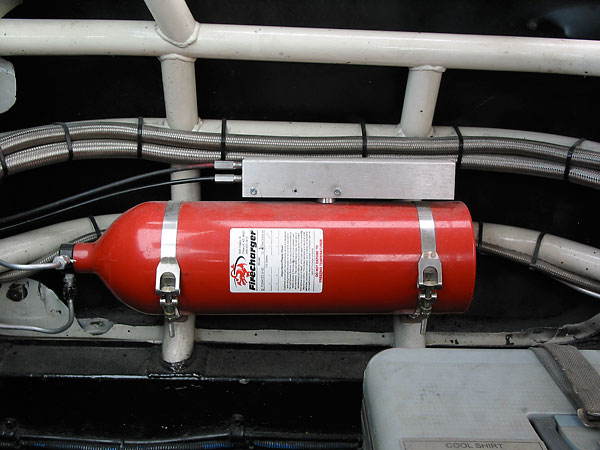 The Firecharger fire suppression system is plumbed to sprayer jets strategically
located under the dashboard, inside the engine compartment, and...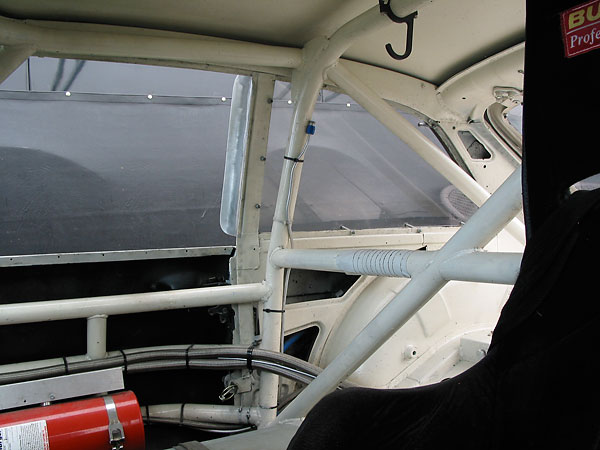 ...here's the fire suppression sprayer jet (on the roll cage's main hoop) that protects the driver.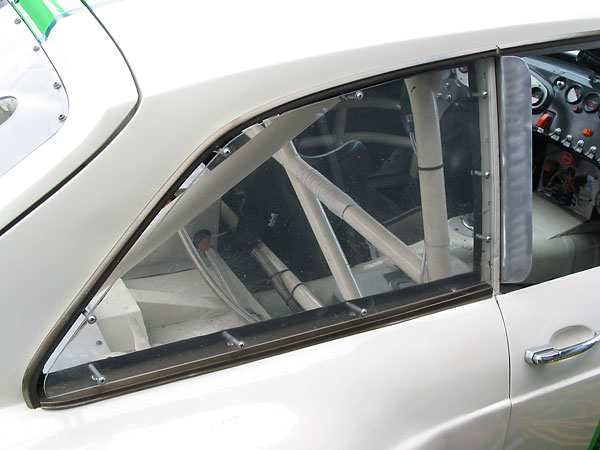 Clear polycarbonate rear quarter windows provide a substantial weight savings.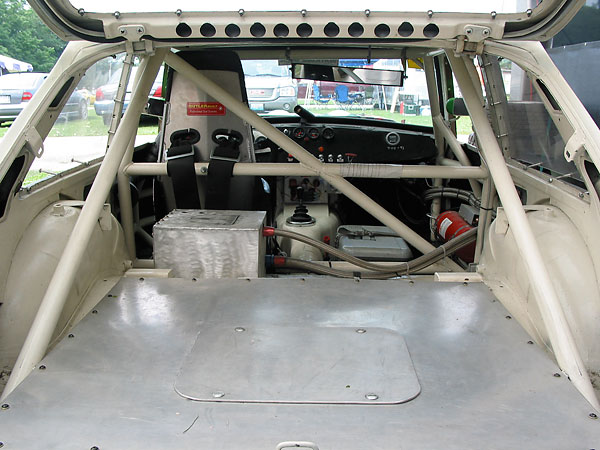 Engine oil reservoir and fuel cell are both partitioned away from the driver by fire-proof aluminum covers.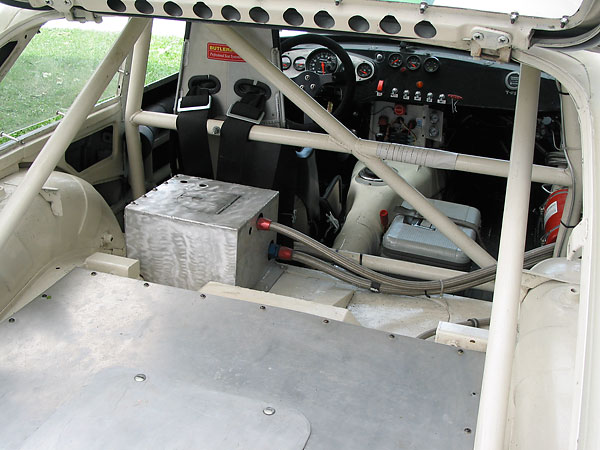 Plumbing for the oil reservoir and fuel cell are armored with braided stainless steel covering.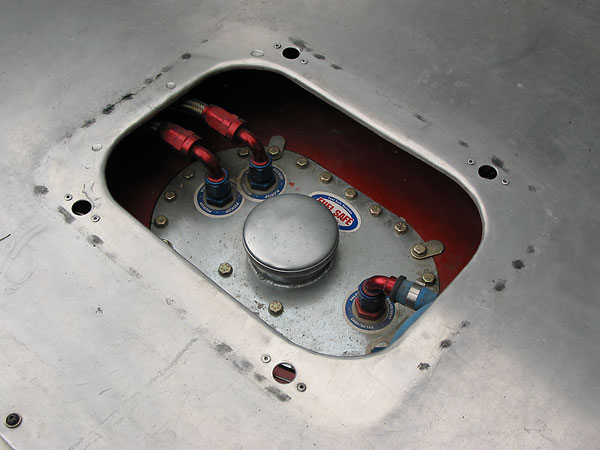 Four Dzus clips allow access for refueling. Refueling is never done with the driver in the cockpit.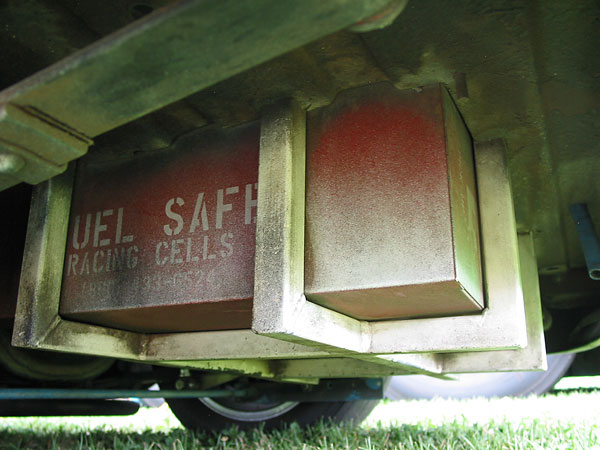 12 gallon "Fuel Safe" brand fuel cell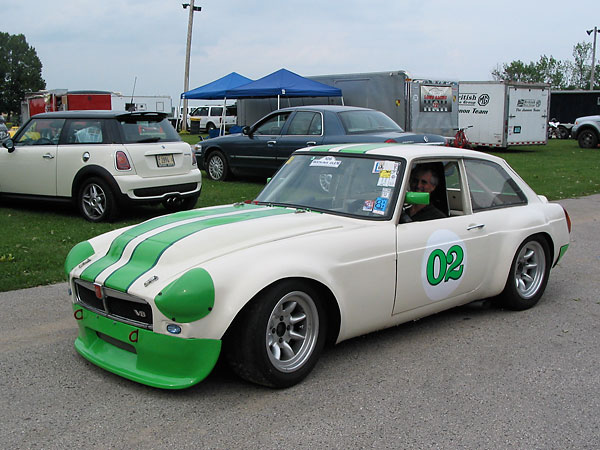 Race photo by "Gordon Jolley Motorsport Photography". (Rights purchased by Les Gonda, and used here by permission.)
All still photos by Curtis Jacobson. All rights reserved.



Notice: all the articles and almost all the photos on BritishRacecar.com are by Curtis Jacobson.
(Photos that aren't by Curtis are explicitly credited.) Reproduction without prior written permission is prohibited.
Contact us to purchase images or reproduction permission. Higher resolution images are optionally available.