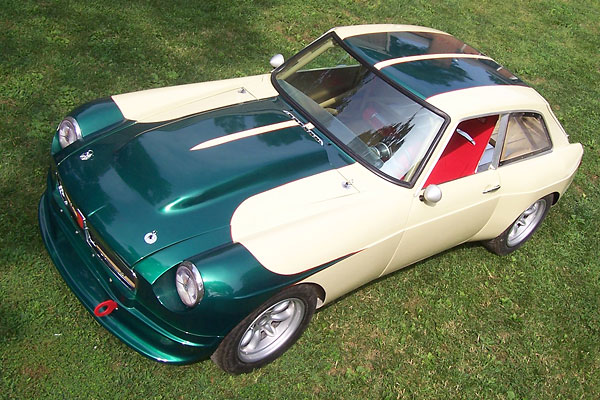 James Bowler's 1969 MGB GT V8 Race Car
Owner: James Bowler
BritishV8 UserID:
weldoneinc
City: Richmond, VA
Model: 1969 MG MGB-GT
Engine: Rover 3.5L aluminum V8
Built by: James Bowler, Weldone Inc.
Buy It, Install an Engine, and Go Racing!
As anticipation builds for the 2009 Sportscar Vintage Racing Association (SVRA) season, at least five MGB GT V8 drivers are preparing to compete. Two of them will be driving cars that James Bowler helped build. If you're interested in joining them, the smartest and quickest way in might be to purchase James Bowler's own 1969 MGB GT V8 racecar.

James Bowler is a professional fabricator and racecar builder. His shop is located in Richmond Virginia, near where he learned his craft at Townsend Race Cars. (Also known as Townsend Racing Products, Townsend was a top flight chassis builder for circle track cars of various types.) James' company, Weldone Inc., provides a wide and growing range of services including precision welding, creating accurate reproduction parts for automotive restorations, and producing elaborate custom-designed fabrications in steel and aluminum. James especially enjoys British sports cars, and his company has benefitted greatly from a close and continuing relationship with Abacus Racing of Virginia Beach, VA.

After doing fabrication work for MGB GT V8 racer Les Gonda over several years, and after building a custom rollcage for Keith Burnett's MGB GT V8 racecar, James thought it would be an interesting after-hours project to create his own MGB GT V8 chassis from scratch. However, James doesn't race or build engines and he's ready to start other projects, so this car is for sale. (Asking price: $25,000.) The car is ready for someone else to install an engine and go racing!
Please support the sponsoring companies who make www.BritishRaceCar.com possible, including:

What are the most interesting features of this car? How about beautiful custom aluminum fenders! Instead of installing typical Sebring or Huffaker style fiberglass fender flares, James has created new all-aluminum front fenders from scratch. They bolt right on like the original steel fenders. Instead of bulging out at the wheels, the sweep of the flare starts at the headlight and continues elegantly all the way back to the doors, much like an IMSA flare. To keep the proportions natural looking, the headlights have been relocated outboard approximately 1.5 inches per side. (Note: James has kept the patterns for these front fenders and will be happy to make you a similar set for a fair price.)

The rear fender flares are steel. Steel flares make sense in back because the rear fenders on an MGB GT are a stressed component of the unibody chassis. James' flares start sweeping outward at the door jams and then curve back in at the taillights, where they wrap around neatly into a custom rear valance.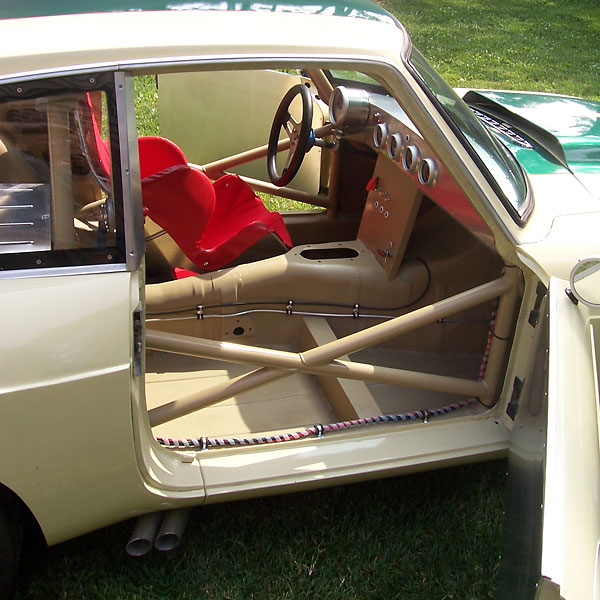 Inside the car, the original floor has been removed from the battery-box shelf rearward through the cargo area. The floor is superseded by an aluminum fire shelf, secured by Dzus clips. The great benefit of this design is easy access to the fuel system and the rear suspension. To retain strength, three new tubular crossmembers tie the rear subframe together, supplemented by the rollcage. The main hoop's rearward diagonal braces extend all the way back to the frame, where the rear-most of the three new crossmembers tie in, just behind the leaf spring mounts.

Another interesting design feature recalls an M.G. Car Company innovation of the nineteen thirties: spring shackles have been replaced by a sliding connection. John Thornley described the original M.G. design in MAINTAINING THE BREED: "...in place of swinging shackles, the main leaf was ground on its end, and slid, through a slot in the rear cross tube, in bronze half bushes..." James Bowlers' design leaves the rear spring-eye intact. A pin through the spring-eye supports roller bearings on either side. The bearings ride in slotted aluminum blocks. This helps to keep the springs working freely, without binding, as it also accomodates the increased working length of the (lowered) leaf springs. Working together with the Panhard rod, this mounting system helps keep the rear suspension centered under the car.

Several modifications were made to the bodyshell so popular racing parts could be used. An off-the-shelf Chevy-style 19-inch aluminum crossflow radiator is a lot more cost effective than a custom radiator. (Figure about $180 versus over $400.) The firewall shelf where the pedals mount has been cut open and raised up to facilitate using an off-the-shelf Wilwood long pedal set with dual brake master cylinders and adjustable bias bar. One of the hallmarks of good design is it looks simple, but I'm sure I won't be the only MGB V8 builder who looks at the following photos and asks: "Why didn't I think of that!"


Enjoying this online magazine? BritishRaceCar is funded through the generous support of readers like you!
To contribute to our operating budget, please click here and follow the instructions.
(Suggested contribution is twenty bucks per year. Feel free to give more!)
Features and Specifications
Engine:
T.B.D., but by class rules it must be a Rover aluminum V8 with 3.5L displacement.

Induction:
T.B.D., although the car is equipped with a cowl induction hood scoop.

Ignition:
M.S.D. ignition, with control box mounted under dashboard, passenger-side.

Cooling:
aluminum 2-row universal radiator. (Purchased from Allstar Performance, but apparently made by Fluidyne.)

Exhaust:
D&D four-into-one, through-the-fender headers into a 2" equal length exhaust system.

Transmission:
Borg Warner T5 5-speed (from a Chevrolet Camaro). D&D bellhousing. (Specific flywheel, pressure plate, clutch, and HTOB haven't been selected yet.) Wilwood clutch master cylinder (3/4").

Front Susp.:
lowered racing-spec springs from Moss Motors. Standard but rebuilt spindles. Stock lever shocks. Urethane bushings from Moss Motors. Custom 1.125" diameter sway bar. New stock MGB steering rack, except with the input shaft has been shortened to relocate the universal joint. (Note: class rules are relatively restrictive in the front suspension area.)

Rear Susp.:
racing leaf springs, mounted at the rear on custom sliders in lieu of shackles. Custom Panhard rod. A link has been added forward from the top of the differential to restrict pinion angle change. (A rear sway bar and rear shock absorbers haven't been added yet. The shock absorber mounts are designed for 5"stroke racing shocks.)

Rear Axle:
Ford 8" axle with limited slip differential and 4.11:1 gears.

Brakes:
(master) Wilwood dual master cylinders (3/4" bore) with bias bar.
(front) Wilwood 4-piston forged calipers, Wilwood 11.75" vented 10-bolt rotors, & 2psi residual pressure valve.
(rear) 11" drum (Ford). Wilwood 10psi residual pressure valve.

Wheels/Tires:
15"x8" Compomotive wheels (3.5" offset). Hoosier Speedster 225/50 radials.

Body:
custom fabricated aluminum front fenders and hood. Fenders have been flared four inches to house the wide wheels. Headlights have been spaced outboard about 1.5", and the flares extend all the way back to the doors for a subtle and distinctive appearance! Custom fabricated aluminum cowl-induction hood scoop. An MG "Special Tuning" style fiberglass air dam was installed, after being cut and widened to fit the custom fenders. Custom fabricated (steel) flared rear fenders. Custom fabricated Sebring-style rear valance. Custom Lexan (polycarbonate) rear window and quarter windows. Raydyot mirrors. Two color paint scheme in light beige and dark metallic green, with hand-painted pin-striping in red. The beige is a single-stage color and it was color sanded before the two-stage green paint was applied. After the hand stripe was added, the complete car was clear coated.

Interior:
SCCA/SVRA compliant roll cage with supplemental structure through the firewall to the front horns. Aluminum racing interior. Aluminum dashboard. Custom racing-style steering column with Allstar Performance quick release steering wheel hub. Grant model 650 steering wheel. Kirkey aluminum racing seat (36 Series - Intermediate 20 Degree Layback). Fire suppression system. Cargo area cut away for easy access to the fuel system and rear suspension, after removal of a fireproof aluminum panel.

Electrical:
main disconnect switch. Circuit breakers.

Instruments:
Autometer gauges. (Specifically: tachometer, engine oil pressure, engine oil temperature, engine coolant temperature, and volt meter.)

Fuel System:
12 gallon Fuel Safe fuel cell in an aluminum container. Holley "blue" fuel pump. Earl's inline fuel filter. A Holley fuel pressure regulator is mounted in the engine bay.

Weight:
with the engine installed this car should be well under SVRA "Group 8" minimum weight requirement, so ballast will be required (and can be placed to balance the car as desired.)

Preparing the Body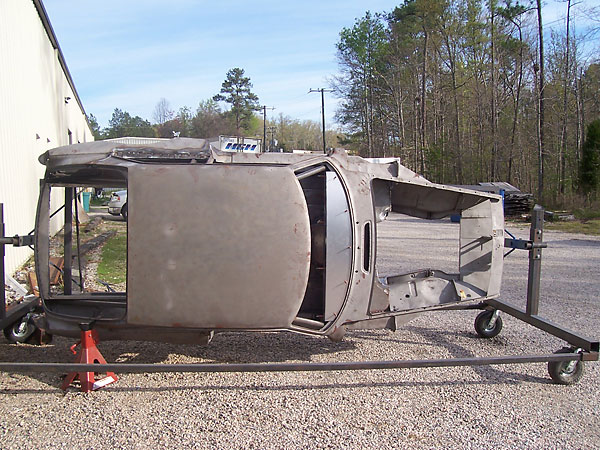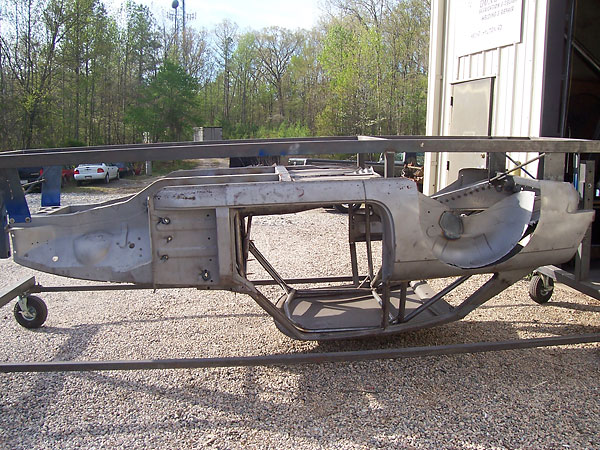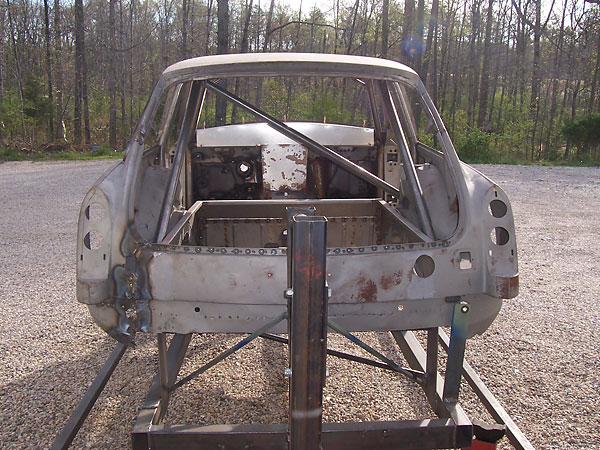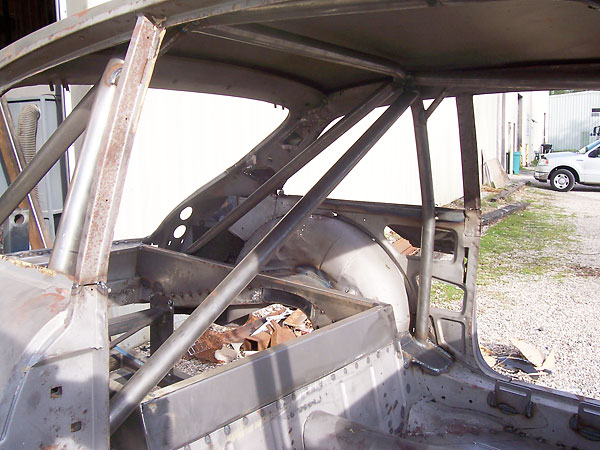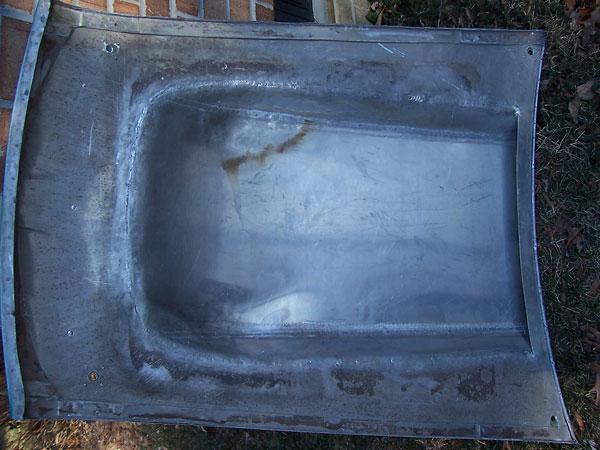 Bottom of aluminum hood, showing the cowl induction hood scoop.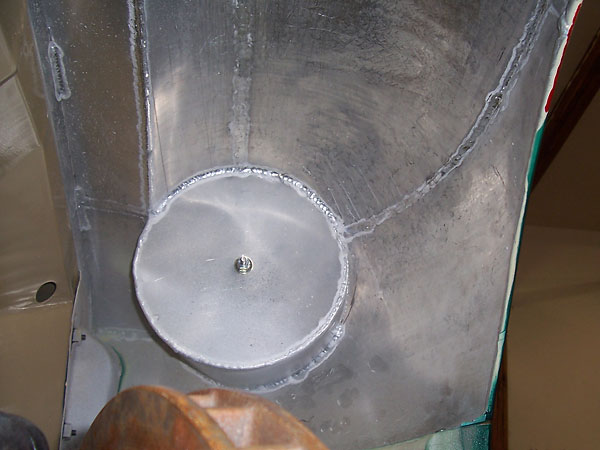 Inside of aluminum fender, looking forward.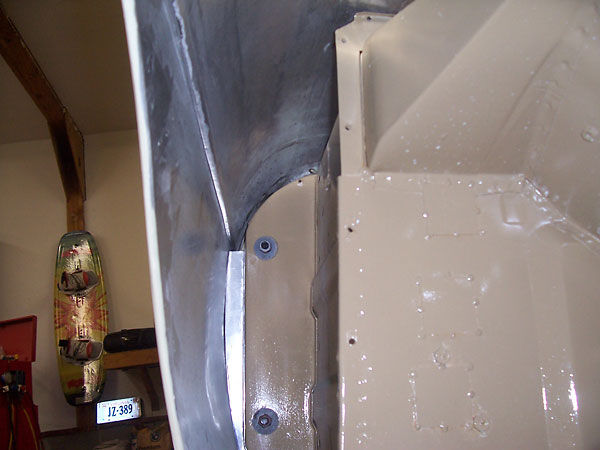 Inside of aluminum fender, looking rearward.


Engine Compartment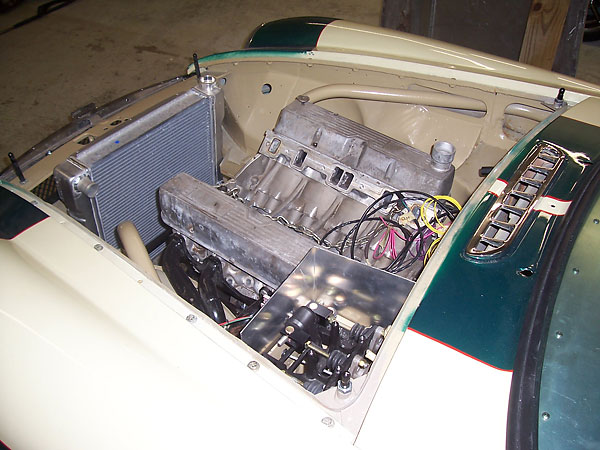 Engine compartment overview.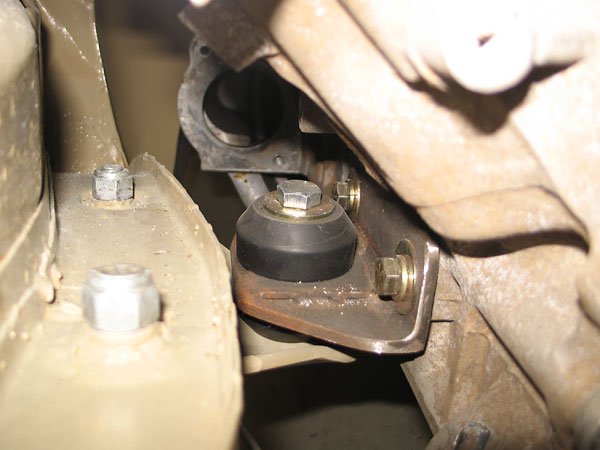 Passenger-side motor mount.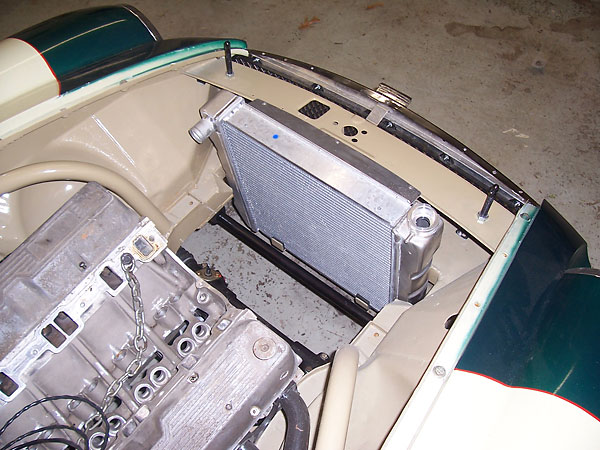 Fluidyne aluminum 2-row universal/racing single-pass crossflow radiator, with Chevy ports.
(Overall: 22"Wx"19"Tx2.50"D. Core: 17"Wx19"Tx2.25"D. 1.5" upper hose, 1.75" lower hose.)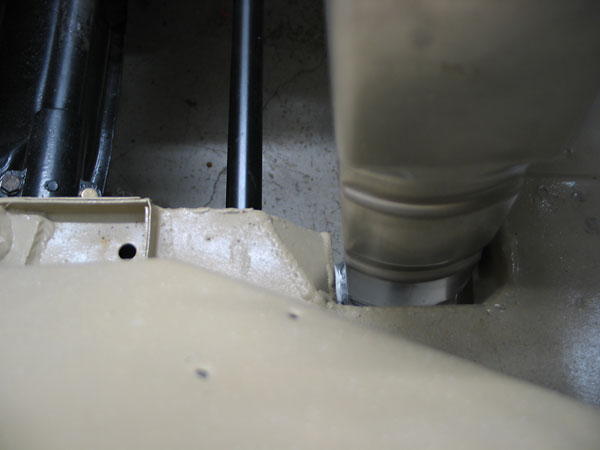 Subframe extensions have been modified to support the larger (and more cost effective) radiator.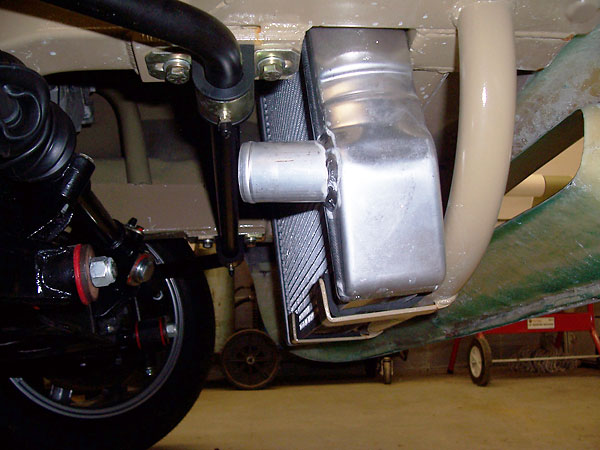 The lower radiator mount also offers some protection from road hazards.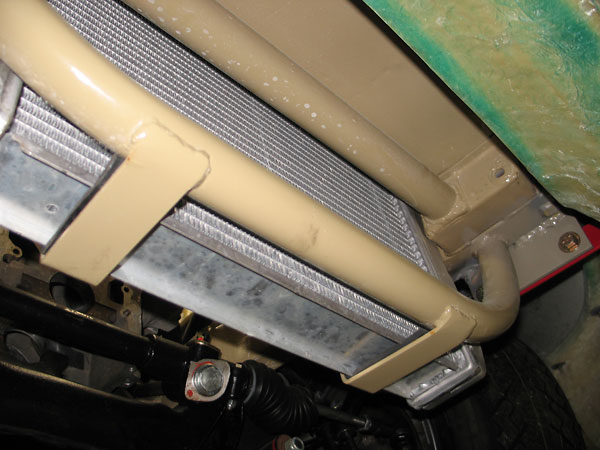 Just ahead of the radiator (and just below the shelf), there's a second tubular chassis reinforcement.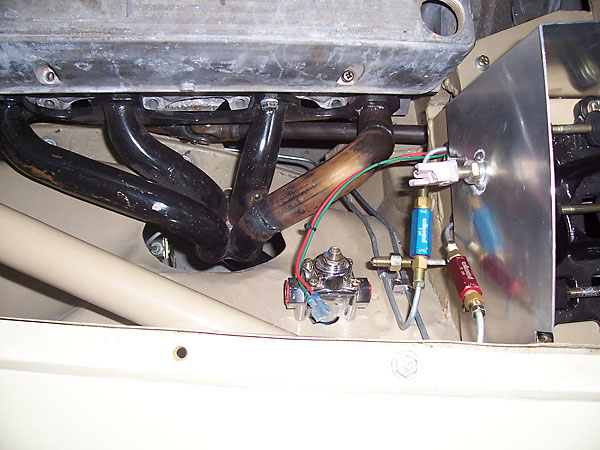 Four-into-one header (driver's side) and Holley fuel pressure regulator.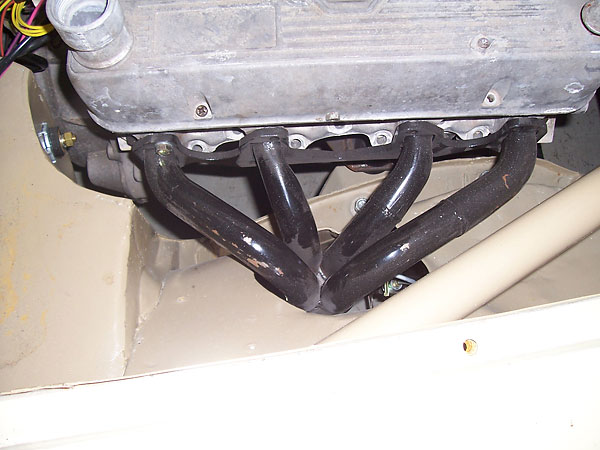 On both sides, the headers exit through holes in the inner fenders ("RV8 style").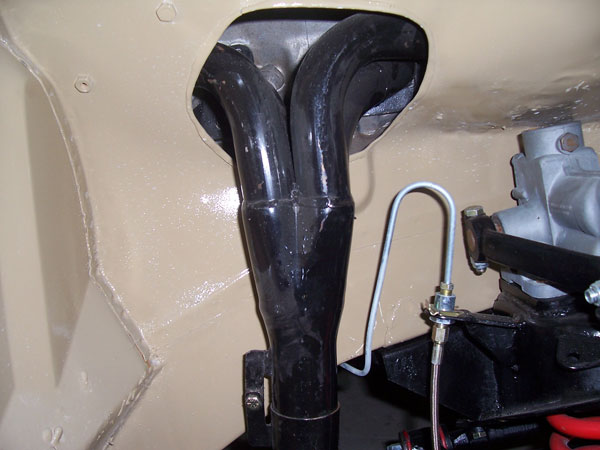 Passenger's side header from below.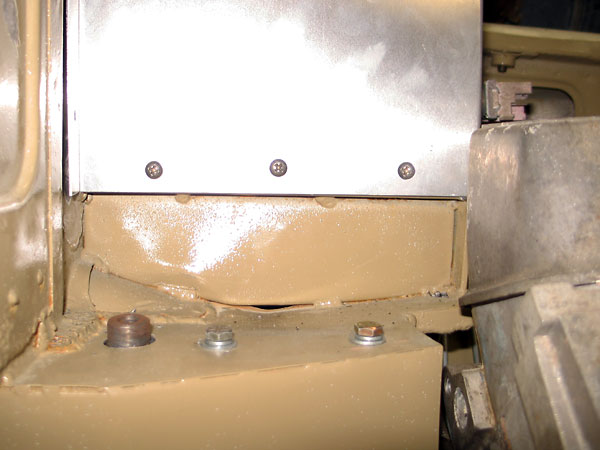 This built-up brake box facilitates use of a standard Wilwood "long" pedal assembly.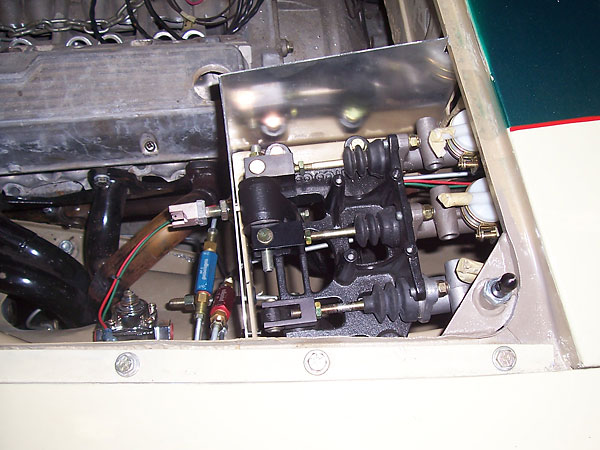 Dual 3/4" bore Wilwood master cylinders with bias bar. Remote reservoirs haven't been installed yet.
Wilwood residual pressure valves (front: 2psi/blue, rear: 10psi/red).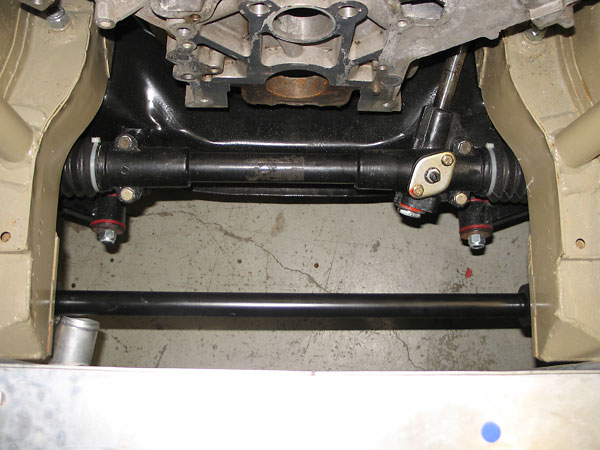 Standard MGB steering rack (seen from above).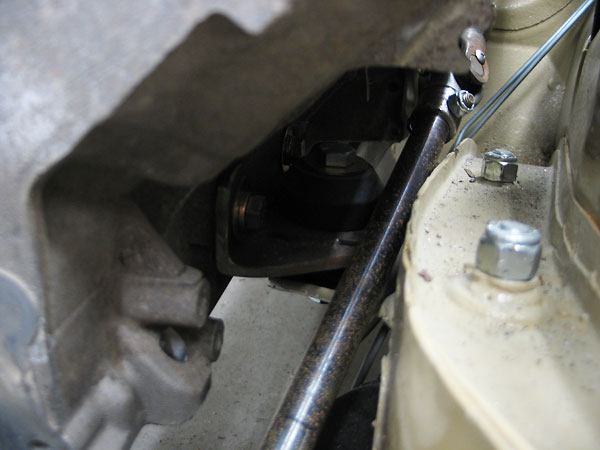 Steering shaft clearance to motor mount.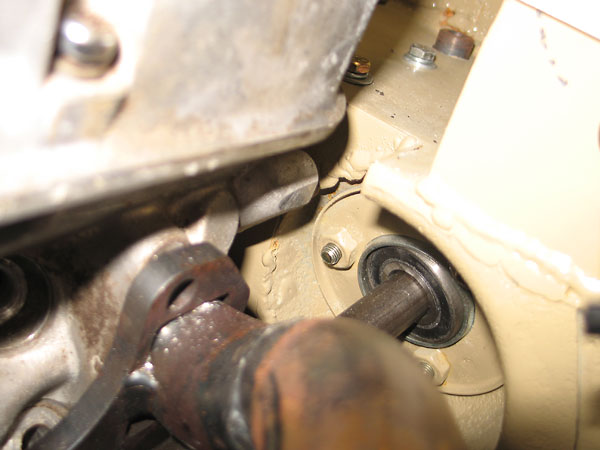 This isn't just a firewall passthrough. It's also a bearing to support the steering shaft.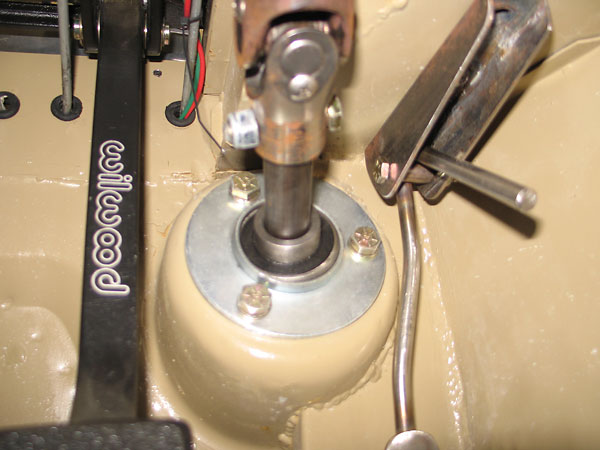 Steering universal joint. (James custom made the throttle pedal.)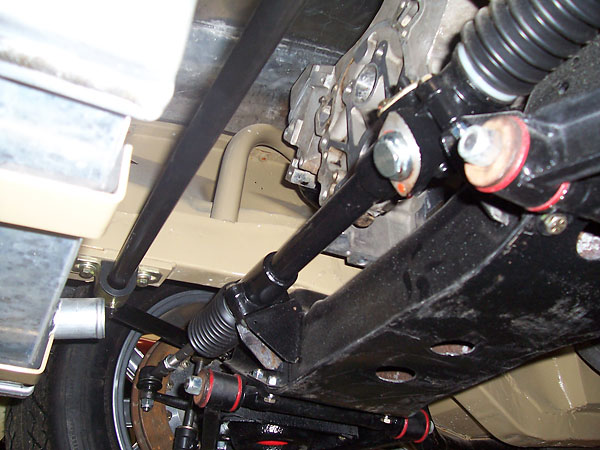 Steering rack from below.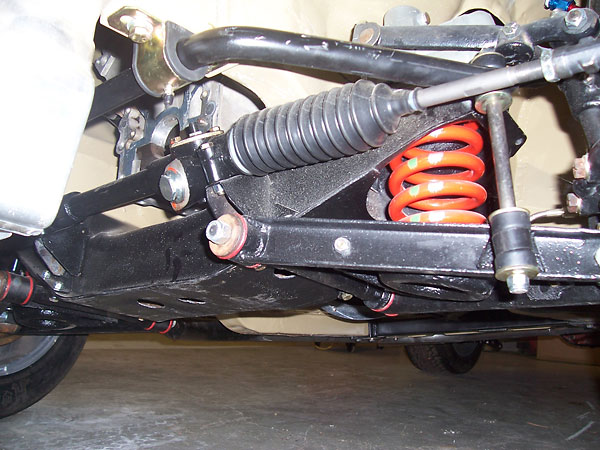 Custom 1.125" diameter sway bar.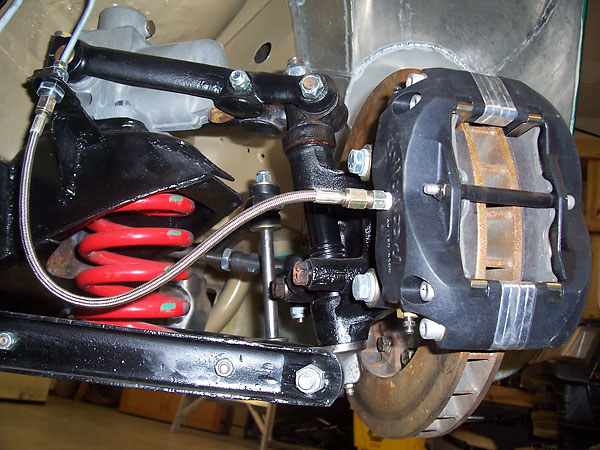 Lowered racing springs from Moss Motors. Standard/rebuilt MGB kingpins and spindles.
Lever arm shock absorbers are used because they're required by SVRA class rules.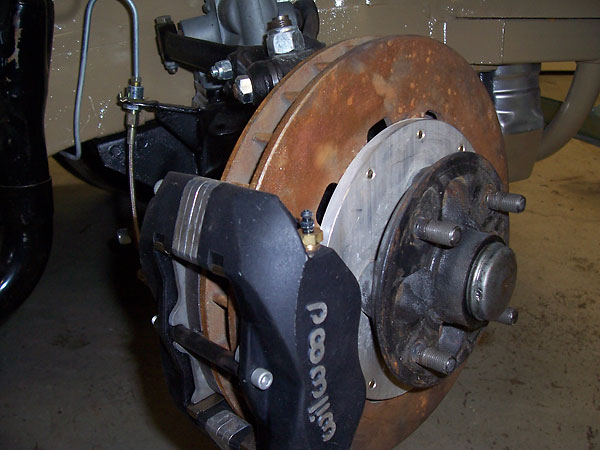 Wilwood vented 11.75" diameter 10-bolt rotors mounted on custom-machined aluminum adapters.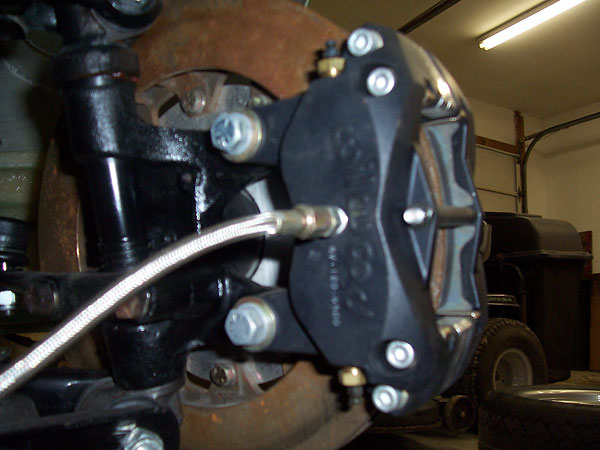 Notice that the Wilwood 4-piston calipers aren't mounted on machined adapters. Instead, mounting holes
in the spindle were welded-up, re-drilled, and tapped to match Wilwood's narrow-mount (3.5") pattern. Note:
Wilwood has superceeded this specific Forged Dynalite model with a new Forged Superlite (FSL4) model.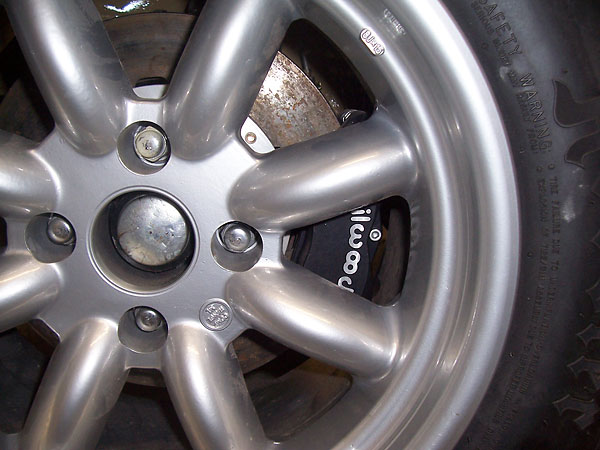 Compomotive wheels 15"x8" (3.5" offset). Hoosier Speedster 225/50 radials.


Interior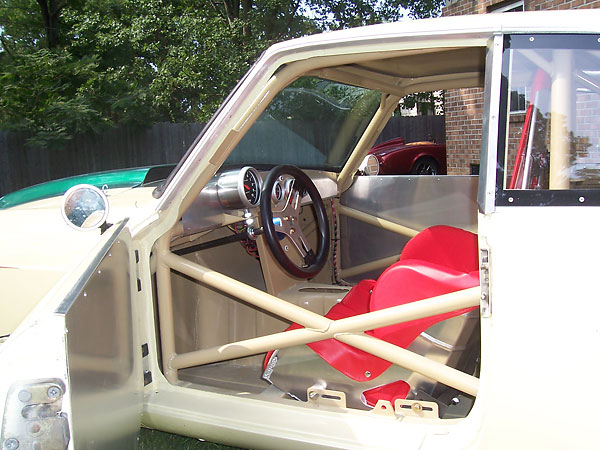 Here's a preview of what the interior looks like, but we'll show you all the details below!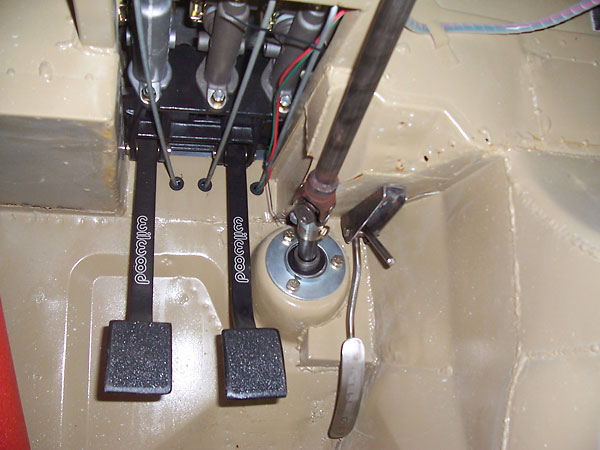 The raised pedal mount and the steering column support bearing as seen from below.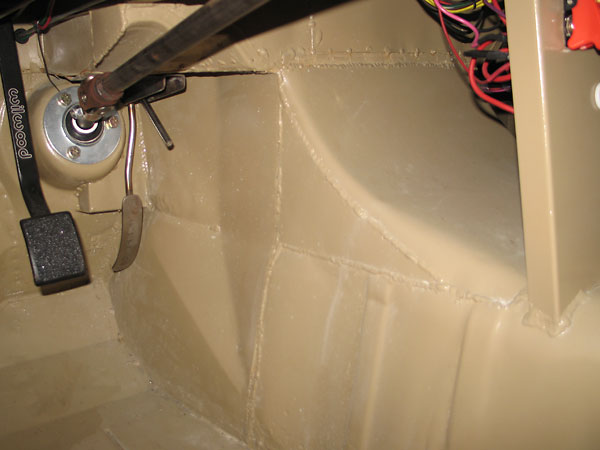 This transmission tunnel mod will accomodate even the tallest transmissions.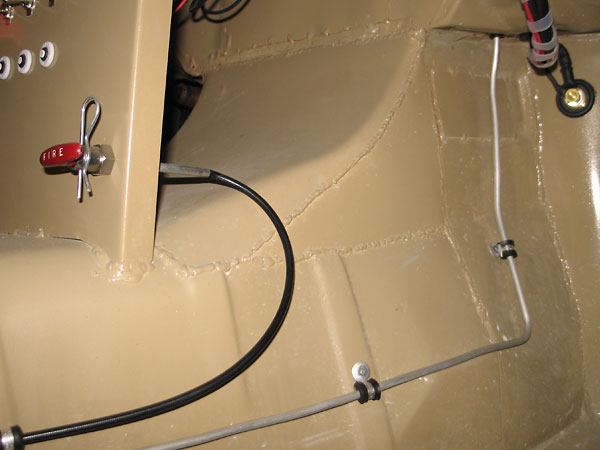 A welded-in switch panel connects the transmission tunnel to the under-dash rollcage brace.
(Foreground: activation cable and some of the plumbing for the fire extinguisher system.)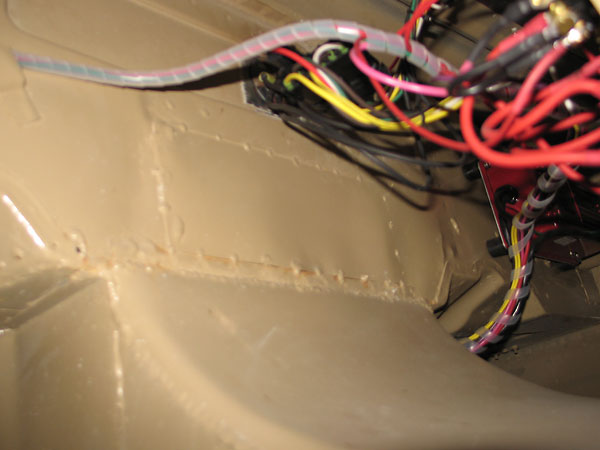 The heater/vent hole is no longer required, so it's been patched over.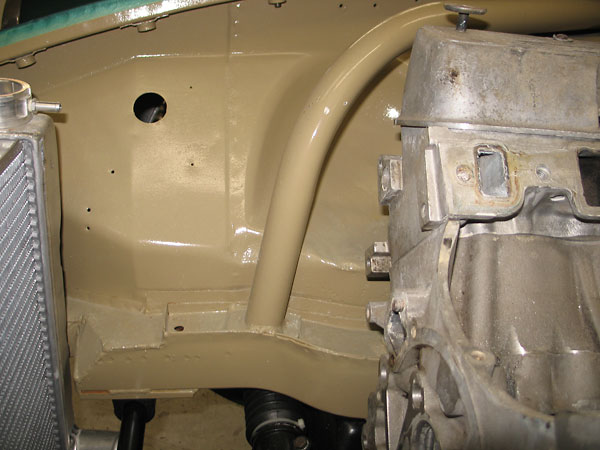 Though relatively lightweight, the rollcage adds a whole lot of strength and rigidity, so it's
sensible to take that strength and stiffness forward to the engine and front suspension area.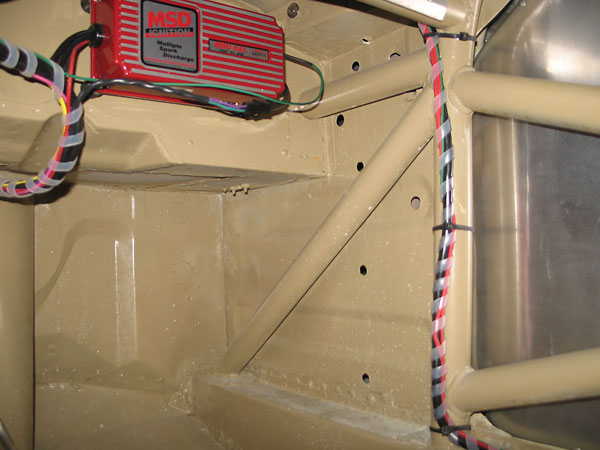 One of the keys to maximizing rollcage effectness is having strong attachment points, and lots of them.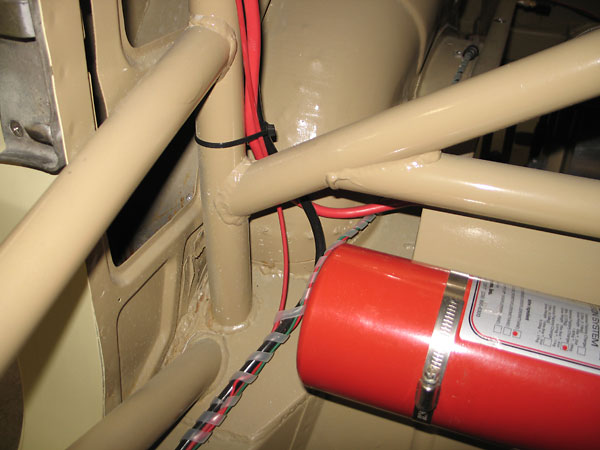 The most important rollcage mount is the one for the main hoop, at the base of the b-pillar.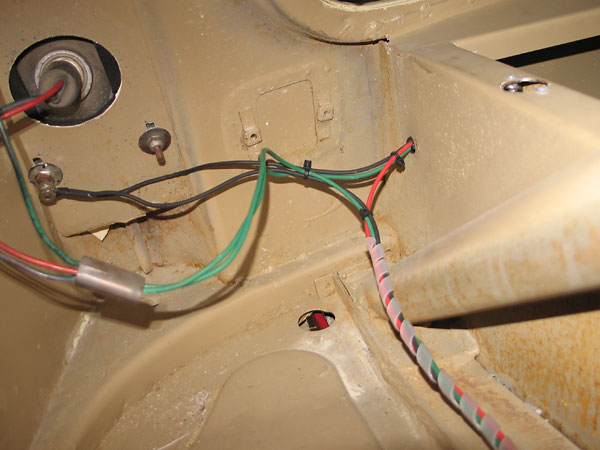 The rearward main-hoop braces are straight, and they run all the way back and down to the frame.
(You can also see how the obsolete reverse lamp hole was patched over.)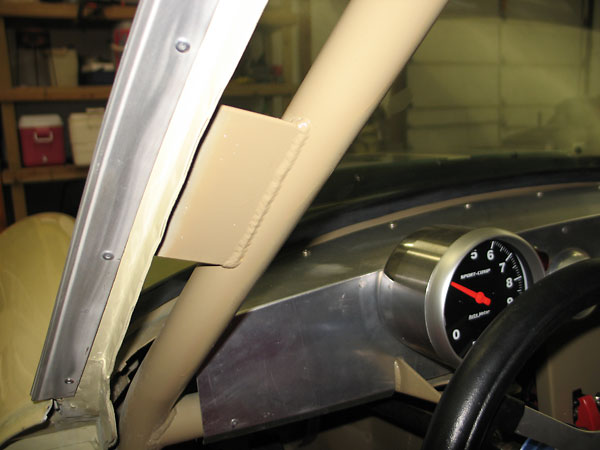 Additional rollcage-to-body connections make the car even stronger and stiffer.



These rollcage-to-body connections are over the doors.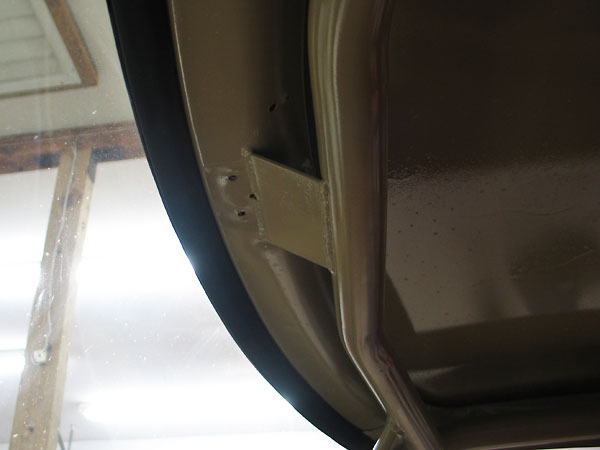 This rollcage-to-body connection is centered over the windshield.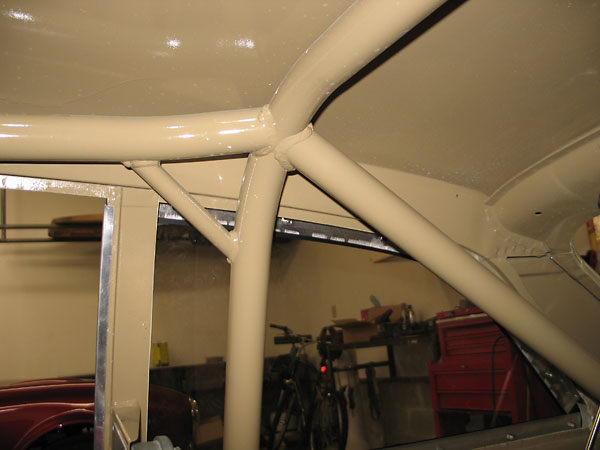 Note that key corners of the rollcage are diagonally braced.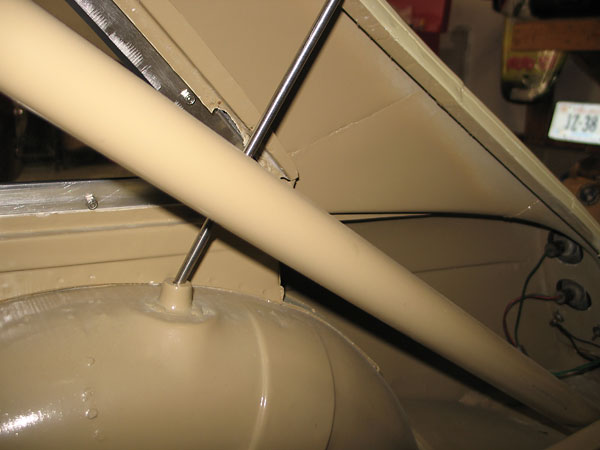 A close look at the c-pillar reveals a clue that the roof was removed when the cage was installed.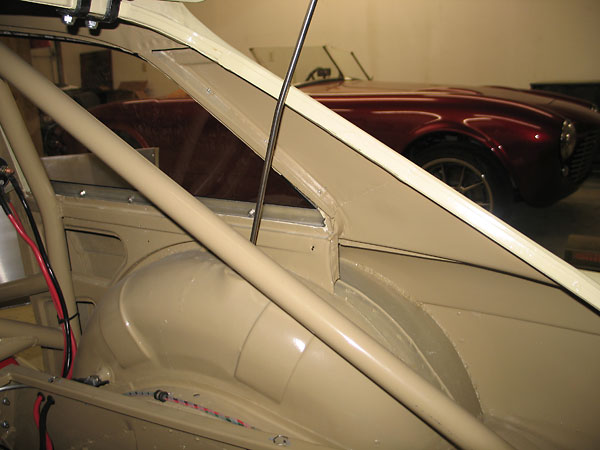 Filler panels between wheel wells and quarterpanels were added when the rear flares were built.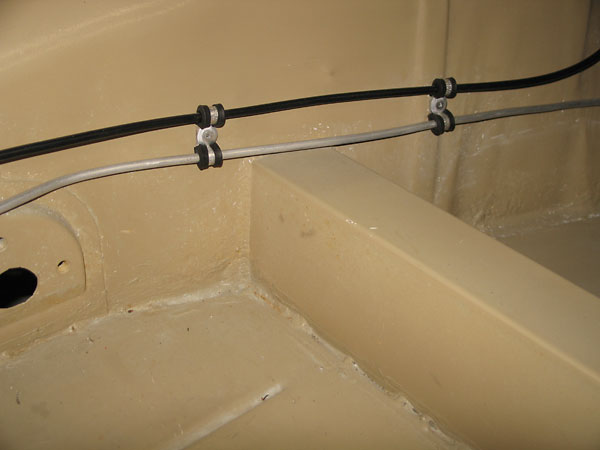 When floors were replaced, robust braces were added ahead of the seats, between rockers and tunnel.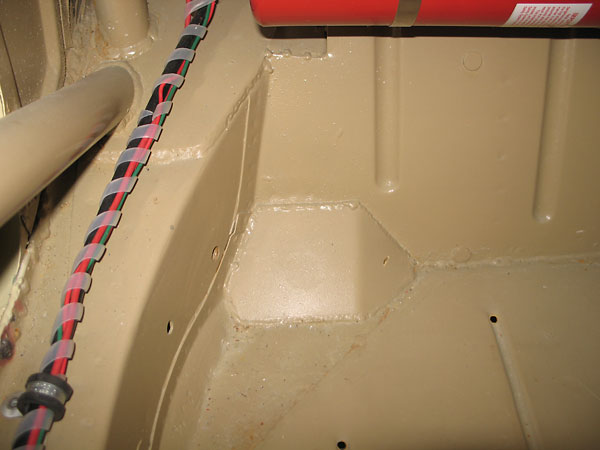 The floor was also reinforced above the forward leaf spring mounts.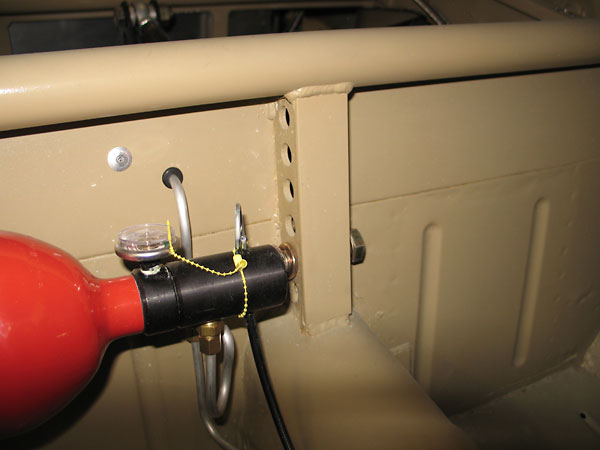 This brace between the driveshaft tunnel and horizontal rollcage tube is also a suspension mounting point.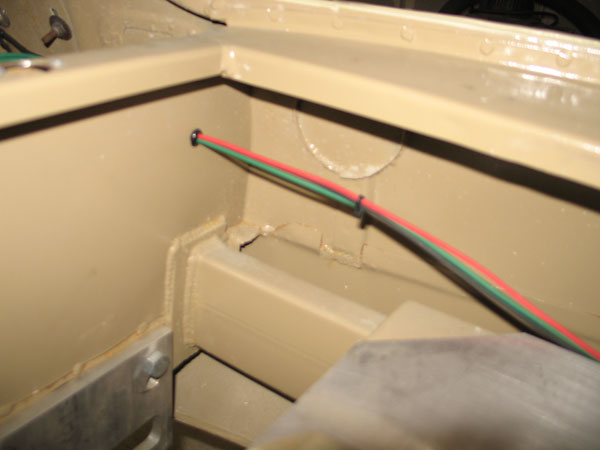 For strength, a stout length of box-tubing connects the subframe rails at the rear. Behind that, you can
see how the new, custom-fabricated steel "Sebring-style" lower valance connects to the original apron.
Note also how the old fuel filler hole was patched over, and that the trunk floor has been removed.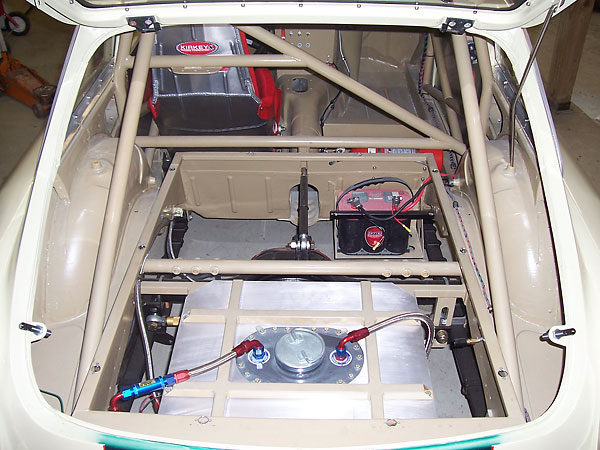 This photo gives more of an overview of the rollcage, and also the fuel cell mounting.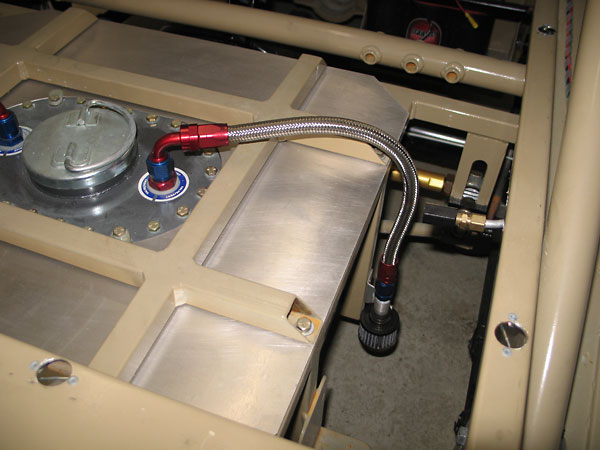 The 12 gallon Fuel Safe fuel cell (and its vent). The aluminum container was fabricated to suit.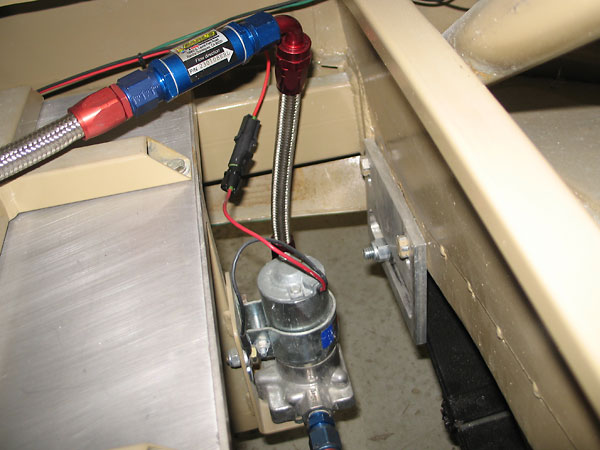 Holley "blue" fuel pump.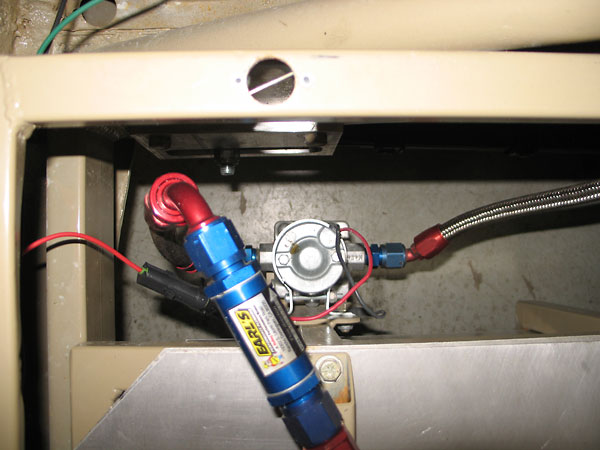 Earl's inline fuel filter.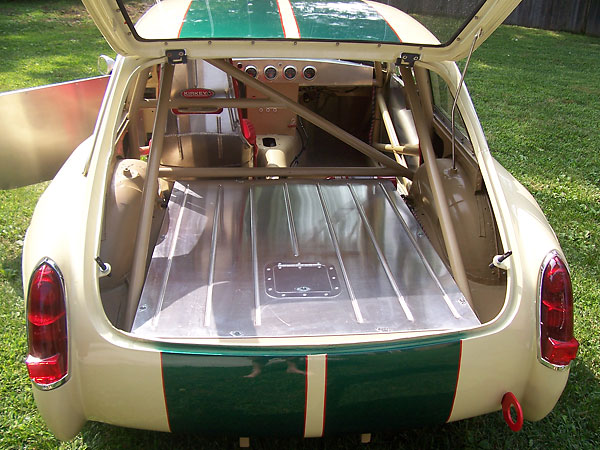 A flame and vapor proof aluminum cover separates the fuel cell from the car's interior.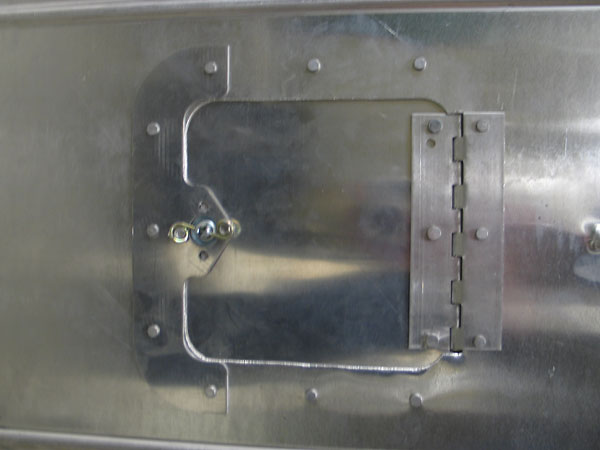 The lid of the fuel cell cover. Note the solid aluminum ("bucked") rivots.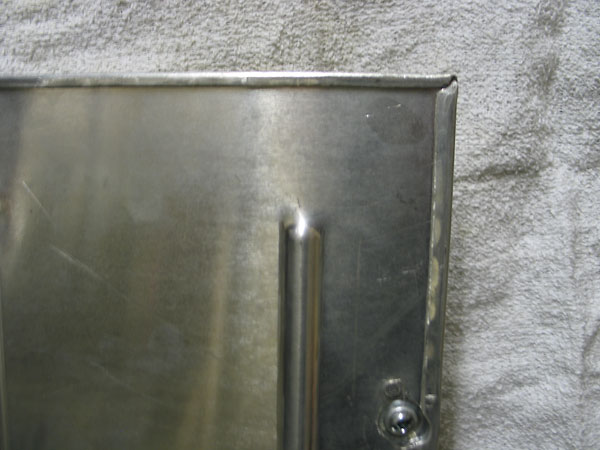 Another detail-view of the fuel cell cover.


Enjoying this article? www.BritishRaceCar.com is partially funded through generous support from readers like you!
To contribute to our operating budget, please click here and follow the instructions.
(Suggested contribution is twenty bucks per year. Feel free to give more!)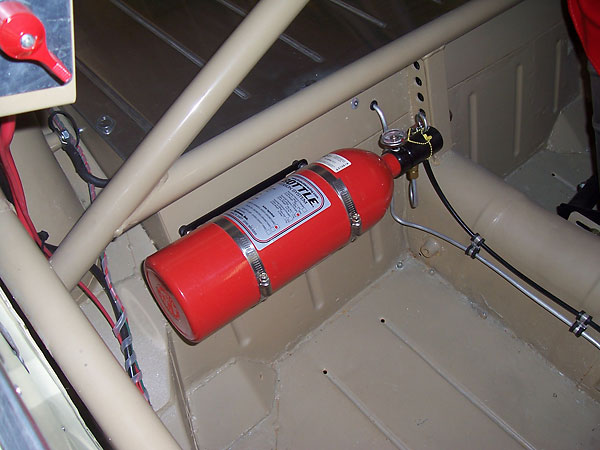 Central fire extinguisher system.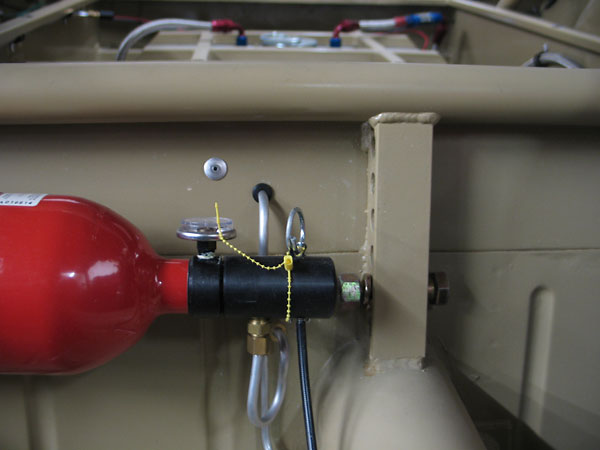 Close-up on the fire bottle's cable-operated valve and of the plumbing.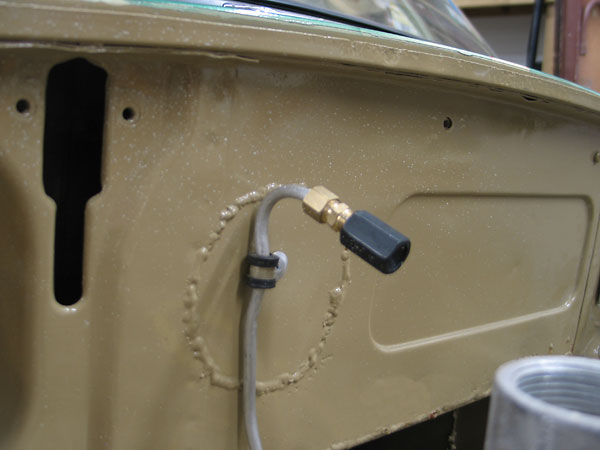 Fire extinguisher nozzle at firewall.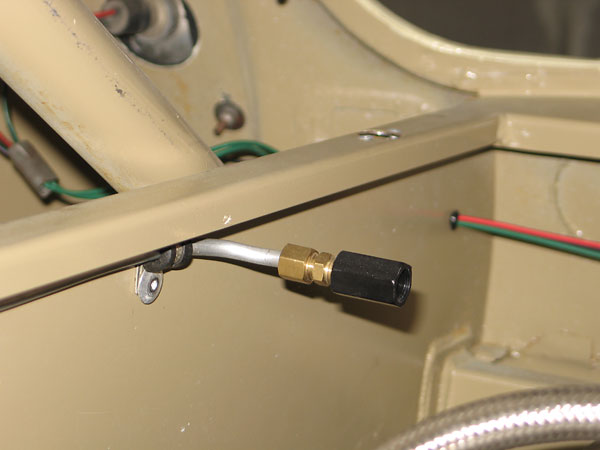 Fire extinguisher nozzle at the fuel cell.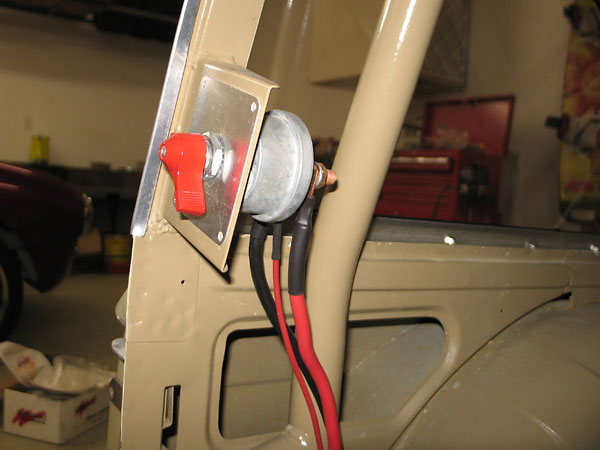 The battery disconnect switch is located where either driver or corner worker can reach it.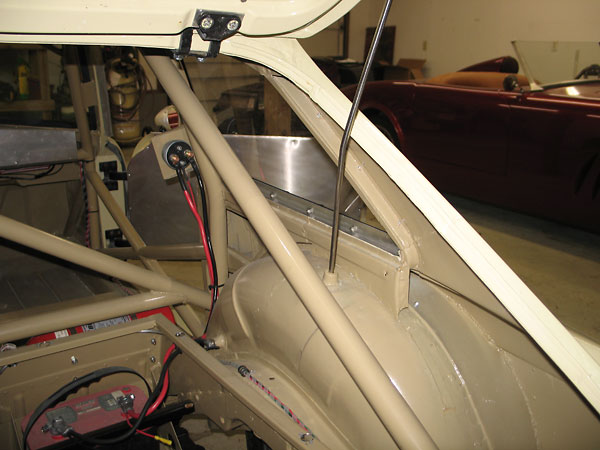 Having a single switch instead of two also simplifies the cable.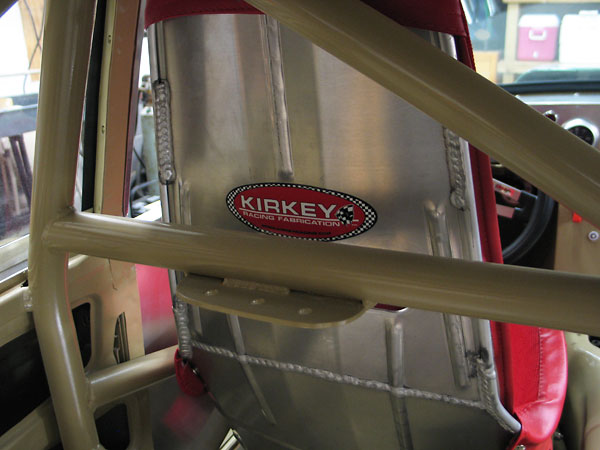 Kirkey Racing Fabrication (36 Series - Intermediate 20 Degree Layback) aluminum racing seat.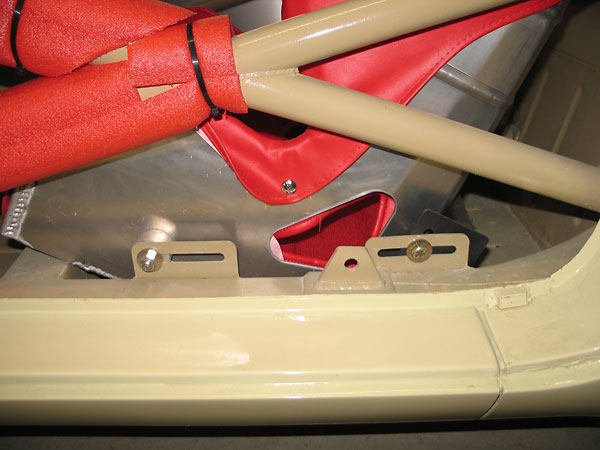 Seat mounting features...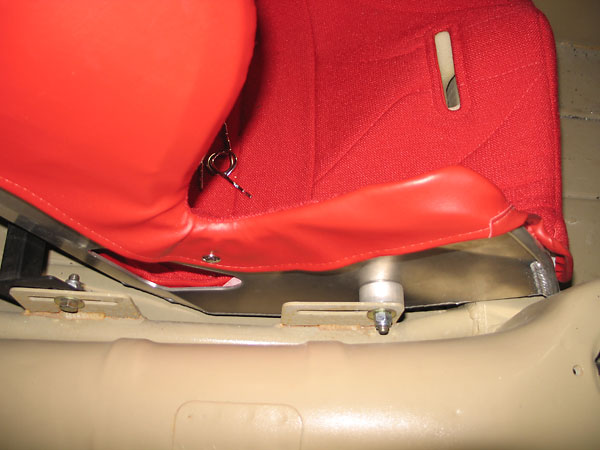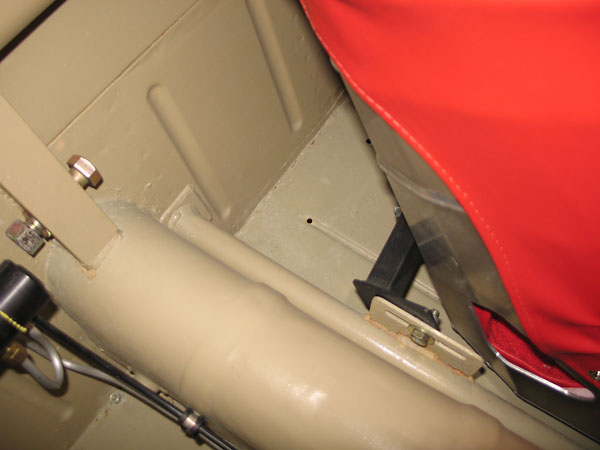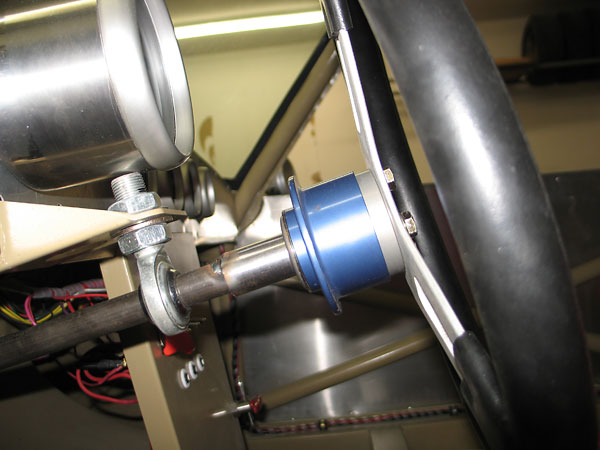 Aluminum steering wheel, with Allstar Performance quick release hub.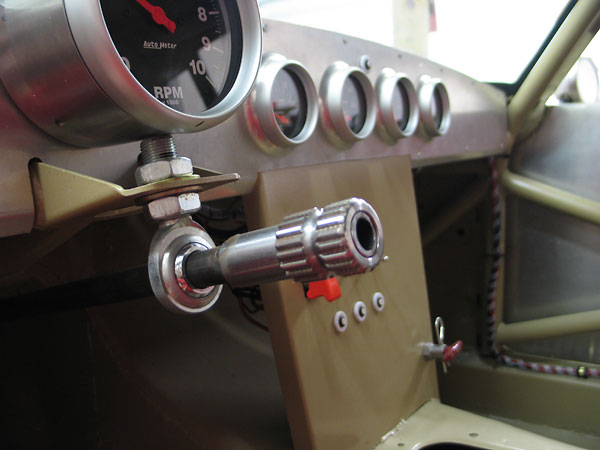 Splined joint on the steering column.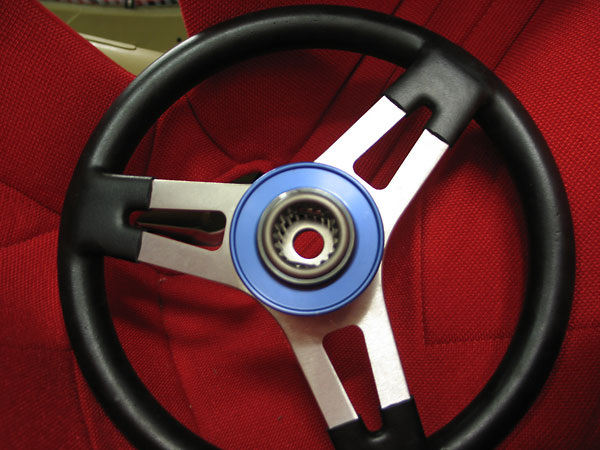 Close-up of the quick release (mounted on Grant model 650 steering wheel, 13" x 1.5" dish).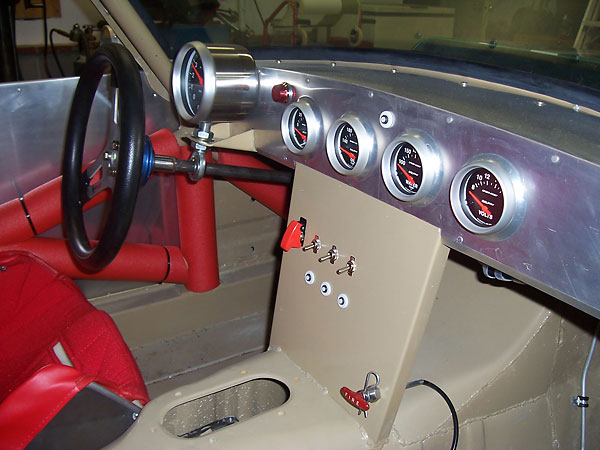 Custom aluminum dashboard... note the classy bell-mouthed mounting detail for the gauges.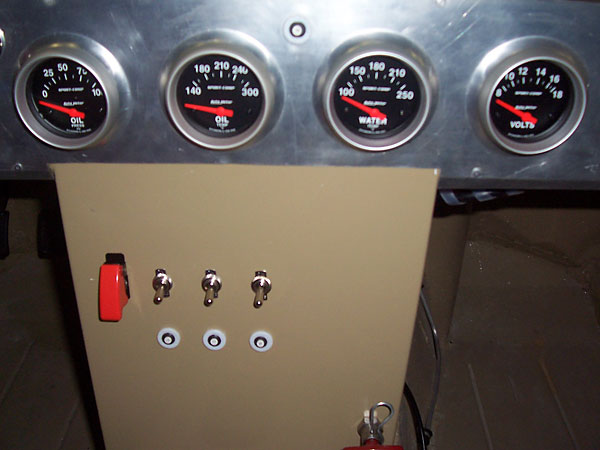 Close-up view of the AutoMeter gauges (Oil Pressure: 0-100psi, Oil Temperature: 140-300F, Water
Temperature: 100-250F, Voltmeter: 0-18V), the switches, and the pushbutton circuit breakers.


Transmission / Rear Axle / Rear Suspension / Rear Brakes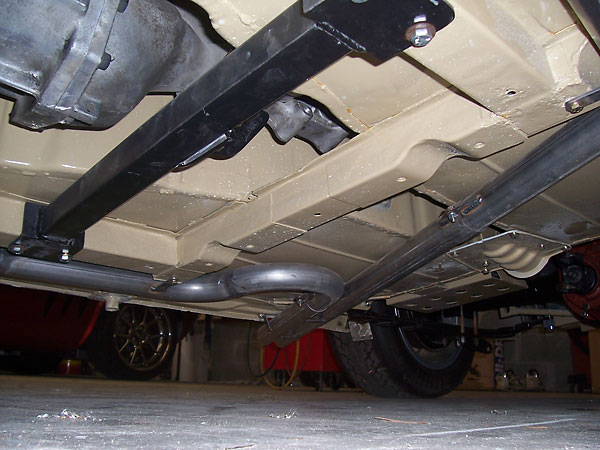 Transmission crossmember and exhaust routing/mounting details.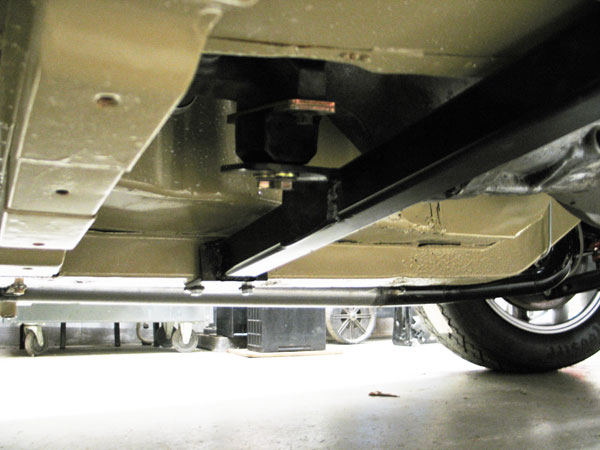 Chevy Camaro T5's have angled rear mounting bosses. This is the simplest way to accomodate them.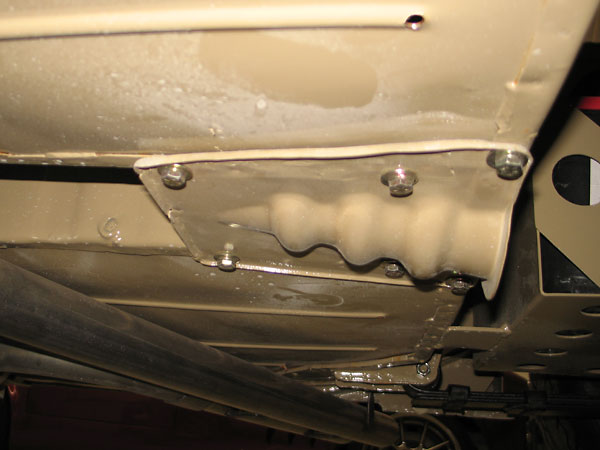 Removeable heel-plate stiffener, to make removing the driveshaft more convenient
(which in turn makes it much easier to service the clutch or the axle's third member.)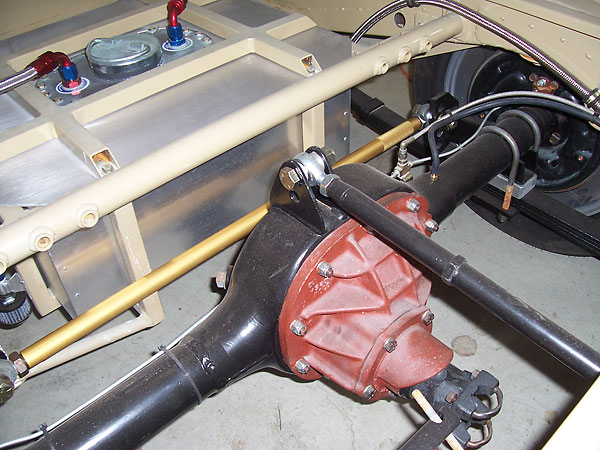 Differential, viewed from above. Note also the Panhard rod.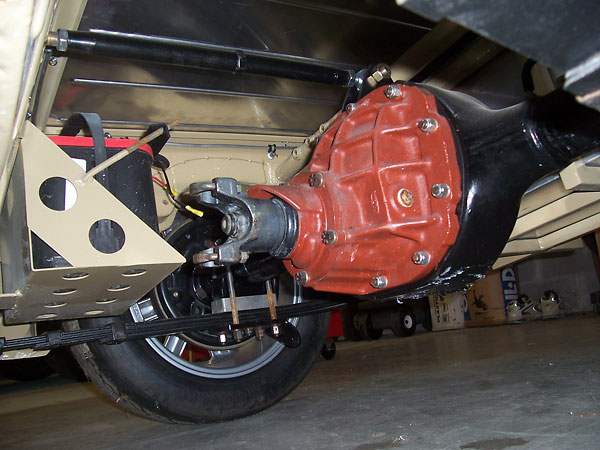 Differential, viewed from below. Note also softened (4-leaf) springs and compact battery shelf.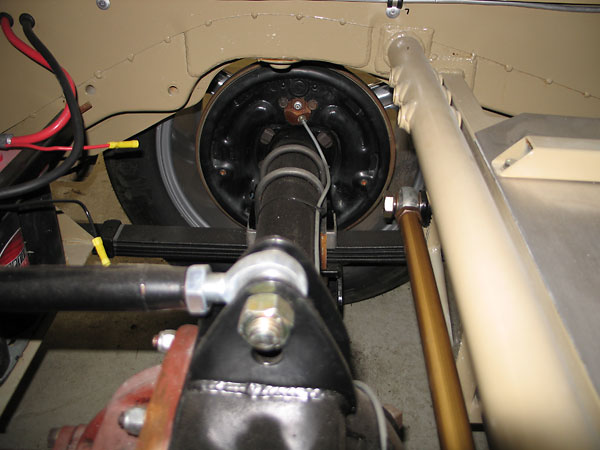 The 5" stroke telescoping shocks aren't fitted yet, but in this view you can see where they'll go.
Foreground: a radius rod restricts spring wind-up and pinion angle change...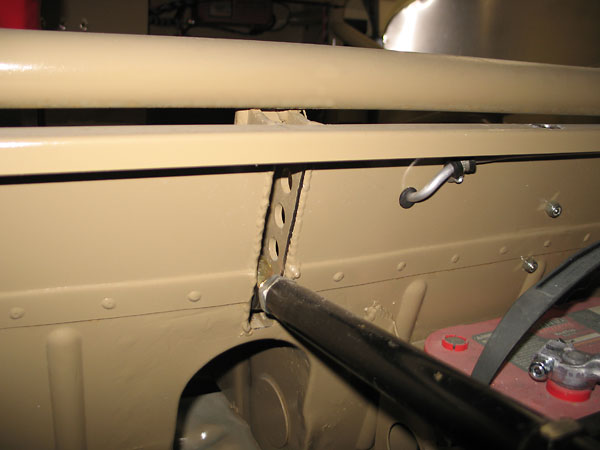 ...and, its length and mounting angle are easily adjustable for chassis tuning purposes.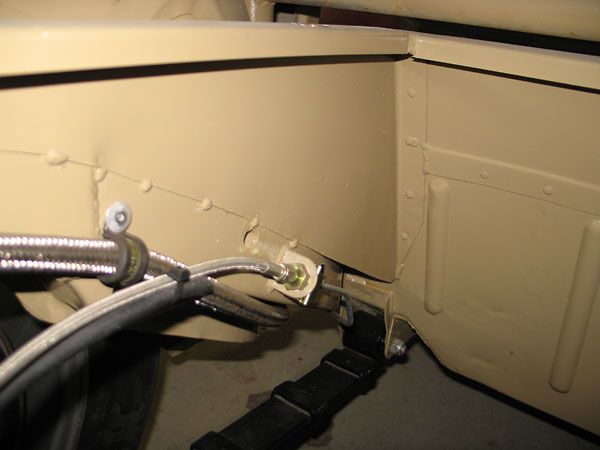 Forward leaf spring mount.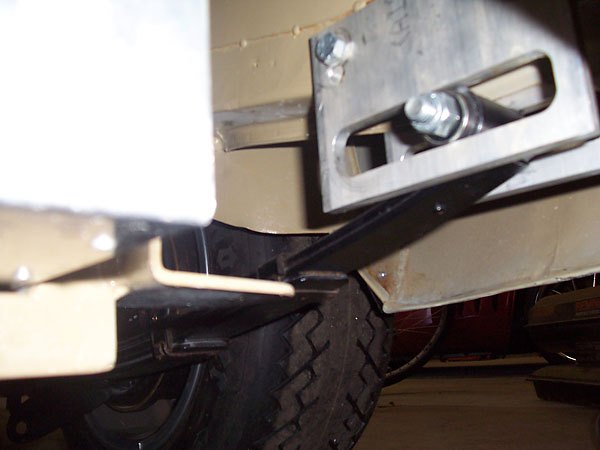 Sliders reduce friction, make motion more linear, and reduce side-to-side motion (compared to shackles).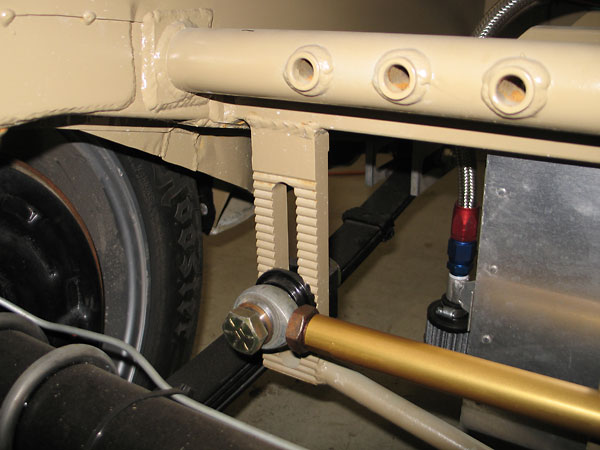 Panhard rod mount on the chassis, NASCAR style (for easy height adjustment).


Exterior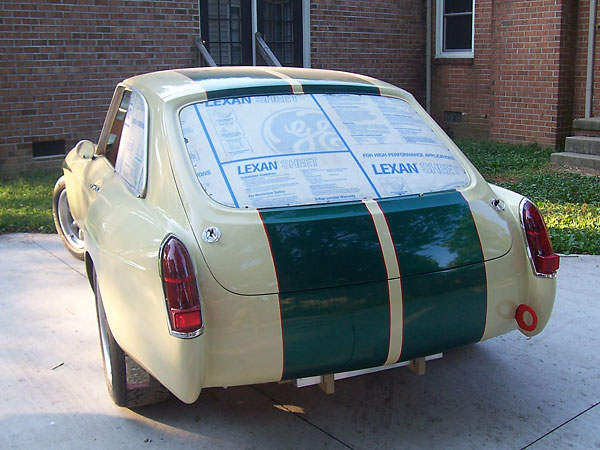 Lexan™ cargo hatch window.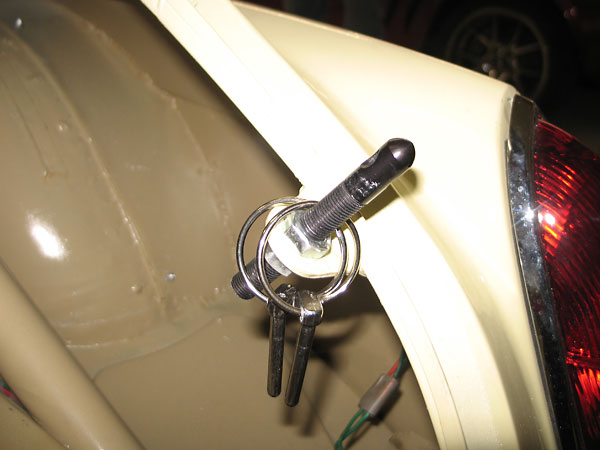 Pins for holding down the cargo hatch.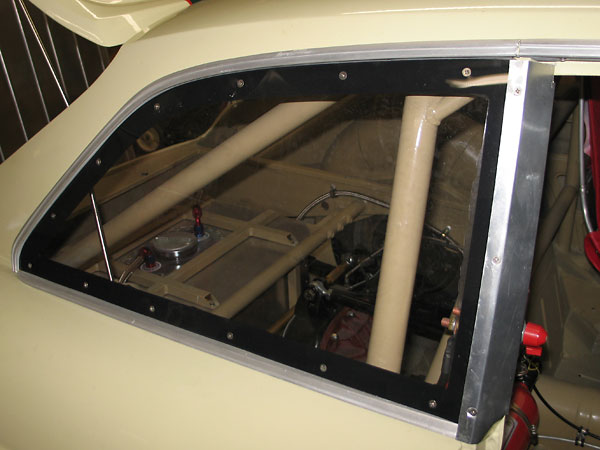 Aluminum spacers align the Lexan three-quarter windows with the door glass.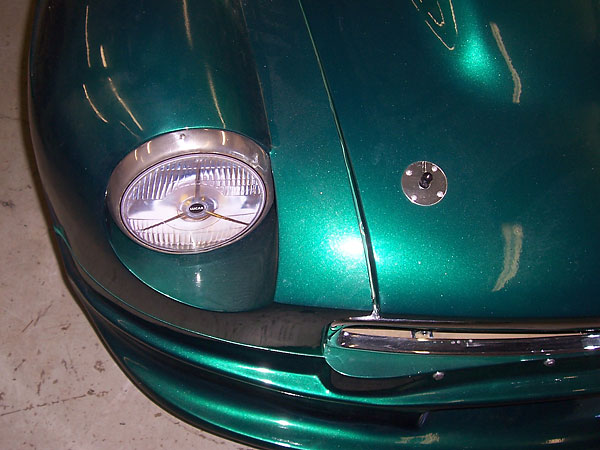 The headlights are 1.5" outboard of the original location. Did you notice that these are actually decals?
Headlight buckets and bulbs could be installed later, but they aren't required for SVRA racing.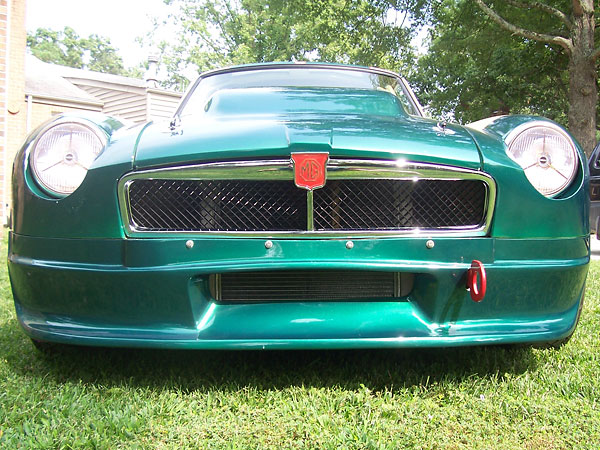 Widened air dam to suit the wide aluminum fenders!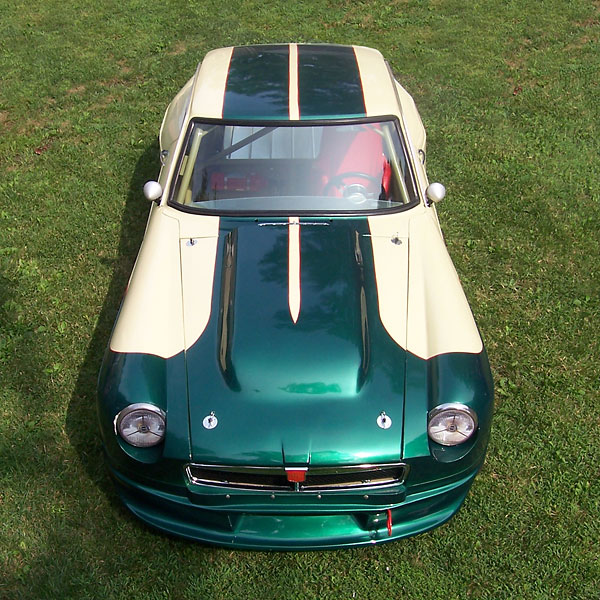 The paintjob, as seen from above/front.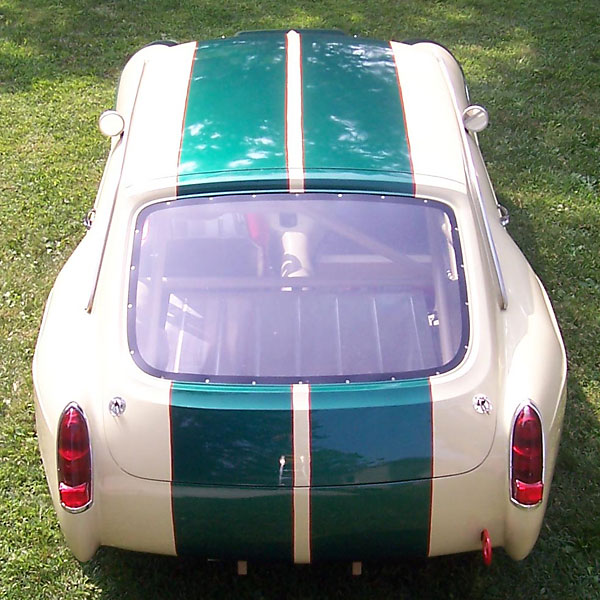 The paintjob, as seen from above/rear.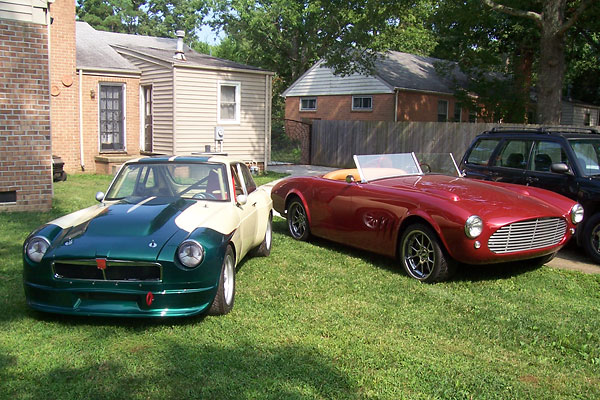 There's obviously another story here. We'll save that for another edition of BritishV8 Magazine!


The photos shown here were taken by James Bowler and Curtis Jacobson.
Photos and text: copyright 2009, BritishRaceCar.com. All rights reserved.



Notice: all the articles and almost all the photos on BritishRacecar.com are by Curtis Jacobson.
(Photos that aren't by Curtis are explicitly credited.) Reproduction without prior written permission is prohibited.
Contact us to purchase images or reproduction permission. Higher resolution images are optionally available.