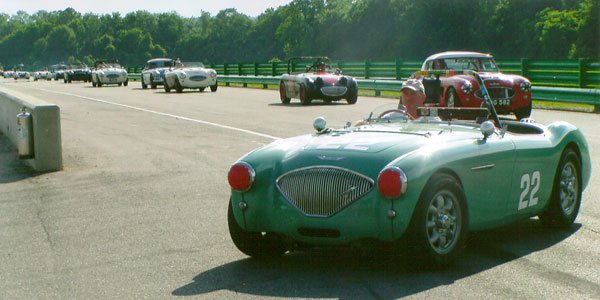 Bill Thumel and his NOJ 391 replica at a photo shoot for the 2005 Australia / U.S.A. Healey Challenge


NOJ 391 Replica : Bill Thumel's Austin Healey 100
How Tom Kovacs recreated one of the most historic and famous of the Healey
works racecars, with help from Geoff Healey and Roger Menadue.
Early Austin Healey History
When Donald Healey and his small team at the Donald Healey Motor Company developed the Healey 100 sports car, they built it around mechanical components from British Motor Company's "Austin A90 Atlantic". The model name "100" was selected because their goal was to produce a modern, economical sports car that would reach 100mph. They built one prototype and took it to the 1952 London Motor Show where it was very well received. Before the show was over BMC Managing Director Leonard Lord agreed to enter a cooperative arrangement with Healey to build and distribute "Austin Healey" sports cars. Working together they even managed to get an "Austin Healey" badge cast by a London jeweler, and they installed it on the prototype before the end of the show.

By summer 1953, BMC would be building the new Austin Healey 100 model in its Longbridge factory, alongside A90 sedans. However, before serial production started there would be a need for more prototypes and for show cars. DHMC placed an order for twenty all-aluminum prototype car bodies.1 Aluminum was Healey's preferred body material because it's about one third the weight of steel, assuming the same thickness. The downside of aluminum bodies compared to steel was that they were more expensive, more easily damaged, and trickier to repair. Like all the "big Healeys" that followed, the 100 was a body-on-frame design. For strength and durability, frames were made of steel.

The first four of the new prototype bodies were built-up into show cars, three of which were dispatched to U.S.A. in early 1953. The fourth was dispatched to Switzerland for the Geneva Motor Show. Ultimately, nineteen of the twenty prototype bodies became cars and many of them still exist in some form. According to one account, when the show cars arrived in U.S.A. dinged-up, a decision was made to replace most of the aluminum body with steel panels for serial production. Decisions of that magnitude are hard to implement quickly, but by sometime in July 1953 the supply of less than 300 all-aluminum bodies was used up. Press tooling was modified to accomodate the different spring-back characteristics of steel. Door skins and fenders, front and rear, were switched to steel relatively quickly whereas the hood and trunk lid were switched from aluminum to steel in May 1954 and June 1955 respectively.
Healey's Special Test Cars
Donald Healey had long enjoyed and succeeded in racing, both as a driver and as an engineer. He now recognized that racing success would build credibility for his new joint venture with Austin. As the development team finished designing the base-model "100", Donald Healey directed their attention to building four "works" racecars. All-aluminum prototype bodies (number "5", "6", "7" and "8" of the original twenty) were used for these "Special Test Cars". As these cars were built, they were given serial numbers "SPL224B", "SPL225B", "SPL226B", and "SPL227B" respectively. Since the first three Special Test Cars would occasionally be driven on public roads, they were registered and licensed; they were assigned license numbers "NOJ 391", "NOJ 392",and "NOJ 393" respectively. SPL227B was specifically intended for speed trials, so it was never licensed.

As is virtually inevitable in any active racing program, the Special Test Cars were continually improved. They were also modified to comply with rules and competitive requirements of different races. Ideas were tested on these cars that would later be used in production. In fact, a special edition model called "100S" was based closely on the Special Test Cars. The story is that Briggs Cunningham saw the cars racing at LeMans in 1953 and asked Donald Healey to build him a car just like them; this request inspired the whole 100S program.

Ultimately the 100S model would weigh about two hundred pounds less than the base model, due in part to aluminum fenders and bulkheads. An oval grille replaced the larger fan-shaped grille of the 100, purportedly to improve aerodynamics. Bumpers were omitted. A better-breathing aluminum cylinder head by Harry Westlake and a higher compression ratio helped to boost engine performance: Austin Healey rated the 100S engine 132bhp at 4700rpm versus 90bhp at 4000rpm. All wheel Dunlop disc brakes compared favorably to the drum brakes on the base-model. The 100S was specifically targeted toward "gentlemen racers". About 50 100S cars were built between October 1954 and September 1956, and about 37 are known to have survived. Additionally, at least one and possibly two of the three original Special Test Cars were rebuilt and rebadged "100S".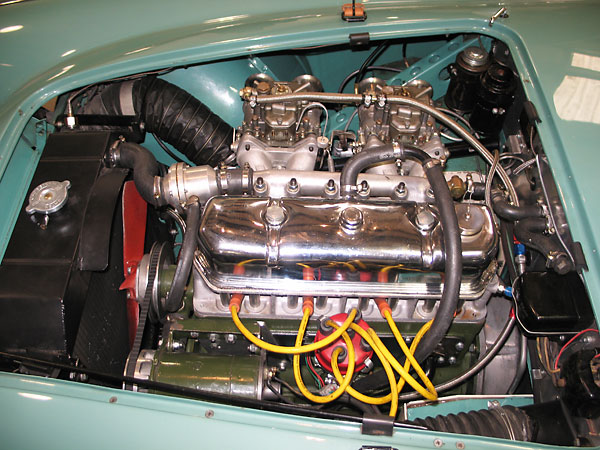 Except for Weber carburetors, which have temporarily been installed instead of S.U.'s, this photo
gives a pretty accurate idea what NOJ 391's engine compartment looked like at Sebring in 1954.

What happened to the original Special Test Cars? Although there are areas of cloudiness and contention, we can summarize their fate as follows. After several years of racing, the Healey family decided to retire NOJ 391 from racing. It was returned to Warwick to be rebuilt as a 100S. They reportedly intended to present it to Ed Bussey, proprietor of "Ship and Shore Motors" of Florida who had helped them achieve success with it in the Sebring endurance race. (NOJ 391 had scored a remarkable third-place overall, and finished first in its class.) Ed Bussey's rebuilt car continued to race for many years. NOJ 392 had a relatively short racing career, before it was retired. It was given to Roger Menadue who enjoyed it as a road car for over ten years, but he ultimately sold it. It's been carefully restored and is well maintained to this day. NOJ 393 participated in the 1953 24 Hours of LeMans race. After being rebuilt and rebadged as a "100S", NOJ 393 was involved in the famously horrible crash at the 1955 LeMans race. It was rebuilt yet again, and it still exists in England. On December 1, 2011 NOJ393 sold for £843,000 at auction - probably the highest price ever paid for any Austin Healey. SPL227B was used for speed trials at Bonneville in 1953, 54 and 56, then rebuilt and raced at Sebring in 1957, before being destroyed in 1962.
Enjoying this article? www.BritishRaceCar.com is partially funded through generous support from readers like you!
To contribute to our operating budget, please click here and follow the instructions.
(Suggested contribution is twenty bucks per year. Feel free to give more!)
An Unlikely Series of Events
The most heavily raced of the four Special Test Cars was arguably the first one, number NOJ 391. In addition to its remarkable best-in-class and third-place-overall finish at the 1954 Sebring (12 hour) race, NOJ 391 also participated in the following races, rallies and hillclimbs:
| | | | | | | | |
| --- | --- | --- | --- | --- | --- | --- | --- |
| | year | race / event | result | | year | race / event | result |
| | | | | | | | |
| | 1953 | Mille Miglia (1000 miles) | DNF (clutch) | | 1953 | LeMans (24 hours) | DNS (2) |
| | 1953 | Goodwood (9 hours) | 10th overall | | 1954 | Mille Miglia (1000 miles) | 23rd overall |
| | 1954 | Prescott Hillclimb | | | 1954 | Shelsley Walsh Hillclimb | |
| | 1954 | Alpine Rally (~2600 miles) | 25th overall | | 1954 | Tour de France (~2500 miles) | DNF |
According to some reports, NOJ 391 was also taken along on DHMC's 1954 pilgrimage to the Bonneville salt flats, where it achieved a record speed of 142.64mph over a flying mile. Close inspection of photographs from that trip suggest that in fact the only part of NOJ 391 that actually traveled to Bonneville was the license plate. You don't need a license plate to race at Bonneville, but the Healeys weren't above a little creative marketing!

NOJ 391 was stripped down after the 1954 season, to be rebuilt as a "100S" and to be given away to Ed Bussey who was a friend of the Healey family. Much of the original bodywork was removed and replaced, including the grille. The distinctive original "fan-shaped" grille was replaced with the oval grille of the new 100S model, which obviously meant replacing the surrounding metal too. The aluminum body was painted bright red, and a black interior was installed. The reborn car was almost ready to ship to its new owner... but at the last moment Donald Healey realized a shortage of new 100S race cars to replace the Special Test cars for the 1955 season. This "new" 100S would be borrowed for the Mille Miglia endurance race (finishing third in class and eleventh overall), and then again for Daytona Beach speed trials and for the Sebring endurance race (finishing 6th), before it was finally handed over to its new owner.

Ed Bussey was himself an enthusiastic racer, and he drove his ex-works racecar in various SCCA races. After Bussey sold the 100S in 1959, it passed through the the hands of a couple more owners. Somehow, apparently, its full racing history wasn't communicated to SCCA racer Fred Hunter when he bought it in 1966. After Mr. Hunter stopped racing the car, he put it into long term storage. He decided to get quotes for its professional restoration in 1988. While preparing to quote the job, Healey specialist Tom Kovacs realized this car wasn't quite the 100S its owner thought it was! He contacted Geoff Healey and Roger Menadue. Very interested, they inspected it and excitedly confirmed its identity.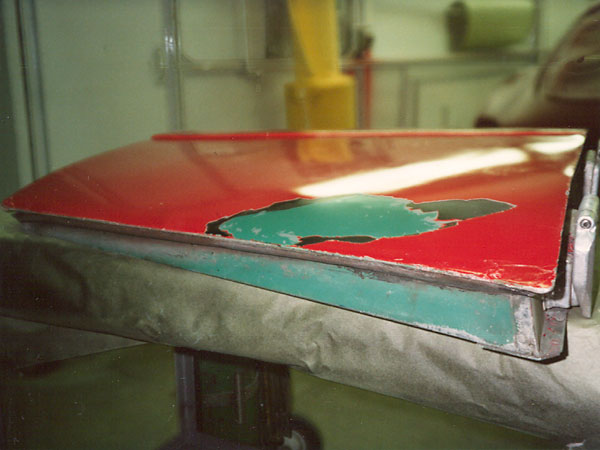 The all-aluminum doors of the Ed Bussey / Fred Hunter 100S were painted the original Healey
works racing team's color, "Ice Green Metallic," before they were repainted red.

But what to do? Fred Hunter's car had apparently been very famous and successful in two different incarnations. Ultimately, Fred Hunter decided that his 100S would be restored to 1955 Mille Miglia specification and appearance. Inspired by that car and by the history he learned from Geoff Healey and Roger Menadue, Tom Kovacs decided to create a replica of NOJ 391 as it appeared at Sebring in 1954. Healey and Menadue were happy to help. The resulting replica is the car we show here.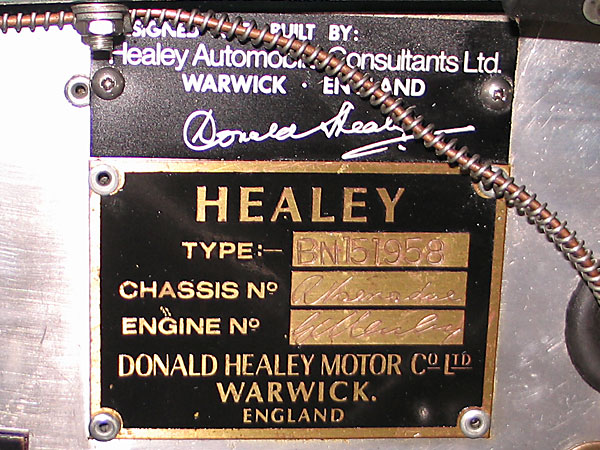 Healey / Type: BN151958
Chassis No: (Roger Menadue's signature)
Engine No: (Geoff Healey's signature)
Donald Healey Motor Co. Ltd. / Warwick / England

Note: Roger Menadue was Healey's longest serving employee and was also the engineer who headed their experimental department when the 100S was developed. He was born on August 23, 1912, and he died on March 12, 2003, aged 90. Geoff Healey was, of course, Donald Healey's son. (December 14th 1922 - April 29th 1994)


Creating the NOJ391 Replica
The stars must have been in perfect alignment when Tom Kovacs decided to build a replica of NOJ 391. Having the enthusiastic support of Geoff Healey and Roger Menadue certainly didn't hurt, but indeed the project captured the imagination of many Healey enthusiasts. Offers of rare competition parts began to come in from far-flung and unexpected places.

Also, one of Geoff Healey's earliest suggestions proved tremendously helpful. Geoff asked: "Why not imagine how NOJ 391 would have been improved if our Warwick shop had continued working with it through the 1960's? We would have kept the car lightweight and simple, but we would have upgraded it too. We would have used parts from later model Healeys where it made sense to do so!" There are two key implications to this suggestion: the search for "correct" parts didn't need to be so exactingly difficult and the car would ultimately be both faster and more robust.

BN151958 was an ordinary 1954 Austin Healey 100. It came with a clear title, and since it was a 1954 model, it also came with an aluminum bonnet and boot lid (in addition to aluminum front and rear shrouds, of course.) It was a good starting point for the project. Ultimately though, quite a lot of BN151958 wasn't used. For example, reproduction aluminum fenders (front and rear) are still available from an English supplier, so a set was ordered. A replacement superstructure was special ordered from a supplier in Australia. When the superstructure arrived, carefully following directions from Roger Menadue, Tom Kovacs punched and swaged lightening/stiffening holes throughout. The steel firewall was deliberately left in place, clad with a new aluminum cover, due to safety considerations.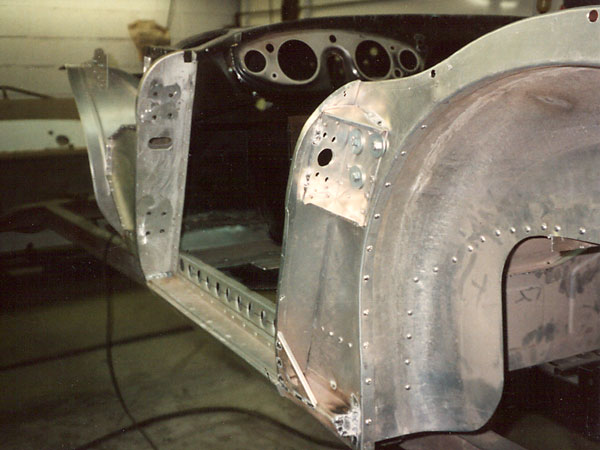 New alloy superstructure. This photo shows lightening/stiffening holes being added along the door sill.
Note that BN151958's firewall (and original left-hand-drive dashboard) was in place at this stage.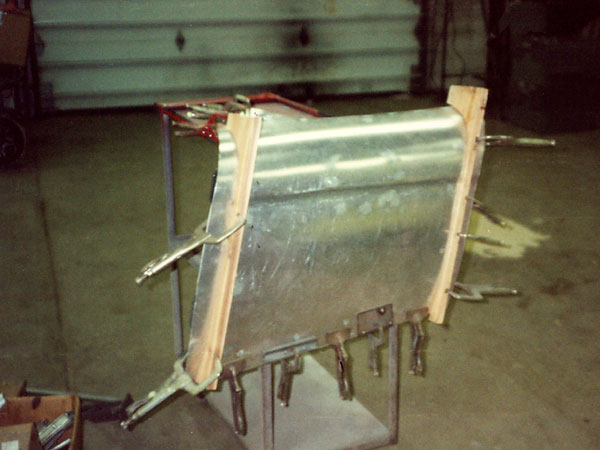 Tom stripped off BN151958's steel door skins and fabricated his own aluminum replacements.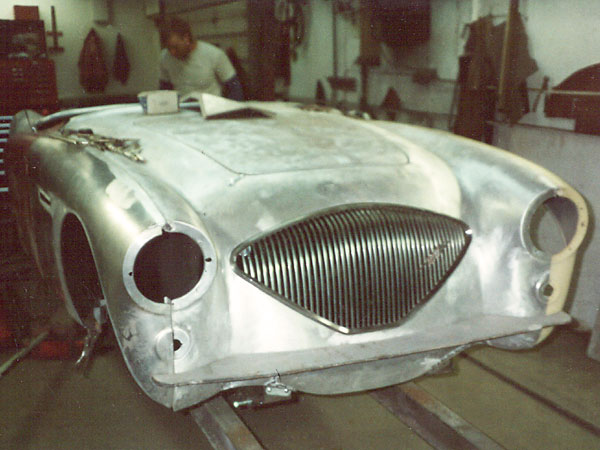 Test fitting the grille, and refining alignment of the new aluminum fenders.

The standard BN1 engine was replaced by a rare, original 100S engine (purchased used). A couple things to note about this engine: the compression ratio on these engines was low by racing standards, at about 9.1:1, so that it could run on poor quality "pump gas". Since the distributor drive has been moved to the opposite side of the engine block compared to a regular BN1 engine, the 100S model's Mallory YCM distributor had to spin clockwise instead of counterclockwise. The 100S cylinder head didn't come with a provision for a thermostat, so Tom custom made one. It was used in conjunction with the stock BN1 radiator. A late-model oil cooler was installed in lieu of the inefficient "hippo" style oil cooler as originally used on NOJ 391, and for easy maintenance a spin-on oil filter was installed on a remote-mount base.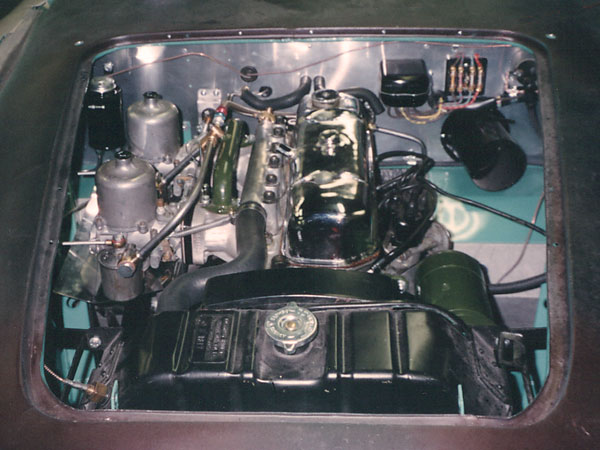 Here, an authentic Austin Healey 100S engine has been installed in BN151958. (Note: fenders still in primer.)
The 100S model featured 1.75" S.U. carburetors. This car and the works racers would use the 2.0" version.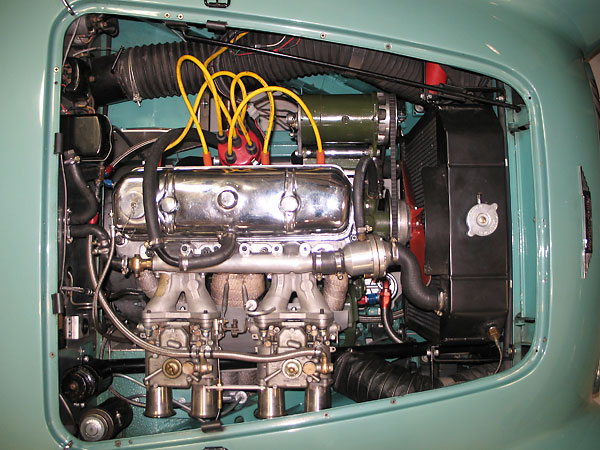 Since original 100S engines are quite rare, Bill Thumel has subsequently removed that engine and set it aside
for safe keeping. So, the engine shown in this newer photograph is actually a race-prepared replica built from
a modified BN1 engine block and a reproduction Westlake 100S cylinder head. Its compression ratio has
been raised to about 12:1. Weber DCOE carbs and a Mallory Unilite distributor have been installed.

A decision was made early-on to couple the engine to a 1961 BJ7 ("3616") gearbox. This is much stronger box than the regular four cylinder (BN1 and BN2) cars had, and although the gear ratios aren't optimal, it's the most suitable of the "six cylinder" gear boxes. At the suggestion of Geoff Healey a center-mounted shifter was installed, even though 100S cars were built with offset shifters. Geoff insisted that factory team never raced with an offset shifter.

A 28.6 percent overdrive unit was used (like the four cylinder cars came with from mid-1953, instead of the later 21.7 percent overdrive). The earlier overdrive suits the small engine better. Overdrive is only useful in top gear: in third gear, switching into overdrive provides the same effect as simply shifting into fourth. There are actually two electric switches wired in parallel for engaging overdrive: one on the shifter and the other one on the dashboard just to the left of the steering wheel.

Incidentally, all the wiring has been specially built to replicate Lucas competition wiring, and it features a four-fuse fuse block and cloth insulation.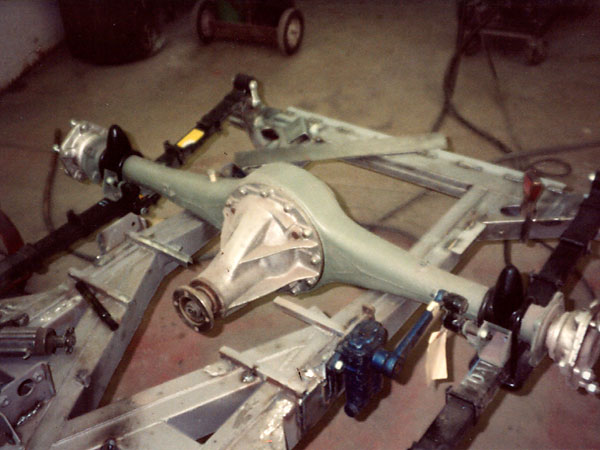 1963 "banjo" type axle. Note also the N.O.S. Armstrong "blue" shock absorber in the foreground.

Tom decided to install a later model ("six cylinder") rear axle for several reasons. Although it's relatively heavy, it's also certainly more robust than the earlier axle. It features hypoid gears instead of spiral-bevel gears, and larger outboard bearings, plus five stud hubs instead of four stud. Tom also decided to install a Quaife gear-operated limited slip differential. Although not period correct, the Quaife differential is torque biasing. (A limited selection of clutch-type limited slip differentials would have been available in the late sixties, but they were never installed on production Healeys.)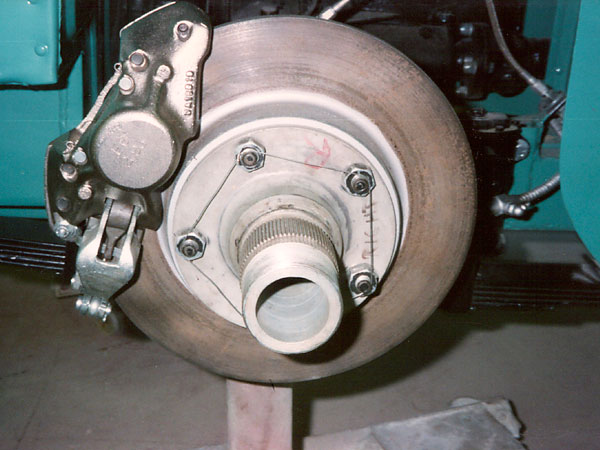 Girling rear brakes are a whole lot more practical than authentic Dunlop disc brakes would've been!

Besides being heavier duty, brake compatibility pointed Tom toward the later model axle. Early axles had four-stud axle shafts, whereas later axles have five stud shafts. Four cylinder production Healeys like BN151958 came with drum brakes all the way around. Tom considered upgrading to Jaguar-spec Dunlop disc brakes, as were fitted to NOJ 391 and the other Special Test Cars in 1953. However, he was offered a full set of Girling disc brakes from a works 1963 Sebring racecar, and he couldn't turn that down! The Girling brakes mount to five stud axle shafts.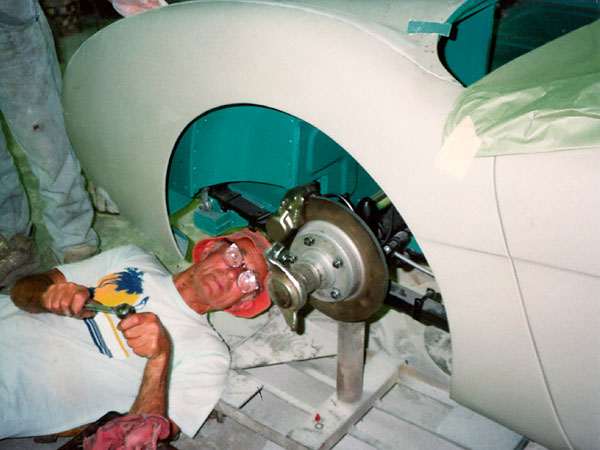 During his summer vacation, Roger Menadue came to visit and check progress on the NOJ 391 project.
As shown here, he just couldn't resist the opportunity to dig-in and turn a few wrenches!

Geoff Healey endorsed this decision because the Jaguar/Dunlop brakes were a big compromise from the very beginning. Those early "banana" brakes are physically large, which obliged the factory team to race on 16" wheels. With the tires that were available for them, the difference in ride height was enough to compromise handling. The difference in unsprung weight and polar moment (flywheel effect) was significant too - and the larger wheel/tire combination obliged the team to cut bigger wheel openings in their beautiful fenders. A less obvious disadvantage of the Jaguar/Dunlop brakes was that they were hydraulically servo-assisted - not pneumatically servo-assisted like modern brake systems. They required a transmission-driven servo pump and a sizable fluid reservoir. Since the Austin transmissions didn't have a pump, Aston Martin transmissions were used. The pumps cost horsepower at speed! At low speeds and when reversing, brake effectiveness was severely compromised. Finally, on the original Special Test Cars there was no convenient place to mount the hydraulic pump, and the brake fluid reservoir was cut into the firewall. Understandably, as soon as they could, Healey stopped using this early version of the Dunlop disc brake system.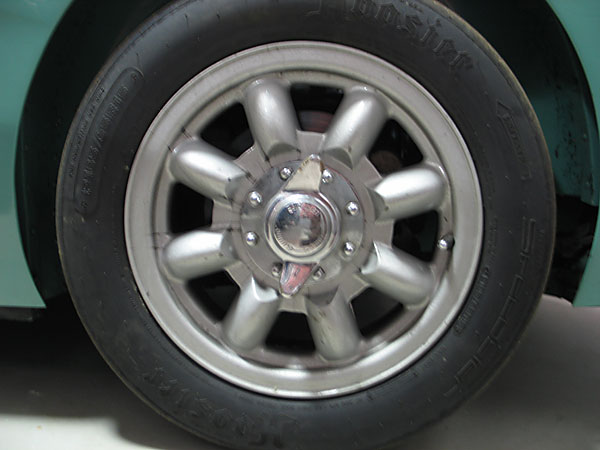 Through the 1954 Sebring race NOJ 391 raced on 16" spoke wheels by necessity, not preference. Authentic Minilite
15" magnesium wheels were substituted here, on the strong recommendation of Geoff Healey.

At the rear, BN1's knee-action Armstrong shock absorbers were replaced with heavier duty "new old stock" 100S shocks. These shocks are quite a bit larger, similar to DAS10 shocks on a BJ8, but they're hard to come by because they have special forged arms unique to the 100S. (Isn't it remarkable that tooling for special forgings was ordered for a production run of only fifty cars?)

Like the works team, Tom left the front shock absorbers alone except for upgrading to a stiffer valve. ("Top-hat" dual-acting valves that provide different dampening during bump and rebound weren't used until very much later.)
BritishRaceCar.com appreciates the generous help Tom and Kaye Kovacs have provided with this article.
Their company, Fourintune Garage Inc. of Cedarburg WI is nationally famous for its expertise with Austin Healeys.
Visit the Fourintune website for additional information on the reconstruction of NOJ 391.

Quite a lot of more subtle changes were made to the chassis too:

The left-hand-drive BN1's steering box was replaced and upgraded to a right-hand-drive 1961 "Cam Gears" (15:1) steering box, which provides lighter steering.

Although a 100S front anti-sway bar was found for the car, at the instruction of Geoff Healey, Tom kept looking until he found a works-style anti-sway bar. The key advantage of the works-style bar is rose-jointed connections. If a pin joint breaks while racing, the driver could lose control of the car!

No rear anti-sway bar was installed, but the Panhard rod was upgraded slightly: its ends were changed from rubber bushes to rose joints for more precise axle location.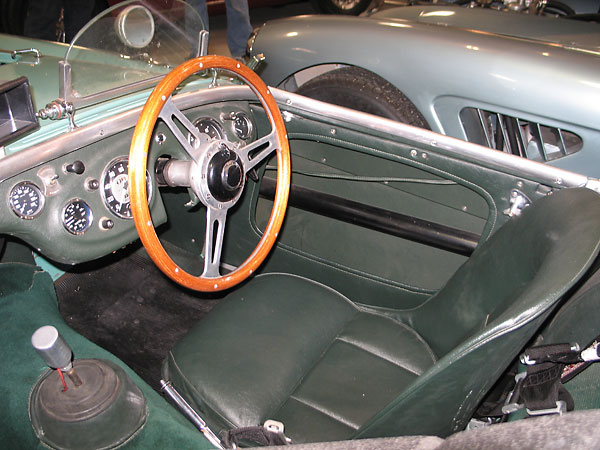 Understatement: through the 1950's it was customary to leave carpet and upholstery in place.

Throughout the time Tom owned and enjoyed the car, he was determined to keep it a dual-purpose car: one that could be enjoyed on a pleasant Sunday drive or on the the racetrack. To this end, a couple small concessions were made to comfort. For example, the heater was left in place, and the battery wasn't located where the works team certainly would have had it. Back in the day, the battery would have been located in the passenger-side footbox, but instead its in the production location (behind the seats.)

Although the car is shown below with authentic Aeroscreen windshield, a regular Austin Healey 100 windscreen is also provided and can be swapped onto the car. A convertible top is ready to be installed too. The car is shown below with a single Jaguar E-type (pre-1964) seat because it's stiffer and more supportive than a Healey seat, but Tom procured a matching pair of Austin Healey 100S seats (with distinctive slotted vents through the bolsters) that can be swapped in. Back in 1954 you wouldn't have seen a roll hoop in NOJ 391, but it's required for any track day or vintage racing use today. The driver-side door has also been provided with a tubular strengthener to resist side intrusion in the event of an accident. Even with these concessions, the car is remarkably balanced. Overall weight distribution is about 49% (front) / 51% (rear).

The car made its racing debut at Road America's 1993 Chicago Historic Races. Roger Menadue helped with final preparations and served as crew chief. Driven by Phillip Coombs, the car finished second in its very first race, followed by first place finishes in group 3D. Coomb's fastest lap over the 4.048 mile circuit was 2:53.479.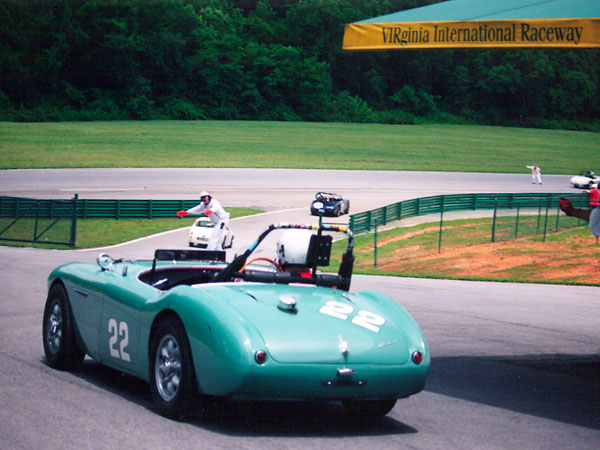 Bill Thumel and the Healey prototype entering action at Virginial International Raceway in 2005

Bill Thumel reports: "As far as racing it, I ran it a V.I.R. in 2005 at the Gold Cup. It handled great but it was a bit underpowered. Abacus then started building a replacement engine using a 100-4 block and converting it to accept the S head. It then ran fantastic, with tons of torque. After a few changes it has now become very reliable with about 12 to 1 compression and about 160 HP at the wheels. The car is very neutral and fun to drive."
Features and Specifications
Engine:
standard Healey 100 engine, modified to accept a "100S" cylinder head. 12:1 compression ratio. Westlake-designed 100S cylinder head. Weber DCOE carburetors (x2) on Derrington manifolds. Mallory Unilite distributor. MSD capacitive discharge ignition system, and separate dial-adjustable rev-limiter. (Both are discretely mounted under the dashboard. The rev-limiter was set to 5000rpm when we viewed the car.) Accel SuperStock 8mm spark plug wires.

Cooling:
stock Healey 100, except for a modern oil cooler.

Exhaust:
custom fabricated, tubular 4-into-1 header with high-temp wrap.

Transmission:
1961 Austin Healey 3000 Mark 2 (series BJ7) four speed manual, with (28.6%) overdrive.

Rear Axle:
100-6 axle with 5-stud shafts, 3.54:1 hypoid gears and Quaife limited slip differential.

Brakes:
(master) Wilwood dual master cylinders, with an adjustable bias bar.
(front) Girling rotors and calipers.
(rear) Girling rotors and calipers.

Wheels/Tires:
authentic Minilite 15" magnesium wheels with knock-offs, and Hoosier Speedster P185/65R15 tires.

Body:
aluminum superstructure and body, with extensive lightening holes added. "Ice green metallic" paint (the authentic 1953-54 works racecar color.) Leather bonnet and boot lid straps.

Electrical:
12V generator and battery (positive ground). The generator is the smaller, lighter style used on the 100S and early Sprites.

Interior:
early (pre-1964) Jaguar E-type seat. (Cut, narrowed, and reupholstered to fit.) Derrington (replica) steering wheel. Roll hoop.

Instruments:
stock, except for a 100S 140mph speedometer, plus an AutoMeter Sport Comp 0-100psi oil pressure gauge which is discretely mounted under the dashboard.

Weight:
just over 2000 pounds, including driver and a quarter tank of gasoline.

Fuel System:
25 gallon Fuel Safe fuel cell.


Engine Installation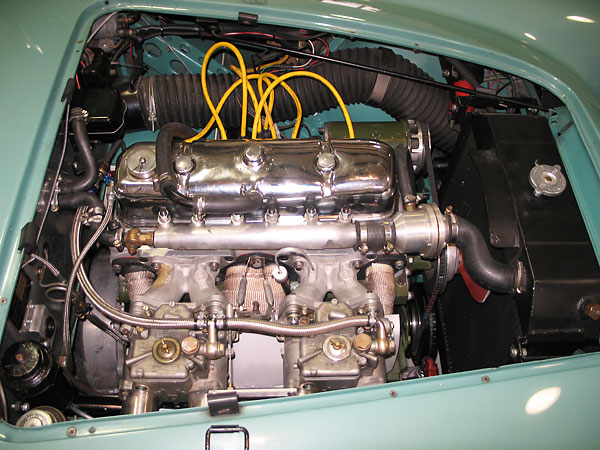 Just to the right of the cylinder head, Tom Kovacs' custom machined remote thermostat housing.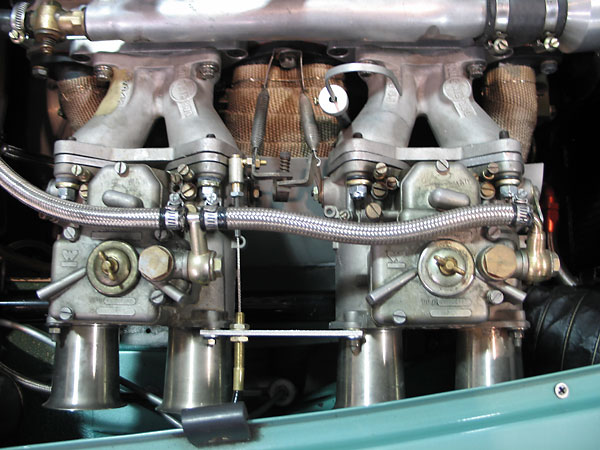 S.U. carburetors were used for most of NOJ 391's career. By Sebring 1956, both works cars and
Ed Bussey (racer/owner of the re-bodied NOJ 391) were using twin DCOE Webers, like these.
The works team also began using tubular headers instead of cast iron manifolds at that time.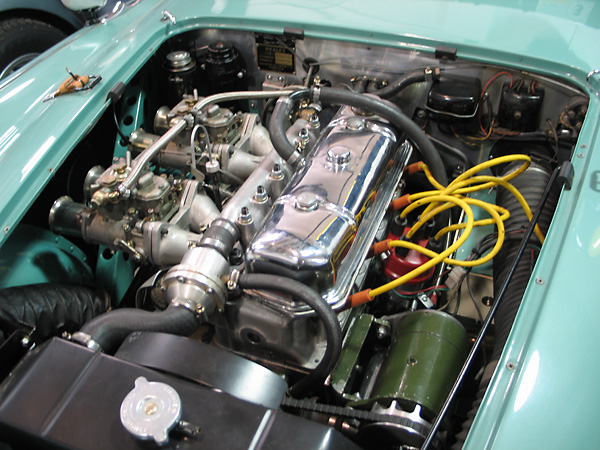 Harry Westlake designed his cylinder head to relocate both intake and exhaust to the opposite side
compared with the original Austin engine. This removed the obstacle of push rod tubes, and thus
facilitated eight bigger, better flowing ports - a change that's particularly beneficial at high RPM.
Stud and water port locations moved to accommodate this; so special engine blocks are needed too.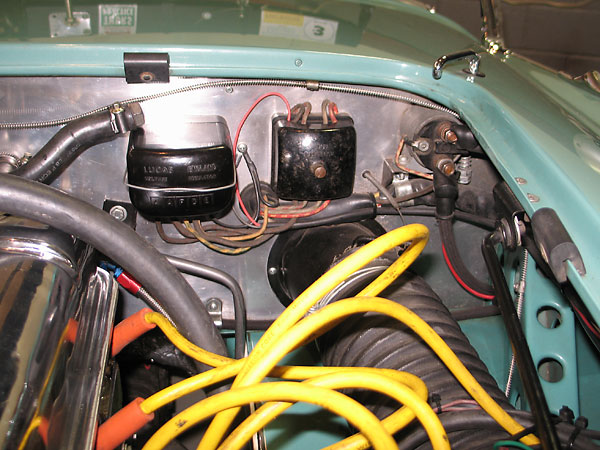 Here, a bare aluminum cover has been placed over the firewall to cover various holes.


Interior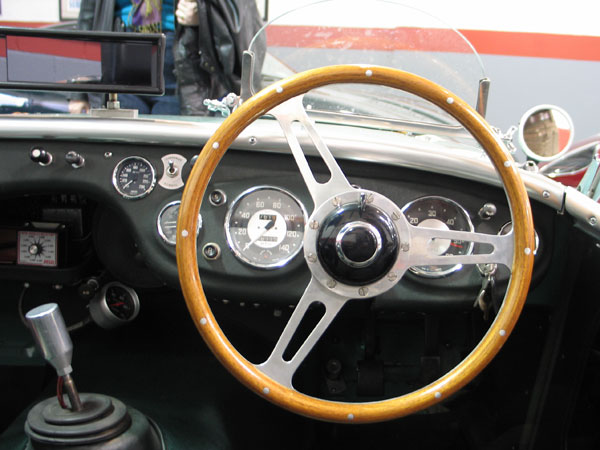 This steering wheel is a copy of a "Derrington", with "fat" rim as preferred by several of the works drivers.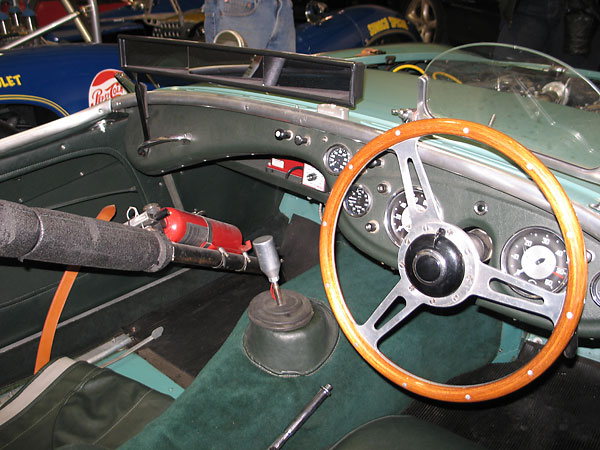 Aeroscreen perspex windshield (and modern "Wink" style mirror).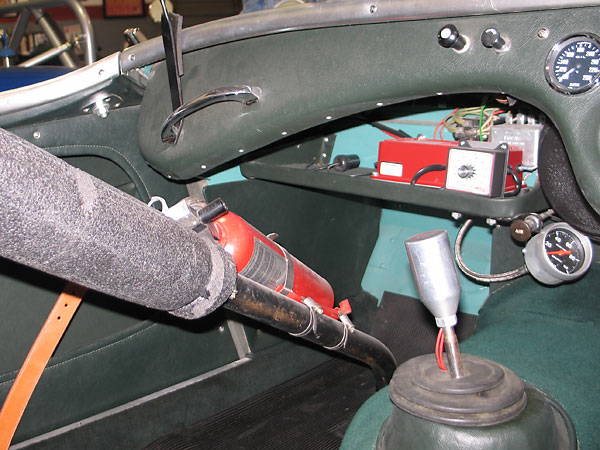 The MSD (p/n 8671) rev-limiter shown here is adjustable between 4600rpm and 6800rpm.
The AutoMeter Sport Comp oil pressure gauge reads between 0 and 100 psi.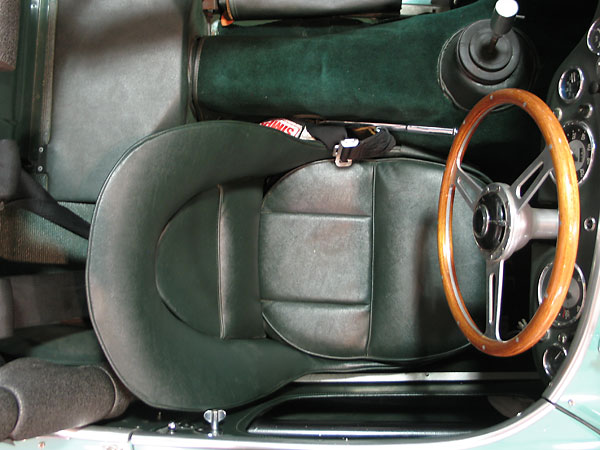 A narrowed, pre-1964 Jaguar E-Type seat provides more support and stiffness than a Healey seat.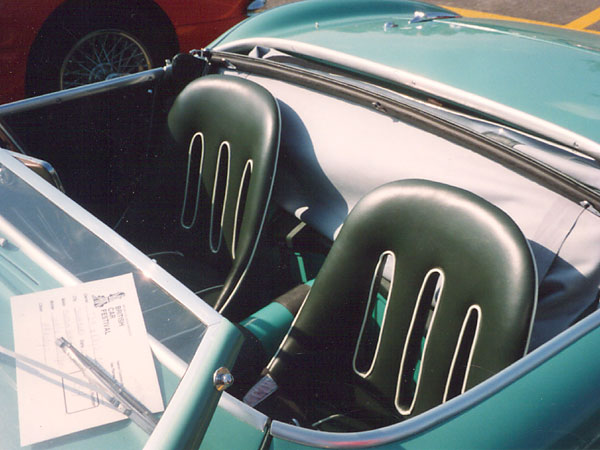 A pair of original, slotted "100S" seats were procured for the replica, for stylish off-track use.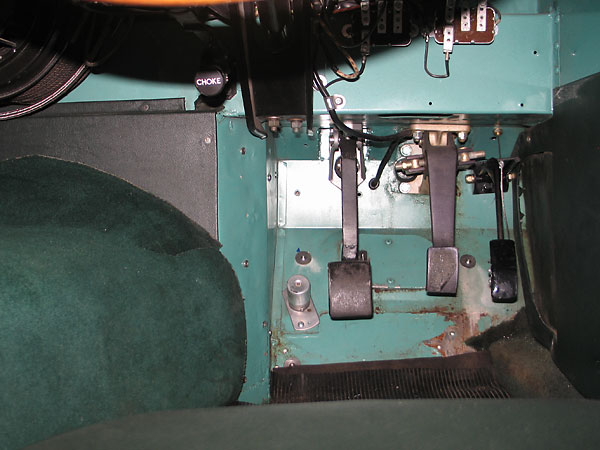 Since the completed replica would be raced, a master cylinder upgrade was mandatory. A modern
Wilwood pedal assembly with dual master cylinders and an adjustable bias bar was installed, but
it's tucked away quite discretely.


Exterior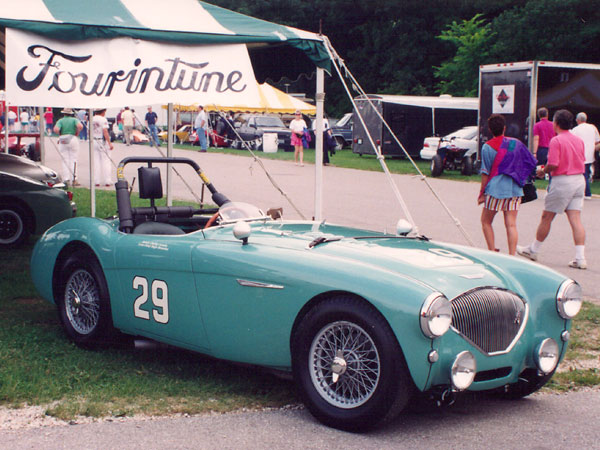 The color on this replica was color matched to original paint found on the door of Fred Hunter's car.
Roger Menadue explained that the light green color was selected instead of "British Racing Green"
because Donald Healey preferred it. Some sources report that Donald Healey felt darker colors made
small cars look heavy. Other sources claim he believed British Racing Green was unlucky.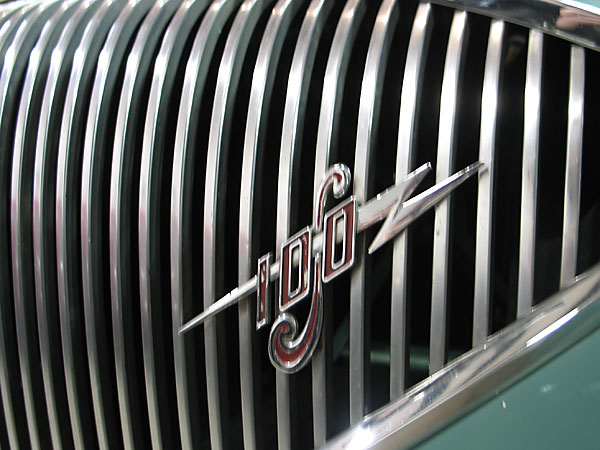 The "100S" badge may be a little confusing on this BN1 grille, but NOJ 391 was the prototypical 100S.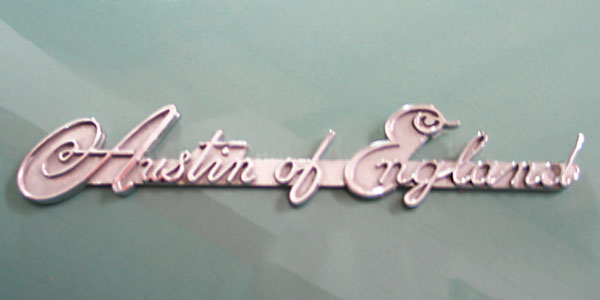 The "Austin of England" badge was fitted on Austin Healeys until sometime in August 1954.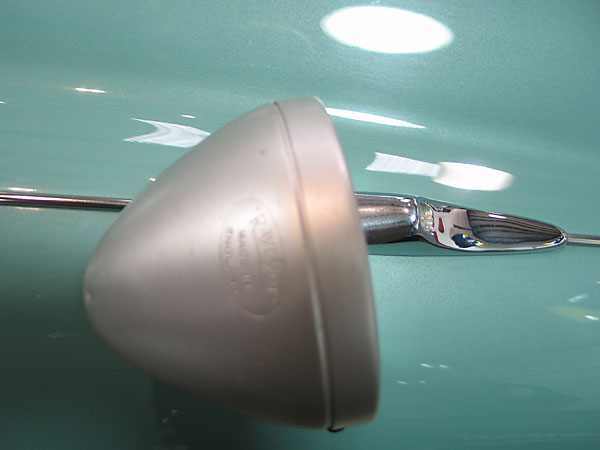 Raydyot mirrors are period correct, though works Healeys usually raced without side view mirrors.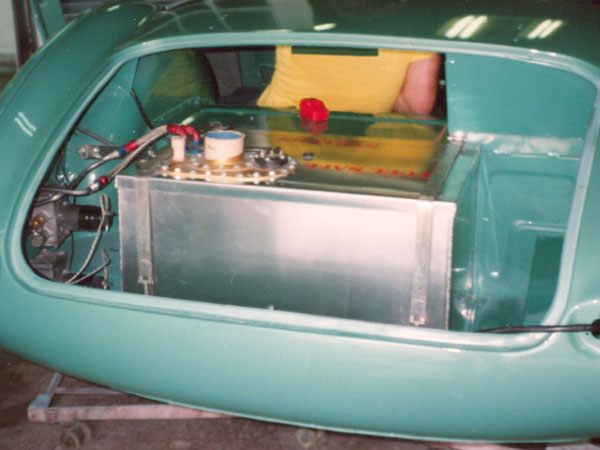 The Special Test Cars were originally fitted with rubber-bladder aviation fuel tanks of ~24 gallon capacity.
For vintage racing, a modern Fuel Safe fuel cell of similarly huge capacity was installed.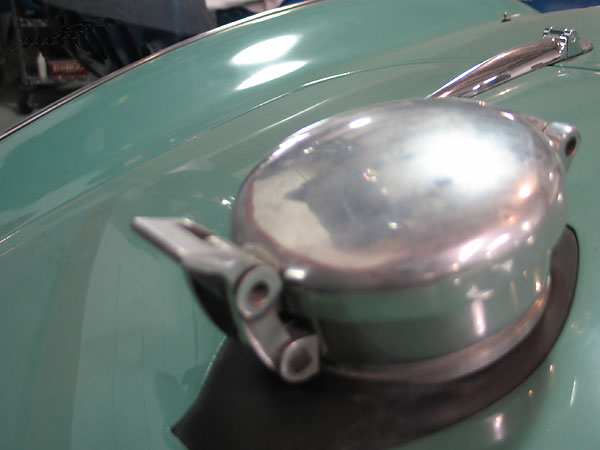 Tom Kovacs installed a "LeMans style" fuel cap too. Its placement and the shape of the hole
and seal for it (in the boot lid) are based on sketches by Geoff Healey.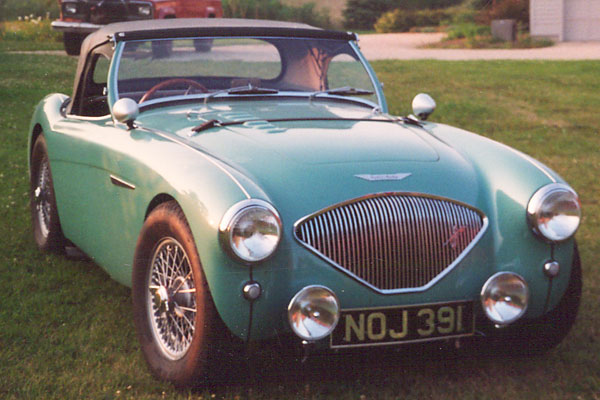 A true sports car in every sense. Race it on Sunday; drive it to work on Monday!


Note:
(1)
The twenty original bodies were constructed at Jensen Motors in West Bromwich, just a few miles from the Warwick shop and the Longbridge works. They were made from "Birmabright", a specific alloy of aluminum with magnesium offered by The Birmetals Company of Birmingham England. Birmabright is an aircraft-grade aluminum, similar to "5251", and it's stronger than the alloys used later on production Healey bodies.


(2)
NOJ 391 was smashed by a drunk driver right before the 1953 LeMans race. Since it would require extensive repair, components of the car including the NOJ 391 license plate were quickly removed and transferred to NOJ 392 for the actual race. This was expedient because NOJ 391 had already passed "scrutineering" and its engine had been "sealed" by race inspectors, whereas NOJ 392 hadn't even been registered to compete. The damaged car (i.e. the "original" NOJ 391) returned to England to be rebuilt.

This is where two schools of thought diverge. Some people believe the wrecked car was simply repaired to continue participating at Goodwood (1953) plus the major races of 1954 as NOJ 391. (Indisputedly, the wreck was repaired; what's disputed is which races it participated in.) However, there were at least two "reserve cars" available to the Warwick shop in some stage of preparation, plus surplus components. A second school of thought is that the Warwick shop may have assembled these into a new incarnation to race as NOJ 391 in 1954. We're inclined to accept this second scenario based on statements made by Geoff Healey and Roger Menadue upon careful inspection of Fred Hunter's car. During the inspection they discovered distinctive hand-made parts that they associated with specific moments in the 1954 race season. Some components from the 1953 LeMans wreck were identified too.

At the 1954 Tour de France race, the car entered as NOJ 391 suffered another wreck. Another rebuild followed. (Obviously there were many opportunities for parts to move back and forth between cars.)

The 100S owned and raced by Ed Bussey and later owned and raced by Fred Hunter was clearly made from a rebuilt "reserve car". Its frame was built after 1953 (as evidenced by flanged joints). The key issue really boils down to two questions: (1) Did that reserve car race as NOJ 391 in 1954? (2) If it did, which races did it compete in? (Particularly, was it the very same car that was so successful at Sebring?)

DHMC's record-keeping and registration practices have caused a lot of confusion over the years! However, it's clear and indisputable that the NOJ 391 license plate moved from car to car at various times. The NOJ 391 number plate was ultimately bolted onto and sold with the car constructed on the bent/repaired frame from LeMans 1953. After being sold, this car had a documented club-racing history in England until it was wrecked badly at Silverstone in 1964.

The mystery surrounding Fred Hunter's car partly inspired Tom Kovacs to build a replica of NOJ 391.


Photos with file names that start "TomKovacs" are copyright Kaye Kovacs. They're used here by permission. No permission for subsequent republication by other parties is given or implied.

Photos with file names that start "BillThumel" are copyright 2009 by Curtis Jacobson, for exclusive use by BritishRaceCar.com. All rights reserved.



Notice: all the articles and almost all the photos on BritishRacecar.com are by Curtis Jacobson.
(Photos that aren't by Curtis are explicitly credited.) Reproduction without prior written permission is prohibited.
Contact us to purchase images or reproduction permission. Higher resolution images are optionally available.