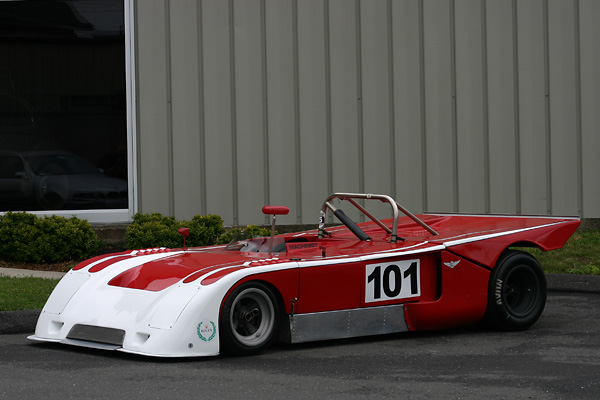 Bob Machinist's 1972 Chevron B21 FIA Group 5 Vintage Racecar
Owner: Bob Machinist
City: New York, New York
Model: Chevron B21 (circa 1972)
Engine: Cosworth YB 2L
Race prepared by: Vintage Racing Services Inc.
Introduction
In the early 1970s, Chevron's B19, B21, and B23 models were prominent in FIA Group 5 racing and in European Sports Car Championship events. Chevron's sports cars also appeared in World Sportscar Championship events such as the 24 Hours of Le Mans, the 6 Hours of Daytona, and the 12 Hours of Sebring, although in those races they were overshadowed by larger displacement machines (e.g. Porsche's 917 and Ferrari's 512S).

In more recent years, Chevron sports cars have become popular with vintage racers who appreciate their balanced and nimble handling as well as their remarkable quickness. Judging by lap times, Chevron's open sports cars are among the fastest cars raced at many North American vintage events. Depending on the racetrack, these cars may be expected to run as fast as far larger displacement Can-Am cars and even later-model GTP cars.


Derek Bennett Engineering Ltd. and their Chevron Racing Cars
Derek Bennett was a skilled driver who leveraged a great deal of natural intuition to become a leading racecar designer. He started learning the craft in the 1950s by preparing stock cars, then by building Midget speedway racers for himself and for friends. In 1960 he built a single "Bennett" front engined Formula Junior. After a couple years off from racecar construction, Bennett came back to the game and set his sights on the "clubman" racing class where he would challenge the Lotus Seven and Mallock U2 establishment. Bennett's entry into the clubman scene was immediately successful. In fact, two cars were built and between them racked-up twenty-eight race victories in 1965. The success of Derek Bennett's two prototypes led to seven orders. Bennett officially went into business as Derek Bennett Engineering Ltd., and shortly thereafter came up with the tradename: "Chevron." Those first two cars were retrospectively assigned model designation "B1" and the following seven were designated "B2".

Lancashire racer (and sometimes farmer) Digby Martland came forward with funding to support Bennett's next project: a GT class racecar with Ford Twin Cam engine. Martland's car would be designated the Chevron B3 model. Bennett built it with a very basic spaceframe of square steel tubing reinforced with a combination of steel and aluminum sheetmetal sheeting under a fiberglass body. While testing the B3, Peter Gethin set a new GT lap record at Oulton Park in 1966. The B3 clearly had great potential, but Derek Bennett bet its chassis could be even more successful with a different engine. He approached BMW and requested support for use of their 1991cc four-cylinder engine. By installing the BMW engine with a dry sump lubrication system, he felt he could improve reliability enough to make it suitable for racing. Even as a second B3 was being constructed, Derek Bennett constructed a B4 alongside it; the essential difference being that the B4 chassis had provisions for the BMW engine. From that developmental period, customer cars soon followed: seven B6 racecars were built in 1967 (six with BMW engine and one with Ford), then 44 B8 racecars (34 BMW, seven Ford/Cosworth, two Climax, and one BMC) between 1968 and 1970.

The rules of European sportscar racing changed dramatically for 1969 and again for 1970. First came a reduction in required windscreen height. Derek Bennett saw the need to take what he'd learned over three years of working with the B4/B6/B8 series and apply it to a new lower profile model.

Chassis changes for the new B16 weren't particularly dramatic, but they were extensive. It was the bodywork that caught everyone's attention: all-new and jaw-droppingly gorgeous. Against his usual instinct of designing everything in-house, Derek Bennett made the unprecedented decision to commission Specialised Mouldings' stylist Jim Clark to create an all new body along the lines of the Ferrari P4. The resulting body looked right to all critics.

Simultaneously, realizing that the BMW engine was decreasingly competitive Bennett approached Keith Duckworth at Cosworth to develop an appropriate engine for two liter racecars. The Formula Two spec Cosworth FVA engine only had a displacement of 1598cc, but Keith Duckworth felt that increasing its stroke to its practicable limit might make it suitable. The limit proved to be just 1790cc, which was well below what class rules would have allowed, but the results were pleasing nonetheless. The new Cosworth FVC engine was found to be at least 40hp more powerful than the larger BMW engine it replaced.

Following Chevron tradition the B16 was a winner from its very first race - Brian Redman's B16 dominated the 1969 Nürburgring 500km race from start to finish - but the B16 wasn't deemed a totally successful design by drivers. Drivers of lesser skill found the car terrifying to drive. As introduced, its bodywork was aerodynamically unbalanced and it took a fair amount of development work to get to the root of the problem. It was necessary to dramatically increase downforce at the rear to make it right. (For a while, drivers were fooled into thinking that the B16 suspension had peculiar transient understeer/oversteer problems.)

FIA rules changed again in 1970 even as a new 2-liter Sports Car Championship Series raised stakes and expectations. The new Group 5 definition favored open sports cars with perfunctory windscreens, and Lola's new T210 model exploited the change. Jo Bonnier's T210 weighed in at Paul Ricard for the series' first round 70Kg lighter than Brian Redman's B16, and it had less frontal area too. The rule change had made the B16's enclosed body obsolete and it was only through valiant effort by Brian Redman and the last minute arrival of a one-off open-top B16 "Spyder" that victory in the Manufacturer's Championship was achieved. It came down to the last turn on the last lap of the series' last race; the margin of victory was one precious championship point.

For 1971, styling again changed dramatically. Brian Redman's suggestion was to simply mimic the wedge-shaped Porsche 908/3. To that end Derek Bennett produced an all-new, open cockpit, lightweight body which he draped over a barely changed chassis. Thirty-five Chevron B19's were produced.

For 1972 the B19 was only slightly updated to become the Chevron B21. Rear upper suspension pick-up points were relocated on the frame. The width of the aluminum armrest/divider between driver and passenger seats increased from about 3" to about 5". New rules for FIA Group 5 racing emphasized that the cars had to appear as two seaters and thus by definition must have full width roll hoops and symmetrical cockpit openings. (Tonneau covers over the passenger side weren't permitted.) Twenty-eight Chevron B21's were produced.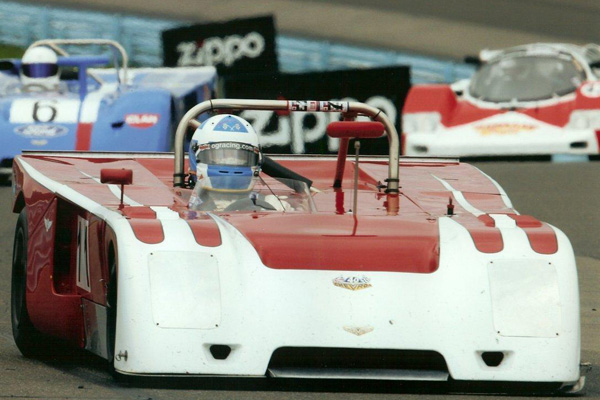 The Chevron B19, B21, and B23 feature similar wedge-shaped open sportscar fiberglass bodywork.
(Note: the Chevron B19 in the background displays Red Rose livery and Niki Lauda's race number.
In May 1971 at the Salzburgring, Niki Lauda won the only race he ever drove a Chevron in.)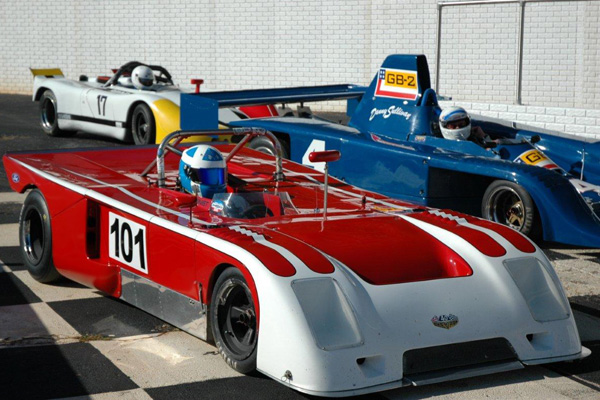 "Even today the B19 stands out in historic racing... Since 1982 I have continued to drive a B19 in American
historic races and am constantly amazed by just how good the car is, even in comparison with modern
ground-effect cars - proof, if it were needed, of Derek's belief in structural integrity combined with
light weight." - Brian Redman, in the forward he wrote for Chevron: the Derek Bennett Story.


B21 racecars were successful enough in the 1972 European Sports Car series to bring Chevron second place honors in the Manufacturers Championship. (Points: Abarth 112, Chevron 109 and Lola 105.) Chevron's first victory in the series was scored by Dieter Quester with a BMW-powered B21 at the Salzburgring (Austria) on May 21. John Burton won at Montjuïc Park (Spain) with an FVC-powered B21 on October 8, and went on to finish second in the Drivers Championship.

Chevron's also ran up front in the 2-liter class at FIA World Championship for Makes (a.k.a. the World Sportscar Championship) events. Co-drivers John Hine and John Bridges drove their FVC-powered B21 to victory at the Spa 1000km race on May 7 and also at the Nürburgring 1000km on May 28. Rolf Stommelen and Toine Hezemans won the Austrian 1000km at the Österreichring on June 25 with their BMW-powered B21. WCM success carried over into the 1973 season, with a notable victory by G. Morelli and Mauro Nesti at Vallelunga (Italy) on April 8; they used a 1.6L FVA engine. On May 13, Frank McBoden and Luigi Moreschi finished first-in-class and fouth-overall in the Targa Florio.

Jochen Mass and Gerry Birrell dominated South Africa's 1972 Springbok Series with four overall race victories plus one 2nd-overall / 1st-in-class finish with their works sponsored Chevron with its Brian Hart built Cosworth BDA engine. Derek Bennett designed a lower front suspension for the car to take advantage of state of the art Firestone racing slicks. The revised suspension would carry over to the new B23 model, so the modified car was known as a "B21/23".

The B23 model represented additional updates for 1973. The nose section had a lower profile and provisions for mounting headlights were added, and a new rule required bodywork behind the rear wheels to prevent stones from being thrown rearward. Twenty-six Chevron B23's were produced.

Car-spotters should be well advised that model identification is complicated by the fact that many cars were updated from one specification to another in-period. This can be attributed to changing rules and to uneven availability of spare parts following accidents. It should also be well noted that cars were supplied to racers for various classes and race series around the world, Adaptations for those requirements were extremely diverse. Chevron's B19, B21 and B23 models particularly excelled in hillclimb competition; and some cars were shipped to Italy and to France expressly for that purpose. It's not clear how many Chevrons made it to North America during the early 1970s, but SCCA race records seem to indicate that at least seven different American drivers entered Chevron B19s in SCCA National races.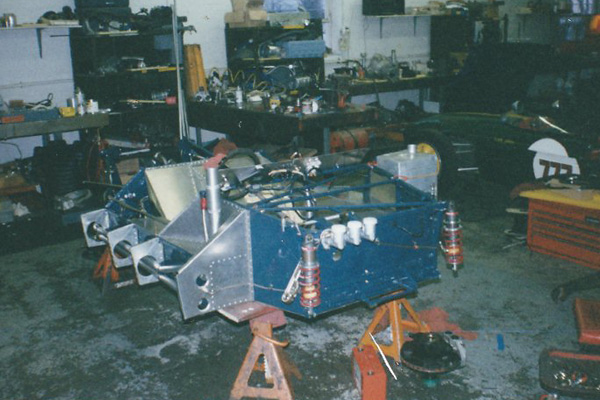 Bob Machinist's Chevron B21 during restoration at Vintage Racing Services in Connecticut (circa 1999.)
The car's original steel frame was intact and serviceable, but all aluminum panels needed to be replaced.



Chevron sports cars feature distinctive frame designs. Derek Bennett favored very simple tubular
structures with box tubing at bulkheads, supplemented generously by a combination of steel and
aluminum paneling. The tubular structure is especially minimal through the cockpit. After building
an initial prototype, Bennett turned over frame production to Arch Motors. Following usual British
practice, Arch used mild steel with nickel-bronze filler rod applied using a Calor gas-fluxer.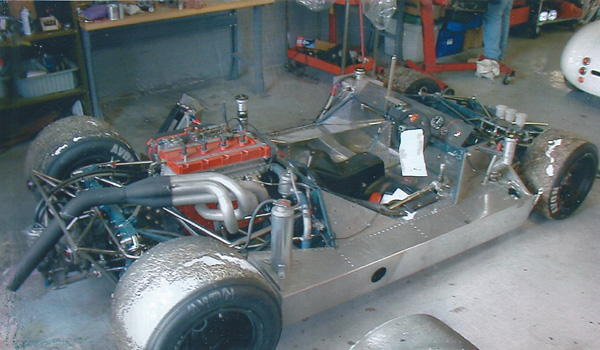 Chevron used Duralumin - an aluminum alloy with copper for added strength - for their original tubs.
Duralumin is obsolete and difficult to source, so Brian Rechtiene chose to upgrade to 6061-T4. (With
T4 heat treatment the alloy is less prone to cracking along small radius bends than the T6 variety.)
Brian duplicated the original rivet spacings and the specific combinations of blind and bucked rivets.
A modern 3M 2-part adhesive was applied to all joints and was also used to bond aluminum to steel.


Vintage Racing the Chevron B21 Since 1999
Bob Machinist purchased this Chevron B21 via wire transfer on 18 December 1998 to Pierre Dutoya who was represented in negotiations by Ivan Mahe at Equipe Europe, 21 rue du Champs Renard, 77540 Courpalay, France. The purchase included a Cosworth FVA engine which had been removed from the chassis and was located in Belgium at the time of the sale, but which was collected and shipped to U.S.A. with the chassis.

Bob Machinist started out as a ski racer, and then took up motorcycle racing. In his youth he was offered a chance to ride for the Suzuki racing team, and with them he traveled to the Isle of Man. His motorcycle racing career was short-lived, but the racing bug never left him. Now much later in his career, Bob has been racing cars for many years. From the very beginning of that period, Bob has partnered with Kent Bain of Vintage Racing Services for car preparation and for support at the racetrack.

Bob has owned and raced a remarkable variety of racecars - Caldwell D9 Formula Ford, the ex-Mark Donohue Elva Courier, the ex-Jim Lenehan Datsun 240Z, Aston Martin DB4 lightweight, '72 Camaro, Chevron B39 (1976 vintage F2), March 732 (1973 vintage F2), Triumph TR4A, some GTP cars, and many modern Porsches (from 914-6 through 935) - they've all been prepared by VRS.

Of all the cars Bob has raced though, the Chevron B21 is his favorite. He has driven it in about 150 vintage races.

For racers who are going to campaign a car so actively, engine maintenance costs can become a significant concern. Original Cosworth FVA and FVC engines are becoming scarce, and they're relatively costly to service. Very shortly after restoration of Bob's B21 began, a decision was made to substitute a Cosworth YB engine as used in European-spec Ford Sierra RS Cosworth street cars from 1986-1992. One of the earlier engines could, of course, be retrofitted if someone requires an entirely period-correct engine specification, but the YB engine is permitted by all the clubs Bob races with.

Now it's time to dramatically cut back on his racing and Bob is obliged to find the Chevron a good home. His advice for the next owner: "If you're going to race the Chevron, you really need to commit to at least a race weekend a month plus some practice weekends. If you don't drive it frequently, you won't stay sharp enough and it might bite you. It's a fast car!" On the other hand, he commented that the car is forgiving. "Unlike a ground effects car where you have to get it to a certain speed in order for it to work, this car can be driven in a non-aggressive way." Also, since it's a flat bottom car it doesn't come un-glued from the ground in the event of a mishap. Did any of the Chevron's performance characteristics surprise Bob? "It's a GREAT car in the rain. Perhaps that's something to do with its aerodynamics, plus driver visibility is quite good."

Bob's advice of new drivers is to start with an open wheel car in a "momentum" class. Formula Ford would be the obvious example. That's where you have to focus on the fundamentals. The focus will keep you from developing bad racing habits.

In the Chevron's class, driver experience and track knowledge are hugely important. The level of competition is quite high. Remember all those cars Bob has driven? He has been collecting in-car camera footage for a long time and he makes active use of it. It really helps. He also takes copious notes, and he expects the same of the people who prepare his cars.


Features and Specifications (as currently presented)
Engine:
Cosworth YB 2.1L 16-valve DOHC, built by Marcovicci-Wenz. (~13:1 static compression ratio. 305hp at 8100rpm. 212ft-lbs at 6600rpm. 35 degrees total ignition advance.) Carrillo rods. Dual Weber 50DCOE carburetors. ITG Red Band Megaflow (JC50) foam air filter. Magneti Marelli distributor. Lucas AB14 electronic ignition amplifier (48039A). MSD Blaster 2 ignition coil. MSD Soft Touch Rev Control (part number 8728). TDC / Fast Forward dry sump oil pump. Modified engine oil reservoir system (increased to 13 quart capacity).

Cooling:
stock Chevron copper and brass crossflow radiator. Custom fabricated aluminum header tank and swirl pot. S.P.A. Cool 25-row aluminum oil cooler.

Exhaust:
custom fabricated four-into-one header. SuperTrapp muffler. (Usually races with baffles removed, except at Lime Rock and Roebling Road.)

Transaxle:
Hewland FT200 five speed. Tilton twin-plate 7.25" clutch (7/8" x 20 spline). Gear ratios to suit various racetracks. 9:31 ring and pinion. Hewland cam and pawl type limited slip differential.

Basic Dimensions:
93" wheelbase. 52" front track. 52" rear track. 26.5" total height. 145" total length. 66" total width. 1037# sans engine.

Front Susp.:
unequal length wishbones. Typically set to 1/16" toe-out, ~0.25 degrees of camber, and no more than ~1.5 degrees of caster. Chevron cast magnesium uprights KONI aluminum-bodied double-adjustable gas pressurized shock absorbers. 375#/in, 6" springs. Adjustable anti-sway bar. Triumph Spitfire steering rack (with exactly two turns, lock to lock).

Rear Susp.:
inverted lower wishbones, single top links, and twin radius arms. Typically set to 1/16" toe-in, no camber, and no more than ~1.5 degrees of caster. Chevron cast magnesium uprights KONI aluminum-bodied double-adjustable gas pressurized shock absorbers. 600#/in, 6" springs. Adjustable anti-sway bar.

Brakes:
(master) dual Girling master cylinders with adjustable bias bar. LMA fluid
(front) Alcon Advantage H-type four piston calipers. 11" vented rotors.
(rear) AP Lockheed four piston calipers. 11" vented rotors.

Wheels/Tires:
Chevron magnesium wheels (13x10 front, 13x14 rear). Avon racing slicks (9.0/20.0-13 front by 13.0/23.0-13 rear).

Electrical:
PowerSafe SBS HB30 battery. Tilton Super Starter.

Instruments:
(left to right) AutoMeter Sport-Comp Pyrometer EGT gauge (0-1600F), RaceTech dual oil pressure (0-100psi) and oil temperature (40-140C) gauge, Stack electronic tachometer (0-10500rpm), RaceTech water temperature gauge (30-110C).

Fuel System:
Fuel Safe fuel cell. Facet Bendix-type electric fuel pump. Holley adjustable fuel pressure regulator.

Safety Eqpmt:
Sparco six-point cam-lock safety harness. Alpha D-shaped ergonomic steering wheel with a SPA Design quick release steering wheel hub. SPA Fire Fighter centralized fire suppression system.

Weight:
~1438# wet.

Racing Class:
FIA Group 5

Engine Installation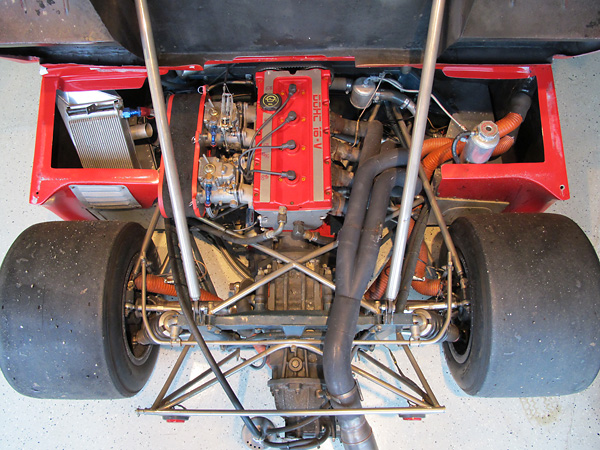 Cosworth YB engine, as used in European-spec Ford Sierra RS Cosworth cars from 1986-1992.
This particular Chevron B21 was originally built with a 1598cc Cosworth FVA, but the newer
model Cosworth engine is far more practical and economical for vintage racing. An FVA
engine (in pieces) came with the car when purchased and it's kept in safe storage.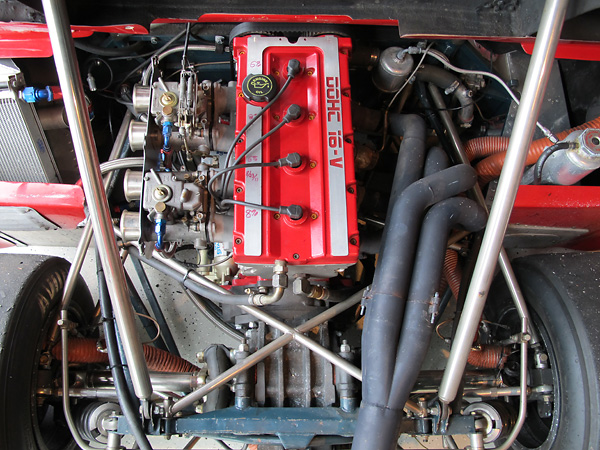 One key difference between FVA and YB is that intake and exhaust are flip-flopped side-to-side
between the two. Details such as coolant and oil plumbing and also wiring are therefore reversed.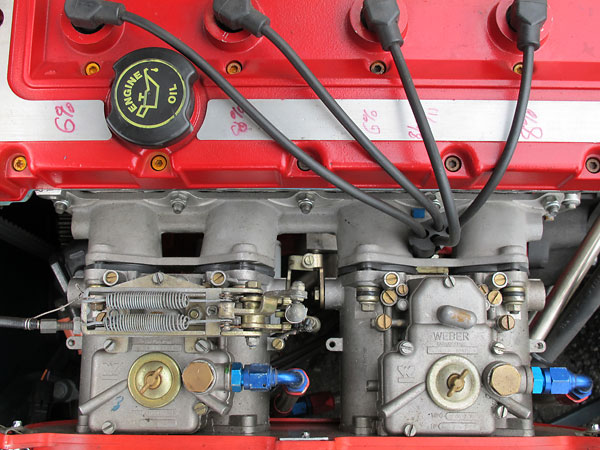 The Cosworth YB motor goes ~25 hours between being refreshed. (Early on, when Bob ran a more
aggressive spec, it was only lasting about 15 hours. The difference only amounted to about 12hp.)
In vintage racing you might expect to run ~3.5 hours in a weekend including practice day and
an enduro event. Note: the handwritten numbers on the valve cover are leakdown test results.
VRS measures and records compression leakdown after every track session and race.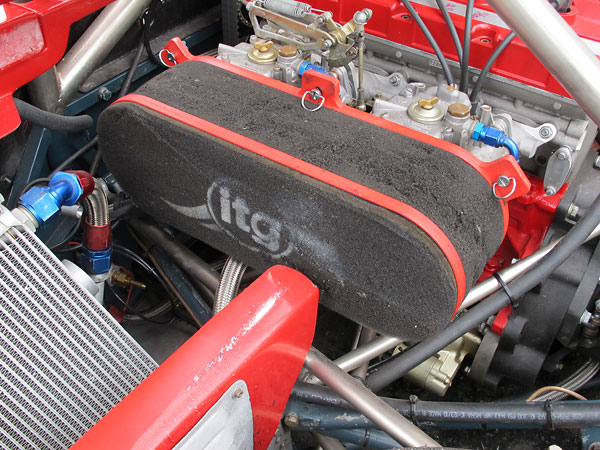 ITG Red Band Megaflow (JC50) foam air filter.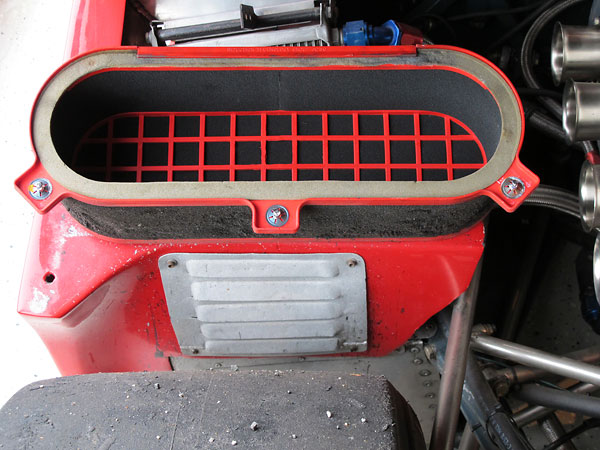 A two piece plastic structure provides internal support to the foam filter filter element.
To function properly, the foam must be lightly coated with oil. The oil traps dust particles.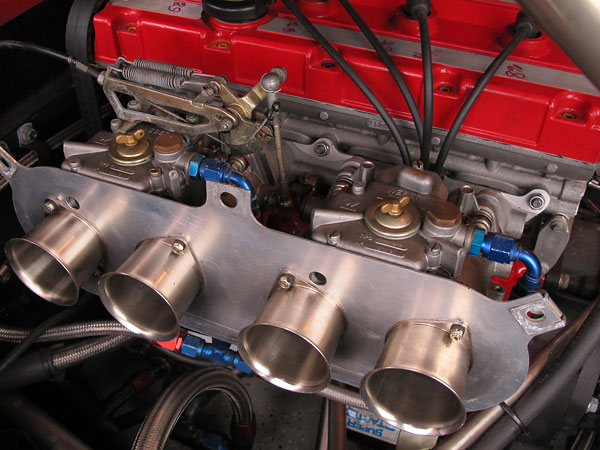 Dual Weber 50DCOE carburetors.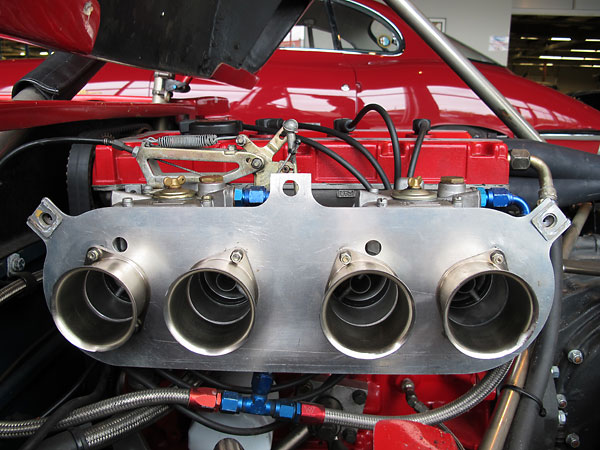 (Plumbing and cable routing details.)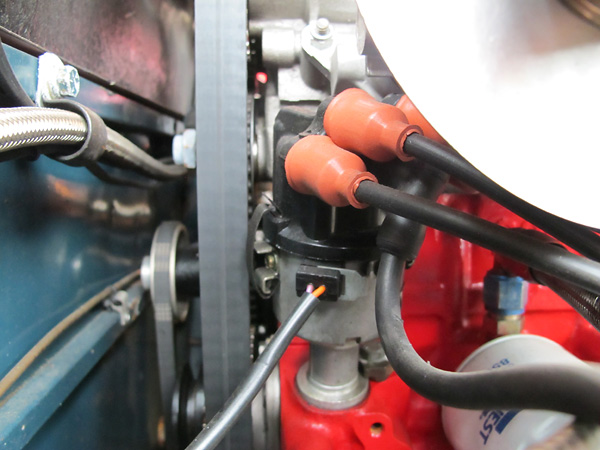 Magneti Marelli distributor.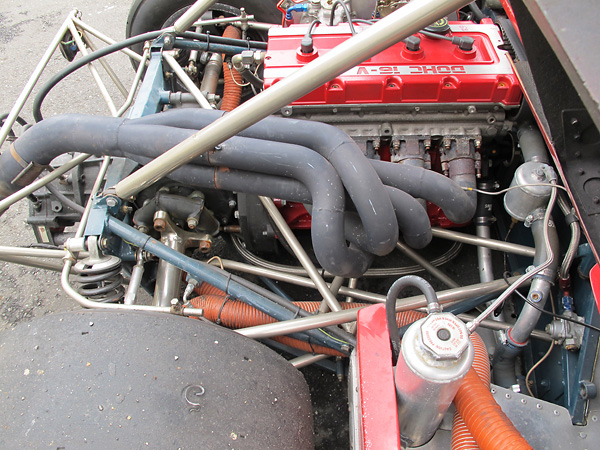 Four-into-one exhaust header custom fabricated in 16 gage mild steel has withstood thirteen years
of heavy use. On newer work, VRS has switched over to stainless steel. With either material,
they find it's most cost effective to work from pre-bent tubing sections.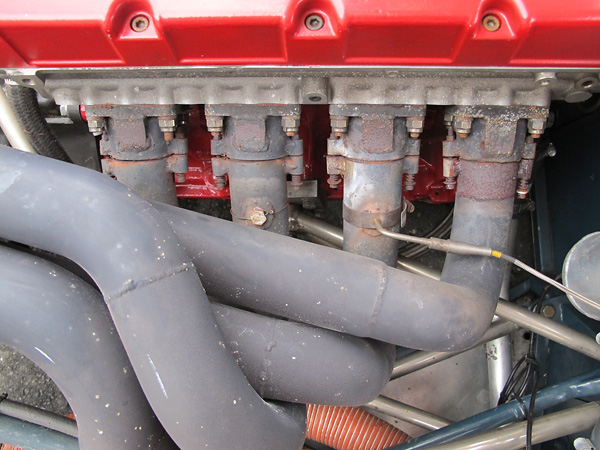 YB engines are notorious for breaking their #3 header tubes due to a harmonic vibration,
so Brian Rechtiene put spring-loaded slip joints on all four pipes just outboard of the
flanges. Brian uses thicker gauge tubing at the flanges and adds gussets because these
features help hold heat. Extra mass there smooths out heat cycling to avert cracking.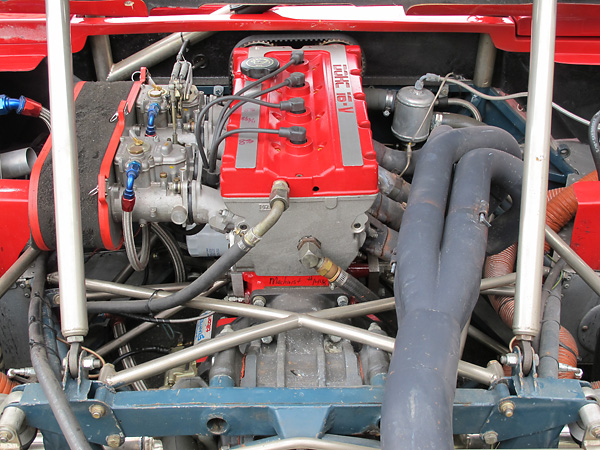 Underneath the Cosworth YB DOHC 16-valve aluminum cylinder head lies a Ford Pinto engine block.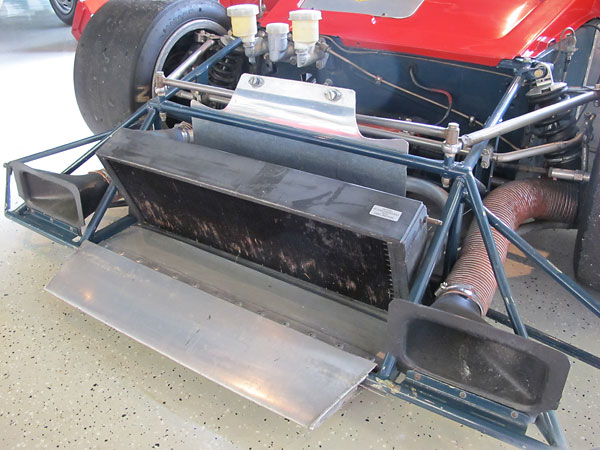 Chevron copper and brass crossflow radiator.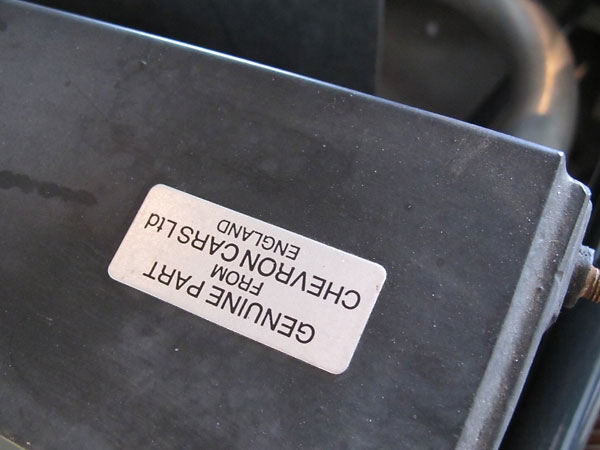 Genuine Part from Chevron Cars Ltd., England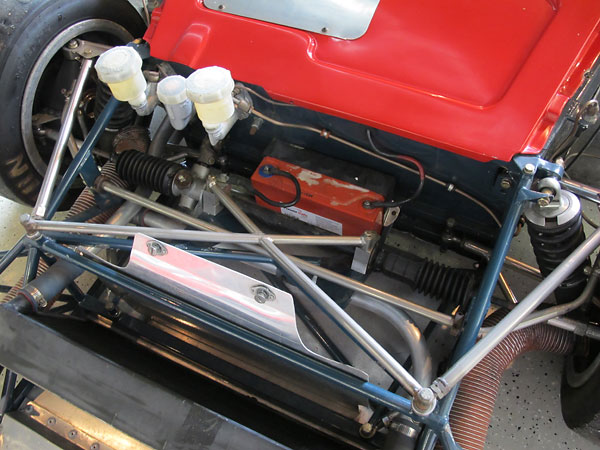 Radiator plumbing is currently routed on driver side only because that suits the Cosworth YB engine.
The original Chevron B21 design had one pipe on either side, at least for FVC and FVA installations.
PowerSafe SBS HB30 sealed lead acid battery is about the same size, shape, and color as the original
Varley Red Top battery. In 1972 the car would have used an alternator. One isn't installed now.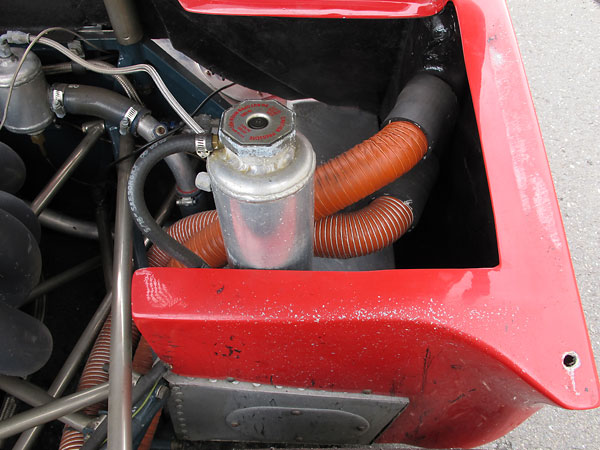 Custom aluminum coolant header tank. (Hoses in background are for brake cooling.)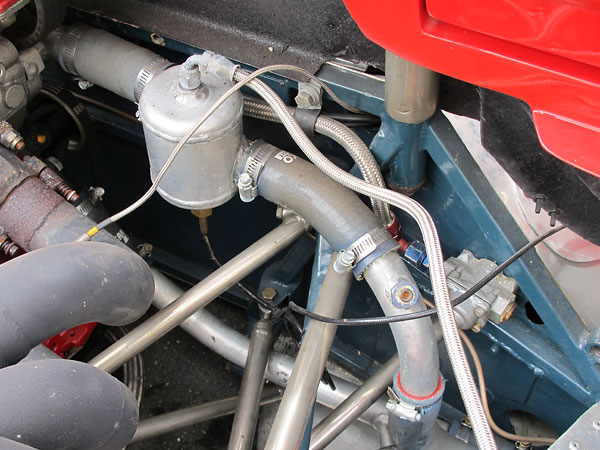 Custom aluminum coolant swirl pot.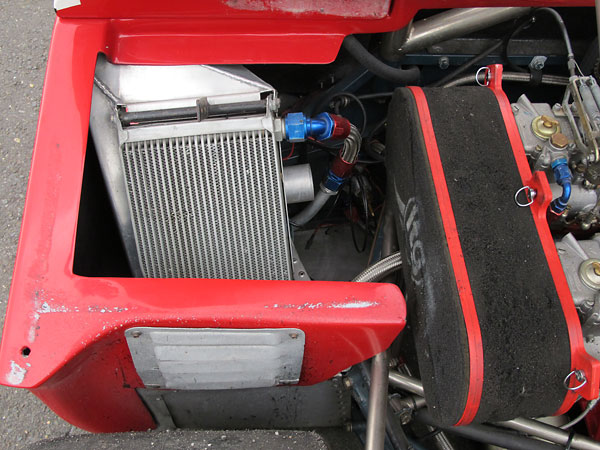 An oil cooler is mounted on the left. Originally, it would have been mounted on the right.



S.P.A. Cool 25-row aluminum oil cooler.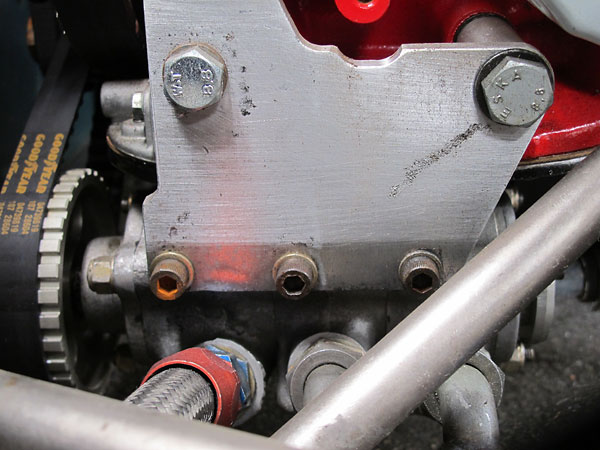 TDC / Fast Forward three stage dry sump oil pump.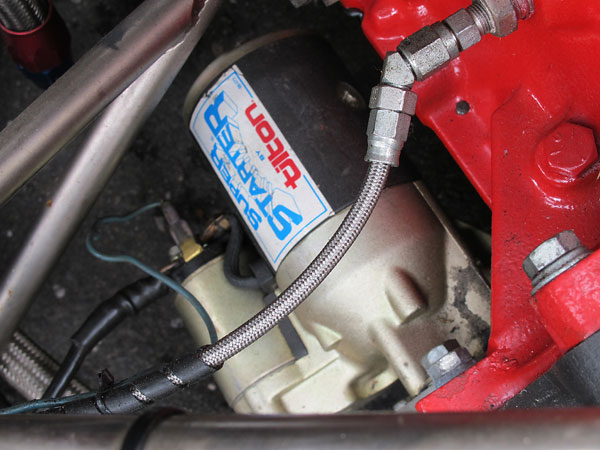 Tilton Super Starter.



Bob uses a 9:31 ring and pinion set. Three or four other final drive ratios are available.
He also prefers the very robust Hewland "chiclet" (cam and pawl) limited slip differential.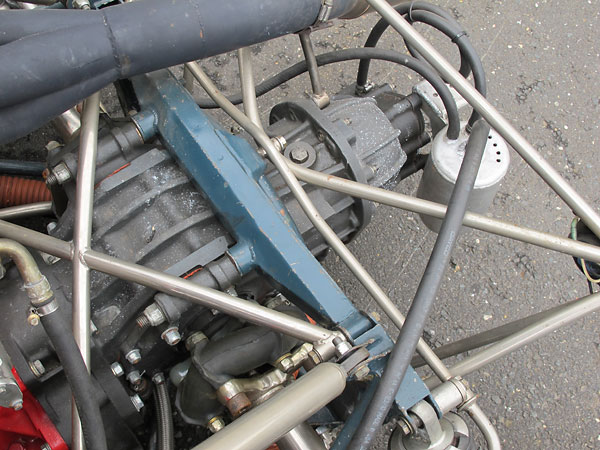 This chart shows what Hewland FT200 gear combinations work best at Bob's most frequently visited racetracks:


Racetrack
1st gear
2nd gear
3rd gear
4th gear
5th gear
1.
Daytona
13/35 (2.692)
15/33 (2.200)
18/30 (1.667)
21/27 (1.286)
22/24 (1.091)
2.
Watkins Glen
13/35 (2.692)
15/33 (2.200)
18/30 (1.667)
21/27 (1.286)
22/24 (1.091)
3.
Road America
12/35 (2.917)
16/30 (1.875)
18/29 (1.611)
19/27 (1.421)
21/26 (1.238)
4.
Lime Rock
13/34 (2.615)
14/32 (2.286)
17/30 (1.765)
20/28 (1.400)
22/25 (1.136)
5.
Moroso
13/35 (2.692)
16/30 (1.875)
18/29 (1.611)
19/27 (1.421)
22/26 (1.182)
6.
Savanah
13/35 (2.692)
17/36 (2.118)
18/30 (1.667)
19/27 (1.421)
19/22 (1.158)
7.
Summit Point
13/35 (2.692)
17/36 (2.118)
18/30 (1.667)
19/27 (1.421)
19/22 (1.158)
8.
V.I.R.
13/35 (2.692)
17/36 (2.118)
17/30 (1.765)
21/27 (1.286)
22/24 (1.091)
9.
Sebring
13/35 (2.692)
16/30 (1.875)
18/29 (1.611)
19/27 (1.421)
22/26 (1.182)
10.
Road Atlanta
13/35 (2.692)
15/33 (2.200)
18/28 (1.556)
20/27 (1.350)
22/26 (1.182)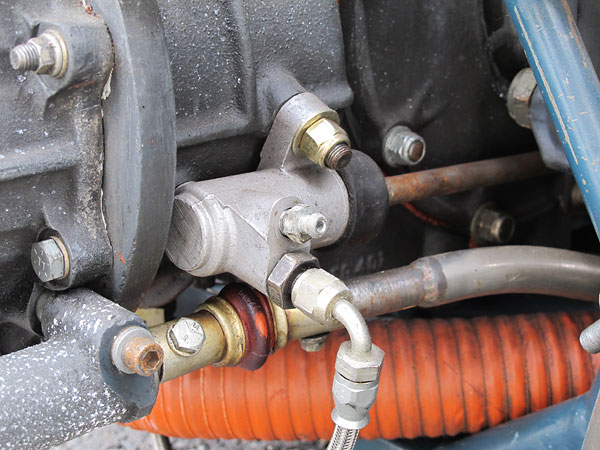 Girling clutch slave cylinder. Apex gear shifter universal joint.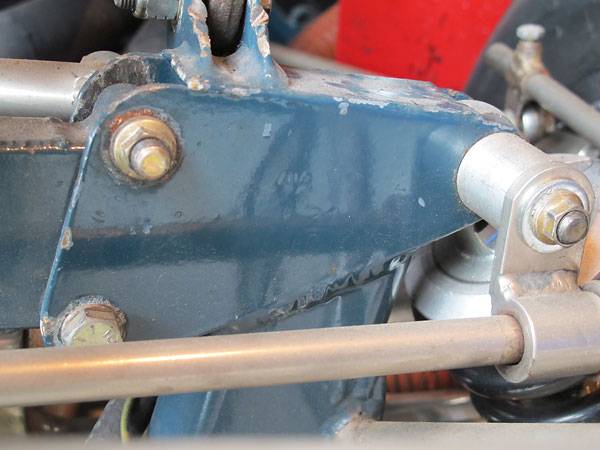 Stamped numbers on the frame, in three rows, appear to read "AM 72", "B 21", and "17". (There's
no particular correlation between Arch Motors frame numbers and Chevron serial numbers, but
in this particular case it's believed that the frame and car share serial number 17.)


Enjoying this article? www.BritishRaceCar.com is partially funded through generous support from readers like you!
To contribute to our operating budget, please click here and follow the instructions.
(Suggested contribution is twenty bucks per year. Feel free to give more!)
Front Suspension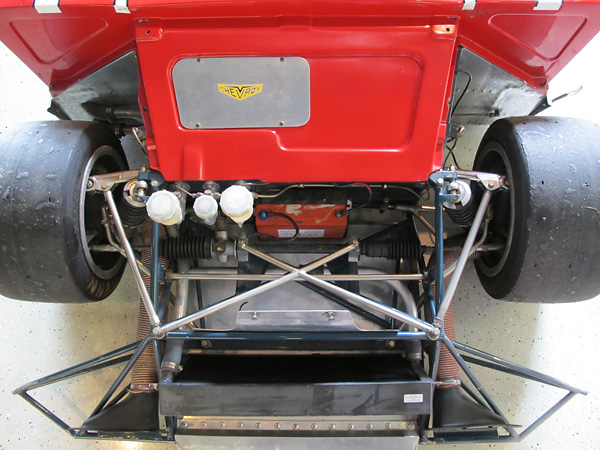 Triumph Spitfire steering rack. The steering wheel travels exactly two turns from lock to lock.



The nose frame has been replaced at least once. It's a mild steel fabrication. Back in the day, the
joints would have been brazed with an oxy-acetylene torch but the usual method these days is to use
silicon bronze filler rod with a TIG welder. The traditional color for Chevron frames is blue (4503N).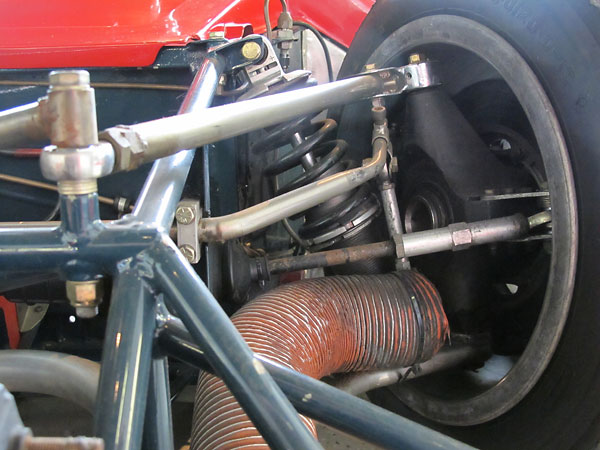 Flexible brake cooling duct.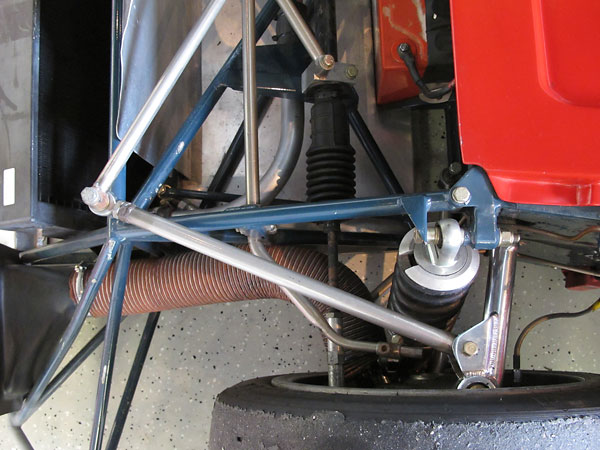 To take advantage of newly available Firestone tires, for the 1973 season Derek Bennett redesigned
the front suspension. Many B21s were subsequently updated to the later specification.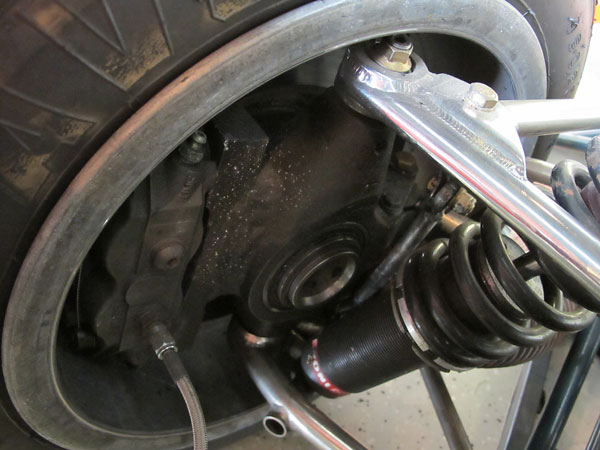 Alcon Advantage H-type four piston calipers. Vented rotors.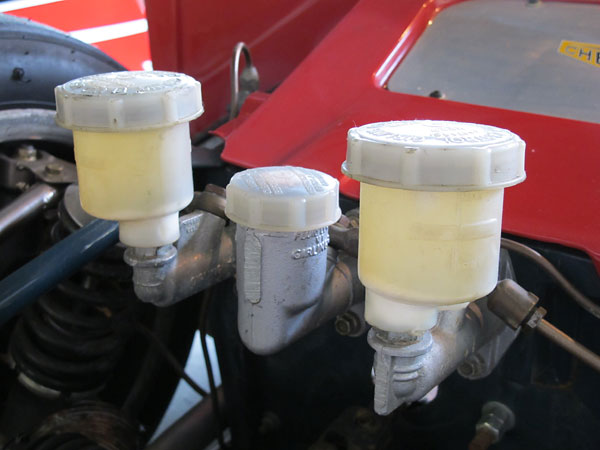 Girling master cylinders for the brakes and clutch. Note that two out of the three cylinders have
oversize (five ounce) offset plastic reservoirs. These provide easy fluid level inspection.



The Lola limp? In contrast with their rivals at Lola, Chevron prioritized driver protection.
The Chevron B21 footbox and pedals are set behind the centerline of the front wheels and
steel paneling extends all the way around. On the Lola T290, the drivers feet extend out
nearly to the front of the tires and the footbox is skinned in lightweight aluminum.


Rear Suspension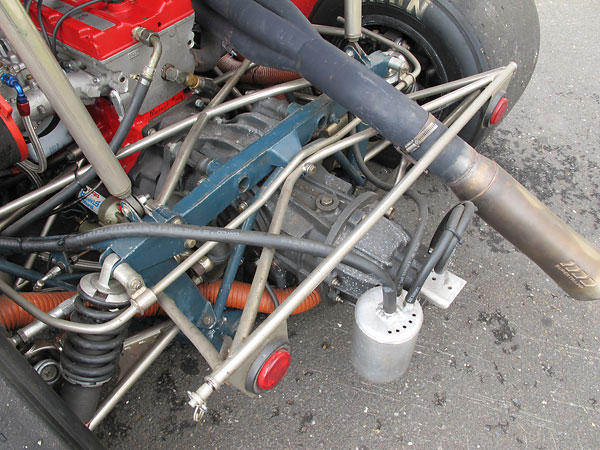 Generally, racetracks are smoother than they were in the past so racers can run stiffer springs.
Suspension settings are usually pretty consistant from race to race, although the team certainly
raises ride-height for Daytona (due to the track's banking) and for Sebring (due to the track's
rough surface.) Actually, they prefer not to run Sebring anymore; it's hard on the equipment.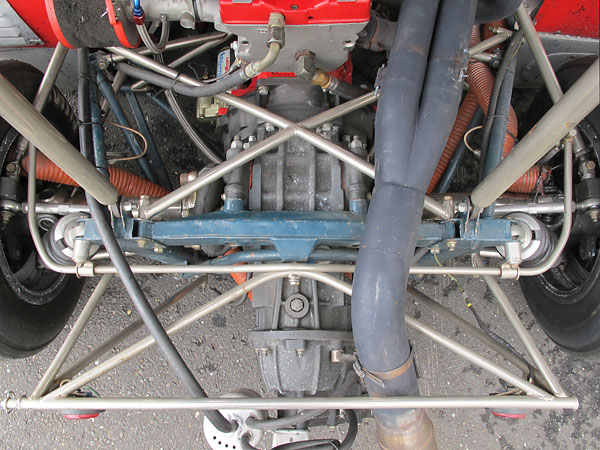 This Chevron B21 still uses its original anti-sway bars, both front and rear.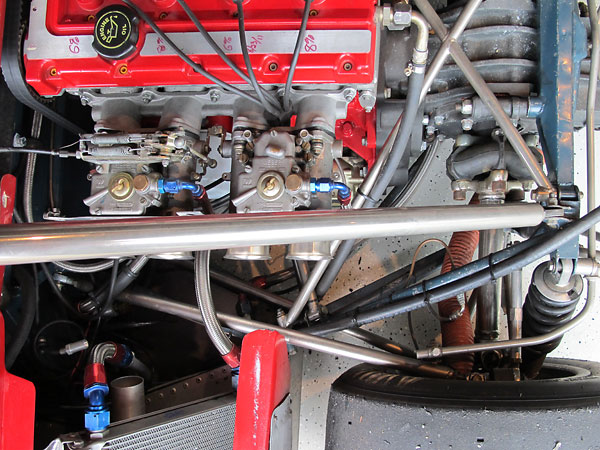 Steel suspension links are nickel plated. Chrome plating isn't used on racecar parts because the
plating process can cause cracks to form in welded joints.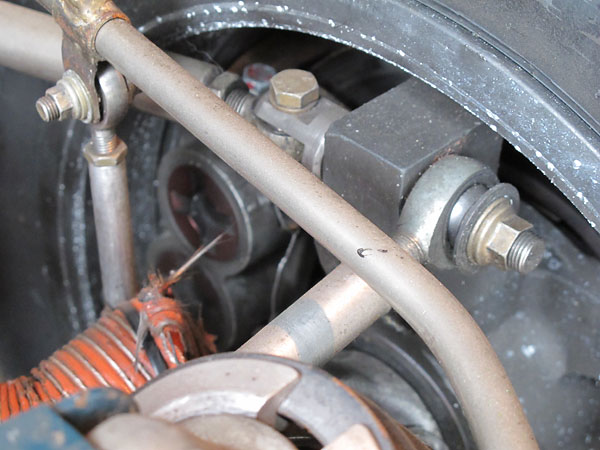 AP Lockheed four piston calipers. Vented rotors.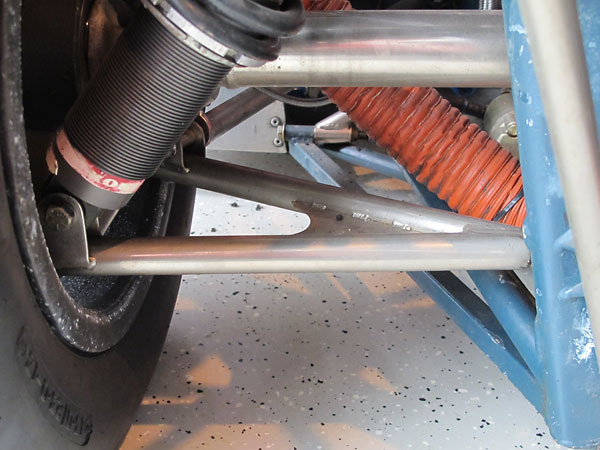 KONI aluminum-bodied double-adjustable gas pressurized shock absorbers. (Chevron B21 owners might
have used similar KONI shocks back in 1972 except that they wouldn't have been gas-charged.)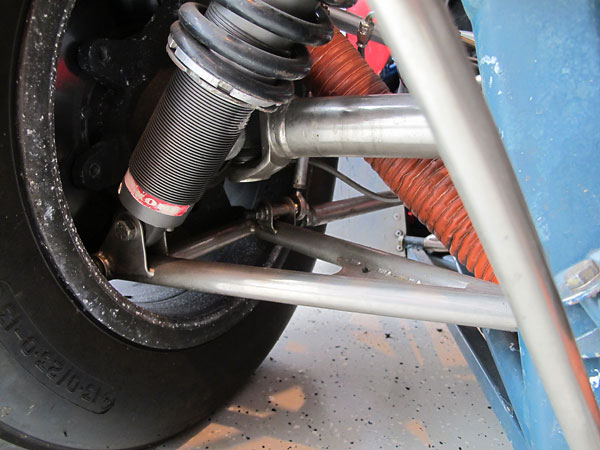 Interestingly, this car has proven much harder on (outboard) universal joints than it has on (inboard)
rubber donuts. In fact, U-joints may be the weakest part of the car. It broke two left rear U-joints
in just one weekend of racing on the bumpy Sebring circuit one year. The rubber donuts have been
perfectly reliable to date, although of course they receive careful and frequent inspection.


Interior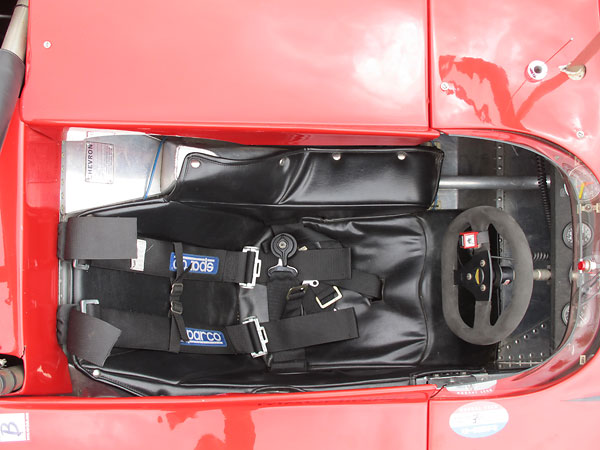 Sparco six-point cam-lock safety harness.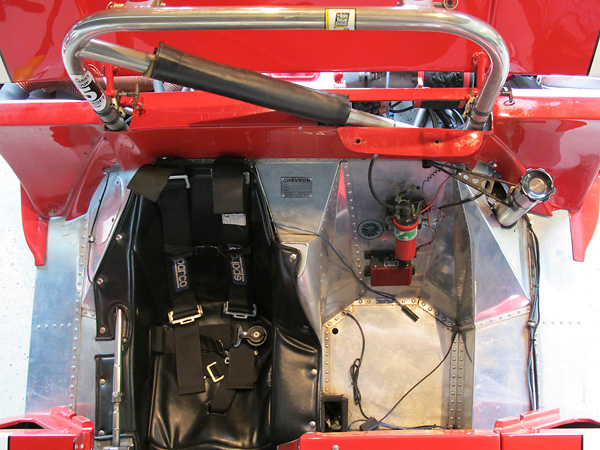 This particular Chevron B21 originally had just one fuel cell and it was mounted behind the seats.
That's consistant with the idea that it may have been configured for hillclimb use. Most Chevron B21
racecars were set up with multiple fuel cells for long distance endurance races.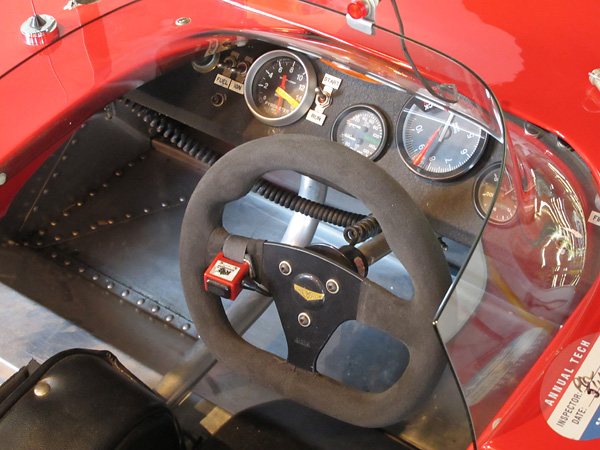 Mounted on the steering wheel: a Racing Electronics brand push-to-talk button, which is part
of the 2-way radio system that keeps driver Bob Machinist in contact with his crew.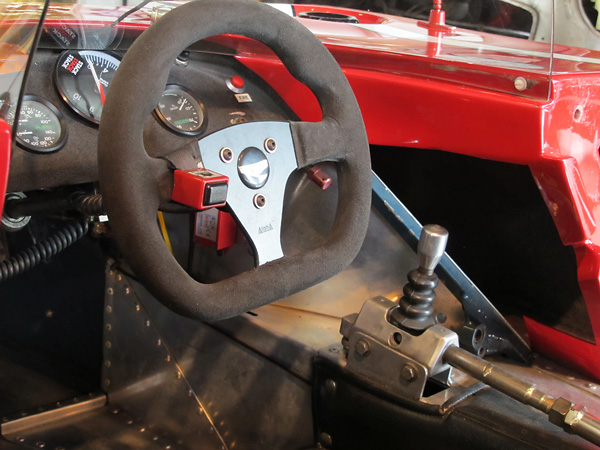 During a 4hr endurance race at Daytona, the original Chevron shifter lever broke clean off.
Brian Rechtiene's custom heavy-duty shifter ensures the same failure will never happen again.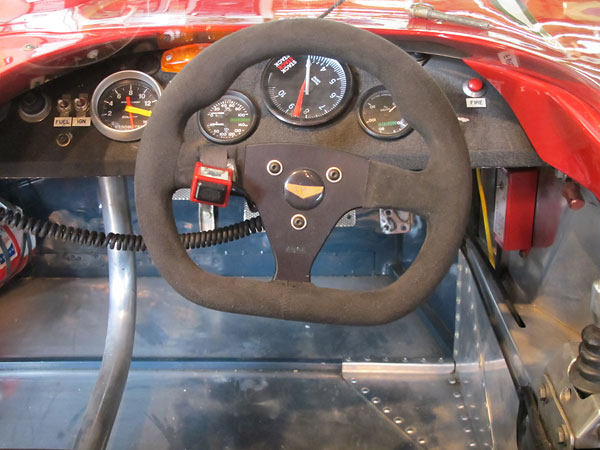 Alpha D-shaped ergonomic steering wheel.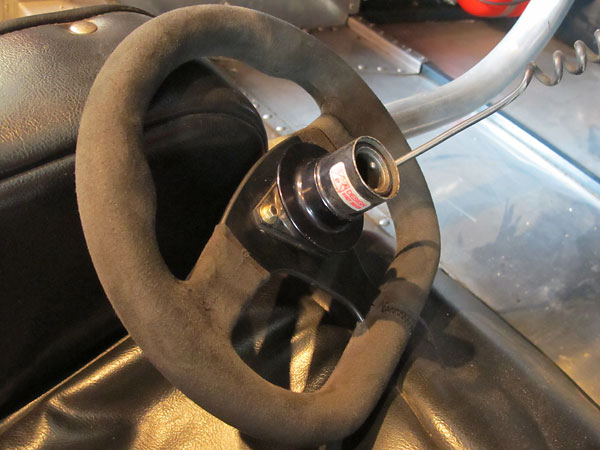 SPA Design quick release steering wheel hub.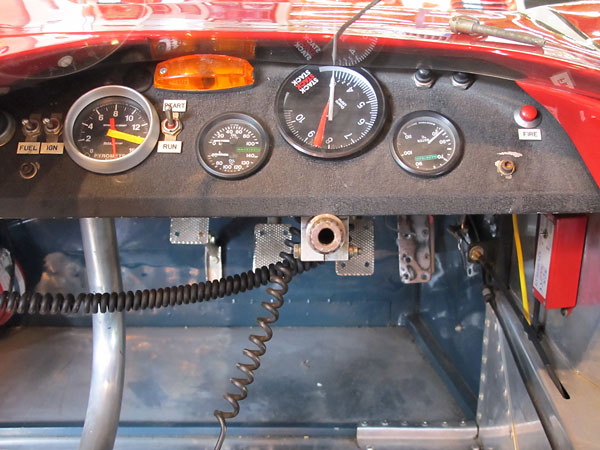 AutoMeter Sport-Comp Pyrometer EGT gauge (0-1600F), RaceTech dual oil pressure and oil
temperature gauge, Stack electronic tachometer, and RaceTech water temperature gauge.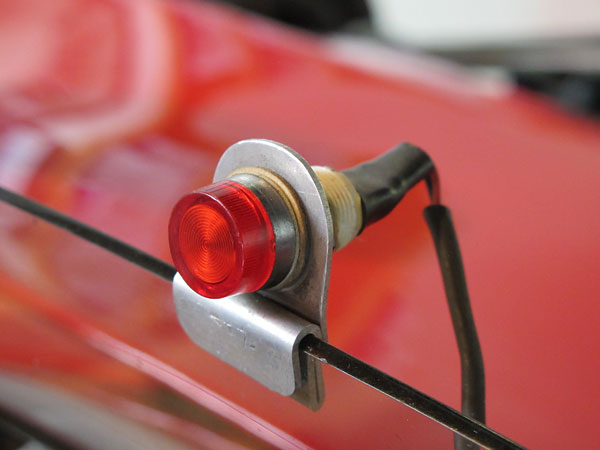 Low oil pressure warning light. (If this comes on, stop the car!)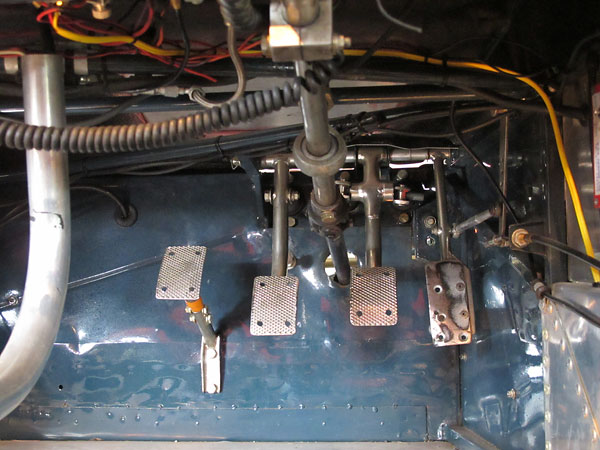 A threaded rod inside the brake pedal assembly facilitates minutely shifting a spherical bearing
from side to side, thereby precisely altering the distribution of pressure between front and rear
circuits. Bob prefers to set this once and forget about it, so there's no remote adjustment knob.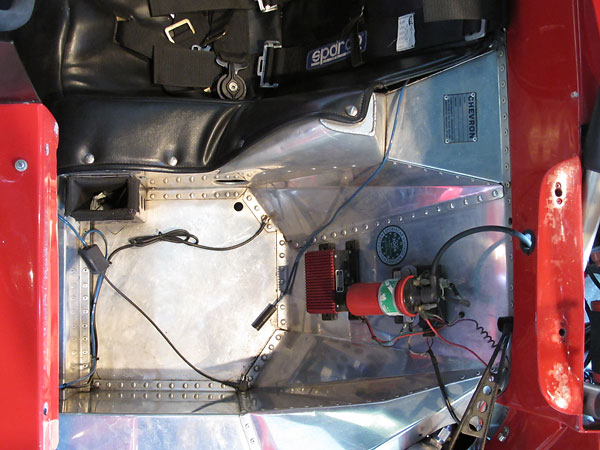 Armrest/divider between driver and passenger sides of the cockpit increased from about
three inches wide on the Chevron B19 to about five inches wide on the Chevron B21.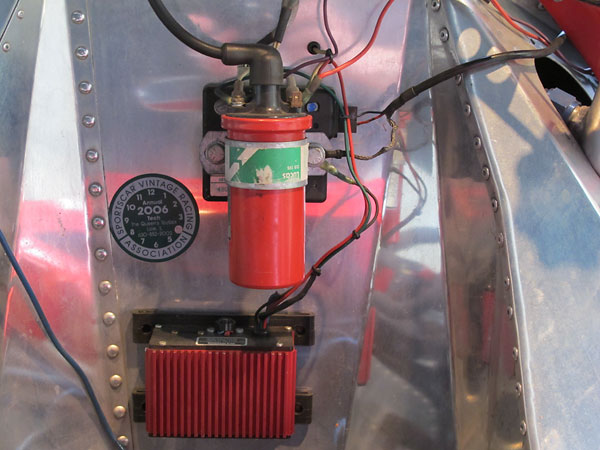 MSD Blaster 2 ignition coil, Lucas AB14 electronic ignition amplifier, & MSD Soft Touch rev limiter.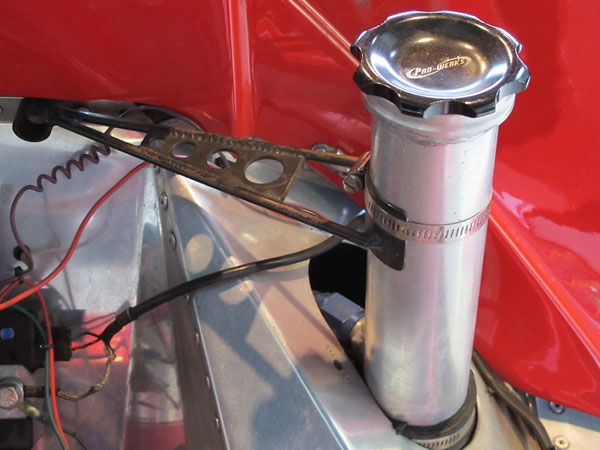 Pro-Werks fuel filler cap.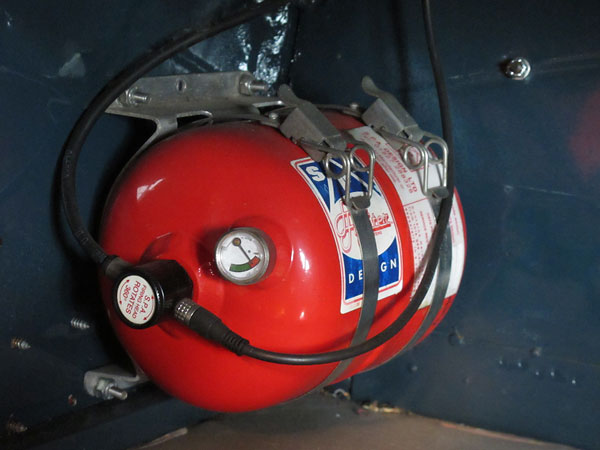 SPA Fire Fighter centralized fire suppression system.


Exterior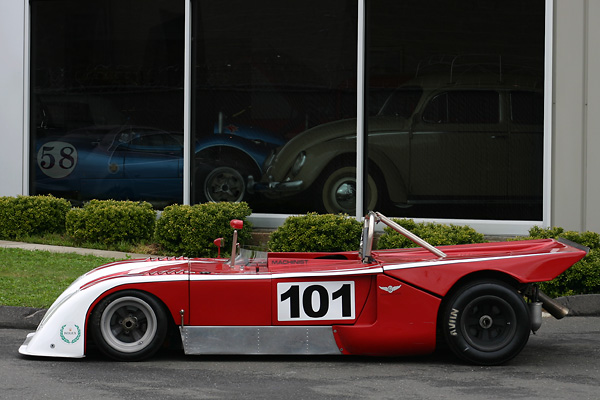 This racecar is available for purchase through Bob Machinist's agents: Vintage Racing Services Inc.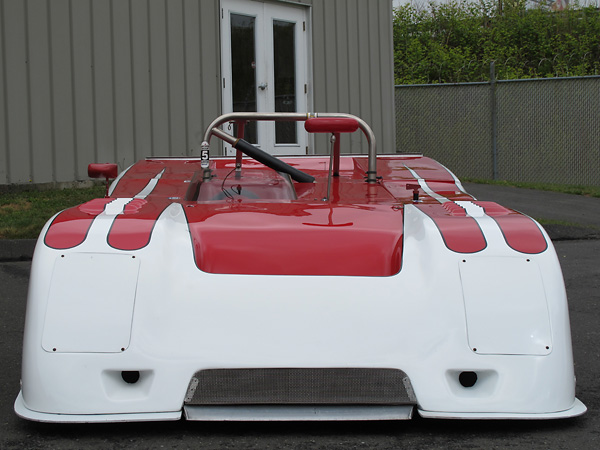 Several years ago, Bob Machinist bought out Mike Amalfitano's (Amalfi Racing) Chevron collection.
It included a B23, a B29, an ex-Rahal B39, and a staggering collection of wheels and bodywork
for Chevron sports racers. Over time, the entire collection will be sold off. Contact Vintage
Racing Services if you need parts to service or restore a Chevron racecar.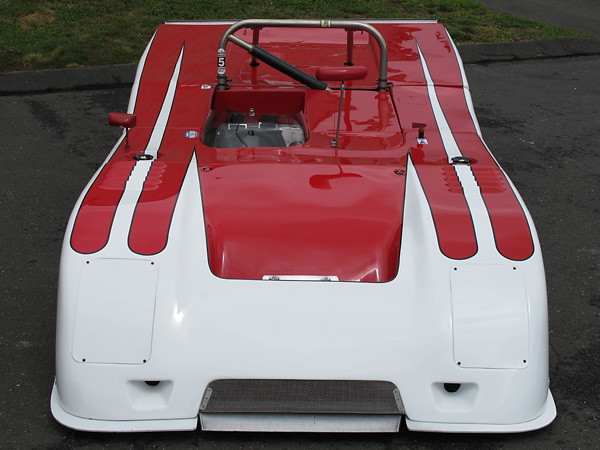 Bob Machinist's comments about racetracks for the Chevron B21: Road America is his top pick, although
Road Atlanta and Watkins Glen are favorites too. Daytona has traditionally attracted big fields of sports
racers, so it's a good experience. Sebring is too hard on equipment. Monterey (Laguna Seca) is his
least favorite because events there involve lots of sitting around and much less racing.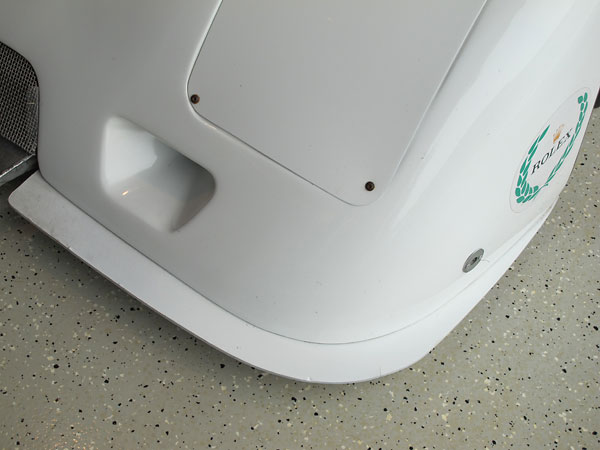 Trust the stopwatch! Getting splitter and suspension dialed-in dramatically improved lap times. The
breakthrough realization was that lower isn't always faster; raising ride height a little prevented bumps
from upsetting the suspension. Initially the team used aluminum splitters, but had to constantly replace
them and at one point a loose splitter cut a tire. JabRock composite splitters wear best but are costly.
Now the team favors disposable plywood splitters.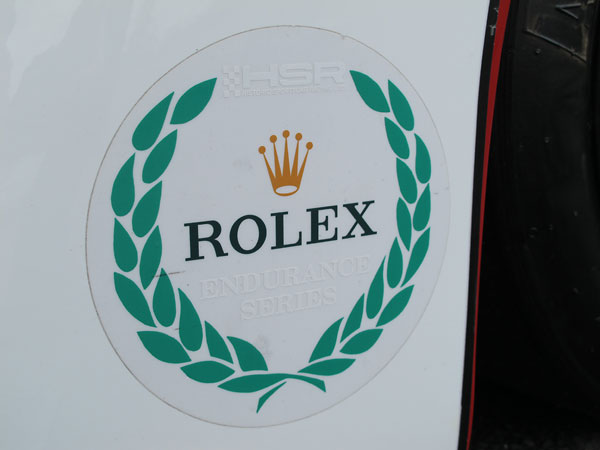 HSR - Historic Sportscar Racing Ltd. - Rolex Endurance Series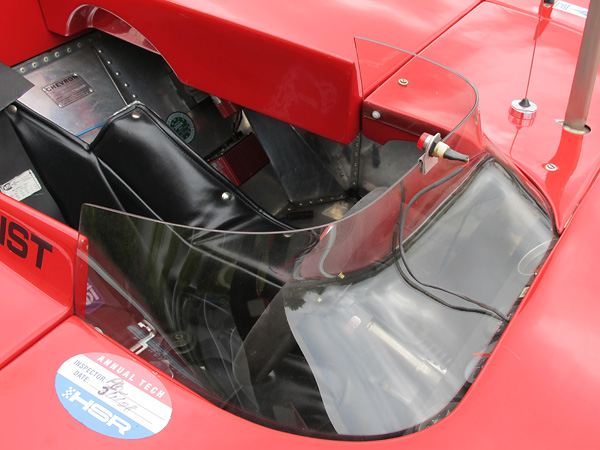 One of the things that makes the B21 a great racecar is its "feedback loop". From the driver's seat you
can see the car's nose very well and judge distances accurately. You can also feel air movement over
the car very well, which helps the driver judge speed. When these cars race they can get into tight
groups and draft each other with precision, until the driver in the rear slingshots forward to pass.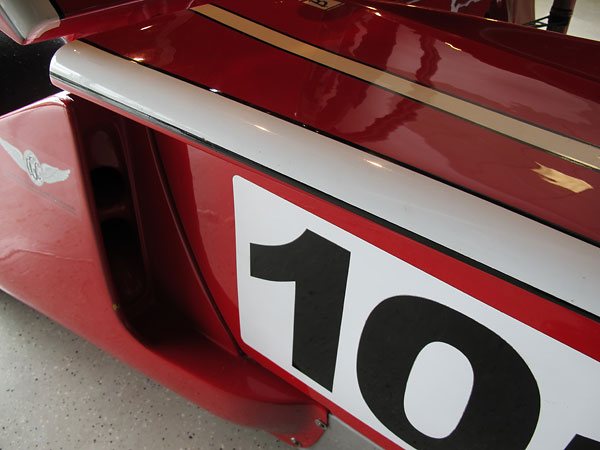 Ducts immediately behind the doors feed a strong current of airflow into the oil cooler
on one side and into brake cooling ducts on the other side, respectively.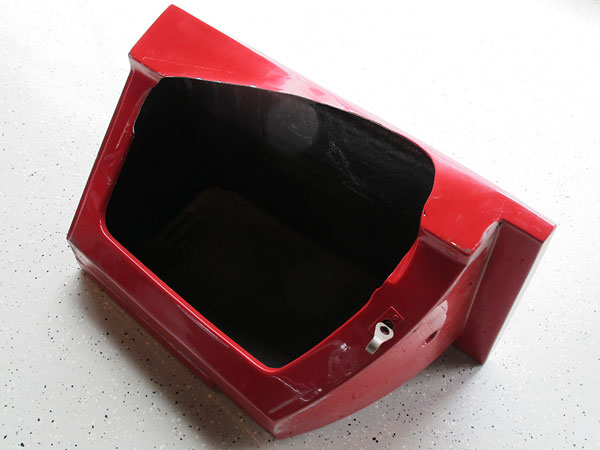 The doors are held in place by two pins at the front and by a Terry spring clip at the rear.
(The pins are set side-by-side, and the door actually hinges downward into place.)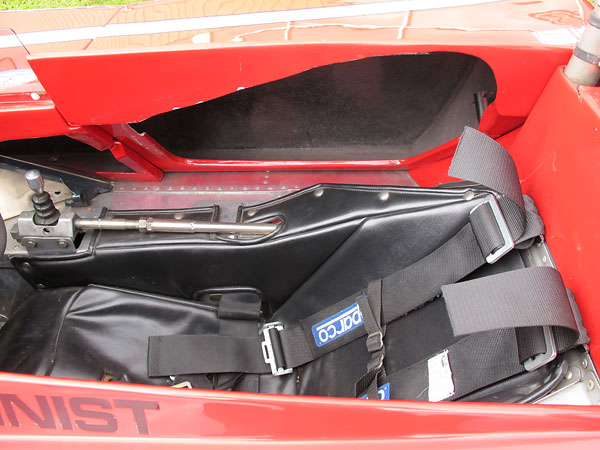 The inside surface of the door has been cut away to provide an extra large measure of clearance
for Bob's shoulders. It's important to Bob that he can get into and out of the car quickly and easily.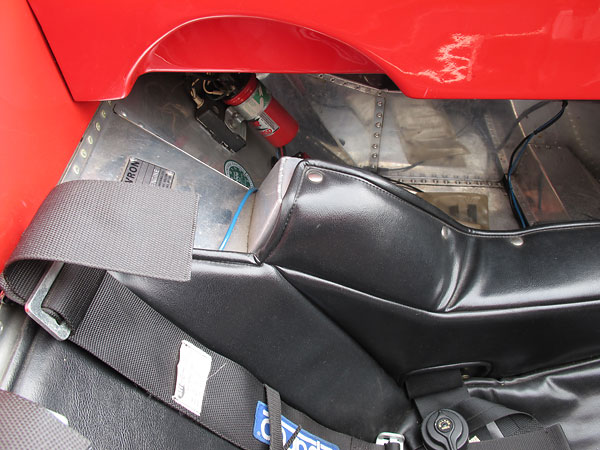 The bottom of Bob's tonneau cover has also been contoured to provide extra shoulder clearance.
(We understand that Bob's seat has also been modified somewhat to better protect his ribcage.)
Note: tonneau covers aren't traditionally associated with Chevron's B21 model because in 1972
the FIA modified Group 5 rules to mandate symmetrical and open cockpits. Tonneau covers would
have been used up to that point and would have remained in use anywhere rules permitted them.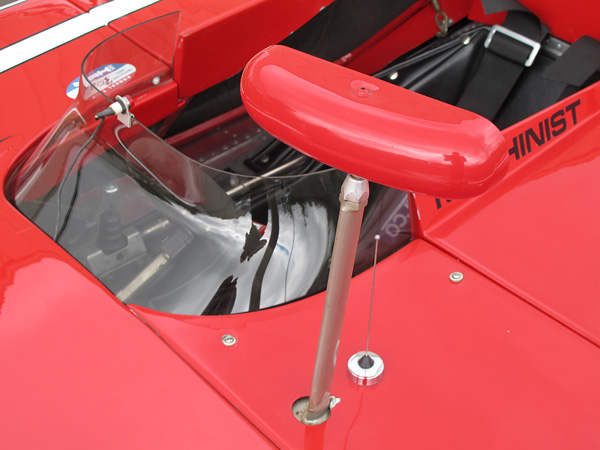 Why so tall? Rear view mirrors are useless if they don't give you a clear rearward view.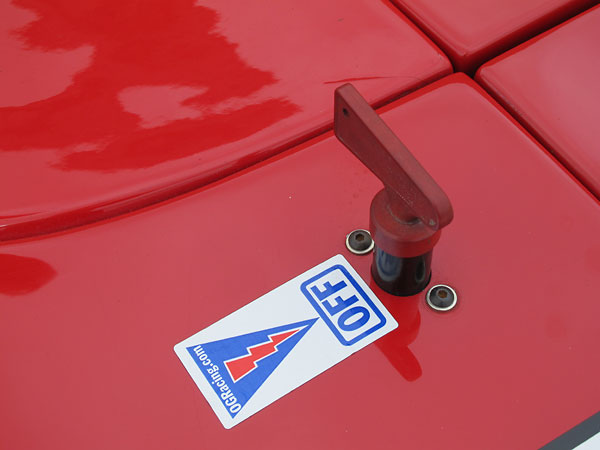 Engine kill switch / battery disconnect switch.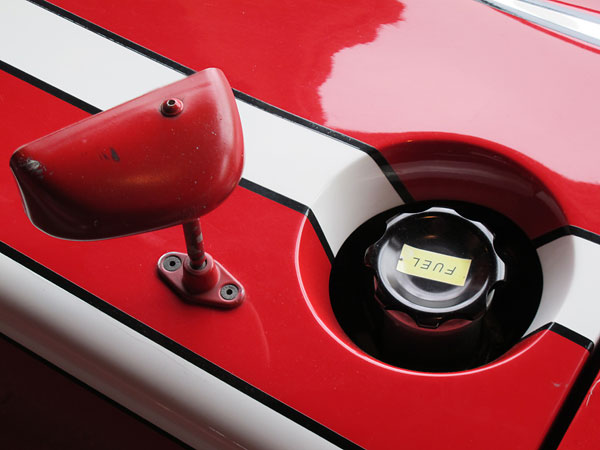 Most Chevron B21 racecars carry fuel tanks on both sides of the cockpit. This B21 only has a left
side tank, but the fuel filler cap is on the right side anyhow. It's connected via a cross-tube
similar to the one that would have connected lefthand and righthand fuel cells back in the day.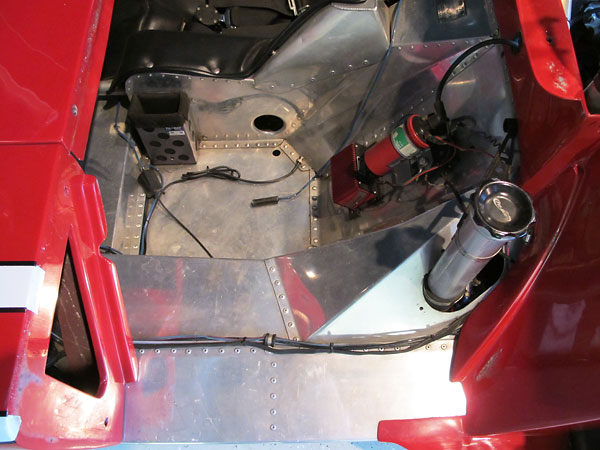 Mid-race refueling is necessary when Bob's B21 races in multi-hour enduros. The team discovered
that the cross-tube between the filler cap (shown in the previous photo) and the fuel cell slowed
refueling. A decision was made to add a second fuel filler cap under the passenger-side door.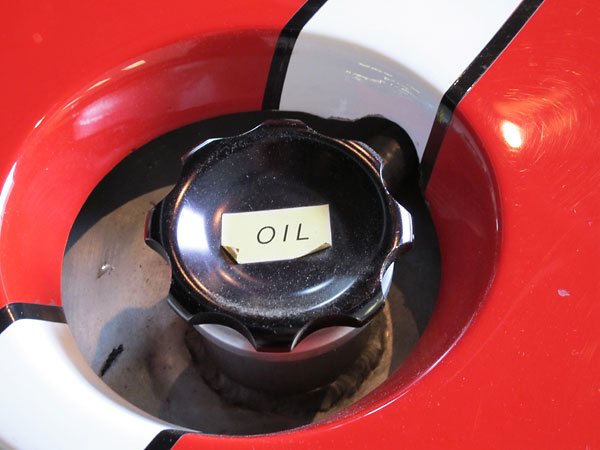 The original engine oil reservoir is in its stock location on the passenger side. It's been cut at
the bottom and lengthened to increase system capacity from about ten quarts to about thirteen.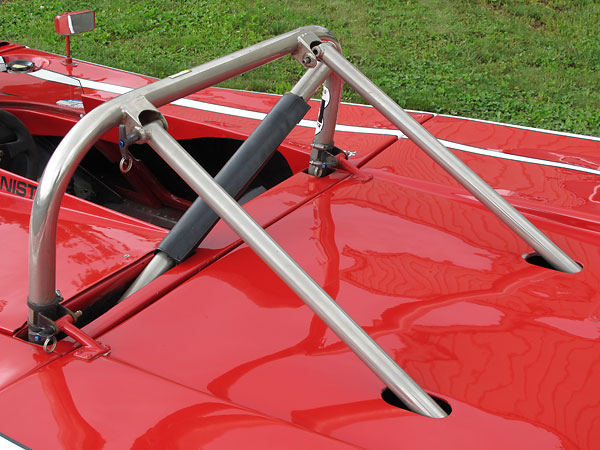 Stout roll hoop.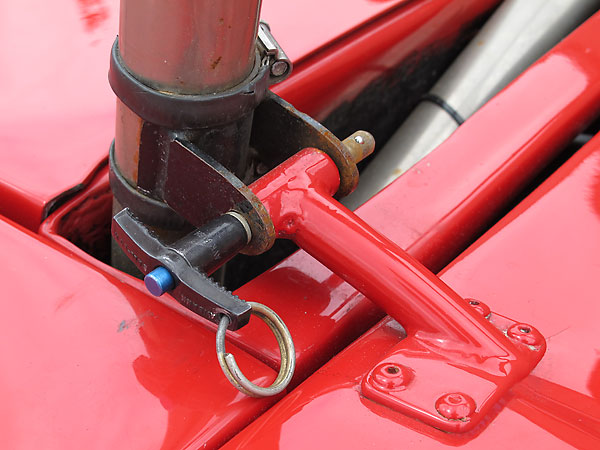 Chevron B21 rear bodywork can quickly and easily be hinged open for service or alternatively it
can be removed and set aside for unfettered access to the car's critical mechanical components.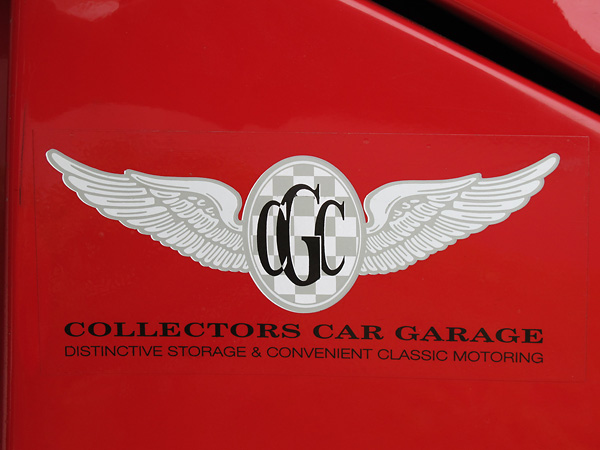 Collectors Car Garage
Distinctive Storage & Convenient Classic Motoring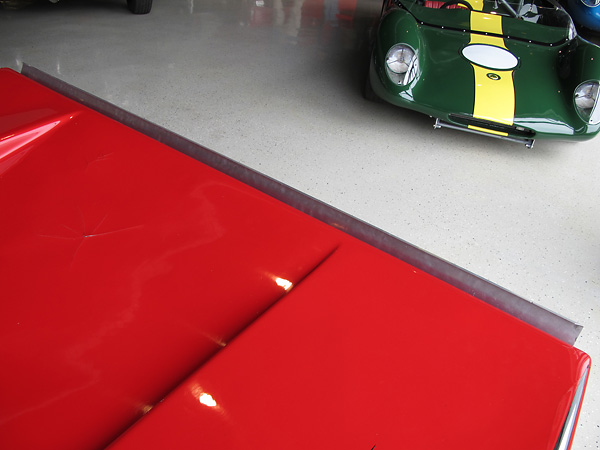 First installation of an adjustable rear spoiler on a Chevron B21 is credited to John Boot who prepared
John Burton's racecar. It was such an obvious improvement that all the other teams quickly copied it.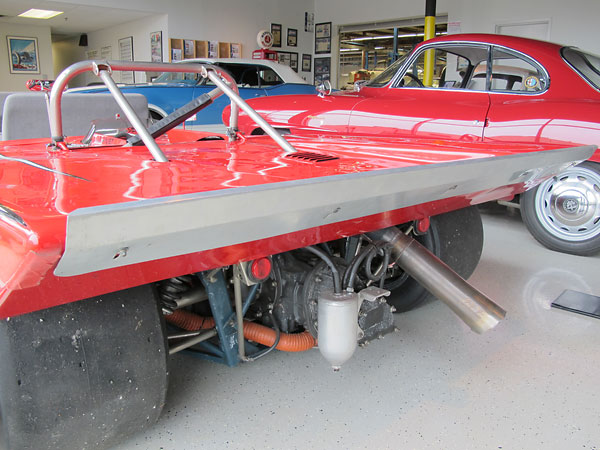 Bob Machinist requested that Vintage Racing Services make a further change: add a Gurney lip to the tip.
Bob reports that a 1/4" adjustment of the spoiler adds/subtracts about 5mph at the end of a long straight.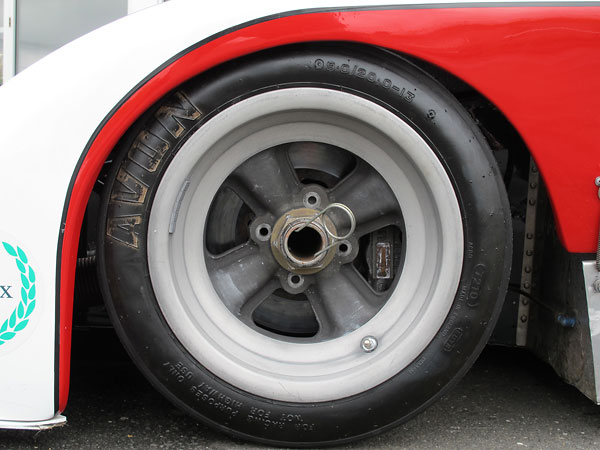 Chevron magnesium wheels (13x10 front, 13x14 rear).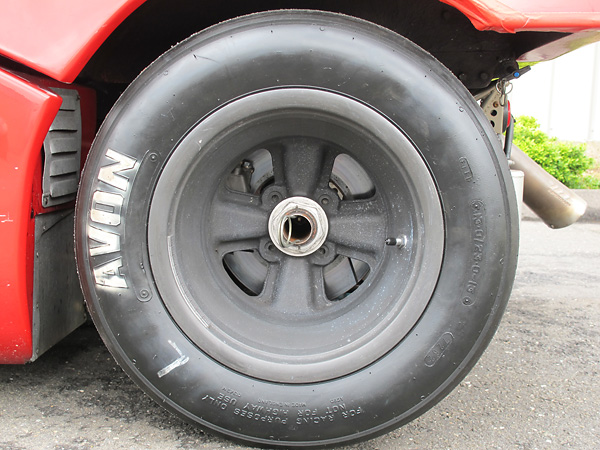 Avon tires (9.0/20.0-13 front by 13.0/23.0-13 rear). Typical starting tire pressures: 13psi front, 15psi rear.
The tires are typically good for about five hours of racing, before replacement.


The photos of Bob Machinist's Chevron B21 in action at Watkins Glen and in victory lane at Road Atlanta are by Kent Bain, and the three photos of Bob Machinist's Chevron B21 undergoing restoration in 1999 are by Brian Rechtiene. They're all used here by exclusive permission. All other photos are from May 2012, when BritishRaceCar.com visited Vintage Racing Services Inc. in Stratford, Connecticut. Photos by Curtis Jacobson for www.BritishRaceCar.com, copyright 2012. All rights reserved.



Notice: all the articles and almost all the photos on BritishRacecar.com are by Curtis Jacobson.
(Photos that aren't by Curtis are explicitly credited.) Reproduction without prior written permission is prohibited.
Contact us to purchase images or reproduction permission. Higher resolution images are optionally available.