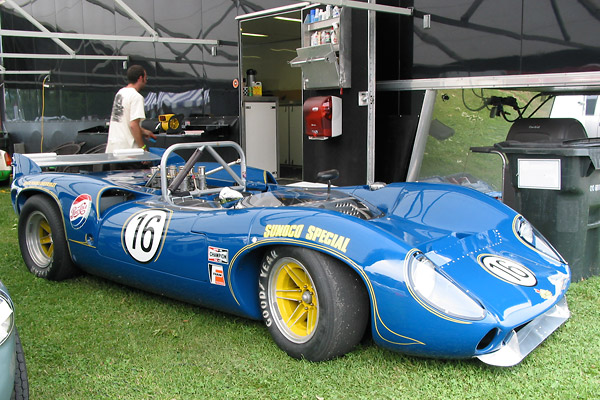 Bill Thumel's Lola T70 Mk3 Race Car, in 59 Large Photos
The Origin of Lola Racing Cars
Eric Broadley began designing and building racecars in the 1950's. In 1958 he opened a small manufacturing facility in Bromley, at the southeast edge of London, to produce cars for various classes of international competition. In 1961 Broadley's shop took the name "Lola" and Broadley accepted a challenge from Reg Parnell, owner of the Bowmaker Racing Team to design a car with which they'd compete in Formula One. The resulting design was moderately successful. Driving the new Lola "Mark 4", John Surtees managed to qualify in pole position for the 1962 Dutch Grand Prix, but he retired from the race after only eight laps. Such was Lola's success that year: when Surtees finished, he finished quickly! Surtees only completed five of ten championship races, but that was enough for him to finish fourth in championship points. Teammate Roy Salvadori didn't manage to finish a single championship series race in his Mark 4.

Concurrently with working to refine the Mark 4, Broadley starting building a mid-engined racecar which he called the "Mark 6". It was designed around the small block Ford V8. The Mark 6 so impressed Ford that they contracted Broadley through 1964 to help Roy Lunn develop their famous "GT40" model. The GT40 project was focused on beating Ferrari at LeMans. Working with Ford assured Broadley's reputation and positioned him for even greater success building his own racecars. When he completed his contract with Ford, Broadley went quickly to work designing the Lola T70.

Unlike the Ford GT 40, which has an all-steel full monocoque chassis, the T70 design utilized a mix of steel and aluminum in an "open monocoque" construction. In other words, the cockpit area is principally an open-topped sheetmetal punt, with strong steel bulkheads at front and rear. Tubular steel is integrated into the structure around the engine. The very earliest T70's utilized spot-welded steel for the punt, but that was changed to riveted aluminum with production of the Mk2 version. (Initially, the T70's principal rival was the McLaren "M1A" which utilized a steel space frame throughout.) The T70 was engineered to easily support either Ford or Chevy small block V8 engines. With relatively minor modifications, it would ultimately support Ford or Chevy big blocks too.

Eric Broadley commissioned John Frayling to style the fiberglass exterior bodywork. Frayling was already well known, particularly for his design of the Lotus Elite.

The Lola T70 design immediately attracted the interest of Formula One's 1964 World Champion, John Surtees. Surtees took time off between other driving responsibilities to test pilot the prototype T70 and assist with its development through early 1965. With Lola's support, Surtees would ultimately drive his own T70 to win the Can-Am championship in 1966.
Lola T70 in North American Competition, 1966
In North America, Lola T70's competed in several racing series. Specifically, they competed in the United States Road Racing Championship ("USRRC") series until the series was discontinued after the 1968 season. Lola T70's also competed in the Canadian-American Challenge Cup series (aka: "Can-Am"), which was co-sanctioned by SCCA and by the Canadian Auto Sports Clubs ("CASC"). The Can-Am series ran from 1966 through 1974. Lola T70's occasionally participated in World Sportscar Championship events, such as the 24 hours of Daytona and the 12 hours of Sebring.

For 1966, Roger Penske Racing was a one-driver team. Roger Penske had only just retired from his own driving career, and he recruited Mark Donahue to drive for him. Donahue was provided a T70 Mk2 with a 427cid big block Chevy engine. The team hoped that the large engine would provide them with an unfair advantage, but quickly learned that it was actually a handicap. They particularly had problems with bearing failures, which may have been attributable to its wet sump oil system. At any rate, the big block engine was soon found less suitable than the small block Chevy for enduring extended high-rpm use.

Donohue's first race in the Penske Racing Lola T70 was in Round 5 of the USRRC series at Watkins Glen in June 1966. He qualified third, but the race went badly: Donohue's big block Lola T70 was involved in an accident, followed by a fire, and was a total-loss. A second Lola T70 was procured for Donohue's next race. This one was equipped with a 333cid Chevy small block built by TRACO Engineering. It was immediately successful! Driving the new Lola T70, Mark Donohue won Round 6 of the USRRC series at Pacific Raceways in Kent Washington on July 30, 1966. Following that race, the Penske team tested the car extensively and ended up developing a chin spoiler and a rear wing. (The rear spoiler became obsolete.) They also fitted a larger rear sway bar. These improvements were installed in time for Round 7 (August 29, at Mid-Ohio) but Donohue retired early from the race due to mechanical problems. The Penske team decided to sit-out the final round of the 1966 USRRC series (September 4 at Road America), in favor of tire testing and preparation for the first race of the 1966 Can-Am series. Donohue's single race win placed him eighth in 1966 USRRC championship points.

With what they had learned in USRRC racing, the Penske team was ready to attack Can-Am's six-round schedule. They won one race, at Mosport in Ontario, and they earned championship points by finishing within the top six positions of four other races. They completed the 1966 Can-Am season second in championship points to John Surtees, who won 3 races in his small block Chevy powered Lola T70 Mk2 (at Mont-Tremblant, Riverside, and Las Vegas). Dan Gurney won one Can-Am race (at Bridgehampton) in a Lola T70. In fact, the only non-T70 win of the season was Phil Hill's victory in a Chaparral 2E at Laguna Seca.
Enjoying this article? www.BritishRaceCar.com is partially funded through generous support from readers like you!
To contribute to our operating budget, please click here and follow the instructions.
(Suggested contribution is twenty bucks per year. Feel free to give more!)
History of Lola T70 Car Number "SL73/126"
For 1967, Roger Penske recruited George Follmer as a second driver. George Follmer had previously driven a Lola T70 Mk2 for John Mecom Racing, placing 5th at Mont-Tremblant and at Riverside in 1966. By some accounts the car shown here, chassis number SL.73/126, was purchased specifically for George Follmer. By other accounts, it was a back-up car originally purchased for Donahue. It's well documented that Follmer drove SL.73/126 in the final three races of the 1967 Can/Am series. (Some sources suggest that he drove this particular T70 in all six races1.) Follmer's results:

| | | | | |
| --- | --- | --- | --- | --- |
| Round: Venue (Event) | Race Date | Qualified | Finished | Points |
| | | | | |
| 1: Road America (Road America Can-Am) | September 3, 1967 | 4th | 18th | 0 |
| 2: Bridgehampton (Chevron GP) | September 17, 1967 | 5th | 3rd | 4 |
| 3: Mosport (Players 200) | September 23, 1967 | 7th | 6th | 2 |
| 4: Laguna Seca (Monterey GP) | October 15, 1967 | 11th | 3rd | 4 |
| 5: Riverside (L.A. Times GP) | October 29, 1967 | 12th | 6th | 1 |
| 6: Las Vegas (Stardust GP) | November 12, 1967 | 12th | DNF (broken shifter) | 0 |
| | Season Final: | | 6th | 10 |
By 1967 the Lola T70 was no longer the state-of-the-art in Can-Am racing. The new car to beat was the McLaren M6A with small block Chevy engine, as driven by Bruce McLaren and Denny Hulme. The M6A was just a little bit narrower (53" track vs. 58"), shorter (91" wheelbase vs. 95"), and lighter (reportedly about 50#). It probably had little appreciable advantage in power or aerodynamics, although McLaren apparently put relatively more priority on generating downforce than reducing drag. However, the McLaren M6A's rear suspension was well developed through extensive co-development with Goodyear to keep wider, stickier tires flat on the pavement. In 1967, Can-Am became known as "The Bruce and Denny Show". They completely dominated, with five wins between them. The Lola T70 provided solid second-tier performance: John Surtees finished third in points with one race win, and Mark Donahue finished fourth in points with two second-place finishes.

Roger Penske Racing sold SL.73/126 to Jerry Hansen in early November 1967. If Jerry Hansen's name is familiar, it might be because Hansen won 27 SCCA championships. Hansen's crew chief, Scotty Beckett, traveled to Penske's shop and quickly helped rebuild the newly purchased car so it could be qualified to race in the 1967 SCCA Runoffs at Daytona. Everything came together and in the final qualifying session Hansen put the Lola on the pole. He followed through by winning the CSR class (on November 26). In the process, he set a lap record at 194.6mph. Hansen ultimately drove the Lola to victory in all five of the races he entered it in.

In 1968 Jerry Hansen sold SL.73/126 to Dick Kantrud, who drove it in to a fourth place finish in the 1968 SCCA CSR class championship. For 1969, Kantrud installed a 440cid big block Chevy engine with Bosch timed-port mechanical fuel injection, Penske dry sump, and wider wheels and tires. Thus equipped, Dick Kantrud Can-Am results driving SL73/126 (under number "97") included a 13th place finish at Road America in 1969 and a 14th place finish at Donnybrooke in 1970. The fabulous but ageing racecar was then retired from serious competition. It competed occasionally through 1974.

In 2005, a disassembled collection of SL.73/126's parts was purchased by current owner Bill Thumel. The purchase included the original punt and number plate, an original set of Lola body panels, original Lola magnesium wheels, and many cardboard boxes of miscellaneous used parts. A complete restoration of SL.73/126 has subsequently been completed by Bill's shop, "Abacus Racing" in Virginia Beach, Virginia.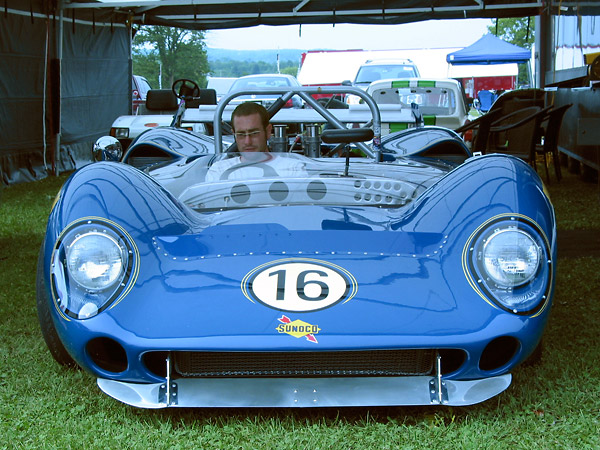 Jared Keller (shown here) coordinated restoration and race-prep of SL.73/126 for Abacus Racing.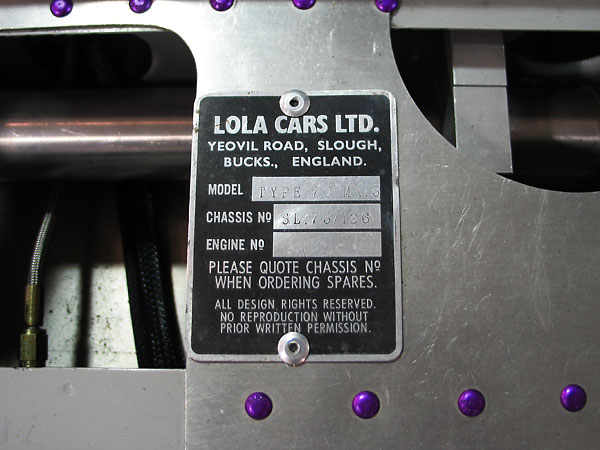 Lola Cars Ltd., Yeovil Road, Slough, Buckinghamshire, England.
Model: Type 70 Mk3 / Chassis No.: SL.73/126 / Engine No.: (blank)


Features and Specifications
Engine:
small block Chevy V8 (333 cid), quite similar to the one originally supplied for the car by TRACO Engineering. Penske cast magnesium intake manifolds (one of only two sets of their kind in existence). Weber 48 IDA carburetors (x4), custom bored to 52mm. Solid lifters. MSD "Crab Cap" distributor (part# 8486). Mallory "Blaster 2" coil (painted black to replicate the original coil's appearance.) Mocal oil coolers (2 16-row coolers, plumbed in parallel.)

Exhaust:
custom fabricated reproductions of the original 4-into-1, step-up headers, with Jet-Hot ceramic coating.

Transmission:
Hewland LG500 transaxle (4-speed version). Mocal oil cooler (16-row). Girling master cylinder.

Front Susp.:
original outboard-mounted KONI adjustable coilover shock absorbers (rebuilt by KONI). Cast magnesium uprights. Adjustable anti-sway bar.

Rear Susp.:
original outboard-mounted KONI adjustable coilover shock absorbers (rebuilt by KONI). Cast magnesium uprights. Adjustable anti-sway bar.

Brakes:
(master) Girling master cylinders with bias bar. Wilwood residual pressure valves,
(front) Girling calipers and 12.5" vented rotors,
(rear) Girling calipers and 12.5" vented rotors.

Wheels/Tires:
Lola magnesium wheels (15x8" front and 15x10" rear) with Goodyear "Blue Streak" tires (15x6.00 front and 15x8.00 rear).

Instruments:
(left-to-right) Stewart Warner fuel level, voltmeter, engine oil temperature, water temperature, tachometer, and engine oil pressure gauges. (A fuel pressure gauge is mounted next to a pressure regulator, near the fuel cell.)

Fuel System:
original T70's were equipped with two rubber fuel bladders, with a combined capacity of 60 gallons (~370 pounds).

Dimensions:
95" wheelbase and 58" track (front and rear). 1600 pounds (dry).

Engine Installation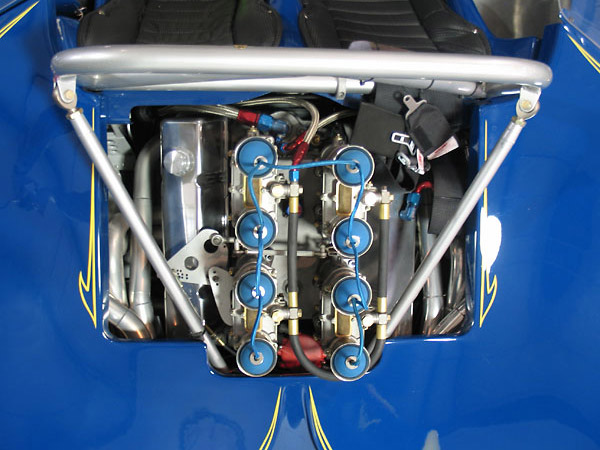 Small block Chevy V8 (333 cid).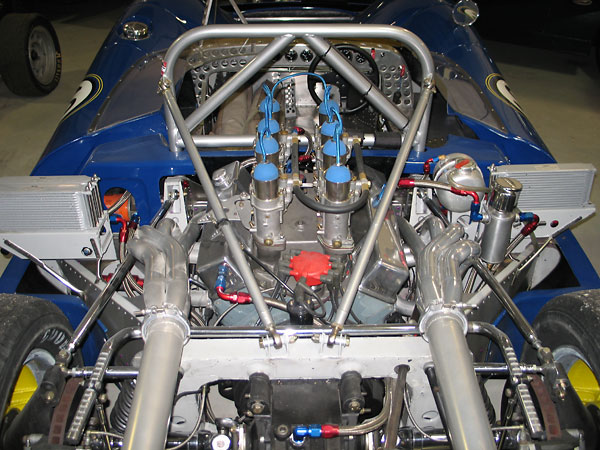 The roll hoop has been raised several inches for modern vintage racing safety requirements.
Its dual rearward braces are also a modern addition.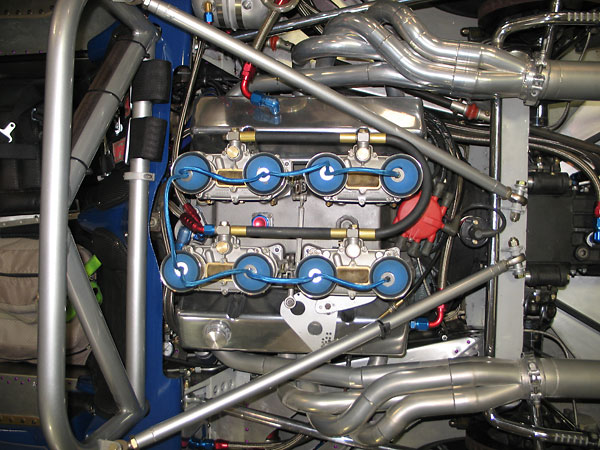 The 4-into-1 step-up headers are beautifully made reproductions, with modern Jet-Hot ceramic finish.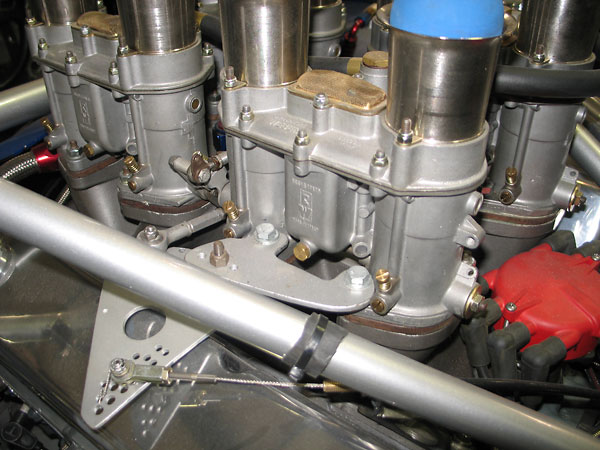 The throttle linkage is original to the car.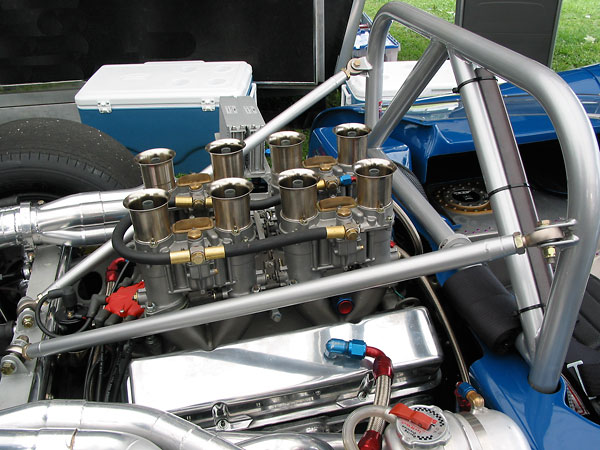 The Penske cast magnesium intake manifolds are one of only two sets of their kind in existence.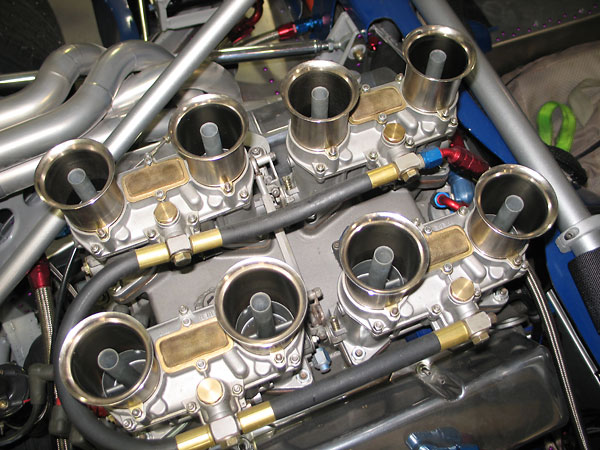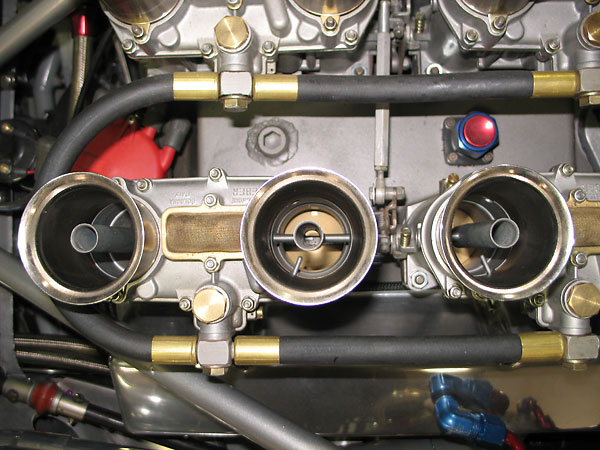 The Weber carburetors have been bored-out from 48mm to 52mm.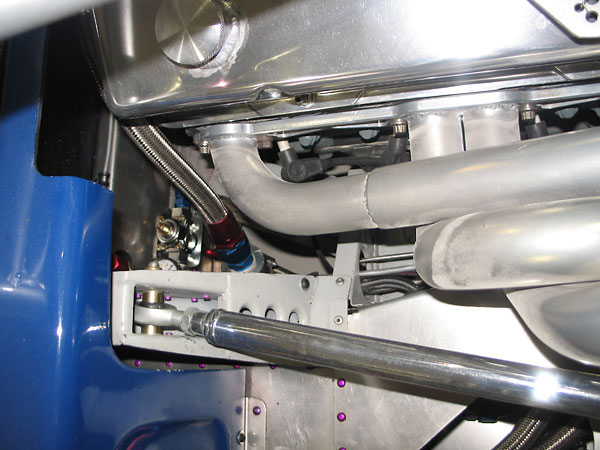 Fuel pressure gauge and regulator.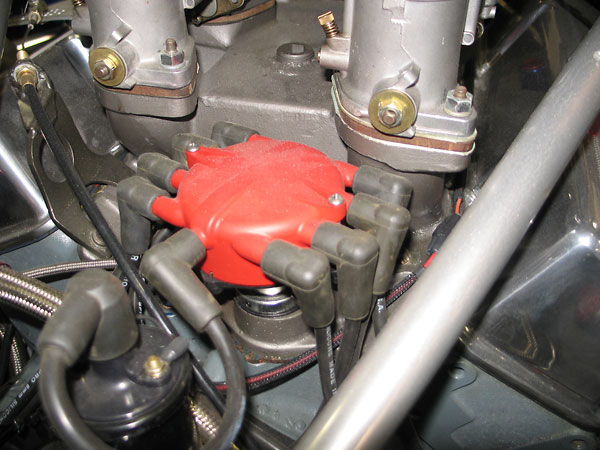 MSD "Crab Cap" distributor.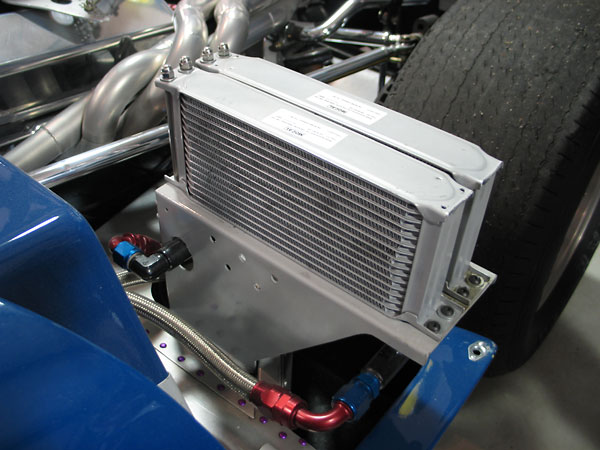 Twin 16-row Mocal oil coolers for engine oil (plumbed in "parallel").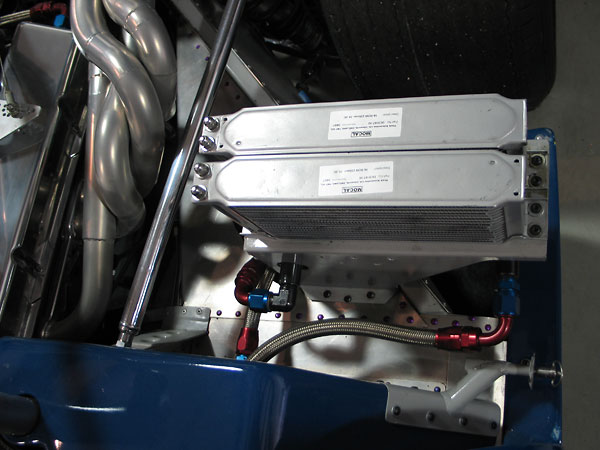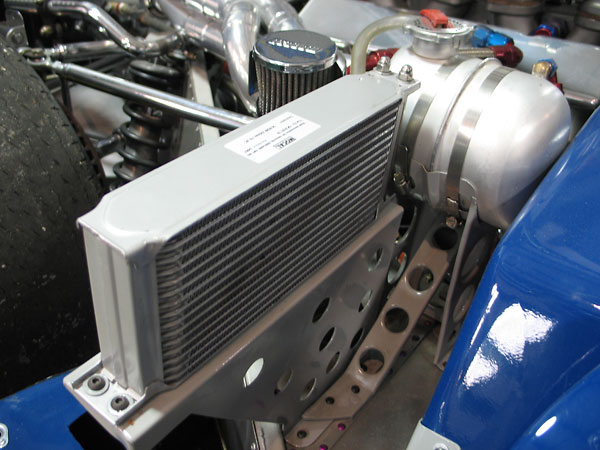 (Not to be confused with the single Mocal 16-row cooler for the Hewland transaxle's oil.)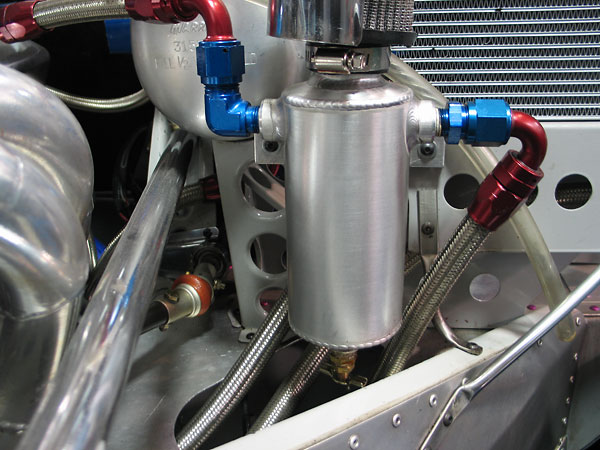 Breather tank for the lubrication system.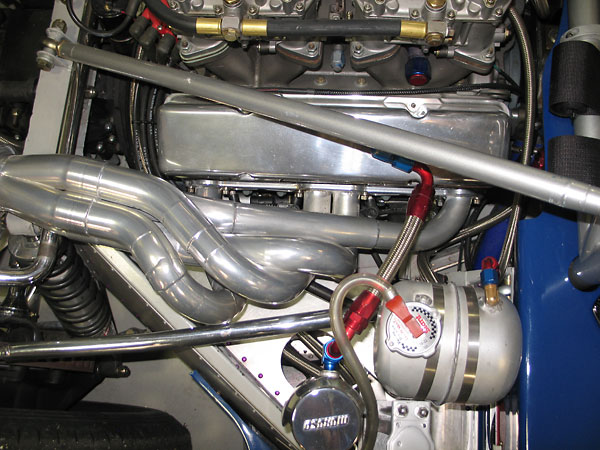 Aluminum header tank for the cooling system.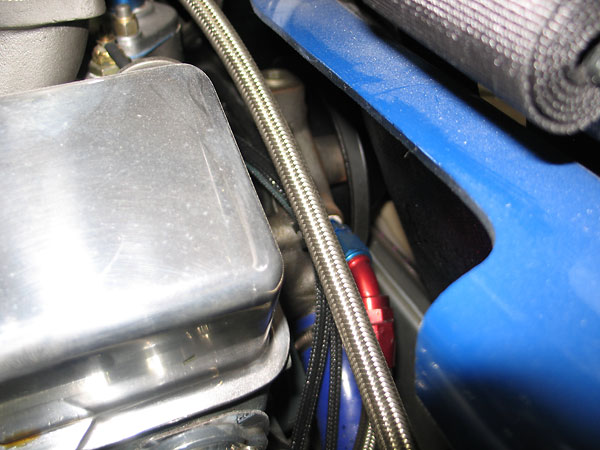 Engine driven water pump.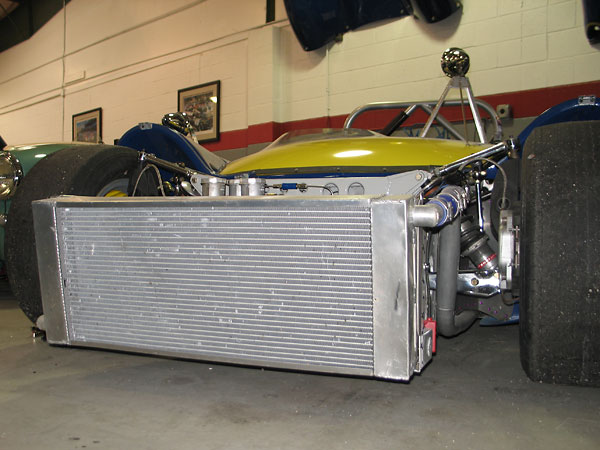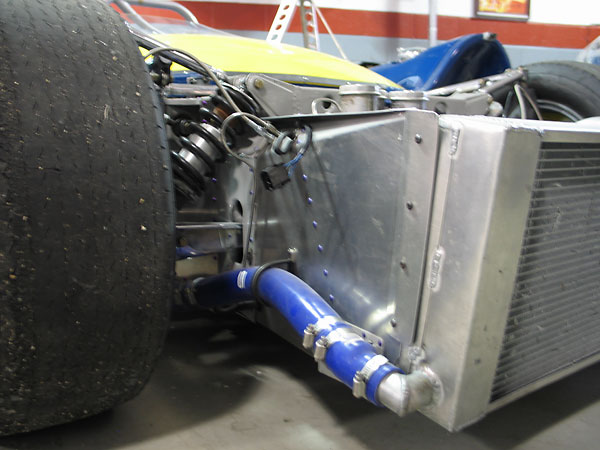 Front Suspension / Steering / Brakes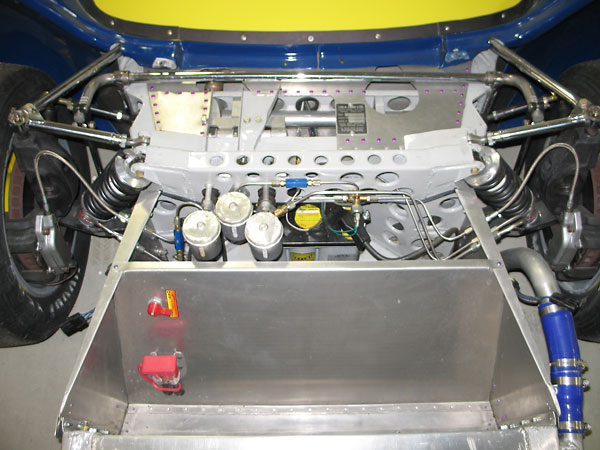 A strong, elaborate fabricated steel crossmember supports the front suspension mounting points.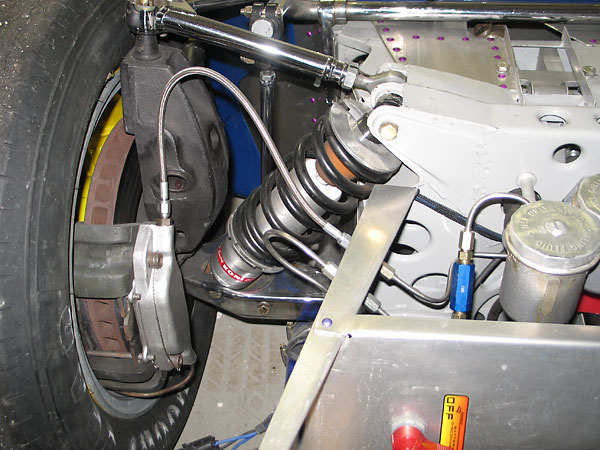 12.5" vented brake rotor.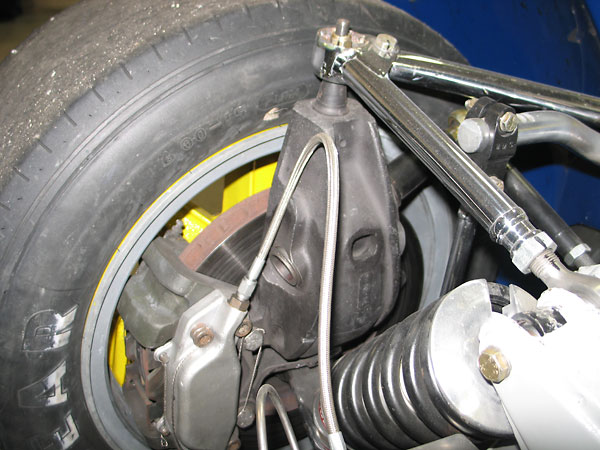 Upright assembly... note the simple and easily replaceable tubular steering arm.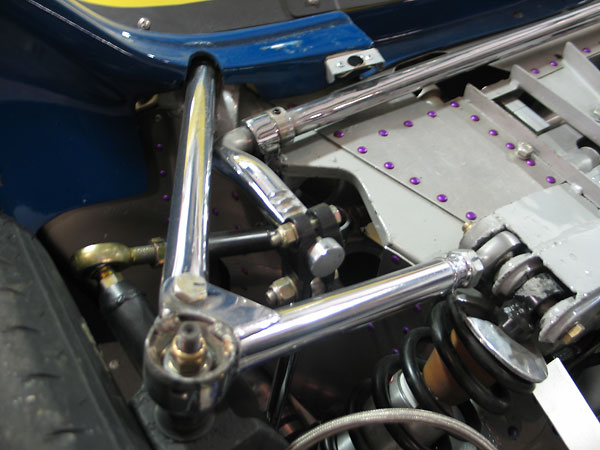 Upper control arm.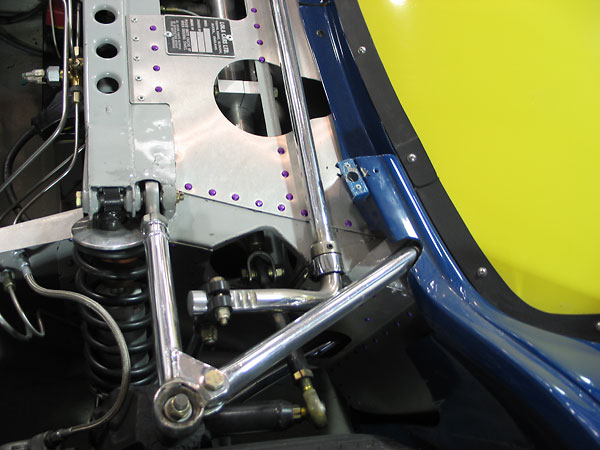 In plan view, upper and lower control arms are of essentially similar geometry. Loads on the control arms
are highest during hard braking. In that situation, the upper-rear link is in tension and the lower-rear link
is in compression. With this geometry, the lower-rear link needs to be of relatively robust construction
to resist bending loads (which could induce vibration, steering effects, or buckling), as indeed it is.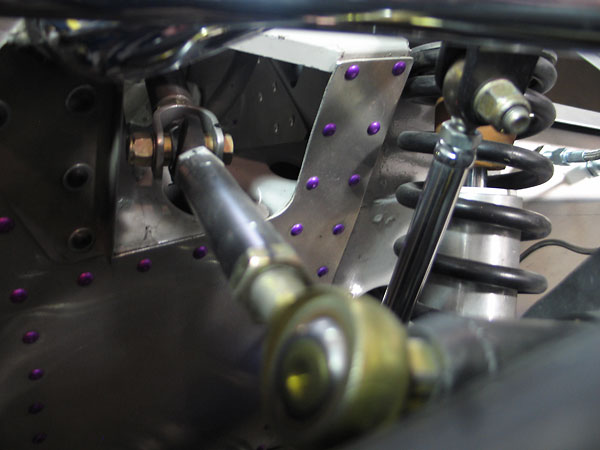 Close-up view of the steering link.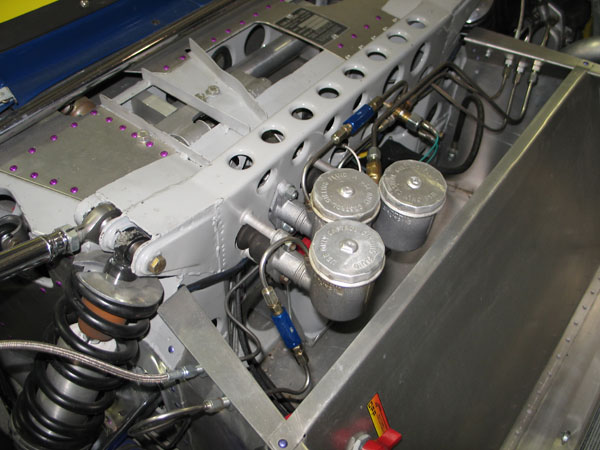 Girling master cylinders.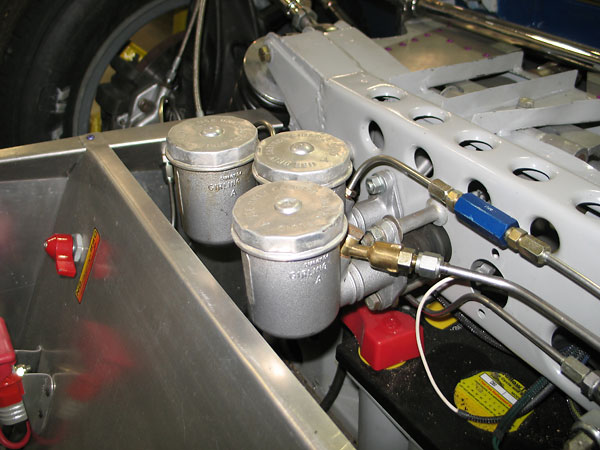 The blue anodized aluminum part shown here is a Wilwood residual pressure valve. These are a relatively
modern addition, used to improve brake pedal feel at the expense of a very minute amount of friction.
As the brake rotors spin, they tend to push the caliper pistons away. Residual pressure valves simply
keep a little extra fluid pressure behind the piston to resist the gap from opening up as far.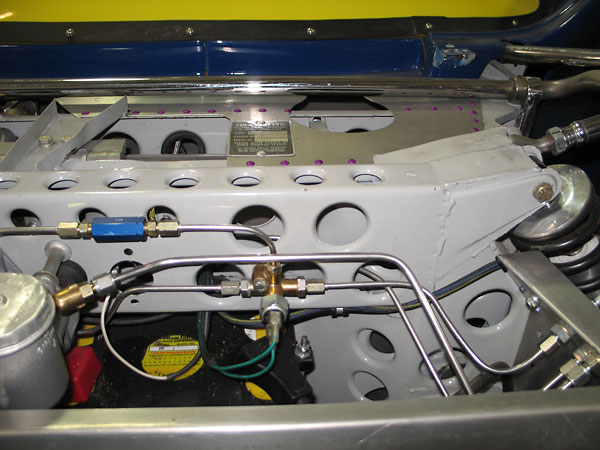 A hydraulic brake light switch has been installed on the front brake t-fitting.


Transaxle / Rear Suspension / Brakes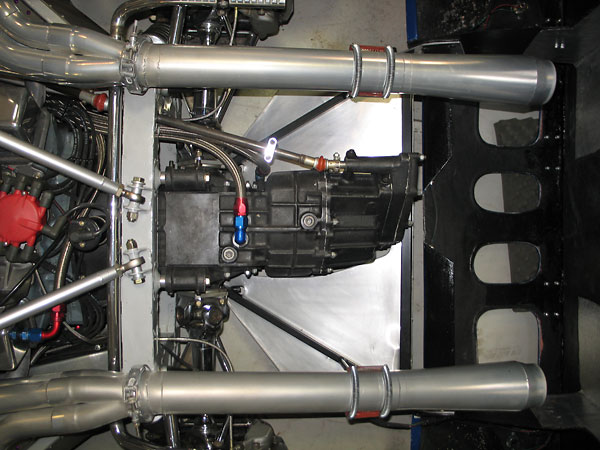 This is the four speed, 125 pound version of Hewland transaxle, known as an LG500. A five speed, 136
pound (LG600) version was also available. The two Hewland transaxles both had magnesium casings.
An elaborate, fabricated steel structure supports both transaxle and suspension mounting points.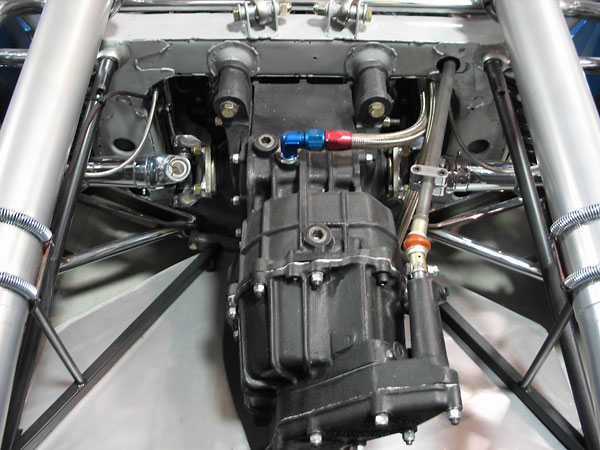 The lower A-arms are connected to the magnesium uprights in a "reversed" orientation, with two
outboard attachment points (and one inboard) per side. Not visible here, the lower A-arms are
also located by trailing links running forward to connections near the motor mounts.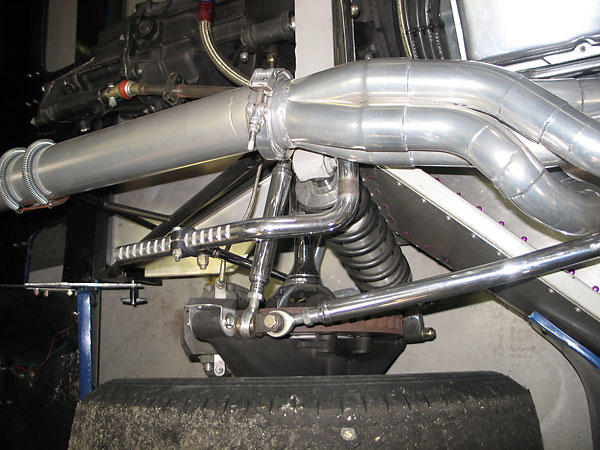 It's not really accurate to call the T70's rear structure either a "space frame" or a "monocoque"
because it utilizes a mix of tubular members and elaborately formed sheetmetal components. Note
also the anti-sway bar's adjustment feature and that the rear brakes are just inboard of the uprights.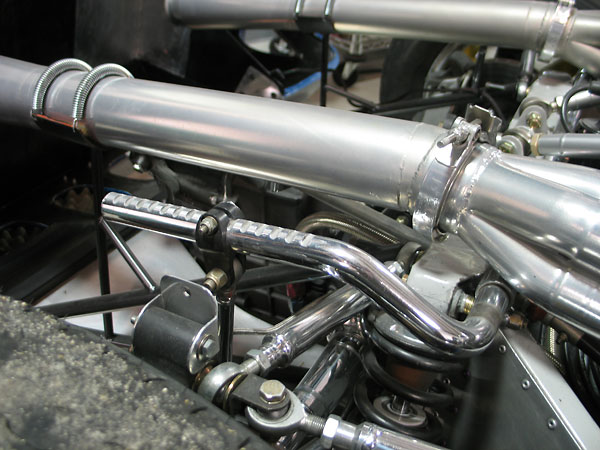 An interesting fact about original Lola T70 suspension links is that they didn't utilize reverse-threaded
Heim joints! Even small alignment adjustments required temporarily disconnecting one end of the link.
(Heim jointed, adjustable length suspension links were still pretty new. They first appeared on the
brilliant little 1958 Cooper Climax racecars that raced in both Formula One and Formula Two.)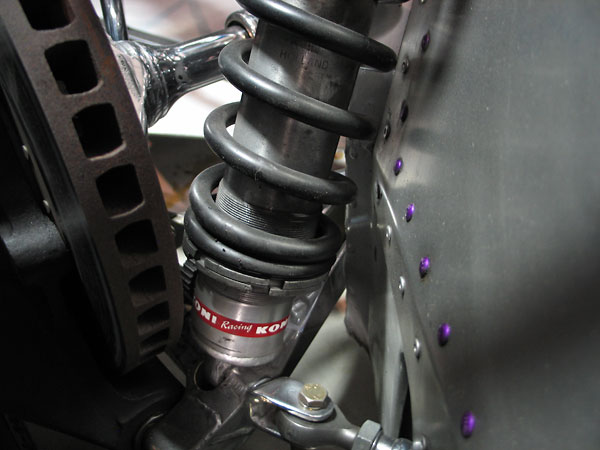 KONI 12-way adjustable shock absorber.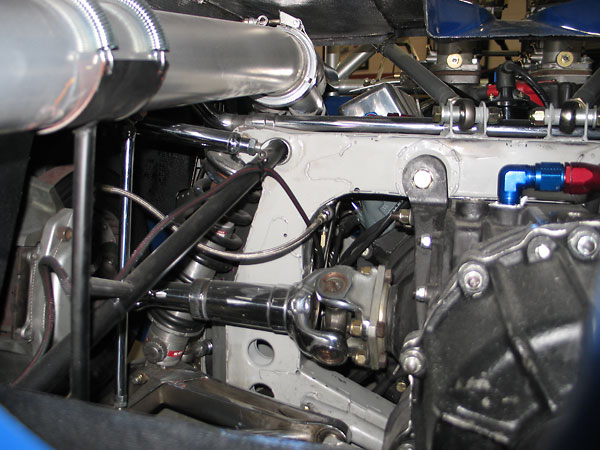 Inboard and outboard u-joints for articulation, plus splined slip joints between them to take up "plunge".
Although this design is typical for racecars of the T70's era, many designers experimented with other
designs (e.g. rubber "donuts") because slip joints were prone to binding which severely affected handling.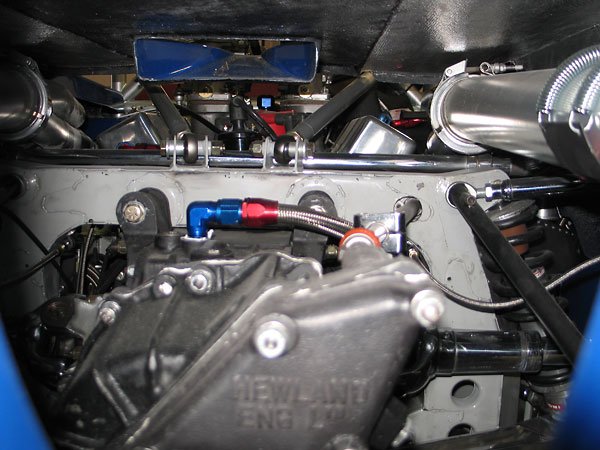 One more peek underneath the bodywork.


Cockpit / Controls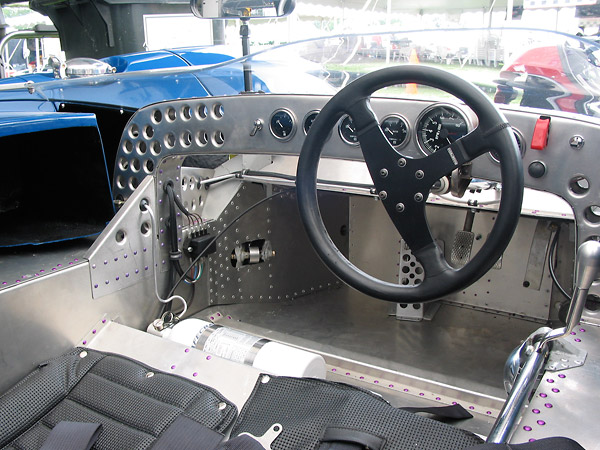 Quite lightweight and stiff, the whole center part of the Mk3 chassis (alternatively called a "punt" or a "tub"),
is made of aluminum. By contrast, the spot-welded steel tubs of Mk1 T70s weigh about seventy pounds
more, but Lola determined steel provided no additional torsional rigidity or safety in this application.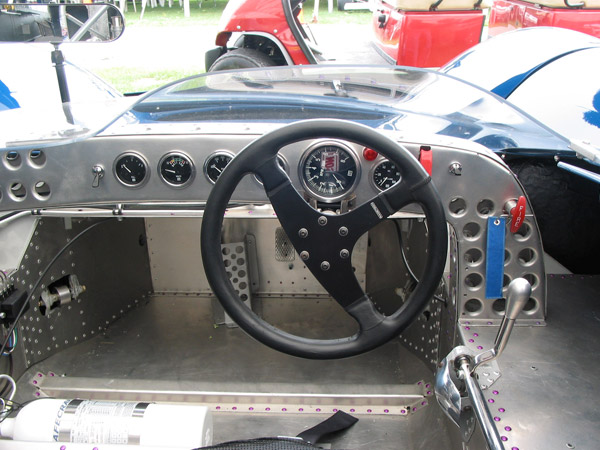 Fabricator Bill Scott conceived the distinctive "cowl arch" which differentiated Penske Racing's T70s.
Left: bottle for the Safecraft Safety Equipment fire extinguisher system. Right: the switch to activate it.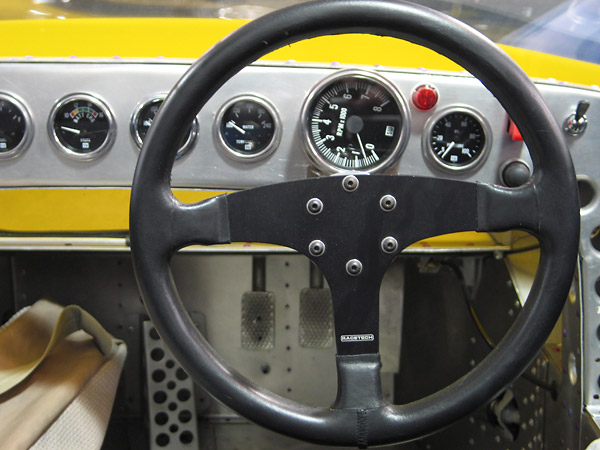 Racetech Design Ltd. still makes their excellent, lightweight steering wheels in England.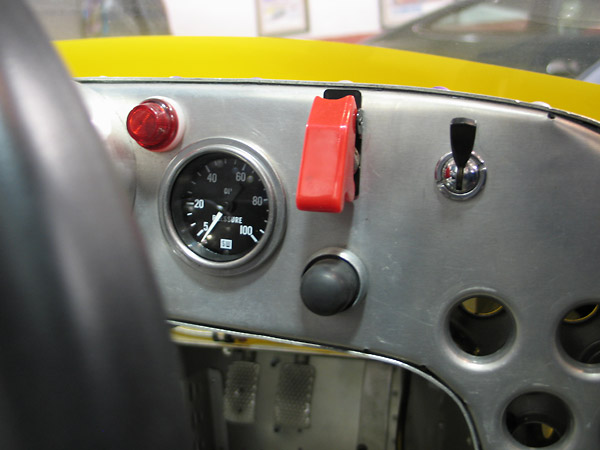 The car is equipped with Stewart Warner gauges. (Shown here: engine oil pressure gauge, 5-100psi.)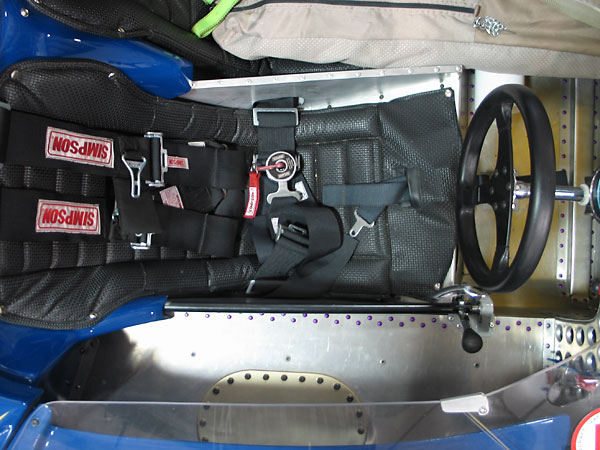 Lola used color-coded, military-spec, solid aluminum rivets throughout the T70. To accurately recreate
the vintage appearance of this racecar, Abacus Racing sent new rivets out to be re-anodized in the
correct shades of purple and lavender, then carefully matched rivet colors to locations on the chassis.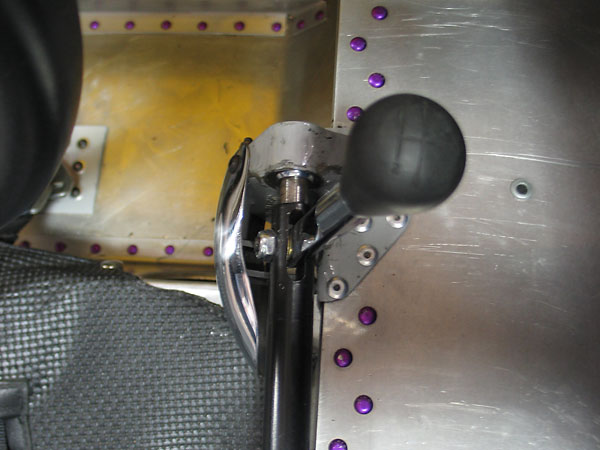 This is a different shifter than I saw at Road America. I wonder why? Looks like an MGB shifter knob!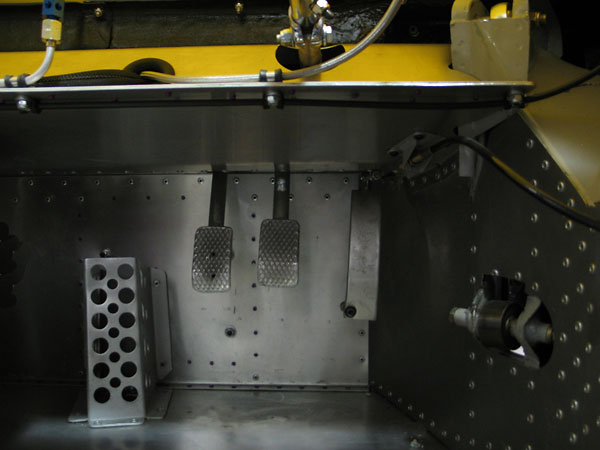 Left: a spray nozzle for the central fire extinguisher system, and also a "dead pedal".
Right: rear mounts for both upper & lower front control arms are accessed from inside.


Exterior / Body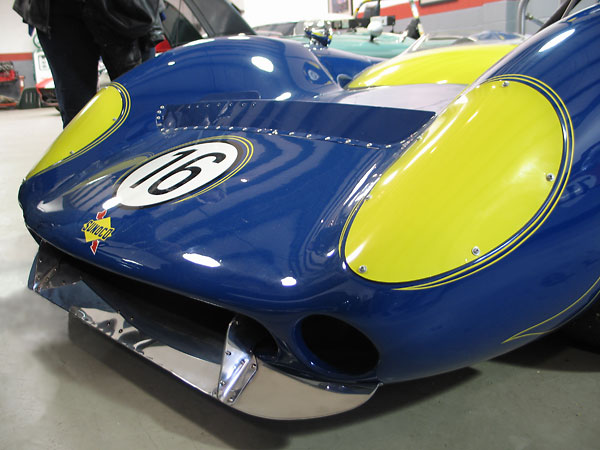 Mk3 Lola T70's (like this one) have a one-piece front clip, whereas Mk2 cars had a two-piece nose.
The brake cooling ducts were apparently optional; they only appear in some period photographs.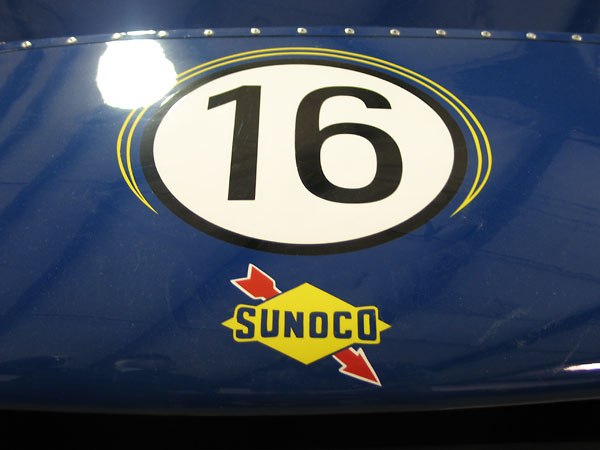 Mark Donohue's preferred racing number was 6. Number 16 was assigned to teammate George Follmer.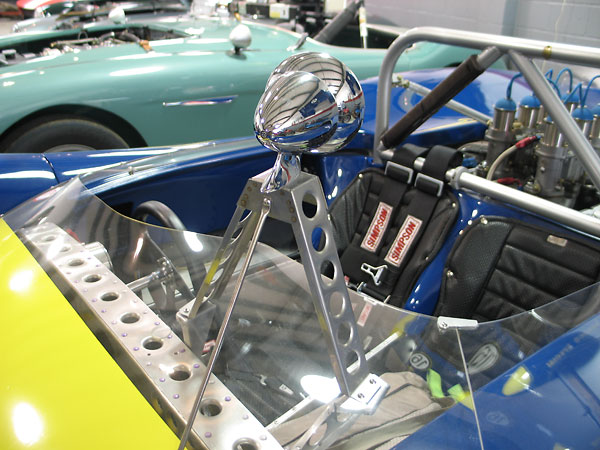 Penske Racing utilized tall, fabricated tripod mirror mounts and bullet style mirrors on their T70's.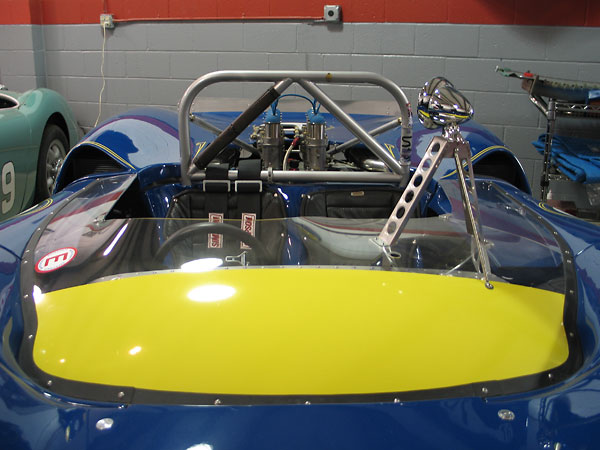 The (yellow) windscreen film doesn't effect driver's view, but it makes reading the gauges a little easier.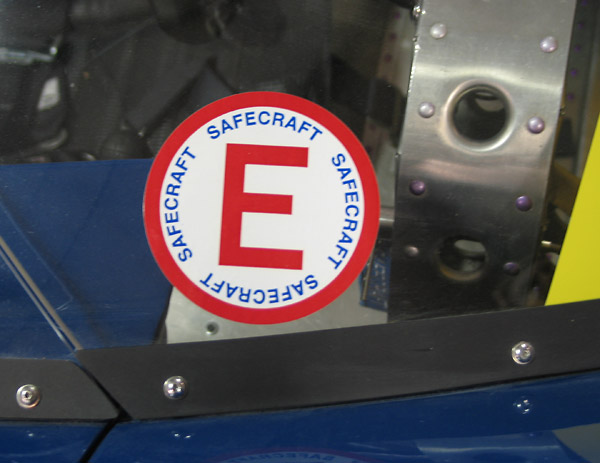 This decal would help track staff locate the fire extinquisher system switch in the event of an emergency.
The electrical system's master disconnect switch is mounted forward, in the radiator's exhaust vent.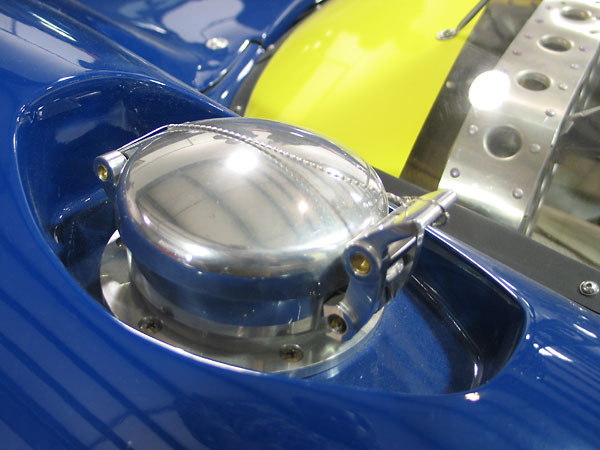 Since a modern fuel cell (with its own cap) has been installed, the original fuel filler is just for looks.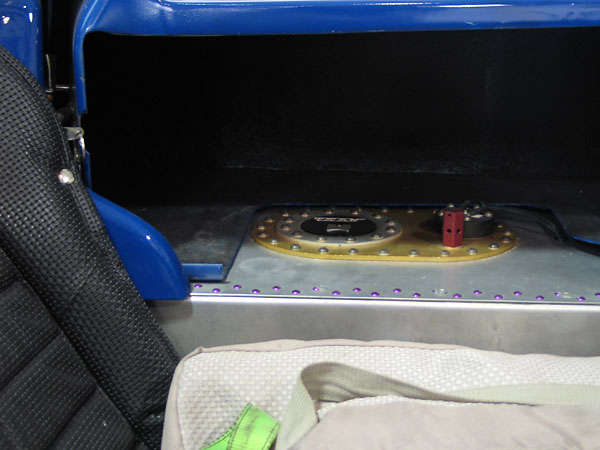 With the 1967 Can-Am season, two important new safety requirements came into effect. All competing
cars were required to have impact resistant fuel cells and dual shoulder harnesses. Lola T70's already
came with twin rubber-bladder cells with a combined capacity of 60 gallons (370 pounds). For safety
reasons, the left hand cell shown here has been updated, and the right-hand cell has been removed.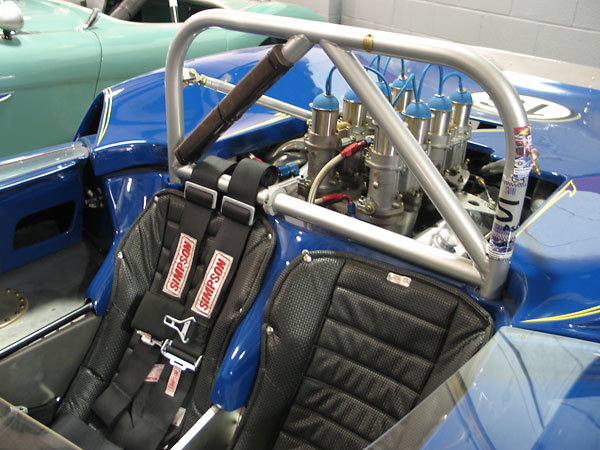 Does this safety equipment look "period correct" to you? Well, in 1967 the roll hoop would have been
about six inches shorter and it would have been a simple single hoop (with no diagonal braces at all.)
Instead of three inch wide shoulder belts, most 1967 vintage Can-Am cars used one inch wide belts.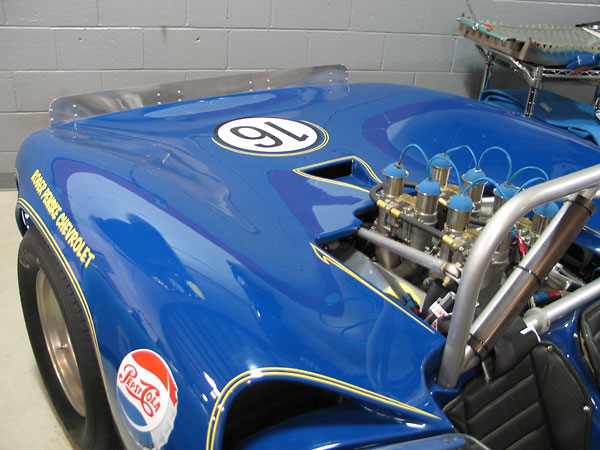 A low-mounted rear spoiler was used by Penske Racing in 1966...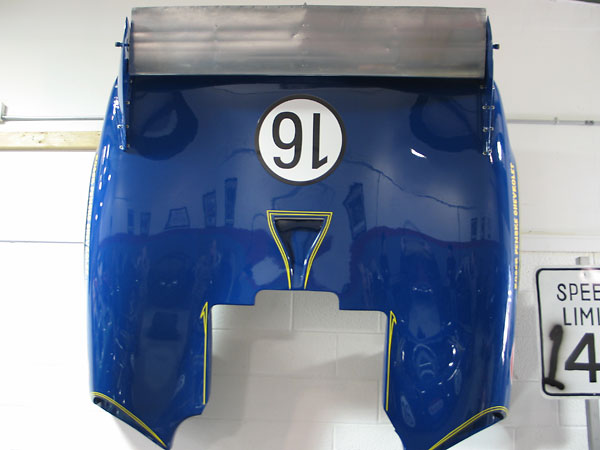 ... but for 1967 they switched over to a rear wing, as shown here.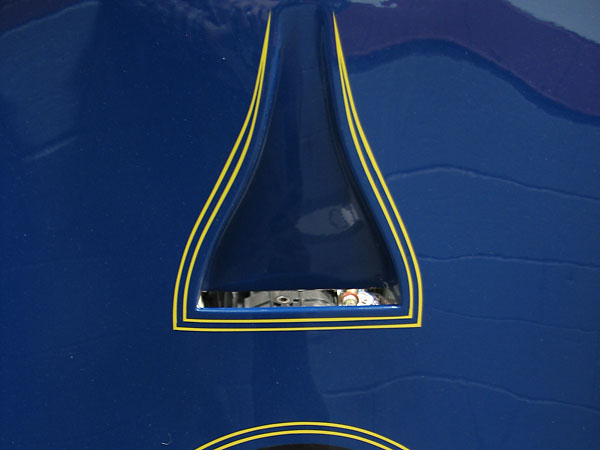 A NACA duct is used to draw air through the bodywork without disturbing laminer airflow.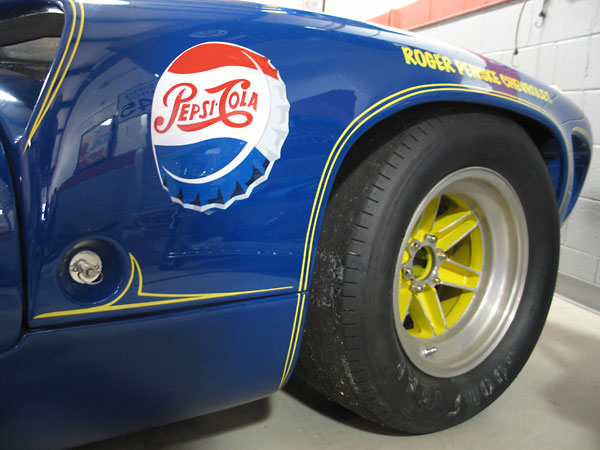 Quick-release, locking, 4130 steel "Pip pins" (as shown at left) restrain the body from hinging rearward.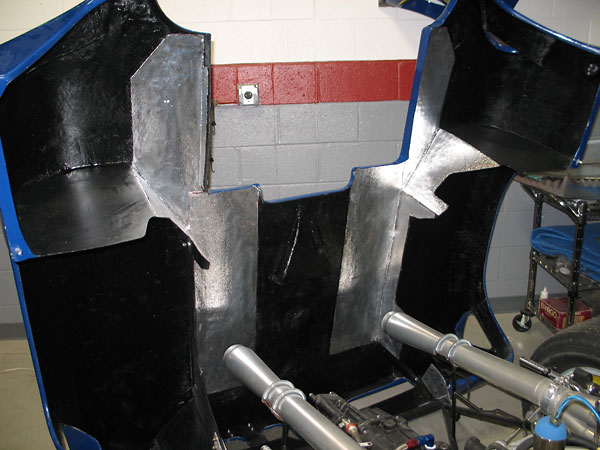 This photo shows what the underside of the fiberglass bodywork looks like. It's quite lightweight!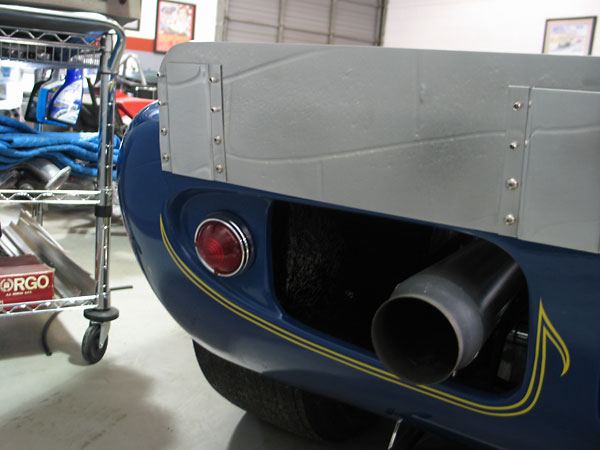 With low-mounted spoiler the car closely resembles Mark Donahue's T70 Mk2, in which he won 1 of 6 1966
Can-Am races. (Donahue finished 2nd in points in 1966 to John Surtees, who won 3 races in his T70 Mk2.)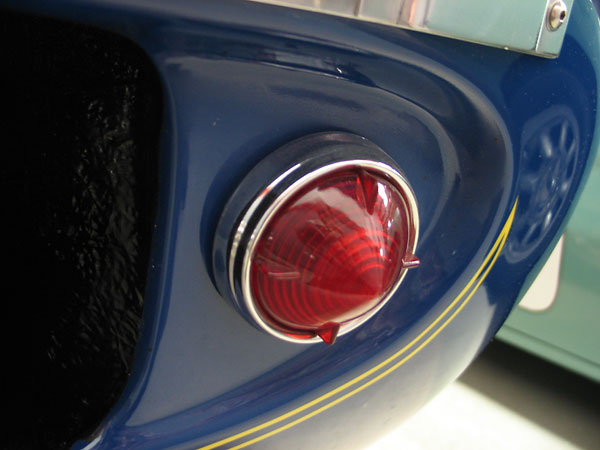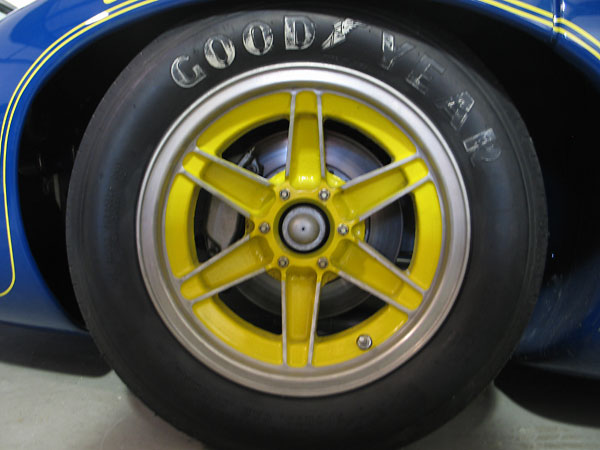 Original Lola magnesium wheels (15x8 front and 15x10 rear) and Goodyear "Blue Streak" tires.
(By way of contrast, the McLaren M6A's of 1967 all raced on 15x13.5 rear wheels!)
Notes:
(1)
Roger Penske Racing purchased chassis number SL.73/126 from John Mecom (Lola's U.S. distributor, located in Houston Texas) in August 1967. SL.73/126 was supplied to Penske Racing as an empty chassis, with no engine or transaxle included. The car was completed and prepared for racing after an accident, but the historical record is a little cloudy about which specific accident prompted its entry into service. Mark Donohue's 1966 Lola T70 Mk2 (SL.71/47) was badly damaged during testing of Firestone tires and Airheart brakes on or about July 19, 1967. On the other hand, George Follmer had a significant accident on September 22, 1967 while practicing at Mosport. Follmer's crashed T70 was repaired well enough to race the very next day and even to finish sixth. However, some sources report that upon returning to the Penske shop, Follmer's chassis was judged too damaged for continued use. It was a very busy time, with three Can-Am races in just one month! After one accident or the other, SL.73/126 entered service with Penske Racing.


The "outdoor" photos shown here are from July 2008, when Bill Thumel and Lola T70 Mk3 number SL.73/126 participated in the Kohler International Challenge (SVRA-sanctioned vintage races) at Road America in Elkhart Wisconsin. The "indoor" photos are from February 2009 when BritishV8 viewed the car at Bill's company, Abacus Racing, in Virginia Beach Virginia. All photos shown here are by Curtis Jacobson, and are for exclusive use by BritishRaceCar.com. Copyright 2010. All rights reserved.



Notice: all the articles and almost all the photos on BritishRacecar.com are by Curtis Jacobson.
(Photos that aren't by Curtis are explicitly credited.) Reproduction without prior written permission is prohibited.
Contact us to purchase images or reproduction permission. Higher resolution images are optionally available.