Eric Haga's Lola T190 Formula 5000 Racecar, Number 8
Owner: Eric Haga
City: Seattle Washington
Model: Lola T190 (circa 1970)
Engine: Chevrolet 302cid V8 engine.
Restored by: owner.
Lola's Answer to Rising Competition in F5000
In the early years of Formula A and Formula 5000 racing, Lola Cars Ltd. was the most prolific constructor. Lola's T140 and T142 models sold well and enjoyed a good reputation. Their only big problem was they didn't win their share of races. Between 1968 and 1969, there were twenty-three North American Formula 5000 races and Lola cars captured just two wins. By the end of 1969, the spaceframe chassis of the T140 and T142 were looking old-fashioned compared to newer monocoque chassis from McLaren, Surtees, and Eagle.

Lola's answer was the all-new T190. Knowing that the last race of the season is always remembered clearest when race teams order new cars, Lola delivered the T190 just in time. It would debut at the last race of 1969 in Sebring Florida on December 28, 1969.

Despite arriving at the track late and missing a day of practice and tuning time for his brand new car, Mark Donohue managed to qualify third. The actual race was comprised of two 100 mile heats. Donohue dropped out of both heats due to the same problem: clogged under-sized fuel filters. He was in second place when he retired from the first heat, and in first place when he retired from the second. As Donohue later wrote: "We had showed everyone that we had the fastest car, but we just hadn't put enough time or care into the preparation."¹ Another of the teams that Lola seeded with fresh equipment won a spot on the podium: Jo Bonnier drove his new T190 to finish third. As 1969 ended, things were looking up for Lola.

Probably the most interesting (and controversial) thing about the new T190 design was its very short wheelbase. At 92 inches, it was 7.5 inches shorter than the already notably short McLaren M10a. To achieve such a short wheelbase, the driver was positioned farther forward than in almost any other formula car.

Despite Mark Donohue's enthusiasm for the short wheelbase, many of Lola's customers didn't seem to like it. In terms of victories, it was demonstrably more successful than its predecessors: Ron Grable won two of 1970's first ten North American Formula 5000 races, and the T190 also picked up three wins in the (20 race) UK series. However, customer concerns about the short wheelbase were heard back at the factory. Some teams had trouble getting the suspension settings dialed-in for optimal handling. Before the 1970 season ended, Lola introduced a new longer-wheelbase model called the T192. It was basically the same design as the T190, except with the front wheels moved forward to extend the wheelbase by about ten inches. Mark Donohue drove a new T192 to win two of the three final races of the 1970 North American Formula 5000 season.

Lola produced seventeen T190 racecars, followed by twelve T192 racecars.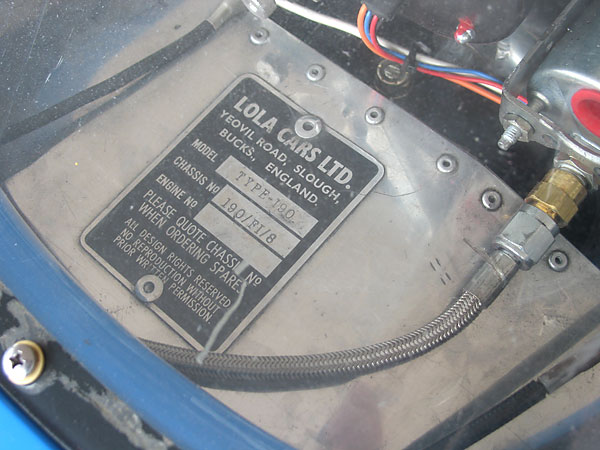 LOLA CARS LTD., YEOVIL ROAD, SLOUGH, BUCKS., ENGLAND.
Model: "TYPE-190", Chassis No.: "190/FI/8", Engine No.: (blank)
Please quote chassis number when ordering spares.
All design rights reserved. No reproduction without prior written permission.


Eric Haga's Lola T190: Chassis 190/FI/8
Jim Matuska and Eric Haga had been campaigning cars together in regional races for several seasons. They started with a Porsche-powered Corvair for the 1967 season, and switched to a McLaren Mk3 for '68 and '69. Jim had the money to invest in top flight racecars, and Eric had the talent to drive them. With the McLaren, the two friends competed up and down the west coast, and entered in the Laguna Seca and Riverside Can-Am Series races.

For 1970, they needed a newer car and they were initially undecided about what racing class they'd like to pursue. Ultimately, Jim Matuska decided that Formula 5000 was more appealing. He began making arrangements to set up a racing team with two cars, two drivers, and a sponsoring company. The team was organized as a division of Jim Matuska's and Weldon Andrews' successful aircraft components company. Larry Webb was hired on to be the team's crew chief. Larry brought in John Garrison to be the team's engine builder. Eric Haga would drive one new Lola T190, purchased by Jim Matuska. A second T190 was purchased and driven a friend and fellow Seattle area racer named Spence Stoddard.

In November 1969, the new Competition Development division of Sealth Aero Marine wrote a purchase order to Charlie Hayes Racing Equipment, the West Coast sub-distributor (under Carl Haas) of Lola racecars, for two Lola T190 Formula 5000 racecars. The price was $15,500/each, including spares.





SPECIFICATIONS SHEET


LOLA T-190 FORMULA A


CHASSIS:
Aluminum alloy monocoque - bonded and riveted construction.
Torsional rigidity of 300,000 foot pounds per degree per foot. [sic]²
Weight: 70 pounds

DIMENSIONS:
Wheelbase 92"³
Track 58"
Length 150"
Width 77"
Height (top of windscreen) 26"
Height (to of roll bar) 35"
Weight (including oil and water) 1,310 lbs.

BODY:
Fiberglass reinforced polyester resin. Nose cone and cockpit
surround. Alloy rear hub mounted wing and front canard fins (option).

SUSPENSION: (FRONT)
Independent. Double tubular wishbones and telescopic double-
acting shock absorbers with co-axial coil suspension springs.
Adjustable ride height.

HUB CARRIER: Lola cast magnesium with "live" spindle.
Bearings of 160,000 pounds/square inch
nickel chrome molybdenum steel.

WISHBONE PIVOTS: Rod end ball joints to inner enda and ball
joints in housing to outer end. All joints
high-quality Fabroid type.

SUSPENSION: (REAR)
Independent. Lower reversed wishbone and link. Upper link
and radius rod with telescopic double acting shock absorbers.
Co-axial coil suspension springs and adjustable ride height.

HUB CARRIER: Lola cast magnesium with "live" spindle. Hub
bearings of 160,000 pounds/square inch nickel chrome
molybdenum steel, mounted in hub carrier splined for driveshaft yoke.

WISHBONE & RADIUS ROD PIVOTS: as in front suspension.

STEERING:
Rack and pinion with 11" diameter leather covered steering
wheel. Column adjustable for length and angle.

TRANSMISSION:
Hewland DG-300 five speed and reverse.

CLUTCH:
Borg & Beck multi-plate (option)

DRIVE SHAFTS:
Lola design with Metalastic rubber "Doughnut".

BRAKES:
Girling 12" vented discs

WHEELS:
Front: 10.5" x 15"; Rear: 17" x 15"

FUEL CELLS:
30-gallon capacity with surge tank for pump pick-up.

ENGINE:
Chevrolet 302" with Lola dry sump and water pump conversion (option).
Small diameter Lola flywheel. Weber 48 IDA carburetors. Lucas
transistor or Bosch magneto ignition. Lucas fuel injection optional.

COOLING SYSTEM:
Brass fin and tube radiator. Water pipes separate and insulated.

ELECTRICS:
AC Delco or Lucas with Varley battery.

INSTRUMENTS:
Smiths tachometer, pressure, and temperature gauges.

HOSES & FITTINGS:
Aeroquip and A.N.

The two new cars would arrive in Seattle early in February 1970. The number eight car, 190/FI/8 (as shown in this article) could have arrived earlier, except that Lola borrowed it for their display at The British Racing and Sports Car Club's "Racing Car Show" at Earl's Court in London. The number nine car was being constructed during the show, and it arrived in Seattle about a week after 190/FI/8. After the cars were received, Larry Webb took them completely apart and send all the suspension parts out to an FAA certified inspection facility to be checked for cracks and casting flaws. Then, he reassembled the car, replacing all the original hardware with MS NAS and AN (aircraft) grade fasteners.


Enjoying this article? www.BritishRaceCar.com is partially funded through generous support from readers like you!
To contribute to our operating budget, please click here and follow the instructions.
(Suggested contribution is twenty bucks per year. Feel free to give more!)
The two cars were supplied without engines, so the team purchased two Chevrolet racing engines from TRACO to be used at the first race (Riverside) which was coming up quickly. After that, John Garrison built the remainder of the team's engines. He used Chevrolet Z28 4-bolt main bearing blocks, bored 0.040" over. A standard stroke crankshaft was used, along with Carrillo rods and hot Isky camshafts. The engines produced about 500hp on the shop's dyno. They normally built new engines for every race weekend. Based on the team's dyno testing, Weber downdraught carburetors produced almost 15hp less than the "Jackson Constant Flow Fuel Injection" system, so after the third race (Seattle) the team used fuel injection for the remainder of the season.

Eric Haga's results with 190/FI/8 in the 1970 L&M Continental (Formula 5000) Championship Series
Venue
Date
Qualified
Finished
Notes
1
Riverside
April 19
9
7
2
Edmonton
May 24
8
DNF
Crash
3
Seattle
June 7
15
7
4
Laguna Seca
June 14
19
11
5
Sears Point
June 28
9
DNF
Crash
6
Dallas
July 5
17
7
7
Road America
July 18
18
DNF
Engine (valve)
8
Mt Tremblant
April 19
10
6
9
Donnybrooke
May 24
20
9
10
Lime Rock
June 7
13
9
11
Mosport
June 14
22
DNS
Engine (valve)
12
Mid-Ohio
June 28
15
DNF
Engine (fuel injection)
13
Sebring
July 5
?
DNS
Engine (magneto), on pace lap
After the 1970 season, the number eight car was traded-in on a new T192, which Eric Haga drove throughout 1971. The T190 was re-bodied and driven by Bobby Unser in 1971's Questor Grand Prix.

Eric Haga bought 190/FI/8 in 2008, and began restoring it for vintage racing. His ambition is that the restoration be as accurate as feasible. To that end, Eric in close consultation with Glyn Jones and Bob Marston. Glyn is the Heritage Coordinator at Lola Cars in England. Bob is retired now, but he was the principal designer of the T190. Bob Marston came to Lola after previously working at Cooper and Surtees.

Except for tasks that require very specialized equipment or unusual skills, Eric is doing most of the restoration work himself, and it's a continuous project. His current focus is on fine tuning the suspension set-up, based on recommendations from Bob Marston as the original designer. Once the latest changes are tested and finalized, Eric plans to install a high-mounted rear wing, identical to what the car originally raced with. After that, the next planned change is to retrofit a Jackson constant flow fuel injection system.



Features and Specifications (as of September 2009)
Engine:
Chevrolet 302cid V8 engine, rebuilt by Larry Webb. Approximately 11.5:1 static compression ratio. Weber 48IDF downdraught carburetors. K&N air filters. Professional Products "PowerForce+Plus" harmonic balancer. Vertex magneto. Taylor Spiro Pro 8mm silicone insulated spark plug wires. ETC Incorporated high range 12V magneto rev limiter. Armstrong Race Engineering dry sump oil pan. Weaver Brothers oil pump. Earl's Performance Products engine oil cooler. Wix 51515R racing oil filter, remote mounted.

Cooling:
Serck brass dual-pass radiator (L2289-13).

Exhaust:
custom fabricated four-into-one headers, ceramic-coated.

Transaxle:
Hewland DG300 (-206) 5-speed with 9.31:1 ring and pinion. 5.25" Metalastic donut-coupled halfshafts.

Front Susp.:
KONI 8212 coilover shock absorbers with Hypercoil springs. Adjustable anti-sway bar.

Rear Susp.:
KONI 8212 coilover shock absorbers with Hypercoil springs. Adjustable anti-sway bar.

Brakes:
(master) dual Girling master cylinders with remote reservoirs and bias bar.
(front) Girling calipers and 12" vented rotors.
(rear) Girling calipers and 12" vented rotors.

Wheels/Tires:
original Lola cast magnesium wheels (15"x10.5" front, 15"x17" rear).
Goodyear Eagle Sportscar Special (23.0x10.5x15 front, 27.0x14.0x15 rear).

Electrical:
Varley Redtop 30 battery.

Instruments:
(left to right) Stewart Warner voltmeter (10-16V), Stewart Warner oil temperature gauge (140-320V), Stewart Warner oil pressure gauge (5-100psi), Stack electronic tachometer (0-8000rpm), AutoMeter coolant temperature gauge (120-240F).

Fuel System:
Holley "red" fuel pump. Holley fuel pressure regulator. Professional Products "Powerflow" fuel filter. Mooneyes fuel pressure gauge (0-15psi, mounted at carburetors).

Safety Eqmt:
Willans six-point cam-lock safety harness. Quick release steering wheel hub. FireBottle 2.5lb Halon centralized fire suppression system.

Racing Class:
Formula 5000

Engine Installation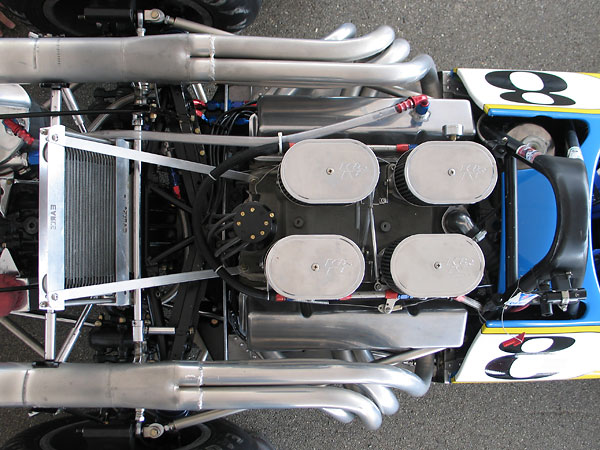 The Chevrolet 302cid V8 engine has been rebuilt for vintage racing by Competition Development's
original Crew Chief, Larry Webb. Its build complies fully with the original 1970 rules.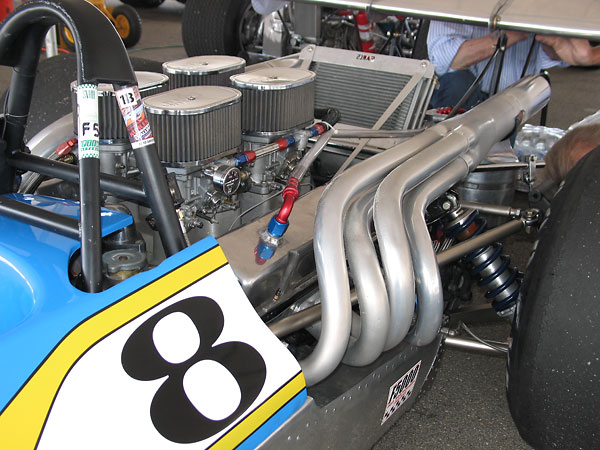 Weber 48IDF downdraught carburetors with K&N air filters. In 1970, the Competition Development
team switched from Weber carburetors to a Jackson constant flow fuel injection system after just
three races. Eric Haga has now procured a Jackson system, and will install it during the 2010 season.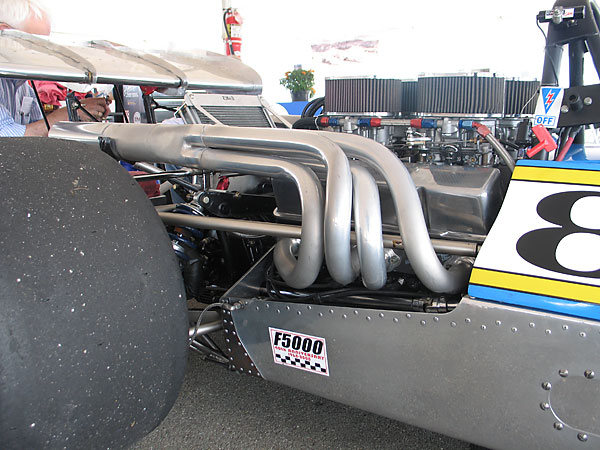 The Competition Development team had their own Heenan & Froud engine dynomometer. Among other
things, they used it for developing custom exhaust headers to suit their engines. The headers shown
here were custom fabricated to match the original 1970 Competition Development design.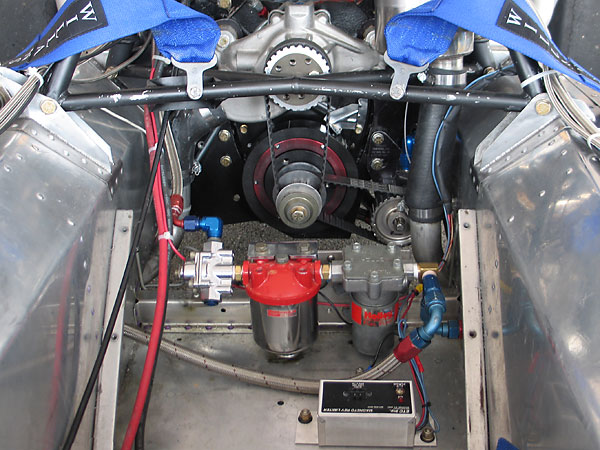 Professional Products "PowerForce+Plus" harmonic balancer.
Holley fuel pressure regulator. Professional Products "Powerflow" fuel filter. Holley "red" fuel pump.
ETC Incorporated 12V magneto rev limiter.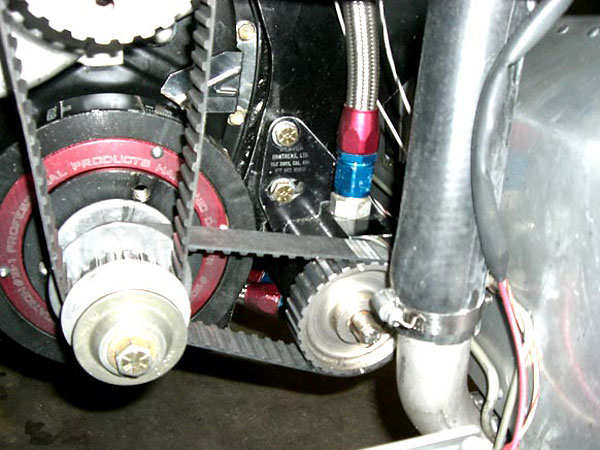 This Weaver Brothers oil pump is just like the one used throughout 1970. Lola supplied their own dry
sump oil pan, but the car is currently using a (similar looking) Armstrong Race Engineering pan instead.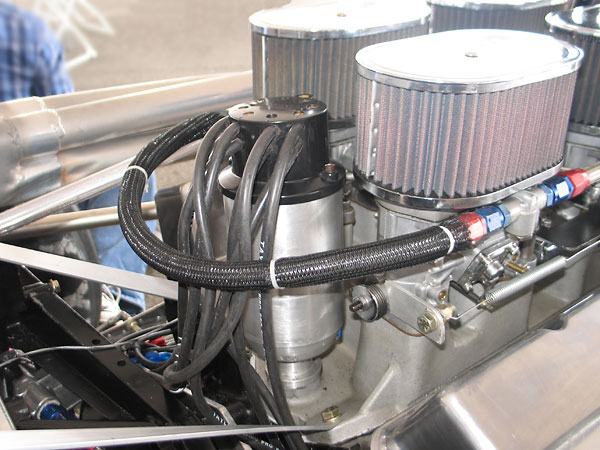 Vertex magneto. Taylor Spiro Pro 8mm silicone insulated spark plug wires.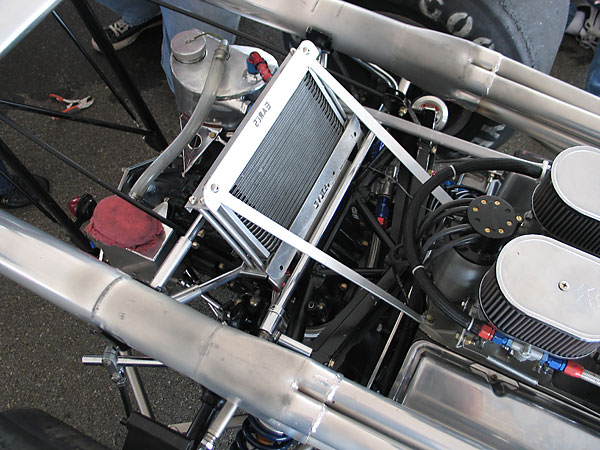 Earl's Performance Products engine oil cooler. The original Lola T190 design had the oil cooler co-located
with the radiator in the nose-pod. That worked okay... until the team got to Dallas. For the rest of the
1970 season, the team used a rear mounted oil cooler and found it reduced oil temps by 10-15° F.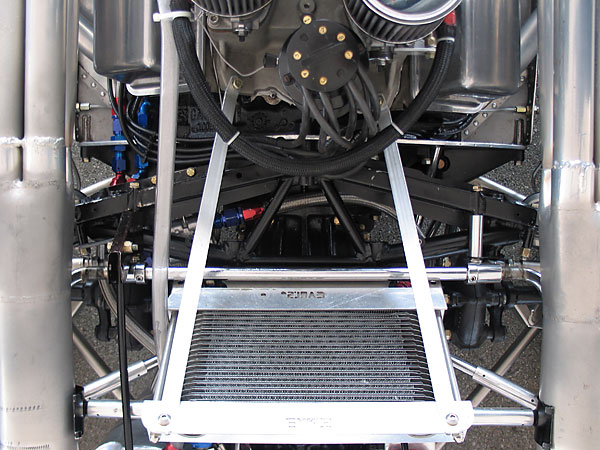 Rear bulkhead.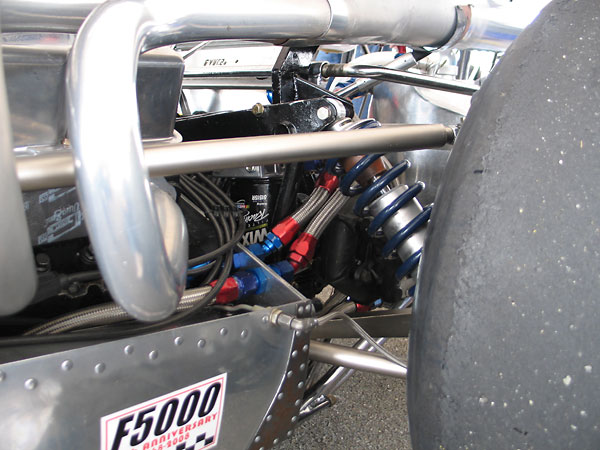 Wix 51515R racing oil filter, remote mounted.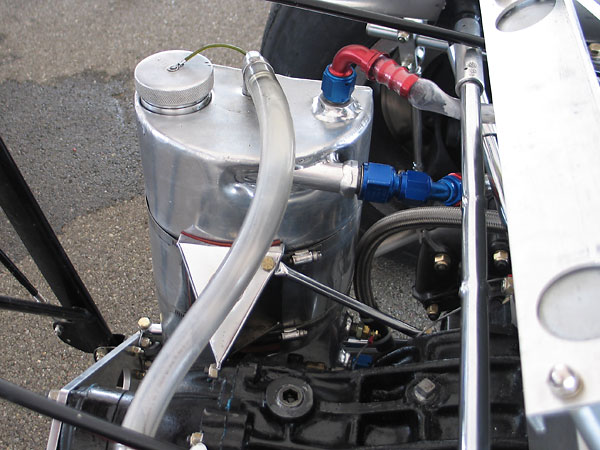 Original aluminum oil reservoir tank, as supplied by Lola Cars.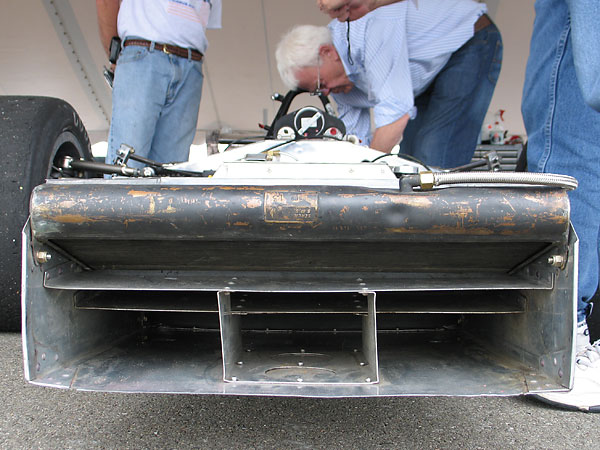 Serck all-brass dual-pass nose-mounted radiator. (It's marked part number L2289-13.)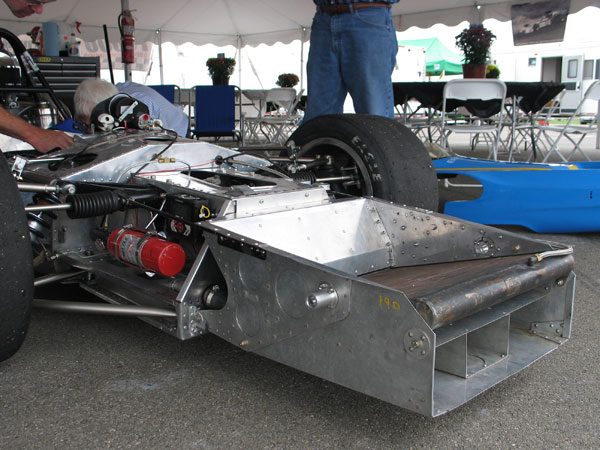 Notice that dividers (both horizontal and vertical) distribute airflow over the whole radiator core.


Front Suspension / Steering / Etc.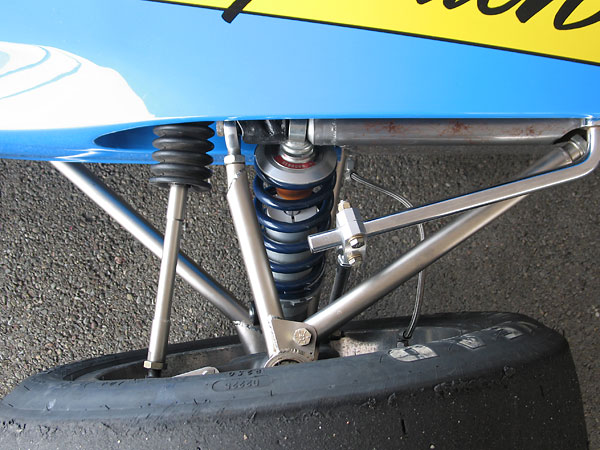 Left front suspension.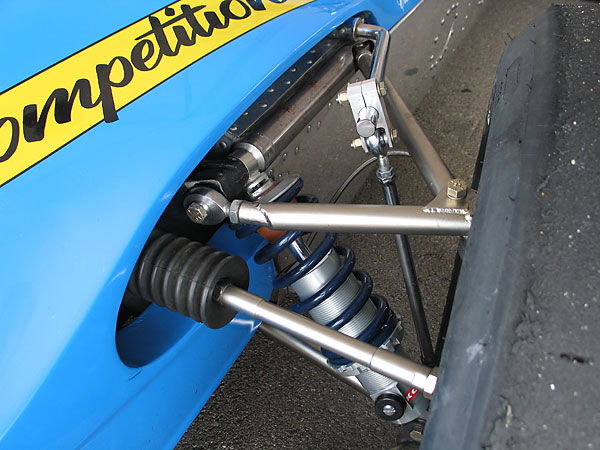 Lola supplied the T190 with Armstrong shock absorbers, but Competition Development took them off and
replaced them with lightweight, aluminum KONI 8212 double adjustable shocks (exactly like the ones shown
here) before the car was ever raced. They used KONI shock absorbers throughout the 1970 season.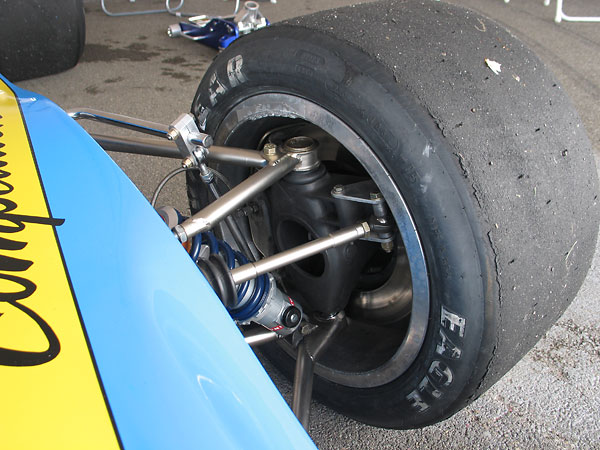 Steering link connections to Lola's magnesium uprights provide a wide range of bump steer adjustment.
That's necessary because there's no possibility of raising or lowering the steering rack.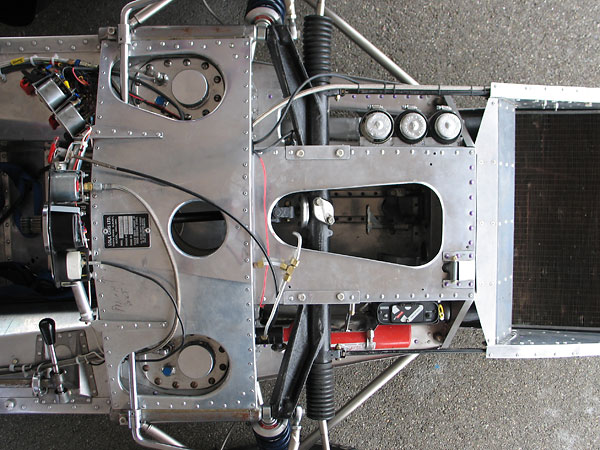 Besides showing the monocoque construction, this photo also illustrates just how
far forward the driver's feet are compared to the front wheels.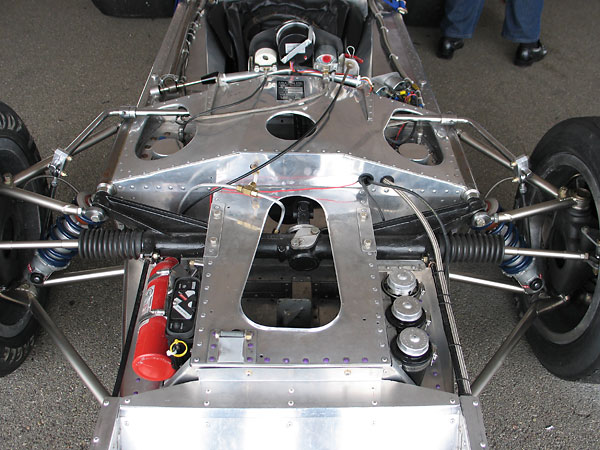 Lola designed an elaborate casting for the steering rack, and inexplicably placed the pinion off-center.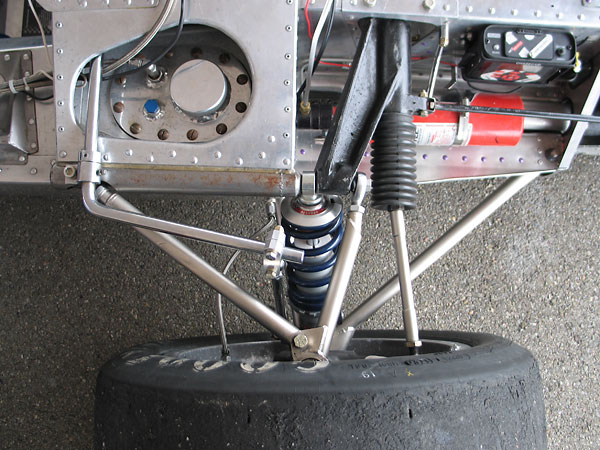 Refueling the Lola T190 requires removing the fiberglass bodywork. If the rubber fuel cell bladders
need service, they're also accessed through these holes in the monocoque tub.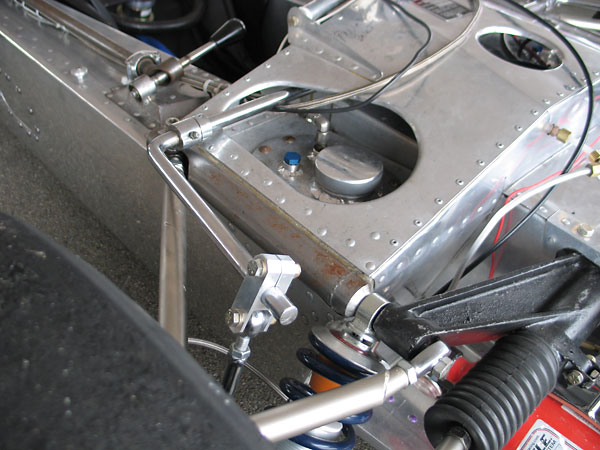 Adjustable front anti-sway bar. The team tried lots of sway bar changes and adjustments over the season,
in an attempt to reduce understeer. They finally had things about perfect by Mid-Ohio. Mark Donohue was
there, and he crashed the Penske T192 during practice. Eric invited him to take out chassis 190/FI/8 for
a few test laps. Mark Donohue's only suggestion was to try a little toe-out. They tried it, and it worked!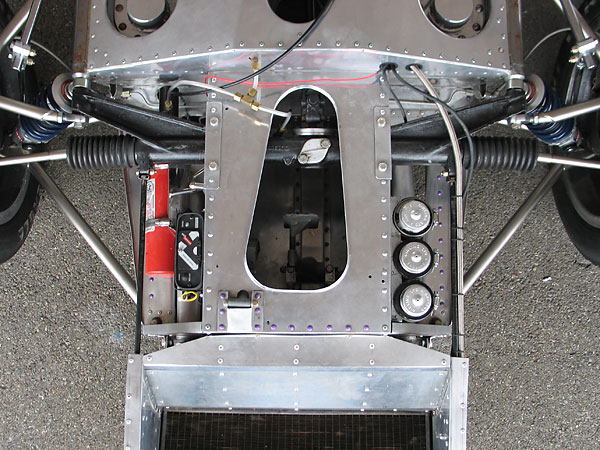 Two thin radius rods extend forward from bosses on the steering rack to support the cooling system.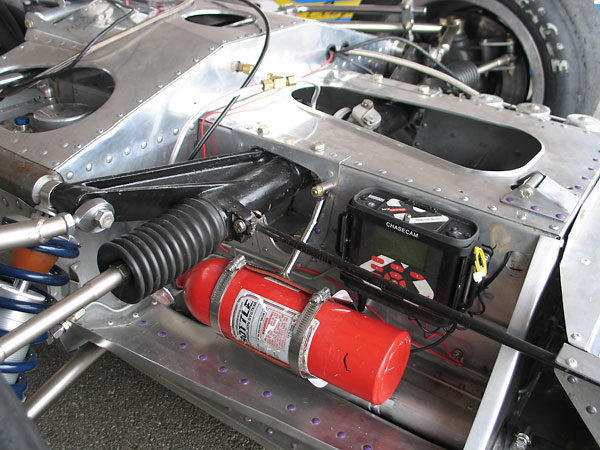 FireBottle 2.5lb Halon centralized fire suppression system.



The ChaseCam PDR-100 digital video system stores race footage on a CF memory card in MPEG format.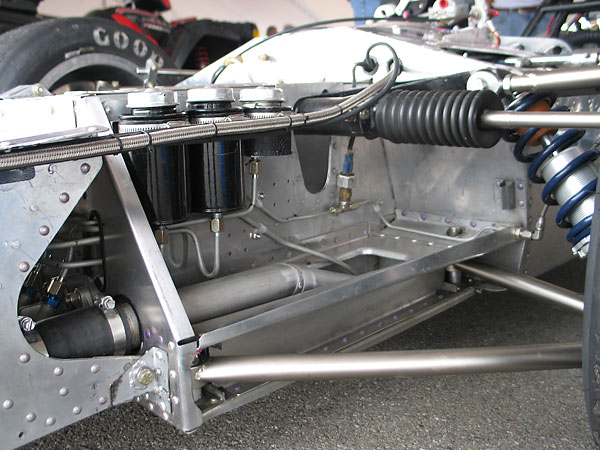 Inboard connections of the lower control arms can be adjusted for height, which means it's feasible to
adjust the amount of anti-dive characteristic in the front suspension to some extent. However, fine
adjustment of caster and camber must be completed at the upper control arms.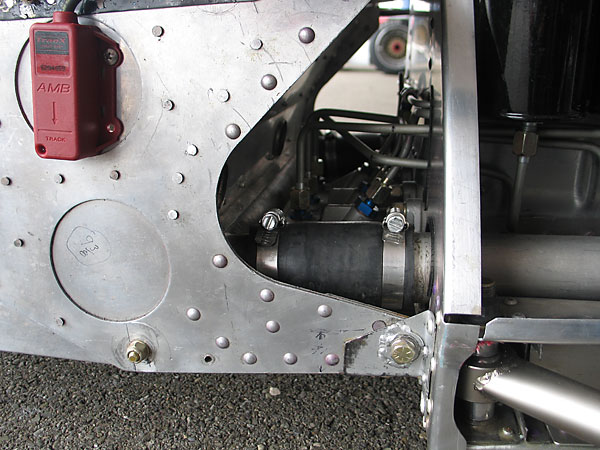 Dual Girling master cylinders with bias bar for the brake system.
Foreground: an AMB TranX 260DP transponder.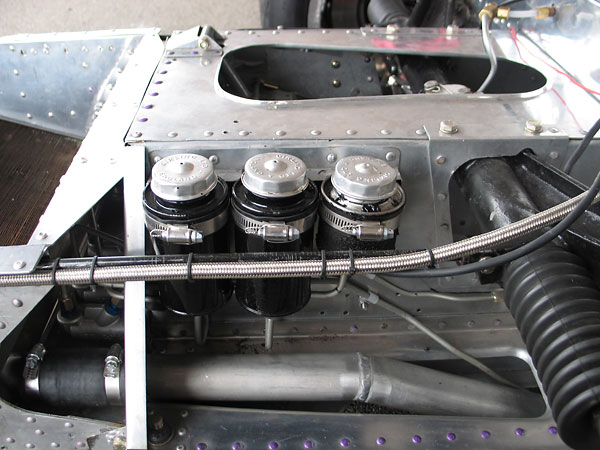 Girling steel reservoirs for the brake and clutch hydraulic systems.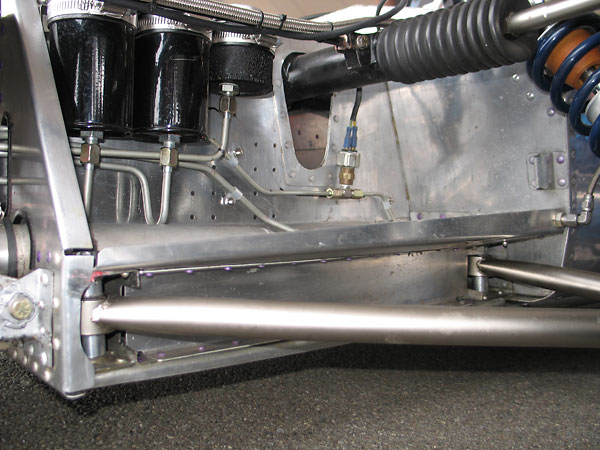 A hydraulic pressure switch turns on the brake light.


Enjoying this article? www.BritishRaceCar.com is partially funded through generous support from readers like you!
To contribute to our operating budget, please click here and follow the instructions.
(Suggested contribution is twenty bucks per year. Feel free to give more!)
Rear Suspension / Transaxle / Etc.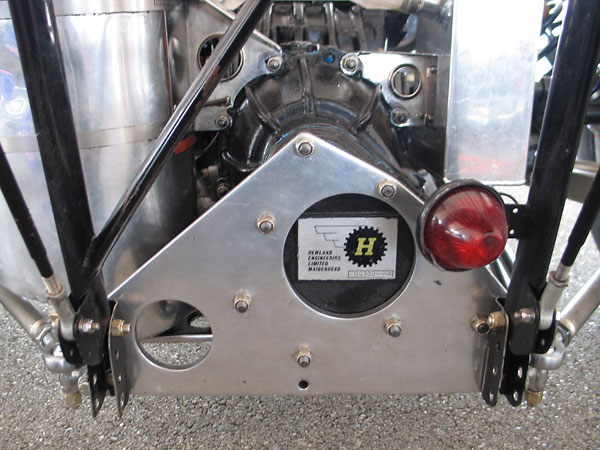 "Hewland Engineering Limited, Maidenhead DG300-206"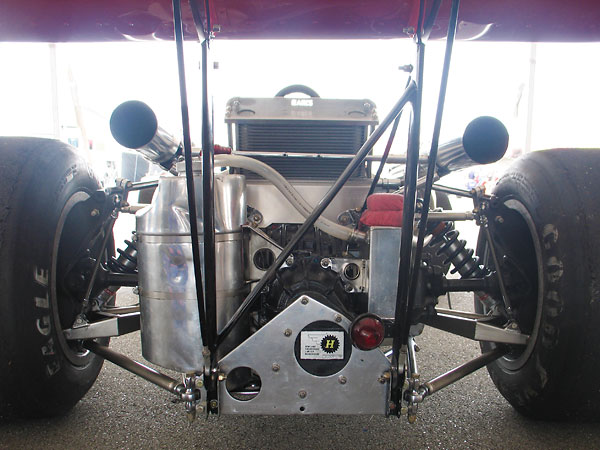 The Hewland DG300 5-speed was a lot lighter than the LG600 six speed that was popular in F5000 one
year before. It had five forward speeds plus reverse, and all five gear ratios were easily replaceable, so
the Competition Development team selected ratios to suit the respective tracks they raced on.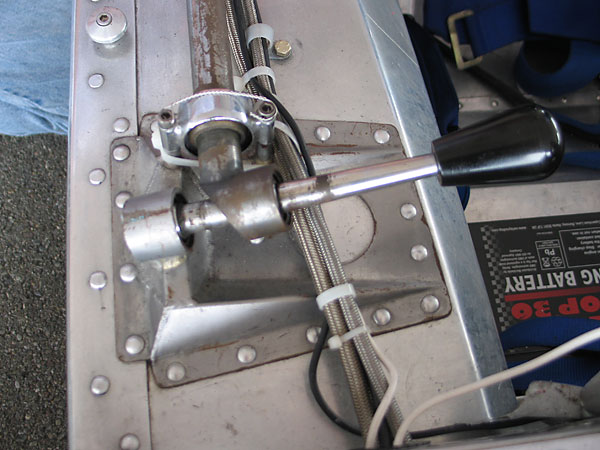 Here's a close-up of the gear selector.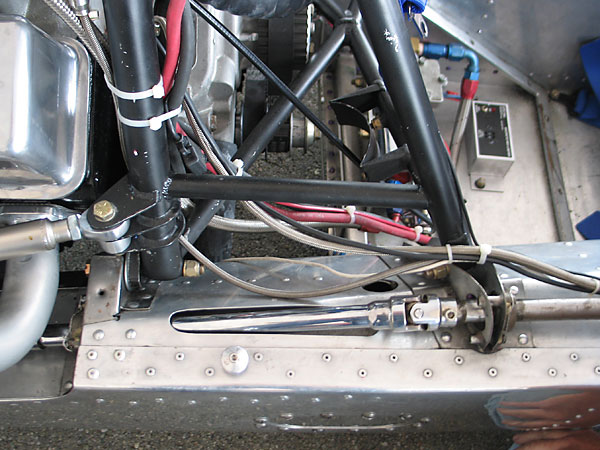 The gear selector linkage is routed through a slot in the aluminum monocoque tub. Also shown:
the rear suspension's trailing links connect to tabs on the rollhoop / subframe.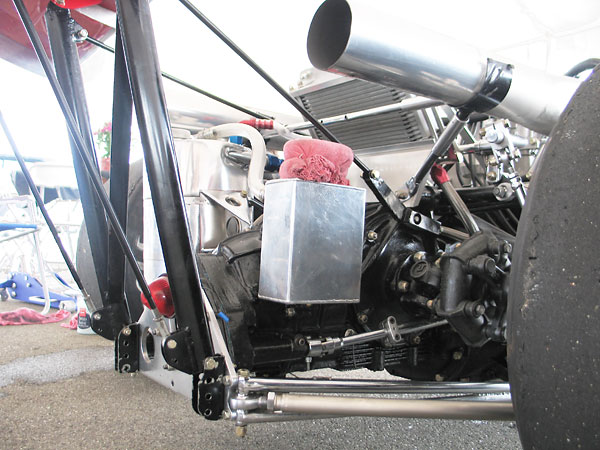 Whereas most formula cars have twin trailing links from the chassis back toward the rear wheel uprights,
the Lola T190 instead has its lower links behind the wheels. These links are loaded in compression under
braking and in tension under forward acceleration. Evidently the latter situation was given priority.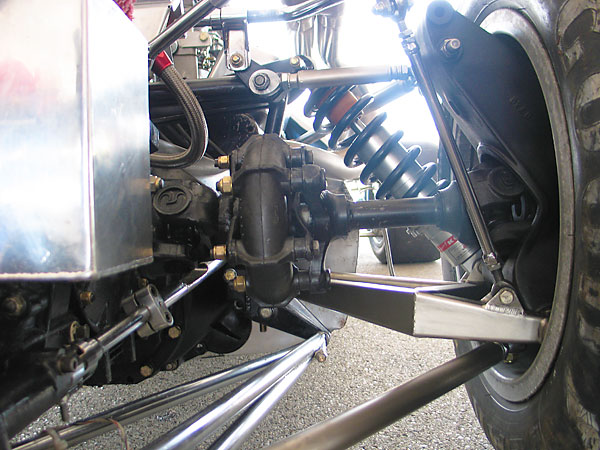 The lower radius rods aren't mounted at the same height as the lower control arms.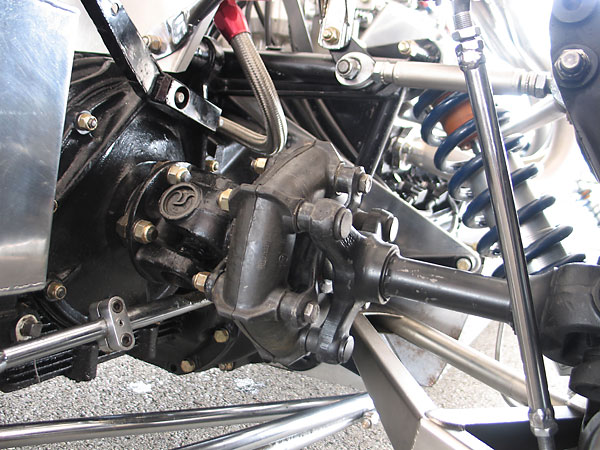 Metalastic rubber donuts absorb length variation at the halfshaft which occurs as the suspension works.
For this purpose, their advantage is they don't add friction or bind unpredictably. Smaller versions had
worked fine on thousands of low-power British cars for a decade, but Lola made a bold choice when they
put Metalastic donuts on 500+ hp racecars with sticky racing slicks. This size of Metalastic donuts
must work above rated specs, so their recommended service life is only a couple race weekends.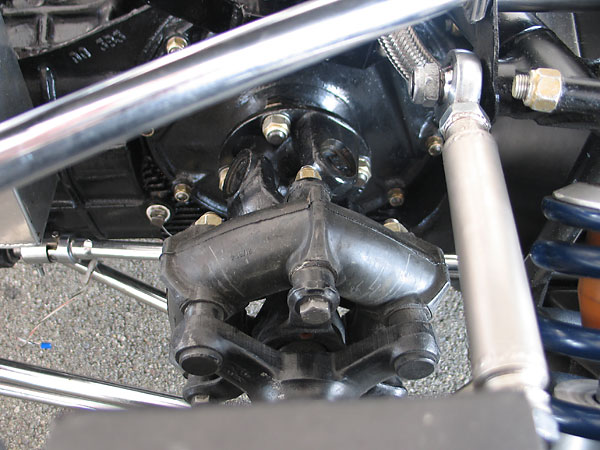 In 1970, Metalastic donuts were a relatively inexpensive and low-maintenance alternative to ball-splined
couplings or CV joints. Not anymore! According to Craig Taylor of Taylor Race Engineering, replacement
Metalastic donuts are still made in England by Dunlop, but the 5.25" size currently cost about $675/each.
The necessity for frequent replacement makes them a surprisingly costly maintenance item. For vintage
racing, Craig says it would be economical and safer to install modern halfshafts. Custom halfshafts with
108mm Lobro CV joints would require a one-time investment of about $3000. The conversion would be
easily and completely reversible.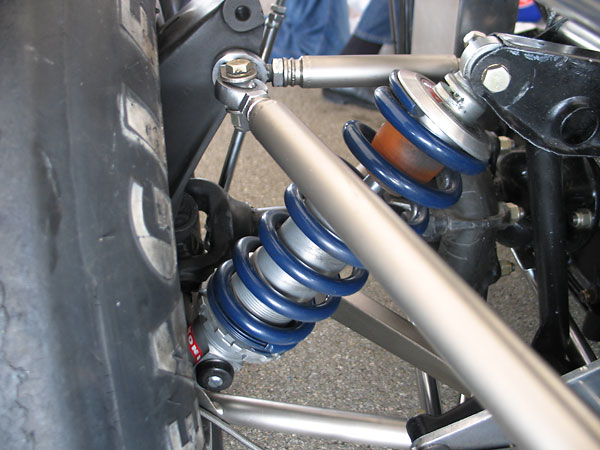 KONI 8212 shock absorbers are adjustable in both compression (at the bottom) and rebound (at the top).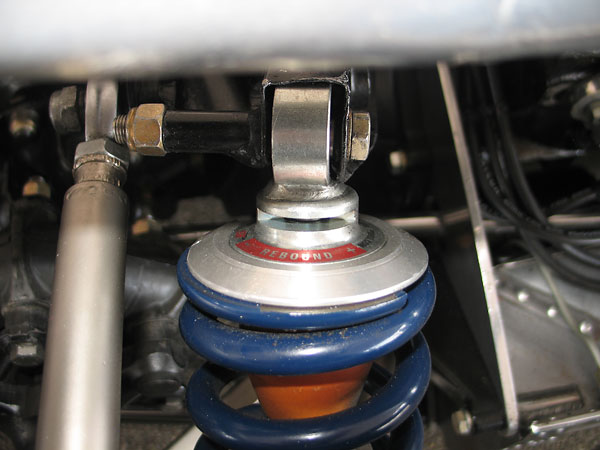 The rebound dampening adjustment dial is recessed into this slot. A thin tool (e.g. 3/32" Allen wrench)
is inserted into the slot and swept from side to side to turn the dial and make the desired adjustment.


Interior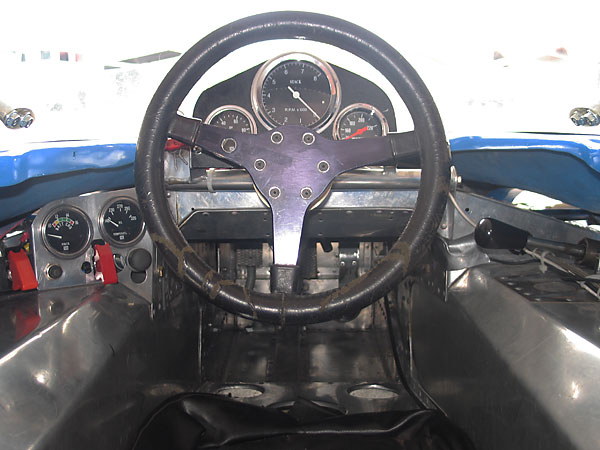 This is believed to be the original steering wheel that was supplied by Lola. In restoring the car to its
original appearance, an exact replacement wasn't found. After we took this photo, a similarly designed
Moto-Lita steering wheel was installed. As raced in 1970, the car didn't have a quick release steering
wheel hub, but a new spline-type hub has been installed for safety reasons.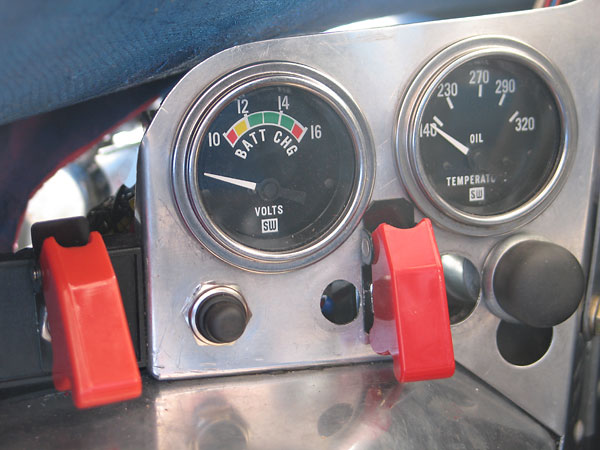 Lola supplied the T190 with Smiths instruments, but they were replaced before it was ever raced.
The Competition Team preferred Stewart Warner gauges and Jones/Motorola mechanical tachometers.
Shown here: Stewart Warner voltmeter (10-16V) and oil temperature gauge (140-320V).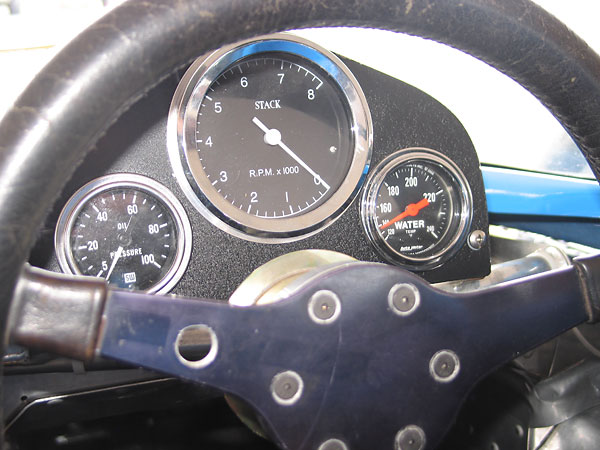 When we photographed the car it had a Stack electronic tachometer, which has recently been replaced
with an authentic Jones cable-driven tach. The Stewart Warner oil pressure gauge (5-100psi) shown here
remains in the car, but the AutoMeter water temperature gauge has recently been replaced too.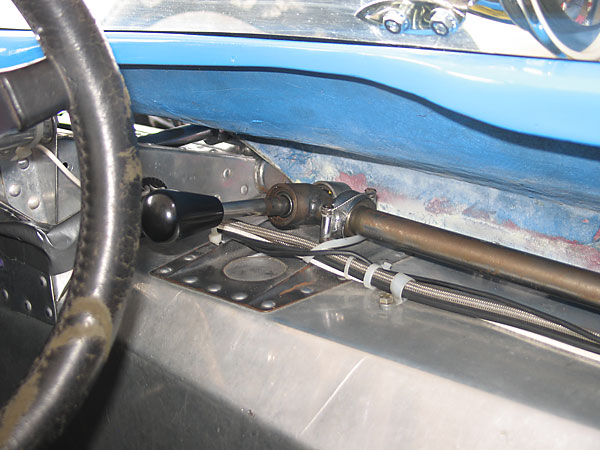 Gear selector, as viewed from the driver's seat.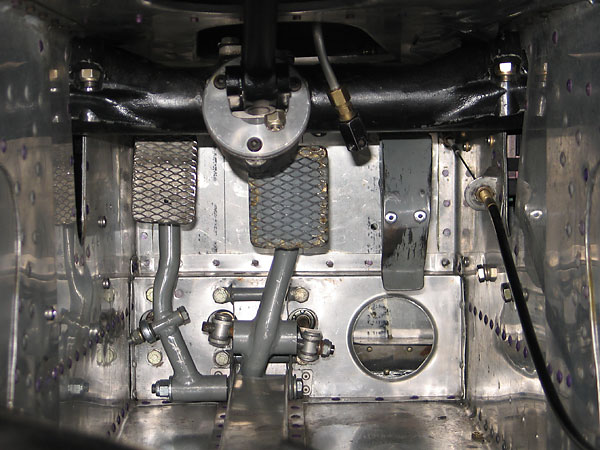 Rather elaborately designed pedals. No dead-pedal was provided for the left foot.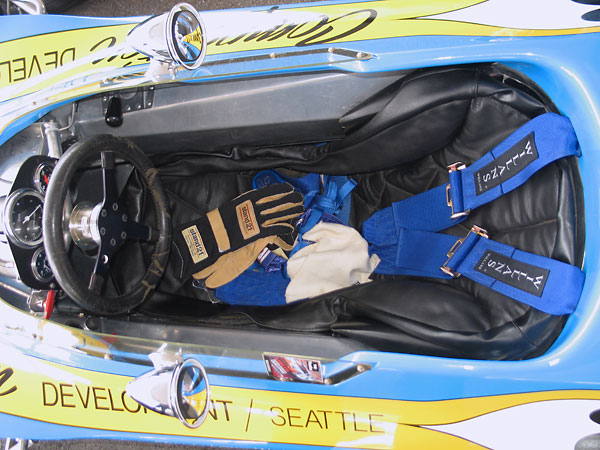 Willans six-point cam-lock safety harness.


Exterior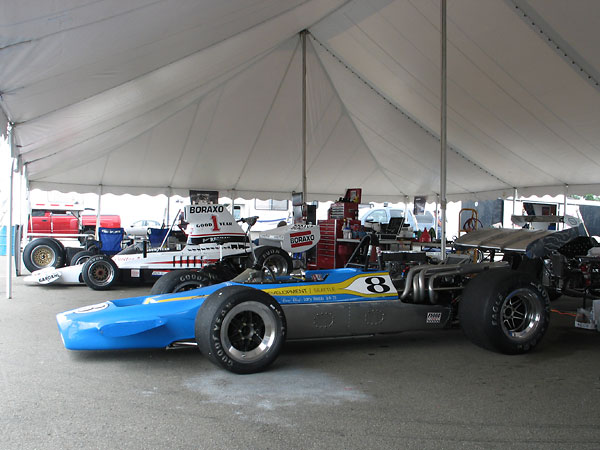 Two generations of Formula 5000 cars: the car in the background is the Lola T332 that Brian Redman
drove to Formula 5000 Championship Victory in 1976. Eric's T190 looks resplendent and remarkably true
to how it looked while contesting every single event of the 1970 Formula 5000 season.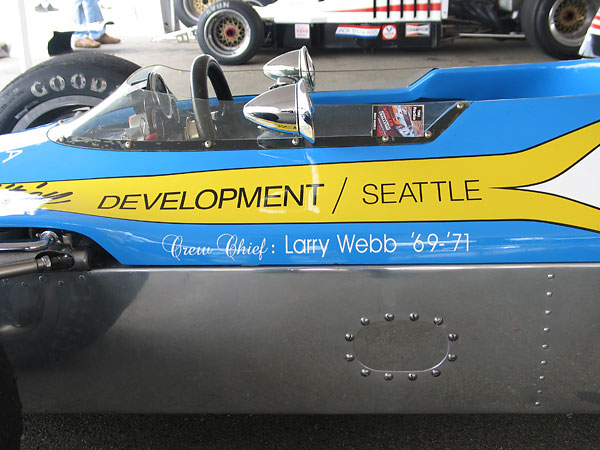 "Crew Chief: Larry Webb '69-'71"
Roy Dunn of Dunn Auto Graphics in Des Moines, Washington recreated the car's original graphics,
with modest and tasteful changes to suit the car's new career in vintage racing.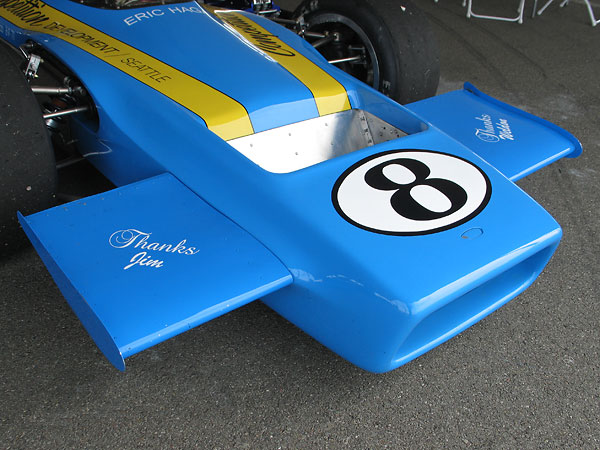 "Thanks Jim" - "Thanks Weldon"
Note: the front wings were used with end-plates early in the 1970 season, but not at the end.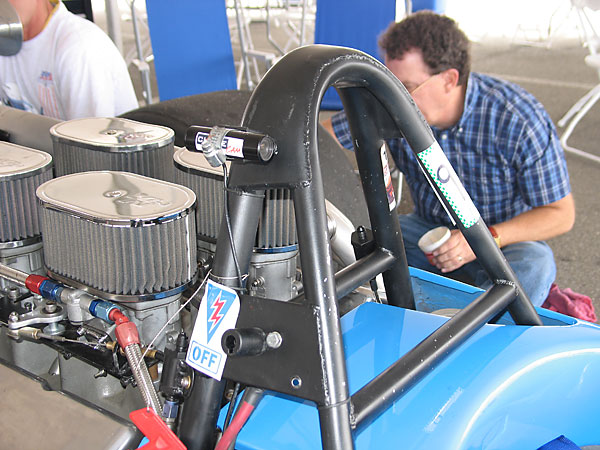 At St.Jovite, Eric's teammate Spence Stoddard rolled his own T190 over. A new roll hoop was required to
repair that car. Lola had already changed over to producing a stronger and taller roll hoop design
for their new T192 model. It was a basically a bolt-on upgrade, so chassis 190/FI/8 was upgraded too.
A later owner replaced the T192 roll hoop. For the time being, the car is fitted with this T190 roll hoop.



From St.Jovite (a.k.a. Mt.Tremblant) until the end of the season, the rear wing was painted with an
additional sponsor's name: "Grand Prix Restaurant". This was a friendly little deal with Jack Byers,
who drove a neatly prepared blue Lola T190. No money was exchanged, but Byers put Competitions
Development stripes and logos on his T190. Incidentally, Jack Byers T190 wore the number 7.



Throughout most of the 1970 season, the car raced with a very high-mounted rear wing.
Special Canadian rules required a lower mounted wing for the Edmonton race.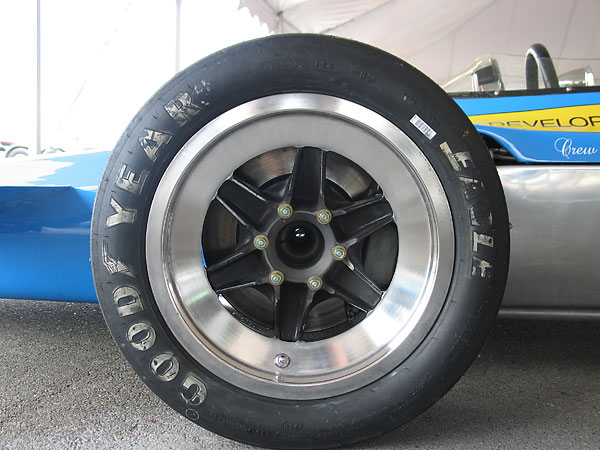 Original Lola cast magnesium wheels (15"x10.5" front, 15"x17" rear).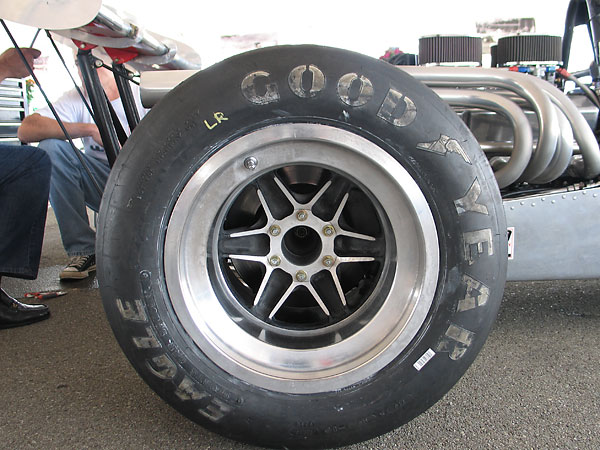 Goodyear Eagle Sportscar Special tires (23.0x10.5x15 front, 27.0x14.0x15 rear).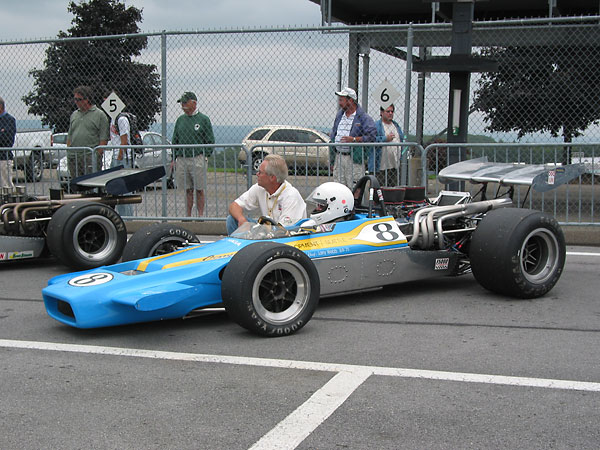 We enjoyed watching Eric's beautiful Lola T190 at the 2009 U.S. Vintage Grand Prix of Watkins Glen
It's best lap that weekend was 2:13.658, for an average of 91.6mph over the challenging 3.4 mile circuit.


Notes:
(1)
The quote is from Mark Donohue's autobiography, The Unfair Advantage. In it, Donohue explains that he only drove the Lola T190 in that one race because of a special arrangement with the car's owner, Carl Haas. The car was then sold to one of Carl Haas's customers. For much of 1970, Donohue would be busy racing in other series. That's the year he placed second in the Indianapolis 500, driving a Lola-Ford, He also actively campaigned an AMC Javelin in the NASCAR stock car series.

Just in time production: according to Lola records Mark Donohue's T190 was shipped from their factory in England on December 12th, and Jo Bonnier's T190 was shipped on December 15th. Both cars were supplied without engines.


(2)
We're completely certain the torsional rigidity figure quoted on the original specifications sheet from Charlie Hayes Racing Equipment is erroneous. As a practical matter, torsional rigidity is normally measured over a car's wheelbase. The appropriate unit of measure is "foot-pounds per degree". Mark Donohue recounted in The Unfair Advantage how the Penske race team checked the torsional rigidity of a Lola T330 chassis (circa 1973):

"I was hoping that the basic problem was too much flex in the chassis. When the next car arrived we set it up on our surface plate, replaced the springs with solid bars, and tested its torsional rigidity. Woody spent a week at it, anchoring one end, twisting the other end with hydraulic jacks, and measuring the deflection with dial gauges. It turned out to have a stiffness of about 4000 foot-pounds per degree, which ought to be perfectly adequate for a race car. We could see a little bending in the middle, though, so we added a couple of extra braces between the roll bar and cylinder heads."

Bob Marston, Eric Broadley's Chief Engineer through most of the Formula 5000 era, has informed us that Lola practice was slightly different. Lola measured chassis stiffness by connecting directly to the chassis at the front and rear shock absorber mounting points. A measurement of 4000 foot-pounds per degree is within the right order of magnitude, although he would expect the T330 to be significantly stiffer than the T190 because the T330 was a more sophisticated design.


(3)
Various wheelbase measurements have been published for the Lola T190. Although original sales literature (above) from Charlie Hayes Racing Equipment cited a wheelbase of 92", in the course of researching Mead Korwin's Lola T192 we have been in touch with former Lola Chief Engineer Bob Marston. Bob visited with Lola historian Glyn Jones, and reported back as follows: "When we checked the original T190 layouts, the wheelbase was definitely 88 inches and not any of the many other dimensions that I have seen quoted."


All photos shown here, except one, are from September 2009 when we viewed the car at The US Vintage Grand Prix at Watkins Glen. Photos by Curtis Jacobson and Don Moyer for BritishRaceCar.com, copyright 2010. All rights reserved. The one exception is the close-up photo of the Weaver Brothers oil pump, which was taken by Eric Haga and which is used by exclusive permission.



Notice: all the articles and almost all the photos on BritishRacecar.com are by Curtis Jacobson.
(Photos that aren't by Curtis are explicitly credited.) Reproduction without prior written permission is prohibited.
Contact us to purchase images or reproduction permission. Higher resolution images are optionally available.