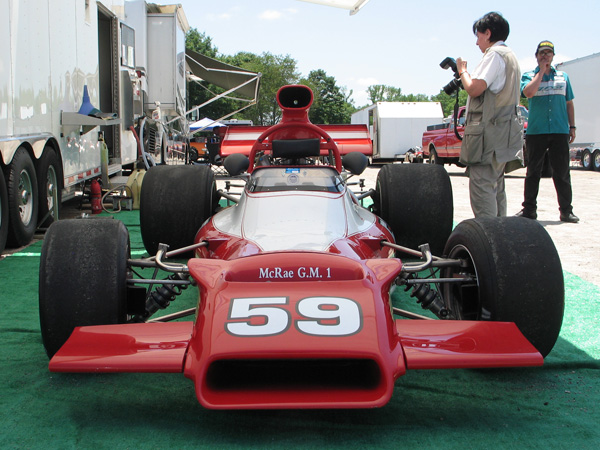 Jim Stengel's McRae GM-1 Formula 5000 Race Car
Owner: Jim Stengel
Model: 1973 McRae GM-1
Engine: small block Chevy V8 (5L)
Race prepared by: Chris Schneider at Executive Auto Sport
Graham McRae and McRae Cars Ltd.
Formula 5000 was like Can-Am, except for open-wheeled single-seaters. Sometimes called "F5000," this exciting racing class was introduced in 1968, and it was popular and competitive through the mid seventies. Rules were kept simple and minimal: engine displacement could not exceed 5.0 liters (normally aspirated). There were separate Formula 5000 race series in Europe, the United States, and Australasia. Prize money was big enough to induce teams to try all three, and in all three series big American V8 engines were dominant.

McRae Cars Ltd. of Poole, Dorset was formed by successful kiwi Formula 5000 driver Graham McRae in 1972.

Graham McRae was one of those rare drivers with all the skill and knowledge to build or extensively modify his own racecars. He had built several cars for his own use before becoming a professional driver. Then, on one particular occasion while testing a McLaren M10B at the Thruxton race circuit in Hampshire, McRae got into a spirited discussion with a rival team about the frustrations they were having with their Leda LT25. One thing led to another. Before long, McRae was challenged to help them develop a whole new racecar: the Leda LT27. This could not have pleased their very famous and gifted draftsman, Len Terry. In Terry's long career he had already gained a reputation as a top flight race designer for work at Lotus, Dan Gurney's AAR team, and BRM. Terry also co-authored the book "Racing Car Design and Development", which was published in 1973. They didn't get along well, but the two men managed to work together and to accomplish quite a lot. Len Terry could draw brilliantly, but actually had very little experience with racecar development. Graham McRae's contributions were that he could precisely evaluate and articulate how a chassis or suspension was performing based on seat-of-the-pants feel, and he had great intuition on how to make improvements. Working together, Terry and McRae created the Leda LT27 and refined it into the McRae GM-1.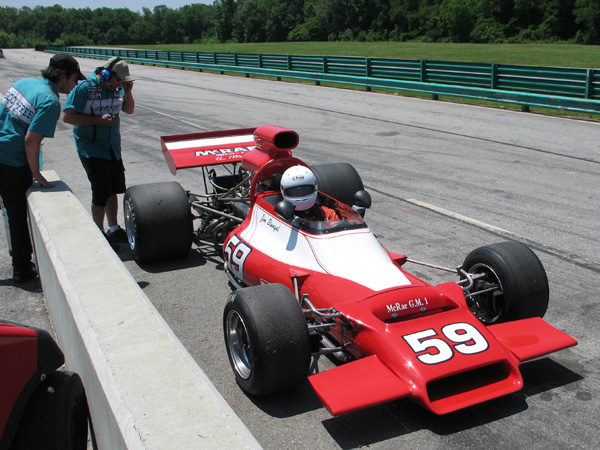 McRae GM-1 makes a brief stop on the way to the winner's podium.


The GM-1 was immediately successful. Graham McRae dominated the 1972 Formula 5000 calendar by driving the prototype GM-1 to championship victories in both the United States and also Australasia. (The "Tasman Series" was named for the Tasman sea, which separates Australia and New Zealand.) For good measure, McRae finished third in the European championship. In total, he won twelve of the twenty-eight races he entered in 1972. He followed up in 1973 with another Tasman Series championship victory and one race victory in the European championship. If 1973's Formula 5000 season was less successful, it's only fair to note that he had distractions. While supervising construction of cars for customers, he was racing in several series. The Granatelli family (of STP fame) recruited him to drive in the Indy 500, and although he retired from the race early with an engine failure he was named Rookie of the Year for 1973. He also tried his hand briefly in Formula One with the Williams (Iso-Marlboro) team.

Meanwhile, McRae Cars built about fourteen additional GM-1 cars for sale. The GM-1 model was succeeded by the "GM-2", which followed modern trends such as utilizing dual radiators in side pods in lieu of a single radiator up front. However, the GM-2 wasn't nearly as successful as the GM-1. Other manufacturers, especially Lola, had upped the technological ante too far. McRae Cars Ltd. ultimately folded.

The original GM-1 prototype that Graham McRae had driven to such glory was destroyed in a trailer fire, but nearly all of the rest of the production run are accounted for. With its powerful and economical engine, beautiful lines, and elegant chassis design the GM-1 remains a very highly-prized classic racecar.


Please support the sponsoring companies who make www.BritishRaceCar.com possible, including:

Chassis Number 10
The McRae GM-1 featured here, chassis number 10, has never been wrecked and has had relatively little use. It was one of two GM-1's originally purchased by Quicksilver Racing of California, but as their back-up car it got little use. Its second owner, Rodney Green of Colorado, drove it in regional SCCA competition but didn't campaign it aggressively or for long. It was retired from competition in 1986, and twenty years later sold to Paul Hoey of Olympia Washington. In 2008 it was purchased by its current owner, enthusiastic vintage racer Jim Stengel.

Jim Stengel has progressed through a variety of Formula Fords, Continentals, and S2000 cars over twenty years of racing. A Pratt & Miller RM-2 kept his interest for ten years, and the GM-1 is his introduction to big engines. He purchased GM-1 chassis number ten in 2008, and he has more recently purchased chassis number six as well.


Enjoying this article? www.BritishRaceCar.com is partially funded through generous support from readers like you!
To contribute to our operating budget, please click here and follow the instructions.
(Suggested contribution is twenty bucks per year. Feel free to give more!)
Number ten was in remarkable condition, but after sitting in storage for twenty years it needed a thorough going-over to make it safe and fun for vintage racing. Trusted advisor and fellow racer Chris Schneider of Executive Auto Sport in Easton Pennsylvania was the ideal person to tackle this job! Every single part needed to be taken apart and inspected. Many parts would ultimately need to be replaced or reconditioned. A vast depth and breadth of technical knowledge, experience, and specialized research were required. Schneider got in touch with Graham McRae himself, and in the ensuing year they've developed a long distance friendship and a continuing technical dialogue.

Now, after putting the car back together, Executive Auto Sport takes care of all the tuning and preparation services right down to delivering the car to racetracks and helping Jim get buckled-in. Executive Auto Sport does the same for Jim with his Pratt & Miller and also a 1990 Oldsmobile SCCA-TransAm car.

Chris Schneider graciously welcomed www.BritishRaceCar.com to inspect his work when we visited with him during the Heacock Classic Gold Cup Historic Races at Virginia International Raceway in June. In the photo captions below, we'll share what we learned, both about the original design and also about its restoration and preparation for vintage racing.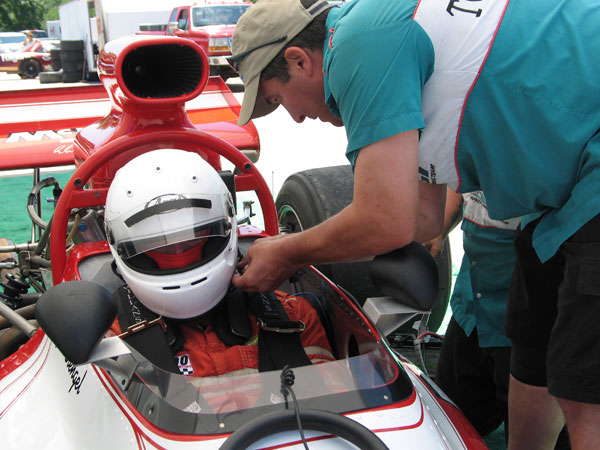 Chris Schneider and his staff at Executive Auto Sport Inc. help Jim Stengel get on track.


Features and Specifications
Engine:
original small block Chevy engine with iron block and four bolt mains, rebuilt by Ted Wenz of Marcovicci-Wenz Engineering. The engine was de-stroked to 5 liters. Brodix aluminum cylinder heads with modified Moroso valve covers. MacKay fuel injection system with Lucas mechanical fuel metering unit. Lucas distributor. MSD6AL capacitive discharge ignition system. Dry sump lubrication system. Engine produces about 565hp.

Cooling:
original five row copper/brass radiator (forward mounted) and aluminum oil cooler (rear mounted).

Exhaust:
stainless steel four-into-one headers by Frank Nester at High Performance Vehicle Engineering, Easton PA.

Transaxle:
Hewland DG300 5-speed with cam and pawl differential, rebuilt by John Grubb at J and J Racing Ltd., Bally PA. A transmission oil cooler has been added.

Front Susp.:
unequal, unparallel wishbone suspension (nickel plated). Cast magnesium uprights with modified McLaren spindles. KONI adjustable coil-over racing shocks. Adjustable anti-sway bar. Custom steering rack with both rack and housing made from magnesium.

Rear Susp.:
dual lower links, single top links, and twin adjustable trailing links (all nickel plated). Cast magnesium uprights with modified McLaren spindles. KONI adjustable coil-over racing shocks. Adjustable anti-sway bar.

Brakes:
(master) Girling master cylinders with bias bar.
(front) outboard-mounted disc brakes with vented rotors.
(rear) Girling inboard-mounted disc brakes with vented rotors.

Wheels/Tires:
(front) Jongbloed modular racing wheels with Avon 10.0/22.0-13 bias-ply racing slicks.
(rear) modular racing wheels with Avon 16.2/26.0-15 bias-ply racing slicks.

Instruments:
(left to right) Stewart Warner fuel pressure gauge. Stewart Warner dual water temperature and oil pressure gauge. Stach electronic tachometer with tattletale.

Fuel System:
ATL fuel cell. High pressure electric fuel pump for starting. High pressure mechanical fuel pump for racing.

Safety Eqmt:
Willans six-point camlock safety harness. Shoulder belt mounting points modified to better suit HANS device. Racetech steering wheel with SPA Design quick release hub. Centralized, electrically triggered fire suppression system.

Weight:
~1350 pounds dry. 1640# with driver and fuel.

Racing Class:
Formula 5000 / SVRA 9FA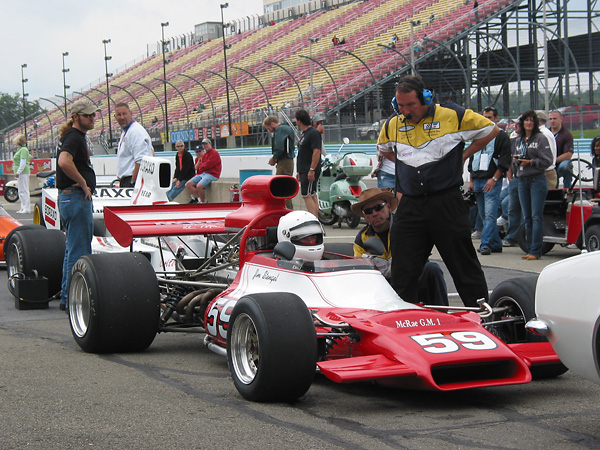 Jim Stengel prepares for the start of the Formula 5000 feature race of the 2009 U.S. Vintage Grand Prix
at Watkins Glen. Jim won the race handily, finishing in front of Rick Parson's white Lola T332, Ted Wenz's
orange McRae GM-1, and seven others. Best lap: 1:56.746 at 104.82mph (102.50mph for the race.)



Engine Installation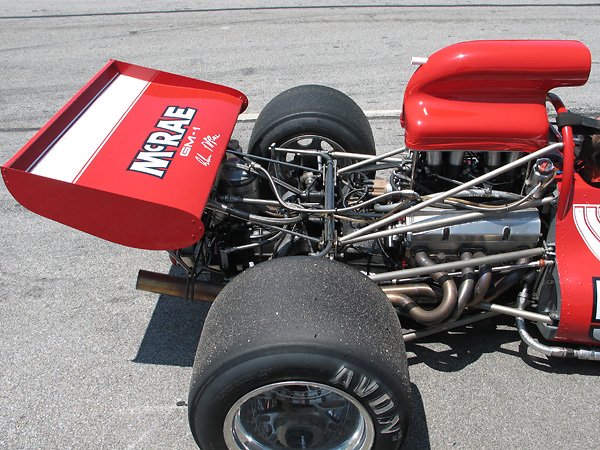 Small block Chevy engine with iron block and four bolt mains, de-stroked to 5.0L.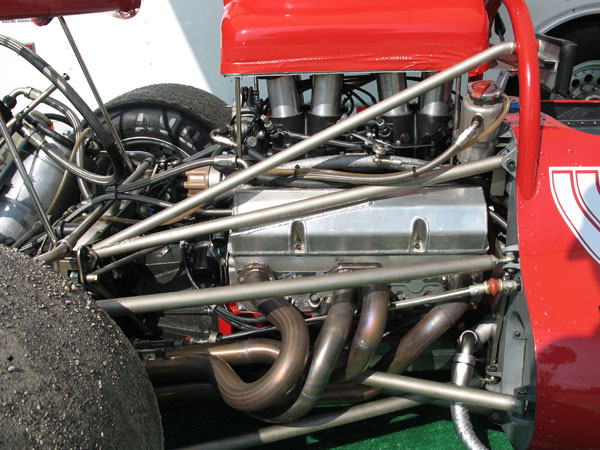 Brodix aluminum cylinder heads with modified Moroso valve covers.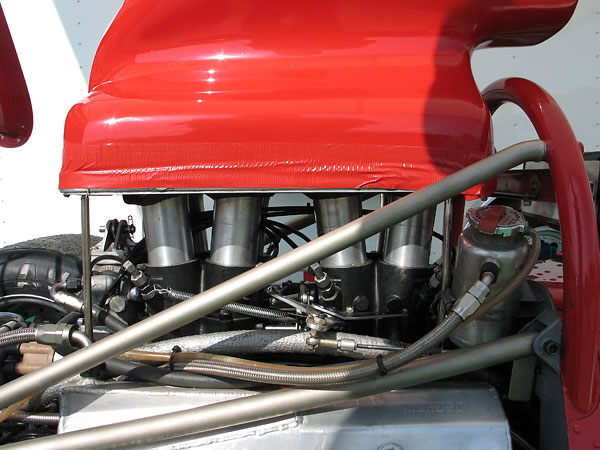 MacKay fuel injection system with Lucas mechanical metering unit.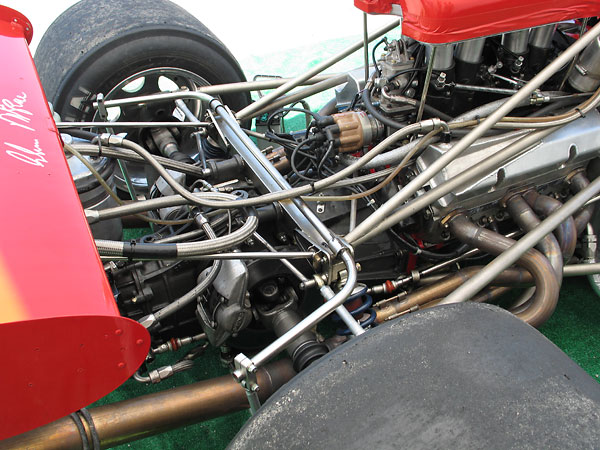 A horizontal "shortie" distributor was supplied as part of the MacKay / Lucas fuel injection kit.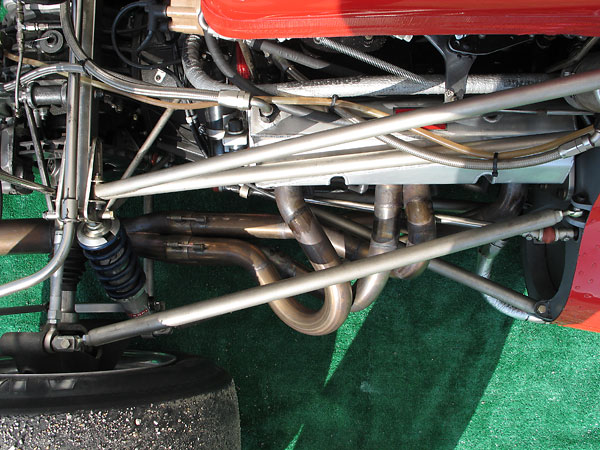 Stainless steel, four-into-one headers were expertly crafted to the original McRae pattern
by Frank Nester at High Performance Vehicle Engineering, Easton PA.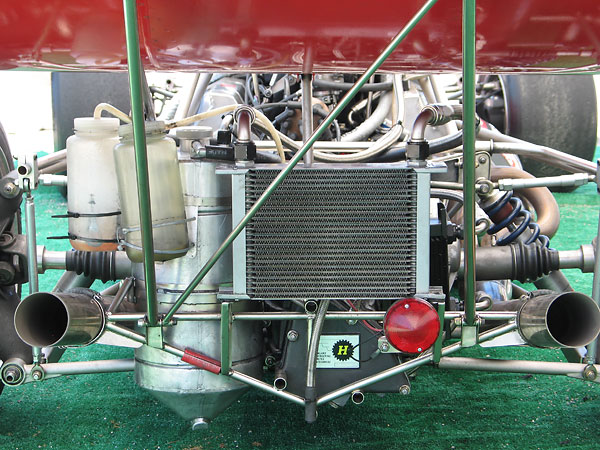 Hewland DG300 5-speed with cam and pawl differential, rebuilt by John Grubb at J and J Racing Ltd.
The large oil cooler is for the engine. The small, black, transmission oil cooler is a more modern addition.
On later racecars oil coolers and tanks are usually found further forward (e.g. in side pods) where they're
less likely to affect airflow under the wing and perhaps less vulnerable. This photo shows where McRae Cars
put the tank, although Graham McRae's own GM-1 had the tank behind the seat to reduce polar moment.


Suspension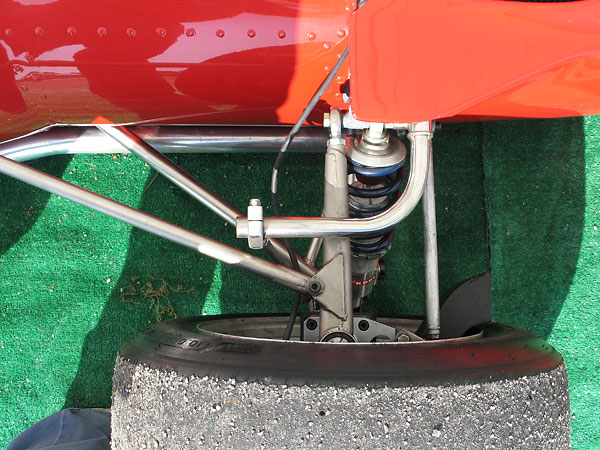 This car features nickel - not chrome - plated suspension links. That's an important distinction!
The McRae was built at about the same time racers were becoming aware of the great danger of
hydrogen embrittlement. In a nutshell, hydrogen produced and entrapped during the chrome plating
of steel makes parts far more likely to crack and to fail catastrophically. High alloy steels are much
more susceptible to the problem than mild steel. Formula One explicitly forbid chrome plating of
suspension components in 1973, and other racing organizations followed.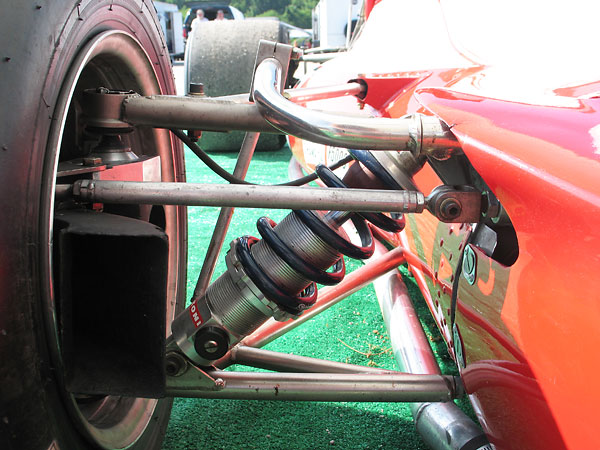 Outboard mounted front shock absorbers help keep costs down and ease tuning. Some earlier Leda
designs used inboard-mounted shock absorbers, but reportedly Leda never got the design kinks ironed out.
Here, the original Armstrong shock absorbers have been replaced with new KONI shocks. (Both bump and
rebound circuits are separately adjustable, whereas the Armstrongs were only adjustable on bump.)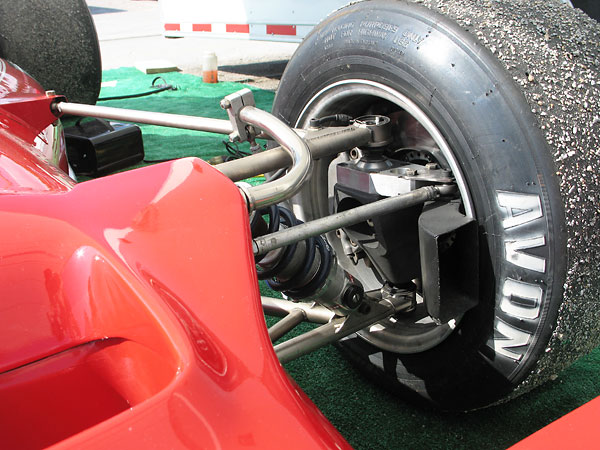 The wheel uprights are cast magnesium. Although they look quite similar to McLaren uprights, they're
dimensionally different. They've been carefully checked for cracks with Zyglo, and rebuilt with new
bearings and spindles. The new spindles are actually modified McLaren spindles.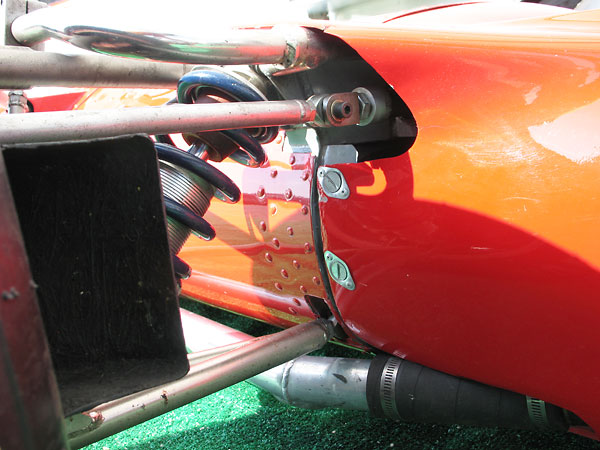 Brake cylinders and steering rack are mounted to the front bulkhead. The steering rack is a typical
Graham McRae detail; both the housing and the rack itself are constructed of magnesium.
They're built to be extremely lightweight because ounces add up to pounds!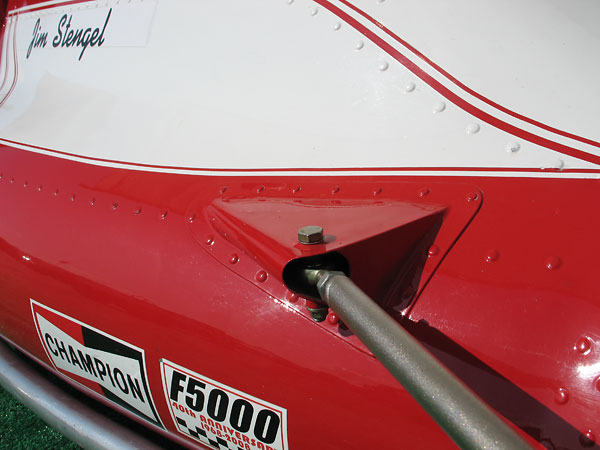 Aluminum and bucked rivets. Carbon fiber tubs wouldn't appear until the early eighties.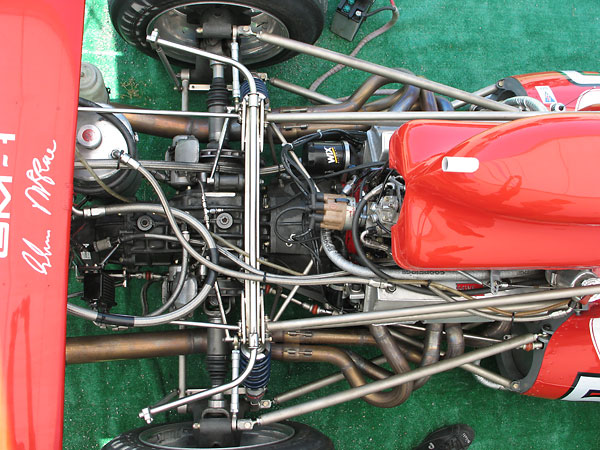 (We can't possibly get too many photos of these beautiful headers!)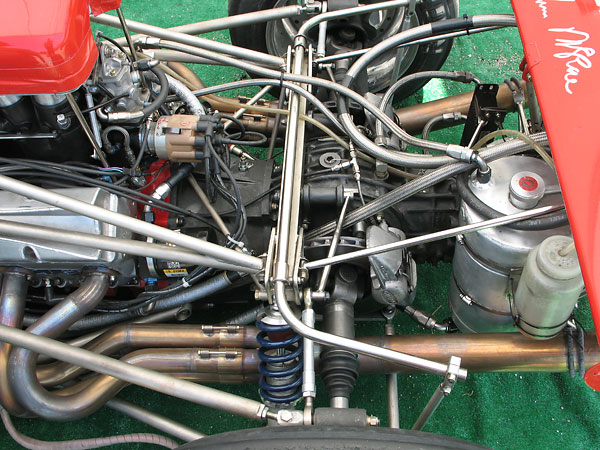 Few people would spot it, but these halfshafts are beefier than the ones that were originally fitted.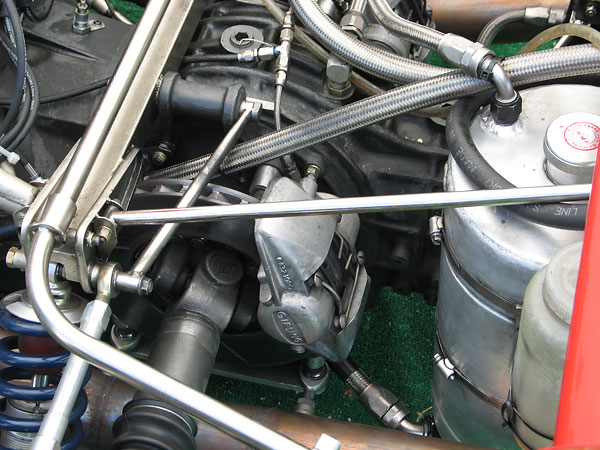 Girling inboard disc brakes. At right, Grand Prix Metalcraft Ltd. dry sump lubrication system reservoir.


Interior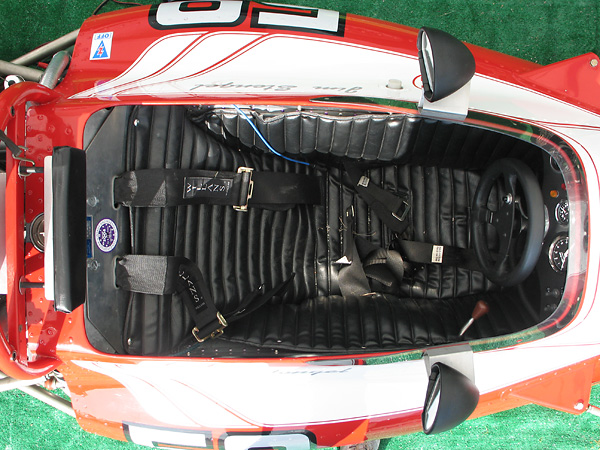 The roll hoop and its horizontal headrest support bar are original, but the Willans six-point safety harness
is modern, and its shoulder mounting points have been raised about three inches from the original height.
The gauges are (driver's left-to-right) are: fuel pressure, dual water temp / oil pressure, and tachometer.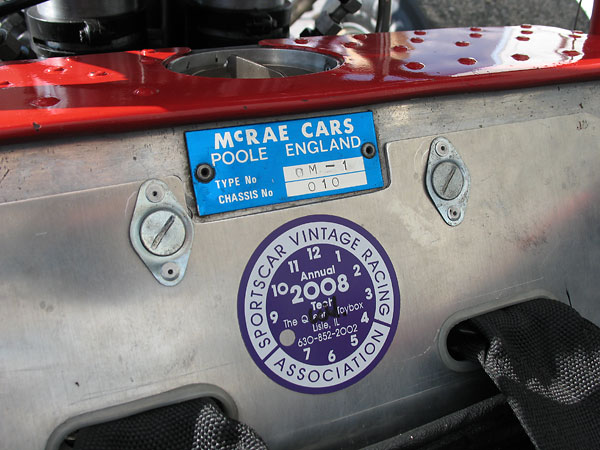 "McRae Cars, Poole England, Type No. GM-1, Chassis No. 010."
The fuel filler cap originally filled two 13 gallon fuel cells which were located on either side of the seat.
A new ATL fuel cell has been installed on the right-hand side. Some electronic modules, including an
MSD capacitive discharge ignition box and the pit radio, are discretely hidden on the left-hand side.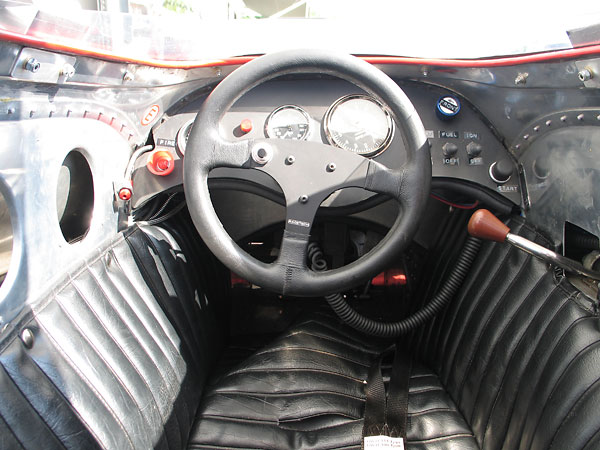 Switches, left to right: fire suppression (red pushbutton), pit radio (push-to-talk, on steering wheel),
brake bias (knob), "Light", "Fuel", and "Ignition" (toggle switches), and "Start" (black pushbutton.)
The car was originally equipped with an electrically-triggered, centralized fire suppression system,
which used CO2 whereas the modern system uses an extenguishing agent called DuPont FE36.
The mechanical fuel injection system needs very high fuel pressure (~150psi) to function optimally.
The fuel switch controls a high pressure electric pump, which is used to get the engine up to speed.
A crank-driven mechanical pump is used when actually racing. The switch turns off the electric pump.
A pushbutton switch for accessing the electronic tattletale features of the tach is hidden from view.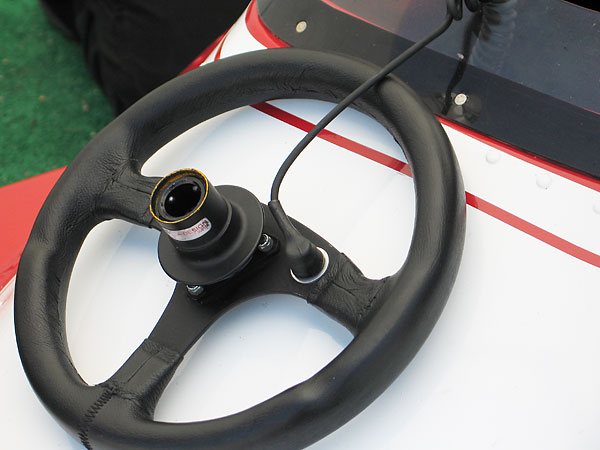 Racetech steering wheel with SPA Design quick release hub.


Exterior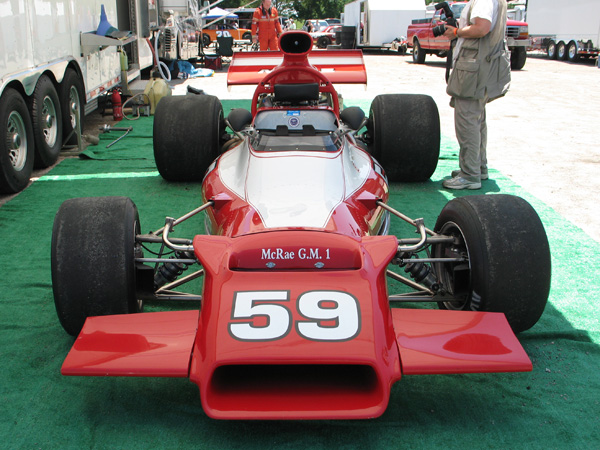 Big engines and tires, but small wings! The front wings don't even have end plates or Gurney flaps.
The GM-1 chassis wasn't designed to utilize a lot of downforce, so it would be obsolete soon.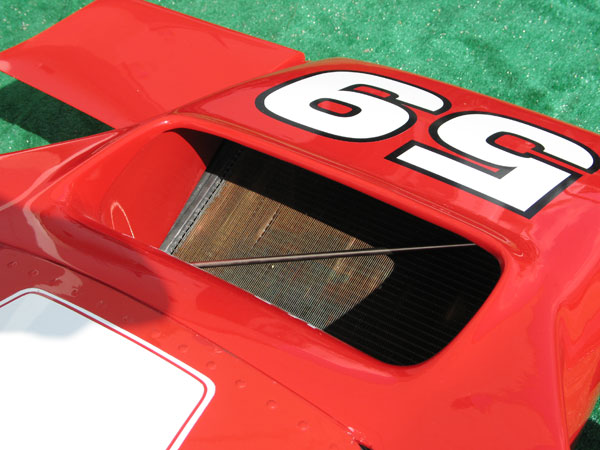 This original, five-row, copper and brass radiator is sufficient for sprint races, but not more.
In addition to bigger wings, the GM-2 model would feature dual radiators mounted in side pods.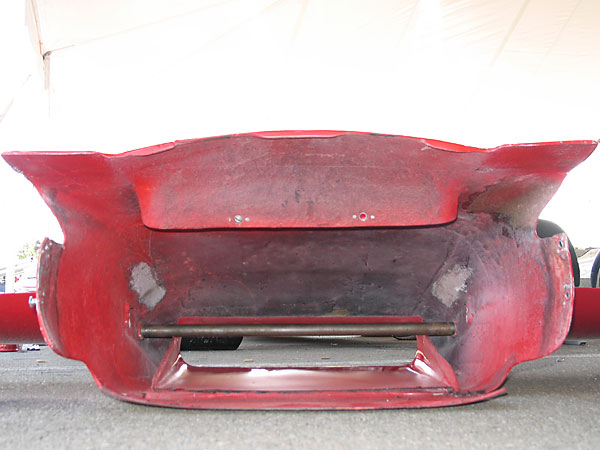 The nose cone is easily removed (via six Dzus clips) to access the radiator, and also the master cylinders.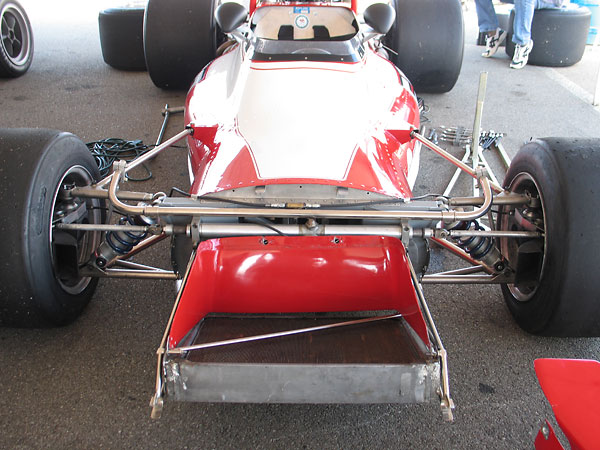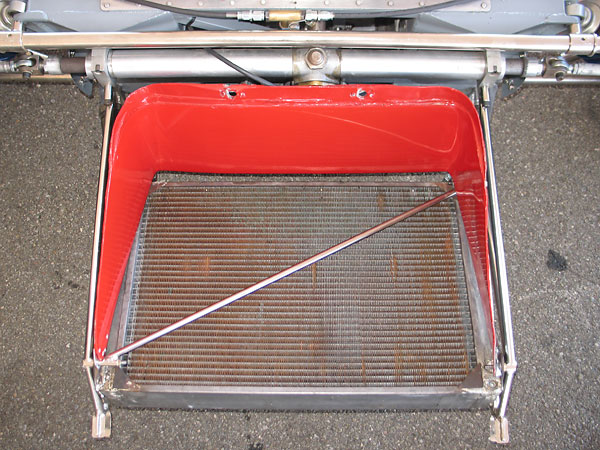 Just behind the radiator is a hinged deflector panel. (Shown here in the down position.)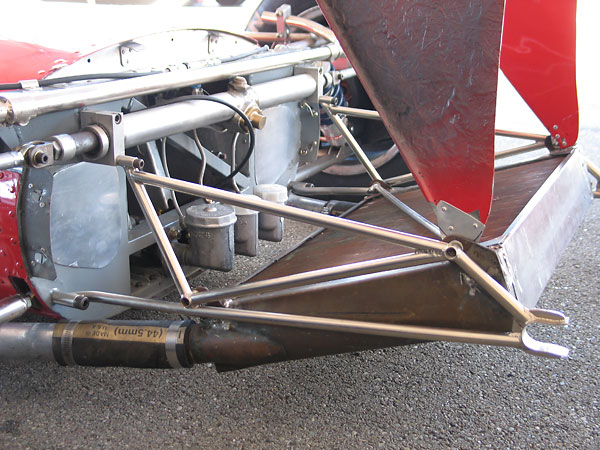 The air deflector swings up to provide easy access to the master cylinders.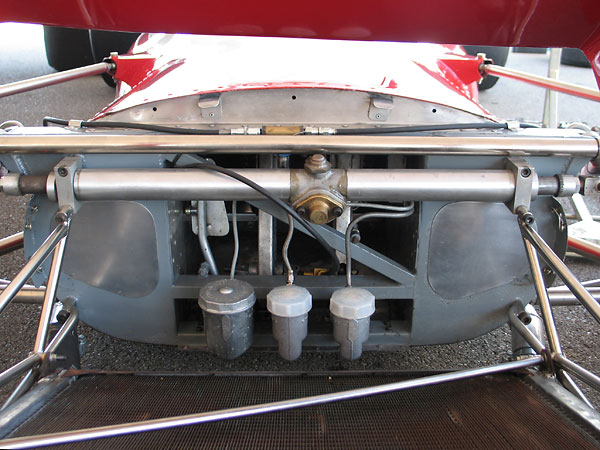 Girling master cylinders.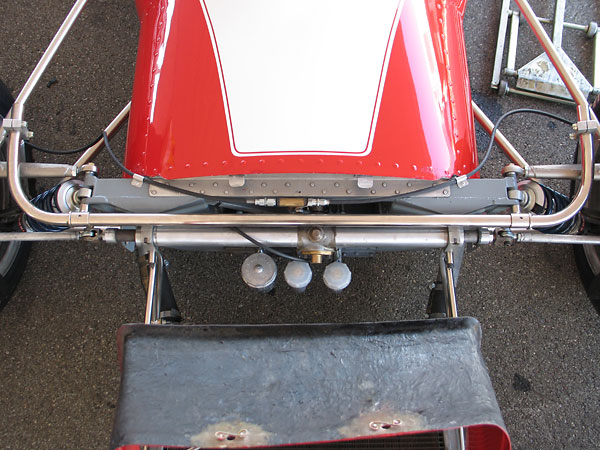 The front anti-sway bar is very conventionally designed.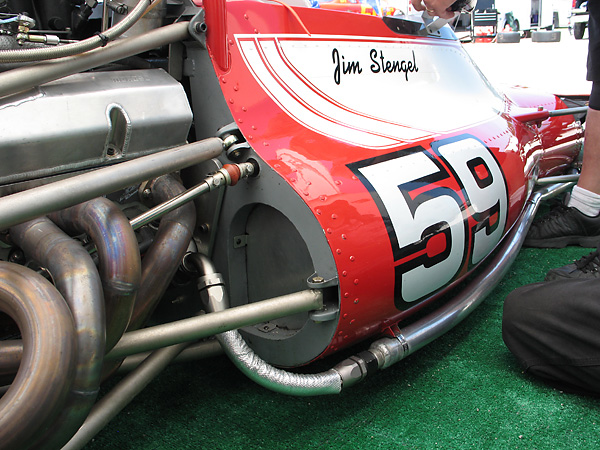 Cooling system plumbing on the outside of the chassis is exactly "as original".
Also shown is the rearmost of three bulkheads in the monocoque chassis.
They're elaborate fabrications of light gauge (0.032" and 0.049") steel.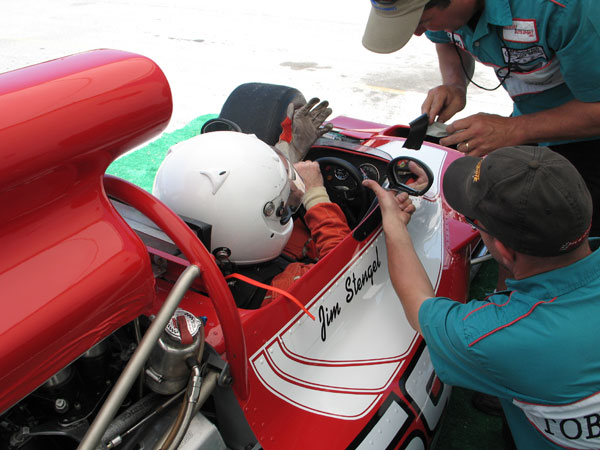 The monocoque's outer skin is beautifully sculpted in a relatively soft aluminum alloy (e.g. 3xxx series.)
Approximately twelve different pieces of thin sheet were oxyacetylene welded together to construct it.
The flatter interior panels and the floor were constructed from stronger heat-treatable alloys.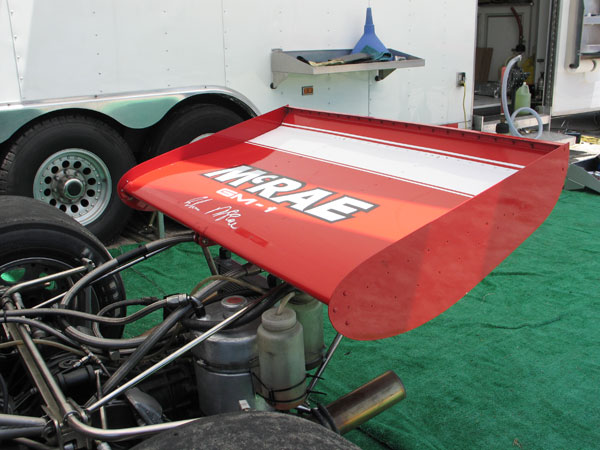 The purpose of racecar wings is to create aerodynamic downforce that translates into traction for cornering.
The trick is to maximize downforce without sacrificing too much speed to drag. The "Gurney flap" at the rear
edge of this wing remarkably improves its effectiveness. The upturned strip creates twin vortices immediately
behind its upper edge, and a low pressure area behind them. The results: airflow tends to stay more laminar
along the bottom surface of the wing and the wing can be tilted downward more aggressively for even more
downforce. Dan Gurney discovered this trick in 1971. It took a year for other teams to catch-on and copy him.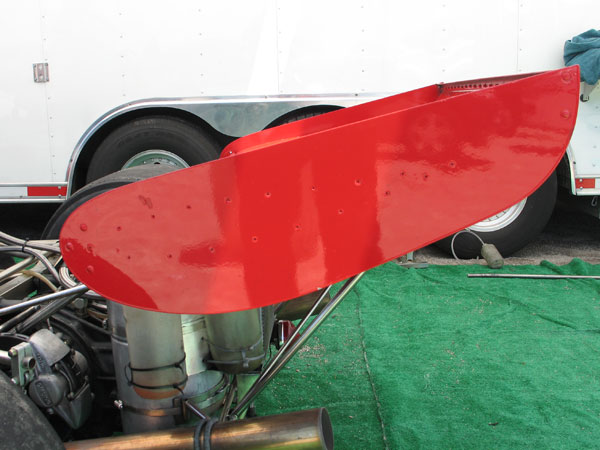 With higher pressure air above the wing and lower air pressure below, airflow around the ends of the wing
would inevitably occur if not blocked by end plates. The shape and size of the end plates determines their
effectiveness and also how much drag they cause. As the state of the art evolved, end plates were extended
progressively lower until they were at least three times the chord thickness below the lower wing surface.
(In other words, this wing's end plates would be considered small by even mid-seventies standards.)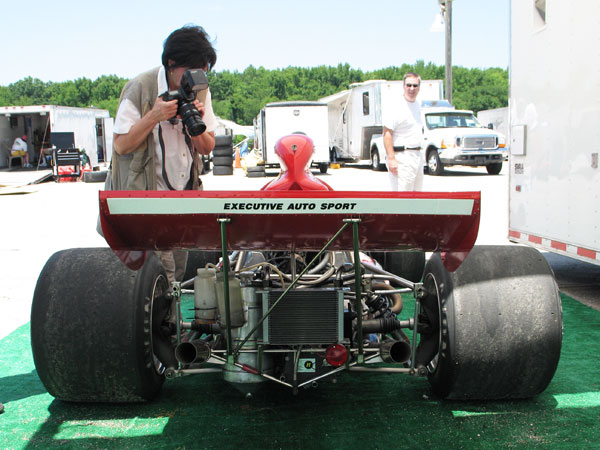 Ultimately, the rear wing can only be so effective because it's blocked by the engine, roll hoop, etc.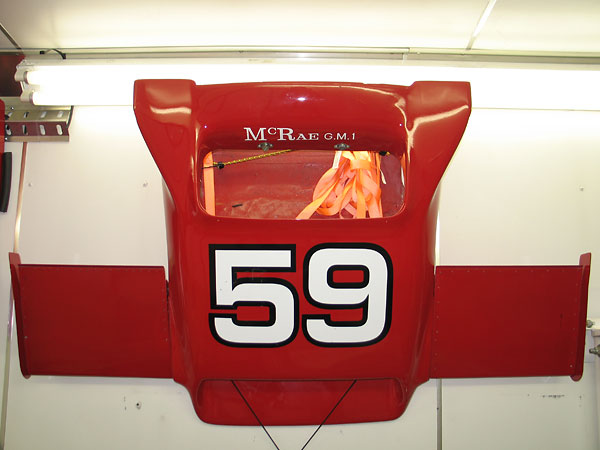 This nose cone is a spare and its design is a little different. Note that the wingslets feature "Gurneys"
and that it has end plates. This illustrates how the car would have been raced in 1974 or later.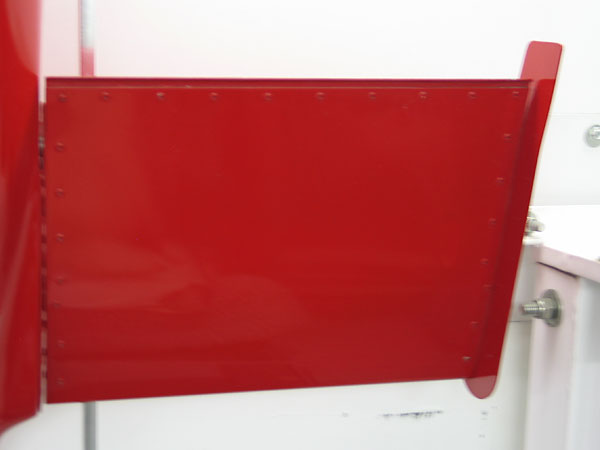 There are three selectable wing angle positions.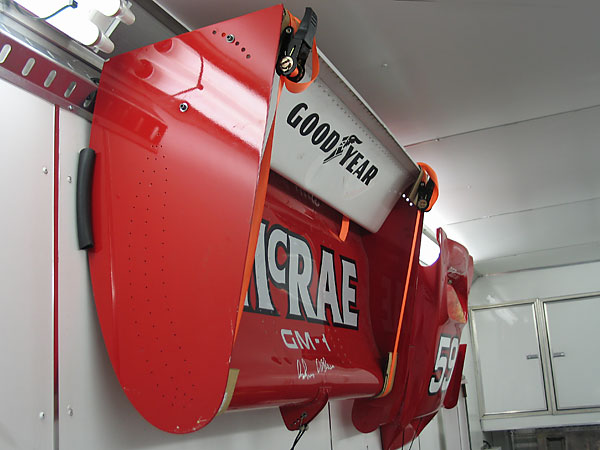 This is a much more aggressive rear wing assembly. The smaller airfoil at the back is called a Fowler flap.
Note the recess in the main airfoil below the Fowler. The two airfoil shapes are designed to work together.
They're adjustable too: the whole assembly has five selectable positions, and the Fowler has six positions.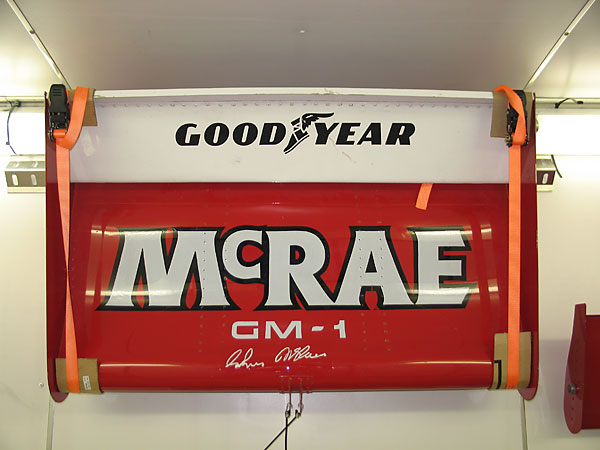 Yes, that's really Graham McRae's autograph.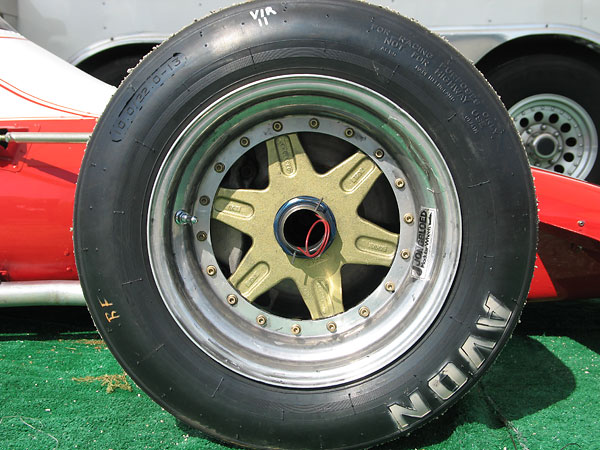 Front: Jongbloed modular racing wheels with Avon 10.0/22.0-13 bias-ply racing slicks.
On this wheel, the center section is magnesium and the two rim halves are aluminum.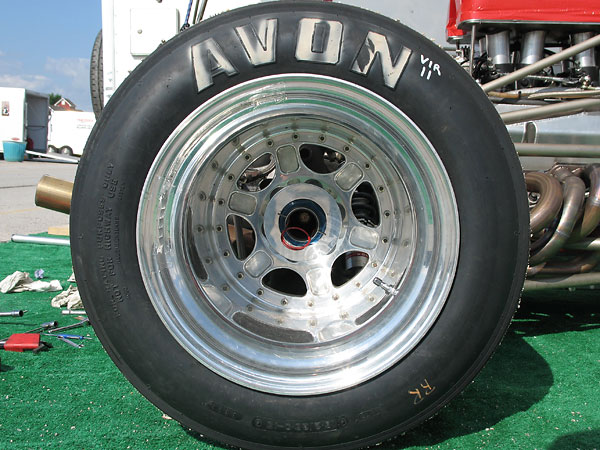 Rear: modular racing wheels with Avon 16.2/26.0-15 bias-ply racing slicks.
(Note: the photos show the wheels that were on the car when we visited. They represent two of three sets
Jim owns for the car. The third set are three-piece, all-magnesium Melmag wheels. These were THE wheel
associated with Formula 5000 in the early seventies. They were lightweight and available in wide widths.
Melmags were glued together without bolts or rivets. Adhesives are great in shear, but not so strong in
tension. They also break down over time. The Melmags are cool, but they don't get raced-on anymore!)


All photos shown here are from June 2009, when we viewed the car at The Heacock Classic Gold Cup at Virginia International Raceway, or from September 2009 when we viewed the car at The US Vintage Grand Prix at Watkins Glen. All photos by Curtis Jacobson for BritishRaceCar.com, copyright 2009. All rights reserved.



Notice: all the articles and almost all the photos on BritishRacecar.com are by Curtis Jacobson.
(Photos that aren't by Curtis are explicitly credited.) Reproduction without prior written permission is prohibited.
Contact us to purchase images or reproduction permission. Higher resolution images are optionally available.