Tom Grudovich's 1960 Lola Sports Mk.1 Race Car
Owner: Tom Grudovich
City: Palm Beach, Florida
Model: 1960 Lola Sports Mk.1
Engine: Coventry Climax FWB (1460cc)
Race prepared by: Michael Clifford and Larry Thew
Eric Broadley, Lola Cars Ltd., and the Mark One Model
Eric Broadley designed and prototyped his Sports racing car in 1958 before founding a company to manufacture it. The new car was only the second he'd ever built. In designing it, Broadley focused on challenging Lotus Engineering in the small bore sports racing classes they had dominated for two years with their Eleven and Eleven Series Two models. Small displacement sports racing classes had become very popular, largely due to the Lotus Eleven's merits. Lotus Engineering's success demonstrated that these classes presented a ready and profitable market, and a good stepping stone toward more prestigious classes - not just for racers, but also for constructors.

Like the Lotus Eleven, the Lola Sports was designed around the Coventry Climax FWA engine. Eric Broadley believed he could beat Lotus at their own game by creating a sports racer with smaller frontal area, superior rear suspension, and lower overall weight. We don't have accurate measurements with which to quantify and compare crossection or coefficient of drag, although the Lola appears smaller in profile. The Lola Sports does have a particularly effective independent rear suspension, which is at very least equal to the Lotus Eleven DeDion suspension (and it certainly has less unsprung weight). Depending on customer specification, the car typically weighed 810 to 840 pounds, which is about a hundred pounds less than a comparably specified Lotus Eleven. Lotus engineer Michael Costin included a glowing detailed analysis of the Lola Sports in his book Racing & Sports Car Chassis Design and particularly praised its frame: "with a stiff, well-designed chassis, it could well go down to posterity as one of the classic cars of the post-war era."

Broadley soon proved out his ideas on the racetrack, finishing second at Snetterton in the prototype's second race. He followed up immediately by winning at Brands Hatch with a 24 second margin of victory. The Lola prototype was the first sportscar to lap the Brands Hatch club circuit in less than one minute. Frankly, few people attributed Broadley's racing success to his driving: his car was obviously superior, right out of the box.

Then Lotus made a bad mistake. They reacted to Broadley's success by throwing together their answer too quickly. The Lotus Seventeen model looked good on paper, and even in real life when parked. It featured an even lower and lighter design, plus an all wheel independent suspension featuring Chapman struts. However, it was undeveloped when they introduced it and its front suspension design quickly proved dangerously flawed. Due to unpredictable handling, Lotus requested that customers bring their Lotus Seventeen race cars back so an entirely different front suspension could be retrofitted. (Nineteen of the twenty customers complied.) Whether the suspension redesign fixed the problem is almost immaterial, the debacle had underlined the Lola Sports' reputation as THE sports racing car of 1959.

Success continued on the racetrack too, of course. Lola Mark Ones swept first, second and third place in the 1959 Chichester Cup at Goodwood, and they scored a victory at Clermont-Ferrand as well as taking a class win in the RAC Tourist Trophy. In 1960, Lola Mark Ones finished first and second in the Autosport Sports Car Championship's 1150cc class. (They repeated this victory in 1961.) Privately entered Lola Mark Ones took class wins at the Sebring 12 Hours and the Nürburgring 1000km in both 1960 and 1961.

The Lola Mark One model accomplished just about everything Eric Broadley could have hoped for it. It established his reputation as one of the keenest car designers in the world, while assuring the viability of his new company. The Mark One might have been even more commercially successful if its introduction could have come a little sooner, because the newly introduced Formula Junior class did cut into the popularity and growth rates of the Sports classes. Soon, Lola would introduce their own Formula Junior. The new Lola Cars company would never grow into as large a concern as Lotus, but it did endure forty years and produce over a thousand cars, spanning nearly every high level racing class.

The Lola Heritage register recognizes thirty-four original, serial-numbered "Lola Mk1" cars from the first prototype of 1958 to the end of series production in 1962¹.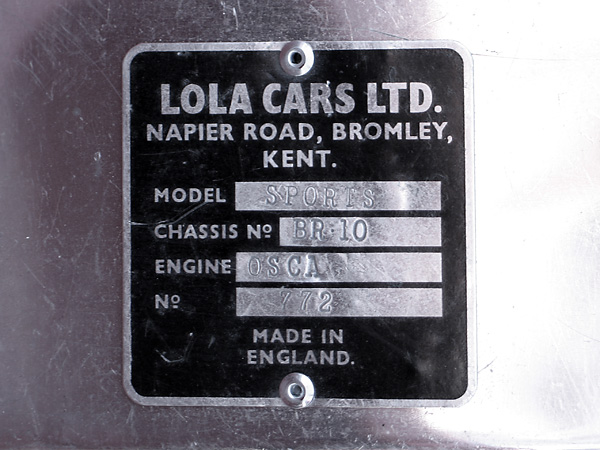 LOLA CARS LTD., Napier Road, Bromley, Kent.
Model: Sports - Chassis: BR.10 - Engine: OSCA - No. 772
Made in England.



Tom Grudovich's Lola Mark One
Of all the original Lola Sports Mk.1 cars, chassis number BR-10 is exceptional: it was built to unique specifications, it had a particularly successful racing career, and it's now been restored to absolutely pristine condition for vintage racing.

BR-10 was specially built for Oliver ("Ollie") Schmidt, a Volkswagen/Porsche dealer from Chicago who was already one of the quickest drivers in SCCA's 750cc "H-Modified" class. When Schmidt read about the new Lola, he quickly came to the conclusion it might also excel in the H-Modified class, so he arranged a visit to the new Lola workshop. Upon confirming his initial impression, he wrote out a special order for a Lola Mk.1 to be powered by an OSCA 750cc engine².

Schmidt's new OSCA engine arrived at the Lola workshop in January 1960. When it arrived, the Lola staff found it more different from a Climax engine than they'd anticipated. OSCA had newly re-engineered their dual overhead cam cylinder head with carburetion on the left and exhaust on the right (i.e. flipped 180 degrees from their earlier design. The Climax FWA engine has both induction and exhaust on the lefthand side.) The chassis Lola had started building for Schmidt was exchanged for a different one. Chassis number BR-10 needed to be built with a few special design modifications to suit the OSCA engine.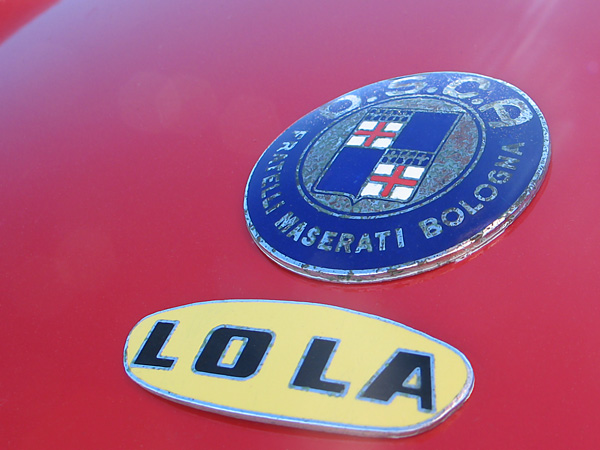 Ollie Schmidt's one-of-a-kind Lola-OSCA dominated SCCA H-Modified racing in the 1961 season.
Schmidt won eight victories in ten races to easily secure the Championship.


Schmidt's original OSCA S187N engine had a 64mm bore and 58mm stroke for a displacement of 745.9cc. Its static compression ratio was about 9.5:1. In 1963, SCCA raised the displacement limit for their H-Modified class from 750 to 850cc, so the engine was bored to 68mm for a new displacement of 843cc. Weber 33DS twin-choke carburetors were used through its racing career.

For the 1962 season, Ollie Schmidt sold the Lola-OSCA and moved up to G-Modified with a new 1100cc OSCA powered de Tomaso. New owners John Holmes and Guy Bates took the Lola-OSCA to fourth place in 1962 SCCA H-Modified standings with Holmes driving, and fourth place in the northeast region with Bates driving. The two owners also raced their 750cc Lola-OSCA throughout the 1963 season. They were somewhat less successful because SCCA increased the H-Modified displacement limit to 850cc. In autumn 1963 they rebuilt the engine with enlarged cylinder bores so they could continue racing it for several more years. At about this time, the H-Modified class was replaced by the D-SR class.

In 1968, the Lola-OSCA was sold to Larry Green and M.P. Valsainer. They logged occasional race victories, including a first-in-class finish by Green at SCCA's 1969 June Sprints.

Early in the 1970s, the Lola-OSCA's ownership transferred to Francis Ginther. Ginther wasn't a driver, but he appreciated the car's unique qualities. He dismantled and carefully preserved it, and kept it tucked away for over 30 years. Finally, under the new ownership of David George and Henry Petronis, the Lola-OSCA was reassembled in 2006. They had the OSCA engine rebuilt using new-old-stock spares that had been stored with the car. It was shown at the 2007 Amelia Island Concours d'Elegance and then put up for sale.

It's a shame when race cars are condemned to museums, and even worse when they're hidden away in private collections. Thankfully, Lola Mk1 number BR-10 has escaped those fates. We applaud Tom Grudovich for purchasing the car to sensibly enjoy it! We're looking forward to seeing Tom racing head-to-head with some of Lola's traditional rivals.

Since the original OSCA engine is irreplaceable in its own right, and also quite expensive to maintain, it's been tucked away for safe keeping. A Coventry-Climax engine was relatively easy to retrofit because it's the engine the Lola Sports (Mk1) was designed around. Furthermore, it's a much more suitable engine for vintage racing because there simply isn't much competition anymore for a car under 750cc to race against. With a Coventry Climax FWB engine (1460cc), the Lola and its driver will get to prove themselves against suitably tough competition. Of course, the OSCA engine can be reinstalled at any time.

We saw and photographed the newly re-engined Lola Mark One on its very first shakedown weekend. We hope you enjoy our exclusive photos!


Features and Specifications
Engine:
Coventry Climax FWB engine, rebuilt to 1460cc with forged pistons and Carrillo rods. (Static compression ratio is about 13:1.) Kent Performance Cams camshaft. Dual Weber 40DCOE18 carburetors on fabricated tubular steel intake manifolds. K&N air filters. Lucas distributor with breakerless electronic igntion module, NGK spark plugs and Accel HiTemp Super Stock 7mm suppression core spark plug wires. Lucas Sport ignition coil. K&N oil filter on Moroso remote filter mount.

Cooling:
original copper/brass radiator. Oil cooler.

Exhaust:
custom long primary four-into-one header. Glass pack muffler.

Transmission:
Taylor Race Engineering Series 26 "Sprite" dog-ring 4-speed gearbox. Tilton 7.25" clutch. Wilwood master cylinder.

Rear End:
B.M.C. differential gear carrier assembly, housed in a Lola cast magnesium housing. 3.90:1 gears and limited slip differential.

Front Susp.:
wide-based fabricated double wishbones with Morris Minor uprights and a B.M.C. steering rack. Carrera (QA1) coilover shock absorbers and springs.

Rear Susp.:
QA1 coilover shock absorbers and springs.

Brakes:
(master) Wilwood dual master cylinders with bias bar.
(front) Al-fin 10" by 2.25" turbo-finned alloy drums, Triumph TR2 (later 10") twin leading shoe brakes.
(rear) inboard Al-fin 9" by 1.75" radially-finned alloy drums, Triumph TR2 (earlier 9") twin leading shoe brakes.

Wheels/Tires:
Cooper magnesium 15x5 eight spoke wheels with Dunlop Racing 204 (hard) compound tires (4.50L-15 front, 5.00L-15 rear).

Electrical:
CarQuest lead acid lawnmower battery.

Instruments:
(left to right) Autometer Sports Comp oil temperature gauge (140-280F), Autometer Sports Comp oil pressure gauge (0-100psi), Stack tachometer (0-8000rpm), Autometer Sports Comp coolant temperature gauge (140-280F).

Fuel System:
ATL five gallon fuel cell. Facet solid state fuel pump. Holley fuel pressure regulator with "RED" 0-15psi fuel pressure gauge.

Safety Eqmt:
hybred RaceQuip/Simpson cam-lock five point safety harness. Quick release steering wheel hub on a RaceTech Design Ltd. steering wheel. FireBottle (Dupont FE-36) 5# centralized fire extinguisher system.

Racing Class:
SCCA H-Modified (originally). SVRA 4/FM (currently).

Engine Installation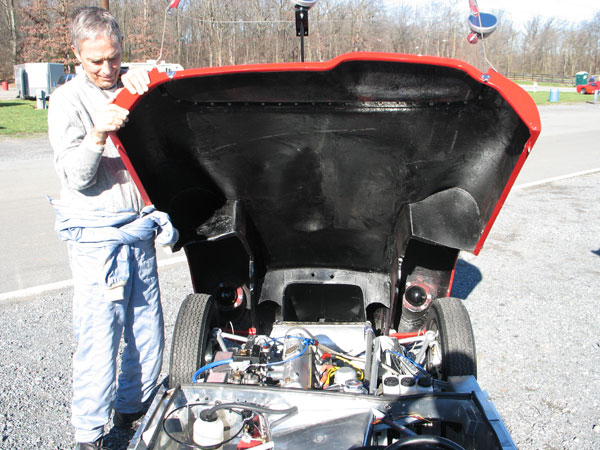 Tom holds open the bonnet of his Lola Sports Mark One race car.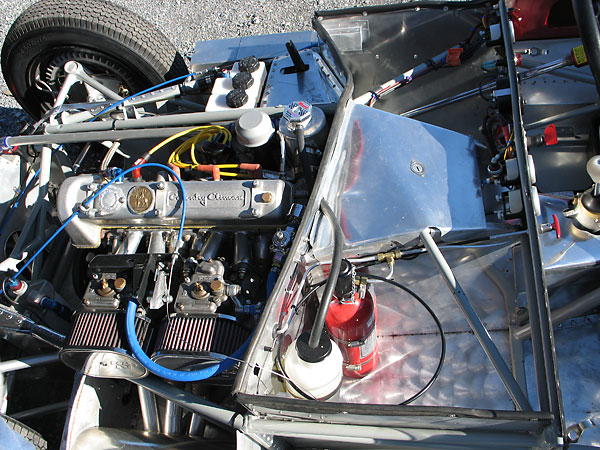 The Lola Mark One's assymetrical spaceframe adds to a general impression of complexity, but more
careful inspection reveals that nothing is redundant. The structure is remarkably stiff and efficient.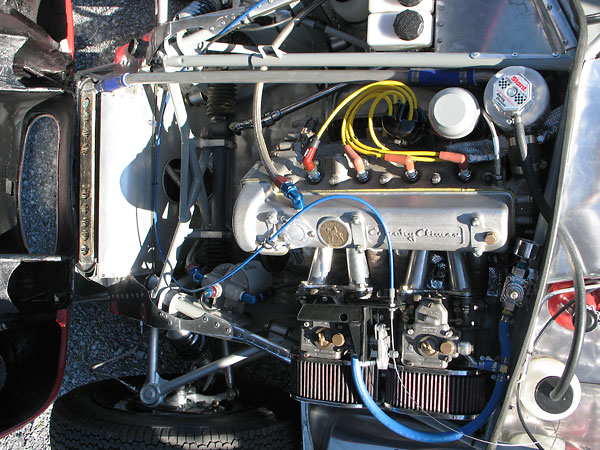 Coventry Climax FWB engine (1460cc).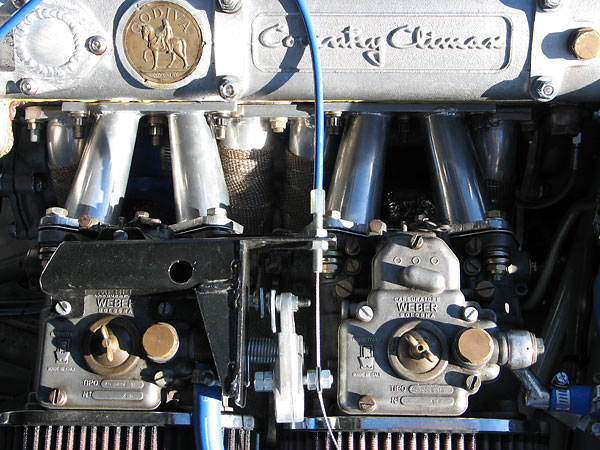 Dual Weber 40DCOE carburetors on fabricated tubular steel intake manifolds.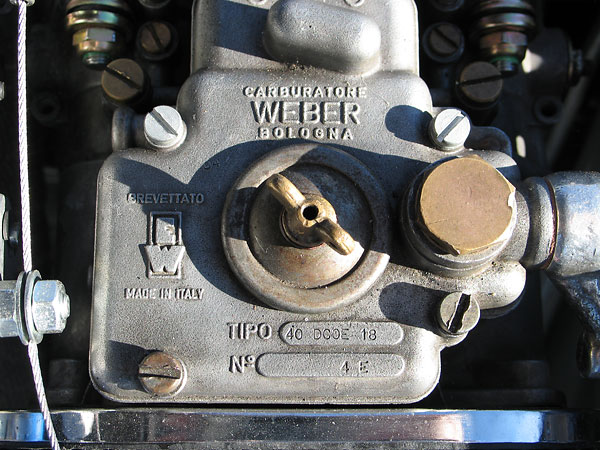 Carburatore WEBER Bologna, Brevettato Made in Italy, Tipo: 40 DCOE 18, No. 4E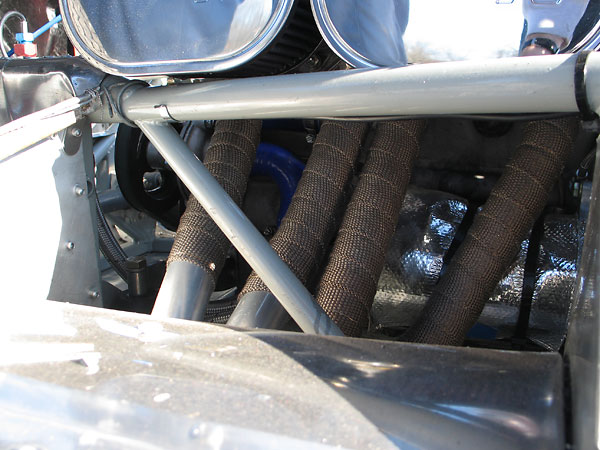 A custom exhaust header routes down from under the carburetors. On the original OSCA engine installation,
the exhaust routed down and out on the opposite side of the car through very long-primary tri-y headers.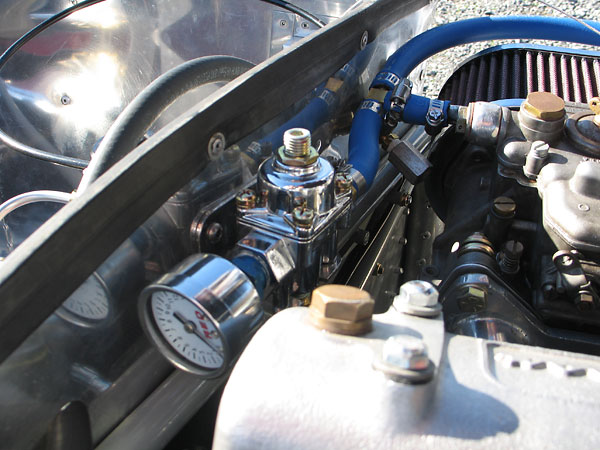 Holley fuel pressure regulator with RED 0-15psi fuel pressure gauge.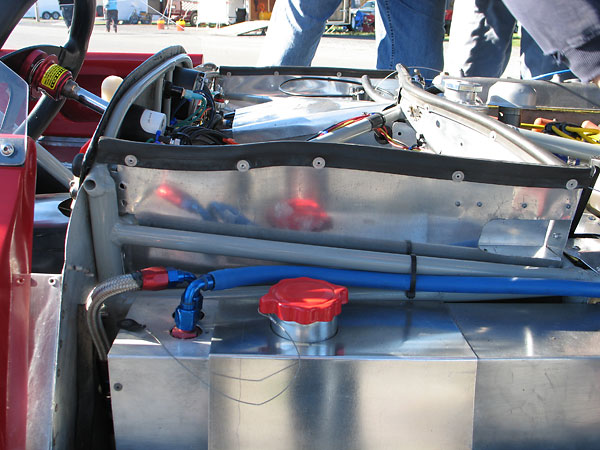 The Lola came standard with one 5.5 Imperial gallon fuel tank mounted outboard of the footbox, strapped
down with bungies. A second fuel tank could be ordered and easily installed outboard of the opposite foot
box. Here, a custom ATL fuel cell has been installed. It's longer than original, and extends further forward.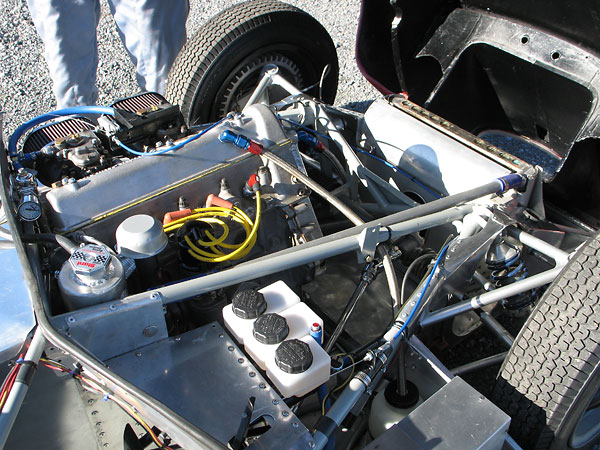 Lucas distributor with breakerless electronic igntion module, NGK spark plugs and
Accel HiTemp Super Stock 7mm suppression core spark plug wires.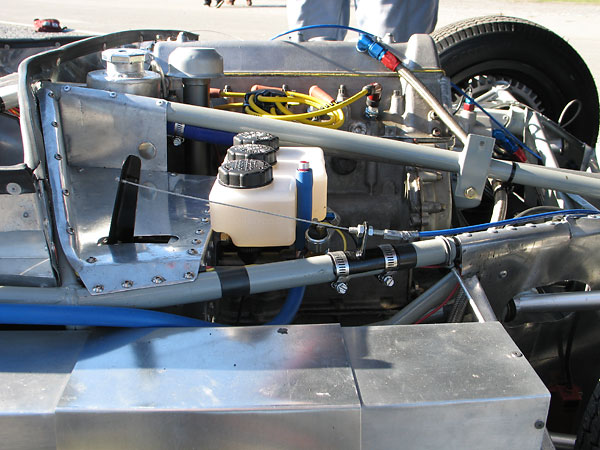 The throttle pedal extends through the top of the footbox, but the original Lola-OSCA pedal didn't.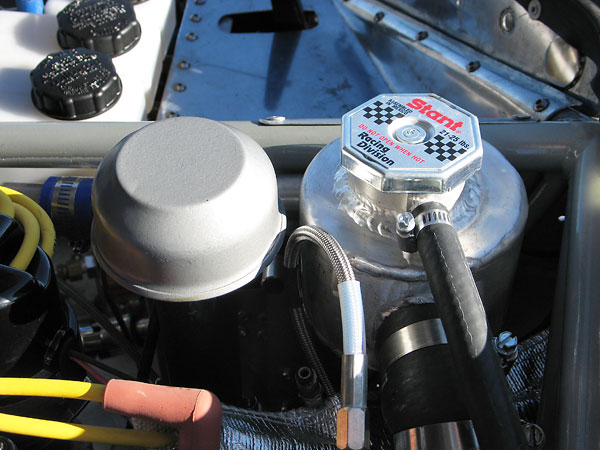 Custom fabricated aluminum coolant header tank with Stant Racing Division 21-25psi pressure cap.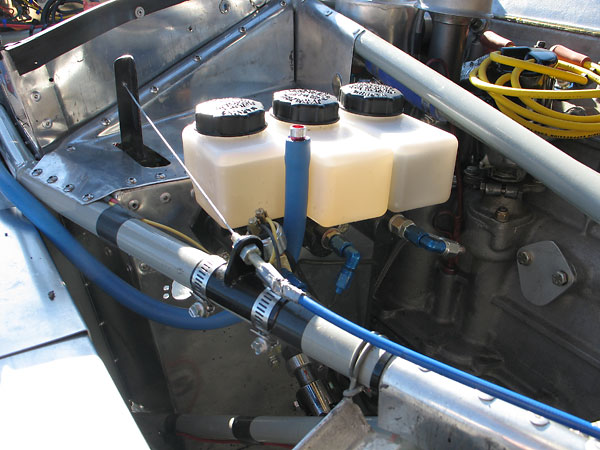 Wilwood dual master cylinders with bias bar. (The car originally had Lockheed master cylinders.)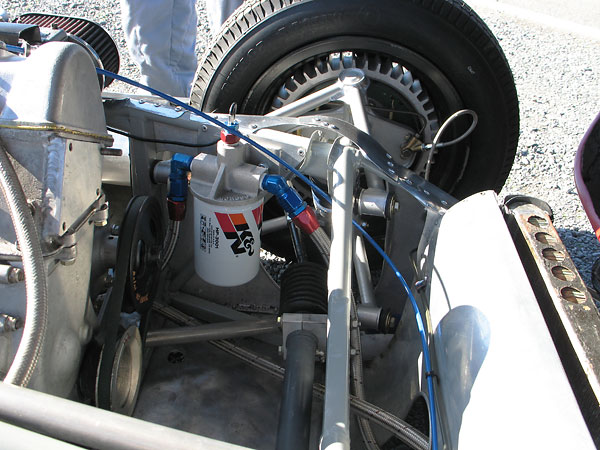 K&N oil filter on Moroso remote filter mount. You can see that the braided stainless lines route to an
oil cooler. Lola offered oil coolers, but suggested they were "quite un-necessary for Climax engines".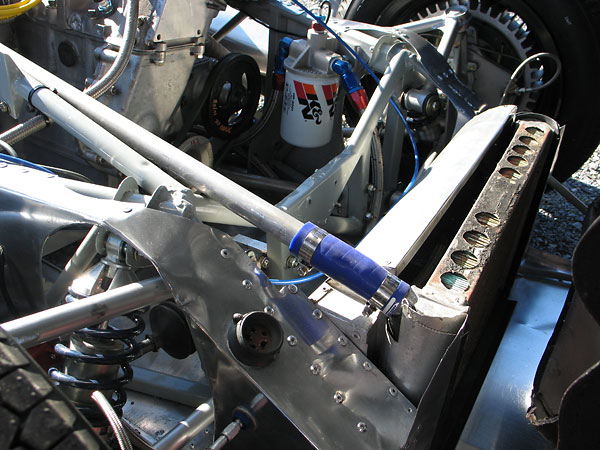 Foreground: a multi-pin connector provides a convenient disconnection point for the headlights.
Right: the radiator and its ductwork appear original.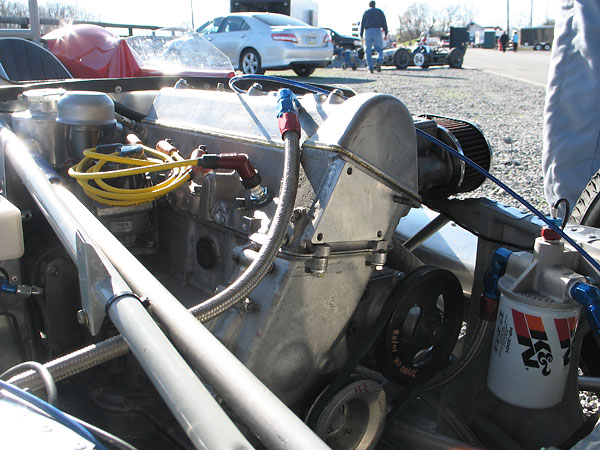 The vertical bracket on the long frame tube at left was originally for mounting an ignition coil.


Front Suspension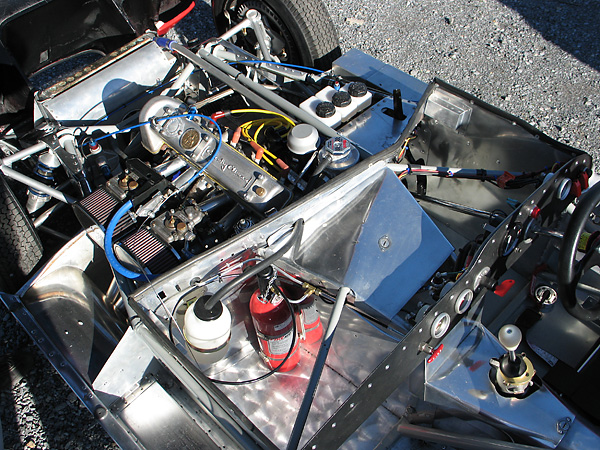 The Lola chassis appears complex. Indeed it is, with up to eight tubes coming together at some nodes.
However, its sixty pound frame provides remarkable rigidity and feeds loads progressively through well
supported and triangulated structures. Complex to build, but effective and quite easily serviceable too!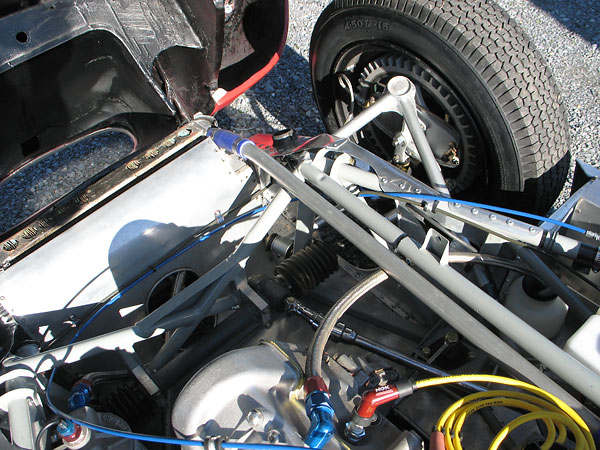 The frame was built from a mix of round and box section tubing - mostly in very thin 20 gage steel.
Generally round tube was used for the more "pure" parts of the space frame because round tubes are
superior at bearing torsional loads, but box tubing performs better where a tube must resist bending
from a load applied along its span. An example of this is where the front wishbones connect to the
frame. Incidentally, in this example the box sections are reinforced with welded-in through bushes.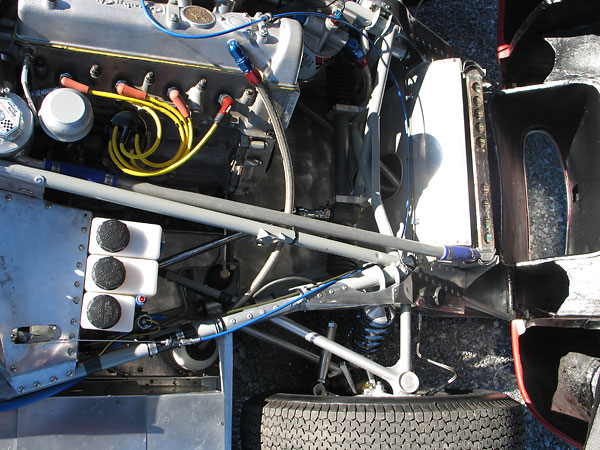 Low temperature bronze welding (not to be confused with "brazing") was used for all frame joints and for
most other fabricated steel parts. This joining technique has become rare because it requires too much
time and skill, but done properly it results in exceptionally fatigue resistant joints with very minimal
distortion over the structure. Lola greatly stiffened the chassis through extensive use of stressed
aluminum skins including the engine compartment under-tray, the floorpan, etc.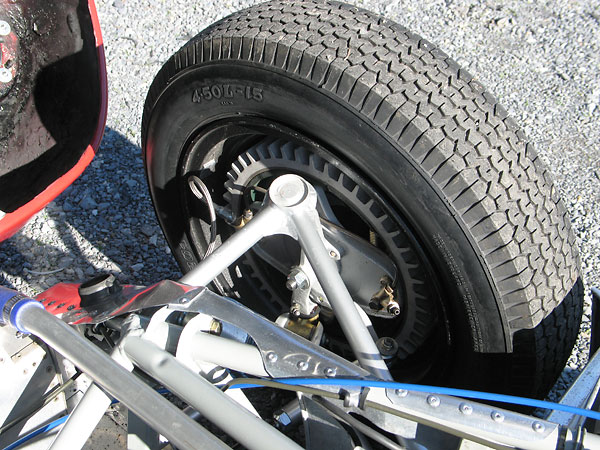 Lola used Morris front uprights, with Triumph (late-TR2) 10" by 2.25" twin leading shoe brakes
within Al-fin turbo-finned drums. The hub was cast as an integral part of the Cooper magnesium wheel
and therefore no separate hub was necessary unless customers specified cheaper pressed steel wheels.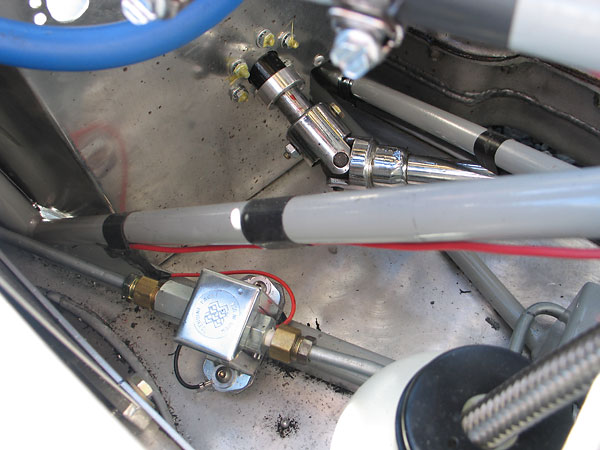 The Lola was originally equipped with an S.U. electric fuel pump. At some point it was converted to dual
Bendix pumps mounted on the firewall by the carbs. Now it uses this lightweight Facet solid-state pump.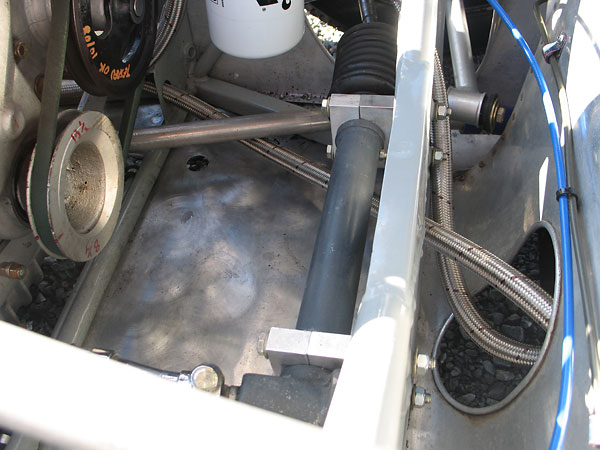 B.M.C. steering rack.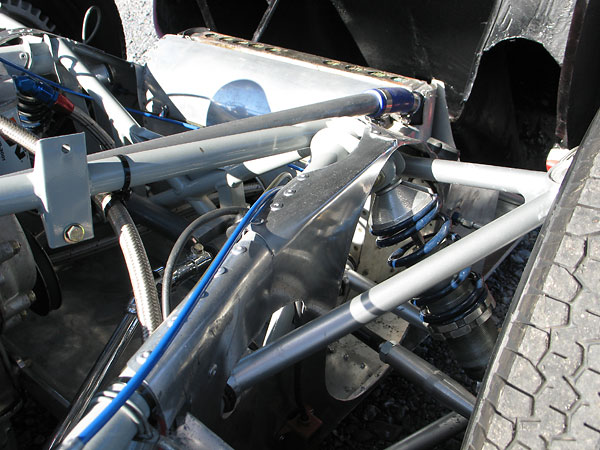 Carrera coilover shock absorbers and springs. (Carrera was bought by QA1 and is now one of their brands.)


Enjoying this article? www.BritishRaceCar.com is partially funded through generous support from readers like you!
To contribute to our operating budget, please click here and follow the instructions.
(Suggested contribution is twenty bucks per year. Feel free to give more!)
Rear Suspension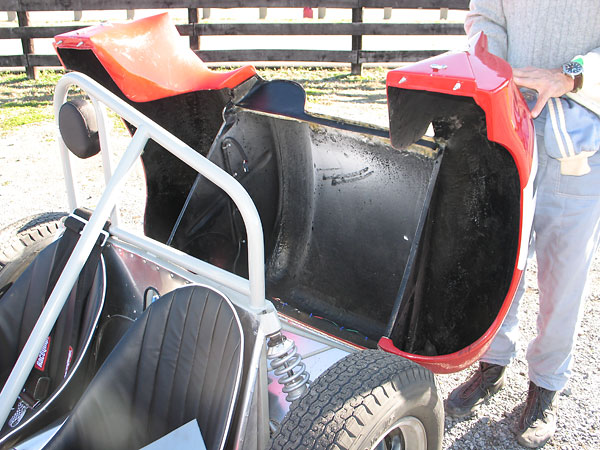 According to Lola literature: "The tail contains sufficient room for the carrying of a spare wheel and
still leaves room for adequate luggage space to conform with F.I.A. Appendix C requirements."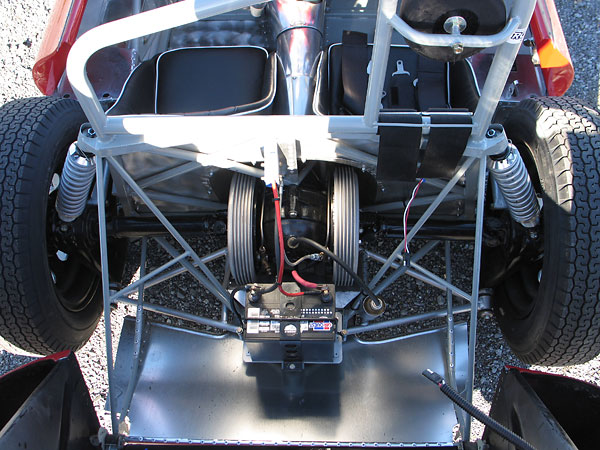 Independent rear suspension with double wishbone geometry using the driveshafts in combination with upper
trailing arms as de facto upper wishbones. Wide-base lower wishbones (behind the hub carriers) are used in
conjunction with steady arms (ahead) to maintain accurate wheel alignment.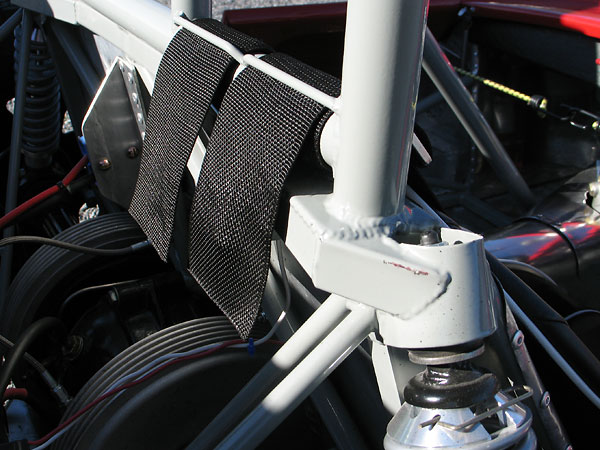 The roll structure's large diameter tubes of thick gage seamless tubing meet modern safety rules.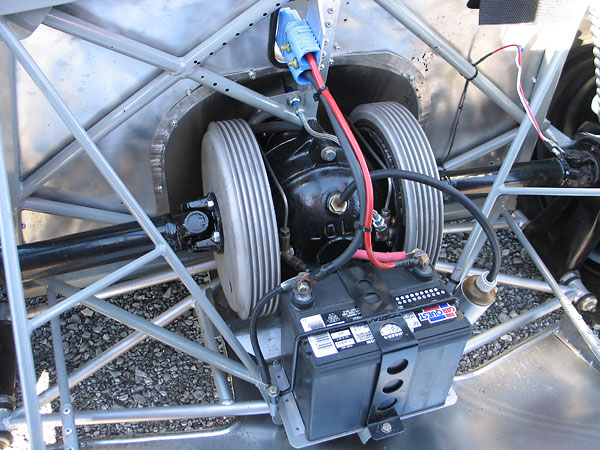 Lola designed a custom magnesium casting to house a regular B.M.C. differential gear carrier assembly.
Racers could choose between 3.7, 4.2, 4.5, 4.875, and 5.375 to one gear ratios.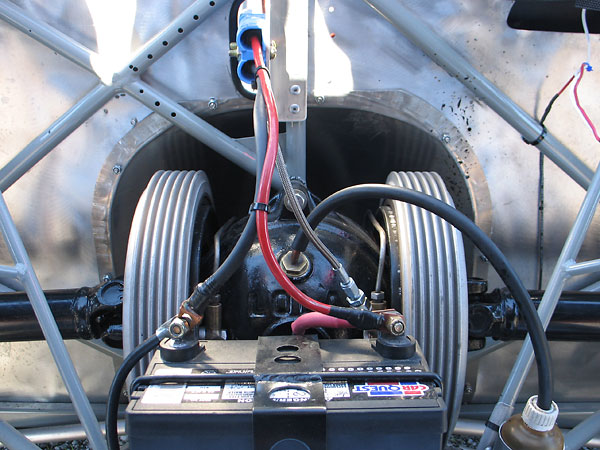 Three bolts mount the differential housing to the frame. A breather is incorporated into the oil filler plug.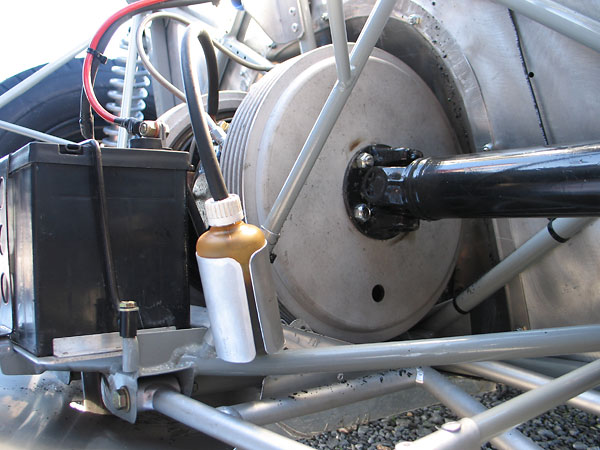 Inboard mounted Al-fin 9" by 1.75" radially-finned alloy drums, twin leading shoe brakes.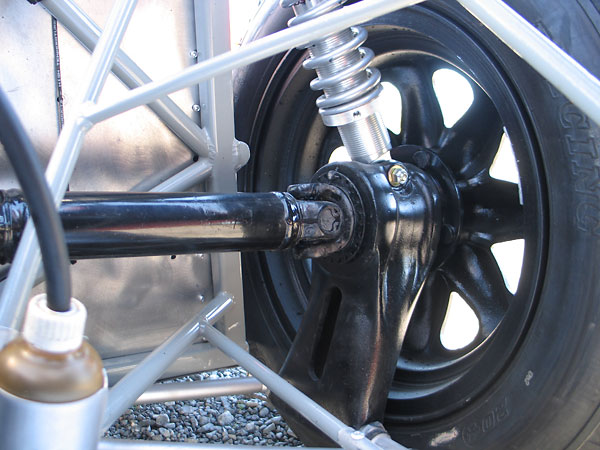 Sturdy cast magnesium hub carrier.
Use of eccentric joints³ allowed fine adjustments of both camber and toe-in.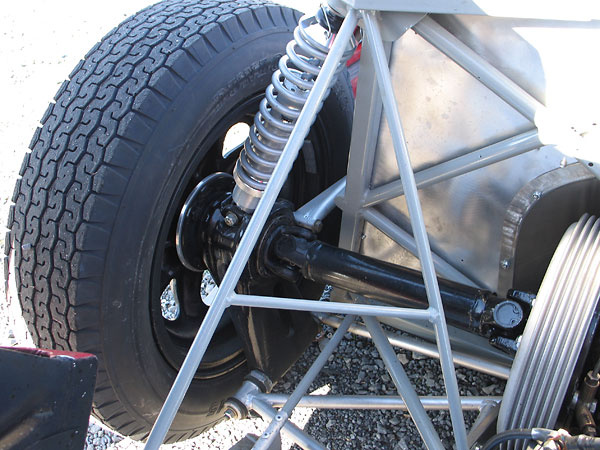 The original Armstrong telescopic hydraulic dampers with co-axial springs have been replaced with
modern QA1 coilover shock absorbers. Rear suspension pivots are either Silentbloc or nylon bushes.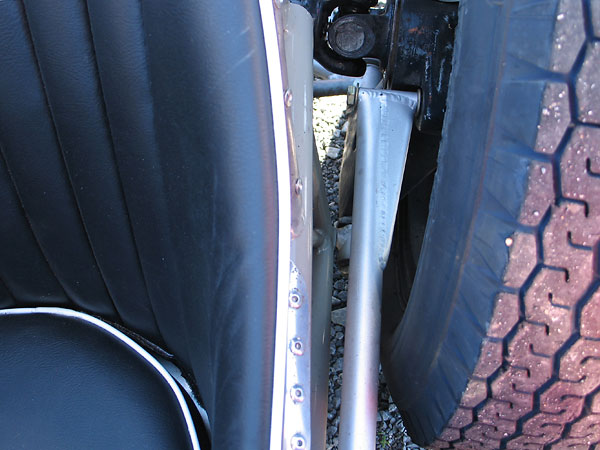 The trailing arms are nice and long, but their length isn't adjustable and they're mounted
in single-shear at both ends.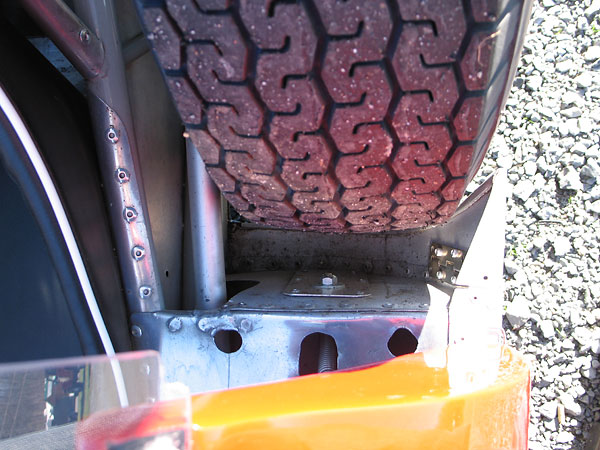 Little doors that facilitate changing rear tires are one of the quirkiest Lola Mark One features.


Interior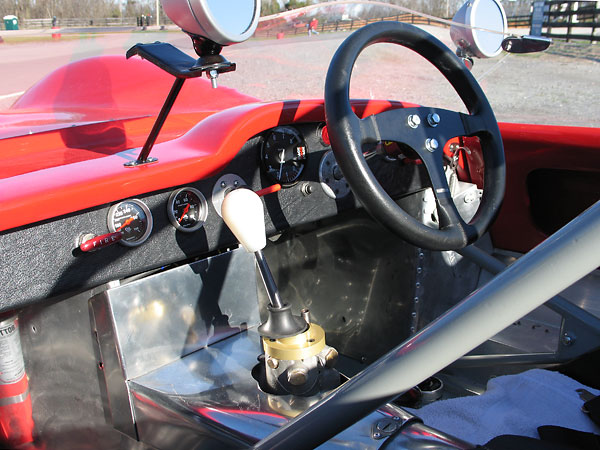 Lola Mark One interior and dashboard.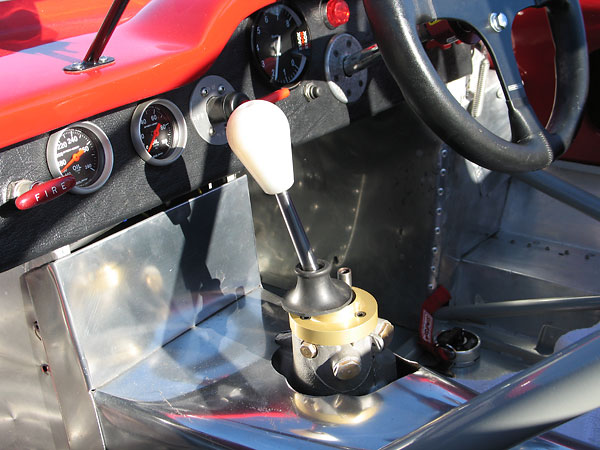 The distinctive shifter of Taylor Race Engineering's (Series 26) Austin Healey Sprite dog-ring gearbox.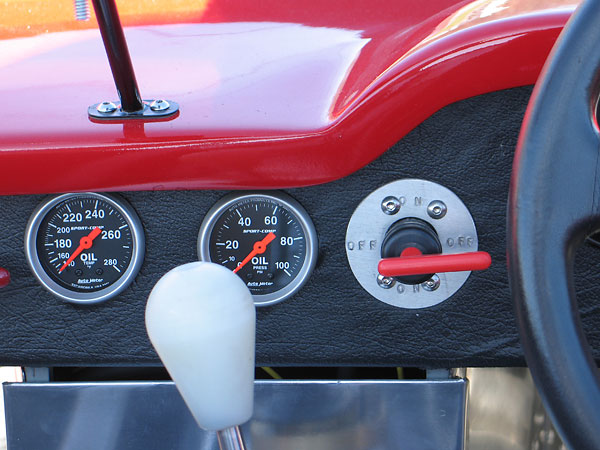 Autometer Sports Comp oil temperature gauge (140-280F) and oil pressure gauge (0-100psi).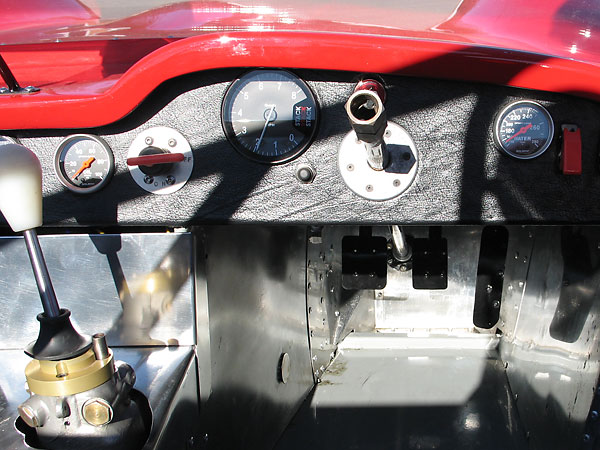 Stack tachometer (0-8000rpm) and Autometer Sports Comp coolant temperature gauge (140-280F).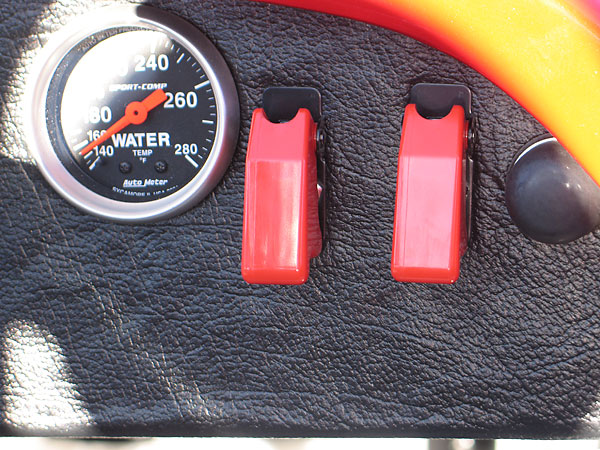 Ignition and fuel pump toggle switches, with safety covers.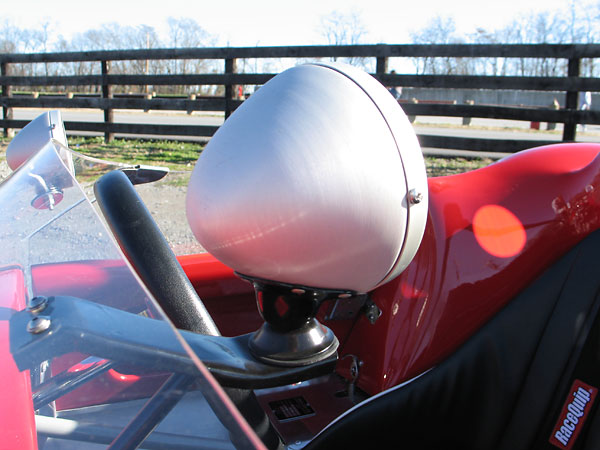 GT Classic mirrors are reproductions of the classic Raydyot design.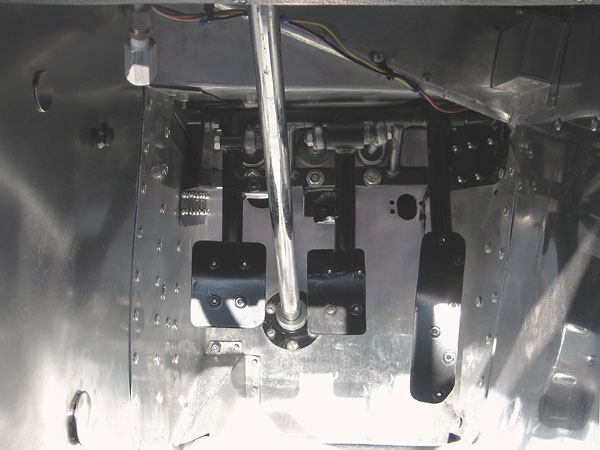 Pedals are original, but the way they attach to master cylinders and throttle cable has been updated.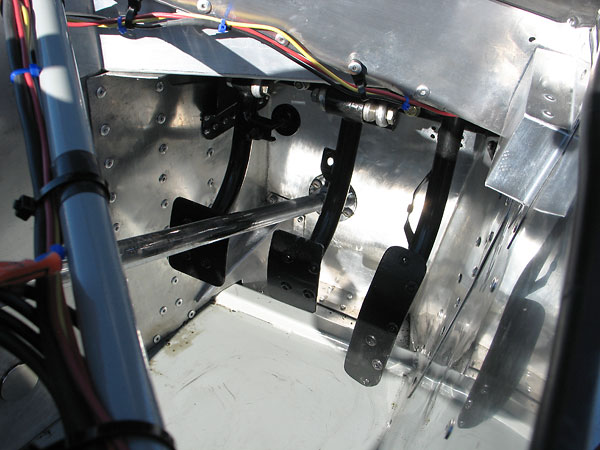 Lola Mark One pendent-mounted pedal detail.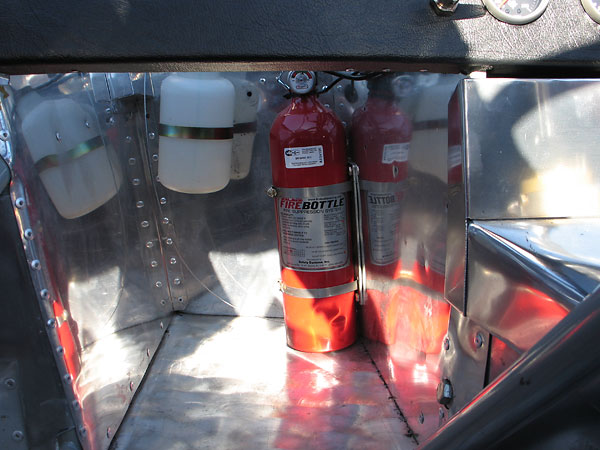 FireBottle (Dupont FE-36) 5# centralized fire extinguisher system.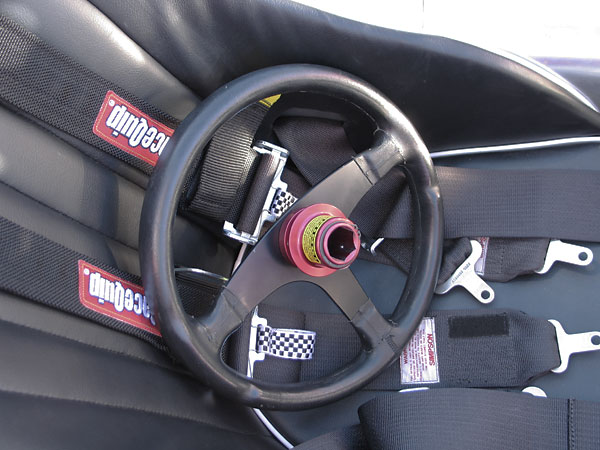 The Lola came standard with a leather wrapped 14" alloy steering wheel. This RaceTech Design steering
wheel is a nice British-made replacement. Its quick release hub is an important safety feature.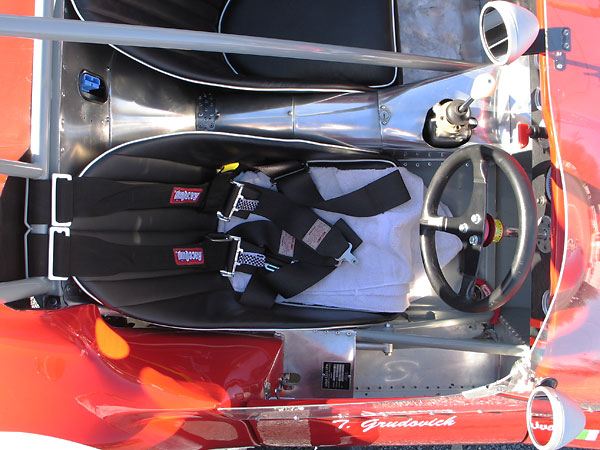 RaceQuip shoulder straps used in combination with Simpson lap belts and camlock mechanism.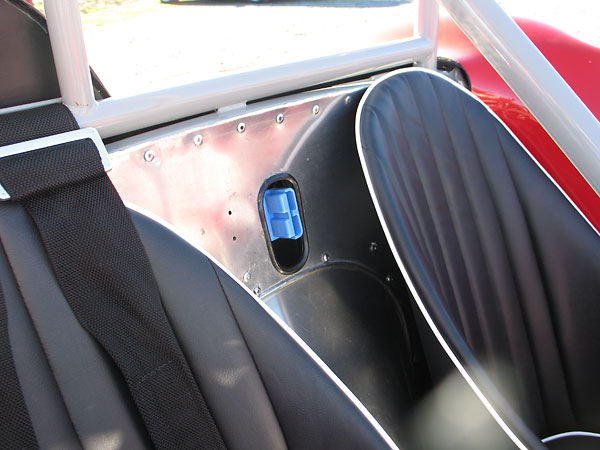 Quick disconnect plug for the battery charger.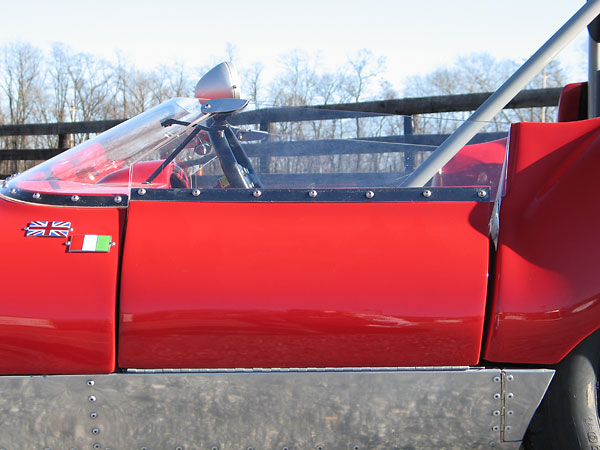 Lola Mark One door and door hinge detail.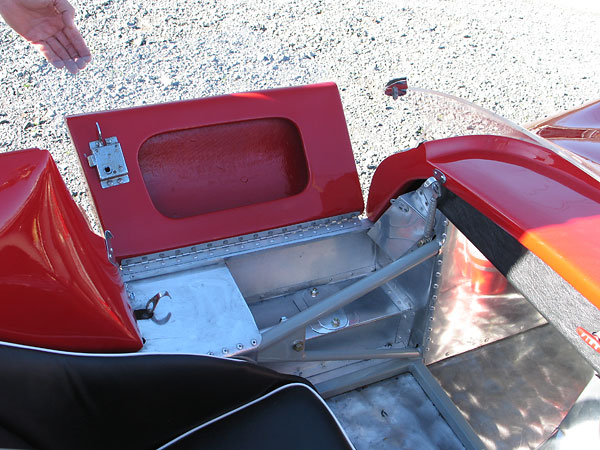 Lola Mark One door in half-open position.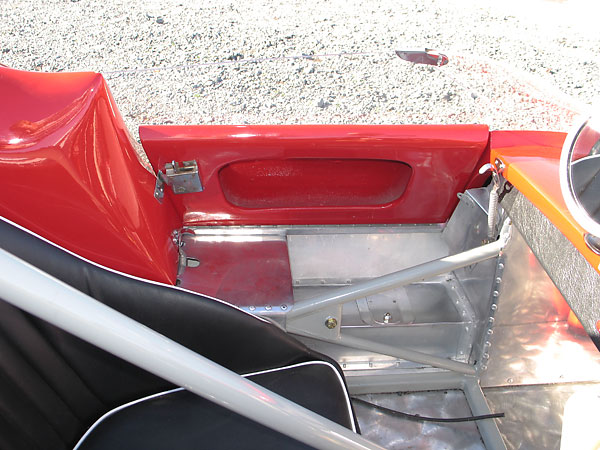 Lola Mark One door in latched position.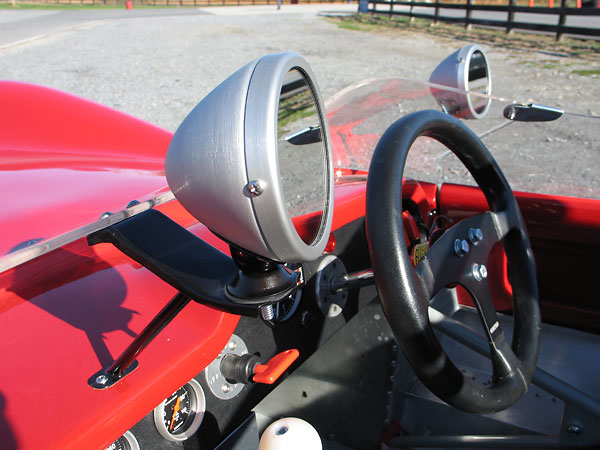 Lola Mark One mirror mounting detail.


Exterior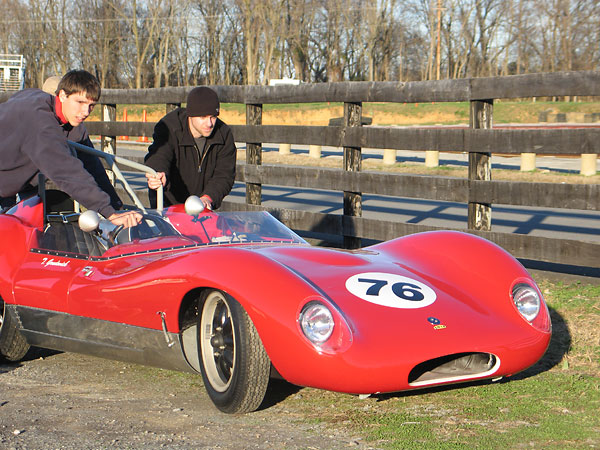 The earliest Lola Sports cars came with aluminum bodies, but from 1960 lightweight "cloth construction"
fiberglass bodies were provided by Specialised Mouldings.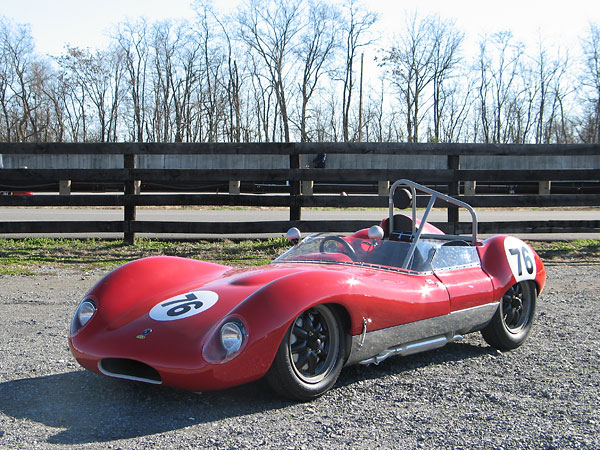 By tinting the resin, color was molded into and through the original body panels to provide a durable,
high gloss finish without the expense of paint. Lola offered customers a choice of six standard colors.
Through its early racing career BR-10 was white with blue accents, followed by an all white paint job.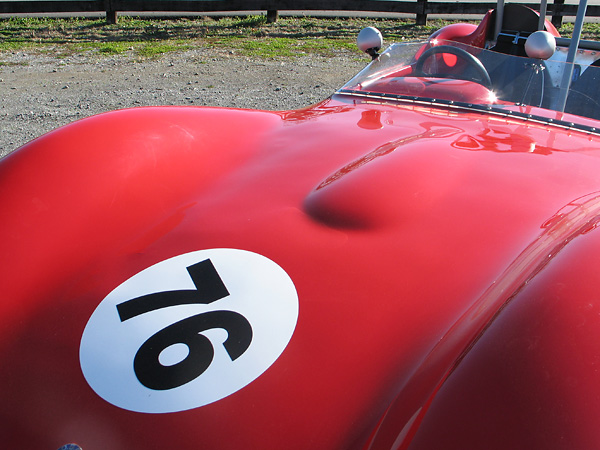 76 is the same number that the Lola wore when Ollie Schmidt drove it.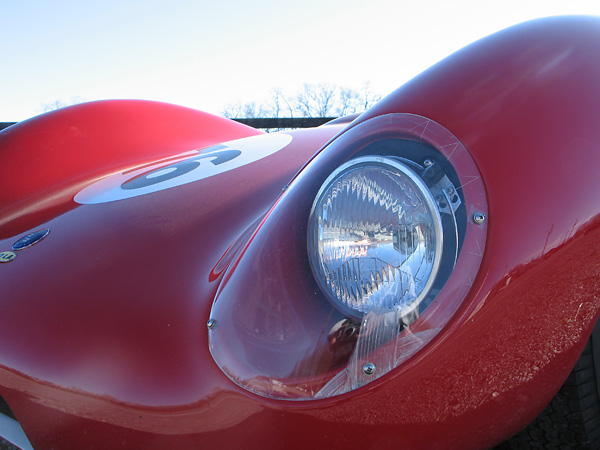 Molded perspex headlamp covers maintain smooth airflow and protect the headlamps from stone damage.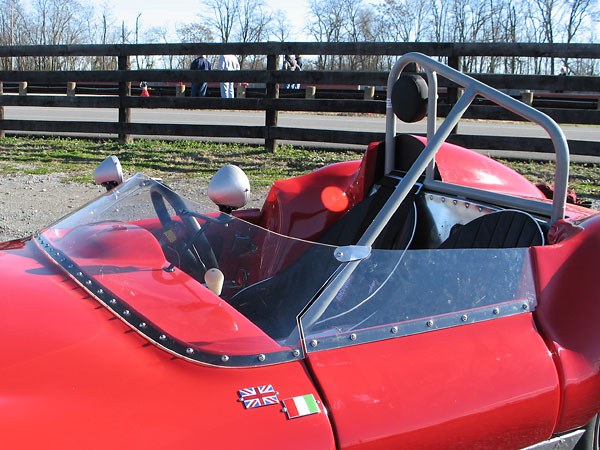 A one piece molded perspex (acrylic) windscreen with matching side screens mounted on the doors
to align with the contours of the tail. Center support to windscreen also carries rear view mirror.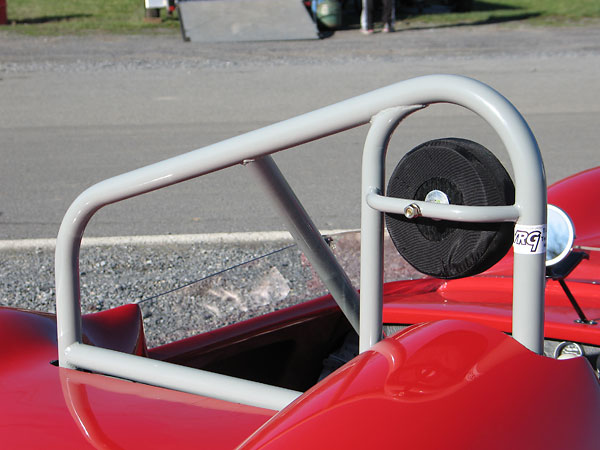 The well-braced rollover hoop and headrest are modern additions, as required for vintage racing.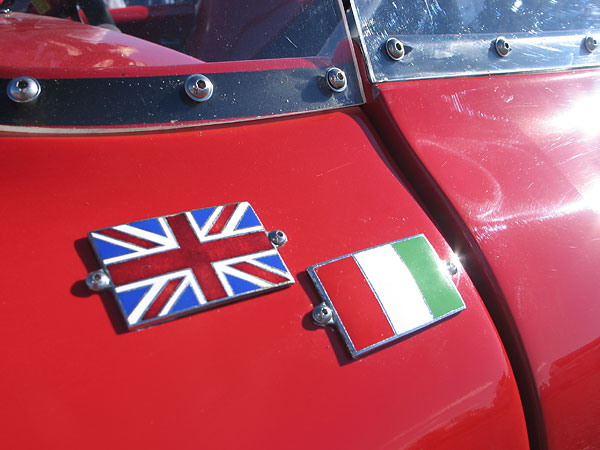 English and Italian flag badges.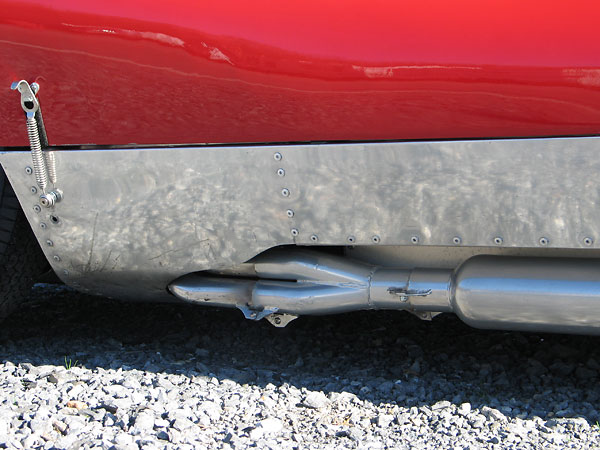 A four-into-one header is currently installed, but Lola Mk.1/Climax cars were originally equipped with
tri-"Y" (4-2-1) headers. Cylinders 1 & 4 were paired, as were cylinders 2 & 3. The pairings were
determined by the engine's firing order. When the OSCA engine was installed, the exhaust exited
on the opposite side of the car.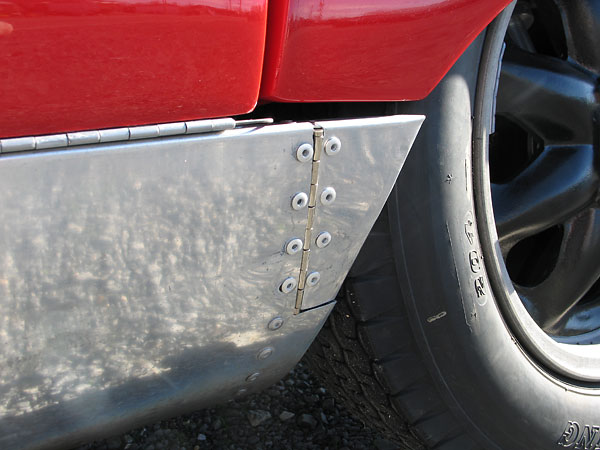 These quirky little hinged doors make rear tire changes a little more convenient.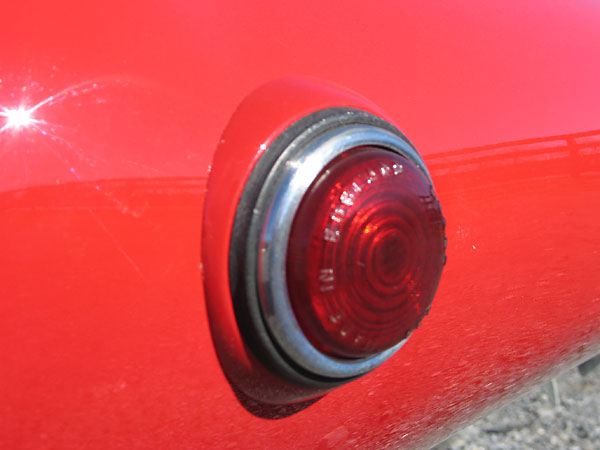 Made in England.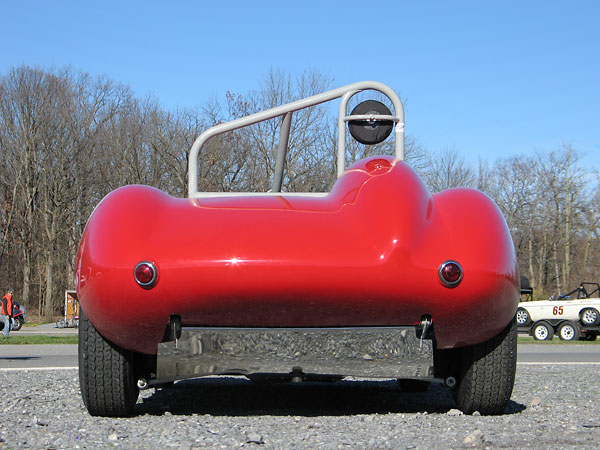 Lola Mark One, as typically viewed from a Lotus.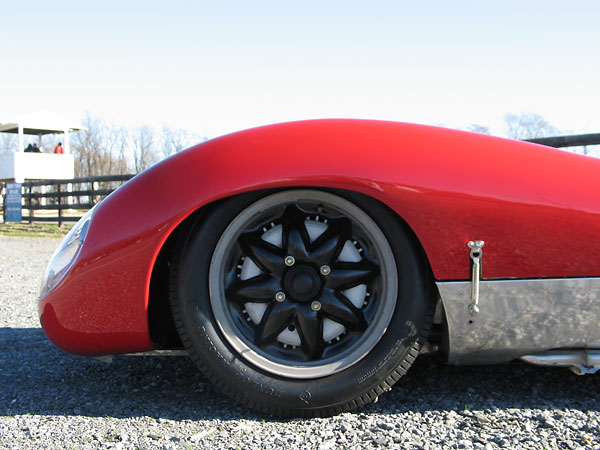 Cooper cast magnesium eight spoke wheels (15x5 all around.)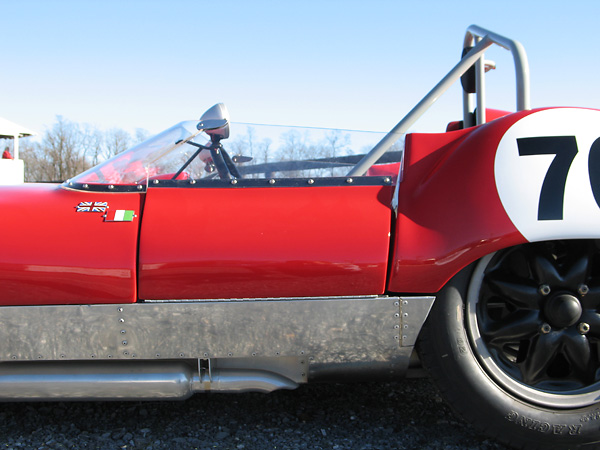 Glass pack muffler.



Dunlop Racing 204 tires (4.50L-15 front, 5.00L-15 rear).


Notes:
(1)
About seven additional Mk.1 cars have existed in some form or other, but accounting is complicated because some of the home market cars were sold incomplete or in kit form (as opposed to exported cars which were generally sold complete) and because replacement frames were offered as a service part. For example, after car BR-11 was wrecked its owner bought a spare frame and built it up into a complete car which wears chassis plate BR-33.


(2)
OSCA was an abbreviation of "Officine Specializzate Costrutzione Automobili", a small company founded in Bologna Italy by three of the famous Maserati brothers. The company was founded in 1947, ten years after they had sold the original Maserati car manufacturing company. OSCA built a series of sports and specialty racing cars and also racing engines through 1967. Before ordering his Lola, Ollie Schmidt already owned a 750cc OSCA racecar, and with it he won the 1960 SCCA H-Modified championship.


(3)
Lola Cars Ltd. provided the following rear suspension set-up explanation to their customers: "At the outer end of the rear wishbone will be seen three large alloy hexagons, one in front of the hub carrier casting and two behind. The rearmost of these three is attached to an eccentric bush in the wishbone pivot and by slackening the locknut on the pivot shaft and turning this hexagon the wheel can be made to toe-in or toe-out. They should be set up between straight ahead and 1/16" toe-in towards the front of the car. To turn the other two hexagons it is also necessary to slacken the two Allen screws in the hub carrier casting which lock them in position: when turned these two will alter the camber angle of the wheel. The recommended angle is 1 to 1.5 degrees negative camber (i.e. leaning in at the top) at the static position including driver's weight. The easiest way to obtain this is to jack the car off its wheels taking care to keep it level and then adjust the wheels dead upright, when the suspension is deflected this will give the required angle. To reduce the angle will make the back of the car slide more easily: by increasing the angle the breakaway point will be delayed until a higher cornering speed is reached but will then be relatively more rapid and give less warning of approach; for this reason we do not recommend that a higher angle than 1.5 degrees of negative camber be used."


All photos shown here are from November 2009 when we viewed the car at the VRG's Turkey Bowl at Summit Point Motorsports Park, West Virginia. Photos by Curtis Jacobson for BritishRaceCar.com, copyright 2010. All rights reserved.



Notice: all the articles and almost all the photos on BritishRacecar.com are by Curtis Jacobson.
(Photos that aren't by Curtis are explicitly credited.) Reproduction without prior written permission is prohibited.
Contact us to purchase images or reproduction permission. Higher resolution images are optionally available.