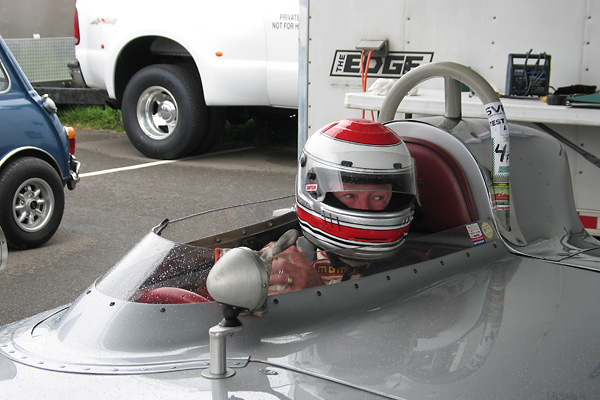 Jeff Snook's Lotus 11 LeMans Race Car, Number 41
Owner: Jeff Snook
City: Bowling Green, Ohio
Model: 1956 Lotus 11 "LeMans", Series 1
Engine: Coventry Climax FWB 1460cc
Race Preparation: Snook's Dream Cars
Origin of the Lotus Eleven
From their introduction, Lotus Elevens were dominant in nearly every class they could race in. They particularly earned fame for endurance racing at LeMans and Sebring. At the 1956 24 Hours of Le Mans, a Lotus Eleven finished first in class and seventh overall. Lotus returned in 1957 with more cars. The 1100cc Lotus Elevens finished first, second and fourth in class (ninth, thirteenth and sixteenth overall). Also in that race, a special 700cc Lotus Eleven finished first in class and fourteenth overall while securing the "Index of Performance" trophy. Elevens were equally successful in the sprint races of sports car clubs around the world.

The Lotus Eleven model was introduced in the spring of 1956 and about 150 were built in one year. A "Series 2" version was introduced in 1957. Approximately 120 Series 2 Eleven's were built before the summer of 1958 when Lotus was ready to shift their focus to newer models. Although the Lotus company would continue growing and increasing production capacity, the Eleven stands out as the model that established their reputation as a manufacturer of high quality, well designed sports cars for serious competition use.

Both Series 1 and Series 2 Elevens were available in Sports, Club, or LeMans models. The Sports model featured a Ford "10" 1172cc engine, solid rear axle, and drum brakes for a price of $3253 (as reported in Road and Track magazine, March 1957.) The Club model was similar except with a Coventry Climax engine and was offered for $4301. The LeMans model featured the same Coventry Climax engine, but also came with DeDion rear suspension and disc brakes all around. Lotus would happily substitute more powerful versions of the Coventry Climax engine for an additional charge.

Over the course of Lotus Eleven production, at least five versions of the Coventry Climax engine were installed:
"75"
FWA
1098cc, standard cam
(rated 74 bhp at 6250rpm)
"85"
FWA
1098cc, "stage 2" cam
(rated 83 bhp at 6800rpm)
"90"
FWE
1290cc
(rated 91 bhp at 6500rpm)
"100"
FWB
1460cc
(rated 100 bhp at 6250rpm)
"140"
FPF
1475cc DOHC
(rated 141 bhp at 7000rpm)
The Lotus works were located on Tottenham Lane in London's north end. Their modest facilities included a showroom out front with office upstairs, a workshop and a tire shop across the alley, and a gearbox shop in another separate building. The location was conveniently close to partnering companies. The Lotus Eleven's elegant all-aluminum body was made next door at Williams and Pritchard. Its seventy pound spaceframe chassis was made directly across Tottenham Lane by the Progress Chassis Company.

The body of the Lotus Eleven was designed by Frank Costin, who had a considerable knowledge of aerodynamics from previous engineering work at the de Havilland Aircraft Company. Frank Costin would later join Jem Marsh and become "the Cos in Marcos." Along with Colin Chapman, Frank's brother Michael Costin was largely responsible for the Eleven's chassis. Mike would later join Keith Duckworth to become "the Cos in Cosworth". Mike also co-authored the classic treatise "Racing and Sports Car Chassis Design."

Both Costin brothers fully embraced Colin Chapman's philosophy of extreme lightweight design. No component should be heavier or stronger than necessary for its purpose. Wherever possible, components should serve dual or multiple uses. Consequently, the Lotus Eleven is not a heavy duty car, but it's a very quick one! The body was hand-crafted in thin gauge aluminum. Five main sizes of mild steel tubing were used for the chassis: (1) 1" eighteen gage box tubing for the lower main tubes that the floorpan rivets to, (2 and 3) 1" round tubing for other main chassis tubes, in a mix of eighteen and twenty gage thickness, depending on loading, and (4 and 5) 3/4" round tubing in eighteen and twenty gage. The Eleven features a stressed aluminum bellypan and a structural (thin, 20-gage) aluminum transmission tunnel which carries the final drive torque reaction and also supports the engine's rear mounting point.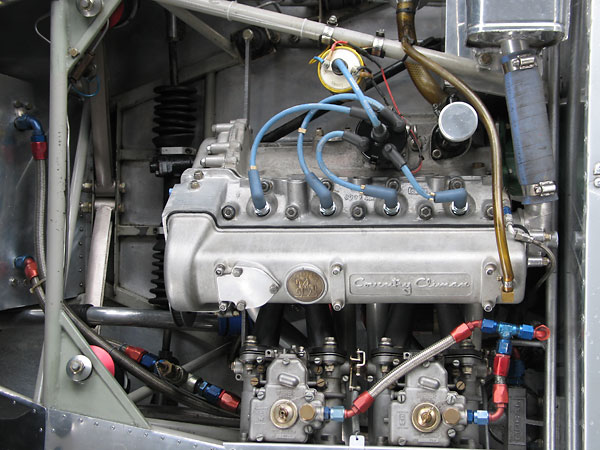 Lotus canted the Coventry Climax engine ten degrees to achieve the lowest feasible bonnet height.


All Series 1 Lotus Elevens came with swing axle front suspension, based on Ford Popular drop beam axles that Lotus cut and modified. In other cars, swing axle front suspensions are associated with excessive understeer, but Lotus had good success with their design. Mounting the central pivot points quite low helped lower roll center height somewhat. Static roll center was still a foot above the ground, but the combination of high roll center with a low center of gravity, stiff springs, and a lightweight car resulted in very minimal body roll and minimal camber change. The Eleven had no anti-sway bars and it didn't seem to miss them. Shims could be added or removed at the (modified Ford F93A) stub axle end of the swing axle to alter ride height with the simultaneous effect of altering suspension geometry. Raising the front of the car in this way increases understeer, whereas lowering the car in this way shifts the suspension toward neutral handling. The swing axles were supported longitudinally by long Ford Y model radius arms. Morris Minor steering racks were shortened and used by Lotus to bring the ball joints inward, into the correct position. Girling coilover shock absorbers were used.


Enjoying this article? www.BritishRaceCar.com is partially funded through generous support from readers like you!
To contribute to our operating budget, please click here and follow the instructions.
(Suggested contribution is twenty bucks per year. Feel free to give more!)
Although the base model Eleven came with a simple live axle, the LeMans version had DeDion rear suspension with two somewhat unusual features: a lightweight magnesium differential housing and interestingly placed outboard universal joints. The differential housing was made to accommodate British Motor Corporation's differentials and gears. Open differentials were standard equipment, but limited-slip alternatives have been installed including ZF and Quaife units. BMC gear sets are inexpensive to swap and a selection of five ratios are available between 3.7 and 5.3 to 1. Inboard disc brakes minimize unsprung weight. The lateral distance from the brakes to the DeDion tube isn't great, so to minimize angular displacement and maximize efficiency Lotus designed a cut-out in the DeDion tube that let them place the outer universal joints further outboard (compared for example to the Lotus Type IX). It's a subtle, neatly engineered detail.

Colin Chapman enjoyed driving the Lotus Eleven in competition. His personal experience driving it undoubtedly resulted in alterations to the design. The biggest change was introduced with Series 2 production: to improve high speed road holding on undulating track surfaces, Chapman decided double A-arm front suspension was needed. This wasn't universally popular with customers because it was associated with an increase in overall weight.

The Eleven was originally introduced as the Lotus Mark XI. Before long, the company began simply calling it the Eleven. Since it came standard with eleven hundred c.c. engines, that name seems to fit especially well. In late 1957, Lotus introduced their Lotus Seven kit car. (Clearly not a "Mark 7", the Lotus Seven was "retro". Its design recalled a generation of home-built specials based on the old Austin Seven.)

The Eleven reportedly held a particularly special place in Lotus founder Colin Chapman's heart. Three Lotus sports cars would be given names that sounded similar: Elite, Elan and Elise.
Please support the sponsoring companies who make www.BritishRaceCar.com possible, including:

Jeff Snook's Lotus Eleven
Jeff Snook owns the thirtieth Lotus Eleven produced. (The serial numbers for Elevens started at 150, and Jeff's car is marked "180".)

The original owner of Jeff's Lotus Eleven LeMans was Tony Ellis, who enjoyed racing it at Crystal Palace and Silverstone in 1956 and 1957. Ellis is known to have won the second of four races he entered with the car. In December 1957, Ellis sold the Eleven to Frede Andersen of Denmark. Andersen raced frequently through 1963 and won many races. After that, the ownership and racing history of the car isn't well documented other than that it was purchased in January 1970 by another Dane, Erik Dinesen. Dinesen owned the Eleven for many years.

Jeff's Eleven returned to England in the mid eighties where it was briefly garaged by Vic Thomas. (Vic is the Historic Lotus Register's Lotus Eleven registrar.) In this period, the car returned to Williams and Pritchard for restoration of the aluminum bodywork. In 1986, Carl Larsen purchased the Eleven and had it shipped to Minneapolis, where it would be stripped down and given an extensive ten-year restoration. Carl Larsen carefully duplicated the original spaceframe and the car currently races on the new spaceframe, but the original spaceframe is kept safely in storage.

Jeff purchased the Lotus Eleven in February 2000. One of his first outings was to the Brian Redman International Challenge, at Road America, where the Eleven was honored with the Best Race Car trophy - a trophy which Jeff happily delivered to its restorer Carl Larsen. Jeff has subsequently enjoyed racing his Eleven at some of America's other great racing venues, including Watkins Glen, Road Atlanta, Sebring, Laguna Seca, and Mid Ohio. Jeff was invited to the 2006 Monterey Historics, where he participated in a special celebration of the fiftieth anniversary of the Lotus Eleven model.
Features and Specifications
Engine:
1460cc Coventry Climax (#FWB400-55), rebuilt by Brian MacEachern with stock crank, Carrillo rods, and Hepolite pistons. Static compression ratio is 11:1, and it produces about 117hp. Wet sump. Dual Weber 40DCOE carburetors on custom fabricated steel intake manifolds. Pipercross foam trumpet socks (i.e. air filters). Lucas distributor with Pertonix Ignitor breakerless ignition. Lucas Sport Coil. Moroso Blue Max spark plug wires. Mocal remote oil filter head. WIX oil filter.

Cooling:
custom high efficiency brass/copper radiator (fabricated by Steve Long Custom Radiators, in Gasoline Alley at Indianapolis IN.) Oil cooler.

Exhaust:
four into one header. (No muffler.)

Transmission:
Jack Knight close-ratio dog-ring 4-speed gearbox (inside a BMC "ribcase" housing.)

Rear End:
3.90:1 ring and pinion. Quaife limited slip differential.

Front Susp.:
swing axle front suspension with KONI adjustable coilover shock absorbers.

Rear Susp.:
DeDion rear suspension with KONI adjustable coilover shock absorbers. Rear hubs have been refreshed, and installed with oversize bearings. Panhard rod.

Brakes:
(master) dual Girling master cylinders with bias bar.
(front) Girling disc brakes with 2" diameter caliper pistons.
(rear) inboard mounted Girling disc brakes with 1.5" diameter caliper pistons.

Wheels/Tires:
Dayton 72-spoke 15x5 wire wheels with Dunlop Racing bias-ply tires (4.5" front, 5.0" rear).

Electrical:
Tilton Super Starter. Wet cell battery.

Instruments:
(driver's side, left to right) Stewart Warner oil pressure gauge (5-100psi), Stack electronic tell-tale tachometer (0-10,000rpm), Stewart Warner water temperature gauge (100-265F). (Passenger side, left to right) Smiths ammeter (+/-30 amperes), Smiths oil temperature gauge (40-140C).

Fuel System:
custom nine gallon ATL fuel cell, installed in the original Lotus fuel tank (mounted in the passenger-side footwell area). Facet fuel pump. Holley fuel pressure regulator.

Safety Eqmt:
Simpson 5-point cam-lock safety harness. Quick release steering wheel hub. Centralized fire suppression system. GT Classic mirrors.

Weight:
~1000 pounds.

Racing Class:
SVRA 4FM



Engine Installation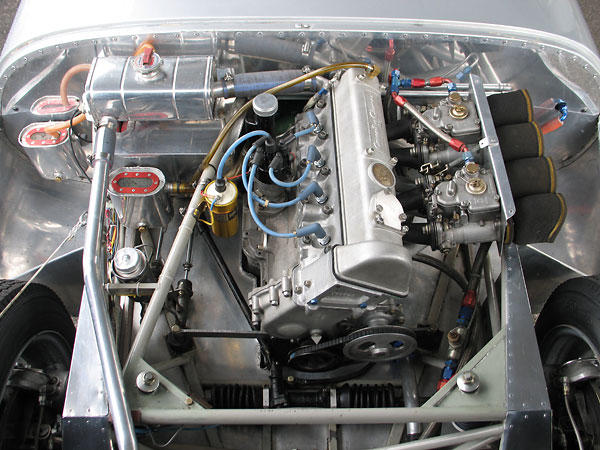 1460cc Coventry Climax (#FWB400-55), rebuilt by Brian MacEachern.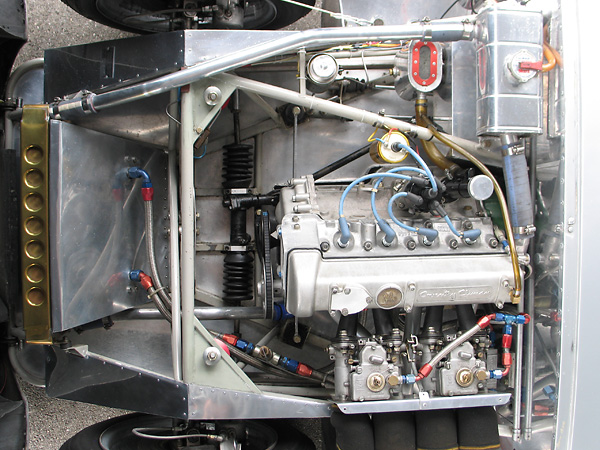 Lucas distributor with Pertonix Ignitor breakerless ignition. Lucas Sport Coil.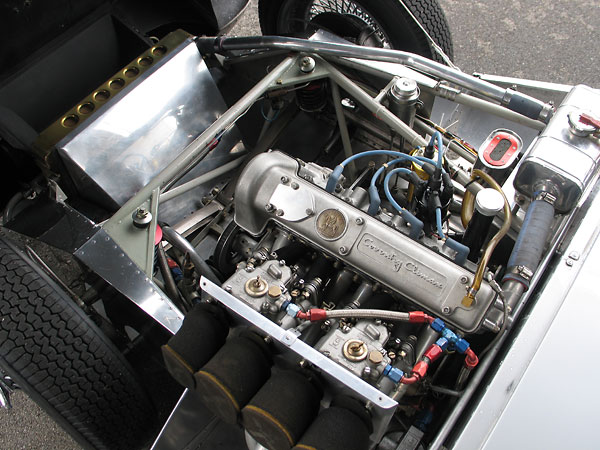 The Coventry Climax engine features aluminum block and cylinder head, and weighs about 250 pounds.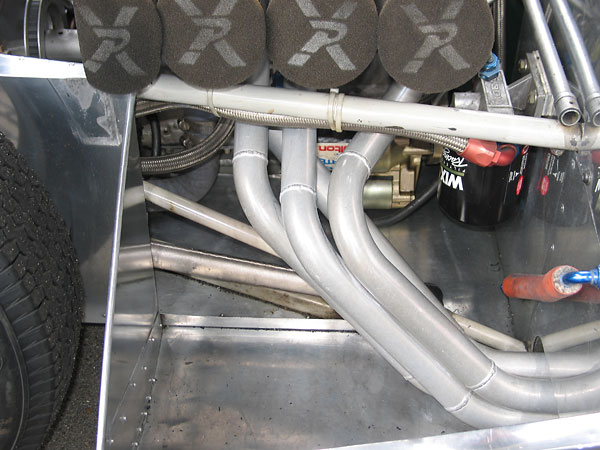 Long primary four-into-one header. Tilton Super Starter.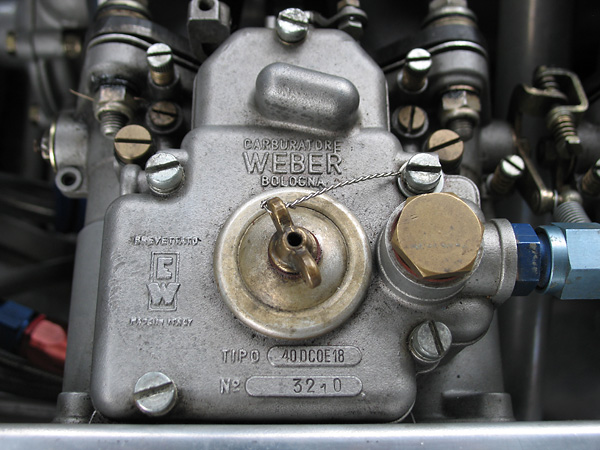 Dual Weber 40DCOE carburetors have replaced the original S.U. carburetors.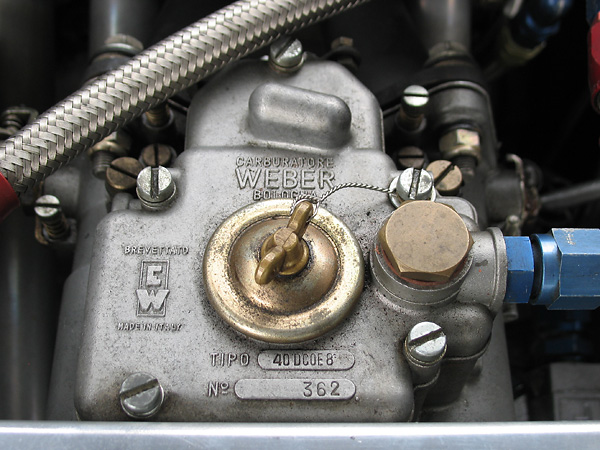 The Weber carbs are mounted on custom-fabricated steel intake manifolds.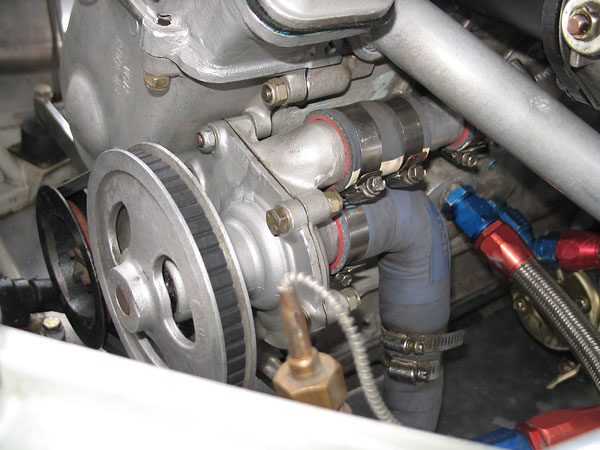 External water pump, with a large pulley to slow it down.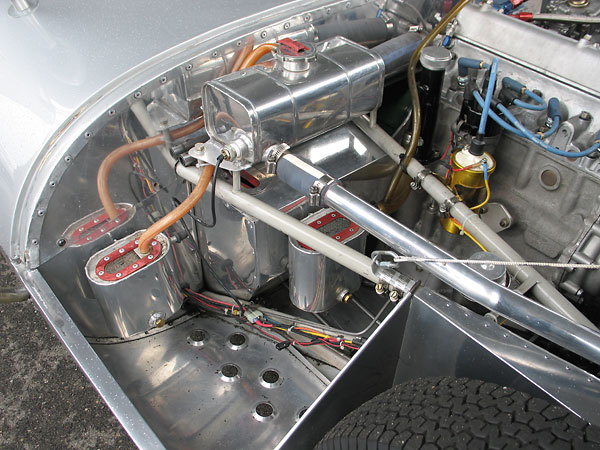 Notice the pressurized coolant header tank, high on the firewall where it belongs.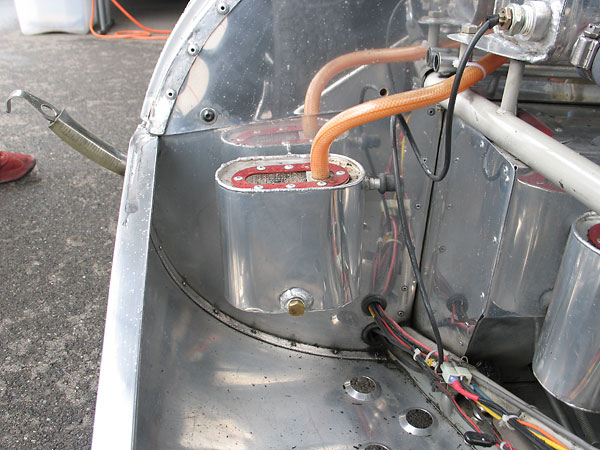 Separate aluminum breather/catch tanks for coolant and for the crankcase.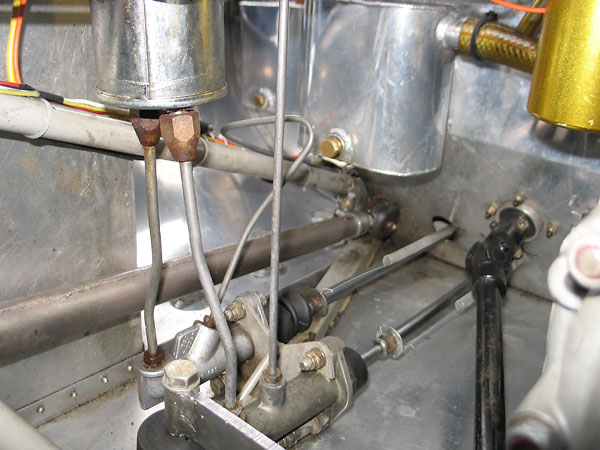 Dual Girling master cylinders with bias bar.


Front Suspension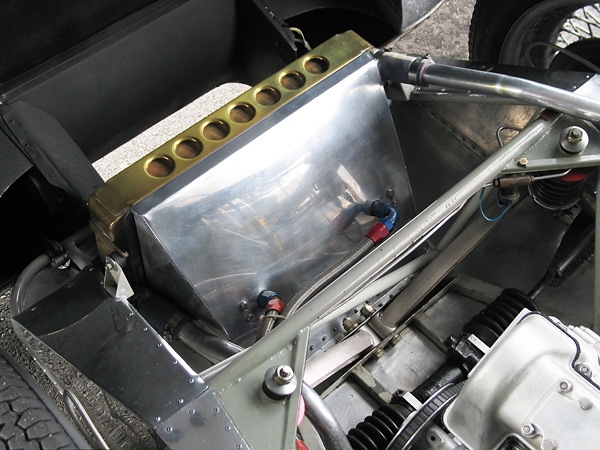 Custom high efficiency brass/copper radiator, fabricated by Steve Long Custom Radiators (Indianapolis IN).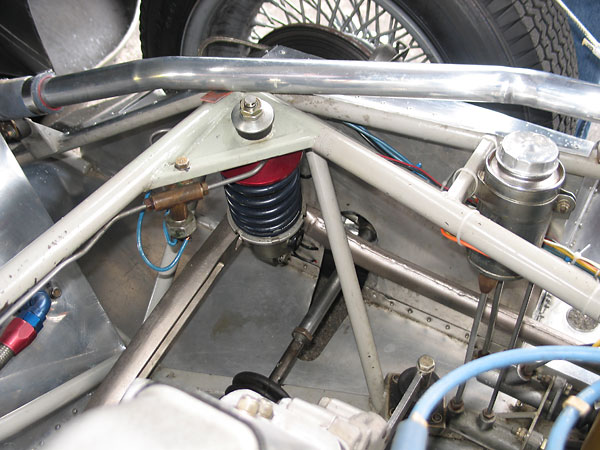 The swing axles are supported longitudinally by long Ford Y model radius arms.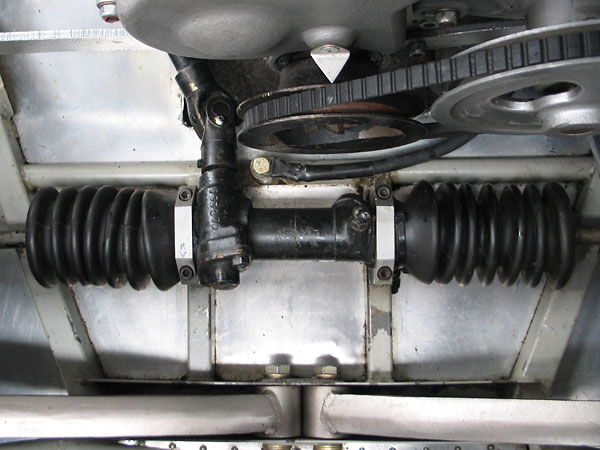 Lotus used specially modified Morris Minor steering racks.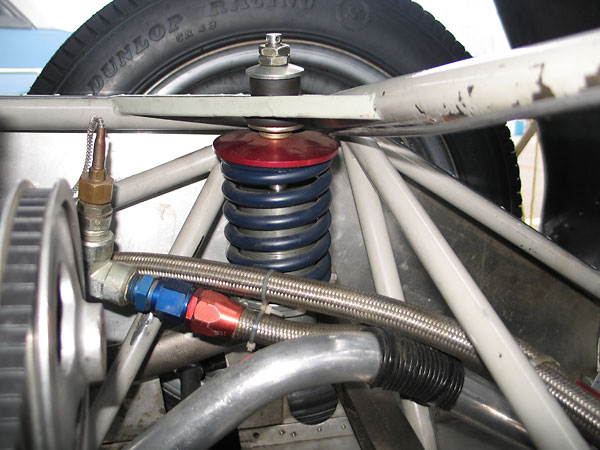 Original Girling coilover shock absorbers have been replaced by KONI units with adjustable valving.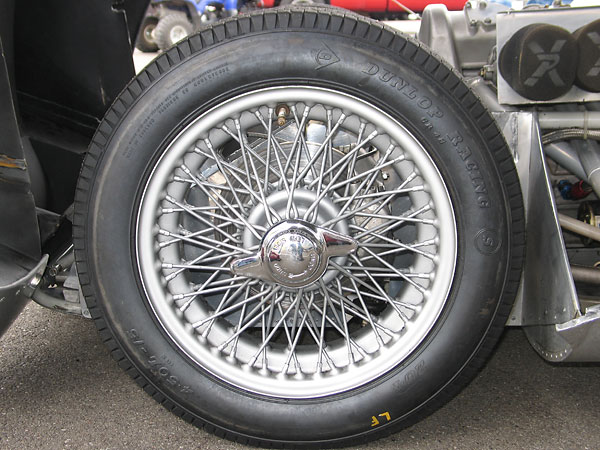 Dayton 72-spoke 15x5 wire wheels with Dunlop Racing bias-ply tires (4.5" front, 5.0" rear).


Rear Suspension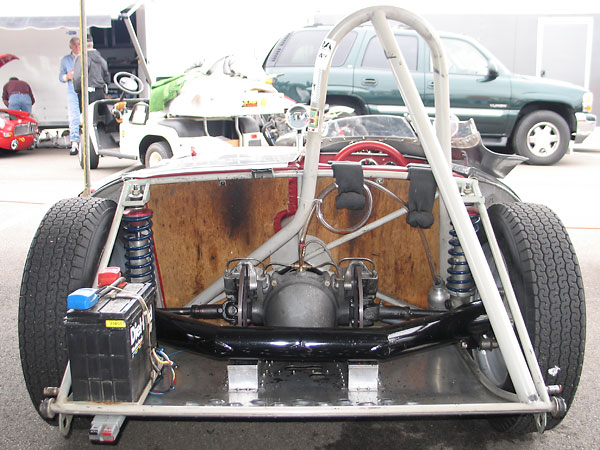 DeDion rear suspension with KONI adjustable coilover shock absorbers.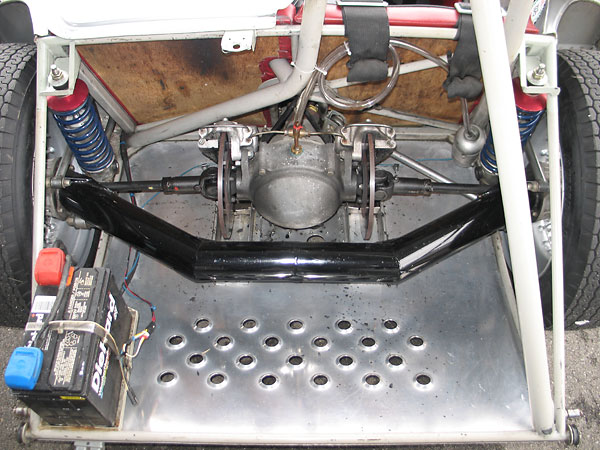 In this view, you can spot the Panhard rod that locates the rear suspension laterally.
(It connects to the chassis at the driveshaft tunnel, and comes rearward diagonally.
On closer inspection, you'd see it's actually integral to the lower-righthand radius rod.)
The original Lotus Eleven prototype had a long, curved Panhard rod across the rear.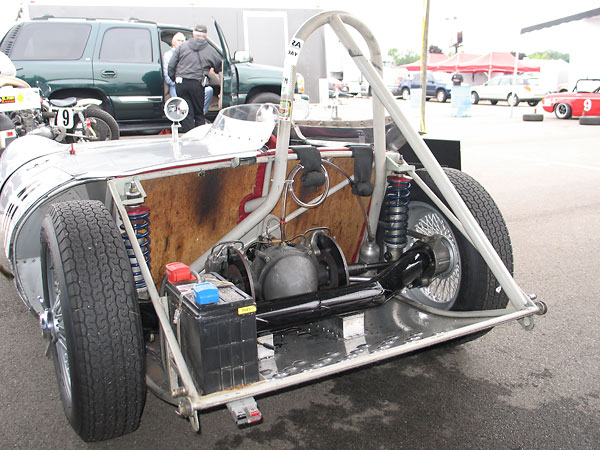 This it the original battery location, but of course the rollover structure is much newer.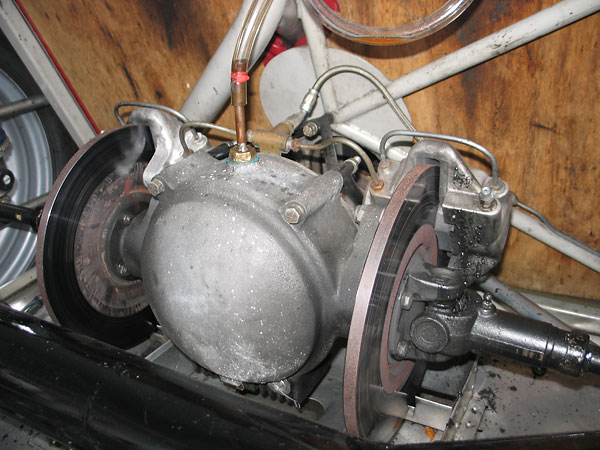 This magnesium differential housing was developed specifically for the Lotus Eleven LeMans.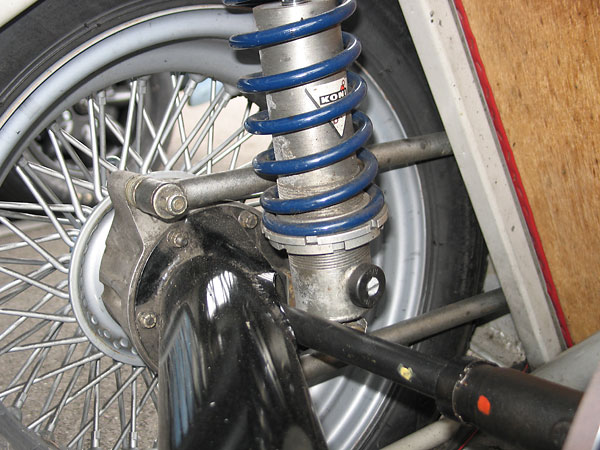 Experience has shown that rear hubs are one of the Lotus Eleven's weakest links. They can cause bad
accidents if they fail. Jeff's rear hubs have been refreshed, and installed with oversize bearings.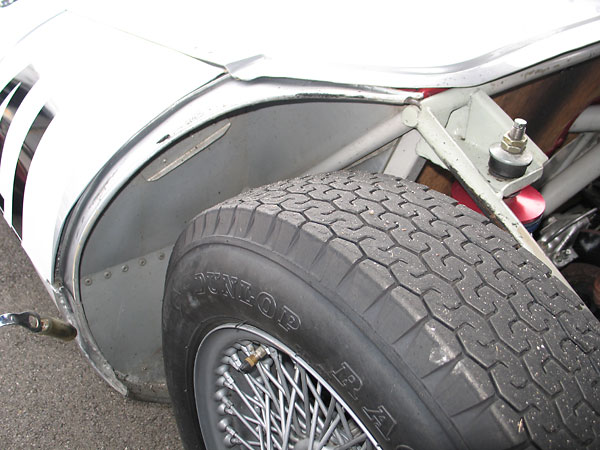 Like solid axles, DeDion suspensions keep wheels parallel to each other and perpindiculer to the road
except on bumps. Their advantage is reduced unsprung weight, especially with inboard brakes installed.



Interior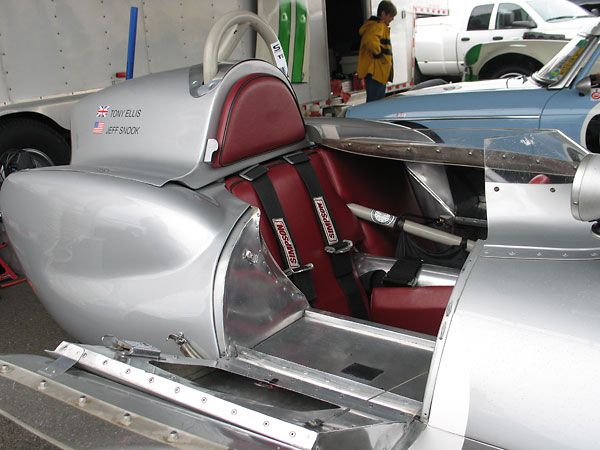 Artfully integrated headrest fairing, hard passenger-side tonneau cover, and wrap-around Perspex windscreen
were competition features most Club and LeMans Elevens came with. The Sports model came with almost full
width windscreen. A hard top was optional equipment, and a handful of Elevens were converted to GT form.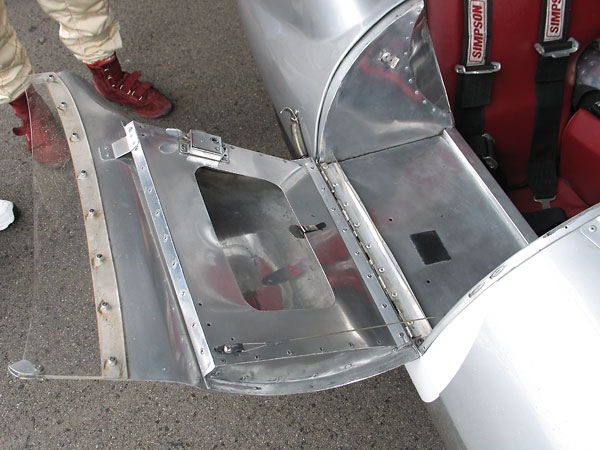 Door pockets were the only designated "luggage space" in the Lotus Eleven design.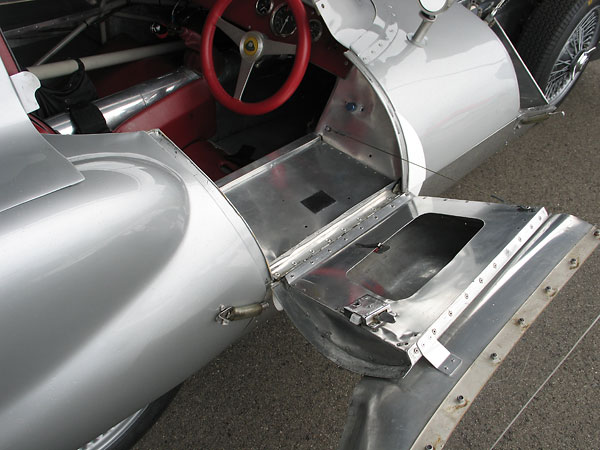 The Lotus Eleven opens like a Lotus flower! (Note spring-loaded bonnet and boot hold-downs.)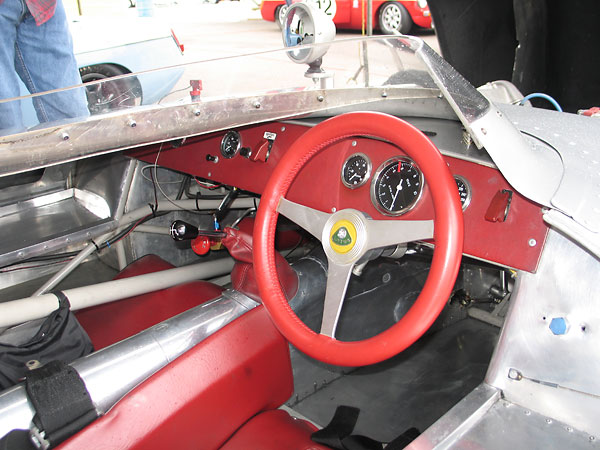 With tonneau cover and windscreen removed, the Lotus Eleven's interior would be positively roomy.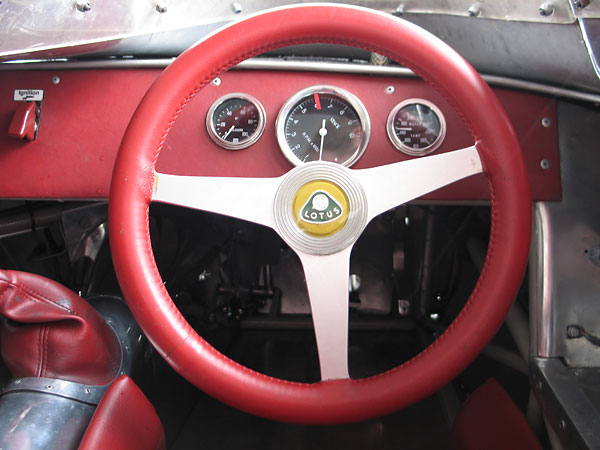 (left to right) Stewart Warner oil pressure gauge (5-100psi), Stack electronic tell-tale
tachometer (0-10,000rpm), Stewart Warner water temperature gauge (100-265F).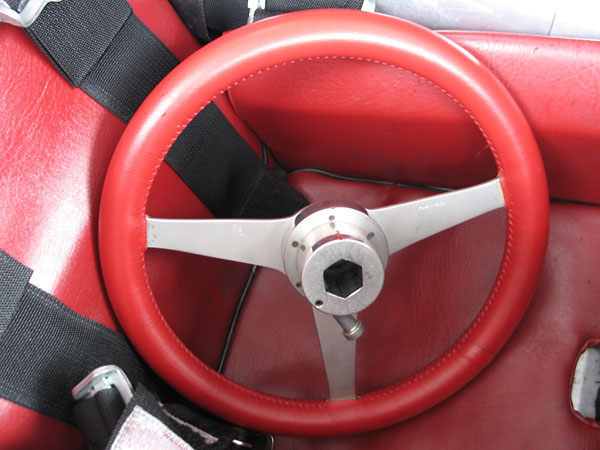 Quick release steering wheel hub.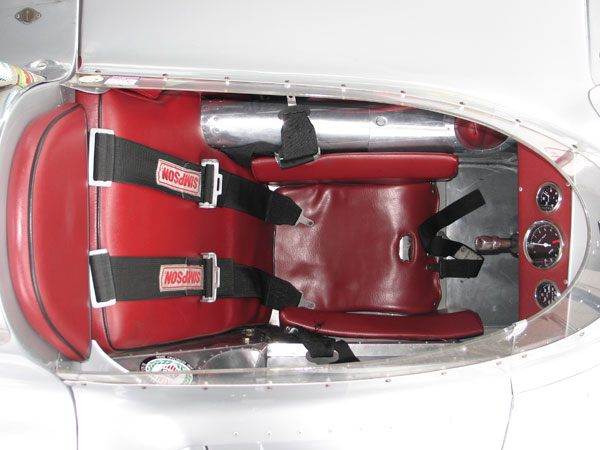 Simpson 5-point cam-lock safety harness.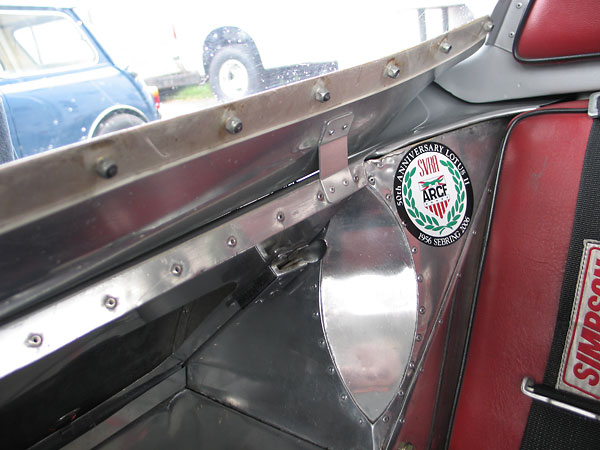 Plenty of elbow room!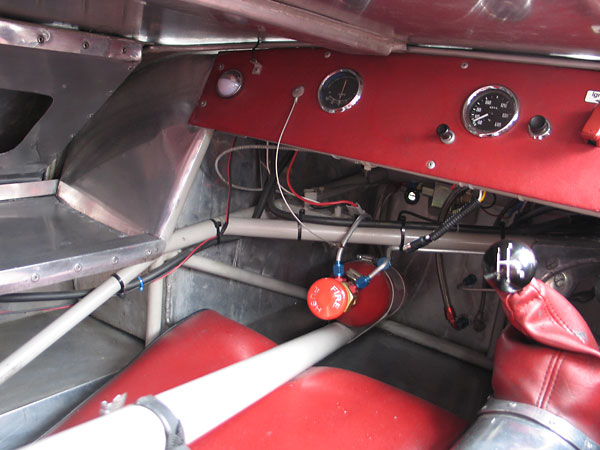 Beyond the fire suppression system, you can see the Facet fuel pump and the nine gallon fuel tank.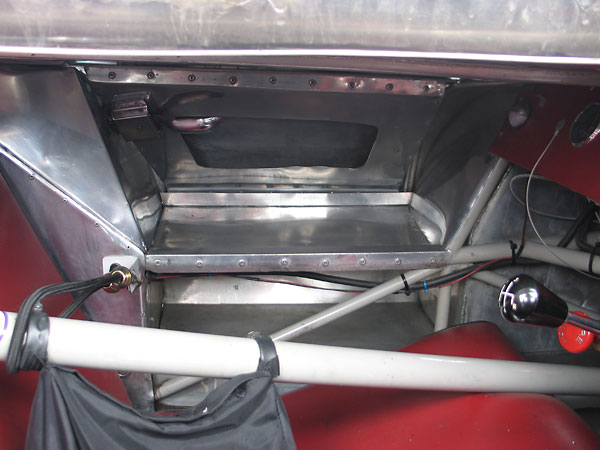 Installation of a "Petty bar" has improved stiffness and safety but the passenger seat is less usable now.



Two pushbuttons by the steering column operate the tattletale function of the Stack electronic tachometer.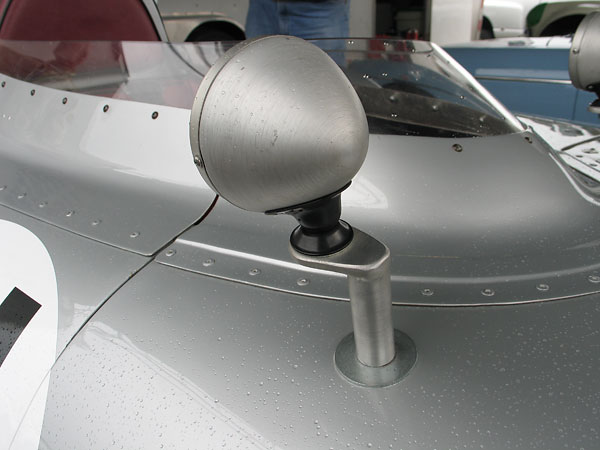 GT Classic mirrors. Curved Perspex windscreen.


All photos shown here are from September 2009 when we viewed the car at The US Vintage Grand Prix at Watkins Glen. All photos by Curtis Jacobson for BritishRaceCar.com, copyright 2009. All rights reserved.



Notice: all the articles and almost all the photos on BritishRacecar.com are by Curtis Jacobson.
(Photos that aren't by Curtis are explicitly credited.) Reproduction without prior written permission is prohibited.
Contact us to purchase images or reproduction permission. Higher resolution images are optionally available.