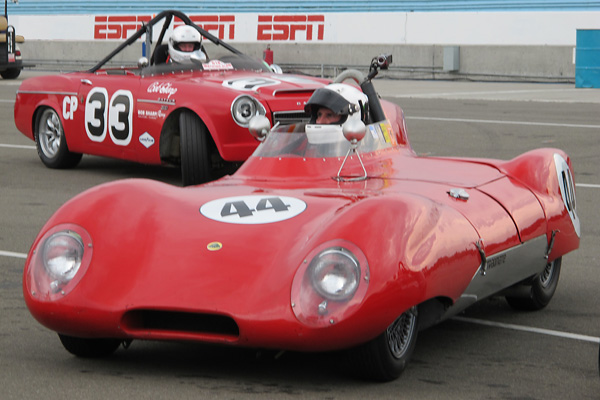 Glenn Stephens's 1956 Lotus Eleven LeMans Racecar
Owner: Glenn Stephens
City: Alpharetta Georgia
Model: 1956 Lotus Eleven LeMans
Engine: 1.4L Climax four-cylinder
Race prepared by: Brian MacEachern
Introduction
Glenn Stephens started his racing career in SCCA's Spec Miata class back in 2004. Spec Miata is an attractive "drivers class" because it offers hard-fought battles between large fields of evenly-matched cars, and because it's relatively cheap to get into. The downside of spec racing is the sameness. Nearly all racing is exciting viewed from a drivers seat, but history's greatest races have been between mismatched cars. Can the nimble overtake the powerful when the road gets twisty? Will the heavier car's brakes fade in the final laps? Those are just two examples of the myriad technical questions that take racing from a tactical exercise to a strategic one. When cars are mismatched, drivers are obliged to exploit the advantages of their own equipment or the weaknesses of rival racecars. Glenn still runs a Spec Miata four to six weekends per year, but he added a lot of spice to his life when he purchased a 1956 Lotus Eleven Le Mans.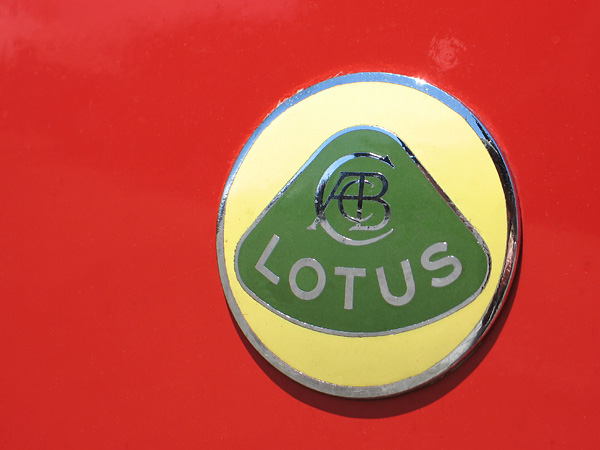 The initials of founder Anthony Colin Bruce Chapman appear above the marque name.


We've written about the Lotus Eleven's place in history before, here. For now we'll just summarize that the Eleven transformed Colin Chapman's company. The Eleven was successful at all levels of motor racing from amateur races in the hinterlands right up to class and "Index of Performance" victories at Le Mans and at Sebring. Lotus had built less than fifty cars before the Eleven. Lotus Eleven production came to 270 cars.

Glenn Stephens' car was built near the end of the Eleven model's first year of production: 1956. It was delivered in 1957. Now that was a great year for British race cars! In the 24 Hours of Le Mans endurance race, Jaguar D-Types finished first through fourth. Lotus didn't yet produce a car for large-displacement racing classes, but they brought home their share of trophies anyhow. At Le Mans, Lotus fielded a team of three Elevens. Mac Fraser and Jay Chamberlain drove one 1100cc Eleven to 9th overall and 1st in Class G. Robert Walshaw and John Dalton drove a second 1100cc car to 13th overall and 2nd in Class G. Cliff Allison and Keith Hall drove a 750cc car to 14th overall and 1st in Class H, plus they won the coveted Index of Performance! In other words, their car was both quick and fuel efficient. Amazingly, the Fraser/Chamberlain Eleven finished second in the Index of Performance competition despite its larger engine. In a race so tough that only 21 of 54 entries finished, Lotus surpassed all expectations.

Forty-eight years later, one of Glenn's Spec Miata racing buddies came across three Lotus Elevens in a North Atlanta warehouse. Three similar cars, parked in a neat row, gathering dust. He called Glenn over to have a look, and Glenn fell in love. Upon further research, it was discovered that one of the three Elevens had formerly belonged to television news anchorman Walter Cronkite. Another of the three - a Le Mans spec car in polished aluminum bodywork - had been driven on the street in Atlanta for years. But it was the third one that really captured Glenn's interest. Problem number one: its owner wasn't particularly motivated to sell it. He was, at least, willing to discuss it.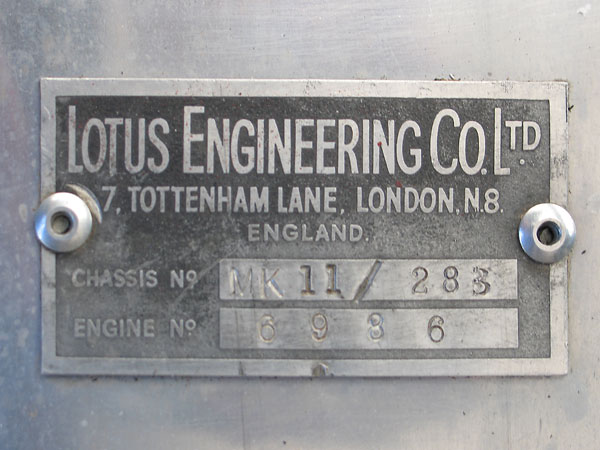 Lotus Engineering Co. Ltd.
7 Tottenham Lane, London, N.8., England
Chassis No. MK11/283, Engine No. 6986


Lotus Eleven Chassis Number 283
Chassis number 283, was originally shipped to U.S. distributor Jay Chamberlain in Los Angeles. Lotus Eleven serial numbers started at #150 and were then sequentially assigned, so chassis 283 was nominally 133rd of the 150 Series 1 cars built. (There were also sixteen Series 1.5 cars, and 104 Series 2 cars.)

Number 283 had been raced occasionally in the early sixties, on the west coast. However, it couldn't have been raced too hard because it remained remarkably original. In the 1980s, as vintage racing rapidly grew in popularity, number 283 was freshened up and raced again. Once again, it probably wasn't raced too hard before going into dry storage for another twenty years. It was a case of "ran when parked". The owner imagined that it would only need a day or two of work to put it back on track. Glenn reasoned every single seal and hose would certainly need replacement, and it would only be prudent to inspect and magnaflux anything that might crack or break in battle. They couldn't agree on a price. Once Glenn volunteered to donate his labor, the owner agreed that the car could be taken apart and inspected.

Cleaned, visually inspected, and all back together with new bearings and seals... but still no agreement on a price. Glenn raised his offer, but not enough. The owner hired an agent to market the Eleven all over England, failed to find a buyer there, and finally came back to accept Glenn's offer. Glenn took possession, and turned chassis 283 over to Lotus Eleven specialist Brian Maceachern for further race preparation. Glenn's Eleven would be ready to race in 2006.


Enjoying this article? www.BritishRaceCar.com is partially funded through generous support from readers like you!
To contribute to our operating budget, please click here and follow the instructions.
(Suggested contribution is twenty bucks per year. Feel free to give more!)
How Does a Lotus Eleven Compare to a Mazda Miata?
Glenn reports that his two racecars set remarkably similar lap times at most tracks. The Lotus has a couple clear advantages at faster tracks: less aerodynamic drag and less rolling resistance too. The Miata has advantages at shorter circuits where wider tires and the ability to hop curbs help the car retain speed through corners.

The (Series One) swing arm front suspension makes the Lotus a bit tricky to drive. As you go through a sweeper, the off-side tire droops to an off-camber angle. Then, when you come out of the turn it has to stand back up and it gives a disconcerting little wiggle. Another thing that's weird is that you're sitting over the rear axle, so your steering effort seems to be happening a long way away. Oversteer (i.e. the rear end stepping out) is detected immediately and tends to feel more excessive than it really is. And you're on narrow bias-ply tires with tubes. The car naturally likes big slip angles, and wants to be driven in the old-fashioned drifting style. In this car, that's the only way to go fast. However, the front wheels don't have much wheel-cut and Glenn feels that limits how aggressively he can drift it.

In the 50s most cars were very softly sprung. The Eleven came with 60 lbs/inch rear springs which Glenn has uprated to a whopping 80 lbs/inch. They can be compressed by hand. This works for a light car but it allows for quite a bit of body roll. The roll gives the car great grip in high speed sweepers where suspension can compress and then hold on. While the car is light and tossable, fast back-to-back turns are really not its strength. Watkins Glen is good. So is Mosport. Road America should be great, but Glenn hasn't driven the Eleven there yet.

Glenn typically does 4-6 vintage events per year plus 4-6 Miata events. Glenn took his 1956 Lotus Eleven LeMans to the Monterey Historics this year.



Features and Specifications
Engine:
Coventry Climax FWB four cylinder engine, originally 1100cc but bored and stroked to 1490cc. Rebuilt by Brian MacEachern. Dual Weber 40DCOE carburetors on custom fabricated steel intake manifolds. Pipercross foam air filters. Lucas distributor with Pertonix Ignitor breakerless ignition. Bosch Ultra Premium spark plug wires. NGK B8ES spark plugs. Wet sump lubrication system. Oberg tattletale oil filter.

Cooling:
brass/copper radiator. Oil cooler.

Exhaust:
four into one stainless steel header. (No muffler.)

Transmission:
Taylor Race Engineering manufactured Austin Healey Sprite style 4-speed gearbox with close-ratio gears and dog-rings.

Rear End:
3.90:1 ring and pinion. Quaiffe limited slip differential.

Chassis:
wheelbase 7'1", front track 3' 10.5", rear track 3' 11".

Front Susp.:
swing axle front suspension with KONI double adjustable shock absorbers. Hyperco springs rated 250 pounds per inch. 1/8" toe-in.

Rear Susp.:
DeDion rear suspension. KONI double adjustable shock absorbers. Hyperco springs rated 80 pounds per inch. Rear hubs have been refreshed, and installed with oversize bearings. Panhard rod. 1/16" toe-in.

Brakes:
(master) dual Girling 0.75" master cylinders with remote reservoirs.
(front) Girling AR brake calipers and 9.5" unvented rotors, mounted outboard.
(rear) Girling NR brake calipers and 9.5" unvented rotors, mounted inboard.

Wheels/Tires:
Dayton 72-spoke 15x5 wire wheels (in lieu of original 60-spoke Dunlop wheels). Dunlop Racing 204 bias-ply tires (4.50L-15 front, 5.0L-15 rear).

Electrical:
Tilton Super Starter. Odyssey PC925 battery.

Instruments:
(left to right) Lucas ammmeter (+/-30 amperes), Tudor water temperature gauge (90-230F), Traqmate Shift-I progressive gear shift and RPM range indicator, VDO electronic tell-tale tachometer (0-10,000rpm), Jaeger oil pressure gauge (0-100psi).

Fuel System:
custom fuel cell liner, installed in the original Lotus fuel tank. Electric fuel pump.

Safety Eqmt:
G-Force 5-point latch and link safety harness. Quick release hub mounted on a Moto-Lita steering wheel. ESS centralized fire suppression system. GT Classic mirrors.

Weight:
~990 pounds wet (which is about 10 percent more than original).

Racing Class:
SVRA 4FM


Engine Installation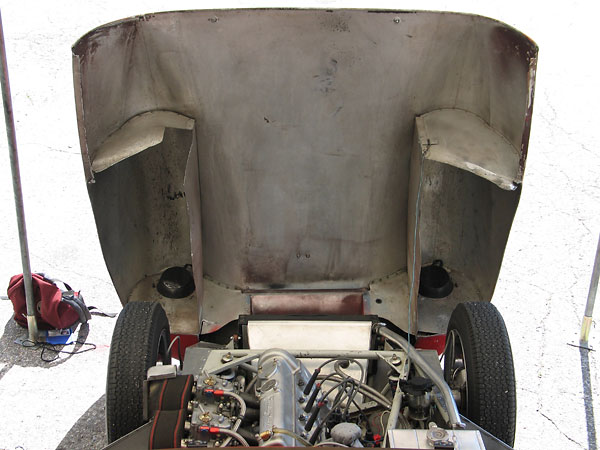 Original Lotus Eleven bodywork by Williams & Pritchard Ltd.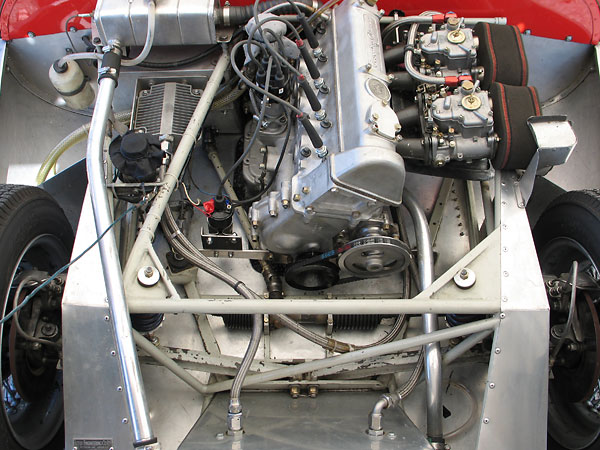 This Coventry Climax FWB four cylinder engine was originally 1100cc but it has been bored and stroked
to 1490cc. This is the car's second engine. Its original (Climax FWA) engine is kept in safe storage.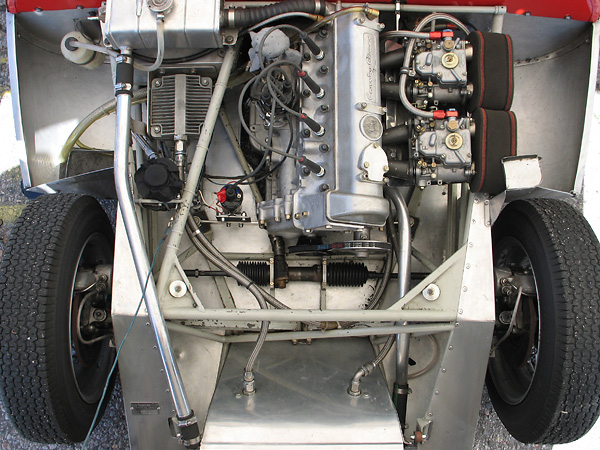 Notice that the Climax engine is tilted about ten degrees from vertical.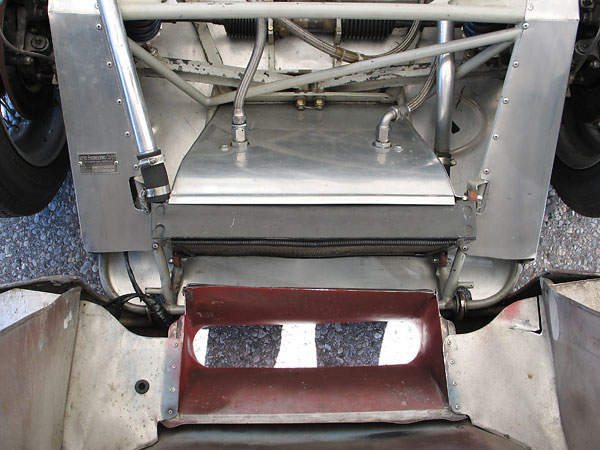 After passing through the radiator, air passes down rather than through the engine compartment.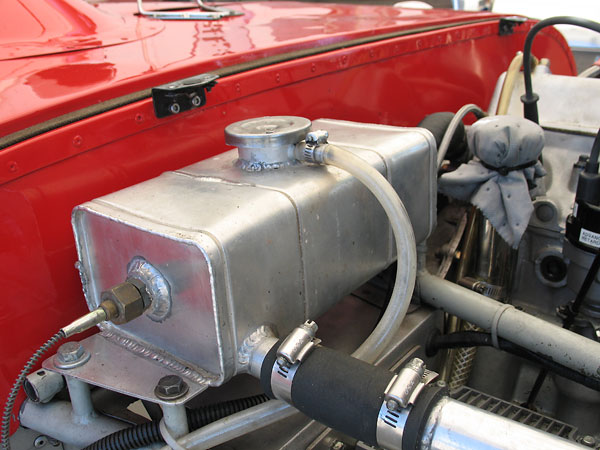 Correct Lotus coolant header tank mounted high to ensure the engine and radiator are fully filled.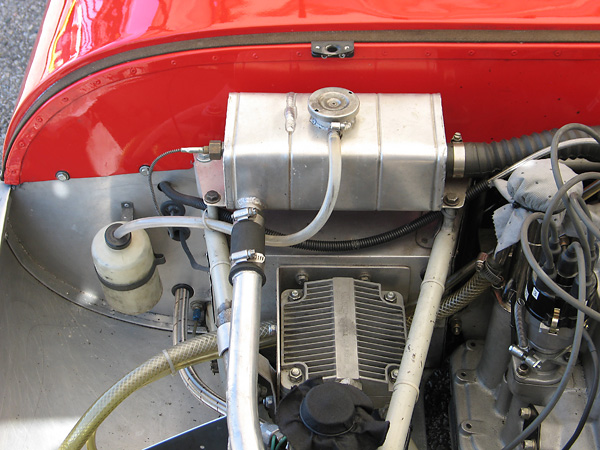 Oberg tattletale oil filter. (The coolant overflow bottle at left is labeled "Trafalgar Product".)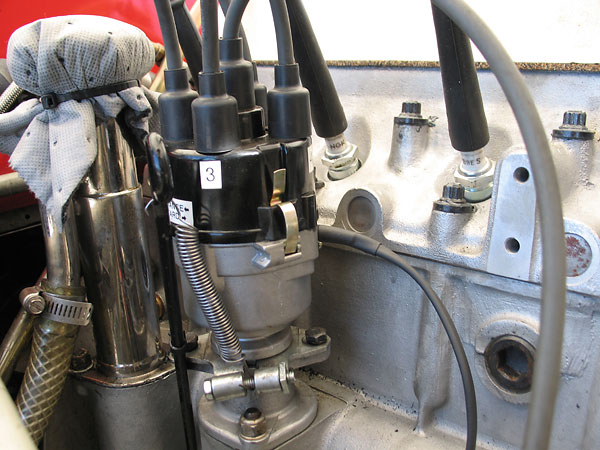 Lucas distributor with Pertonix Ignitor breakerless ignition. NGK spark plugs.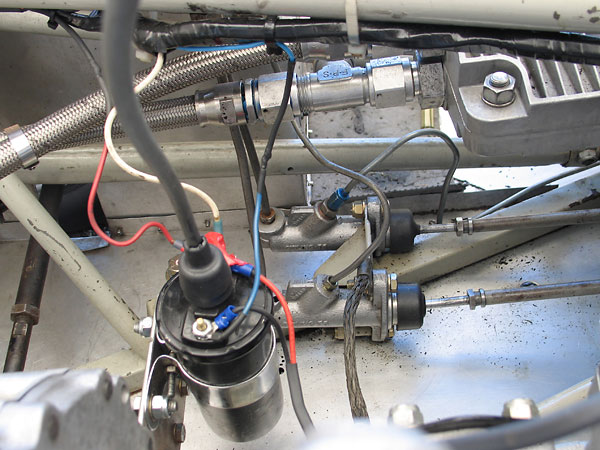 Dual Girling 0.75" brake master cylinders, supplied by a remote reservoir.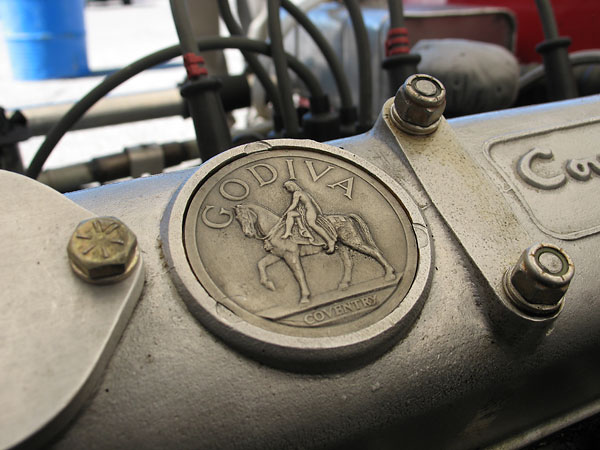 Godiva - Coventry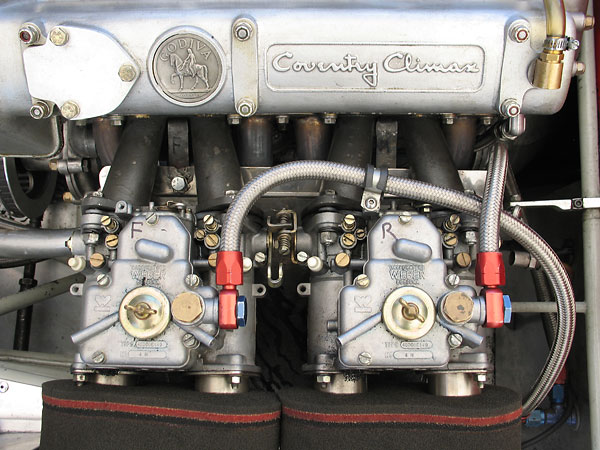 Dual Weber 40DCOE carburetors.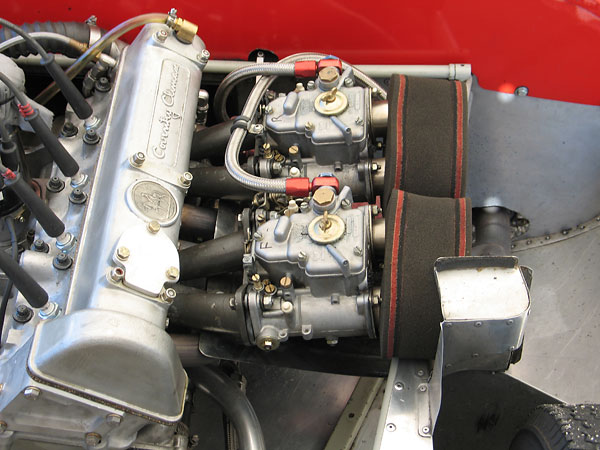 Custom fabricated steel intake manifolds.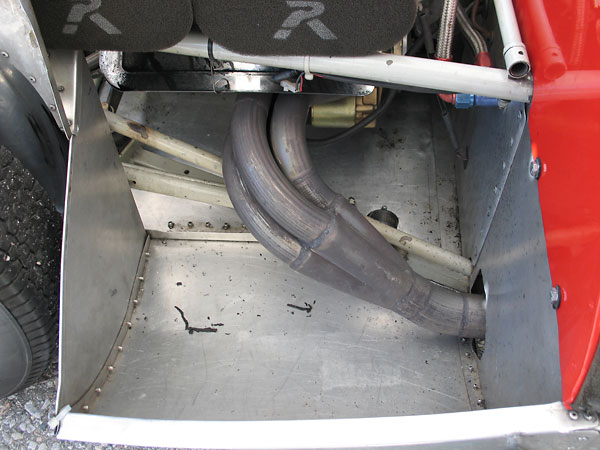 Four into one stainless steel header.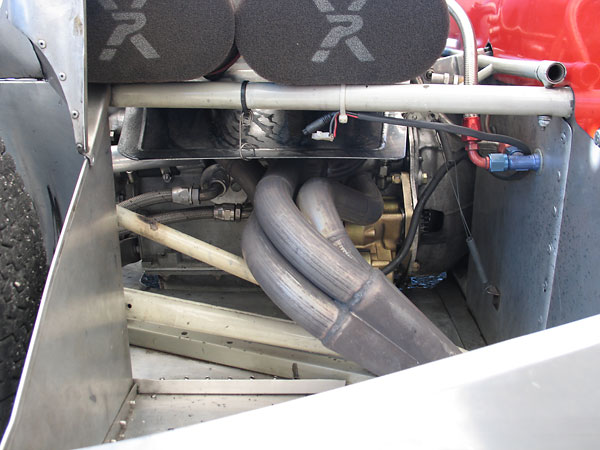 Between exhaust and carburetors, we can see an aluminum heat shield. Below, a Tilton Super Starter.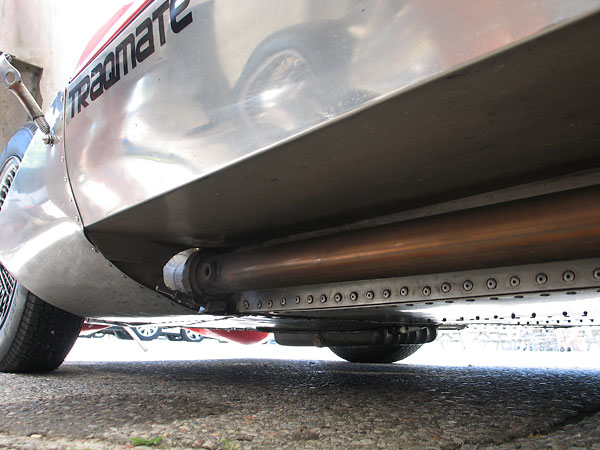 Wideband oxygen sensor bung on the exhaust pipe. A sensor placed here greatly aids engine tuning.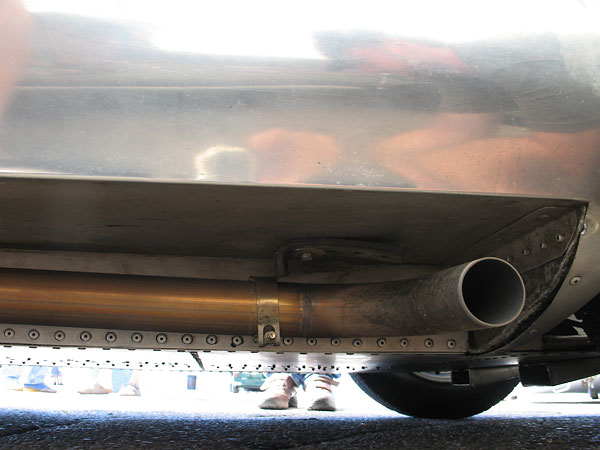 Stainless steel exhaust pipe.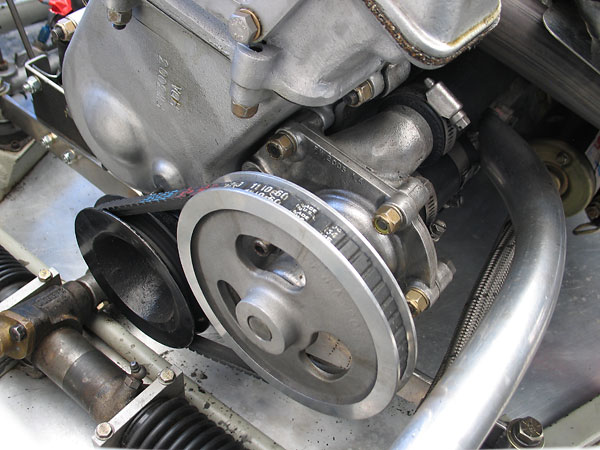 Coventry Climax water pump.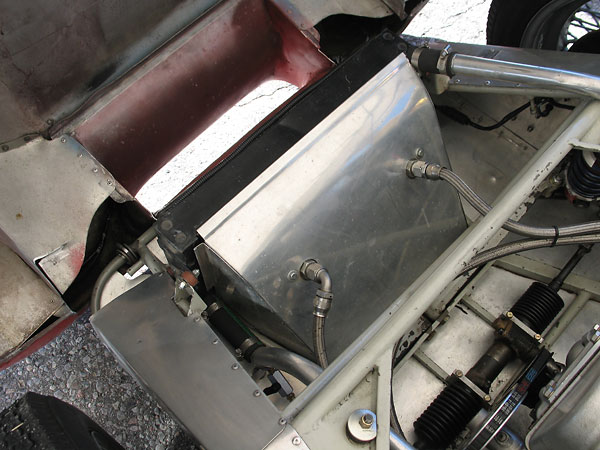 Engine oil cooler connections.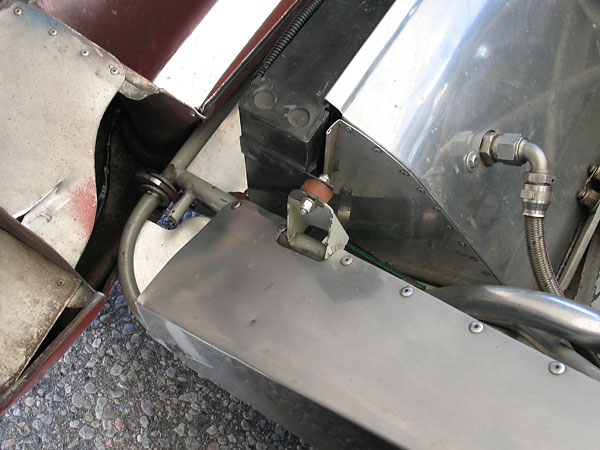 Vibration isolator on the radiator mounting bracket.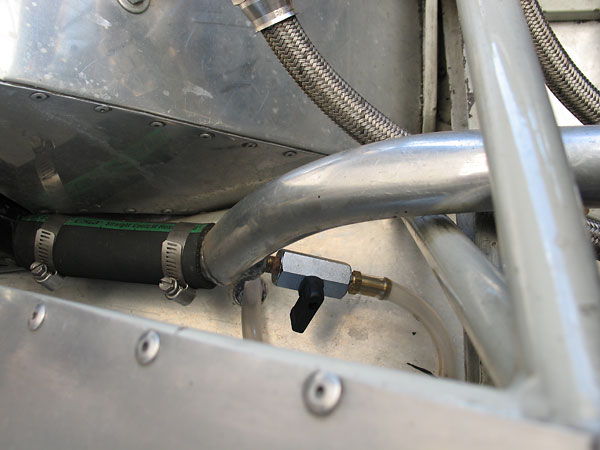 Convenient valve for draining the cooling system.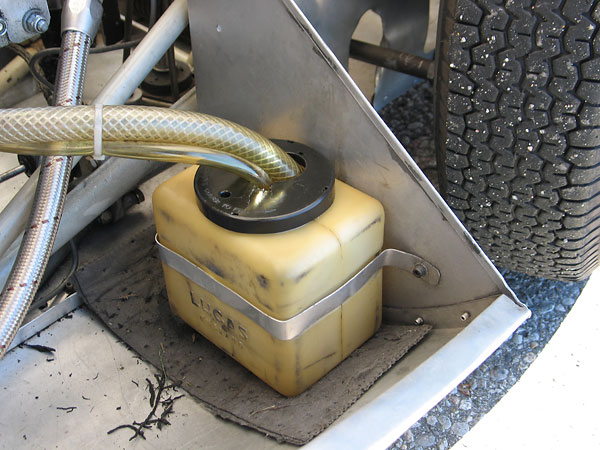 "Lucas England" windshield wiper fluid reservoir, repurposed as a engine vapor catch tank.


Front Suspension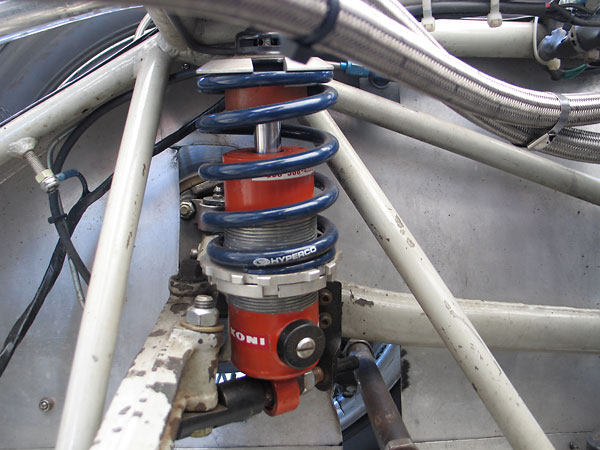 KONI double adjustable shock absorbers and Hyperco coil springs (250#/inch).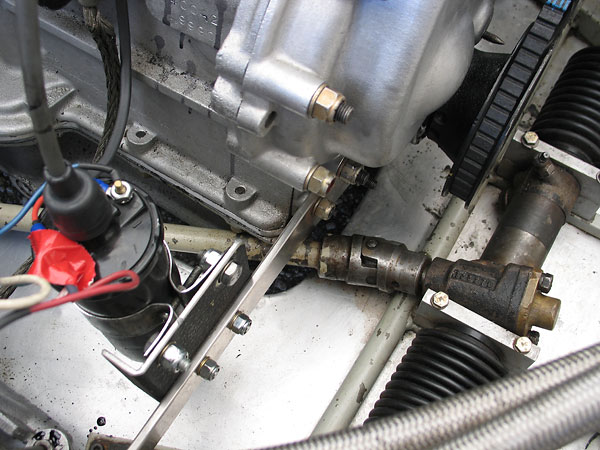 The modified Morris Minor steering rack shows casting number "133270".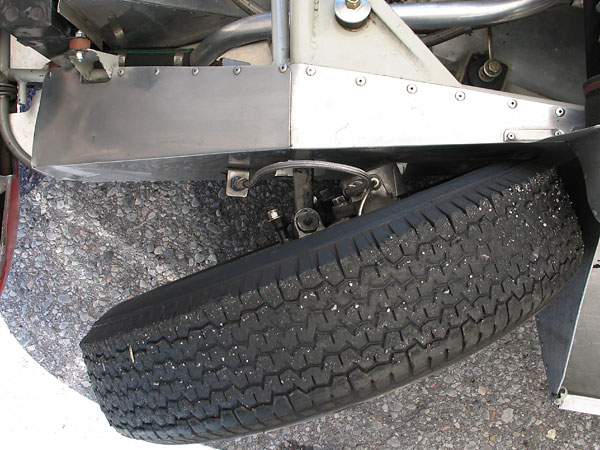 One compromise of the Lotus Eleven design is revealed here: limited wheel cut.
These cars are at their best on big sweeping turns. Very tight turns can be problem.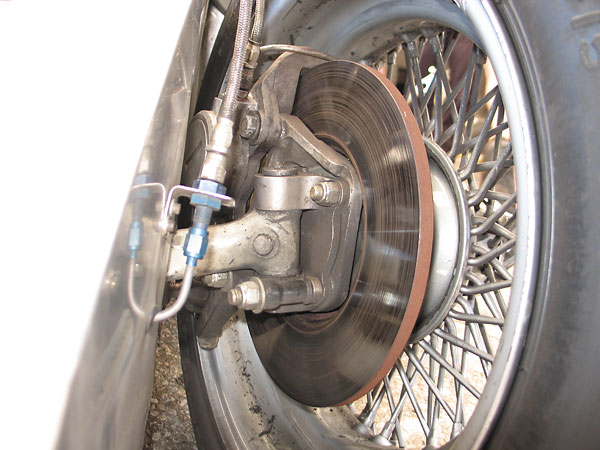 On most racecars, ride height is set by raising or lowering spring perchs on coilover shock absorbers.
On a Lotus Eleven Series 1, static camber changes as you raise or lower the car's swing axle front
suspension. When tuning the suspension, it's best to set the camber carefully but let ride height
fall where it may. Ride height typically measures 4.5" to 5" to the flat aluminum floorpan.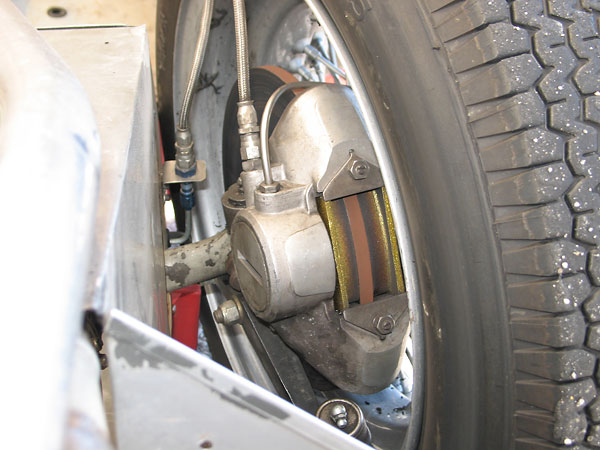 Girling AR brake calipers and 9.5" diameter solid rotors. Forged steel steering arms.


Rear Suspension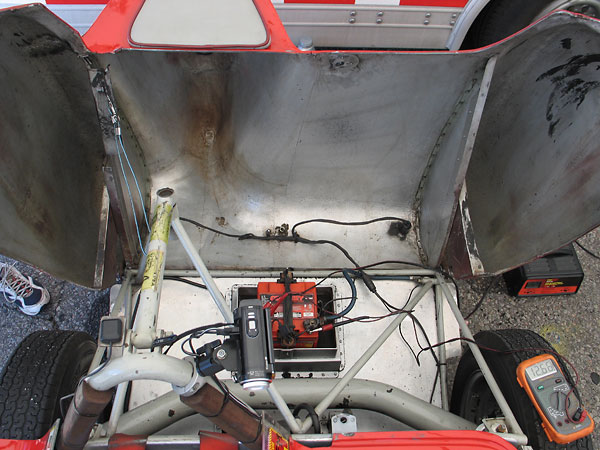 Aluminum bodywork tilts rearward or lifts off to provide service access to the rear suspension.
Club and Sports versions of the Lotus Eleven were built with solid rear axles, but the Le Mans
variant came standard with a de Dion rear suspension. In either case, mounting points on the
frame were identical. Coilover shocks and suspension links were similar too.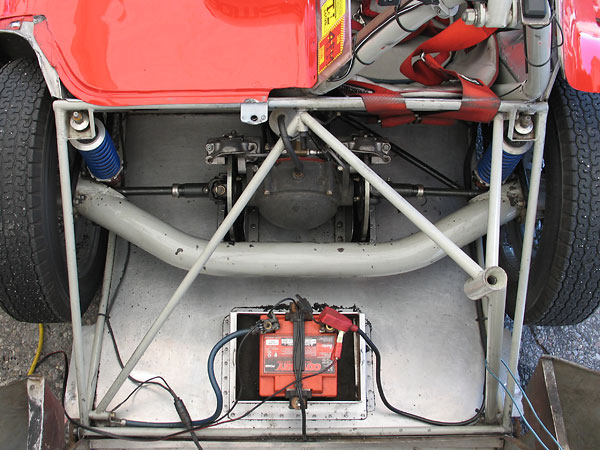 The Eleven LeMans' de Dion tube is located by four horizontal trailing links plus a fifth rod which
angles forward from the righthand hub carrier diagonally to the driveshaft tunnel. Functioning
like a Panhard rod, this member keeps the de Dion tube centered relative to the body and it also
determines the axis about which the body rolls when cornering. That this axis is off-center a
little to the righthand side doesn't seem to be a problem.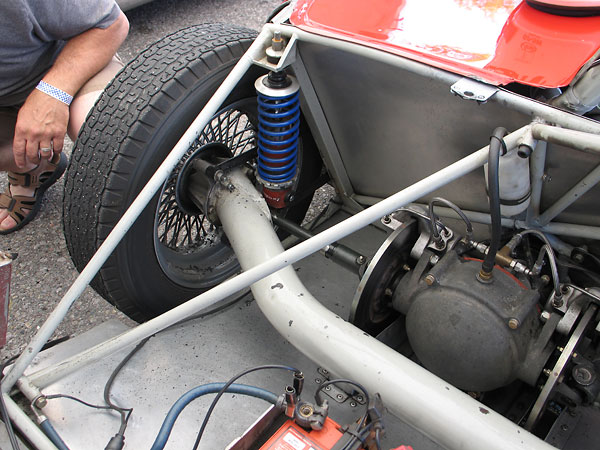 Lotus press releases mentioned their design intent of achieving less understeer than previous
models while minimizing roll stiffness. Relatively high roll centers were selected to make
this approach practical. The Lotus Eleven's front roll center is located 5.75" above the
ground, and the rear roll center is located 9.5" above the ground.

Very soft springs are another key aspect of the Lotus Eleven design. Glenn compares
the rear springs to Slinkey toys, but in fact he has uprated his springs from stock.
Original specification was 60 pounds/inch. Glenn prefers 80 pounds/inch.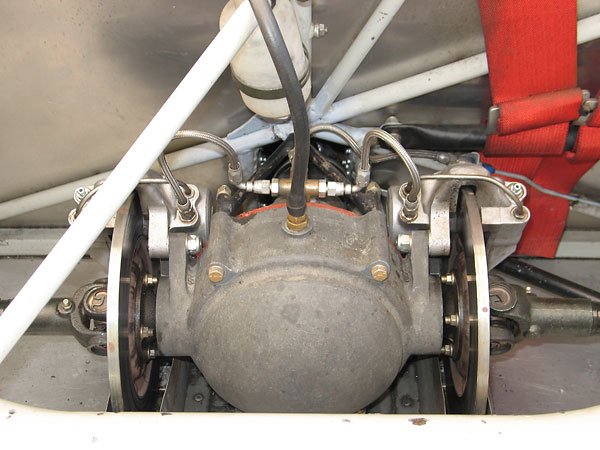 Lotus created their own cast magnesium alloy differential carrier to house standard B.M.C. internal
components. The following gear ratios are available: 5.375:1, 5.125:1, 4.875:1, 4.55:1 (which was
standard on the Lotus Eleven), 4.22:1, 3.89:1, 3.73:1. Note also: Girling NR brake calipers
and solid 9.5" rotors, mounted inboard, with air ducted up through the floor for cooling.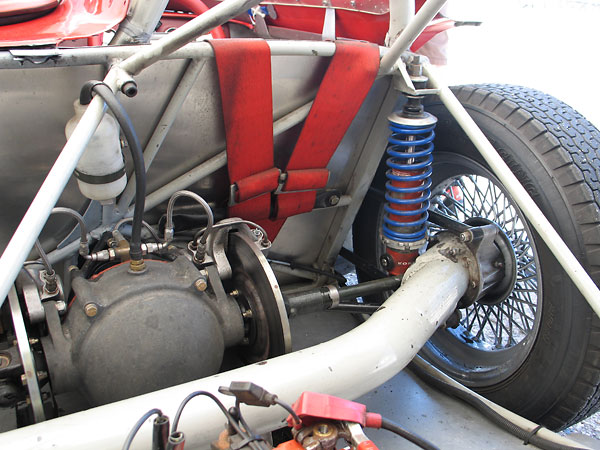 Now here's a revelation: the Lotus Eleven LeMans de Dion tube provides adjustable toe-in! How?
If you squint really hard, you might just see that there's a thin washer-shaped aluminum spacer
between the steel de Dion tube and the cast magnesium hub carrier. The spacer is tapered from
3.1mm on one edge to 1.5mm on the opposite edge. Although only six bolts secure the carrier
to the tube, the spacer has twelve holes. It can be indexed to provide accurate alignment or
alternatively a specified amount of toe-in. Glenn likes 1/16" of toe-in for the rear tires.
This method of toe-in adjustment alters camber too, but not enough to cause concern.

Drive hubs were among the weakest aspects of the original Lotus Eleven LeMans. Their strength was
a recognized problem from early on, so most Lotus Eleven racecars were fitted with upgraded hubs
many years ago. When Glenn got his Eleven, he didn't know. He had his hubs magnafluxed, but they
were the original design. One broke while he was going 84mph at Road Atlanta in 2006, sending him
careening off the track. (How does he know it was 84mph? Traqmate!) That scary incident prompted
a careful re-evaluation of critical running gear such as hubs, wheel bearings, wheels, etc.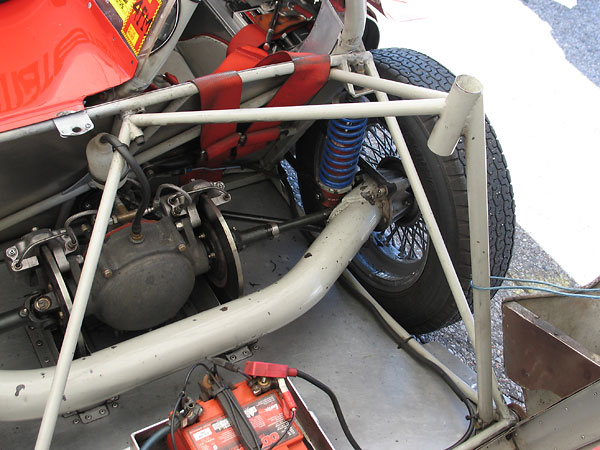 Glenn's Lotus Eleven still has it's original frame, and it's almost completely un-modified.
There are a couple conspicuous exceptions: the small horizontal tube that the shoulder
straps mount to and this nifty roll hoop support structure.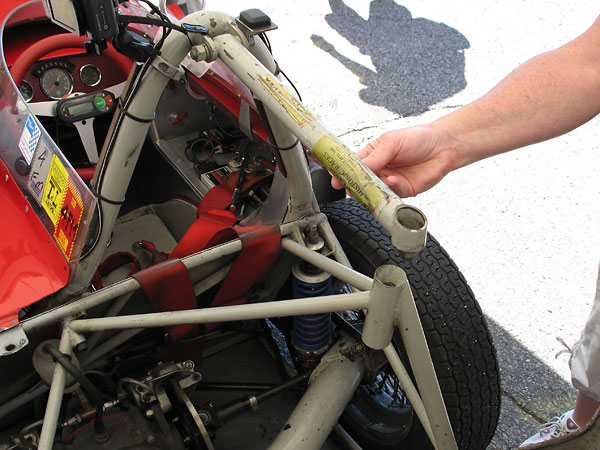 The rearward roll hoop brace ends at a cone and socket connection.


Interior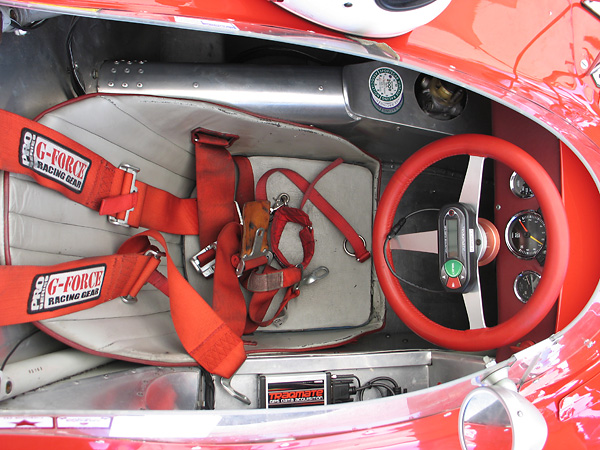 G-Force Racing Product Pro Series 5-point latch and link safety harness. This harness meets SFI 16.1
requirements, but not the FIA 8853/98 standard. SFI 16.1 is an American standard which can be met
with nylon fabrics that break down quickly in sunlight. Nylon harnesses must be replaced after two
seasons from their date of manufacture. FIA 8853/98 is a global standard which explicitly requires
polyester fabric. Polyester harnesses may be used for five years from date of manufacture.



Traqmate GPS Data Acquisition controller.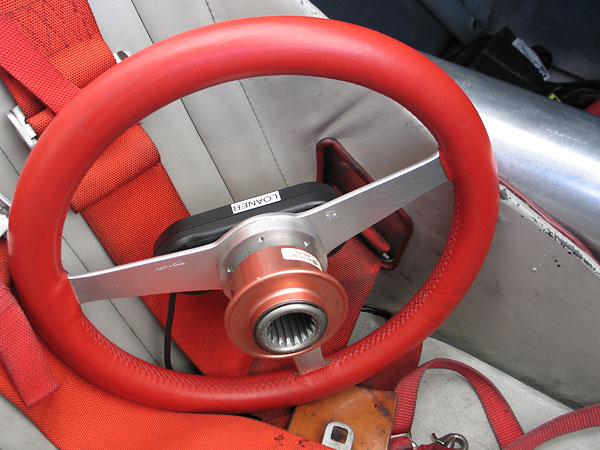 Quick release hub mounted on a Moto-Lita steering wheel.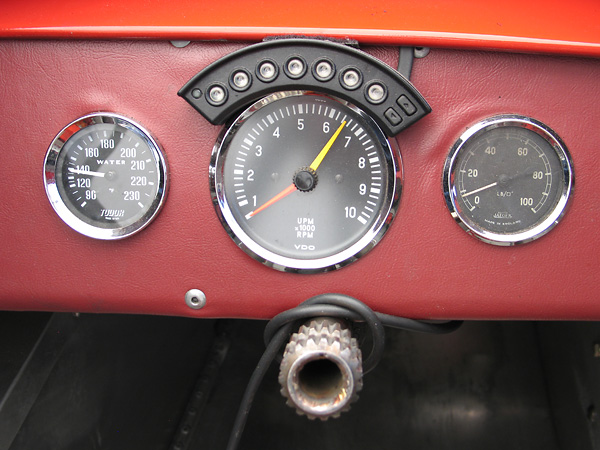 Traqmate Shift-I progressive gear shift and RPM range indicator installed atop a VDO tachometer.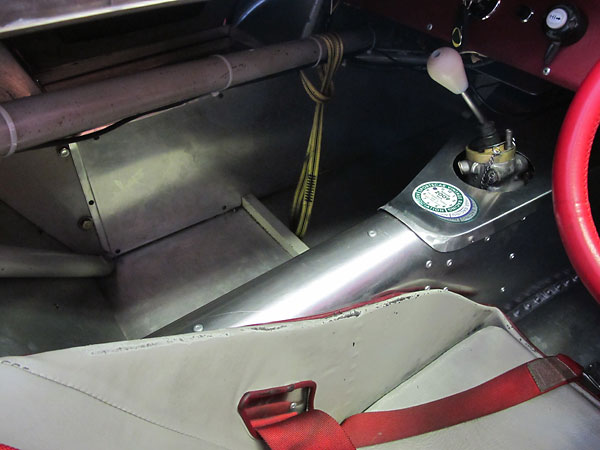 The driveshaft tunnel isn't just a cover, it's an important part of the Lotus Eleven Le Mans chassis.
The differential housings is connected to it, and it's responsible for absorbing reaction torque.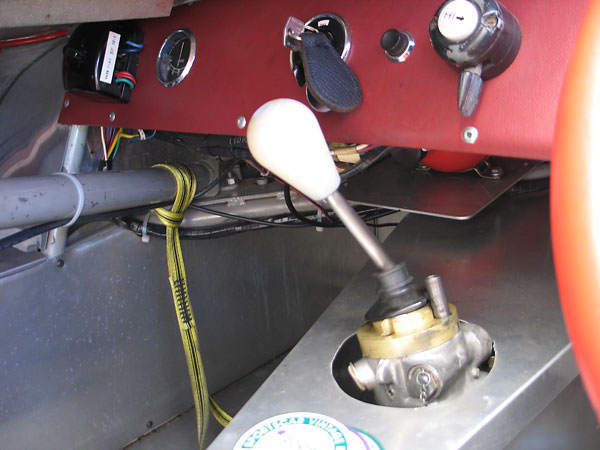 Taylor Race Engineering Sprite 4-speed with close-ratio gears and dog-rings. Lotus originally
used Austin A30 gearbox housings (similar to MGA) and gear shifters except with custom internal
components. They claimed 30 pounds of weight reduction from stock. Gear ratios as provided by
Lotus: 2.5:1, 1.67:1, 1.23:1, 1:1, plus 2.5:1 for reverse.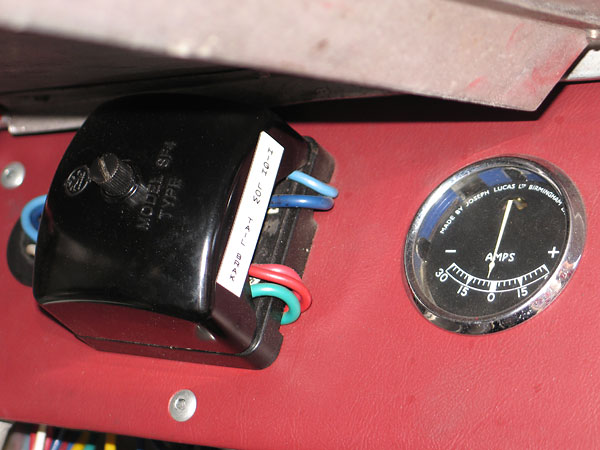 (left) Lucas model SF4 fuse block and (right) Lucas ammeter.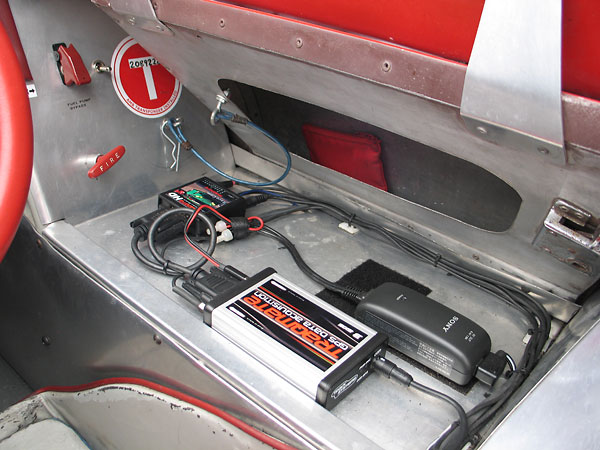 Traqmate GPS Data Acquisition "uses a high-speed GPS receiver and high resolution
accelerometers to track and record the speed of a vehicle, its absolute location, and forces
acting on the vehicle. The Traqview analysis program uses advanced mathematical algorithms
to translate this data into visual form where it is easy to spot differences between drivers,
vehicles, and sessions. It's extremely easy to use and very powerful."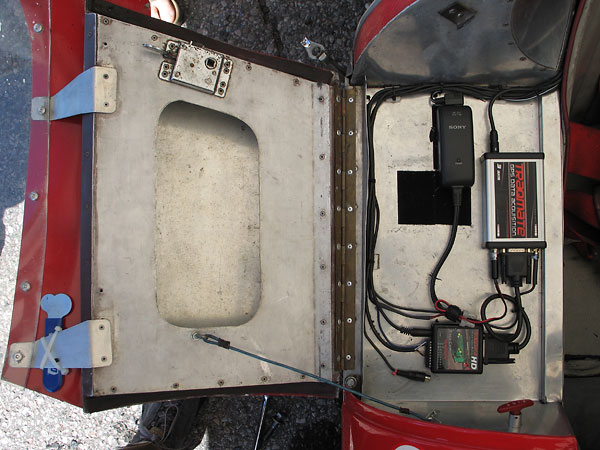 Traqcam HD: "integrated data and video products will collect synchronized data and HD video
and play it back using the award-winning TraqStudio software. You can zip to any place on the
track and the video will follow it. You can play in slow motion, fast motion, or single step with
cool overlayed gauges. With your data and HD Video in sync you can quickly analyze your
driving and Learn to Go Faster!"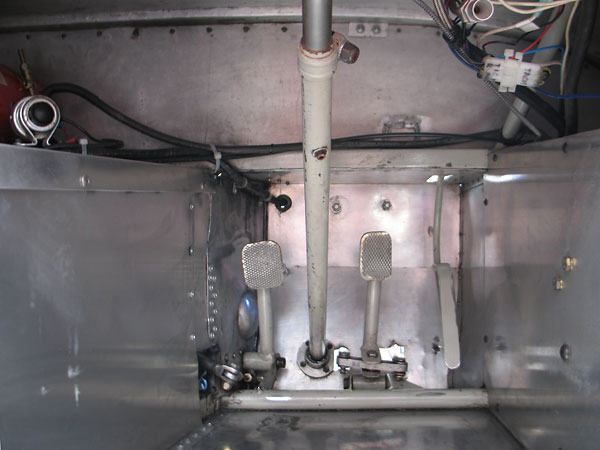 The brake pedal actuates two separate master cylinders through a pivoting intermediary bar.
Gross changes of brake bias can be made by resizing one master cylinder or the other, whereas
fine bias changes can be made by shifting the brake pedal connection left or right on the bar.
In a few years time, much more refined bias bar mechanisms would become de riguer.
Also: stock Lotus Eleven steering columns rotate on nylon bushings, in rubber mounts.


Exterior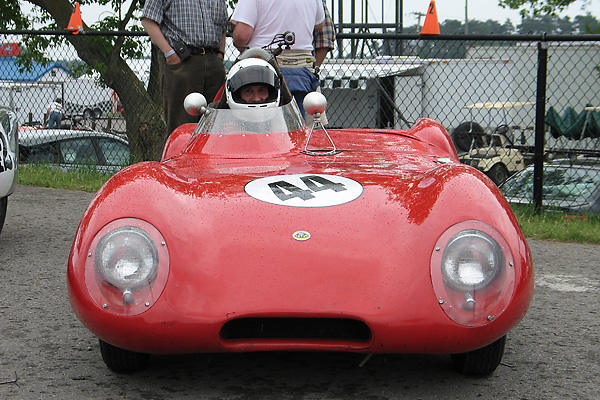 We enjoyed watching Glenn compete in VARAC's 31st International Vintage Festival at
Mosport International Raceway on June 20, 2010. He lapped the challenging 2.458 mile
track quite quickly at 1:40.136 for an average speed around the circuit of 88.37mph.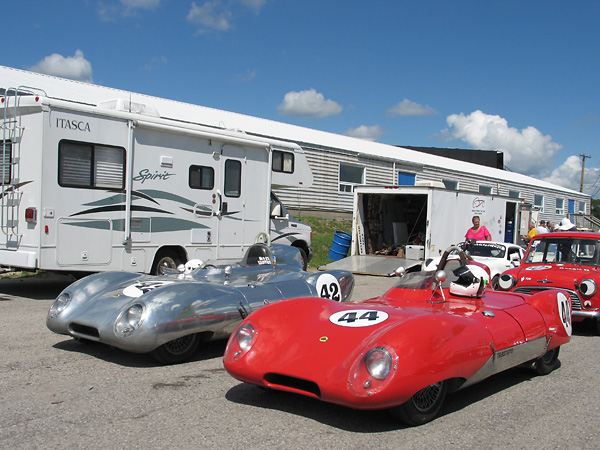 Glenn's Eleven (#283) and its stable mate, Brian MacEachern's Eleven "Silver Bullet" (#224).
At Mosport, in a sixteen lap sprint race, these two lapped 53 competitors in a 58 car field.
Just three Mini Coopers remained on the lead lap, about one minute back from the Elevens.
In fact, the two Lotus Elevens flew past most of the field twice!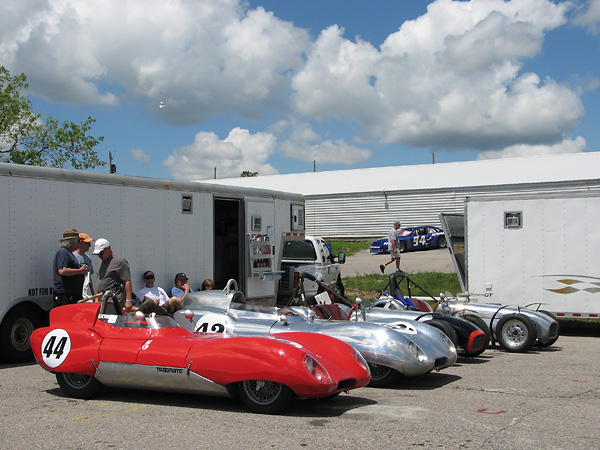 These two cars and their drivers are evenly matched. Watch for a great race when they meet.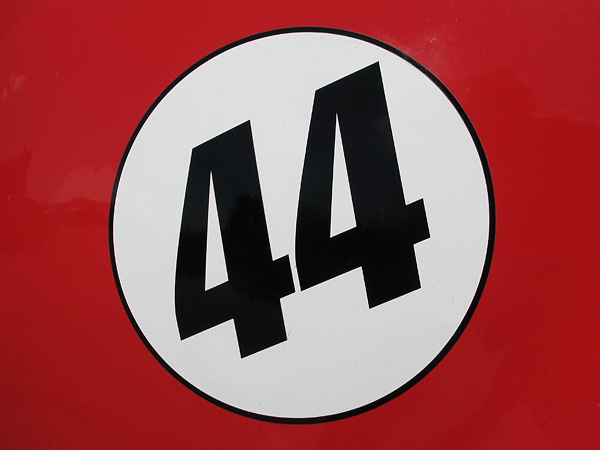 Glenn ranks Mosport and Watkins Glen as his two favorite tracks for the Lotus Eleven.
They're very fast tracks. Glenn can typically get his Lotus Eleven around Watkins Glen's
3.4 mile circuit in about 2:22.8, which works out to about 85.7mph.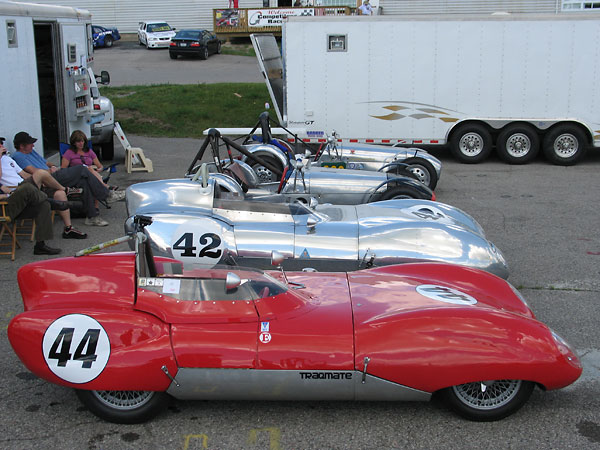 All Series One Lotus Elevens were originally equipped with spoked wheels. Cast magnesium
"wobbly web" wheels weren't offered as an option until the Series Two became available.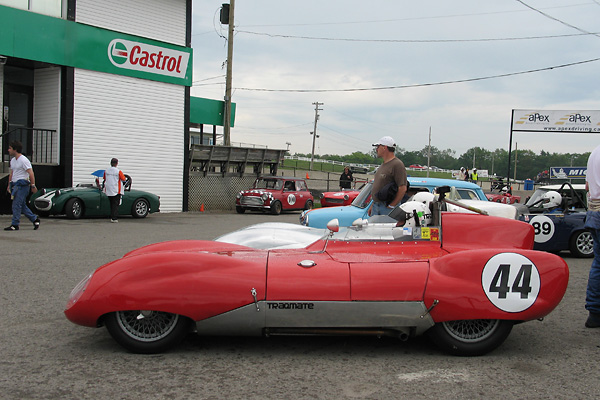 One great innovation and selling point of the Lotus Eleven design was the ease of removing body
sections to get at mechanical components underneath. Exactly two fasteners secure the front body
section to the car. When it's tilted open, it can be lifted off its hinges. Similarly, exactly two
fasteners secure the rear body section. Six screws secure the cowl cover to the frame.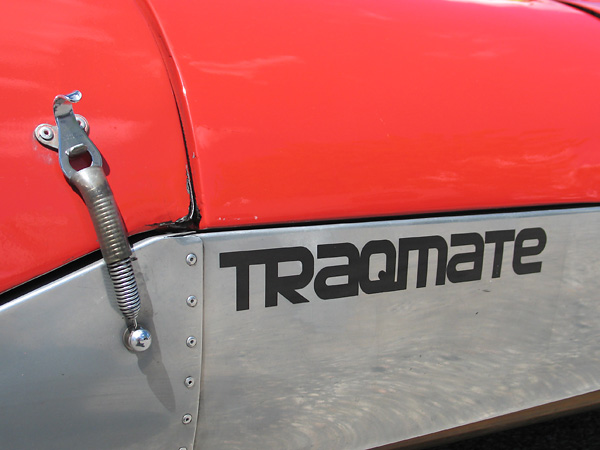 Traqmate is the most popular GPS-based data acquisition system in auto racing.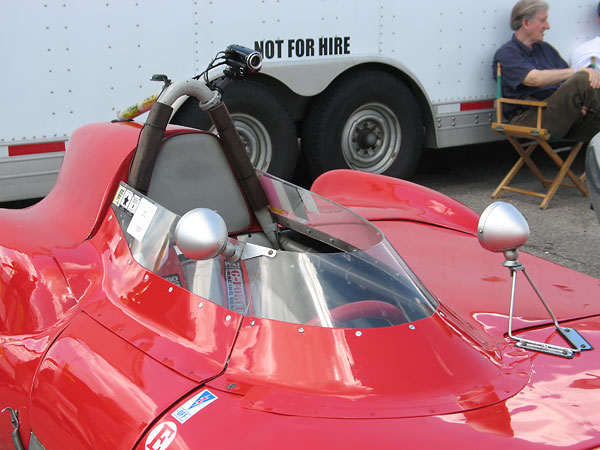 Aluminum alloy tonneau covers with aerodynamic wrap-around Perspex windscreens were an available
option on all versions of the Lotus Eleven: "Sports", "Club", and "Le Mans" - from the start of production
until the end. Two two-seater windscreens were offered too: a tall model for road use and a
low-profile molded Perspex windscreen that mated to door-mounted extensions.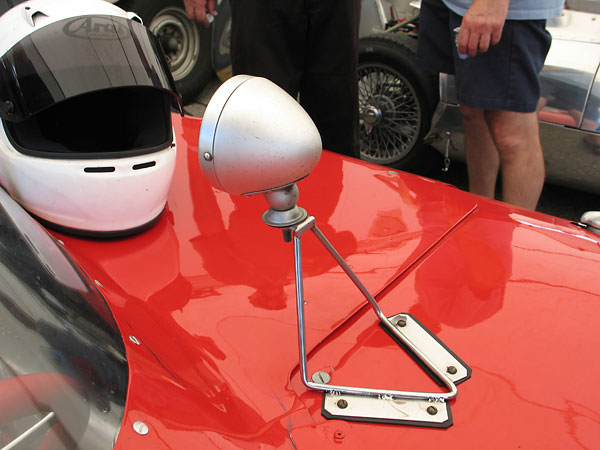 GT Classic mirrors.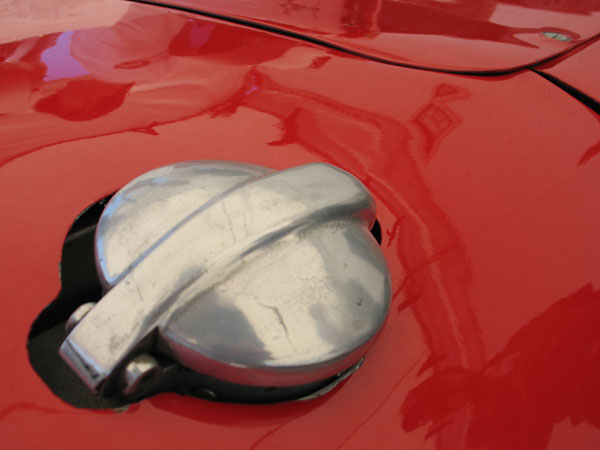 A vintage style filler cap tops an authentic eight Imperial gallon aluminum fuel tank.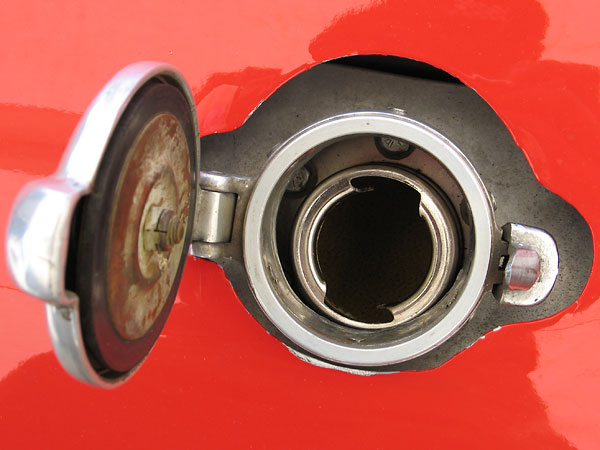 A modern fuel cell liner with a more secure filler cap is hidden underneath.


All except two of the photos shown here are from June 2010 when we viewed the car at VARAC's 31st Intl. Vintage Racing Festival at Mosport Motorsports Park, in Ontario Canada. The very first photo at the top of the article and also one photo of the car's driveshaft tunnel are from Watkins Glen, September 2011. Photos by Curtis Jacobson for BritishRaceCar.com, copyright 2012. All rights reserved.



Notice: all the articles and almost all the photos on BritishRacecar.com are by Curtis Jacobson.
(Photos that aren't by Curtis are explicitly credited.) Reproduction without prior written permission is prohibited.
Contact us to purchase images or reproduction permission. Higher resolution images are optionally available.