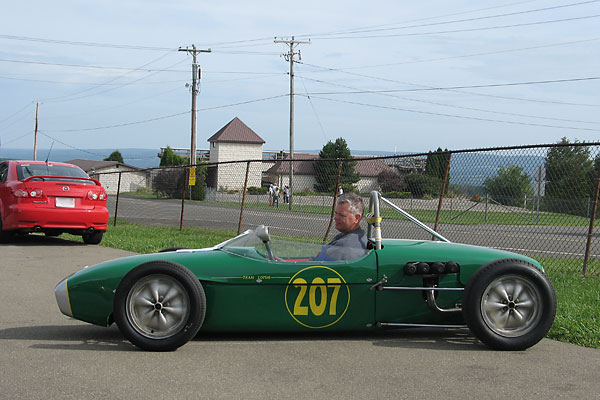 Marcus Jones drives this Lotus 18 Junior Race Car
Owner: Allen Fine estate
City: Mosely Virginia
Model: 1960 Lotus 18 Junior
Engine: 997cc Ford Anglia "Kent" engine
Lotus Finds Success in Formula One
The Lotus 16 of 1959 had been uncompetitive in Grand Prix racing. The Coventry Climax FPF engine that was available to Team Lotus was very much less powerful than the Ferrari or BRM engines, so the Lotus strategy had been to reduce weight and to improve handling so they could carry more speed through turns. Simultaneously, they hoped for an aerodynamic advantage. Frankly, they didn't meet these goals. The Lotus 16 had excessive understeer, and it never placed higher than 6th in a Formula One race.

The big story of 1959 was the success of a different Coventry Climax powered car: the Cooper. Cooper won five of nine Formula One races, plus nineteen of nineteen major Formula Two races, because apparently Cooper alone recognized the inherent advantages of a rear-engined chassis configuration. The era of front-engined Formula cars was ending.

Team Lotus deserves credit for being quicker than most to see the writing on the wall. The brand new rear-engined Lotus 18 was ready to race in time for the beginning of the 1960 season. Indeed, for 1960 the Lotus 18 was absolutely state of the art. Team Lotus accomplished all the goals Colin Chapman had set out at the beginning of the 1959 season. The 18 was the lightest car in the 1959 Formula One field. At the start of the Belgian Grand Prix, the Lotus 18 weighed-in at only 455kg whereas the closest competitor was a Porsche at 490kg. The total frontal area of the Lotus 18, including tires and suspension, was only nine square feet compared to the Cooper Climax's 9.5. Handling and coefficient of drag were similarly outstanding, although it's harder to quantify by what margin.

Of course it doesn't hurt to have a great driver. Sterling Moss qualified fastest and then drove an 18 to easy victory at Monaco in May. Moss also qualified fastest for the Dutch Grand Prix in June, but during the race one of his wheels was damaged when a lapped car he was over taking kicked a kerbstone into his path. Despite stopping for repair, Moss managed to work his way back to fourth position. He drove the race's fastest lap in the process. Later in June, during practice for the Belgian Grand Prix at Spa, Moss had an accident and was injured, and Lotus hopes for the constructor's cup were dashed. Sterling Moss healed and returned to driving just in time for the end of the season. The final race was the United States Grand Prix at Riverside in November, where Moss once again qualified fastest and went on to race victory.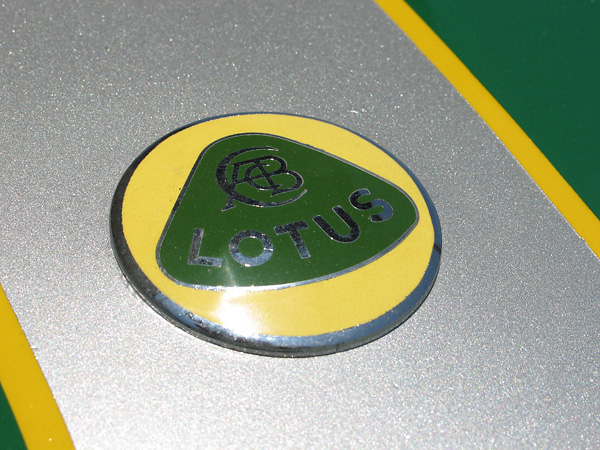 "ACBC" is short for Anthony Colin Bruce Chapman, the founder of Lotus.


The Formula Junior Story
There was a lot more to Lotus than just a Formula One team. From 1959, the Lotus Group was comprised of three divisions. Lotus Components Limited was the division which built and sold racecars and racecar parts.

It didn't take much work to make the Lotus 18 suitable for Formula Two. They simply installed a smaller Coventry Climax engine. Combined build of Formula One and Formula Two 18's was 24 cars. But that wasn't all! Lotus Components developed a variant of the design for a much lower-power racing class called Formula Junior. About 125 Lotus 18 Juniors were built

What is a Formula Junior? Formula Junior rules defined the class as follows: "Cars of the Junior formula are one-seater racing cars, whereof the fundamental elements are derived from a touring car recognised as such by the F.I.A., with minimum production of 1000 units in 12 consecutive months." Maximum engine capacity was 1100cc, but cars powered by engines smaller than 1000cc were allowed a lower minimum weight of 360kg vs. 400kg (dry). "The gear box must be that of an F.I.A. recognized touring car. Complete freedom is left with regard to the number and staging of gear ratios." Few if any Formula Junior cars used transaxles that came from the same make or model donor car as their engines. Renault, Citroen, or VW transaxles were mated to Ford or BMC engines. The rules also stated that "The braking system and principles (viz. drum brakes or disc breaks) must remain the same as on the car from which is taken the engine."


Enjoying this article? www.BritishRaceCar.com is partially funded through generous support from readers like you!
To contribute to our operating budget, please click here and follow the instructions.
(Suggested contribution is twenty bucks per year. Feel free to give more!)
Except for engine, gearbox, and brakes, the Lotus 18 Junior is very similar to the Formula One car. The space frames of both cars integrate a sheetmetal wrapped mid-section bulkhead, but the Formula One chassis has a second (similar) bulkhead at its extreme rear. Some sources report that the Junior frame used thinner wall tubing. The Formula Junior version carries a single fuel tank instead of two tanks, it rides on narrower wheels and tires, and it's missing the Formula One car's adjustable rear antisway bar.

For the Formula Junior, Lotus wisely chose the new Ford "Kent" four cylinder engine which had been introduced in 1959 and was homologated based on its use in the Ford Anglia saloon. The engine was peppy, partly on account of its oversquare 3.187"/1.906" bore to stroke ratio, its overhead valve 8-port head, and its lightweight, low friction, three main bearing crankshaft. Ford rated the stock engine at 39hp at 5000rpm and 52.5lb-ft at 2700rpm. Since the Anglia saloon only came with drum brakes, the Lotus 18 Junior would be obliged to utilize drum brakes too. Lotus chose to mate the Ford engine to a Renault 4-speed gearbox.

Allen Fine is deceased, and his estate has decided to sell the car. Marcus Jones will be happy to answer any questions from interested buyers. Marcus can be reached by telephone at (804) 833-5482.

Features and Specifications
Engine:
997cc Ford Anglia "Kent" engine. Non-crossflow, iron cylinder head. Dual Weber 40DCOE carburetors. K&N round tapered air filters (x4). Full race camshaft. Standard rockers. Lumenition Optronic optical/breakerless ignition system with Lumenition high performance coil, used with the Lucas 25D4 distributor. Dry sump lubrication system, including a Titan oil pump.

Cooling:
combination radiator/oil cooler.

Exhaust:
custom 4-2-1 header.

Transaxle:
Hewland Mk5 5-speed transaxle with open differential. (First gear is for the paddock only.) Tilton single disc clutch. "Lotus" adapter ring. (Note: adapter rings, slave cylinders, etc. are readily available from Taylor Race Engineering.)

Front Susp.:
dual wishbone. KONI adjustable coilover shock absorbers. Anti-roll bar.

Rear Susp.:
driveshaft as upper link. Very long, reversed lower wishbones. Trailing radius rods. KONI adjustable coilover shock absorbers.

Brakes:
(master) dual Lockheed master cylinders with bias bar.
(front) drum.
(rear) drum.

Wheels/Tires:
Lotus "wobbly web" six-stud magnesium wheels. Dunlop Racing "204" tires, 15x4.5 front / 15x5.0 rear.

Electrical:
Tilton Super Starter. Wet cell motorcyle battery.

Instruments:
(left to right) Westech dual EGT gauges (700-1700F), Smiths coolant temperature gauge (90-230F), Jones mechanical tachometer (1000-9000rpm), Smiths oil pressure gauge (0-100psi),

Fuel System:
Fuel Safe Systems fuel cell. Facet fuel pump.

Safety Eqpmt:
Simpson five point cam-lock safety harness with Sabelt shoulder pads. Lifeline fire suppression system. Quick release steering wheel hub. 50 LED rain/brake light.

Weight:
885lb.

Racing Class:
Formula Junior / SVRA FJ2

Engine Installation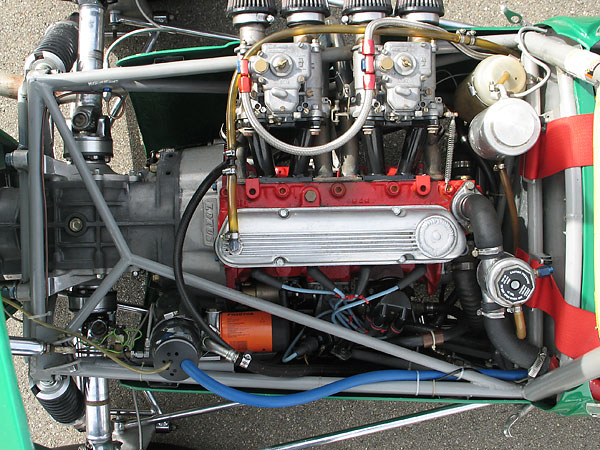 997cc Ford Anglia "Kent" engine.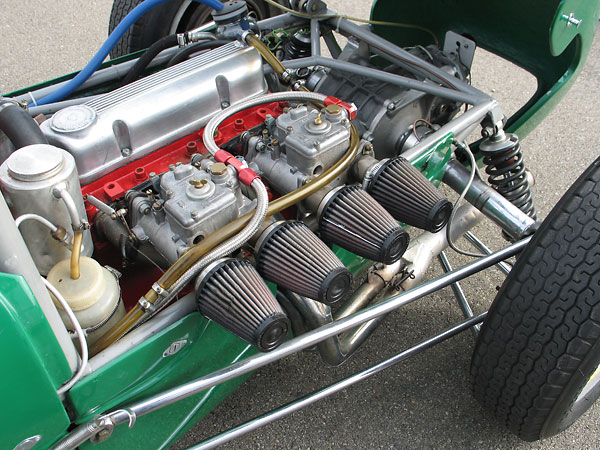 This engine was newly introduced in 1959 for use in Ford of Britian's Anglia (105E) saloon model.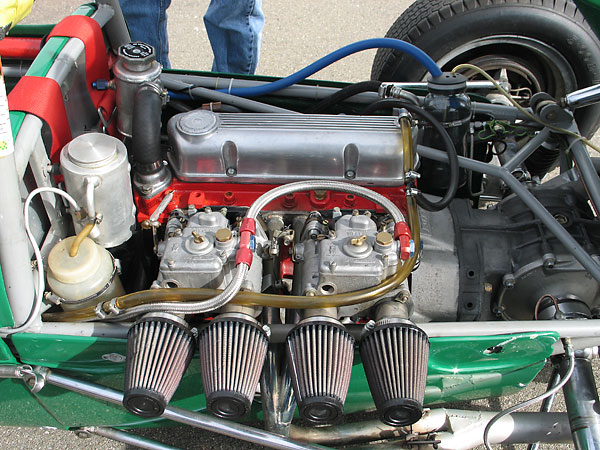 Dual Weber 40DCOE carburetors.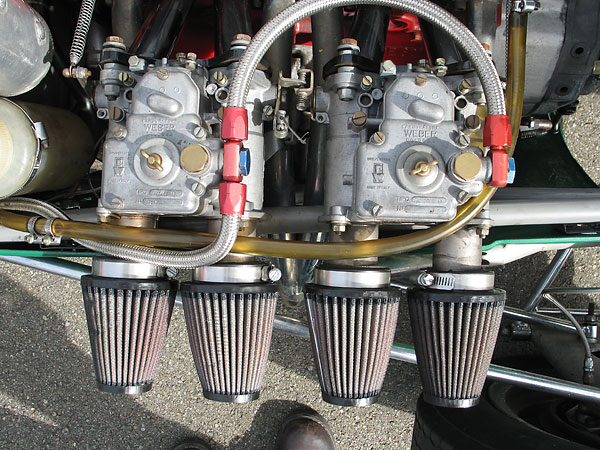 K&N round tapered air filters (x4).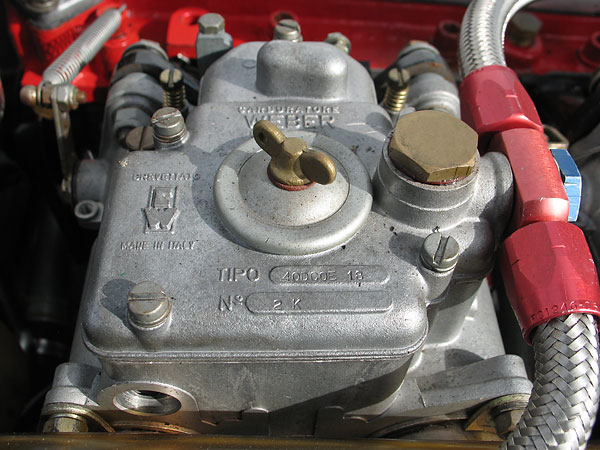 The Webers are stamped "40DCOE18", where the 18 suffix indicates their initial set-up including jetting.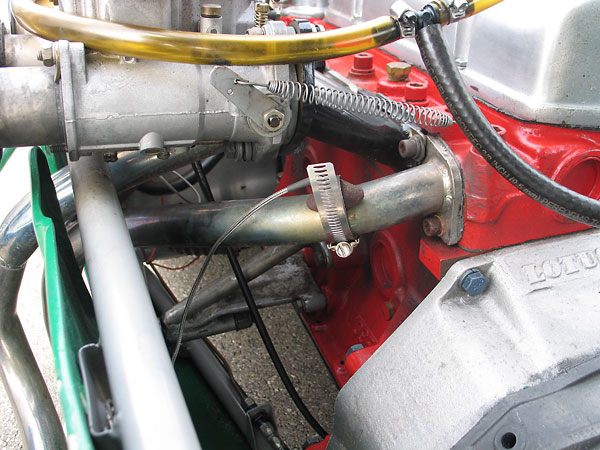 Exhaust gas temperature sensor, mounted to the exhaust header.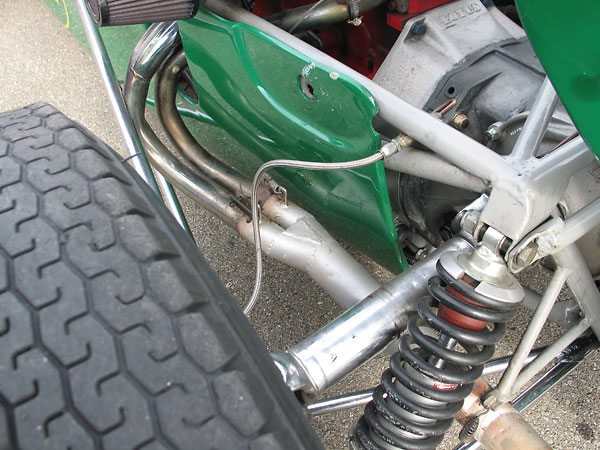 Four-into-Two-into-One (aka: "Tri-Y") exhaust header suits the engine's 4-2-1-3 firing order.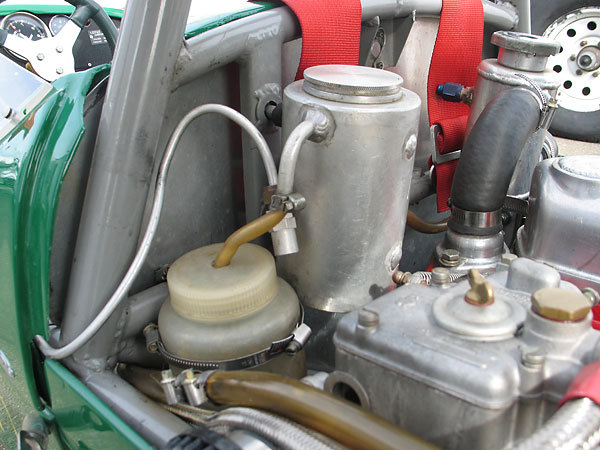 This is just a coolant overflow bottle and a catch tank.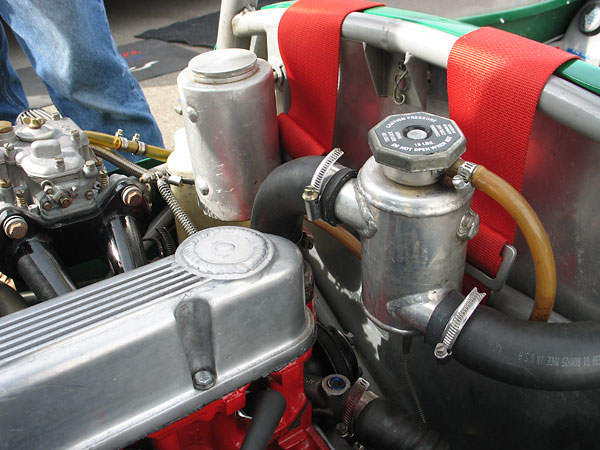 Coolant header tank, with pressure cap at the high point in the system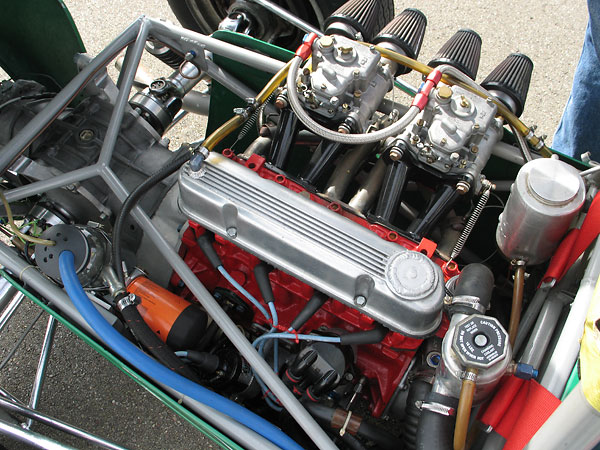 A better view of the fabricated steel intake manifolds.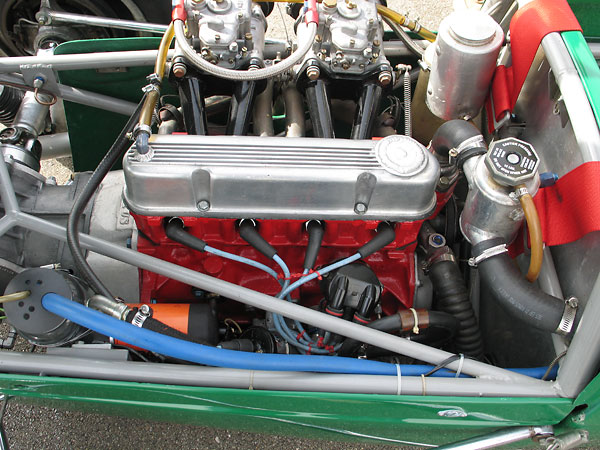 Lucas 25D4 distributor, upgraded with Lumenition "Optronic" optical pick-up breakerless ignition module.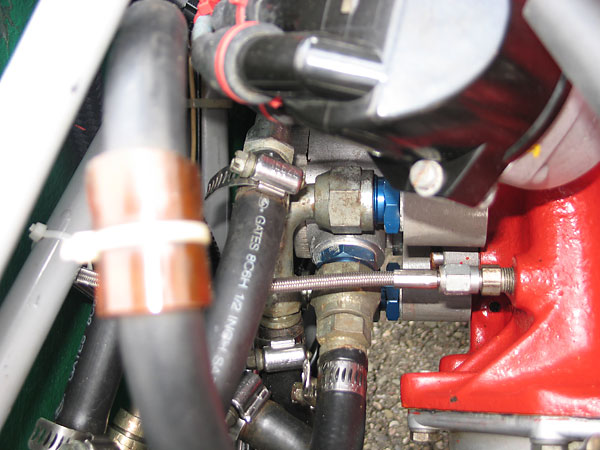 Oil pressure gauge port, and plumbing for oil cooler / remote filter.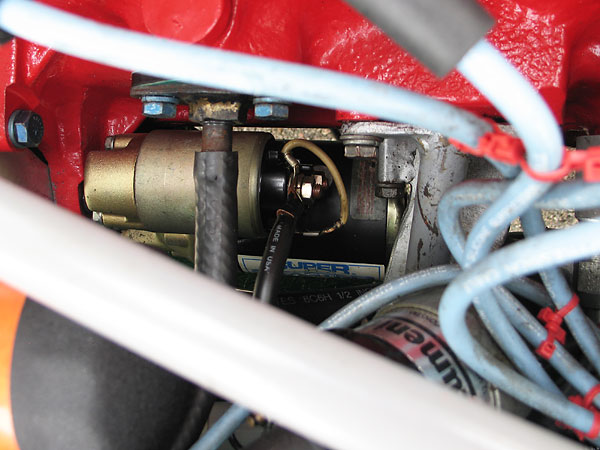 Tilton Super Starter.


Transaxle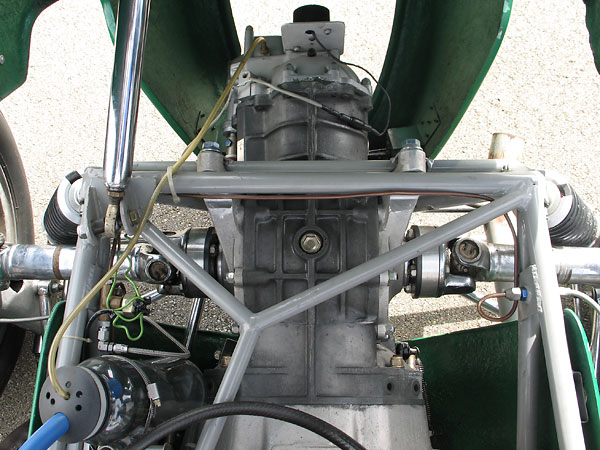 Hewland Mk5 5-speed transaxle with open differential.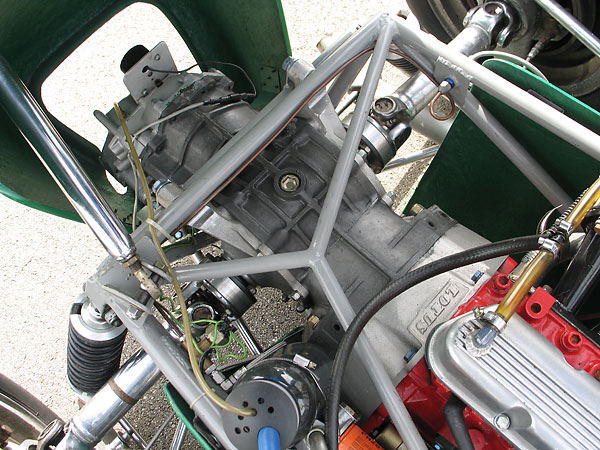 Lotus 18 Juniors came with Renault Dauphine (Type 318) 4-speed gearboxes. The Hewland transaxle in this
car is a big upgrade. Englishman Mike Hewland started modifying Volkswagen transaxles for racing use in
1957. Much of Hewland's early business was for Formula Juniors, and many cars were converted. In 1961,
Lotus started offering Hewlands as optional equipment. Still, some vintage racing clubs forbid the upgrade.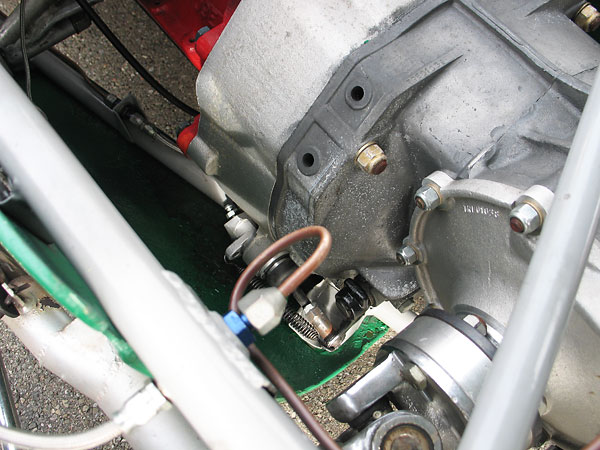 The clutch slave cylinder (7/8" bore) and transaxle adapter ring are from Taylor Race Engineering.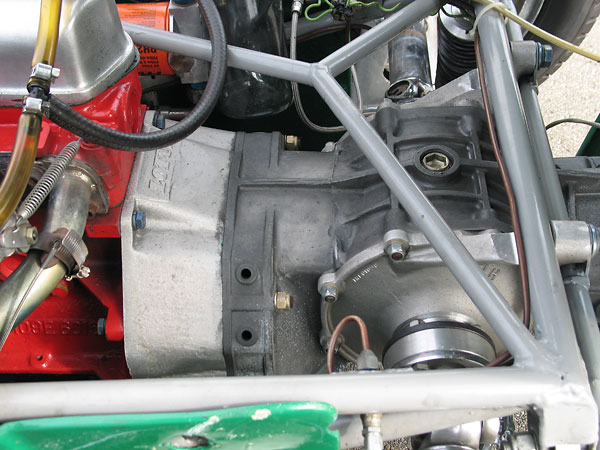 The transaxle appears to be a neat fit. We understand it took a lot of wiggling to get it into place.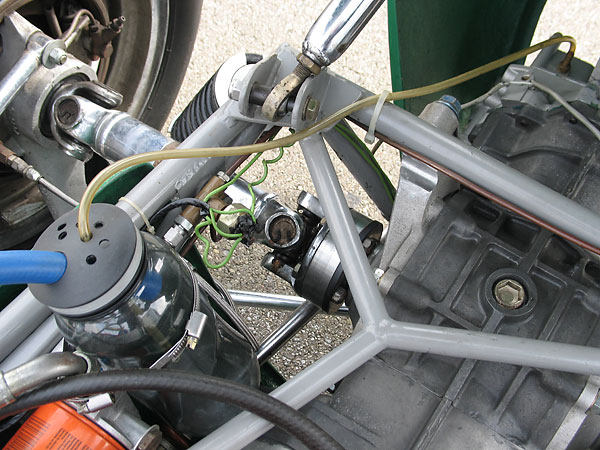 The spherical rod end bearing (a.k.a.: "Heim joint" in U.S.A. or "Rose joint" in Great Britian) at the
top of this photo is part of a detachable roll hoop brace. The brace, and indeed the roll hoop itself,
are relatively modern concessions to safety. Lotus didn't provide any rollover protection at all. Heim
joints provide a convenient way to adjust the length of all sorts of radius rods. Notice that you don't
see a Heim joint in the very top, lefthand corner of this photo. Why not? We'll get to that!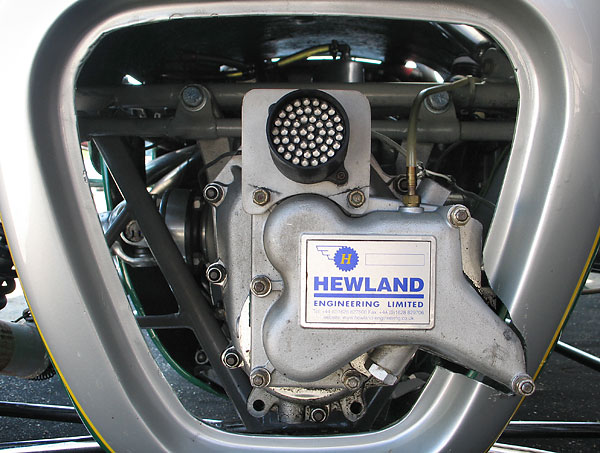 This bright, rugged 50-LED lamp is marketed as "The Ultimate Tail/Brake Light."


Front Suspension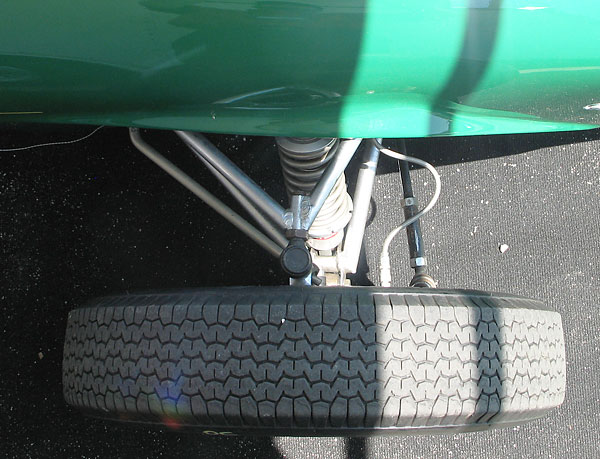 Dual wishbone front suspension.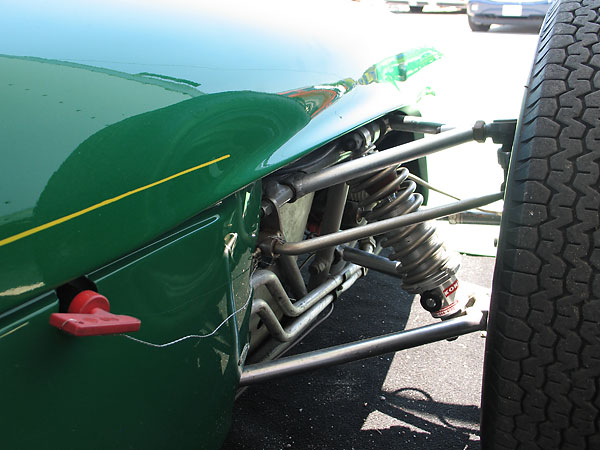 The original Armstrong shock absorbers have been replaced with adjustable KONI shock absorbers.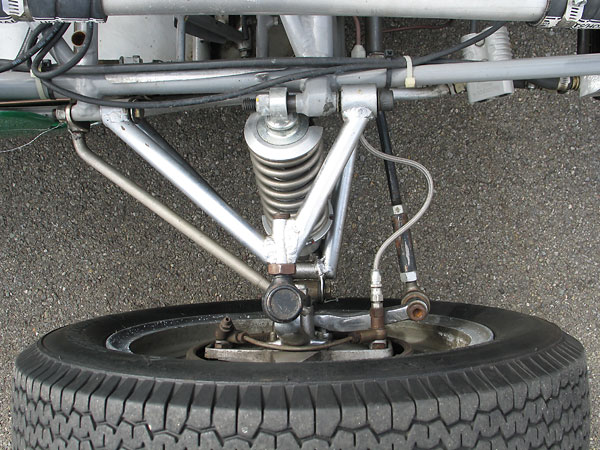 To adjust caster angle, one disconnects the top wishbone and then adds or removes shims.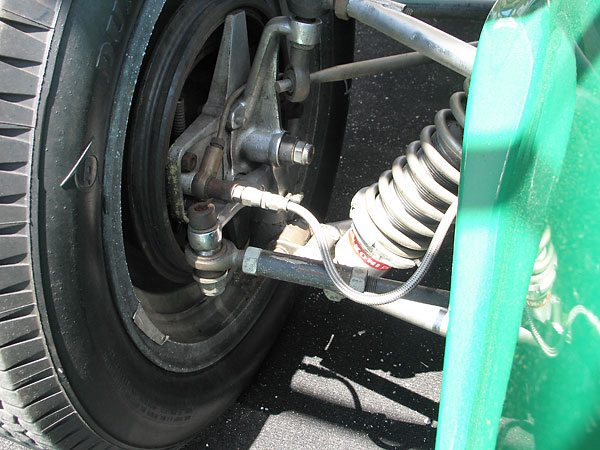 Steering links originally had conventional tie rod ends. Heim joints facilitate more precise adjustment.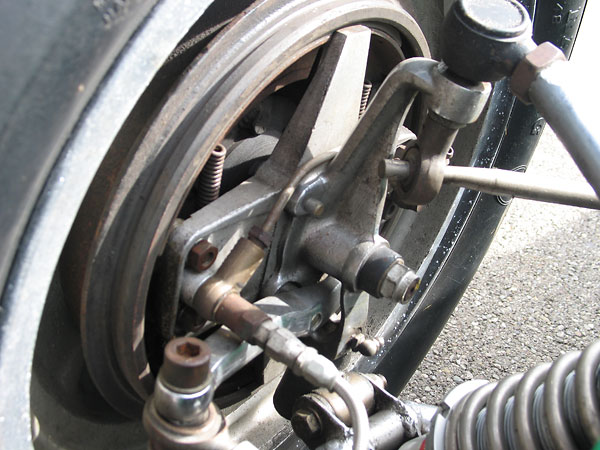 Finned aluminum ("Alfin") brake drums are common on Formula Junior cars, but this one has iron drums.
The Formula One version of the Lotus 18 raced with Girling disc brakes on all four corners.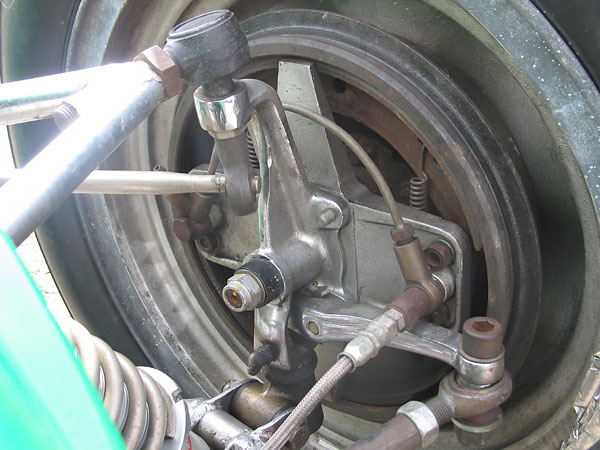 Feeding the front anti-roll bar through a Heim joint bearing is cleverly light and simple. It's a Lotus trick
that was also used on the Formula One Lotus 18's. Downside: roll stiffness isn't easily tuneable.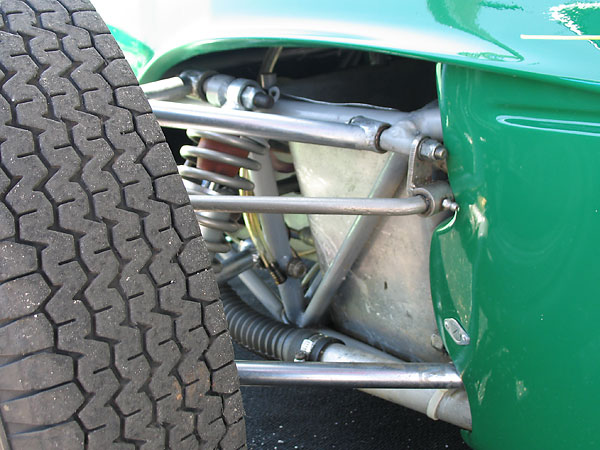 Anti-roll bar mounting bracket.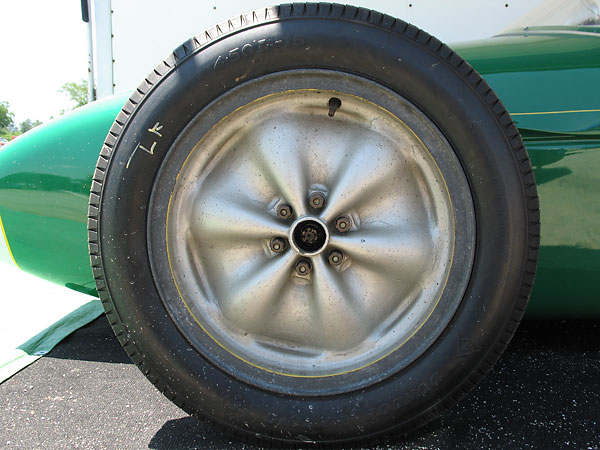 In 1958, "wobbly web" convoluted magnesium wheels became a distinctive Lotus feature. Lotus wobbly web
wheels proved to be both lighter and stiffer than spoke wheels. Soon, all competitive international race teams
switched to cast magnesium wheels. (Ferrari was last, in 1961.) Lotus wobbly web wheels were mounted on
studs to save weight compared to old-fashioned knock-offs. This change was facilitated by tire improvements;
by 1958, tire changes were no longer common during races. Why not use aluminum wheels? Magnesium
is about half as strong as aluminum, but it only weighs about two-thirds as much per unit of volume.


Rear Suspension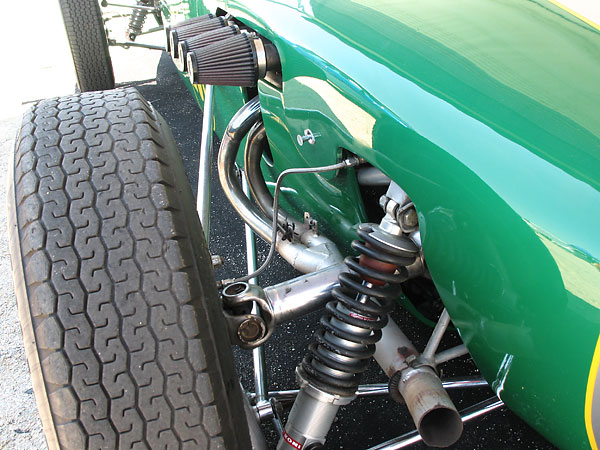 In 1959, Cooper started a landslide in Grand Prix development by putting their engine behind the driver.
Lotus was first to follow Cooper's lead, but did so with substantial technical refinements. Where Cooper
had used a transverse leaf spring for the rear suspension, Lotus used coilover shock absorbers. To save
weight and add simplicity, Lotus tried something tricky: they employed the driveshafts as de facto upper
suspension links instead of having separate wishbones (as in the front suspension).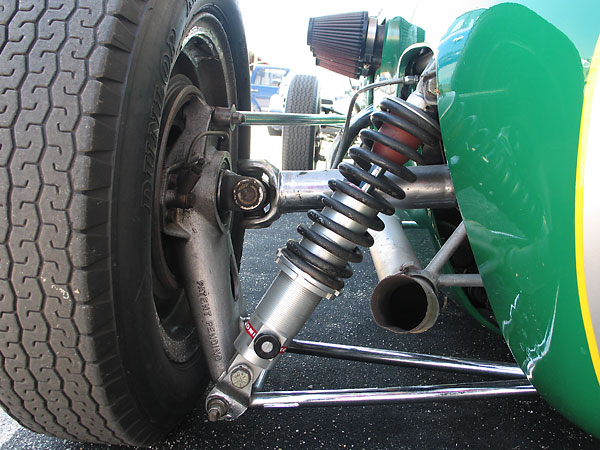 Complications? The location of u-joints on the driveshafts were now suspension pivot points, so their
location was critically important. Also, bearings in the transaxle would have to withstand axial loads.
On the other hand there was no need for splined joints on the driveshafts. (Splined joints add cost and
can cause binding. In 1961 Lotus tried a different approach. They added upper wishbones, but made
fixed length shafts work by using them with donut-shaped rubber couplings to accomodate plunge.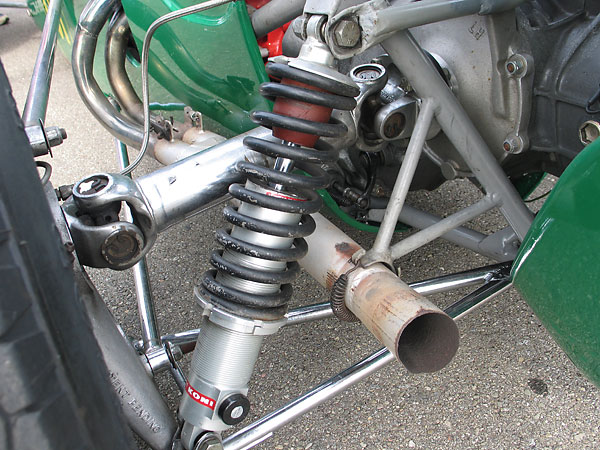 Notice here that the upper suspension link (i.e. the halfshaft) is much shorter than the lower link. With
this geometry, the rear wheel will tilt toward the body (i.e. develop "negative camber") as it moves
upwards in bump. But when cornering, the chassis of the car will tilt outward and the net result will be
that the tire stays substantially perpindicular to the road surface for better grip.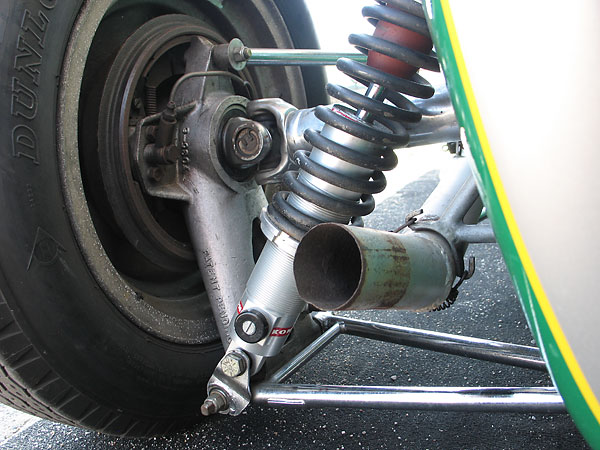 Lotus designed the 18 to have both front and rear nominal suspension roll centers about and inch or so
above the ground. Compared to previous Grand Prix cars, weight transfer from inner to outer wheels during
cornering was dramatically reduced. However, this design was a bit of a compromise because the distance
from nominal roll center to center of gravity (i.e. the "roll couple") was increased. In simple terms, the car's
body would sway sideways more than other cars when turning. To mitigate this, Lotus equipped the Lotus
18 Grand Prix cars with both front and rear anti-sway bars. (The rear bars were adjustable.) However, Lotus
apparently decided against providing the Lotus 18 Juniors with rear anti-sway bars.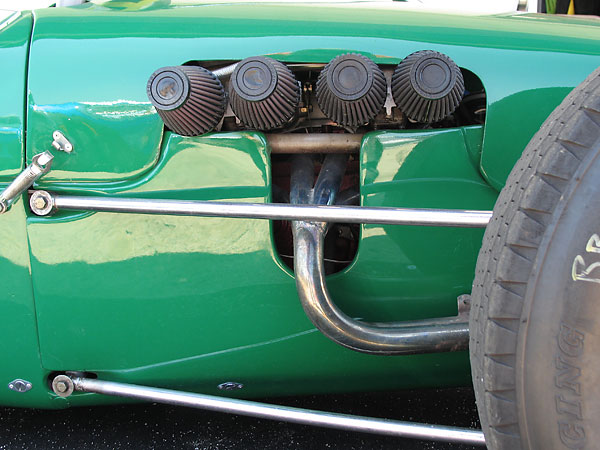 Lotus made these trailing links as long as feasible to help minimize rear steering effects. Notice that their
length isn't adjustable, so they have to be precisely made and they don't facilitate suspension tuning.
(Use of Heim joints on suspension radius rods was pioneered by the Cooper Car Company in 1958.)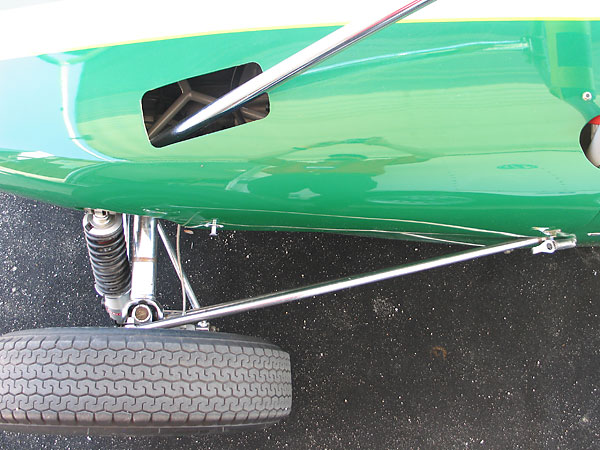 Trailing radius rods.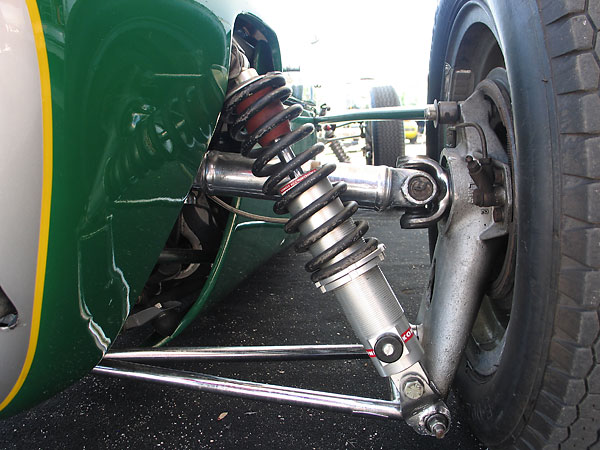 KONI adjustable coilover shock absorbers.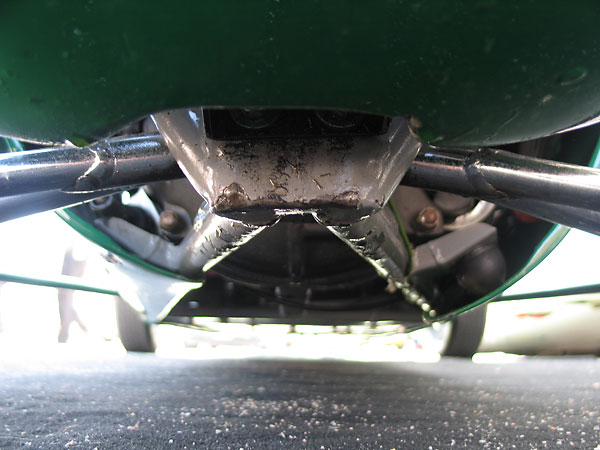 Lower inboard suspension pivot points.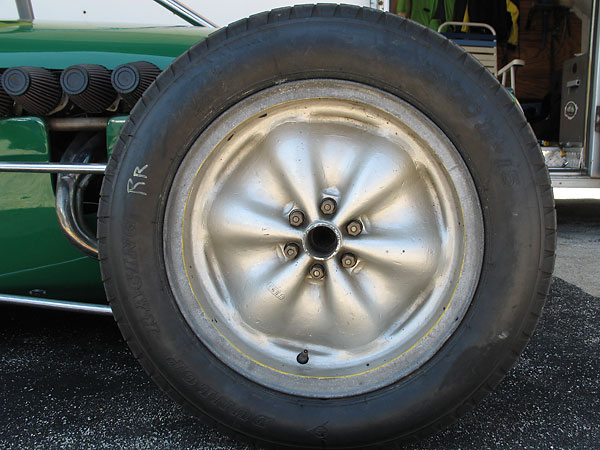 The Formula Junior races on 15"x4.50" (front) and 15"x5.00" (rear) Dunlop Racing "204" tires. However,
in its Formula One version the Lotus 18 raced on 15x5.00" (front) and 15x6.50" (rear) Dunlop "R5" tires.


Miscellaneous / Chassis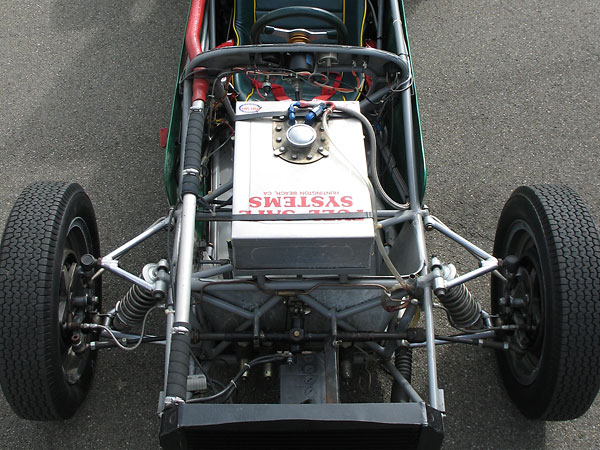 Fuel Safe Systems fuel cell.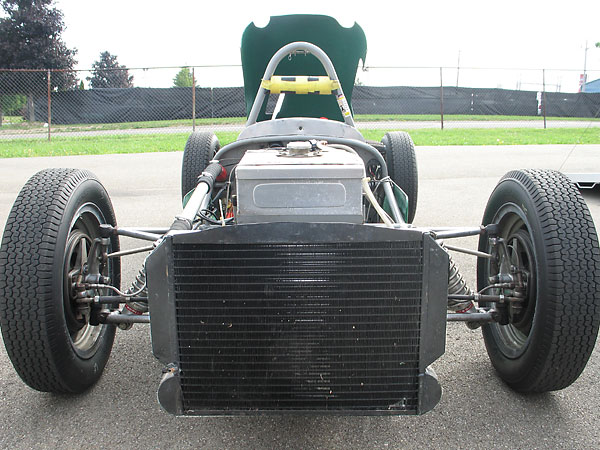 Combined radiator (above) and oil cooler (below).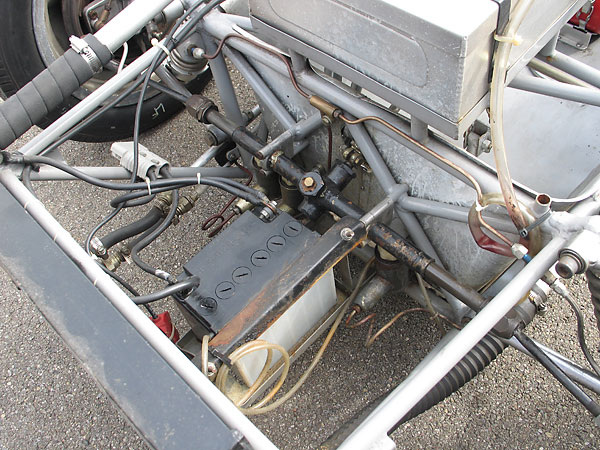 Wet cell motorcyle battery.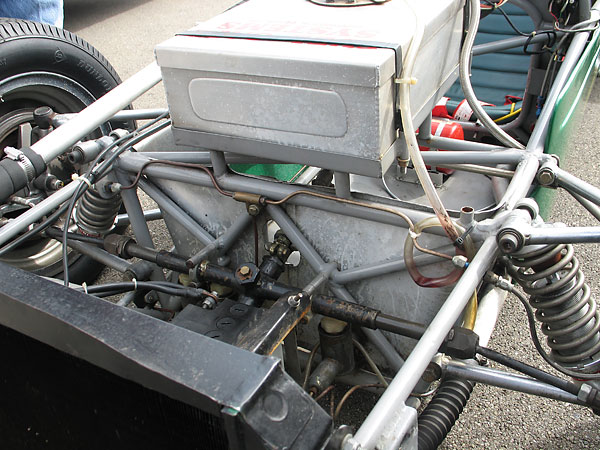 Lightweight steering rack.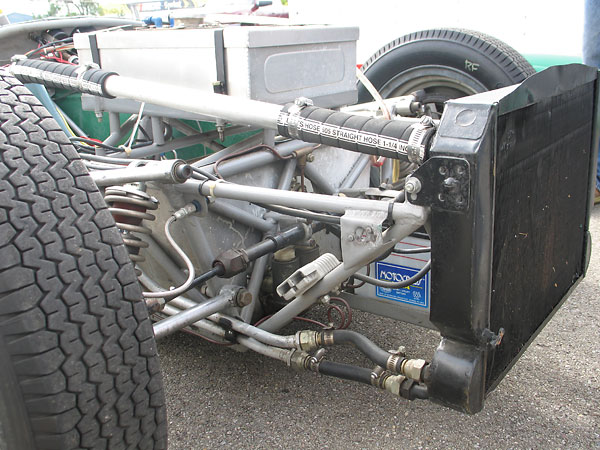 The front section of the body is mounted on just a handful of Dzus quarter-turn fasteners.


Interior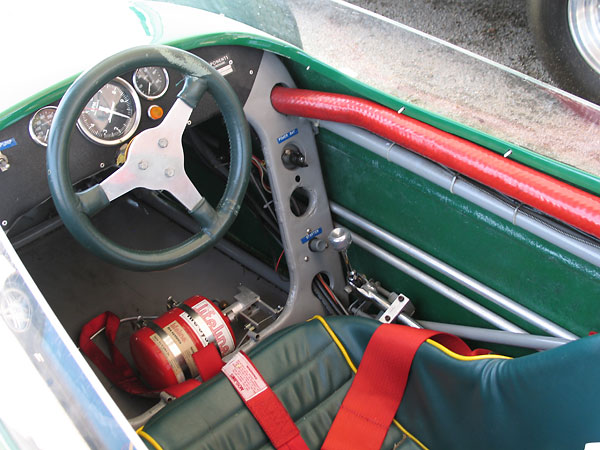 Lotus used green gelcoat when they made the Lotus 18's fiberglass body panels.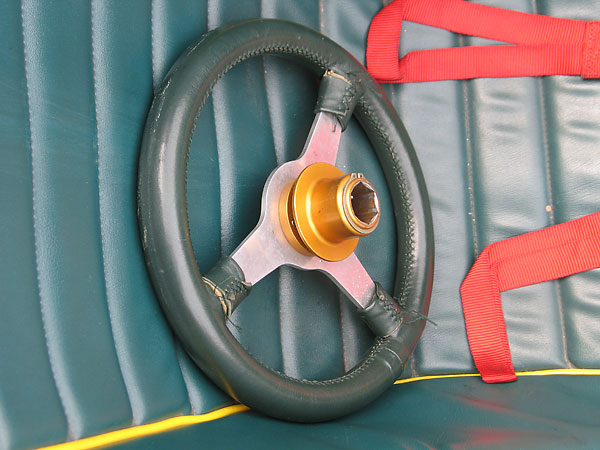 The quick release steering wheel hub is a modern safety feature.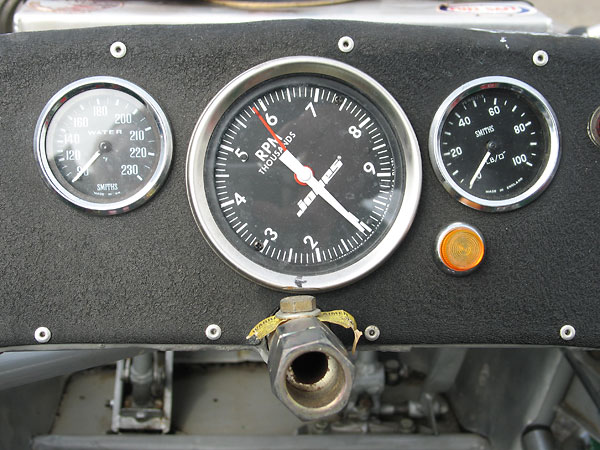 Smiths coolant temp gauge (90-230F), Jones tach (1000-9000rpm), Smiths oil pressure gauge (0-100psi).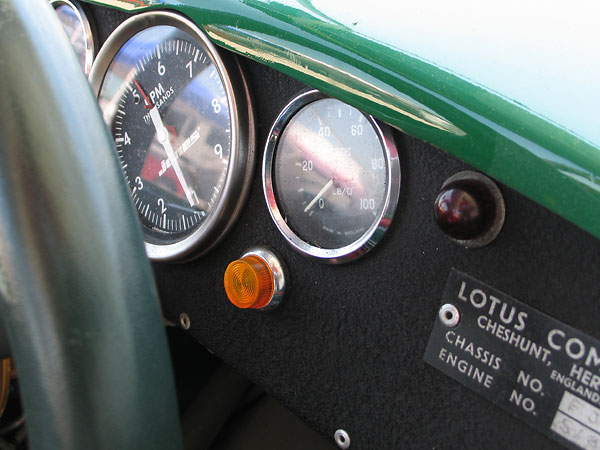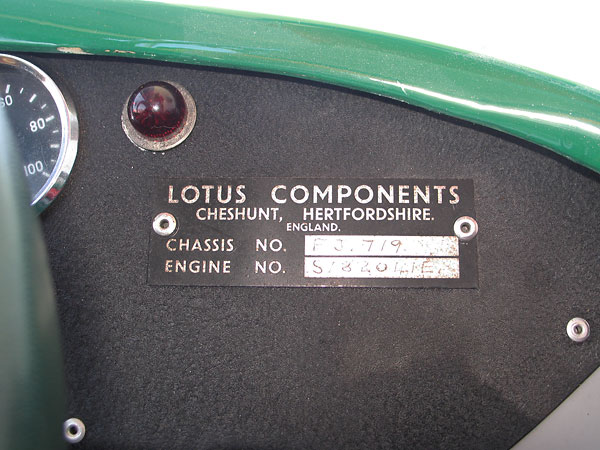 LOTUS COMPONENTS
Cheshunt, Hertfordshire. England.
Chassis No. FJ719, Engine No. S182041E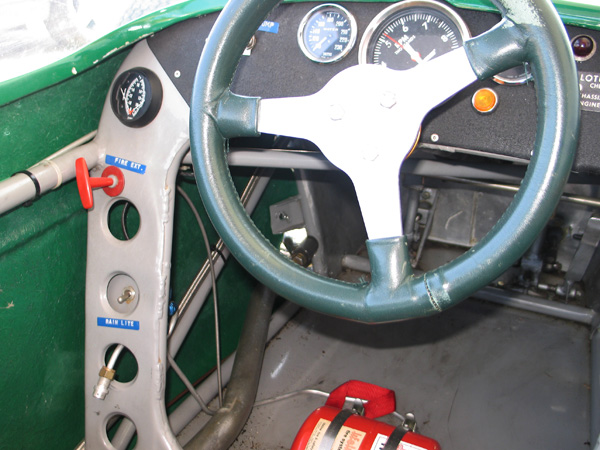 Westech dual EGT gauge, fire suppression switch, rain light switch, fire suppression spray nozzle.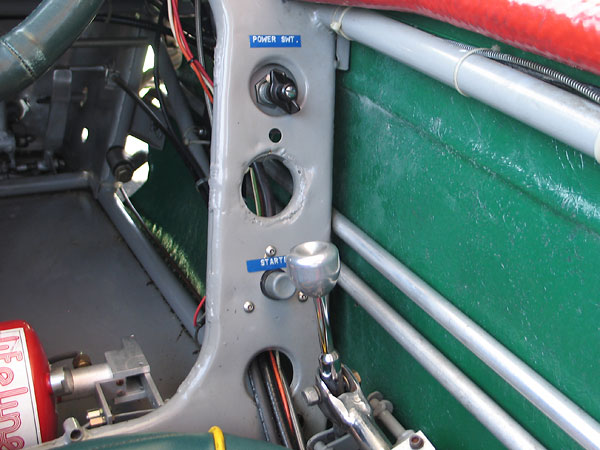 Lucas power and starter switches. Note: the original (Renault) shifter was located on the lefthand side.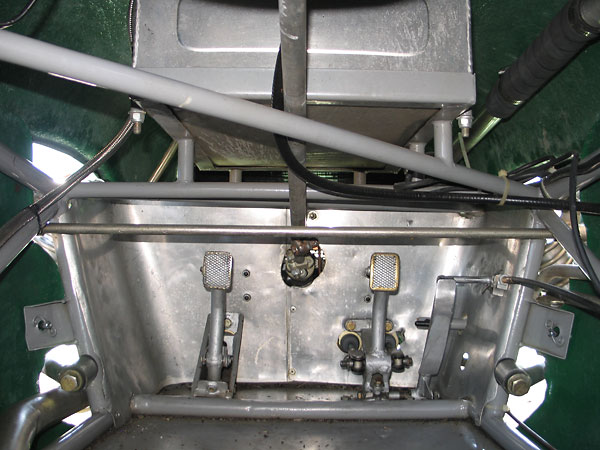 Foot box.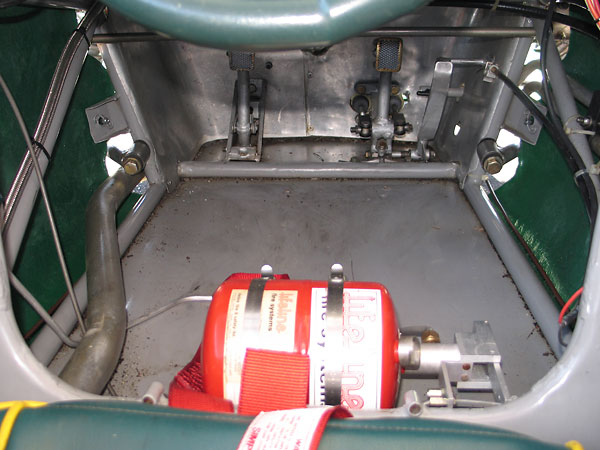 Lifeline fire suppression system.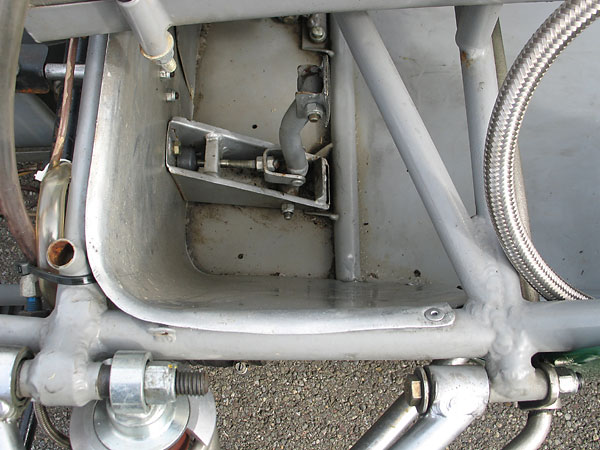 Clutch pedal.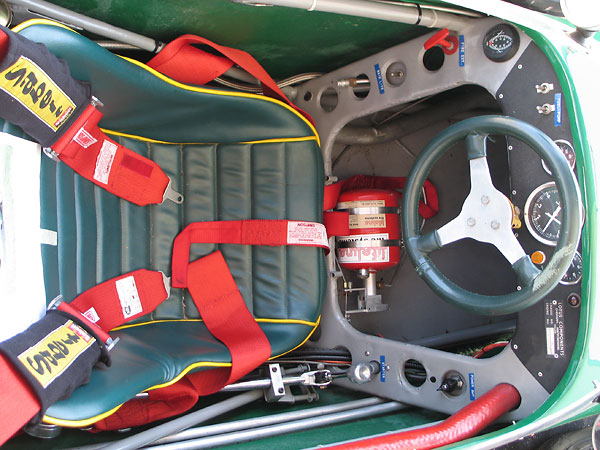 Simpson five point cam-lock safety harness with Sabelt shoulder pads.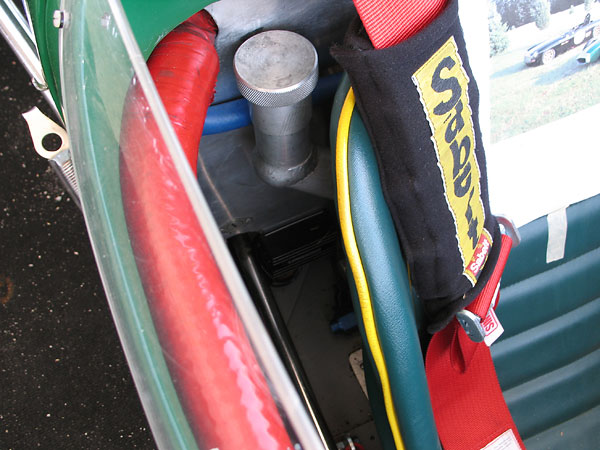 The oil reservoir for the dry sump lubrication system is mounted behind the seat.
In the shadow: the Lumenition Optronic ignition module.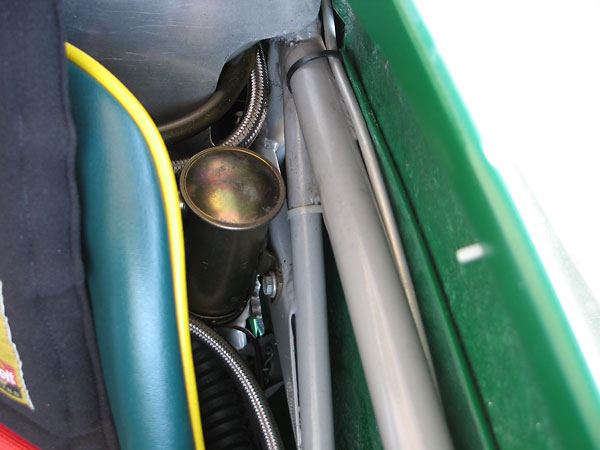 Facet fuel pump.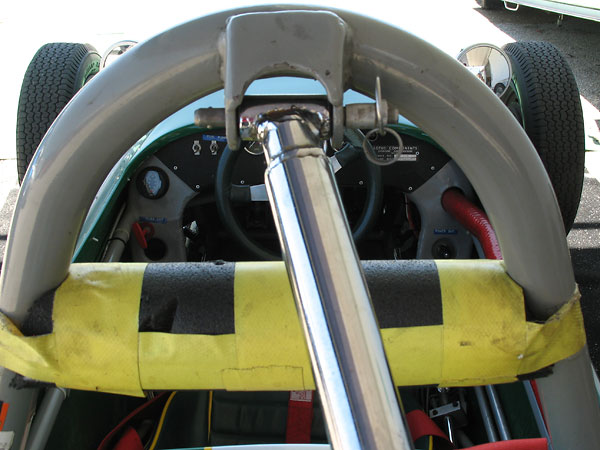 Removeable quick-release "Pip pin" comes out, and then the roll-hoop brace can be swung rearward.


Exterior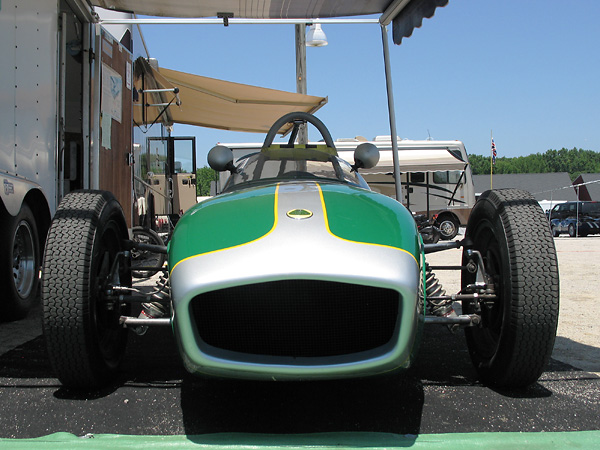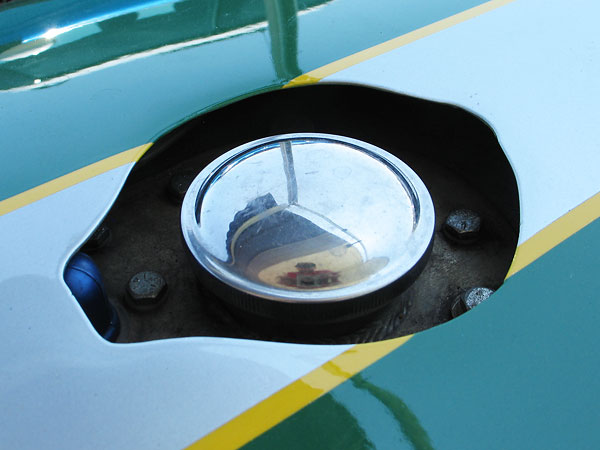 A "LeMans Style" flip-open fuel cap would have been original.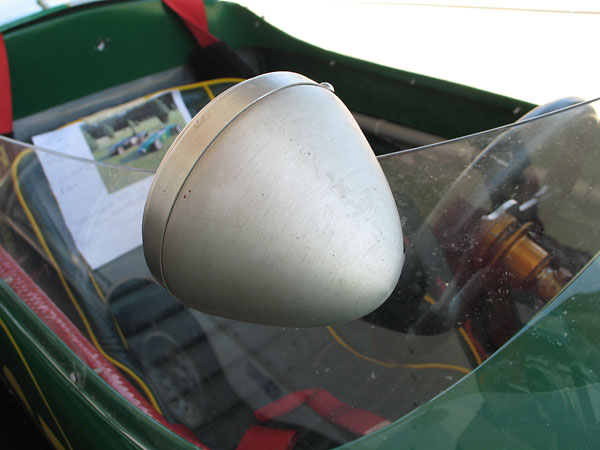 GT Classic mirror.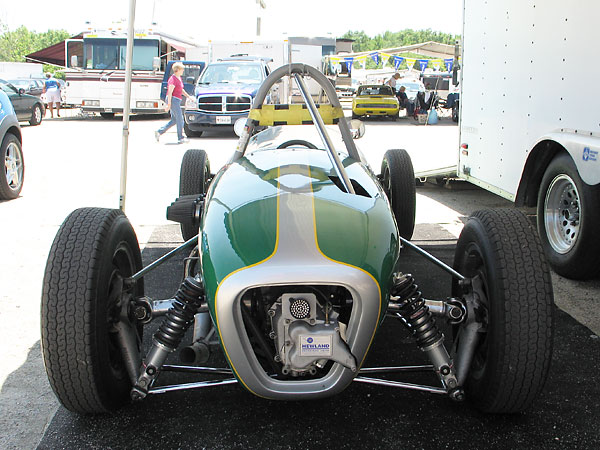 All photos shown here are from June 2009, when we viewed the car at The Heacock Classic Gold Cup at Virginia International Raceway, or from September 2009 when we viewed the car at The US Vintage Grand Prix at Watkins Glen. All photos by Curtis Jacobson for BritishRaceCar.com, copyright 2009. All rights reserved.



Notice: all the articles and almost all the photos on BritishRacecar.com are by Curtis Jacobson.
(Photos that aren't by Curtis are explicitly credited.) Reproduction without prior written permission is prohibited.
Contact us to purchase images or reproduction permission. Higher resolution images are optionally available.