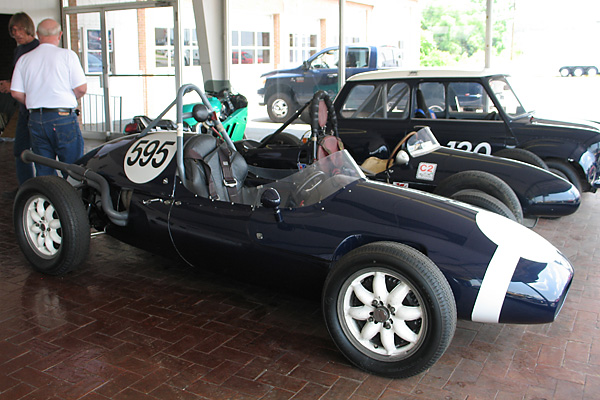 Jay Nadelson's Cooper T43 Formula 2 Racecar
Owner: Jay Nadelson
City: Millburn / Short Hills, New Jersey
Model: Cooper T43 ("F2/19/57", circa 1957)
Engine: Climax FPF 1475cc (twin cam)
Race prepared by: Tivvy's Autocraft
Cooper T43 Number 19
The Cooper T43 was the 1957 (MarkII) version of Cooper's original Formula 2 model. The 1956 (MarkI) version was called T41, and the 1958 (MarkIII) version was called T45. Serial numbers for the T43 cars always start "F2" and end "57". The number between prefix and suffix is the car's serial number, 1 through 31.

The appendix of Cooper Cars by Doug Nye contains a list of Cooper T43 cars, sorted by serial numbers, with their respective purchaser names and information about their engines. Doug Nye composed his list by transcribing a handwritten ledger, which on at least one occasion he has described as "a work of convenient fiction." Indisputedly, and as the ledger has it, most T43 cars were built with Climax twin-cam FPF engines. The ledger seems to show that five cars (including Cooper's "school" cars) were built with Climax single-cam FWA (nominally 1097cc) engines, and four cars were built with Climax FWB (nominally 1460cc) engines. Only exactly one car - F2/19/57 - is listed as having been built with a Climax single-cam FWE engine. The FWE was a single-cam version of the Climax engine, nominally displacing 1216cc, that was used in the Lotus Elite. The Lotus Elite didn't enter serial production until 1958, and a very reasonable question has been raised as to whether the FWE engine was even available for this Cooper as early as 1957.

F2/19/57 was originally purchased and raced by an enthusiastic club racer and former WWII RAF fighter pilot named "Dickie" Stoop. In addition to club events, Stoop entered a couple full-fledged Formula 2 races. The records of the Levant Cup race at Goodwood on April 7, 1958 show that Stoop drove a Climax FWB powered Cooper T43 to finish last, in ninth place. Stoop's T43 was the only single-cam car participating, and it it was two laps down by the end of this fifteen lap race. The race was won by Jack Brabham, followed by Graham Hill in second place. The records of the Maidstone and Mid-Kent Formula 2 race of May 10, 1958 show Dickie Stoop driving a Climax FWB powered Cooper T43 to finish last, in third place. Again, Stoop's car was the only single-cam car participating, and this time he wasn't lapped. The race was won by Bruce McLaren. So, we get the picture that Dickie Stoop aspired to race in Formula 2 and quickly learned that two camshafts would be required to be competitive. Dickie Stoop only used the single-cam Cooper for a short time before buying a Climax FPF powered Cooper T45 (F2/11/58).

At some point, F2/19/57's original engine was removed and replaced with a Climax FPF twin camshaft engine, as shown below. We don't have any information about when the engine swap was completed.

Dickie Stoop sold F2/19/57 to Bill de Selincourt, who entered it in at least one Formula 2 race (the Maidstone and Mid-Kent race of 1959). It passed to Sir Nicholas Frederick Hedworth Williamson 11th Bt., who drove it in hillclimbs. After that, its history is unclear for about thirty years. American enthusiast Phil Bostwick imported F2/19/57 from England to U.S.A., owned it for several years, and drove it occasionally in Vintage Sports Car Club of America (VSCCA) events. Incidentally, Phil was one of the five founding members of The Cooper Car Club. In 2001, Phil sold F2-19-57 to Jay Nadelson, who currently owns and races it.


Features and Specifications
Engine:
Coventry Climax FPF (dual cam, five bearing, 1475cc) engine. Dual Weber 45DCOE carburetors. Lucas breaker point ignition. MSD rev limiter. Dry sump lubrication (the oil tank is mounted behind the radiator).

Cooling:
copper and brass radiator, plus a very small oil cooler.

Exhaust:
custom tri-Y headers, with SuperTrapp diffuser discs.

Transaxle:
Hewland Mark IX

Front Susp.:
transverse leaf spring, with radius rod in lieu of "curly link". Koni shock absorbers.

Rear Susp.:
transverse leaf spring, with "curly link". Koni shock absorbers.

Brakes:
(master) dual Girling master cylinders with bias bar.
(front) Girling 10" x 1.75" twin leading shoe drum brakes.
(rear) Girling 10" x 1.75" twin leading shoe drum brakes.

Wheels/Tires:
Cooper magnesium 8-spoke wheels. Dunlop Racing tires.
(CR48/R6 tread pattern, 4.50L-15 tires on front. CR65/R7 tread pattern, 5.50L-15 tires on rear).

Electrical:
small lead/acid battery, mounted just forward of the engine.

Instruments:
(left to right) Smiths coolant temperature gauge (90-230F), Smiths oil pressure gauge (0-100psi), Smiths Chronometric tachometer (500-9000rpm), Smiths oil temperature gauge (40-140C), Smiths fuel pressure gauge (0-10psi).

Fuel System:
Fuel Safe fuel cell in the lefthand pannier position. (The original saddle tank is present but not used, and the original right-hand-side pannier tank has been removed to make room for a fire extinguishing system.)

Safety Eqpmt:
centralized fire extinguisher system. TRS (Total Restraint System) six point, cam-lock safety harness.

Weight:
~811 dry.

Racing Class:
Formula 2

Engine Installation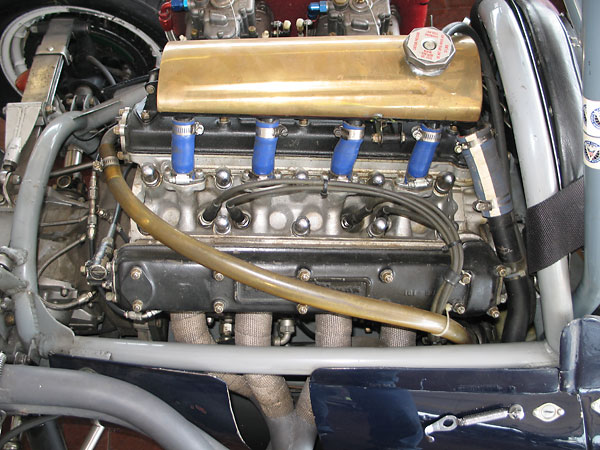 Approximately two-thirds of Cooper T43 race cars were originally built with Coventry Climax FPF dual cam
engines like this one. However, this particular car (serial number "F2-19-57") was originally built with a
single camshaft engine. At some point the car has been upgraded. The FPF engine features a five main
bearing crankshaft and a dry sump. With 81.2mm bore and 71.1mm stroke, it displaces 1475cc.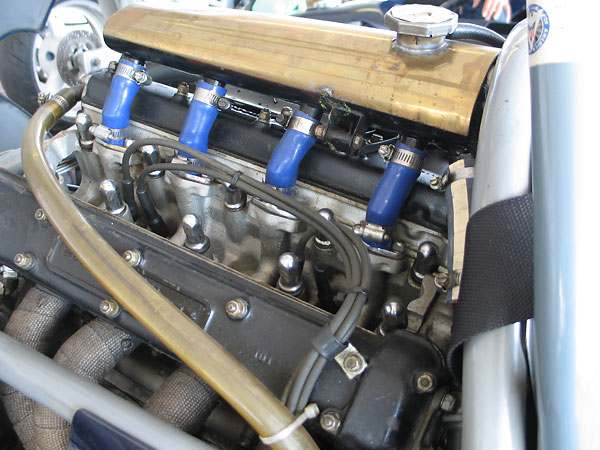 Characteristically Cooper: a brass coolant header tank directly feeds the cylinder head.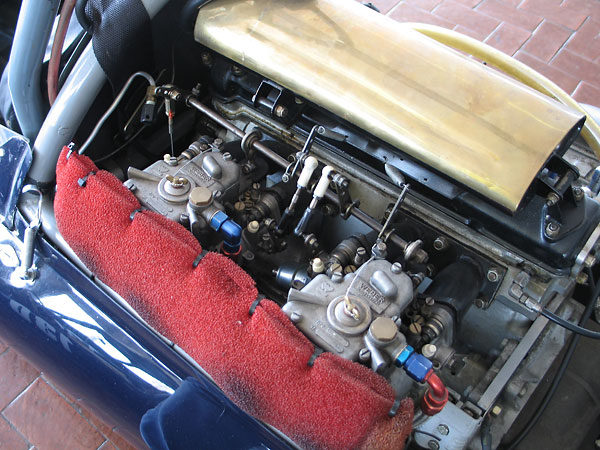 FPF engines were originally supplied with special sand-cast, twin-choke S.U. "DU6" (1.75" bore) carburetors.
(Jay has a set of these rare carburetors, but he prefers racing with Webers.)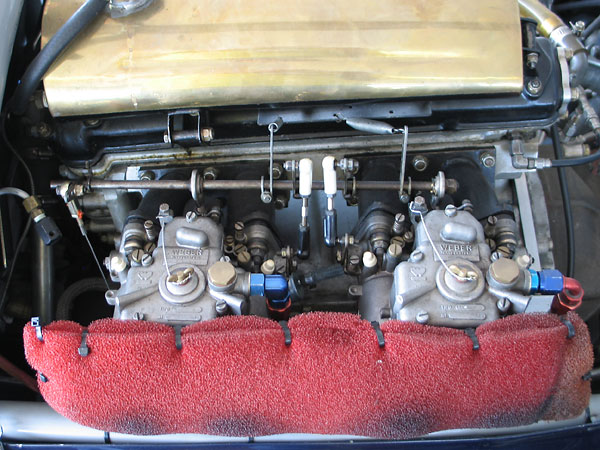 Dual Weber 45DCOE carburetors installed on custom fabricated tubular steel manifolds.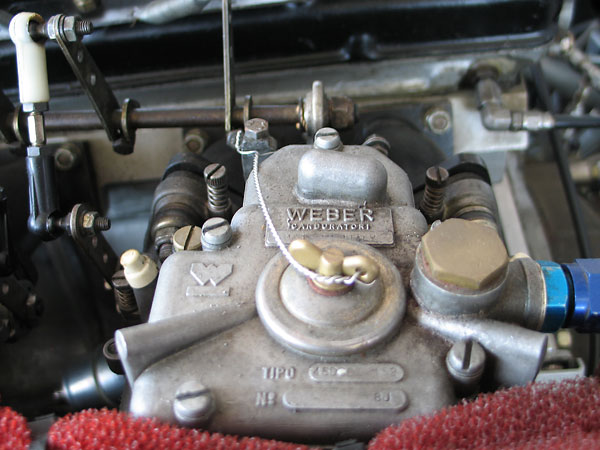 Although Coventry Climax engineers had a strong preference for S.U. carbs, many of their
customers strongly preferred Webers, notably including Stirling Moss and his mechanics.
(Alf Francis installed dual 42DCOE Webers on Stirling Moss' FPF-powered Cooper T43.)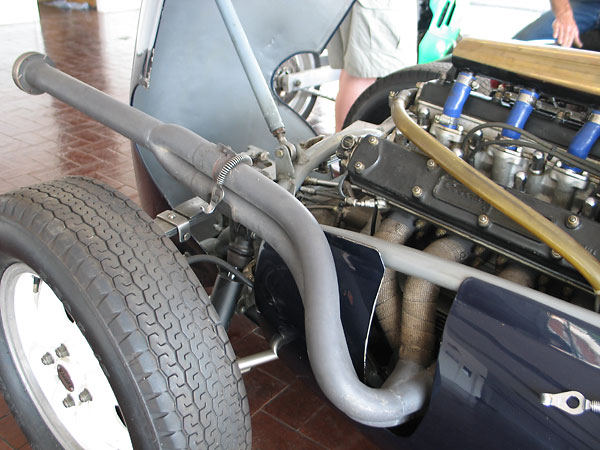 Custom Tri-Y (4 into 2 into 1) headers, terminated with SuperTrapp diffuser discs.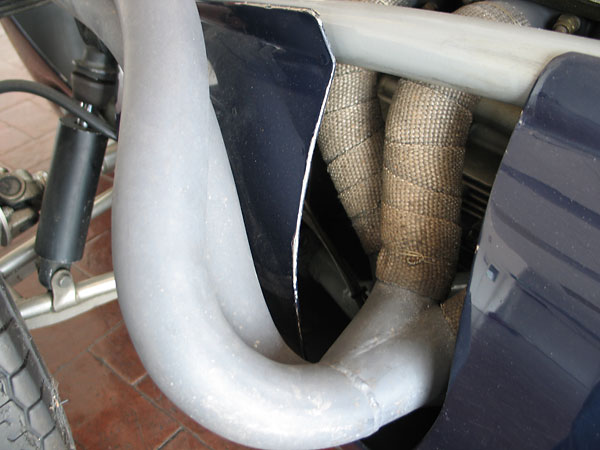 Header wrap helps to keep heat inside the exhaust headers. A twist of steel wire holds the wrap tight.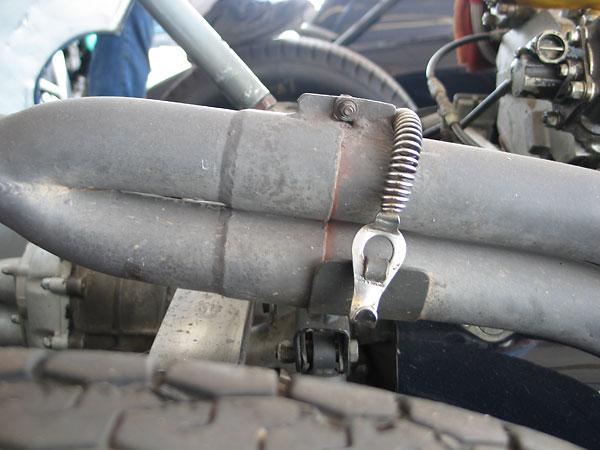 A slip coupling and a spring-loaded mount should help the headers resist cracking.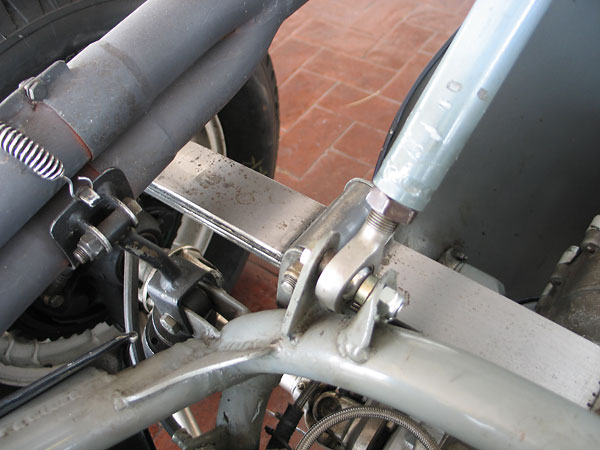 Another view of the muffler bracket, and also the roll-over hoop brace lower attachment point.
(The brace and the roll hoop itself are modern additions, required for vintage racing.)


Enjoying this article? www.BritishRaceCar.com is partially funded through generous support from readers like you!
To contribute to our operating budget, please click here and follow the instructions.
(Suggested contribution is twenty bucks per year. Feel free to give more!)
Frame, Transaxle, and Rear Suspension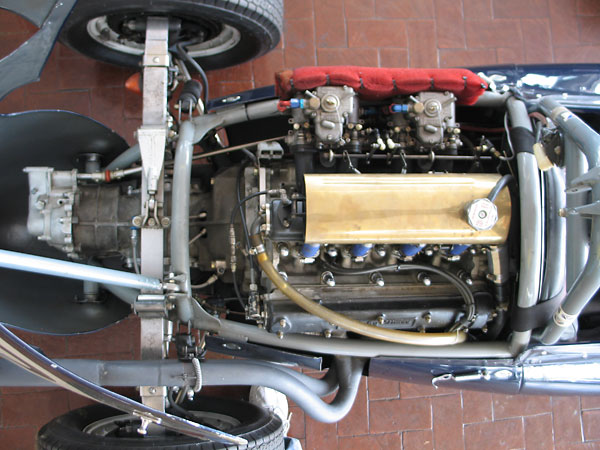 In some areas, Cooper reduced weight obsessively. However, with curved tubes and almost no triangulation,
the T43 has a very inefficient frame design. Cooper tried to compensate by using relatively large tubing.
(Most tubes are 1.5" x 14 or 16 gage, compared to 1" x 18 gage tubes on Lotus and BRM frames of the era.)
Even the most ardent Cooper enthusiast wouldn't claim Cooper frames were stiff. In 1960, Tony Rudd of BRM
bought a Cooper T45 and measured it. According to Rudd, the Cooper T45 frame weighed 101 pounds, yet
demonstrated a torsional rigidity of just 365 foot pounds per degree over its wheelbase. For comparison,
BRM's new frame weighed 82 pounds and provided a torsional rigidity of 2020 foot pounds per degree.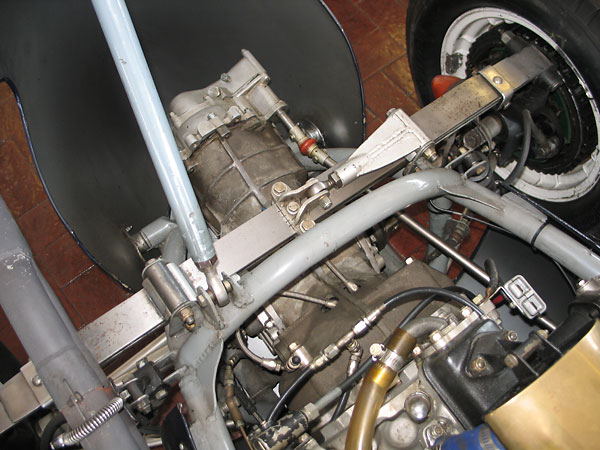 One of the most important modifications this car has seen is replacement of the original Citroen-ERSA
4-speed gearbox with a Hewland. Back in the day, gearbox failures particularly plagued Formula Two
Coopers, causing a very high proportion of Cooper's DNF's. Jay owns an original ERSA transmission,
but it's not used anymore because it's fragile and quite expensive to repair. Englishman Mike Hewland
started modifying Volkswagen transaxles for racing use in 1957. Many Coopers have been converted.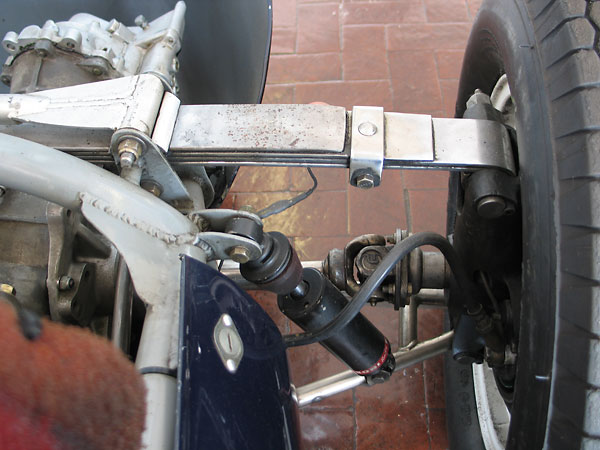 As with the front suspension, leafsprings are called on to locate the upper ends of the hub carriers in three
dimensions. The arc of the spring changes with bump and roll. When braking or under the reaction force of
accelerating forward, leafsprings are twisted. The Rob Walker / Stirling Moss team believed the leafsprings
needed help, so race mechanic Alf Francis supplemented that team's T43's with long upper radius rods.
(Note: all four original Armstrong shock absorbers on this car have been replaced with KONI shocks.)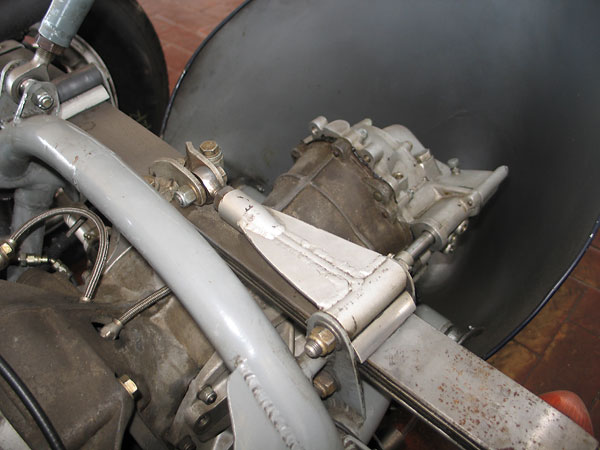 The transverse leafspring isn't bolted tightly to the frame; it flexs and slides against widely spaced rollers.
This T43 originally came with a "curly leaf" spring¹, to center the transverse leafspring and increase roll stiffness.
However, Cooper reportedly found that their curly leaf springs fatigued, changing roll stiffness characteristics
over time. On the rear suspension of the T45 model, Cooper replaced the curly leaf with a short radius rod.
Evidently, at some point this T43 has been retrofitted with a T45 radius rod for more precise lateral location.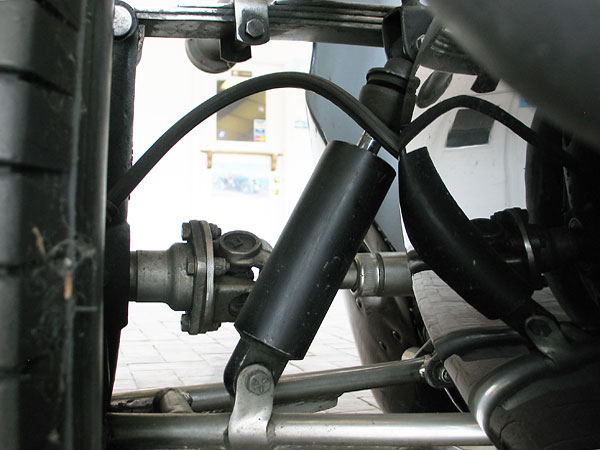 Lower suspension brackets on the frame were rather close together. The shock absorber mounting bracket
on the wishbone is cantilevered off the front arm of the wishbone, weakly supported. On the T45 model,
Cooper would spread the wishbone arms further apart, and move the shock absorber mount to the bridge
between front and rear arms of the wishbone, thus making the design substantially more stable and robust.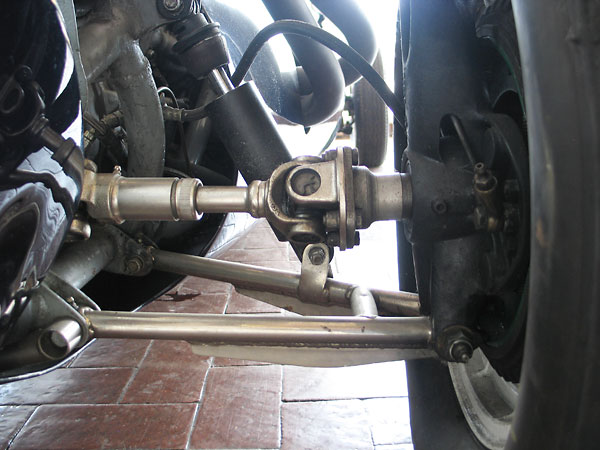 Although the T45 rear suspension featured many improvements, it still didn't include upper wishbones.
By July 1958, the factory race team was installing upper wishbones on all their cars, leaving leafsprings
to function simply as springs, but that upgrade didn't appear in serial production until 1959's T51 model.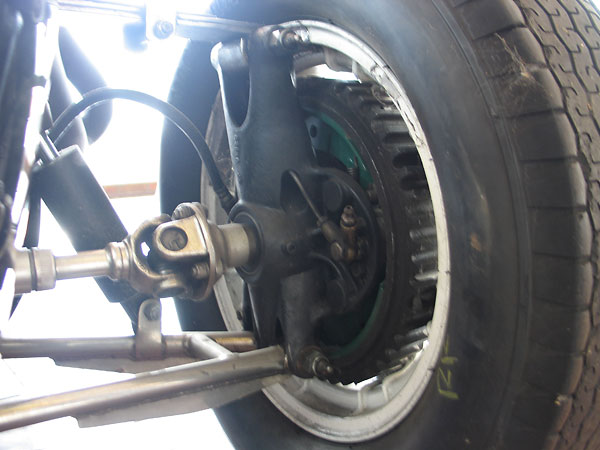 Cooper's proprietary cast magnesium rear uprights.


Front Suspension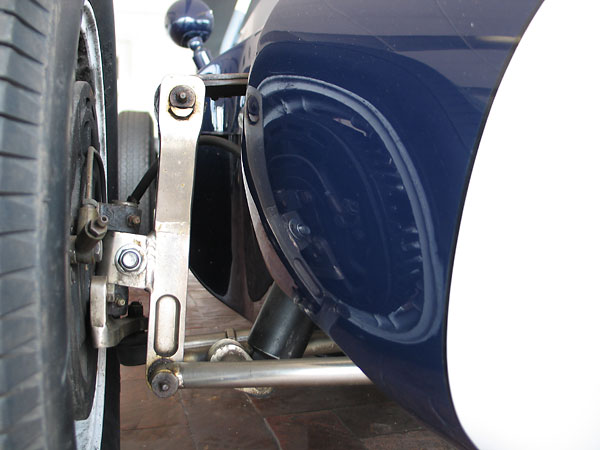 The Cooper T43 front suspension is an improved variant of the Fiat Topolino suspension, as used on Cooper's
first 500cc race cars. A transverse leafspring locates the upper ends of the uprights (a.k.a. hub carriers) in
three dimensions. Cooper mounted the leafspring on rollers and used a dual purpose curly leaf spring to
center the leafspring and provide roll stiffness. This approach proved more than adequate for Formula Three,
but didn't stay in use long after Cooper began racing in faster classes. The T45 model would instead be
equipped with dual wishbone front suspensions featuring coilover shock absorbers and anti-sway bars.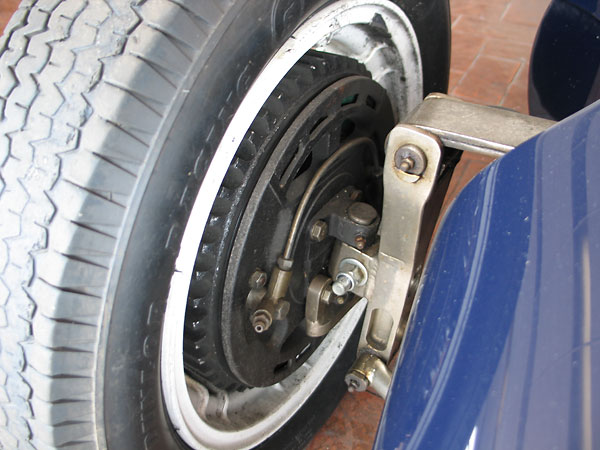 The uprights on this particular T43 look similar to the "500cc" uprights of years before², but they're much
stronger and more precisely made, with their main section milled from billet steel instead of fabricated from
folded flat stock. (We haven't confirmed whether these uprights are original to the T43, or a later upgrade.)
Note that drum brakes were standard equipment on the T43, with disc brakes available as an option.
Reportedly, some drivers preferred the feel of the drum brakes plus they were much less expensive.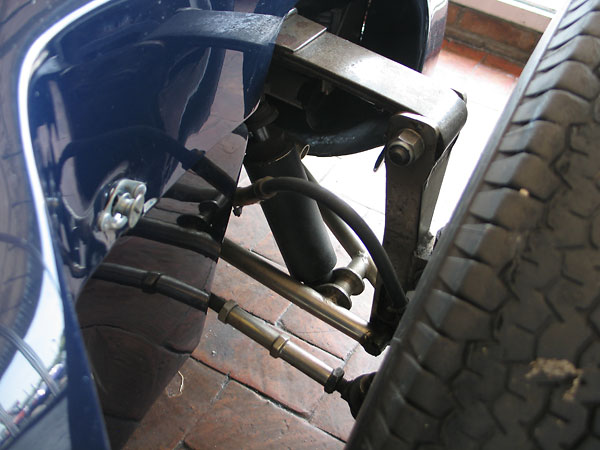 The steering rack is mounted low and behind the the front wheels. This particular T43 has been equipped
with reverse-threaded links that make adjustment of toe-in quick and easy. As originally built, the T43 had
no easily adjustable suspension characteristics. Toe-in, caster, camber, ride height, roll stiffness, etc., all
required partial disassembly. Most adjustments required shims or part substitutions. With introduction of
dual wishbones on the T45, Cooper made an important innovation: they terminated their wishbones with
Heim joints! Racers soon found that subtle suspension adjustments could dramatically affect handling.


Interior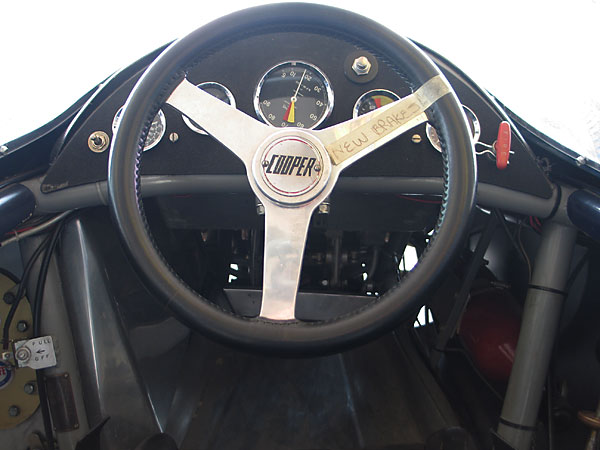 Cooper steering wheel.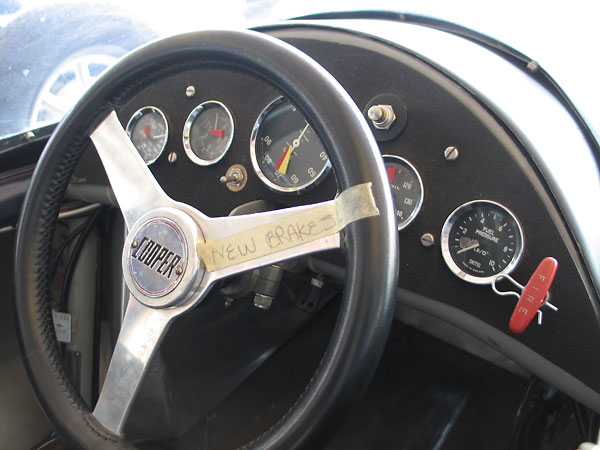 "New Brakes!" Brake pads need to be properly conditioned - bedded-in - before they're ready for racing.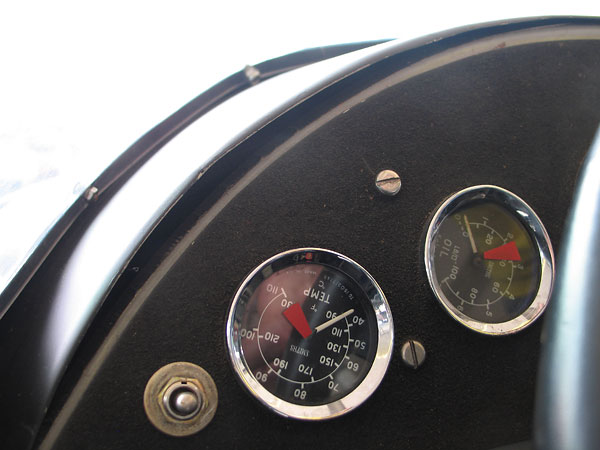 Smiths coolant temperature gauge (90-230F), and Smiths oil pressure gauge (0-100psi).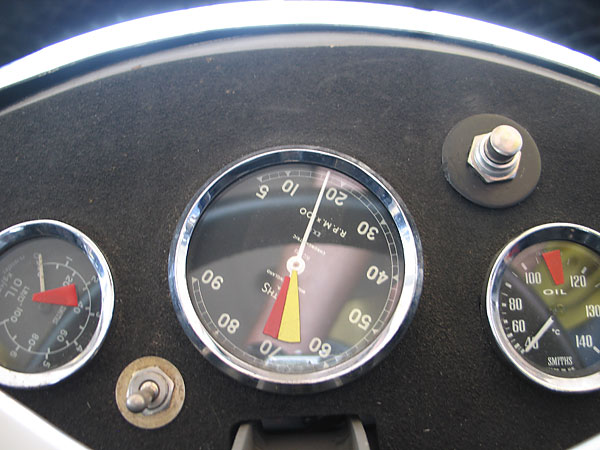 Smiths Chronometric tachometer (500-9000rpm).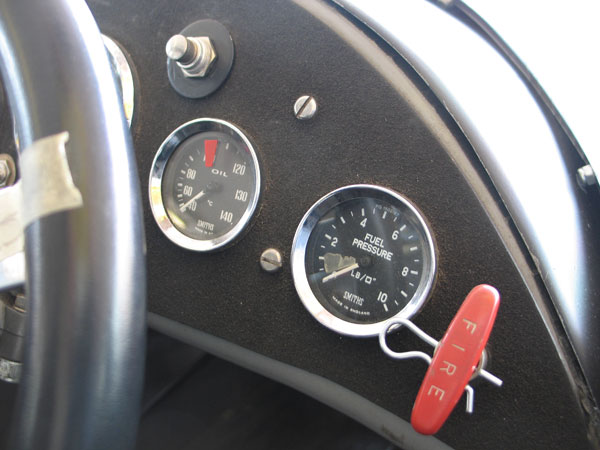 Smiths oil temperature gauge (40-140C), and Smiths fuel pressure gauge (0-10psi).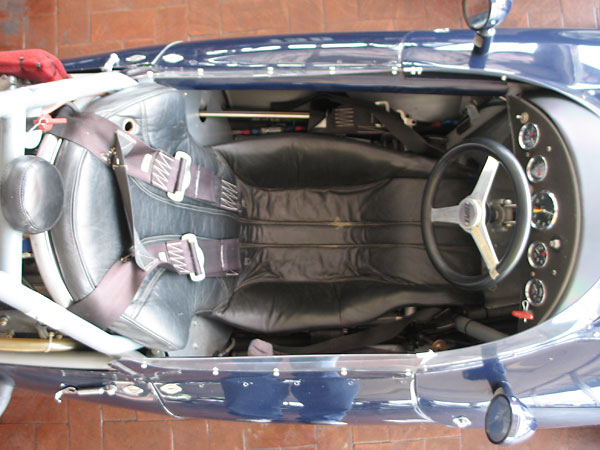 Few formula cars have such roomy and comfortable cockpits.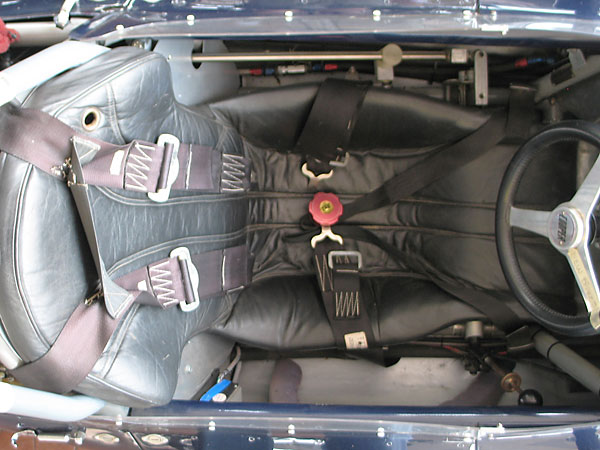 TRS (Total Restraint System) Motorsport Equipment six point, cam-lock safety harness.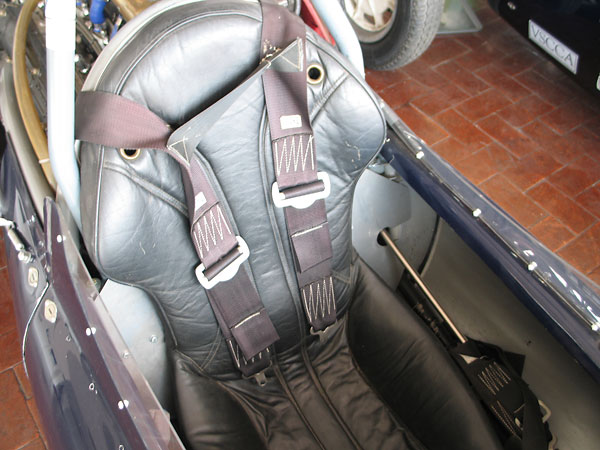 Comfortable backrest.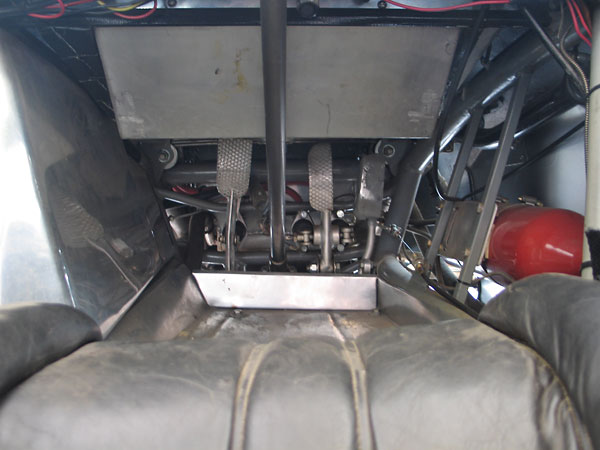 The T43 accomodated dual side-mounted "pannier" fuel tanks (12.5 gallon each) plus a 5.5 gallon saddle
tank over the center. Actual tank requirements varied with racing situations. Grand Prix races were the
worst case: 500km long and required to use methanol (in 1957). Smaller, lighter tank combinations were
used for sprint races. The saddle tank shown here is no longer used, and the original righthand pannier
tank has been removed to make room for a fire suppression system.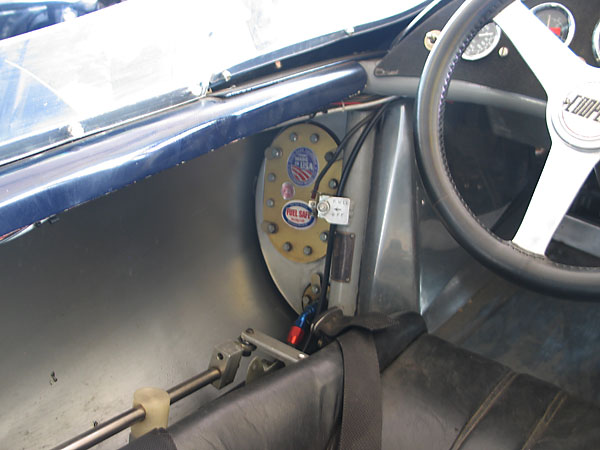 A custom Fuel Safe fuel cell has been installed in place of the original lefthand fuel tank.
Cooper Car Company chassis number plate is riveted to the frame, next to the fuel cell.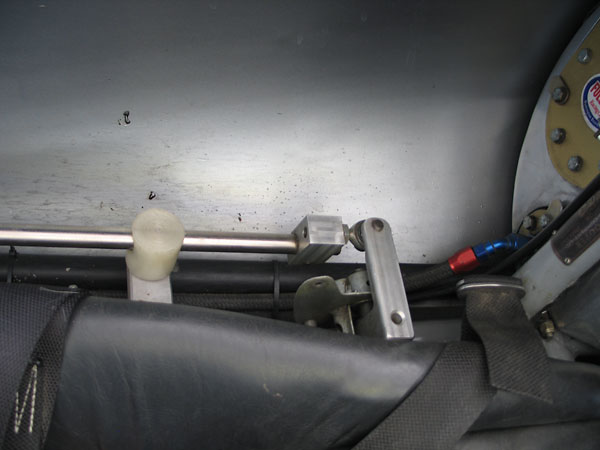 Although the original Citroen-ERSA gearbox has been replaced with a Hewland, and a new shifter linkage
has been fabricated, the basic shifter design bears some similarity to original. The shift lever is at
right, and a linkage passes under the seat, then runs rearward along the left side of the cockpit.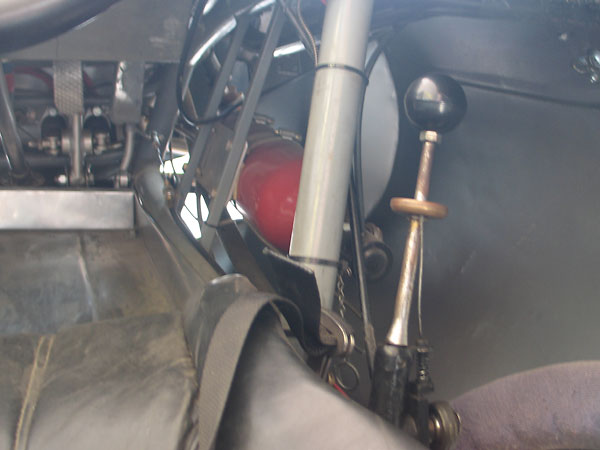 Shifter lever and fire extinguisher.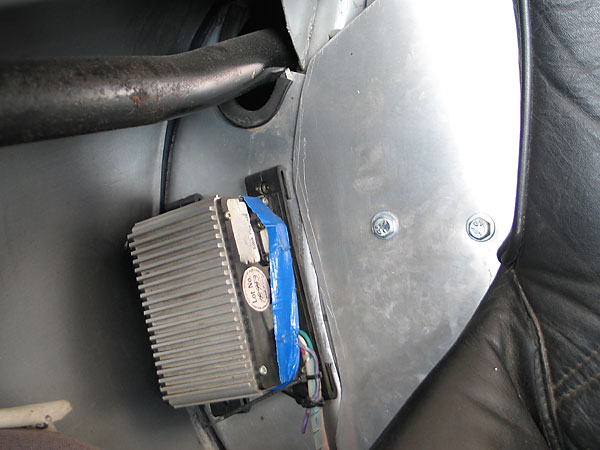 MSD Soft-Touch rev limiter. The cut-off speed is adjusted by changing plug-in "chips".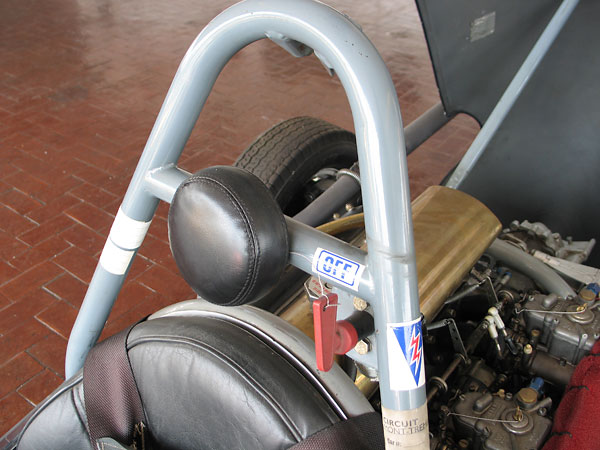 Roll hoop, headrest, shoulder harness, and emergency engine kill switch:
valuable safety features that are necessary to keep these cars racing.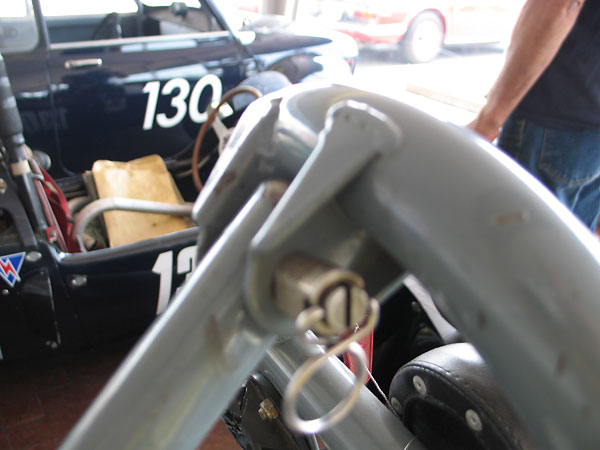 The roll hoop brace can be temporarily disconnected and pivoted rearward for engine access.


Exterior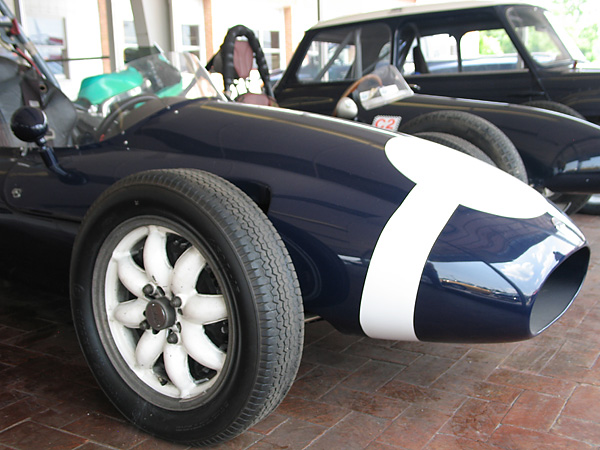 Dark blue accentuated by a white band is a popular scheme for Cooper Formula Two race cars. This was
the color scheme used by the famous Rob Walker Racing Team, for whom Stirling Moss drove.
Mr. Walker was Scottish, and blue and white are the national colors of Scotland.
Incidentally, he was also heir to the Johnnie Walker scotch whisky fortune.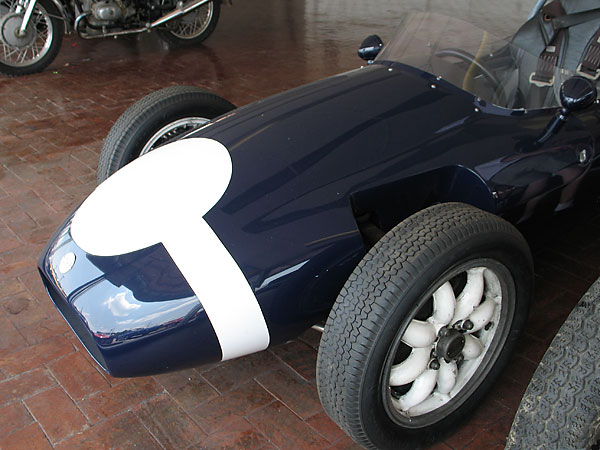 When designing Cooper's first Formula Two car, the T41 model of 1956, Owen Maddock centered the radiator
opening in front of the radiator. With the T43 model, the nose was recontoured to sit lower in front.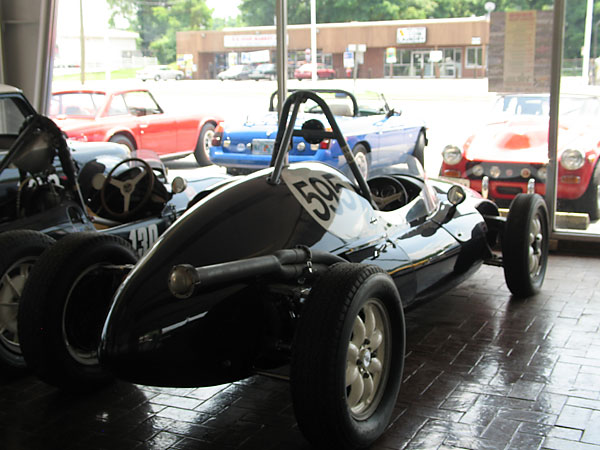 The radiator is mounted to the nose bodywork, and it tilts forward with the nose cone for maintenance.
When the car is in motion, after air flows through the radiator it exits through front suspension openings.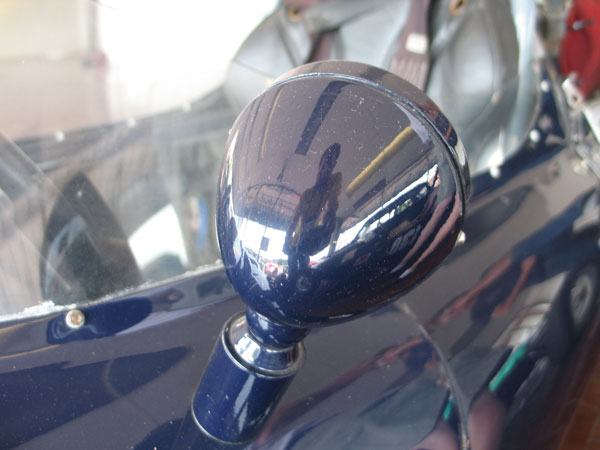 Raydyot (or replica) mirror, painted body color.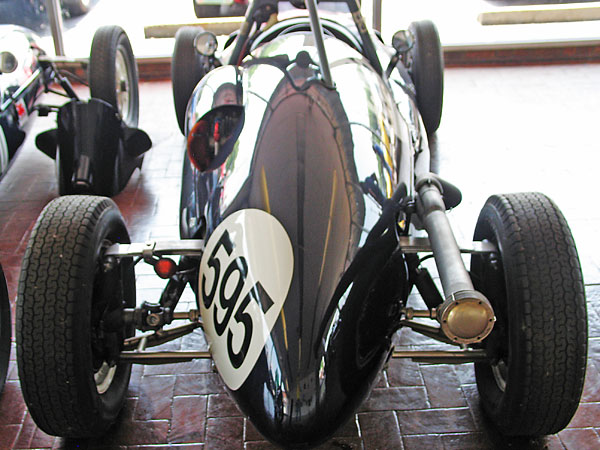 SuperTrapp diffuser discs provide just a little bit of sound muffling effect to the exhaust.
This is particularly required for racing at Lime Rock, where sound rules are strictly enforced.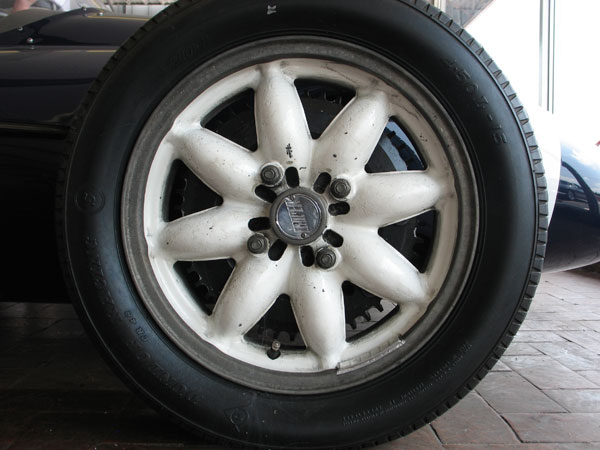 Custom lightweight alloy wheels had been a Cooper feature from the company's earliest days. Cooper's first
wheels were aluminum, but most original Cooper race wheels were cast in magnesium alloy. Owen Maddock
designed Cooper's distinctive magnesium 8-spoke wheels for the Bob-tail MkII model of 1956. In a way, the
8-spoke design was a big departure; earlier Cooper wheel designs featured integral brake drums. The design
accomodated disc brakes and high cornering force, but the big competitive advantage was their light weight.
They would become a Cooper trademark before evolving into the ubiquitous Minilite design of the sixties.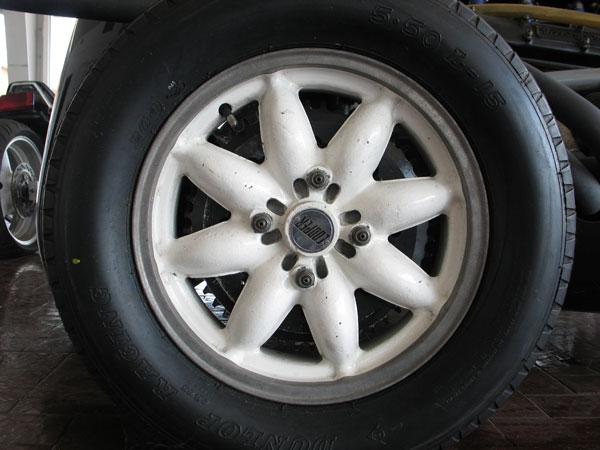 For Grand Prix racing, Cooper's stud-mounted wheels represented a daring gamble. They were clearly lighter
than old-fashioned wire-spoked wheels, but wheel changes would be slower. Had tire compounds improved so
much that a car might last an entire race without changing tires? Ferrari lost the bet. Jay Nadelson's T43
is wearing Dunlop CR48 (R6 tread pattern) 4.50L-15 front and CR65 (R7 tread pattern) 5.50L-15 rear tires.


Footnotes:
(1)

For reference, this photo shows a typical example of a Cooper "curly leaf" spring.


(2)

For reference, this photo shows a typical example of a Cooper 500cc car's fabricated front upright.

Note: both of these photos show Tivvy Shenton's Formula 3 Cooper.


All photos shown here are from June 2009, when BritishRaceCar.com visited Tivvy's Autocraft in Danville Virginia.
All photos by Curtis Jacobson for www.BritishRaceCar.com, copyright 2010. All rights reserved.



Notice: all the articles and almost all the photos on BritishRacecar.com are by Curtis Jacobson.
(Photos that aren't by Curtis are explicitly credited.) Reproduction without prior written permission is prohibited.
Contact us to purchase images or reproduction permission. Higher resolution images are optionally available.