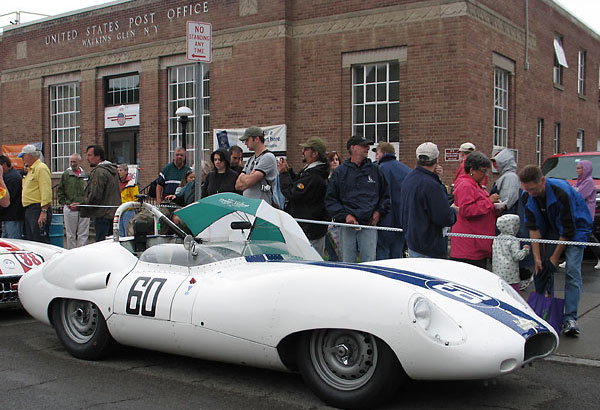 Syd Silverman's Costin-bodied Lister Jaguar Race Car
Owner: Syd Silverman
Model: 1959 Lister (Costin)
Engine: Jaguar 3.8L
Restored and race prepared by:
The Vintage Connection, Oklahoma City
The Lister Jaguar Story
Jaguar was a leading player in early 1950's sports car racing. Among countless victories, Jaguars won the 24 Hours of LeMans three times in five years. The first two LeMans victories came with specially prepared versions of the swoopy XK120, but changing times were pushing entrants toward more specialized designs. Jaguar answered with their "D-Type", and won LeMans in 1955 after the Mercedes team was involved in a horrific crash. It wasn't a celebrated victory: everyone was shocked because 84 spectators had died in the Mercedes accident. The racing business changed immediately.

Besides building race cars for their own team, Jaguar had made a business of constructing racecars for private drivers. After the LeMans tragedy, this business was struggling, and it would soon suffer a near fatal blow. A fire swept through the Jaguar works, destroying much of their inventory and quite a lot of the means of production. Jaguar would of course recover, but for several years after the fire they needed an outside chassis builder to supply loyal customers who wanted new Jaguar-powered race cars. Jaguar selected George Lister and Sons, a well established light-engineering firm in Cambridge. One of the sons, Brian Lister, was a talented engineer who had been dabbling with race car design.

Lister Jaguars were developed by Brian Lister with the support of Jaguar, and built with production resources of the Lister family business. Jaguar provided competition engines, and referred key customers such the British Petroleum race team and also Briggs Cunningham in the United States.

Lister Jaguars were made in two distinctly different body styles. Seventeen of the original "knobbly" style were built and shipped, but they didn't seem streamlined enough, so Lister hired Frank Costin to design a replacement skin. Costin had learned aerodynamics at The de Havilland Aircraft Company and had transferred his skills to working with Colin Chapman on the Vanwall Grand Prix car and on the Lotus Mark 8. The body Frank Costin designed for Lister may have been more streamlined, but it also presented a larger cross-section to the wind. Although accurate measurements of the two body shapes aren't available to us, Costin himself ultimately declared the new body a technical failure. Its improved coefficient of drag couldn't offset its larger frontal area - but this wasn't immediately realized by customers. Eleven Costin-bodied Listers were built.

Other publications focus on biographical and lifestyle stories. We'll just briefly summarize that Brian Lister soon grew weary of racing, prompted by the deaths of two drivers he was especially attached to: Archie Scott Brown and Ivor Bueb. He retired from the sport and focused on the family business, and only occasionally undertook racing related projects in later life. The Lister family name has been licensed to a new "Lister Cars Ltd." since 1986, and they've offered a a variety of Jaguar and Chevrolet based performance cars. The original George Lister and Sons is still going strong, however, providing custom capital equipment to industry.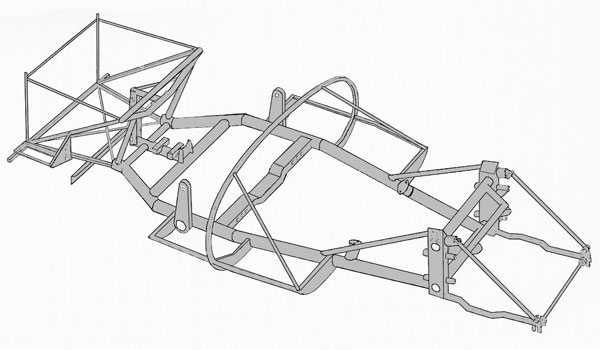 The Lister twin-tube frame's main members are 3" diameter, fourteen gauge, seamless drawn, mild steel tubing.
Essentially two dimensional and with very little triangulation, this is not a "space frame" design.¹


Chassis No. BHL-123 / Engine No. LC1299-8
The Cunningham team was already racing Jaguar D-Types when Lister Jaguars first became available. Eager to switch to the newest technology, Cunningham took delivery of the first two knobbly Lister Jaguars. Driver Walt Hansgen won the 1958 SCCA C-Modified Championship with one of them. For 1959, Cunningham was ready to try the new Costin-bodied version.

BHL-122 and BHL-123 were the first two Costin-bodied Lister Jaguars built. Briggs Cunningham received BHL 123 in time for the inaugural 12 Hours of Sebring race in March 1959, where it was co-driven by Sterling Moss and Ivor Bueb. "Ivor the driver" had won LeMans for Jaguar in 1955. He had also won LeMans in 1957, driving a modified Jaguar D-Type for the Ecurie Ecosse team. During the race, Moss was in third place when he pulled in for a scheduled refueling stop. Impatient to rejoin the action, Moss left the pits before the tank was full and later he ran dry on the course. Moss would have been permitted to walk back to the pits for a fuel can. He was disqualified because he hitched a ride back; it was against the rules to accept outside assistance.


Enjoying this article? www.BritishRaceCar.com is partially funded through generous support from readers like you!
To contribute to our operating budget, please click here and follow the instructions.
(Suggested contribution is twenty bucks per year. Feel free to give more!)
BHL-123 was subsequently raced with great success by the Cunningham team. In a dozen races that year, Walt Hansgen scored four victories (at V.I.R., Cumberland Maryland, Bridgehampton, and Watkins Glen) to win the 1959 SCCA C-Modified National Championship. BHL-123 was also driven that year by Briggs Cunningham himself, who placed third at Thompson Raceway. At the end of the racing season, Cunningham sold BHL-123.

Various people have owned and raced BHL-123 in subsequent years. Syd Silverman purchased it in 2000, and the car has been driven in many vintage races by his son Michael. BHL-123 sold at Gooding & Company's 2010 Scottsdale Auction on January 22. It brought a new record price for Lister sports cars: $1,100,000. The buyer is reportedly British, and has arranged for shipment of BHL-123 back to England.



Features and Specifications
Engine:
Jaguar 3.8L DOHC six cylinder engine. ~300bhp at 6200rpm. Triple Weber 45DCOE carburetors. Pipercross foam trumpet socks (i.e. air filters). Mallory dual points distributor and Lucas Sport coil. MSD6AL capacitive discharge ignition system. Accel Hi Temp SuperStock Spiral Core 8mm spark plug wires. Stock Car Products four-stage oil pump (for a dry sump lubrication system.) Mocal OT2 oil cooler thermostat. WIX oil filter, remotely mounted.

Cooling:
custom replacement radiator by Northhampton Autorads. Electric fan.

Exhaust:
custom fabricated, ceramic coated, dual 3-into-1 headers. Dual exhaust.

Transmission:
Jaguar D-Type 4-Speed manual transmission with close ratio gears (2.14:1, 1.63:1, 1.27:1, and 1:1).
Triple plate racing clutch and low mass flywheel

Rear End:
Salisbury differential with limited slip differential and 3.73:1 gears.

Front Susp.:
dual wishbone front suspension with rack and pinion steering. KONI double-adjustable coilover shock absorbers with Hyperco springs. Custom-fitted Schroeder Racing Products adjustable anti-sway bar.

Rear Susp.:
DeDion suspension with coil-over shock absorbers and sliding block lateral location.

Brakes:
(master) dual Girling master cylinders with bias bar, and remote mounted reservoirs. Wilwood residual pressure valves.
(front) Girling calipers. Solid rotors.
(rear) inboard Dunlop disc brakes.

Wheels/Tires:
Dunlop steel wheels (D-Type pattern), with 6.00L16 Dunlop Racing tires.

Electrical:
Delco Remy alternator.

Instruments:
(left to right) Smiths coolant temperature gauge (30-110C), Smiths mechanical tachometer (500-8000rpm), Smiths oil pressure gauge (0-100psi), Smiths oil temperature gauge (40-140C), XT Racing Ultra Lap digital lap timer.

Fuel System:
racing fuel cell and dual Facet fuel pumps.

Safety Eqpmt:
SPA Design AFFF fire suppression system. Simpson five-point cam-lok harness. Schroeder Racing Products steering wheel with quick-release steering wheel hub. Longacre roll hoop pads

Weight:
~1700 pounds.

Racing Class:
SCCA C-Modified (circa 1959).

Engine Installation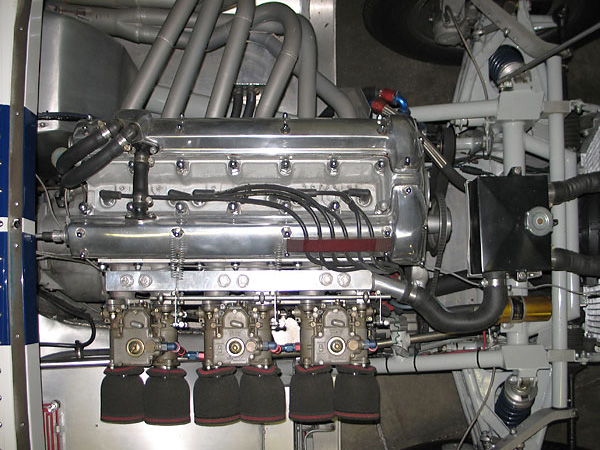 Jaguar D-Type 3.8L DOHC six cylinder engine.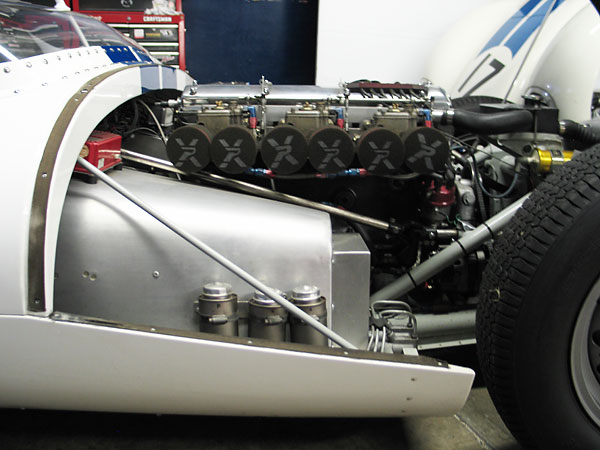 Triple Weber 45DCOE carburetors.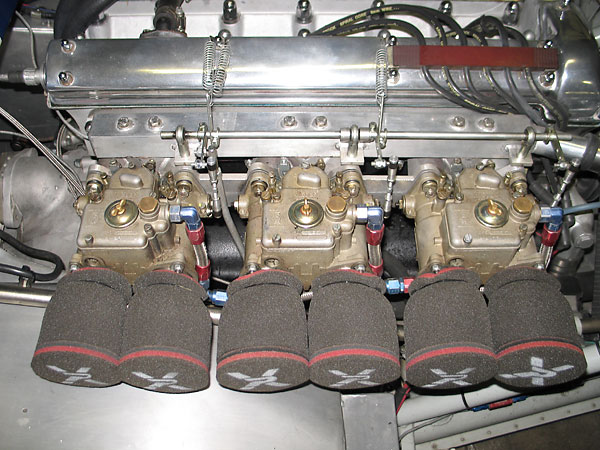 Pipercross foam trumpet socks (i.e. air filters).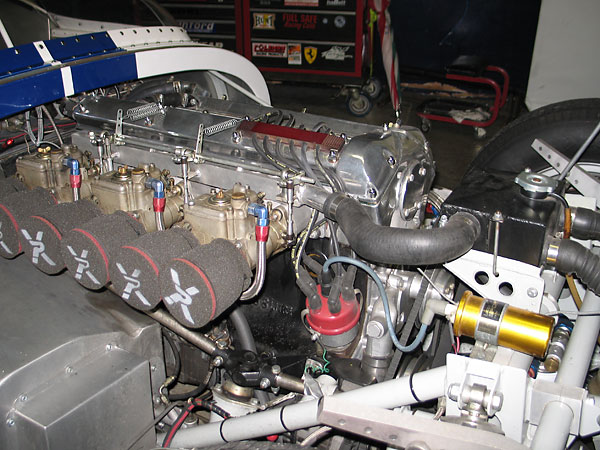 Mallory dual points distributor and Lucas Sport coil.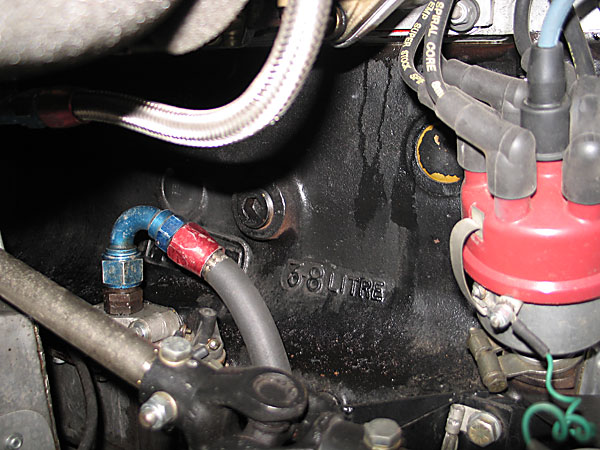 The Jaguar 3.8 litre inline six is one of history's great engines, but it's not lightweight by any standard.
Many Lister buyers, notably including Jim Hall and Carroll Shelby, decided they'd rather have V8's and
Lister was happy to deliver the chassis without engine. With a small block Chevy V8, the Lister would
have more power with no weight penalty, but typically it shifted the cars into different racing classes.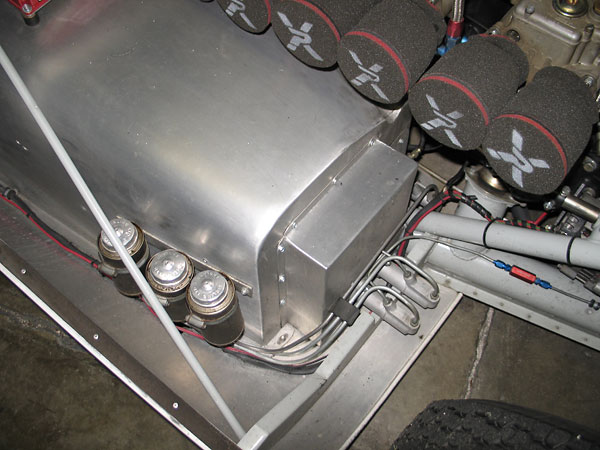 Note the red Wilwood residual pressure valve to the right of the master cylinders.
A modern alternator can also be spotted just inboard of the frame tube.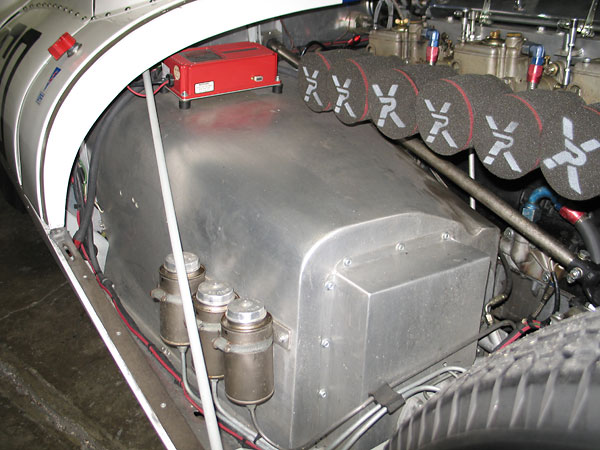 The battery cable and fuel line are routed forward along the righthand edge of the body.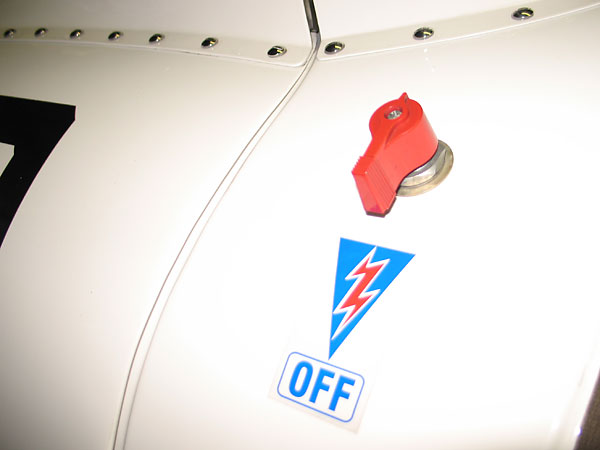 Battery disconnect switch. (The battery is mounted at the extreme rear corner of the car.)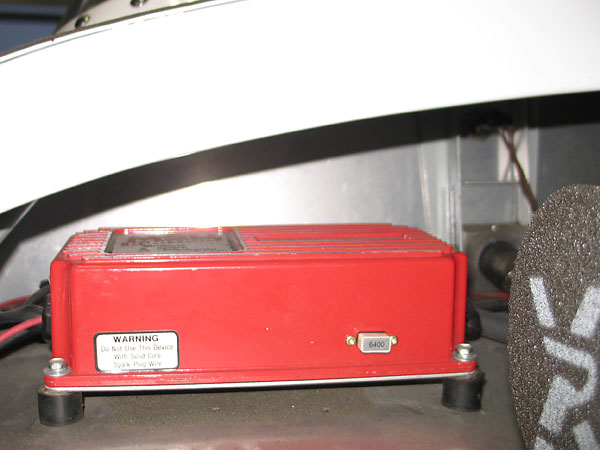 MSD6AL capacitive discharge ignition system, with 6400rpm rev limiter chip installed.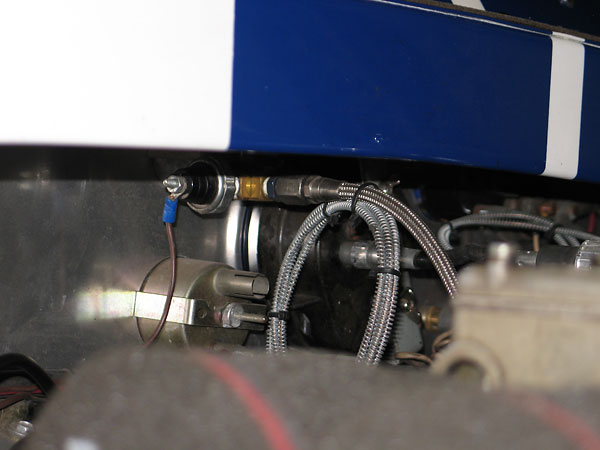 The dashboard and the firewall are one and the same.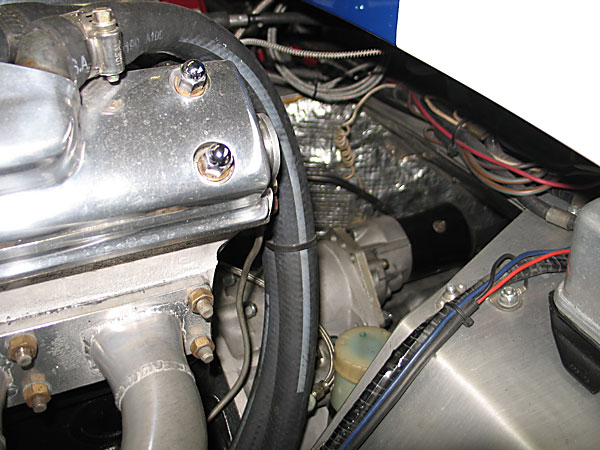 The starter motor is mounted from the rear because the flywheel and ring gear are small in diameter.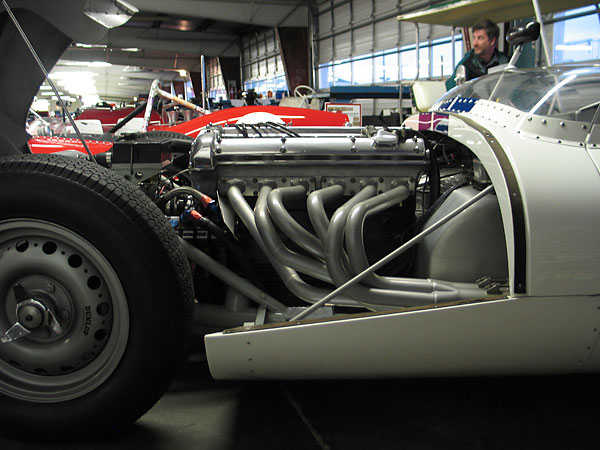 Custom fabricated, ceramic coated, dual 3-into-1 headers.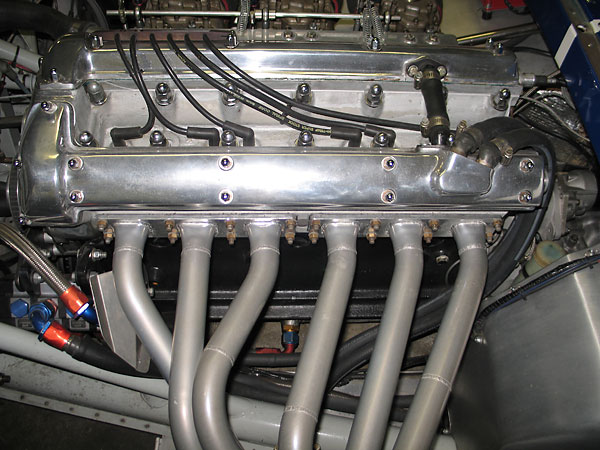 Accel Hi Temp SuperStock Spiral Core 8mm spark plug wires.
Upper right: the tachometer cable is driven by the righthand camshaft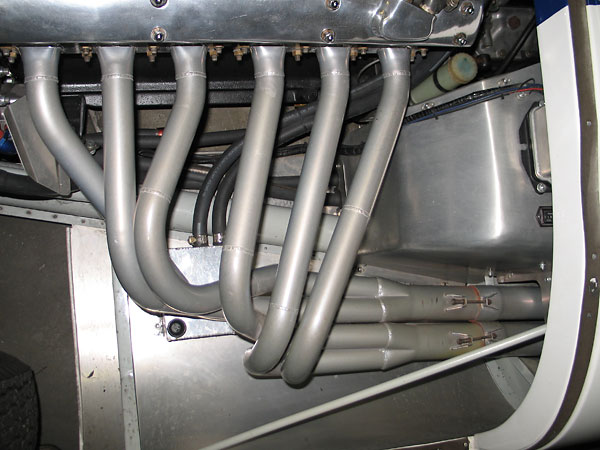 A custom aluminum crankcase breather tank is tucked underneath the headers.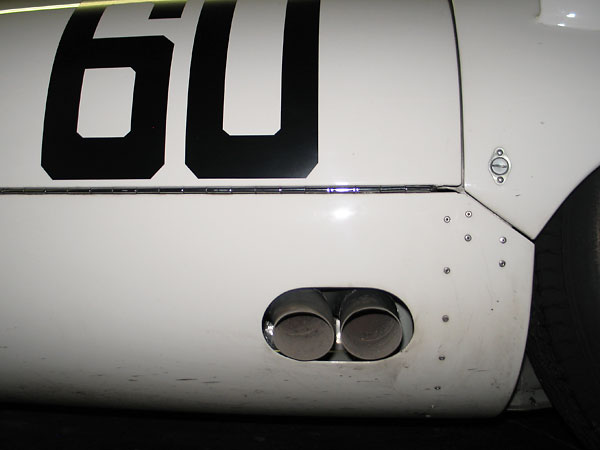 The exhaust exits below the passenger-side door.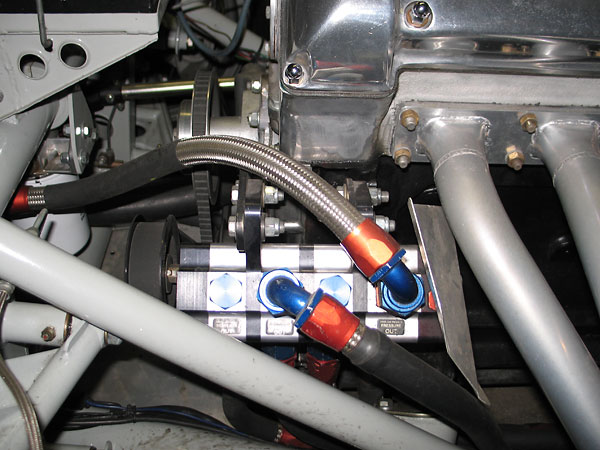 Stock Car Products four-stage oil pump (for a dry sump lubrication system.)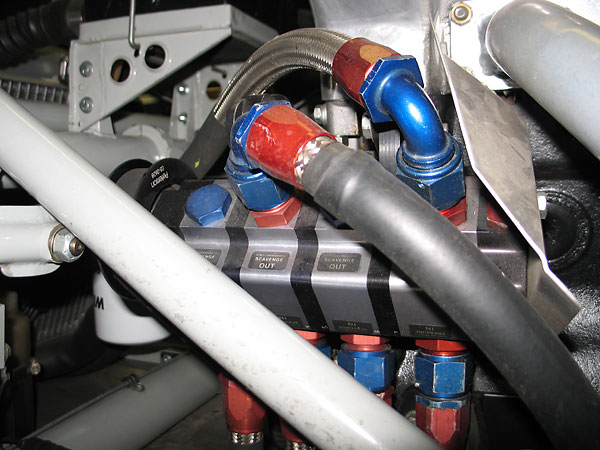 Peterson Fluid Systems' Gilmer-drive pulley system.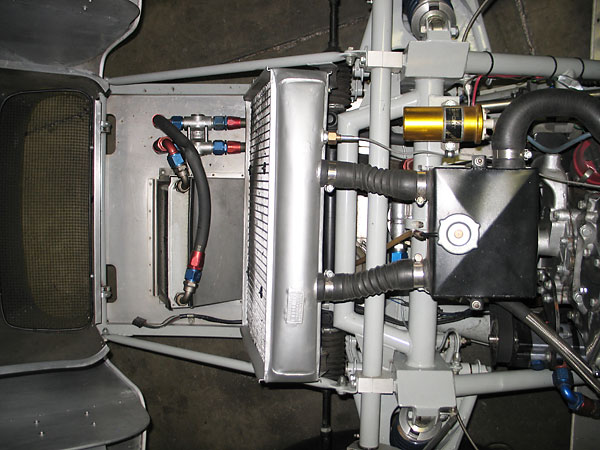 Overview of the cooling system.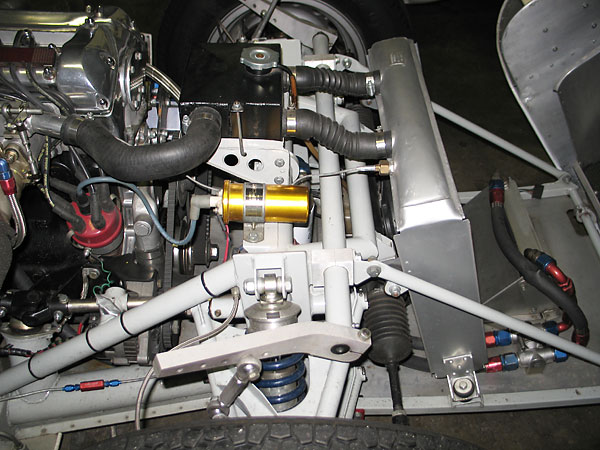 Fabricated steel header tank with pressure cap located at the high point in the cooling system.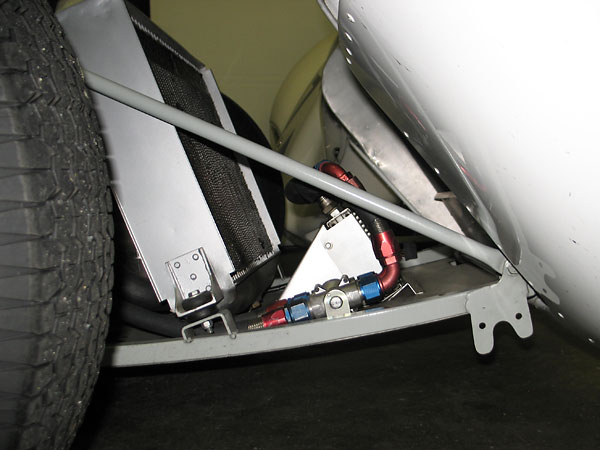 Air that goes through the oil cooler is ducted down, instead of through the radiator.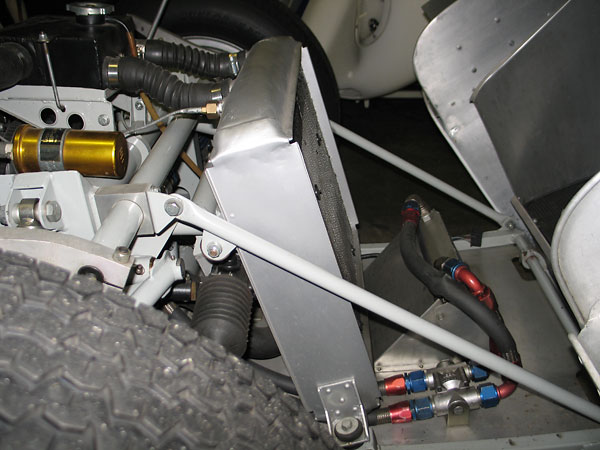 Foreground: Mocal model OT2 oil cooler thermostat.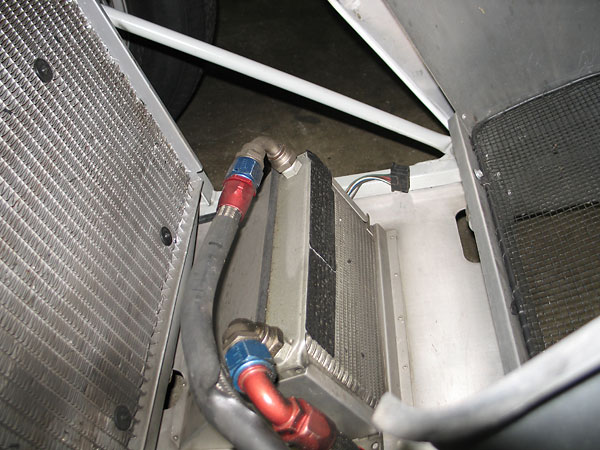 Duct tape has been used to block part of the oil cooler, to help the engine run warmer. Black plastic
buttons on the radiator core are attachment hardware for an electric fan (mounted on the other side).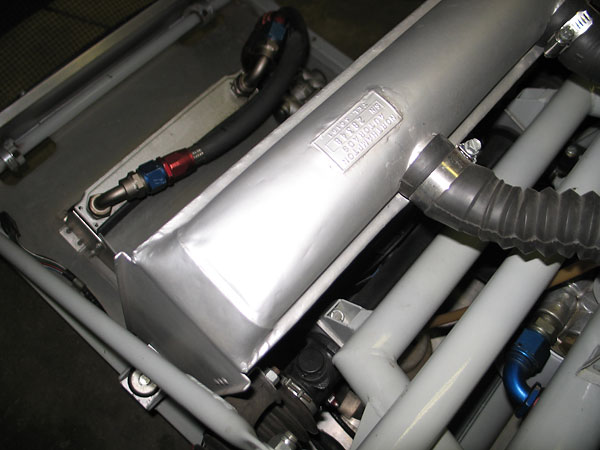 Northhampton Autorads radiator, serial number 28348.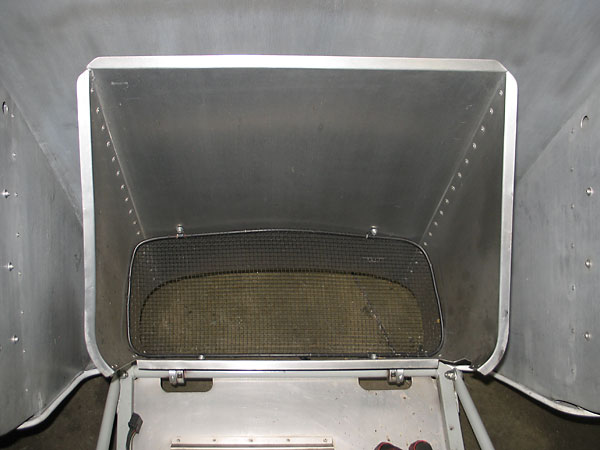 Nifty ductwork assures that cooling airflow doesn't bypass the radiator core.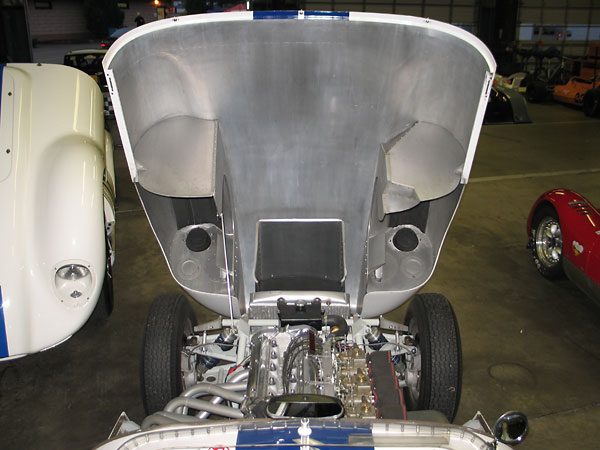 The aluminum front clip tilts forward, like a Jaguar E-type. Looks like brand new, doesn't it!


Front Suspension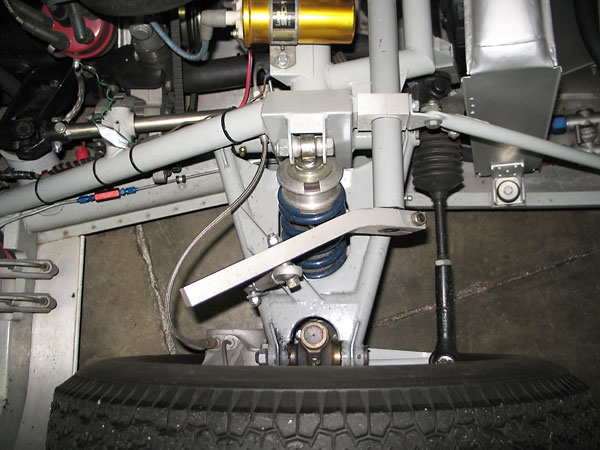 Custom-fitted Schroeder Racing Products adjustable anti-sway bar.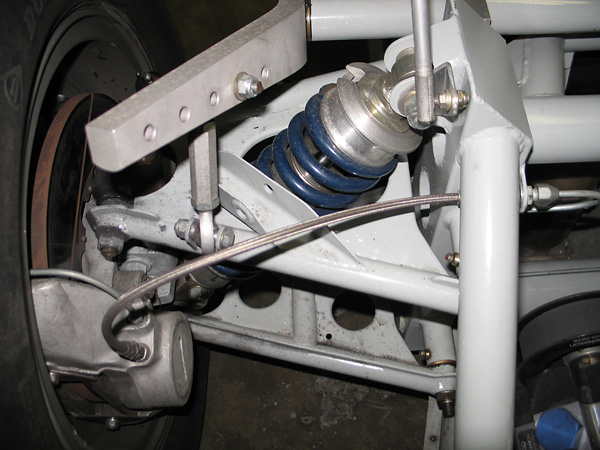 The sway bar itself is steel, and it's straight with splined ends. Aluminum levers clamp to it.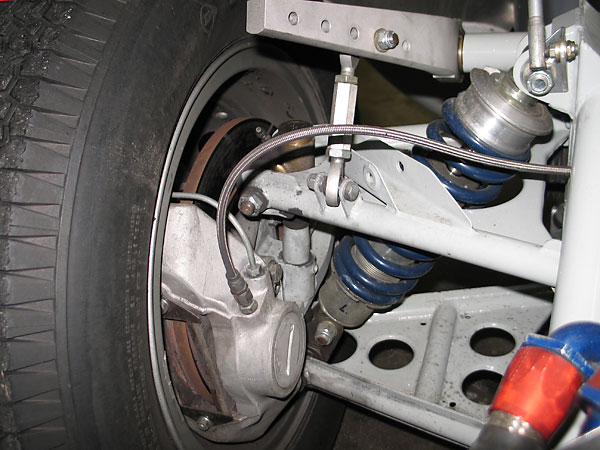 These wishbones are an upgrade over the original design. Lister went through a series of detail changes
for the front suspension design. Originally, he used Morris uprights but found they weren't strong enough.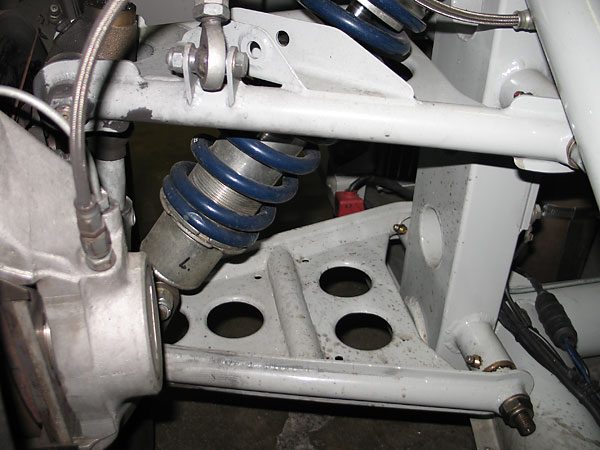 KONI double-adjustable coilover shock absorbers with Hyperco springs.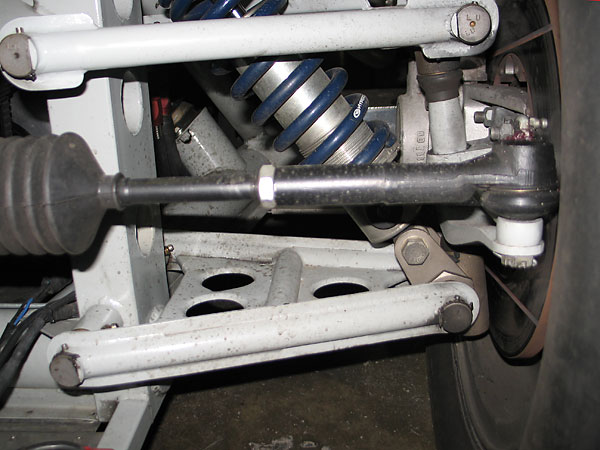 The black knob at the bottom of the KONI shock absorber is for adjusting how it dampens in compression
("bump"). Extension ("rebound") dampening is adjusted by inserting a pin into a slot at the top of the
shock, and sweeping the internal mechanism from left to right (for a firmer setting) or vice versa.


Enjoying this article? www.BritishRaceCar.com is partially funded through generous support from readers like you!
To contribute to our operating budget, please click here and follow the instructions.
(Suggested contribution is twenty bucks per year. Feel free to give more!)
Rear Suspension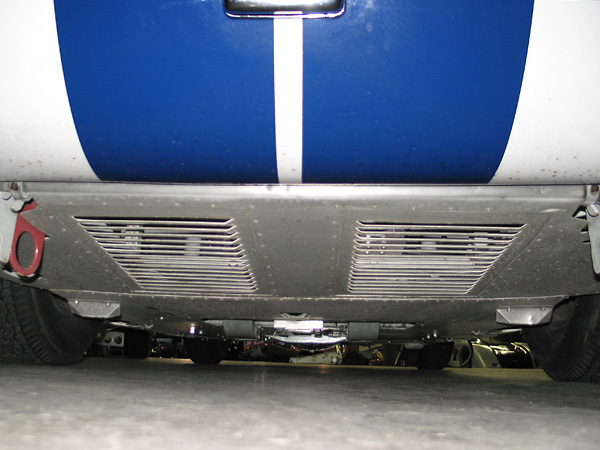 The Lister features a DeDion-type rear suspension with an unusual "sliding block" lateral location device.
Elsewhere on this site, you can see more common methods of lateral location: Watts linkage, Panhard
bar, mounting the DeDion tube on leaf springs... Body panels and belly pans kept us from getting good
photos of the Lister rear suspension, so instead we'll provide the following sketch and description.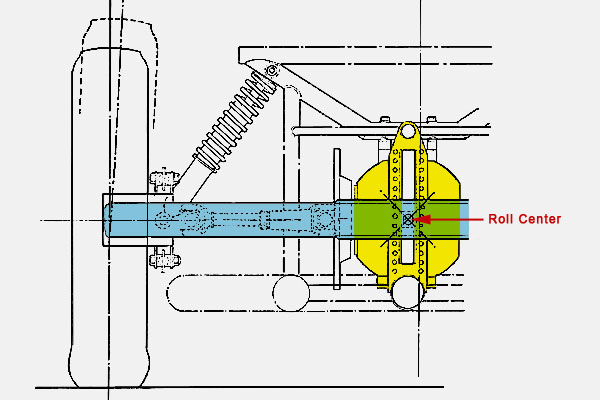 The DeDion tube and its sliding block (i.e. basically a pin with a bushing mounted on it) are shown in blue.
The differential housing and the vertically slotted chassis member that locates the pin are shown in yellow.
As the illustration shows, the height of the pin on the DeDion tube defines the roll center characteristic of
the rear suspension. As also shown, Lister mounted the differential off center to provide more room for the
driver, at the expense of somewhat asymmetrical handling behaviour. Incidentally, the sliding block idea
wasn't invented by Lister: it had been used by Mercedes and BRM on Grand Prix cars. Why haven't sliding
blocks become more common? They can be susceptible to wear and "stiction". On the other hand, a major
advantage of Panhard rods and Watts Linkages is they facilitate moving the roll center closer to the ground.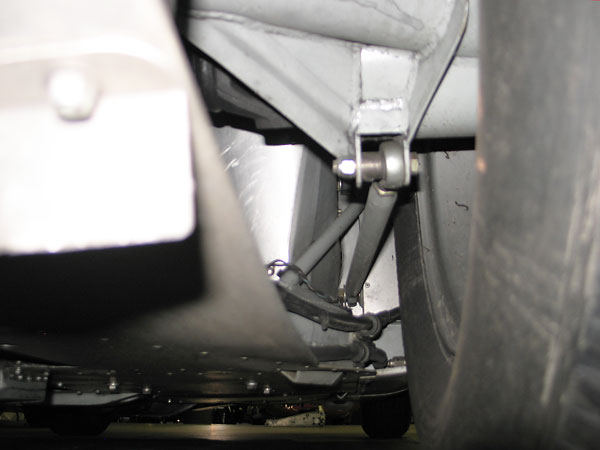 Lister's DeDion rear suspension utilized pairs of equal length trailing links, arranged in parallel.
Original links had Heim joints at the front end and rubber bushes at the rear. These replacements
have evidently been fitted with opposite (RH/LH) threaded Heim joints for more convenient alignment.


Interior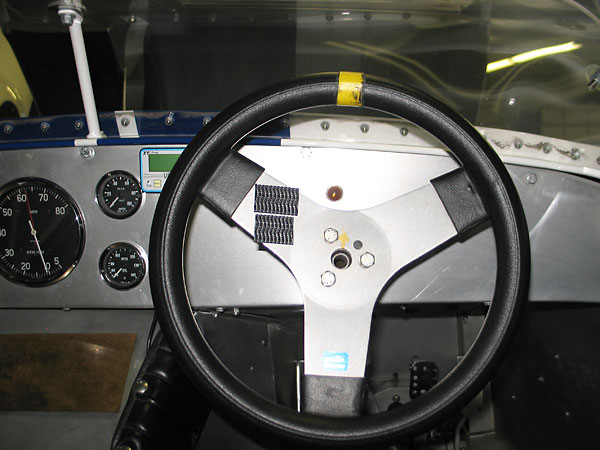 Schroeder Racing Products steering wheel, mounted on a quick-release steering wheel hub.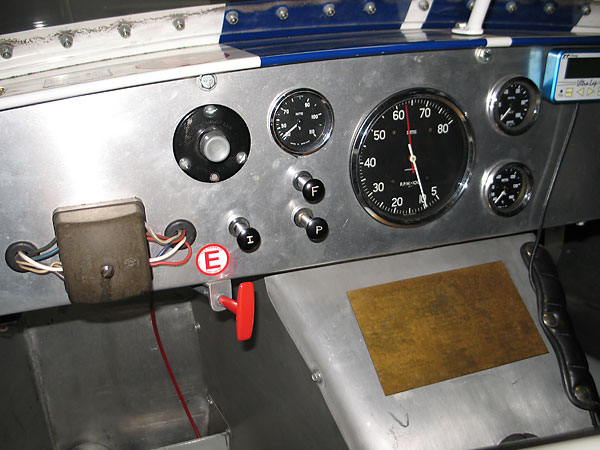 (left to right) Smiths coolant temperature gauge (30-110C), mechanical tachometer (500-8000rpm),
oil pressure gauge (0-100psi), and oil temperature gauge (40-140C). XT Racing Ultra Lap timer.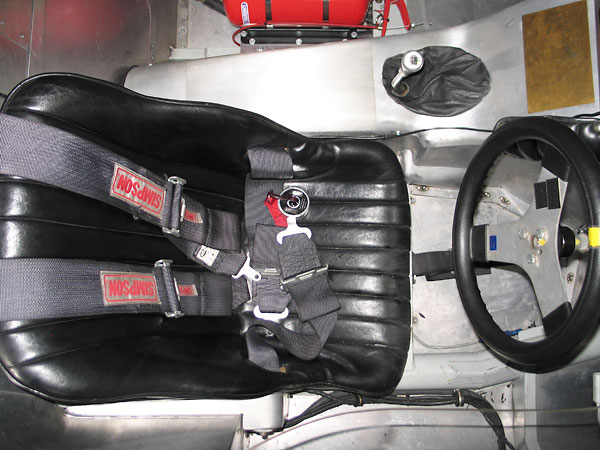 Simpson five-point cam-lok harness.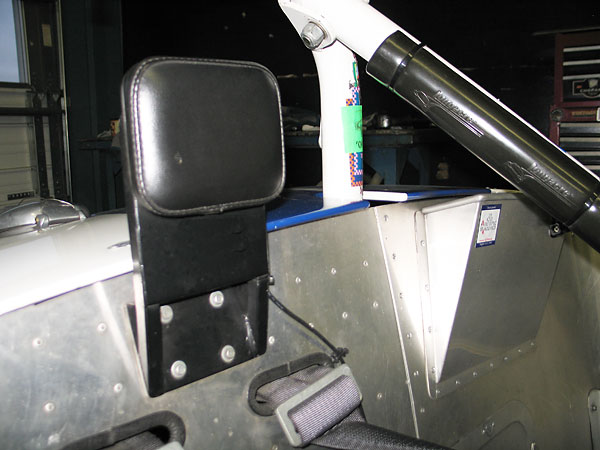 This roll hoop was added in the early 1980's. Note also the peculiar aluminum ductwork behind where a
passenger seat would've gone. Frank Costin came up with an elaborate scheme for smoothing airflow.
Instead of installing a rigid tonneau cover, he reasoned that a loose vinyl cover could be designed to puff
up if supplied pressurized air from underneath. At speed, the puffed-up cover spanned from the rim of
the windscreen back to the rear edge of the cabin. This duct allows surplus air to exit into the luggage
area where it would help cool the brakes.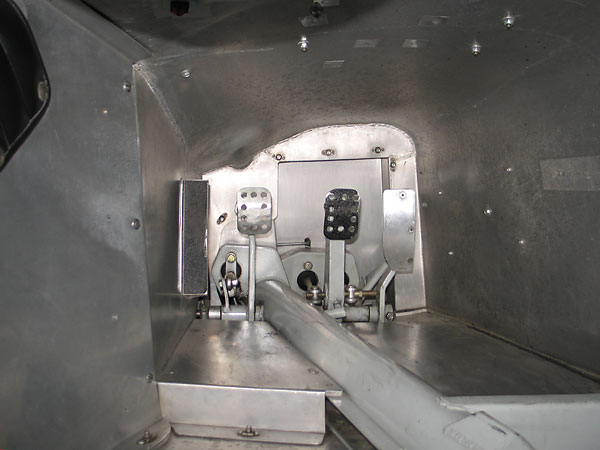 The pedals and master cylinders are mounted on brackets off the frame, not bodywork. The footbox
has an uneven floor; the driver's feet actually straddle one of the main longitudinal frame tubes.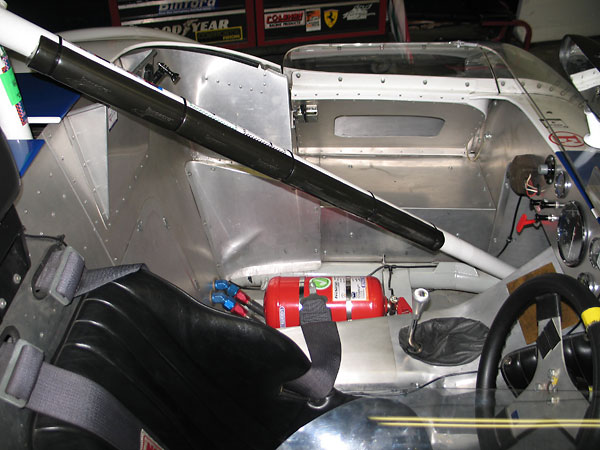 SPA Design AFFF (foam) centralized fire suppression system.


Exterior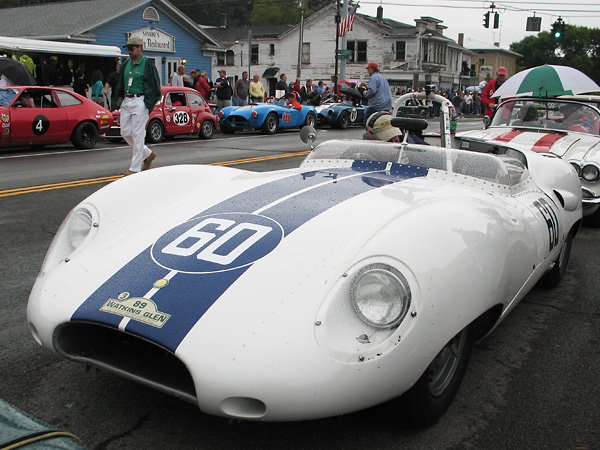 Lister sourced their bodies from Williams & Pritchard, of London. This particular Costin-Lister (BHL123)
has an all aluminum body. Reportedly, lighter weight Elektron (magnesium alloy) bodies were alternatively
available and were ordered by some of Costin's customers.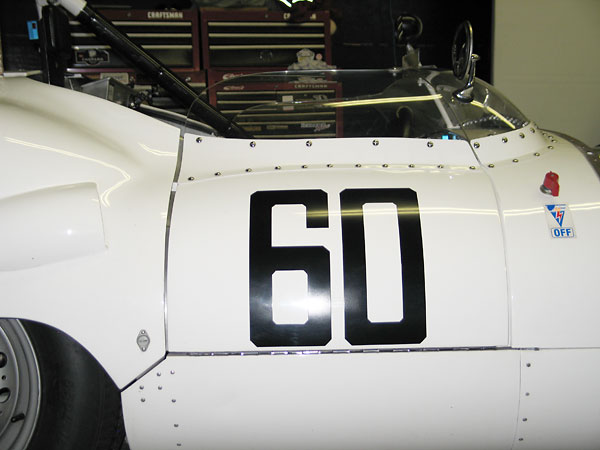 Wrap-around Perspex (acrylic) windscreens became a common feature of sports racing cars of this era.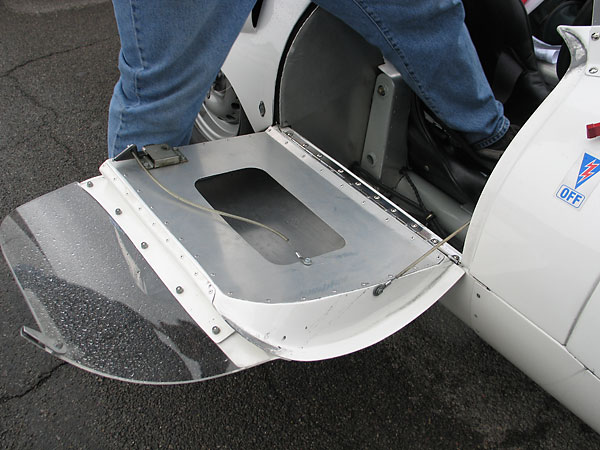 The open door exposes one of the two rear suspension attachment brackets, cantilevered off the frame.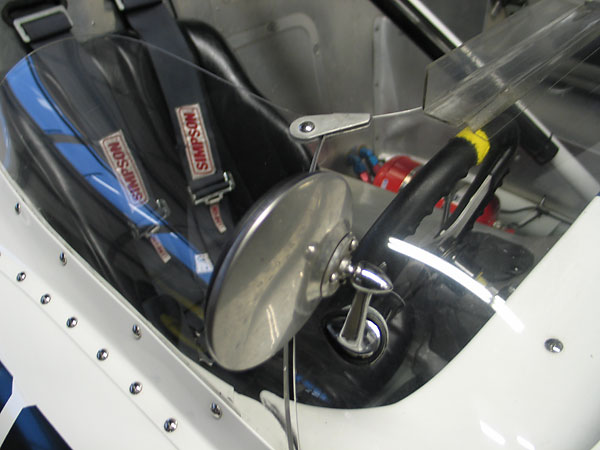 The easiest way to service the differential and rear suspension is through access panels behind the seat.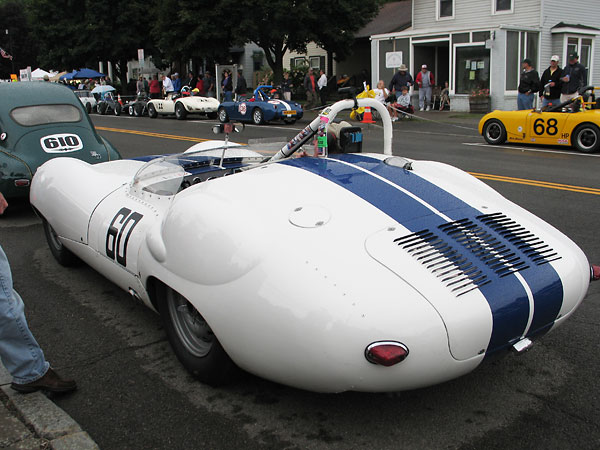 Four Dzus fasteners facilitate removal of the boot lid, to access the spare tires and luggage compartment.
The existance and size of which were specified by LeMans rules. Alternatively though, the larger rear body
panel can be removed for servicing the fuel cell, fuel pumps, battery, and engine oil reservoir.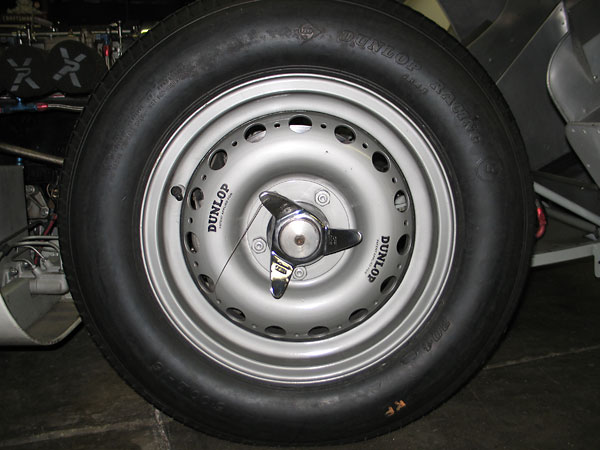 Dunlop steel wheels (Jaguar D-Type pattern).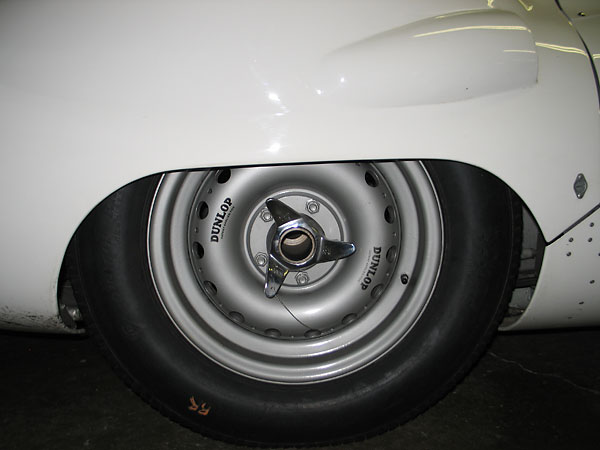 Dunlop Racing tires (6.00L16).


Rear Suspension
Notes:
(1)
Before Brian Lister retired from racing, he made one final Costin-bodied, Jaguar-powered racecar. This was an experimental car with a space frame chassis designed by Frank Costin, instead of a twin tube chassis like all other Listers. The design of the space frame was fundamentally compromised because of the initial requirements that it (a) must fit under a stock Costin-Lister body, and (b) must accept the stock Costin-Lister suspension. Barely completed at the time of Brian Lister's retirement, the space-frame car was turned over to Syd Diggory who tuned and raced it. It proved substantially stiffer, somewhat lighter, and of course faster than the twin-tube cars. It won out of the box at Brands Hatch in 1960 while setting a new short circuit record, lapping in just 57.4 seconds, and finishing the race 26 seconds before John Bekaert's twin-tube Lister-Jaguar. The initial groundrule that a standard body should fit the new space-frame proved a little ironic: the car's third owner hired Frank Costin to develop a special, one-off coupe body for it. With the coupe body installed, it raced at LeMans in 1963 and 1964.




The two drawings featured above are based on original illustrations by James A. Allington for the book "Racing and Sports Car Chassis Design" by Michael Costin (Frank's brother) and David Phipps, copyright 1961. The drawings have been substantially re-created with additional and different features by Curtis Jacobson. Copyright 2010. All rights reserved.

All photos shown here are from September 2009 when we viewed the car at The US Vintage Grand Prix at Watkins Glen. All photos by Curtis Jacobson and Don Moyer for BritishRaceCar.com, copyright 2010. All rights reserved.



Notice: all the articles and almost all the photos on BritishRacecar.com are by Curtis Jacobson.
(Photos that aren't by Curtis are explicitly credited.) Reproduction without prior written permission is prohibited.
Contact us to purchase images or reproduction permission. Higher resolution images are optionally available.