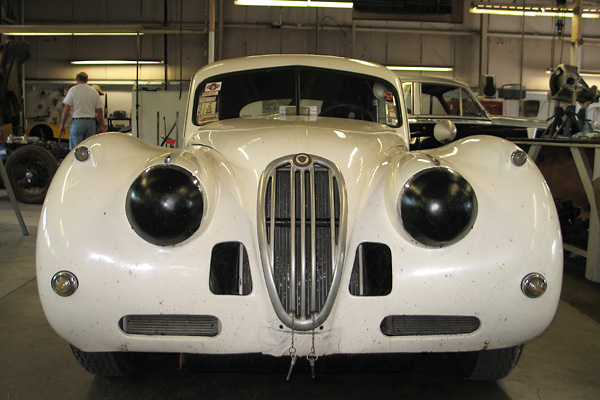 Tivvy Shenton's Jaguar XK140 Race Car, Number 130
Owner: Tivvy Shenton
City: Danville VA
Model: 1955 Jaguar XK140 FHC
Engine: Jaguar 3.4L DOHC six cylinder
Built by: Tivvy's Autocraft
Introduction
Distinctive, memorable, and very quick: Tivvy Shenton's Jaguar XK140 Fixed Head Coupe is a real crowd pleaser.

Tivvy has driven the big cat to at least seven consecutive class victories in the VSCCA's Pittsburgh Vintage Grand Prix. The Vintage Sports Car Club of America emphasizes rare and unusual pre-1960 sports and racing cars. Tivvy also races with Vintage Racer Group (VRG) and occasionally with SVRA. In all three clubs, the Jaguar's 3.4 liter engine puts it in catch-all "big bore" classes. Is that fair? Well, a whole lot of Corvette drivers probably wish the displacement cut-off were higher! The 2002 Lime Rock Vintage Festival was a particularly memorable race. Tivvy's Jaguar traded the lead back and forth repeatedly with Bob Girvin's Chrysler 426 Hemi-powered Allard GT Coupe. The two cars lapped the rest of the field, until in heavy traffic the Jaguar's handling allowed Tivvy to extend his margin of victory.

Aside from mandated safety equipment, hardly any visible detail of the XK140's preparation suggests post-1960 technology: wire spoke wheels, drum brakes, carpeted transmission tunnel, wooden floorboards, etc. The dashboard has been stripped of all but the three most essential gauges. The distributor is still fitted with breaker points; there are no electronics anywhere. The tires appear oddly mismatched... because they are (deliberately! See below.) But if you look at this car and assume it's not highly developed, you're making a big mistake. It's old-school, but it's refined.
Tivvy's Autocraft
I met Tivvy and got a good look at his Jaguar during one of our "BritishV8 2009" group outings. Tivvy owns and operates a full service restoration shop in Danville Virginia where he specializes in older British and European high performance and racing cars. In future articles, I'll feature some other cars we found at Tivvy's Autocraft, including a 1957 Cooper T43 (Formula 2) racecar. First things first though: who is Tivvy Shenton and how did he learn his trade?

Tivvy Shenton started his career by serving an apprenticeship at Rolls Royce. During six years with the oil engines division, Tivvy worked on everything from aircraft engines to locomotives to airfield tugs. Odd jobs develop creative problem solving skills; skills that would come in handy when Tivvy joined Alan Mann Racing in 1965.

Alan Mann ran most of Ford's European "factory" racing programs through the 1960's. When Tivvy joined the company, Alan Mann was transitioning from Cortinas to Escorts and Capris (plus Falcons and Mustangs). They were also beginning to get more glamorous contracts. At the end of 1965, Mann signed a contract to build two especially lightweight Ford GT40's with aluminum alloy body panels instead of fiberglass plus other modifications that would drop weight by about 150 pounds. Pleased with Alan Mann's GT40 results, Ford contracted design and construction of a prototype sports car for a new 3.0 liter Prototype racing class. The "F3L" was a technological and stylistic masterpiece, although bad luck and crashes marred its short career. At the end of the sixties, Alan Mann branched out into cars for movies. Tivvy was partly responsible for some of the fabrication of Chitty Chitty Bang Bang. (There were in fact five "Chitties" and two other specially constructed cars for the movie. Old Rolls Royce hearses were stripped of their bodies and rebuilt to resemble Fiat and Renault race cars for the movie's opening race sequences.) In 1970, Alan Mann seemed to lose personal interest in racing, and he decided to pursue a stronger interest in helicopters. Tivvy was Alan Mann Racing's last employee.

From there, Tivvy moved to Broadspeed Engineering. The famous Mini specialists had picked up the Ford contract for racing Escorts and (somewhat later) Capris in the British Touring Car Championship. Tivvy served Broadspeed as Race Shop Foreman and also Crew Chief. A major benefit of working at Broadspeed was the extended range of personal contacts he made. One American friend, rally driver John Buffum was particularly instrumental in luring Tivvy to the western side of the Atlantic. Through some series of events, Tivvy ended up at Fejer Brothers in Toronto Canada, where he worked for about eight months to simultaneously develop a Can-Am car and an Indianapolis 500 car for wealthy Canadian privateer George Eaton. Disillusioned with the hopelessness of that quixotic quest, Tivvy returned to England to start his own company.

Tivvy opened SpecFab Pershore Ltd. in 1972. Under contract to Ford UK, Ford Cologne (Germany), and BMW, SpecFab managed racing projects all across Great Britian and Europe. The company developed a great reputation for fabrication services. Alas, the tremendous workload became tiring. After several very successful years, Tivvy's friend John Buffum was encouraging him to emigrate. In 1978, Tivvy and his wife moved to the United States to build rally cars for John Buffum.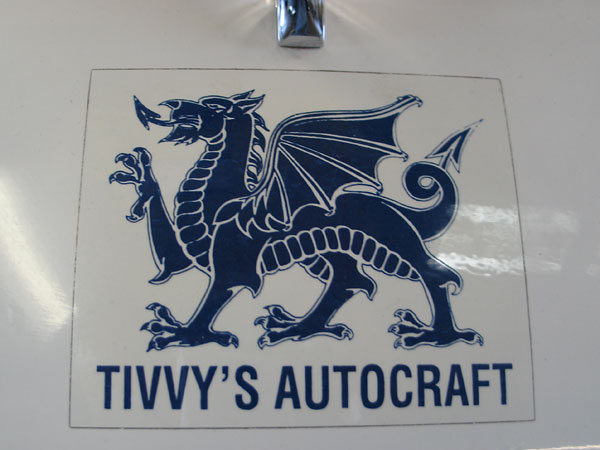 TIVVY'S AUTOCRAFT
Custom and Classic Vehicles Built and Restored
Metal work. Lead work. Chassis work. Mechanical work.
Vintage race cars restored / maintained / transported.
Danville, Virginia. Phone: 434-799-5629


Tivvy's Autocraft was founded in Vermont, in 1979. John Buffum was the first customer, and over several years he required a lot of cars: Ford Escort, TR7, TR8, Audi and even Hyundai race cars. Simultaneously, Tivvy restored British and European cars and prepped vintage race cars. It was in this time period that now-leading rally car builder Lance Smith started his career with a seven year apprenticeship at Tivvy's Autocraft. Lance eventually left to work on newer cars, and to open his own shop: Vermont Sports Car.

I met Tivvy a second time at Summit Point Motorsports Park in November 2009. I was there to witness the Vintage Racer Group's annual "Turkey Bowl" races, and Tivvy was there in his capacity as Chief Scrutineer for the club. It is Tivvy's job to make sure the cars are safe. The scrutineering team eyeballs every single entry at every VRG event. I tried to eyeball every car, and I can tell you it's a tough assignment. So many wonderful cars! Regrettably, Tivvy was too busy scrutineering to race his Jaguar that weekend.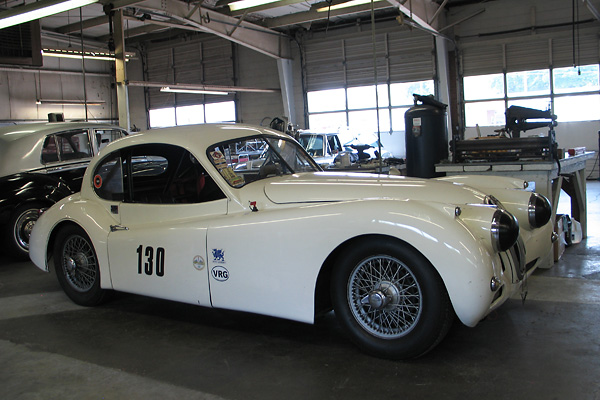 Jaguar XK140 left hand drive fixed head coupe. One of 476 built.


Enjoying this article? www.BritishRaceCar.com is partially funded through generous support from readers like you!
To contribute to our operating budget, please click here and follow the instructions.
(Suggested contribution is twenty bucks per year. Feel free to give more!)
Tivvy's Jaguar XK140
Tivvy bought his Jaguar XK140 in very rough shape in 1989. At some point, a previous owner had completed an engine conversion. Tivvy retrofitted a Jaguar engine and prepared the car for vintage racing. He started racing it in 1990, and has developed it steadily ever since. Occasionally, Tivvy's son Cully shares driving duties. In twenty years, a driver can get pretty comfortable with his car: Tivvy describes the Jaguar as "part of the family."



Features and Specifications
Engine:
Jaguar 3442cc DOHC 6-cylinder (nominally 83mm bore by 106mm stroke), with original big-valve cylinder head. Dual S.U. H8 (2") carburetors. Mallory dual-point distributor. Bosch "blue" coil. Moroso "Blue Max" 8mm, 800 Ohm, spiral core, spark plug wires. Oil cooler and remote oil filter.

Cooling:
custom aluminum radiator plus a small secondary aluminum radiator that's plumbed in like the car's original heater core, except that it's mounted up front in the airstream. Custom aluminum coolant header tank. Electric fan.

Exhaust:
custom long-primary 6-2-1 headers.

Transmission:
4-speed manual. Mechanical clutch linkage. Custom Rochester competition clutch with sintered-bronze pucks.

Rear Axle:
extensively modified Jaguar rear axle. (The hubs are fully-floating and the half shafts are supported by twin-taper bearings. A modified Ford spool is used in lieu of a differential. Stock Jaguar 4.09:1 ring and pinion..)

Front Susp.:
standard torsion bar springs. Koni shock absorbers.

Rear Susp.:
custom semi-elliptic leaf springs. Koni shock absorbers. No positive lateral location.

Brakes:
(master) dual Girling master cylinders with bias bar. (Pedal assembly is from Tilton.)
(front) original Girling drums brakes with Carbotech shoes.
(rear) original Girling drums brakes with Carbotech shoes.

Wheels/Tires:
Dunlop 60-spoke 16x5 wheels. Dunlop Racing "L-series" 6.00x16 cross-ply front tires, and Avon 185x16 Turbosteel radial rear tires.

Electrical:
alternator in lieu of original generator. Lead/acid battery.

Instruments:
Smiths cable-driven rev-counter (0-6000rpm, counter-clockwise). Stewart Warner oil pressure (5-100psi) and water temperature (100-265F) gauges.

Fuel System:
8 gallon ATL fuel cell. Borg Warner fuel pump. Holley adjustable fuel pressure regulator (set to about 2.5psi to suit the S.U. carbs.)

Safety Eqmt:
Kirkey aluminum racing seat. OMP six-point cam-lock safety harness.

Performance:
approximately 220hp. (The car will reach 135mph on a long straightaway.)

Weight:
~2600#.

Racing Class:
VSCCA "over two liter" and SVRA 4CP.


Engine Installation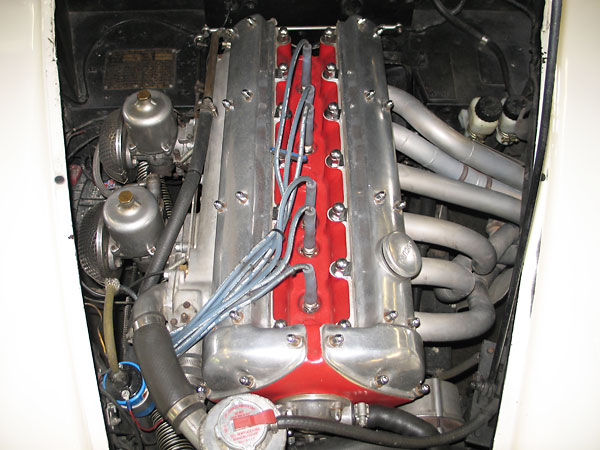 Jaguar 3442cc DOHC 6-cylinder (nominally 83mm bore by 106mm stroke).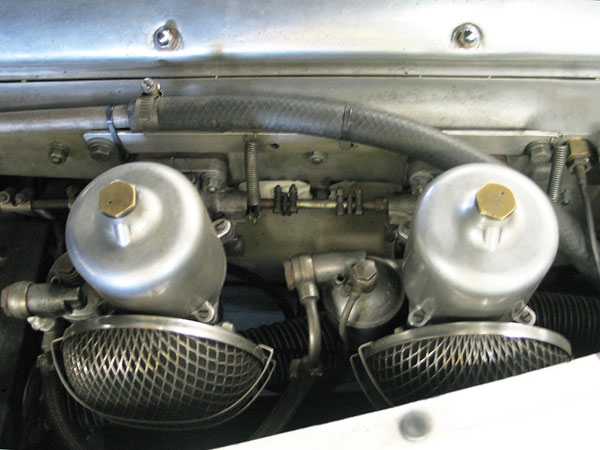 Dual S.U. H8 (2") carburetors.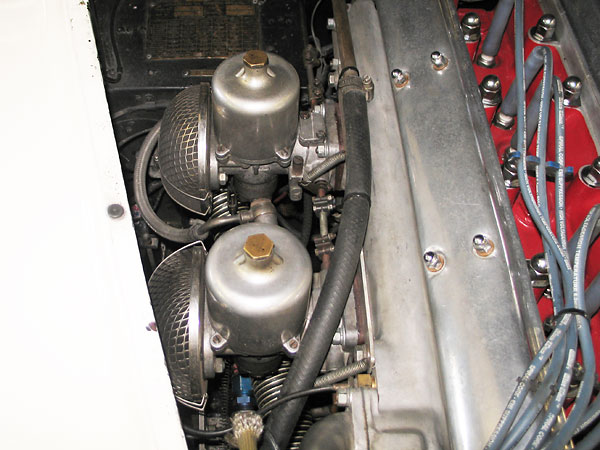 Like most XK140 Fixed Head Coupes, this car's cylinder head came with large exhaust valves. (Some enthusiasts
like to call them C-type heads, but that's a stretch.) Ports have been lightly cleaned up, but not extensively ported.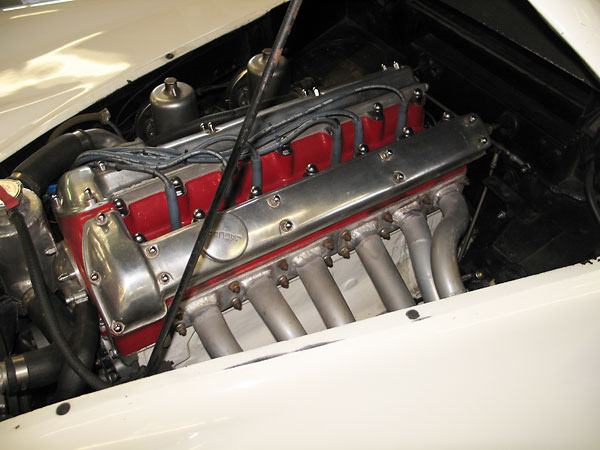 The main objective of this particular exhaust header design was to get heat away from the cylinder head quickly.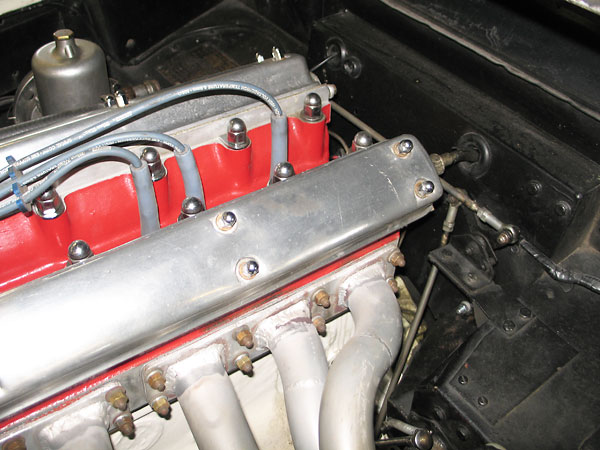 Tivvy made these headers many racing seasons ago, and they've been repaired a couple times since. Tivvy's
preferred fabrication method is to weld on the head side of the flanges. The wide brazed fillets are from repair jobs.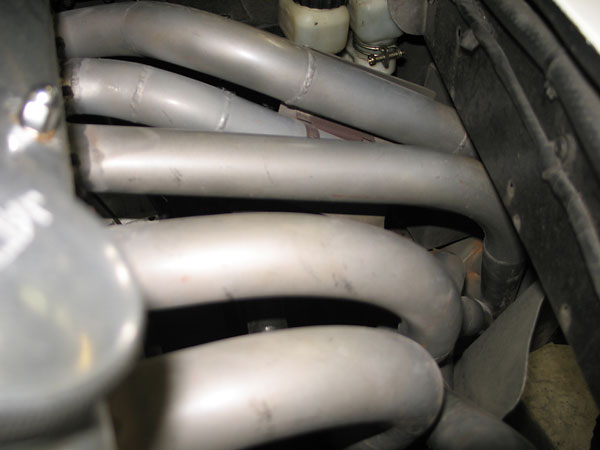 Custom 6-2-1 headers. (The primaries are about 23 inches long.)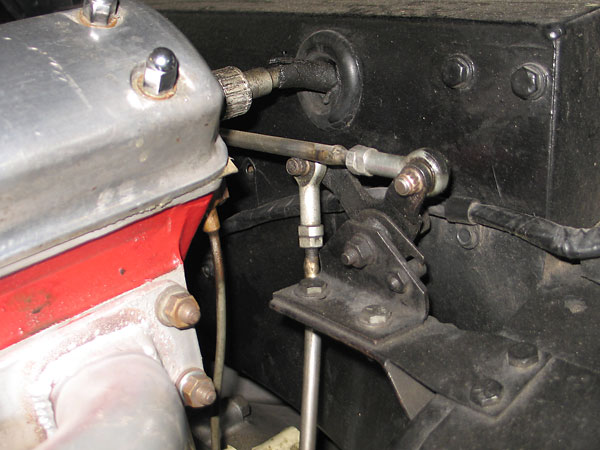 Above the throttle linkage you can see the camshaft-driven cable for the Smiths rev-counter gauge.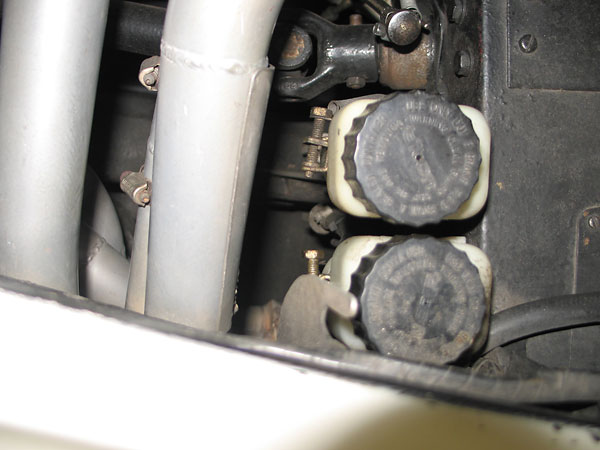 Tilton reservoirs, but they're used here with Girling brake master cylinders.
(Tivvy won't use Tilton cylinders anymore. He does still recommend Tilton pedal sets.)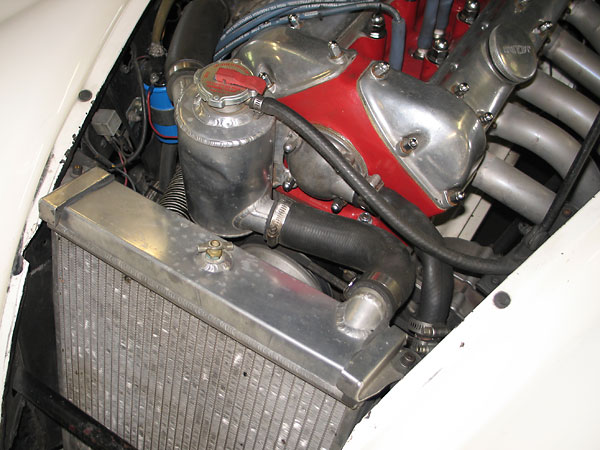 Custom aluminum radiator.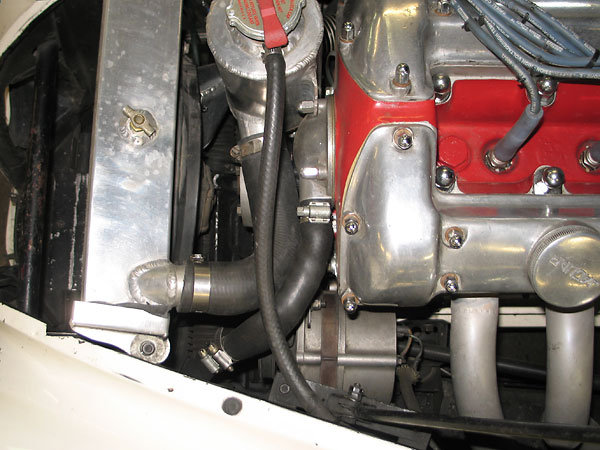 The medium-sized coolant hose shown in this photo routes to a small secondary radiator.
Also visible: electric cooling fan and Lucas alternator (in lieu of original generator).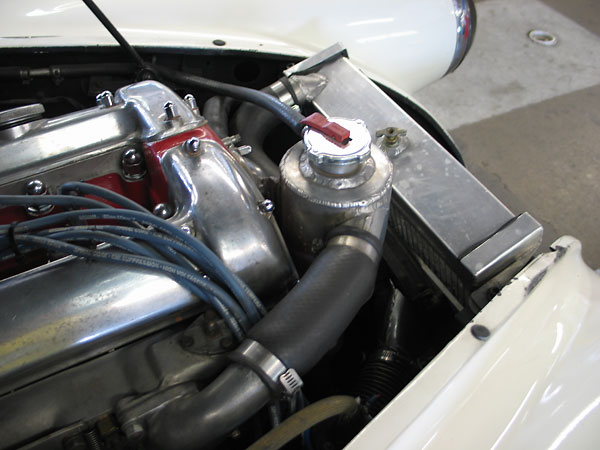 Custom aluminum coolant header tank.


Interior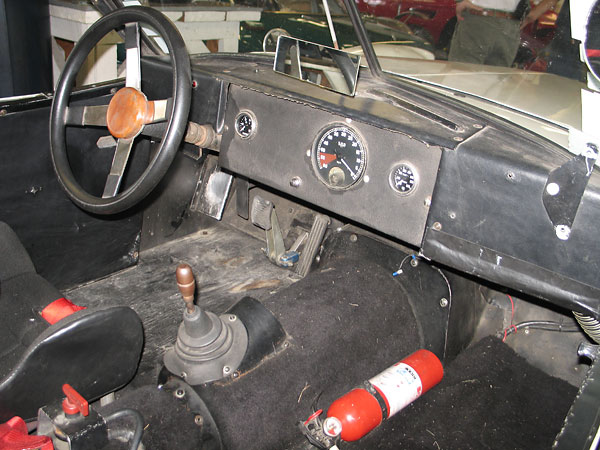 Stripped down and ready for business!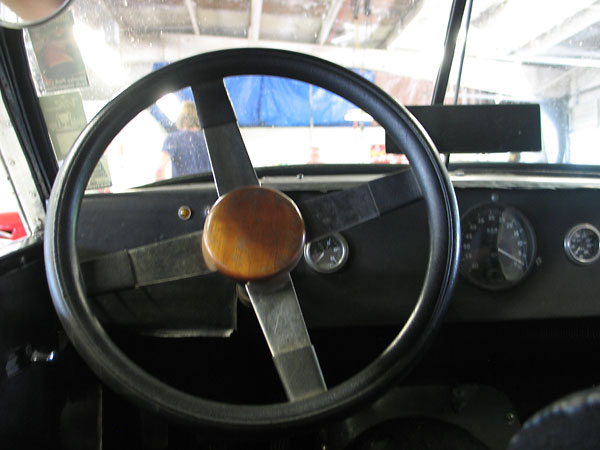 The original Smiths cable driven rev-counter has an unusual counter-clockwise scale. Why? Styling
may have been a factor. As originally installed, the rev-counter mirrored the look of a clockwise-scaled
speedometer. There were functional advantages too. Historically, mechanical tachometers were fragile.
Driving the tachometer directly off a camshaft proved to be uncommonly robust and trouble free.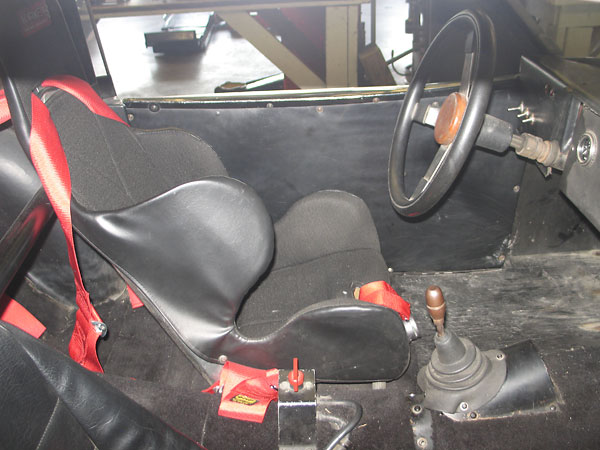 Kirkey aluminum racing seat. OMP six-point cam-lock safety harness.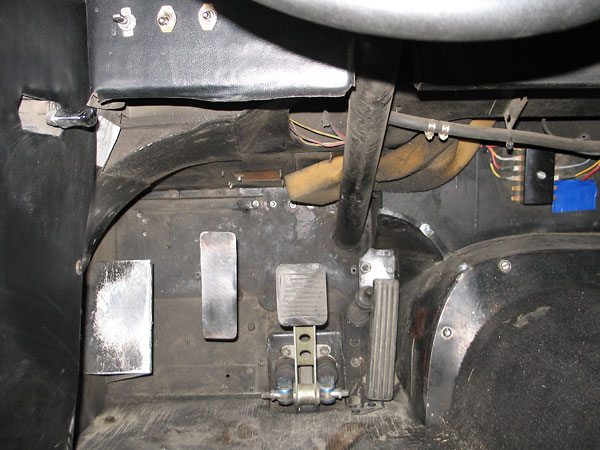 (left-to-right) A dead pedal provides a solid place for Tivvy to rest or brace his left foot.
The clutch pedal works a mechanical linkage, similar to the original Jaguar installation.
The Tilton brake pedal assembly includes dual master cylinders and adjustable bias bar.
Instead of pulling a cable, the throttle pedal works through a linkage.


Exterior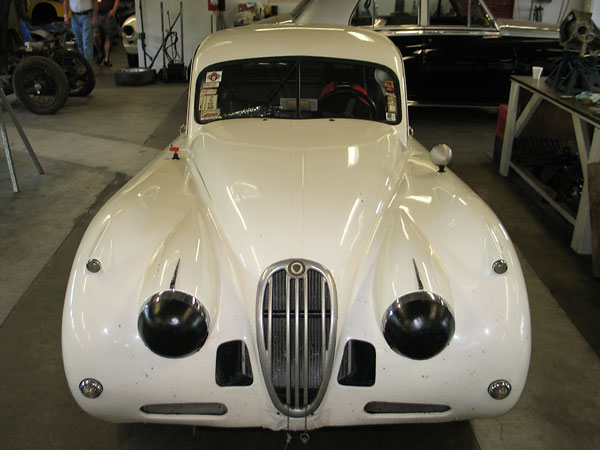 Jaguar offered three versions of the XK140 body. As shown here, the Fixed Head Coupe (FHC) featured a steel roof.
The Drop Head Coupe (DHC) had a padded soft top that when lowered sat above and outside the body of the car.
The Open Two Seater (OTC) had a light canvas top that lowered down to behind the seats for a svelte profile.
Doors and windscreens are quite different for each of the models. Coupes were higher priced and better trimmed.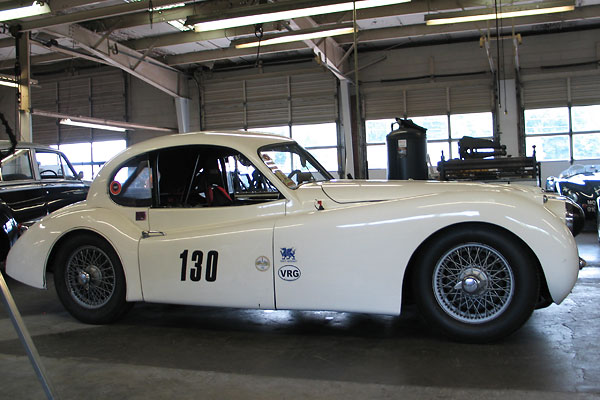 Compared to the XK120 Fixed Head Coupe that preceded it, the XK140 FHC has a higher roofline.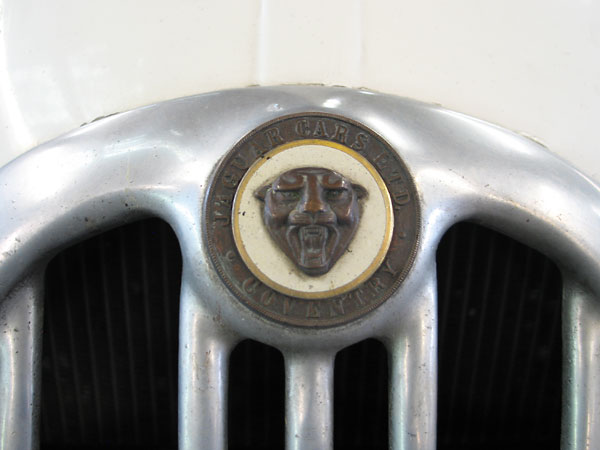 "Jaguar Cars Ltd., Coventry". (Two slats have been cut out from the original grille.)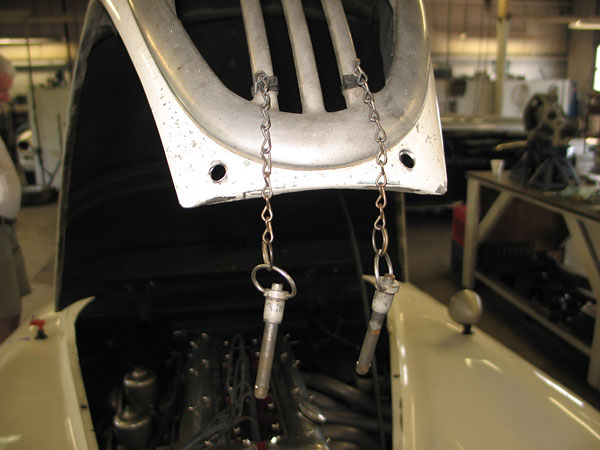 Quick release positive locking pins ("pip pins").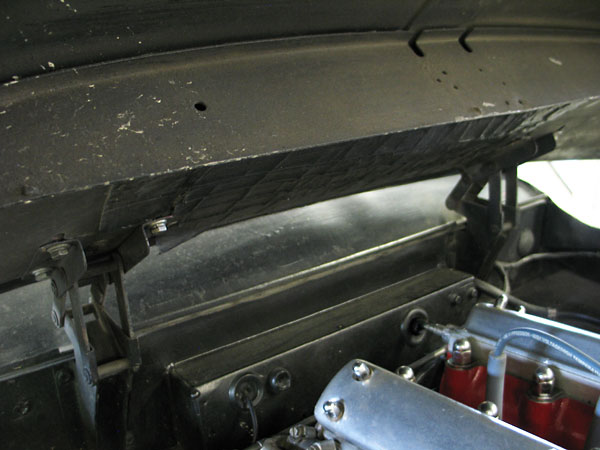 Compared to the XK120, the XK140's engine and firewall are both located about 3" further forward.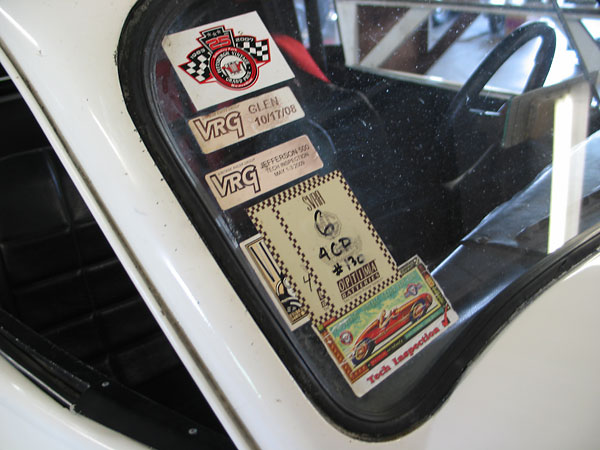 (top to bottom) Pittsburgh Vintage Grand Prix 2007, Vintage Racer Group (Watkins Glen 2008 and
Jefferson 500 2009), Sportscar Vintage Racing Association and Vintage Driver's Club of America
(various stickers, stacked), and Pittsburg Vintage Grand Prix 2008.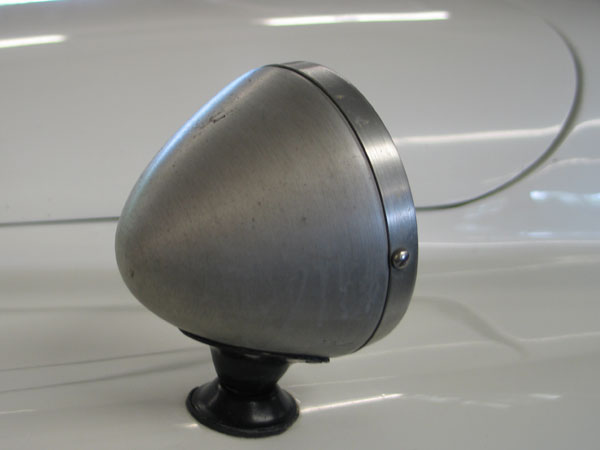 GT Classic model 300 side view mirror.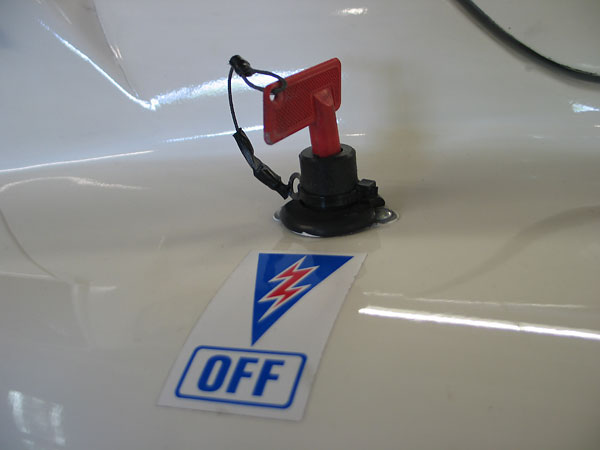 Hella Products battery disconnect switch.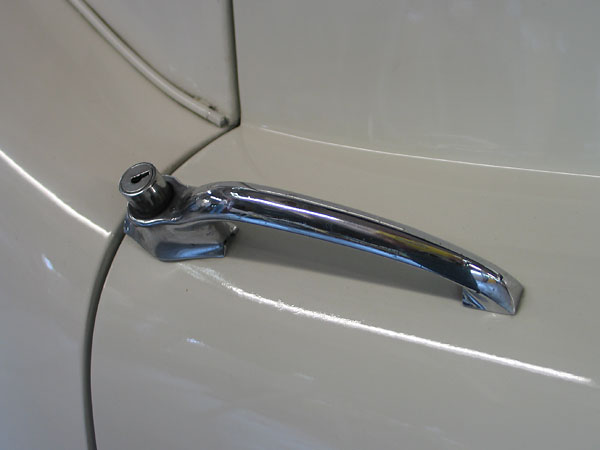 Pushbutton door handles were used on the Fixed Head Coupe. The roadsters had rotating exterior door handles.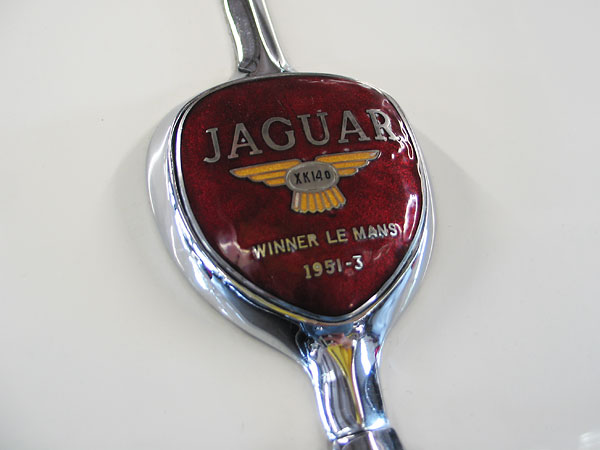 "JAGUAR, XK140, WINNER LE MANS, 1951-3"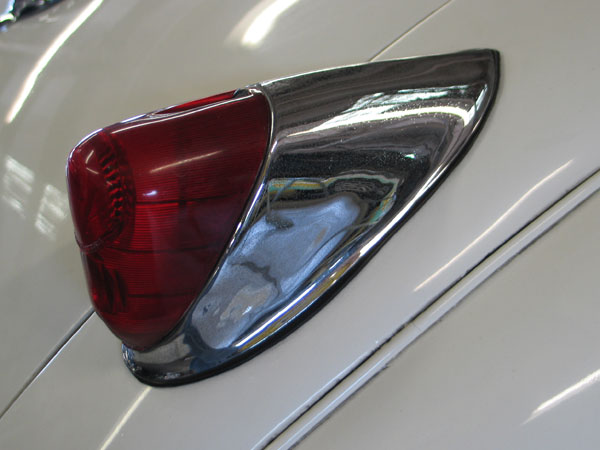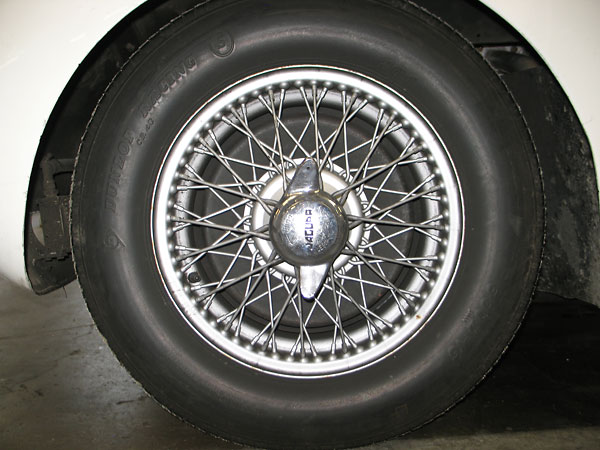 Dunlop 60-spoke 5x16 wheels with Dunlop Racing "L-series" 6.00x16 tires (front only).
Stock Girling drum brakes are used without cooling ducts or manual adjusters.
(Tivvy finds that the original automatic adjusters work just fine.)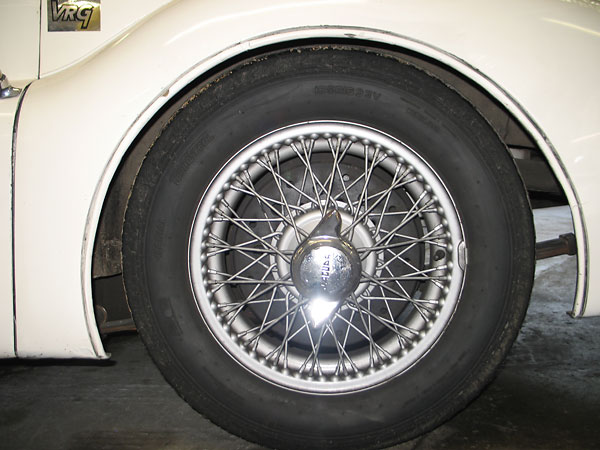 Avon Turbosteel radial tires perform more consistently than cross-ply tires - they don't overheat and get
"loose" during a race - plus they last longer. The downsides are that they're more expensive and they weigh
10# more per tire. Tivvy doesn't use radials on the front wheels because they cause too much understeer.


All photos shown here are from June 2009, when we visited Tivvy's Autocraft in Danville Virginia.
All photos by Curtis Jacobson for www.BritishRaceCar.com, copyright 2009. All rights reserved.



Notice: all the articles and almost all the photos on BritishRacecar.com are by Curtis Jacobson.
(Photos that aren't by Curtis are explicitly credited.) Reproduction without prior written permission is prohibited.
Contact us to purchase images or reproduction permission. Higher resolution images are optionally available.