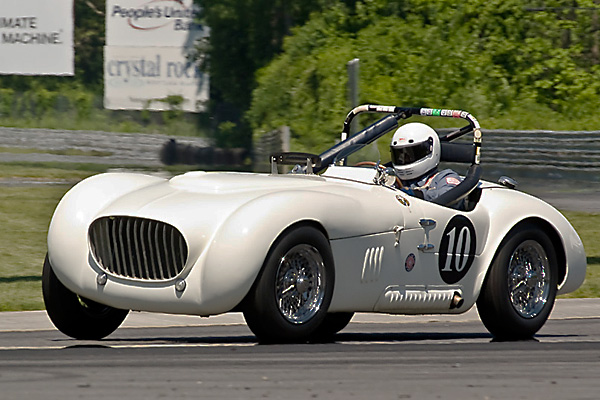 (Photograph courtesy of Sean S. Smith Photography.)


Walt Hansgen's Jaguar XK120 Special, now raced by Bob Millstein
Owner: Bob Millstein
City: Briarcliff Manor, New York
Model: 1951 XK120 Special
Engine: Jaguar 3.5L six cylinder
Originally built by: Walt Hansgen
Race prepared by: Briarcliff Classic and Imported Car Service
The Car that Launched Walt Hansgen's Racing Career
Walter E. Hansgen was born on October 28, 1919 and grew up in a northern New Jersey small town. He worked in his family's automotive body shop until the age of 32, when bitten hard by the racing bug he scraped and borrowed to purchase a 1951 XK120 brand new from the Jaguar dealer in Morristown. He entered the Jaguar in several races (including the 1951 Watkins Glen Grand Prix) but found it wasn't competitive enough to keep pace with his rapidly improving talents or with the Allards, Cunninghams, and Ferraris of the day.

In fact, the three results I found for Walt Hansgen in 1952 season SCCA National races were all logged in borrowed cars. On March 15, Hansgen shared an MG TD with Randy Pearsall to finish 10th overall at Sebring (666 miles in 12 hours). At Bridgehampton (on Long Island) on May 24 Hansgen borrowed Don McKnought's modified 1952 Jaguar XK120 coupe to take second overall and first in Class 3 in the 10-lap Hayground Cup race. For the Grand Island Grand Prix of August 30, 2952 Hansgen borrowed a Siata Gran Sport to take a second place finish in the under-1500cc race. Hansgen would need a much faster car to compete with the Jaguar C-Types which made their North American debut spectacularly at Elkhart Lake in September 1952.

Unable to purchase a C-Type for the 1953 season, Hansgen decided to transfer his Jaguar XK120's key components to a lightweight "special". By replacing the XK120's basically two-dimensional ladder frame with an elaborate three-dimensional structure of (mostly) round tubing, he hoped to meet or beat the C-type's 2100 pound curb weight. Combined with a lightweight body and eliminated trim, this would amount to over 700 pounds of weight reduction compared to an un-modified XK120 roadster.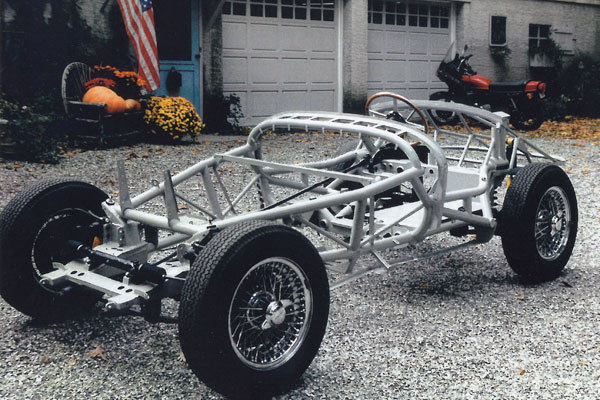 Walt Hansgen and Emil E. Hoffman built this multi-tube frame mainly of 8 gage (i.e. 0.165" wall
thickness) chrome-moly steel tubing. Chrome-moly is a high tensile alloy that Hoffman was familiar
with from his service in aviation factories during World War II, but for most car builders it would
remain an esoteric material for several more decades. (Photograph courtesy of Bob Millstein.)


The F.G. Hansgen auto-body shop in Westfield, New Jersey was home base for all this work, and in it Walt Hansgen had access to all the tools, machinery, and skilled help he needed. Emil Hoffman did much of the panel beating and probably all of the oxy-acetylene welding on the aluminum body. Hansgen's father helped prepare the body, and Jimmy Brown laid down the original paint job.

Hansgen probably first raced his Jaguar special at Cumberland Maryland in early May 1953.¹ (This was an SCCA regional race.) As recorded in The Washington Daily News: "The big race was a thriller and the spectators who lined the hills surrounding the airport watched Walter Hansgen in a Jaguar Special and J.L. Negley in a Chrysler-powered Allard LeMans battle neck and neck for 32 laps. On the 24th lap, Hansgen sliced into the lead on a turn only to lose it again a couple of laps later. Then on the 31st lap, Hansgen sneaked inside to get on top again on one of those acute turns. Negley went all out to get a shade in front on the next straightaway and plunged into the backstretch S turn at a roaring 80 miles an hour. His white No. 11 Allard spun around and smacked one of the guarding hay bales. The bump pushed his left front fender into his tire and he limped back to the pits, so it was a cinch for Hansgen, who had only to keep out of trouble the rest of the way to win."

Hansgen also raced his special on the streets and roads of Bridgehampton on May 23rd. David Leigh described the Hansgen Special in his race report: "The Bridgehampton Cup race brought out Walt Hansgen's beautiful tubular-chassis Jaguar special with a total weight, including Walter, of just over 2100 pounds. Walt designed and built the car himself, taking 14 months in the process, and it can be described as a masterpiece. Walt gave the impression that he was driving the car easily and was running between the XK-Cs of Harry Grey and Henry Wessels at the time the race was stopped although he had previously passed both cars with apparent ease. Strange though was the fact that none of the three cars was lapping faster than Hansgen did last year in Don McKnought's modified XK coupe." Unfortunately, the Bridgehampton Cup race was black-flagged early on account of an accident involving three spectators.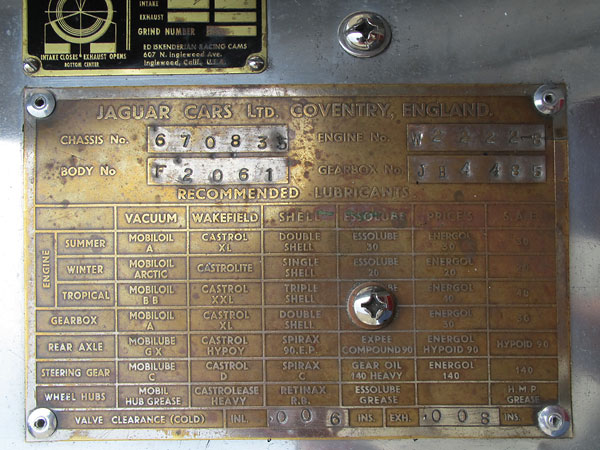 Jaguar Cars Ltd., Coventry, England.
Chassis No. 670835 - Engine No. W2222-8 - Body No. F2061 - Gearbox No. JH4485


The Hansgen Special raced again on July 19 at Cumberland Maryland, and came home with the biggest trophy: Hansgen defeated a string of XK120s to finish first in the sixty lap Cumberland Cup race. (J.L. Negley's Allard had been faster earlier in the day, in the over-1500cc sprint race.)

At Floyd Bennett Field on August 29 Hansgen entered his Jaguar special in a 215-mile endurance race, but reportedly most of the driving responsibilities that day were handled by friend and co-driver William Eager. As a team they finished fifth overall and second in class. The records show 41 starters and that the cars finishing faster were two Cunninghams (both in the B-Modified class) and two Ferraris (one in C-Modified.) Incidentally, Hansgen and Eager later shared an OSCA for the 1955 Sebring 12 hour race.



IMPORTANT ANNOUNCEMENT
BritishRaceCar.com will have to cut back plans for continued growth if we can't find more financial support.
If you like what you've found here, and you want to see more, please click here and follow the instructions.
Readers like you keep BritishRaceCar.com online and growing through voluntary financial contributions.


At Thompson in Connecticut on September 6, Hansgen took second place behind Masten Gregory's C-Type.

The most important race of Hansgen's season was held on September 19. Hansgen proved his engineering ability and his driving at the Watkins Glen Grand Prix where he edged out George Harris's Allard on the final lap. The Washington Daily News provided this play-by-play coverage: "Hansgen set the pace for 18 laps of the 22-lap race before Harris slid by him on the 19th. Hansgen regained the lead on the next round only to lose it again on the 21st. Harris takes the curve on the inside. Hansgen won't be denied. He takes to the dirt and gravel along the outside. Hansgen's wheel throws a storm of gravel and the engine's thunder strangles momentarily as the Jaguar goes around crabwise. He gives it the gun, fishtails, then zooms past Harris and crosses the finish line - the winner!"

After the 1953 season, Hansgen sold his XK120 Special to a friend (Paul Timmins) and then purchased Masten Gregory's Jaguar C-Type to continue his career with. Hansgen continued as a privateer until Briggs Cunningham recruited him, and then his professional racing career really took off. Hansgen won SCCA's C-modified National Championship four years in a row driving Jaguar-powered cars. For Cunningham he drove D-Types, Lister-Jaguars, and lightweight E-Types. In 1960, he piloted the prototype Jaguar E2A racer at Le Mans, co-driving with Dan Gurney. Hansgen also showed his versatility by successfully driving open-wheeled racecars including particularly Cooper Formula Juniors and Lotus Formula One cars. In 1964 he qualified 10th for the Indy 500 in the MG "Liquid Suspension Special" and then ran as high as second place in the race until mechanical problems. Hansgen died on April 7, 1966 from injuries suffered while testing a Ford GT40 in preparation for the 24 Hours of Le Mans.

Paul Timmins had one successful season with the Hansgen Special before dying in a road accident in March 1955. The car passed to George Sterner of York, Pennsylvania who kept it registered as a road car until selling it to Ed Jurist of The Vintage Car Store in June 1966. Jurist's dealership then sold the car to J.D. Inglehart of Connecticut who occasionally entered it in hillclimbs. Current owner Bob Millstein was impressed by the Hansgen Special when he saw Inglehart driving it at the Mt. Equinox hillclimb in 1979.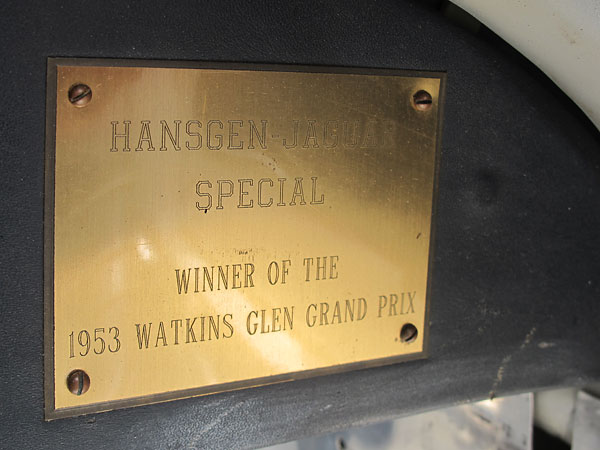 HANSGEN-JAGUAR SPECIAL
WINNER OF THE 1953 WATKINS GLEN GRAND PRIX


Bob Millstein's Stewardship
Bob Millstein bought the Hansgen Special in 1983. Back home at his shop, Briarcliff Classic and Imported Car Service in Westchester County (north of New York City), he carefully removed the body and started a comprehensive restoration. In this he was assisted by Michael Gregory, Leo Bunker, and Ed Willimann. The Hansgen Special's one-of-a-kind handcrafted aluminum body required the highly specialized attention of Romeo Autobody in Brooklyn. Finally, in 1989 it all came back together and was ready for public display. In fact, the restored Hansgen Special was the Jaguar Club of North America's National Concours Champion (Class 15) in 1989. After winning that honor, Bob began entering the car in vintage racing events.

Twenty-two years later, it's still going strong! The car has suffered just one notable shunt in that time, and as a result the original radiator and header tank have been replaced. Also, the original exhaust system wore out and required replacement. (The new headers, with much longer primaries, are admittedly a huge performance upgrade.) A number of other original components such as the engine, the transmission, the Alfin brake drums, and the Boranni wheels have been put into storage for safe keeping. But racecars belong on racetracks, and Bob intends to keep racing this car just as long as he can.


Features and Specifications (as currently presented)
Engine:
Jaguar 3.5L six cylinder engine (rebuilt, balanced, and blueprinted.) ~10.5:1 static compression ratio. Standard Jaguar crankshaft and connecting rods. Forged pistons. Iskenderian "3/4" camshafts. Dual S.U. 1.75" (HD6) carburetors. Lucas distributor, with breaker points.

Cooling:
custom aluminum radiator and header tank.

Exhaust:
custom-fabricated stainless steel six-into-two headers by Kooks Custom Headers. Stainless steel muffler.

Rear Axle:
Jaguar XK120 (early ENV, not later Salisbury) axle housing. Welded differential. 4.3:1 final drive ratio.

Front Susp.:
standard Jaguar XK120 torsion springs. Spax shock absorbers. Custom anti-sway bar. MG TD steering rack.

Rear Susp.:
custom three-link rear suspension plus Panhard bar. Coil springs. Pro Shocks telescoping shock absorbers.

Brakes:
(master) early Jaguar XK120 single-circuit master cylinder. (No bias adjustment.)
(front) Girling twin leading shoe drum brakes. Iron drums. Carbon-Kevlar shoes.
(rear) Girling single leading shoe drum brakes. Iron drums. Carbon-Kevlar shoes.

Wheels/Tires:
Dayton 72-spoke center-laced wheels. Dunlop Racing tires (6.00L-16 size, CR-48 tread pattern, 204 compound.)

Electrical:
Odyssey "yellow top" battery (65 amp hour, 750CCA). Lucas generator. Lucas starter.

Instruments:
(left to right) Fuel Safe Racing Cells fuel gauge (E-F). Smiths mechanical tachometer (0-6000rpm counterclockwise, with integral electric clock at bottom), dual oil pressure (0-100psi) and water temperature (30-90C) gauge, dual purpose petrol/oil level gauge (E-F, "Push switch for oil level."), ammeter (+/-30 amps), and speedometer (0-140mph).

Fuel System:
original surplus aviation wing tank, with new rubber bladder installed inside. Twin Siata fuel filler caps. Carter electric fuel pump.

Safety Eqmt:
Removable roll hoop. Simpson 5-point cam-loc safety harness. Amerex Halon fire extinguisher (hand held).

Weight:
~2100 pounds.

Racing Class:
Pre-1955 Modified

Engine Installation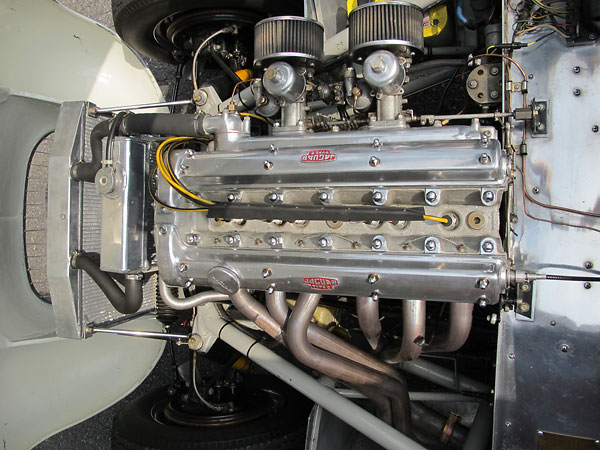 This replacement Jaguar engine is installed for vintage racing. Bob has the Hansgen Special's
actual original engine and transmission carefully stored away for future reinstallation.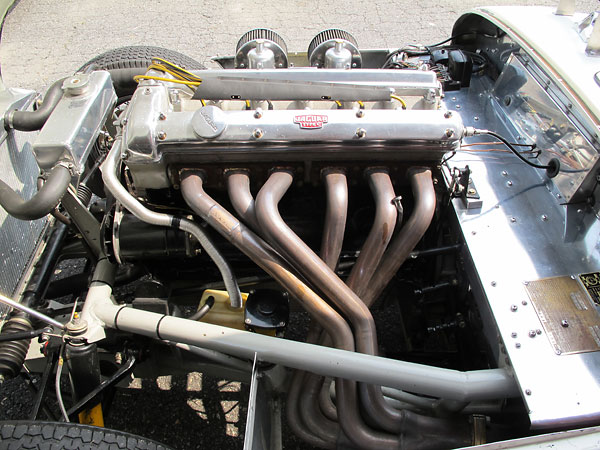 This 3.5L engine has been prepared relatively conservatively.
Peak power is delivered at ~5700rpm. (No rev limiter is installed.)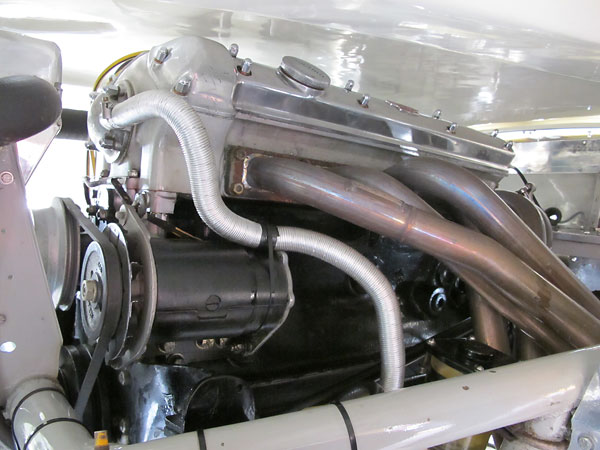 This photo illustrates that the engine has plenty of bonnet clearance.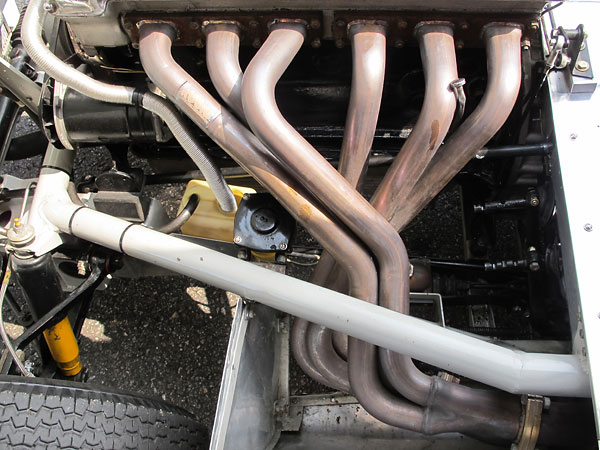 Six-two-one headers with such long primaries! The distance from the cylinder head to the
three-into-one collectors has been more than doubled compared to the car's original headers.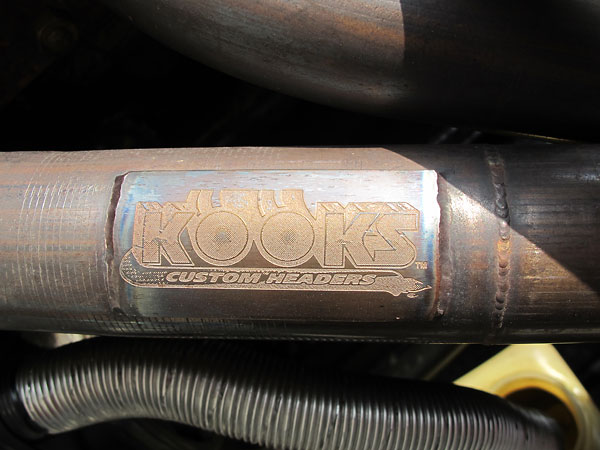 The custom-fabricated stainless steel exhaust was built by Kooks Custom Headers.



Adjustable brake and clutch pedals. Hansgen used an early XK120 master cylinder; later XK120s had
dual-circuit master cylinders. The clutch pedal operates directly, without cable or hydraulics.



Lucas generator.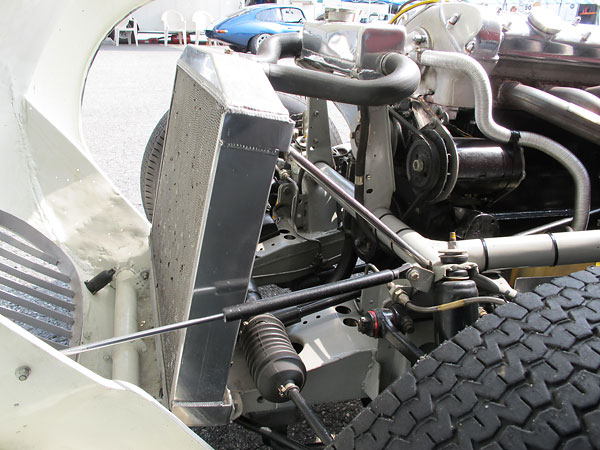 The custom aluminum radiator and matching header tank are two of very few modern components.
(Okay, the gas pressurized struts that make tilting the hood easier are also pretty conspicuous.)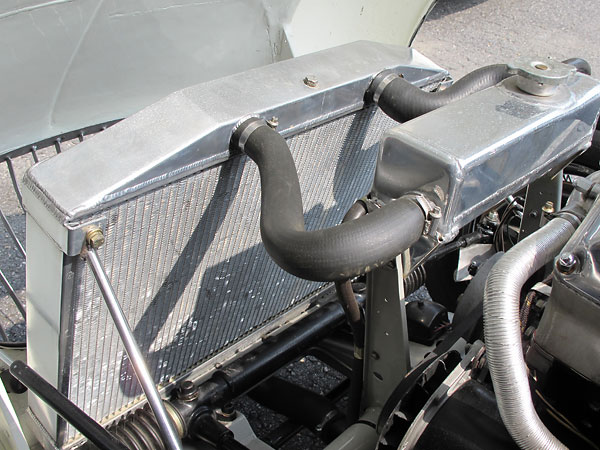 The header tank is the highest point in the cooling system.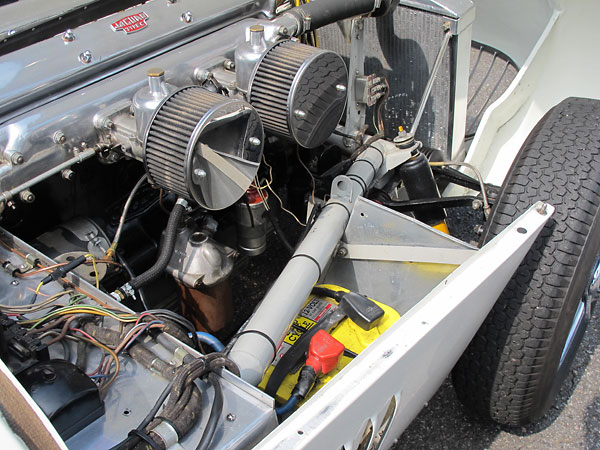 Odyssey "yellow top" battery.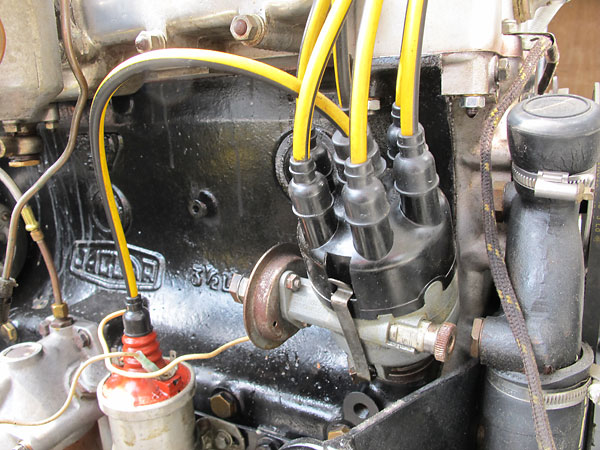 Lucas distributor, with old-fashioned breaker points inside.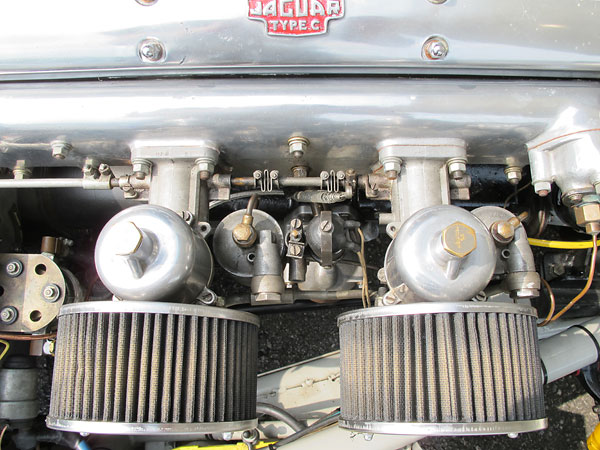 Dual S.U. 1.75 inch bore (HD6) carburetors.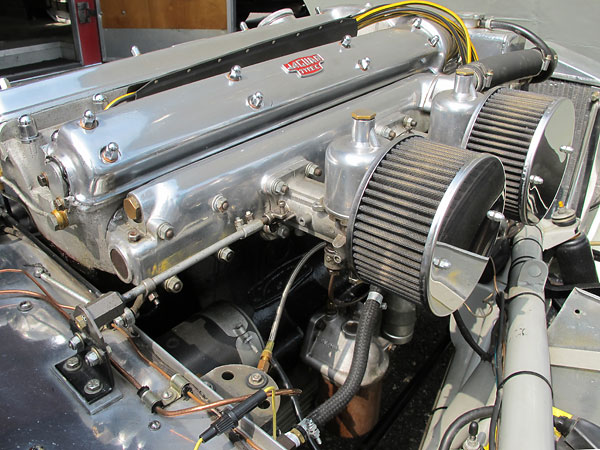 Throttle linkage detail.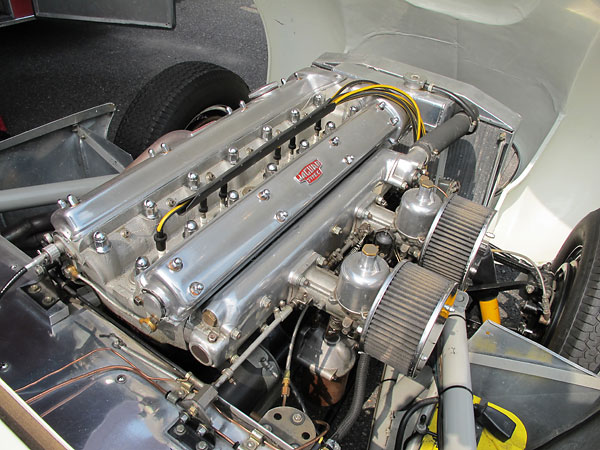 The tachometer is driven by a cable connected to the exhaust-side camshaft.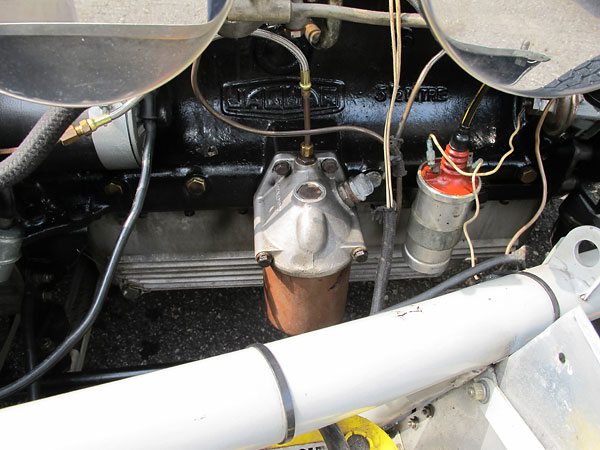 Oil filter. Note also finned aluminum oil pan, in background.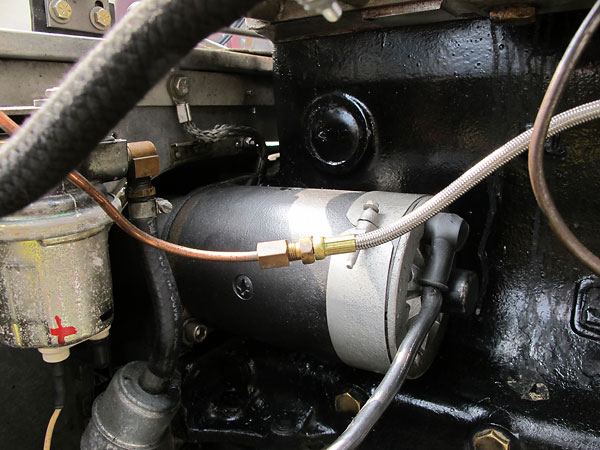 Lucas starter motor.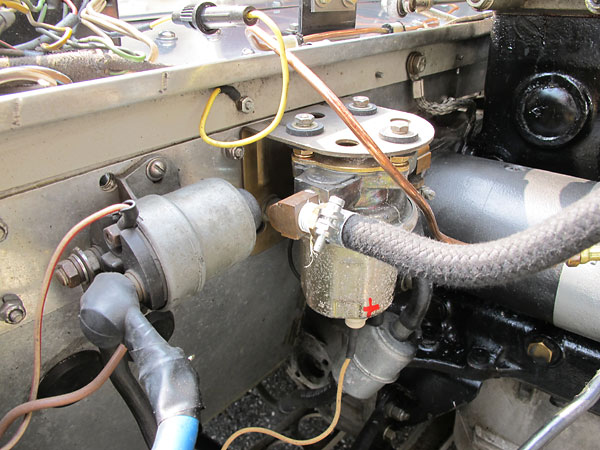 (right) Carter fuel pump. (left) Jaguar starter solenoid switch with integral pushbutton
for locally engaging the electric starter (which is handy when timing the engine, etc.)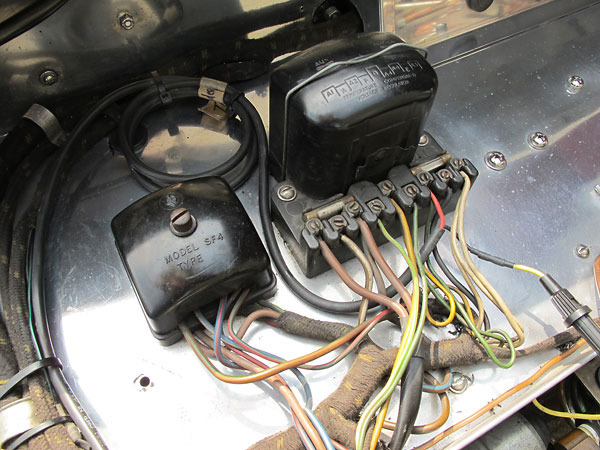 (left) Lucas "Model SF4 Type" four way fuse holder. (right) Lucas voltage regulator.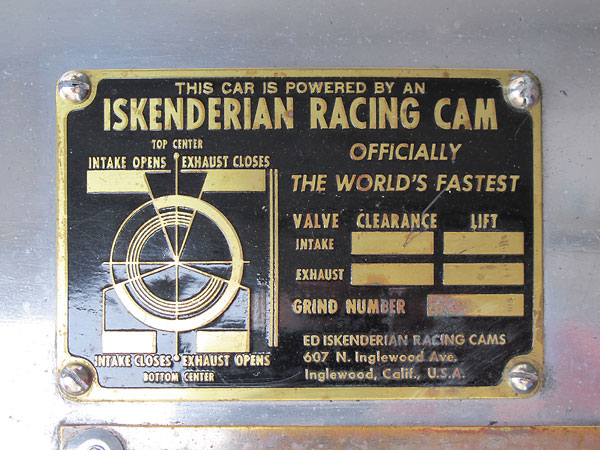 This car is powered by an ISKENDERIAN RACING CAM: officially the world's fastest!
Ed Iskenderian Racing Cams, 607 N. Inglewood Ave., Inglewood, Calif., U.S.A.


Front Suspension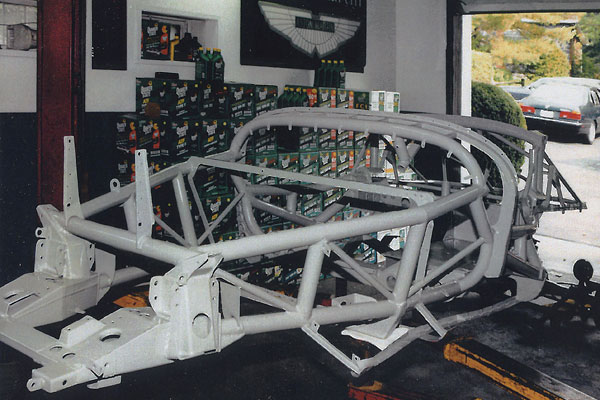 A strong foundation! (Photograph courtesy of Bob Millstein.)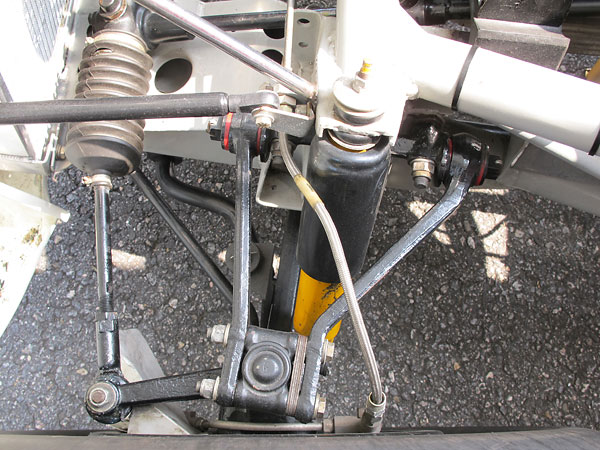 Springs, control arms, uprights, hubs, foundation brakes... all Jaguar XK120 parts.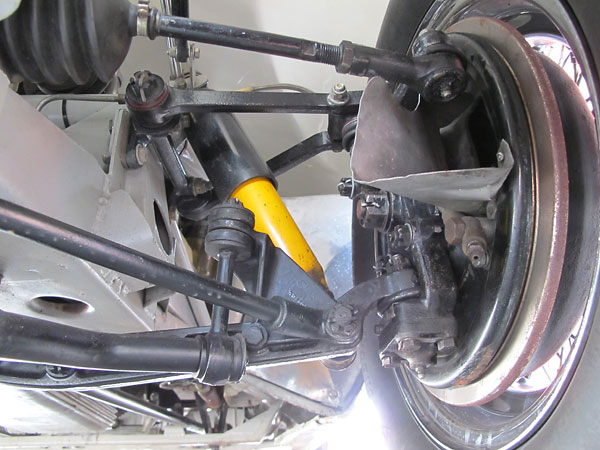 Hansgen used finned aluminum ("Alfin") brake drums, but Bob has removed and
carefully stored them for safe keeping. Instead, Bob races with iron drums.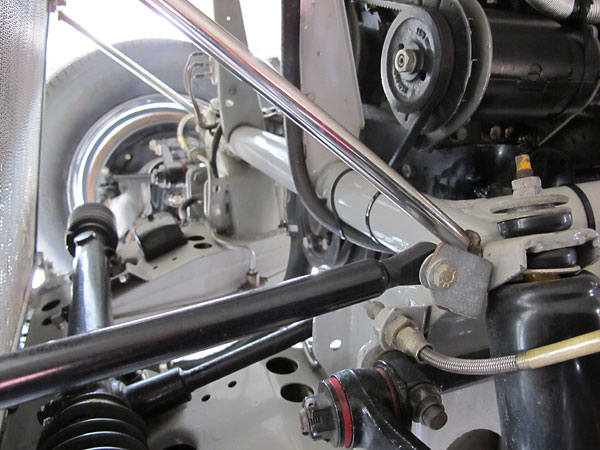 Hansgen used an MG TD steering rack instead of the Jaguar's original steering box.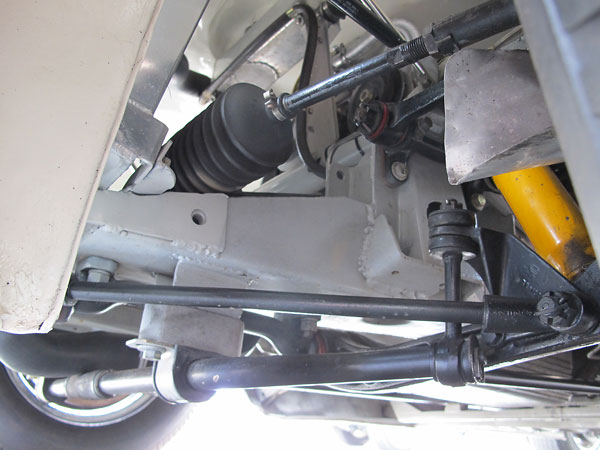 SPAX shock absorbers and red polyurethane bushes (in lieu of rubber) are minor changes.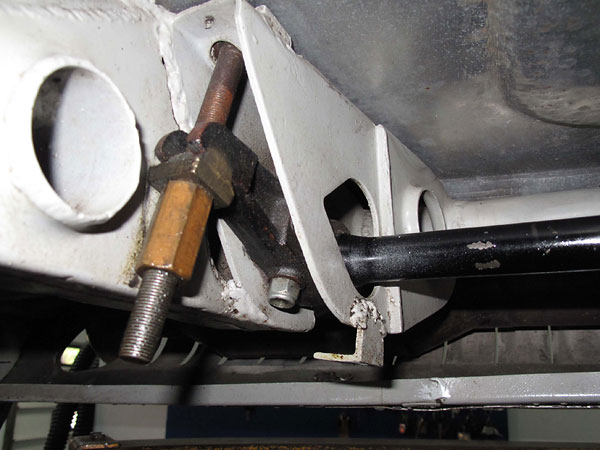 Attachment of driver's side torsion spring to a crossmember under the floorboard. Ride height
and corner-weight loading are adjusted by rotating the nut. The louvered exhaust cover in
background provides perspective: attachment is approximately on the same vertical plane
as the door hinges. (Photograph courtesy of Sean S. Smith Photography.)


Enjoying this article? www.BritishRaceCar.com is partially funded through generous support from readers like you!
To contribute to our operating budget, please click here and follow the instructions.
(Suggested contribution is twenty bucks per year. Feel free to give more!)
Rear Suspension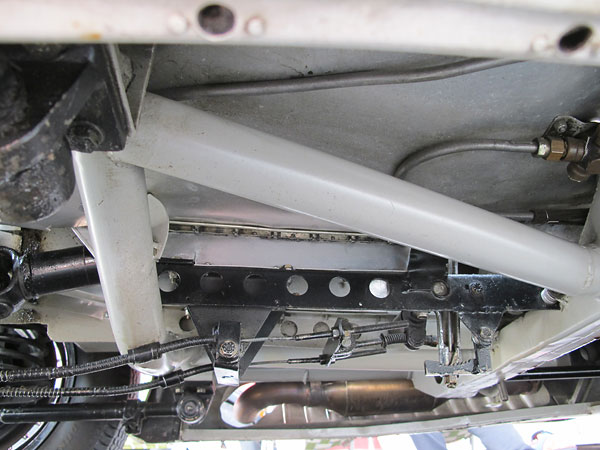 Frame details, parking brake cable routing, and also the stainless steel muffler.
(Lime Rock Park has much stricter sound control requirements than other racetracks.)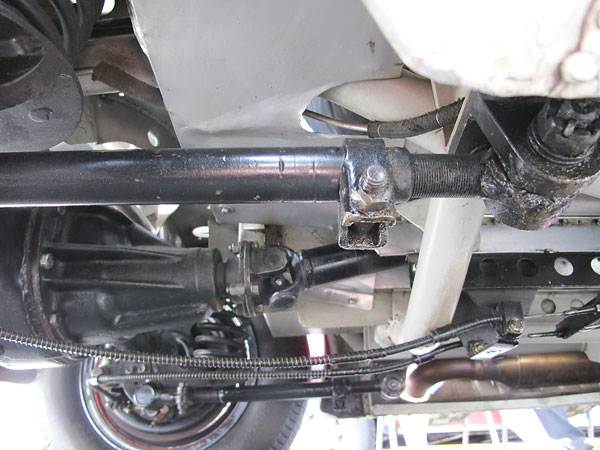 Adjustable trailing links.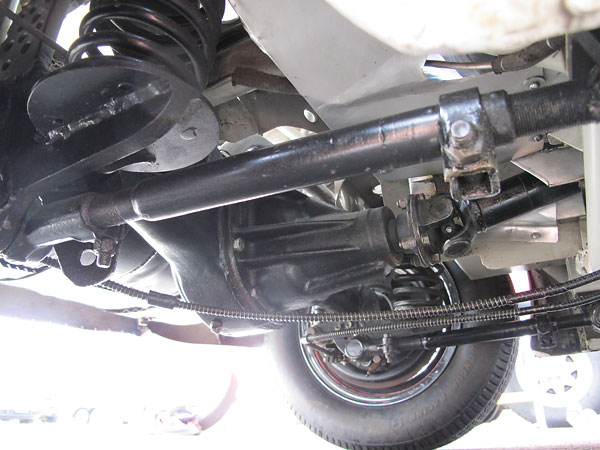 Hansgen installed coil springs and telescoping shocks where Jaguar had used leafsprings and
lever shock absorbers for the rear suspension of their XK120. The big difference is weight.
Across the whole project, he achieved an impressive weight reduction of over 500 pounds,
but most importantly he also achieved a significant reduction of unsprung weight too.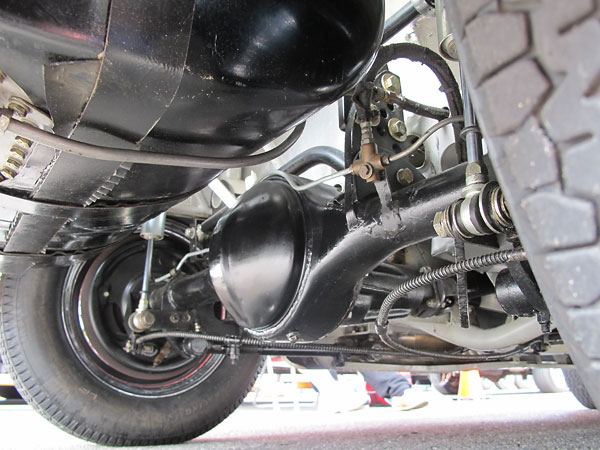 Three link rear suspension (e.g. two trailing links below the axle and one above) plus Panhard
bar. Interestingly, the upper trailing link is offset way over onto the righthand side.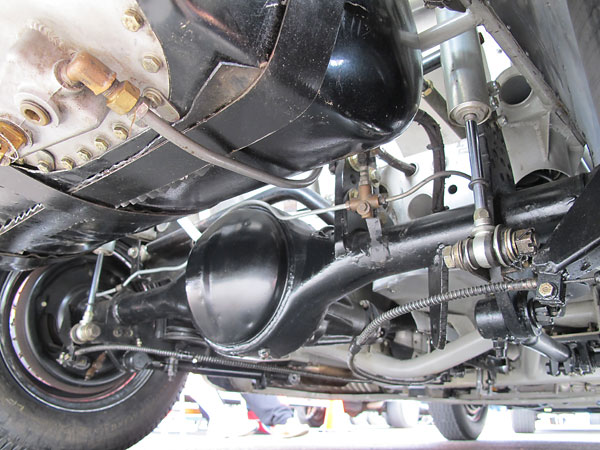 Pro Shocks telescoping shock absorbers.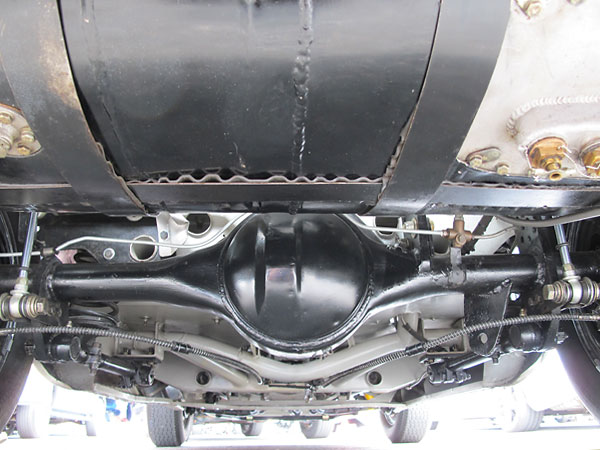 Jaguar XK120 (ENV, not Salisbury) axle housing. Welded differential. 4.3:1 ring and pinion.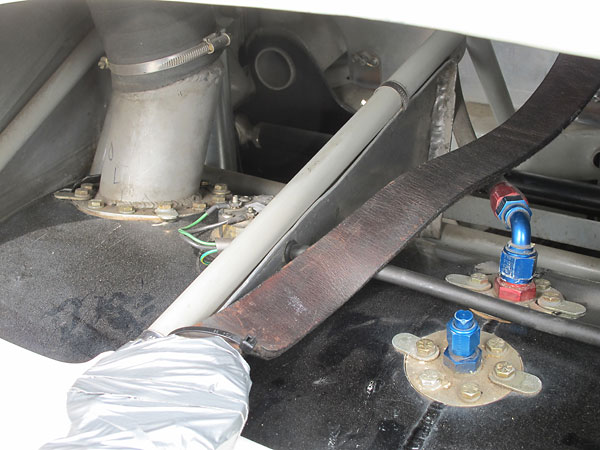 Original surplus aviation wing tank, with new rubber bladder installed inside.


Interior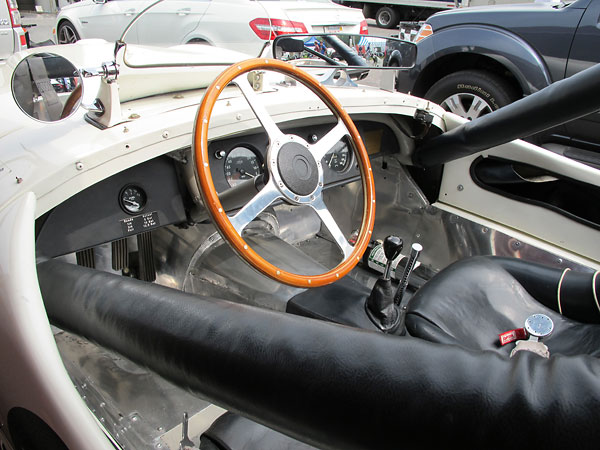 Climbing into the driver's seat requires stepping on the seat.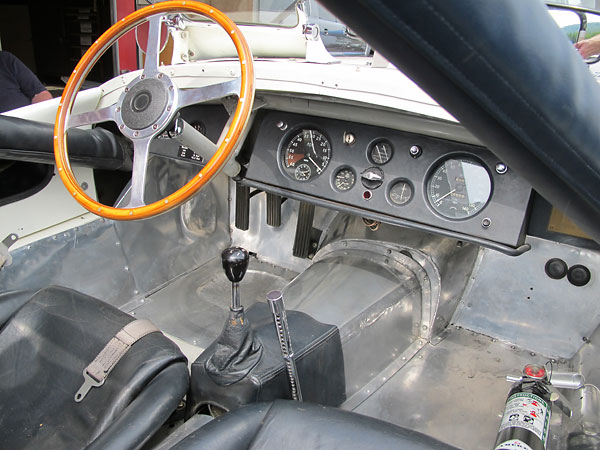 (left to right) Smiths gauges: tachometer (0-6000rpm counterclockwise, with integral clock at bottom),
dual oil pressure (0-100psi) and water temperature (30-90C) gauge, dual purpose petrol/oil level
(E-F, "Push switch for oil level."), ammeter (-30 to +30 amps), and speedometer (0-140mph).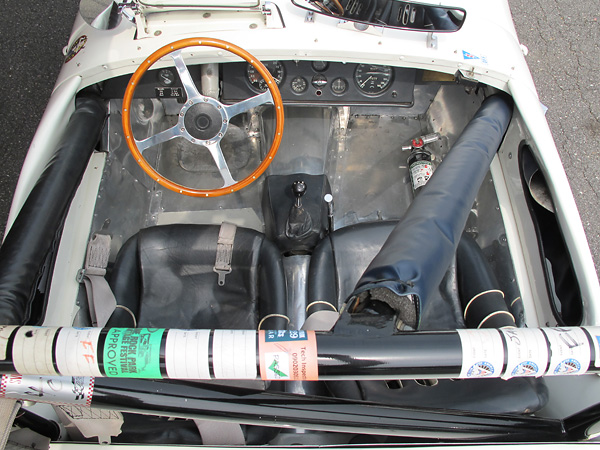 Aluminum paneled interior.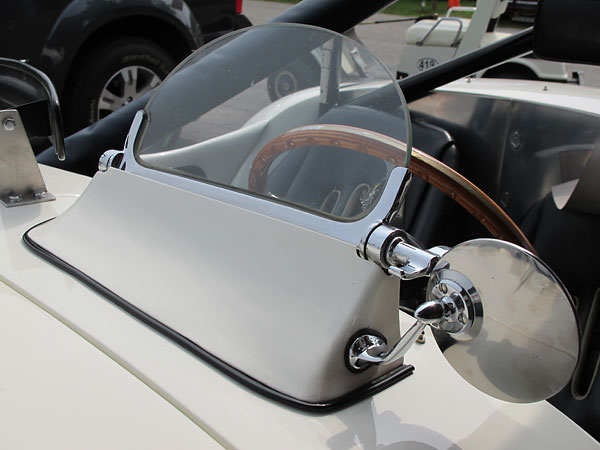 This is what's commonly called a Brooklands wind screen.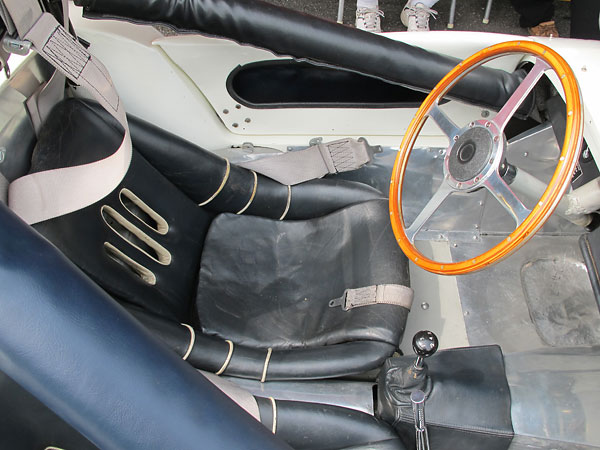 Hansgen is believed to have sourced these seats from a wrecked Siata.
(SIATA: Societa Italianà Applicazioni Techniche Automobilistiche.)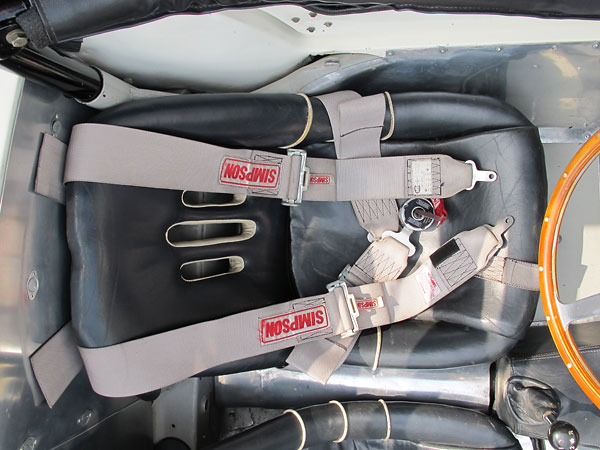 Simpson 5-point cam-loc safety harness.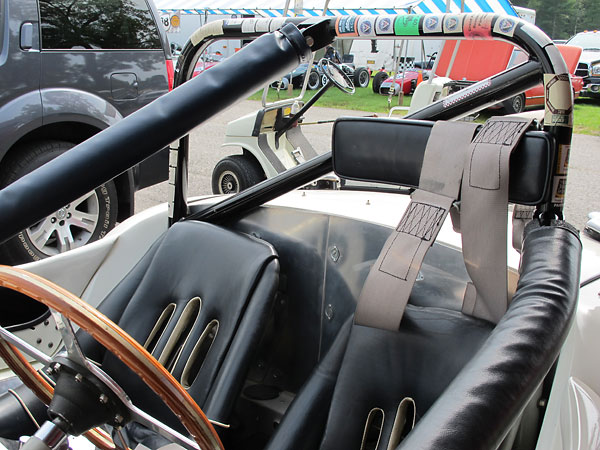 Headrest and roll hoop padding detail. Note Dzus fasteners on the cockpit's back wall.
The panel can be removed for convenient access to the rear suspension.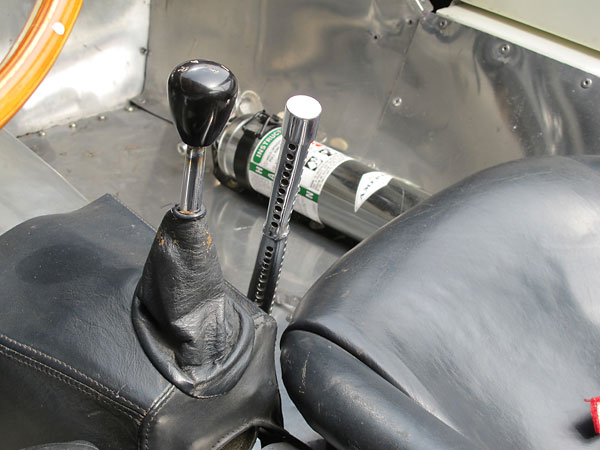 Gear selector. The knob is marked 1 through 4 in an H pattern, plus R down and to the right.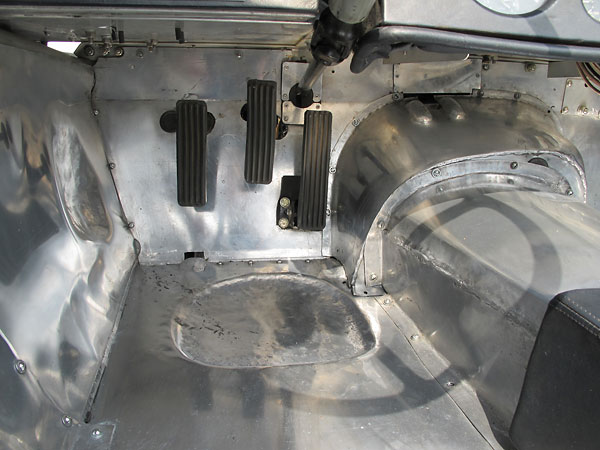 Footbox, pedal, floorboard, and transmission tunnel details.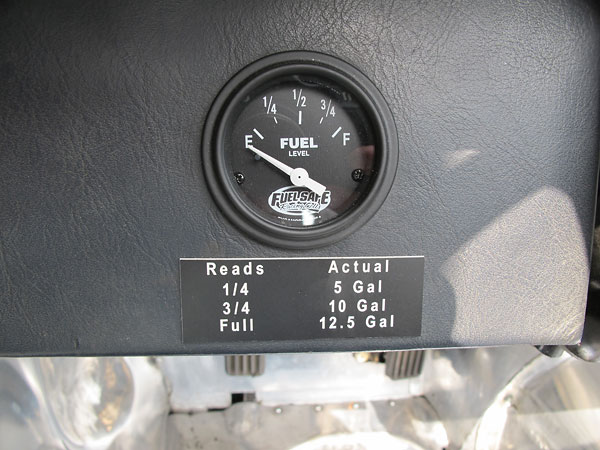 Fuel Safe Racing Cells fuel gauge.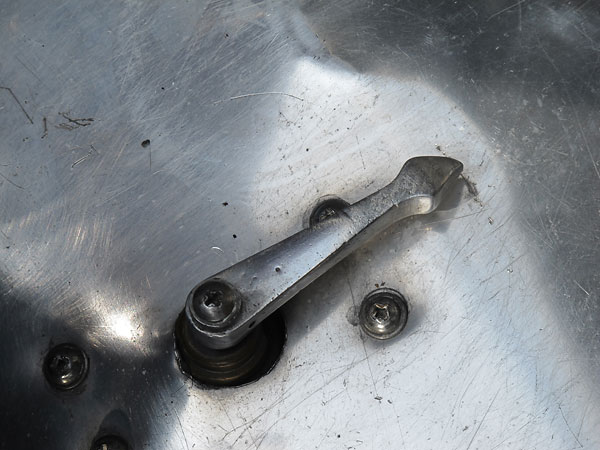 Fuel tank selection valve.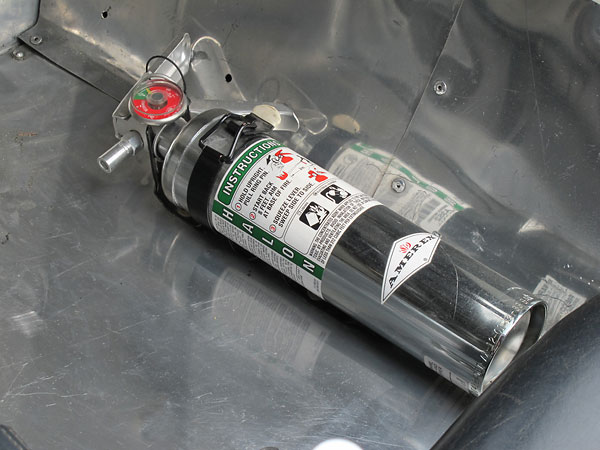 Amerex Halon fire extinguisher (hand held).


Exterior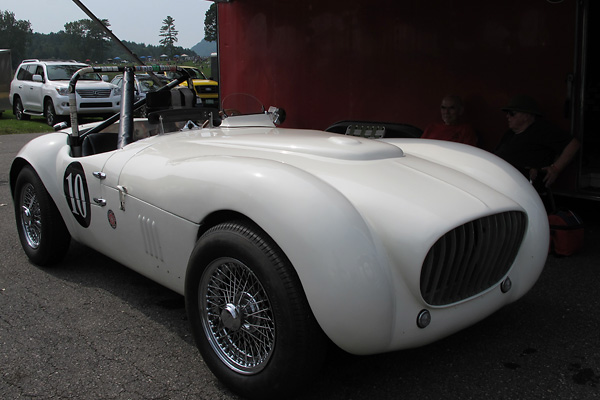 The Hansgen Special's original all-aluminum body was formed by German metal craftsmen who worked
in his family's automotive body shop in Westfield, New Jersey. Fabrication work was supervised
by Emil E. Hoffman, who welded together the thin aluminum panels with an oxygen-acetylene torch.
Hoffman had previously served in the U.S. Army Air Forces during WWII as a welding instructor.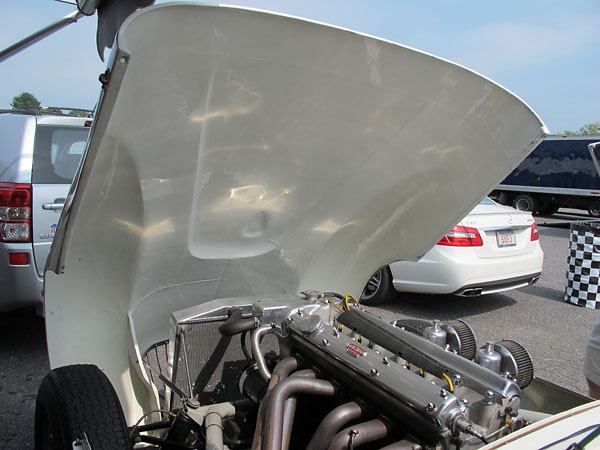 The Hansgen Special's multi-tube frame is an elaborate three dimensional structure with good use
of triangulating braces forward of the doors and sheetmetal diaphragms in key areas further back.
It was an uncommonly efficient design for its era.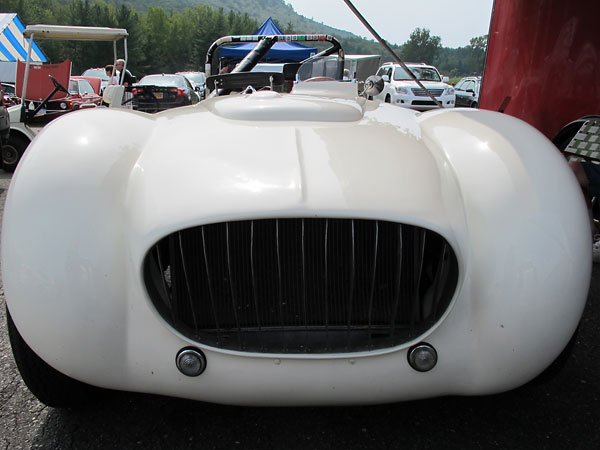 When first photographed in 1952: headlights were recessed into the radiator opening, a full-width two
piece flat-glass windscreen protected the driver, the muffler cover was bare aluminum, the seats were
upholstered with royal blue vinyl, and the car wore a black and orange 1952 New Jersey license plate.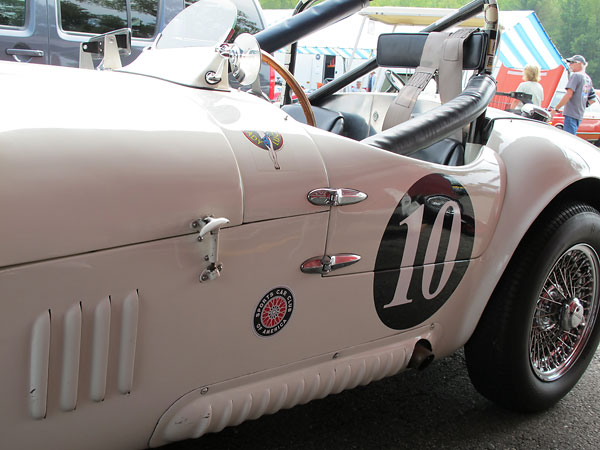 Trunk lid hinges from a Ford Sportsman woody convertible were used by Hansgen as door hinges.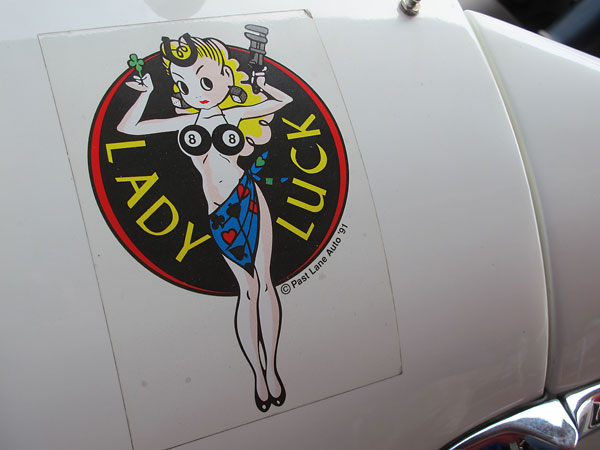 "Lady Luck" nose art. (Images like this graced the fuselages of WWII military airplanes.)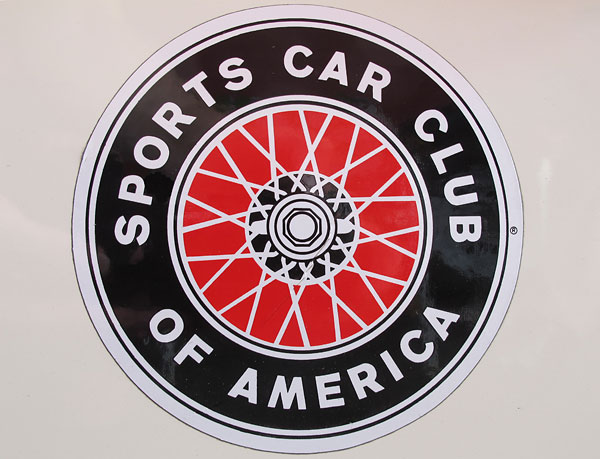 Sports Car Club of America decal. Walt Hansgen was a four-time SCCA National Champion. In Hansgen's era,
there was an unfortunate rivalry between SCCA and the United States Auto Club (USAC) which sanctioned
the Indianapolis 500 and other professional (mostly oval-track) races. Hansgen was an SCCA hero, but
he entered USAC races too. He piloted the MG Liquid Suspension Special in the 1964 Indianapolis 500.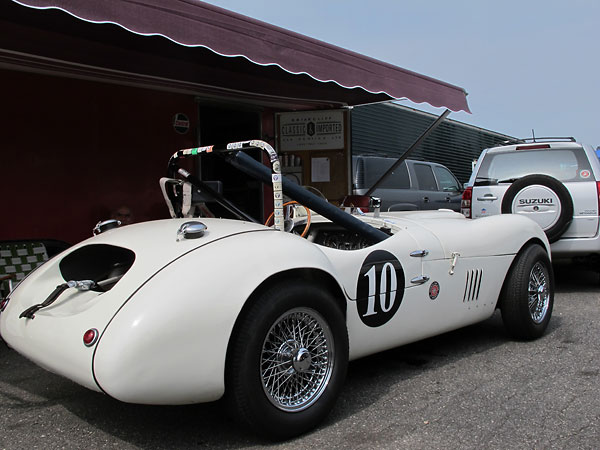 The roll hoop is entirely a bolt-in affair. It can be removed to
return the Hansgen Special to its original appearance.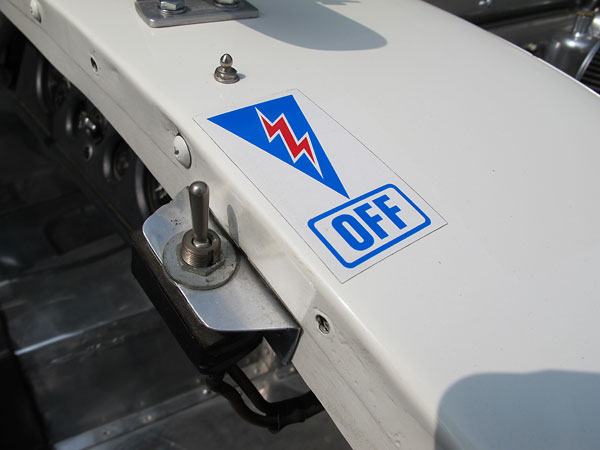 Kill switch.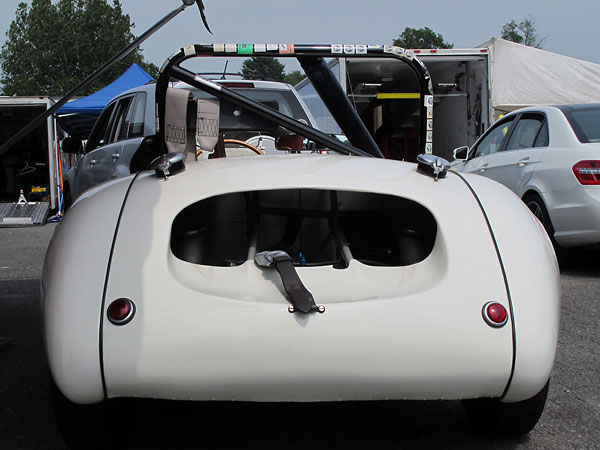 Provisions for carrying a rear tire: recessed and partly exposed.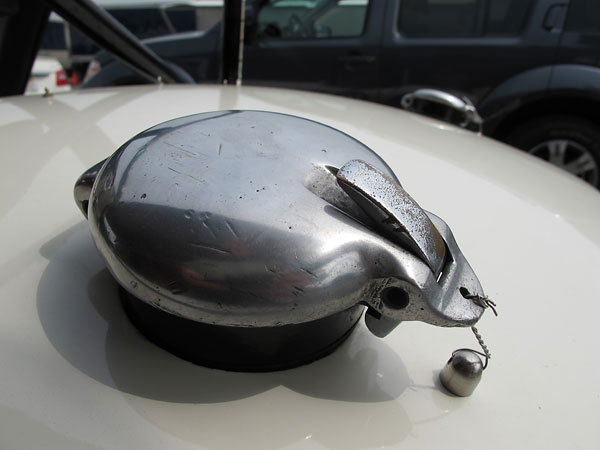 This style of fuel filler cap was used on Italian cars of the SIATA marque.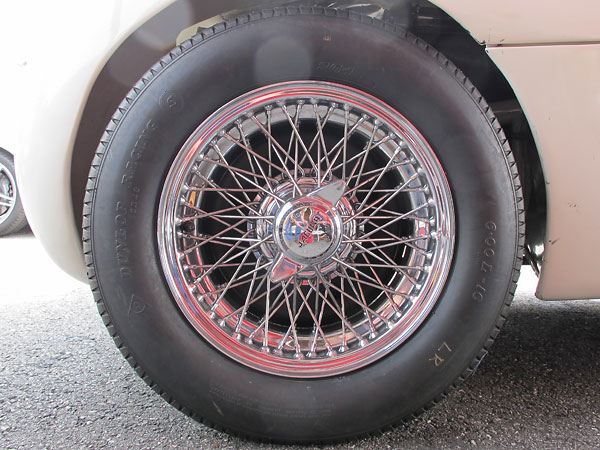 Dayton 72-spoke center laced wheels. (The original Borrani wire wheels are kept in safe storage.)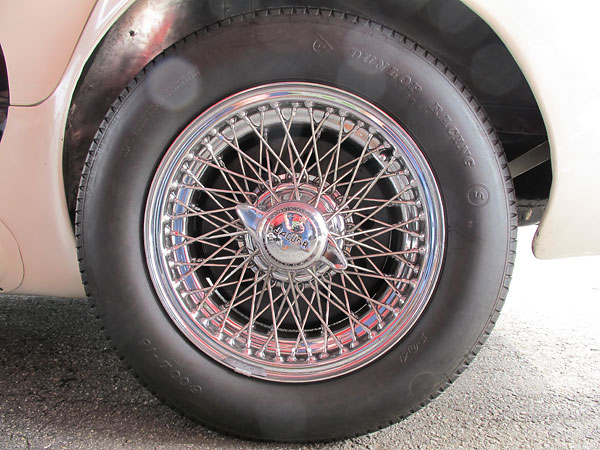 Dunlop Racing tires: 6.00L-16 size, CR-48 tread pattern, 204 (hard) compound.


Notes:
(1)
Hansgen entered the twelve hour endurance race at Sebring but evidently made a last minute decision to drive Don McKnought's '52 Jaguar XK120 coupe instead of his own Jaguar Special. Actually, both cars are listed in the race program. The special is listed as a '51 XK120 roadster. As it turned out, due to mechanical problems the two drivers completed just 141 laps, vs. the 173 laps needed to keep up with Briggs Cunningham.


All photos shown here are from September 2011 when we viewed the car at Lime Rock Park in Connecticut. All photos by Curtis Jacobson for BritishRaceCar.com, copyright 2011. All rights reserved.



Notice: all the articles and almost all the photos on BritishRacecar.com are by Curtis Jacobson.
(Photos that aren't by Curtis are explicitly credited.) Reproduction without prior written permission is prohibited.
Contact us to purchase images or reproduction permission. Higher resolution images are optionally available.