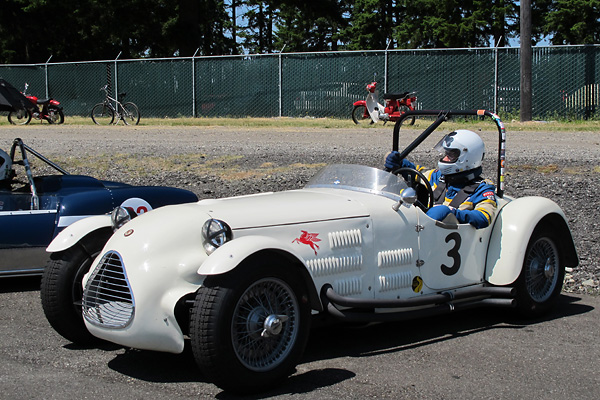 The Terry Buffum / Don Parkinson Jaguar XK-120 Special
Owner: Terry Buffum
City: Bend, Oregon
Model: XK-120 Special
Engine: Jaguar 3.8L six cylinder
Race prepared by: John Buddenbaum
The Dawn of Sportscar Racing in California
Los Angeles was a center of American car culture, especially in the years following WWII. Servicemen returning from the war were excited about the little cars of England and the "sportscar" concept took root. Sportscars were something apart from transportation appliances. Instead, people bought sportscars because they were fun to drive. They were also fun to race!

As Hollywood thrived, so did a market for ever faster and more glamorous sportscars. Jaguar's Hollywood California dealership, International Motors, was among the best places to buy these new models.

The dealer principal of International Motors was a man named Roger Barlow. Barlow was a racer, a founding member of the California Sports Car Club, a participant in the Cal Club's very first race, and a hard-core enthusiast. Barlow may be best remembered for hiring a young Phil Hill - first as a mechanic and then as a driver - and for keeping Hill in competitive cars until his professional driving career really took off. (Phil Hill was the first American to win a Formula One Drivers Championship. He also won the 24 Hours of LeMans three times.) Many other pioneers of American sportscar racing relied on Barlow's dealership: Richie Ginther, Stan Nowak, and others.

Hollywood architect Don Parkinson, who had grown up with Phil Hill and married Hill's sister Helen bought one of the first Jaguar XK-120s available from International Motors. The International Motors shop prepared Parkinson's XK-120 for racing and maintained it between events. Later, International Motors mechanics rebuilt Parkinson's wrecked XK-120 with a custom-made body. This article is the story of Don Parkinson's rebuilt XK-120 and of the unique construction details which differentiate it from Jaguar's original design.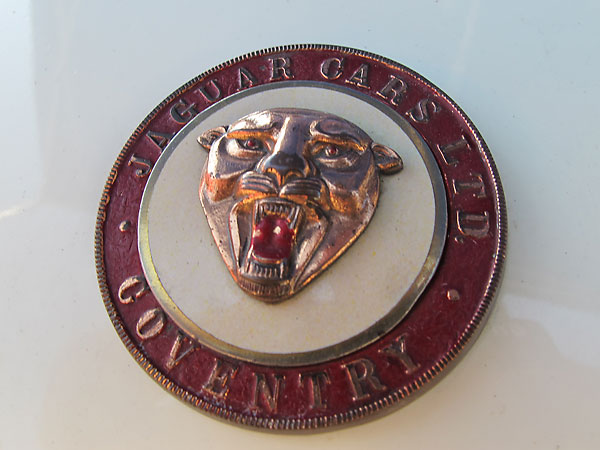 Jaguar Cars Ltd. - Coventry


Jaguar's XK-120 Model
London, October 1948: an exciting prototype appeared in the Jaguar Cars Ltd. booth at the Earls Court Motor Show. Before ramping up to full speed production, Jaguar offered the new XK-120 on a limited basis. The early version featured hand-built aluminum bodywork over ash wood framework. About 240 aluminum bodied XK-120s were built, and about 183 of those came with left-hand drive. In early 1950, production of steel bodied XK-120s kicked into gear. Steel bodied XK-120 production would reach 12,078 cars before the XK-120 model was replaced in 1954. Both versions of the XK-120 featured 3.4L engines, four speed manual transmissions, uncommonly robust box-section steel frames derived from Jaguar's MarkV saloon model, torsion-bar front suspensions, Girling drum brakes all around, and steel disc wheels. ENV rear axles were originally used, but Jaguar switched over to Salisbury axles. In either case, all XK-120s came with live axles mounted on leafsprings.


Early Racing Success - Parkinson and his XK-120 (SN: 670191)
Don Parkinson finished second at the first ever 100 mile road race at Pebble Beach. Only Phil Hill was quicker, and incidentally both drivers were piloting new Jaguar XK-120s.

In a wintertime match-up at Carrell Speedway, Parkinson got partial revenge by beating Hill soundly. Hill finished fourth in a borrowed MG TC which had been re-powered with a Ford "60" V8.

Parkinson was determined to win a proper rematch at Pebble Beach the following year, but in practice he pushed his Jaguar too hard and slid into a tree. For the main event, he borrowed an MG TD and finished third in the 1.5L class.
| | | | | |
| --- | --- | --- | --- | --- |
| | Date | Location | Finish | Notes |
| | November 5, 1950 | Pebble Beach | 2nd | 100 mile race. |
| | February 25, 1951 | Carrell Speedway | 1st | |
| | April 1, 1951 | Palm Springs | 4th | |
| | May 27, 1951 | Pebble Beach | DNF | Crashed, with substantial body damage. |
| | | | | |
Don Parkinson's Jaguar XK-120 Special
Immediately following the race at Pebble Beach, Parkinson's crumpled wreck was transported back to International Motors where it was stripped apart and carefully inspected. The frame could be straightened. The suspension could be repaired. The engine was okay... but the car would certainly need a whole new body. A decision was made to build a "special."

The new body styling would be based on drawings made by a local teen-ager named Robert Cumberford, who later designed the famous Flying Shingle. (The Flying Shingle was an MG special racecar, circa 1955, built and raced by Ken Miles before he joined up with Carroll Shelby, but that's a whole different story.) After completing high school, Cumberford went on to General Motors as a designer on the Corvette team. Later Cumberford joined Automobile Magazine where he wrote about automotive design for many years.

Joe Thrall is credited at the principal mechanic involved. Thall relocated the Jaguar engine rearward about twelve inches, downward about four inches, and slightly to the right of centerline. A custom aluminum body was constructed in-house by Marvin Faw. The net result was a slick new car, almost 1000 pounds lighter than a stock XK-120 plus both lower and better balanced.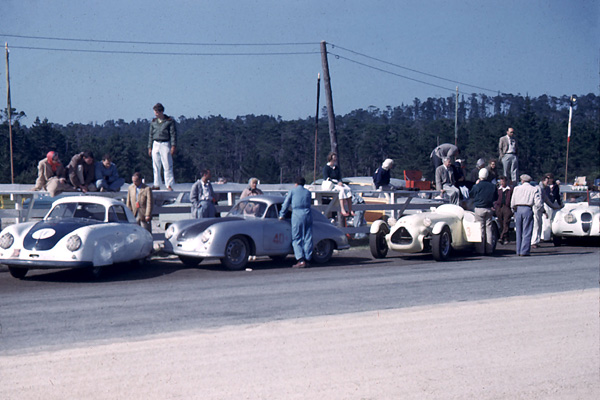 The Parkinson Special finished third overall and first in class at Pebble Beach, 1952.
(Note: the Porsches at left raced in the under-1.5L group. Both withdrew early with brake problems.
The silver one is a "Gmünd coupe" - one of the first fifty Porsches ever built - and more importantly
the very first Porsche to ever win a race in North America. After appearing at Pebble Beach in silver,
owner John von Neumann had the roof cut off and the body repainted red. At Torrey Pines in July it
won its class. Chuck Forge has owned and raced this historic car for many years.)


Don Parkinson / Parkinson Special Competition Results
| | | | | |
| --- | --- | --- | --- | --- |
| | Date | Location | Finish | Notes |
| | October 21, 1951 | Reno | 2nd | 1st in class. First race with special body. |
| | October 28, 1951 | Palm Springs | 1st | First race with spoked wheels. |
| | December 9, 1951 | Torrey Pines | 2nd | 1st in class. |
| | March 23, 1952 | Palm Springs | 2nd | |
| | April 20, 1952 | Pebble Beach | 3rd | 1st in class. |
| | May 31, 1952 | Golden Gate Park | 4th | 1st in class. |
| | July 20, 1952 | Torrey Pines | 3rd | |
| | November 9, 1952 | Madera | 5th | |
| | December 14, 1952 | Torrey Pines | 2nd | |
| | May 30, 1953 | Golden Gate Park | 3rd | Last known race of Don Parkinson's ownership. |
| | | | | |

For 1953, Don Parkinson decided to upgrade to a new Jaguar C-Type. The C-Type model was conceived specifically for racing. It featured a lightweight tubular frame, a more highly tuned engine, and from 1952 the C-Type featured disc brakes on all four corners. (Disc brakes were a very big improvement.) However, Parkinson wrecked his C-Type at Pebble Beach on April 19, 1953 - and on the very same corner that had vexed him in 1951. He soon sold his other car, the Parkinson Special and gave up racing. Don Parkinson committed suicide on September 30, 1955.

The sequence of ownership after Don Parkinson isn't completely clear. In one order or another, the first three owners after Parkinson were Jay Bessemyer, Josie von Neumann, and Jay Chamberlain. Jay Bessemyer is known to have provided the Parkinson Special to Chuck Daigh to race (see below.) We also know from published race records that Josie Von Neumann was registered for but didn't arrive with a "Jaguar XK-120 Special" for the 4th Running of the Torrey Pines Road Races on July 4th 1954. Jay Chamberlain is marked as registered-for but did-not-arrive with a "Jaguar Special 3550cc" for March 26-27, 1955 races at Palm Springs and May 1, 1955 races at Bakersfield. Jay Chamberlain sold the Parkinson Special to Linus Bittner who in 1961 removed the Jaguar engine and substituted a 1953 Cadillac V8. The Cadillac engine was better suited for drag racing, an in this configuration the car proved durable. After Linus Bittner tired of drag racing the car, he sold it to Kent Moore, and ultimately Moore sold it to a fraternity brother of a friend at USC: Al Gornick. These last two sales were both for $600. Through this period, the car endured quite a lot of drag racing!


Chuck Daigh / Parkinson Special Competition Results
Date
Location
Finish
Notes
October 3, 1953 /
October 4, 1953
Long Beach
1st (S+1.5) /
4th (Sports)
Held at Reeves Field's "Terminal Island".
February 7, 1954
Palm Springs
2nd
April 11, 1954
Pebble Beach
4th
Terry Buffum's Stewardship
Terry bought the Parkinson Special in 1970, and it sat while he had other projects. The Cadillac engine was still installed when Terry bought the car. In the mid-1970s Terry hired Marvin Faw to restore the car but Faw's failing health prevented completion. John Buddenbaum took over the project and completed the restoration in about 1982. Among other things, the restoration required fabricating a new bonnet (top section), creating new motor mounts, and building up a set of custom exhaust headers. Keeping the car period correct was a very high priority. For example, although disc brakes would provide a huge performance improvement, they'd be conspicuously "incorrect" for the car.

Terry and John enjoy campaigning the car together. They've vintage raced it quite actively since 1983. John has driven the Parkinson Special in all its races since restoration, but Terry regularly drove the car to and from races into the 1990s. The Parkinson Special has proven an uncommonly reliable race car, with only three DNFs in the last twenty-five years whilst chalking up many victories and countless podium finishes in its class.

Incidentally, John has a shop in San Carlos, California where he works on vintage racecars and does automotive fabrication work. One of his hobbies is building very customized motorcycles. John and a partner hold three world records on streamlined motorcycles at Bonneville. John has driven their 50cc motorcycle at 145mph! His partner, Eric Noyes, has piloted the same bike with larger displacement engines to 100cc and 125cc records.



IMPORTANT ANNOUNCEMENT
BritishRaceCar.com will have to cut back plans for continued growth if we can't find more financial support.
If you like what you've found here, and you want to see more, please click here and follow the instructions.
Readers like you keep BritishRaceCar.com online and growing through voluntary financial contributions.


Features and Specifications
Engine:
Jaguar 3.8L six cylinder engine, hopped up with oversize valves, forged pistons, stronger connecting rods, full race camshaft, etc. (~12.5:1 static compression ratio.) Warneford Design intake manifold. Triple Weber 45DCOE carburetors. Vertex magneto.

Cooling:
large copper/brass radiator. Aluminum oil cooler.

Exhaust:
custom fabricated six-into-two headers, by John Buddingbaum.

Transmission:
Moss Gears 4-speed manual transmission (synchronized on 2nd, 3rd, and 4th.) Cast aluminum bellhousing. Ten inch Borg & Beck style clutch. Ford master cylinder.

Rear Axle:
Salisbury 2HA housing. Welded differential. 3.54:1 final drive ratio.

Front Susp.:
standard torsion bar springs. Koni single-adjustable shock absorbers. Custom anti-sway bar.

Rear Susp.:
semi-elliptic 7-leaf leafsprings. Koni shock absorbers. Custom Panhard bar.

Brakes:
(master) 1952 Ford single-circuit master cylinder and pedal assembly. (No bias adjustment.)
(front) stock Jaguar (Girling) twin leading shoe Alfin drum brakes.
(rear) stock Jaguar (Girling) single leading shoe Alfin drum brakes.

Wheels/Tires:
Dunlop 70-spoke wheels. Blockley Tyre Company (5.50-16H front, 6.00-16H rear) 6-ply tires, custom shaved to suit racing.

Electrical:
Odyssey red battery. Lucas generator (installed, but no longer used.) Niehoff voltage regulator (installed, but no longer used).

Instruments:
(left to right) Stewart Warner fuel level gauge (E-F), water temperature gauge (100-265F), oil pressure gauge (0-100psi), and oil temperature gauge (140-325F). Smiths mechanical tachometer (0-6000rpm).

Fuel System:
regular steel fuel tank. Carter electric fuel pump (instead of S.U.) Rotary dial fuel pressure regulator.

Safety Eqmt:
Simpson 5-point latch-and-link safety harness. Centralized (10 pound) fire extinguishing system. Raydyot mirrors.

Weight:
~2100 pounds.

Racing Class:
Pre-1955 Modified

Engine Installation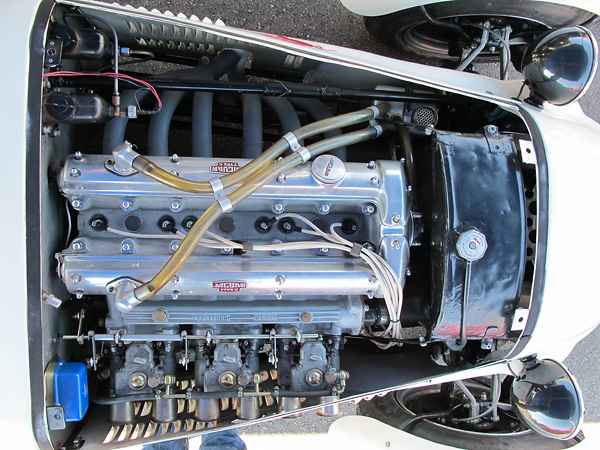 Jaguar 3.8L six cylinder engine, hopped up with oversize valves. Forged pistons and
stronger connecting rods are needed to support a compression ratio of about 12.5:1.
This car originally had a 3.4L engine, but in late 1952 it was bored out to 3.8L.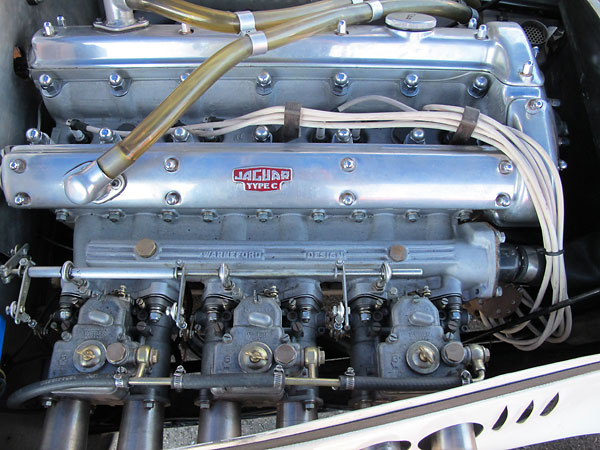 Driver John Buddenbaum reports that he revs this engine to about 6000rpm.
(The car isn't equipped with a rev-limiter.)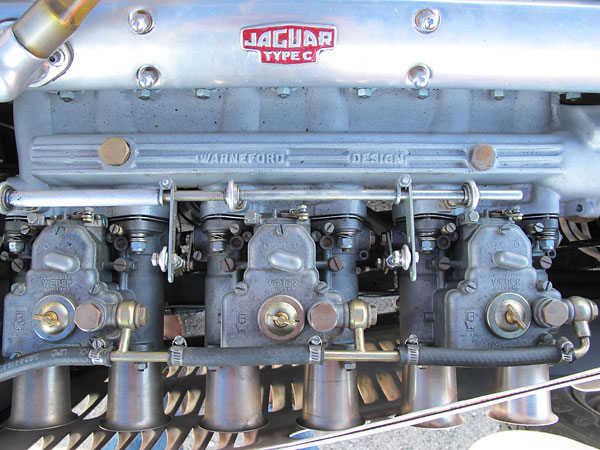 Warneford Design intake manifold supports triple Weber 45DCOE carburetors.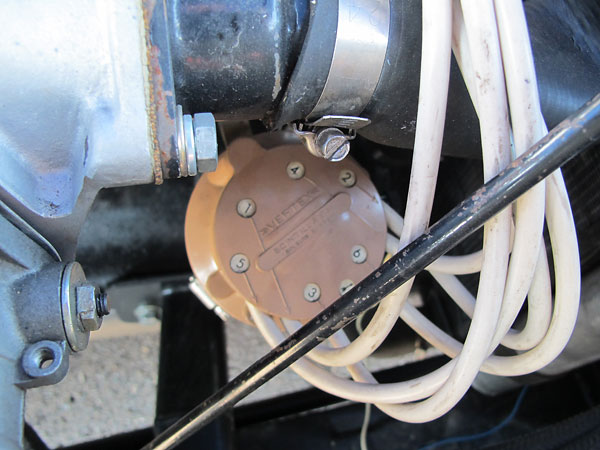 After about twenty years of service this Vertex magneto needed to be rebuilt.
Other than that, it's proven reliable and virtually maintenance free.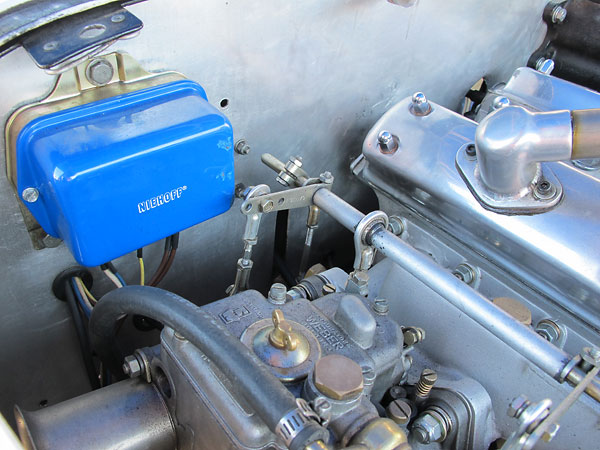 Niehoff voltage regulator. (This worked with the Lucas generator, which recently failed.)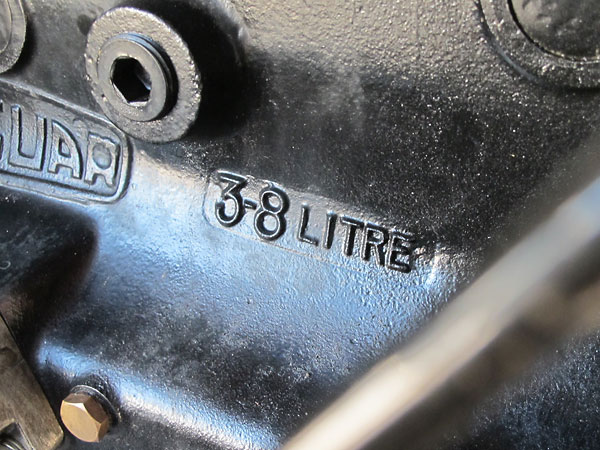 "3-8-Litre" on the block casting clearly indicates this is a replacement engine. The Parkinson Special was
originally built with a 3.4L engine (83mm bore by 106mm stroke). Introduced in 1958, the 3.8L version is
much more readily available. Jaguar achieved a ten percent increase in displacement by increasing
bore size to 87mm. The change was slightly complicated by a decision to begin installing dry liners.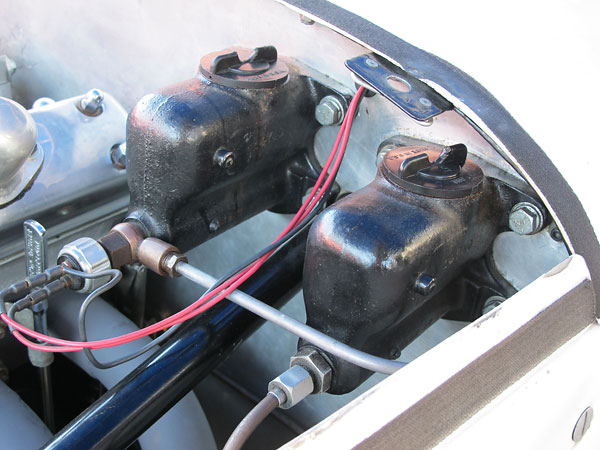 Both master cylinders are from Ford's 1952 model pick-up truck.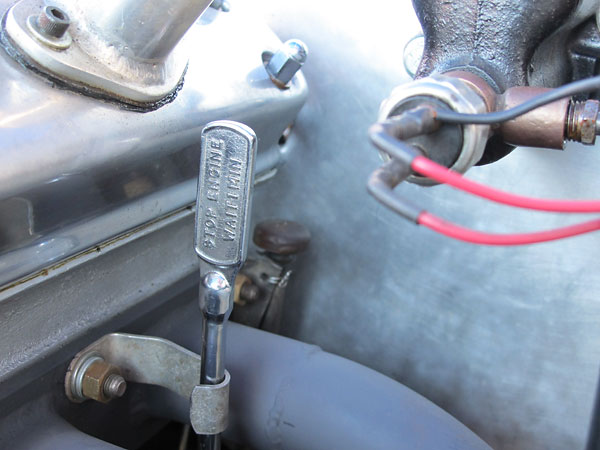 Dipstick: "Stop engine. Wait one minute."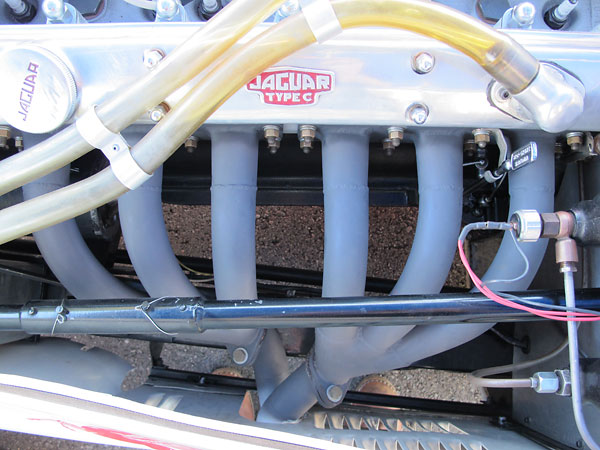 John Buddingbaum custom fabricated these six-into-two headers.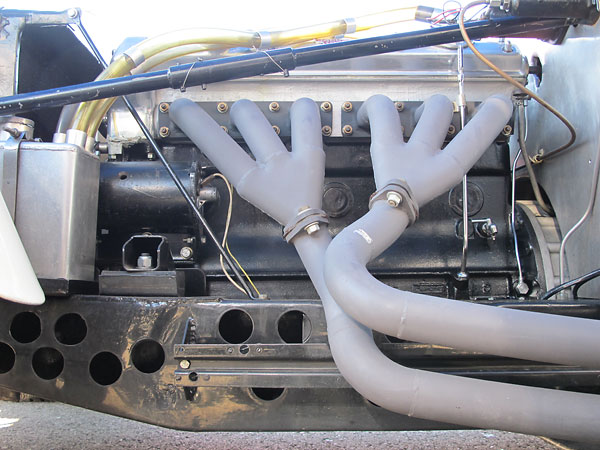 Lightening holes cut in Jaguar frame rails testify that mechanics at International Motors appreciated
the value of weight reduction. Each hole contributes only a modest reduction, but ultimately, the
Parkinson Special weighed about a thousand pounds less than the wrecked car it was built from.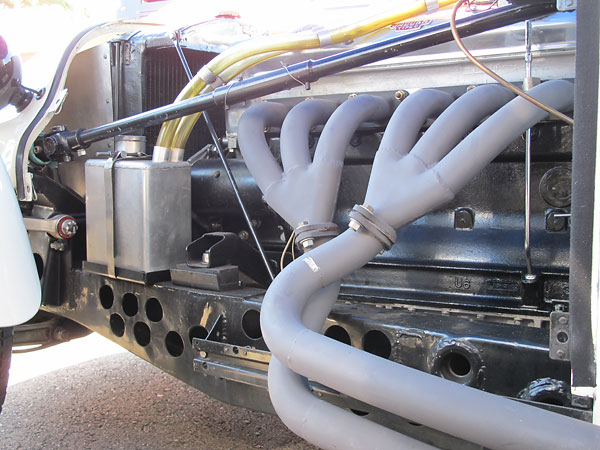 Another weight reduction opportunity lay in reserve. As magnificent is Jaguar's engine is, it's heavy.
Most engines that weigh over six hundred pounds offer substantially more displacement.
The original Jaguar engine was replaced with a 1953 Cadillac V8 sometime before 1957.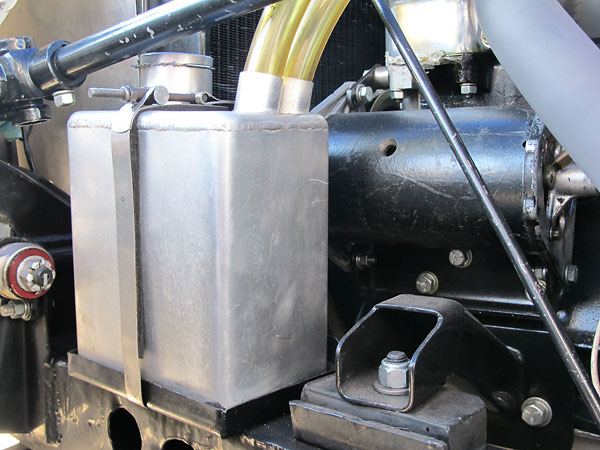 (foreground) A custom fabricated motor mount is required because the engine has been installed
rearward of the XK-120 position by about twelve inches, downward by about four inches, and
also slightly to the right of centerline to balance the driver's weight and provide him more room.
(background) The original Lucas generator caught fire and burned up. Expensive to replace...
Terry and John decided to gut it out, but keep it in place as a fan belt tensioner.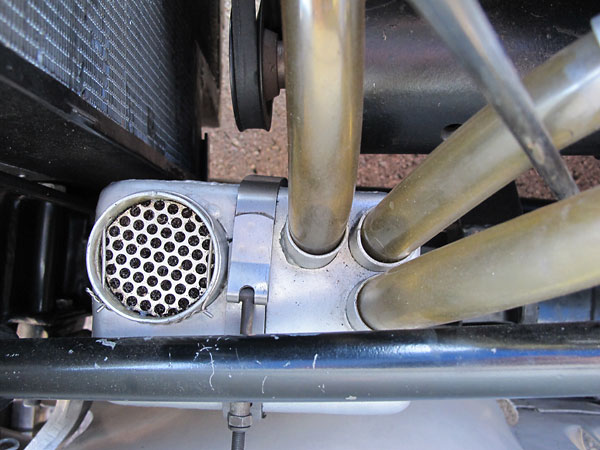 Custom fabricated aluminum crankcase breather tank.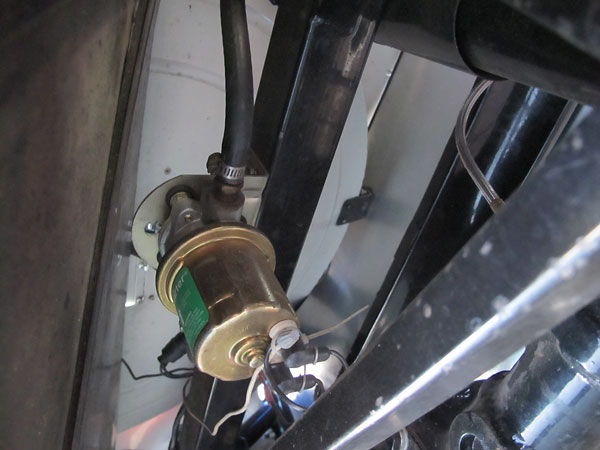 Carter electric fuel pump (instead of S.U.)


Front Suspension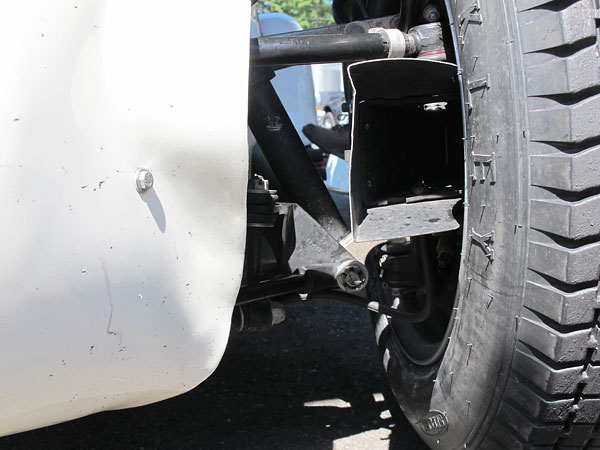 Brake cooling duct.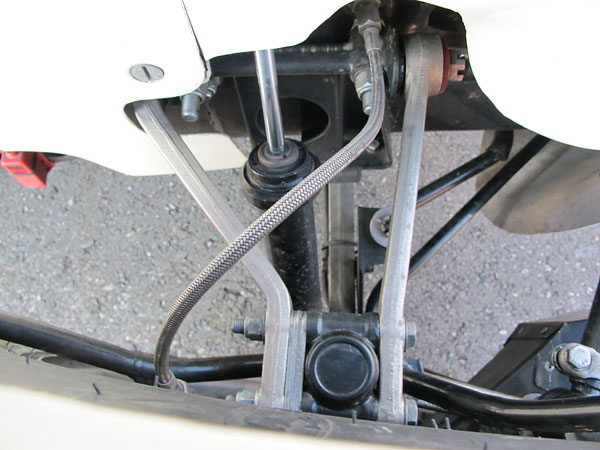 Both castor and camber are readily adjustable with simple, flat shims.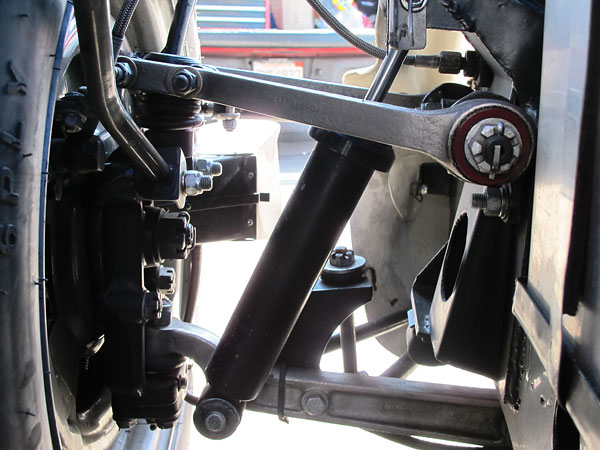 Original Jaguar XK-120s were equipped with black-painted Newton telescopic shock absorbers.
This is an older-model Koni adjustable shock absorber. (It must be removed for adjustment.)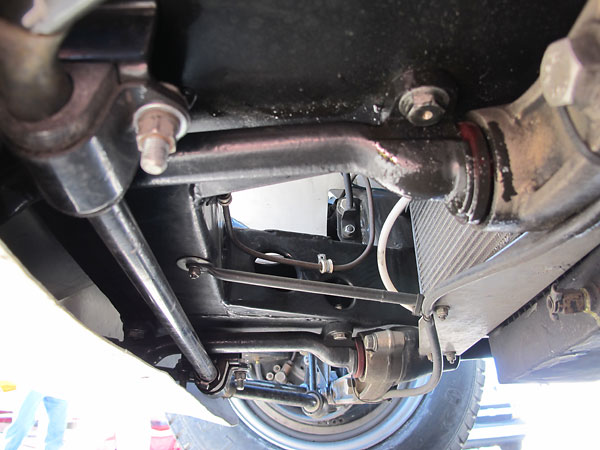 One advantage of Jaguar's torsion springs over most coil spring installations is they
make it relatively easy to adjust ride height and static loading (i.e. "corner weights".)
Note also: hefty anti-sway bar and that an oil cooler is mounted in front of the radiator.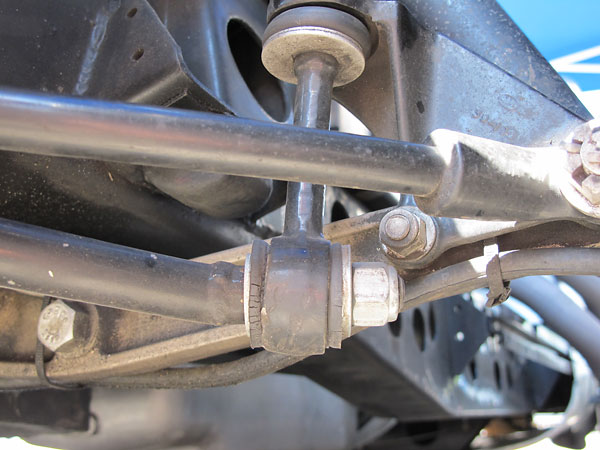 Anti-sway bar connection.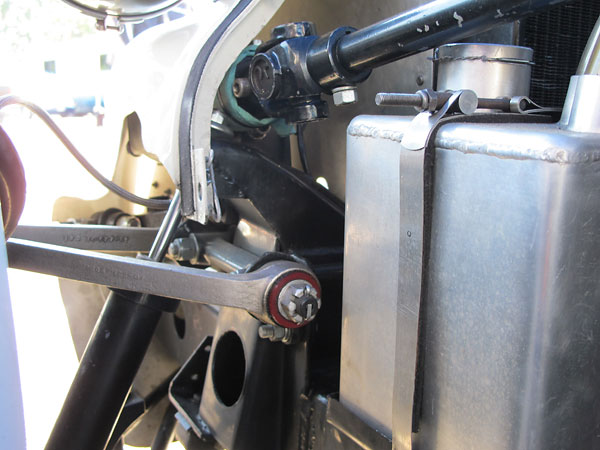 Location of the Burman reciprocating ball steering gear. (31' turning circle, 2.25 turns lock to lock.)
(Jaguar specified an Alford & Alder rack-and-pinion system, for the XK-140.)


Enjoying this article? www.BritishRaceCar.com is partially funded through generous support from readers like you!
To contribute to our operating budget, please click here and follow the instructions.
(Suggested contribution is twenty bucks per year. Feel free to give more!)
Rear Suspension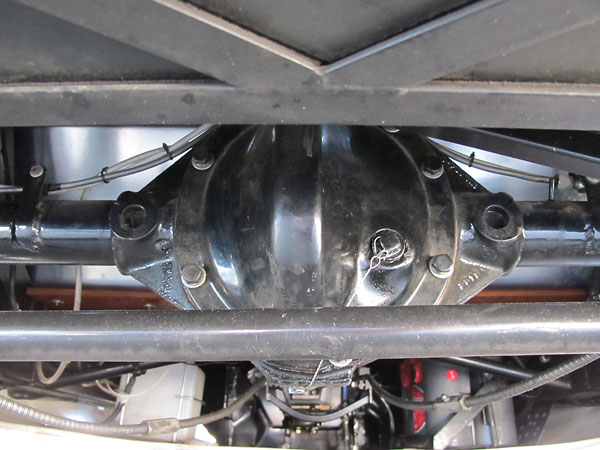 Early (aluminum-bodied) Jaguar XK-120s were built with ENV banjo style axles. At some point the
Parkinson Special has been updated to a Salisbury 2HA axle housing as used on later XK-120s.
(3.77, 4.09, and 4.27 were factory offerings but other ratios are available.)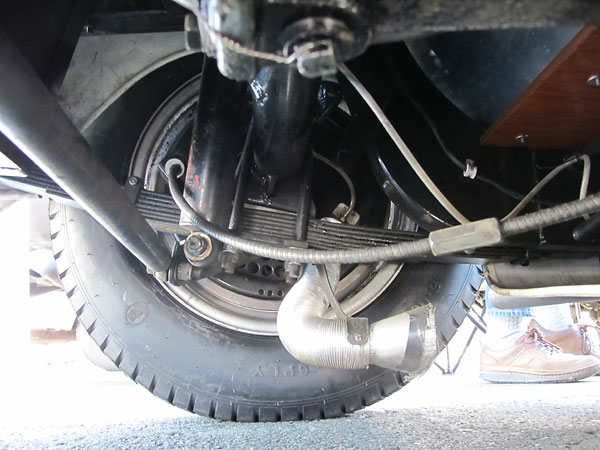 Semi-elliptic 7-leaf leafsprings and Koni shock absorbers.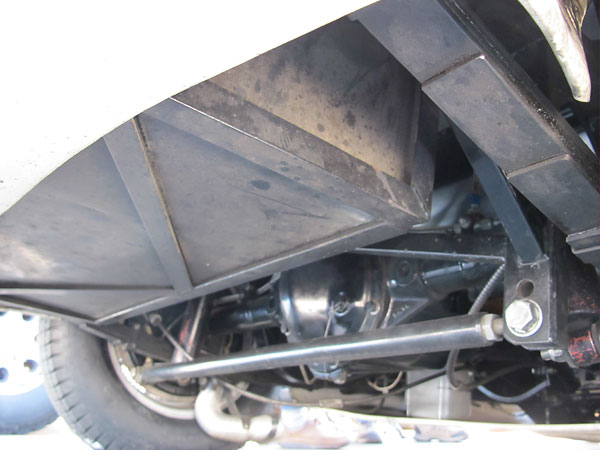 A stout custom Panhard rod restricts side-to-side movement and also defines the body's
roll center. (With Panhard rod installed, the roll center is about four inches lower than original.)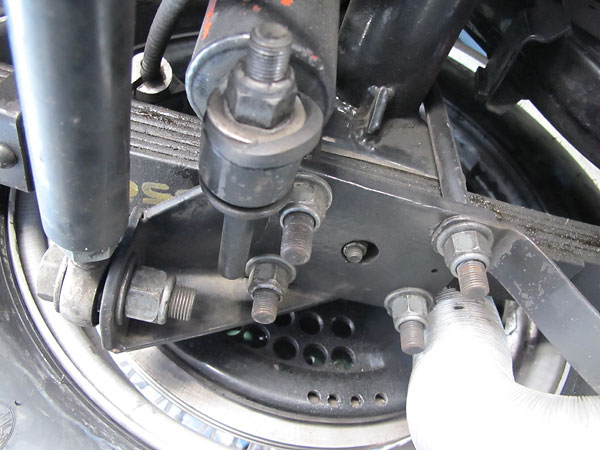 At one end the Panhard rod is attached to the axle.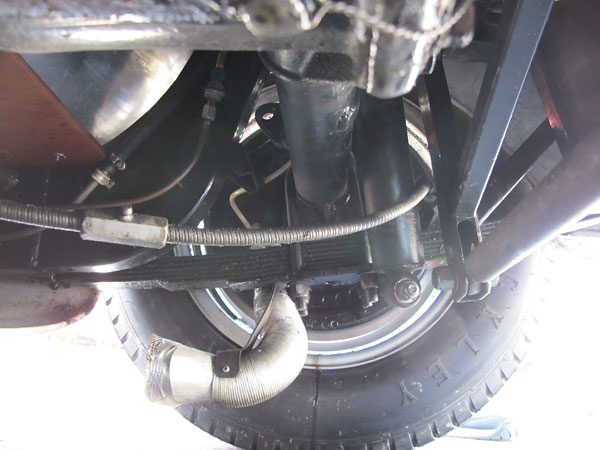 At its opposite end, the Panhard rod is attached to the frame of the car.


Interior

As originally raced, the Parkinson Special didn't have either seat belts or a roll hoop.
It didn't have a fire extinguisher or a master engine kill / battery cut-off switch either.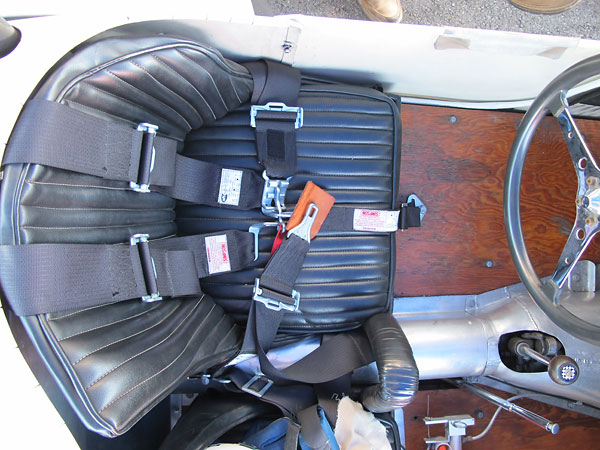 Simpson 5-point latch-and-link safety harness.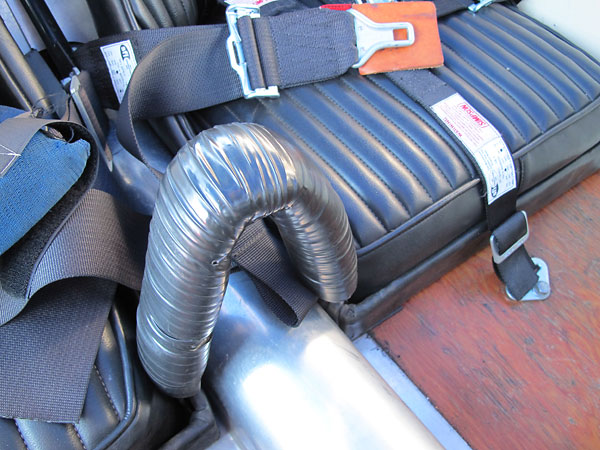 This padded brace helps John avoid sliding around in the cockpit.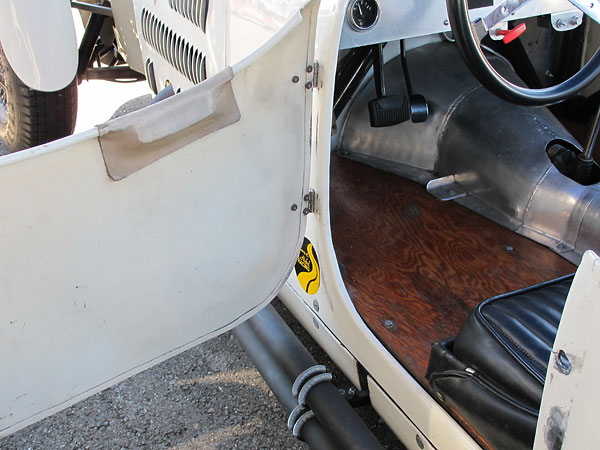 Knee pad.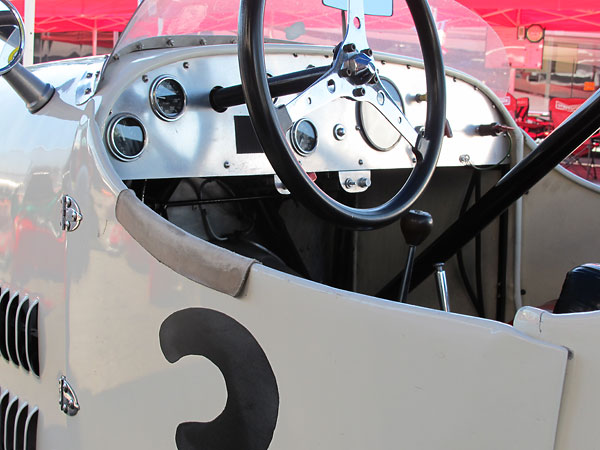 The leather cover of the knee pad wraps over the top of the door.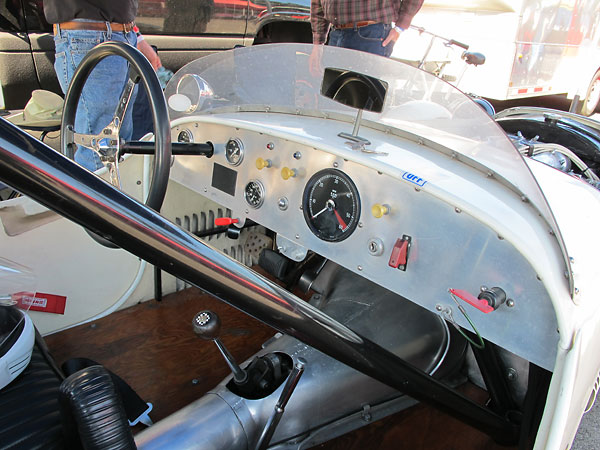 The roll hoop was built to provide clearance over the helmet of owner Terry Buffum.
It could probably be lowered ~1.5" and still protect driver John Buddingbaum.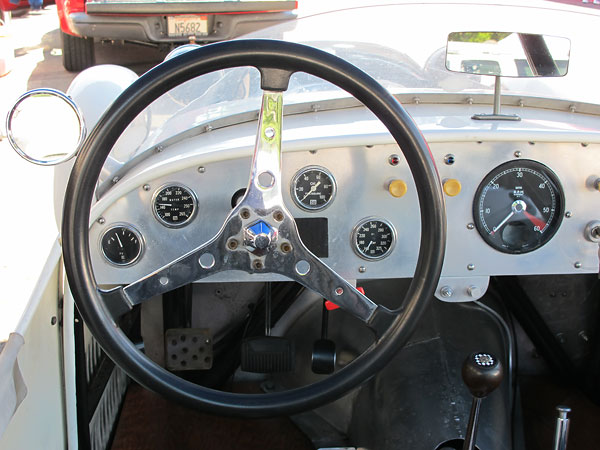 (left to right) Steward Warner fuel level, water temperature, oil pressure, and
oil temperature gauges. Cable-driven Smiths tachometer.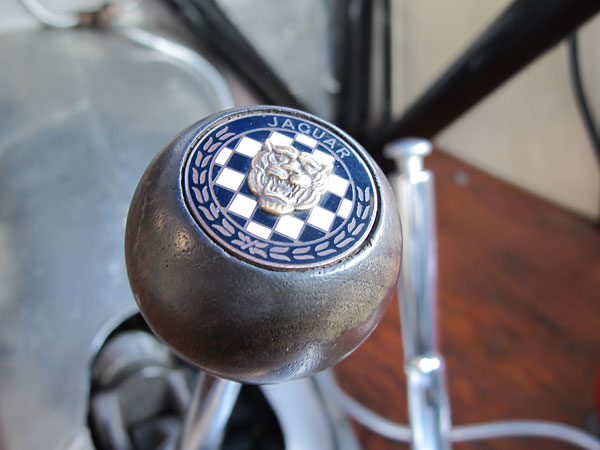 Jaguar-logo walnut shifter knob.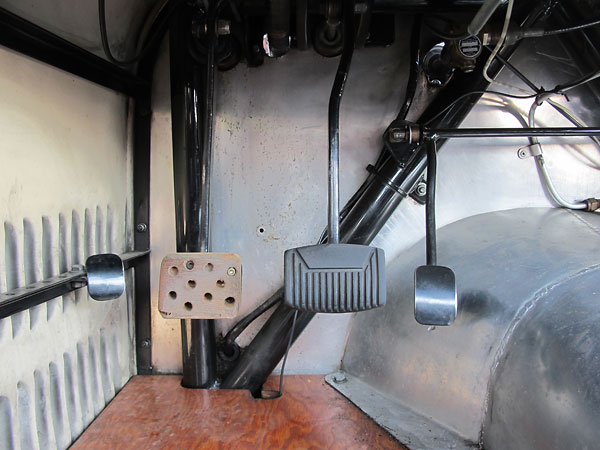 Elegantly simple pedal installation, including a dead pedal at left.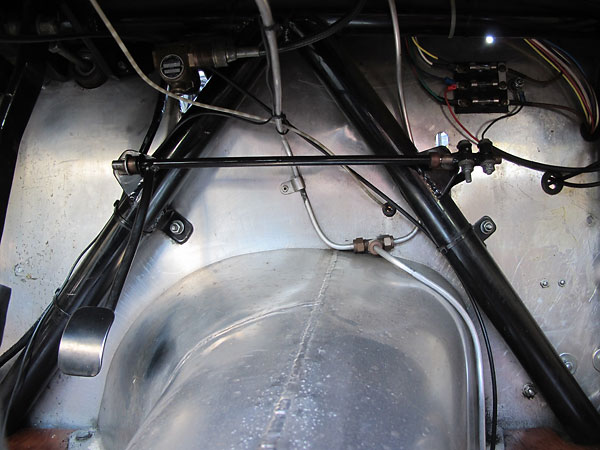 Throttle linkage.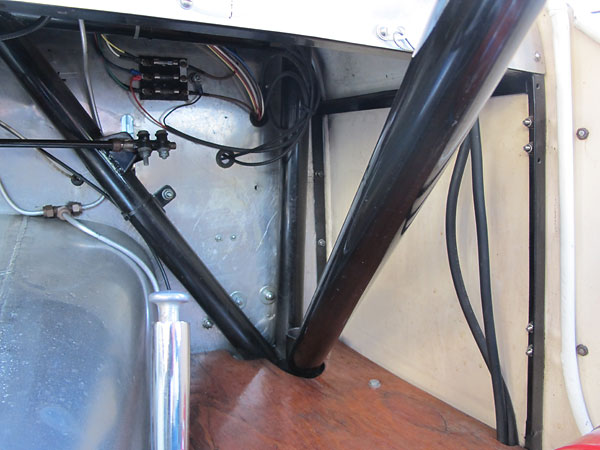 Roll hoop brace connection to frame rail.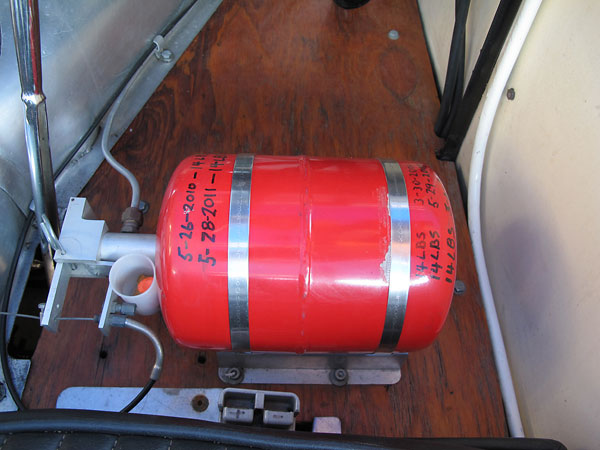 Ten pound fire extinguisher bottle. (14 pounds gross weight.)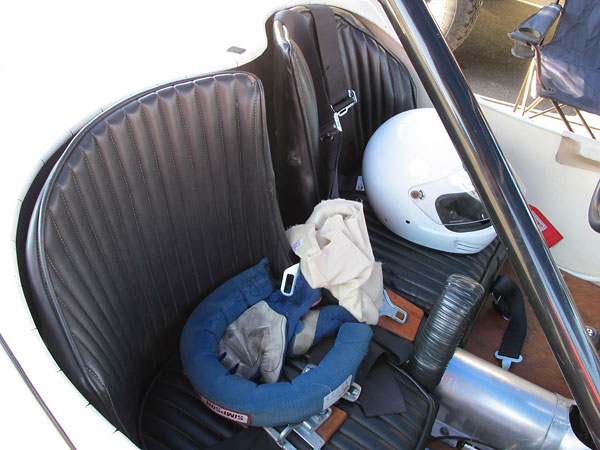 Generous passenger accommodations.


Exterior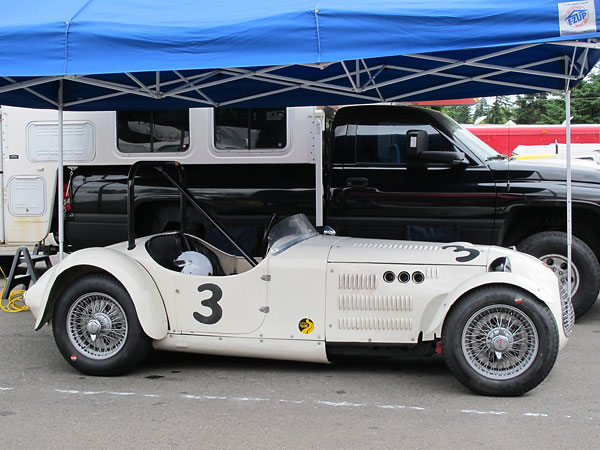 The Parkinson Special's body was designed by Robert Cumberford, who is also credited with the styling
of Ken Miles' famous "Flying Shingle" MG Special. The Parkinson Special's belly-pan is uninstalled
in our photos because it makes some maintenance operations somewhat less convenient.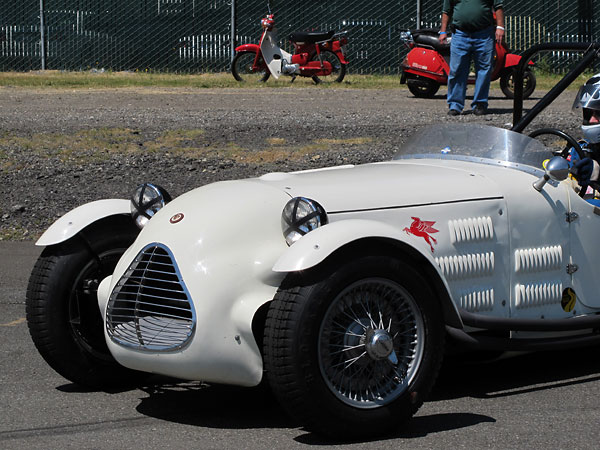 Grille styling was probably influenced by Allard. (No one denies that.)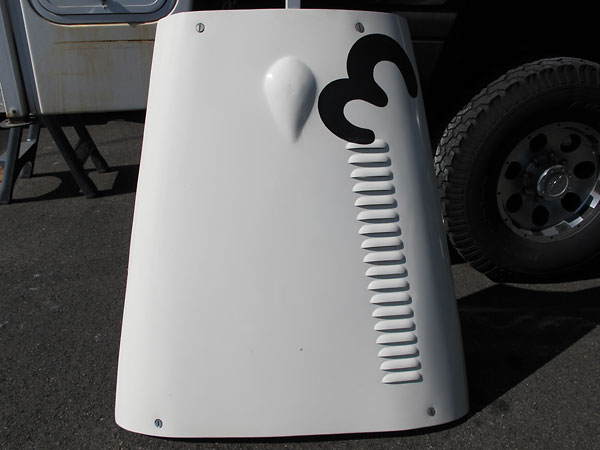 The original bonnet was missing at time of purchase. Working from photos, John Buddingbaum
handcrafted this aluminum replacement. He also fabricated replacement "motorcycle" fenders.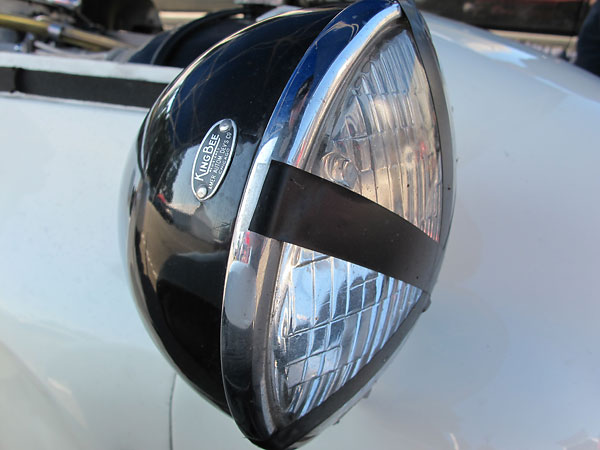 King Bee headlights from American Automatic Devices, Chicago Illinois.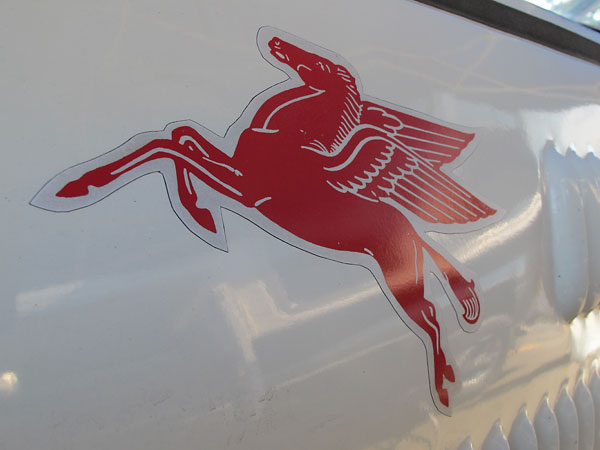 Pegasus.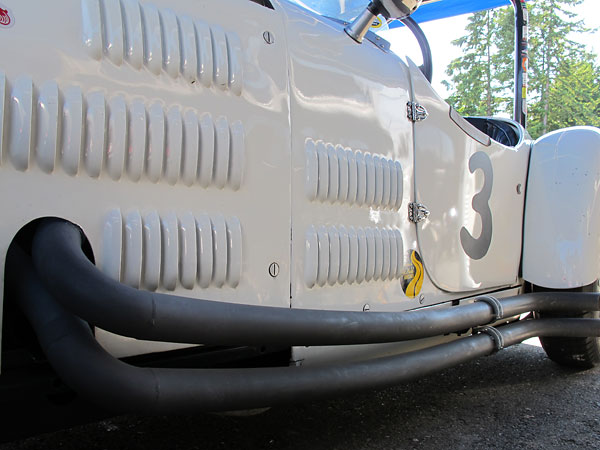 Avant garde styling.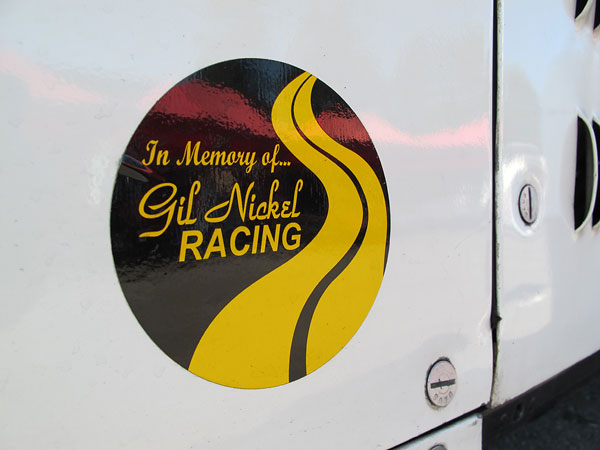 Decal: In the Memory of Gil Nickel Racing.
Beyond vintage racing, Gil Nickel was a Napa Valley winemaker.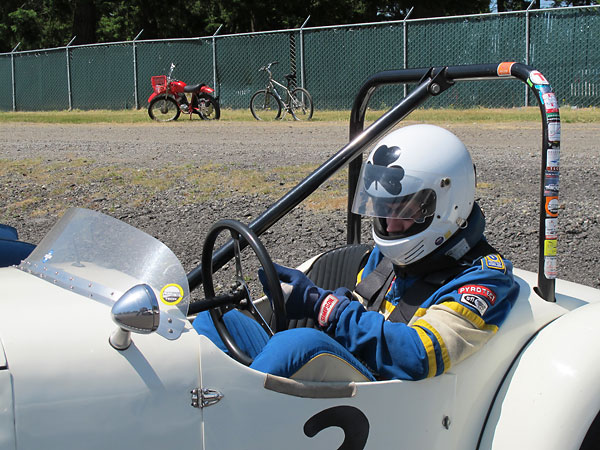 Legroom isn't exactly what one would call "generous".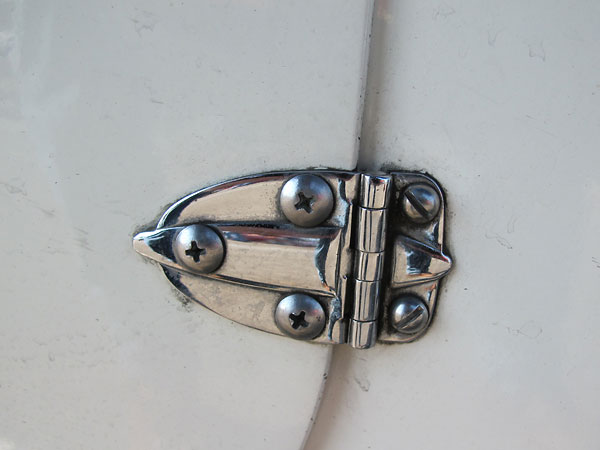 Exotic lightweight vintage racecar door hinges...
and they add just the right amount of flash!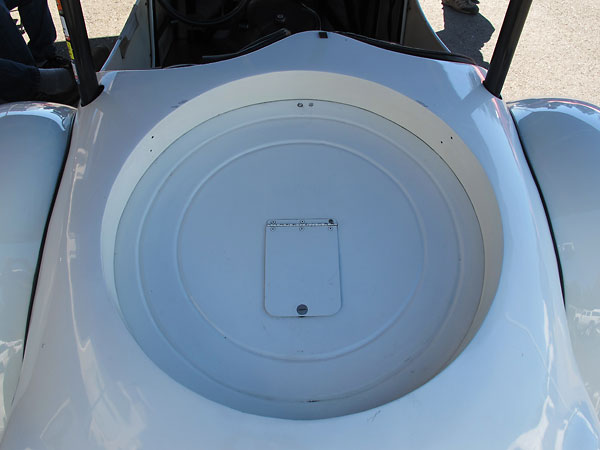 Recess for a spare wheel, although a spare has never been required for sprint racing.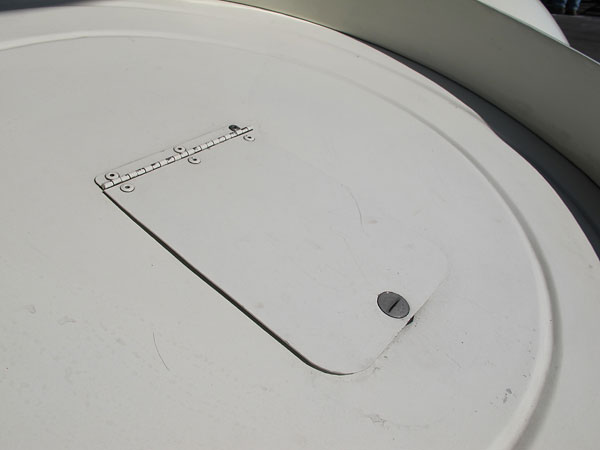 Fuel filler access lid.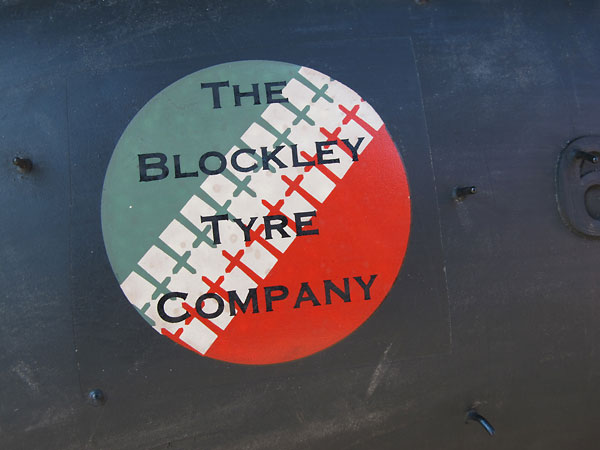 The Blockley Tyre Company.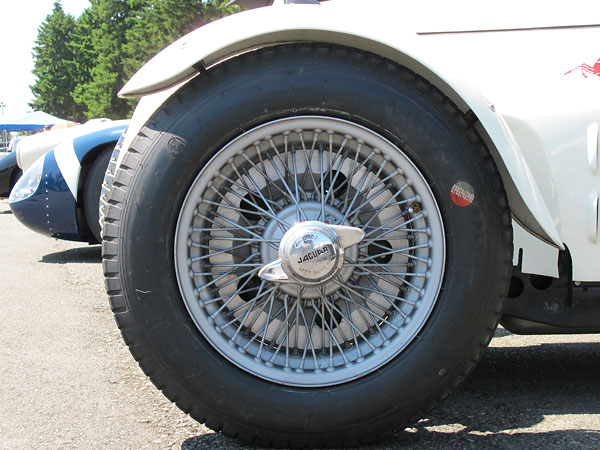 Dunlop 70-spoke wheels are used to help cool the Al-fin brake drums.
Steel disc wheels were original, replaced by Borrani spoked wheels in late 1951.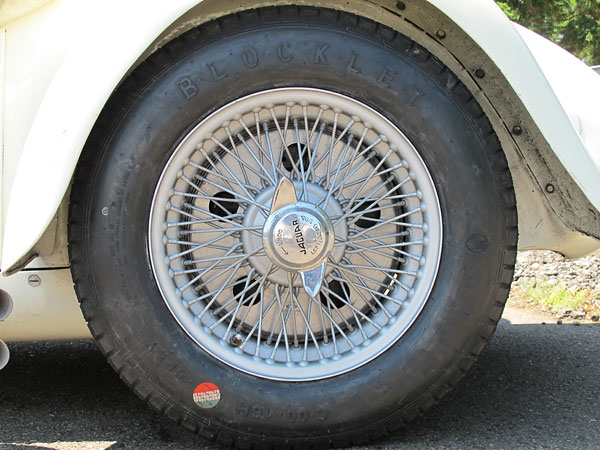 Blockley 6-ply tires (5.50-16H front, 6.00-16H rear), custom shaved to suit racing.
(This was the team's first outing with Blockley tires. Previously, the team has run Dunlops.)


Except for the vintage photo from Pebble Beach (circa 1952) all photos shown here are from June 2011 when we viewed the car at The Pacific Northwest Historics at Pacific Raceways in Kent, Washington. All photos by Curtis Jacobson for BritishRaceCar.com, copyright 2011. All rights reserved.

The Pebble Beach photo is from Tery Buffum's collection, and is used here by exclusive permission.

Notice: all the articles and almost all the photos on BritishRacecar.com are by Curtis Jacobson.
(Photos that aren't by Curtis are explicitly credited.) Reproduction without prior written permission is prohibited.
Contact us to purchase images or reproduction permission. Higher resolution images are optionally available.