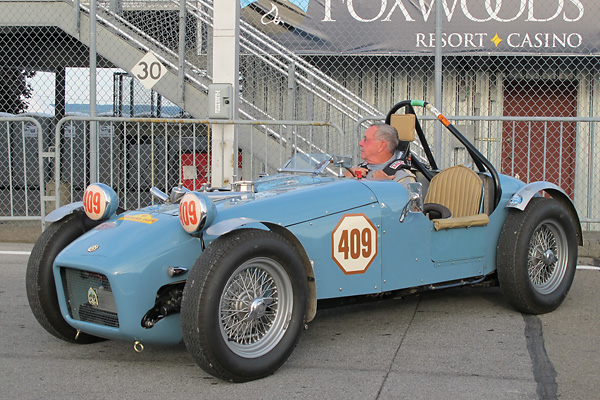 Dan Leonard's 1949 MG TC Special Race Car, Number 409
Owner: Dan Leonard
City: Parkton, MD
Model: 1949 MG TC Special
Engine: Morris/MG XPAG 4-cylinder (1250cc)
Restoration and Race Prep by: Jack Merryman at Merryman Modifications
Charles Bowen Built an MG TC Special
This MG TC based special was originally built and raced by a young Bell Helicopter engineer named Charles W. Bowen Jr. (Friends called him "C-Bone".) Bell's helicopter division relocated from upstate New York to Hurst Texas in 1951, and Charles Bowen built and raced this MG special while working there.

Bowen had purchased the MG TC (number 7576) new in 1949. When he decided to build it into a racecar, he combined MG parts with surplus material purchased at Bell's scrap auctions. The car's aluminum seats are from Bell's iconic Model 47 helicopter. If you've seen "M*A*S*H", you know what a Model 47 looks like; think "fishbowl". They were used in the Korean war for transporting wounded soldiers.

The Charles Bowen MG TC's most distinctive feature is its lightweight bodywork. Body panels, floorboards, and dashboard were all constructed of thin aluminum sheetmetal. Bowen constructed handsome nose and tail sections with fiberglass, and he mounted the body on a lightweight tubular steel framework. Although the body wasn't radically streamlined, its frontal area was significantly smaller than a standard MG TC - especially when originally raced (sans roll-hoop).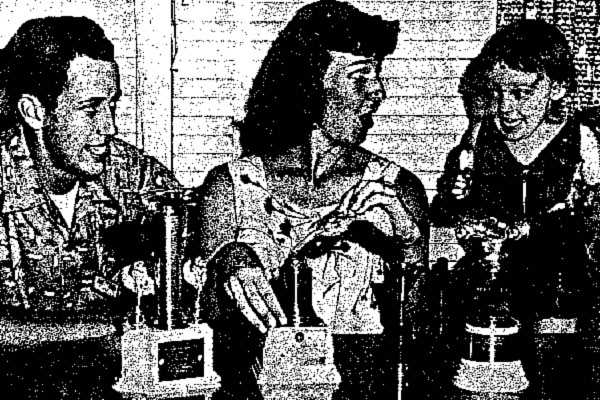 Bowen and his MG TC Special were featured in the August 10, 1956 edition of Bell Aircraft News.
This photo was captioned: "Aha. I did it," two-year-old Lisa Gay Bowen seems to say of the broken
racing trophy won by father Charles (left) and held by mother Betty Bowen. She did it, too.


Bowen's "very potent" MG TC Special was mentioned in a December 1954 Road & Track article. Regretably, the car's original racing logbook is missing. Bowen is known to have occasionally raced the car in Texas and in California. (Reader: if you have information about this car's early race history, we'd be very pleased to send it on to Dan Leonard.) Charles usually drove the MG TC himself, but his wife Betty is known to have driven it in at least one club race. Some race entry forms seem to show the car entered with two drivers' names: Bowen and also Mr. Robert W. Rodier. The MG TC was kept nominally street-legal; the Bowens reportedly enjoyed participation in occasional time-speed-distance rallies.

Charles Bowen would ultimately establish himself as an expert in gear transmission and lubrication. While serving as President of Transmission Consultants Inc. of Arlington Texas, Bowen did pioneering work in early detection of gear failures by means of vibration signature monitoring. He died in a car accident, in about 1979.


Enjoying this article? www.BritishRaceCar.com is partially funded through generous support from readers like you!
To contribute to our operating budget, please click here and follow the instructions.
(Suggested contribution is twenty bucks per year. Feel free to give more!)
David Stern purchased the car from the Bowen family in 1984 and held onto it through 1989. At that time, the MG TC Special was purchased by Dave Raymond for his wife Joanne. Dave Raymond was proprietor of Abingdon Classics, and he was already an enthusiastic MG T-series racer - but the special was definitely Joanne's car. She raced it at Lime Rock on several occasions. The couple kept it street legal, and at one time took it with them to England for a "Circuit of Britian" tour.

Dan Leonard purchased the MG TC Special from Joanne Raymond in 2008. As you'll see in the photos below, the car has subsequently undergone a comprehensive restoration by Jack Merryman of Merryman Modifications in Hanover Pennsylvania.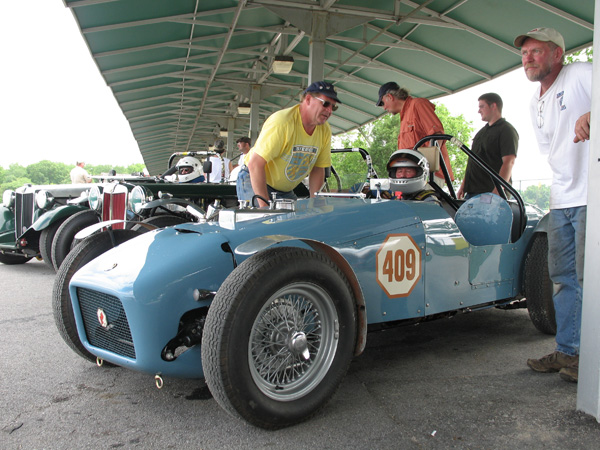 Dan Leonard on the pre-grid at Virginia International Raceway, assisted by accomplished
fellow racers Robban Andersson (yellow shirt) and Jay Sevier (white shirt).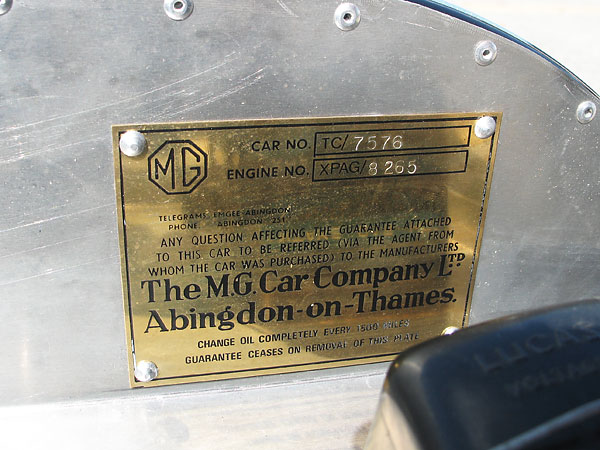 The M.G. Car Company Ltd., Abingdon-on-Thames
CAR NO. TC/7576 - ENGINE NO. XPAG/8265


Please support the sponsoring companies who make www.BritishRaceCar.com possible, including:

Under the Skin
The MG TC Special came to Dan Leonard with Charles Bowen's original construction bucks, with replacement fiberglass parts still on them! The nose cone shown here is the same one that's been on the car since Bowen raced it, but the tail section shown below has been replaced with the spare part Charles Bowen layed-up way back when. One of Dave Raymond's modifications to the car had been installing a piano hinge on the tail section for easier access to the rear cargo area. That modification has now been reversed.

A couple other modifications from the Dave and Joanne Raymond years have also been reversed. A relatively large Lotus Seven style windscreen has been discarded, as has a hefty muffler that had been installed on the righthand side of the body's exterior. Jack Merryman fabricated a new, stronger, and more elegant roll structure. He completely remounted the fuel cell and strengthened the frame. Etc.

Dan Leonard raced the MG TC Special in 2009 with an essentially stock MG TC "XPAG" engine and transmission, but he warns that the car will be back with a much more highly tuned and powerful engine for 2010.
Pre-Restoration Photos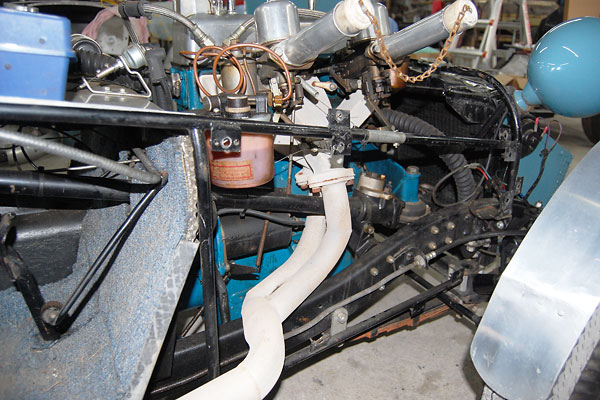 Helicopter tail section tubing was reportedly used for the framework of the car's custom body.
The tubing is believed to be chrome-moly steel. It's noticably harder than mild steel tubing.
No particular problems (e.g. broken welds) have been observed with this very lightweight frame.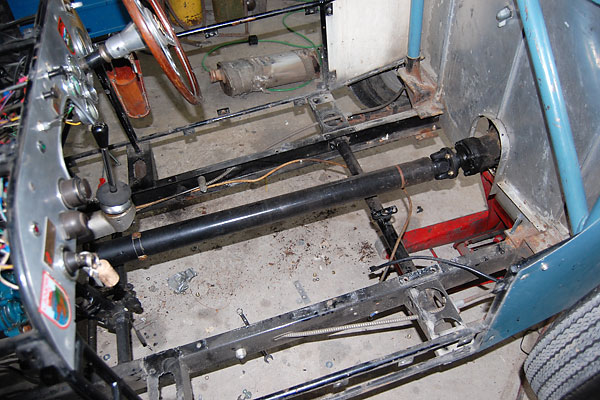 Dave Raymond made some interesting modifications before shipping the MG TC to England. He installed
a bellypan! The space between floorboards and bellypan was used for tool storage, with access through
trapdoors behind the seats. The bellypan was removed when the car was restored for vintage racing.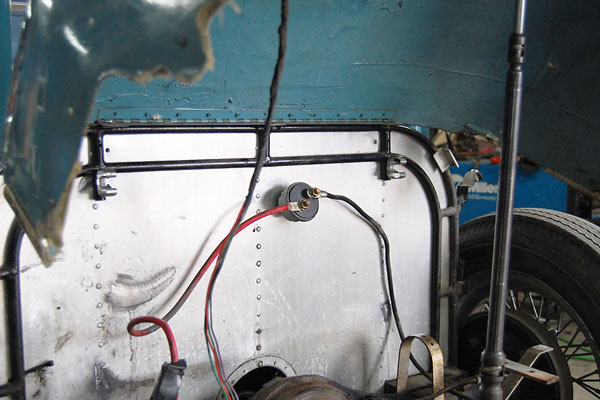 Dave Raymond added a piano hinge to the rear body section for convenient access to the cargo area.
He also moved the battery back, and mounted a racing fuel cell. Dan Leonard is more specifically
interested in racing, so Jack Merryman retrofitted a non-hinged cover that suits a much stronger
roll structure. The fuel cell was remounted lower and more securely. Bracing was added to the frame
at this time. The battery was moved forward to where it now resides, behind the passenger seat.


Features and Specifications
| | |
| --- | --- |
| Engine: | MG XPAG 4-cylinder (nominally 1250cc, and 66.5mm bore by 90mm stroke). Twin 1.5" S.U. carburetors with long velocity stacks. Vertex Magneto ignition. Fram spin-in oil filter. |
| Cooling: | modified (shortened) copper-and-brass MG radiator. Header tank on firewall. |
| Exhaust: | two-piece Solt iron exhaust manifolds flow into a fabricated (2-into-1) secondary collector. |
| Transmission: | MG TC 4-speed (unmodified). |
| Rear Axle: | MG TC rear axle, with 5.125:1 ratio and open differential. |
| Front Susp.: | leaf sprung solid axle, with MG TC style Girling lever shock absorbers. MG TC steering gear, upgraded with Tompkins kit (Moss Motors part# 260-118. The Tompkins kit was originally developed in the late 1940's to reduce friction in the steering by adding a roller thrust bearing on the sector shaft. It also provides for convenient adjustment.) Panhard rod. |
| Rear Susp.: | leaf sprung solid axle, with stock knee action shock absorbers remounted higher than stock to clear fuel cell. Panhard rod. |
| Brakes: | Alfin (aluminum finned) brake drums, front and rear. |
| Wheels/Tires: | Dunlop sixty spoke sixteen inch wire wheels with Dunlop Racing tires (5.50x16 front, 6.00x16 rear). |
| Electrical: | Lucas generator and voltage regulator. Wet cell battery (mounted behind passenger seat.) MG TD starter motor (because it's smaller and lighter.) |
| Instruments: | (clockwise from upper left) ammeter (+/-20 amps), Jaeger oil pressure gauge (0-160psi), Vertex electronic tachometer (0-10000 rpm), Jaeger oil temperature gauge (30-100C), AutoMeter coolant temperature gauge (90-240F). |
| Fuel System: | ATL 5 gallon fuel cell. S.U. fuel pump. Holley adjustable fuel pressure regulator. |
| Safety Eqpmt: | Sabelt five point latch-and-link safety harness. Quick release steering wheel hub. Kidde fire extinguisher. |
| Weight: | ~1500# |
| Racing Class: | SVRA PW4 |
Engine Installation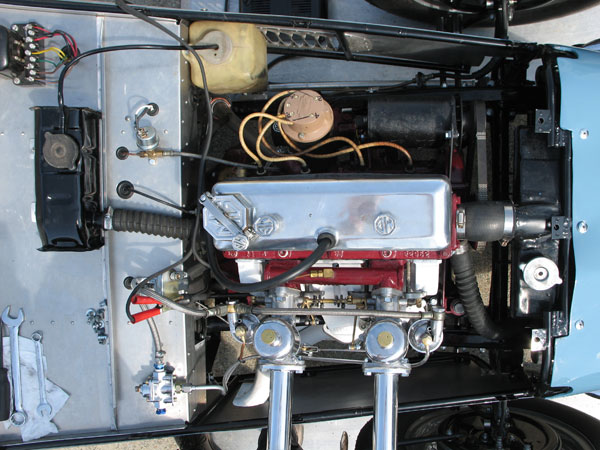 The MG TC version of the XPAG 1250cc engine had a tiny 2.62" bore and a relatively long 3.53" stroke.
With stock static compression ratio of just 7.4:1, the engine was rated 54bhp at 5200rpm.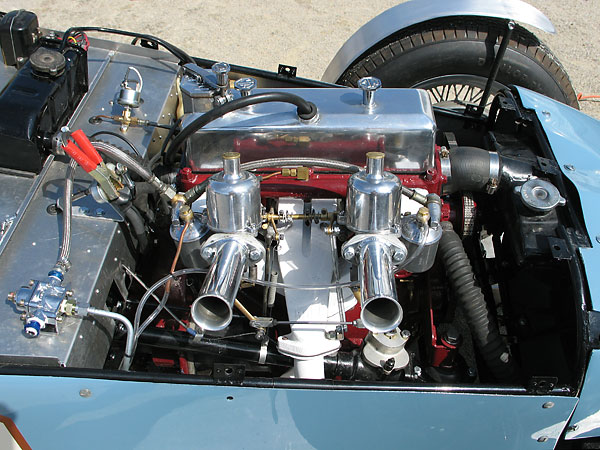 Thankfully, the cylinder head's exhaust ports aren't "siamesed" like later MG engines, but the valves
and ports are quite small. Note: the steering gear can be seen underneath the forward carburetor.
The aluminum cover on the steering gear is part of the Tompkins steering kit. See above for explanation.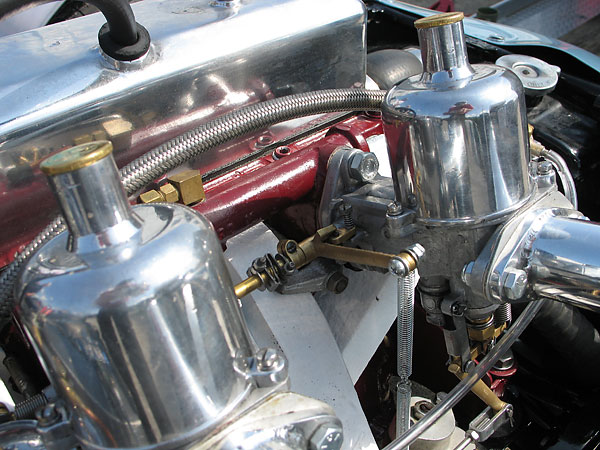 Dual 1.5" S.U. carburetors serve the four cylinder engine through a stock intake manifold.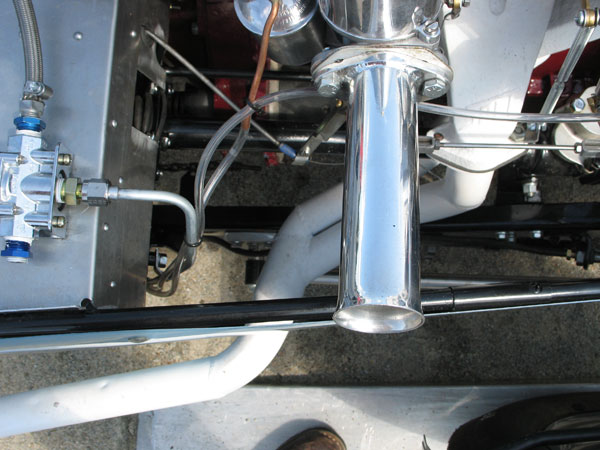 Shorter velocity stacks with more widely flared mouths might flow a lot better, but these are period correct
and original to Bowen's build. Fifty years old, and good as new: Solt two-piece iron exhaust manifolds flow
into a fabricated secondary collector. (Other companies have made and marketed similiar manifolds.)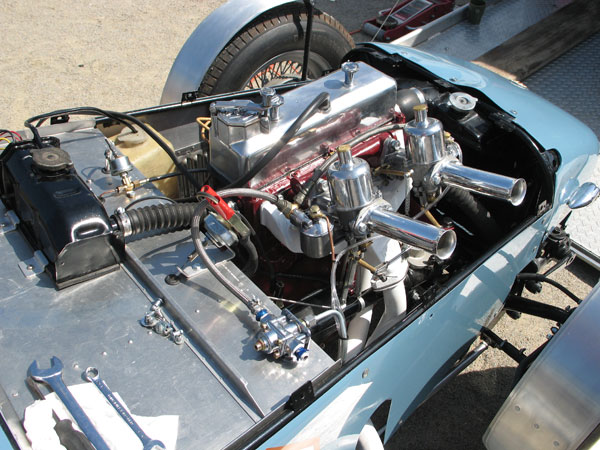 Foreground: Holley adjustable fuel pressure regulator.
(A battery charger's alligator clip is temporarily connected to the starter switch.)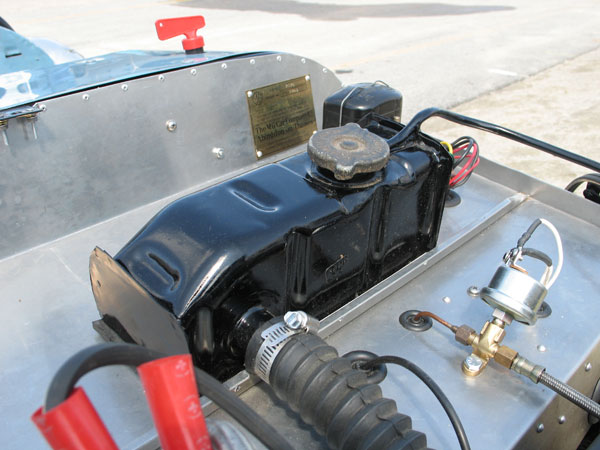 Pressurized cooling systems are much more efficient than non-pressurized systems, which largely explains
how this MG TC manages to race with a smaller-than-stock radiator. MG didn't use pressurized cooling
systems until the TF model. This coolant header tank was constructed from an old MG TD radiator. It's
high on the firewall to assure evacuation of air from the cylinder head. (At right: oil pressure sensor.)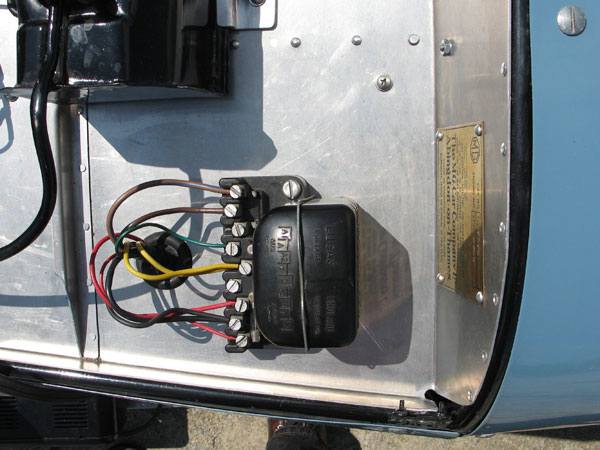 Lucas - England - Voltage Regulator
The nine terminals are labeled, left to right: "A1, A aux, A2, F, D, A4, A4, E aux ign, A3"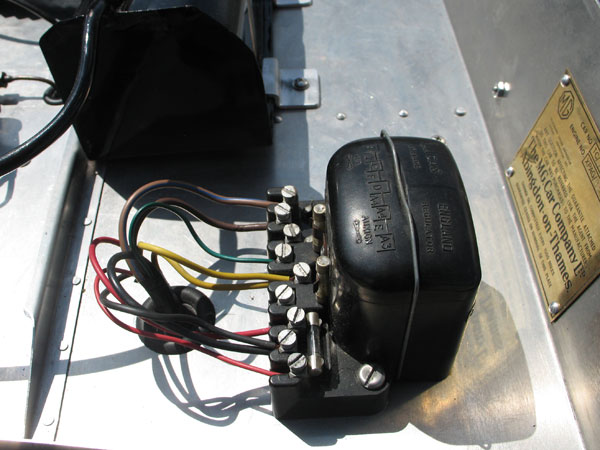 There are two fuse positions, but one of them isn't being used.
Two spare fuses are attached to the voltage regulator's removeable cover.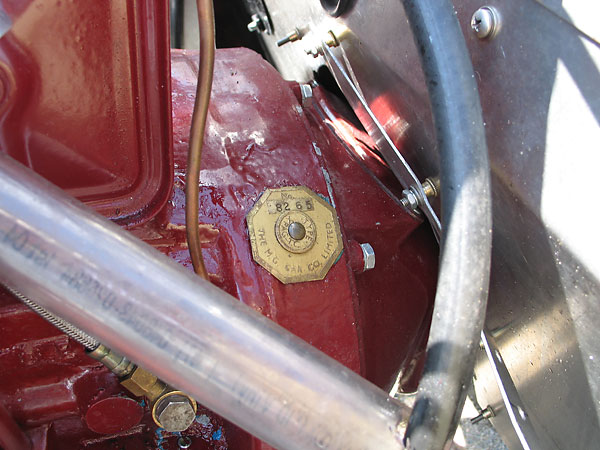 The M.G. Car Company Ltd., Type XPAG-TC, No. 8265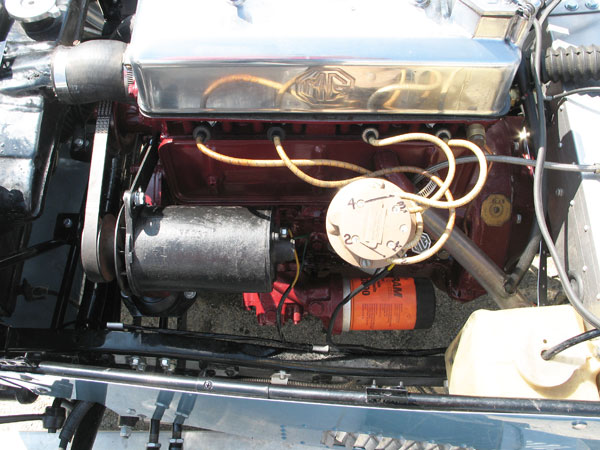 The XPAG engine was first introduced in 1939 for the Morris "10" model. Why was it called a 10?
The British government's arbitrary formula for calculating taxable horsepower only considered
piston area, not displacement. Morris responded by designing their engines to the formula. Result:
engine blocks were tall, and both blocks and crankshafts were rather heavy for their displacement.
MG did a remarkable job of making the best of what they were given by their parent company.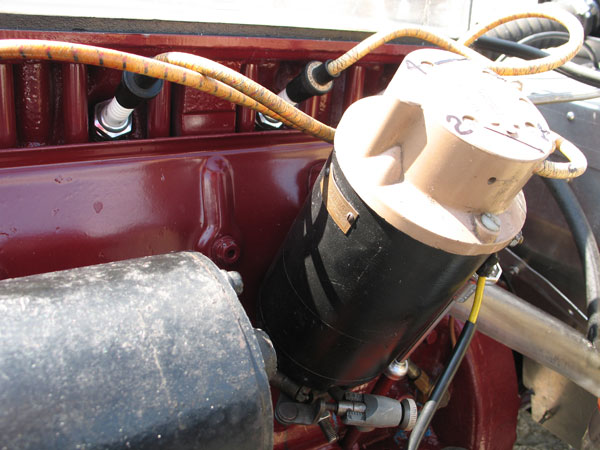 The Vertex Magneto features a vernier adjustment knob for adjusting ignition timing.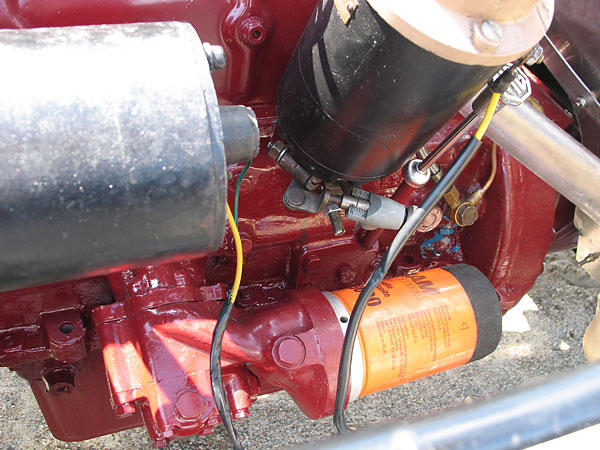 A spin-on oil filter adapter facilitates use of a Fram oil filter.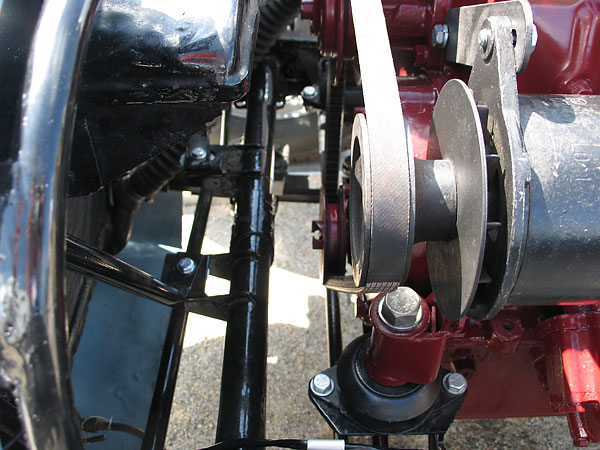 Engine pulleys and motor mount.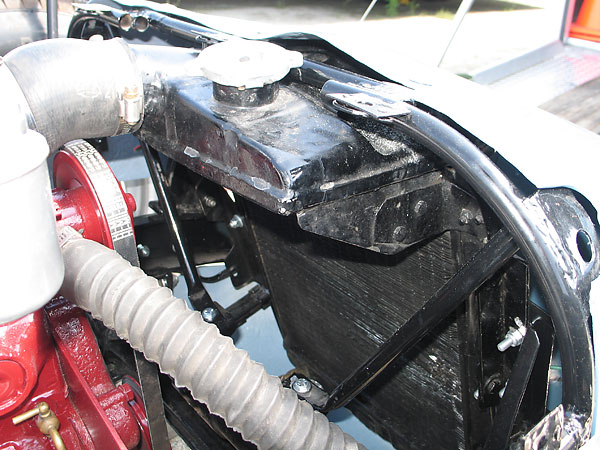 Radiator top tank.


Suspension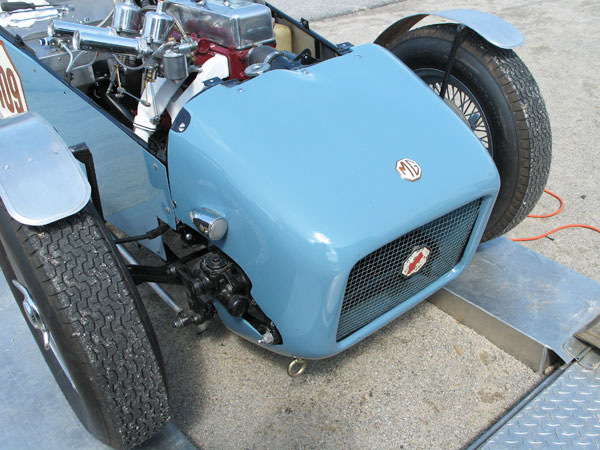 Charles Bowen created this distinctive fiberglass nose cone.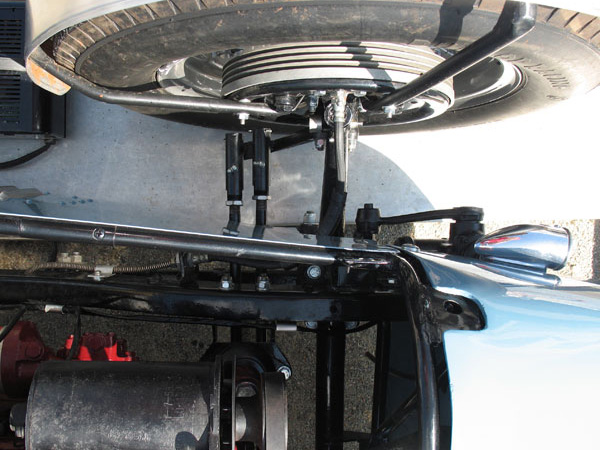 Notice that two links attach to the steering arm. One is a drag link across to the right-hand side.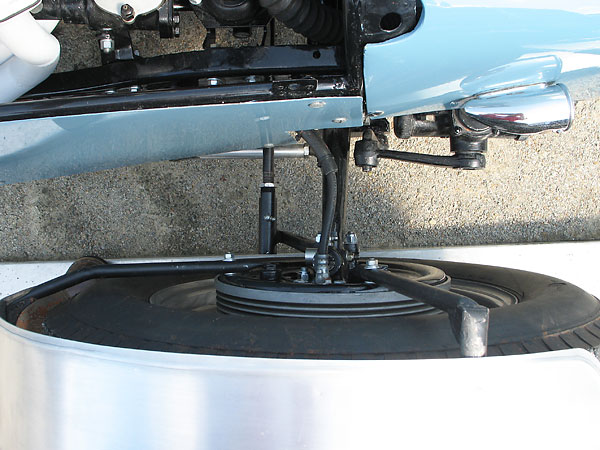 Alfin (aluminum finned) brake drums.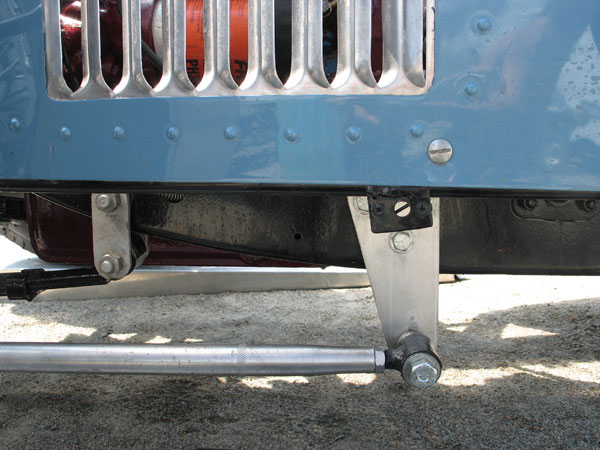 Trailing links from the front axle improve steering precision.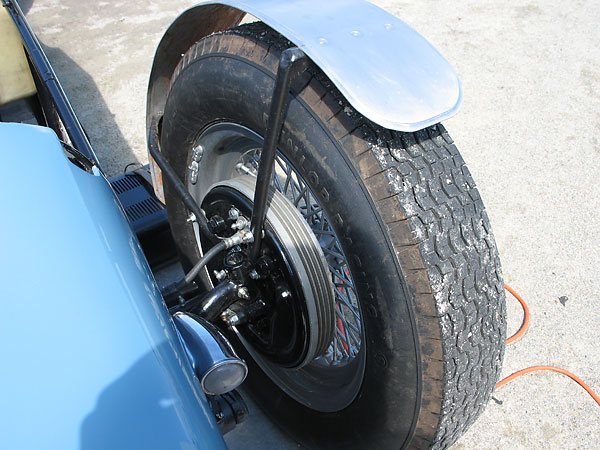 The front "motorcycle" fenders have been remade to Bowen's original design. Rear fenders are original.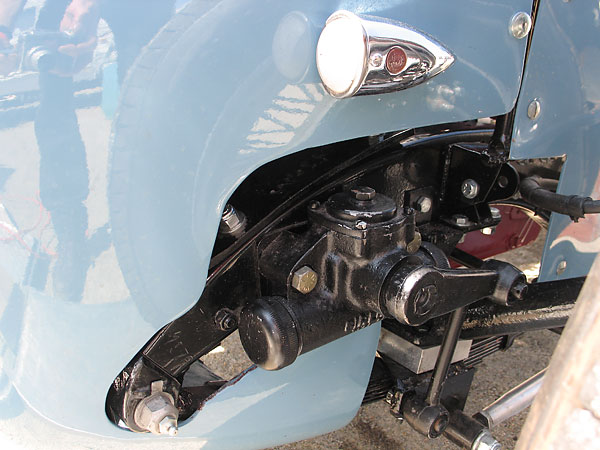 MG TC style Girling lever arm shock absorbers.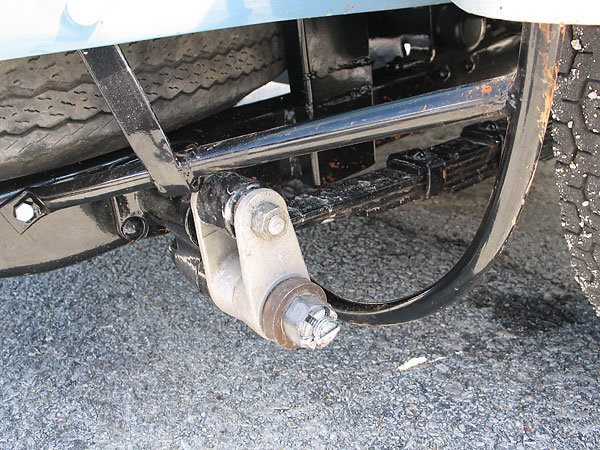 Rear leaf springs are on inverted shackles, and are underslung in relation to the axle.


Interior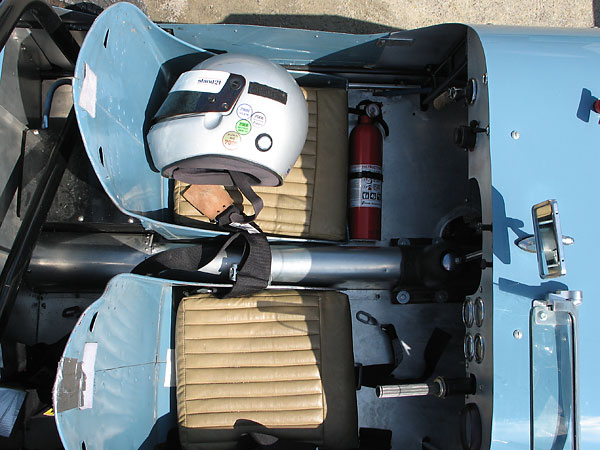 Aluminum seats from a Bell Model 47 helicopter have been cut down the middle and narrowed to suit.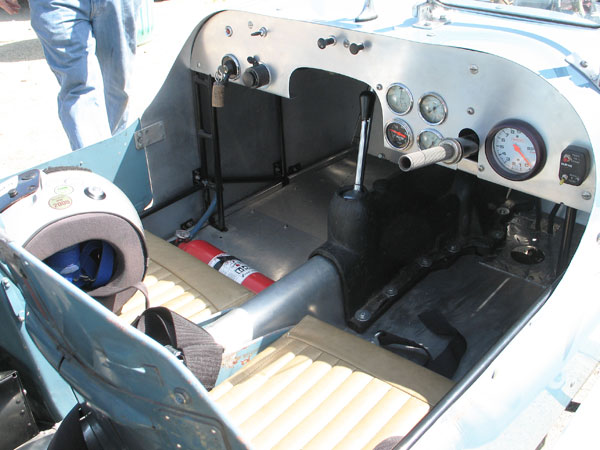 This flat aluminum dashboard resembles the one Charles Bowen installed, but it has subsequently been
replaced with one that affords a better view of the gauges. The thick black rubber transmission tunnel
is a standard MG TC part.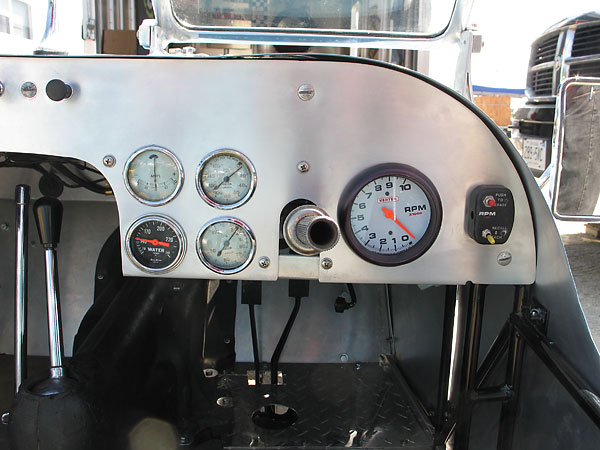 Clockwise from upper left: ammeter (+/-20 amps), Jaeger oil pressure gauge (0-160psi), Vertex
electronic tachometer (0-10000 rpm), Jaeger oil temperature gauge (30-100C), AutoMeter coolant
temperature gauge (90-240F). Note: most electronic tachometers are incompatable with the engine's
magneto ignition system because it doesn't have a coil. The Vertex tachometer solves that problem.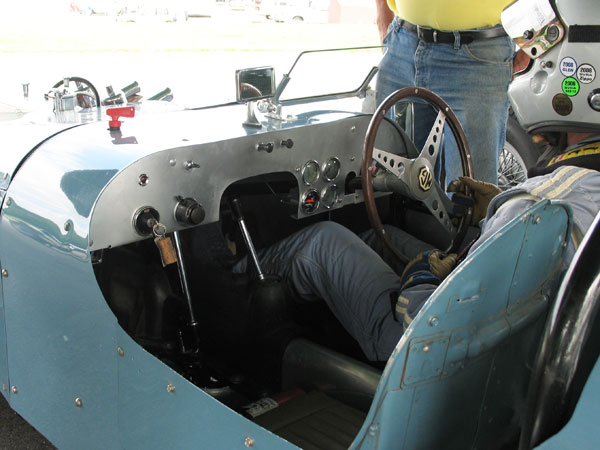 Very lightweight aluminum body panels.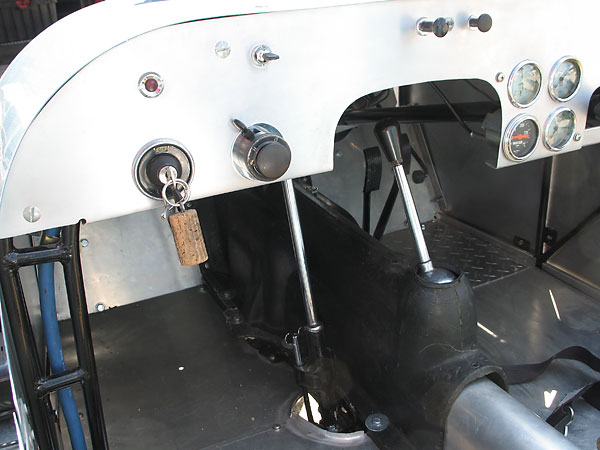 Shifter for the MG TC four speed transmission.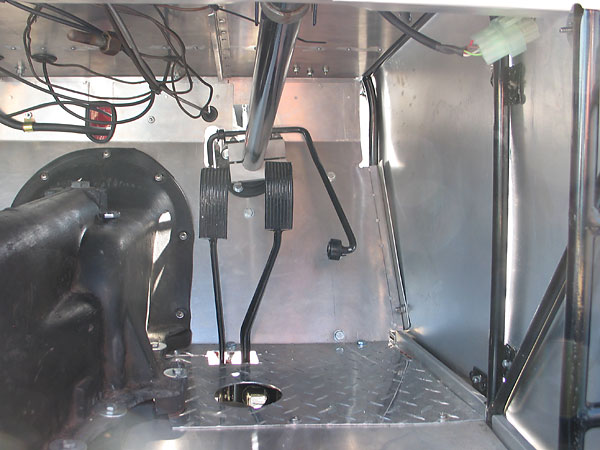 Skinny pedals lead to under-floor mounted master cylinders.


Exterior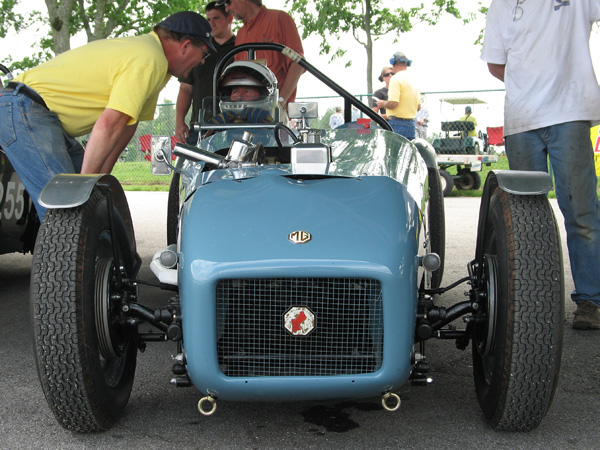 Dan was still working out the bugs of his new racecar when we saw him at V.I.R.,
He was lapping at about 2:56, for an average speed around the circuit of about 67mph.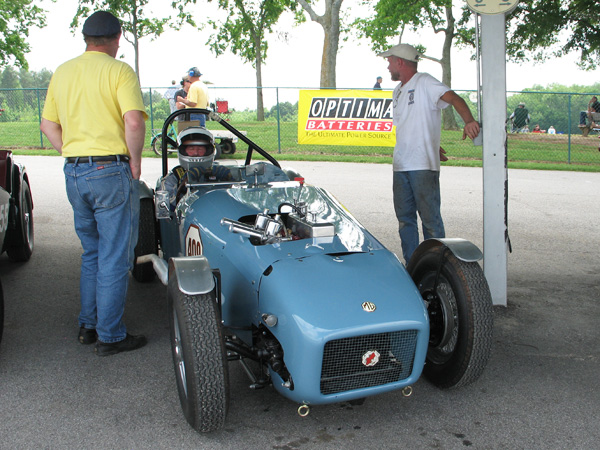 The Bowen TC-Special predates the Lotus Mk6, which would have somewhat similarly styled bodywork.
The point is lightness, of course, with low frontal area as a bonus. It's a zippy little car!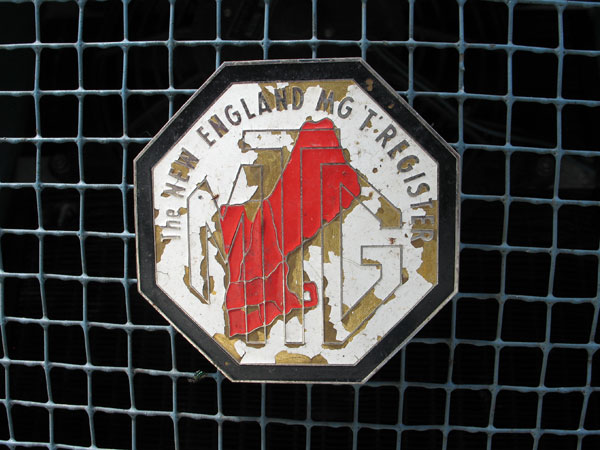 MTG: The NEW ENGLAND MG 'T' REGISTER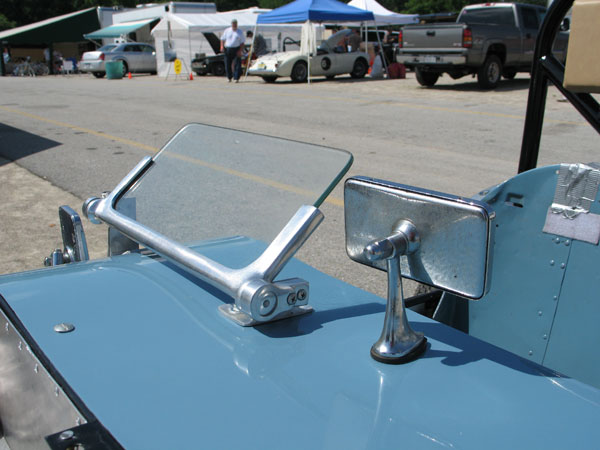 Brooklands style windscreen.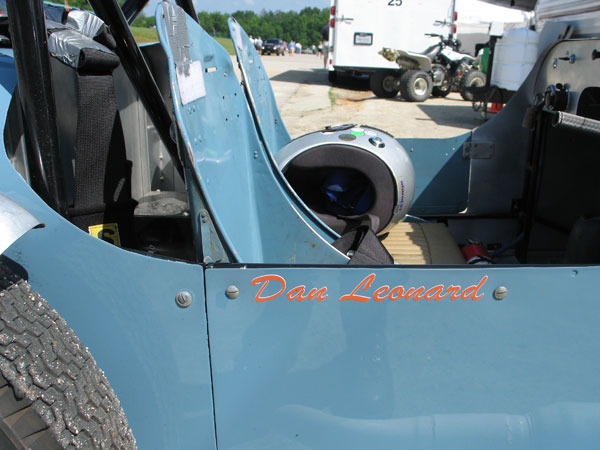 Driver: Dan Leonard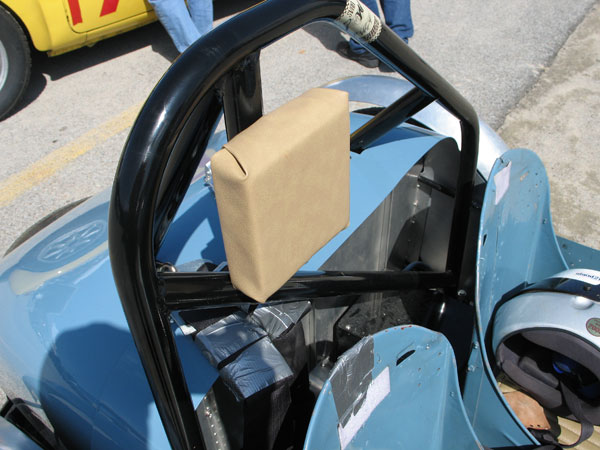 Headrest.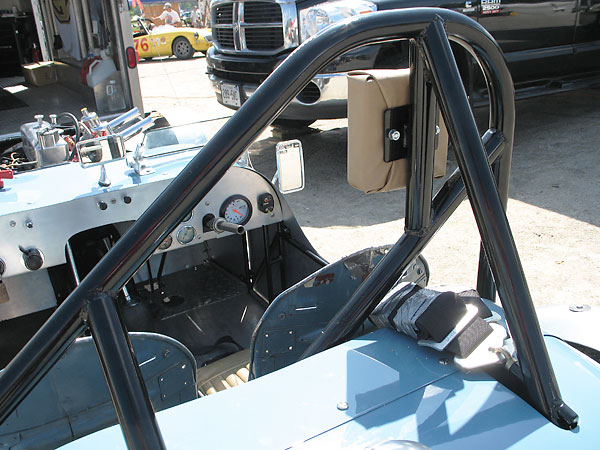 Neatly constructed rollover hoop by Jack Merryman of Merryman Modifications.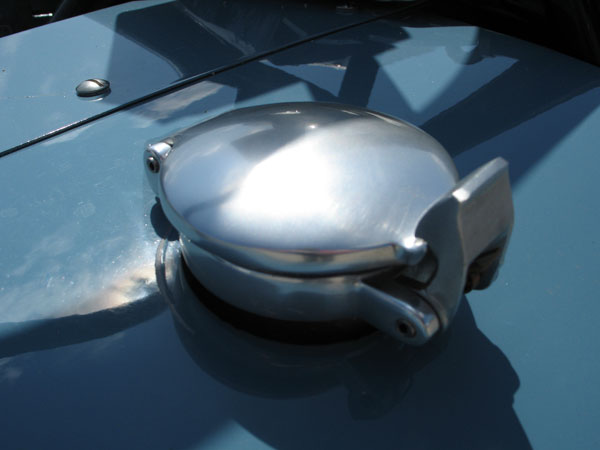 The LeMans style fuel filler cap is functional. It unscrews to facilitate removal of the rear body panel.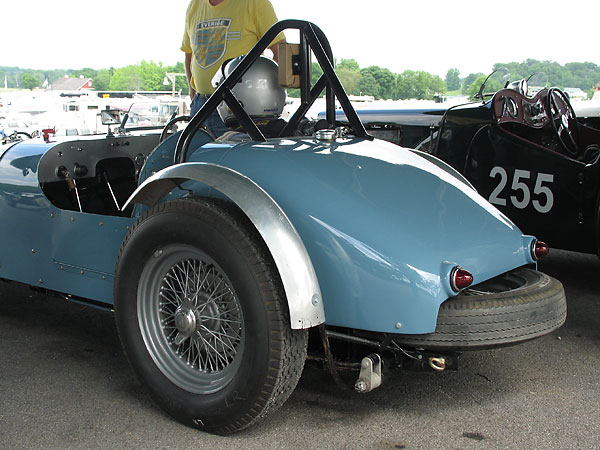 The elegantly contoured rear bodywork is fiberglass. Spare tire, passenger seat, and nominal "door"
(passenger side only) were no doubt included to meet the letter of period rules for sports car racing.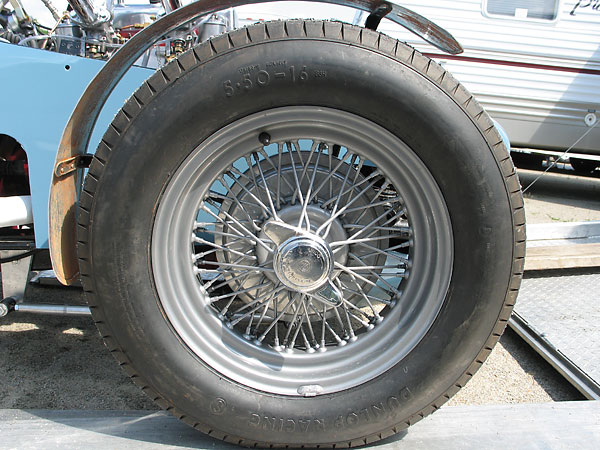 Dunlop Racing 5.50x16 tires on Dunlop sixty spoke sixteen inch wire wheels.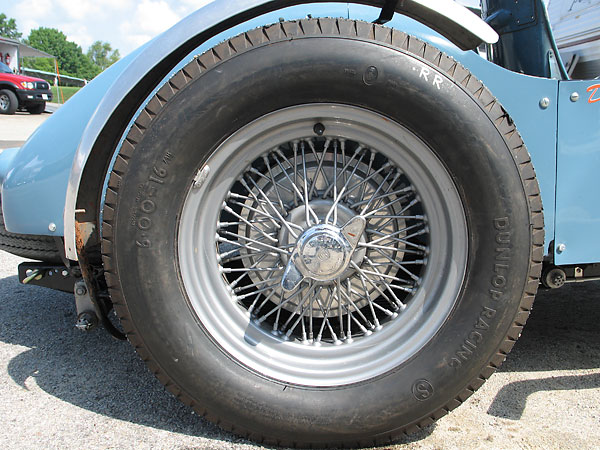 Dunlop Racing 6.00x16 tires on Dunlop sixty spoke sixteen inch wire wheels.


Note: the black-and-white photo (above) of the Charles Bowen family has been re-produced from "Bell Aircraft News", August 10 1956. Jack Merryman provided the three photos in the "Restoration" section (above) that show the MG TC partially dissembled. (They're used here by exclusive permission.) All other photos shown here are from June 2009, when we viewed the car at The Heacock Classic Gold Cup at Virginia International Raceway, except for the very first photo of the top of the article which is from the 2010 Glenore Winery Vintage Grand Prix of Watkins Glen. Photos by Curtis Jacobson for BritishRaceCar.com, copyright 2010. All rights reserved.



Notice: all the articles and almost all the photos on BritishRacecar.com are by Curtis Jacobson.
(Photos that aren't by Curtis are explicitly credited.) Reproduction without prior written permission is prohibited.
Contact us to purchase images or reproduction permission. Higher resolution images are optionally available.