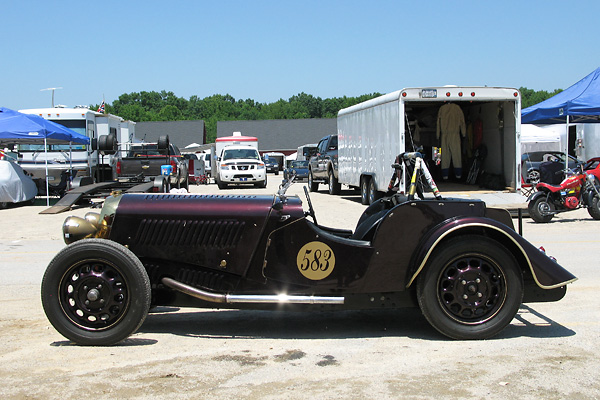 Carlton Shriver's Morgan 4-4 Race Car, Number 583
Owner: Carlton Shriver
City: Sharpsburg, Maryland
Model: 1938 Morgan 4-4 (Series 1)
Engine: Coventry Climax 1122cc four cylinder
Pre-War Morgan Motor Company History
The Morgan Motor Company began producing three-wheeled sporty automobiles in 1910. They were one of the most successful companies in this niche, and they broadened their market by offering new models even as competitors dropped like flies. Morgan three wheelers were available with four-seater and delivery van bodies as well as the more familiar two-seater Runabout, Grand Prix, Aero, Super Aero and Super Sport variants which proved phenomenally successful in sporting competition. Morgan utilized a wide variety of engines in its three-wheelers (at least 13 makes!) including mostly J.A.P. and Matchless V-twin engines mounted right up front. In the more-pragmatic 1930's, many Morgan three-wheelers were instead built with Ford inline four-cylinder engines mounted behind radiators.

Three-wheelers were inexpensive and fun. In the early decades of automobile production, they were often seen as an affordable "first car". Through their heyday, many three-wheelers qualified as "cyclecars" and were taxed in England at the same rate as motorcycles, and at a lower rate than four-wheelers. Even after that loophole closed, three-wheelers could effectively utilize small horsepower engines which were taxed at a lower rate. These economic advantages helped, but as the public increasingly favored heavier cars, small manufacturers like Morgan couldn't realize "economies of scale" to stay price competitive. Britain's larger car companies kept lowering the limbo bar. The Austin "Seven" is widely credited with killing the cyclecar market. Not only was the Austin Seven cheap, but it came with a reverse gear! Morgan adapted and survived better than most. (They figured out how to add a reverse gear.) Still, it must have been a shocking blow when Morris slashed the price of their "Minor" model to just £100 in 1931. To survive, Morgan would have to move upmarket to compete against larger, heavier, more powerful, and more expensive sports cars like the M.G. Midgets.


Enjoying this article? www.BritishRaceCar.com is partially funded through generous support from readers like you!
To contribute to our operating budget, please click here and follow the instructions.
(Suggested contribution is twenty bucks per year. Feel free to give more!)
Morgan survived by evolving. In December 1935 they introduced their first production four-wheeled sports car. The "4-4" model designation denoted that the new model featured both four wheels and a four cylinder engine. At first glance, from the steering wheel forward the new design appeared to share much with the Morgan F2 and F4 three-wheelers. (The F2 and F4 were Ford-engined models, with two and four seats respectively.) However, from the very first 4-4 prototype it was evident that the Ford 993cc engine wouldn't be sufficient for the heavier 4-4 model. Morgan chose instead to use a Coventry Climax 1122cc engine, which gave the 4-4 about 34 brake horsepower to propel its 1232 pound dry weight. Just for the sake of comparison: a 1936 M.G. TA weighed 1765 pounds and came with a 1292cc engine which produced about 50 horsepower.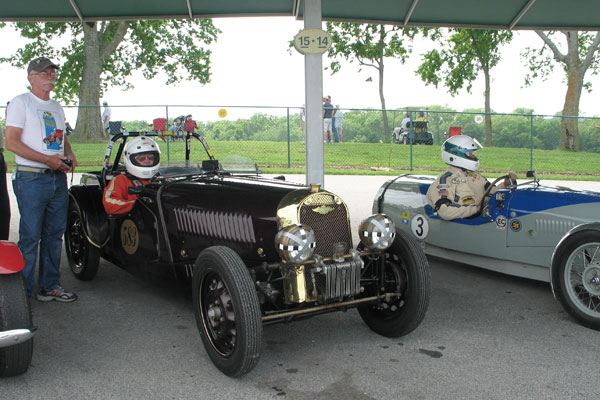 Carlton Shriver in his Morgan 4-4 prepares to race Bob Wilson and his 1935 Morgan F2 trike.


Production of the 4-4 would continue until World War II. When production resumed after the war, the model name changed to "4/4".There are few feature and specification differences between cars built immediately before and after the war. The wire mesh radiator grille was standard until late 1938, and remained available as optional equipment until the war (i.e. late 1939). A vertically slatted flat radiator grille would remain in production until 1951, when it was replaced with a curved "waterfall" grille. A smaller but more powerful competition-tuned Coventry Climax 1098cc engine was available from March 1939, and a Standard Special 1267cc engine was available from July 1939.



Features and Specifications
| | |
| --- | --- |
| Engine: | Coventry Climax four cylinder inline engine with 1122cc displacement (63mm bore by 90mm stroke.) Iron block and cylinder head, featuring overhead inlet valve and side exhaust valve. |
| Cooling: | an Aquaplane oil cooler has been added for racing. |
| Transmission: | Meadows four speed manual gearbox. Borg and Beck single dry plate clutch. |
| Rear Axle: | live axle featuring spiral bevel gears in a pressed steel banjo-style case. |
| Front Susp.: | sliding stub axle assemblies on vertical pillars. Coil springs. Telescoping shock absorbers. |
| Rear Susp.: | half-elliptic leaf springs measuring 40" between centers. Andre-Hartford friction shock absorbers. |
| Brakes: | Girling 8" drum brakes. Parking brake actuated by rods and cables. |
| Wheels/Tires: | Dunlop pressed steel disc wheels, mounted on four lugs each. Dunlop 17x4.5 tires. |
| Dimensions: | 140" length, 54" width, 92" wheelbase, 45" track. |
| Weight: | 1232lb dry / 1512lb wet. |
Front Suspension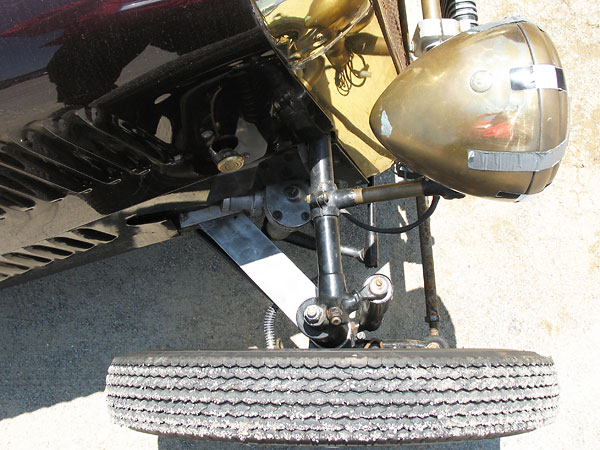 Sliding pillar independent front suspension.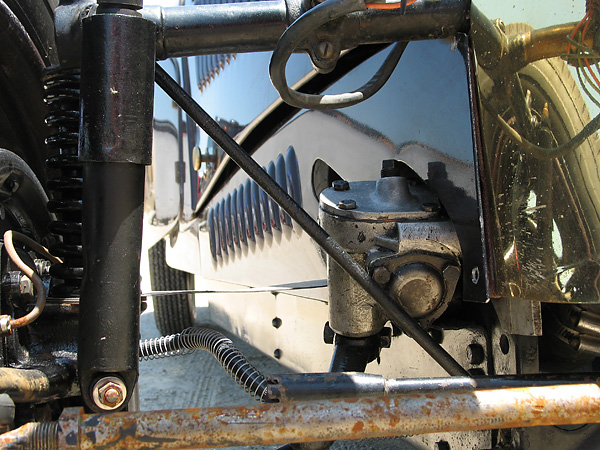 Actually, it's the stub axles that slide up and down on vertical pillars. Coil springs are mounted concentric
to the pillars, above and below the stub axles. Telescopic, hydraulic shock absorbers are mounted in front.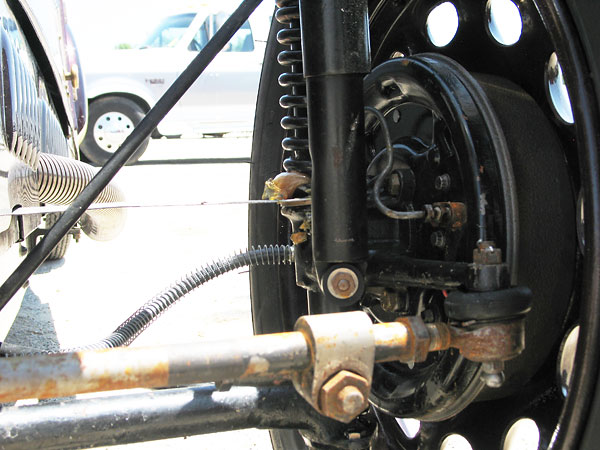 With sliding pillar suspensions there's no camber change as the body moves up and down on bumps,
the suspension's roll center is at ground level, and wheel camber is equal to body roll. Binding in
the suspension can be a problem on turns, plus bump and roll steer issues are inevitable.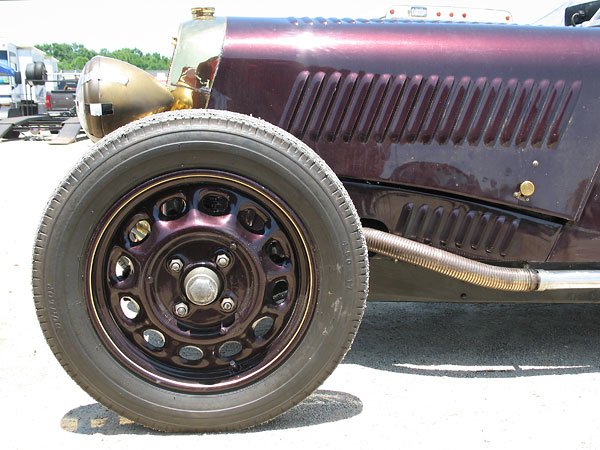 In contrast to their front suspension, Morgan's use of Dunlop disc wheels as standard equipment
(mounted on four lugs each) was more modern than many other pre-war British sports cars.


Rear Suspension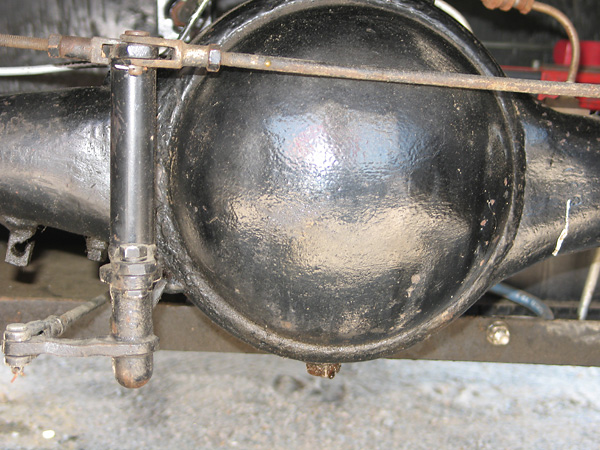 The parking brake is actuated via a system of rods and levers.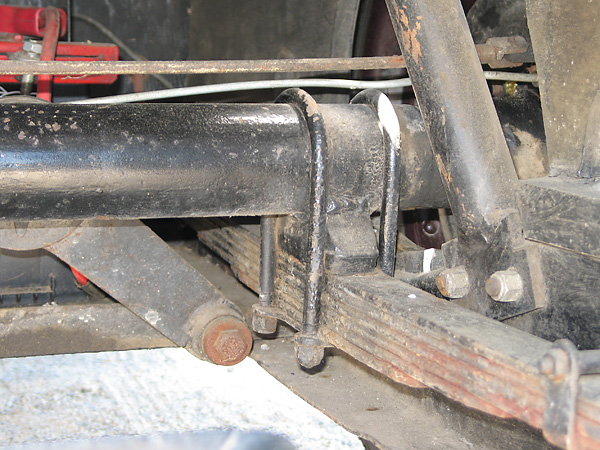 Notice that Morgan framerails feature an unusual Z profile; the upper flanges face outwards. The
rear axle is mounted above the frame, with friction shock absorbers and inboard-mounted leaf springs.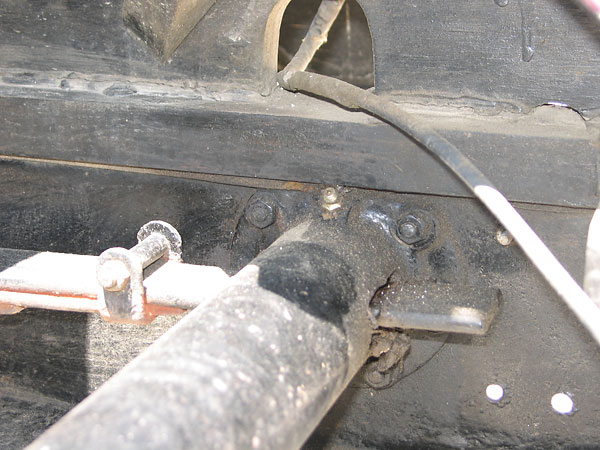 Instead of pivoting spring shackles at the rear, the springs slide within slots in the rear crossmember.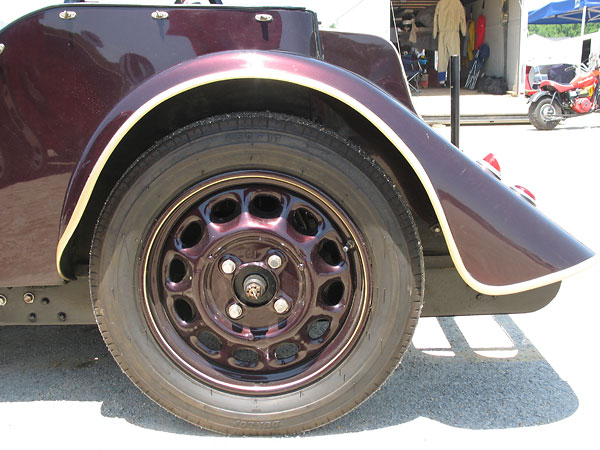 Dunlop 17x4.5 tires. Later Morgan 4-4's would get 16x5 tires.


Interior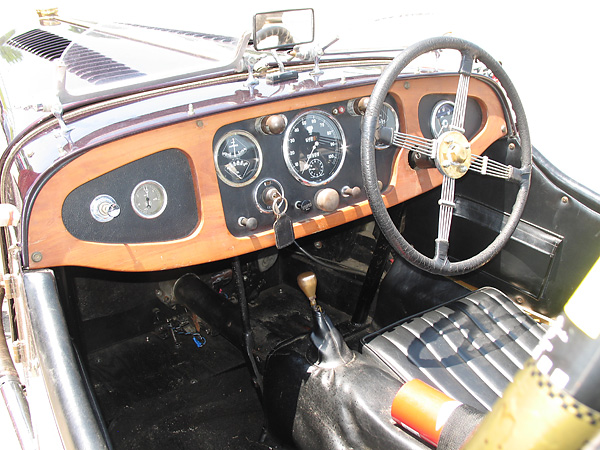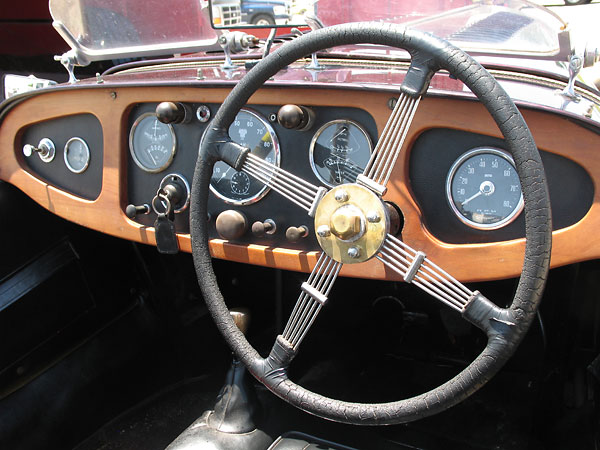 All 4-4's came with the "Brooklands" steering wheel as shown here, and black-faced
gauges. The horn button is centered in the dashboard below the speedometer.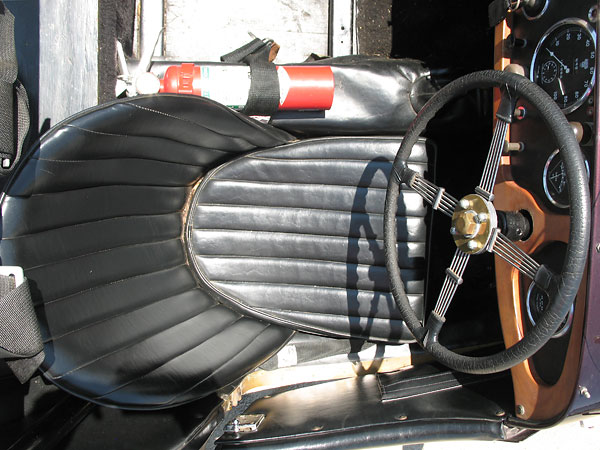 Exterior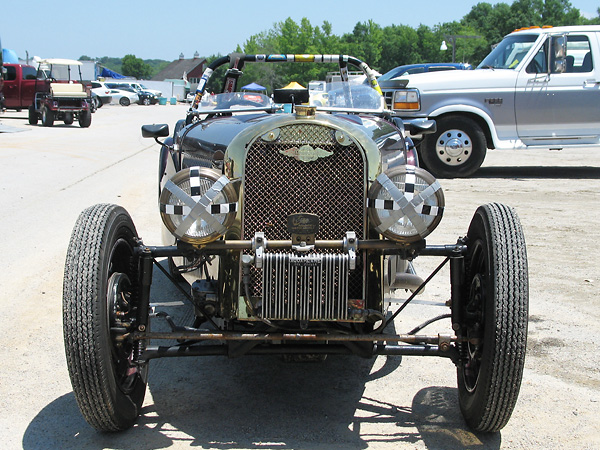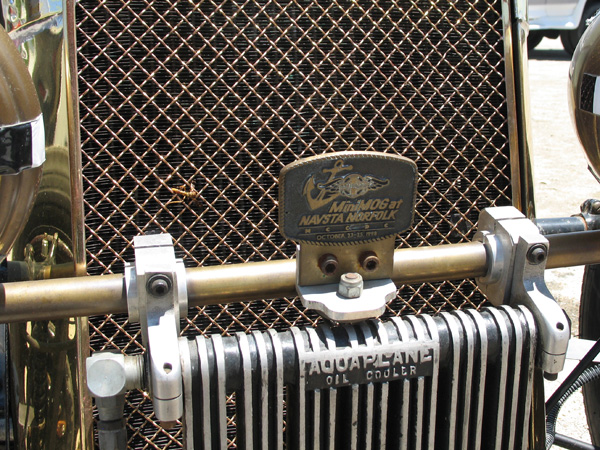 A stylish fifties-style Aquaplane oil cooler has been added for racing.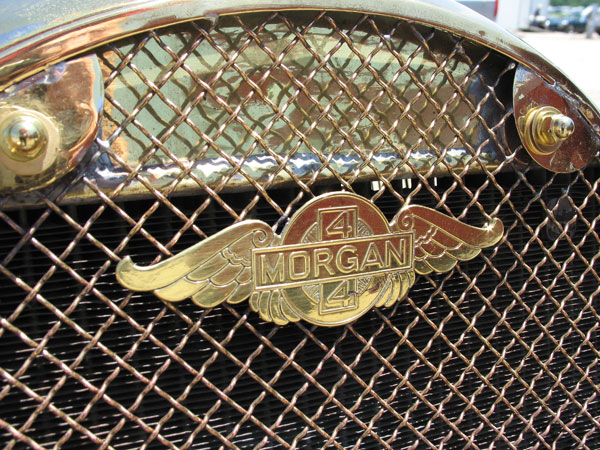 The wire mesh radiator grille was standard until late 1938, but available as optional equipment until WWII.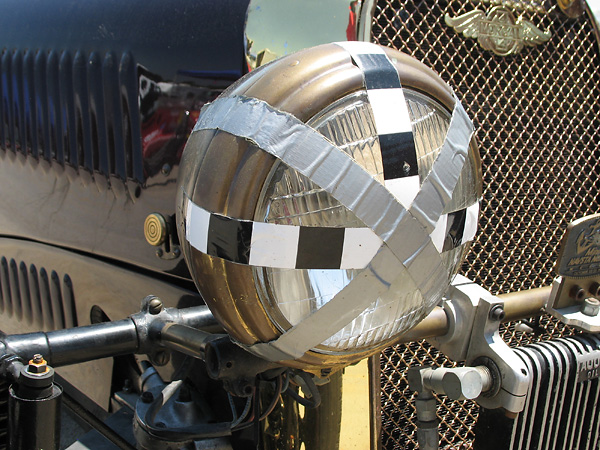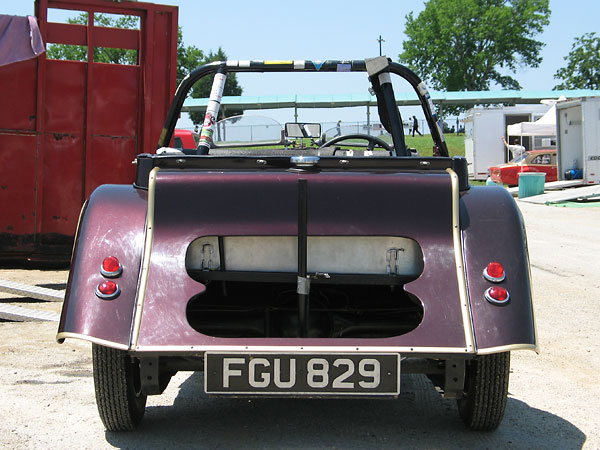 Early 4-4 Morgan's were designed to carry two spare tires upright. In a sprint race there's no need
to carry that dead weight, so they're shown removed here. The factory prepared a Morgan 4-4 for
Miss Prudence Fawcett to drive in the 1938 LeMans 24 hour race. Her car carried its spare tires
to the race mounted flat against a sloping rear panel. It only carried one spare wheel in the race.


All photos shown here are from June 2009, when BritishRaceCar.com viewed the car at The Heacock Classic Gold Cup at Virginia International Raceway. All photos by Curtis Jacobson for BritishRaceCar.com, copyright 2009. All rights reserved.



Notice: all the articles and almost all the photos on BritishRacecar.com are by Curtis Jacobson.
(Photos that aren't by Curtis are explicitly credited.) Reproduction without prior written permission is prohibited.
Contact us to purchase images or reproduction permission. Higher resolution images are optionally available.