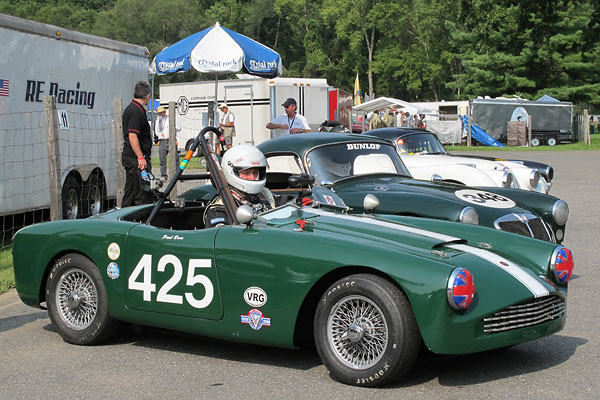 Paul Bova and his 1.0L Turner Sports Mk1, ready to race two 1.5L MGAs and a 3.4L Jaguar XK120.

Paul and Darry Bova's 1959 Turner Sports Mk1 Race Car
Owners: Paul and Darry Bova
City: Stamford, Connecticut
Chassis: 1959 Turner Sports Mk1
Engine: BMC A-series 998cc
Race prepared by: owner and GMT Racing (see below).
Not a Sprite
The Turner "Sports" was the third significant car model produced by Jack Turner and his company Turner Sports Cars, Ltd. of Wolverhampton. As early as 1951, Turner began offering hand built, aluminum bodied, cycle fendered cars on tubular steel frames. Serial production started in 1955 with the "803" model (~80 produced) and continued from late 1956 or early 1957 with the updated "950S" model (~170 produced). These two earlier Turners were named for the respective displacements of the Austin engines they used. In addition to engines, Turner also favored Austin axle, suspension, and brake components.

With a new "Sports" model for 1959, company principal Jack Turner hoped to substantially increase his company's production rate. Unfortunately for Jack Turner, his early success had apparently awoken Austin's executive team. Although Turner Sports Cars had enjoyed wholesale pricing on Austin engines and other car components for over three years, friendly business relations soured when Austin introduced their own diminutive sporting model: the Austin Healey Sprite. Faced with a steep price increase on engines, Turner would have to price his new model higher.

The Turner Sports (Mk1) was introduced to the British market in late 1959, but the earliest contemporary magazine feature story we've found about it appeared in the August 1960 edition of The Motor magazine. According to that article, the Turner Sports was priced at £645 in kit form, at £815 complete with standard Austin engine, at £895 with Alexander Autos and Marine Ltd. prepared engine featuring crossflow aluminum cylinder head, and at £1052 as optioned-up to the specification The Motor road-tested. For the sake of comparison, Austin Healey Sprites were originally introduced in May 1958 at a base price of just £679, complete.

Within a year, Turner began offering a Mk2 version of the Sports. The new Mk2 featured a Triumph-based front suspension. In commercial terms, an even more important difference is that the Mk2 was available with a British Ford four cylinder engine. Not wanting to be boxed in again, Turner also offered Austin and Coventry Climax engines. Ford engines proved most popular as production moved forward through the 1960s.


Turner Sports Mk1 Number 60-384
Paul and Darry Bova have owned Turner Mk1 number 60-384 since 2002. They've raced it actively in the Northeast ever since they got it, typically logging eight to ten race weekends each year. Paul and Darry have raced with VSCCA (Vintage Sports Car Club of America), VRG (Vintage Racer Group), SVRA (Sports Car Vintage Racing Association) and VSCDA (Vintage Sports Car Drivers Association).

Until recently the Bova team shared this car, with Darry driving in the under-one-liter class race and then tossing the keys over so Paul could drive the car in the under-two-liter class. Turners are famous for being "giant killers"! Out-running bigger, heavier, larger displacement racecars is a big part of the charm of driving a Turner.

Darry has decided to give up driving, but she still serves as Paul's track partner, crew chief, social director, and team chef. "We always seem to have a crowd around our motorhome at mealtimes. The social aspect of Vintage Racing is a great side benefit of getting people of like minds together for a competitive event. Darry prepares excellent meals in our motorhome kitchen, which leads to very pleasant bench racing discussions with friends over beers and good food at days end."

When we originally met Paul, he was running a 4.55:1 rear axle ratio. He's now running a 4:88 rear end. He explains: "It gives me a little more acceleration coming out of the corners. I will suffer a little on top end, but that's not where I am going to catch the bigger displacement heavier cars. I typically catch them in the twisty parts and need acceleration to scoot by them."

Paul also shares credit for the car's excellent preparation: "While we do the bulk of the race prep and track support ourselves, GMT Racing of Newtown CT has been invaluable for their technical knowledge, set-up, fabrication, parts sourcing, and problem solving help. We especially rely on JR Mitchell (owner) and Dean Hutchinson (world class fabricator and welder) at GMT. John Leslie at Arjay Racing Engines has built winning power plants for us. John knows how to wring every last drop of power out of a BMC 'A' engine."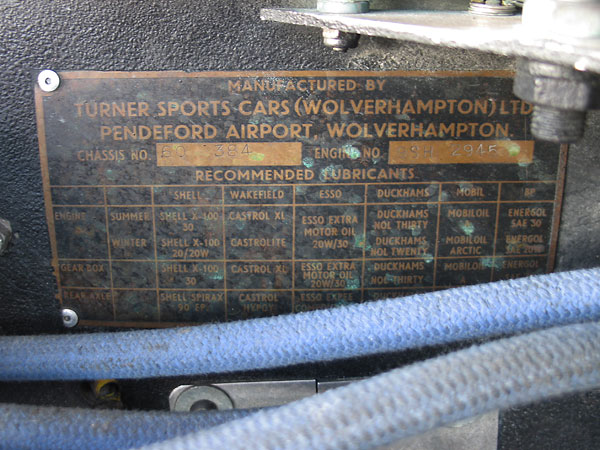 Manufactured By: Turner Sports Cars (Wolverhampton) Ltd.
Pendeford Airport, Wolverhampton.
Chassis No. 60 384 - Engine No. 9SH 2945



Features and Specifications (as currently presented)
Engine:
BMC A-series four cylinder engine prepared by John Leslie at Arjay Racing Engines. (~84 bhp at 6900rpm and ~72 ft/lbs at 5200rpm.) Nominally 948cc, but bored out to 998cc and fitted with AE pistons selected for a static compression ratio of 11:1. APT SPVP4-BK scatter pattern camshaft (290/300 degrees duration and 0.324"/0.340" lift.) APT valves and guides. Roller rockers. Gilmer belt drive. Dual S.U. HS2 (1.25" bore) carburetors. Lucas distributor. Lucas electronic ignition amplifier. Lucas ignition coil. Summit Racing 8mm spiral core spark plug wires. Racer Parts Wholesale electronic rev limiter. Jaz Products one quart polyethylene crankcase breather tank. Deep sump oil pan.

Cooling:
custom aluminum radiator fabricated by Dean Hutchinson at GMT Racing. Electric cooling fan. Aluminum swirl pot. JAZ Products polyethylene overflow tank.

Exhaust:
custom three-into-one header and megaphone style exhaust pipe, both fabricated by Dean Hutchinson at GMT Racing.

Transmission:
Jon Stamps Racing prepared close-ratio BMC ribcage 4-speed gearbox. Quartermaster 7.25" single disc racing clutch. Annular hydraulic throw-out bearing.

Rear Axle:
reinforced Austin A35 housing. Billet axles and double bearing hubs. Tran-X limited slip differential. 4.88:1 gears.

Front Susp.:
Austin A35 based front suspension (uprights, control arms, steering rack, etc.) Billet hubs and spindles. World Wide Imports modified (adjustable) Armstrong shock absorbers.

Rear Susp.:
Torsion bar spring rear suspension. Carrera Hypershock gas-charged 2" diameter telescoping shock absorbers. Custom Panhard bar.

Brakes:
(master) Wilwood pedal assembly. Dual Girling master cylinders with a single remote reservoir and remotely-adjustable bias bar.
(front) 9" aluminum-finned drum brakes with Lotus backing plates, Lockheed L320284 cylinders, and Datsun Z springs.
(rear) 8" aluminum-finned drum brakes with Datsun Z backing plates, cylinders, etc.

Wheels/Tires:
Dunlop 72-spoke wheels. Hoosier Street T.D. tires (A70-13).

Electrical:
Optima Red Top battery. Nippondenso alternator. Gear reduction starter. Painless Performance Products switch panel, with four fuses.

Instruments:
(left to right) AutoMeter tachometer (0-8000rpm), TraqMate GPS data acquisition system, Smiths oil pressure gauge (0-100psi), Westach dual EGT gauge (700-1700F), Smiths coolant temperature gauge (30-110C), VDO shift light.

Fuel System:
JAZ Products 10-gallon aluminum fuel tank. Facet (Bendix style) electric fuel pump.

Safety Eqmt:
Kirkey Economy Oval Track seat with its high backrest cut off. Adjustable headrest. Simpson five point latch and link safety harness. Troyer quick release steering wheel hub on a Grant steering wheel. FireBottle centralized fire suppression system. Amerex handheld Halon fire extenguisher. GT Classic side view mirrors.

Weight:
1350#

Engine Installation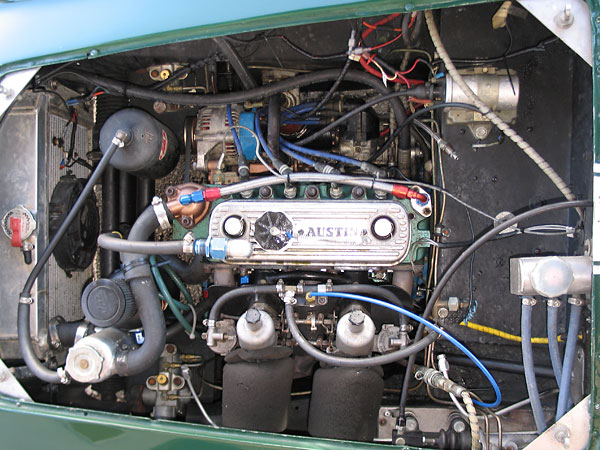 Austin-Healey Sprite (a.k.a. BMC A-series) four cylinder engine. This one has been
rebuilt with slightly oversize pistons, taking displacement to 998cc.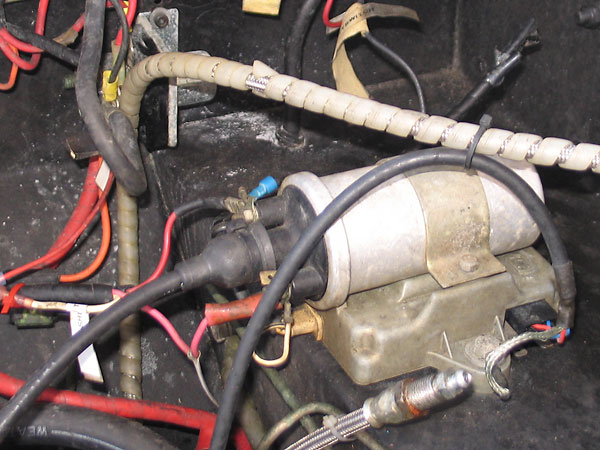 The ignition coil is sitting on top of a Lucas electronic ignition amplifier (circa early 1980s.) Used in
conjunction with a breakerless Lucas distributor (i.e. with Hall effect sensor and tone wheel in lieu of
contact breaker points), the Lucas amplifier reliably provides big, strong, fat sparks! Note: in the
foreground you can see the bleeder for a hydraulic throw-out bearing type clutch slave cylinder.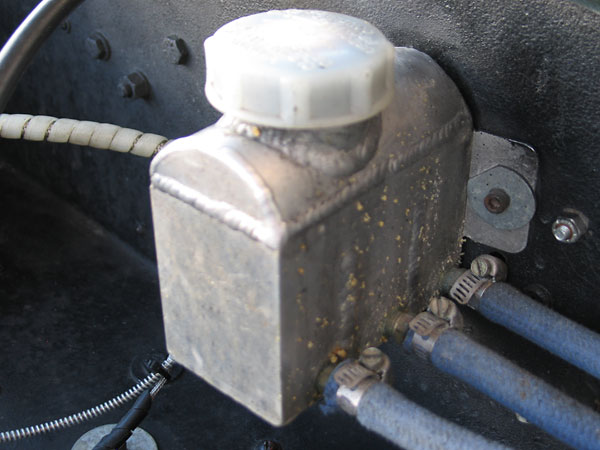 Custom fabricated aluminum brake and clutch fluid reservoir.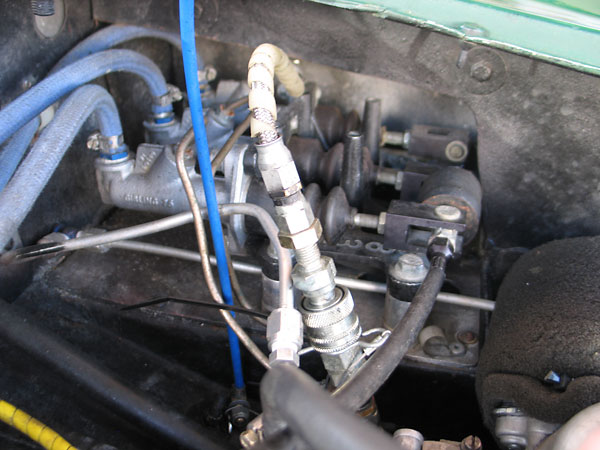 Girling master cylinders on a Wilwood pedal assembly. In the foreground you can see a quick disconnect
coupling that evidently facilitates disconnecting the clutch hydraulics without spilling any fluid.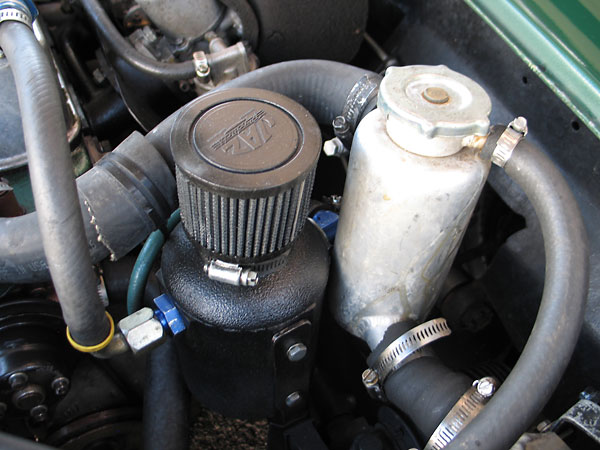 Jaz Products one quart polyethylene crankcase breather tank. Aluminum coolant swirl pot.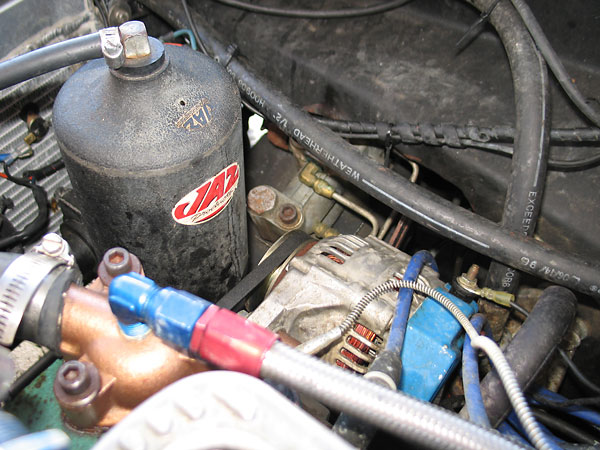 JAZ Products polyethylene coolant overflow tank.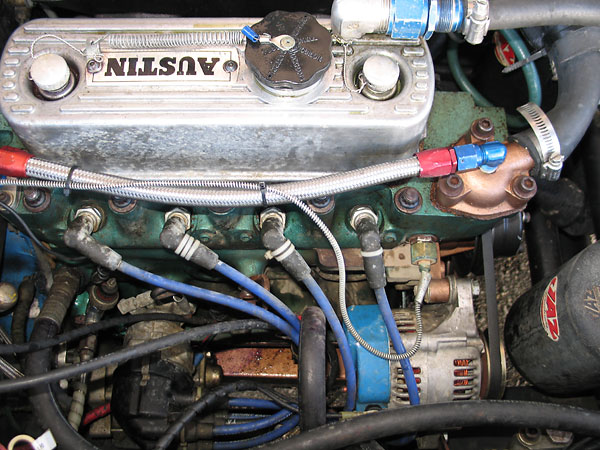 Lucas distributor with Summit Racing 8mm spiral core spark plug wires.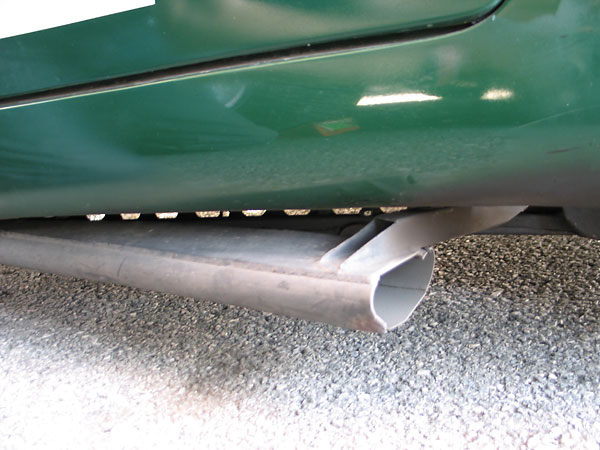 Custom megaphone-style exhaust pipe. (In other words, it's been cut and
spread open to create an increasingly large cross-section.)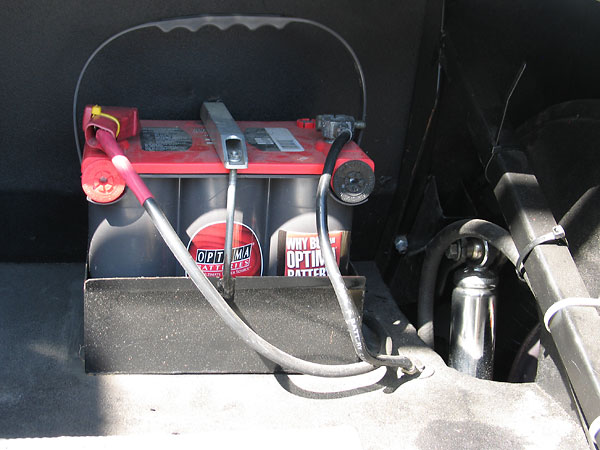 Optima Red Top battery.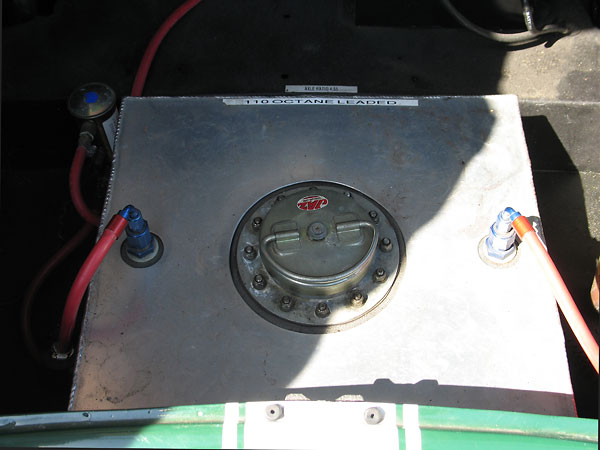 JAZ Products 10-gallon aluminum fuel tank. These tanks are safety foam filled to eliminate sloshing,
but they don't have the rubber bladder you'd find in an FIA/SCCA approved road-racing fuel cell.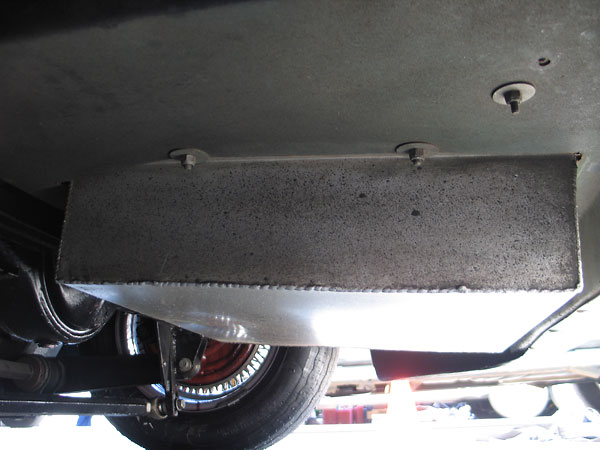 Bottom of the fuel tank.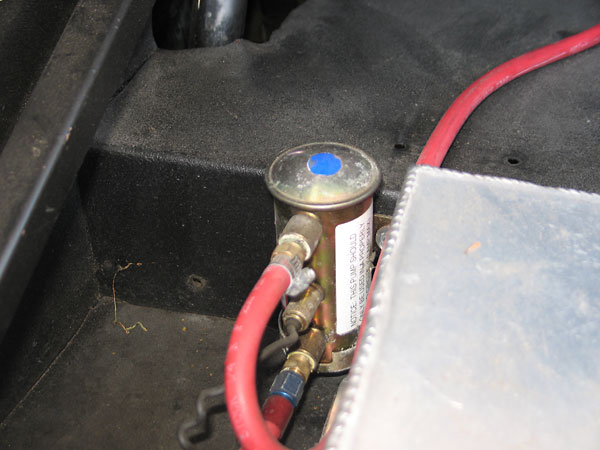 Facet (Bendix style) electric fuel pump.


Front Suspension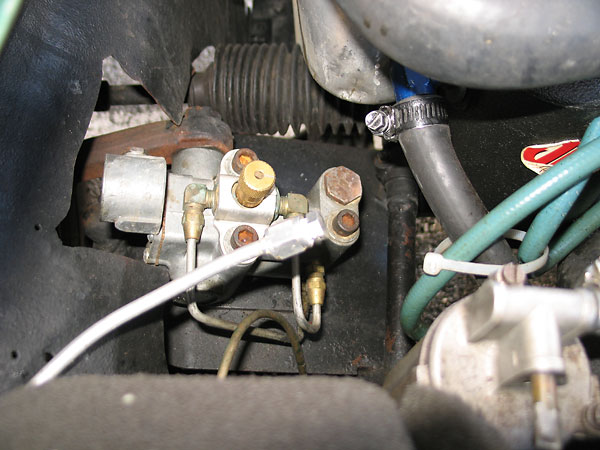 World Wide Imports modified (adjustable) Armstrong shock absorbers.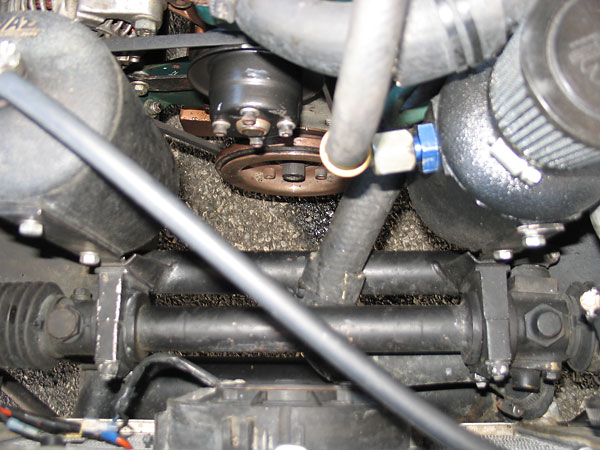 Austin A35 steering rack.



This photo shows the single most important difference between Turner's Mk1 and Mk2 models. Through
Mk1 production, Turner front suspension's were built around Austin A35 parts just as Austin's Sprite
was. From the Turner Mk2 model on, front suspensions were based on Triumph Herald components.
(Ford engines were installed in most Turner Mk2s, but Austin engines were offered too.)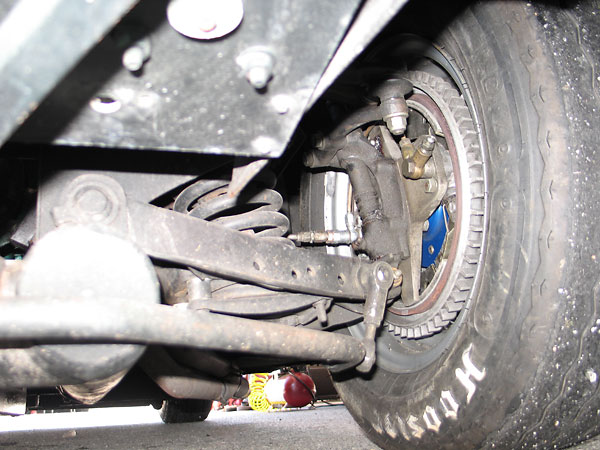 Turner offered optional front disc brakes but Paul's Mk1 came with drums. He's made some upgrades:
Lotus backing plates, Lockheed L320284 cylinders, Datsun Z springs, and 9" aluminum-finned drums.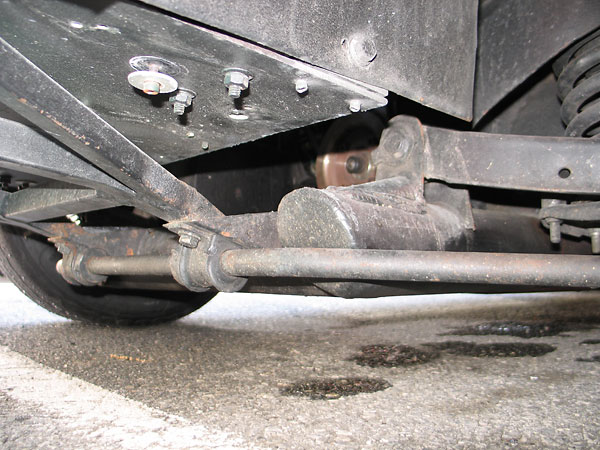 Front anti-sway bar mounting details.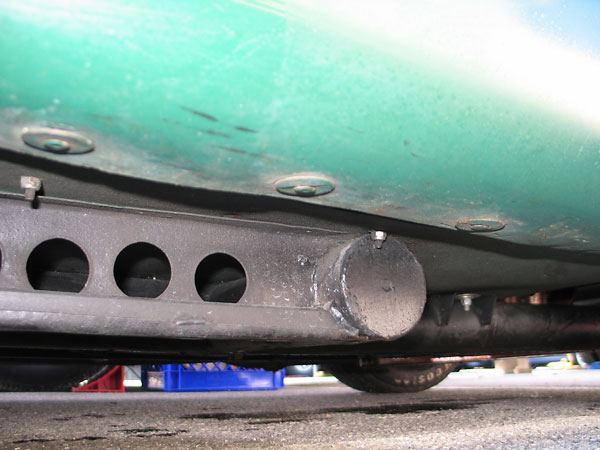 The Turner frame is based on two longitudinal steel tubes, supplemented
by out-riggers (as shown here) that support the car's fiberglass body.


Enjoying this article? www.BritishRaceCar.com is partially funded through generous support from readers like you!
To contribute to our operating budget, please click here and follow the instructions.
(Suggested contribution is twenty bucks per year. Feel free to give more!)
Rear Suspension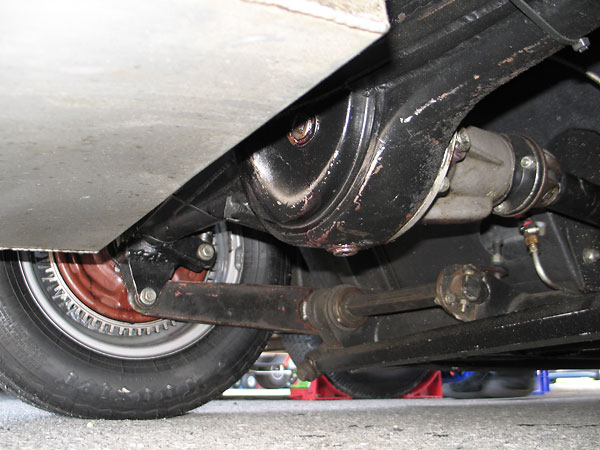 Rather than coil or leaf springs, Turner used torsion bar springs for their rear suspensions.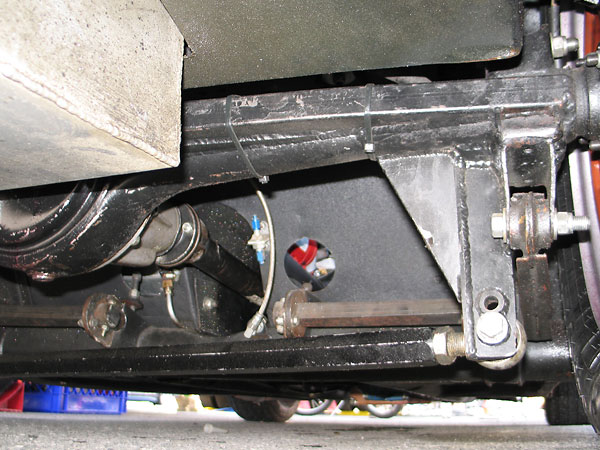 Heavily reinforced Austin A35 rear axle housing. Uncommonly far below the axle, a Panhard rod spans
from the righthand side of the axle to the lefthand side of the car's frame. The Panhard rod keeps
the axle centered under the car. The reason it's mounted so low is that its mounting height
determines the car's rear roll center. Note: no rear anti-roll bar on this Turner Mk1.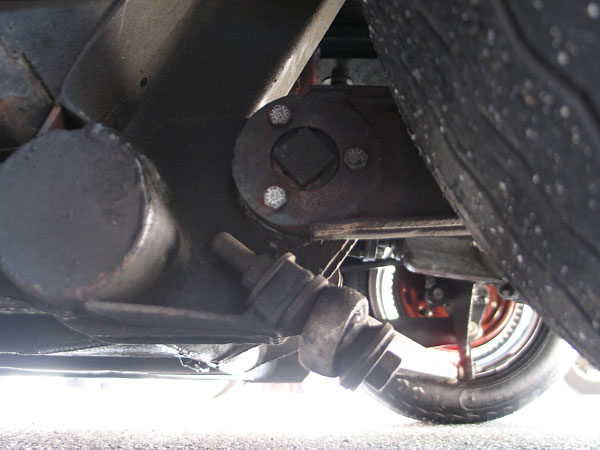 Close-up view of the Panhard rod's attachment to the frame, below the left side torsion spring.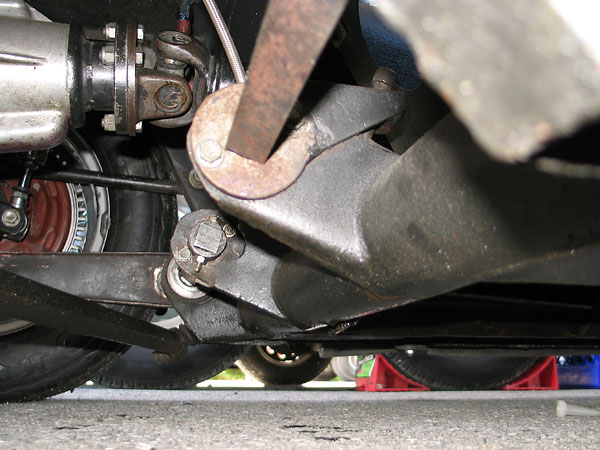 One of the advantages of torsion springs is that they make ride height adjustment simple.
Just crank on the bolts that rotate/locate the inboard ends of the torsion bars! No floor jack?
If you like, you can get to the adjustment bolts through access holes behind the seats.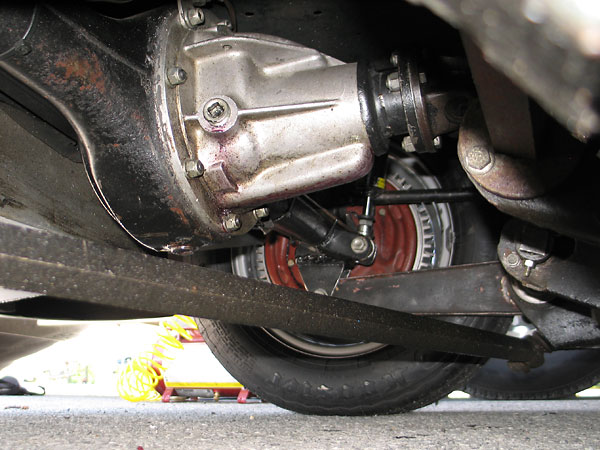 In this view you can glimpse the aluminum finned rear brake drums and also the aluminum
differential carrier, but I was trying to photograph one of the upper trailing links
that connect the rear axle to the frame.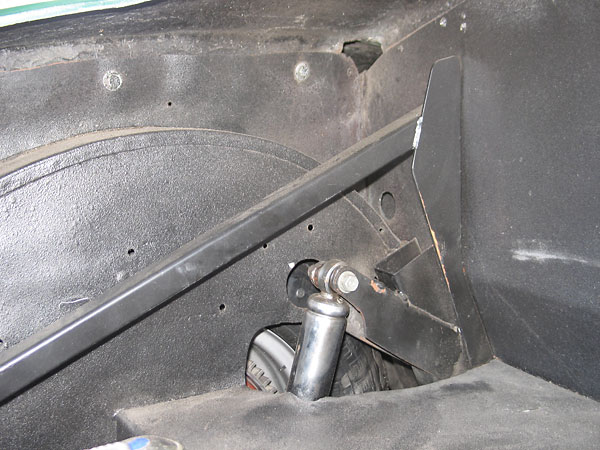 Turners used telescoping shock absorbers at the rear. These are Carrera Hypershock gas-charged shocks.


Interior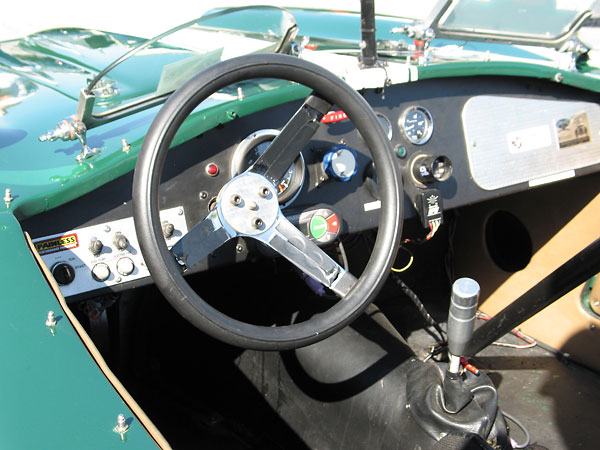 Cockpit of a 1959 Turner Sports Mk1 vintage racecar.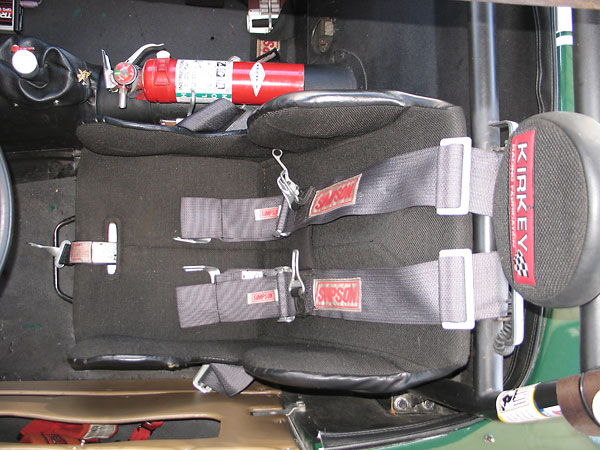 Kirkey Economy Oval Track seat with its original high backrest cut off to comply with Vintage Sports
Car Club of America rules that at the time didn't allow high backrests. GMT Racing fabricated an
adjustable height headrest, and upholstered it with material from Kirkey's original cushion.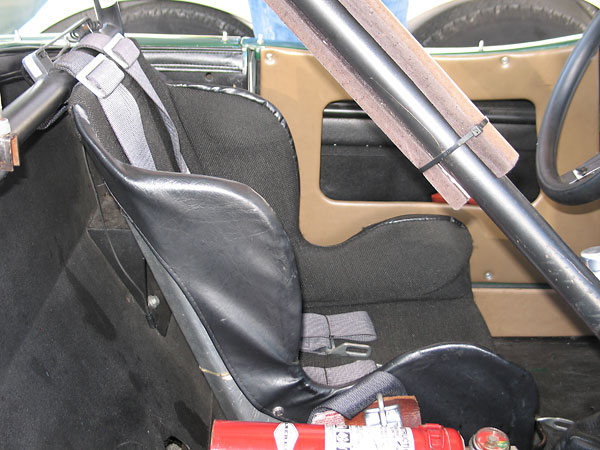 Simpson five point latch and link harness. Note also the thick padding on the roll hoop brace.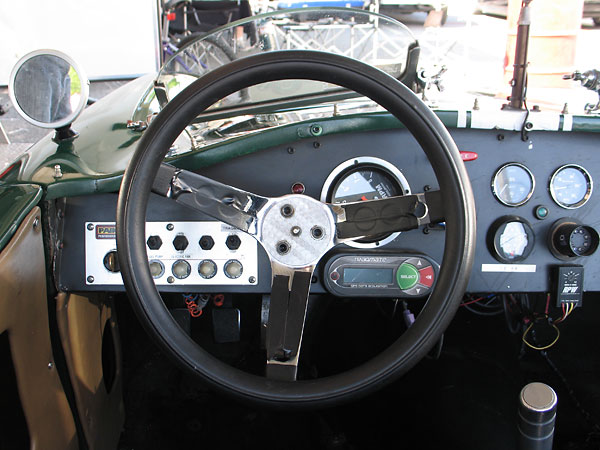 This Grant steering wheel is rubber padded for comfort. Decorative holes in the wheel's spokes
have been taped over to keep the driver's fingers out of them. Large holes in steering wheel
spokes aren't adviseable because steering wheels tend to jerk violently during accidents.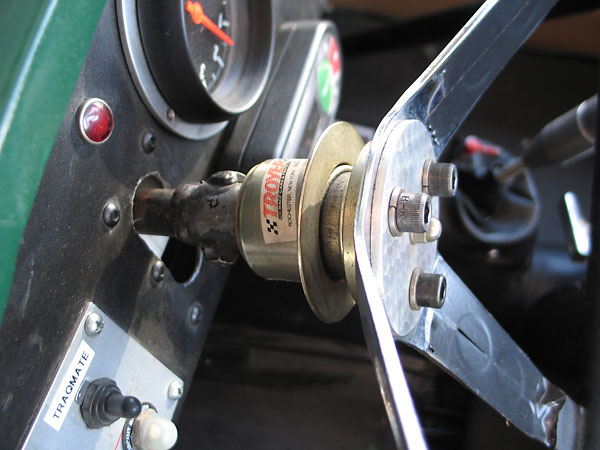 Troyer quick release steering wheel hub.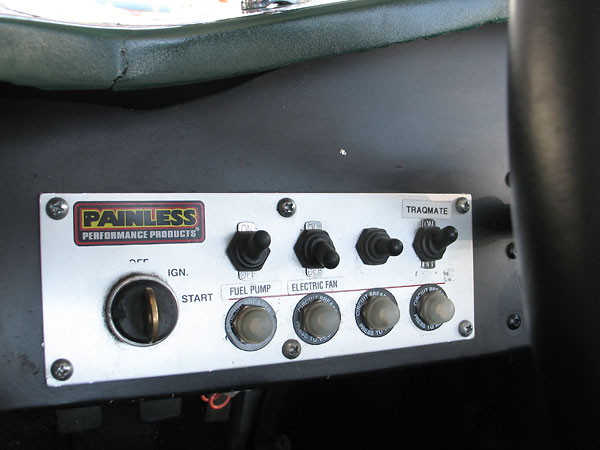 Painless Performance Products switch panel, with four fuses.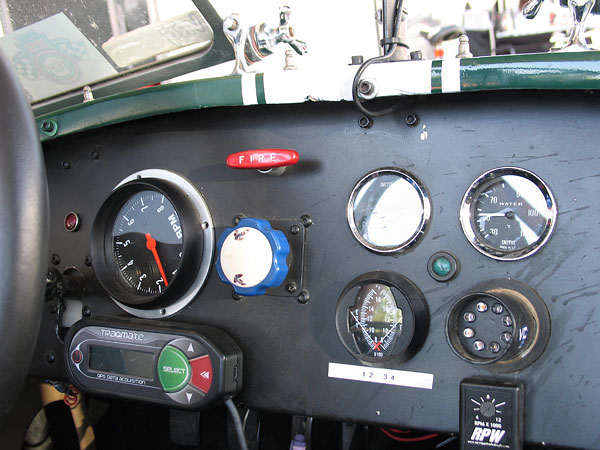 The blue knob is for fore and aft brake balance adjustment. Below it is a TraqMate GPS-based
data acquisition system controller. To the right: a Westach dual exhaust gas temperature gauge.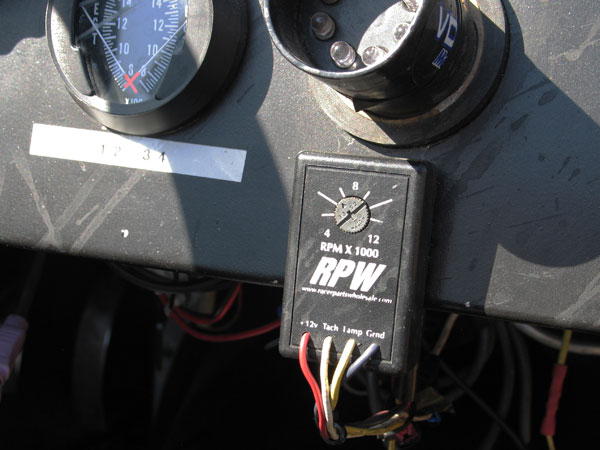 This Racer Parts Wholesale electronic rev-limiter appears to be set to 6500rpm, but Paul tells us
he normally races with it set at 7500rpm. In either case, a lower shift point is chosen to limit
wear and tear. As currently built, the engine will happily wind to 9000rpm when necessary.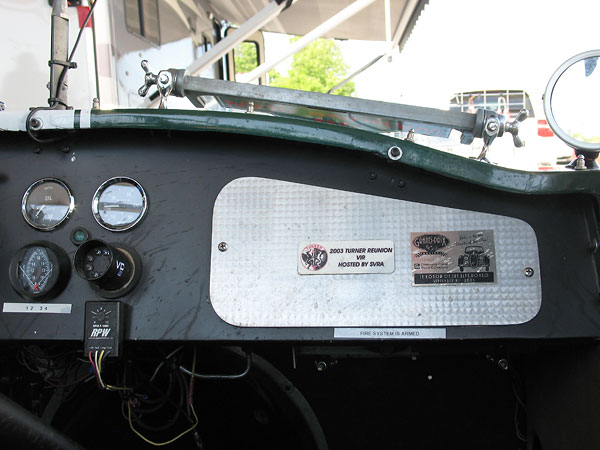 "FIRE SYSTEM IS ARMED" - the aluminum cover hides the bottle of a fire suppression system.
(The original Turner glove box didn't have a lid.) Decals on the cover read as follows:
"Watkins Glen Vintage Grand Prix - Return to the Streets of the Glen! - Presented by
Chemung Canal Trust Company - In Honor of the Alfa Romeo - September 9, 2005", and
"2003 Turner Reunion - Virginia International Raceway - Hosted by SVRA"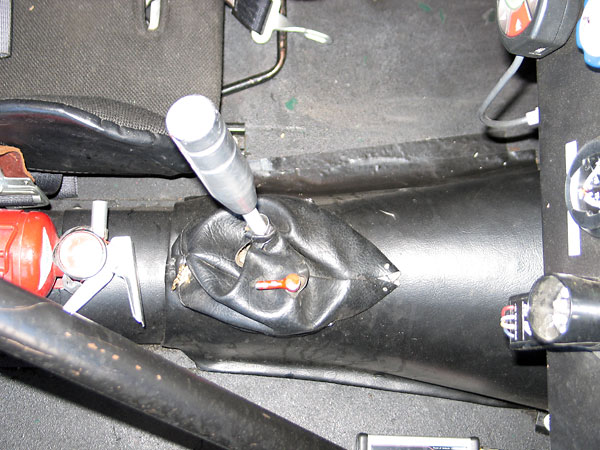 A red pin is used to block off the gear selector's reverse gear gate.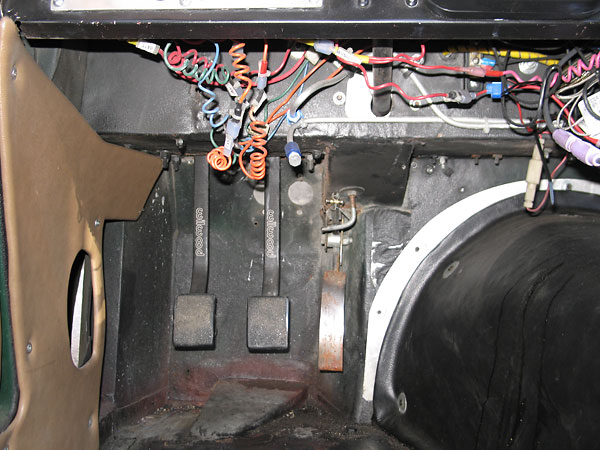 Wilwood hanging clutch and brake pedal assembly.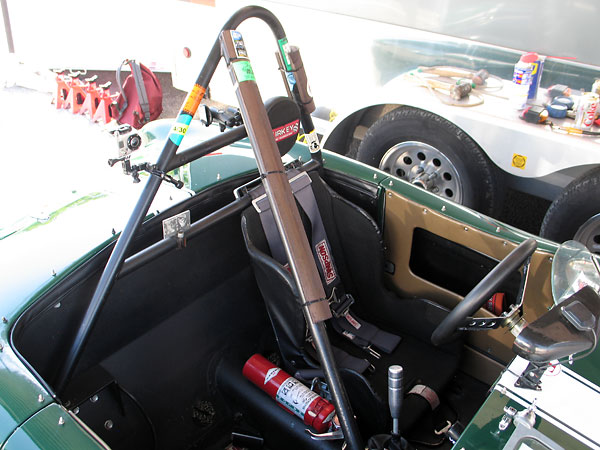 Roll hoop construction details.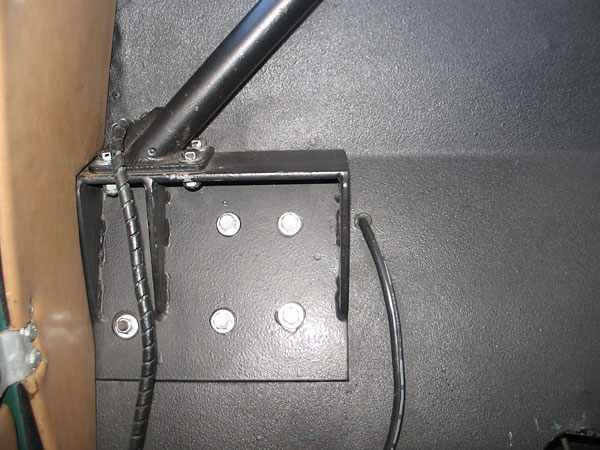 Roll hoop mounting bracket.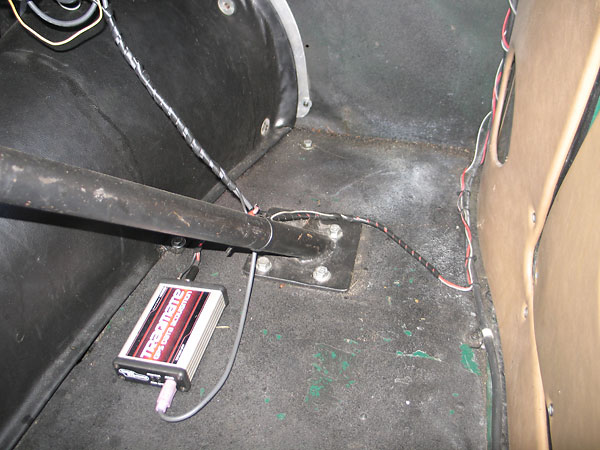 Roll hoop forward brace mounting bracket.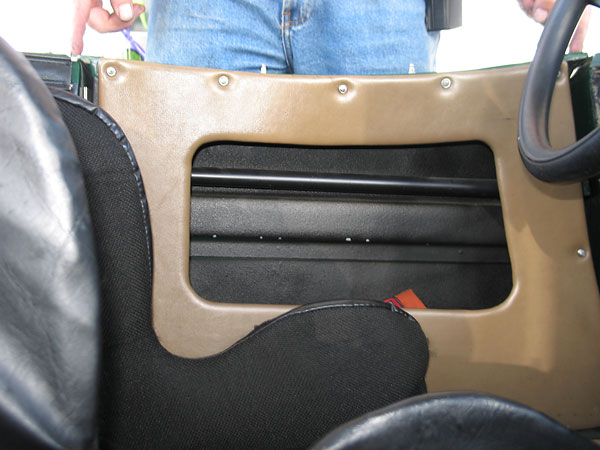 A tubular steel brace has been added inside the driver-side door.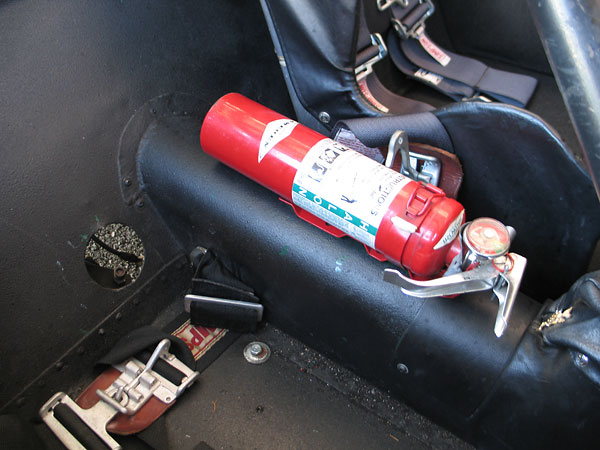 Amerex handheld Halon fire extenguisher.


Exterior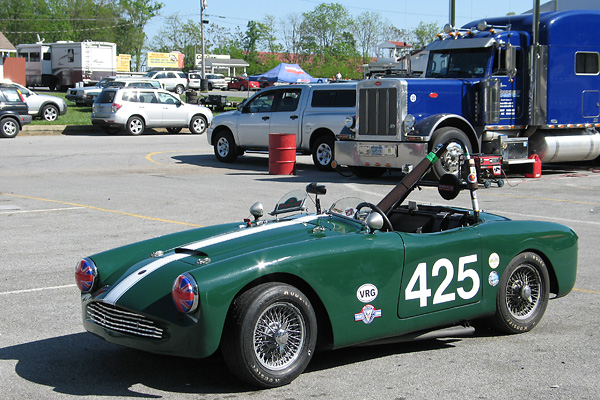 This photo is from the 2010 Jefferson 500, held at Summit Point West Virginia, but we also saw
Paul and his Turner more recently at the 29th annual Lime Rock Historic Festival in September
2011. Paul lapped that historic little 1.51 mile racetrack in 1:10.534, which works out to a
very quick 77.35mph. Paul finished sixth place of 32 in both of Saturday's Group 3 races.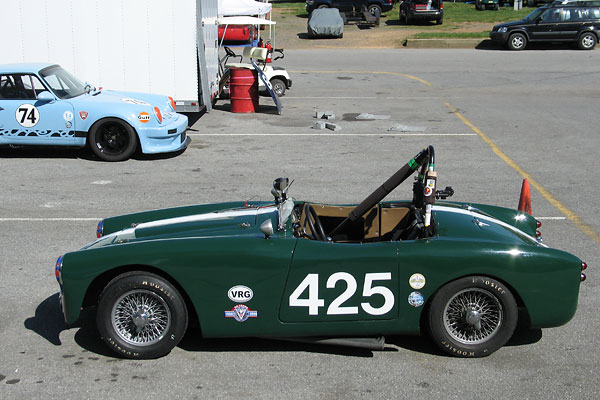 Jack Turner: born April 1st 1916, died March 7th 2011.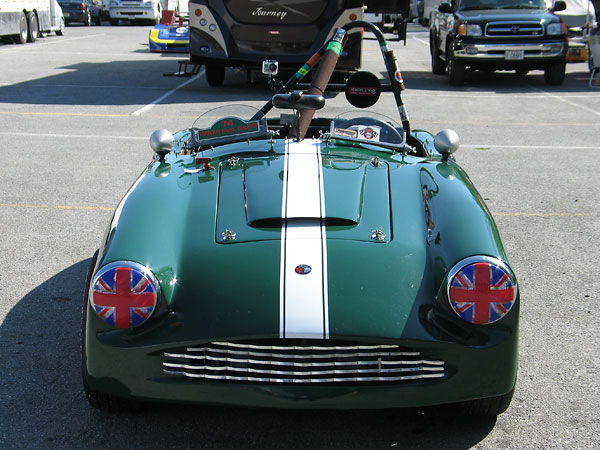 At the 2006 Pittsburg Vintage Grand Prix, Paul won the under-one-liter (Group 1) race!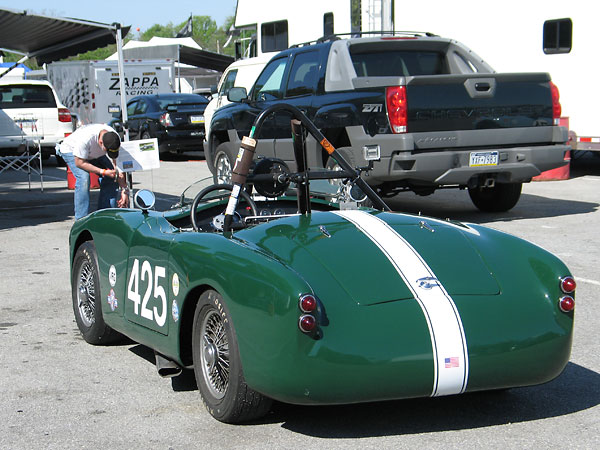 Turner car bodies are almost entirely fiberglass, with the notable exception of (aluminum) door skins.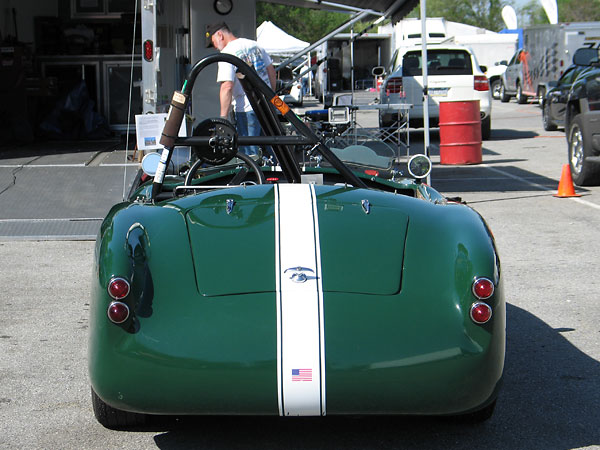 The Turner Mk1 was direct competition for the Austin Healey Sprite. One advantage of the Turner was
that it came with a boot lid. On a Mk1 Sprite, luggage has to be tucked in from behind the seats.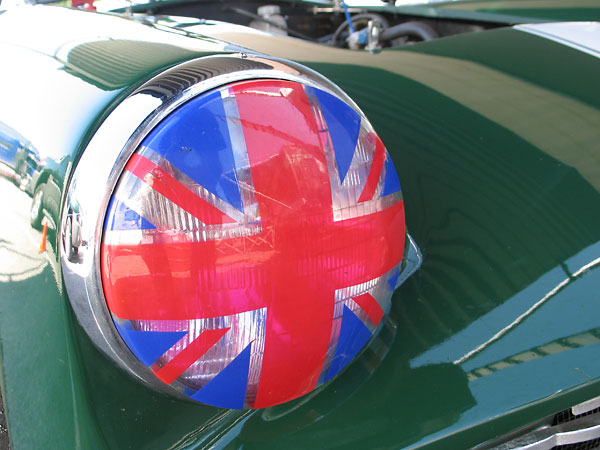 Historically, sportscar racers have taped over their headlamp lenses so broken glass
will be easier to clean up in the event they get smashed. Paul does the job with style.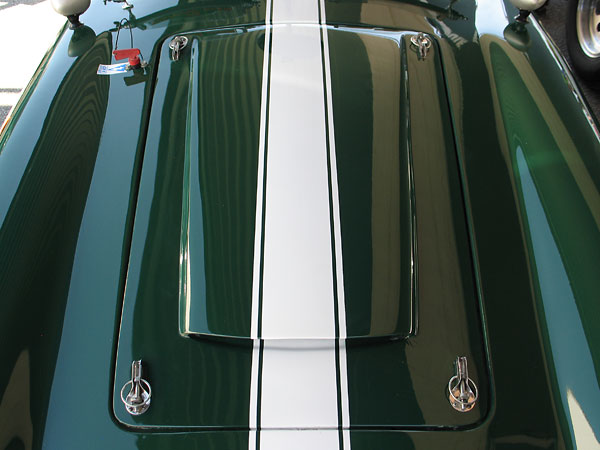 The bonnet is mounted on four OMP aluminum hood pins.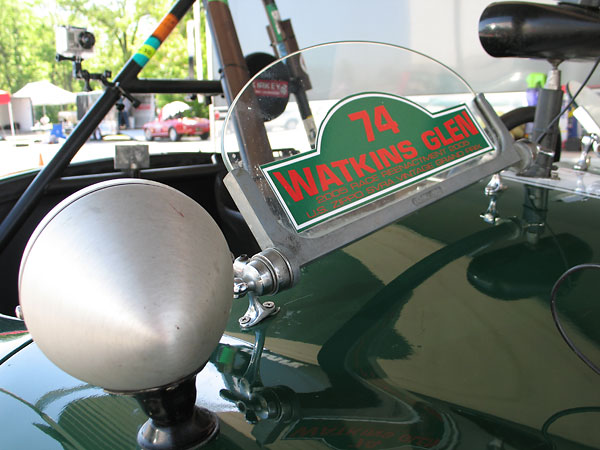 The decal on the passenger side Brooklands windscreen reads: "74 - Watkins Glen
2005 Race Reenactment - U.S. Zippo SVRA Vintage Grand Prix"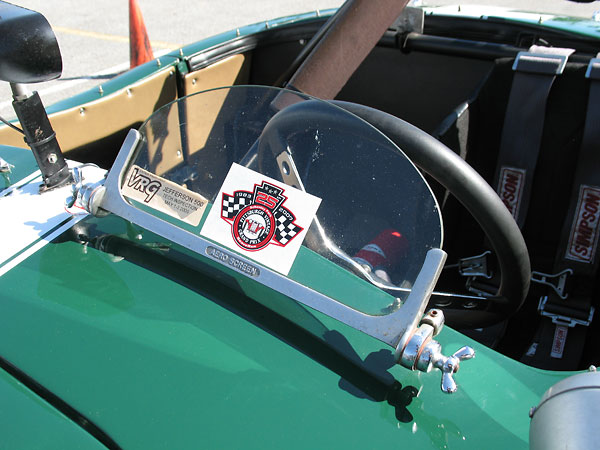 The decals on the passenger side Brooklands (Aero Screen) windscreen read:
"VRG Jefferson 500 Tech Inspection - May 1-3, 2009" and
"25th Pittsburgh Vintage Grand Prix - 1983-2007 - Shenley Park / BeaveRun"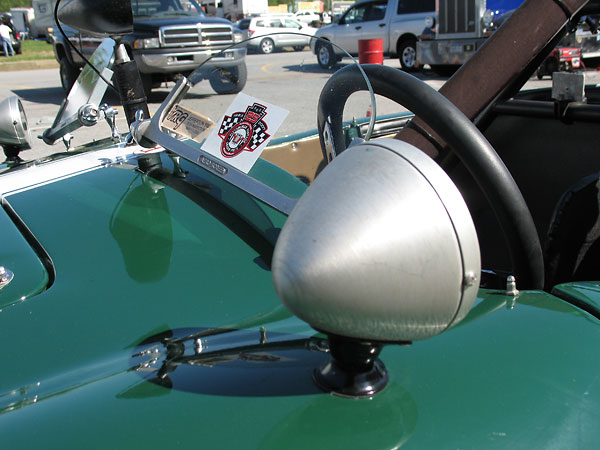 GT Classic side view mirror.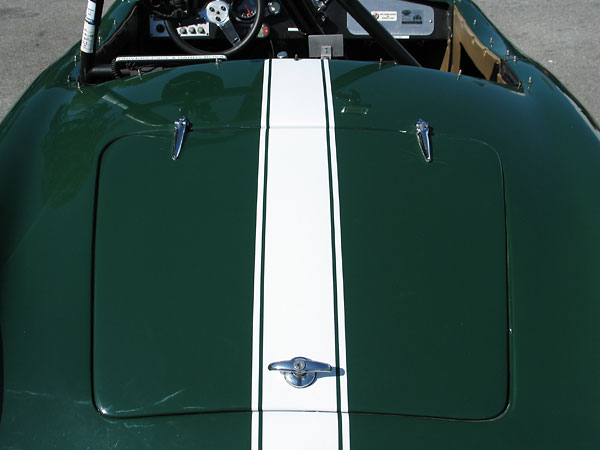 Turner Mk1 boot lid.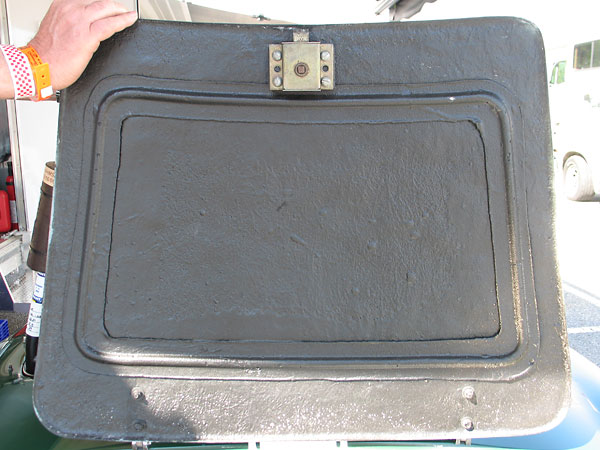 Boot lid, opened for access to the fuel cell.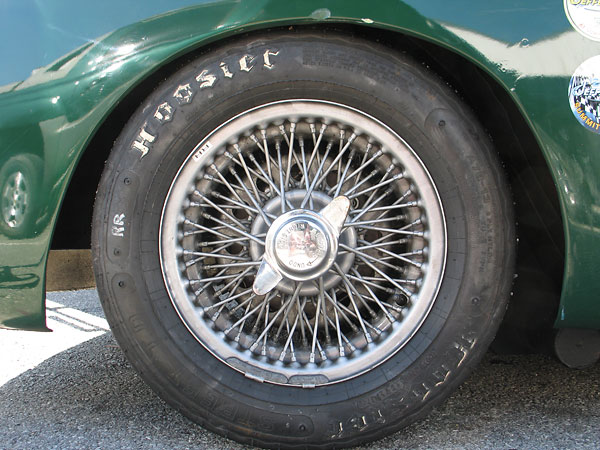 Dunlop 72-spoke wheels.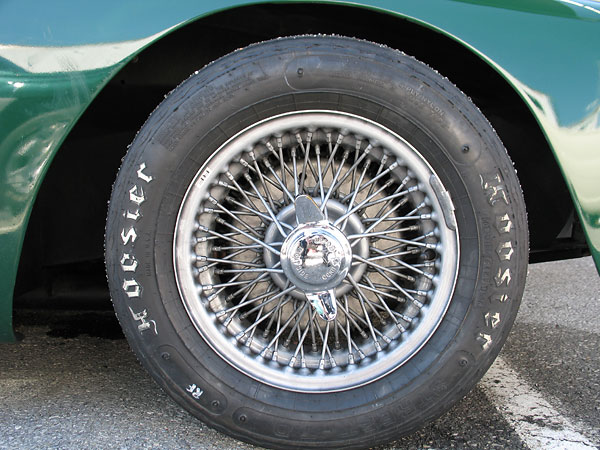 Hoosier Street T.D. tires (A70-13).


Except for the very first photo at the top of the article, all photos shown here are from April 2010 when we viewed the Turner Mk1 at VRG's Jefferson 500 at Summit Point Motorsports Park in West Virginia. The other photo is from the Lime Rock Historic Festival of September 2011. All photos by Curtis Jacobson for BritishRaceCar.com, copyright 2012. All rights reserved.



Notice: all the articles and almost all the photos on BritishRacecar.com are by Curtis Jacobson.
(Photos that aren't by Curtis are explicitly credited.) Reproduction without prior written permission is prohibited.
Contact us to purchase images or reproduction permission. Higher resolution images are optionally available.