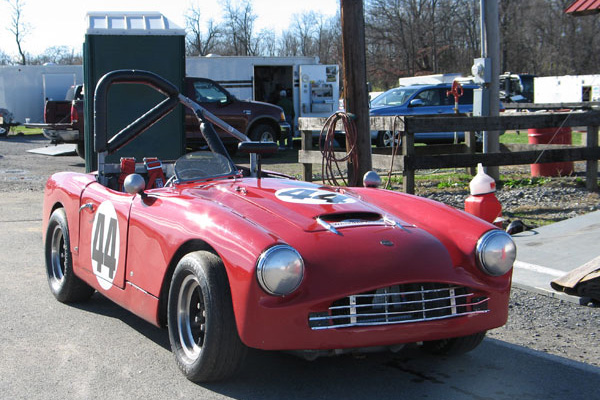 Vic Schuster's Turner MkIII Race Car, Number 44
Owner: Vic Schuster
City: Kennet Square, Pennsylvania
Model: 1965 Turner MkIII
Engine: Ford "Kent" 1500 engine
Turner Sports Cars Ltd.
Turner Sports Cars Ltd. produced lightweight sports cars from late 1954 to early 1966. Before that, company founder John (Jack) Henry Turner had been an enthusiastic racer. He'd already built a diverse assortment of one-off racecars and even a couple small engines of his own design. In a 1949 advertisement, Turner advertised "castings in light alloy" and "manifolds made to blueprint".

Jack Turner's first racecar was a supercharged MG Magnette that he converted into an aluminum-bodied "special" and entered in hillclimb competitions. As a confirmed MG enthusiast, Jack Turner comprehended the niche that opened when MG discontinued their TD model. Building custom racecars hadn't provided a comfortable lifestyle, so he turned his considerable entrepreneurial energy to developing an economical sports car based on the Austin A30.

| | | |
| --- | --- | --- |
| Turner Sports Cars featured notably rigid frames constructed of large diameter steel tubes. (A fiberglass monocoque GT model was the exception that proved the rule, but only nine Turner GT's were built.) Turner front suspensions featured dual wishbones and coil springs. Torsion spring rear suspension was standard equipment, but helical springs were later offered as an option. Most Turner sports cars came with fiberglass exterior bodywork, although the first prototype had an aluminum body and some Turners are known to have been constructed with steel bodies of similar appearance. | | (Turner promotional illustration) |
Turner Sports Cars produced both completed cars and unassembled kits (from about October 1958). Most of the completed cars were for export to the United States, whereas the kits became popular with British enthusiasts who were keen to avoid value added tax. It's difficult to determine with precision the company's production but the total number was likely between 550 and 650 cars, divided over six models as follows:

| | | | |
| --- | --- | --- | --- |
| | Model | Production | Notes |
| | "803" | ~70-80, from 1954 | aka "A30", featured an Austin 803cc engine. |
| | "950S" | ~170, from 1956 | aka "A35" or "950 Sports", featured an Austin 948cc engine |
| | Sports Mk1 | ~40, from 1959 | Austin 948cc or Climax (FWA 1097cc or FWE 1216cc) engines |
| | Sports Mk2 | ~150, from 1960 | Austin, Climax, or Ford (105E 997cc or 109E 1340cc) engines |
| | GT | 9 (1962-64) | Ford 1498cc engines. Fiberglass monocoque construction. |
| | Sports Mk3 | ~100, from 1963 | Ford 1498cc engines. |
The per-model production estimates are consistant with Turner's chassis numbering system. Some sources quote higher production figures, particularly for the Sports Mk2 era, and the difference may possibly be attributed to vague records on the kit-car side of Turner's business.

Describing specific differences between Turner models is outside the scope of this article, but in terms of styling one can summarize that the "Sports MkI" model brought a more streamlined and refined appearance. The MkII and MkIII continued with the same basic look. One small distinguishing styling feature of the MkIII was its forward-facing hood scoop, but what really made the MkIII model distinctive was its 1.5L Ford engine.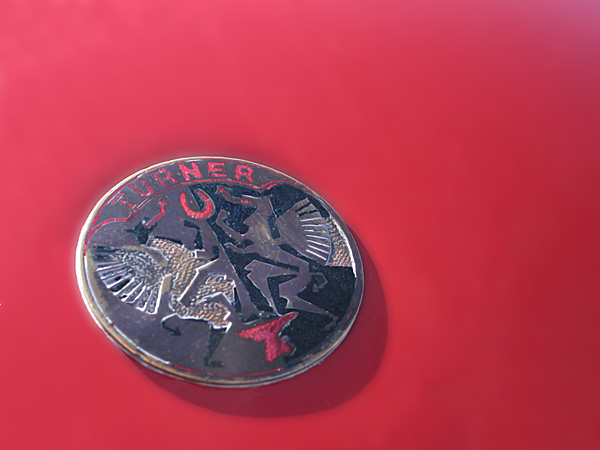 Turner Badge. The horseshoe and anvil motifs came about because the company's first premises
had been converted from previous service as a blacksmith shop.


Probably the most famous Turner enthusiast is pop music icon and actress Petula Clark. You know her big hit: "Downtown". Ms. Clark has owned two Turners.

The Turner Register has positively identified about 317 intact cars. That's a remarkable number, especially considering that a large proportion of Turner sports cars were actively raced.

Turners have competed in various Sports Car Club of America classes. One particularly successful Turner MkIII was driven to SCCA Runoff F-Production championship victories by Larry Moulton in 1984, 1986, and 1989. Other Turners have participated in the SCCA Runoffs as recently as 2006.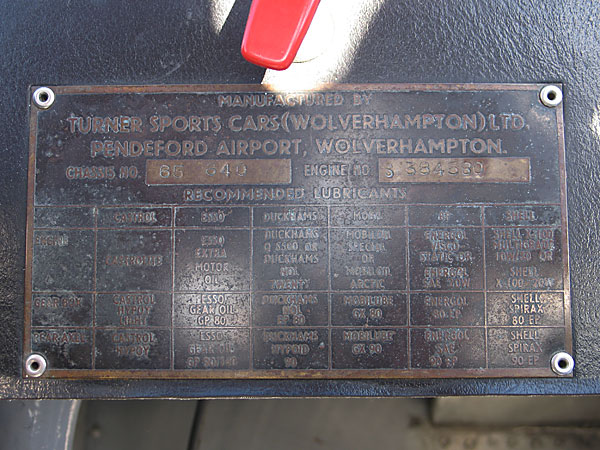 Manufactured by Turner Sports Cars (Wolverhampton) Ltd.
Pendeford Airport, Wolverhampton.
Chassis No. 65 640, Engine No. S 384580


Enjoying this article? www.BritishRaceCar.com is partially funded through generous support from readers like you!
To contribute to our operating budget, please click here and follow the instructions.
(Suggested contribution is twenty bucks per year. Feel free to give more!)
Vic Schuster's Turner MkIII
Turner MkIII chassis number 65/640 was originally exported to Fergus Fine Cars of New York. Its complete forty-five year history isn't known, but at some point it was owned by Dave Dexter, who had purchased it from a friend. During Dave Dexter's time, the car evolved into an SCCA F Production racer. It was painted yellow and it wore racing number "21".

Another owner, Steve Garrett, had Turner 65/640 prepared for vintage racing in 1999. This was Mr. Garrett's third Turner, but the others were earlier models which he raced in Vintage Sports Car Club of America events. (Turner MkIII's aren't eligible to race in VSCCA events.) Mr. Garrett never raced chassis number 65/640, and it was instead sold to Ken Chevas, who did race it.

The Turner has found a great home with Vic Schuster, who has owned it since 2003. Vic has raced his Turner MkIII in 35 events in the past six years!

Vic reports that the engine is good to over 7000rpm. Like any competitive race engine, it needs to be rebuilt from time to time. Vic has quite successfully completed the last three rebuilds himself! He buys parts for the engine from Dave Bean Engineering, where Tom Smith is great to work with. He also highly recommends Jess Miller Speed Shop in West Chester Pennsylvania for machine work and any sort of fault diagnosis.

One especially interesting feature of chassis 65/640 is that both its front and rear clips are hinged for easy access to mechanical components. By pulling hinge pins, all of the exterior bodywork can be removed in a couple minutes. This is certainly not a typical feature of Turners. It's unknown when the body was modified in this manner.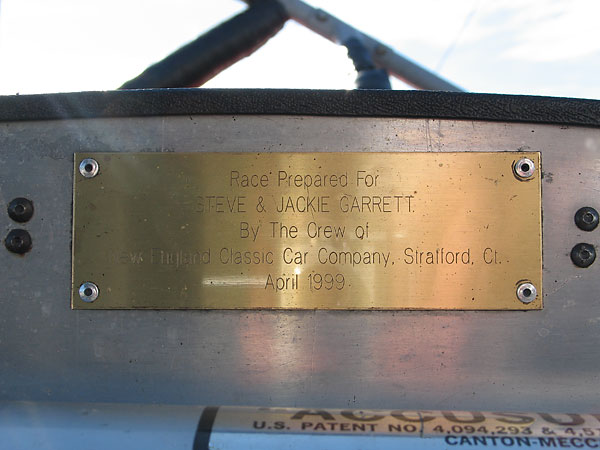 Race Prepared for Steve and Jackie Garrett, By the Crew of
New England Classic Car Company, Stratford CT. April 1999


Features and Specifications
Engine:
Ford pre-crossflow Kent 1500 engine. Ford 2731 crankshaft, Lotus (Ford) 125E connecting rods, and JE forged pistons. Approximately 12.6:1 static compression ratio. Dave Bean Vintage Race camshaft (0.310" lift). Standard rockers and upgraded (steel) posts and shafts. Dual Weber 40DCOE-15 carburetors with K&N air filters. Pertronix Ignitor breakerless ignition. Lucas Sport ignition coil. Pertronix 600 digital rev limiter. Wet sump lubrication system. Accusump oil accumulator, with electrically operated valve. Alloy valve cover.

Cooling:
copper/brass radiator. Gilmer drive water pump. Electric fan. Serck oil cooler (SHT Ltd. part# 7011217).

Exhaust:
custon tri-y header. (No muffler.)

Transmission:
Ford 2000E ("Bullet") 4-speed gearbox with Quaife straight cut, close ratio gears. Stock Ford Cortina clutch.

Rear End:
Austin Healey Sprite rear axle, with 4.2:1 gear ratio and welded differential.

Front Susp.:
Triumph Spitfire hubs and (Alford & Alder, forged) uprights. Triumph Herald steering rack, shortened. Custom fabricated upper and lower A-arms in lieu of the Triumph A-arms the car was originally built with. Carrera coilover shock absorbers. Custom anti-sway bar.

Rear Susp.:
custom three-link rear suspension with Koni coilover shock absorbers. Panhard rod. Custom adjustable rear anti-sway bar.

Brakes:
(master) NABCO (Nippon Air Brake) dual circuit master cylinder,
(front) Triumph Spitfire rotors and calipers,
(rear) Austin Healey Sprite drums.

Wheels/Tires:
Revolution 13x5 aluminum wheels. Hoosier Street T.D. A70-13 tires.

Electrical:
(switches, left to right) fuel pump, ignition, electric fan, Accusump, fire system, starter (pushbutton). Lead acid battery. Gear reduction starter. (No charging system.)

Instruments:
(center of dashboard, clockwise from top left) Stewart Warner fuel pressure gauge (0-16psi), Stewart Warner oil pressure gauge (0-100psi), Stewart Warner water temperature gauge (100-265F), Stewart Warner oil temperature gauge (180-325F). (Behind steering wheel, left to right) Stewart Warner "Maximum Performance" tachometer (0-10000rpm), Smiths speedometer (40-140C).

Fuel System:
8 gallon ATL fuel cell. Aero Supply Manufacturing Company fuel filter (Assem. 93916-1). Dual Bendix fuel pumps. (These are the precursor to the now more widely known Facet pump.)

Safety Eqmt:
G-force six point cam-lock safety harness. Lifeline Zero 2000 foam-extenguishant centralized fire suppression system.

Weight:
at least 1435#, to suit class requirements.

Racing Class:
SVRA 3DP.

Engine Installation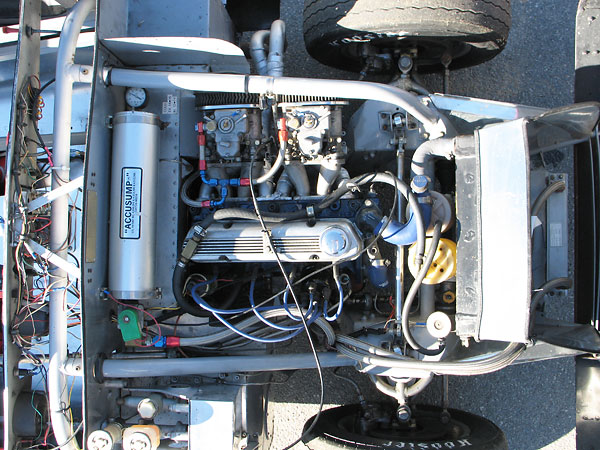 Ford pre-crossflow Kent 1500 engine. (Nominally 3.19" bore by 2.86" stroke, for 1498cc.)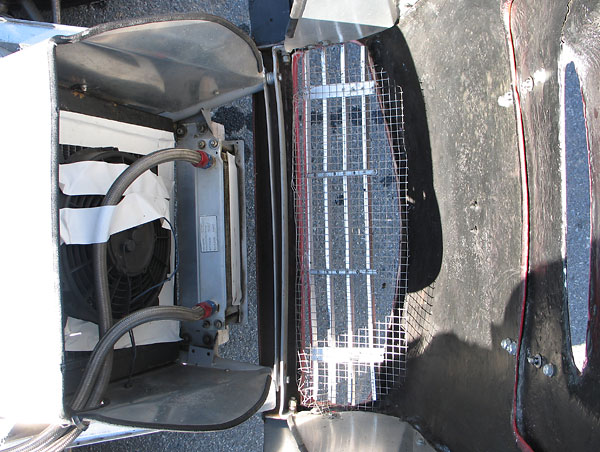 We photographed this car in chilly November. Radiator and oil cooler were taped-up for warmer operation.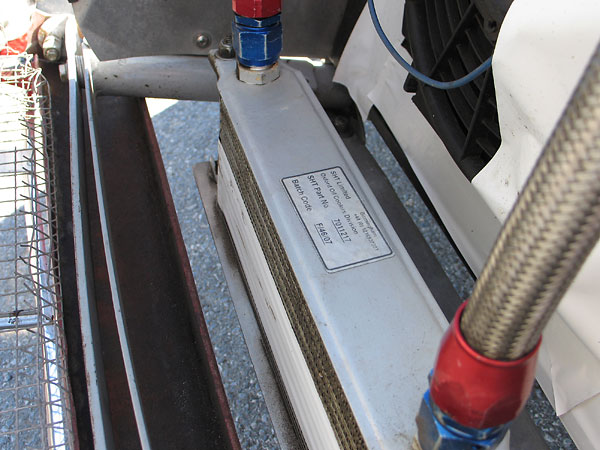 Serck oil cooler (SHT Ltd. part# 7011217).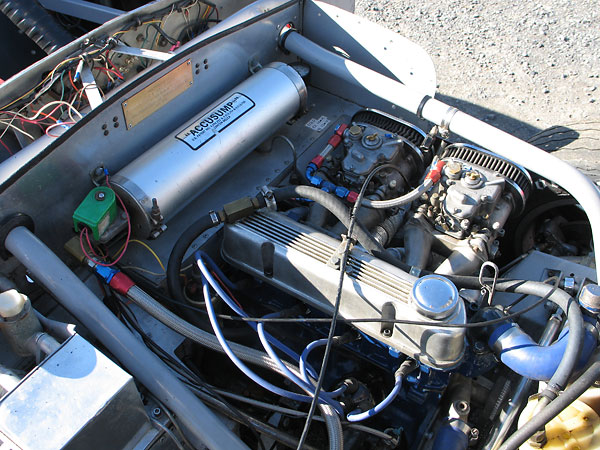 Accusump oil accumulator, with electrically operated valve.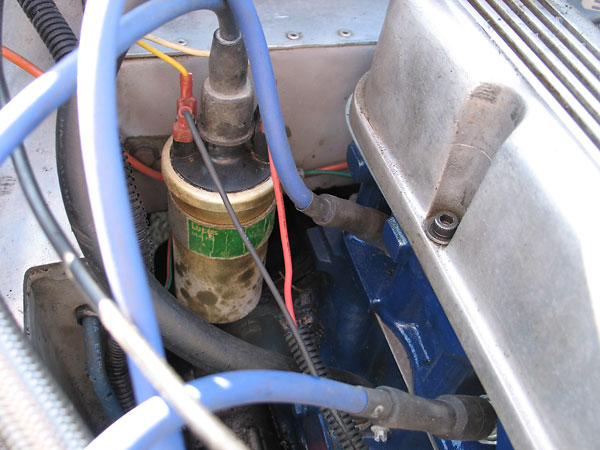 Lucas Sport ignition coil.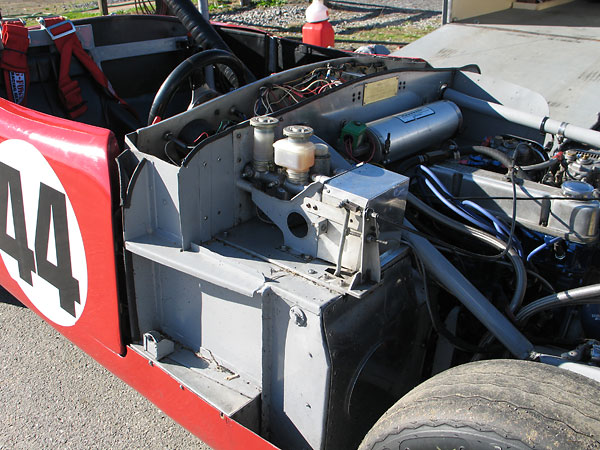 NABCO (Nippon Air Brake Co.) dual circuit master cylinder.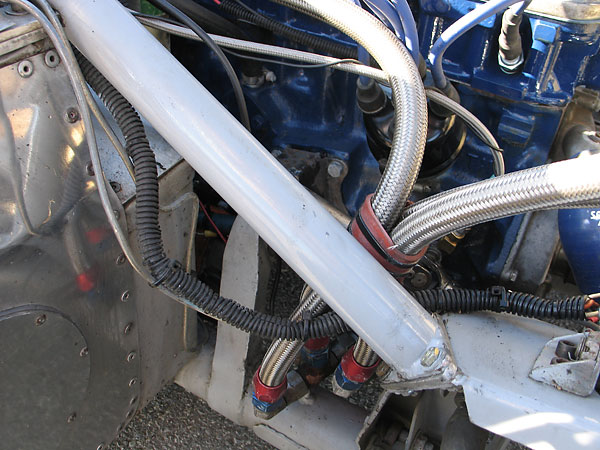 Ford Kent engines feature an externally-mounted, combination oil filter and pump assembly.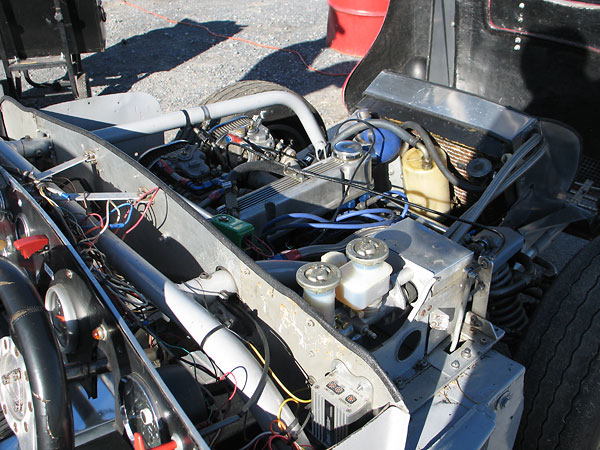 A Pertronix 600 digital rev limiter is mounted on the firewall. (At Summit Point, it was set at "7100rpm".)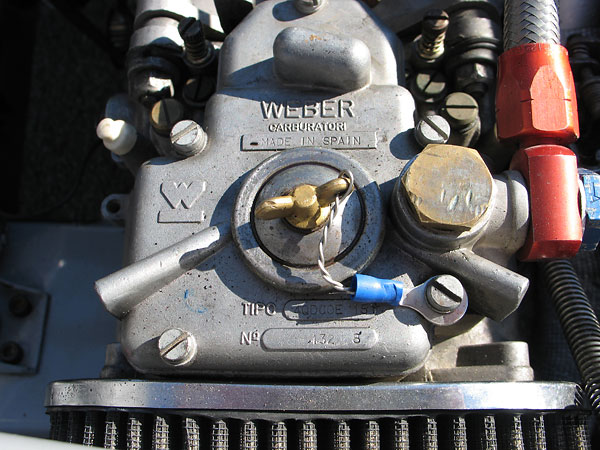 Dual Weber 40DCOE-15 carburetors with K&N air filters. (Note: they carbs are marked "Made in Spain",
indicating they were produced after production moved from Bologna Italy to Madrid in about 1990.)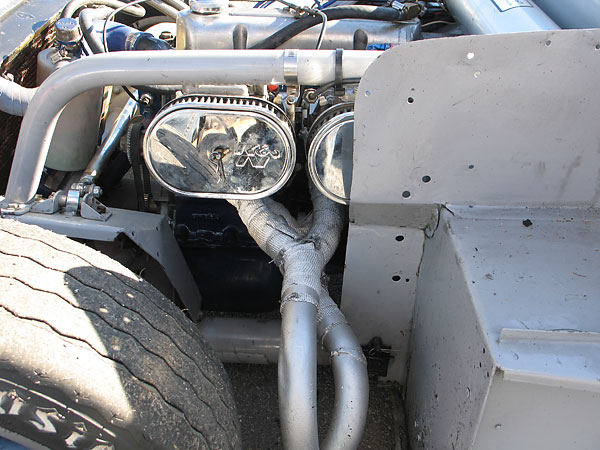 Custon tri-y exhaust header.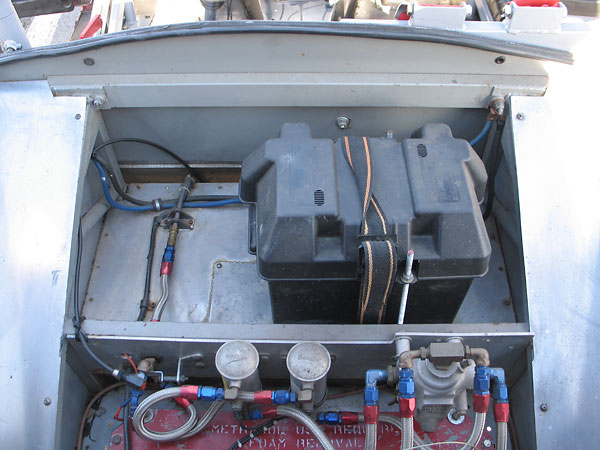 A large lead-acid battery is mounted in a marine battery box, behind the seat.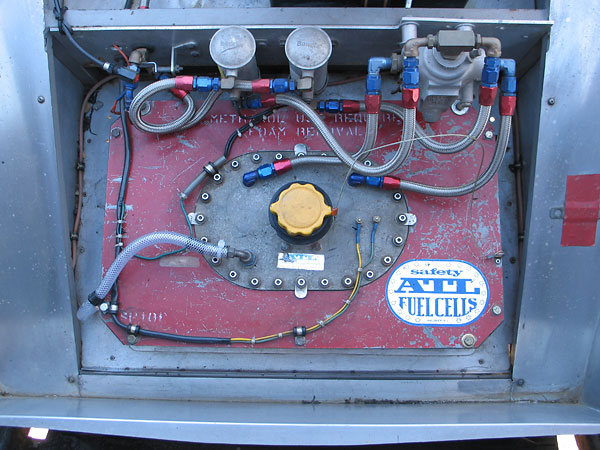 ATL fuel cell (eight gallon).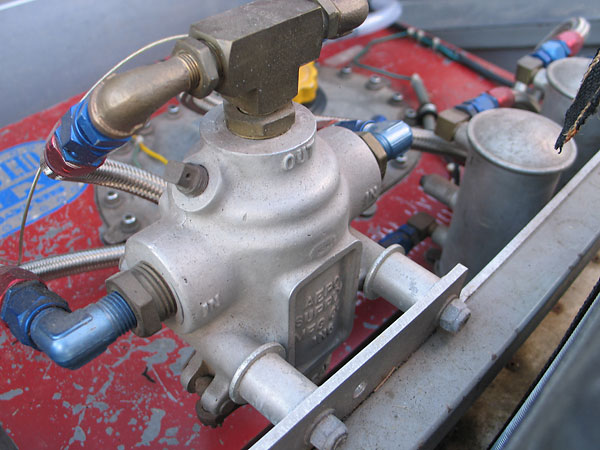 Aero Supply Manufacturing Company fuel filter (marked "Assem. 93916-1"). The company was located on
Long Island, and claimed to be "The oldest aviation accessory enterprise in the country"... until going
out of business in 1931, an apparent victim of the great depression.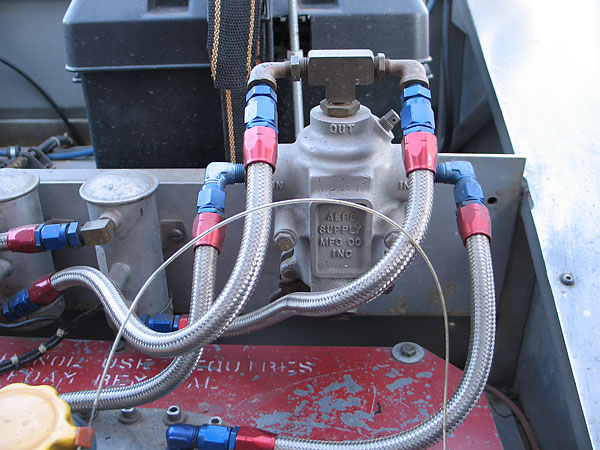 Aero Supply Manufacturing Company had been purchased in 1929 by a former General Motors President,
John Jacob Raskob, who had resigned from GM to manage the 1928 presidential campaign of New York
Democratic Governor Al Smith. How this pre-war airplane part turned up on a 1965 Turner MkIII is a
mystery, as is its full functionality. (It's plumbed on the wrong side to work as a pressure regulator.)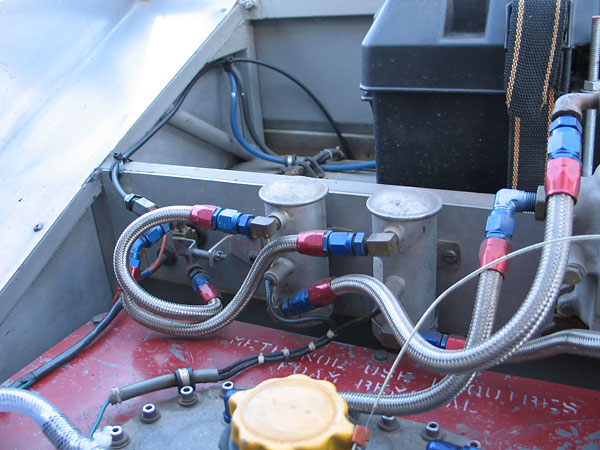 Dual Bendix fuel pumps. Pumps of this pattern have been marketed under the "Facet" trademark for years.



Front Suspension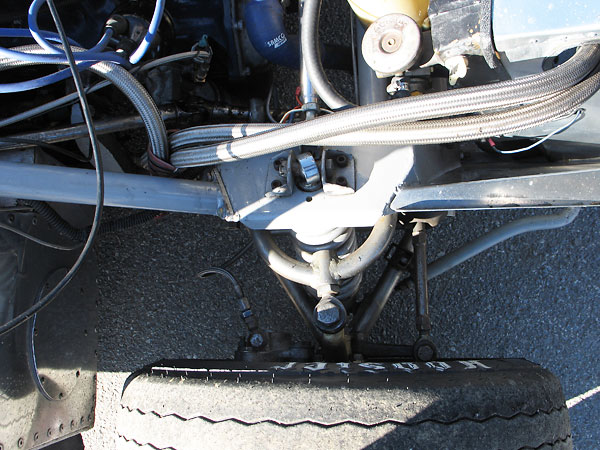 Custom fabricated upper A-arm, in lieu of the Triumph A-arm the car originally came with.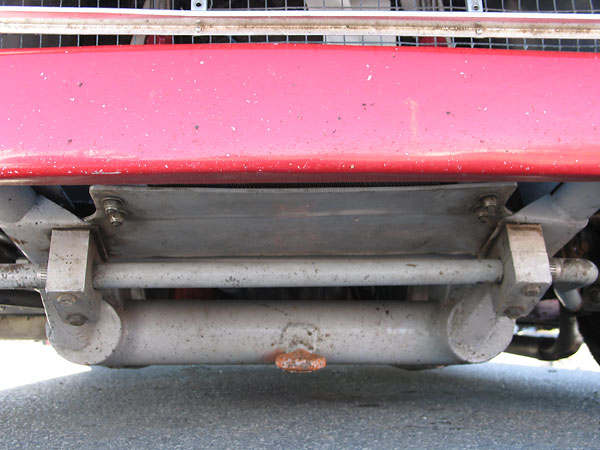 Turner's distinctively featured ladder frames constructed of large diameter steel tubes.
(Here, a tow ring has been welded to the frame.)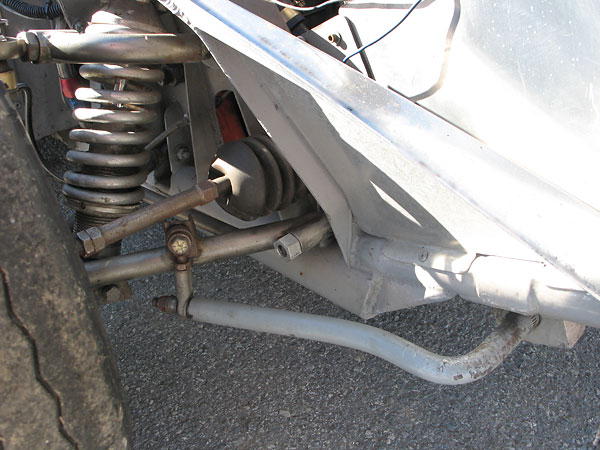 Anti-sway bar.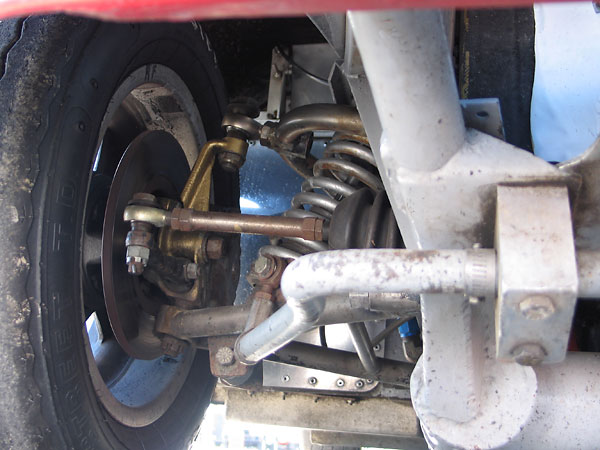 Custom fabricated lower A-arms.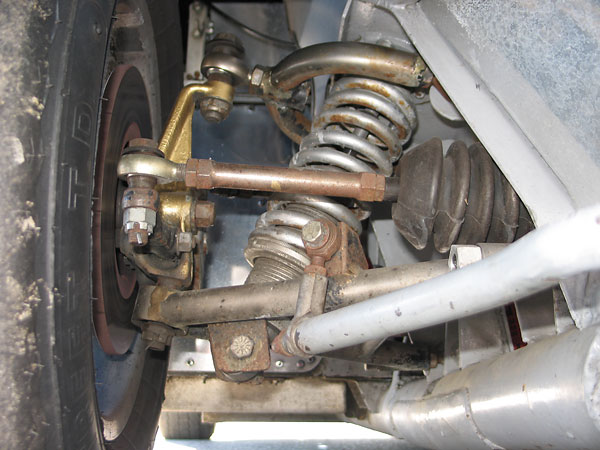 Carrera coilover shock absorbers.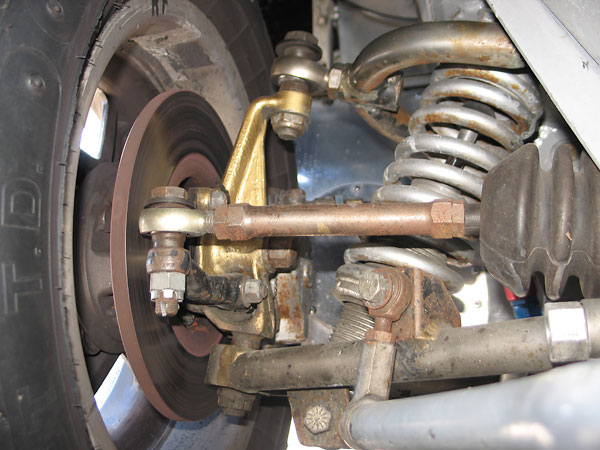 Alford & Alder forged uprights have been used on many different models of British sports and racing cars
starting with the Standard Eight saloon. Shown here, painted gold, essentially the same part was used on
everything from Triumph Heralds to Brabham's 1966 Grand Prix championship winning car. When updated
for the Herald, a reinforcing web was added. The Spitfire version has mounting ears for disc brake calipers.


Rear Suspension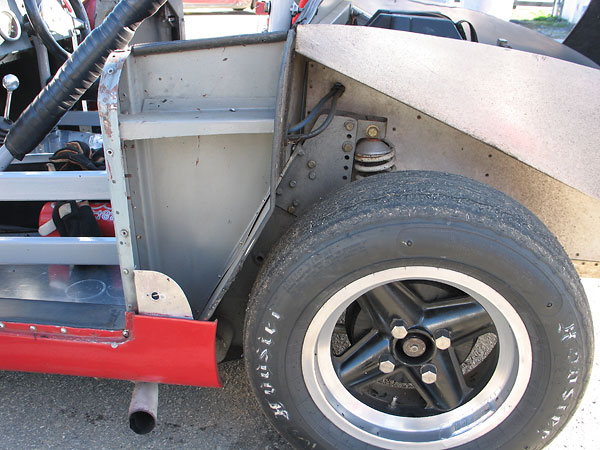 Back in the day, Turner offered a choice between helical or torsion springs at the rear. Mounting
brackets on the chassis for torsion springs are visible in the photos below. However, here we see how
Vic's custom adjustable mounting brackets facilitate use of various length coilover shock absorbers.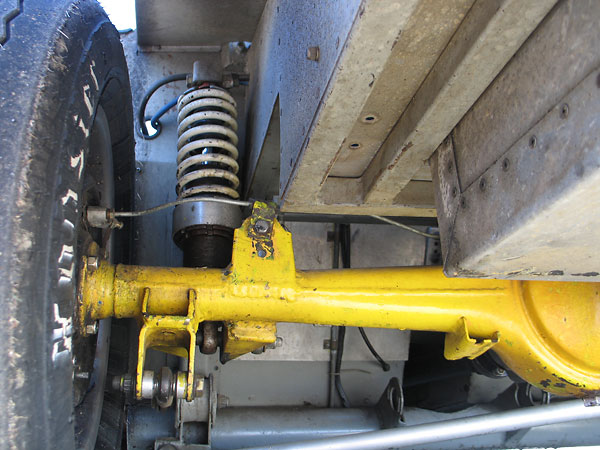 Turner originally installed four link rear suspensions. The term "four link" refers to the characteristic
trailing radius rods which connect the axle to the chassis: two rods below the axle and two above, but all
four rods were mounted as far outboard as feasible. Vic Schuster's MkIII instead features a three link
rear suspension, with a single upper radius rod attaching to the chassis above the driveshaft tunnel.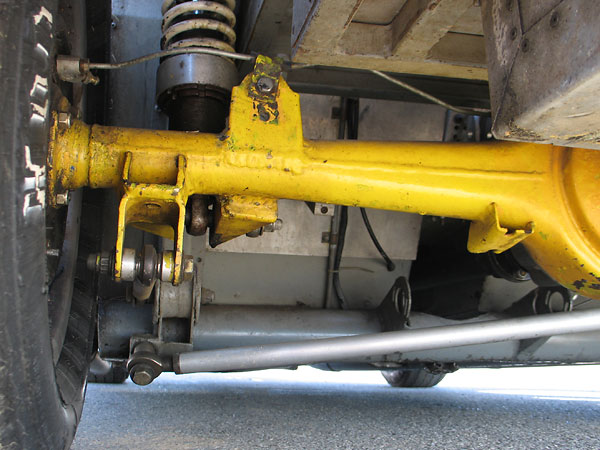 Most three link and four link rear suspension are supplemented by transversely-mounted Panhard rods,
which restrict side-to-side motion of the body relative to the axle. The Panhard rod shown here is
very similar to Turner's original design. It appears to mount to the chassis at the original point.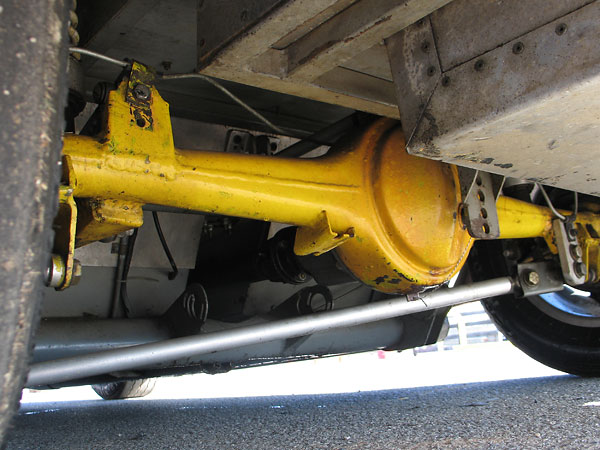 At some point in this car's history the Panhard rod was removed and replaced by a Watt's linkage.
The SVRA supplemental rules for Turner Sports Cars explicitly approve use of Panhard rods, but they
don't mention Watt's linkages. The mounting brackets for a Watts linkage are clearly visible here -
two on the axle and one on the chassis behind the differential - but a Panhard rod has been retrofitted.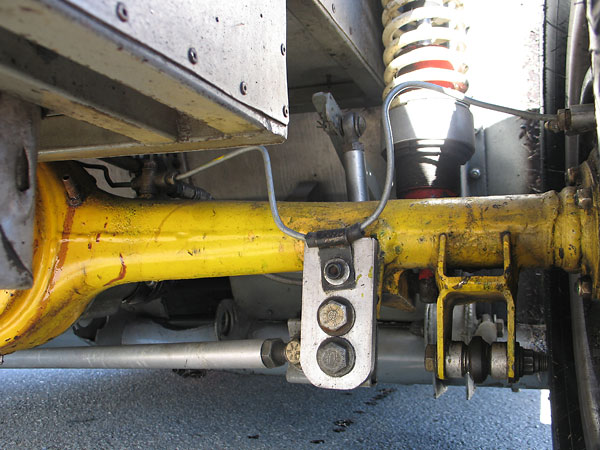 Panhard rods don't just restrain sideways movement of the rear axle relative to the car's body.
Their vertical location largely determines the suspension's roll center. In Turner installations the
Panhard rod is mounted rather low, which achieves a low roll center height. Increased distance
from roll center to center of gravity height (i.e. increased "roll couple") would result in
increased body roll in turns, but a rear anti-sway bar helps manage that side effect.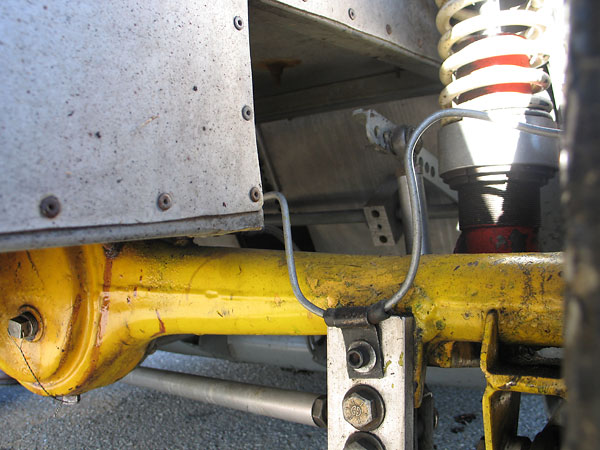 The custom anti-sway bar's stiffness is adjusted by changing attachment position along its lever arms.


Interior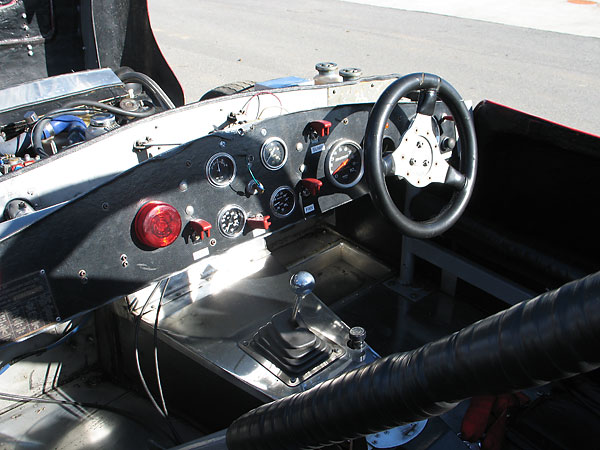 At first glance, instrument and switch layout recalls the original Turner MkIII configuration. The
instruments are now all by Stewart Warner, except for the original Smiths speedometer / odometer.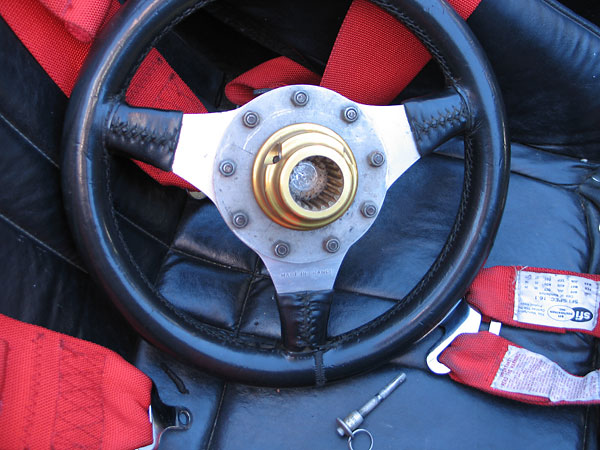 A pip pin secures the quick release steering wheel hub. This style is no longer available because some
race sanctioning organizations feel it is less safe. The steering wheel is marked "Made in France".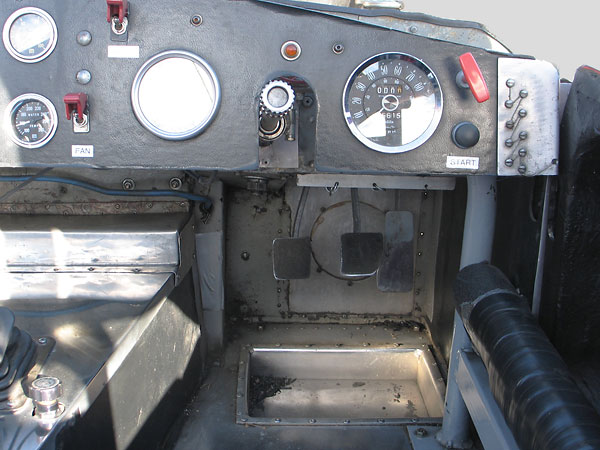 The transmission tunnel cover is removeable for convenient access for maintenance and repairs.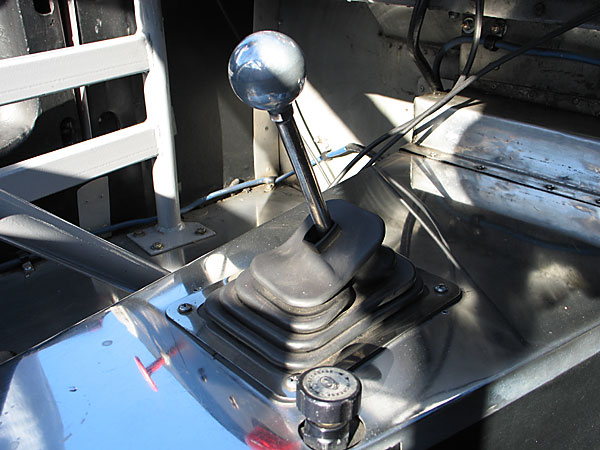 An adjustable brake proportioning valve remains where it was installed for SCCA racing.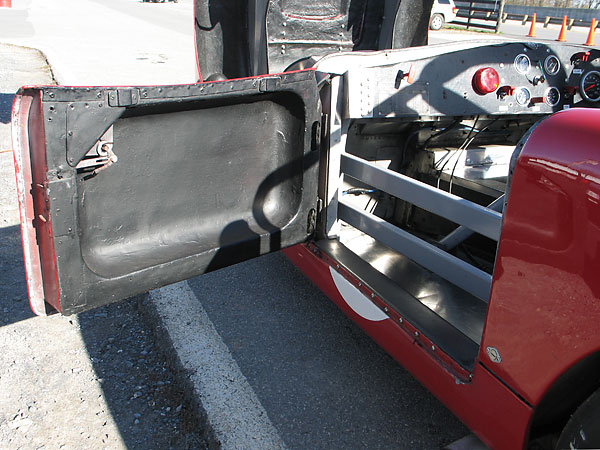 Lightweight fiberglass doors.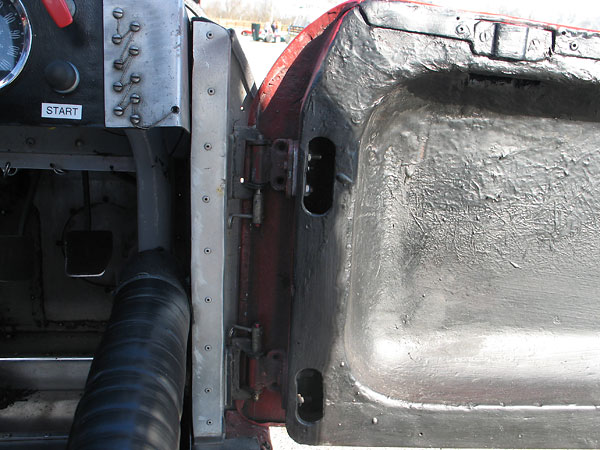 The doors are easily removeable because quick release "pip pins" have been used as hinge pins.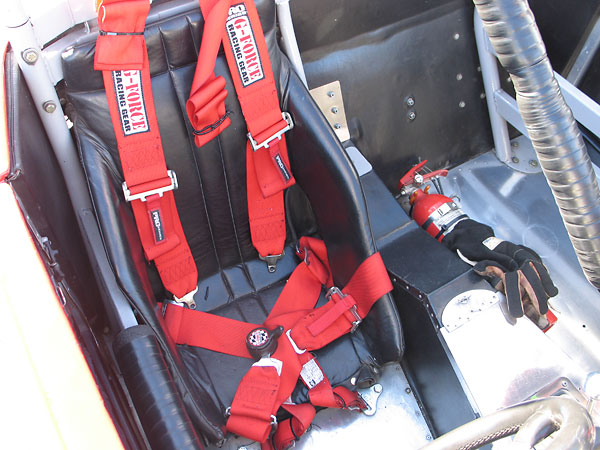 G-force six point cam-lock safety harness.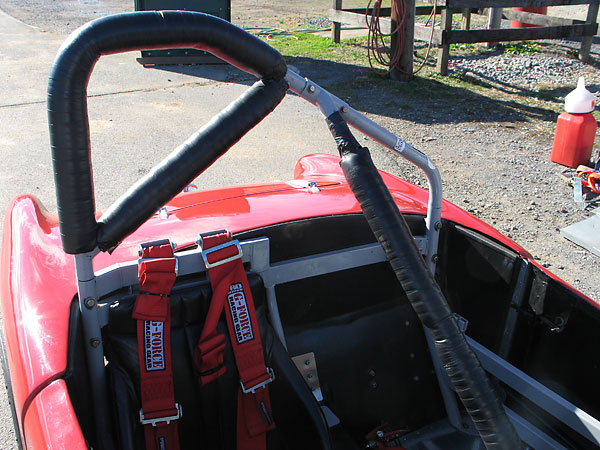 Shoulder strap mounting brackets.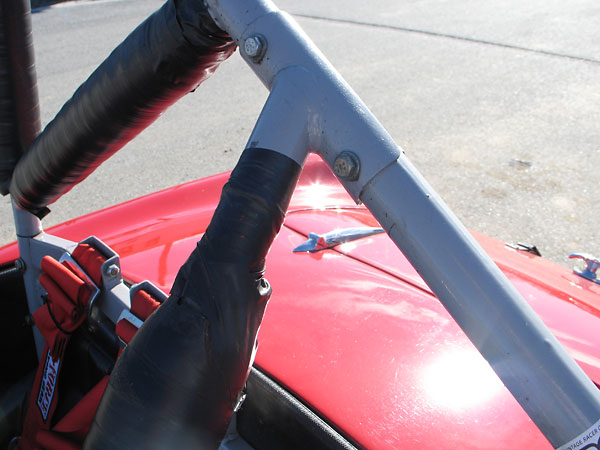 Upper mounting point of the removeable Petty bar.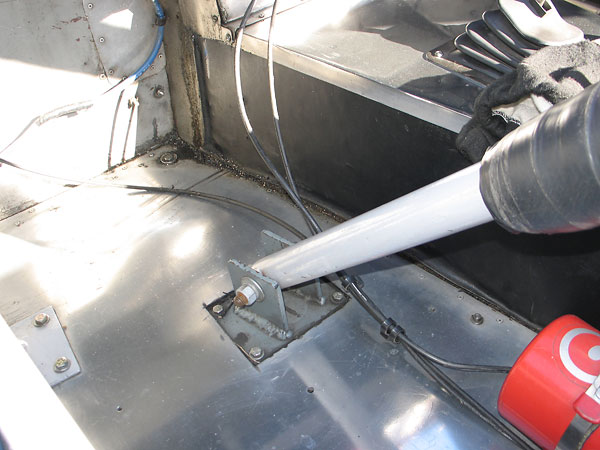 Lower mounting bracket of the removeable Petty bar.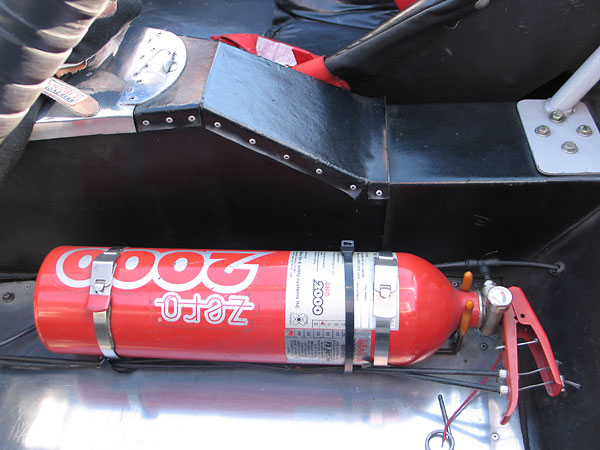 The Lifeline "Zero 2000" foam-extenguishant centralized fire suppression system has been
installed with two different cable-operated switches, one at either end of the dashboard.


Exterior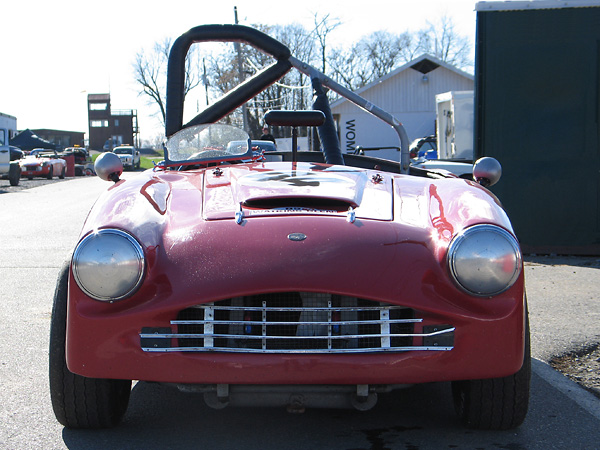 A little bit of negative camber.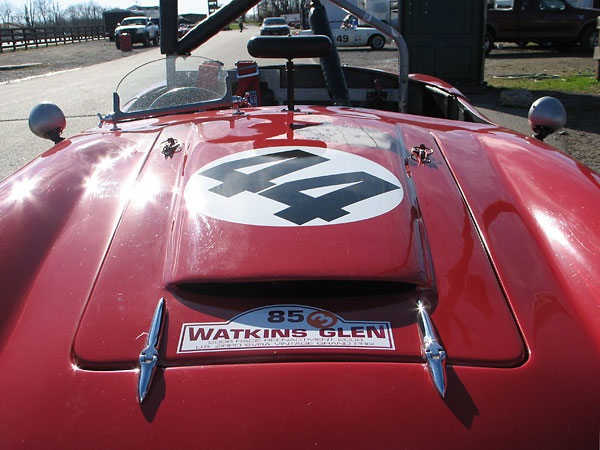 One distinguishing styling feature of the MkIII was its forward-facing hood scoop.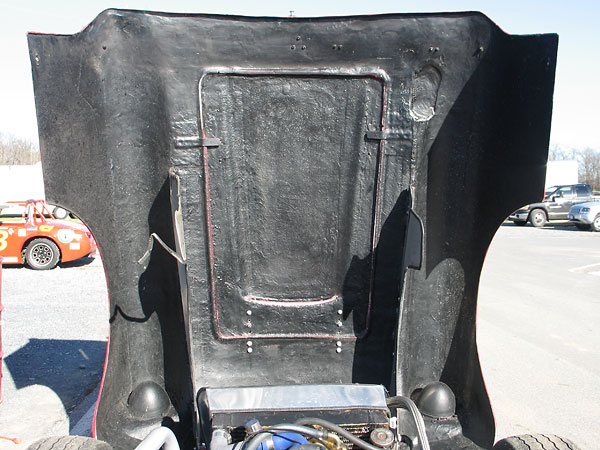 A major modification: the entire front half of the body hinges up for improved engine access.
This is very unusual. Larry Moulton's multi-championship winning MkIII didn't have this feature.
The Turner works race team's cars, back in the early sixties, didn't have this feature either.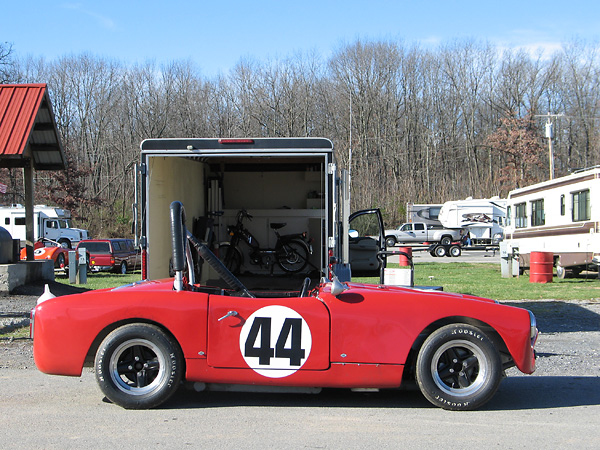 In this view you can see the Dzus fasteners that hold the front and rear body halves down.
(Hood pins or hold-down straps would be a worthwhile addition, especially for the rear clip!)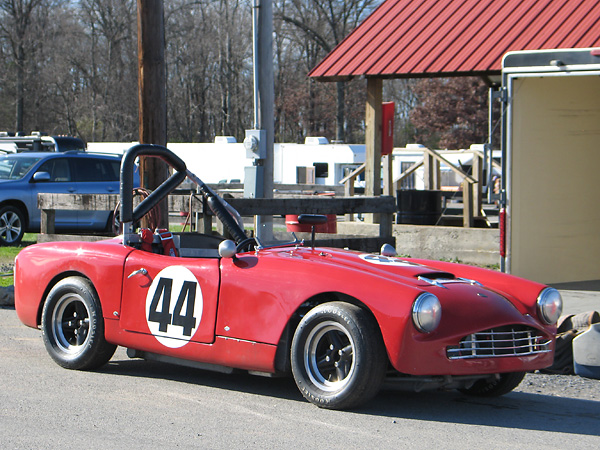 Turner built true sports cars. They weren't for sissies. If you care a lot about wind noise
warmth, staying dry on a rainy day... If you care at all about fancy trim, you needn't apply.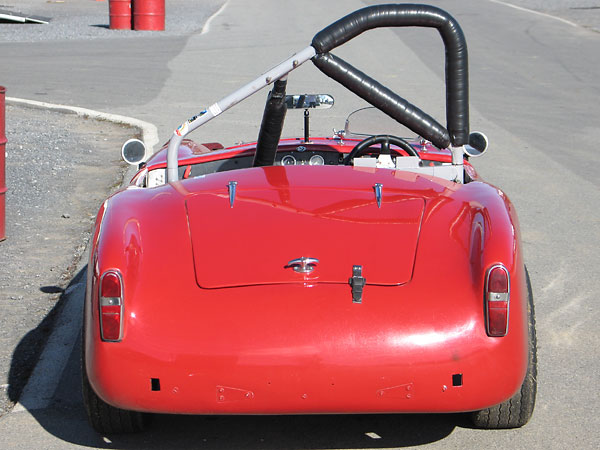 Turner Sports Cars had an excellent reputation for the quality of their fiberglass panels.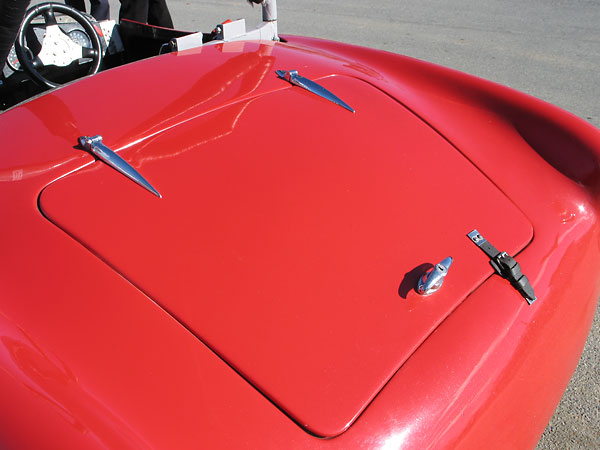 Alignment of bonnet and boot lids on this example are remarkably good despite its long racing history.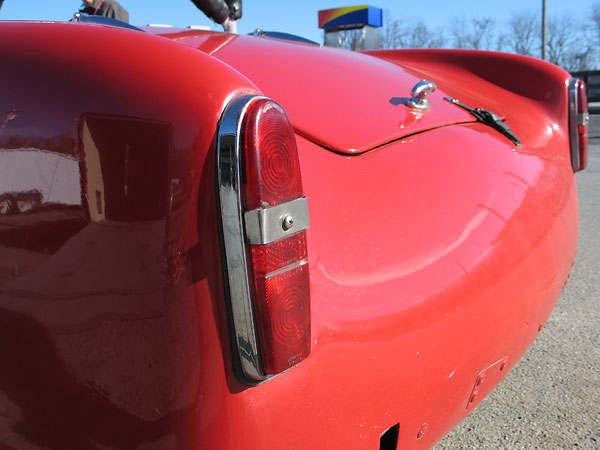 Apparently Turner switched between two different styles of taillight on the MkIII model.
This style, with truncated bottom, is from the Hillman Minx. The other popular taillight
was from Sunbeam Alpine/Tiger, and has a longer and more oval shape.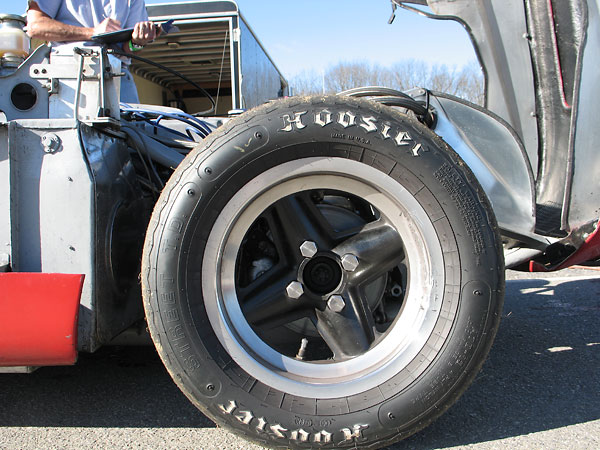 Revolution 13x6 aluminum wheels.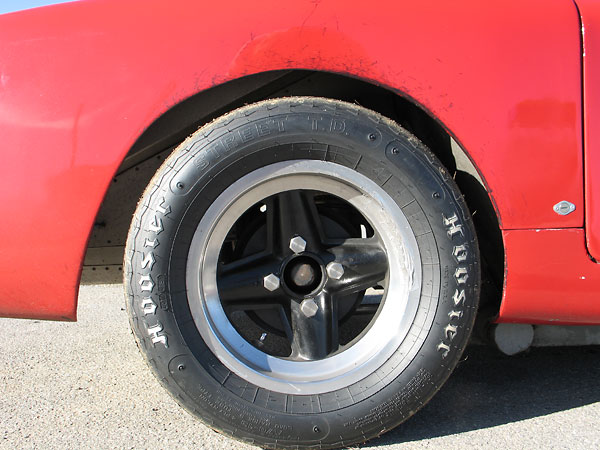 Hoosier Street T.D. A70-13 tires.


All photos shown here are from November 2009 when we viewed the car at VRG's Turkey Bowl at Summit Point Motorsports Park, West Virginia. Photos by Curtis Jacobson for BritishRaceCar.com, copyright 2010. All rights reserved.



Notice: all the articles and almost all the photos on BritishRacecar.com are by Curtis Jacobson.
(Photos that aren't by Curtis are explicitly credited.) Reproduction without prior written permission is prohibited.
Contact us to purchase images or reproduction permission. Higher resolution images are optionally available.