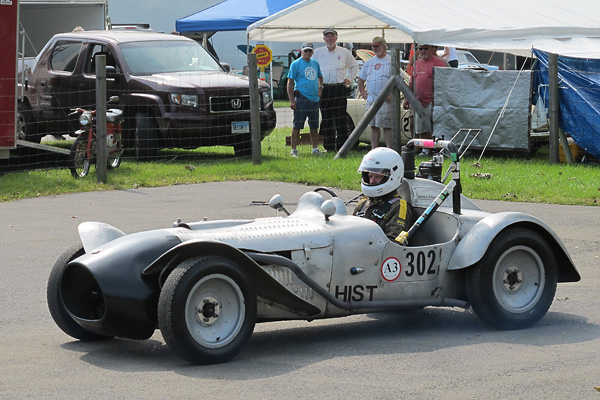 The Duncan Black / James Shoup Miller 1949 Lester MG
Owners: Doug Schirripa & Tom McCormack
City: Troy, New York
Model: 1949 Lester MG
Engine: 1958 MG 1.5L
Race prepared by: Schirripa & McCormack
Harry Lester and "The Monkey Stable"
Between 1949 and 1955, Harry Lester of Hertfordshire built about ten racecars based on MG drivetrain and chassis components but featuring stiffer and lower swept frames made from round tubing, streamlined bodywork, and larger engine displacements. Harry Lester was already a well established MG specialist and racer. Before World War II he had modified and raced an MG PB (serial number PB1237, registration number GUR 963) and after the war he resumed racing with an MG L-type Magna (registration number HRO 33) in 1948 and an MG TA (serial number TA2460, registration number KJH 114) in 1949. Throughout the era he also modified and race-prepared an unknown number of MG sports cars for his shop's customers, but Harry Lester's tube-chassis racers were his most distinctive and successful product.

The earliest racing appearance of a tube-chassis Lester MG racecar that we've been able to document was at Blandford on 27 August 1949. Harry Lester's entry that day was identified in race reports as a "Lester T51 MG" with registration number KUR 4. He finished in third place. Again with KUR 4, Harry placed third in a Members Handicap Race at Goodwood on 17 June 1950. Lester returned to Goodwood on 12 August, and this time drove KUR 4 to victory. During the 1951 season, race reports mentioned several different Lester MG racecars including KUR 4, Reg Croysdill's KRO 548 and Jim Mayers' NNK 526. Harry Lester and Pat Griffith both entered MG 6850 on occasion. Late in the season, KUR 4 was sold and shipped to North America where it was entered in at least two races before the end of 1951.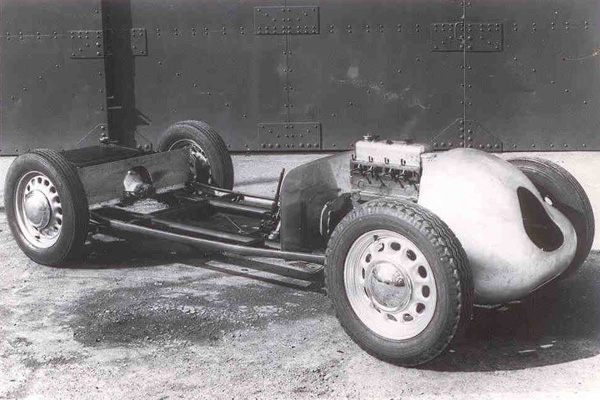 KUR 4 and subsequent Lester MG racecars feature lightweight, low-slung, round-tube frames.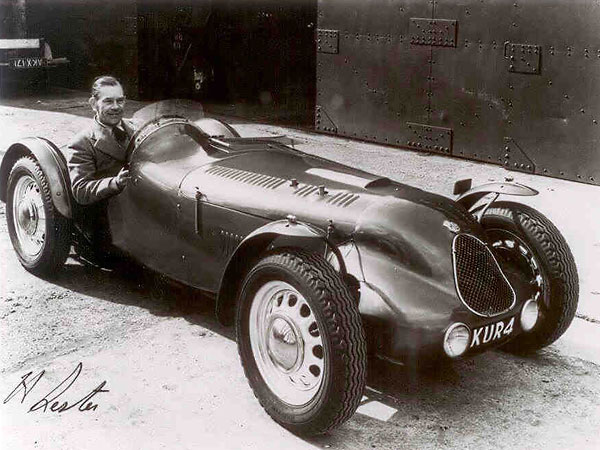 Harry Lester shows off his newly completed racecar: KUR 4.


Through this period, a partnership developed between Harry Lester and wealthy racing enthusiast Jim C.C. Mayers. Together, they entered Lester MG racecars in a number of British National races and their success and reputations grew together. For the 1952 racing season Lester and Mayers planned a three-car racing team which they called "The Monkey Stable." Their first season was notably successful within the class they competed: 1.5L Sports Cars.

Undoubtedly, The Monkey Stable's most memorable race was the heavily promoted, inaugural, BARC News of the World International Nine-Hour race at Goodwood. Running from 3pm until midnight, it was Britain's first after-dark endurance race. Many people remember this famous race as an eventful dual between Aston Martin, Jaguar and Ferrari works teams for the overall victory. However, The Monkey Stable managed an impressive sweep of the first three places in the under 1.5L class! Co-drivers Jim Mayers and Mike Keen finished sixth overall in NNK 526, co-drivers Gerry Ruddock and Rodney F. Peacock in NPO 20 finished seventh overall, and co-drivers Les Leston and Tommy Line in MG 6850 finished eighth overall. (Pat Griffith was unable to drive for The Monkey Stable on that particular day because he had previously committed to Aston Martin. As it turned out, Griffith was co-driver with Peter Collins of the Aston Martin DB3S that won first place overall.)

New cars would be required for Mayers and his team to stay truly competitive in 1953, but Harry Lester was unable to develop and produce a new chassis quickly enough. Instead, he prepared MG engines for three Kieft race cars, and on the side he also personally raced the latest Lester MG (HJB 790) on five occasions. Lester's races in HJB 790 gave him an opportunity to test some of his newest design ideas. The Monkey Stable team's 1953 results were disappointing in every respect, and at the end of the season Mayers sold the three cars. The Monkey Stable team then sat out 1954 while Harry Lester made plans for 1955.

To suit a variety of races and classes, Lester envisioned two distinct M-series models: the Lester M-11 would have Coventry Climax FWA 1098cc engines whereas the Lester M-15 would have MG 1.5L engines. Fiberglass spyder and coupe bodies were planned and there was talk of putting the design into serial production (following the lead of Turner Sports Cars, Ltd., and others.) Harry Lester built a prototype and the Monkey Stable shop built two additional M-series chassis. Probably no more than two M-series cars were ready for use during the 1955 season: an M-15 coupe (registration number 5 EME) was driven by Jim Mayers on one occasion and by Michael R.G. Llewellyn on seven occasions. An M-11 coupe may have been raced by John Shove, but we've had difficulty documenting the details.¹

The Monkey Stable team came to an abrupt end in September 1955 when Jim Mayers was killed while driving a Cooper-Climax at Dundrod in the Tourist Trophy Race. The team's assets, including at least one uncompleted M-series racecar, were sold off at that time. Harry Lester quit racing, quit building cars, and focused his attention on his garage business. At least a half dozen Lester race cars still exist today. Most, if not all, have been substantially modified.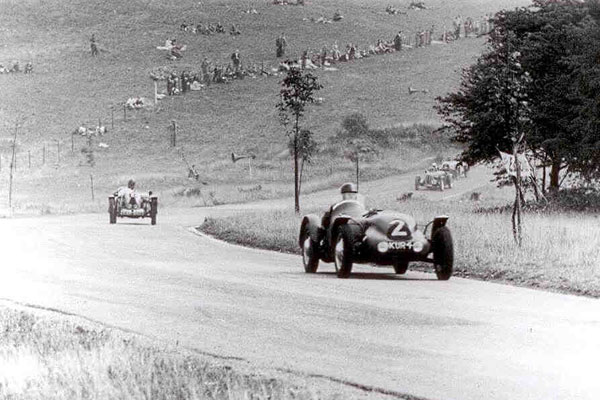 Harry Lester drove KUR 4 to a 3rd place finish in a National race at Blandford on 8 August 1949.
Starting in 1948 and continuing for about a decade, races were held on the 3.14 mile long perimeter
road around the Blandford Camp military base. The base is located in Dorset county, near Poole.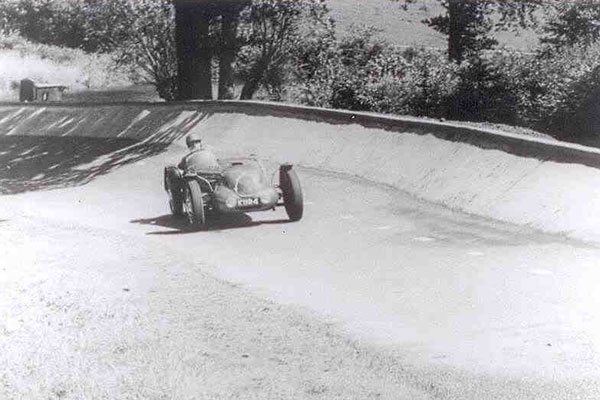 KUR 4 at the Great Auclum National Speed Hill Climb which was held from 1947 to 1974 on the grounds
of a private country home near Burghfield Common in Berkshire. In two respects it was the shortest
event in the RAC Hill Climb Championship: ~440 yards long and with both downhill and uphill sections.


Lester's Engines
Enlarged engines were an important feature of the Lester MGs. Ordinary production MG "XPAG" engines of the TC and TD models have a 66.5mm cylinder bore and a 90mm stroke, which works out to a displacement of just 1250cc. Harry Lester boldly bored-out MG engine blocks, cutting so deeply that he was into their water jackets, and then he pressed in cylinder sleeves with an inside diameter of ~72mm to produce a displacement of ~1467cc. He completed these engines with Harry Weslake cylinder heads, special camshafts, and lightweight flywheels. As configured, static compression ratio was reportedly raised from 7.25:1 to ~10:1, and engine output was reportedly raised from 54.4hp at 5200rpm to just over 100hp. Carefully balanced and tuned, Lester engines revved freely to over 6500rpm.

With their enlarged engines, Lester MGs could be very competitive in Britain's "1.5L Sports" class. When Lester MGs raced in North America, their oversized engines bumped them up into the Sports Car Club of America's F Modified class. Most other MG specials raced in SCCA's G Modified class.



Duncan Black's Lester MG
In this article, we're featuring the best known and most successful Lester MG racecar: KUR 4. As mentioned above, this was the first purpose-built Lester MG racecar. After just a handful of races in England, it was the first Lester MG to be shipped to the United States. About half of Harry Lester's production would follow its journey. No other Lester MG would equal its results.

After arriving in North America, KUR 4's first known appearance was to be in the hands of Perry Boswell in the Sagaponack Trophy Race at Bridgehampton on 9 June 1951. A clutch failure caused an early retirement. KUR 4's second known appearance was in the Queen Catherine Cup (under 1.5L) race at Watkins Glen on 14 September, 1951. On that occasion, David C. Viall drove KUR 4 to a second place finish!² David Viall also entered his Lester MG at the Second Annual Road Races at Palm Beach Shores Florida which were held December 8-9, 1951. In the Sunday afternoon two-hour endurance race Viall finished first in class and seventh overall of fourteen starters.

KUR 4 made at least two appearances in New York State in 1953, while owned by Donald E. Millians of Baltimore Maryland. The first of those was an SCCA National under 1.5L Modified class race at Bridgehampton on Long Island, on May 23rd where Millians finished fifth of 31 starters. (Briggs Cunningham won, in an OSCA.) The second was at Watkins Glen on the September 18-19 weekend. At Watkins Glen, Millians loaned his Lester MG to a young driver named Duncan Black who drove it to a fifth place finish of 29 starters in the 1953 Queen Catherine Cup race. (George Moffett won, in an OSCA.) Sometime after this, we're told Duncan Black blew up the Lester's MG engine but made things right by purchasing the car. We have not been able to confirm this story; but it's clear that Duncan Black acquired the car.

There have been at least four famous men named Duncan Black. Our young Duncan Black earned his reputation as a racecar driver. He won three SCCA National Championships with his Daimler SP250 ("Dart") between 1958 and 1963. He should not be confused with his father; Duncan Black Sr. invented the pistol-grip portable electric drill and co-founded the Black & Decker tool company.

Duncan Black's Lester MG was powered by a race-tuned MG TC engine for the 1954 season, and programs from that year give its displacement as 1466cc. At that displacement, the car fit into SCCA's "F Modified" racing class. F Modified was a very tough class, dominated in many national races by new OSCA racecars. Still, Duncan Black had some memorable performances. In coverage of May 16th races at Cumberland Maryland, journalist Stuart Turner wrote: "Duncan Black, in one of the Lester MGs made it into the first corner well ahead of the pack. He maintained his lead for the first half dozen circuits with the little engine sounding fierce and showed no possibility of being headed. Then he was flagged off the course for riding with his safety belt unfastened. When he returned to the race the Uihline Special and the other Lester (driven by Don F. Marsh) had lapped him three times."


Enjoying this article? www.BritishRaceCar.com is partially funded through generous support from readers like you!
To contribute to our operating budget, please click here and follow the instructions.
(Suggested contribution is twenty bucks per year. Feel free to give more!)
On May 9 at Suffolk County A.F.B., Duncan Black finished fourth overall and second in class of 29 starters behind two E Modified Maserati racecars and Sherwood Johnston's OSCA.

On June 13 at Westover A.F.B., Duncan Black finished first in class and fourth overall in "The Clipper" 65-mile race for Production cars under 3L and Modified cars under 2L. 43 cars started that eighteen lap / 65 mile sprint race. Later in the day, Black entered the Steve Canyon Classic 47 lap / 175 mile unrestricted enduro. He finished third overall and first in class from a diverse field of 57 starters. Two Ferraris finished ahead of him. Behind him? Fourteen Jaguars, ten Austin-Healeys, six OSCAs, four Allards, and one Aston Martin (driven by Walt Hansgen). It was a tremendous performance!

One week later, at the Equinox Hillclimb on June 20, Duncan Black again finished first in class and fourth overall with an elapsed time of 5:20.6. (The overall winner was Bill Lloyd, who covered the distance in just 5:04.0 with his Ferrari 2.7L.)

At the Giant's Despair Hillclimb, Duncan Black and Don Marsh got a chance to race their Lester MGs together again. Black took first place over Marsh in Class F by barely more than half a second: 1:12.12 compared to 1:12.89! On the following day, on the narrow Brynfan Tyddyn road course, even stiffer competition arrived. In one report, journalist Ozzie Lyons summarized the results: "Duncan Black's Lester MG nibbled at the heels of Otto Linton's OSCA all during the feature race, only to run out of fuel on the last lap."

At Watkins Glen in September, Black finished fifth overall of 35 starters in the 1954 Queen Catherine's Cup for cars under 1.5L.

The 1954 season came to an exciting end for Duncan Black at Thompson Raceway in Connecticut on 14 October, where he valiantly chased Briggs Cunningham's OSCA but came up just a little short. Black's strong second place finish was comfortably ahead of Roy Thorpe in a Ferrari, Jackie Cooper in an Austin Healey 100S, and Fred Procter in a Maserati.

In summary, Duncan Black and his Lester MG were very competitive through 1954. In terms of SCCA's National Championship points race, he had one disadvantage: some of his competitors were able to travel wider and participate in more races. Ultimately, he finished fourth in class, nationally! (First place went to Briggs Cunningham.)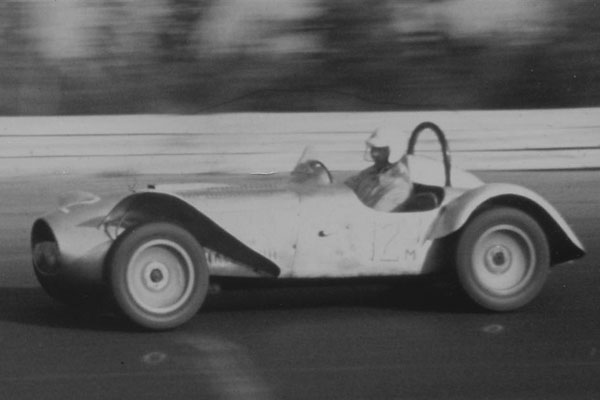 For 1955, Duncan Black replaced KUR4's original cycle-style fenders with flared fenders to meet new SCCA
class rules. This photo actually shows James Miller in one of his first appearances after purchasing KUR4.
This photo was taken by Maryel Miller at Marlboro Raceway in Maryland, probably in August 1957.


Between the 1954 and 1955 seasons, Duncan Black had the Lester MG's original cycle-style fenders replaced with newly custom fabricated aluminum fenders that flared back to the body. This was necessitated by a rule change: SCCA decided cycle fenders would no longer be permitted in its "modified" classes. The change increased the Lester MG's frontal area and it certainly didn't improve the car's coefficient of drag, so there's no question that the rule change made the Lester MG less competitive in an era when other cars were rapidly becoming more streamlined. Incidentally, some other body modifications would be made to Duncan Black's Lester MG later, but through 1955 he continued to use the car's original aluminum nose section, which featured two headlights faired-in below the radiator opening.

In one way, May 15, 1955 was the high point for Lester MG racing in North America: four Lester MG racecars gathered to participate in the 1955 Cumberland National Sports Car Races. 43,000 spectators crowded around an airport circuit, marked out with hay bales. The most successful Lester MG driver that day was Chuck H. Dietrich Jr., who won the G Modified class trophy. Three Lester MG racers - driven by Duncan Black, William A. Eager III, and R.D. Ryder - came for the F Modified trophy, but all three were outrun by Tippy Lipe in his Pooper (Porsche powered Cooper) and Phil Stewart in an OSCA.

The inaugural race at Marlboro Motor Raceway in Upper Marlboro, Maryland was held on May 22, 1955. It was organized by the Lavender Hill Mob Racing Association and sanctioned by the SCCA. Duncan Black drove his Lester MG to a first place overall finish in the under 2-liter main feature race: "Duncan Black, in the Lester that never seemed to be going flat out, gobbled up the first..." Later in the day he entered another race for all modified classes, combined. "Here the Lester showed its teeth and before the pack had made the first turn onto the oval was well in front and stayed there without ever developing the characteristic scream that it has when being really pushed." (Both of these quotes are from a fascinating and well illustrated article in Sports Cars magazine. No specific author was credited.)

Duncan Black raced KUR4 in the 1955 Mount Equinox hillclimb, finishing eleventh overall and third in class. He also entered KUR4 in the 1955 Giants Despair / Brynfan Tyddyn event on the July 21-23 weekend.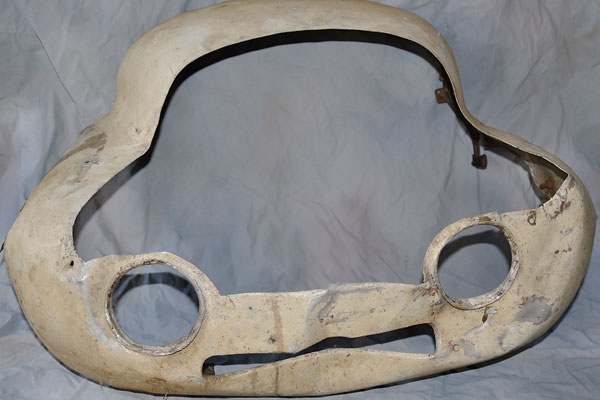 At least three of the Lester MGs that raced in North America suffered cooling problems and in each case
modified bodywork was part of the solution. Duncan Black cut aggressively into KUR 4's original aluminum
nose cose to access more air. A photo of Duncan Black racing with this modified part at Marlboro in an
MG Car Club National Race on 30 October 1955 can be viewed on the Straightpipe Magazine website.


After the 1955 season, Duncan Black sold the Lester MG to James Shoup Miller. Duncan Black drove a Lotus in G Modified in early 1956, a Mercedes 300SL on one occasion in August, and a Ferrari 4.5L late in the season.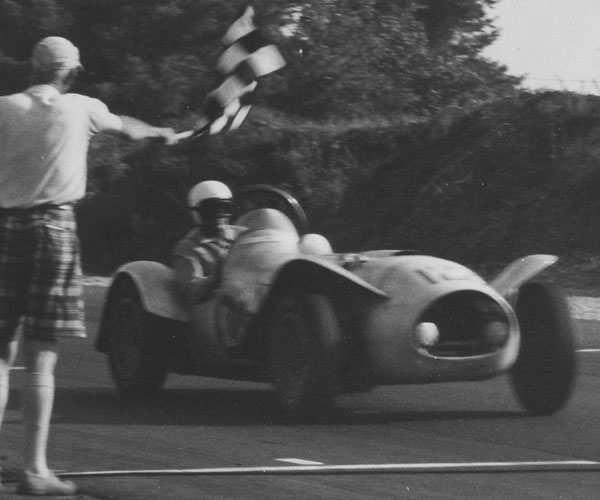 This photo and the next one show James Miller racing KUR 4 at Vineland Raceway in New Jersey in 1961.
(Photo by Maryel Miller.)


James Miller and Lester MG Registration Number KUR 4
From 1956 through 1961, KUR 4 was raced by James Miller. It stayed in Miller's possession until about 1992. During James Miller's ownership, the original MG TC engine began having major problems related to its oversized cylinder sleeves. Miller decided to remove the MG TC motor and instead install an MGA engine. At 1500cc, the MGA engine obviously didn't represent a significant change in displacement and the car stayed in F Modified.


Date
Event
Classes Participating
Result
Comments
8/18/57
SCCA National at Montgomery AFB
(FM+GM)
9th of 18
8/17/58
SCCA National at Montgomery AFB
(FM+GM)
10th of 14
9/1/58
SCCA National at Thompson CT
(BM+CM+DM+EM+FM)
10th of 13
11/16/58
Washington Regional (preliminary)
(BM+CM+EM+FM+GM)
6th of 11
(5th <1500cc Mod.)
11/16/58
Washington Regional at Marlboro MD
(BM+EM+FM+GM+BP+CP+DP)
8th of 17
(4th <1500cc Mod.)
9/9/59
SCCA National at Montgomery AFB
(BM+CM+DM+EM+FM)
16th of 21
6/5/60
6 Hour Enduro at Marlboro MD
(all classes)
5th of 18
(co-driver Joseph G. Dodge Jr.)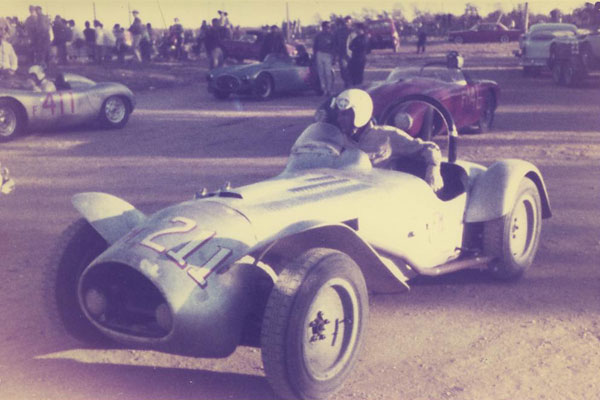 James Miller replaced KUR4's crudely-modified original aluminum nose cone with a fiberglass part. Fellow
racer Bill Rutan had previously had a custom aluminum nose cone fashioned for his own Lester MG,
featuring an enlarged radiator opening. Rutan's aluminum nose cone was used as a model (i.e. a "plug")
to make a fiberglass mold and probably two fiberglass replacement nose cones. (Photo by Maryel Miller.)


So configured, James Miller raced his Lester MG in regional events until late in 1961, when it was crashed. The crash damaged the frame badly, but did remarkably little harm to the body. From 1961 through 1975, the Lester body set in the rafters of James Miller's barn in Orangeburg, New York. Miller had kept all the car's other components, except the original frame.

Then, James Miller decided to put KUR 4 back together on a replica frame. One particular vintage car race - a "Double 3 Hour" endurance race at Lime Rock Park scheduled for 1977 - was selected as both goal and deadline. Miller's friends Doug Schirripa, Joe Dodge and Ernest Cassis pitched in and helped with the restoration project. Charles DeLisle contributed an MG TC engine, complete with Lucas-Laystall aluminum head; this was a very big help since the original MGA motor wasn't ready in time. Unfortunately, the MG TC engine dropped a valve during the race weekend, and KUR 4 went back into storage for about fifteen more years.


Vintage Racing a Lester MG
Doug Schirripa and Tom McCormack have been buddies since college. They own and race several cars together, even while Doug lives in Orange County California and Tom lives in Troy, New York. In the early 1990s, when Jim Miler decided to retire and relocate, he offered Doug Schirripa the Lester MG. Doug returned to New York from his home in California to retrieve the car. Doug didn't make any immediately plans to race KUR 4 though, until he learned that a vintage event was being planned for the nearby Tustin Marine Air Base. It was scheduled for the summer of 1996. Again, a specific race provided motivation for pressing the car back into service. Although the 1996 outing wasn't successful - the Lester MG scored a DNF - Doug was motivated to meticulously race-prep KUR 4 and to start actively vintage racing it.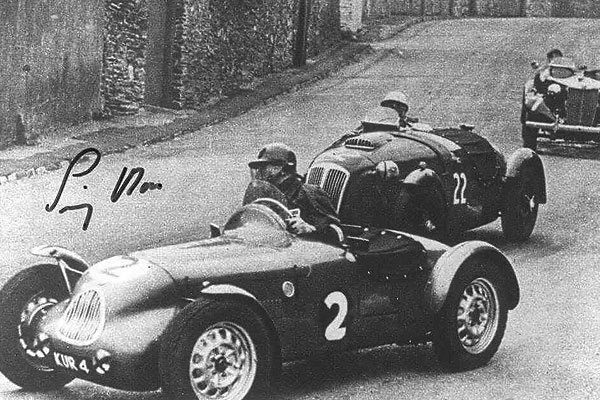 Jim Mayers (#2 Lester MG, KUR 4) appears to lead Stirling Moss (#22 Frazer-Nash LeMans Replica) and
M.J. Pople (#7 MG TD) in the British Empire Trophy race on the Isle of Man, 14 June 1951. Lest the
photo be a misconstrued: Mayers was obliged to retire from the race due to engine trouble and, with his
powerful 2-liter Bristol powered racecar, Moss managed to lap Pople's 1.5-liter MG three times in the
course of the 135-mile race. (Note: Stirling Moss autographed this photo for Doug Schirripa in 1998.)


In 1997, Tom visited California to drive KUR 4 in the 1997 Tustin Thunder race and in the 1997 LA Times Grand Prix through the streets of downtown Los Angeles. The LA Times Grand Prix seemed to offer an opportunity for KUR 4 to race with a Frazer-Nash LeMans Replica it had first competed with back in June 1951. Racing great Stirling Moss, who had piloted the Frazer-Nash to victory on that occasion was on hand to share his memories of the original race, and of the Lester MGs too. In an interesting twist, we now know Moss actually raced his LeMans Replica against a replica of KUR 4 back in 1951.³

In 1998, Tom drove KUR 4 at Button Willow's British Extravaganza. Unfortunately, throughout this period KUR 4 was rarely recognized by West Coast fans. Remarkably, contemporary fans often mistook the Lester MG for Ken Miles' famous Flying Shingle. The history of Harry Lester, of Duncan Black, and of KUR 4 specifically weren't really appreciated in California.

In 1998, Doug decided KUR 4 should return home to the East Coast. Driving it, Doug placed third at the Pittsburgh Vintage Grand Prix and Tom qualified for pole position in the 1998 Vintage Fall Festival at Lime Rock. On the following weekend the team took KUR 4 to Watkins Glen for an MG Vintage Racers focus event. However, when Doug took KUR 4 out for practice he realized it was going to be a very long day. With the car's 5.125:1 rear end ratio, he ran out of revs before leaving pit lane. During 1999, KUR 4 was entered in two events: the Pittsburgh Grand Prix (DNF) and the Vintage Fall Festival (first in class in the pouring rain).

In 2001, Tom drove KUR 4 in the Mt. Equinox hillclimb. He also loaned the car to former Lester MG racer Bill Rutan for a run up that famous hill. In the paddock at Mt. Equinox, Tom and Doug were visited by Don Millians, one of the early owners of KUR 4 who lived nearby at the time. It was the first time Millians had seen the car since he sold it to Duncan Black in the early 1950s. KUR 4 put smiles on a lot of faces that day.

Every autumn since 2001, KUR 4 has been entered in Historic Festivals at Lime Rock Park in Connecticut. Depending on the year, it's been grouped with pre-war Grand Prix cars or with early MG racecars. Particularly at Lime Rock, every year fans visit this distinctive car in the paddock and tell stories of having seen Duncan drive it back in the day. KUR 4 is a true vintage race car, not a vintage car that has more recently been converted to racing. It has an interesting history and it's actively campaigned as it appeared toward the end of its original racing career.



Features and Specifications
| | |
| --- | --- |
| Engine: | MGA 1.5L engine. ~12:1 static compression ratio. HRG crossflow aluminum cylinder head. HRG intake manifolds. Dual S.U. H6 (1 3/4" bore) carburetors. Lucas distributor with Pertronix Ignitor breakerless ignition module. Pertronix Flame-Thrower (0.6 ohm) ignition coil. MSD spark plug wires. Mocal 13-row oil cooler. Fram spin-on oil filter. |
| Cooling: | custom copper and brass radiator by Tom's Radiator in Orange California. |
| Exhaust: | custom three-into-one header. |
| Transmission: | MG TC 4-speed gearbox. Custom aluminum engine plate and welded steel adapter ring (circa ~1959) to suit the MGA engine. |
| Rear Axle: | MG Y-type rear axle. (Similar to MG TC, but slightly wider and with 5-lug hubs.) 5.125:1 ring and pinion. |
| Front Susp.: | MG TD front suspension and steering rack. Armstrong lever shock absorbers. |
| Rear Susp.: | 7-leaf leafsprings. Monroe Magnum telescoping shock absorbers (part# 36047). |
| Brakes: | Alfin finned drum brakes, front and rear. |
| Wheels/Tires: | vintage Halibrand "Smoothie" magnesium racing wheels (15"x4.5"). Dunlop Racing - CR65 Mark II (5.00L-15 front and 5.50L-15rear). |
| Electrical: | Odyssey PC680 dry cell battery. Lucas starter motor. |
| Instruments: | (left to right) Smiths dual oil pressure (0-100psi) and water temperature gauge (90-230F), Jaeger oil pressure gauge (0-160psi), Smiths Chromometric tachometer (500-8000rpm), ammeter (+/-20 amps). |
| Fuel System: | custom Fuel Safe 8-gallon fuel cell. Purolater "cube" solid state electric fuel pump. |
| Safety Eqmt: | G-Force Pro Series five point cam-lock safety harness. Phoenix fire suppression system. |
| Weight: | ~1300#. |
Engine Installation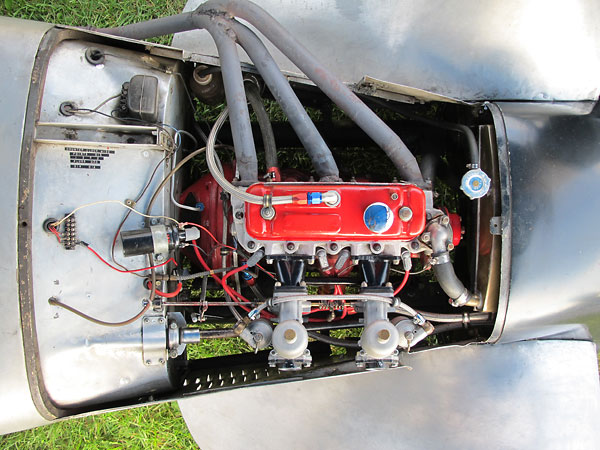 This is the same MGA 1500cc motor that James Miller originally installed in the late 1950s.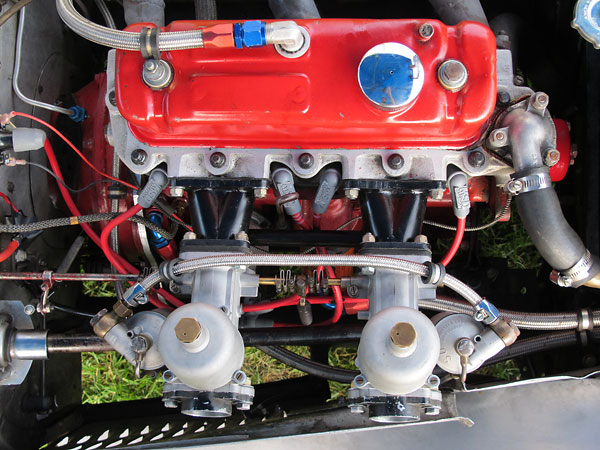 HRG crossflow aluminum cylinder head, HRG intake manifolds, and dual S.U. H6 (1.75" bore) carbs.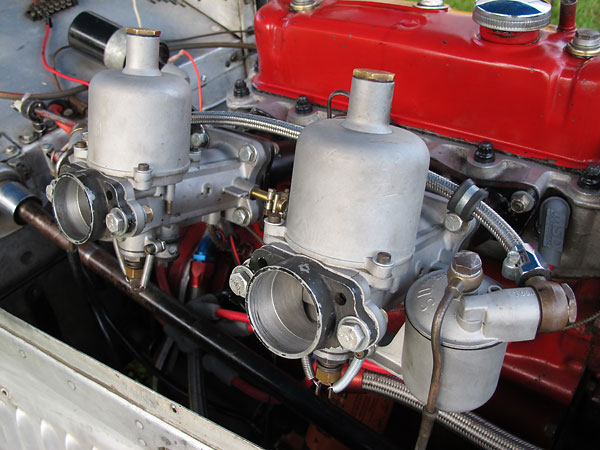 McCormack & Schirripa have tried velocity stacks in the past. In 2011 they used short carb extensions.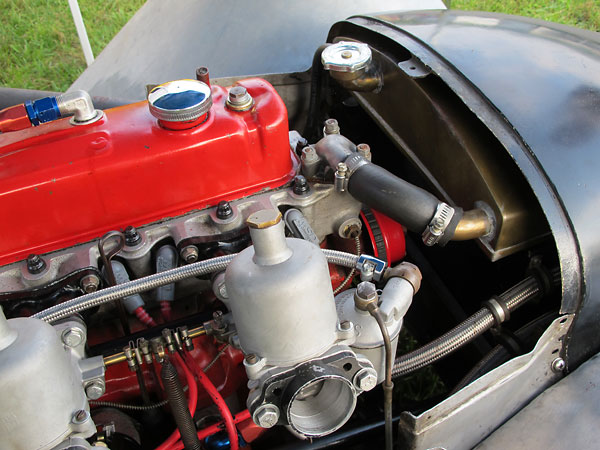 Custom copper and brass radiator by Tom's Radiator of Orange California. The previous radiator
featured a honeycomb core, and was part of an unpressurized cooling system. The new radiator
and pressurized system provide much more effective engine cooling.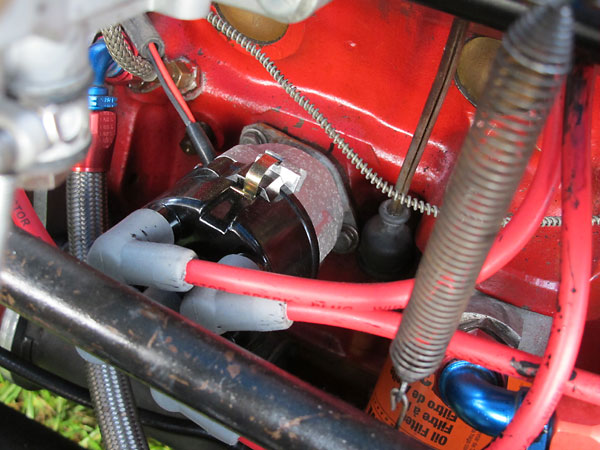 Lucas distributor with Pertronix Ignitor breakerless ignition module. MSD spark plug wires.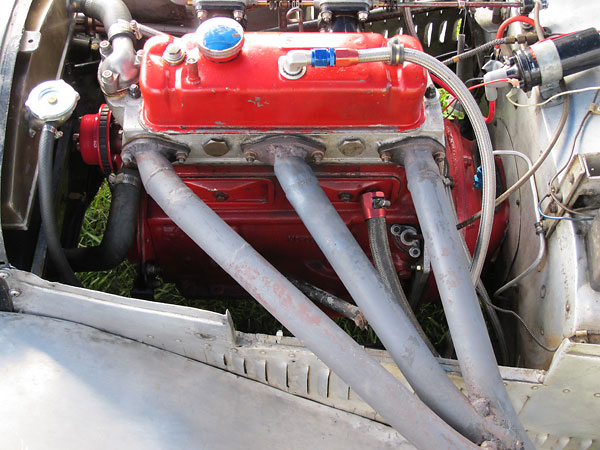 This exhaust header was built when HUR 4 was restored in the mid-1970s, but it's similar to what
James Miller installed when he fitted the MGA engine and HRG cylinder head in the late 1950s.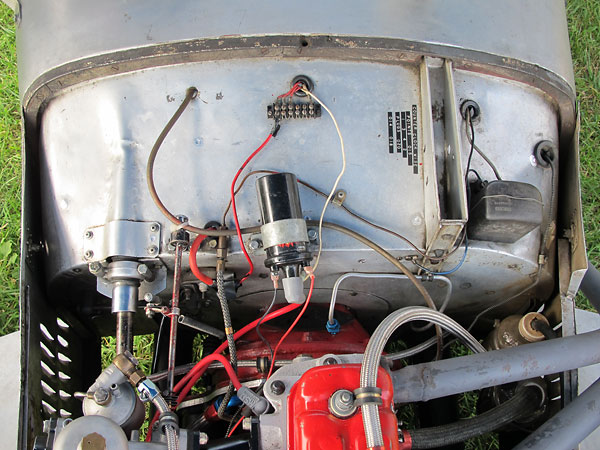 Labels on the cowl: "Counter Clock Wise" (distributor rotation) - "Points 015" (0.015" gap when open)
"1 3 4 2" (firing order) - "Plugs 020" (0.020" electrode gap. Note: 0.025" was stock.)
"014 018" (0.014" intake and 0.018" exhaust rocker-to-valve clearances.)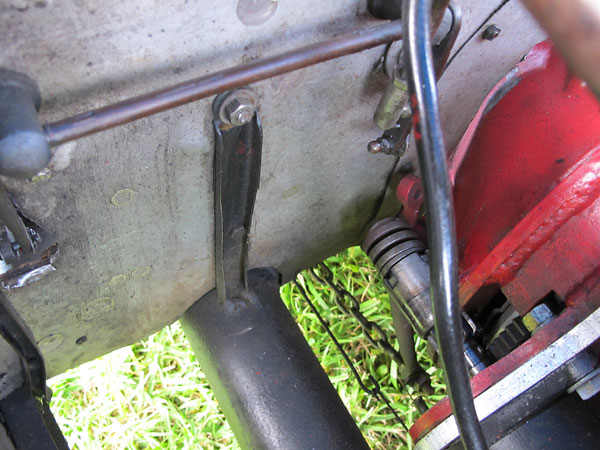 In this view you can see one of the body mounts, details of the throttle and clutch linkage, the
Lucas starter motor bendix, and most importantly the custom aluminum engine plate and the welded
steel adapter ring that mate a later (MGA) engine to an earlier (MG TC) 4-speed gearbox.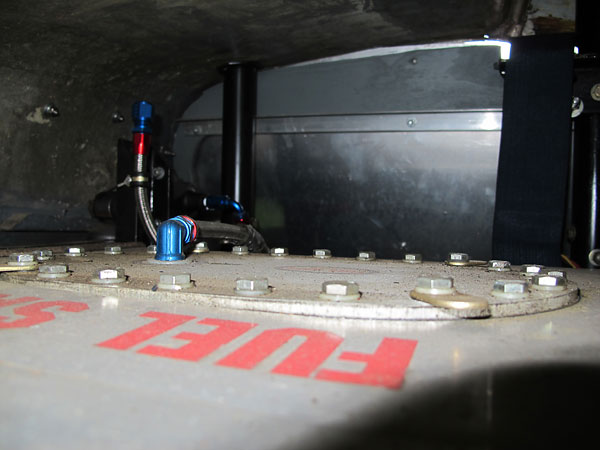 Custom Fuel Safe eight gallon fuel cell.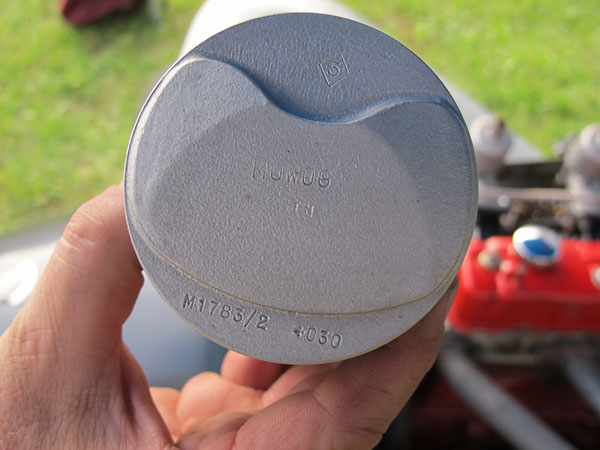 MOWOG piston marked 3 and M1783/2 +030. (In other words, 0.030" oversize in diameter.)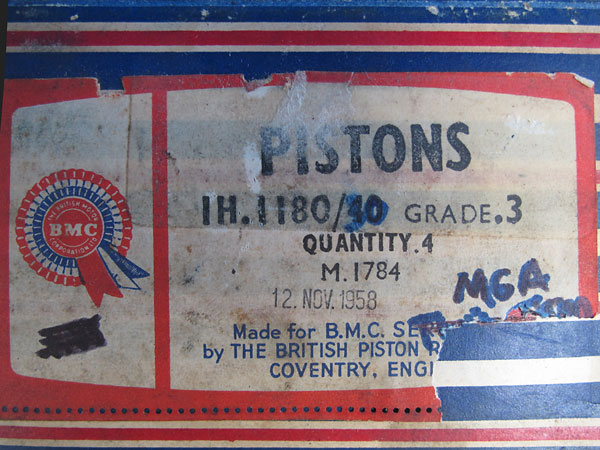 BMC - The British Motor Corporation
Pistons - IH.1180/4030 - Grade.3 - Quantity.4 - M.1784 - 12.Nov.1958
Made for B.M.C. Service Use by The British Piston Ring Company, Coventry, England



IMPORTANT ANNOUNCEMENT
BritishRaceCar.com will have to cut back plans for continued growth if we can't find more financial support.
If you like what you've found here, and you want to see more, please click here and follow the instructions.
Readers like you keep BritishRaceCar.com online and growing through voluntary financial contributions.


Front Suspension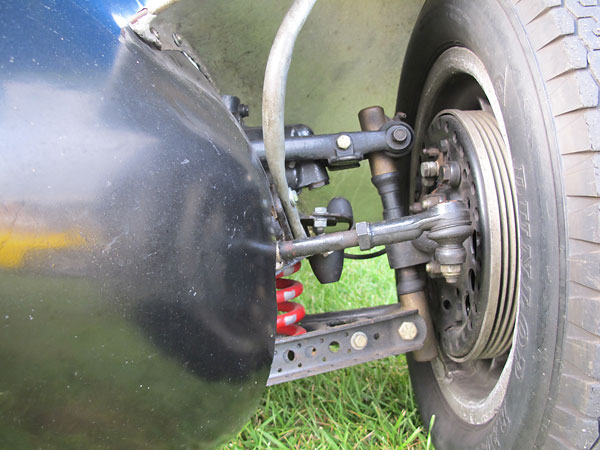 From the MG TD parts bin: independent front suspension with unequal length A-arms,
coil springs, knee-action hydraulic shocks, and rack and pinion steering.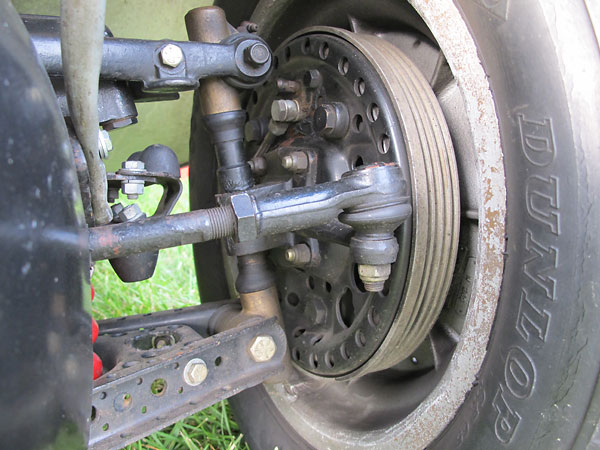 Alfin (aluminum finned) brake drums have been on this car since before it came to America.
Tom says: "It actually has pretty good brakes! Doesn't need much, since it only weighs 1300 pounds."


Rear Suspension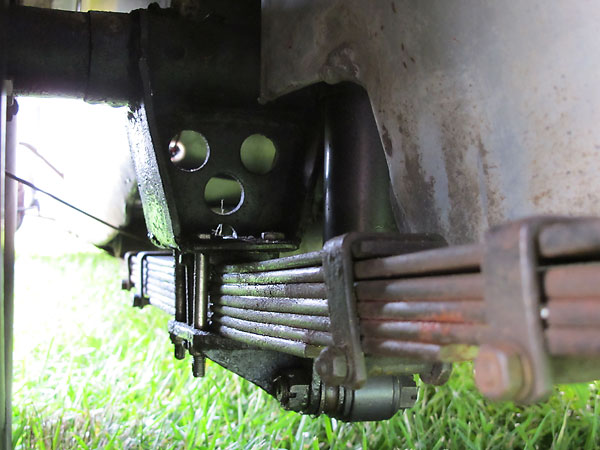 On an ordinary MG TC or TD, the rear axle sits immediately above the leafsprings. On a typical
MG TC or TD vintage racecar, you might find one-inch aluminum lowering blocks between the axles
and springs. Compare that to what we see here: the Lester MG rides three to four inches lower!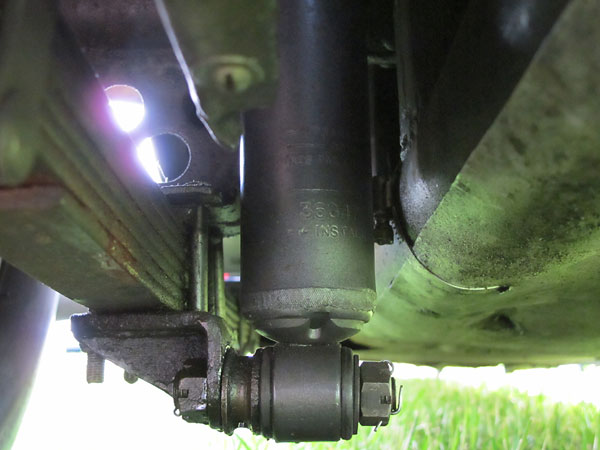 Monroe Magnum telescoping shock absorbers. This particular shock absorber (part# 36047)
is popular with MGB enthusiasts as a bolt-on replacement for original MGB lever shocks.
Harry Lester is known to have fitted Monroe telescoping shocks on some of the Lester MGs.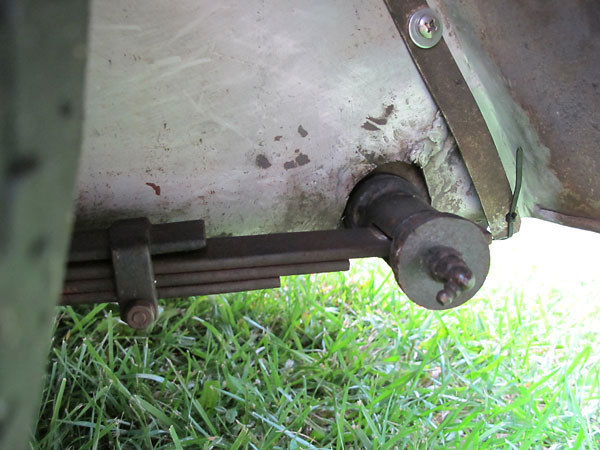 The rear ends of the leafsprings float in sliding trunnions, like pre-war MG cars including the TB.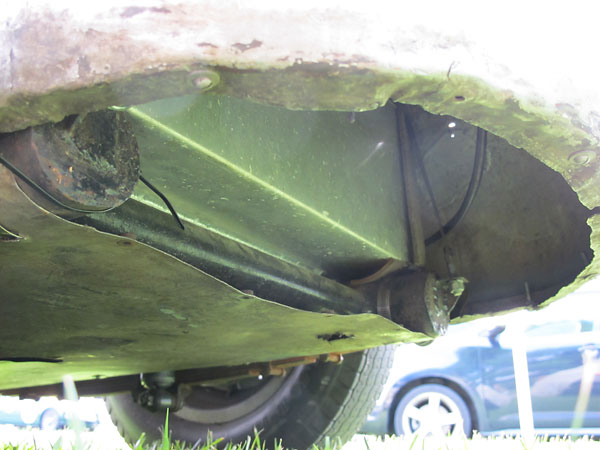 Lester fabricated his frames from round tubing.


Interior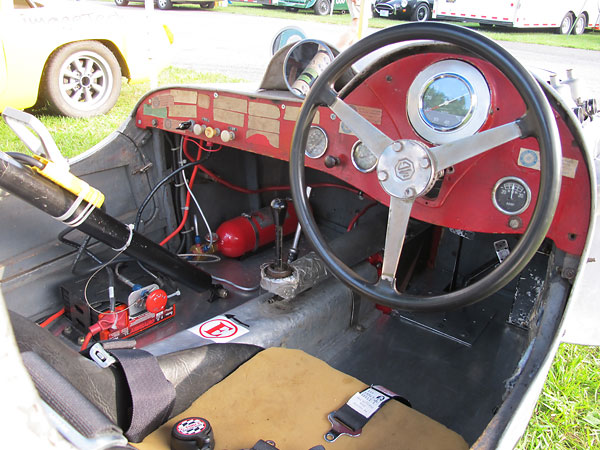 Evidently to comply with arcane rules, the cockpit has a hinged door. It's on the passenger's side.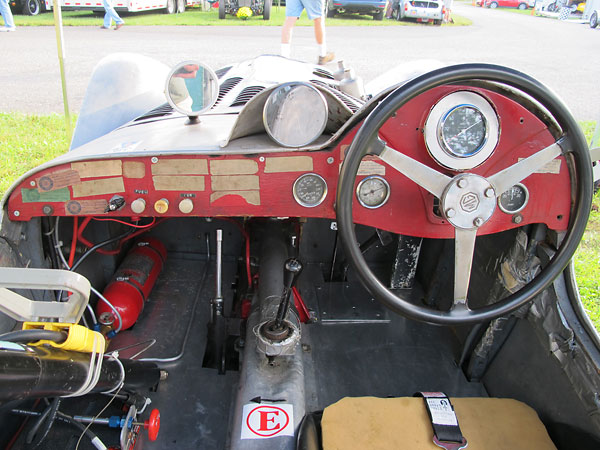 Lester MG KUR 4's wooden dashboard, with fourteen faded SCCA tech-inspection decals still attached.



Smiths dual oil pressure / water temperature gauge and Jaeger oil pressure gauge.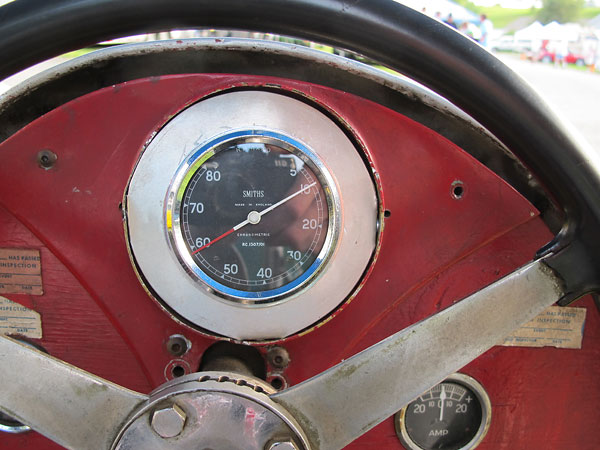 Smiths Chromometric tachometer (500-8000rpm).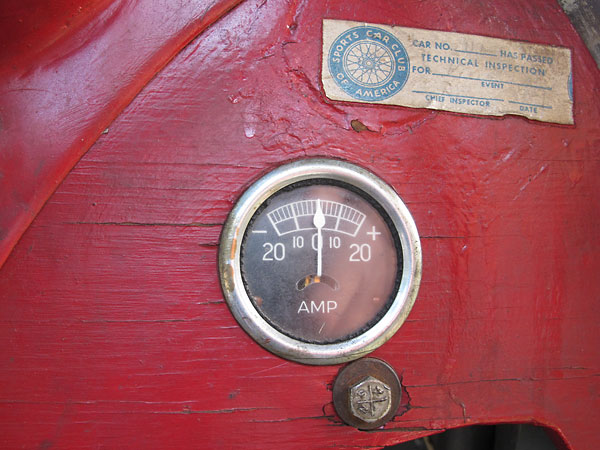 Vintage ammeter (+/-20 amps).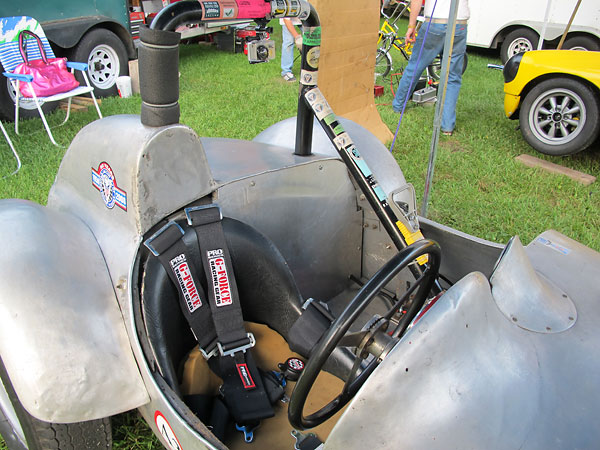 Mid-1970s vintage roll hoop to comply with then-current vintage racing safety requirements.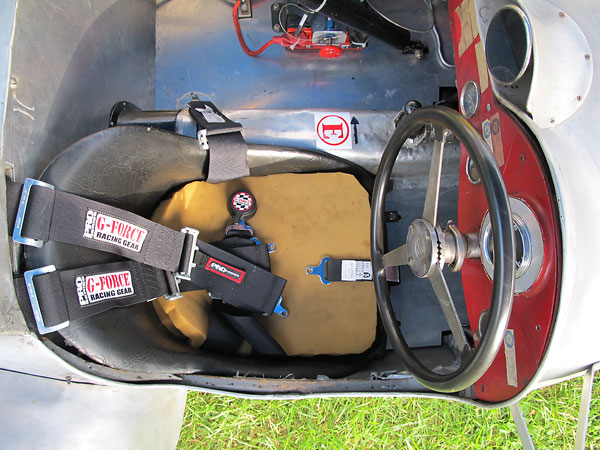 G-Force Pro Series five point cam-lock safety harness.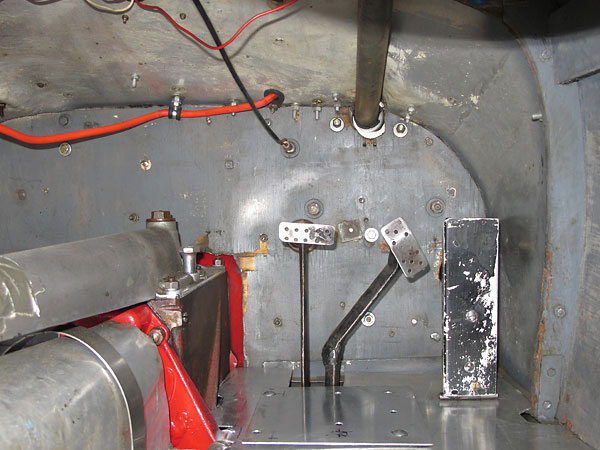 There's not much dead weight to be found here!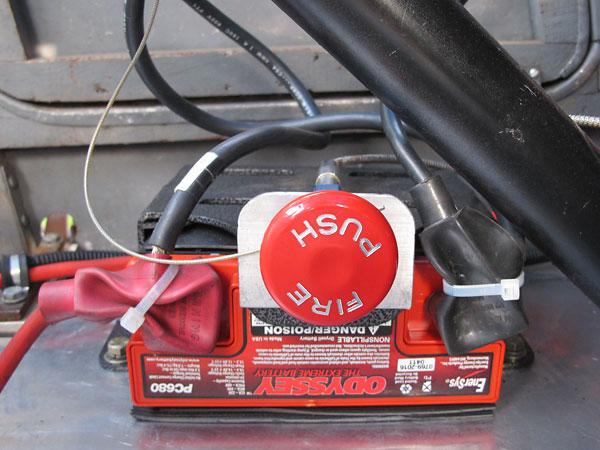 Odyssey PC680 dry cell battery.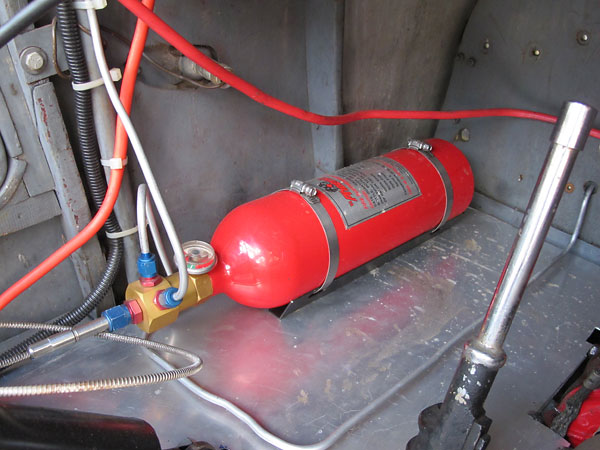 Phoenix fire suppression system.


Exterior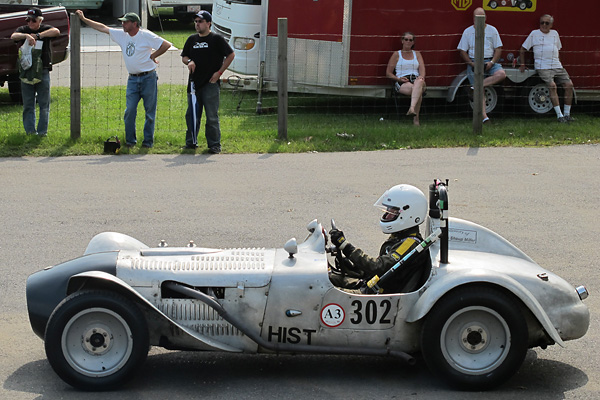 At the 2011 Lime Rock Historic Festival, Tom McCormack drove the Lester MG to a tenth place of 35
entries in Saturday's All-MG Feature Race. Then, on Monday he finished eighth of 32 cars overall
in the Group 1 race (nominally for "Pre-War Sports and Competition Cars") circling the tight,
hilly, and difficult 1.51 mile track at an average speed on 73.336mph.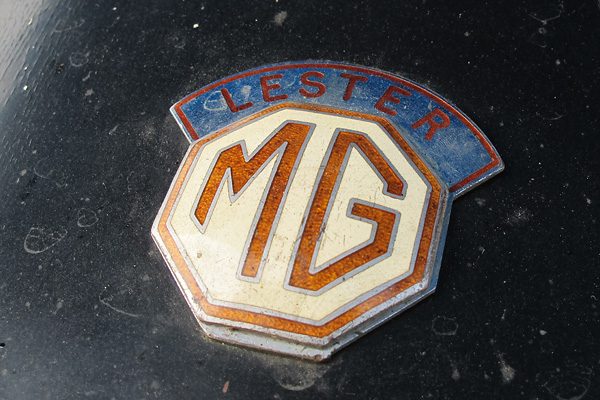 An authentic early-style Lester badge sits like a crown over the familiar octagonal MG emblem.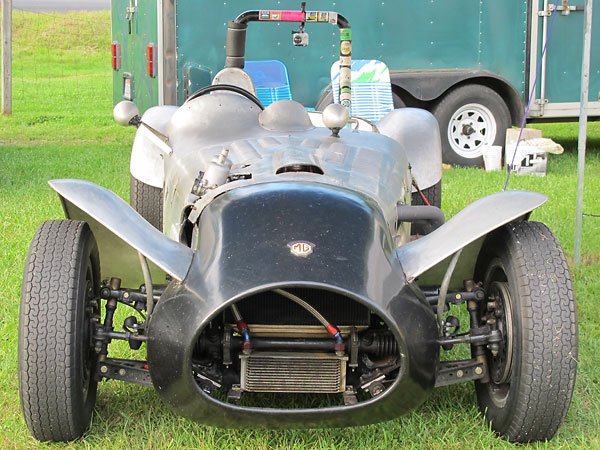 This is the very same fiberglass nose cone that Larry Miller raced with in the late 1950s / early 1960s.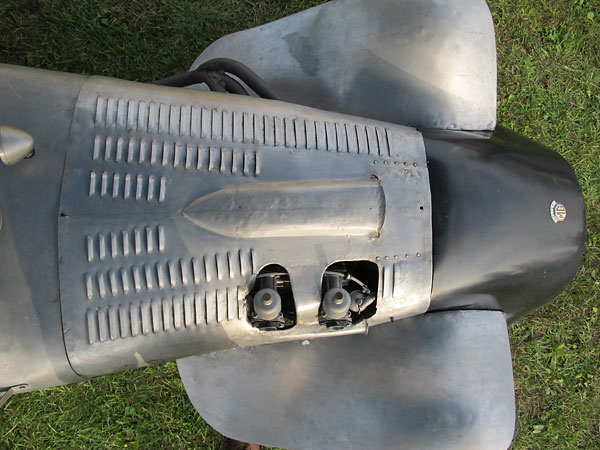 One winter in the late 1950s, James Miller spent a lot of time scraping the paint off this car.
He gathered all the paint chips and weighed them: 9 pounds! He decided not to repaint it.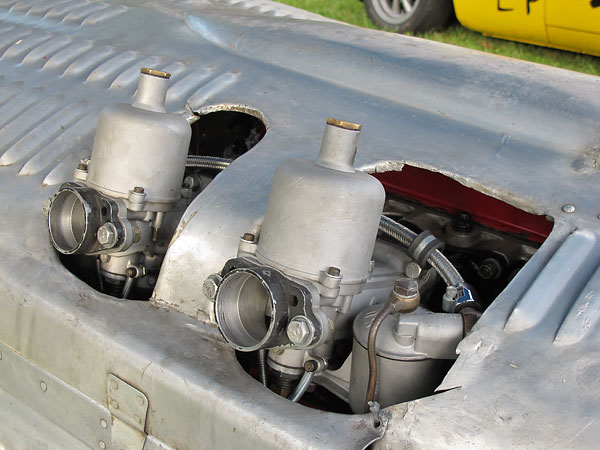 This Lester MG originally had a non-crossflow cylinder head, and its S.U. carbs were mounted
lower and closer to the engine. In those days, the carburetors didn't poke through the bonnet.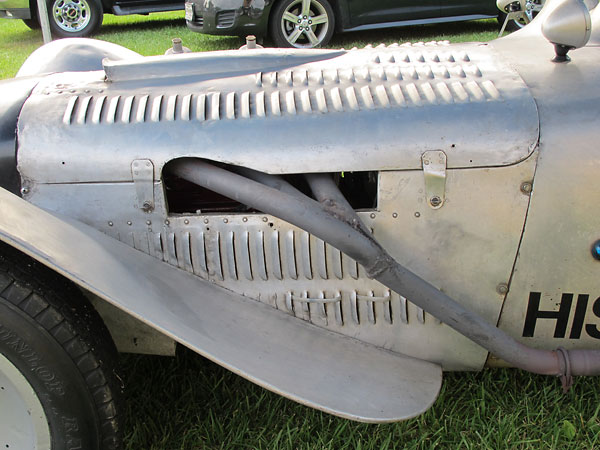 Early in KUR 4's racing career, before the HRG crossflow cylinder head was installed,
the exhaust routed downward instead of through the side of the engine compartment.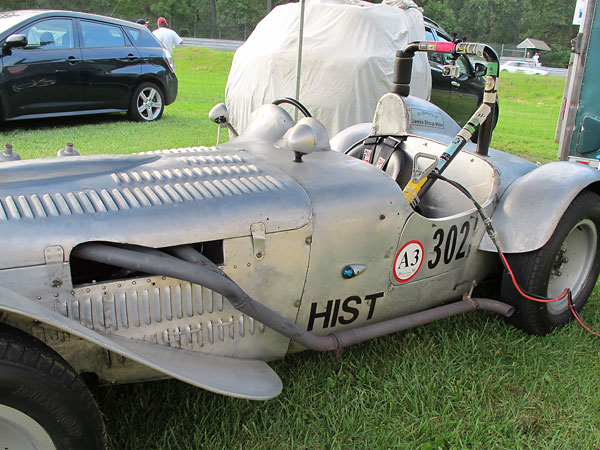 From the engine rearward, the exhaust pipe mounted on the driver's side of the car.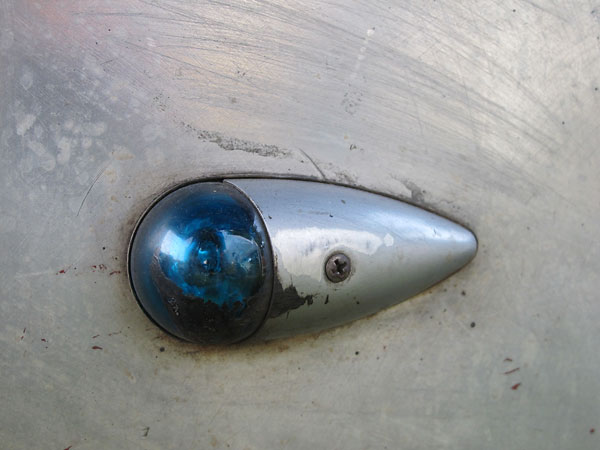 This blue ship's light was positioned to illuminate the car's racing number. It was installed specifically
for racing at Marlboro Maryland, where the relative placement of the Timing & Scoring station made
identifying passing cars particularly difficult.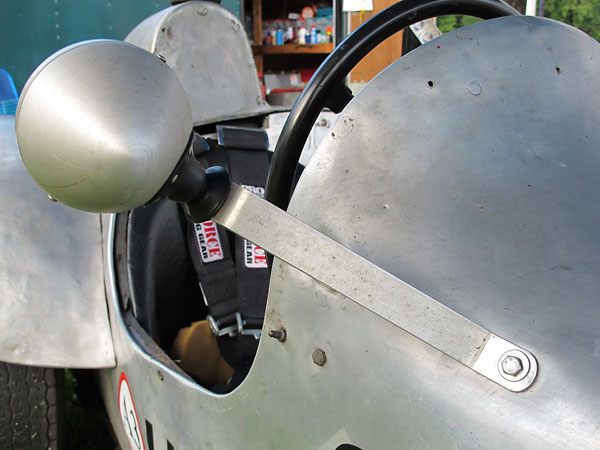 GT Classic mirror.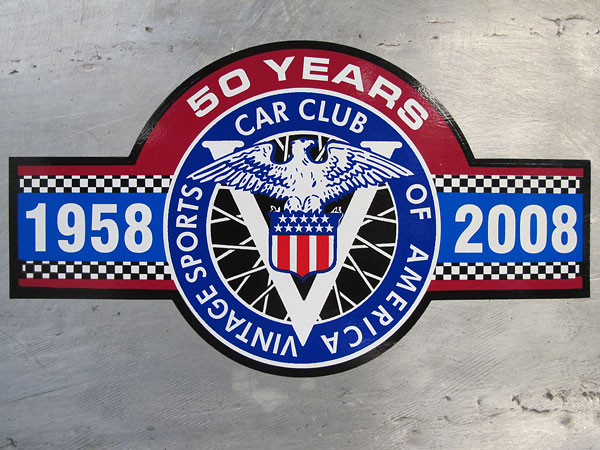 Vintage Sports Car Club of America - 50 years - 1958-2008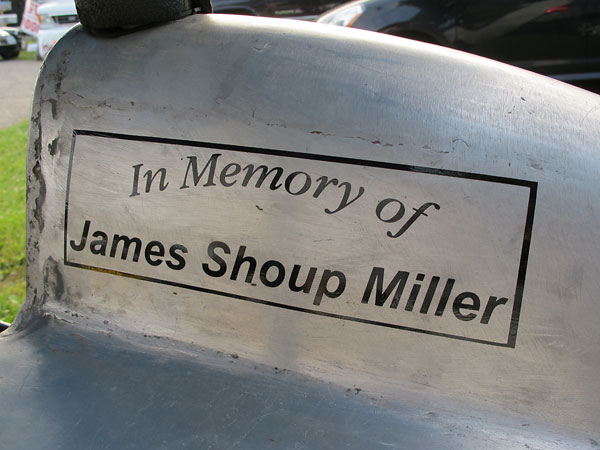 In Memory of James Shoup Miller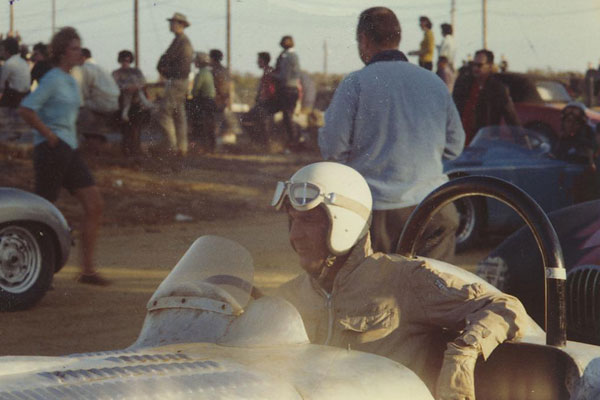 James Shoup Miller waits patiently in the pre-grid at Vineland, NJ in 1961.(Photo by Maryel Miller.)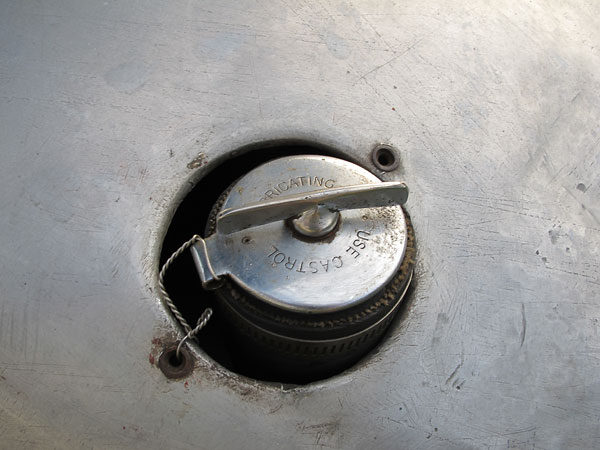 Vintage fuel filler cap. (It's no longer in actual use.)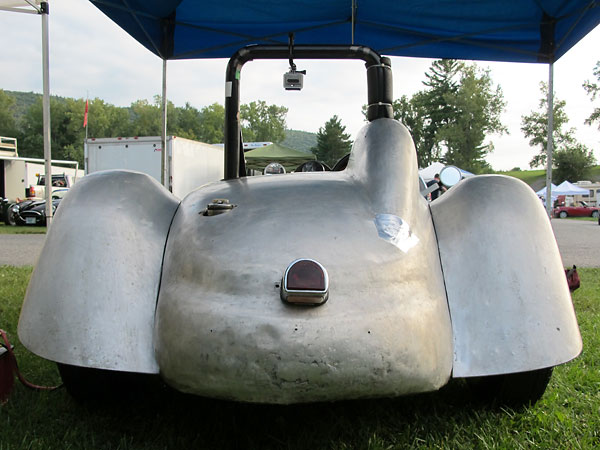 1949-1954: narrow cycle-style fenders. 1955-1959: the wide fenders that you see here.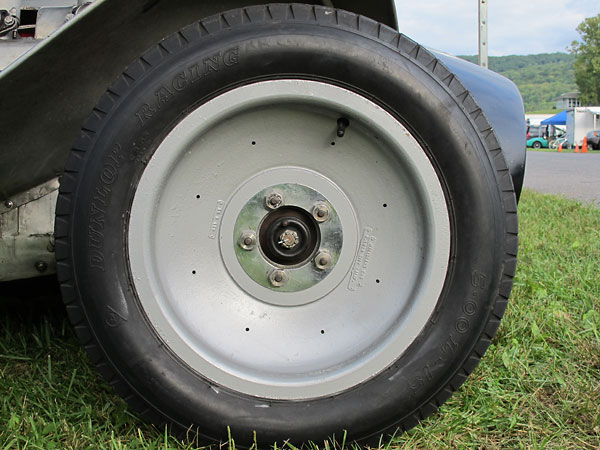 Dunlop Racing CR65 MkII vintage racing tires (5.00L-15 front and 5.50L-15 rear.)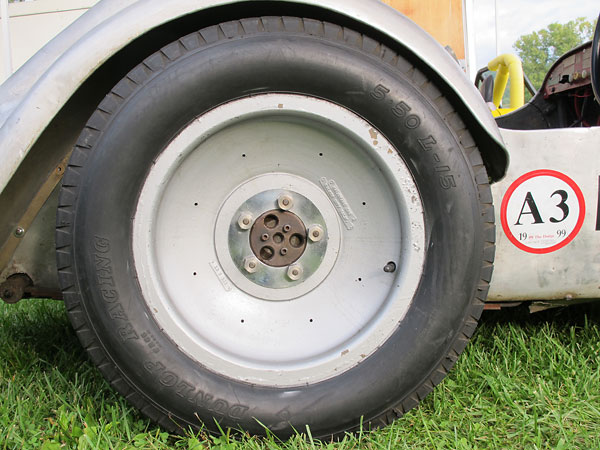 This Lester MG was equipped with stamped steel Morris Eight wheels when it was imported to U.S.A.
They were pretty, but weak and not particularly light. Duncan Black bought two sets of magnesium
Halibrand sprint car wheels (known as Smoothies), and that's what the car has raced on ever since.
Note: Halibrand drilled eight small holes in each wheel for attachment of tire balancing weights.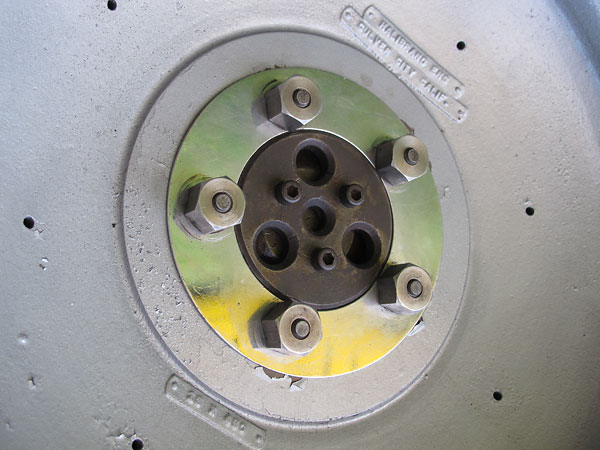 Halibrand Engineering - Culver City, California - 15x450


Notes:
(1)
Harry Lester's M-series body styling was not well received. At least two of the original M-series chassis were completed or updated during the 1950s with more attractive fiberglass kit-car bodies from Ashley Laminates Ltd. This was certainly true of 5 EME, although even more recently (~2005) 5 EME has been updated with a custom aluminum body. Enthusiasts can be excused for not knowing what an authentic Lester M-series would look like. In North America, we've often seen one particular curvacious, aluminum-bodied vintage MG special misleadingly badged and presented as a Lester MG. This is a pity because the car in question has an interesting history of its own, waiting to be told.


(2)
The 1951 Watkins Glen program shows that David C. Viall of Alexandria Virginia pre-registered an MG Special and was assigned racing number 19. The program also shows a listing for Perry Boswell Jr. of Upper Marlboro, Maryland with a "Lester MG". Boswell was assigned racing number 36. Alexandria and Upper Marlboro are both suburbs of Washington DC; about twenty miles apart. Crystal clear photos from the race make it very easy to identify David Viall's #19 car as a Lester MG. On the other hand, Perry Boswell is among fourteen registrants who didn't participate in the actual race. It seems highly likely - if not absolutely certain - that David Viall ended up racing the car that Perry Boswell initially intended to drive. Furthermore, except for its racing number, car 19 looks identical to photos of the Lester MG that Donald E. Millians entered and recruited Duncan Black to drive at Watkins Glen in 1953. Millians' home in Baltimore Maryland is about 38 miles due north of Upper Marlboro.

Jim Mayers' "NNK 526" soon followed Harry Lester's KUR 4 to America. NNK 526 was purchased and very actively raced by William B. Lloyd of Green's Farm, Connecticut. (Briggs Cunningham lived in the same town.) From 1953 race reports, it seems Bill Lloyd recruited other drivers to drive the Lester, including specifically C.G. Bennett and Leroy Thorpe. For the 1953 season, the original MG powerplant was replaced with an Offenhauser engine. NNK 526 was driven by William Eager during the 1954 and 1955 seasons, and by Floyd Stone during 1958. NNK 526 is currently receiving a very authentic restoration to its 1951 configuration by Lester MG specialist Roy Jacobson.

Harry Lester installed an enlarged (1466cc) engine and a "T51" style aluminum body on his MG TA (serial TA2460, registration KJH 114). This third Lester was imported to the United States by Don F. Marsh to be raced in SCCA's F Modified class during 1954. Marsh sold KJH 114 to Chuck Dietrich who evidently fitted a 1250cc engine to race in SCCA's G Modified class during 1955. Dietrich sold KJH 114 to the Funny Face Auto Racing Team. Under their ownership, drivers Ted Jayne and Charles Ellmers made appearances with it in 1956. They evidently upgraded it to an MGA engine or possibly re-installed the old Lester-modified engine, to race in SCCA's F Modified class in 1957. Charles Ellmers apparently retained the car after the team dissolved, because he is recorded as having driven it at one race in 1962. KJH 114 is currently vintage raced in North America by Marvin Primack.

Records aren't quite so clear about the Lester MG racecar or racecars entered by other drivers in North America during the 1950s. Bill Rutan entered an F modified class Lester MG in SCCA events during 1954, and on at least one occasion in 1957. R.D. Ryder entered an F Modified Lester MG in SCCA races during 1955. (Ryder entered the fourth of four Lesters that met up at Cumberland Maryland that year.) The registration list for the 1957 Cumberland race weekend shows John Norwood as having entered a "Lester R" (Riley?) in the F Modified class. That may or may not be an error; John Norwood entered a Bristol powered Lister in multiple races during 1957, but that car's larger engine put it in the E Modified class.

Richard (Dick) Duncan in California posted on the Autosport "Nostalgia Forum" message board in August 2010: "I own what we think may be the only M-11 chassis with Climax power. It came to California with an Ashley body in 1957. I also own an M-15 chassis and the original Lester alloy coupe body which was the prototype for the M series Monkey Stable cars. This car was owned by and raced at Goodwood in 1956 driven by Ted Pool." (Ted Pool's Goodwood registration shows that he drove HJB 790. The same car had been driven by Harry Lester at several events during 1953.)


(3)
Although the car driven by Jim Mayers wore the registration number KUR 4 throughout the 1951 British Empire Trophy race weekend, it was actually a different car. The real KUR 4 as featured throughout our article had already been sold, shipped to the United States, and raced at Bridgehampton by the time the British Empire Trophy was contested. Per historian and Lester MG owner Stewart Penfound, Jim Mayers actually drove a newly built Lester MG that weekend. Mayers' car would be properly registered as NNK 526 about one month later.


We'd like to acknowledge two particularly helpful online resources which aided the development of this article: (1) Cliff Reuter's collection of scanned vintage SCCA programs and results information at etceterini.com, and (2) the driver database at racingsportscars.com.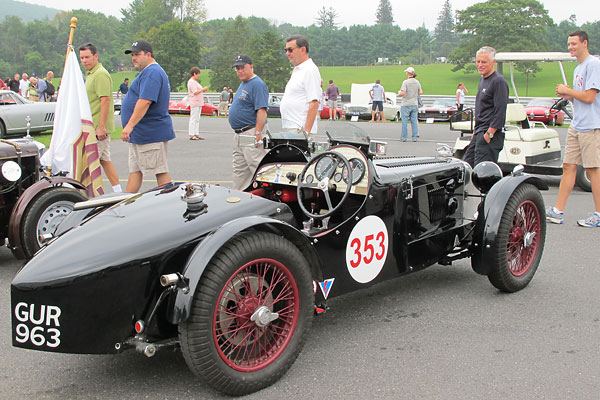 Harry Lester's MG P-type (GUR 963), as photographed by Curtis Jacobson for BritishRacecar.com

Did you enjoy this article? We currently have eighty more in process, featuring about 6000 new photos.
It's research that slows things down. Please help by making a voluntary contribution to our library fund.
Your donation will help us complete and publish more articles, sooner!


Five of the black-and-white photos shown here are from Doug Schirripa's personal photo collection, but the original photographers are unknown. We believe their use in this article complies with "Fair Use" guidelines as established by the U.S. Supreme Court and others. The one color photo of KUR 4's original (but modified) aluminum nosecone is by Doug Schirripa, and is used by exclusive permission. The four photos that show KUR4 with owner/driver Larry Miller were all taken by Larry Miller's first wife, Maryel Miller. Maryel Miller's photos are from the collection of Jim Blakeney, and are used here by his permission. All other color photos shown here are from September 2011 when we viewed the car at Lime Rock Park in Connecticut. Photos by Curtis Jacobson for BritishRaceCar.com, copyright 2012. All rights reserved.



Notice: all the articles and almost all the photos on BritishRacecar.com are by Curtis Jacobson.
(Photos that aren't by Curtis are explicitly credited.) Reproduction without prior written permission is prohibited.
Contact us to purchase images or reproduction permission. Higher resolution images are optionally available.