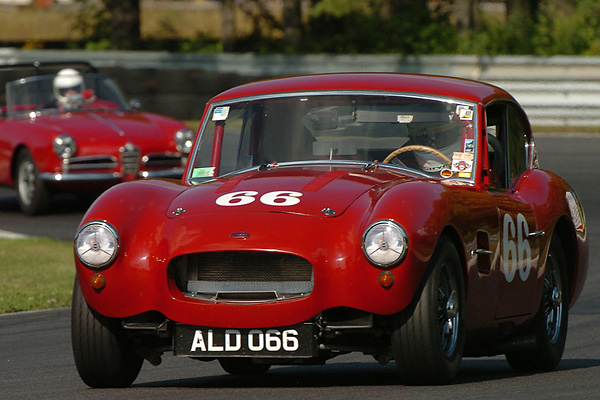 Photo by Michael Casey-DiPleco. Used by exclusive permission.


Bob Girvin's Hemi-Powered 1958 Allard GT Coupe
Owner: Bob Girvin
City: Holliston Massachusetts
Model: 1958 Allard GT coupe
Engine: 1958 Chrysler 300D (392cid) V8
Race prepared by: owner
The Allard Motor Company, Ltd.
When car enthusiasts think of the Allard marque, the J2 model comes to mind first even though it accounted for only five percent of the company's production. The company's best selling models were four seat tourers - the M drop head coupe and the P1 saloon - but the company's reputation was earned by high-powered racing cars. Allard made a strong impression on European fans when company owner Sydney Allard and American co-driver Tom Cole Jr. piloted a Cadillac V8 powered J2 to a third place finish in the 1950 24 Hours of Le Mans. Allard made a similarly strong impression in America where J2 racecars scored impressive victories at Bridgehampton, Sebring, Watkins Glen, and other early road racing venues.

In the earliest days of American road racing, Jaguars came with Jaguar engines and Ferraris came with Ferrari engines but an Allard could be special ordered with almost any big American V8. Power to weight ratio was the J2's main advantage. With a flat-head Ford (4.2L/255cid) V8 fitted, a J2 only weighed about 1700 pounds. The huge Cadillac (5.4L/331cid) V8 brought weight to about 2050 pounds. Loose rules benefitted Allard; the words "with engines over three liters" covered a lot of ground! Allard J2 racecars roared to many victories, and captured the imagination of a generation of fans.

The Allard story didn't start with the J2 model. It began in the pre-war years when Sydney Allard set up a Ford car dealership in south London and began spending his weekends building, racing, and improving a Ford Model 48 based "special" in various trial and hillclimb events. He was tremendously successful in trials, and other enthusiasts begged him to build racecars for sale. He consented. Sydney Allard and his crew built eleven Ford-powered specials before the war, and completed a twelfth shortly after hostilities ended. (In the intervening years, the Allard shop had been busy repairing and rebuilding Jeeps and other light vehicles for the war effort.) Experience with Ford-Powered specials was applied to a single fantastic Steyr-powered special with which Sydney Allard dominated the 1949 British Hill-Climb Championship. We'll take a close-look at the Steyr-Allard in a future article, when we can better illustrate how its design led to the J2 model.

One key to the success of Sydney Allard's early specials was that he commissioned Leslie Ballamy to design an independent front suspension. Ballamy's split-axle design gave Sydney Allard's racecars superior braking on rough surfaces compared to rival cars with solid front axles. Ballamy's front suspension concept was used on all Allards through 1954, although details varied. (For example, leaf springs were replaced with coil springs.)

Allard Motor Company Limited was founded in 1946. Racing was Sydney Allard's first love, and the first mission of the car company was to keep Sydney Allard in competitive racecars!

A large proportion of Allard's cars were shipped to America. The British government worked hard after the war to promote exports. In reward for exporting cars, Allard was granted priority access to materials for production (and thus for racing.) Through the dealership, Allard Motor Company also had access to Ford parts. They never attempted to develop their own engines because it made better sense to use Ford engines. When customers wanted other engines, Allard worked to support those requests. Some Allard cars were shipped without engines to New York, and completed there.


Allard Models and Production Figures
Competition Cars
Sports Cars
Touring Cars¹
Model
Years
# Built
Model
Years
# Built
Model
Years
# Built
J1
1946-48
13
K (K1)
1946-48
151
L
1946-48
191
Steyr-Allard #1
1949
1
K2
1950-51
119
M
1947-50
500
J2
1949-51
90-99
K3
1953-54
63
P (P1)
1949-51
559
J2X
1952-54
77-83
Palm Beach
1952-54
74
P2 Monte Carlo
1952
11
J2X Le Mans
1952-53
10-11
Palm Beach Mk2
1956-58
6
P2 Safari Estate
1952
10
JR
1953-54
7
GT Coupe
1958
2
Atom (500cc)
1955
2
Micro Cars
Steyr-Allard #2
1958
1
Clipper
1954-55
5
Subtotal: 201 to 217 cars
Subtotal: 414 cars
Subtotal: 1276 cars
Grand Total: 1891 to 1907 cars
Allard Motor Company went from success to success through a half dozen years. One of the company's greatest victories was in the 1952 Monte Carlo Rally when Sydney Allard and Guy Warburton co-drove an Allard P1 saloon along with navigator Tom Lush to a first place finish. (Second place went to a young team composed of drivers Stirling Moss and Desmond Scannel with navigator John Cooper, in a Sunbeam-Talbot 90.)

Generally, racing victories led to customer orders but the connection seemed to come apart in the early fifties. The car market was in turmoil. Styles and technology were changing especially quickly, and all car companies were obliged to rush new models to market. In 1952 Allard introduced a new lower-priced two-seat sports car called "Palm Beach" and they followed up in January 1953 with an updated K model. Whereas the K3 was available with a variety of American V8 engines, the Palm Beach came with either British Ford's Consul four-cylinder or Zephyr six-cylinder.² Both of these new sports cars featured smooth aluminum bodies on multi-tube steel frames. Hopes were high, but sales weren't. In total, only sixty-two K3 sports cars and seventy-four first-generation Palm Beach sports cars were produced.

Allard continued building cycle-fendered competition cars too. The J2 model was replaced by a newer version called J2X; although the wheelbase dimension was unchanged, the frame was extended at the front to support trailing radius rods and engines (either Chrysler or Cadillac V8-type) were shifted forward 7.5 inches relative to the body. For 1952, Le Mans rules changed to explicitly prohibit cycle fenders so Allard created an envelope-bodied "J2X Le Mans" variant. The final model in the competition series was the JR, which was a new and even more ambitious racecar for 1953.

Allard's new models were far less successful than Jaguar's XK-120 range. Furthermore, Allard's niche was invaded in 1951 by the Nash-Healey. In many respects the Nash-Healey was similar in concept and execution to the Palm Beach, but it was available in America through a nationwide dealer network. New sportscar models were coming fast and furious. Kaiser introduced the stunningly beautiful Darrin, Chevrolet introduced the Corvette, BMC introduced the Austin-Healey 100. Sydney Allard undoubtedly knew Ford would soon have a sporty model of their own. Allard Motor Company needed a partner for marketing and distribution in North America, but inquiries with Studebaker and negotiations with Chrysler were ultimately fruitless.

Production ground to a stop at the end of 1954, even as Sydney Allard planned technical updates and styling changes to make the Palm Beach more commercially attractive. The plant was almost completely idle through 1955, but there was a reprise of activity in 1956. Allard announced they were back on the market with a Mark Two version of the Palm Beach model, featuring more curvaceous styling.

For the Palm Beach Mk2, the Allard Motor Company dispensed with the split-axle front suspension which had been used on all previous models. Instead, they developed an unusual hybrid design which featured aspects of a MacPherson strut suspension (as had been pioneered on the British Ford Consul and Zephyr models) in combination with torsion bar springs a la Jaguar. Instead of making telescoping shock absorbers integral to the "strut" pillars, they were mounted on the rearward arms of wide-based lower A-arms. Whereas MacPherson struts are usually mounted at their very top to inner wings (i.e. "fender wells"), on the Allard they were by necessity pivoted from brackets off the frame. Allard's new suspension was compact, tunable, and had a relatively low unsprung weight.

The improvements weren't enough. Only eight more cars were built, six convertibles plus two Gran Tourismo coupes. The first GT was to be Sydney Allard's personal car. Breaking tradition, Sydney Allard had it fitted with a six cylinder, 3442cc Jaguar engine.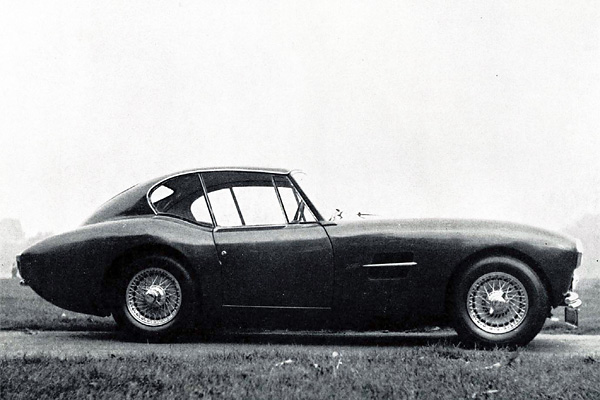 Sydney Allard's GT coupe, as it appeared in company literature. After Sydney Allard entered
his GT in the Production sports car class at Stapleford on 12 October 1958, Autosport magazine
reported: "Triumphant amongst the largest sports cars was Sydney Allard driving his very
beautiful GT creation which has a Jaguar engine". (Richard Page assisted our research.)



The Second of Only Two Allard GT Coupes Ever Built
The second and final GT coupe was purchased by then 22-year-old Willis Harrington du Pont, the youngest of Lammot du Pont Jr.'s ten children. One of the richest and most powerful men in the world, Lammot du Pont Jr. had been President of E.I. du Pont de Nemours and Company from 1926 through 1940 and also President of General Motors Company from 1929 through 1937, besides serving on many boards of directors. Lammot had died in 1952, leaving Willis a very large fortune. (Interestingly, Willis was named for the du Pont engineering executive who made the executive decision to produce tetraethyl lead, the gasoline additive. Willis' older brother David F. du Pont had died in 1956 as a result of an automobile accident.)

Like Sydney Allard's GT, the "du Pont GT" was originally built with a Jaguar engine. However, Willis du Pont wanted something with more pep, so he arranged to have a larger engine installed. In fact, he supplied an aggressively race-prepared Chrysler 392cid "hemi" V8 engine to the Allard works for the car's completion.³

When Willis du Pont arrived to review his car, he was reportedly disappointed that it wasn't as refined as a Facel Vega. A different engine might make the GT more suitable for touring, but a complete redesign (and roughly fifteen hundred pounds of ballast) would have been required to transform the Allard into a luxury barge.

Within three weeks of its arrival in the United States, the du Pont GT's engine was replaced again, this time with a standard 1958 Chrysler 300D motor. Incidentally, that engine is now kept safely in storage, while a different 300D motor is used for vintage racing.

The du Pont Allard GT was used as a street car through the early 60s, and we've been unable to find any evidence it was raced in that period. We don't know when Willis du Pont sold it. In 1968 it was taken in trade on a Ford Thunderbird from a man who is rumoured to have had Mafia connections; he reportedly told the dealer that he had won the Allard GT in a card game. A Buick dealer in New York took it in trade in 1975 and restored its paint and interior.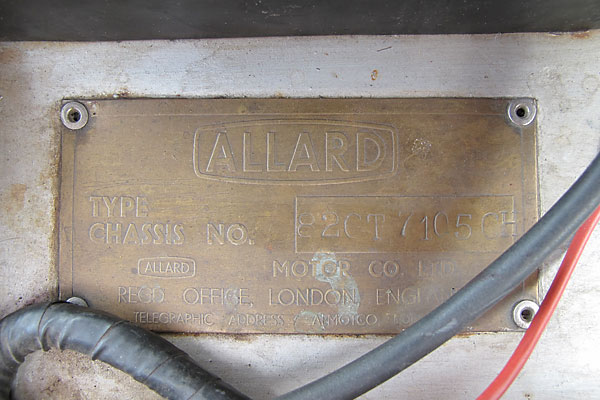 ALLARD - Type / Chassis No. 82CT7105CH
Allard Motor Company Ltd. - Regd. Office, London, England.
Telegraphic address: ALMOTCO LONDON


Racing Allard Chassis Number 82CT7105CH
Bob Girvin bought his Allard in 1982. He rebuilt the chassis and driveline, installed a roll cage, and otherwise prepared the car for vintage racing. Bob Girvin has been enthusiastically racing the car throughout the eastern United States ever since. For most of those thirty years, Bob has run ten or twelve races per year. In 2010 he only ran five, and in 2011 he only ran one. Of the GT, Bob says: "It's hot and heavy, and a lot of work to drive." But clearly he enjoys it immensely. He has especially enjoyed tinkering with technical details like brakes and suspension; things the Allard Motor Company would have focused development effort on if they had stayed in production longer.


Features and Specifications
Engine:
1958 Chrysler 300D "hemi" (392cid) V8 engine, producing about 515bhp at 5800rpm. Rebuilt by Bob Girvin with machine work by A.B.T. Machine Co. of Holliston MA. Hilborn fuel injection. BBR Max Flow stainless steel velocity stack filter covers. Mallory Unilite distributor. MSD6AL capacitive discharge ignition system. Mallory "Electronic" ignition coil. MSD 8mm heli-core solid supppression spark plug wires. Moon aluminum valve covers with Offenhauser breathers. Custom deep sump aluminum oil pan. 13-row aluminum engine oil cooler.

Cooling:
Ron Davis custom aluminum dual-pass crossflow radiator. Engine driven flex fan.

Exhaust:
custom four-into-one headers by Tubular Automotive Custom Exhaust of Rockland MA.

Transmission:
Borg-Warner T10 4-speed, iron case. (Clutch actuated via mechanical linkage.)

Rear End:
Dana 44, originally fitted with an open differential but now competing with a limited slip differential. 3.54:1 gear ratio. Red Line "Shockproof" gear lubricant.

Front Susp.:
(See article text and photo captions for detailed description.) Adapted Chrysler torsion bar springs. SPAX gas-filled, adjustable, telescoping shock absorbers. Beefy non-adjustable anti-sway bar. Marles high ratio steering gear.

Rear Susp.:
De Dion tube mounted on four trailing links, with a Panhard rod. Coil springs. KONI steel-bodied double-adjustable telescoping shock absorbers. Adjustable anti-sway bar mounted on aluminum pillow blocks.

Wheelbase:
96 inches.

Brakes:
(master) dual Tilton master cylinders (3/4" front and 5/8" rear) with bias bar.
(front) Girling CR brake calipers, on 12" rotors.
(rear) inboard mounted drum brakes with Buick aluminum drums.

Wheels/Tires:
Dayton 72-spoke cross-laced wire wheels. Avon CR6ZZ 205/70R15 96V tires.

Electrical:
Delco-Remy alternator. Filko external voltage regulator. Lead-acid battery.

Instruments:
(left to right) AutoMeter Pro-Comp oil temperature gauge (140-280F), AutoGage water temperature gauge (100-280F) for lefthand cylinder head, AutoGage water temperature gauge (100-280F) for righthand cylinder head, unbranded digital thermometer, AutoMeter Sport-Comp Monster tachometer (0-8000rpm), Smiths petrol level gauge, Smiths dual oil pressure (0-100psi) and water temperature (30-100C) gauge, Smiths ammeter (+/- 30 amps), and a Smiths speedometer (0-150mph).

Fuel System:
ATL SP115 15 gallon steel canister fuel cell. Hilborn mechanical fuel pump (as required for proper function of the fuel injection system.) Holley "blue" rotor/vane electric fuel pump (to fill a make-up tank in the engine compartment.) Holley adjustable fuel pressure regulator, with AED fuel pressure gauge (0-15psi).

Safety Eqmt:
Schroth six point cam-lock safety harness. Kirkey aluminum dragster drivers seat, cut down for use with separate headrest. Centralized fire suppression system. Three different rear view mirrors.

Weight:
~2850 pounds, dry. (52/48 distribution.)

Engine Installation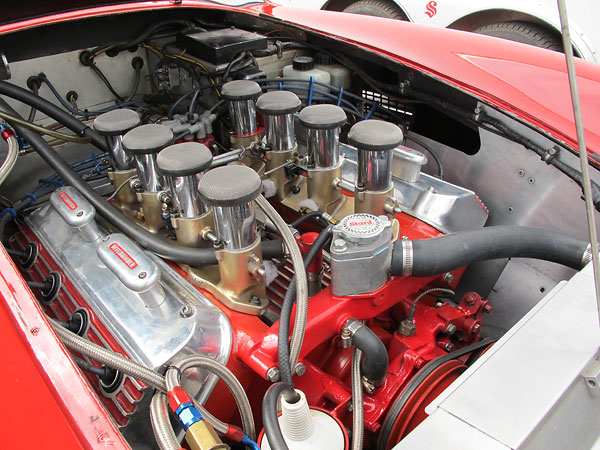 1958 Chrysler 300D "hemi" (392cid) V8 engine, producing about 515bhp at 5800rpm. The name hemi
refers to the hemispherical shape of combustion cavities cast into the cylinder heads.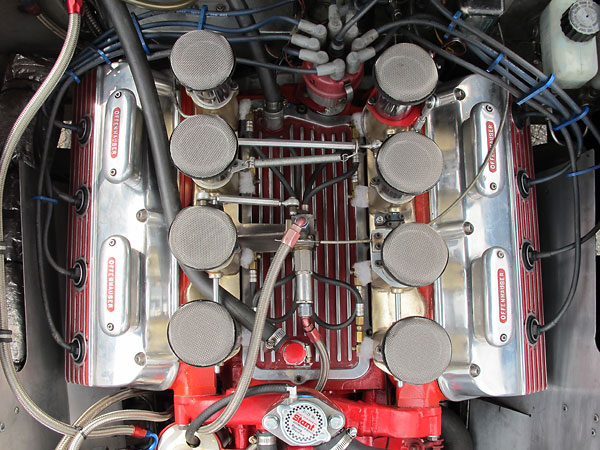 Although Bob Girvin isn't absolutely certain, it's most likely that his Allard GT was equipped
with dual four-barrel carburetors when it was originally constructed. The Hilborn fuel
injection set-up that's on the car now was developed and produced earlier in the 1950s.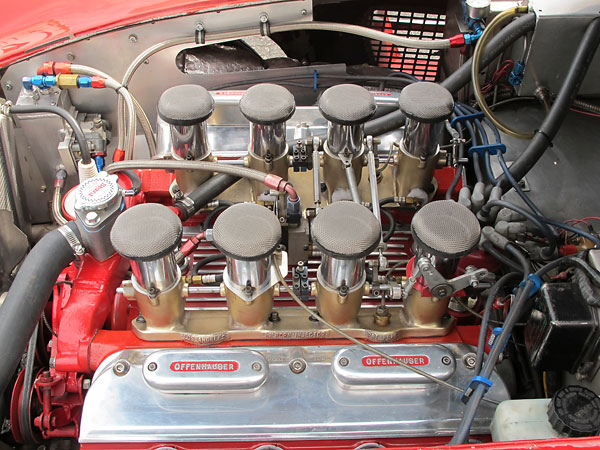 The throttle body castings are marked: "Hilborn Injection - Los Angeles - Pat Pend".
Atop the velocity stacks: BBR Max Flow stainless steel filter covers.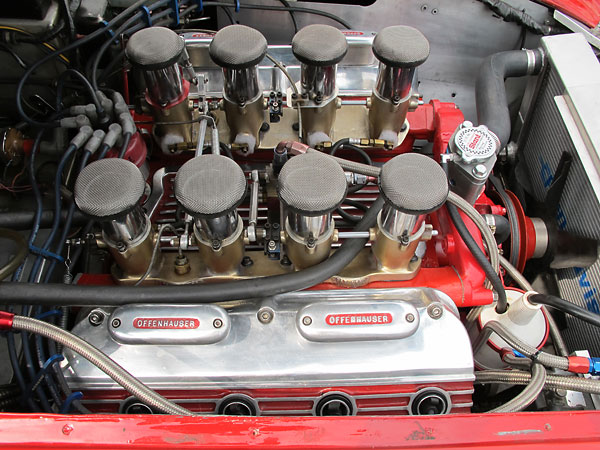 Hilborn fuel injection systems are still available brand new! Bob reports: "The engine idles
nicely at 700/800rpm and pulls well from 1000rpm to 6500rpm, at full or part throttle."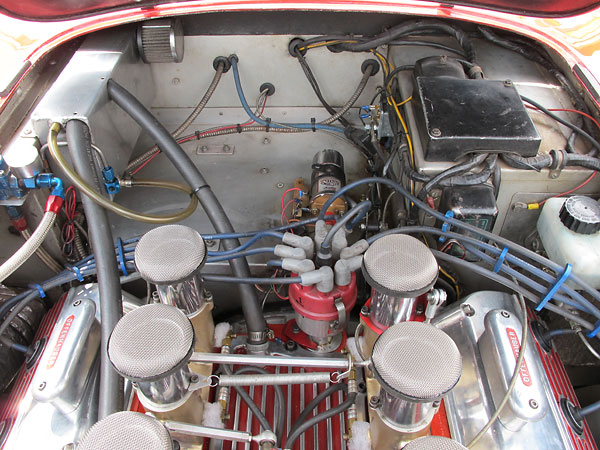 Mallory Unilite distributor, and MSD 8mm heli-core solid supppression spark plug wires.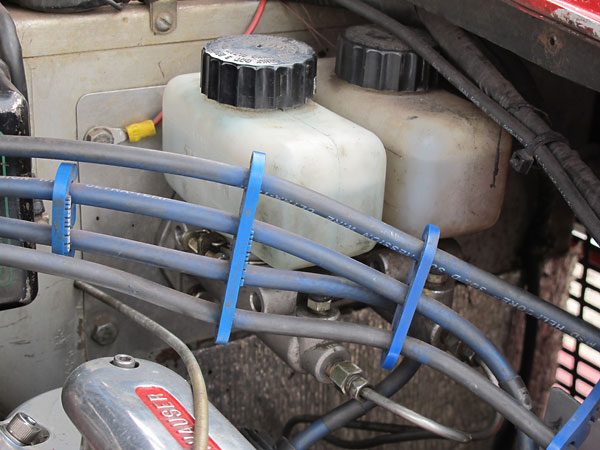 The Allard GT coupe was originally built with dual (i.e. separate front and rear) Girling master cylinders
but Allard didn't provide any convenient to use mechanism for brake bias adjustment. Bob Girvin made the
modest upgrade of adding an adjustable bias bar mechanism when he fitted these Tilton master cylinders.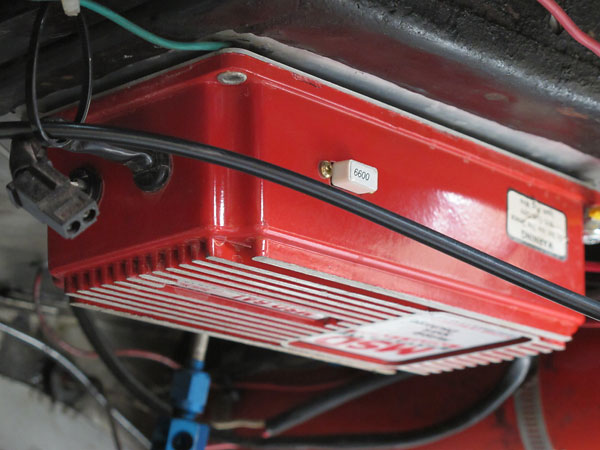 MSD6AL capacitive discharge ignition system, with 6600 rpm rev-limiter chip installed.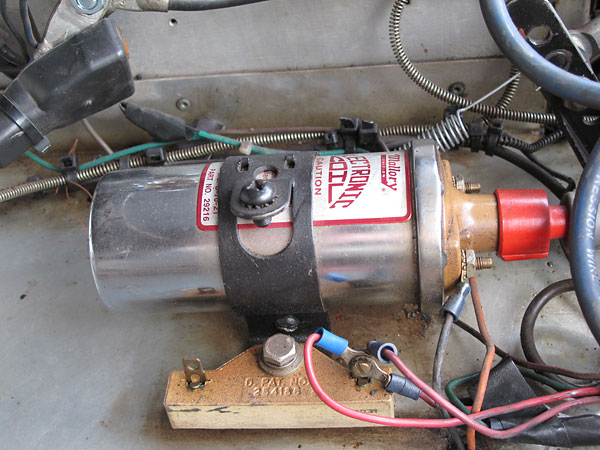 Mallory "Electronic" ignition coil. (Note: ballast resistor in foreground is disconnected.
It will be required if Bob goes back to using a conventional Chrysler ignition system.)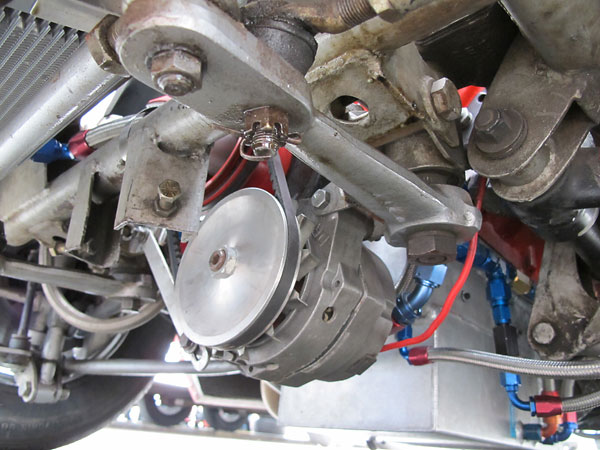 Delco-Remy alternator.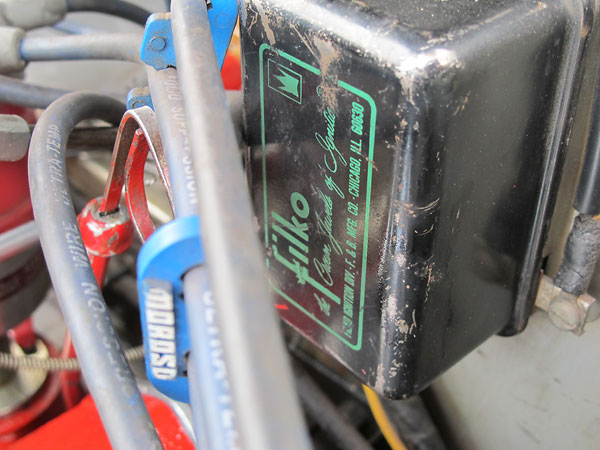 Voltage regulator for the alternator, labeled: "Filko - the Crown Jewels of Ignition
Filko Ignition Division, F&B Mfg. Co., Chicago IL., 60630"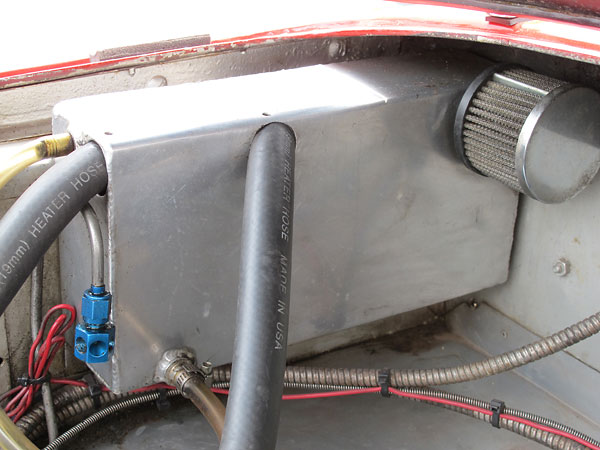 Custom fabricated aluminum crankcase breather tank.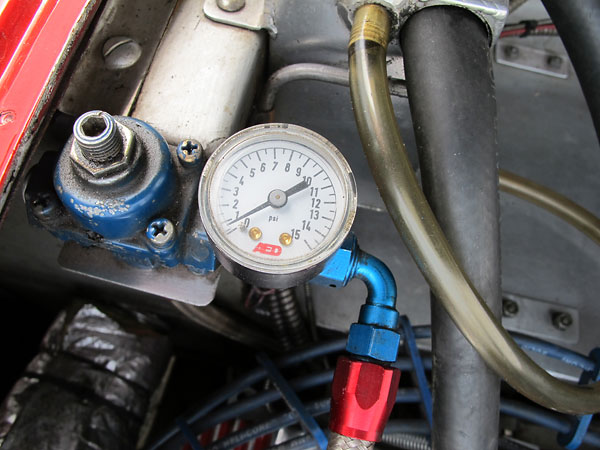 Holley adjustable fuel pressure regulator, with AED fuel pressure gauge (0-15psi).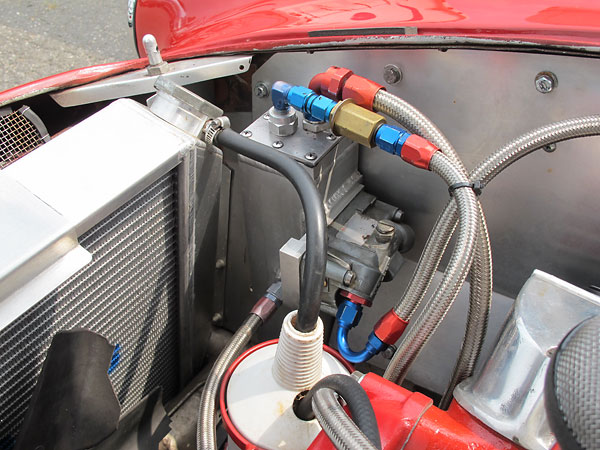 In this view, the supply line to the custom aluminum fuel make-up tank comes in from the right.
It's connected to a primary float bowl borrowed from a center-hung-float Holley carburetor. Inside
the float bowl, a hollow brass float operates a valve to control the level of fuel in the surge tank.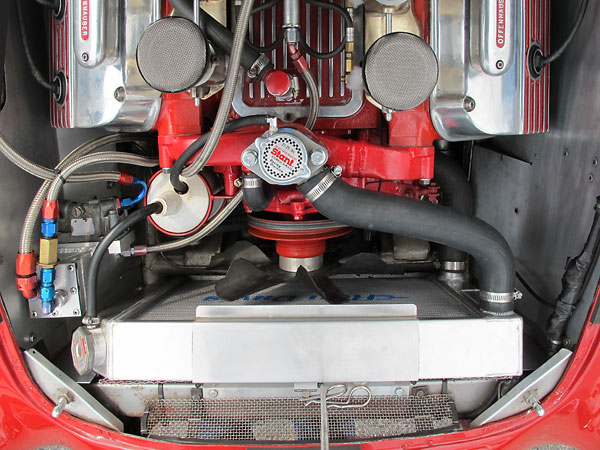 Underneath a coolant overflow bottle (at left), a Hilborn positive displacement fuel pump is driven at
one-half crankshaft speed. (Three of the Aeroquip stainless steel braided fuel lines in this view are
routed to it.) See the hexagonal brass fitting above the surge tank? A removable orifice inside that
fitting is the primary means for tuning fuel mixture! It's on the overflow line from the barrel valve to
the fuel injectors. A smaller orifice here forces more fuel to the injectors for a richer air/fuel mixture.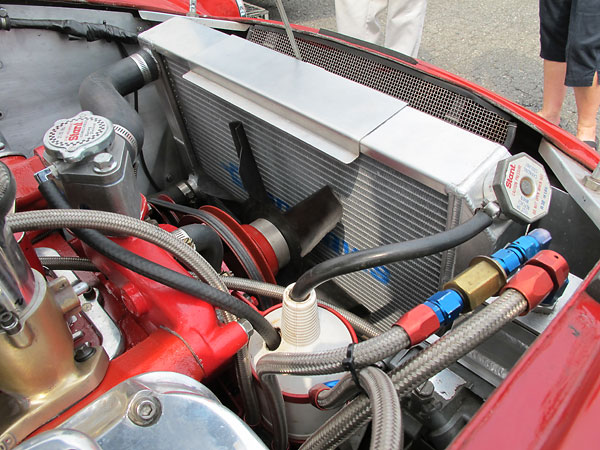 Ron Davis custom aluminum dual-pass crossflow radiator. Engine driven flex fan.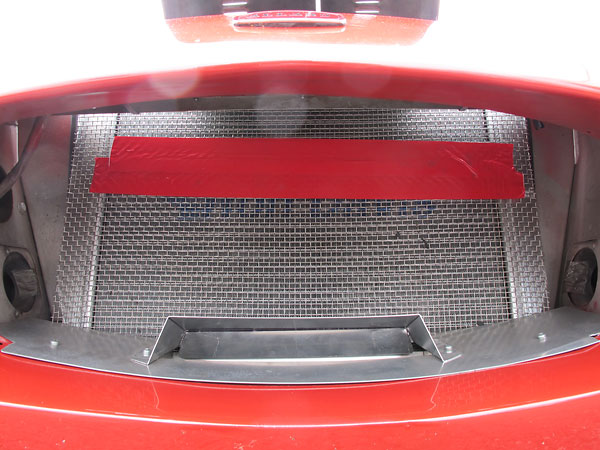 In thirty years of racing, Bob has tried a few radiators. He reports that this latest one is a major
upgrade. It's a double-pass design: coolant flows right-to-left across the bottom half, then
left-to-right across the top half. Compared to the otherwise similar radiator it replaced,
coolant temperature has been cut from 220F to 180F - even with two rows of tape applied.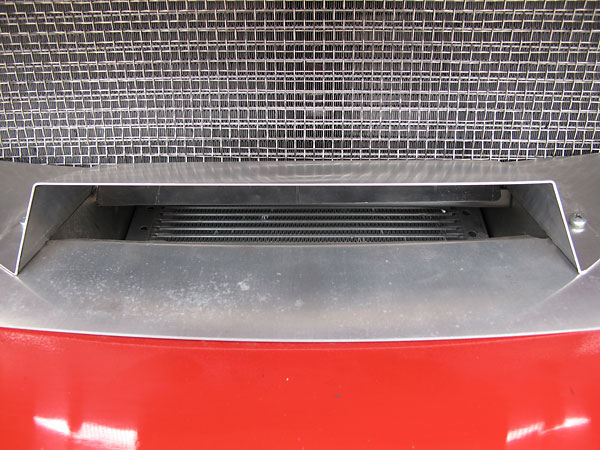 13-row aluminum engine oil cooler.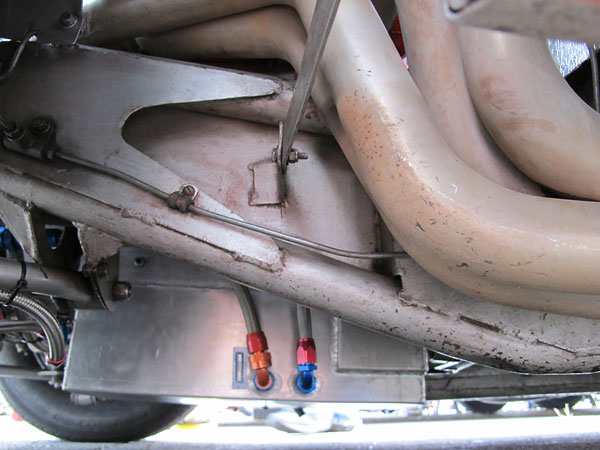 Bob Girvin designed and fabricated this custom deep sump aluminum oil pan.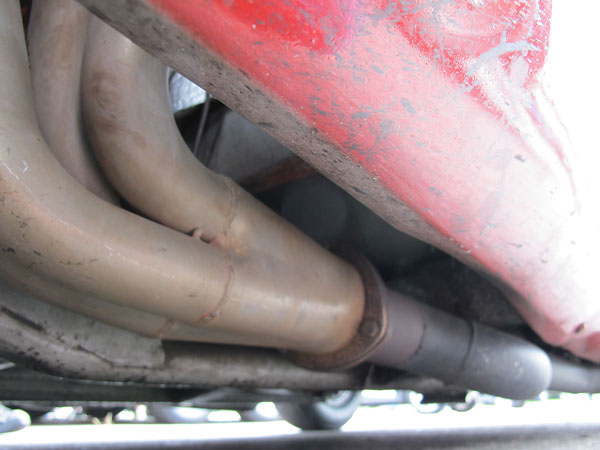 Custom stainless steel four-into-one headers by Tubular Automotive Custom Exhaust of Rockland MA.



IMPORTANT ANNOUNCEMENT
BritishRaceCar.com will have to cut back plans for continued growth if we can't find more financial support.
If you like what you've found here, and you want to see more, please click here and follow the instructions.
Readers like you keep BritishRaceCar.com online and growing through voluntary financial contributions.


Front Suspension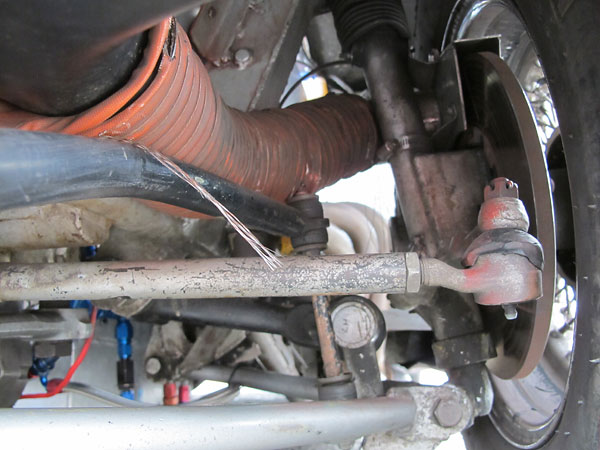 Mechanically they're very different, but in terms of their geometry the Allard GT front suspension
is similar to a MacPherson Strut suspension. The hub carrier is located by a wide-based A-arm at
its bottom. The kingpin pivots at the top on a bracket off of the frame. A torsion bar spring, a
telescoping shock absorber, and an anti-sway bar are all connected to the A-arm.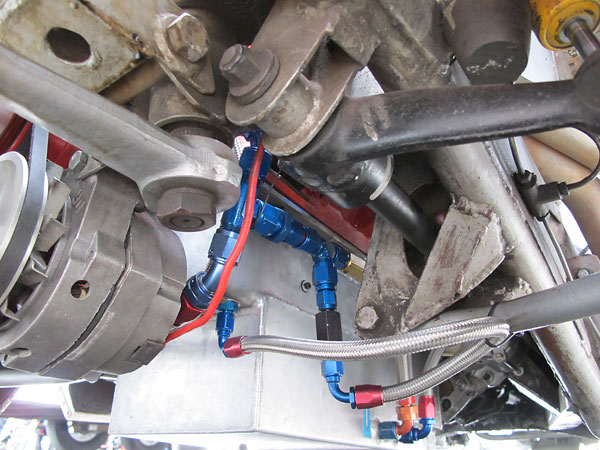 The original Allard torsion bar springs proved far too soft for competition use, so Bob Girvin
adapted Chrysler torsion bar springs to the job.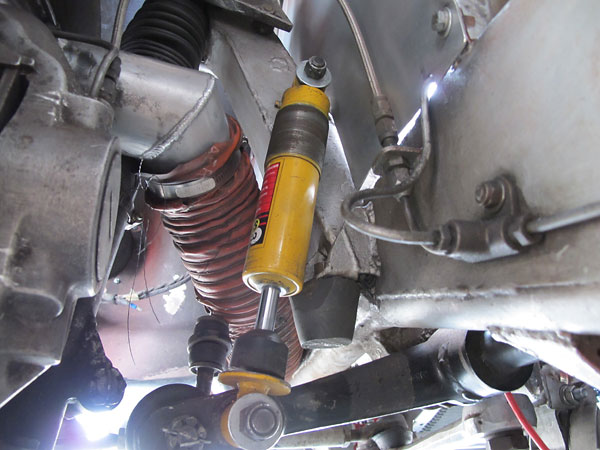 SPAX gas pressurized, adjustable, telescoping shock absorbers.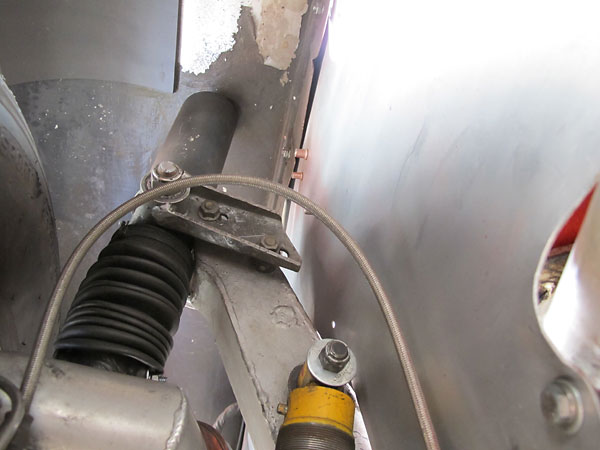 The upper end of the kingpin slides in a tube, and the tube is mounted so it can pivot in one axis.
As you can see, the pivot mounting bracket has been drilled for two mounting patterns. By shifting
between mounting holes, Bob can select two different tire camber range settings.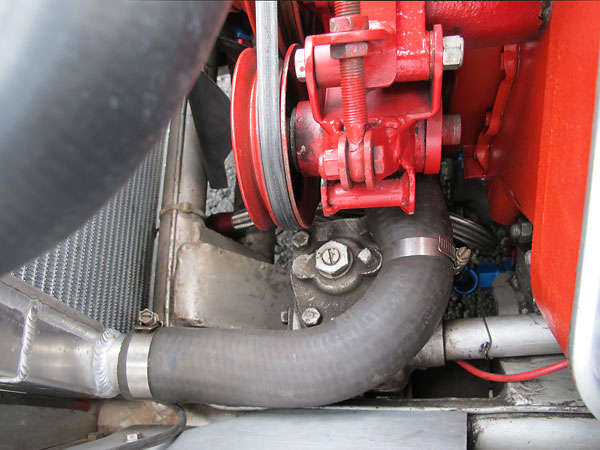 Allard used Marles steering gears throughout their production period.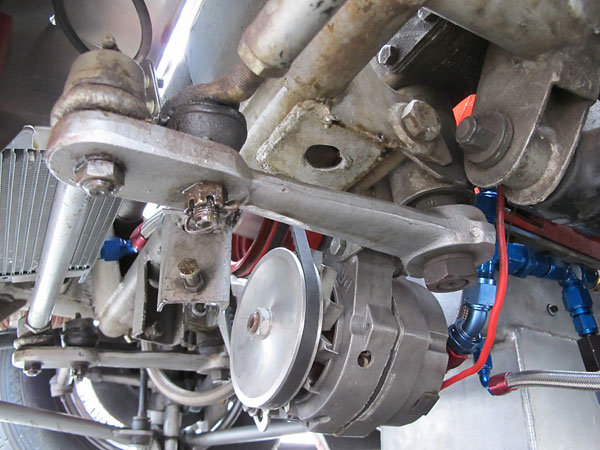 Steering linkage. Note adjustable positive stops.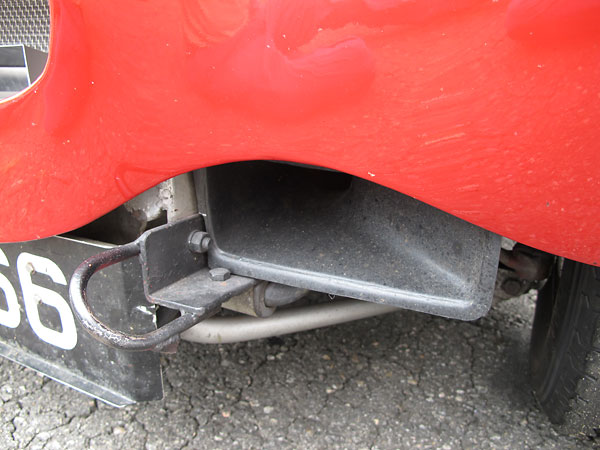 Tow eye and brake cooling duct.


Rear Suspension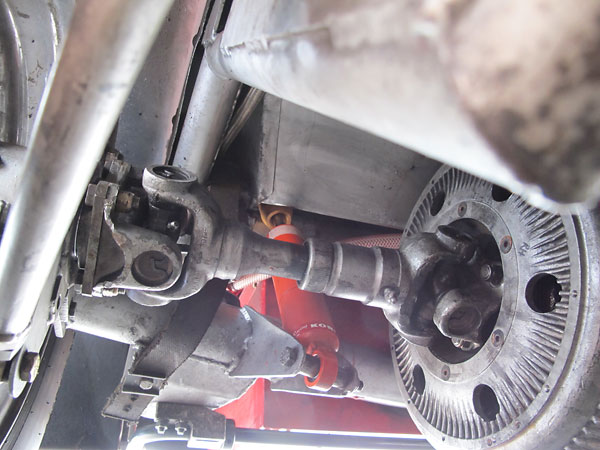 This rear suspension was carried over from the JR model (seven of which were made, the first of which
debuted at Le Mans in 1953.) Bob's understanding is that eight Allard JR racecars were planned but only
seven were built, and that the one surplus JR De Dion suspension was therefore used on his GT coupe.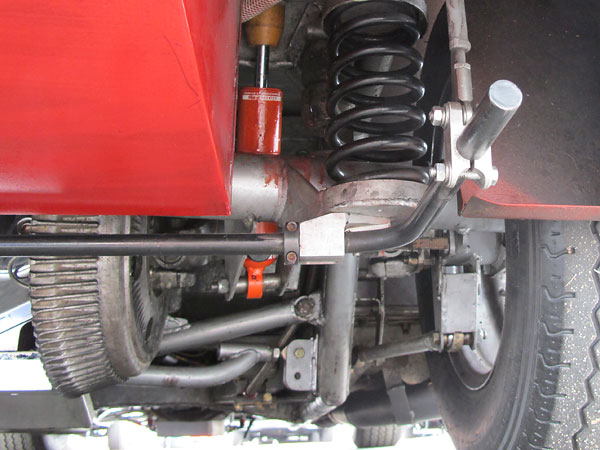 Like a solid (live) axle, a De Dion tube keeps wheels parallel to each other and perpindicular to the
road. Principle advantage: much lighter unsprung weight, which benefits ride quality and road holding.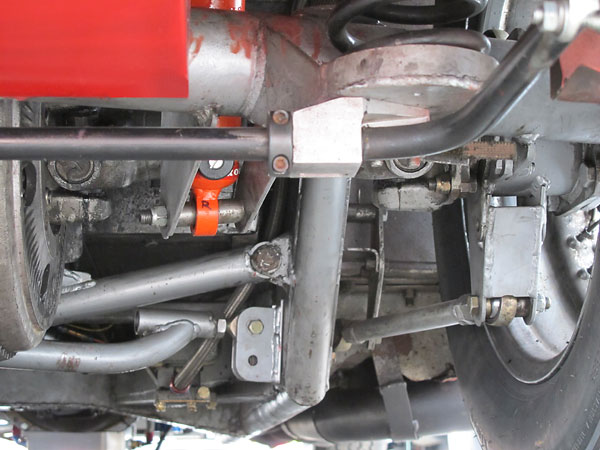 Adjustable anti-sway bar mounted on aluminum pillow blocks.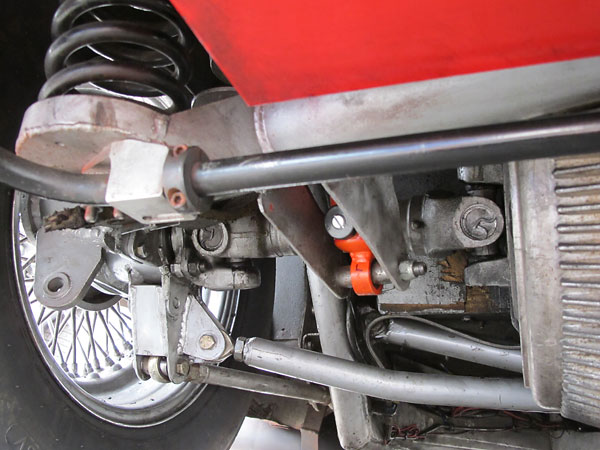 KONI steel-bodied double-adjustable telescoping shock absorbers.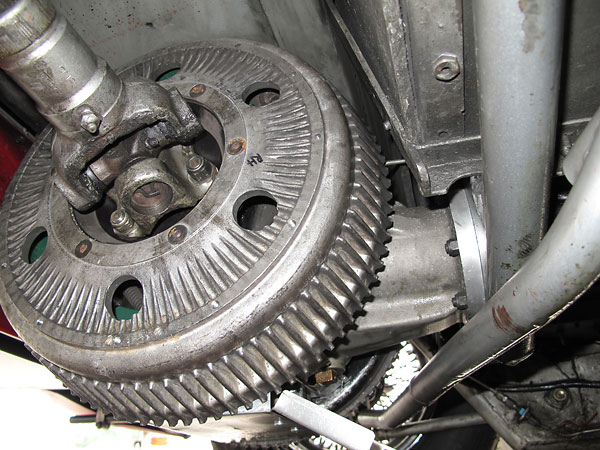 Allard originally installed British "Al-Fin" (aluminum finned) brake drums. The original drums are scarce
and exhorbitantly expensive if you can find them. Bob uses a period-correct substitute: Buick aluminum
brake drums. Buick provided 12" aluminum front brake drums on larger car models from 1958-70. Early
Buick aluminum brake drums had 45 fins. From ~1966, Buick switched to 90 more closely spaced fins.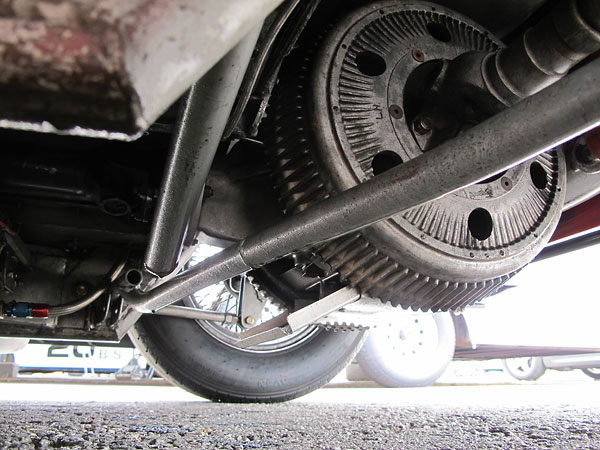 A Panhard rod connects lefthand side of the rear suspension to righthand side of the car's frame.
To the right, a small aluminum panel directs passing airflow upward to cool the inboard brakes.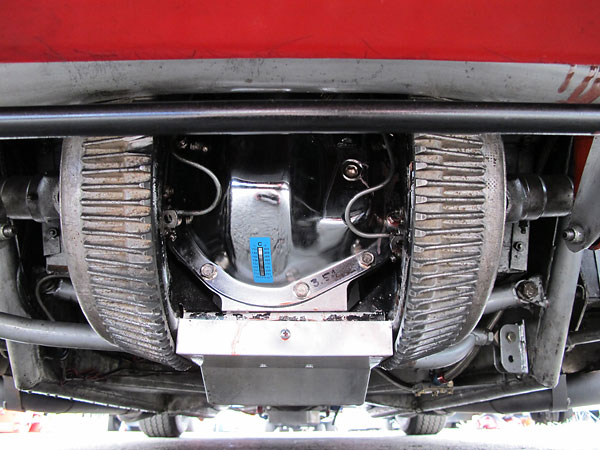 This blue Thermax decal indicates the maximum temperature its mounting surface has ever reached.
Normal synthetic gear lube should provide good protection to at least 250°F. Where higher temps
exist preventive maintenance, an oil cooler, or special lubricant is advisable. Upon close inspection,
this Thermax decal has has reached ~280°F, but it's not really a surprise that a hemi-powered racecar
might qualify as a "severe service" application. Bob uses Red Line's Shockproof gear lube, which is
rated for 300°F! To the right, "3.54" is the ring and pinion gear ratio.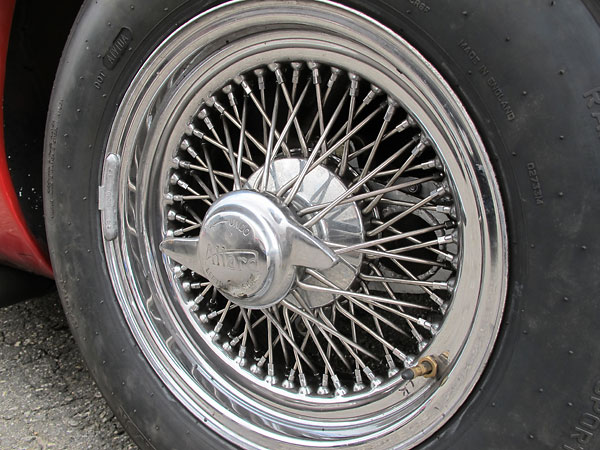 These American-made Dayton wheels have extra robust splines (as on Jaguar E-type) plus
oversize spokes and nipples. Their "cross-laced" spoke arrangement has proven key to
their durability. Before Bob knew to specify cross-laced spokes, new wheels only lasted
two or three seasons. His cross-laced wheels have lasted about seven seasons, so far.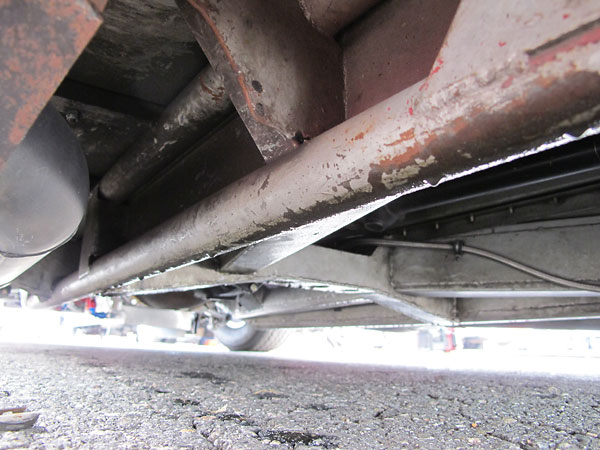 The Allard GT frame is elaborate enough that we won't attempt to describe it - photos will
serve you better - but generally, from the Palm Beach model (of 1952) onward Allard frames
featured twin tubular side members coupled together at intervals by steel plates. It's been
reported that Allard was one of the first car companies to use chrome-moly tubing, but we
can't advise exactly which car models or components used that higher-strength alloy steel.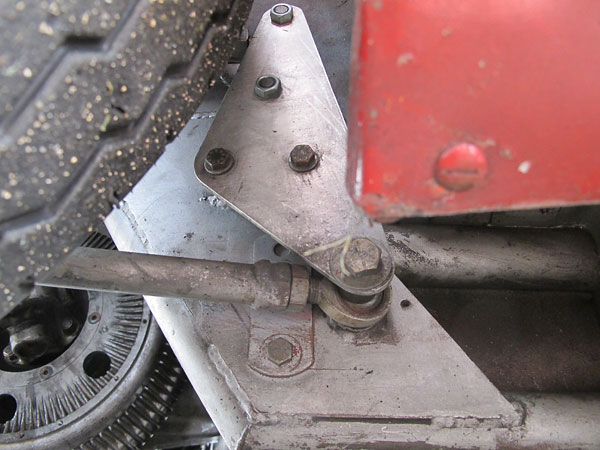 The De Dion tube is connected to the chassis by four trailing links. Bob has upgraded them
with Heim joints to facilitate precision alignment and suspension tuning.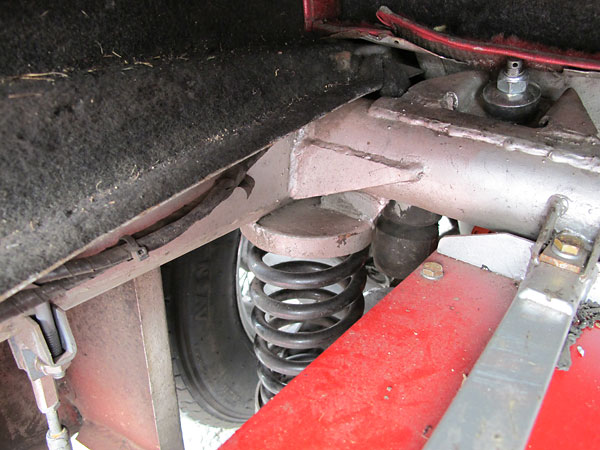 Coil springs.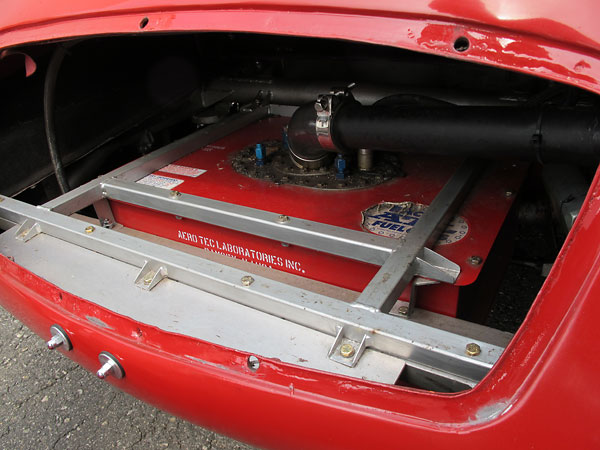 ATL SP115 15 gallon steel canister fuel cell.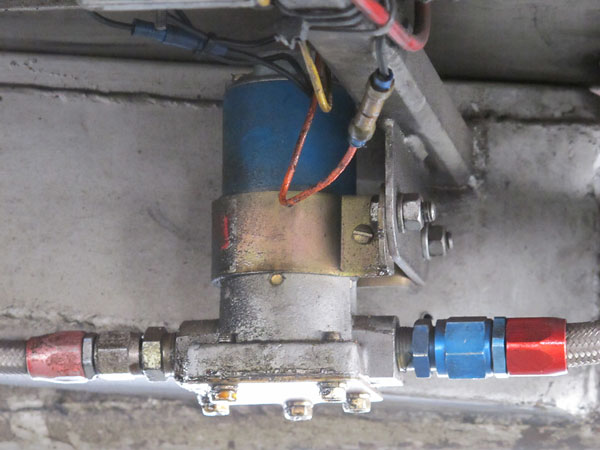 Holley "blue" rotor/vane electric fuel pump.


Interior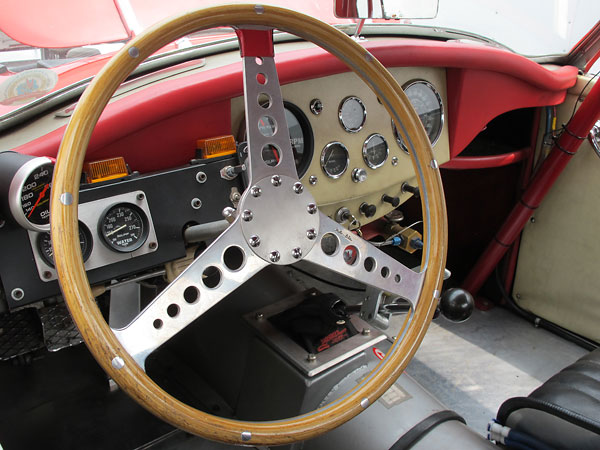 Moto-Lita steering wheel.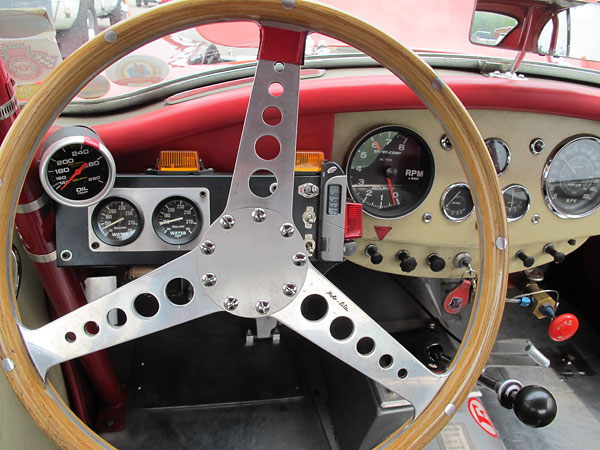 (left to right) AutoMeter Pro-Comp oil temperature gauge, two AutoGage water temperature gauges,
a digital thermometer, AutoMeter Sport-Comp Monster tachometer, Smiths petrol level gauge,
Smiths dual oil pressure and water temperature gauge, Smiths ammeter, and Smiths speedometer.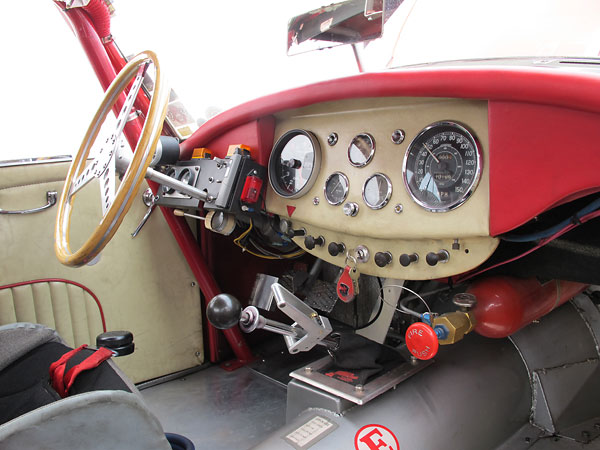 The Smiths speedometer was reading 50mph when we snapped this photo. The odometer read: "10169".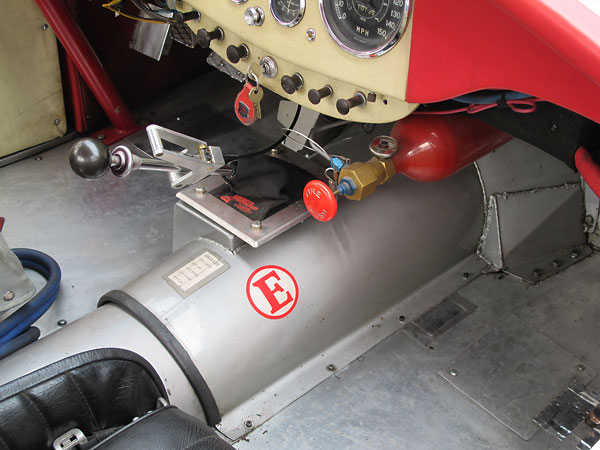 Bob fabricated the removable transmission cover out of thin steel sheetmetal. The paper label on
it reads: "Check list: fuel open, ignition on, fuel pump, differential pump, differential fan."
(Differential pump and fan were removed when Bob switched to Red Line ShockProof® lube.)
The black cloth gear shifter boot has the embroidered logo of Longacre Racing Products.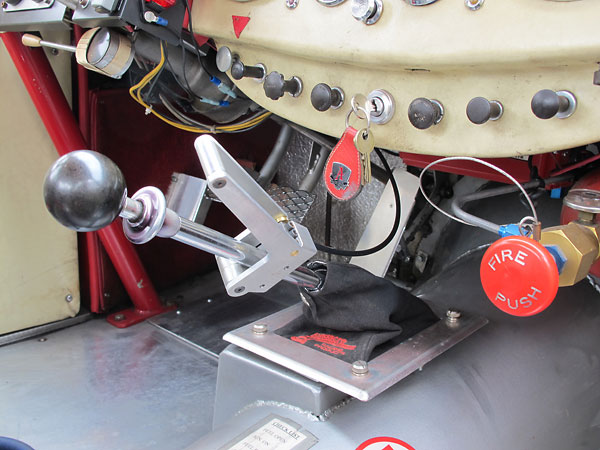 Bob developed a novel hand-operated throttle mechanism to help him match engine-transmission revs
when downshifting. Recent changes to the throttle pedal have made it obsolete, so he'll remove it soon.
(Note: on this shifter, the collar below the shift knob must be lifted upward to engage reverse.)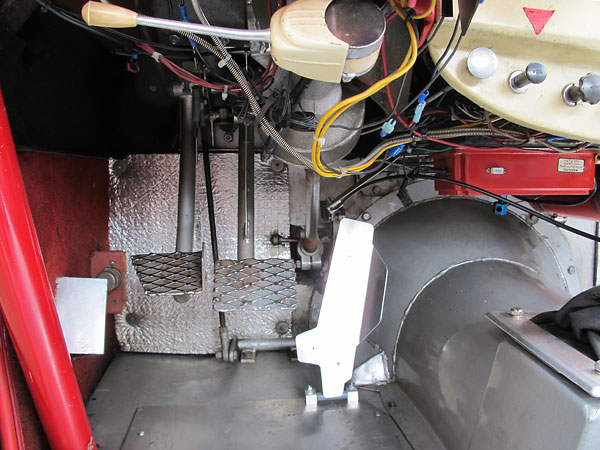 Clutch pedal works through a mechanical linkage to actuate the clutch. Note that
turn signal switch and (floor-mounted) highbeam switch are still installed.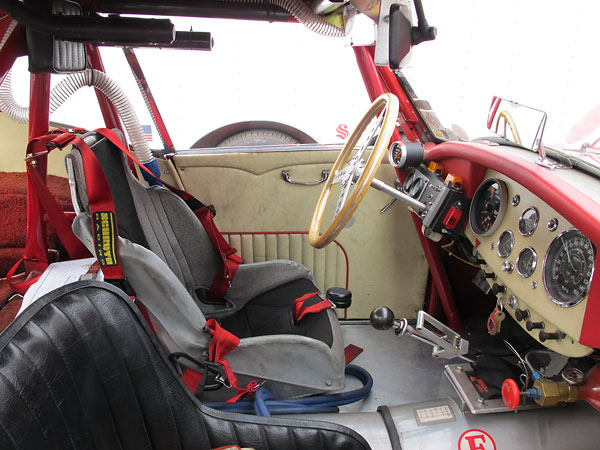 Kirkey aluminum drivers seat, cut down for use with separate headrest.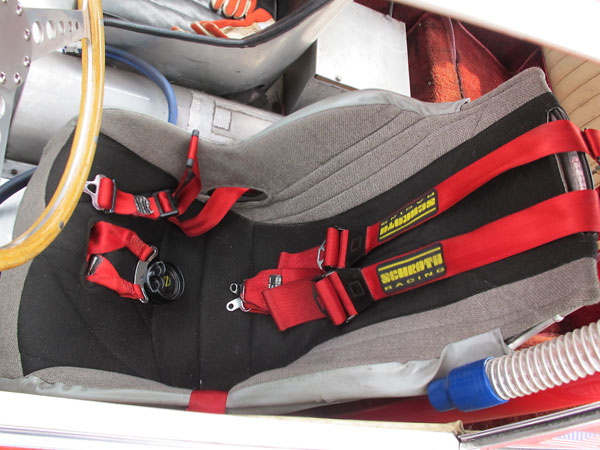 Schroth six point cam-lock safety harness.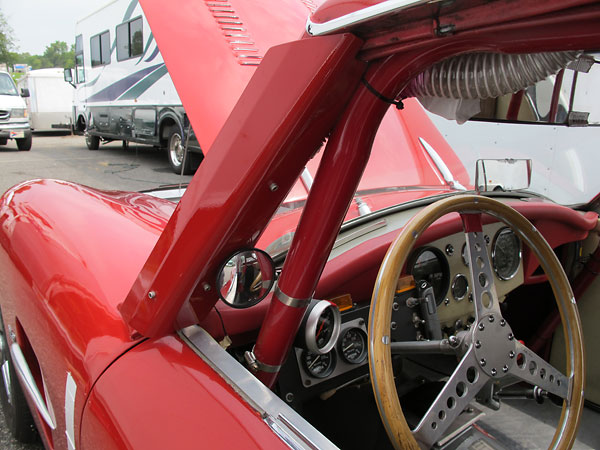 A-pillar air deflector: lower half directs airflow into the cockpit while the top half provides airflow
to the driver's helmet via a corrugated hose. Bob also wears a CoolShirt; the ice chest
for it is strapped behind the driver's seat.



Padded horizontal bars on either side of the driver's helmet.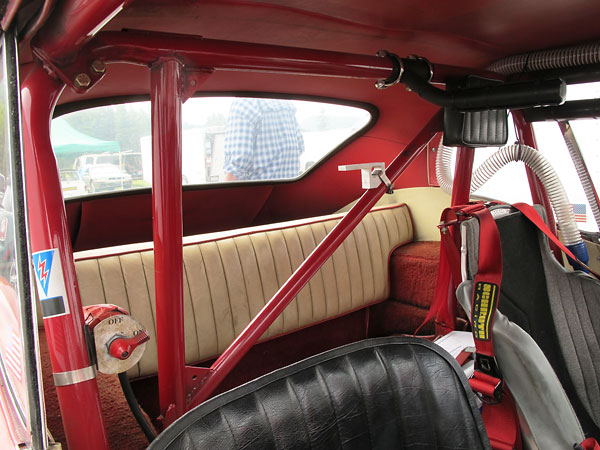 Joseph Pollak brand battery disconnect switch. Custon aluminum bracket for a video camera.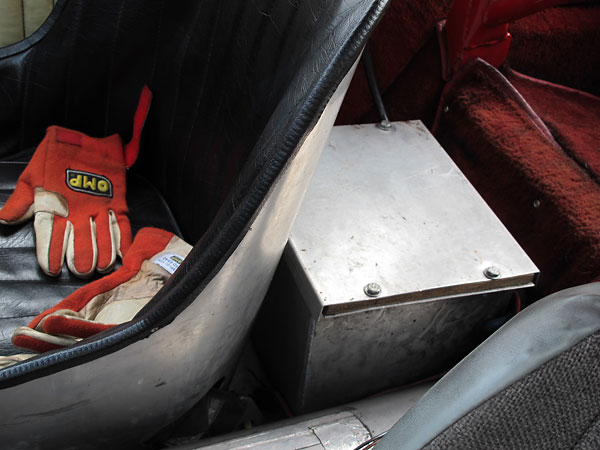 Aluminum battery box.


Exterior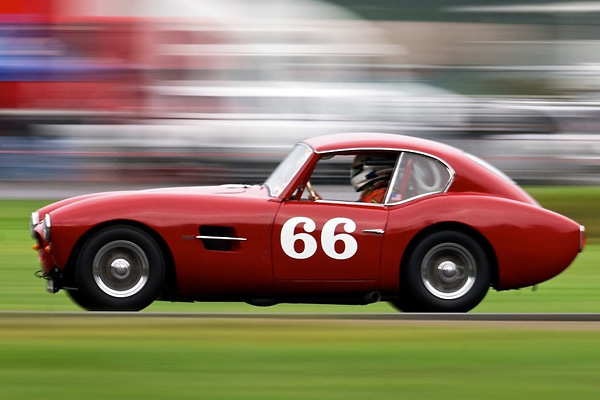 Photo by Greg Nichols. Used by exclusive permission.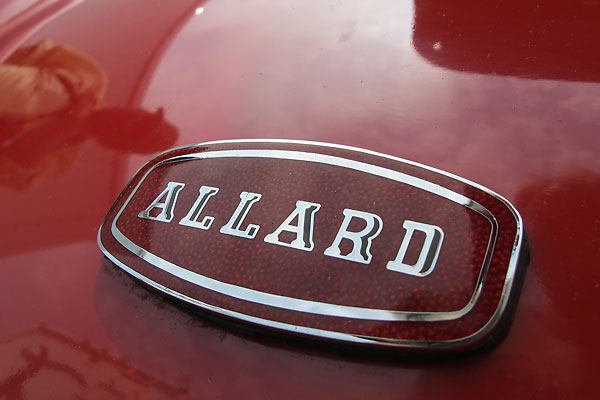 At the 2011 Lime Rock Historic Festival, Bob Girvin and his Allard GT placed second in the
Group 2 race for "Sports Racing Cars of the 1950s", defeating a number of purpose-built
racecars including pair of excellent Lola Mk1s and a 1960 Chaparral Mk1.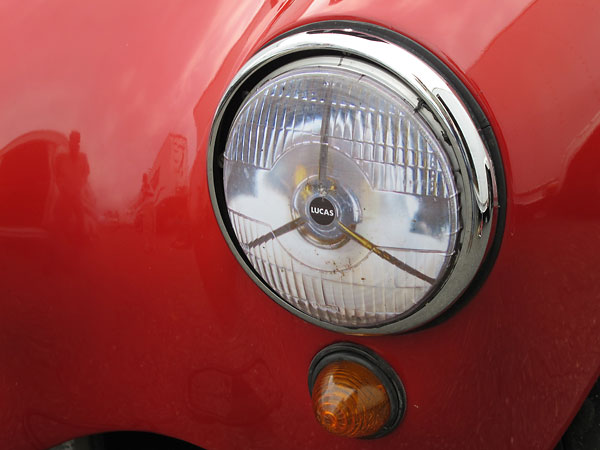 Alexander Racing Enterprises (A.R.E.) Lucas PL-700 tri-pod headlamp simulator decals.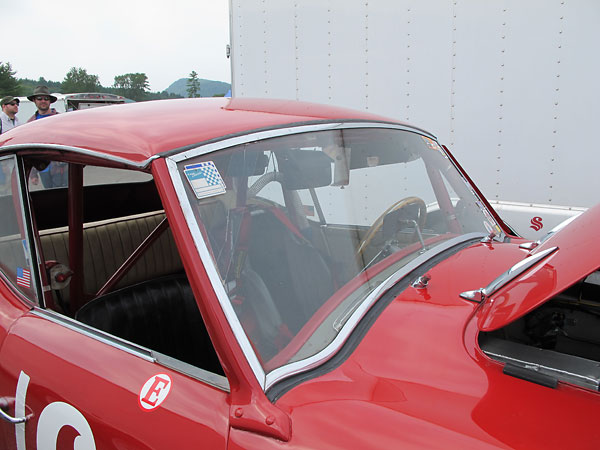 Original glass windshield.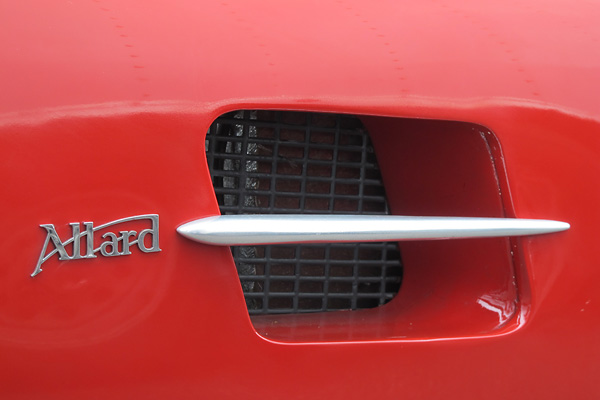 Carroll Shelby successfully drove a Cadillac powered Allard J2 racecar throughout the 1953 season,
before being recruited to drive for the Aston Martin works racing team. He continued driving for
Aston Martin until 1960. It was only after that time, specifically September 1961, that Shelby started
working with AC Ltd. on a project that would become the famous Cobra. What really differentiated
Shelby's Cobra over its predecessors, like Allard? Shelby's timing and marketing prowess.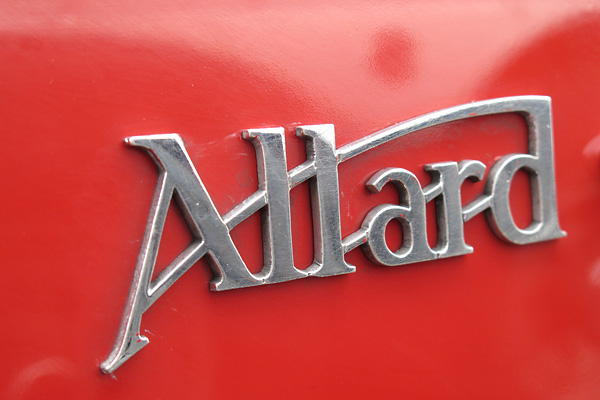 The du Pont Allard GT was originally finished in lacquer, but it wears acrylic paint now.
Bob only trusts the car to expert bodyman and fellow racer Eno DePasquale.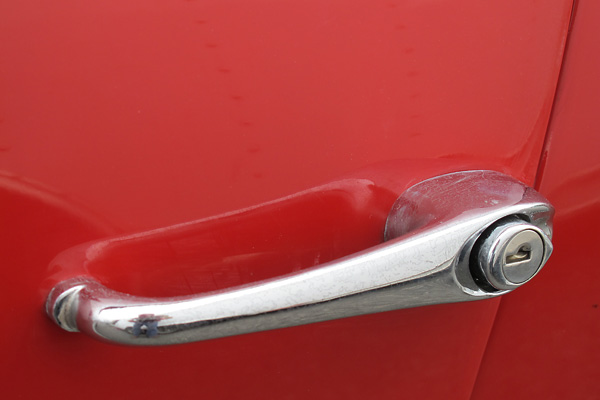 As shown in the photo at the top of this article, Sydney Allard's GT Coupe didn't
have external door handles. Small differences from car to car are one of the
delightful charms of vintage and bespoke automobiles.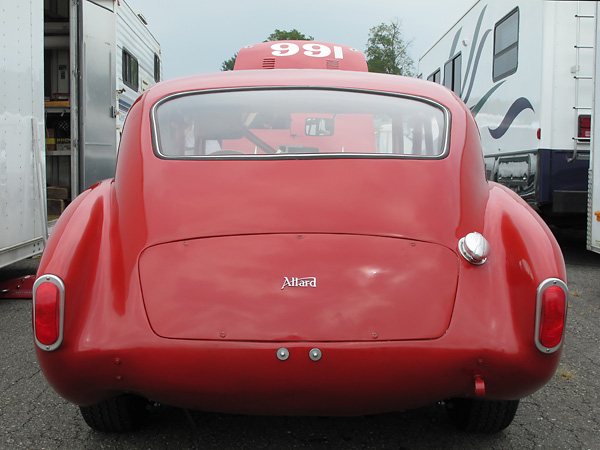 The Allard GT's original taillamps were common with a Rover saloon design,
but the lamps shown here are common semi-trailer stop/turn/tail lamps.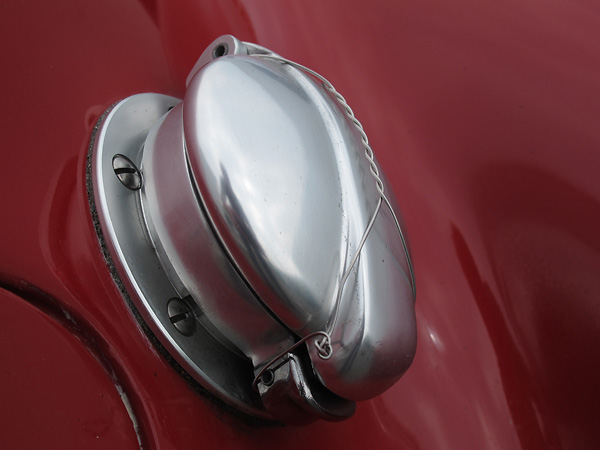 An ATL SP115 15 gallon fuel cell is accessed for refueling by releasing five Dzus
quarter-turn fasteners and removing the lid that once covered a spare tire.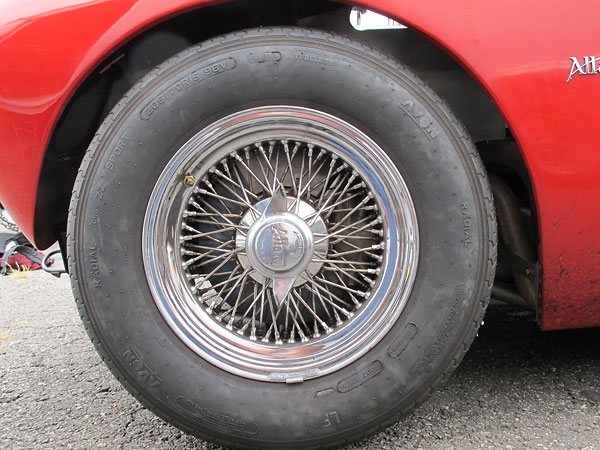 Dayton 72-spoke cross-laced wire wheels.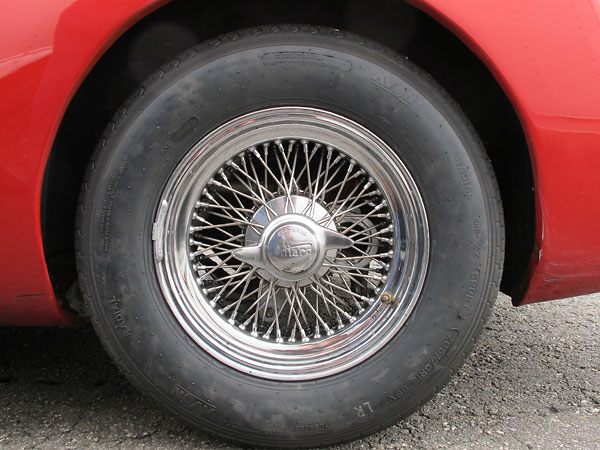 Avon CR6ZZ 205/70R15 96V tires.


Notes:
(1)
There's some ambiguity between "Sports" and "Touring" cars in an Allard context. In our table, the five models we've listed as Touring Cars featured 112" wheelbases and two rows of seating. The six models in our Sports Car column feature shorter wheelbases: 106" for the K1 and K2, 100" for the K3, 96" for the Palm Beach and GT. Except for the GT, the sports cars feature single rows of seating. Other sources may classify the models differently.


(2)
Exactly one Palm Beach Touring was fitted with a Dodge Red Ram V8 engine on a prototype / demonstration basis. Introduced in 1953, the Red Ram engine was the smallest of the Chrysler Corporation's classic "hemi" head engines in terms of displacement (241cid) and bore spacing (4.1875"). Chrysler was interested in offering the new engine in a limited production sports car model.


(3)
The du Pont GT originally featured an automatic gearbox. David Hooper, Chief Draughtsman through this period, told BritishRacecar that in his recollection it was primarily an inappropriately selected torque converter that made this particular car unpleasant on test drives around London. That account differs from what Bob Girvin has heard elsewhere; that du Pont provided a full-race engine that was set to idle at around 3000rpm and was therefore unpleasant despite being coupled to a stock torque converter.


Except as otherwise credited in captions, all photos shown here are from September 2011 when we viewed the car at Lime Rock Park in Connecticut. Photos by Curtis Jacobson for BritishRaceCar.com, copyright 2012. All rights reserved.



Notice: all the articles and almost all the photos on BritishRacecar.com are by Curtis Jacobson.
(Photos that aren't by Curtis are explicitly credited.) Reproduction without prior written permission is prohibited.
Contact us to purchase images or reproduction permission. Higher resolution images are optionally available.