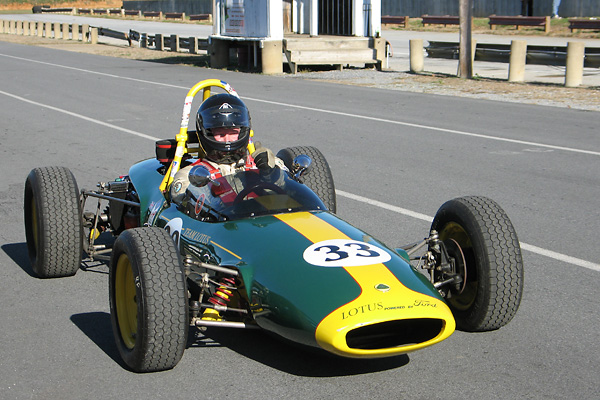 Dick Leehr's 1968 Lotus 51c Formula Ford Race Car
Owner: Dick Leehr
City: Warwick, NY
Model: Lotus 51c
Engine: Ford 1600cc
Race prepared by: Michael Clifford at Michael's Vintage Racing
The Birth of Formula Ford
Formula Ford was originally conceived by Geoff Clarke, manager of the "Motor Racing Stables" driver's school at England's Brands Hatch racetrack. The school needed appropriate cars for training drivers, and the Formula Three (997cc) cars they'd been using for open-wheel training had proven too expensive to maintain and to repair. Clarke is credited with conceiving the idea of installing bog standard Ford Cortina (1500cc) engines, steel wheels, and street tires onto a Lotus 31 Formula Three chassis. The choice of engines was clever: the Cortina engine would cost far less than the more highly tuned race engines it replaced, but it would bolt right in and provide suitably brisk performance. As the idea was kicked around, it evolved into the concept for a new racing class. Ford and Lotus were both quick to buy in, and keen to promote the new class.

In 1967 Lotus introduced their model 51. It was the first car built specifically for the new Formula Ford class.

Racing isn't interesting without competition. Motor Racing Stables was in direct competition with the Jim Russell driving school at the Snetterton racetrack, so it's only natural that the two schools worked strategically to produce competition. Jim Russell had been running at least five Lotus 31's at his schools, but in the earliest days of the new formula Jim Russell worked with rival car constructor: Alexis. Lotus and Alexis wouldn't have the field to themselves for very long though: the appealingly simple rules of the new class encouraged many constructors to get involved. Formula Ford has historically been a starting place for ambitious young car designers and constructors as well as drivers.

The very first Formula Ford race was held at Brands Hatch on July 12, 1967. A driver named Ray Allen won, driving a Lotus 51. The Formula Ford class soon crossed the Atlantic. Records of the very earliest regional races are sketchy, but we can say with confidence that the first SCCA "national" Formula Ford race was held on March 23, 1969 at Willow Springs, California. A driver named Jules Williams won, driving a Lotus 51.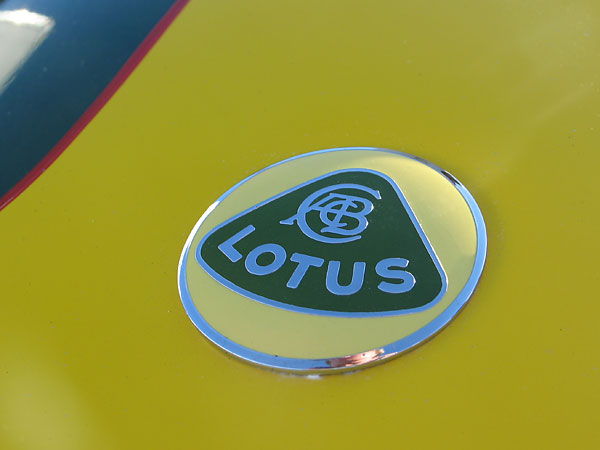 Variants of the Lotus 51
Marque historians typically recognize four basic variants of the 51 model. They can be designated "51", "51a", "51b", and "51c" respectively - but we should warn up front that classification is a messy business. It was from the start: Lotus didn't use the name "51" until after they'd already modified a number of model 31 cars to suit the new Formula Ford class. The car Ray Allen won that first Formula Ford race with was actually entered as a 31, but Lotus retroactively designated it a 51! For the purposes of designation, any frame that was welded up as a 31 and then built into a Formula Ford is called a 51 (without letter suffix).

The 51a model designation indicates an early car with a frame that was built to be a Formula Ford. Specific differences between 51 frames and 51a frames are trivial: for example the earliest Formula Ford's came standard with wet oil sumps, so Lotus omitted welded-on oil reservoir brackets from the 51a frames. However, some customers special-ordered dry sump systems. Like the Lotus 31, the 51a rear suspension upper trailing links were mounted at approximately the height of the halfshafts. To save money, rear suspension links weren't equipped with Heim joints. The 51a model was built through 1967 (and well into 1968.)


Enjoying this article? www.BritishRaceCar.com is partially funded through generous support from readers like you!
To contribute to our operating budget, please click here and follow the instructions.
(Suggested contribution is twenty bucks per year. Feel free to give more!)
The 51b model designation generally corresponds to 1968 production. The feature that most clearly differentiates a 51b from a 51a is improved rear suspension geometry - with upper trailing links mounted to the top of the upright - plus the rear suspension is more easily adjustable due to use of Heim-jointed radius rods. The Renault transaxle was still de rigueur.

Sometime around the beginning of 1969, Lotus introduced their new model 61 which featured a beefed up frame, a different body shape, and a Hewland transaxle. The 51c model was a "transition model" that shares the body of the 51 along with many of the upgraded features of the 61. For most people, the defining characteristic of the 51c is its factory-installed Hewland transaxle. (The specific model of transaxle fitted seems to have varied from car to car. Some got the Mark 6 and some got the Mark 8.) As a general rule, 51c was a 1969 model although some were apparently built in 1968. Almost all the 51c's were exported to North America.

North American (SCCA) Formula Ford rules differed in a number of areas from their British counterparts. For example, from the beginning of Formula Ford in America, the 1600cc crossflow version of the Ford Cortina engine was specified instead of the 1500cc non-crossflow. Tire requirements have also varied significantly. The four basic model variants described here could be divided further to account for these sorts of variables.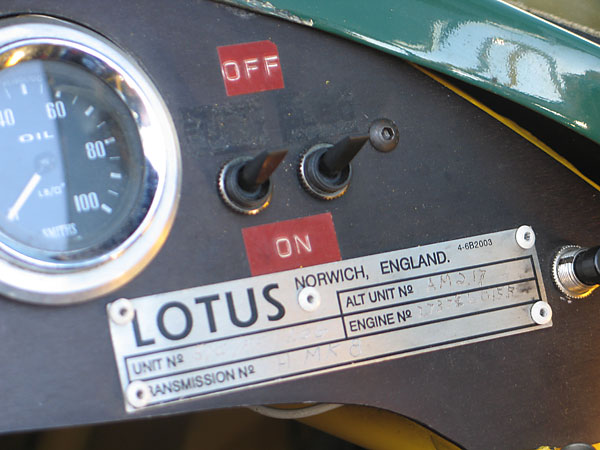 LOTUS, Norwich, England
ALT UNIT No. "AM217", UNIT No. "51C/FF/206", ENGINE No. "273796015R"(?), TRANSMISSION No. "H.MK8"



Dick Leehr's Lotus 51c
Car Ownership History:
Pre- 1985
Dick Beuter
Golden CO
1986-1992
Carl "Tom" Anderson
San Clemente CA
1992-2000
Tom Rodberg
Irvine CA
2000-2010
Dick Leehr
Grosse Pointe Woods, MI / Warwick, NY
Significant Participation Events:
July 17, 1988
Last Race at Riverside CA
August 3, 2001
Meadowbrook Historic Races
(won Judges Choice Award)
October 13-14, 2001
Ford Racing Centennial
Dearborn MI
2001-2005
Brian Redman Intl. Challenges
Road America
July 27-29, 2007
Vanderbilt Concours
Newport RI
August 17-19, 2007
Monoposto 20th Aniversary
Grattan, MI
Features and Specifications
Engine:
Ford Cortina 1600cc crossflow, built by Ivey Engine Inc. (~110hp). Weber 32/36 DGV carburetor. ITG air filter. Bosch distributor. Bosch ignition coil. Dry sump lubrication system with rear mounted reservoir and oil cooler. Dave Bean Engineering oil pump.

Cooling:
cross flow radiator. (Coolant flows through chassis tubes.)

Exhaust:
four into one header.

Transaxle:
Hewland Mark 8 4-speed, with limited slip differential. Metalastic rubber "doughnuts" on the halfshafts.

Front Susp.:
unequal length wide-based wishbones. Armstrong Adjustable shocks/Front spacers. Eibach springs. Triumph (Alford & Alder, forged) uprights. Triumph steering rack. Adjustable 5/8" anti-sway bar.

Rear Susp.:
inverted lower wishbones, single top links, and twin radius arms. Armstrong adjustable shock absorbers. Eibach springs. Lotus magnesium uprights. Adjustable 5/8" anti-roll bar.

Brakes:
(master) dual Girling master cylinders with adjustable bias bar.
(front) Girling 14LF calipers and 9.25" solid rotors.
(rear) Girling 14LF calipers and 9.75" solid rotors.

Wheels/Tires:
Diamond Racing Wheels 13x5.5 steel wheels. (These are the spun-rim version, and they weigh about 10.5#/ea. A set of Panasport aluminum wheels are kept as spares.) Dunlop Racing CR82 tires (135x545x13 front / 165x580x13 rear).

Electrical:
Tilton XLT gear reduction starter motor. Die Hard battery.

Instruments:
(left to right) Smiths dual oil pressure (0-100psi) and water temp (30-110C) gauge, Smiths tachometer (500-9000rpm), Smiths oil pressure (0-100psi).
(Note: the oil pressure part of the dual gauge is disconnected.)

Fuel System:
new 3.5 gallon fuel cell (mounted behind driver's seat).

Safety Eqpmt:
reinforced roll hoop. Simpson six point, camlock safety harness. Quick release steering wheel hub. FireBottle 2.5lb Halon centralized fire suppression system.

Weight:
890 lbs.

Racing Class:
Formula Ford.


Engine Installation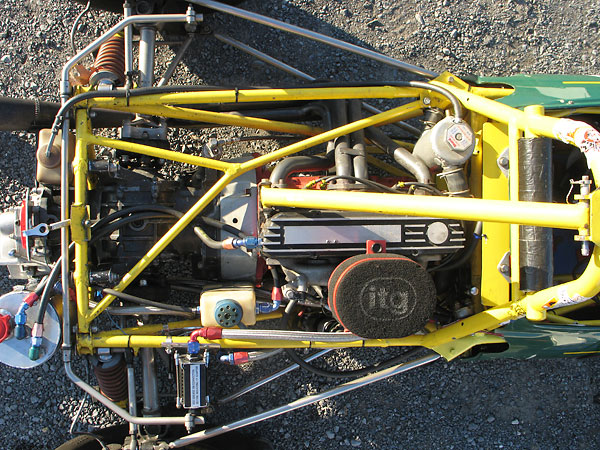 Ford Cortina 1600cc crossflow, built by Ivey Engine Inc. (~110hp).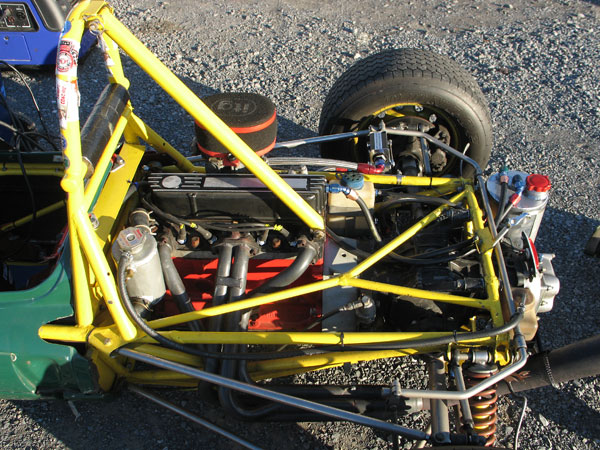 The "Y-brace" over the engine bay is easily removeable for engine or transaxle access.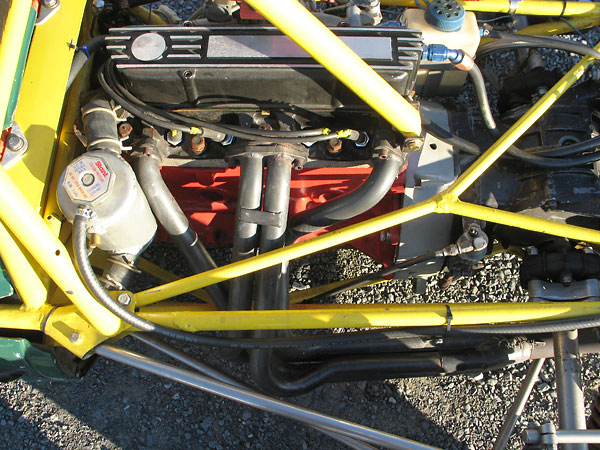 Four into one exhaust header.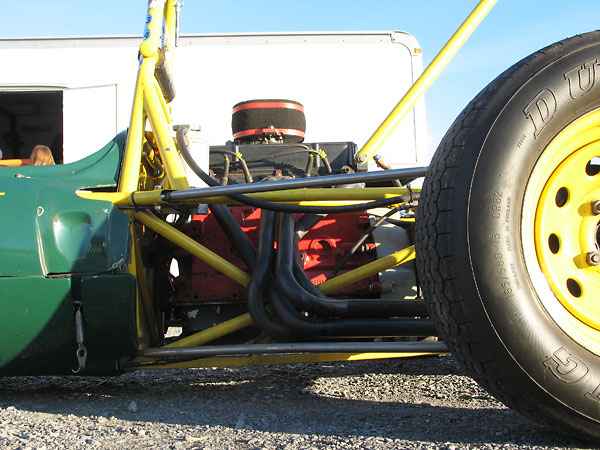 The Lotus 51 came standard with a 4-2-1 ("tri-Y") header, but most have been updated.
The conventional wisdom is that a four-into-one makes more peak horsepower, although
a tri-Y may possibly produce more torque, particularly at less-than top engine speed.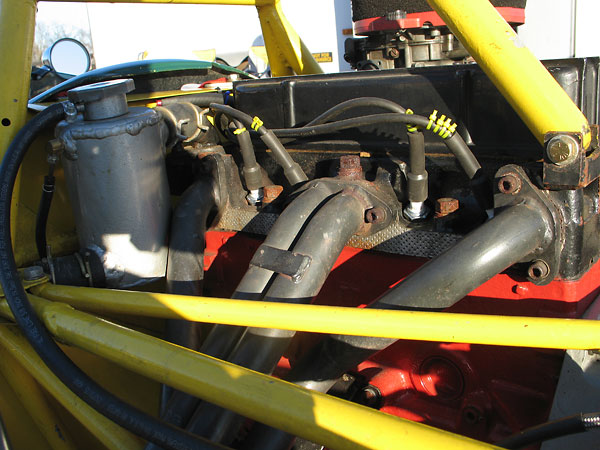 You can see one of the coolant hose attachments to the frame here. Lotus ran coolant through the top
LH & bottom RH tubes, and oil through bottom LH & top RH tubes. Just the thing for wintertime racing!
The reason for plumbing through chassis tubes was to save weight. No racecar marque is more closely
associated with lightweight design, or frankly more criticized for putting lightness before safety and
durability. For these reasons, some of the top drivers of the 60's and 70's flatly refused to drive for Lotus.
Even Lotus' Formula One team drivers Graham Hill and Jocken Rindt baulked at various times.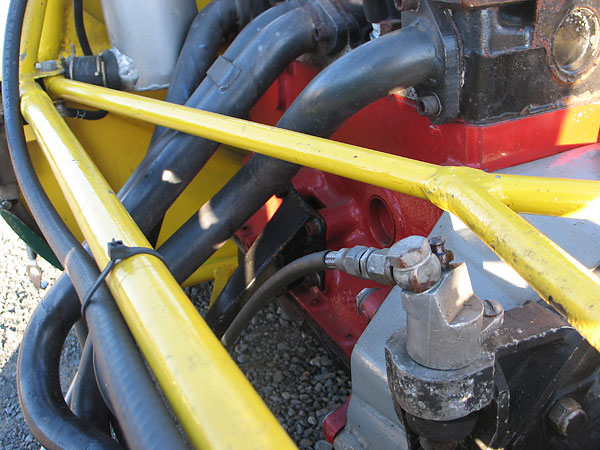 Racers don't normally use antifreeze because it's slick if spilled on the track. However, before storing
a Lotus 51 it's a very good idea to add corrosion inhibiting antifreeze or to drain the system.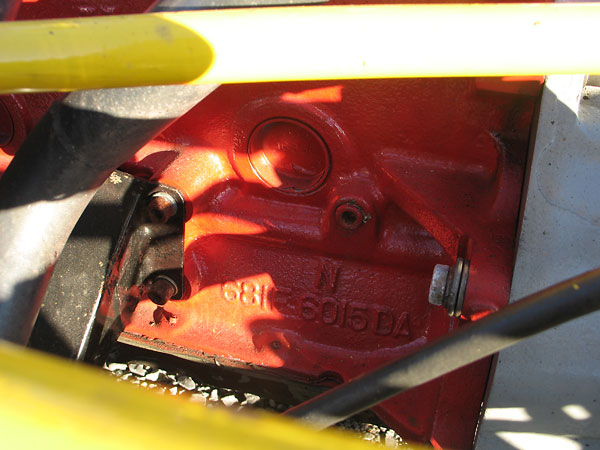 681F6015DA - The casting number indicates this is a tall deck crossflow 1600cc engine block.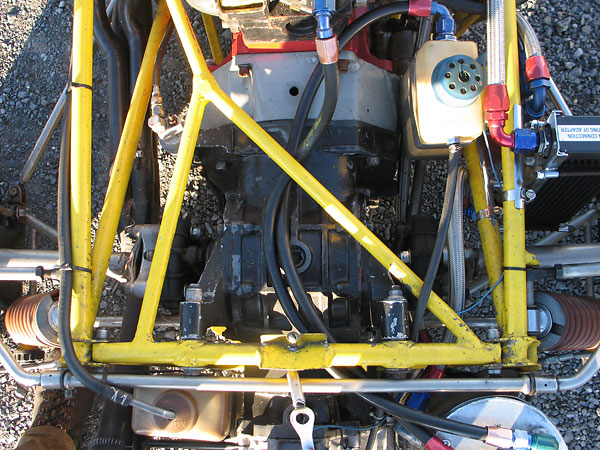 Hewland transaxles are the feature that defined the 51c versus earlier models with Renault transaxles.
There was actually a lot of overlap, with Hewland transaxles available at a premium price long before
Renault boxes were discontinued. A large proportion of early 51's have been upgraded with Hewlands.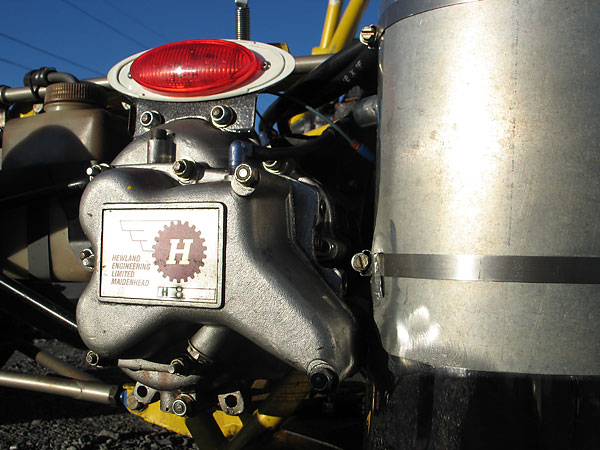 Lotus installed Mark 6 and Mark 8 Hewlands. This particular car was originally built with a Mark 8.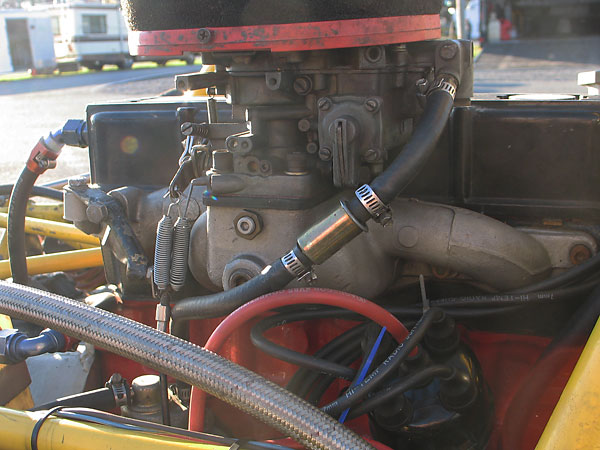 Weber 32/36 DGV carburetor. The distributor is on one side of the engine, the spark plugs are...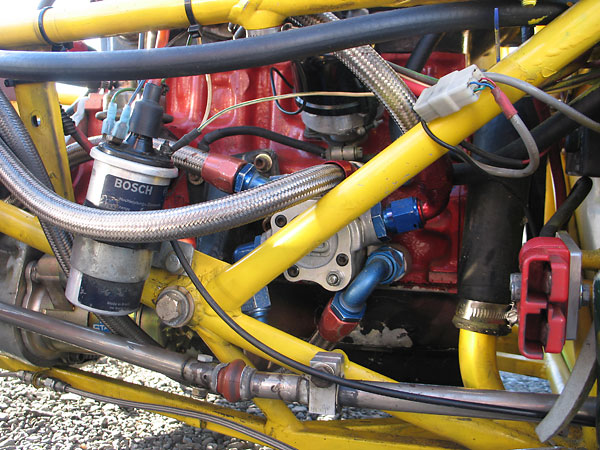 Tilton XLT gear reduction starter motor. Bosch ignition coil.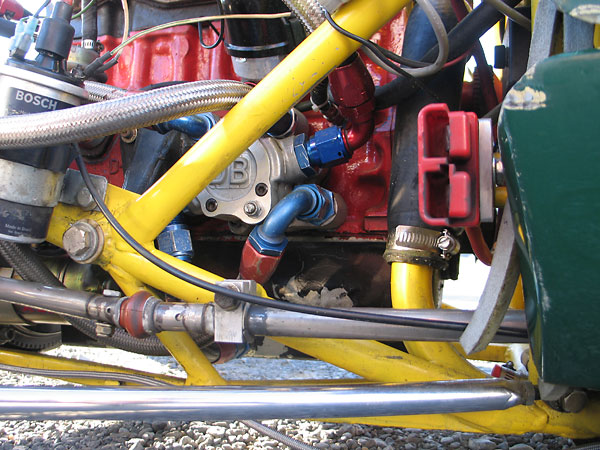 Dave Bean Engineering oil pump.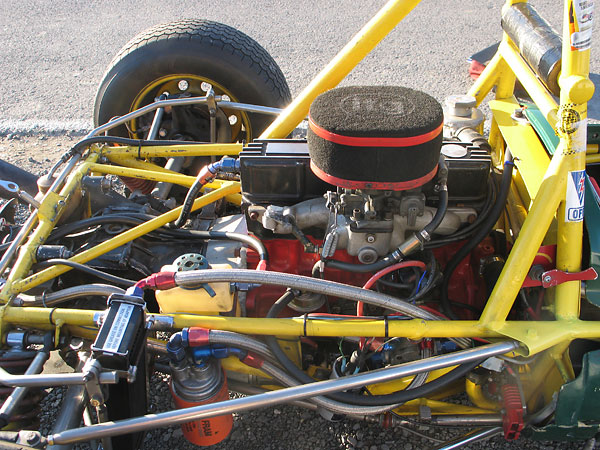 Originally, the oil cooler was mounted at the front of the car and oil was routed to it
through frame tubes. The rear mounted oil cooler shown here is a fairly recent replacement.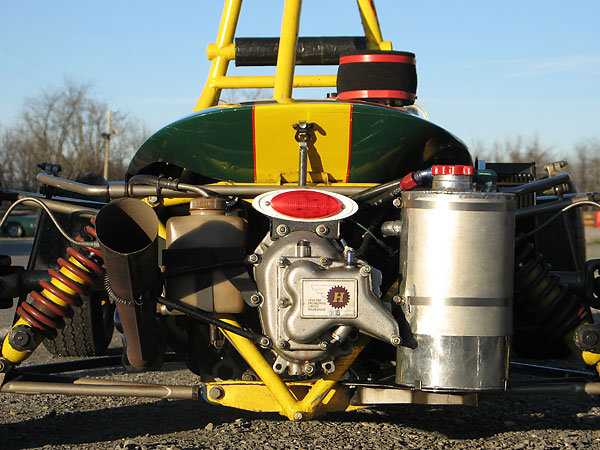 Oil reservoir for the dry sump lubrication system.


Front Suspension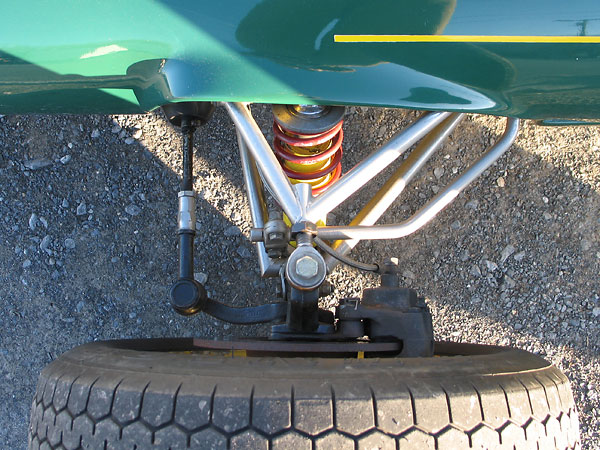 Original Lotus 51's came with rather soft suspension springs (front: ~100#/in, rear: ~175#/in).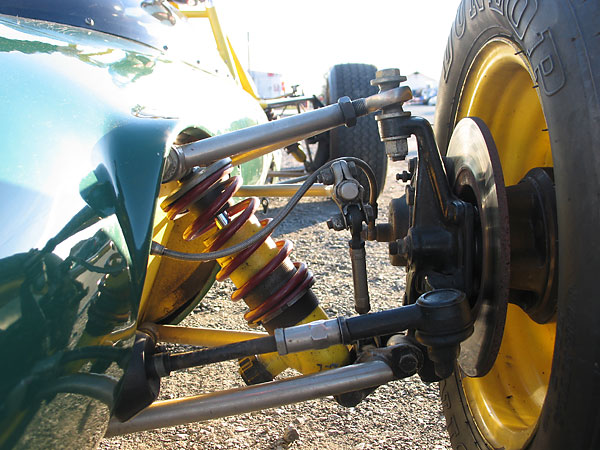 Non-adjustable Armstrong shock absorbers were standard equipment, but Armstrong's adjustable version
(shown here) was popular with Formula Ford racers. Lotus may have installed them to suit a special
order. They're no longer made, and they can be quite expensive to replace or to have rebuilt.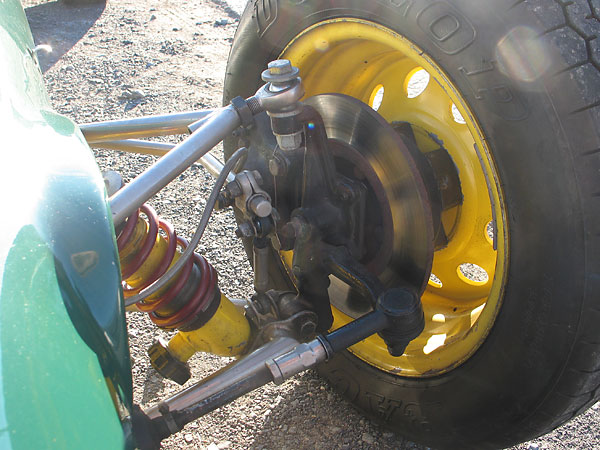 Triumph (Alford & Alder) forged uprights have been used on many makes and models of Formula Ford.


Frame and Rear Suspension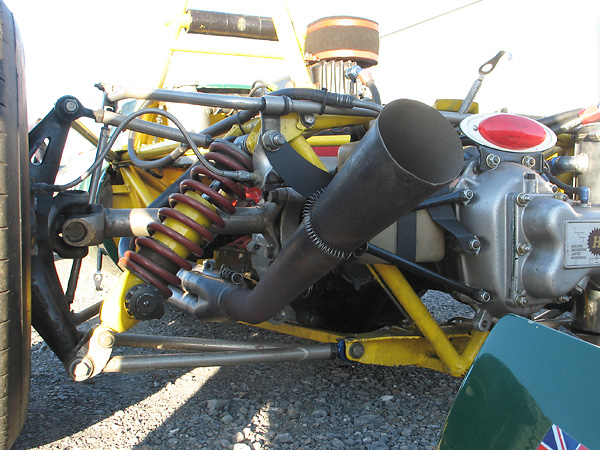 Lotus subcontracted fabrication of frames to a company called Arch Motors, who stamped their own serial
number on each frame. The "AM" number is different from the Lotus serial number, but just as useful for
identifying a specific Lotus Formula Ford. On Lotus 51's and 61's, the AM frame number appears on the
flat steel plate just behing where you see the anti-sway bar bracket attached in this photo.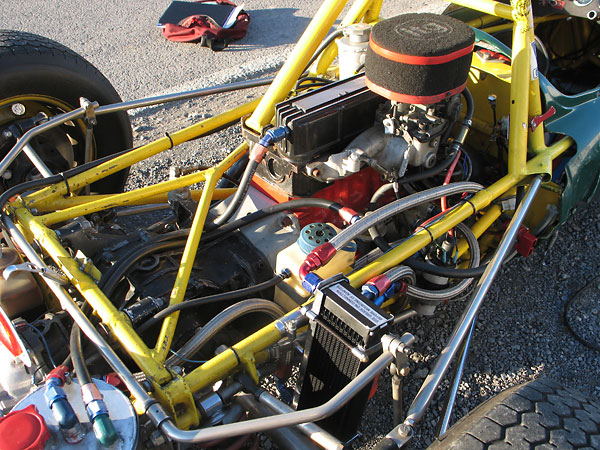 Like many racecar builders of their era, Arch Motors brazed frame joints instead of fusion welding them.
Nickel-bronze filler rod was flowed into the joints at a temperature well below the melting point of steel.
To improve quality and productivity, Arch Motors used a Calor Model W gas-fluxer instead of flux paste.
With flux automatically mixed into the oxy-acetylene flame (instead of pre-applied in paste form) they got
better wetting, better flow of filler material, and post-braze cleanup effort was dramatically reduced. Calor
claimed their brazing rod provided 90,000psi joints. If true, that's stronger than the steel base material.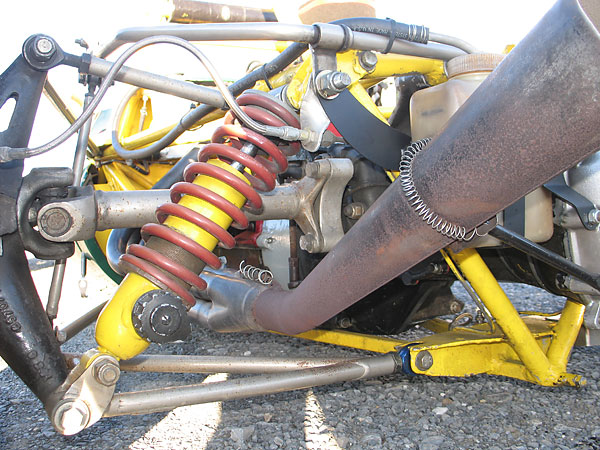 See the aluminum spacer between metalastic rubber donut and steel halfshaft? Usually spacers are found
there after someone has converted from (wider) Renault transaxle to a (narrower) Hewland transaxle.
Since its build record indicates that this car was built with a Hewland, it almost certainly had longer
halfshafts (and no spacers) when it originally left the factory. Halfshafts have evidently been replaced.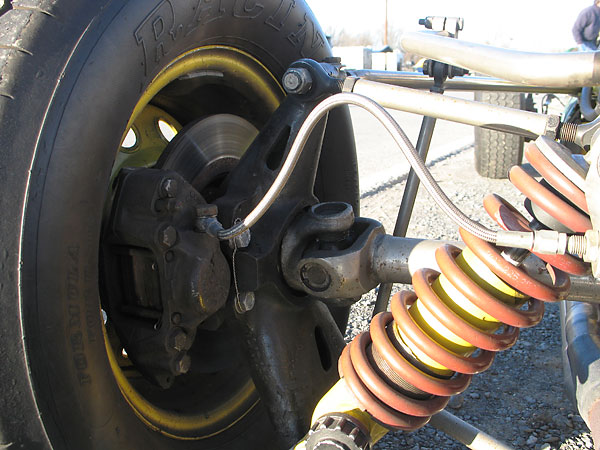 Early Lotus 51 magnesium rear uprights were handed, with a bracket for the brake caliper on the rear
and a bracket for the upper trailing link on the front. By the time the Lotus 61 came around, the casting
instead had two brake caliper brackets, and would work on either side of the the car. The rear top link
on the 51c was double Heim-jointed for convenient adjustability, but early 51's had fixed-length top links.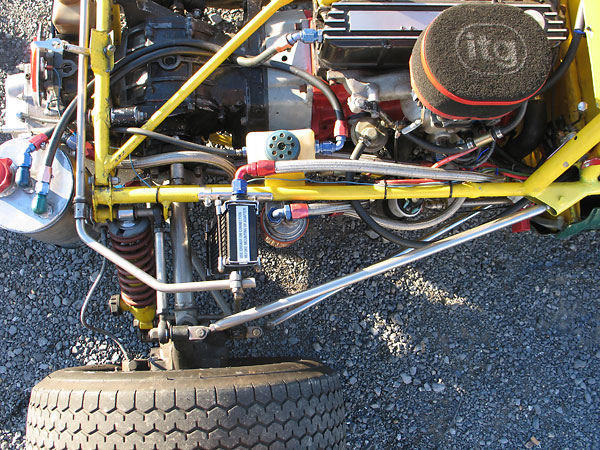 Front and rear anti-sway bars are adjustable in the usual way: loosening and sliding their attachment
links fore and aft to alter effective lever arm length.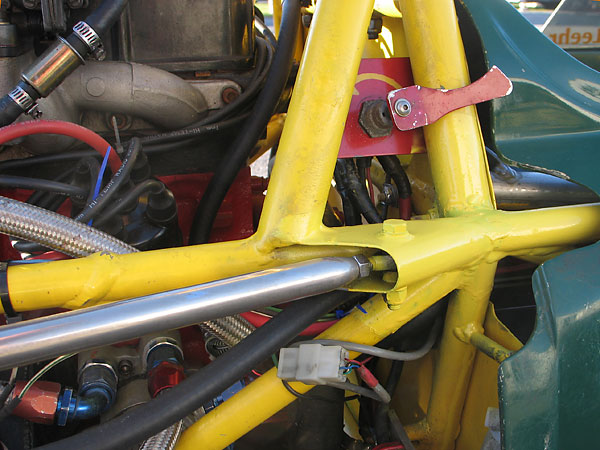 Upper trailing links were mounted much lower on the Lotus 51a - basically at halfshaft height.
On the 51b and 51c the upper trailing links were moved higher, as shown here.


Interior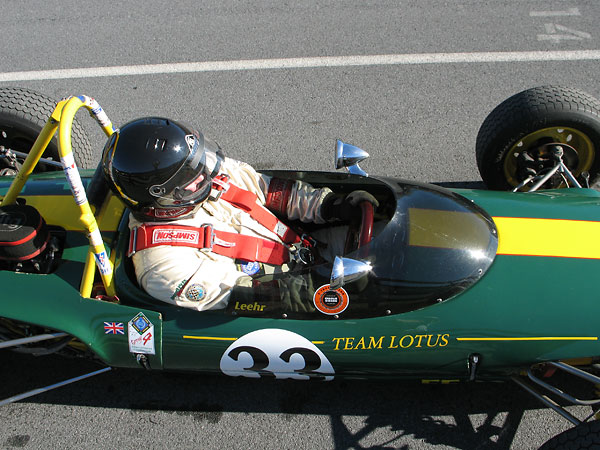 Normally the Lotus 51's molded Perspex windscreen would wrap around all the way back to the firewall.
Unless modified, as shown here, these cars only suit narrow shouldered drivers.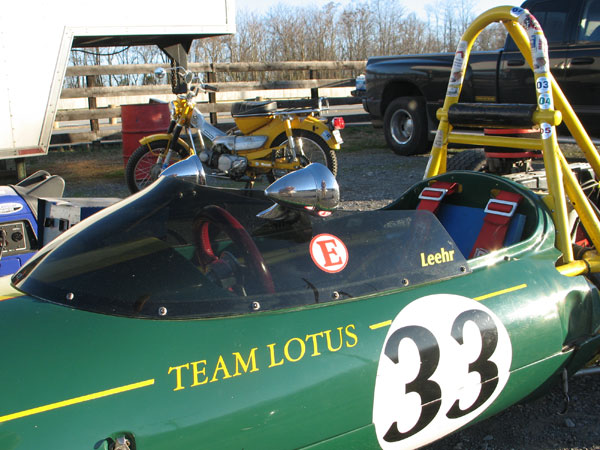 A nice design feature of the windscreen is the way it kicks up at the lip (near the steering wheel).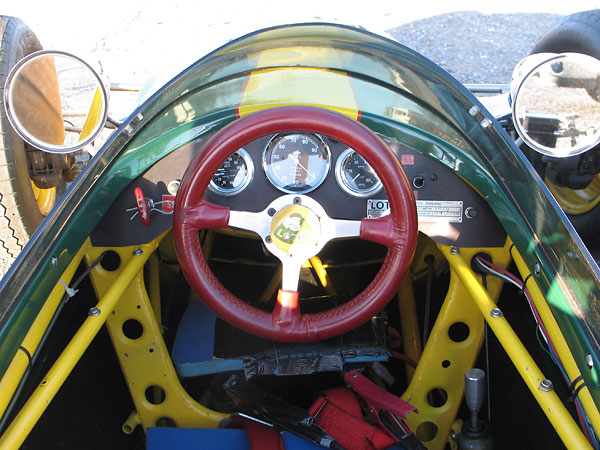 The "perforated hoop" cowl bulkhead is a distinctive Lotus design feature shared with earlier racecar models
back to the Lotus 18 (1960). The Lotus 61 had a perforated hoop too, with flat top for the new "wedge" body.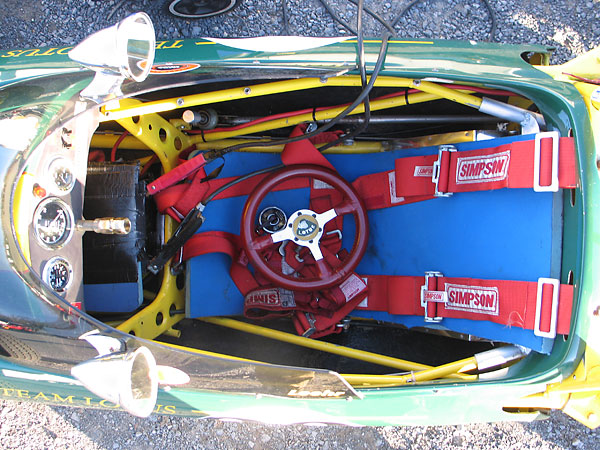 The Lotus 51 originally came with a molded fiberglass seat. Dick Leehr uses a "Backsaver" pad instead.
None of the small diameter diagonal braces (upper or lower) that appear in this photo were included in
the earlier 51a or 51b variants. The 51c was a demonstrably stronger and stiffer frame design.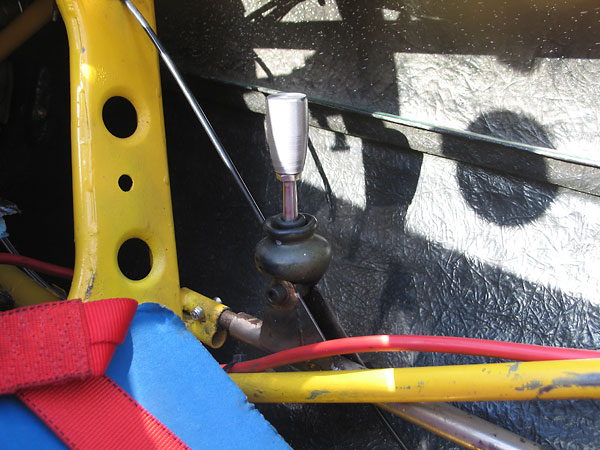 Lotus 51c (Hewland) simple gear shifter mechanism.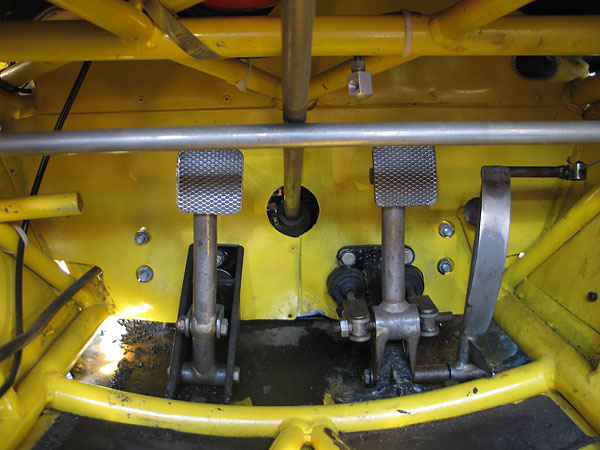 Most formula cars have full aluminum floor pans. The Lotus 51 has some steel straps...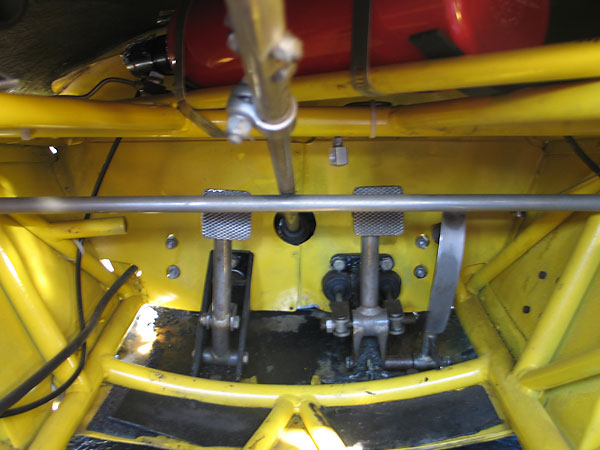 A FireBottle (2.5lb Halon) fire suppression system has been installed, with its bottle strapped to a
diagonal frame brace. This brace didn't exist on the 51a or 51b, but it did on the 51c and 61 models.


Exterior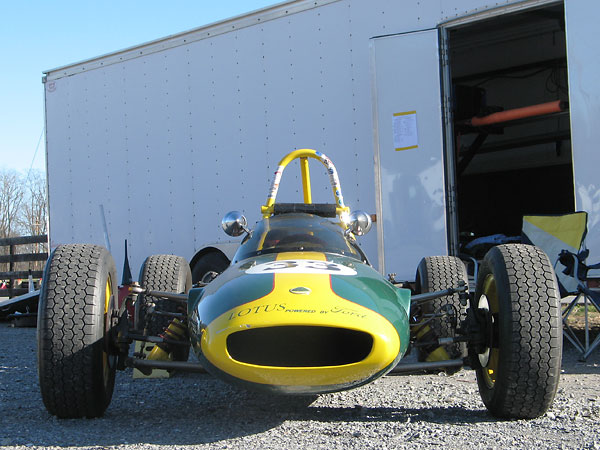 "Lotus Powered by Ford" - From the early sixties, Lotus Cars Ltd. and Ford Motor Company worked in
close cooperation on many projects. For example, Lotus used Ford engines in the Lotus Elan sports car
from 1962. Ford contracted Lotus to assemble a sporty version of the Cortina saloon (i.e. "Lotus Cortina")
from 1963. Among Formula Ford constructors, Lotus had the closest and longest standing ties to Ford.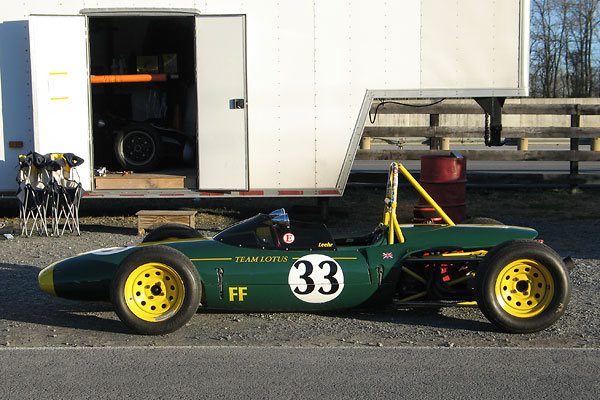 The "cigar shape" of the Lotus 51a and 51b was replaced with wedge styling for the Lotus 61 model.
The 51c was a transition model, with early styling combined with some of the later technical features.
Apparently some American customers preferred the cigar shape: Lotus kept making the 51c for export
many months after the 61 was introduced. Most European customers wanted the new style right away.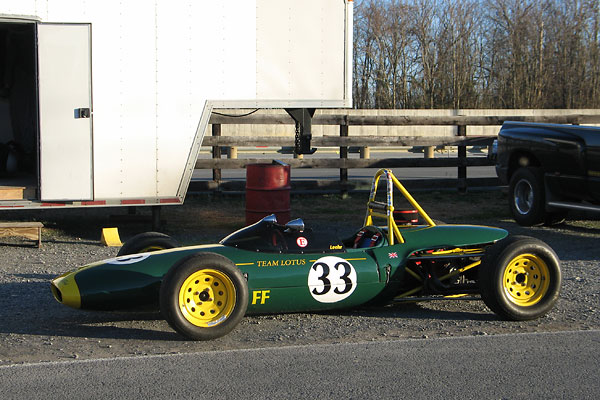 Spotter's guide: the Lotus 61 body had a chisel nose with radiator airflow exiting at the suspension.
With the body removed, a 61 would look remarkably like a 51c. There are technical upgrades such as how
the steering rack is mounted; on a 61 it can easily be raised or lowered to tune out bump steer. The next
Lotus Formula Ford after that was the 69. Look for radiator airflow exiting on top, before the front bulkhead.
Rather pricey in their day, only four Lotus 69 Formula Fords were exported to North America.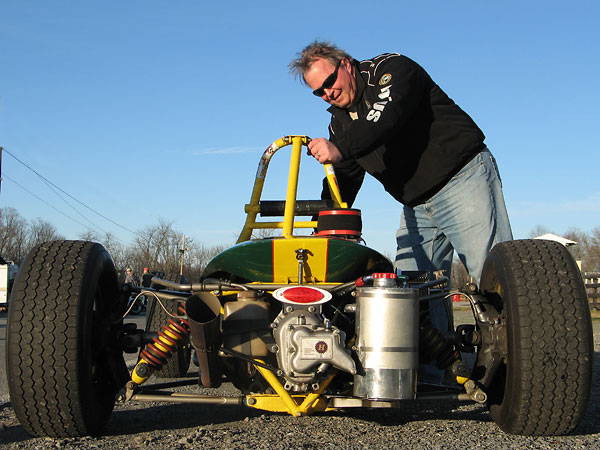 Dick Leehr has enjoyed racing his Lotus 51c for ten years. He also owns and races a lovely Lotus 41.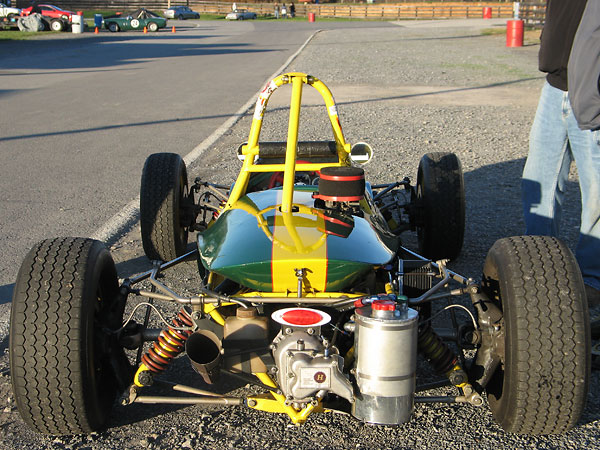 To continue racing, at some point, a taller and more strongly braced rollhoop has been installed.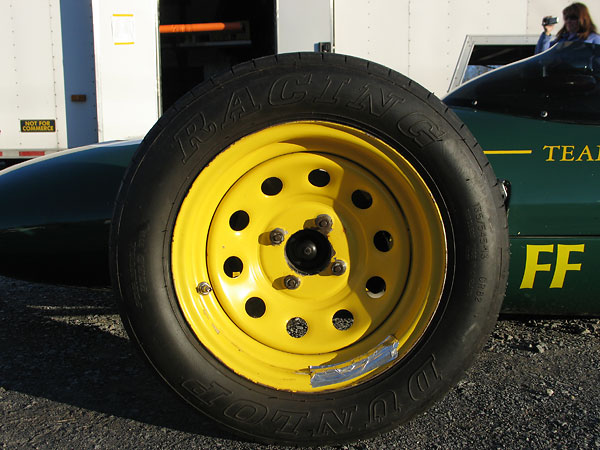 Diamond Racing Wheels 13x5.5 steel wheels. Dunlop Racing CR82 tires (135x545x13 front / 165x580x13 rear).


All photos shown here are from November 2009 when we viewed the car at the VRG's Turkey Bowl at Summit Point Motorsports Park, West Virginia. Photos by Curtis Jacobson for BritishRaceCar.com, copyright 2010. All rights reserved.



Notice: all the articles and almost all the photos on BritishRacecar.com are by Curtis Jacobson.
(Photos that aren't by Curtis are explicitly credited.) Reproduction without prior written permission is prohibited.
Contact us to purchase images or reproduction permission. Higher resolution images are optionally available.