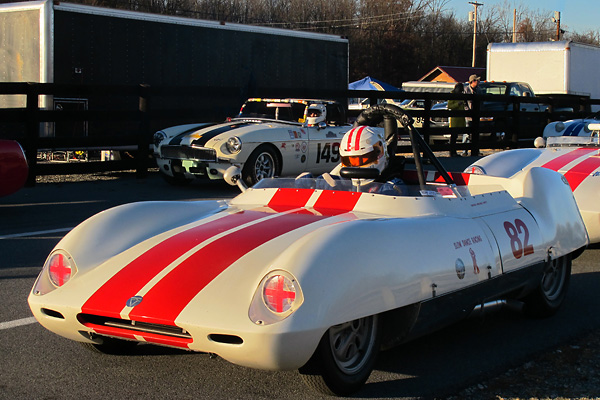 Michael Oritt's 1959 Elva MkIV Racecar
Owner: Michael Oritt
City: Saint Leonard, Maryland
Model: 1959 Elva MkIV
Engine: Coventry Climax FWE, 1216cc
Race prepared by: Michael Clifford
Elva Engineering Co. Ltd. Focused on the Export Market
The first three models of Elva Engineering Co. racecars were designed for proprietor Frank Nichols by chief mechanic Malcolm "Mac" Witts. Another mechanically gifted friend of Frank Nichols named Keith Marsden was hired to help assemble the cars. When Witts left the firm in early 1957, Marsden became responsible for design. Marsden's first task was to refine the newly designed Elva MkIII and get it into production. (His main change was conversion to a de Dion rear suspension.) The MkIII was produced through 1958, while Marsden focused on designing and developing its successor. Although self taught, Marsden quickly proved one of the most formidable racecar designers of his era. Marsden would remain Elva's principle designer of racecars through Elva's Mk7 (circa ~1964). Concurrently, Peter Knott had primary responsibility for designing Elva's Courier sports car model. Marsden left the company in July 1964 when Elva was taken over by Trojan. He went on to a long career at Ford of Britain.

Elva Engineering Co. Ltd. was a relatively small firm that operated in the shadows of Lotus. From early 1956 through 1958, the Lotus Eleven model completely dominated small displacement "Sports" racing classes throughout the UK and Europe. Lotus promoted their Eleven model by recruiting well known professional drivers and entering them in important races like Le Mans. Meanwhile, Elva quietly built a reputation for robust and easy-to-drive cars that were priced competitively. Elva only fielded works teams in a handful of races. Elva's cars were raced in England, but the lion's share of production was shipped to North America. A particularly well respected SCCA racer (and car dealer) named Chuck Dietrich bought an Elva MkII in 1956 and enjoyed excellent success with it. As Elva's reputation spread, the small firm planned and prepared to pass Lotus in this important export market.

Two prototypes of Keith Marsden's first complete racecar design, the new Elva MkIV model, began appearing in occasional British races during 1958. One MkIV was entered in the Tourist Trophy endurance race at Goodwood (13 September 1959) as was Eric Broadley's brand new Lola Sports Mk1, but neither car finished well that day.

The MkIV model's first really important appearance was on 21 March 1959, when works entered Elva MkIVs finished first and second place in the 1100cc class of the 12 hours of Sebring endurance race. The 19th-place overall #48 Elva was driven by Frank Babtista and Arthur Tweedale. The 23rd-place overall #49 Elva was driven by William Jordon and Chuch Dietrich. The Lotus works team entered one 1.1L Eleven in that race, but it finished way back in 47th place. (Incidentally Phil Hill, Olivier Gendebien, Dan Gurney and Chuck Daigh all shared the race winning Ferrari which ultimately prevailed over the Stirling Moss / Ivor Bueb Lister-Jaguar.)

Just one week later, Tommy Dickson entered an Elva MkIV in Easter Monday's Sports 1.1 race at Goodwood. Dickson out-qualified all three of the Lotus Elevens entered, but ultimately logged a DNF for the race. Dickson was himself out-qualified by three Lola Sports Mk1s which went on to sweep the podium.

The Sebring and Easter Monday (Goodwood) results epitomize 1959: Lotus had been swept aside in the 1.1L classes, but by two different firms with eyes on two very different markets. Lola's Sports Mk1 was now the racecar to have on one side of the Atlantic, and Elva's MkIV was the car to have on the other.



Key Features of the Elva MkIV Model
The Elva MkIV featured an all new frame design, constructed of 1" and 3/4" diameter 20-gauge mild steel tubing. According to the company's press announcements each MkIV frame weighed just 39 pounds. The MkIV frame is notably simple and symmetrical in form compared to the car's main rivals. Many years after the MkIV was built, designer Keith Marsden explained a more subtle but still important fabrication difference between Elva MkIV frames and those of rival cars: fusion-welded joints. In England it was generally standard practice to use silver-bronze filler rod when "welding" frame joints. In North America we don't call that welding, we call it "brazing." In America it was more common to use steel filler rod. There's a case to be made for either practice. In Marsden's view, the structural differences between the two types of joint were academic; he preferred fusion welding because he considered visual quality inspection of fusion-welded joints to be more reliable.

Possibly the single most important aspect of Keith Marsden's Elva MkIV design was his placement of the Coventry Climax engine. He put the engine 5.5 inches further back from where it had been in Elva's MkIII model. From the centerline of the front wheels back to the first spark plug hole measures about 21 inches. The engine couldn't have been mounted further back without utilizing a different gearbox; the MGA gearbox is so close to the rear differential that there's no room for a prop-shaft. Instead, a special double U-joint device was used. The effect of this engine placement is important: the MkIV has an uncommonly rearward weight bias (about forty/sixty front to rear, depending on customer specifications) and also the car has a lower polar moment of inertia than rivals. Thus, the MkIV is particularly suited for tight, twisty courses where its nimbleness can be exploited.

The MkIV suspension was state-of-the-art for its day: fully independent and particularly tunable with Armstrong single-adjustable coilover shock absorbers as standard equipment. Elva produced their own steering racks, which were a contributing factor to the car's characteristically light steering feel. In a few notable ways, the MkIV is quite similar to the Lola Mk1. At the rear, both designs utilized fixed-length driveshafts in conjunction with inboard brakes. Designers Keith Marsden and Eric Broadley were both keen to minimize unsprung weight. (Effect: tires maintain better contact with the road, especially over bumps.) Both designers also chose drum brakes. This may seem counter-intuitive, but in 1959 drum brakes could be an advantage on very lightweight cars where brake fade was less of an issue: pedal feel was deemed lighter and easier for the driver to modulate and brake bias was deemed easier to fine tune in light of the pad/lining compounds of the day. Both front and rear, the MkIV suspensions are quite novel in detail and geometry. To save thousands of words, we'll direct interested readers to the photos and captions below.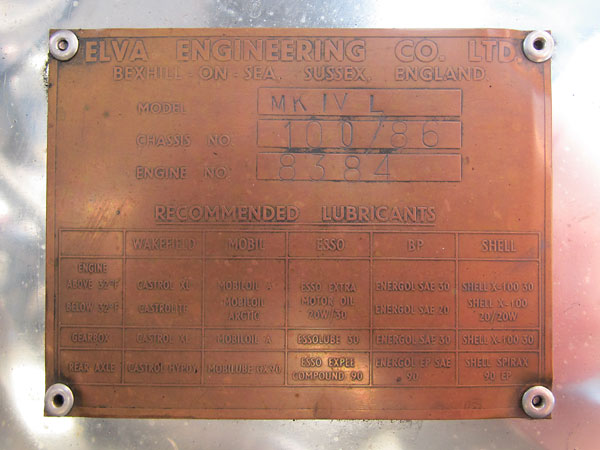 Elva Engineering Co. Ltd. - Bexhill-On-Sea, Sussex, England.
Model MK IV L - Chassis No. 100/86 - Engine No. 8384


Michael Oritt's Elva MkIV Model - Chassis 100/86
About thirty-two Elva MkIV cars were built. Chassis numbers are known to start at about 100/63 and run to about 100/90. We don't know the anomalies of Elva's numbering system; like other constructors they offered the model as either a completed car or as a kit and they also offered replacement frames. What does the "L" designation mean? The wheelbase is three or four inches longer than most other MkIVs, for more comfortable accommodation of tall drivers.

Michael Oritt has no information on chassis number 100/86's history or ownership prior to 1990 when a VSCCA logbook was issued to Tom Elsworth. Elsworth sold the car to Tom Grudovich in about 2004, and Tom Grudovich sold the car to Michael Oritt in 2008.

Like most Elva MkIV racecars, chassis number 100/86 was originally powered by a Coventry Climax FWA 1098cc engine which was later converted to FWE 1216cc specs. The immediate previous owner, Tom Grudovich, then re-powered the MkIV with a Coventry Climax FWB 1460cc engine and raced it for several years. He sold the car to Michael Oritt with the FWE. (The FWB engine is now used in Tom's Lola Sports MkI.) Michael is in the process of building a different FWB engine for the Elva MkIV.


Features and Specifications
Engine:
Coventry Climax FWE (4 cylinder SOHC, 1216cc). Coventry Climax stage-4 camshaft. Dual Weber 40DCOE carburetors. Weber TLK1/W throttle linkage assembly. K&N oiled gauze air filters. Lucas distributor with Pertronix solid state module. Magnecor KV85 Competition spark plug wires. Pertronix Flame-Thrower ignition coil, 3.0 ohm. K&N HP-3001 oil filter, on a Moroso remote base.

Cooling:
custom aluminum crossflow radiator. Electric cooling fan. Setrab oil cooler (part# 50-616-7612).

Exhaust:
custom 4-into-1 header, Jet-Hot coated inside and out. Glasspack muffler.

Transmission:
MGA 4-speed, 3 synchro close ratio helical gear set. Tilton hydraulic throw-out bearing. Note: transmission connected directly to differential with only a vestigial prop shaft with twin universal joints.

Rear End:
Elva magnesium housing (sized for BMC A components). Salisbury-type limited slip differential. 4.55:1 ring and pinion.

Front Susp.:
modified twin-wishbone independent suspension via upper radius arms braced rearward with diagonal stays anchored to rubber discs and lower radius arms braced rearward by the non-adjustable anti-roll bar. Supplemental rearward braces have been added underneath the anti-roll bar. Alford & Alder (Triumph Herald pattern) forged steel uprights. Carrera steel body coilover shock absorbers. Elva proprietary steering rack (12:1 ratio, 1.25 turns), mounted behind wheel centerline.

Rear Susp.:
independent suspension via fixed length (11.5") driveshafts combined with lower transverse links (13.5") and long box-section longitudinal links. Carrera steel body coilover shock absorbers.

Dimensions:
7' 4" wheelbase. 42/58 weight distribution. 3' 10.5" track.

Brakes:
(master) one Lockheed master cylinder plus one Wilwood remote reservoir master cylinder. Adjustable bias bar.
(front) customized Nissan 9" brakes with finned aluminum drums. Vented backing plates.
(rear) Lockheed 10" x 1.75" brakes with iron-lined magnesium drums. Vented backing plates.

Wheels/Tires:
Elva cast magnesium wheels (15x4 front and 15x4.50 rear). Dunlop 204-L tires (15x4.50 front and 15x5.00 rear).

Electrical:
12 volt lead/acid battery. Gear reduction starter.

Instruments:
(left to right) Auto Meter SportComp tachometer (0-10,000rpm), oil temperature gauge (140-280F), oil pressure gauge (0-100psi), and water temperature gauge (120-240F). (An Auto-Meter hour meter is mounted out of sight.)

Fuel System:
original style cylindrical aluminum 8 imperial gallon (9.6 U.S. gallon) fuel tank. Facet cube-type solid state fuel pump.

Safety Eqmt:
Racequip 5-point cam-lock safety harness. Bicknell Racing Products quick release steering wheel hub on a Mountney steering wheel. Firebottle centralized fire suppression system. SPA Design Sports Car rear view mirror. GT Classic side view mirror.

Weight:
~1045 pounds, wet.

Racing Class:
G Modified.

Engine Installation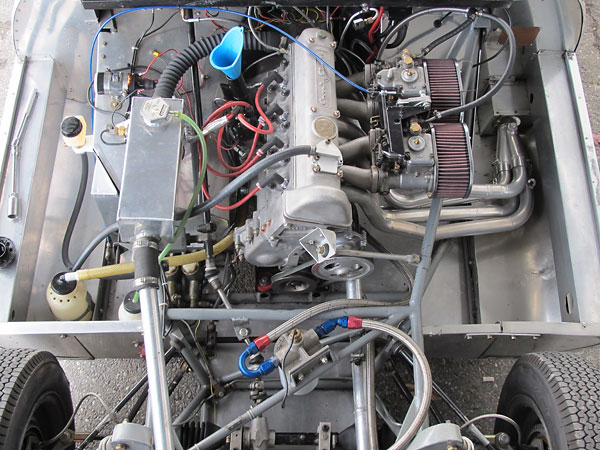 Coventry Climax FWE four cylinder, single overhead camshaft, 1216cc engine.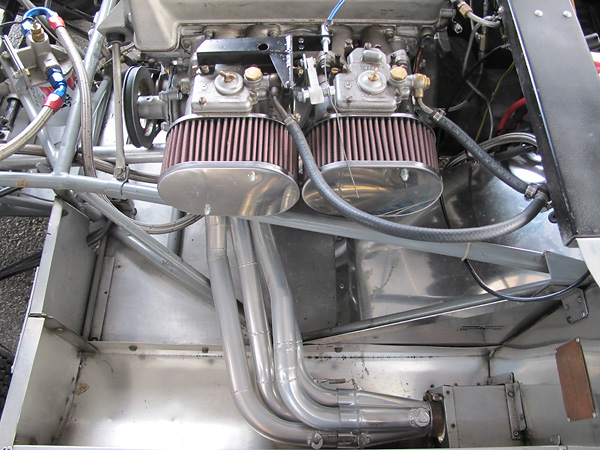 Dual Weber 40DCOE carburetors with K&N oiled gauze air filters. Note that a boss has
been welded onto the exhaust header collector for installation of an oxygen sensor,
which is a tremendous aid when adjusting the carburetors and ignition system.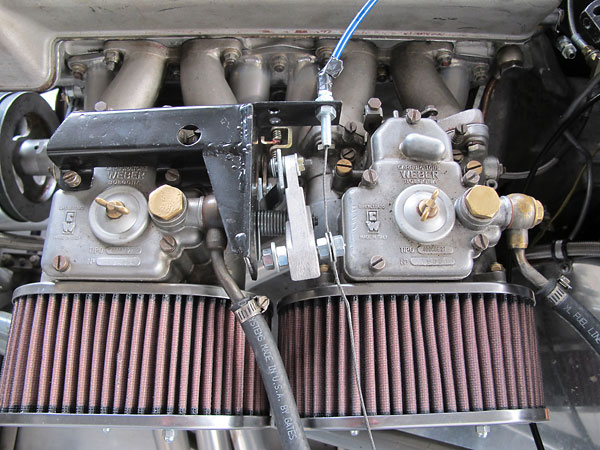 Weber TLK1/W throttle linkage assembly.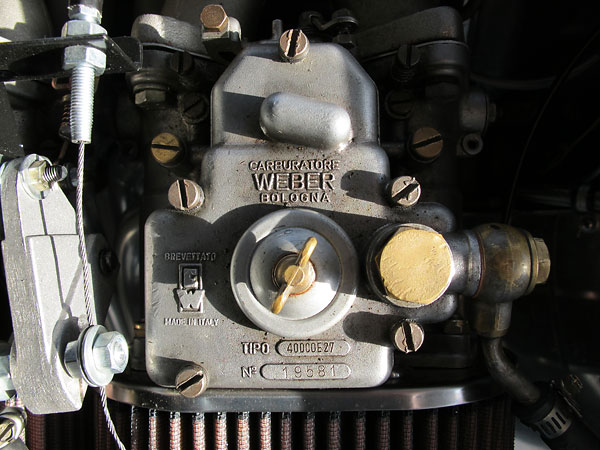 Weber Carburatore, Bologna - Tipo: 40DCOE27 - No: 19581.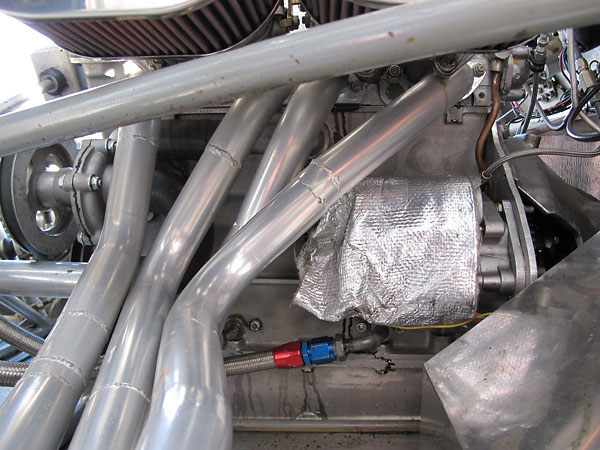 Gear reduction starter.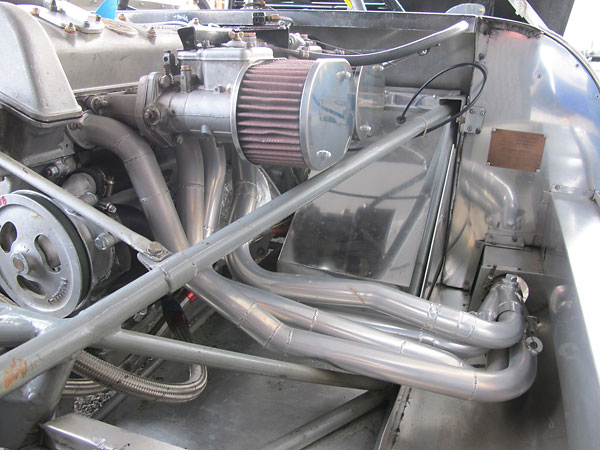 Custom 4-into-1 header, Jet-Hot coated inside and out.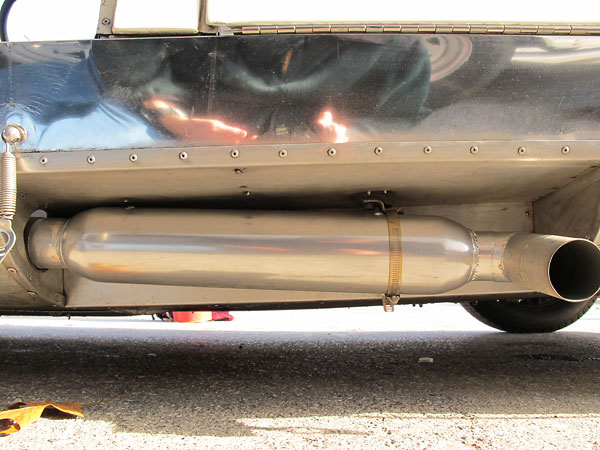 Glasspack muffler.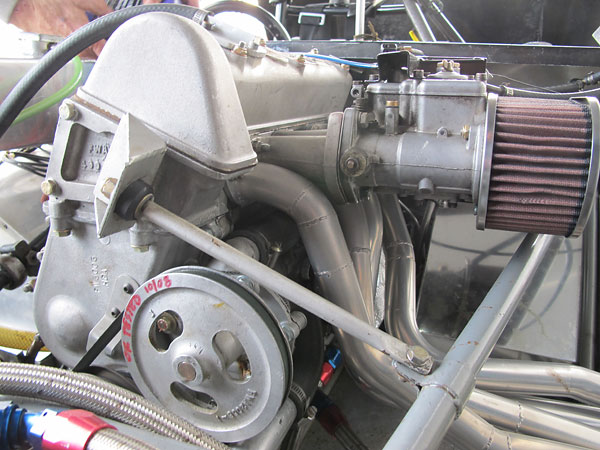 Engine steady bar.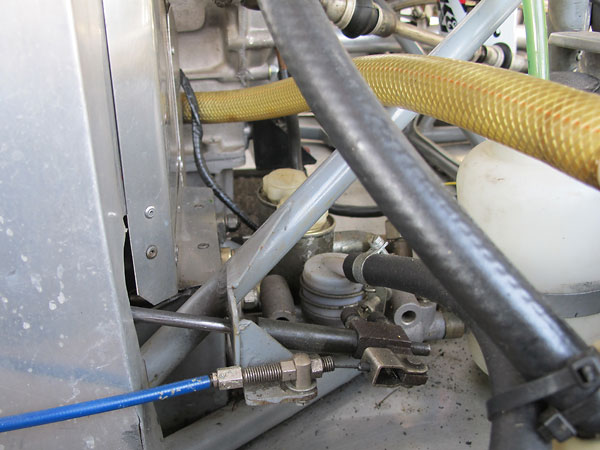 There wasn't much room for dual brake master cylinders, but the upgrade was managed by using
a Wilwood remote-reservoir cylinder on one side. Note interesting throttle cable installation.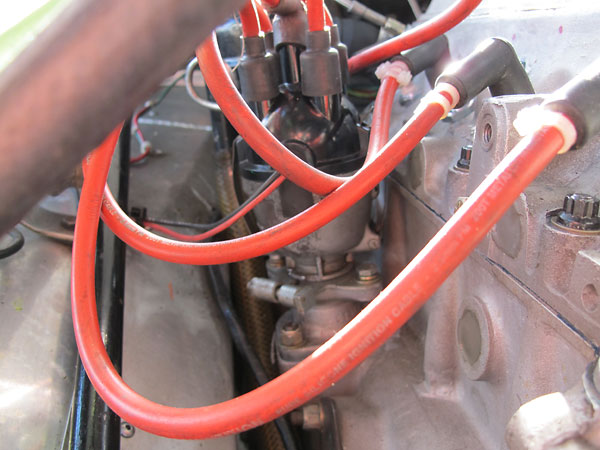 Lucas distributor with Pertronix solid state module (inside).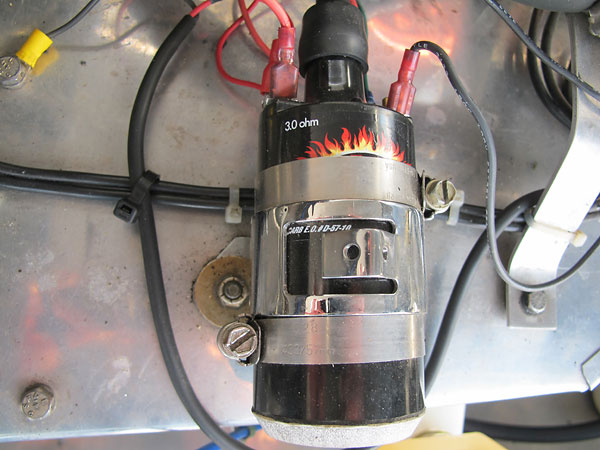 Pertronix Flame-Thrower ignition coil, 3.0 ohm.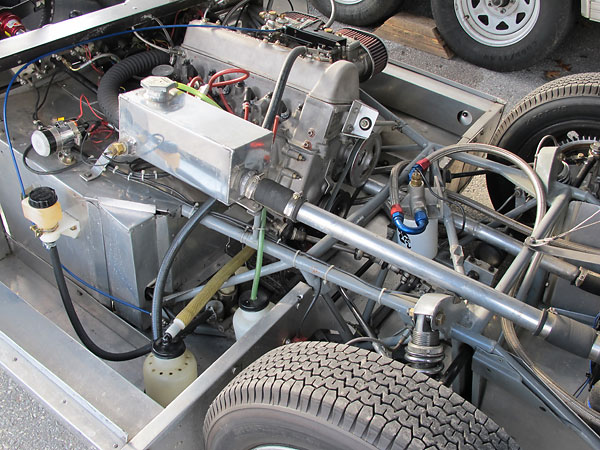 Custom fabricated aluminum header tank, located such that its pressurized filler cap
is the highest part of the entire cooling system.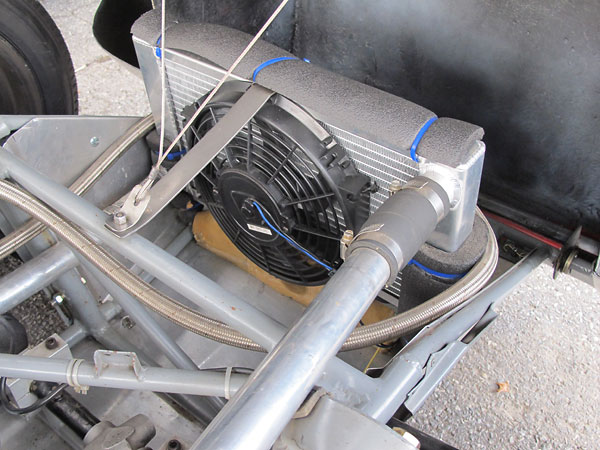 Custom aluminum crossflow radiator and electric cooling fan.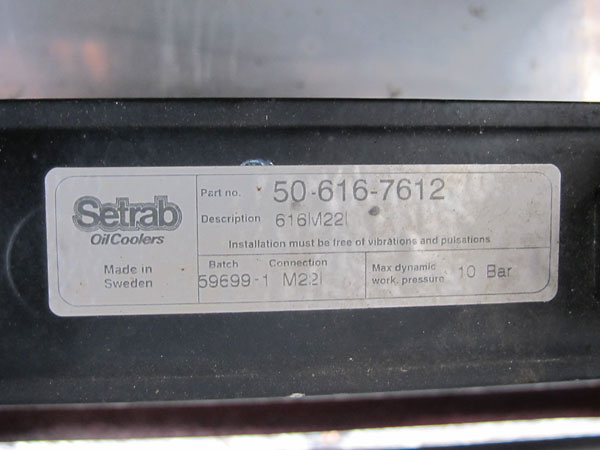 Setrab oil cooler (part# 50-616-7612).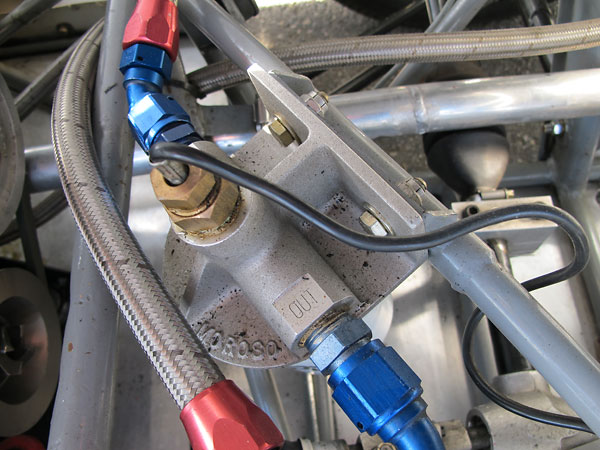 Moroso remote oil filter mounting base.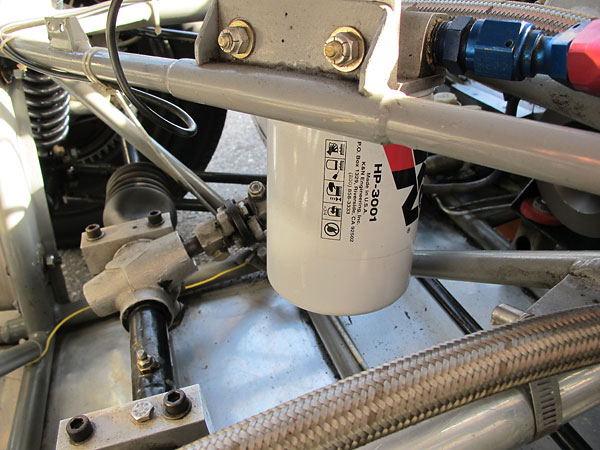 K&N HP-3001 oil filter.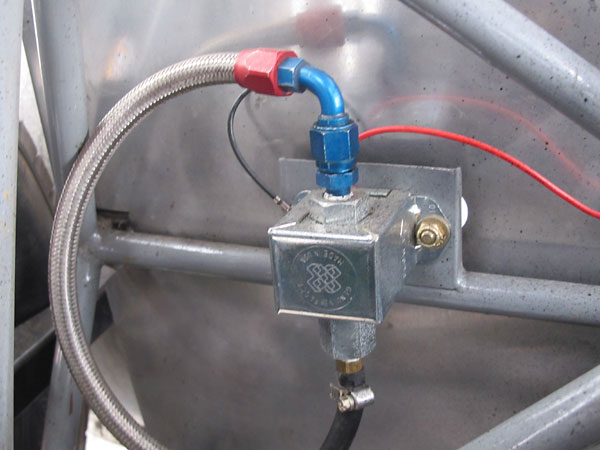 Facet cube-type solid state fuel pump.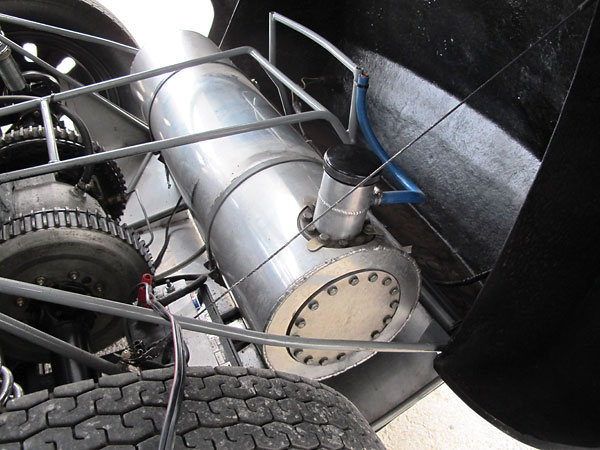 Original style cylindrical aluminum 8 imperial gallon (9.6 U.S. gallon) fuel tank.



IMPORTANT ANNOUNCEMENT
BritishRaceCar.com will have to cut back plans for continued growth if we can't find more financial support.
If you like what you've found here, and you want to see more, please click here and follow the instructions.
Readers like you keep BritishRaceCar.com online and growing through voluntary financial contributions.


Front Suspension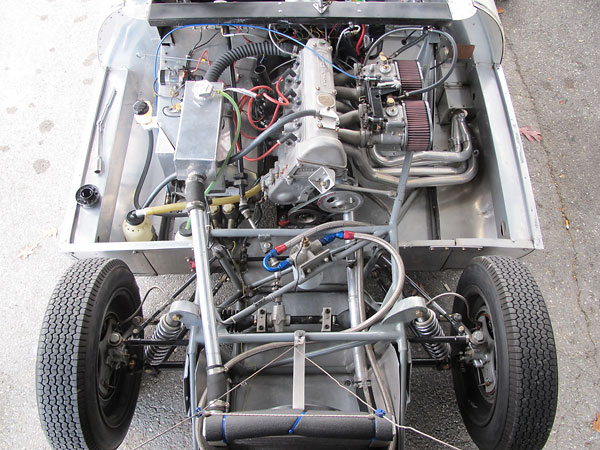 Rearward halves of Elva MkIV two-piece upper control arms are anchored to rubber frame mounts.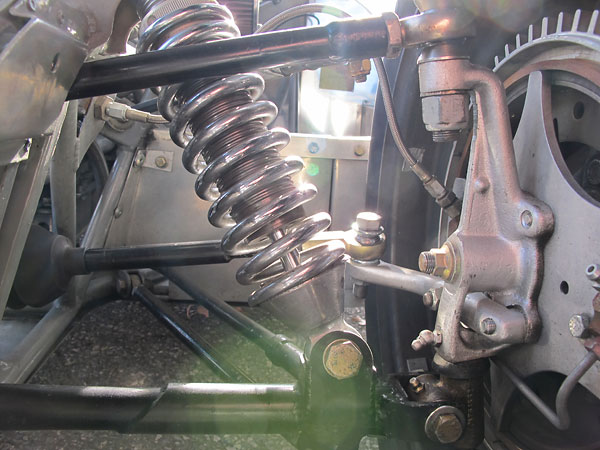 Triumph Herald pattern Alford & Alder forged steel uprights are as original. By Elva's
original design, anti-sway bar arms functioned as the rearward halves of the lower control
arms. Here, supplemental rearward braces have been added underneath the anti-roll bar.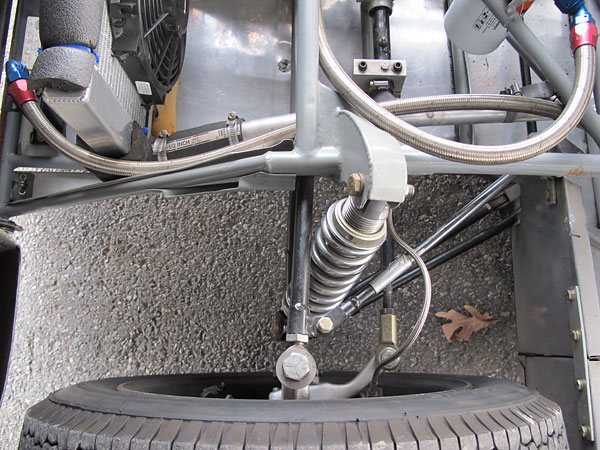 Carrera steel body coilover shock absorbers are quite similar to the Armstrong coilovers Elva originally
installed. One difference is how the springs are mounted: threaded spring perchs weren't in common
use yet, so fine adjustment of ride height and corner weights was more difficult. Also, these Carreras
are gas charged, so they can be mounted upside down for a small reduction in unsprung weight.


Rear Suspension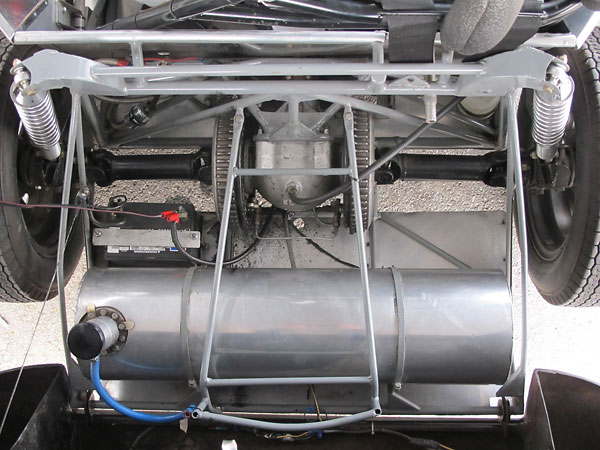 All original Elva racecars feature fusion welded frames, principally by a man named Arthur Lee,
whereas the tradition in England was to braze spaceframes. Marsden and Lee preferred fusion
welding because joint integrity was easier to verify through visual inspection. (Note: the tubular
structure above the fuel tank was designed by Marsden to support a spare tire.)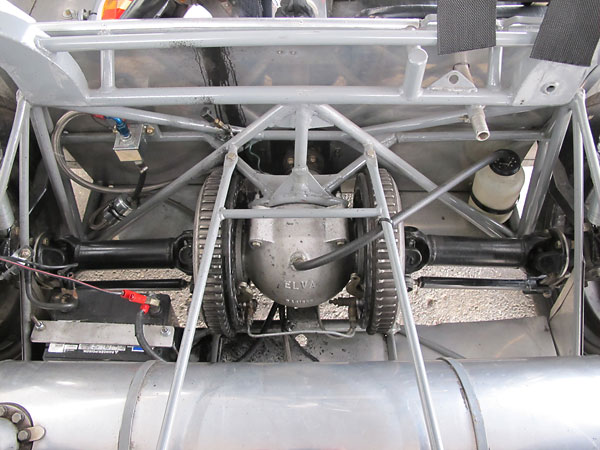 Elva's proprietary magnesium rear end housing is sized for BMC A components. Inside?
Salisbury-type limited slip differential and a 4.55:1 ring and pinion set.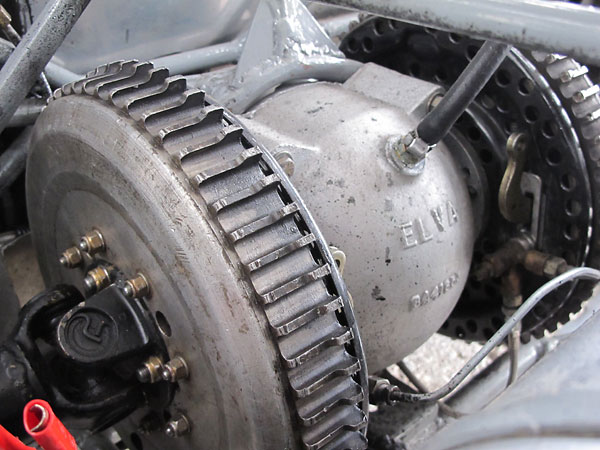 Lockheed 10" x 1.75" drum brakes, with (iron lined) magnesium drums and heavily vented backing plates.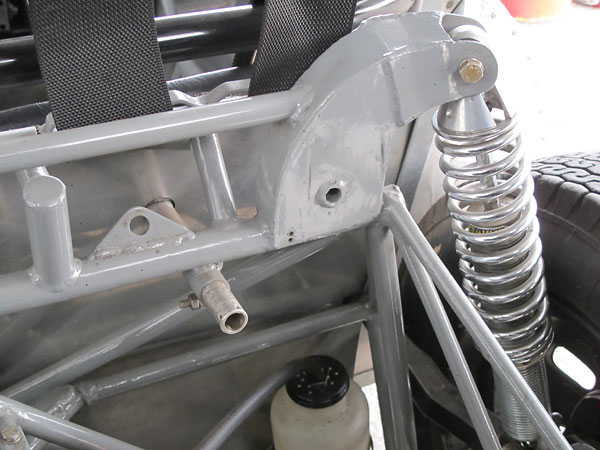 Elva recommended that owners set up their MkIVs with two degrees of negative camber, front and rear.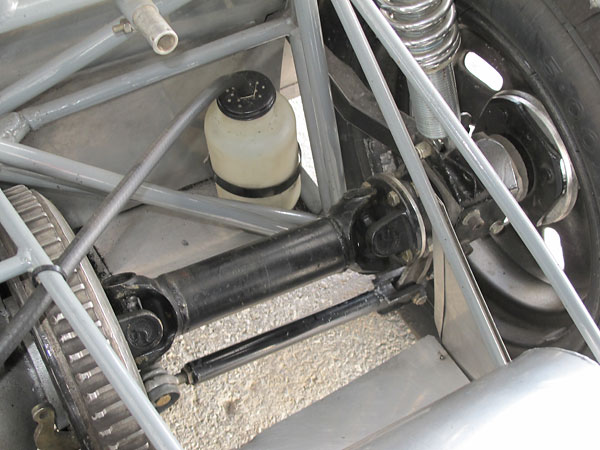 Fixed length (~11.5") driveshafts used in combination with lower transverse links (~13.5").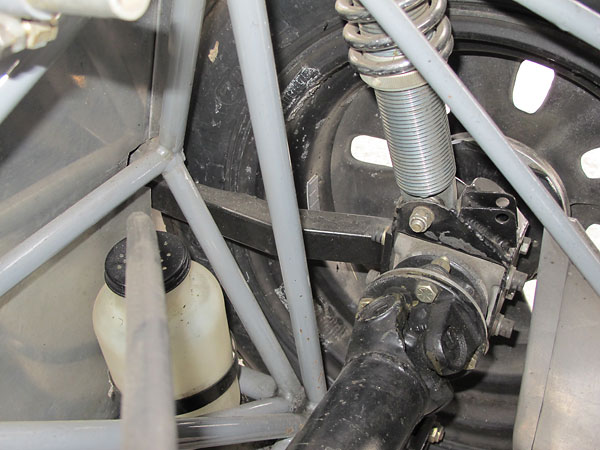 Long box-section trailing links...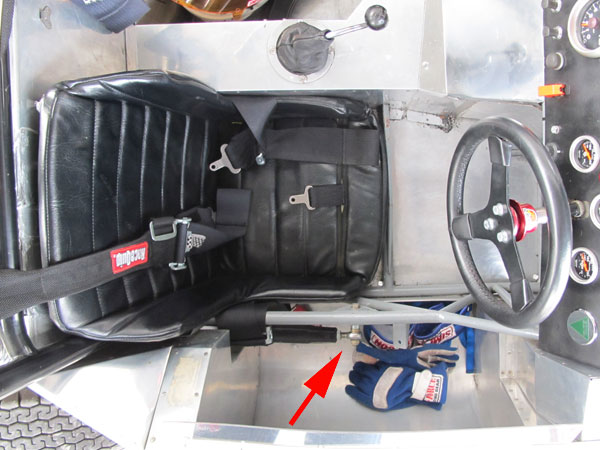 ...connect quite far forward on the Elva MkIV's tubular frame. There's a big functional advantage
to having these links as long as feasible: for a given amount of vertical suspension travel, longer
arms provide less fore-and-aft movement and thus cause less roll-steer effect. Note also: Elva
facilitated suspension alignment by using threaded rose ("Heim") joints on these links.


Interior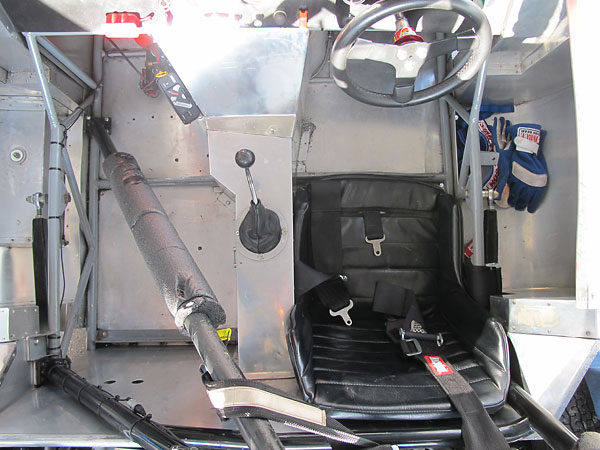 The driver's side footbox extends right up beside the engine.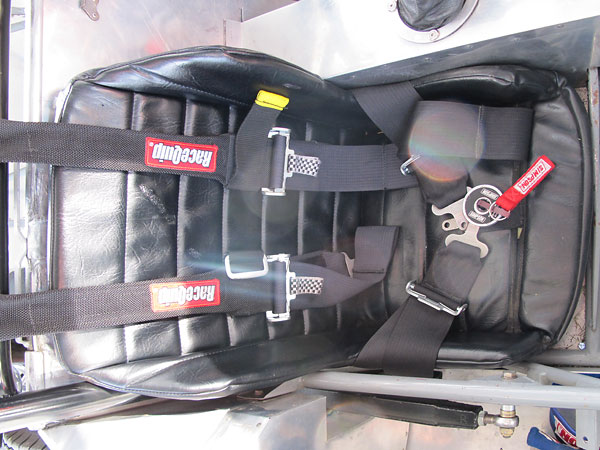 RaceQuip shoulder straps used in combination with Simpson Performance Products
lap belt and cam-lock buckle mechanism.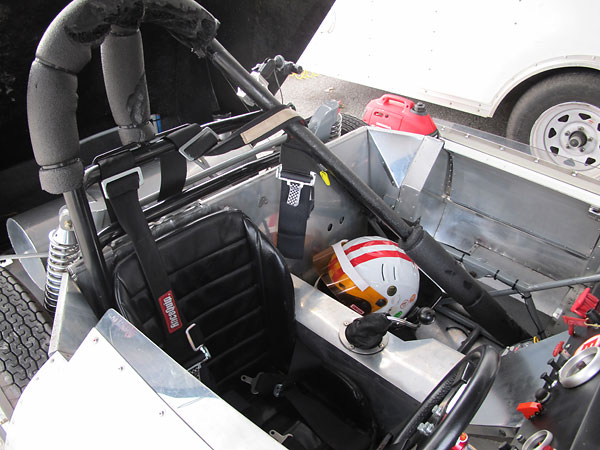 The MGA gearbox is mounted so far rearward that a large double kink in its gear shifter is required.
This adds a slight up and down movement to gear changes, but I'm told it's easy to get used to.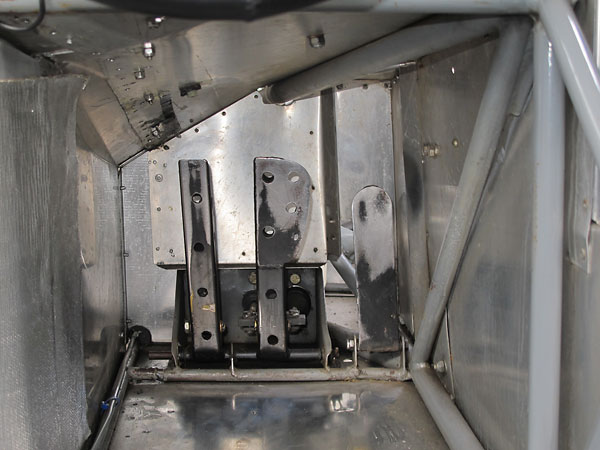 This Elva MKIV has been upgraded with dual brake master cylinders with an adjustable bias bar.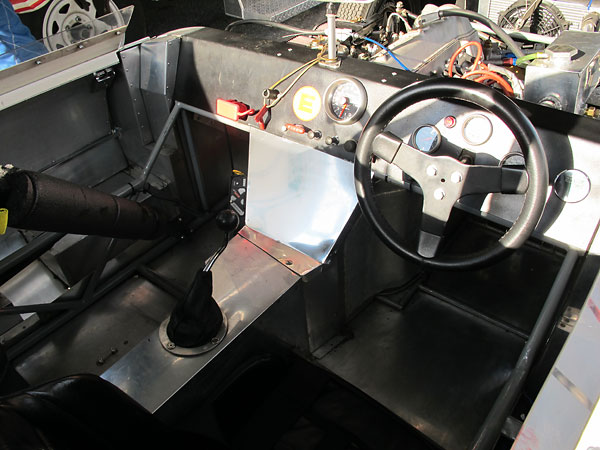 Elva MkIVs were provided with right-hand operated parking brake levers. Lever and cable have
been removed from this example but you can (just barely) see the lever bracket in this view.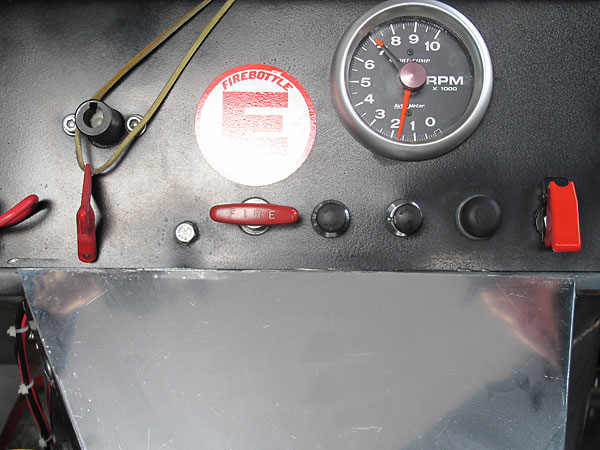 Auto Meter SportComp tachometer (0-10,000rpm).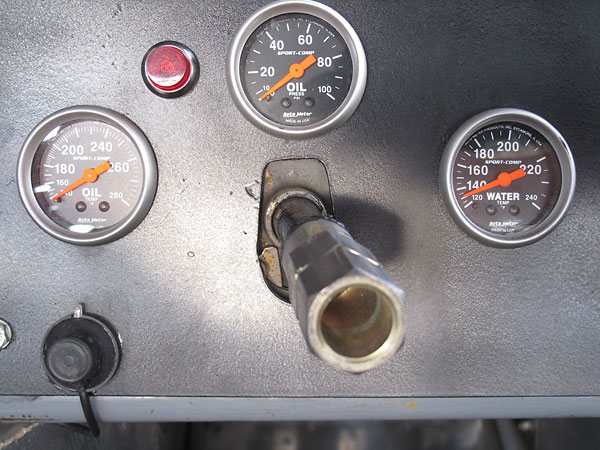 Auto Meter SportComp oil temperature, oil pressure, and water temperature gauges.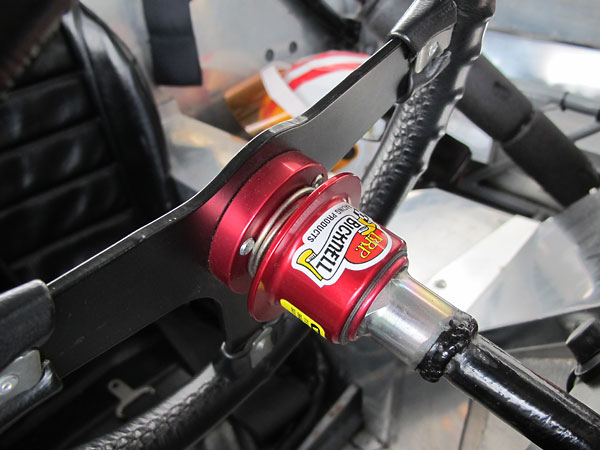 Bicknell Racing Products quick release steering wheel hub on a Mountney steering wheel.


Exterior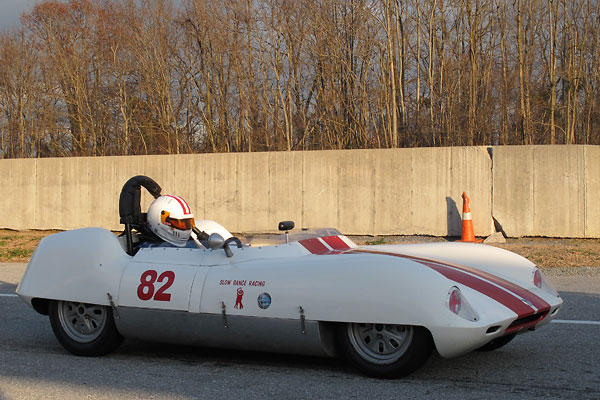 Michael Oritt at Vintage Racer Group's 2010 Turkey Bowl, Summit Point Motorsports Park.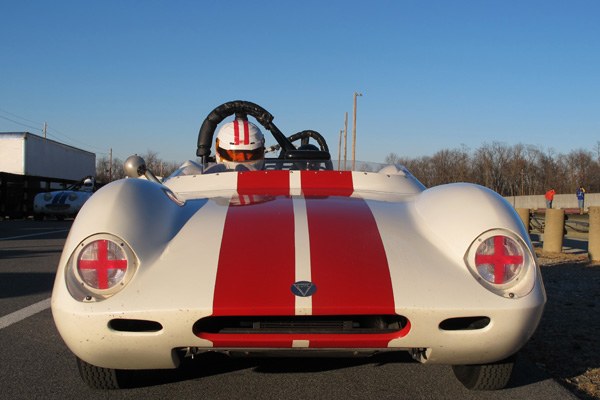 1959 National SCCA Championship, G-Modified Class Results: 1st place Arthur Tweedale (Elva MkIV, 64
points), 2nd place Frank Baptista (Elva MkIV, 42 points), 3rd place M.R.J. Wyllie (Lotus 11, 34 points).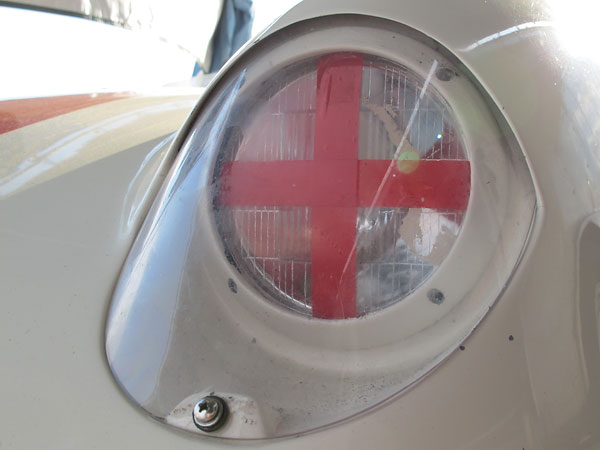 Perspex (clear acrylic) headlamp fairings.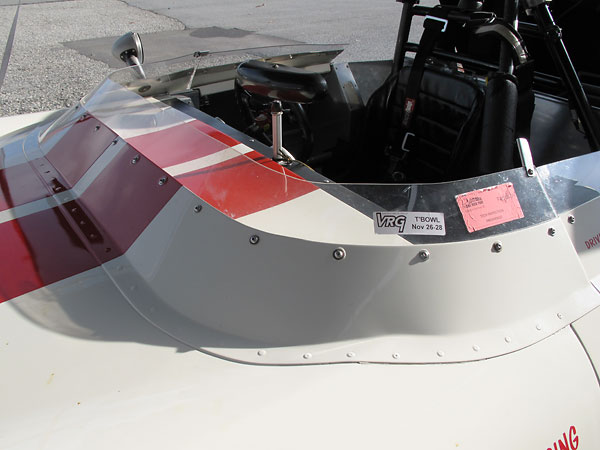 Windscreen curvature is both an important and an easily developed aerodynamic feature. As reported
by journalist Mike Lawrence, Keith Marsden determined that the "double curvature" shape of the MkIV
windscreen was worth 2-3mph on a long straight compared to a simpler, flatter screen. Supposedly,
when Colin Chapman saw the MkIV screen he threatened a patent lawsuit but Frank Nichols realized
the Lotus patent was only issued in U.K., filed for a U.S. patent, and threatened a counter-suit.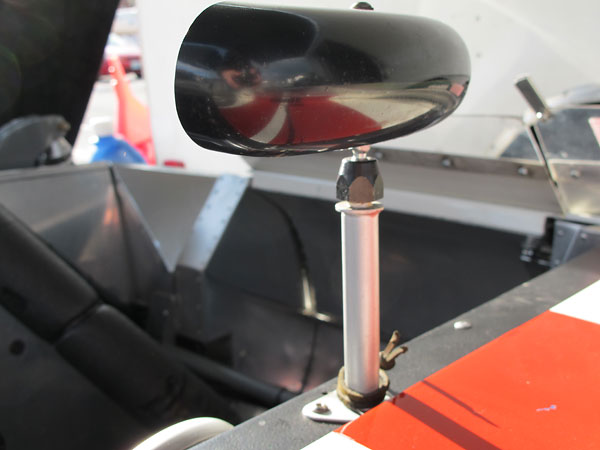 SPA Design Sports Car rear view mirror.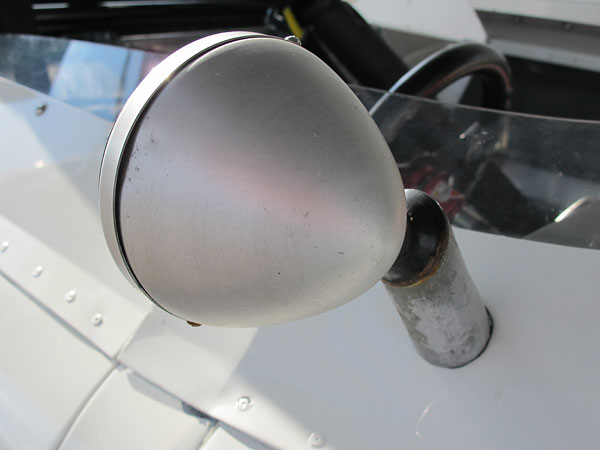 GT Classic side view mirror.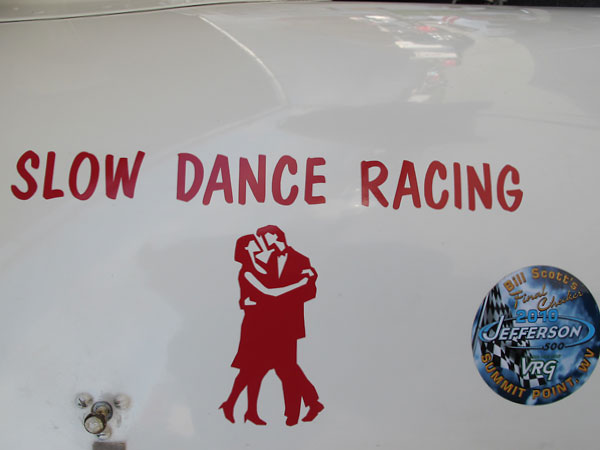 Slow Dance Racing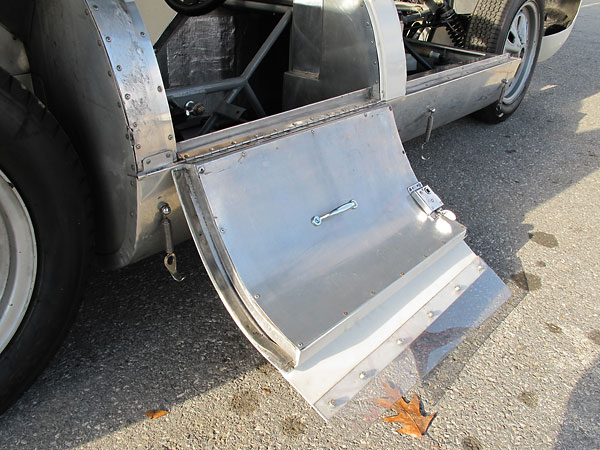 Like many vintage sports racers, the Elva MkIV features horizontally hinged doors.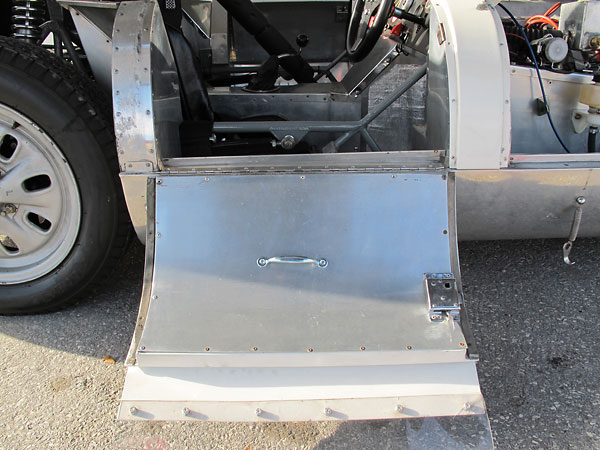 Truth be told, it's probably just as easy to enter the car by climbing over the (closed) door,
but the presence of functional doors was a rule requirement. Period rules typically also
mandated that sports racers be equipped with a passenger seat and a spare tire.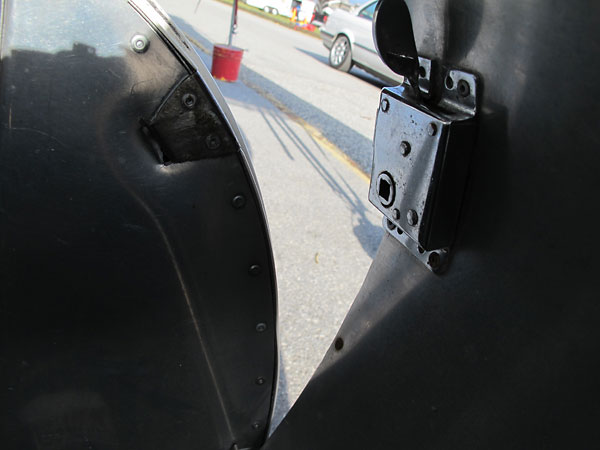 "Pudding Spoon" door locks are from the Land Rover parts bin.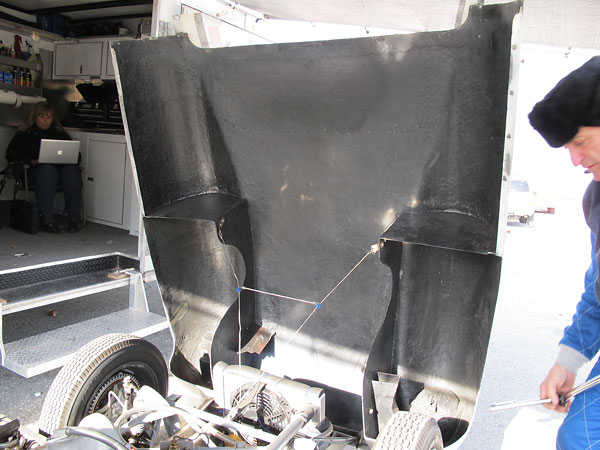 The two original MkIV prototypes had aluminum-manganese alloy bodies that weighed just 52#.
Production MkIVs came with fiberglass front and rear body sections, in combination with
22-gauge alloy panels for the central section, scuttle, doors and floor panels.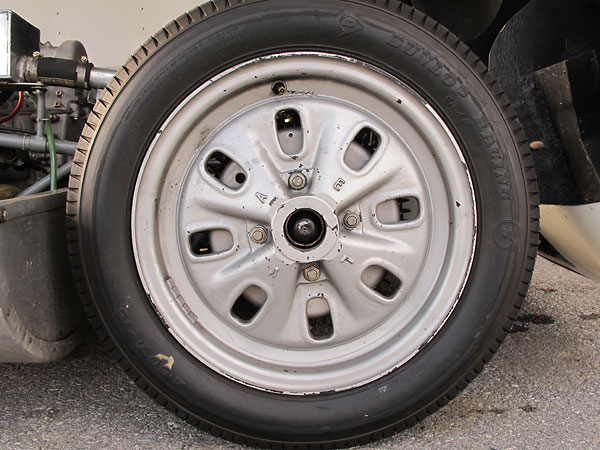 Keith Marsden's chief regret with the MkIV design was its wheels (cast magnesium, 15x4 front and
15x4.50 rear.) Elva owner Frank Nichols had invested a lot of money in tooling to make 15" wheels
so Marsden was obliged to use them. He would have strongly preferred to use wider 13" wheels,
but he couldn't justify the additional tooling investment until the Mk7 model.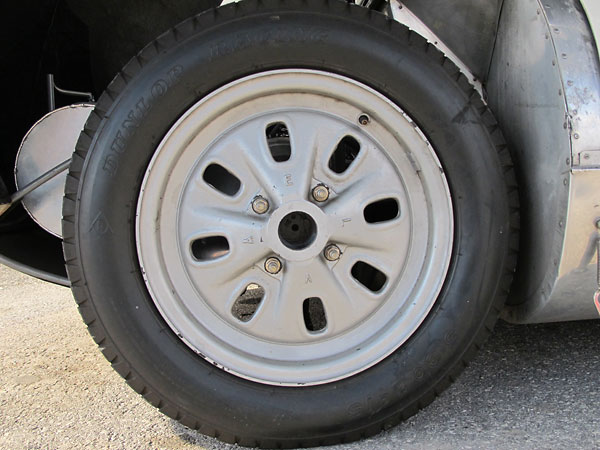 Dunlop 204-L tires, 15x4.50 front and 15x5.00 rear.


Photos shown here are from November 2010 when we viewed the car at the Vintage Racer Group's annual Turkey Bowl at Summit Point West Virginia. All photos by Curtis Jacobson for BritishRaceCar.com, copyright 2011. All rights reserved.





Notice: all the articles and almost all the photos on BritishRacecar.com are by Curtis Jacobson.
(Photos that aren't by Curtis are explicitly credited.) Reproduction without prior written permission is prohibited.
Contact us to purchase images or reproduction permission. Higher resolution images are optionally available.