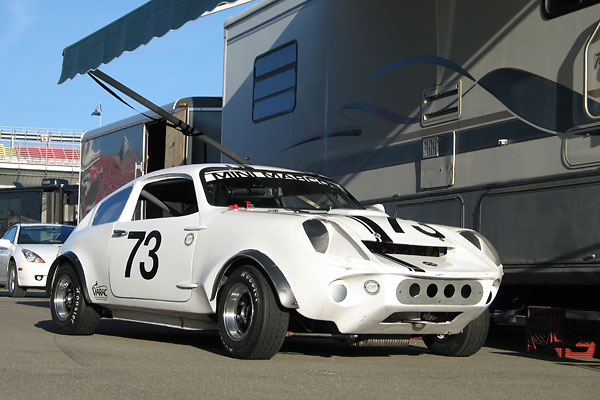 Bob Polak's 1969 Mini Marcos, Mark III, Number 73
Owner: Bob Polak
City: Cornwall, Ontario
Model: 1969 Mini Marcos, Mark III¹
Engine: 1293cc BMC A-series (as used in Mini Cooper S, Mk2)
Built by: Bill Gilcrease at Mincomp Racing Services
Mini Marcos History
The precursor to the Mini Marcos was built in 1964 by professional test pilot and amateur aerodynamicist Dizzy Addicott. Addicott foresaw that a BMC Mini could be substantially faster if fitted with more streamlined bodywork. He purchased a damaged Morris Mini Van, and modified it to prove the point. The body on that first prototype was created entirely from steel. It was basically teardrop shaped, but with the rear truncated as proscribed by Wunibald Kamm. The front end of the prototype was nicely rounded and featured an oval radiator opening, without grille. The car came to be known as the DART, which was short for "Dizzy Addicott Racing Team".

The DART prototype captured the interest of Jem Marsh of Marcos Cars. Initially Addicott and Marsh planned to work together to industrialize the DART design. The original prototype's steel body was used as a plug for making molds, and a handful of monocoque fiberglass bodies were subsequently built, but the quality of these early bodies was deemed unsatisfactory. The two men had a falling out, and Marsh decided that Marcos would create their own Mini-based aerodynamic special. Marcos employees Brian Moulton (GRP Manager) and Malcolm Newell (Pattern Maker) are credited with styling and design for the new Mini Marcos.

Brian Moulton's personally hand-built prototype debuted in September 1965 at the Castle Combe racetrack, where it won its first race decisively. Fitted with a 1293cc engine, it lapped the whole 1.6L-class field except for one Ginetta G4, and it won by a margin of 82 seconds in the ten lap race. Five months later, Marcos was ready to offer the Mini Marcos for sale at the annual Racing Car Show at Earl's Court, London.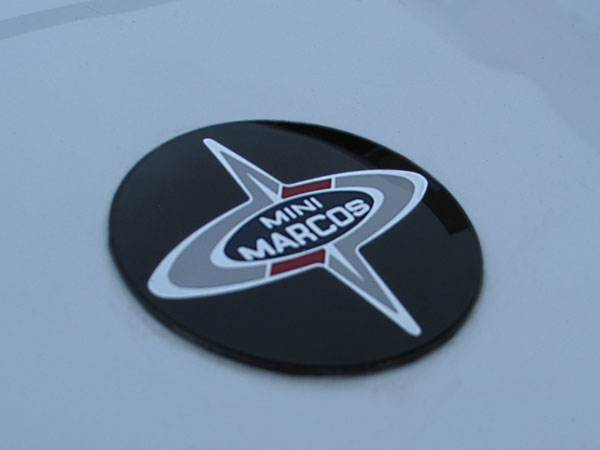 Mini Marcos badge.


At the Earl's Court show, Jem Marsh made the personal connections that led to a Mini Marcos being entered at LeMans later in 1966. The LeMans organizers have always been notoriously jingoistic and there was no way they would have let Marcos enter their new British "kit car" directly. One must be invited to race at LeMans. However, it was felt that they might be persuaded to allow a French team to enter the car if it were built-up in France and piloted by French drivers. That was precisely how it happened that Jean Louis Marnat, as a privateer, achieved so much with the new Mini Marcos.


Enjoying this article? www.BritishRaceCar.com is partially funded through generous support from readers like you!
To contribute to our operating budget, please click here and follow the instructions.
(Suggested contribution is twenty bucks per year. Feel free to give more!)
Marnat's Mini Marcos was the only British car to finish Le Mans in 1966! He finished fifteenth overall, and fifth in the 1.3L Prototype class behind four Renault-powered Alpines. (Paddy Hopkirk's works Sprite suffered a head gasket failure, and was twenty-one laps behind the Mini Marcos when the race was declared over.) This was a remarkable finish; the little car demonstrated that it could reach over 130mph on the famous Mulsanne Straight, and that it was strong enough to maintain a very high average speed over the duration. It was an especially remarkable achievement in light of how hurried and how low-budget the car's preparation for the race had been.

After this proof of worthiness, Marcos Cars could hardly be denied an invitation to compete at LeMans in 1967. Alas, the factory team was unlucky. They suffered an oil pump failure on the eleventh lap and retired from the race. However, their somewhat more streamlined Mini Marcos Mark III was clocked at 141 mph on the Mulsanne Straight.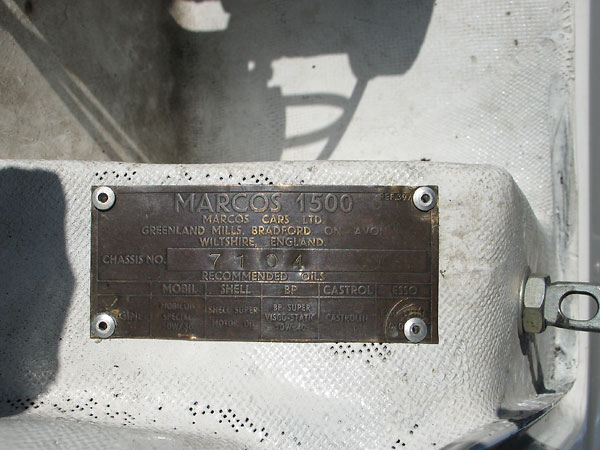 MARCOS 1500 - Chassis No. 7104
Marcos Cars Ltd., Greenland Mills, Bradford on Avon, Wiltshire, England.
(Recommended Oils: Mobil, Shell, BP, Castrol, Esso...)



Bob Polak's Mini Marcos
Bob Polak bought Marcos 7104 in January 2007 from Jeremy Bannister of Pennsylvania. The car had been imported to U.S.A. in 2002, and it's one of only a handful of Mini Marcos cars in North America.


Features and Specifications
Engine:
1293cc BMC A-series as used in the Mini Cooper range, built with an "A+" block. Keith Calver custom built cylinder head. ~11:1 static compression ratio. Kent Cams camshaft. Forged 1.5:1 rocker arms. (The engine was built for shifting at about 7500rpm.) Weber 45DCOE carburetor on 6" Dellorto (4030) cast aluminum intake manifold. K&N gauze air filter. Aldon Automotive distributor with Pertronics Ignitor pick-up. Lumenition adjustable rev limiter. Electrically-actuated Accusump system.

Cooling:
Super Two Core radiator and stock Mini Cooper oil cooler.

Exhaust:
Long Center Branch (LCB) header. Flowmaster two chamber muffler.

Transmission:
stock 4-speed FWD transmission and clutch system, upgraded with Tran-X limited slip differential, Tran-X straight cut transfer gears, and 3.9:1 straight cut final drive.

Front Susp.:
per class requirements, stock Mini Cooper S (Moulton rubber cone) upgraded with negative camber A-arms and GAZ adjustable shock absorbers.

Rear Susp.:
per class requirements, stock Mini Cooper S (Moulton rubber cone), upgraded with GAZ adjustable shock absorbers and a tubular anti sway bar.

Brakes:
(master) Lockheed dual-circuit master cylinder. Speedway Motors bias valve on rear circuit.
(front) per class requirements, Lockheed Cooper S single piston calipers. Goodridge braided stainless hoses. Performance Friction (PFC) "01" compound brake pads.
(rear) Mini Cooper S drum brakes. Goodridge braided stainless hoses.

Wheels/Tires:
Revolution 10" wheels with Hoosier T.D. 165/70 tires.

Electrical:
Mincomp gear reduction starter. Lucas alternator. Wet cell battery (Group 41 size.)

Instruments:
(left to right) Autometer ProComp coolant temperature gauge (140-280F), Autometer ProComp Memory tachometer (0-10,000rpm), Autometer ProComp oil pressure gauge (0-100psi), Autometer ProComp oil temperature gauge (140-280F).

Fuel System:
Fuel Safe 6 gallon fuel cell. Facet Blue-top fuel pump. Holley low pressure adjustable regulator.

Safety Eqpmt:
Ultra Shield Race Products drivers seat. Crow Enterprises 5-point latch and link safety harness. M&R mesh window net. Mark Williams Enterprises quick release steering wheel hub on a Grant steering wheel. SPA "Firefighter" mechanically-actuated, aqueous film forming foam fire suppression system.

Weight:
1345 pounds with five gallon fuel load.

Completion:
Construction of this racecar was completed in September 2008, and as of September 2009 it had completed twelve races.

Racing Class:
SVRA "1FP" (F-Production)

Engine Installation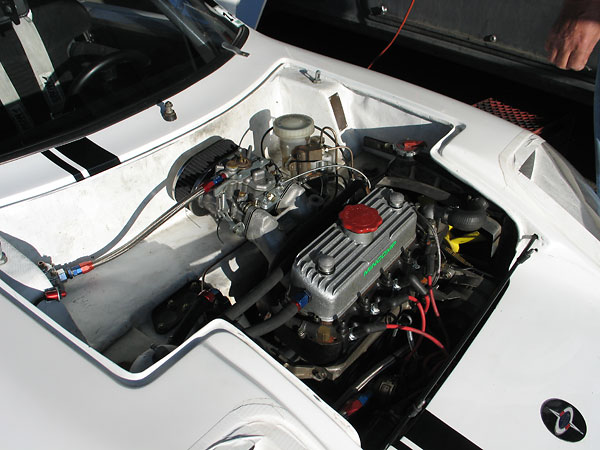 BMC A-series engine as used in classic Minis. This one displaces 1293cc.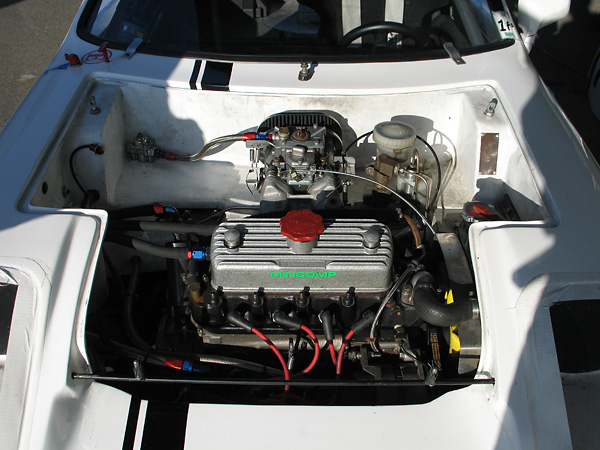 Engine prepared by: Bill Gilcrease at Mincomp Racing Services.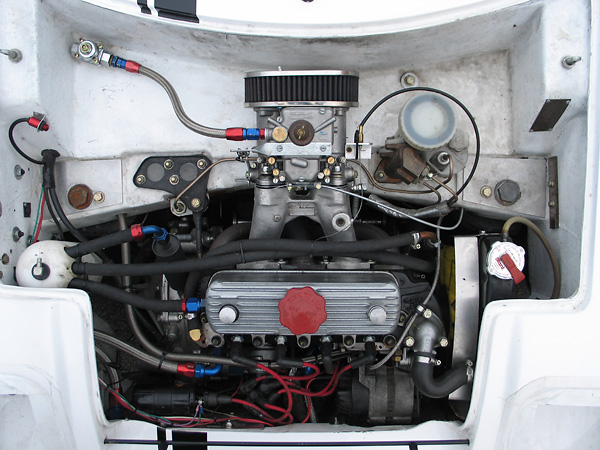 The Mini Marcos came with a front-mounted radiator, whereas regular Minis had side-mounted radiators.
This particular Mini Marcos has the radiator side-mounted to meet the letter of the SVRA class rules.
However, on a stock Mini the radiator mounts to the engine whereas this radiator is mounted to the body.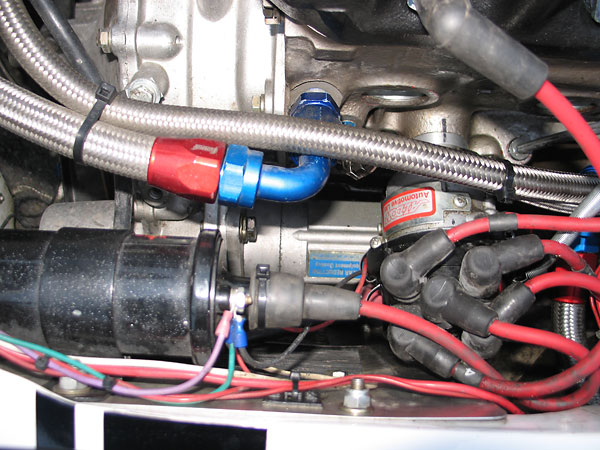 Aldon Automotive distributor with Pertronics Ignitor pick-up. Mincomp gear reduction starter.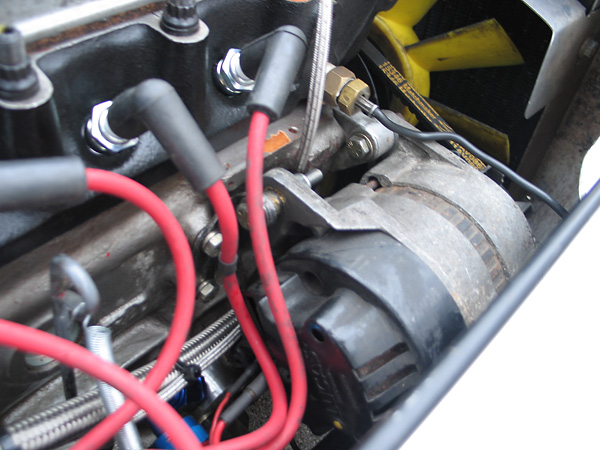 Lucas alternator.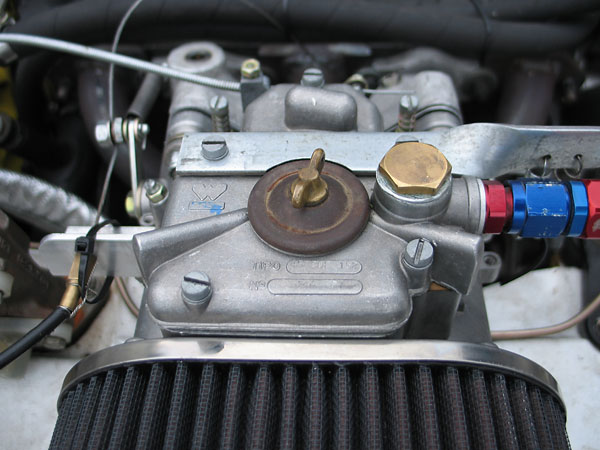 Weber DCOE carburetor on 6" Dellorto (4030) cast aluminum manifold, fitted with K&N gauze air filter.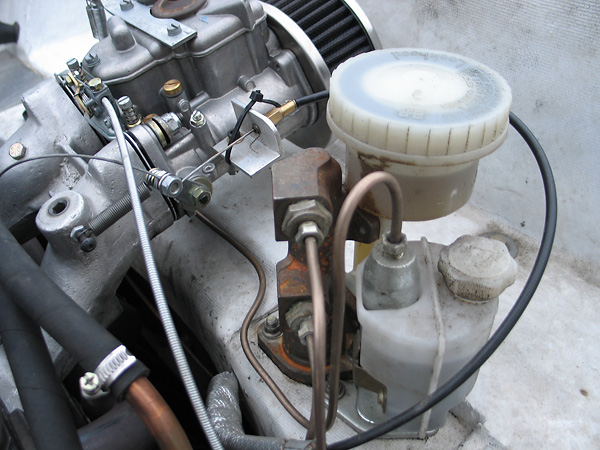 Lockheed dual-circuit iron brake master cylinder and Lockheed aluminum clutch master cylinder.
Note also that a choke cable has been installed.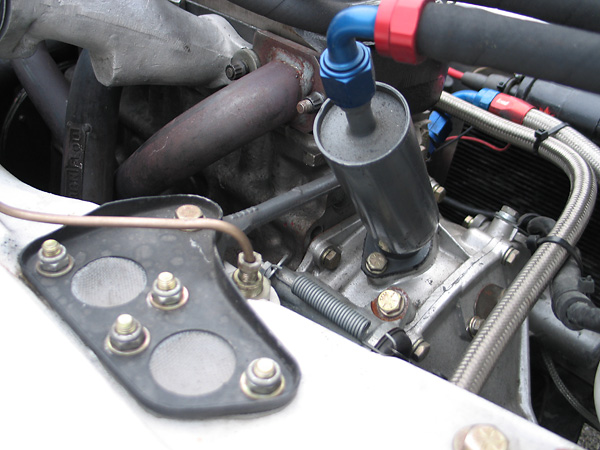 This is a stock Mini oil separator, except with a "dash 8" fitting installed for the breather plumbing.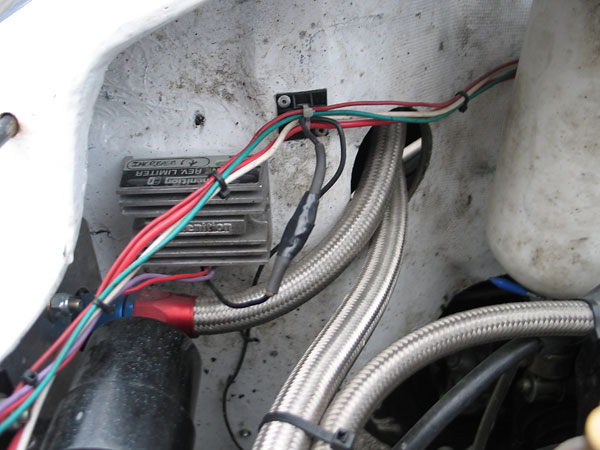 Lumenition adjustable rev limiter.


Suspension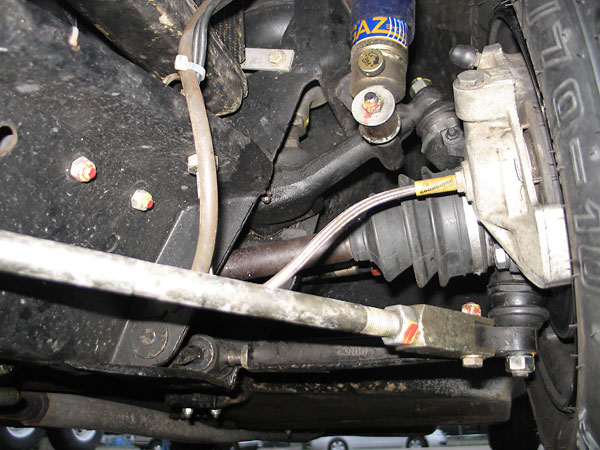 Stock Mini Cooper S (Moulton rubber cone) suspension, upgraded with adjustable negative camber A-arms.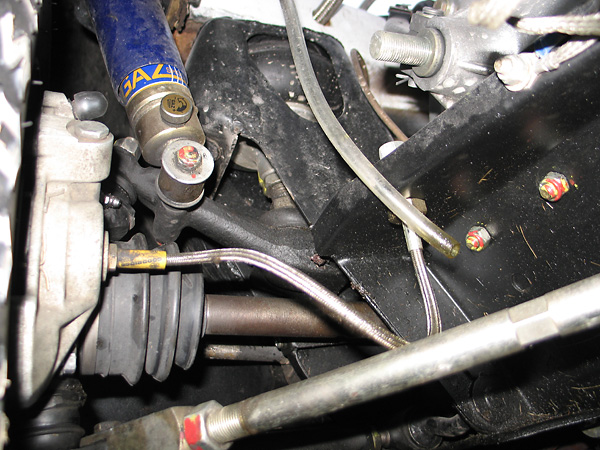 GAZ adjustable front shock absorbers. Note that no front anti-sway bar is deemed necessary.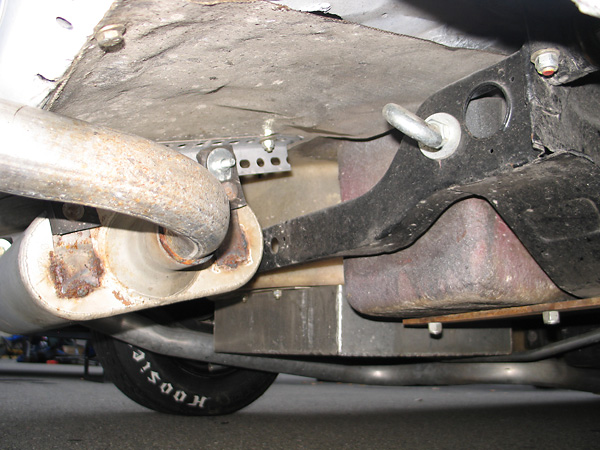 Mini Marcos cars utilize stock Mini front and rear subframes.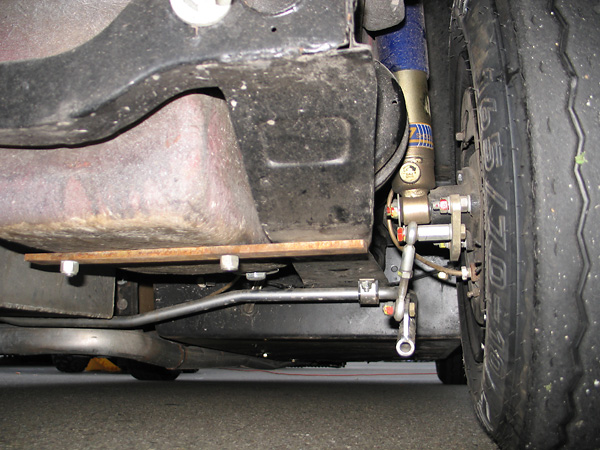 GAZ adjustable rear shock absorbers.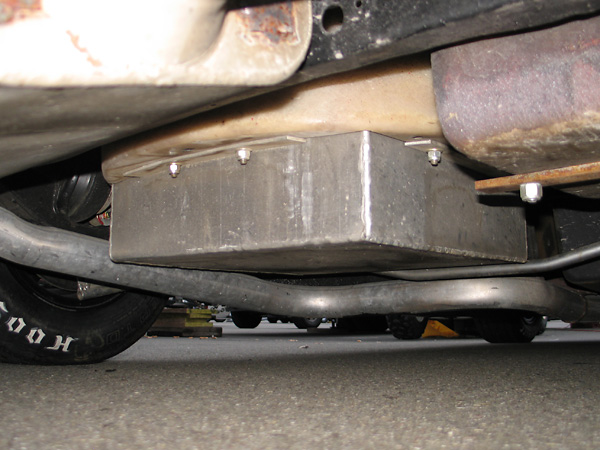 The aluminum fuel cell housing protrudes through the floor of the spare tire well.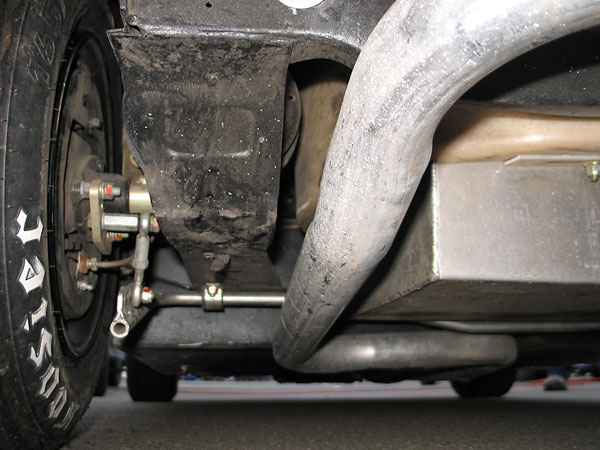 Tubular rear anti-sway bar.


Interior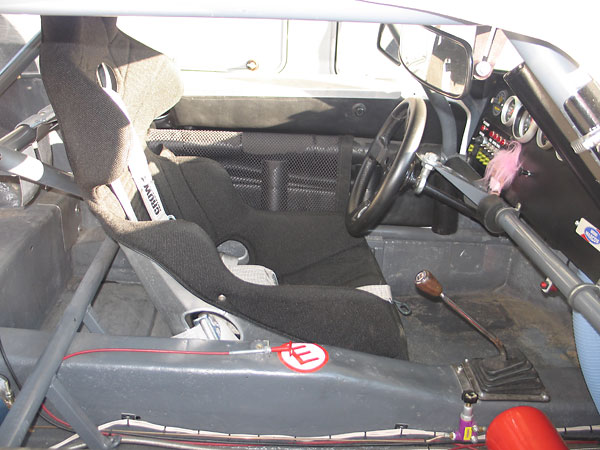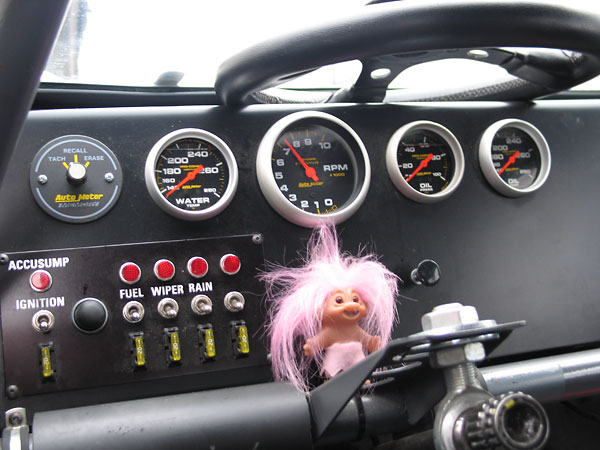 (left to right) Autometer ProComp coolant temperature gauge (140-280F), Memory tachometer (0-10,000rpm),
oil pressure gauge (0-100psi), and oil temperature gauge (140-280F).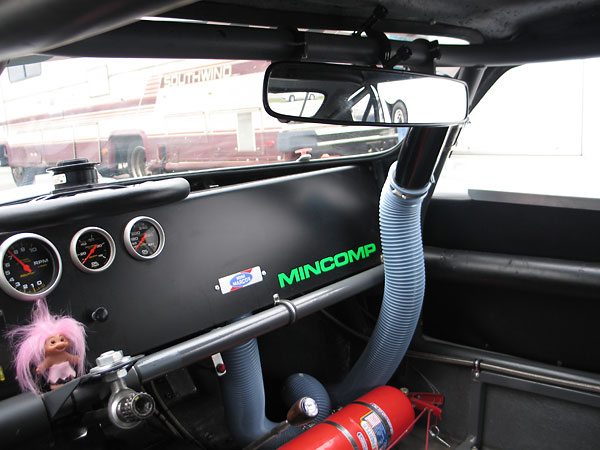 (The blue corrugated tubing was part of an experimental ventilation system.)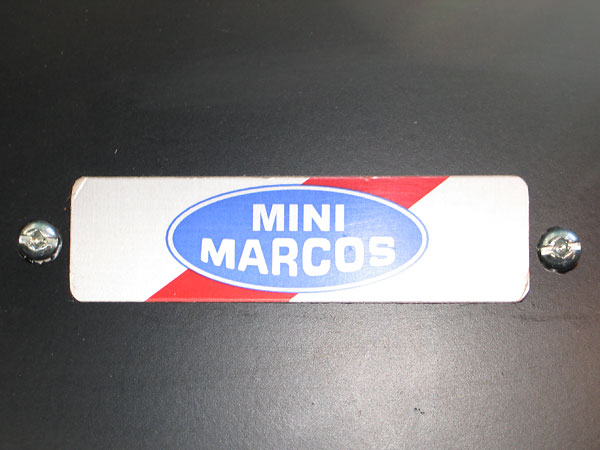 Mini Marcos dash plaque.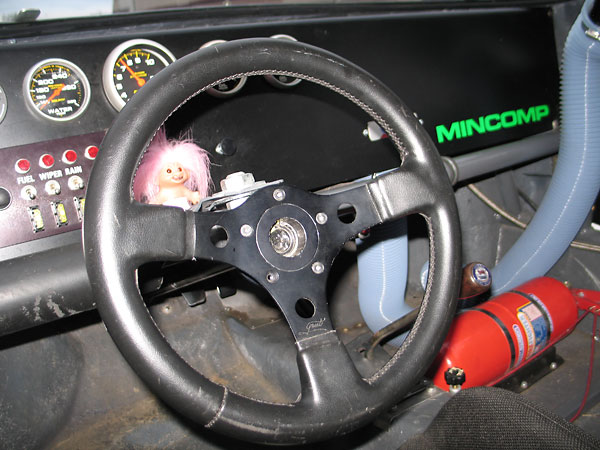 Grant steering wheel.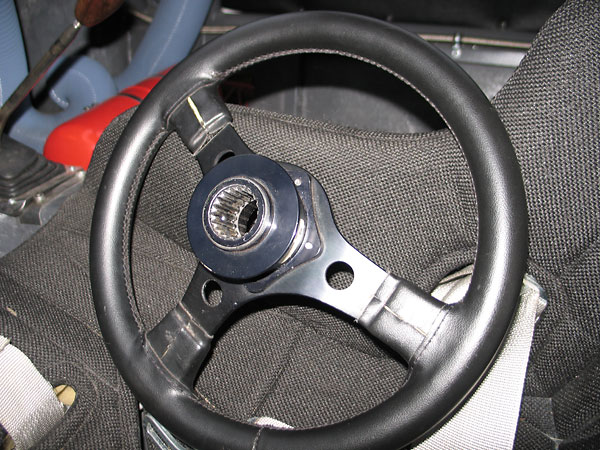 Mark Williams Enterprises splined quick release steering wheel hub bolts directly to the Grant steering wheel.



The small print on the knob reads: "Morris" (above) and "Mini-Minor" (below).
The Morris logo shows an ox crossing a stream, because Morris was originally based in Oxford.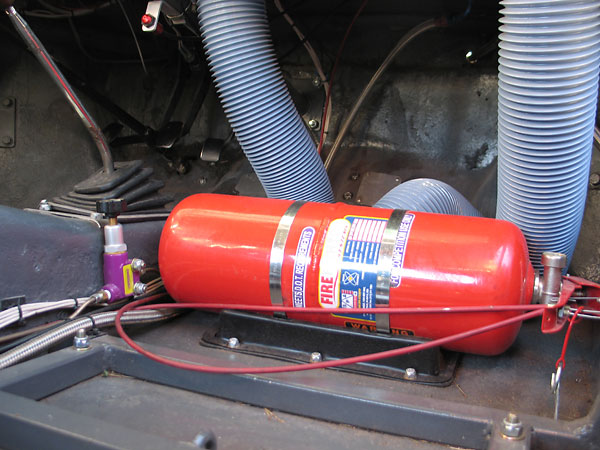 SPA Firefighter mechanically-actuated, aqueous film forming foam fire suppression system.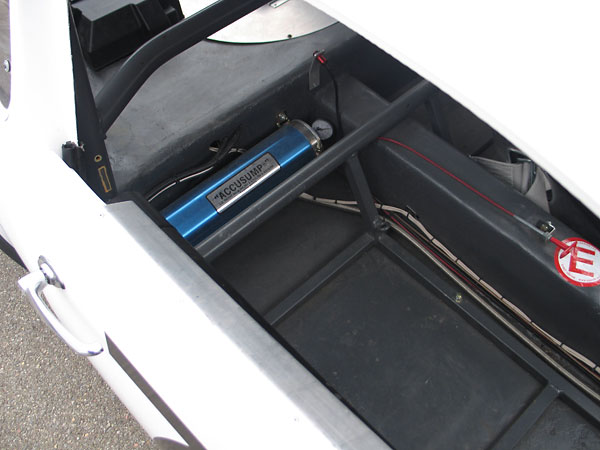 Accusump pressurized oil reservoir. (Provisions for safely mounting a passenger seat have also been included.)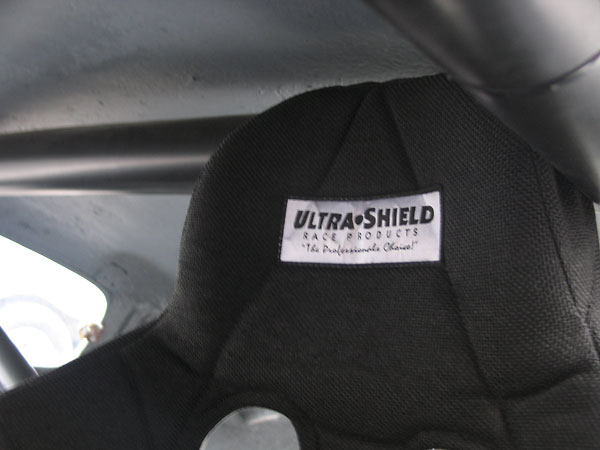 Ultra Shield Race Products drivers seat.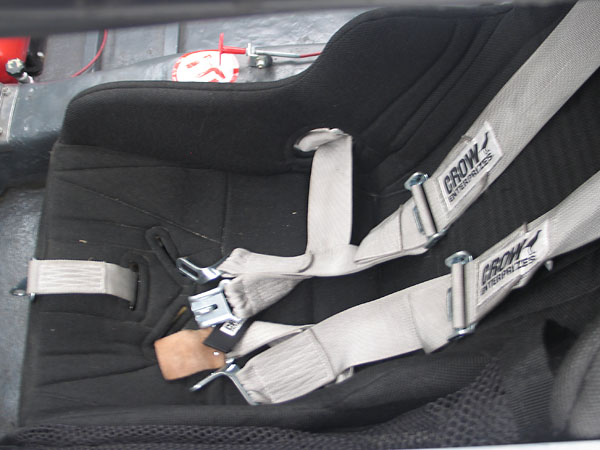 Crow Enterprises 5-point latch and link safety harness.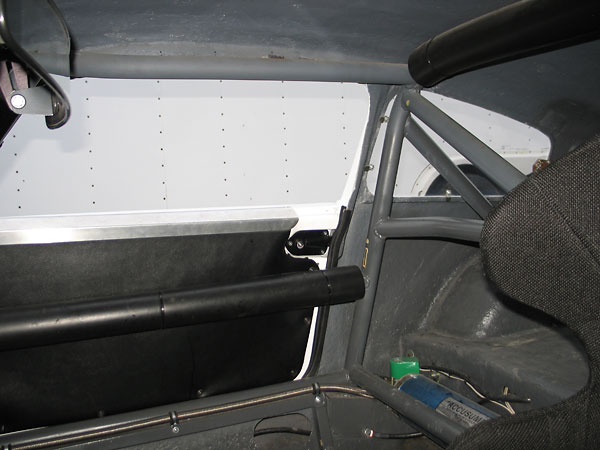 Roll cage construction details.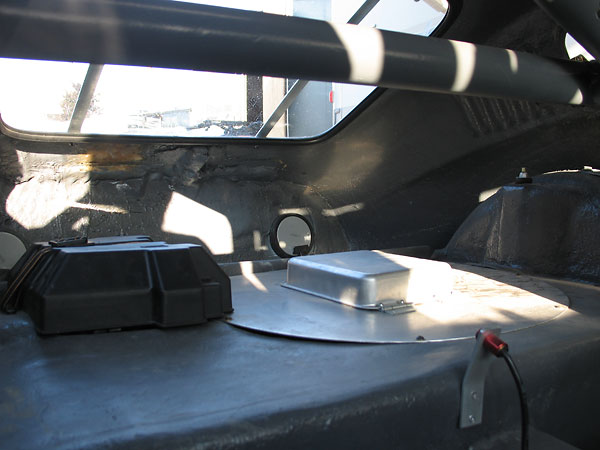 Right foreground: fire suppression system nozzle.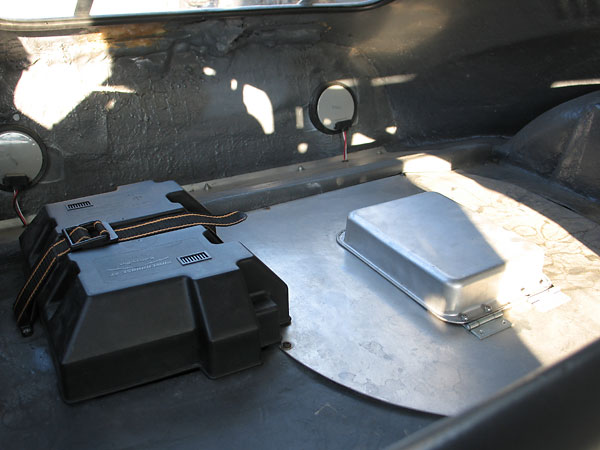 Left: Attwood "Sea Guard" marine battery case.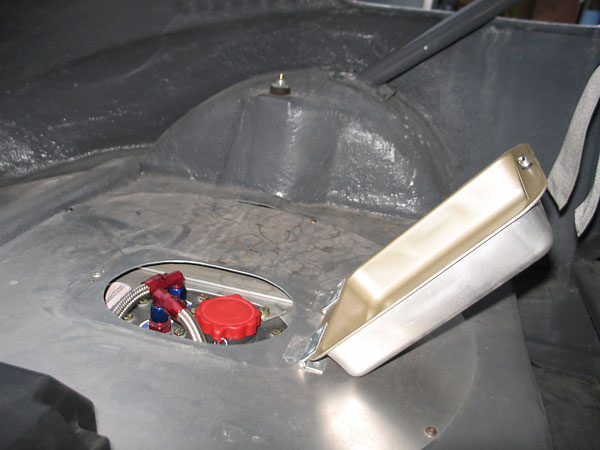 Fuel Safe 6 gallon fuel cell, installed in a custom aluminum canister.



Fiberglass body.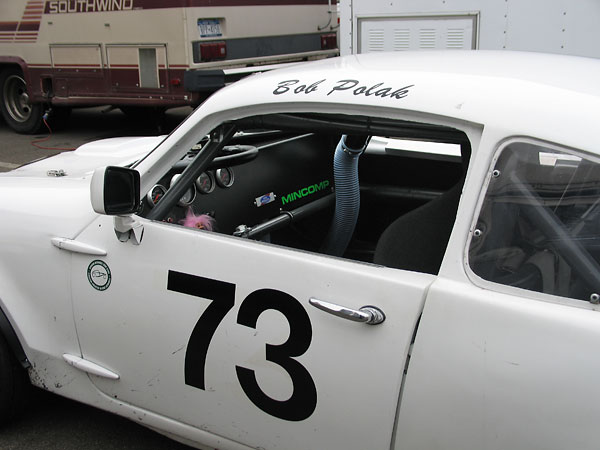 Bob Polak, Number 73.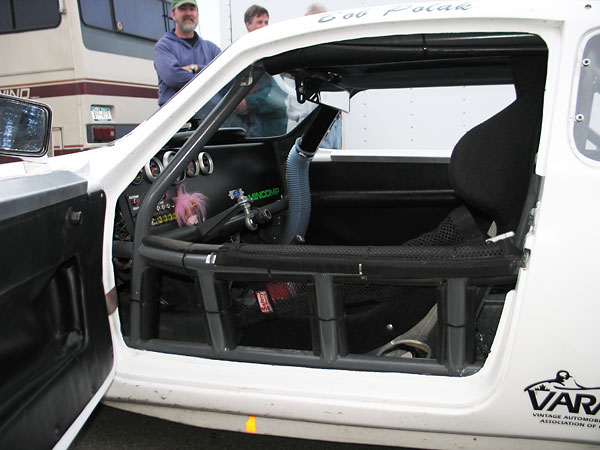 Rollcage: well braced against encroachment from the side.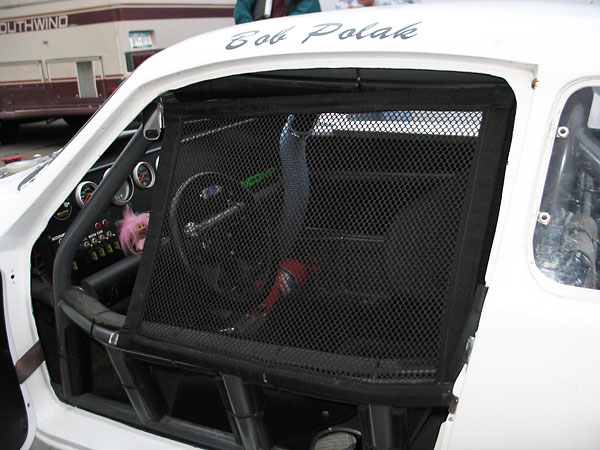 M&R mesh window net.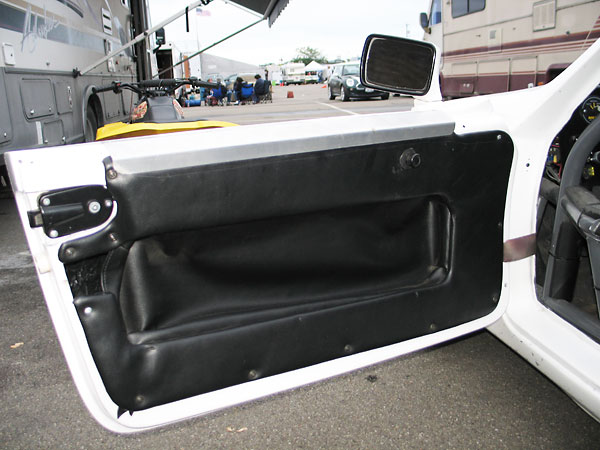 Door pocket and latch assembly.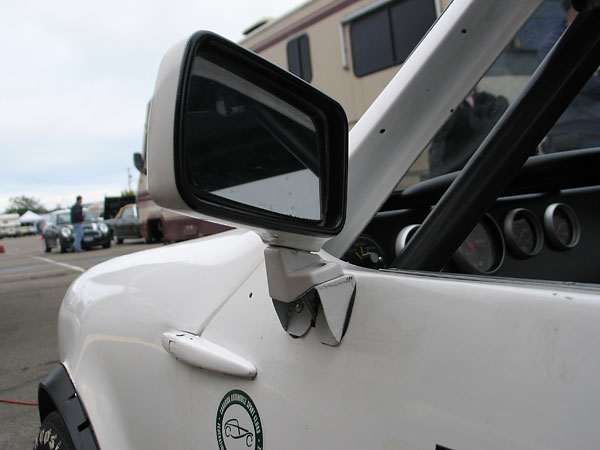 Side view mirror.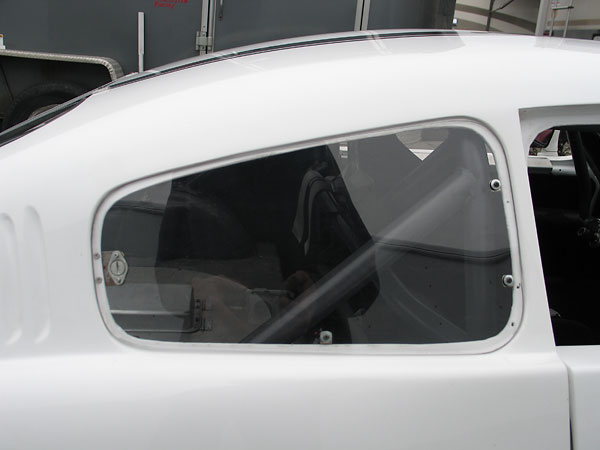 Dzus quarter-turn fasteners retain the elegantly simple removable polycarbonate side vents.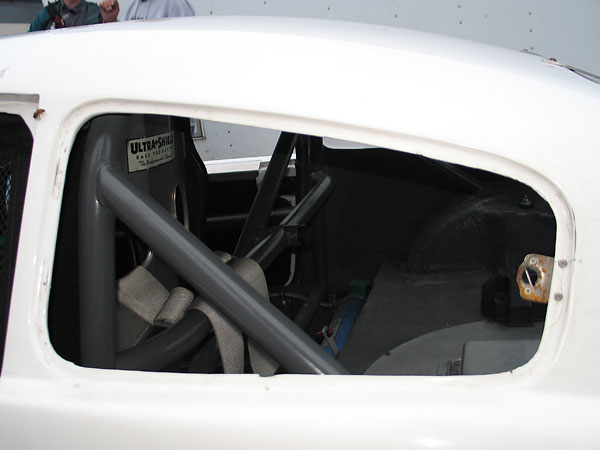 Only one Dzus clip per side!


Exterior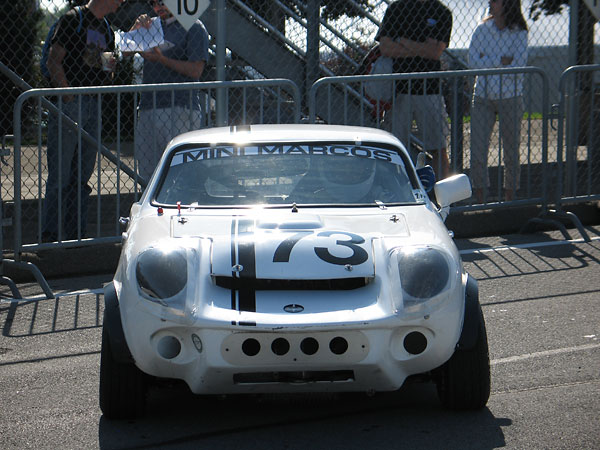 Mini Marcos (with a whole lot of negative camber!)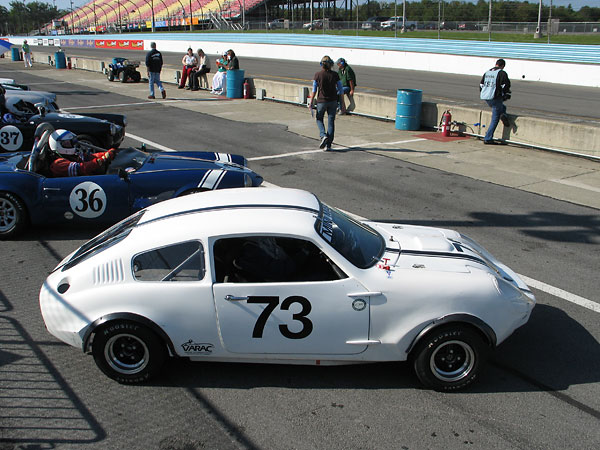 This little giant killer eats Spitfires for breakfast.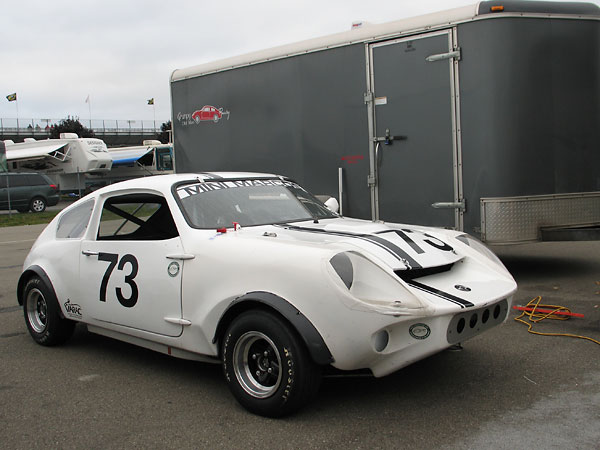 What an irresistible, cheeky little runt!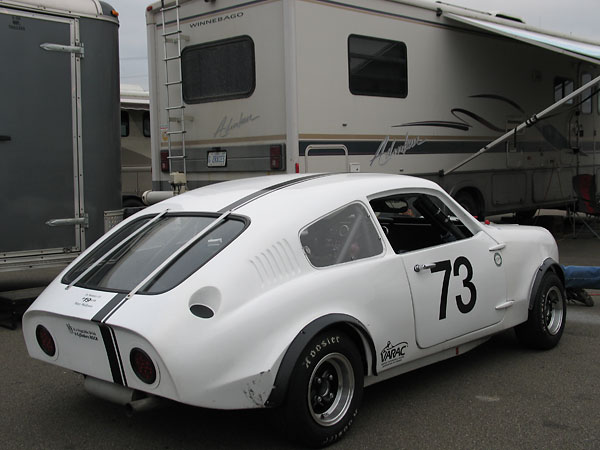 A recessed fuel filler was first introduced with the "Mk3" cars. Wheel opening shape also changed.
The standard rear window didn't open, but a hinged rear hatch became optional later in the build.
The rear window is actually more curved than it appears in this photo. (It's glass instead of plastic.)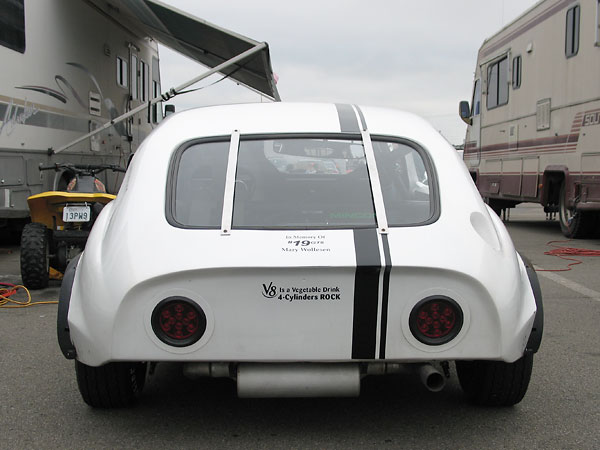 Fightin' words: "V8 is a vegetable drink. Four cylinders rock."
Note also the LED tail lights.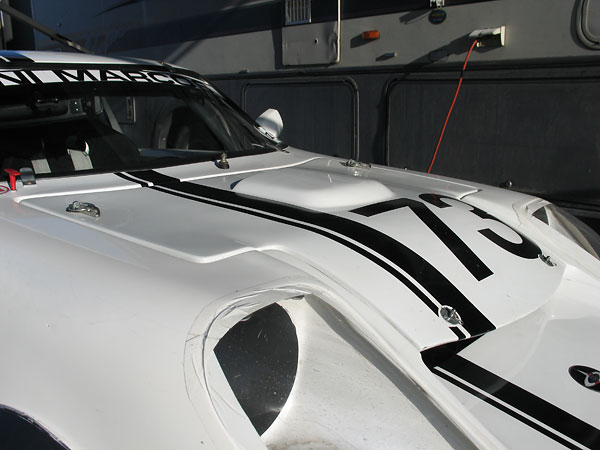 British bulldog inspired styling?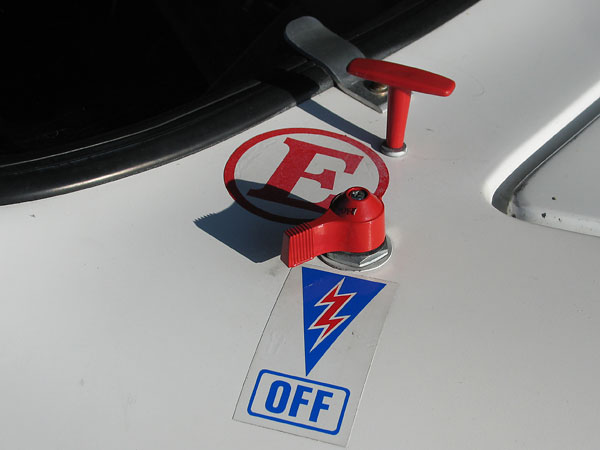 Emergency kill and fire suppression switches.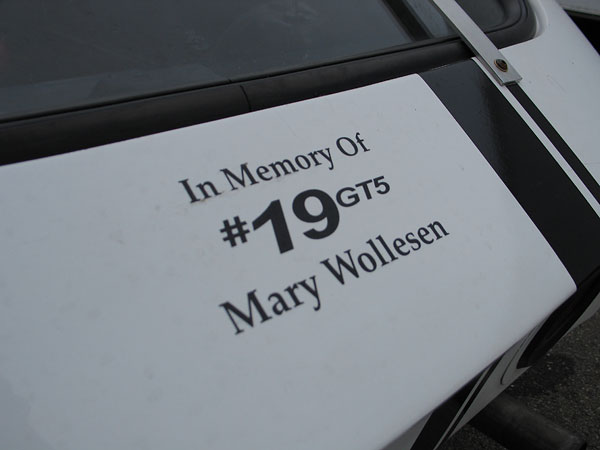 "In memory of Mary Wollesen, #19 GT5"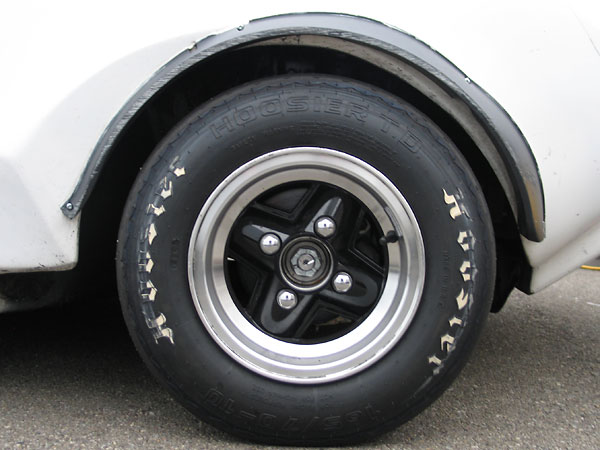 Revolution 10" wheels. Hoosier T.D. 165/70 tires.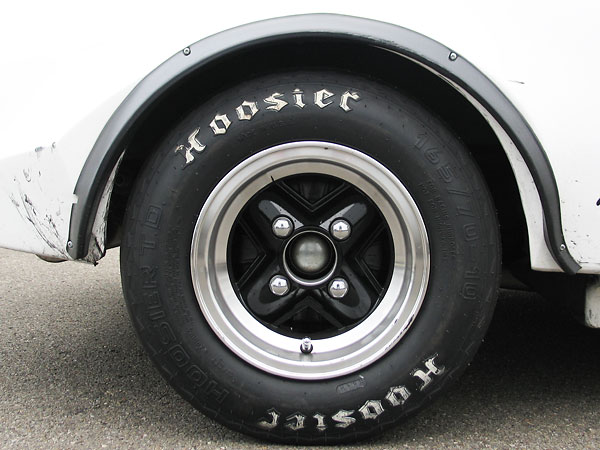 The stock, bolt-on Mini fender flairs were a late addition, installed to satisfy SVRA's technical inspector.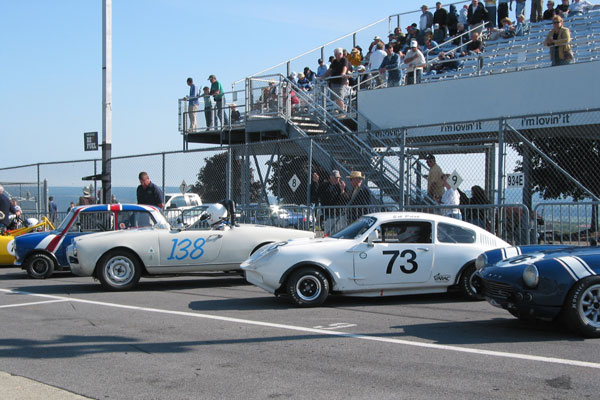 U.S. Vintage Grand Prix, September 2009: shown here in the pre-grid, Bob's best lap of the Watkins Glen
circuit was 2:35.074 and he finished eleventh of thirty-three entries. He was also honored with the
Optima Battery Award for sportsmanship in this race.


Notes:
(1)
It's difficult to precisely differentiate between a Mark II and a Mark III body. Their production dates seem to overlap, but certainly Mark II production started near the beginning of 1967 and Mark III production ended around the end of 1970. The original company, Marcos Cars, declared bankruptcy in 1971. Production of Mini Marcos bodies resumed under three subsequent companies. Mark IV production was from 1974 to 1981, Mark V production was from 1991 to 1996, and Mark VI production started in 2005. Even while Marcos Cars was in business, some Mini Marcos bodies were built under license by small companies outside of England. Marcos Cars primarily offered Mini Marcos bodies in kit-car form, but they also built up and sold a few complete cars. It seems impossible to determine exactly how many Mini Marcos bodies were produced in total, and it's certainly impossible to determine how many of the kits were completed by their respective buyers. The total seems to be in the ballpark of 1300 cars.


All photos shown here are from September 2009 when we viewed the car at The US Vintage Grand Prix at Watkins Glen. All photos by Curtis Jacobson for BritishRaceCar.com, copyright 2009. All rights reserved.



Notice: all the articles and almost all the photos on BritishRacecar.com are by Curtis Jacobson.
(Photos that aren't by Curtis are explicitly credited.) Reproduction without prior written permission is prohibited.
Contact us to purchase images or reproduction permission. Higher resolution images are optionally available.