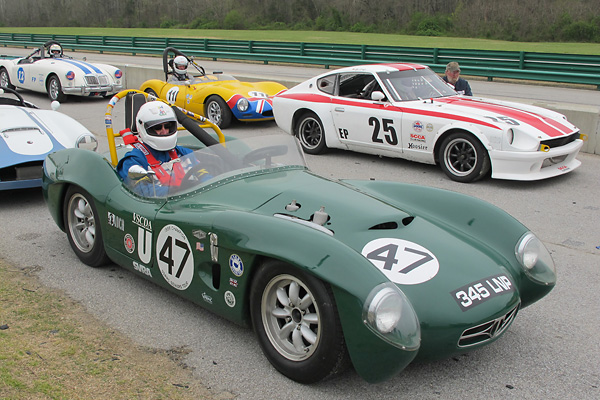 Beady Eye Vintage Racing's Tornado ThunderBolt Racecar
Owners: Bob Wismer and Bill Dentinger
City: Moline, Illinois
Model: Tornado ThunderBolt
Engine: Triumph 2168cc four cylinder
Tornado Cars Limited and The Original ThunderBolt Prototype ("WAU637")
Tornado Cars Limited was founded by Bill Woodhouse and Tony Bullen, who worked together to develop a stylish fiberglass body and an underslung frame to accommodate drivetrain parts from the Ford Popular. They badged this first design Typhoon and introduced it to the British marketplace in 1958.

The best thing that can be said of the Ford Popular's 1172cc side-valve flathead engine was that it was economical. However, in such a small and lightweight car, its performance was satisfactory. Soon Typhoon sales were off to a brisk start. Tornado Cars molded between three and four hundred Typhoon bodies. Most were sold as "kit cars," so the number ultimately completed is uncertain but the production rate was rapid enough to justify moving to a larger building in the small town of Rickmansworth, Hertfordshire (about twenty miles northwest of London). In just two years, Tornado Cars grew to about fifty employees and was producing a range of model variants, both in kit form and also as completely assembled cars. Subsequent offerings would feature the new and much better Ford Anglia 105E engine and ultimately a Cosworth-tuned Ford (1340cc) powerhouse, but the partners wanted to produce an offering for the two liter class.

Woodhouse and Bullen were convinced their new lightweight fiberglass bodies and purpose built sportscar chassis were superior to what Triumph provided in the TR3A model. In 1959, they arranged a meeting with Standard Triumph executives and attempted to arrange Triumph's cooperation in the sourcing of new Triumph TR3A engines. Perhaps they came across too strong. Triumph was already supplying drivetrains to a number of small and independent sportscar manufacturers, but for whatever reason Triumph declined Tornado's request.

From the perspective of a kit-car manufacturer, the engine supply problem was an inconvenience but certainly not a show stopper. Triumph's early sportscar models had been successful, which meant wrecked Triumph donor cars were readily available. A demonstration vehicle was needed to promote the Tornado/Triumph combination.

In very early 1960, Bill Woodhouse purchased a wrecked 1956 TR3 and assigned shop foreman Eric Martin responsibility for building a prototype. The Triumph's engine, gearbox, instruments and various sundries would be used. A Typhoon fiberglass body, in red but with black removable hardtop, was selected. It would need a handful of modifications to suit a new and specially built chassis and the physically larger TR3 engine. A Laycock overdrive equipped transmission, Ford Thames 400E front wishbones, and a Ford Zephyr MkII rear axle were also installed. Ford drum brakes would be used at all four corners. Ford Thames van 15" steel disc wheels were used, but first a dozen holes were drilled in each, to lighten them.

The Tornado ThunderBolt was first mentioned in race records for the 3/19/1960 race at Goodwood. Woodhouse drove, and retired early. The ThunderBolt raced again on 5/21/1960 at Silverstone. Woodhouse drove again, and finished third. Silverstone track records and various media reports from the period indicate the ThunderBolt was capable of 135-145mph top speeds, and the company claimed to have clocked the ThunderBolt at 153mph in testing, but the car's handling got mixed reviews. In August 1960, Autosport magazine summed it up this way: "blindingly fast, but a real handful to drive." Their judgement may have been pre-mature though. At approximately this time a veteran Triumph racer named Colin Hextall joined Tornado, bringing a wealth of racing skill and experience with him. In September, the ThunderBolt anchored Tornado's three-car works team to a first overall finish in the six-hour 750 Motor Club relay race at Silverstone. That was the Tornado company's proudest moment.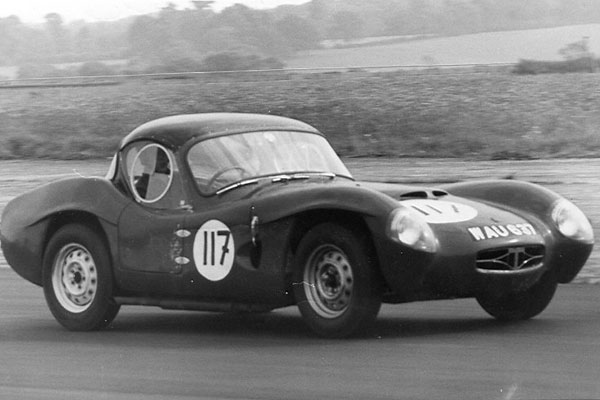 Colin Hextall pilots WAU 637 at Silverstone, 18 June 1960. (photographer: unknown)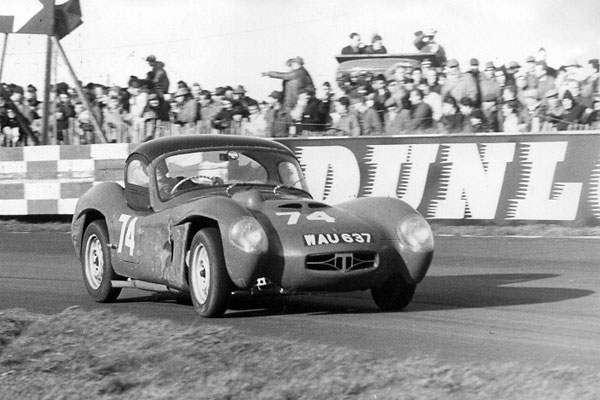 Colin Hextall drives WAU 637 at Brands Hatch's Boxing Day Meet, 1960. (photographer: unknown)



W. Evangelista (#62, MGA) is lapped as Bill Shaw (#59, AC) and Colin Hextall (#58) battle for third.
Brands Hatch, 3 April 1961. (photographer: unknown)



The Tornado team continued refining and racing the ThunderBolt through at least July 1962, with driving shared by four teammates: Bill Woodhouse, Colin Hextall, Eric Martin, and Mike Hutchings. Richard Page has kindly shared with us his study of the ThunderBolt's race results. Please see below for the full report. The period photos shown here are from Bob Wismer's collection.

By late 1961, Tornado was ready to begin phasing out their original body styling and transitioning to a more modern appearance in the form of a new model called Talisman. About 200 Talisman bodies would be produced, before cash flow problems loomed large. By 1964, all production of Tornado cars ceased. Eric Martin was offered the ThunderBolt racecar as the company collapsed. He took the chassis, but left behind the body, then cut and extended the original frame by about ten inches to suit a Talisman GT body. Soon thereafter, Eric Martin sold the car. In Talisman GT form, WAU637 was occasionally raced in the late sixties and early seventies, and then was stored. Re-acquired by the Martin family in 2003, WAU637 has now been restored to its original length and body style. The family has said they have no plans to race the veteran car.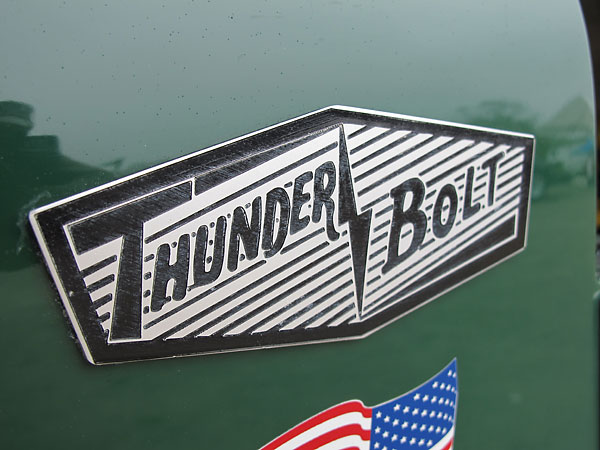 ThunderBolt emblem.


Tornado ThunderBolt #2 ("345LNP") and Beady Eye Vintage Racing
Unfortunately, Bill Woodhouse's telephone didn't exactly ring off its hook with orders for ThunderBolts, but sometime in late 1961 the phone did ring and someone inquired about buying a Typhoon body to put on their own Triumph-powered chassis. This second ThunderBolt, restored and refined, is featured throughout the balance of this article.

ThunderBolt number two was originally built by Colin Ford of Droitwich in Worcestershire. Colin Ford was a motorcycle mechanic who had seen a couple Typhoon brochures and come independently to the idea of marrying a Typhoon body with a more powerful engine and a heavier duty chassis. He ordered a body and a removable hard-top, both in basic black. Working with a very limited budget and modest performance goals, Colin Ford decided a 1949 Standard van would serve him fine as a donor car instead of the Triumph TR3 that Tornado suggested. Ford started turning wrenches on his project in late 1961 or early 1962. His ThunderBolt was completed and first registered (345LNP) in July 1963.

Colin Ford's Standard van came with a 2088cc engine, which was a less tuned version of the same engine put in Triumph badged sportscars. At some later but undocumented date, Colin Ford procured and installed a TR3 cylinder head. He used the van's three speed gearbox and overdrive, not a four speed. Rather than build a frame from scratch, he modified the van chassis with extra outboard rails to support the Tornado fiberglass bodywork. The car was built for daily use, and was never raced by its original builder but it's believed that a subsequent owner occasionally used it for trials in the late sixties and early seventies.

In the mid-to-late seventies, Henry Kovar of St.Cloud Minnesota purchased the ThunderBolt from an English dealer. Kovar is known to have raced the ThunderBolt at least once at Brainerd International Raceway in Minnesota. At some point the front right fender got smashed, and the car then fell into a period of sad neglect.



IMPORTANT ANNOUNCEMENT
BritishRaceCar.com will have to cut back plans for continued growth if we can't find more financial support.
If you like what you've found here, and you want to see more, please click here and follow the instructions.
Readers like you keep BritishRaceCar.com online and growing through voluntary financial contributions.


Longtime Triumph enthusiasts and vintage racing partners Bob Wismer and Bill Dentinger purchased 345LNP in 1993 and committed to giving it an extensive restoration, but with a major difference: they would discard the van chassis and instead replicate the purpose-built racing chassis of ThunderBolt number one!

Bob traveled to England to research the original design, and in the process of doing so he met with many of the original players. David Malins of the Tornado Register provided invaluable assistance. He also received extensive and personal input from Bill Woodhouse, Eric Martin, and the family who owned the Talisman ThunderBolt (WAU637) at that time. With copies of the original drawings and build notes in hand, Wismer and Dentinger were able to work efficiently, and their restoration project was completed in 1996.

There are just a few cosmetic differences between the original ThunderBolt racecar and the current one. Firstly, British racing green paint versus red. Secondly, since both Bob and Bill are over six feet tall and the original drivers were about five foot seven, the factory-original windscreen and hardtop have been left uninstalled. The hardtop that came with their car (complete with its peculiar round/rotating/venting side windows) is kept carefully stored-away and could be reinstalled at some time, although the process isn't exactly convenient because it attaches to the body with forty bolts and because it can't be installed until after the current elaborate wrap-around windscreen is first removed and replaced. There are other differences, but for that matter the original ThunderBolt changed quite noticeably over its racing career. (My own analysis of old photographs suggests that it may have had three different bonnets and two different hardtops.)

Under the skin there are many mechanical differences between WAU637 and 345LNP, as we'll show in photos below. Mostly, the differences were required for practical reasons because the goal of the restoration was to end up with a raceable car. Safety, reliability, and availability of service parts in North America were all important requirements.

Very few cars are so enthusiastically raced! 345LNP has now completed over one hundred vintage racing weekends since its restoration. Wismer and Dentiger have raced their ThunderBolt at almost every major road-racing circuit in North America.


Features and Specifications
Engine:
Triumph TR4 four cylinder engine. Original Triumph TR4 crankshaft (balanced, stress-relieved, and nitrided.) 87mm flat-top racing pistons. (Static compression ratio is between 10.5 and 11:1.) Iskendarian 666-grind camshaft. Heavy duty valve springs. Stiffened rocker shaft. Flowed cylinder head. Dual S.U. H6 carburetors with special aluminum floats to avoid sinking. K&N filter currently fitted in lieu of (disconnected but still installed) filterless cold air induction system. Lucas distributor with Pertronix breakerless module. (A Crane XR700 ignition module is installed, but currently disconnected). Bosch "blue" ignition coil. Belden Premium 7mm Metallic spark plug cables.

Cooling:
custom aluminum crossflow radiator. Serck brass pressurized coolant header tank. Electric cooling fan. Aluminum oil cooler.

Exhaust:
custom exhaust system including four-into-one header, built by Kevin Potter.

Transmission:
Triumph Competition (TR4) four speed, with close ratio gears. Aluminum flywheel. Tilton Engineering racing clutch.

Front Susp.:
Triumph upper and lower control arms; the lower ones have been cut and lengthened. Coilover shock absorbers. Anti-sway bar. Triumph TR4 steering rack.

Rear Susp.:
multi-link rear suspension. (See below.) Coilover shock absorbers. No rear anti-sway bar.

Rear Axle:
TR4 axle housing, modified by Southwick Machine and Design to use billet axles. 3.7:1 final drive ratio. Quaife limited slip differential.

Brakes:
(master) Wilwood dual master cylinders with Tilton remotely adjustable bias bar.
(front) Girling calipers,
(rear) Girling calipers.

Wheels/Tires:
Panasport aluminum 8-spoke (6-JJx15) wheels with Dunlop Racing CR65 Mark II tires (5.50L-15 front and 5.00L-15 rear.)

Electrical:
Power Patrol SLA1165 (sealed lead acid) battery. TS Imports gear reduction starter, painted black.

Instruments:
(left to right) Stewart Warner fuel pressure gauge (1-10psi), VDO coolant temperature gauge (110-270F), Smiths speedometer (0-120mph, 46245 miles on the odometer), Jaeger cable driven tachometer (0-6000rpm), Autometer oil temperature gauge (140-280F), Smiths oil pressure gauge (0-100psi).

Fuel System:
Fuel Safe eight gallon fuel cell. Dual Facet solid state electric fuel pumps, in series.
Adjustable fuel pressure regulator.

Safety Eqpmt:
G-Force five point cam-lock safety harness. Momo suede covered steering wheel on a Sweet Mfg. quick release hub. Amerex Halon fire extinguisher.

Weight:
1650 pounds.

Performance Notes:
engine redline is 6000rpm which corresponds to 123mph in fourth gear. The engine's power band is from 5000 to 6000rpm.

Shared credit:
Body and chassis work by John Reimer, Caledonia Automotive Service.
Original engine and transmission built by the late Mike Belfer.
All mechanical work since 1995 has been done by Kevin Potter, the Beady Eye Vintage Mechanic.

Racing Class:
VDCA Group 3, D-Production


Engine Installation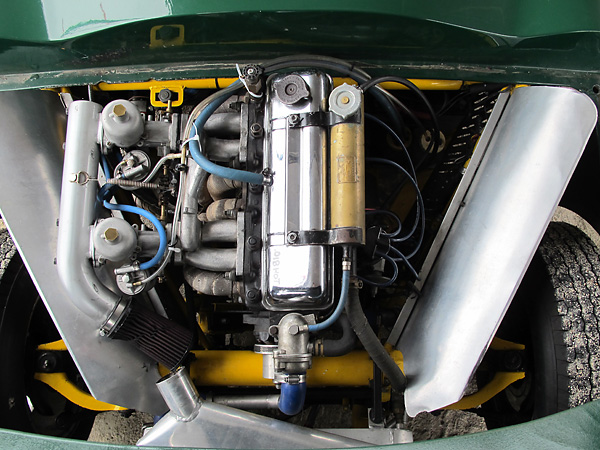 Triumph TR4 four cylinder engine.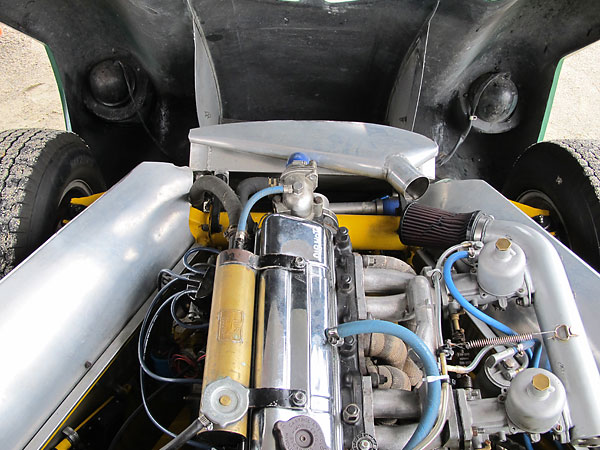 All mechanical work since 1995 has been done by Kevin Potter, the Beady Eye Vintage Mechanic.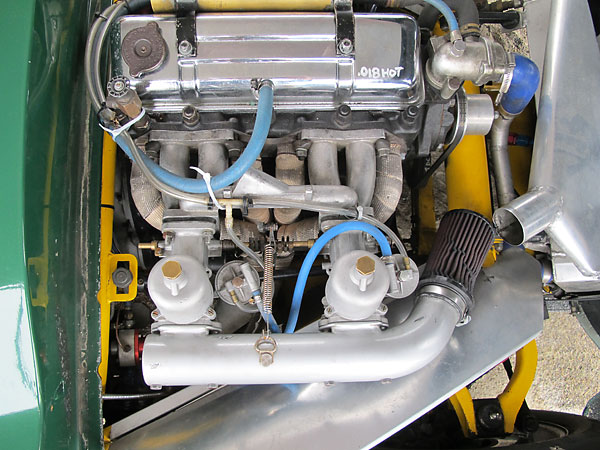 Dual S.U. H6 carburetors with special aluminum floats to avoid sinking. A K&N air filter currently fitted,
in lieu of a fabricated aluminum (disconnected but still installed) filterless cold air induction system.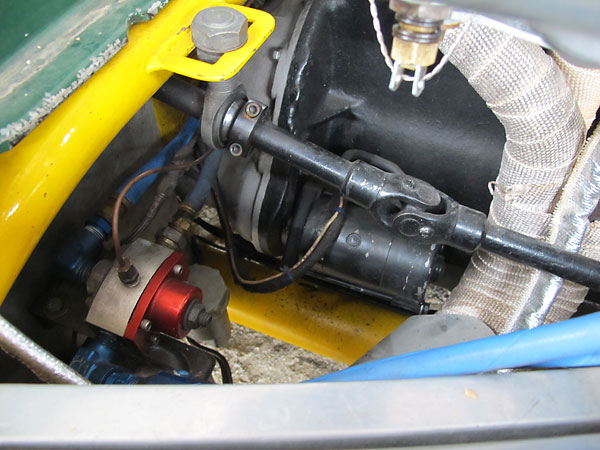 foreground: High-misalignment Heim joint and Sweet Manufacturing steering universal joint.
at left: Wilwood brake master cylinder, adjustable fuel pressure regulator, and Girling clutch slave cylinder.
background: lightweight TS Imports gear reduction starter, painted black to be less conspicuous.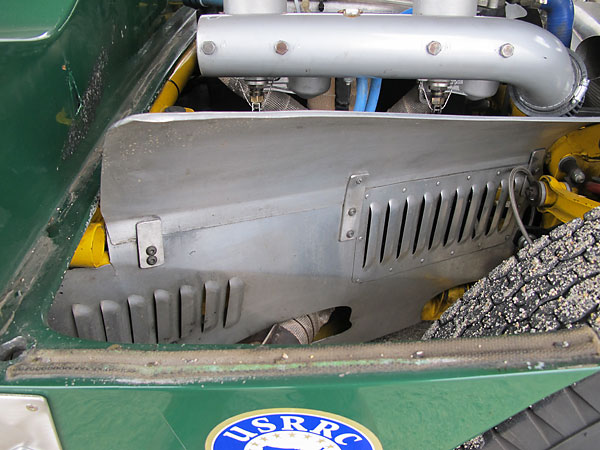 You can see here that the exhaust header has been wrapped with a special high temperature textile tape.
This has the dual benefit of keeping exhaust gases hotter (which improves how they flow) and keeping
the induction system cooler. Header wrap can also spare mechanics from nasty accidental burns.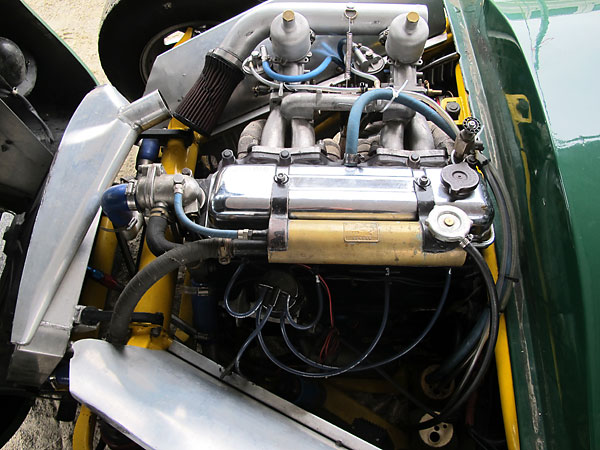 A coolant header tank ensures that the highest point in the system can be conveniently vented.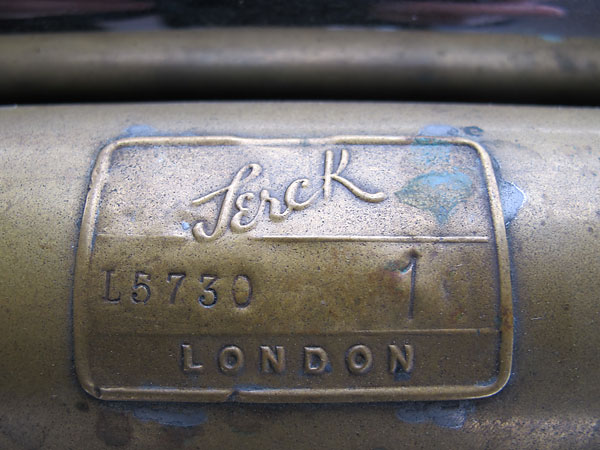 The brass pressurized header tank is labeled "Serck L5730 1 London."
(Serck was acquired by the Unipart Group and continues to manufacture radiators today.)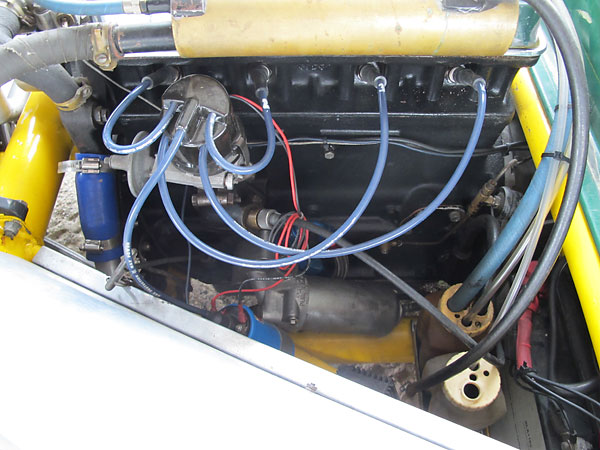 Lucas distributor, Bosch blue ignition coil, and Belden spark plug wires.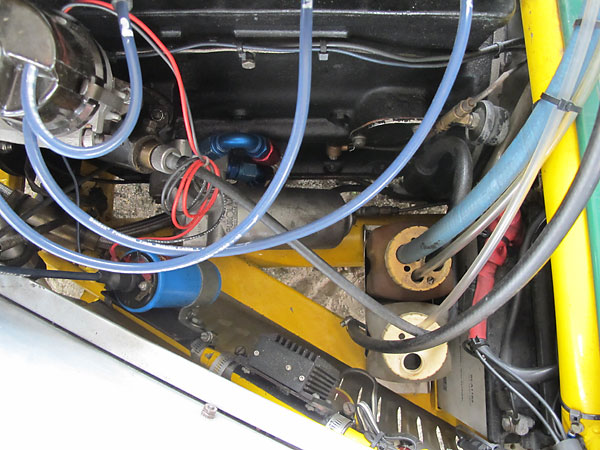 A Crane XR700 electronic ignition module is installed, but apparently temporarily disconnected.
At bottom right, a small sealed lead acid battery is tucked neatly against the firewall.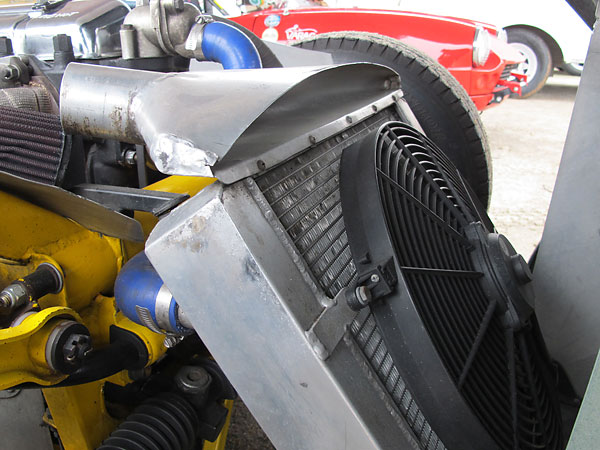 Cold air induction. Custom aluminum crossflow radiator. Electric cooling fan.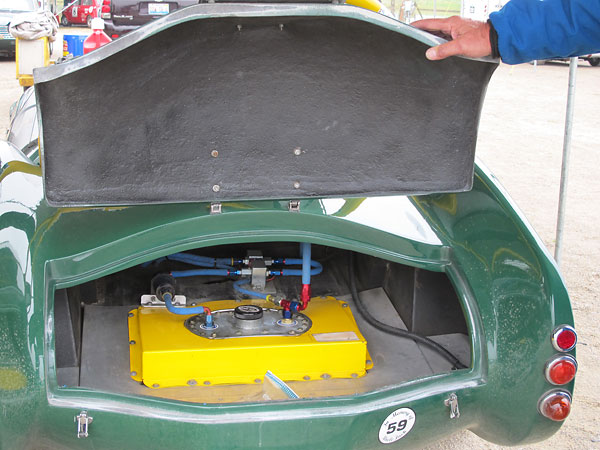 Fuel Safe eight gallon fuel cell.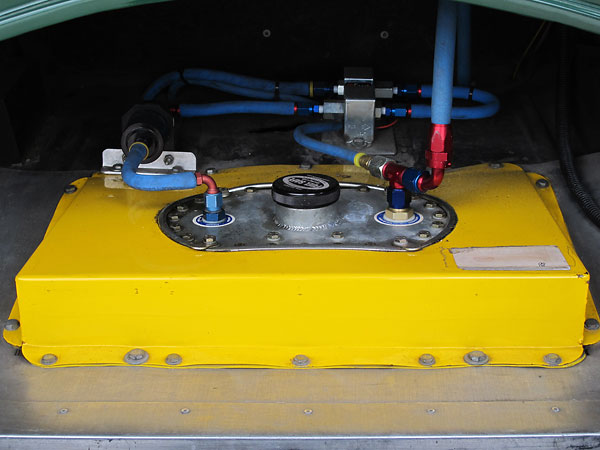 Dual Facet solid state electric fuel pumps, in series.


Front Suspension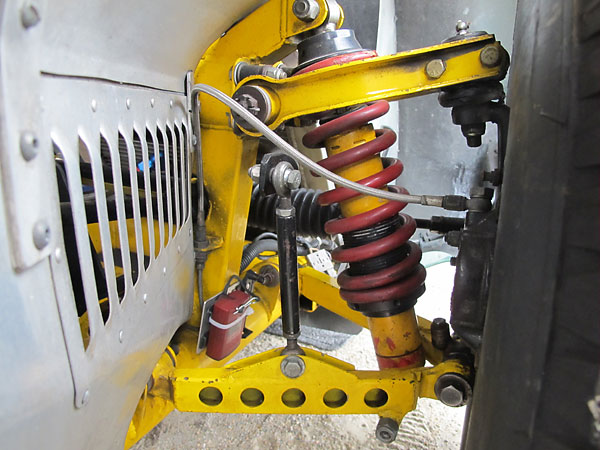 Triumph upper and lower control arms; the lower ones have been sectioned and lengthened.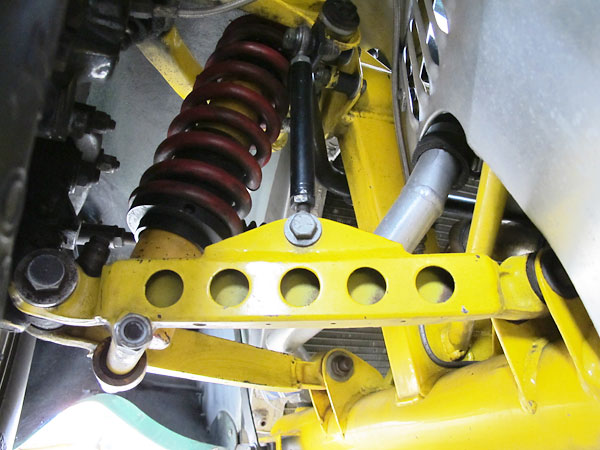 Castor and camber can be adjusted by shimming the upper control arm mounting points.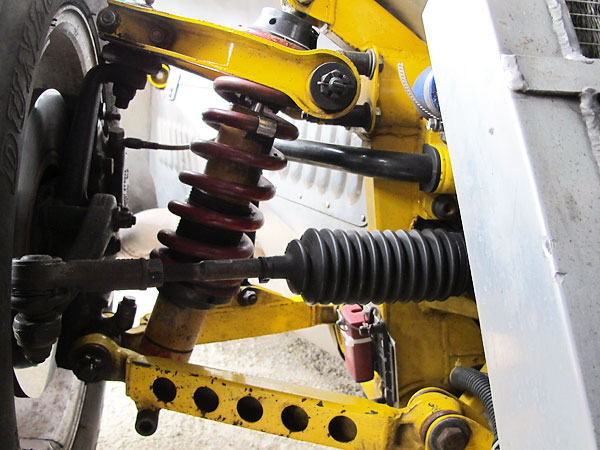 Coilover shock absorbers were available in 1960, but not with threaded collars for easy
adjustment of ride height and corner weights.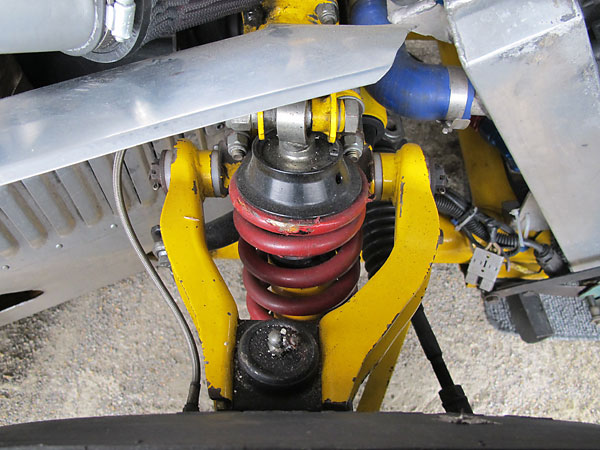 Nylon replacement suspension bushes are less compliant than rubber.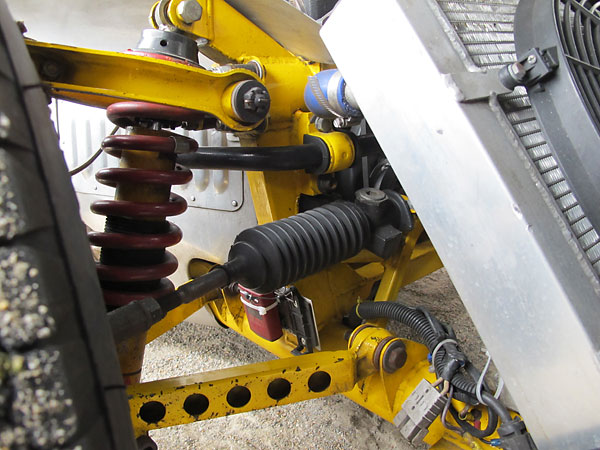 The original ThunderBolt (WAU637) used Ford Thames 400E front wishbones.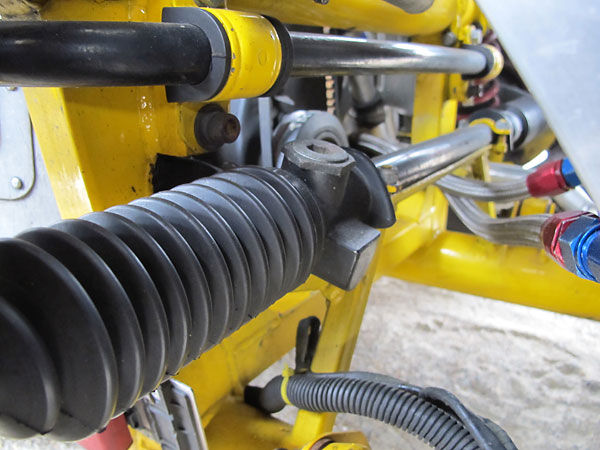 This Triumph TR4 steering rack can be shimmed up/down to eliminate bump steer.


Frame and Rear Suspension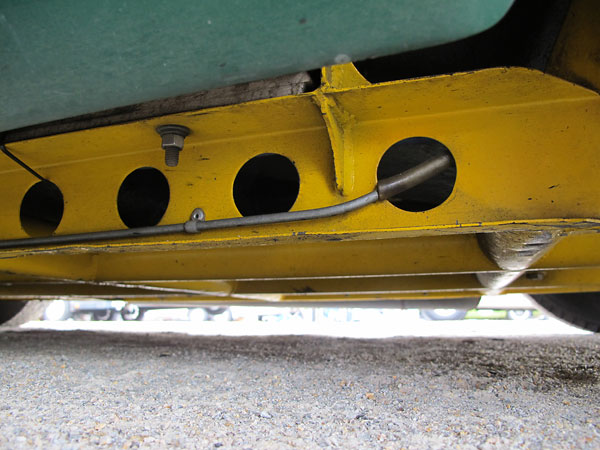 "The chassis frame is immensely strong and is constructed around a backbone of 3.5 inch tubes spaced
one foot apart run the length of the car. These members are cross braced by six further 3.5 inch tubes
giving great torsion stiffness. Four 3.5 inch tubular outriggers on each side join to 3.5 inch by 14 gage
channel side members on which are the main body attachment points. Smaller diameter tube
spaceframe sub-assemblies front and rear carry the upper front wishbones and front suspension units,
together with engine mountings and rear suspension units and boot floor respectively. The independent
front suspension is of the wishbone type with unequal length inclined arms giving a controlled degree
of negative camber on bump movement." (excerpted from original Tornado Cars Ltd. sales literature)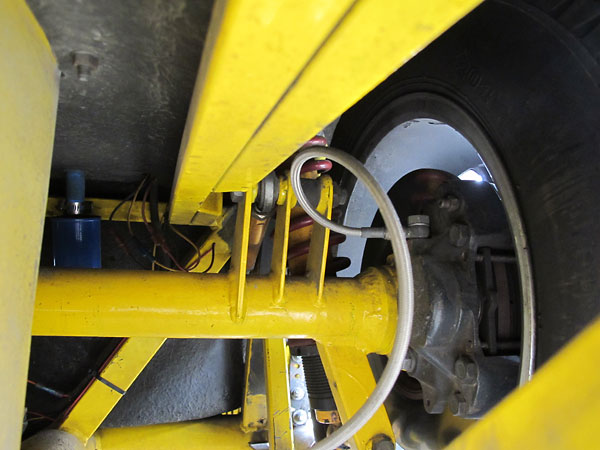 Although WAU637 used a Ford Zephyr MkII rear axle, 345LNP has always had Standard Triumph axles.
Bob and Bill use the Southwick Machine and Design Company of Colona Illinois modified Triumph TR4
beam axle housing. It utilizes welded-on Ford axle ends and one-piece billet steel shafts with integral hubs.
This is stronger and safer than a stock Triumph axle, and the weight difference is trivial.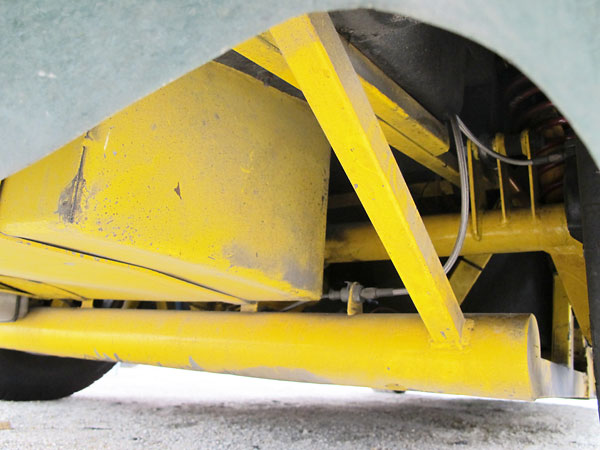 Inside the axle, the Beady Eye team usually uses a 3.7:1 gear set and a Quaife limited slip differential.
3.5, 4.1, 4.3, 4.55 and 4.87 ring and crown gear sets are readily available for Triumph TR3 and TR4 axles.
Quaife differentials are popular on high performance street cars because their operation is very smooth.
With a Quaife, by design, there's no condition where the two sides of the axle are ever locked together.
Many racers prefer the sheer grunt on demand of a locking or welded differential.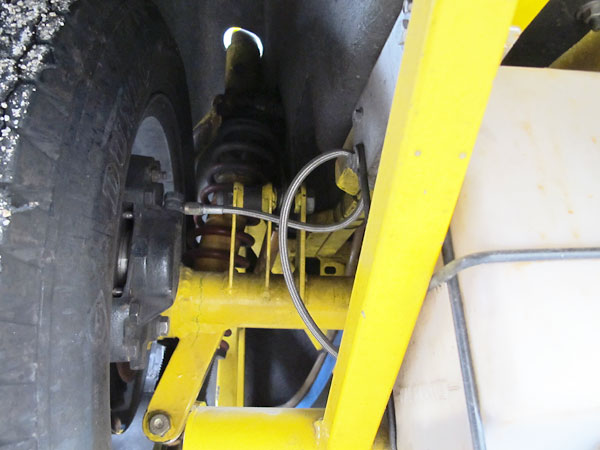 The Thunderbolt features a variant version of a "three link" rear suspension. Above the outboard ends
of the axle are radius rods extending forward to the frame. In the center, below the axle, is a V-shaped
rod that serves to restrain pinion angle change and restrict lateral movement of the axle (thereby making
a Panhard rod or Watt's link unnecessary). The rear suspension's roll center is located where the axle
pivots on its connection to the V-rod, and thus is relatively low.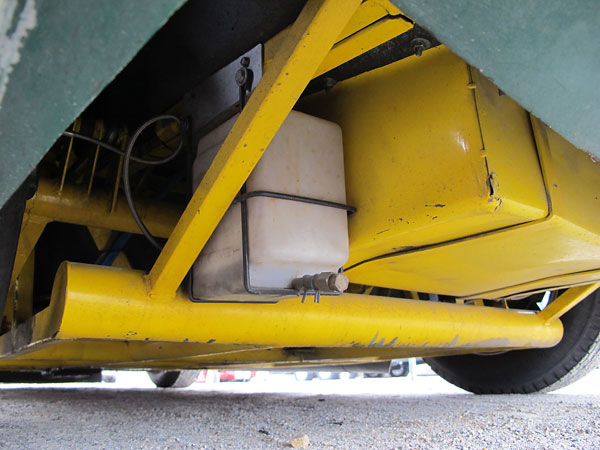 The overflow tank for the engine's cooling system, mounted next to a Fuel Safe eight gallon fuel cell.


Interior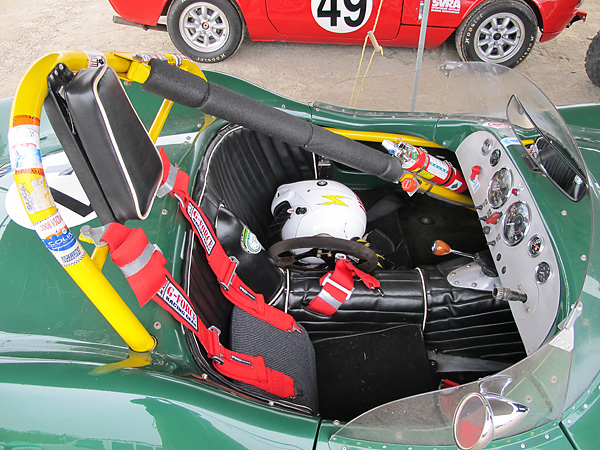 Tornado molded the Typhoon/Tempest/ThunderBolt body in multiple styles including a 2+2 version,
but the two-seater was the most popular version. Note that backrests were molded right into the body.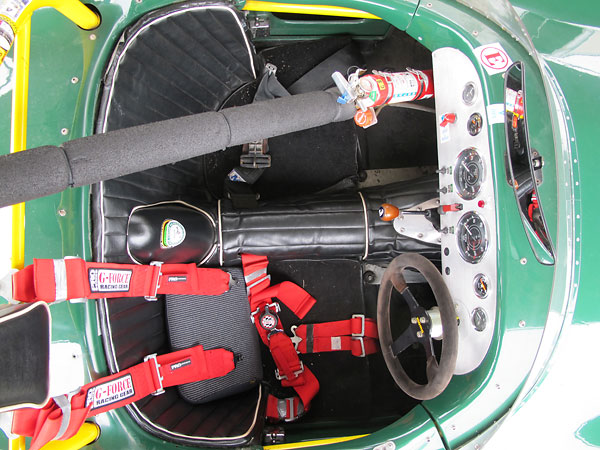 G-Force five point cam-lock safety harness.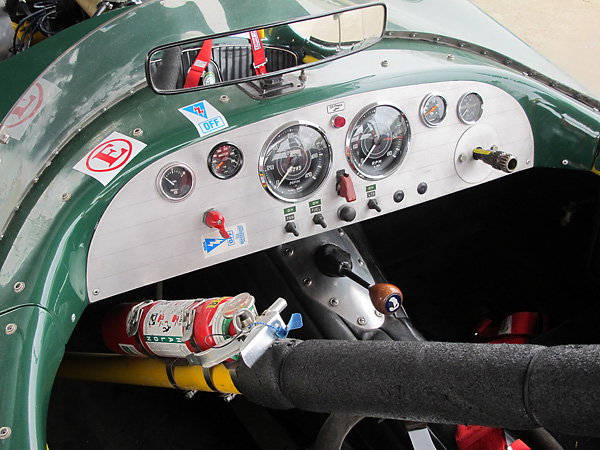 (left to right) Stewart Warner fuel pressure gauge, VDO coolant temp gauge, Smiths speedometer,
Jaeger cable driven rev counter, Autometer oil temp gauge, and Smiths oil pressure gauge.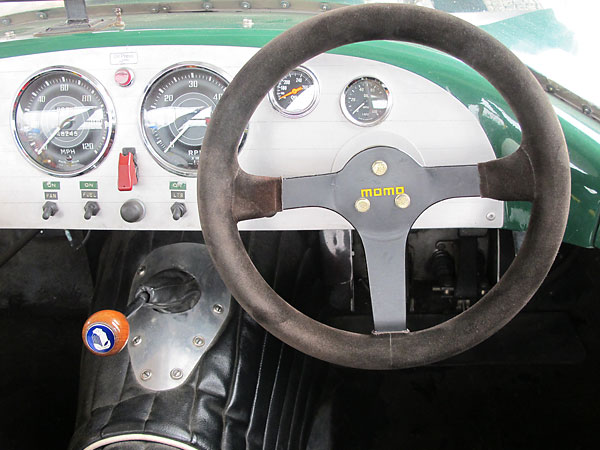 The shifter lever pivot point is rather far forward.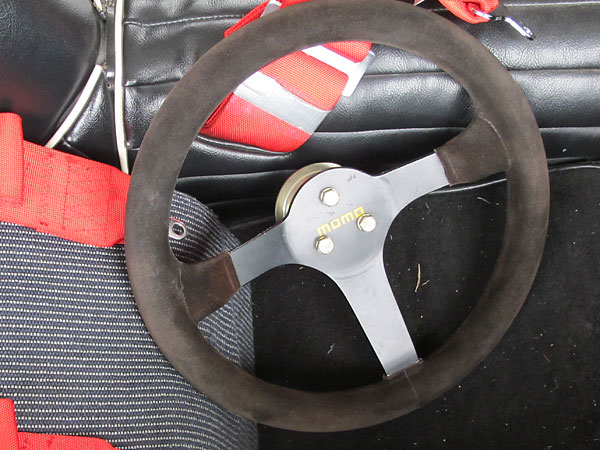 Momo suede covered steering wheel.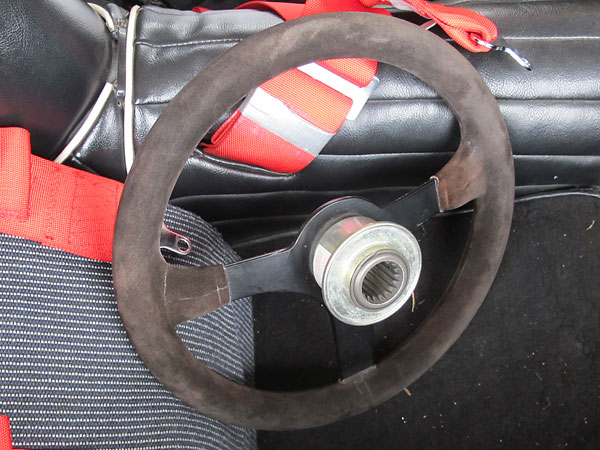 Sweet Manufacturing quick-release steering hub.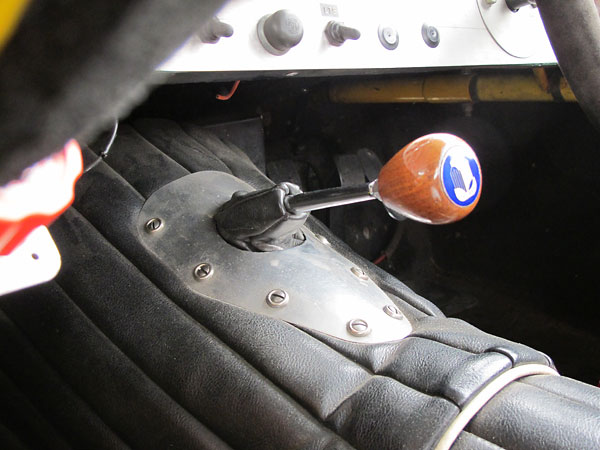 Triumph logo shifter knob connects the driver to a TR4 four speed, upgraded for racing with a Triumph
close-ratio gear set. The first ThunderBolt, WAU637, was built with a TR3 four speed. The TR4 version is
mostly similar except it has synchronizers on first gear. Also, during the production run Triumph beefed
up the TR4 transmission's aluminum case with webbing.



The brake system is much improved over original. Here we see how a Tilton remote-adjuster cable routes to
the "bias bar" that connects dual master cylinders. The bias bar is threaded, and by rotating it the driver
is able to shift a fulcrum point from side to side. In doing so, he can fine tune front-to-rear brake bias.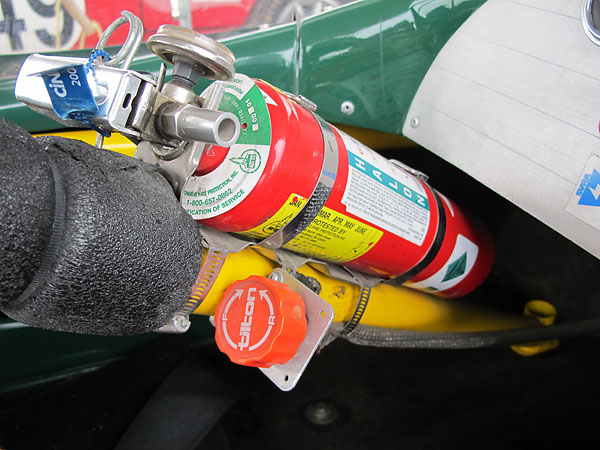 The Tilton brake bias adjustment knob, and an Amerex Halon fire extinguisher.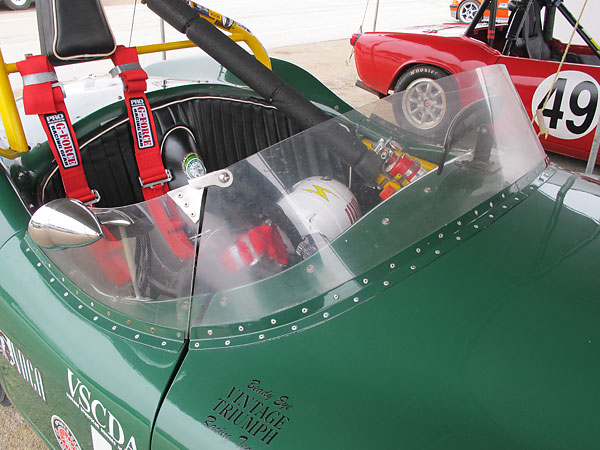 Perspex wrap-around windscreen. (Like Plexiglas, Perspex is a trade name for acrylic.)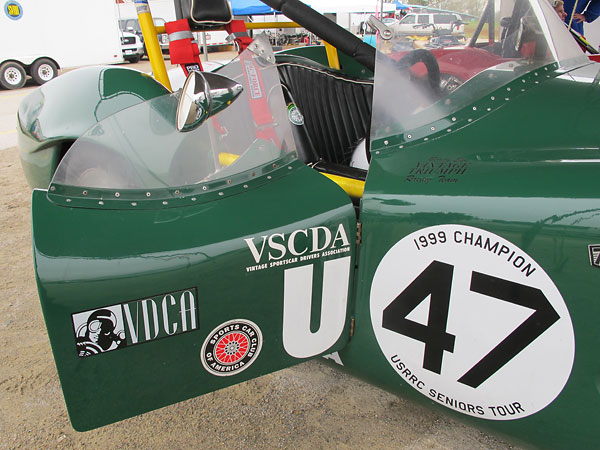 Hidden hinges. (On WAU637 and most other Tornados, door hinges were mounted on the car's exterior.)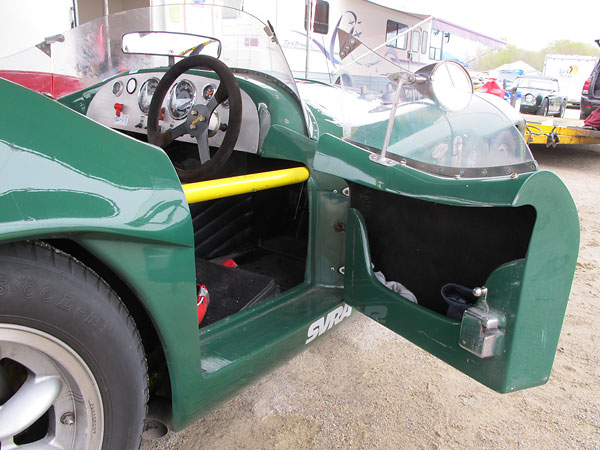 Convenient storage pockets in the doors.


Exterior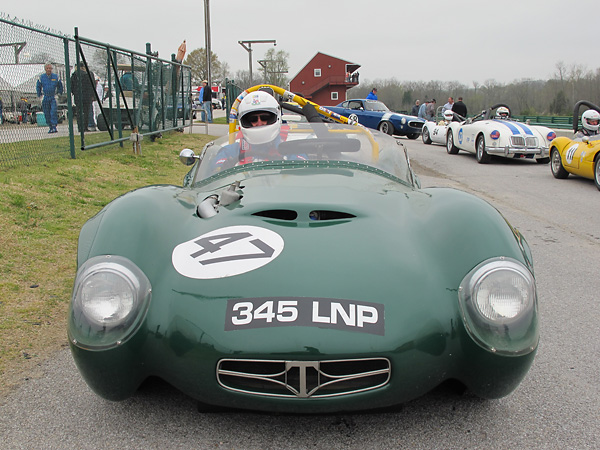 Bob Wismer has queued up to race his Tornado ThunderBolt at Virginia International Raceway,
near Danville, on the North Carolina State line. The "Wild Hare Run" is an annual race event,
organized by the Vintage Drivers Club of America (VDCA) and the Vintage Racer Group (VRG).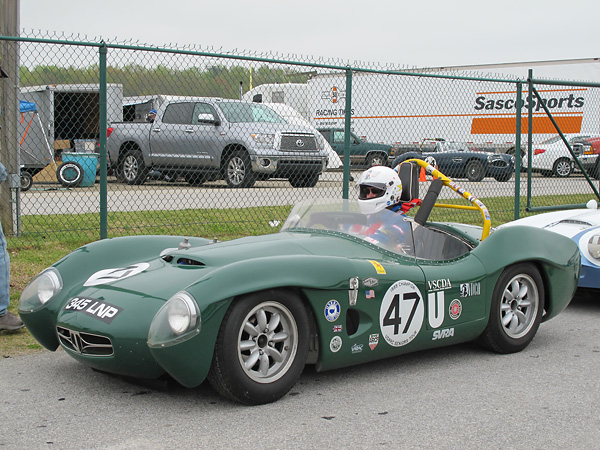 I enjoyed seeing the ThunderBolt queued up to race with a pristine Turner sportscar.
Rivals or birds of a feather? From the same era and built with similar construction
techniques and materials... today their owners share the Fairthorpe Sports Car Club.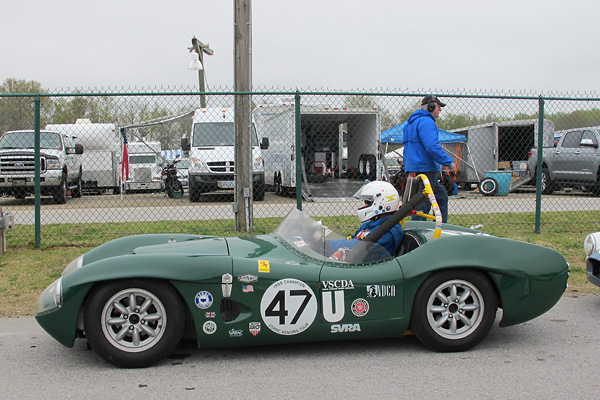 Simply dashing!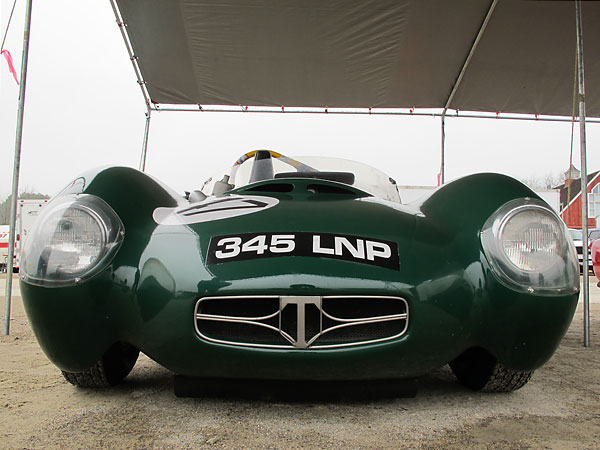 Tornado's logo on this grille-work is the closest the Tornado company came to putting their name on the car,
but they did create distinctive "ThunderBolt" logo emblems, as shown above.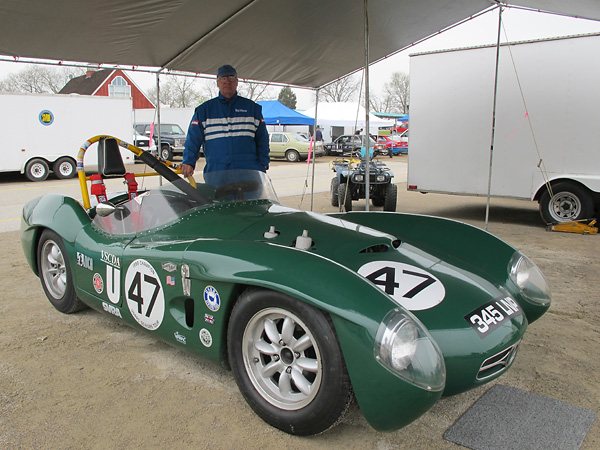 Bob Wismer is deservedly proud of this extremely well-presented and rare vintage racecar.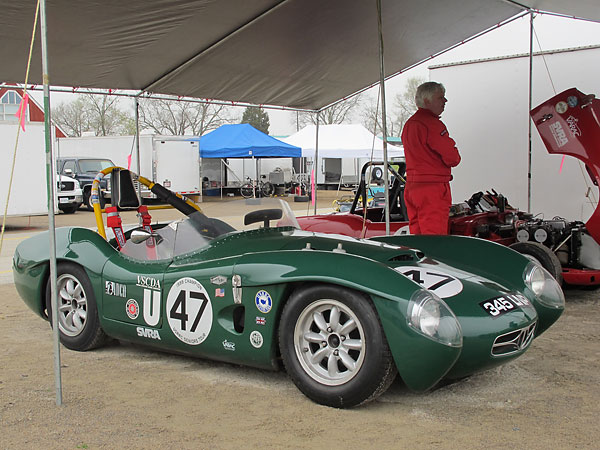 Frankly, the Tornado ThunderBolt is a very much more attractive car with its hardtop removed.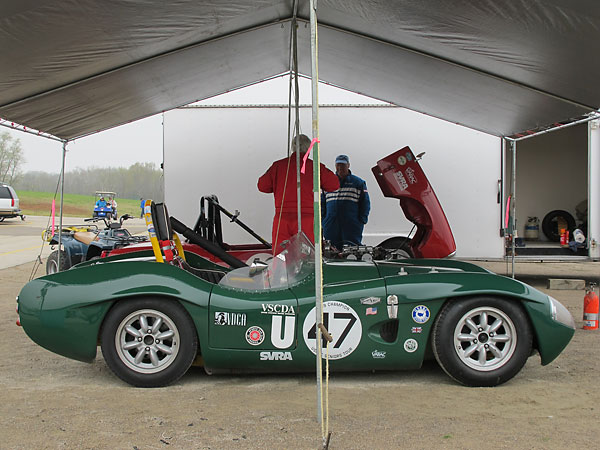 Tornado offered quite a variety of roof and windscreen treatments on its Typhoon, Tempest, and Thunderbolt
models. They offered 2+2 seating, and even "SportsBrake" models. A SportsBrake is sort of a cross between
a GT (in the sense of a Triumph GT6 or an MGB-GT) and a station wagon. Funny thing, they're rare now...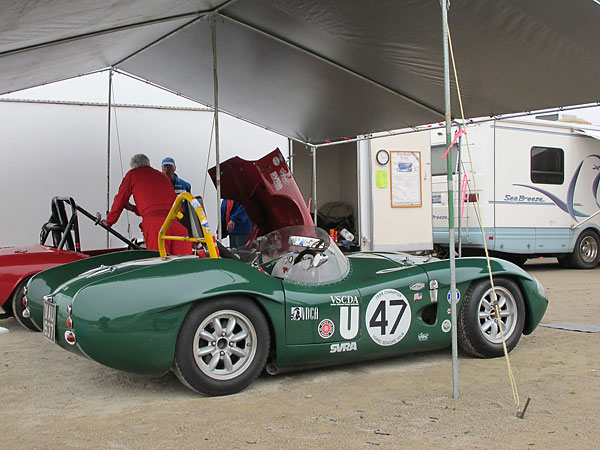 In principle a Tornado Tempest is essentially a Typhoon except with the more powerful Ford 105e
type engine. However, in detail Tempests came with much improved chassis and suspensions.
Only about a dozen Tornado Tempests were built.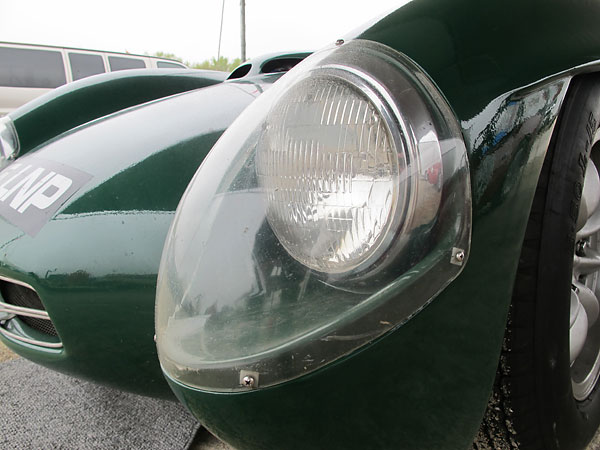 Transparent Perspex headlight fairings were a very progressive idea for a 1959 model car!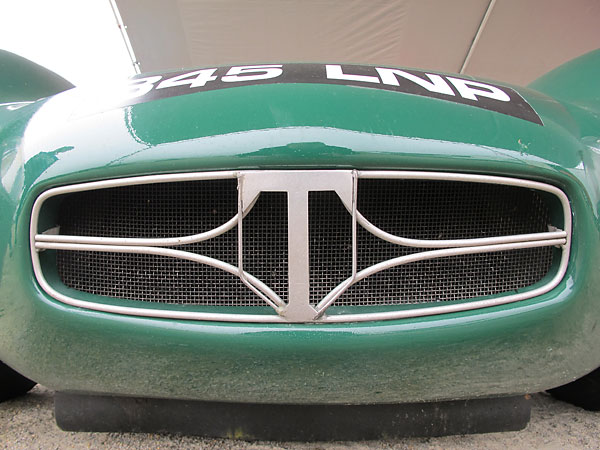 The ThunderBolt's body is low and streamlined but it has an aerodynamic problem: on really fast tracks like
V.I.R. or Road America the body can develop enough aerodynamic lift to be scary. This stiff rubber skirt is a
very simple and effective quick-fix, until an even more discrete solution can be implemented.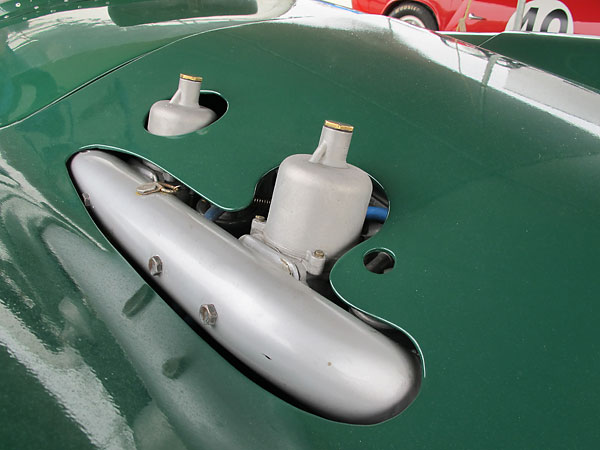 Contoured carburetor clearance hole in the bonnet. Old photographs show a variety of treatments
were used in this area: sometimes a contoured hole and sometimes a tall performance blister.



Terry stainless steel bonnet hold-down.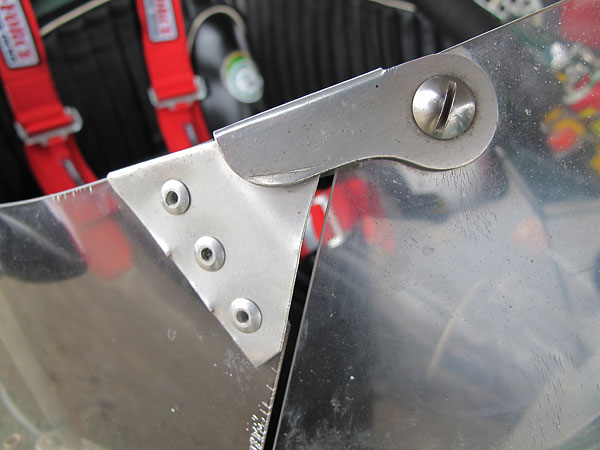 This clip aligns the front windscreen and the drivers side window.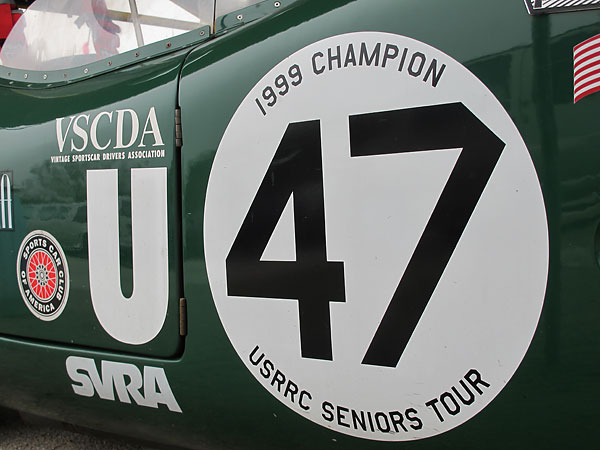 1999 Champion USRRC Seniors Tour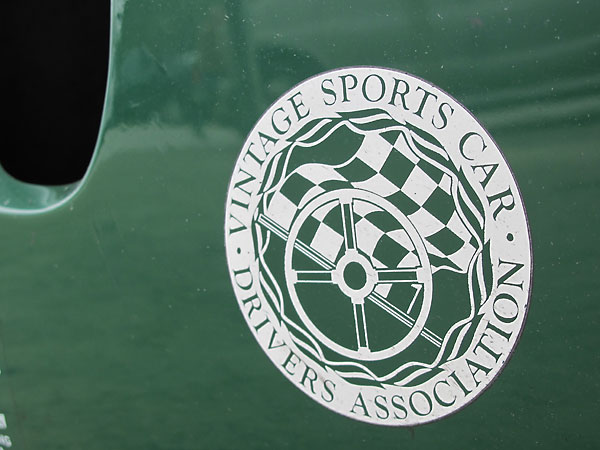 Vintage Sports Car Drivers Association decal.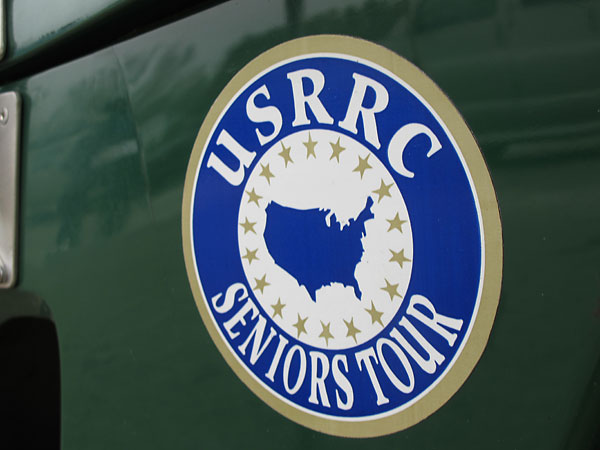 USRRC Seniors Tour decal.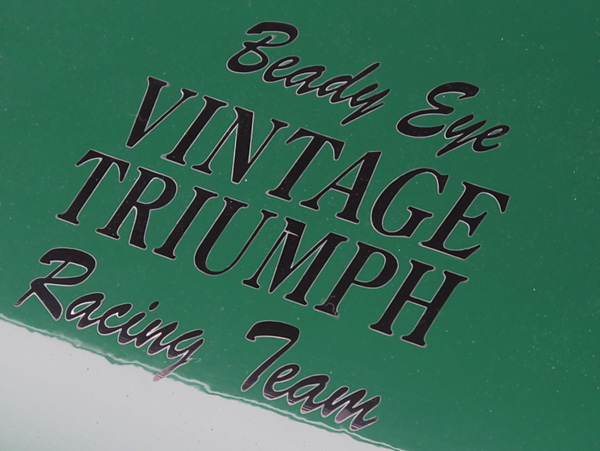 Beady Eye VINTAGE TRIUMPH Racing Team decal.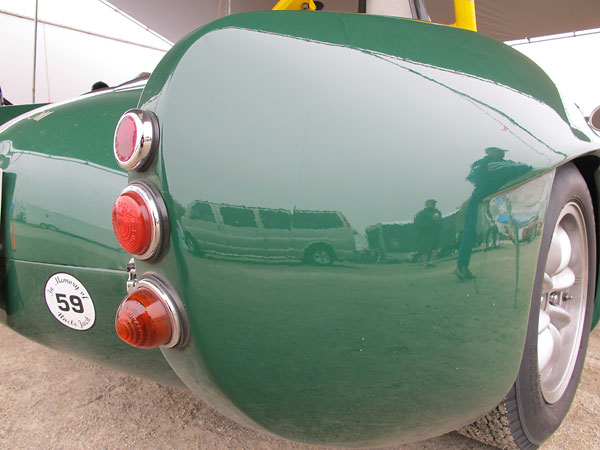 "In Memory of Uncle Jack". Jack Drews (1936-2008) was a very well loved racer and tuner
of Triumph sportscars. He used to drive a gorgeous blue and white Triumph TR4 (#59).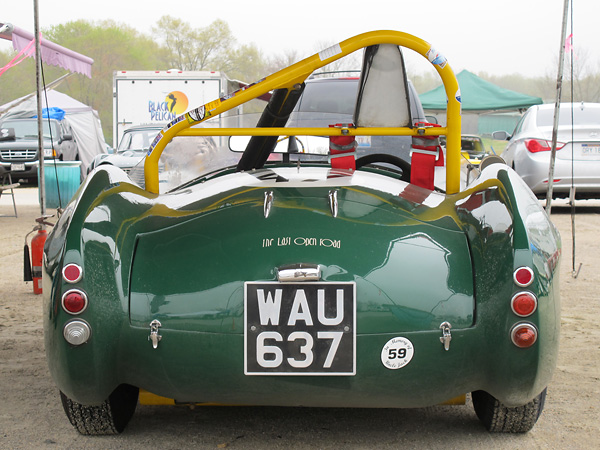 Registration number WAU637 was assigned to the first Tornado ThunderBolt. In Britain, a registration
number stays associated with a car even when ownership transfers. In the United States, license plate
numbers almost always change with ownership and often for other reasons (change of tax status, change
of residence, lost or damaged tag, whim, etc.). WAU637 is displayed here as a tribute, not a deception.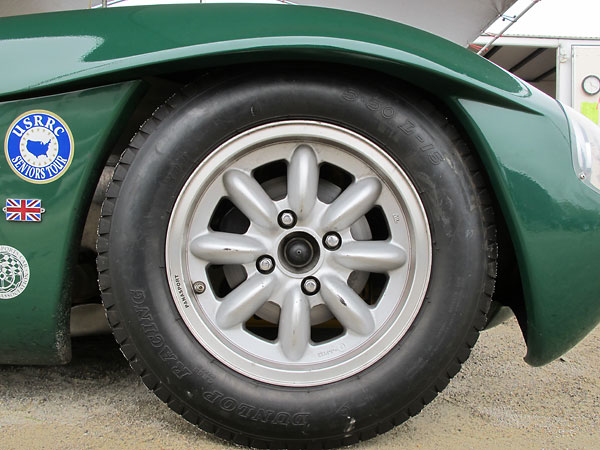 Panasport aluminum 8-spoke (6-JJx15) wheels.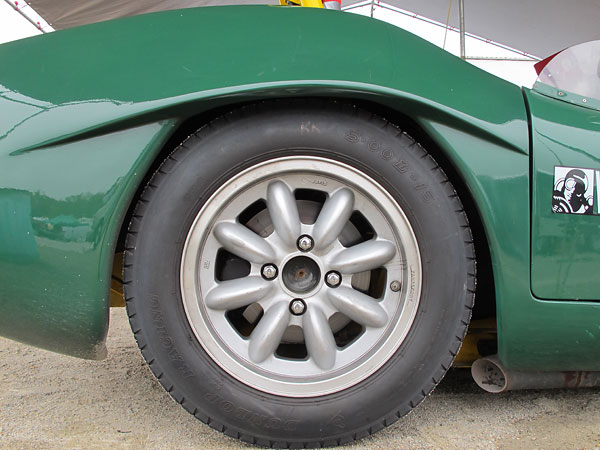 Dunlop Racing CR65 Mark II tires (5.50L-15 front and 5.00L-15 rear.)
Wider tires on the rear would certainly be desirable, but they simply don't fit.


---
ThunderBolt WAU637 Race History — researched and compiled by Richard Page
Date
Venue
Club
Driver (car#)
Result
Notes (race name, class, race type, other.)
1960:
3/19
Goodwood
BARC(m)
Woodhouse (108)
retired
ClosedCars. Handicap. (First race!)
3/19
Goodwood
BARC(m)
Martin (108)
did not start
Handicap.
5/21
Silverstone
AMOC
Woodhouse (30)
Handicap.
5/21
Silverstone
AMOC
Woodhouse (30)
3rd in class
"Martini 100."
5/21
Silverstone
AMOC
Woodhouse (30)
Half hour speed trial.
5/29
Brands Hatch
BRSCC
Martin (62)
UnlimitedSports.
Driver change (from Woodhouse.)
6/11
Silverstone
8Clubs
Woodhouse (85)
2nd
5 lap sprint.
Driver change (from Martin.)
6/11
Silverstone
8Clubs
Hextall (85)
2nd
Handicap.
Driver change (from Woodhouse.)
6/11
Silverstone
8Clubs
Woodhouse (85)
Half hour speed trial.
6/18
Silverstone
NSCC
Woodhouse (117)
6th
Sports+1100.
(Motoring News report refers to Hextall.)
6/18
Silverstone
NSCC
Hextall (117)
3rd
Prod+1600.
(Autosport report refers to Woodhouse.)
6/18
Silverstone
NSCC
Martin (117)
FormulaLibre.
6/25
Silverstone
MMEC
Martin (14)
UnlimitedSports.
6/25
Silverstone
MMEC
Woodhouse (12)
Handicap.
7/3
Brands Hatch
BRSCC(m)
Hextall (47)
retired
UnlimitedSports.
Driver change (from Woodhouse.)
7/3
Brands Hatch
BRSCC(m)
Martin (47)
2nd
MarqueSports.
Driver change (from Woodhouse.)
7/9
Goodwood
BARC (m)
Martin (40)
4th
Handicap.
7/9
Goodwood
BARC (m)
Martin (40)
10th
UnlimitedSports.
7/9
Goodwood
BARC (m)
Woodhouse (40)
8th
Handicap.
7/10
Snetterton
SMRC
Martin (73)
unplaced
Sports.
7/10
Snetterton
SMRC
Martin (73)
unplaced
GT.
7/17
Brands Hatch
BRSCC
Martin (27)
unplaced
"Lords Taverners charity." UnlimitedSports.
11th on starting grid.
7/31
Snetterton
750MC
Martin (114)
Closed cars.
8/13
Silverstone
750MC
Martin (Team32)
1st
Six Hour Relay (three car team).
8/21
Snetterton
WEMC
Martin (47)
3rd (2nd/class)
GT
12/26
Brands Hatch
BRSCC
Hextall (74)
3rd (2nd/class)
(Boxing Day.) GT
1961:
3/11
Goodwood
BARC (m)
Hextall (24)
unplaced
UnlimitedSports.
3/25
Snetterton
SMRC
Hextall (30)
4th/+2.0class
"Lombank Trophy." GT.¹
4/3
Brands Hatch
BRSCC
Hextall (58)
3rd (1st/class)
(Easter.) GT.
4/23
Brands Hatch
BRSCC(m)
Hextall (76)
5th
GT.
5/13
Silverstone
AMOC
Hextall (12)
unplaced
"Martini 100." Sports.
5/22
Goodwood
BARC
Hextall (125)
retired
(Whitsun holiday.) GT.
6/18
Snetterton
ECMC
Hextall (101)
3rd
"Autosport Championship."
1962:
3/31
Silverstone
BRSCC
Martin (116)
GT+1300.
4/23
Brands Hatch
BRSCC
Martin (116)
did not arrive
(Easter.) "Peco Trophy." GT+1600.
5/6
Brands Hatch
BRSCC(m)
Martin (50)
retired
"Peco Trophy." GT1600-3000.
(Qualified 7th.)
6/11
Snetterton
RCC
? (179)
Sports.
Hextall was pre-registered driver.
7/8
Snetterton
LMC
Hutchings (44)
High Speed Trial.
7/8
Snetterton
LMC
Martin (44)
did not start
MarqueSports.
Mike Hutchings was pre-registered driver.
7/8
Snetterton
LMC
Martin (44)
unplaced
"J.Fairman Trophy." GT/Saloon.
Mike Hutchings was pre-registered driver.
¹
The Lombank Trophy was a supporting race to a Formula One feature, run under FIA Appendix J Group 3 rules.
The rules, including a 100 car homologation requirement, must have been bent to allow WAU637 to compete.


Guide to De-Coding the British Racing Clubs that WAU637 Raced With:
AMOC
Aston Martin Owners Club
BARC
British Automobile Racing Club
BRSCC
British Racing and Sports Car Club
8Clubs
Eight Clubs (a consortium of smaller clubs)
NSCC
Nottingham Sports Car Club
MMEC
Midland Motor Enthusiasts Club
SMRC
Snetterton Motor Racing Club
750MC
750 Motor Club
WECC
West Essex Car Club
ECMC
Eastern Counties Motor Club
RCC
Racing Car Club
LMC
London Motor Club
(m)
(members-only events)
All photos shown here are from April 2011 when we viewed the car at VDCA/VRG's "Wild Hare Run" at Virginia International Raceway. All photos by Curtis Jacobson for BritishRaceCar.com, copyright 2011. All rights reserved.



Notice: all the articles and almost all the photos on BritishRacecar.com are by Curtis Jacobson.
(Photos that aren't by Curtis are explicitly credited.) Reproduction without prior written permission is prohibited.
Contact us to purchase images or reproduction permission. Higher resolution images are optionally available.