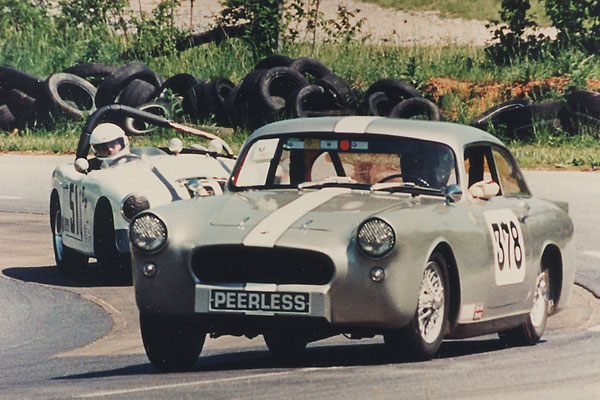 Mark Rosenberg's 1959 Peerless GT leads a Turner sports car in the Jefferson 500 at Summit Point.


Mark Rosenberg's 1959 Peerless GT Race Car
Owner: Mark Rosenberg
City: Baltimore MD
Model: 1959 Peerless GT
Engine: Triumph TR3/TR4 (see below)
Originally race prepared by: Treasured Motorcars, Owings Mill MD (1990)
Race prepared by: Merryman Modifications, Hanover PA (currently)
History of Peerless Cars
Hotelier and restaurateur James ("Jimmy") Byrnes recruited Bernie Rodgers to design a racing car. Although the original goal was a one-off car for club racing, the two men ended up with a small car company. Things like that sometimes happen if you know the right people, and Jimmy Byrnes met lots of people though his restaurant.

The old "Saxon Mill" restaurant in Warwick was a favorite of the Board of Directors of the Standard Triumph car company. Having become friends with the Board, Byrnes was naturally interested in utilizing Triumph parts in the proposed racecar. He instructed Rodgers to use Triumph TR3 components wherever they would suit.

| | | |
| --- | --- | --- |
| From very early on, Bernie Rodgers imagined that a multi-tube frame constructed mainly of 16-gauge 1" x 1.5" rectangular steel tubing might be a very practical basis for a small sports saloon. Byrnes commissioned an all-aluminum body, a Triumph TR3 drivetrain was procured, and a prototype car was constructed. As the pieces came together, the prototype was initially given the name "Warwick". As Byrnes and Rodgers drove the Warwick and showed it to their friends, they realized other people were interested in owning one too. They decided to test the waters and determine if it might make sense to build a whole batch of cars. | | (Peerless promotional illustration) |
Byrnes showed the prototype car to an old army friend named John Gordon, who had a used car dealership. Gordon agreed that the prototype's performance was impressive, but he suggested enlarging and widening the body. This suggestion was based on his perspective as a car salesman, but it provided a performance benefit too, especially because with wider track Bernie Rodgers decided it was feasible to fit a de Dion suspension instead of a Triumph TR3 live axle. John Gordon joined the project team, and the three partners made plans for a more public testing of the market.

A second aluminum bodied Warwick prototype was built and shown at the 1957 Paris Motor Show. You could hardly call them a company yet, but based on public reaction at that show the three men were already thinking of a production rate of 1500 cars per year. One American car dealer told them he was confident he could personally sign for eighty cars per month. Much more importantly, the second prototype was extremely well received by Jimmy Byrnes' friends on the Standard Triumph Board of Directors. They evidently believed that the Warwick could only embellish the prestige of their own products. Triumph would provide necessary components, and indeed would provide components at a favorably low cost.


Enjoying this article? www.BritishRaceCar.com is partially funded through generous support from readers like you!
To contribute to our operating budget, please click here and follow the instructions.
(Suggested contribution is twenty bucks per year. Feel free to give more!)
The model name change from Warwick to Peerless occurred after the entrepreneurs settled into a physical address. They had acquired a bankrupt car dealership upon whose property American-made Peerless military trucks had previously been stored and serviced, and they decided the name Peerless suited their own ambitions nicely. It almost goes without saying that they hoped to export a lot of cars to America, and they imagined the bold new name would help. (The Peerless company of Cleveland Ohio no longer built automobiles.)

Due to a lack of funds for press tooling, the newly formed Peerless Cars Limited decided to use fiberglass for production bodies. This was a gamble because at the time there were no well-known fiberglass cars in the British marketplace. Indeed, the only "mass produced" fiberglass passenger car in the world was the Chevrolet Corvette. (The Daimler SP250 was being developed and introduced at almost the exact same time as the Peerless GT. A few other small-scale and specialty manufacturers like Turner seemed to be having good success with fiberglass.) If customers were risk averse, fiberglass might be a turn-off. Would it be durable? How would it weather and age? The new material would present new technical and manufacturing challenges too, but this was a brand new company that would be learning its way in any case.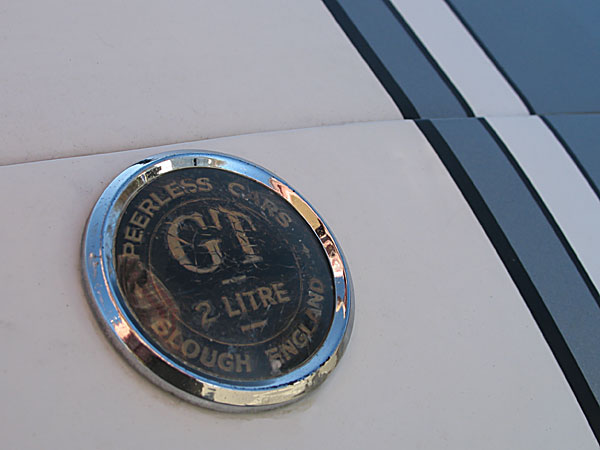 Peerless Cars, GT, 2 Litre, Slough England.


Peerless hired a local coachbuilding company named James Whitson Ltd. to produce their fiberglass bodies. Initial cost was acceptable; and fit and finish seemed adequate.

To prove their new car, the company entered a Peerless GT in the 1958 24 Hours of LeMans race. Peter Joppe and Percy Crabb drove the British Racing Green number "24" car to 16th place overall and 4th place in the two liter Sports class. The team only made scheduled pit stops, and they lost just seven minutes to downtime. They kept up a brisk pace too, averaging 83.6mph despite many hours of rain and at least one period of torrential downpour, to complete 240 laps and a total distance of over 2006 miles. Incidentally the Peerless was the only Triumph-powered car entered; racing success for Peerless was seen as very good publicity for Triumph.

At this stage in the company's life, sales weren't a problem. They couldn't build cars fast enough. Their main difficulty was that fiberglass construction is labor intensive. It's hard to rush production without investing in more moulds and more operators. After about 250 cars had been produced, Peerless decided to revise the body design to incorporate many improvements, and simultaneously to transfer their supply agreement from James Whitson Ltd. to a company named Wincanton Transport and Engineering Company. The Phase One and Phase Two bodies look quite similar, but in fact the manufacturing processes that created them were very different. During Phase One construction, 57 different molded parts were bonded together to create a bodyshell that was then bonded and pop-riveted to the tubular steel chassis. In contrast to that, each Phase Two bodyshell was constructed as a single elaborate part created in a large, very elaborate, multi-section mould. The mould held panels aligned as the structure became increasingly complete, stiff, and strong. Phase two bodyshells were bolted (removeably) to the tubular steel chassis.

Regrettably, there isn't a whole lot more to tell about Peerless Cars Ltd. The company principals had a falling out. John Gordon left, and with him Peerless lost its principle salesman and promoter. He would later join forces with Jim Keeble to form Gordon-Keeble Cars Ltd. About a hundred small block Chevy powered Gordon-Keeble cars were produced between 1963 and 1966. Bernie Rodgers and Jimmy Byrnes salvaged the remains of Peerless Cars Ltd. by forming a new company and continuing production on a smaller scale. They reverted to the original model name: Warwick. About forty Warwick GT's were built, some with marvelous Buick 215 aluminum V8 engine (which was notably lighter weight and fifty-five percent more powerful), before the company folded in 1962.



Peerless Cars Limited, Slough, Buckinghamshire
Chassis No. GT2-00205, Engine No. TS46678E


Mark Rosenberg's Peerless GT (Phase One)
Mark's Peerless GT is number 205 of 325 produced. It's one of approximately seventy left-hand-drive Peerless cars which were exported to the United States.

The car was originally set-up for racing by John ("Jake") Jacobson of Old Spokes Vintage Racing of Newark Delaware in 1990. Since April 1991, Mark has driven it in 35 events including seven Pittsburg Vintage Grand Prix appearances and seven Jefferson 500 appearances.

Mark's Peerless is maintained, race prepared, and gradually refined by Jack Merryman of Merryman Modifications in Hanover Pennsylvania, and by Geoffrey Griffiths of Treasured Motorcars of Owings Mills, Maryland.

Peerless GT's were originally built with stock Triumph TR3 engines, which had 83mm bore wet cylinder liners, and a total displacement of 1991cc. Mark's engine has been re-sleeved to 86mm for a displacement of about 2138cc, which is nominally the same as a Triumph TR4. Many other modifications have been made for racing, as described in more detail below. On the chassis dyno for tuning, the engine pulls about 130bhp.



Features and Specifications
Engine:
rebuilt with larger cylinder sleeves (86mm in lieu of 83mm.) Billet connecting rods. Aluminum racing pistons. Ported big-valve cylinder head, milled to unshroud the valves and increase compression ratio. (Static compression ratio is ~10:1.) Double valve springs. Titanium collars and keepers. Chrome moly pushrods. Lightened and hardened tappets. Camcraft nitrided race camshaft. Dual S.U. 1.75" carburetors. Mallory dual point distributor. Lucas Sport ignition coil. Packard 440 (7mm copper core) spark plug wires. Competition oil pump with Ford V8 pick-up. Purolator adapter for spin-on oil filter, connects to a spin-on oil cooler adapter. Oil cooler. Remotely mounted (Pennzoil PZ-34) oil filter.

Cooling:
custom 5-row copper/brass radiator. Electric cooling fan.

Exhaust:
Triumph TR3 tri-Y (4-2-1) header, modified to fit, feeding to open exhaust.

Transmission:
Triumph TR4 4-speed (without overdrive). Centerforce clutch.
Lightened TR4 flywheel. Driveshaft rebuilt with Volvo yokes, etc.

Rear End:
Salisbury open differential with 3.7:1 gear ratio.

Front Susp.:
Triumph TR3 derived dual wishbone front suspension with Cam Gears worm and peg steering box, upgraded with SPAX shock absorbers and oversized front anti-sway bar mounted on aluminum pillow blocks.

Rear Susp.:
stock de Dion tube located on custom semi-elliptic leaf springs. Armstrong lever shock absorbers, upgraded with race valving.

Brakes:
(master) single Girling remote-reservoir master cylinder.
(front) 10.75" Brembo rotors. Carbotech carbon fiber brake pads.
(rear) 10" drums.

Wheels/Tires:
Dunlop 15x4.5" 60-spoke wire wheels. Dunlop Racing tires (5.50L15).

Electrical:
Lucas generator. 12V lead acid battery. Lucas windshield wiper system. Dual electric horns.

Instruments:
Jaeger speedometer and mechanically driven tachometer. Smiths ammeter and fuel level gauge (not used).
Stewart Warner coolant temperature and oil pressure gauges.

Fuel System:
Fuel Safe 12 gallon fuel cell. Facet solid state fuel pump.

Safety Eqmt:
5-point roll structure. Kirkey aluminum racing seat (16", 41500V).
Simpson latch-and-link harness. Wink wide view mirror.

Weight:
~2400 pounds.

Racing Class:
over two litre, production.

Engine Installation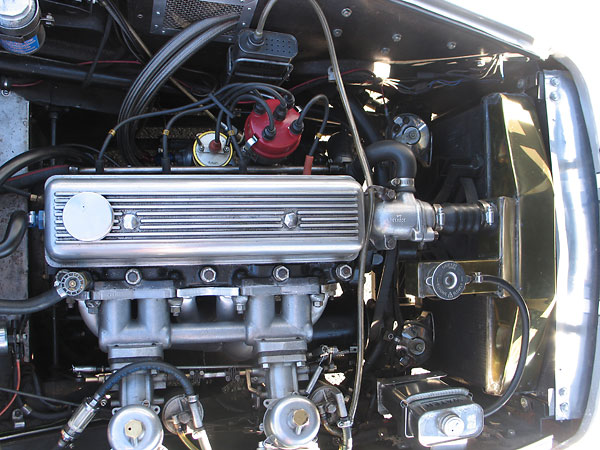 Triumph TR3 engine, rebuilt with larger cylinder sleeves (86mm in lieu of 83mm).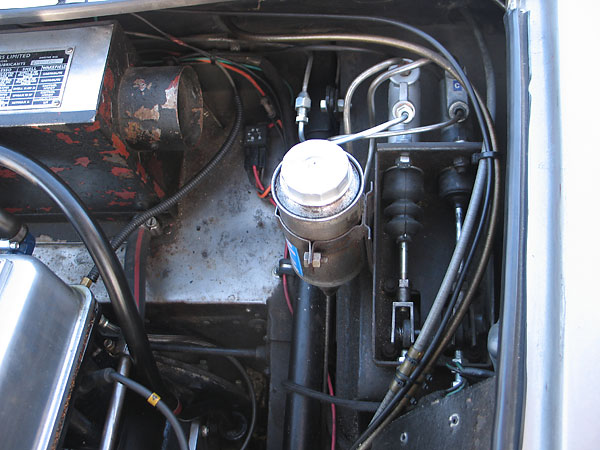 Single Girling remote-reservoir brake master cylinder.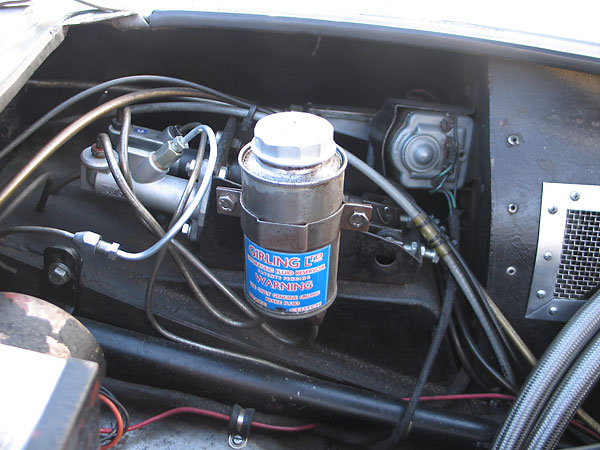 The Lucas windshield wiper system remains in place. Good windshield wipers were critical to the
success of Peerless in the 1958 24 hours of LeMans race.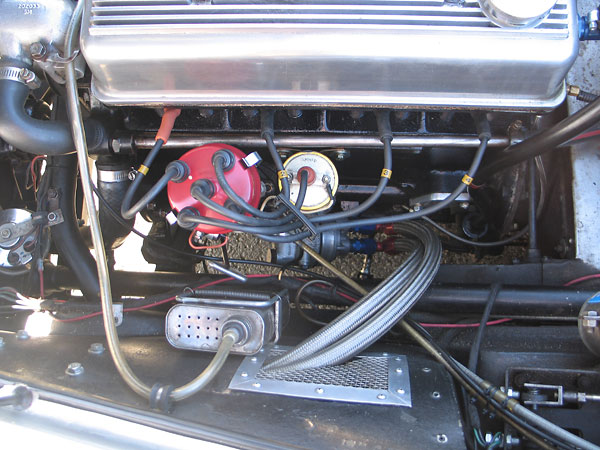 Oil cooler plumbing.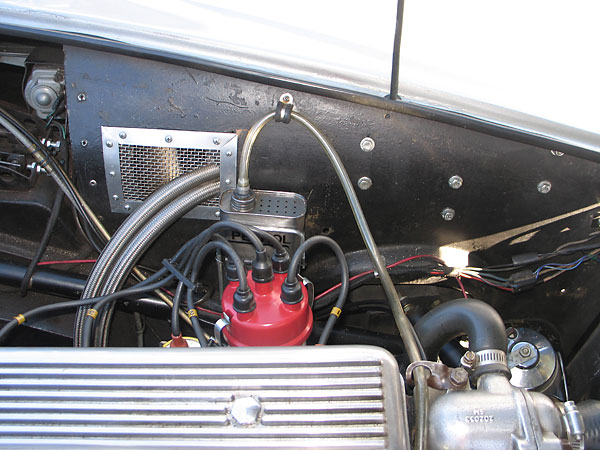 Mallory dual point distributor. Lucas Sport ignition coil.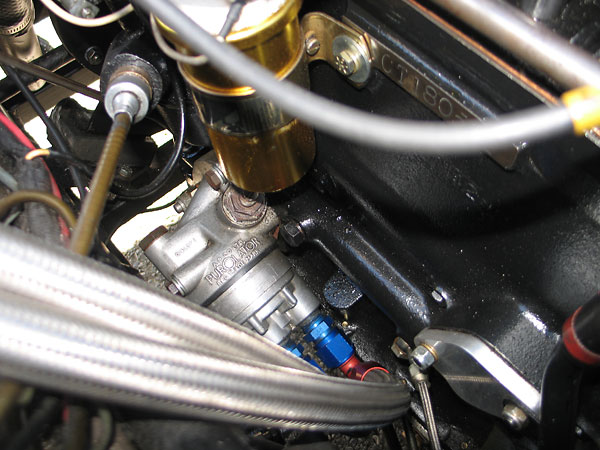 The cable for the mechanical tachometer connects at the base of the distributor, driven off the camshaft.
It's never given any problems. The Triumph engine also has provisions for a camshaft driven fuel pump,
although the Peerless came with dual S.U. electric pumps instead. Notice the stainless steel braided
hose that's connected to an oil galley a couple inches below the fuel pump blockoff plate. It was added
to provide supplemental lubrication to the valvetrain.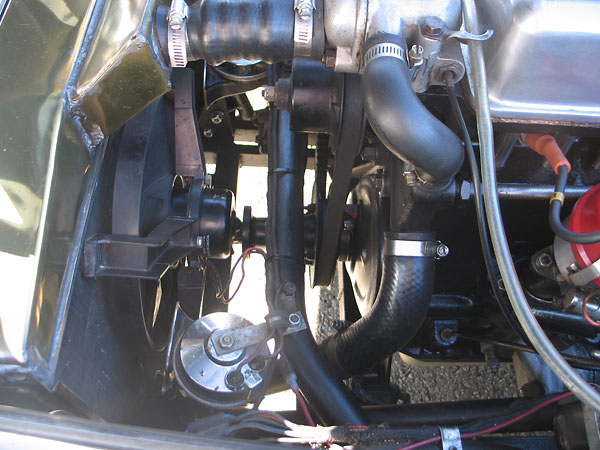 Electric cooling fan and dual electric horns.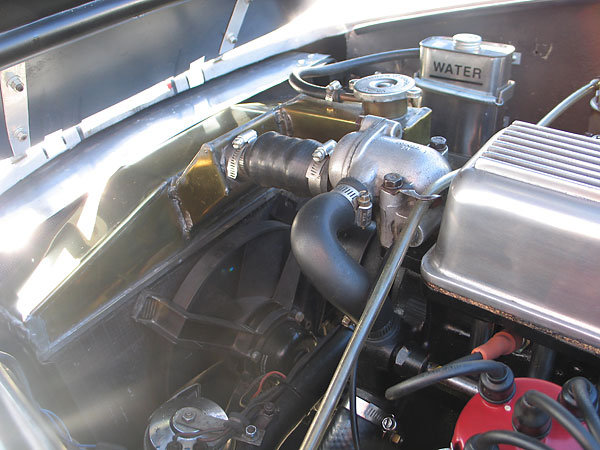 Thermostat housing.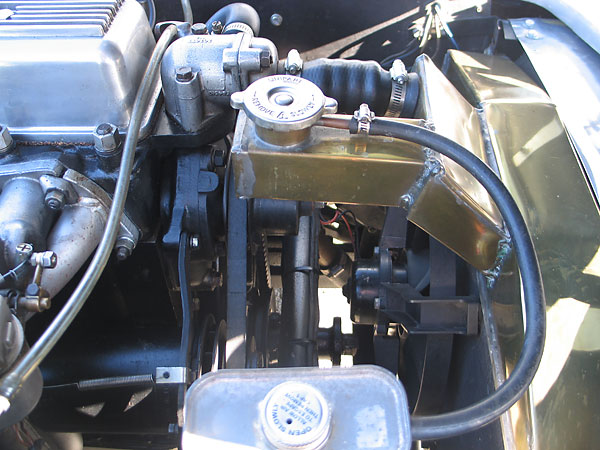 Left: Lucas generator. Right: generously sized custom 5-row radiator and electric cooling fan.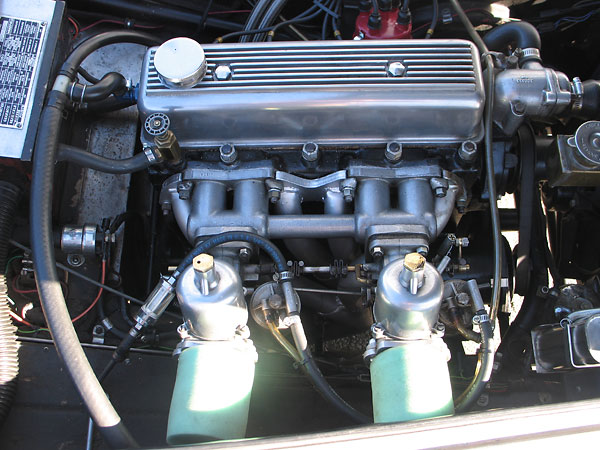 Triumph intake manifold and exhaust header flanges.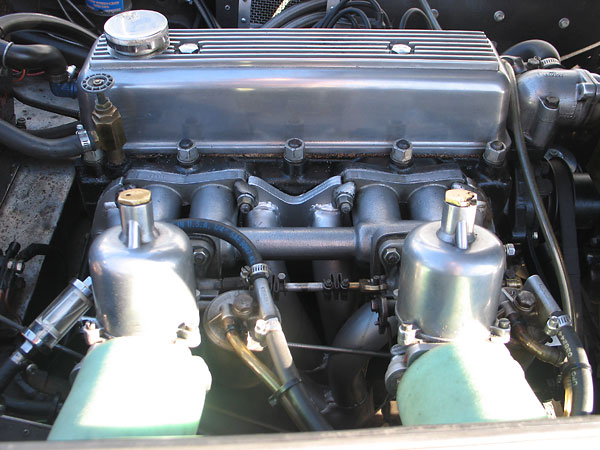 Dual S.U. 1.75" carburetors.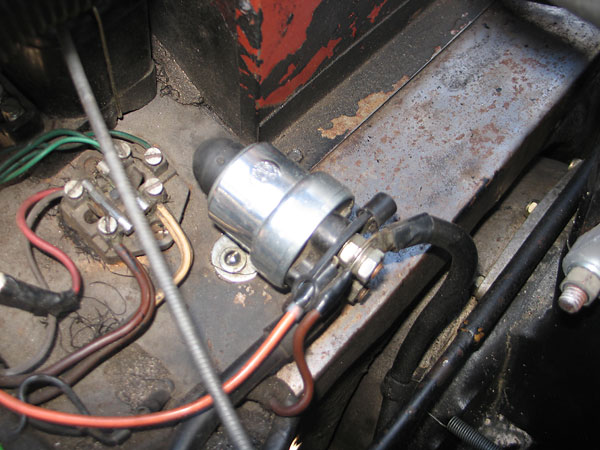 Remote starter switch.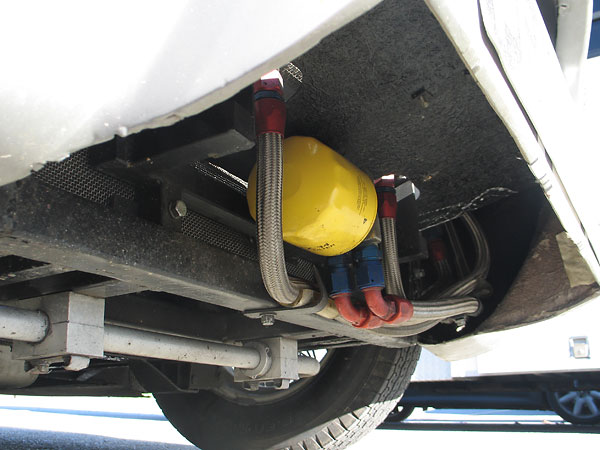 Remotely mounted (Pennzoil PZ-34) oil filter, and oil cooler connections.


Front Suspension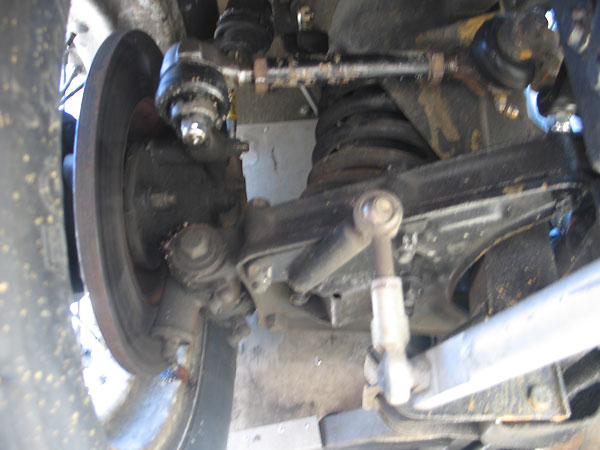 Triumph TR3 dual wishbone front suspension, upgraded with SPAX shock absorbers.
(The shock absorbers can't easily be seen because they're inside the coil springs.)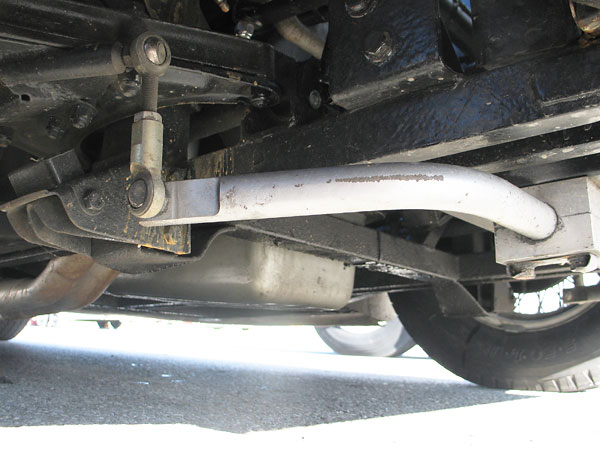 Oversized front anti-sway bar mounted on aluminum pillow blocks.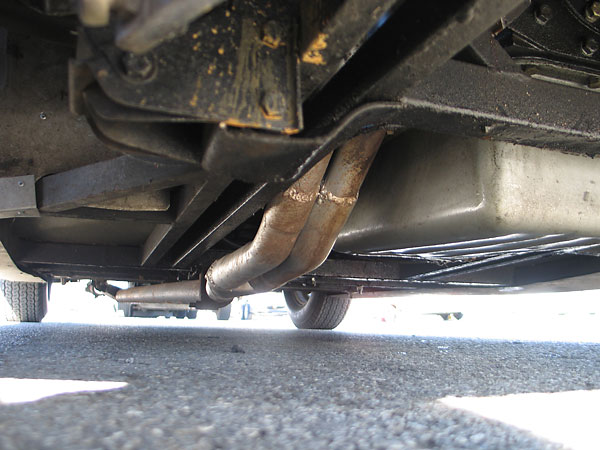 Details of the Peerless chassis, and also the long secondaries of the tri-Y header.
(The Triumph TR3 header had to be modified to fit the Peerless.)


Rear Suspension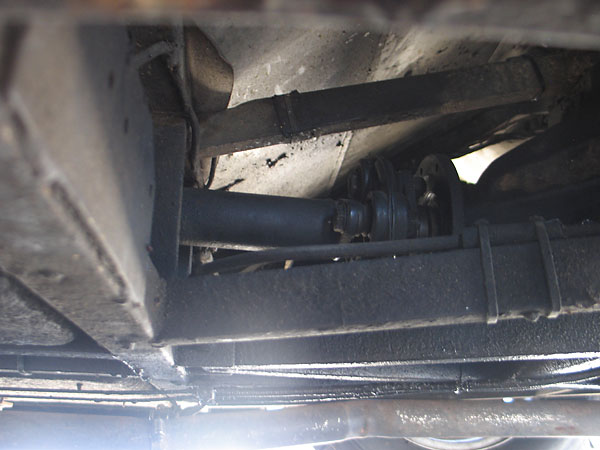 The Salisbury differential is mounted rigidly to the Peerless GT chassis.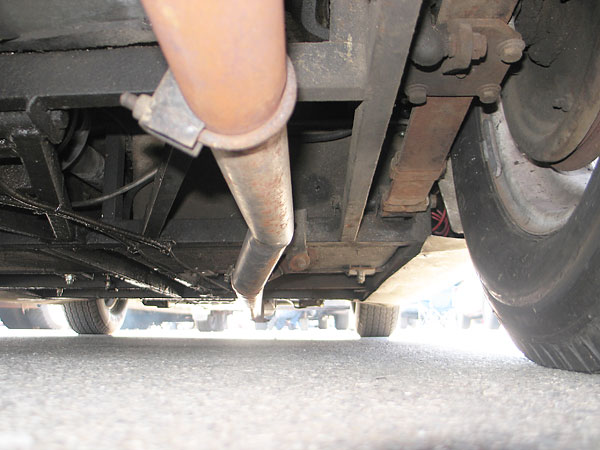 Mark discovered that replacement Triumph TR3 leafsprings won't fit on the Peerless GT. Instead, he
needed to have custom springs made. After a lot of trial and error he found that this softer, flatter
two-leaf spring worked best. His lever-arm rear shock absorbers have also been custom tuned.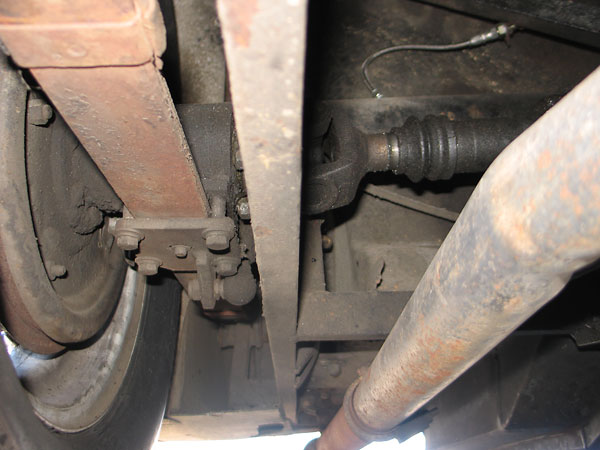 The de Dion tube which connects the rear hubs is just visible behind the telescoping halfshafts.


Interior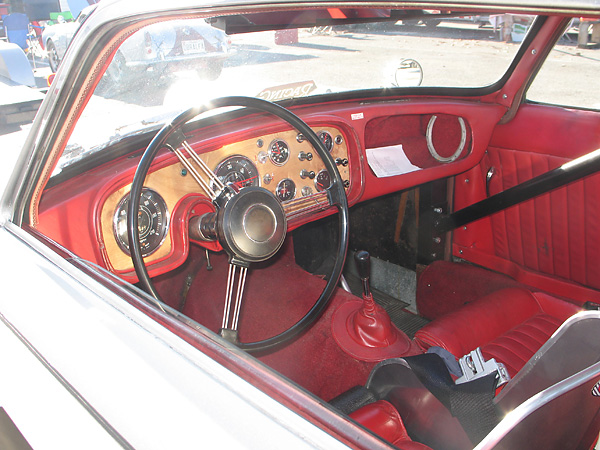 In the 1950's and early 60's it was sometimes considered unsporting to strip interior trim from a racecar.
Mark Rosenberg's Peerless GT includes a horseshoe for good luck, screwed down within driver's sight.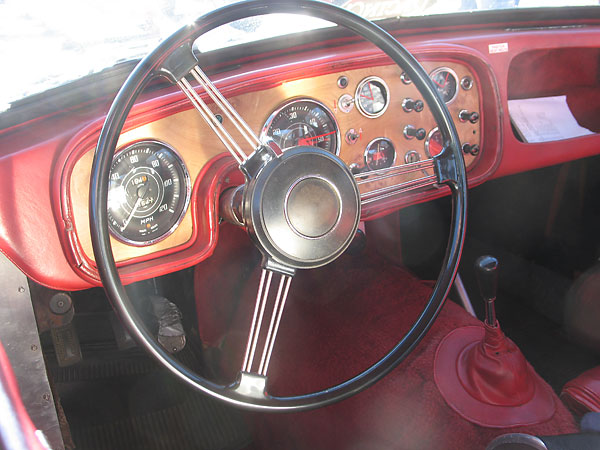 Jaeger speedometer and mechanically driven tachometer. Smiths ammeter and fuel level gauge (not used).
Stewart Warner coolant temperature and oil pressure gauges.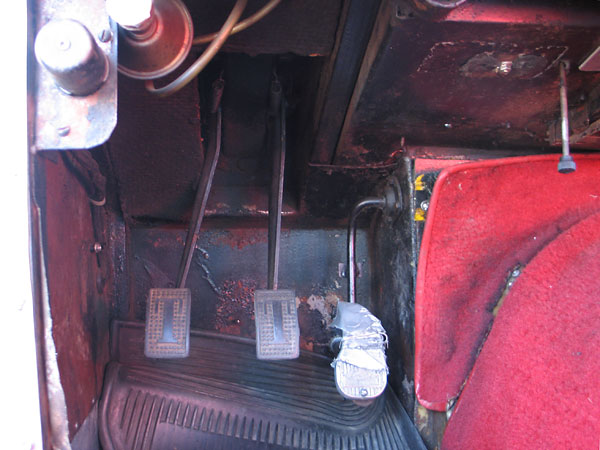 The Paddy Hopkirk style throttle pedal is connected to the carburetors through a mechanical linkage.
(Incidentally, the choke is also worked by a linkage instead of a cable.) The original foot-operated
headlight dimmer switch has been relocated away from the pedals and can be seen here in the upper,
lefthand corner of the photo. Next to it, a vacuum switch controls the windshield washer system!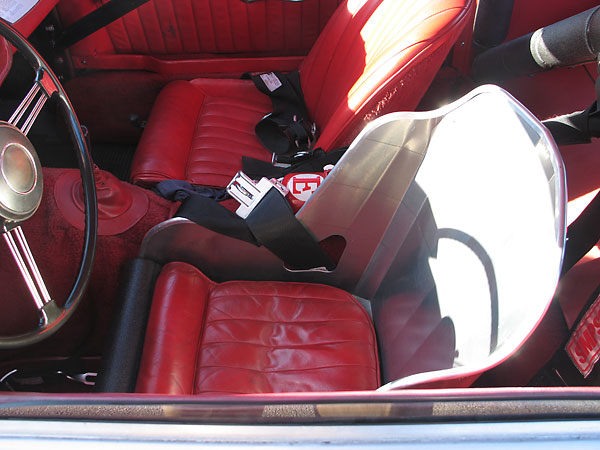 Kirkey aluminum racing seat (16", 41500V). The back seat has been removed to reduce weight. Now,
quickly removeable panels facilitate convenient access to the differential and rear suspension.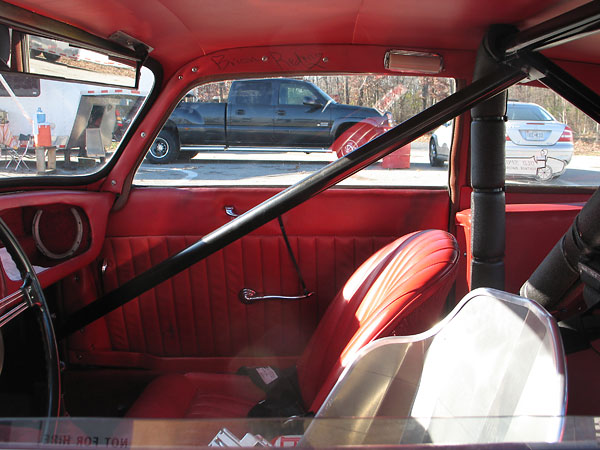 Peerless adapted a Rolls Royce window regulator mechanism. Instead of having a crank (with gears), the
window lift is simply a lever that moves between twelve o'clock and three o'clock positions. It works great!
The window rises quickly and smoothly. Notice driver Brian Redman's autograph above the door window.
Dickie Attwood's autograph is written above the driver's side door window.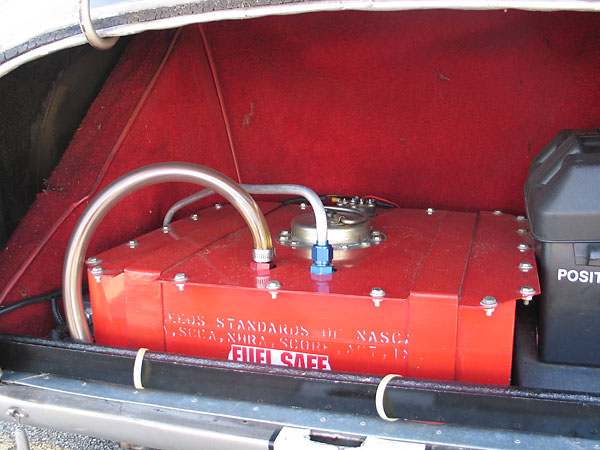 Fuel Safe 12 gallon fuel cell.


Exterior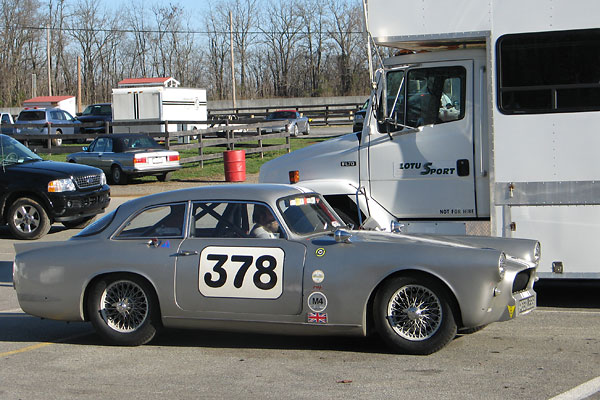 After creating two aluminum prototypes, all production Peerless GT's had fiberglass bodies.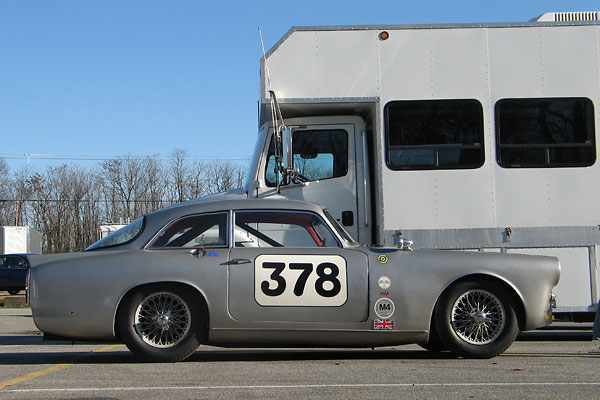 The biggest difference between the ~250 Phase One bodies and the ~75 Phase Two bodies was how they
were made. However, the later fabrication techniques did result in a shell that was lighter and stiffer.
Underneath, the steel frame wasn't changed between Phase One and Two. It weighed just 123#.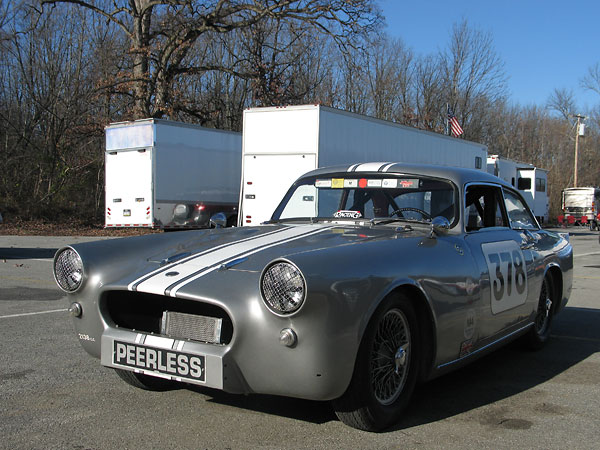 For racing, the original sylized-"P" radiator trim has been removed from Mark's Peerless GT.
(Phase Two cars would be fitted with recessed grille.)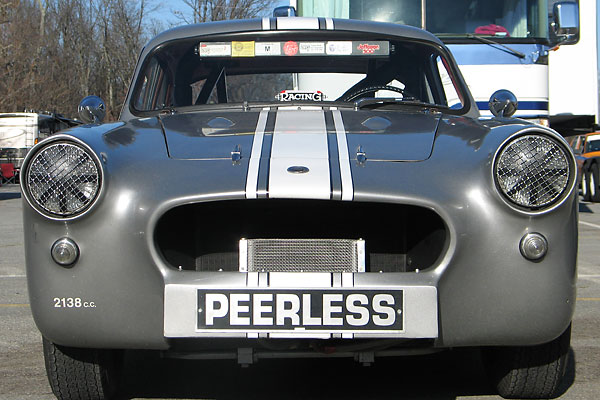 The narrow A-pillars that frame the sides of the windshield are great in terms of visibility, but
they're one of the most fragile and crack prone parts of the fiberglass Peerless GT bodyshell.
Incidentally, the Peerless GT windshield is identical to a Morris Minor rear window.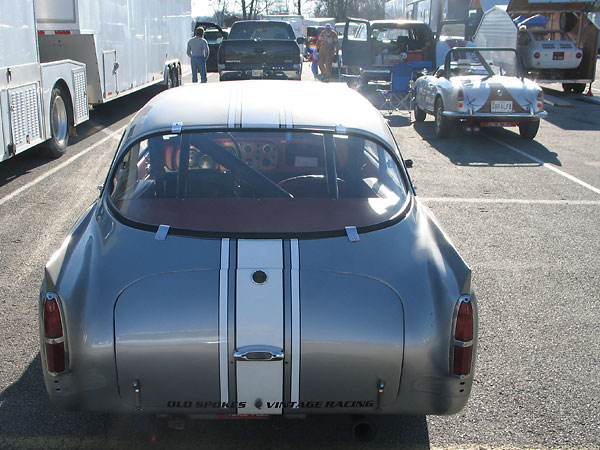 Aside from the body, frame, soft interior trim, and de Dion tube, very few parts of the Peerless GT were
designed specifically for or by Peerless. The taillights Peerless used, for example, were also used on
the Bentley Continental S1, Humber Super Snipe (some years), Aston Martin DB4 and Alvis TD 21. The
license plate lamp was used by Rover and Jaguar. The rear window, however, seems to be unique.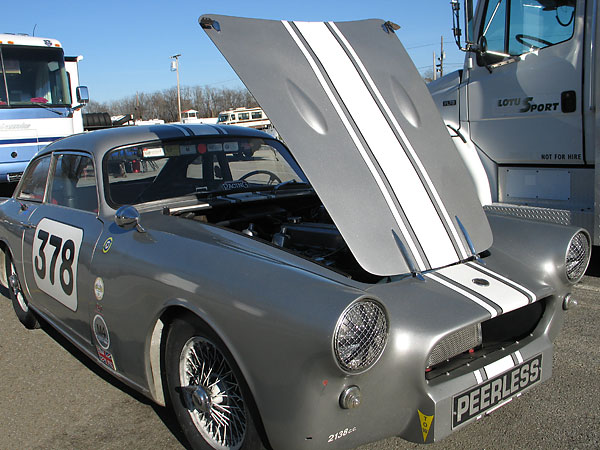 With Phase Two the door, bonnet, and boot hinges were all modified to include automatic stops...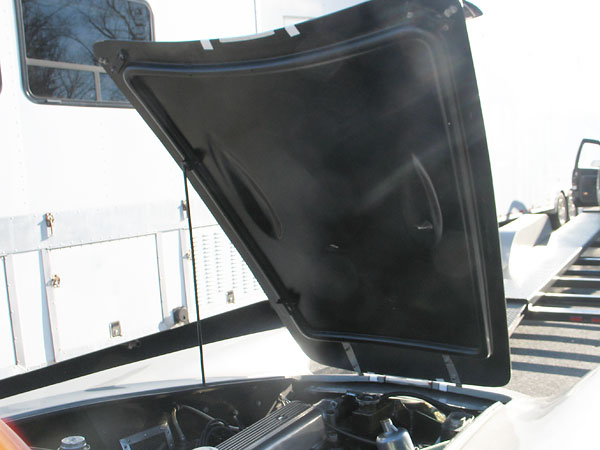 ... and a single offset blister would replace the original bonnet "double-hump".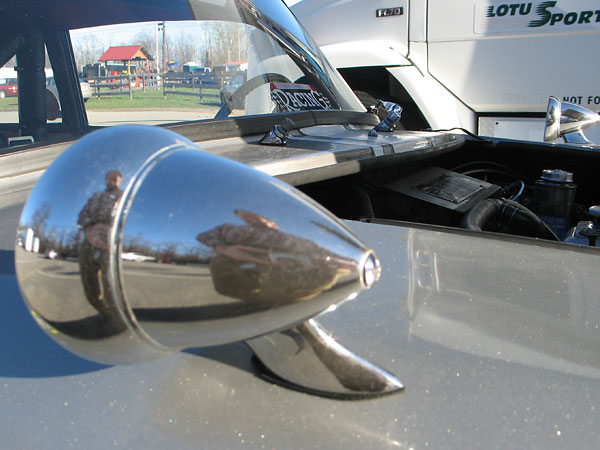 Mirrors.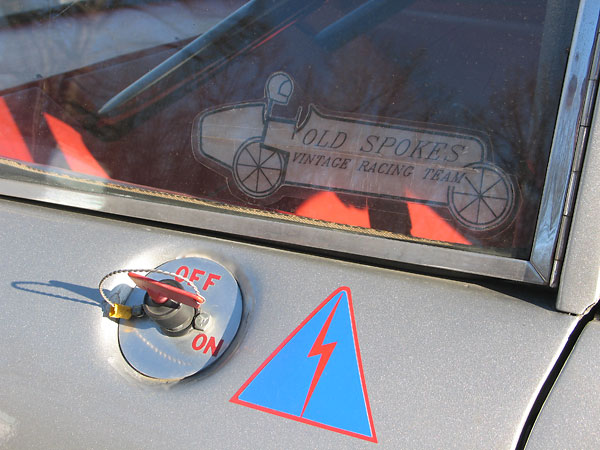 The passenger side fuel filler has been removed and replaced with an emergency engine "kill" switch.
Old Spokes Vintage Racing Team window decal.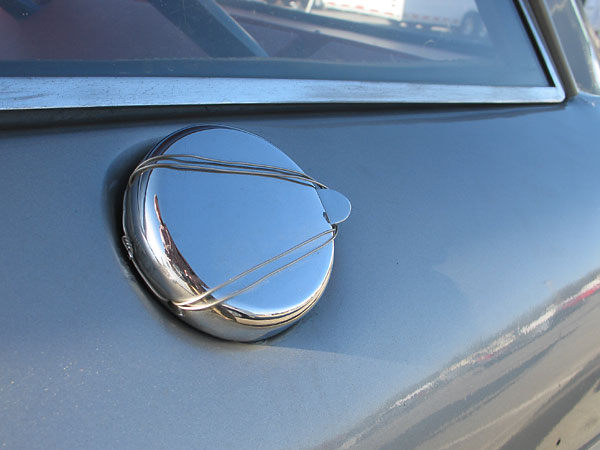 The driver side fuel filler has beem safety wired shut, although it's not connected to a fuel tank.
The Peerless GT originally came with dual fuel tanks, with a total capacity of 14 Imperial gallons,
and dual S.U. electric fuel pumps. The whole system was removed, for a significant weight reduction.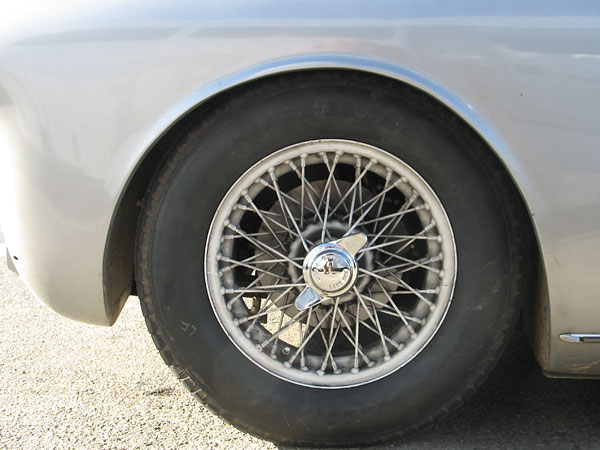 Dunlop 15x4.5 60-spoke wire wheels with Dunlop Racing tires (5.50L15).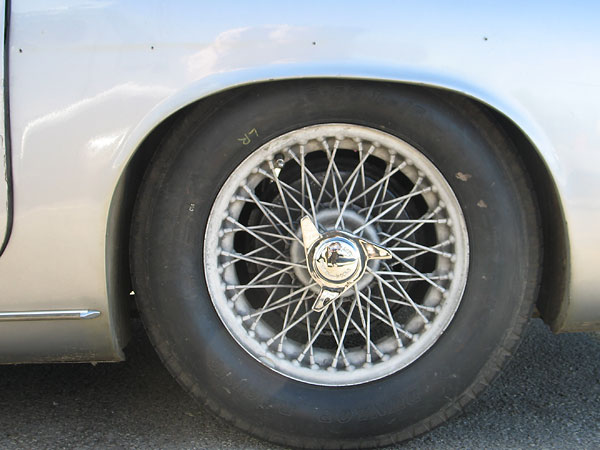 Wider wheels and tires would easily fit, but they're forbidden under the
Vintage Sports Car Club of America (VSCCA) rules that apply to the Peerless GT.


Except for the very first two photos above, all photos shown here are from November 2009 when we viewed the car at VRG's Turkey Bowl at Summit Point Motorsports Park, West Virginia. Photos by Curtis Jacobson for BritishRaceCar.com, copyright 2009. All rights reserved. The photo of Mark racing in the Jefferson 500 was provided by Mark, and has been published by exclusive permission. The original Peerless Cars Ltd. illustration is a period promotional photo, used under "fair use" guidelines.



Notice: all the articles and almost all the photos on BritishRacecar.com are by Curtis Jacobson.
(Photos that aren't by Curtis are explicitly credited.) Reproduction without prior written permission is prohibited.
Contact us to purchase images or reproduction permission. Higher resolution images are optionally available.