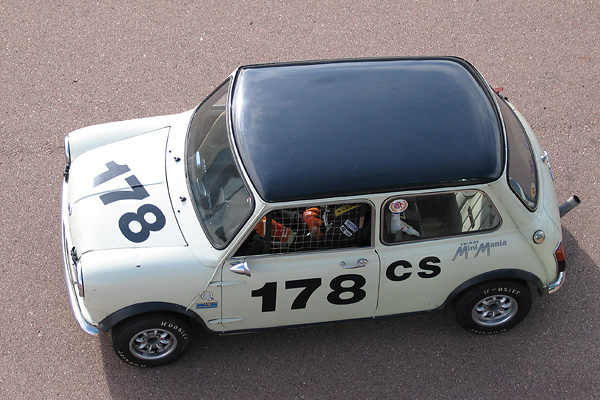 Bruce McCalister's 1968 Austin Mini Cooper S MkII Race Car
Owner: Bruce McCalister
City: Leadville, Colorado
Chassis: 1968 Austin Cooper S Mk2
Engine: 1275cc A-series
Race prepared by: owner
Mini and Cooper S MkII Models
Although one of the most popular and iconic car models in history, the original Mini wasn't particularly profitable. By 1967, the Mini had been in production for eight years and British Motor Corporation management felt it was due for a styling facelift and some modernization. Remarkably little money was available for development or production tooling so only a short list of changes could be made. The result was the Mini MkII.

Almost simultaneous to the decision to create a MkII, BMC management decided to withdraw the Mini from the United States market at the end of 1967. This decision spared the company quite a lot of development and tooling expense; there would be no need to update the Mini to suit increasingly tough federal safety standards.

Mk2 body changes were mostly subtle. The various Mini variants received new badges, different front grilles, slightly larger rear windows, larger taillamps, and more substantial trunk lids. Sliding door windows carried over from the MkI, evidently because roll-up windows would have added too much cost. (Minis produced in Australia had with roll-up windows from March 1965 and Riley and Wolseley badged Minis came with roll-up windows from October 1966, but this upgrade wasn't extended across the line until phase-in of the Mini MkIII.) Under the skin? A new steering rack and new steering arms gave a tighter turning radius. A fully synchronized manual gearbox was planned for the MkII, but its availability was delayed until late 1968.

As before, Cooper S variants were available through both Austin and Morris distribution channels. Along with a different front grille and special badges, the Cooper S variants featured larger displacement engines and other enhancements. (The Cooper S MkII came standard with a 1275cc engine, whereas the intermediary Cooper MkII engine was 998cc and other Mini MkII models were equipped with 848cc engines.) Both Austin and Morris versions of the MkII Cooper S are rare in the world and extremely scarce in the United States. In a production period that spanned from September 1967 to January 1970, only 6,329 Cooper S Mk2 Minis were built. Probably less than 500 survive. For perspective, total production of Mini MkII models over roughly the same time period came to ~429,000 worldwide.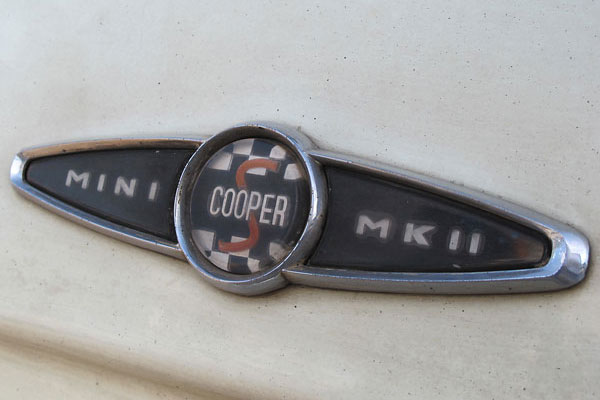 Mini Cooper S MkII badge.



Bruce McCalister's Cooper S MkII
The 1968 Mini Cooper S MkII we're featuring here was purchased new in very late 1967 by Ralph Covell of Riverside California expressly for racing. It was a replacement for Covell's earlier Mini Cooper S which had served him through two runnings of the Canadian Shell 4000 rally. The Shell was probably the toughest long distance rally in the world at that time. Covell had previously entered his Mini Cooper S in the 1966 Shell 4000 with navigator Ken Bertino of Long Beach CA. He returned and drove in the 1967 rally with his wife Maureen as navigator. Fewer than half of entrants finished either race. Some components from Covell's earlier Cooper S were transferred to this MkII.

Despite a long and active road racing career, Covell's Cooper S MkII has never been wrecked or repainted and its level of preparation has remained remarkably close to the way it was originally raced.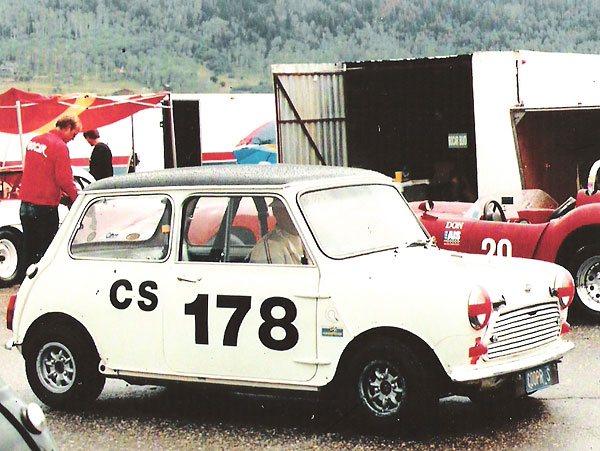 Ralph Covell prepares to race his 1968 Mini Cooper S at Steamboat Springs, circa ~1989.
(Photo copyright Bruce McCalister. Used here by exclusive permission.)


At some point Ken Bertino acquired a half interest in the MkII, and the two good friends shared the car until when Ralph moved away from California in 1972. At that point he sold his half of the Cooper S to Ken. Ken continued to race it for two more years before selling the car to another friend. It was street-legal, but hardly ever driven through this period. When the friend passed away, Ken and Ralph bought the Cooper S back. From 1988 through about 2005 the Mini was raced in occasional events, mostly with the Rocky Mountain Vintage Racing Association. (The friends shared the car though about 2000, when Ken decided to retire from racing and sell his share.)

Bruce McCalister bought the Cooper MkII in 2006, and has been racing it ever since.

Bruce has three Minis. The other two Minis have rubber cone suspensions, but his Cooper S MkII came with an almost entirely stock Hydrolastic suspension. It's very possibly the last Mini still racing on a Hydrolastic suspension in the United States. Bruce reports that this car's ride is quite a bit more comfortable than his other two Minis, but it does tend to dive forward on braking. When it does so the Hydrolastic fluid transfers rearward, further lifting the car's rear end and unsettling the car.



IMPORTANT ANNOUNCEMENT
BritishRaceCar.com will have to cut back plans for continued growth if we can't find more financial support.
If you like what you've found here, and you want to see more, please click here and follow the instructions.
Readers like you keep BritishRaceCar.com online and growing through voluntary financial contributions.


There can be a disconnect before how a car feels and how it really performs. Bruce says this Mini's body rolls a lot while turning, but that it had remarkable "stick". He has experimented with increasing roll stiffness, but this car is quicker without a rear anti-sway bar.

Another characteristic of the car is that its engine revs very smoothly, right up through 7000rpm.

Incidentally, Bruce usually identifies this car as a 1968 even though it was purchased and titled in late 1967 as a 1967. In the United States, there's never been a single standard for model year designations. Some states identify cars on registration documents by the year in which they were built, but other states have historically used the manufacturer's "model year" or the date of that particular car's importation.)


Features and Specifications
Engine:
BMC A-Series 1275cc four cylinder engine, bored to 1312cc. Almost 12:1 static compression ratio. Single Weber 45DCOE carburetor. K&N oiled gauze air filter. 123ignition electronic distributor. K&N oil filter.

Cooling:
stock copper and brass radiator (made by Coventry Radiator & Presswork Co. Ltd.) Two blade steel engine-driven fan. Mocal aluminum oil cooler.

Exhaust:
long center branch header from Seven Enterprises. Flowmaster muffler.

Transmission:
straight cut, close ratio, dog ring gearbox. Stock Mini gear shifter. Limited slip differential. CV joints.

Front Susp.:
Hydrolastic suspension.

Rear Susp.:
Hydrolastic suspension. KAD adjustable camber bracket set.

Brakes:
(master) Lockheed tandem circuit master cylinder with integral reservoir. Remote mounted booster.
(front) stock Lockheed disc brakes.
(rear) Mini Sport Superfin finned aluminum brake drums.

Wheels/Tires:
Minilite 10x6 8-spoke aluminum wheels. Hoosier T.D. 165/70-10 tires.

Electrical:
Deka AGM battery mounted in an Everstart Snap-Top marine battery box.

Instruments:
(left to right) Stewart Warner fuel pressure (0-10psi), oil pressure (0-100psi), oil temperature (140-320F), voltmeter (10-16V), ammeter (+/-60A), and water temperature (100-265F) gauges. AutoMeter Pro-Comp UltraLite tachometer (0-10,000rpm).

Fuel System:
Fuel Safe Systems fuel cell. Stock S.U. fuel pump.

Safety Eqmt:
Sparco Evo drivers seat. Sabelt six point cam-lock safety harness. (Cobra passenger seat.) Luisi steering wheel. FireBottle 5# centralized fire suppression system.

Weight:
~1350#.

Engine Installation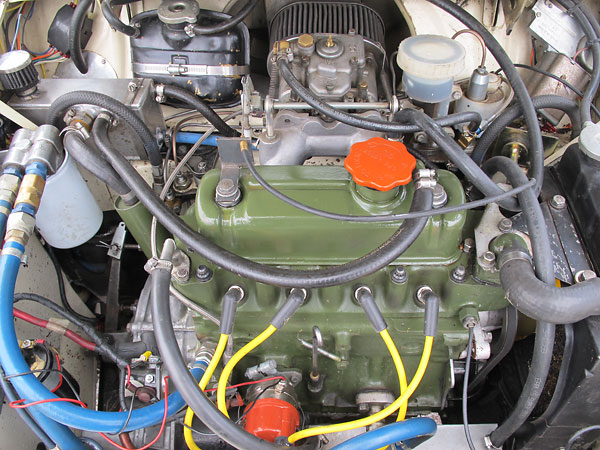 BMC A-Series 1275cc four cylinder engine, bored to 1312cc.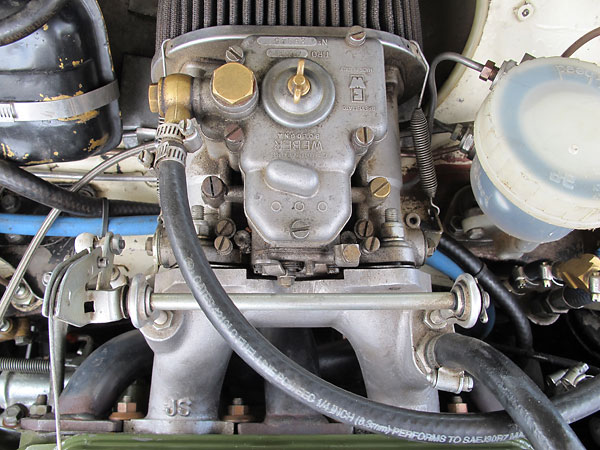 Single Weber 45DCOE carburetor and K&N oiled gauze air filter.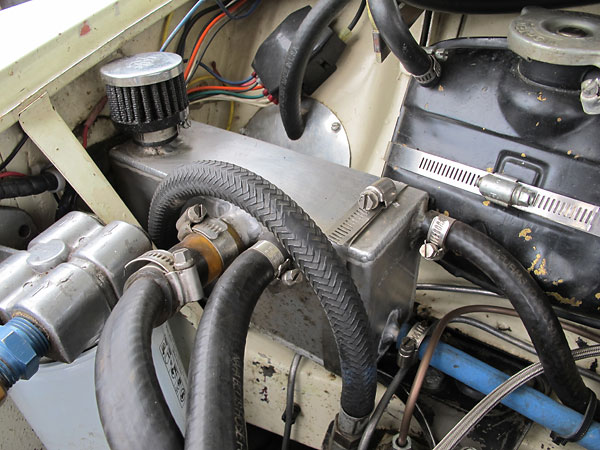 Custom fabricated aluminum crankcase breather tank.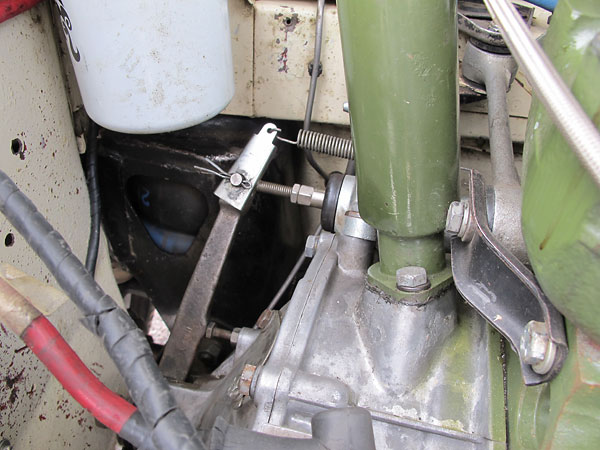 Girling clutch slave cylinder.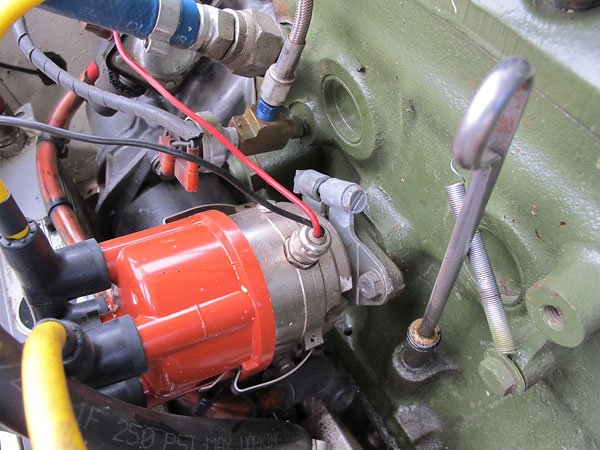 Bruce replaced the original Lucas distributor with a 123ignition electronic unit. Made in Belgium,
123ignition distributors offer a variety of pre-programmed ignition advance curves. Breaker points,
centrifugal advance weights and springs, and vacuum diaphragms have all been eliminated.
Premium versions are completely user programmable from a laptop via USB cable connection.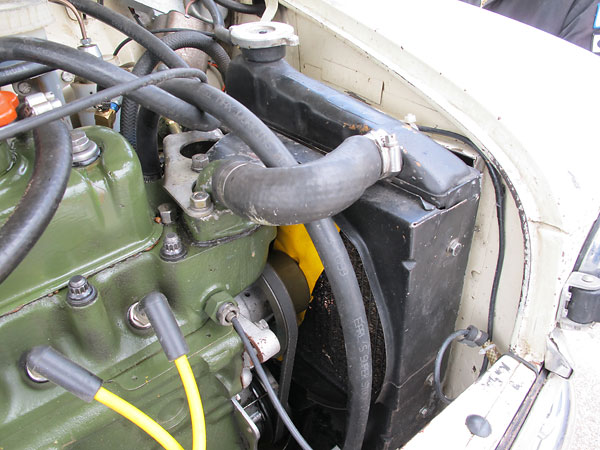 Stock copper and brass radiator by Coventry Radiator & Presswork Co. Ltd., and stock two-blade
engine driven fan. Generally, two blade fans were supplied on home-market Minis. Most exported
Minis were supplied with six blade fans.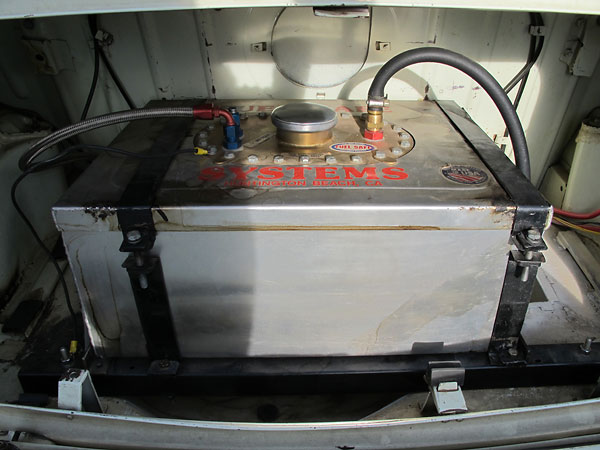 Fuel Safe Systems fuel cell.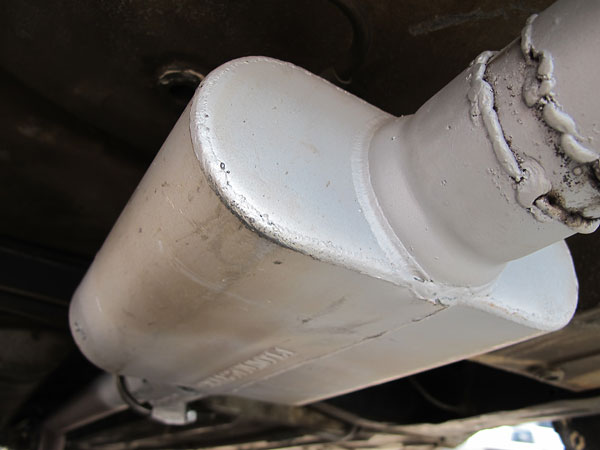 Flowmaster muffler.


Front Suspension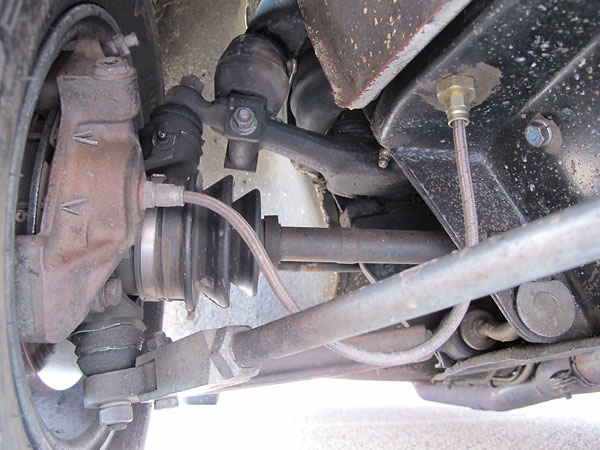 Front suspension and brakes are entirely stock, except for braided stainless steel brake hoses.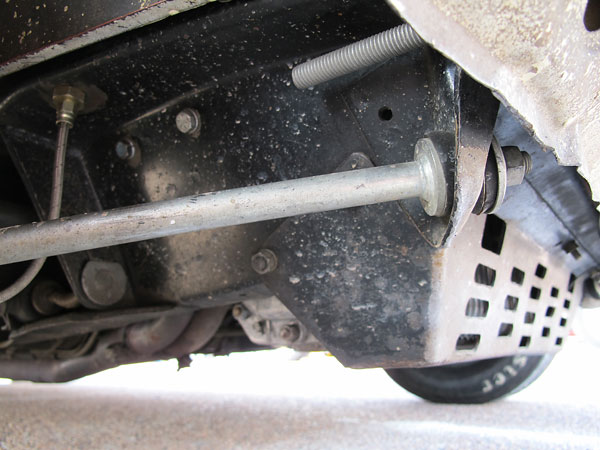 Rally equipment: a robust steel brush guard protects the Mini's finned aluminum oil sump.


Enjoying this article? www.BritishRaceCar.com is partially funded through generous support from readers like you!
To contribute to our operating budget, please click here and follow the instructions.
(Suggested contribution is twenty bucks per year. Feel free to give more!)
Rear Suspension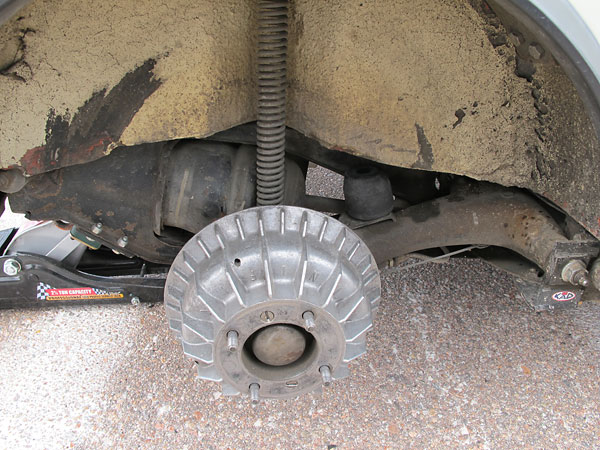 Hydrolastic suspension gives a more comfortable ride than more competition oriented alternatives.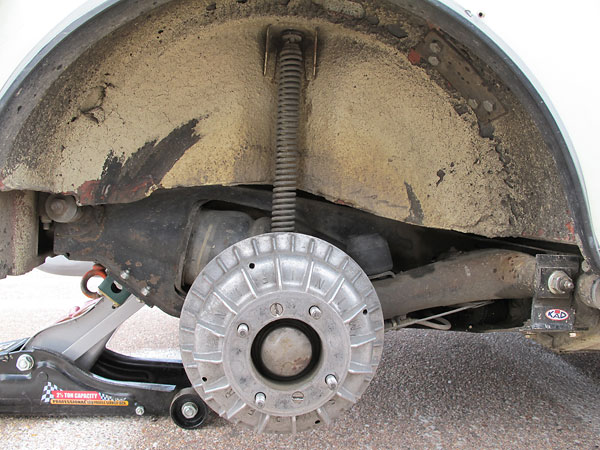 Mini Sport Superfin finned aluminum brake drums.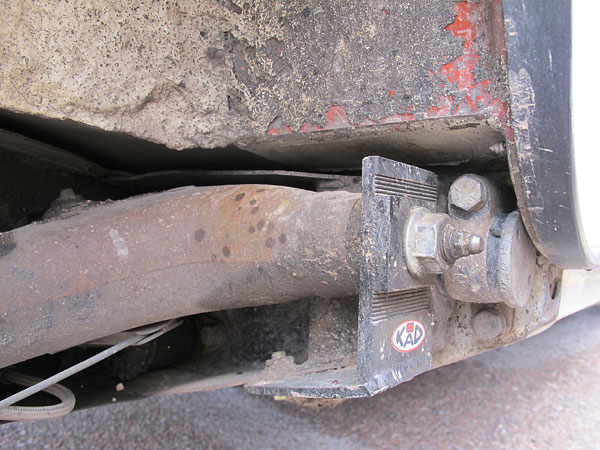 KAD adjustable camber bracket set.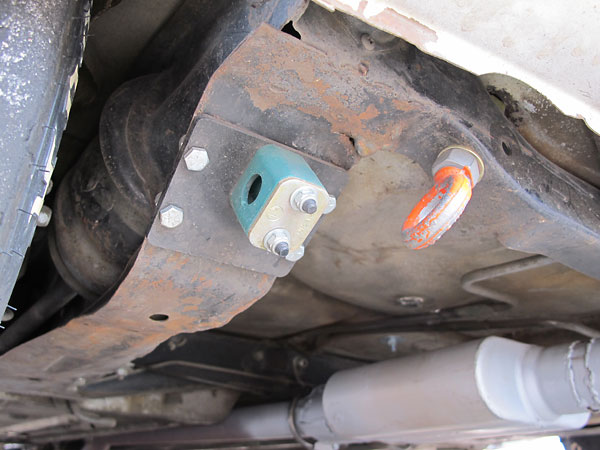 Bruce has experimented with adding a rear anti-sway bar, but currently races with it removed.


Interior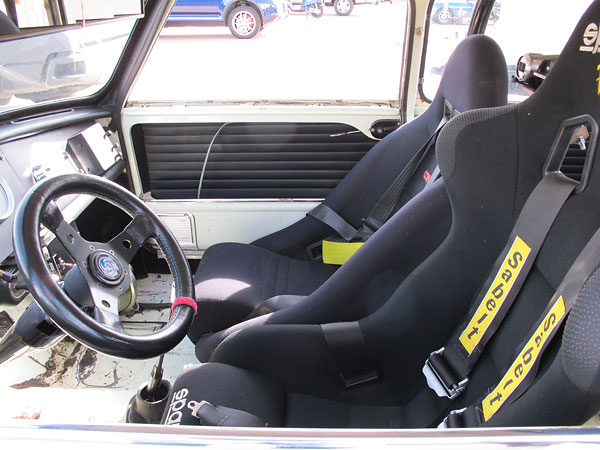 Sparco Evo drivers seat and Sabelt six point cam-lock safety harness. Cobra passenger seat.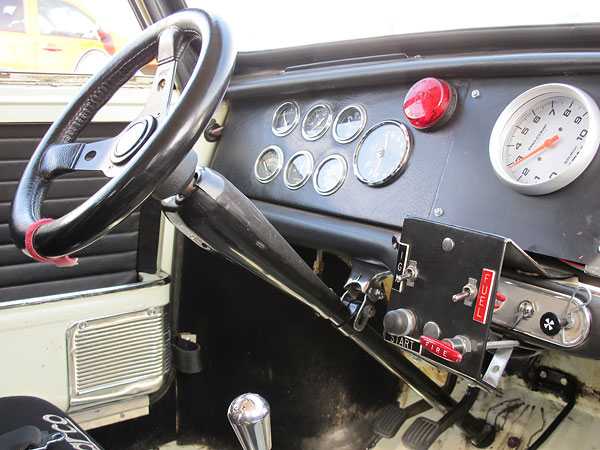 AutoMeter Pro-Comp UltraLite tachometer (0-10,000rpm).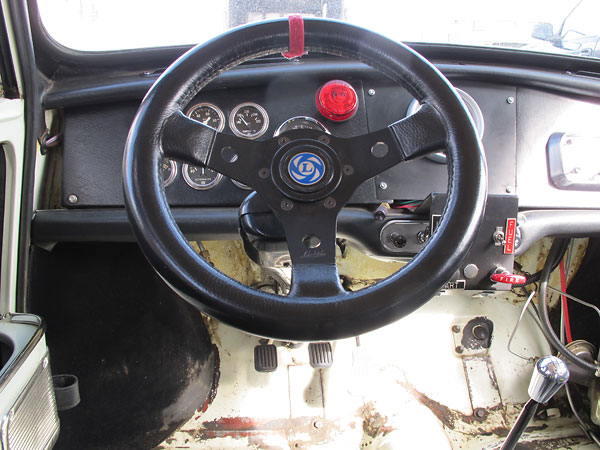 Luisi steering wheel.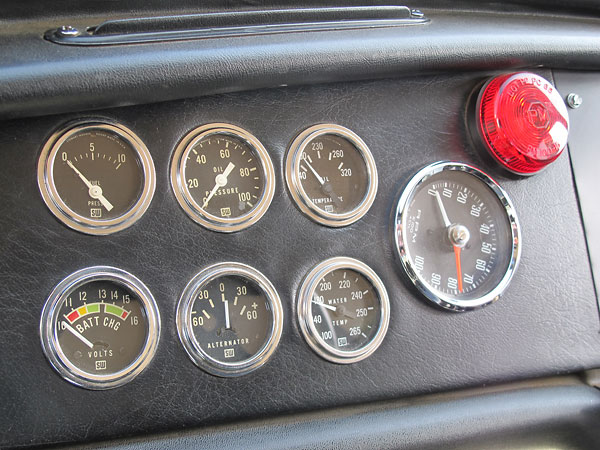 Stewart Warner gauges: fuel pressure, oil pressure, oil temp, voltmeter, ammeter, and water temp.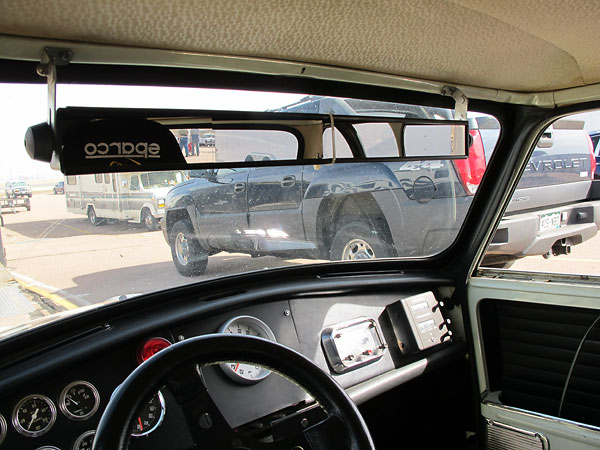 Wink four panel rear view mirror.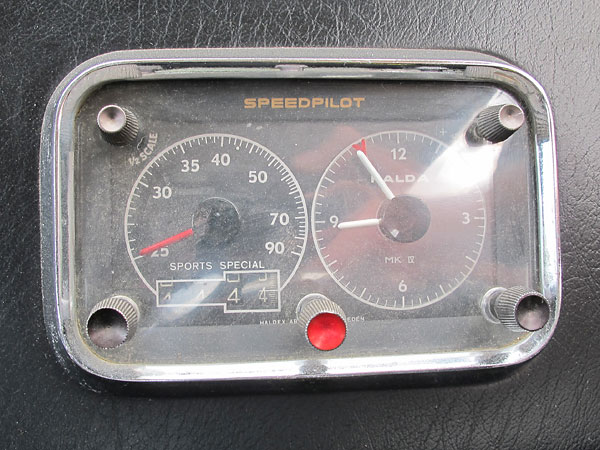 Halda SpeedPilot is a precision mechanical timekeeping device. When rallying, the driver/navigator
team is challenged to maintain specified average speeds over various trip legs. The navigator sets
the lefthand dial to the specified speed. The clock at right has two minute hands! One minute hand
shows actual elapsed time (for up to eight days) while the other minute hand tracks along under it.
The other (red) minute hand, however, is showing how much time SHOULD HAVE elapsed... so the
navigator can readily see if the team is driving too slow or too fast, and by how many minutes.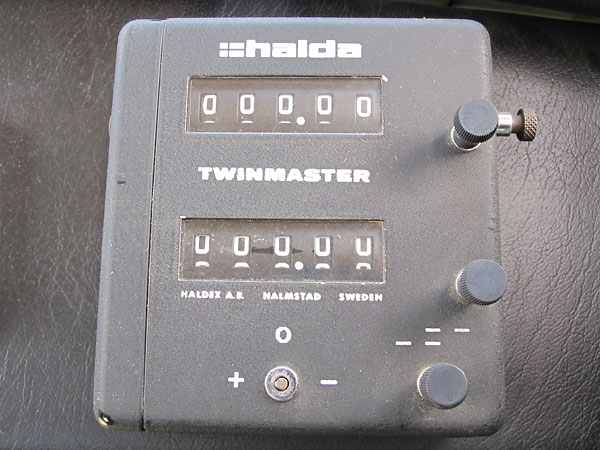 Halda Twinmaster is a precision mechanical odometer that reads to 1/100th of a mile (or kilometer).
It has two read-outs, so the navigator can separately measure a day's or a rally section's elapsed
distance and at the same time monitor the distance between road book instructions. The navigator
may of course zero the read-outs separately. The bottom-left knob (missing) lets the navigator turn
off the odometer or run it backwards in the event of an off-course excursion.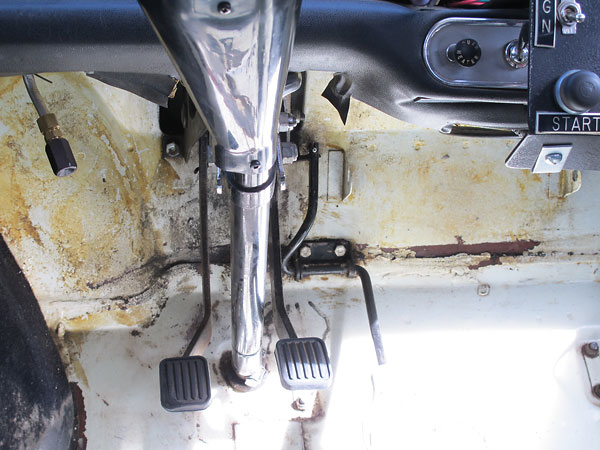 Top left corner: one of the two passenger-compartment fire extinguisher nozzles.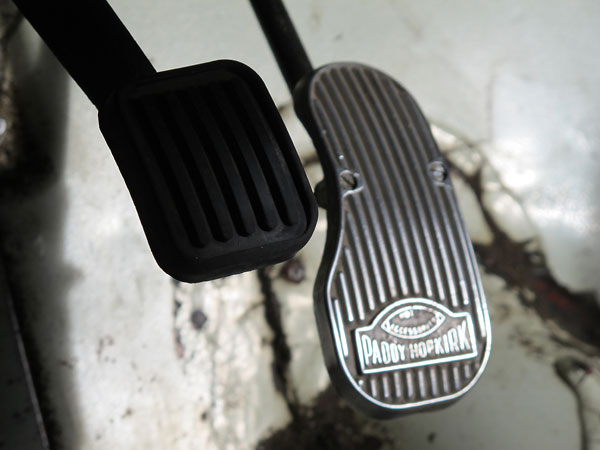 Paddy Hopkirk throttle pedals are popular for all sorts of classic British sports cars, but they really
suit a Mini. Hopkirk and co-driver Henry Liddon won the 1964 Monte Carlo Rally in a Mini Cooper S.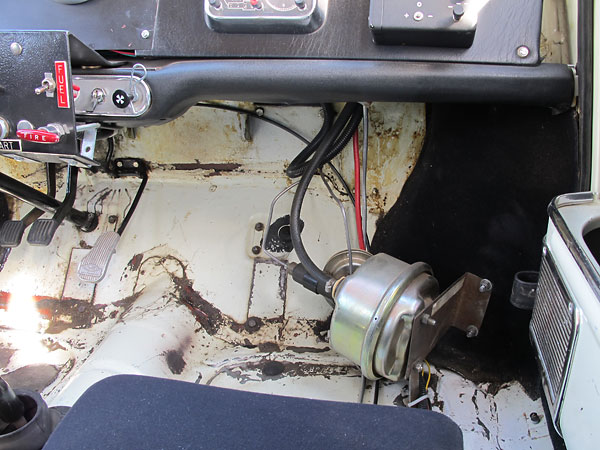 This power brake booster appears to be stock, but obviously it's not in the stock location.
BMC originally installed power brake boosters on the passenger side of the engine compartment.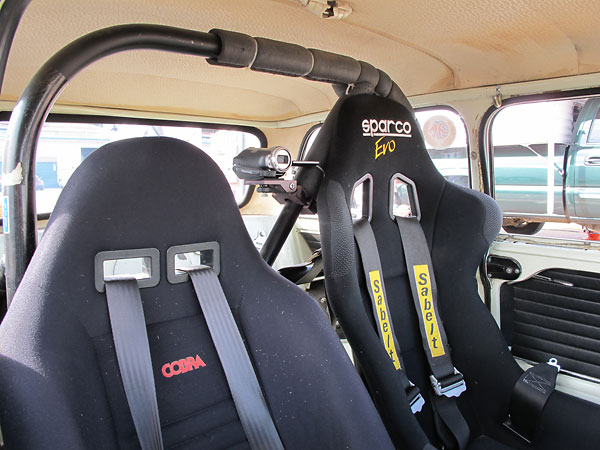 45 years on, Bruce McCalister's Cooper S MkII racecar still wears its original headliner & door cards!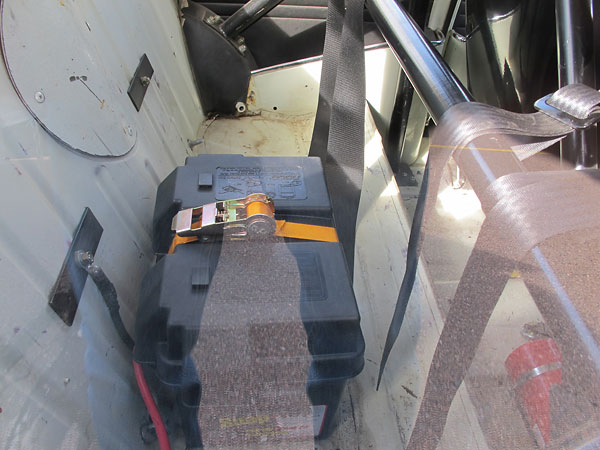 Deka AGM (absorbed glass mat) battery mounted in an Everstart Snap-Top marine battery box.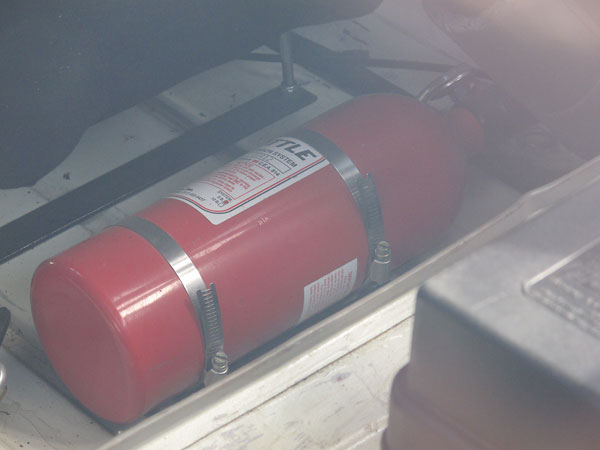 FireBottle 5# centralized fire suppression system.


Exterior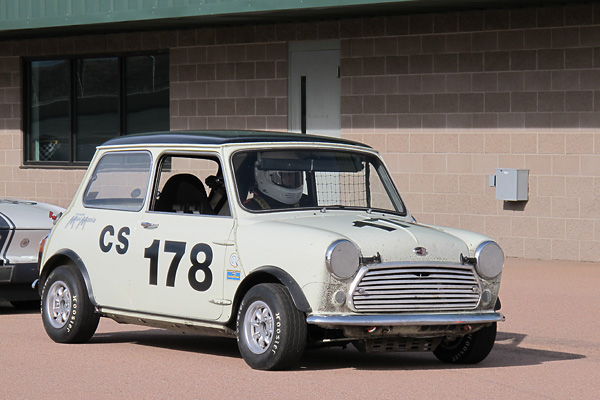 We got a big kick out of watching Bruce's little Mini mix things up with much more powerful racecars at
Pikes Peak International Raceway near Colorado Springs during the Rocky Mountain Vintage Racers'
Octoberfast/Spooktacular 2011 event. In Saturday afternoon's feature race, Bruce lapped the 1.400
mile circuit at 1:13.686 for an average speed of 68.4mph to finish 8th overall of 19 starters.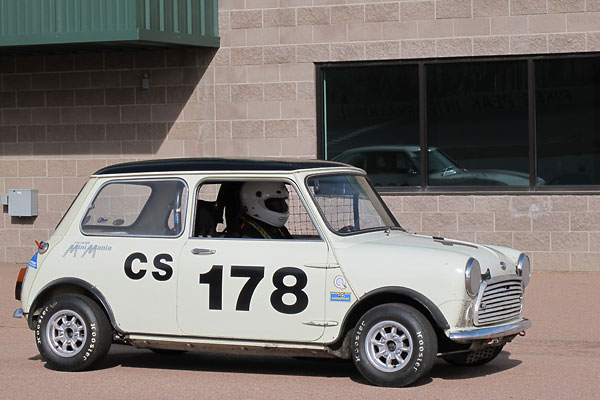 The Mini commenced production at Austin's Longbridge plant in August 1959. The classic Mini was retired
there in 1999, with press reports quoting a worldwide total production figure of 5,498,804 cars. (1971 had
been the high point, with 318,475 produced.) Morris Minis were produced at Cowley. Over twenty smaller
factories assembled Minis abroad, with varying levels of local content due mainly to tariff requirements.
Chief among these: Italy ~400,000, Australia ~176,000, and South Africa ~104,000.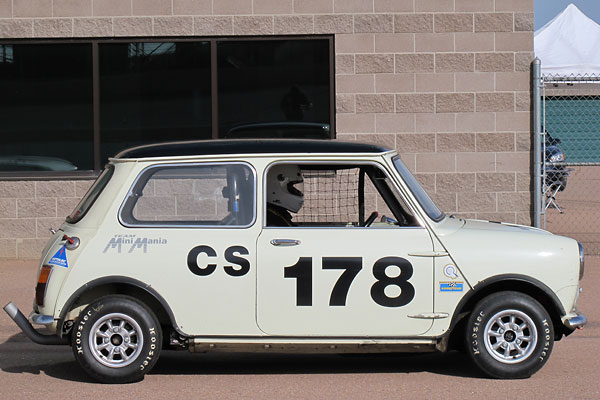 Bruce McCalister's Cooper S MkII still had stock two-piece sliding door windows when he bought it.
He found that they slid around while racing, so he removed them and put them into safe storage.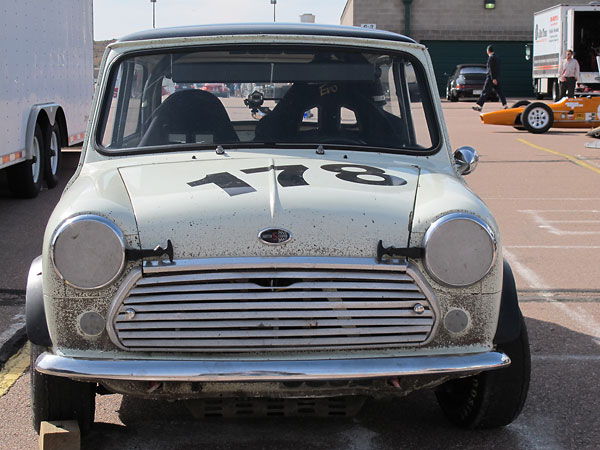 Mini Cooper S MkII front grille, specially mounted on two studs for easy removal.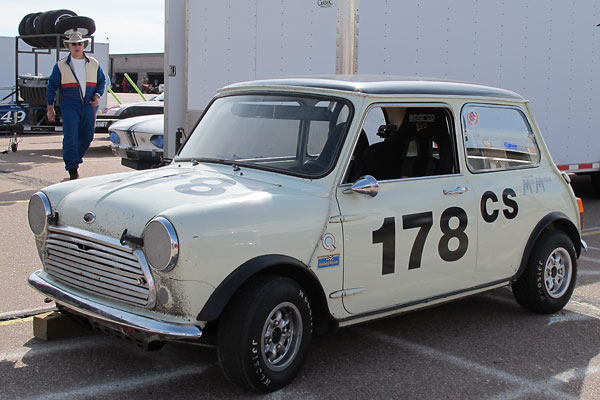 The Mini design team must have been feeling quite bold when they decided to break
fashion and turn body seams and door hinges into prominent exterior styling features.
Think about the statement it makes: every single inch of interior room is precious.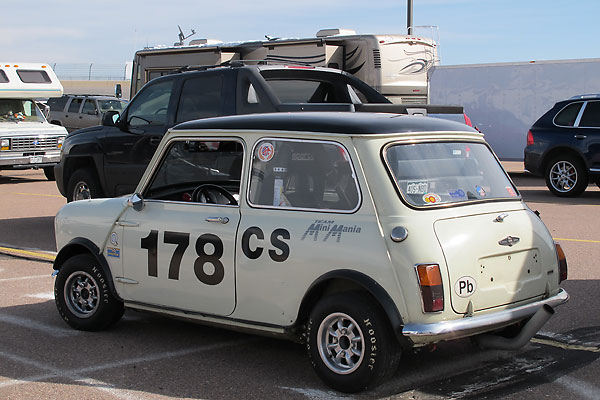 Some MkII changes were so subtle, you might wonder why they bothered. You almost need to
hold a ruler up to the C-pillar to tell that the rear window has been widened. (Click here to compare.)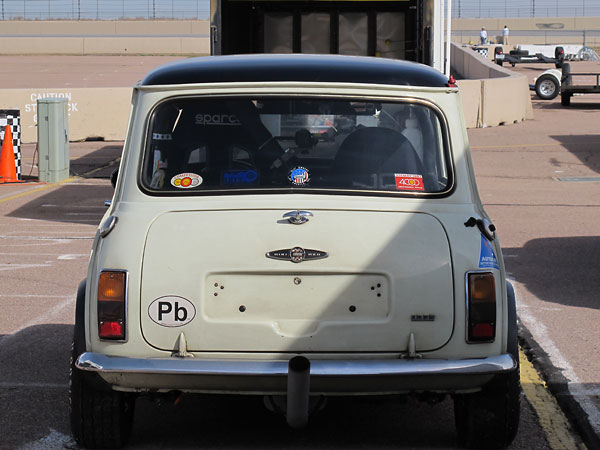 First generation Minis (produced from 1959 through 1967) had smaller, oval taillamps.
One of the most obvious changes for the MkII was a swap to larger, rectangular taillamps.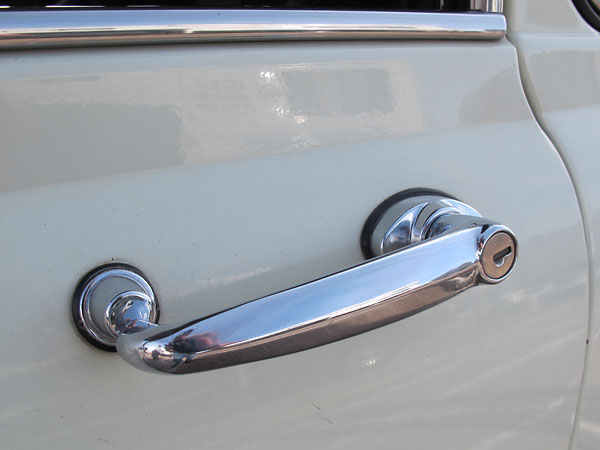 Austin Mini exterior door handle.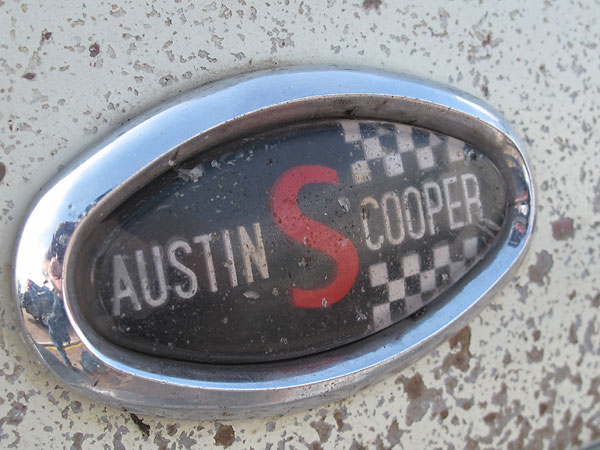 Austin S Cooper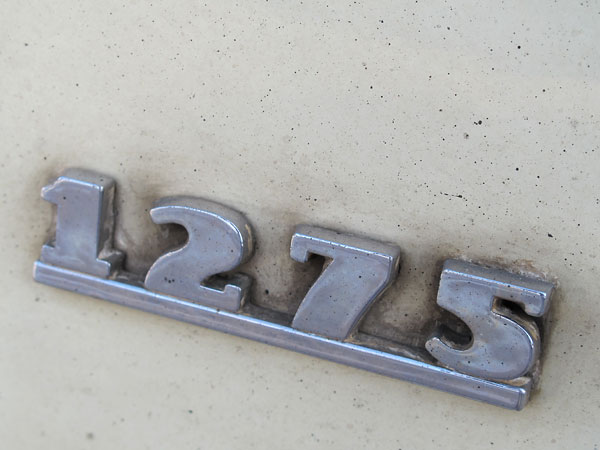 1275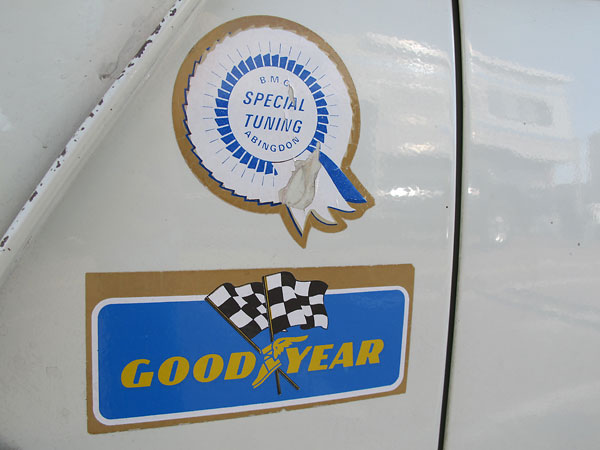 BMC - Special Tuning - Abingdon / Goodyear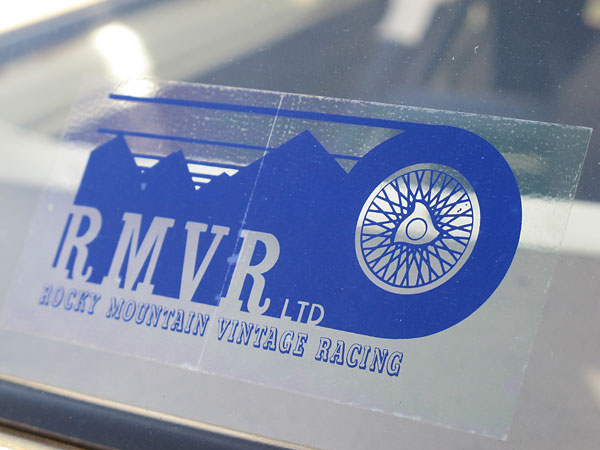 RMVR Ltd. - Rocky Mountain Vintage Racing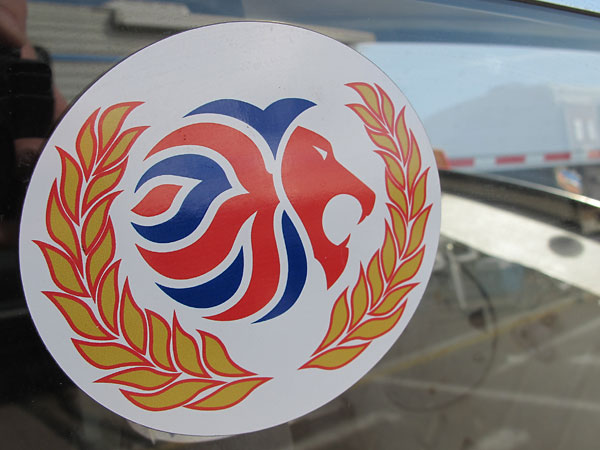 Stylized lion / union jack logo sticker for participants of The 2009 Mini Can-Am Challenge event,
held at Brainerd MN. Bruce finished 8th in the vintage class against some big name Mini racers.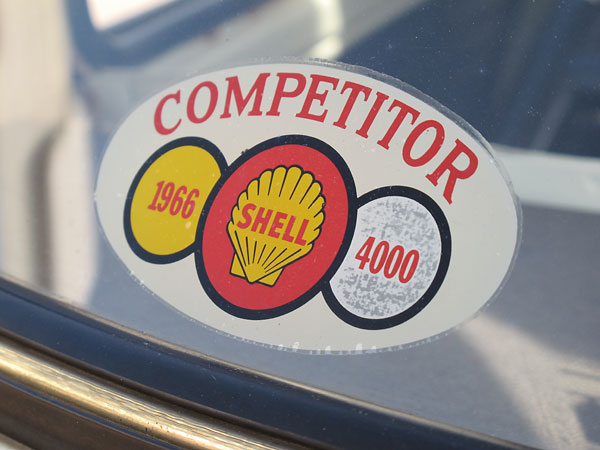 "Competitor: 1966 Shell 4000" - Through the 1960s, Canada hosted to the world's longest rally. It was
one of the five rallies that comprised the world championship, and it was the only FIA-sanctioned
rally in North America. From 30 April through 6 May 1966, competitors raced down rural roads from
Vancouver all the way to Quebec City: 4000 miles, eight closed stages, and a brief stop in Ottawa!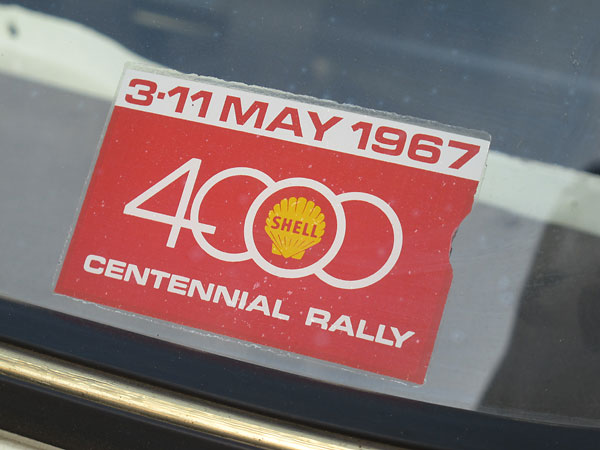 "3-11 May 1967 - Shell 4000 Centennial Rally" - Exactly 100 cars entered the rally, which seemed
appropriate as it was a celebration of Canada's 100th year of independence from Great Britain.
Less fun for Canadians: Brit Roger Clark won. (Canadians dominated previous years.) This time,
competitors actually traveled 4500 miles from Vancouver to Montreal with twelve closed stages.
Compared to other rallies, "The Shell" put driving and endurance over navigation skills.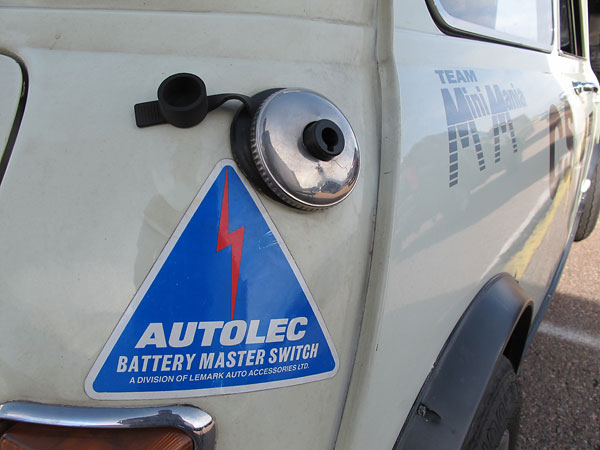 Autolec battery master switch mounted into a fuel filler cap. Autolec is the premier supplier of
FIA-approved kill switches. (Grayston makes a knock-off.) These switches have two extra sets
of contacts: one for shunting the alternator to ground through a resistor (to protect its diodes)
and the other for disconnecting the ignition coil circuit.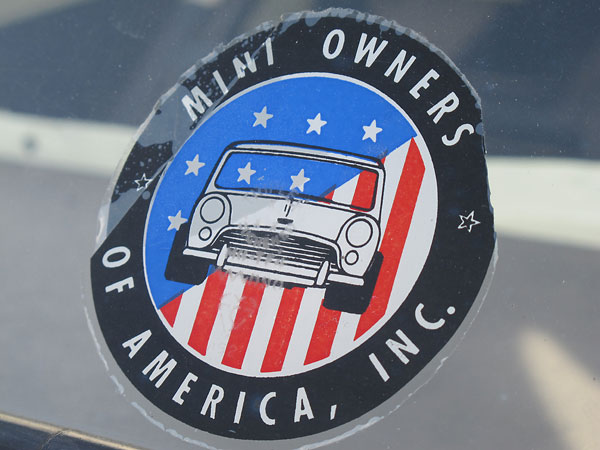 Mini Owners of America, Inc.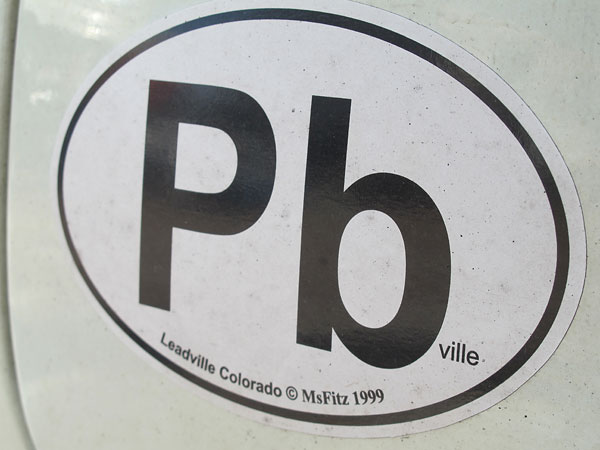 Pb: Leadville Colorado. (At 10,152 feet, Leadville is the highest city in the United States.)



Minilite 10x6 8-spoke aluminum rear wheels and Hoosier T.D. 165/70-10 tires.
Bruce reports that a set of front tires are only good for about one race weekend.




Unless otherwise noted, all photos shown here are from October 2011 when we viewed the car at The Rocky Mountain Vintage Racers' "Octoberfast/Spooktacular" at Pikes Peak International Raceway near Colorado Springs, Colorado. All photos by Curtis Jacobson and Lisa Kerans for BritishRaceCar.com, copyright 2012. All rights reserved.



Notice: all the articles and almost all the photos on BritishRacecar.com are by Curtis Jacobson.
(Photos that aren't by Curtis are explicitly credited.) Reproduction without prior written permission is prohibited.
Contact us to purchase images or reproduction permission. Higher resolution images are optionally available.