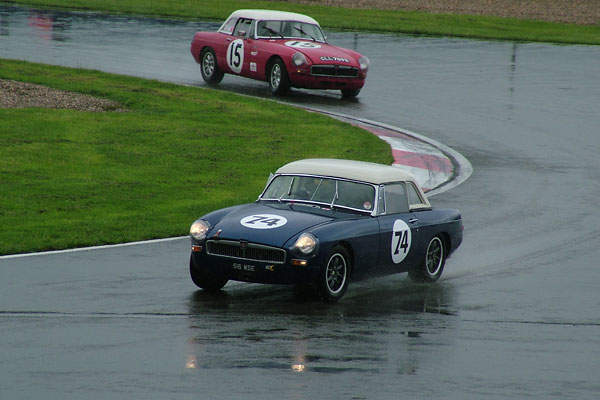 British Motor Heritage's 1964 FIA-spec MGB Race Car
as published in British V8 Newsletter, Volume XV Issue 2, September 2007

Owner: British Motor Heritage Ltd.
City: Witney, Oxfordshire, UK
Model: 1964 MGB roadster
Engine: B-series inline 4
Project Engineer: David Child
Note:
This car was built to demonstrate Heritage's new "Competition Bodyshell" product range.
Heritage Competition Bodyshells are available in several model and series specifications. This one is
nominally a 1964 ("3 synchro") MGB, although the body was built in 2007 using original MG tools.
The Competition Bodyshells feature extensive seam welding along the main chassis rails and in other key areas, plus a reinforced rear bulkhead for seatbelt mounting, roll-cage mounting plates, tow points, etc.
Other newly-available Heritage performance components and options are also demonstrated.
Engine:
1950cc 4 cylinder B-series. The engine has been bored-out to a larger capacity than normally allowed under FIA regulations due to the specific series it will be racing in. For FIA events, an engine of displacement no more than 1840cc is permitted.

Induction:
Single Weber 48 DCOE carburetor.

Ignition:
NGK spark plugs. Lucas "Sports" coil.

Cooling:
19-row oil cooler and high flow radiator. Manually controlled electric fan for when the car is either in traffic or waiting on the grid.

Exhaust:
Maniflow 3-into-1 header. Single box exhaust system. Exhaust wrap on header to help prevent heat soak into the carbs.

Transmission:
MGB 4-speed box, straight cut gears, non overdrive. 2pc competition clutch.

F. Suspension:
"Negative-camber" lower control arms. Nylatron bushings. 3/4" anti-roll bar. Uprated and lowered coil springs. Lever-arm dampers with heavy oil and competition valves. Note: the rules specify that the suspension must be of original design, so it's not permissable to use telescopic shock absorbers, etc.

R. Suspension:
Lowered race leaf springs. Nylatron bushings. As with the front, modifications beyond the original race specification are not allowed.

Rear Axle:
Limited-slip differential and 4.1:1 gear set by MG Motorsport. Uprated halfshafts from MG Motorsport.

Brakes:
Standard drums and discs with EBC "Red Stuff" pads and uprated shoes. Friction material is free provided the maximum dimensions are not exceeded, however the drums and discs must not be changed.

Wheels/Tires:
Dunlop L section CR65 historic race tires. 14" x 5.5" Minilite style alloy rims. Rims are specially made with an offset so that the maximum track is not exceeded.

Electrical (and Instruments):
1971 wiring loom as this allows the alternator to be wired in easily. Rev counter replaced with one capable of reving to 8000rpm. Shift light installed to help prevent going over the 7000rpm rev limit. GPS data collection system fitted for performance analysis.

Other:
Stripped out interior for maximum weight saving. Aluminum door panels. Full 6-point roll cage built to FIA regulations. Plumbed-in electrical fire extinguisher. Ridgard RS9 racing seat. 6 point racing safety harness. Deep aluminum front valance with hole cut for improved airflow over the oil cooler. Fiberglass rear valance. Original factory hardtop.

Completed:
June 2007. (First raced at Silverstone on June 24, 2007.)

Miles driven:
600 road miles for running-in and about 1.5 hours track time (as of July 2007).

Problems Encountered:
The only real problem encountered in the first race outing was an oil leak from the rear axle. (This only became apparent when the car was being raced.) The more extreme conditions caused oil to leak into the left drum and onto the tire. The problem was easily rectified by replacing the oil seals and slightly under-filling the axle as advised by other racers.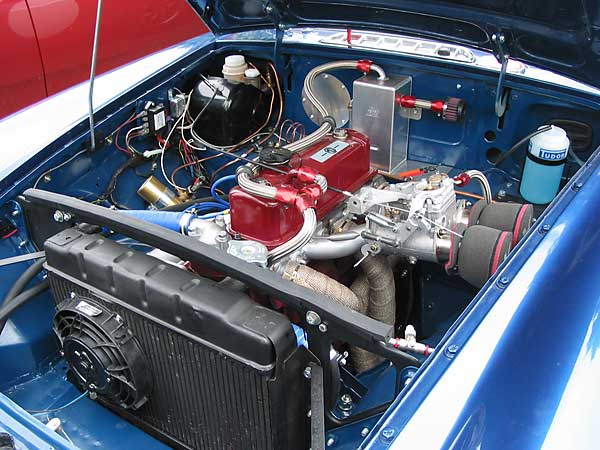 Note the inclusion of an alloy catch tank in place of the heater and the plumbed-in fire extinguisher.
An electric fan has been installed to cool the car when waiting on the grid.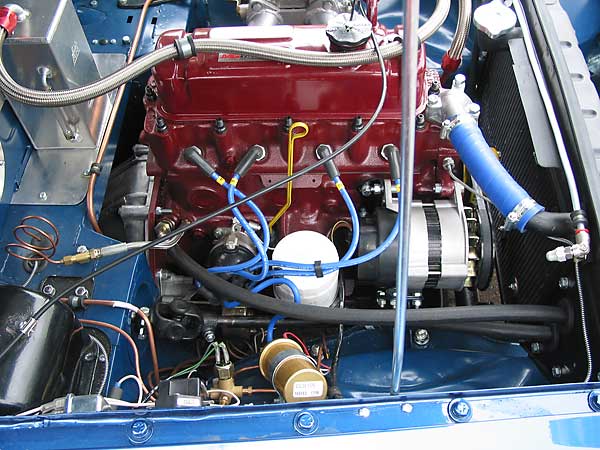 Class rules restrict master cylinder and brake plumbing choices.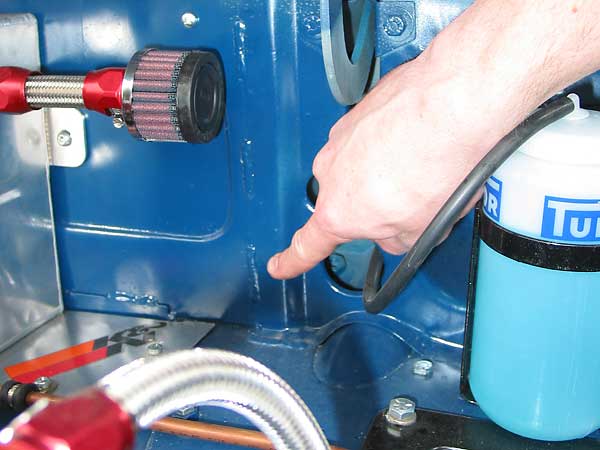 Body seams have been reinforced with strategically-placed MIG stitch welds (aka "seam welding").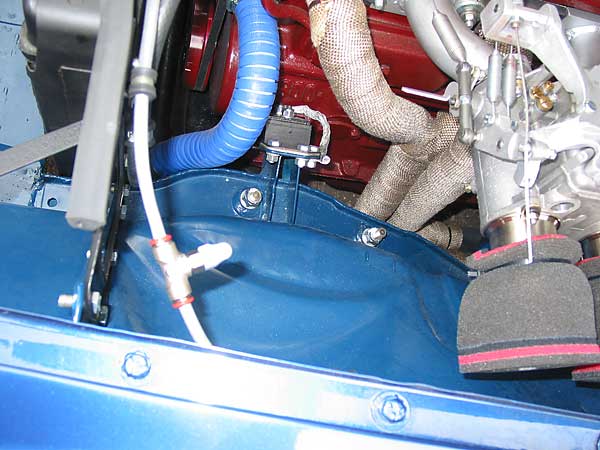 Seam welding along more critical joints is continuous (such as here, along the frame flange).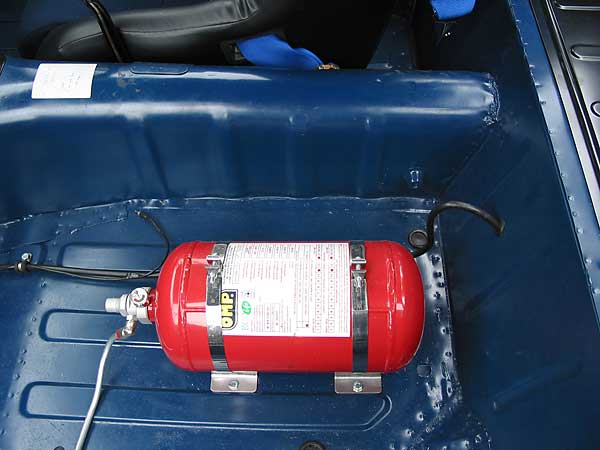 Fire suppression system bottle.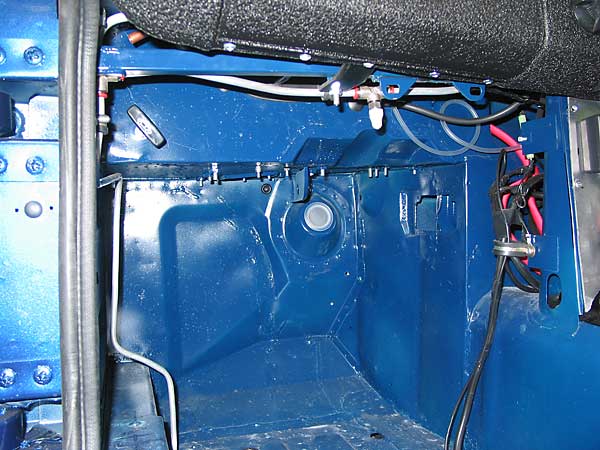 One of the many fire-suppression-system spray nozzles.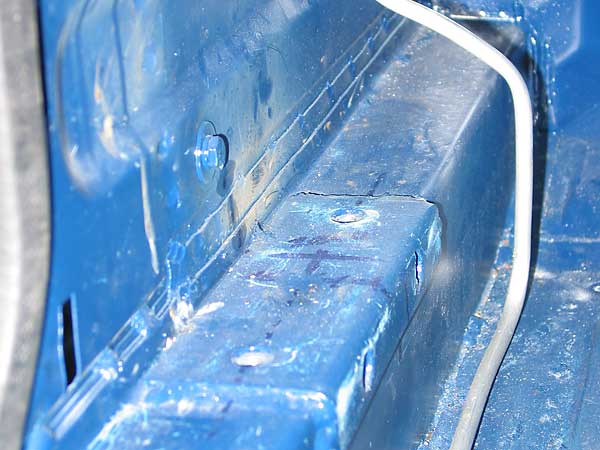 Front roll-cage mounting bracket (notice convenient theaded inserts).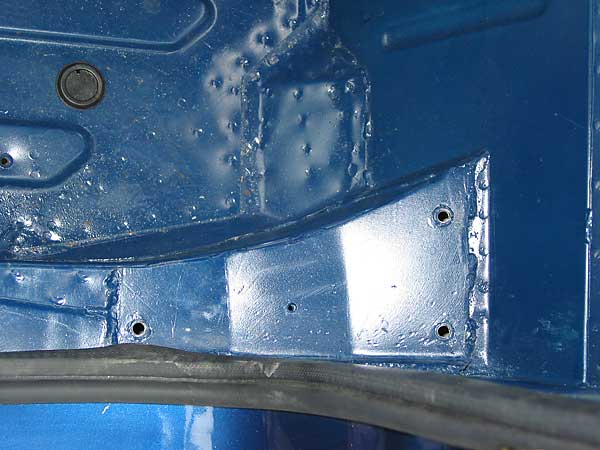 Middle (main hoop) roll-cage mounting bracket.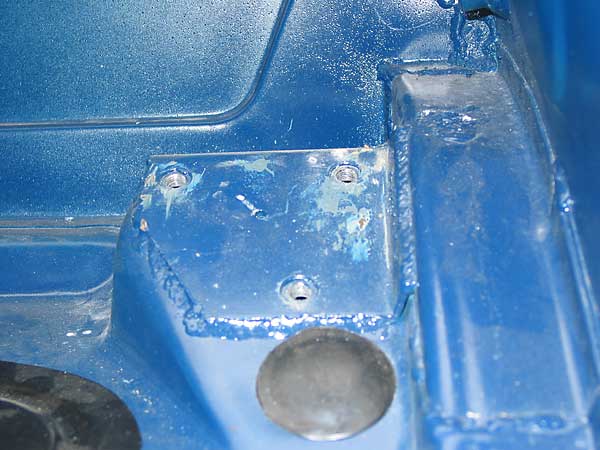 Rear roll-cage mounting bracket.
Enjoying this article? www.BritishRaceCar.com is partially funded through generous support from readers like you!
To contribute to our operating budget, please click here and follow the instructions.
(Suggested contribution is twenty bucks per year. Feel free to give more!)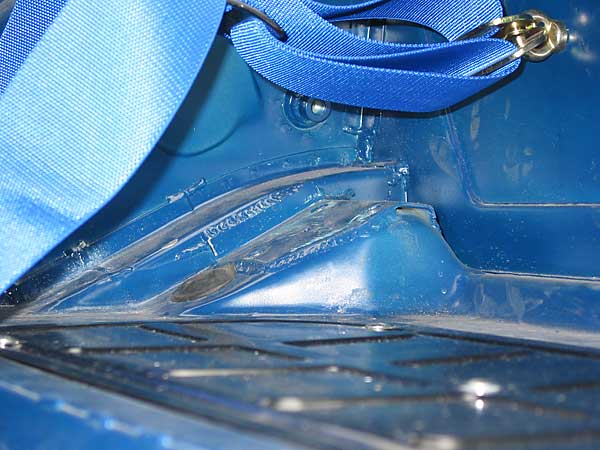 Reinforced seat belt mount (see also inside trunk area).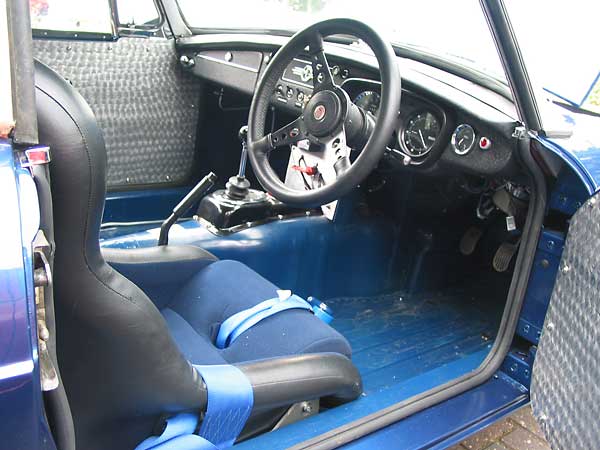 Three-synchro bodyshell.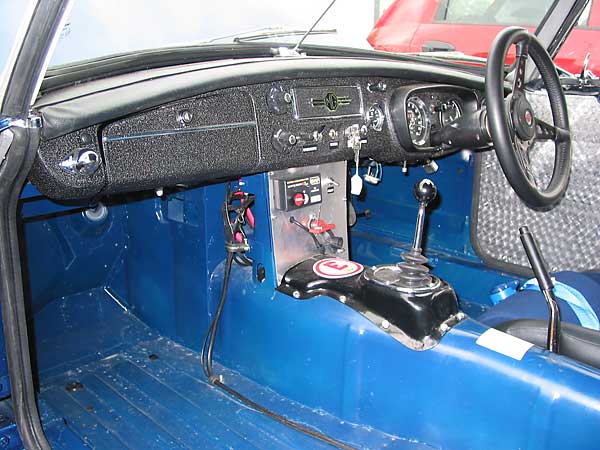 No heavy sound-deadening mastic here.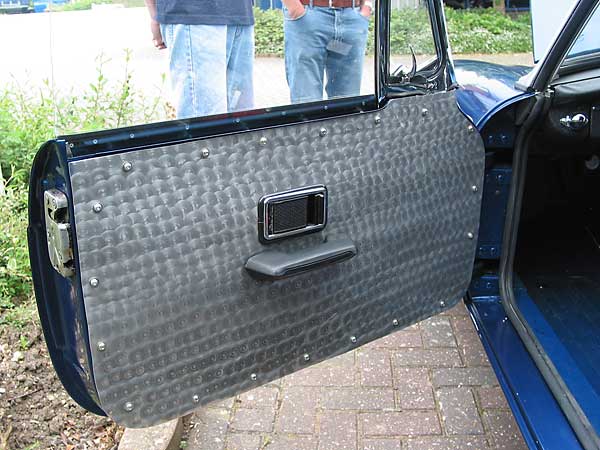 Aluminum door panel.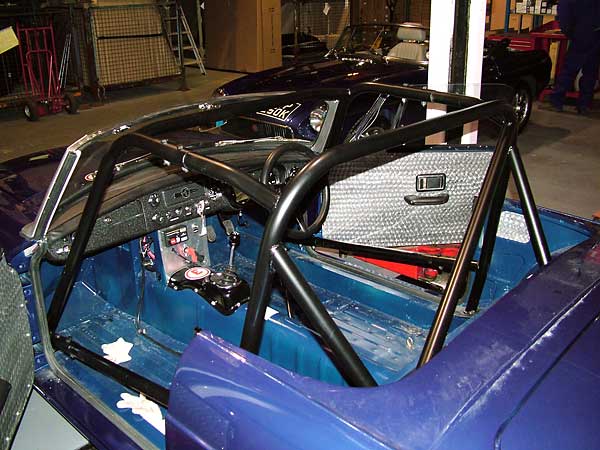 A view of the finished Heritage-built roll cage before the hard top went on the car.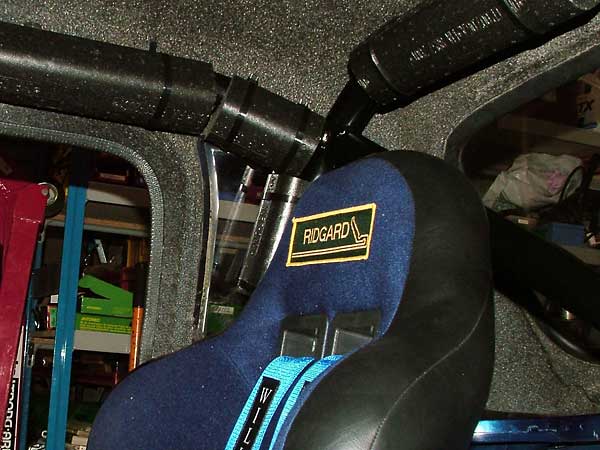 The very comfortable Ridgard seat. FIA specification foam padding can be seen on the roll cage.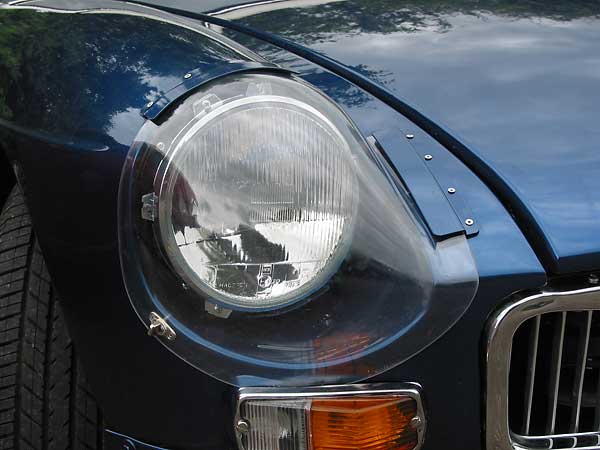 Sebring-style perspex headlight covers and lightweight aluminum bonnet.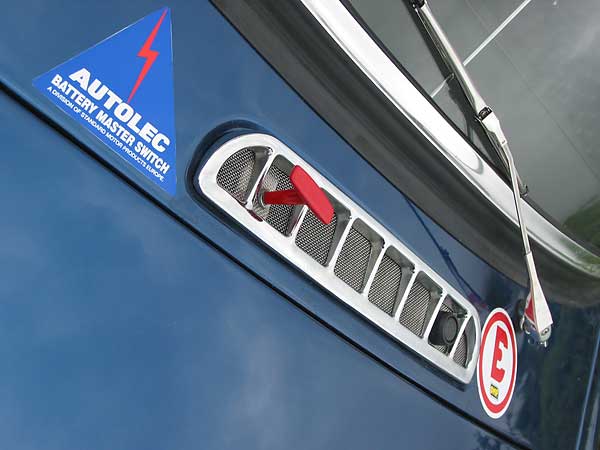 Battery disconnect and remote-starter switches.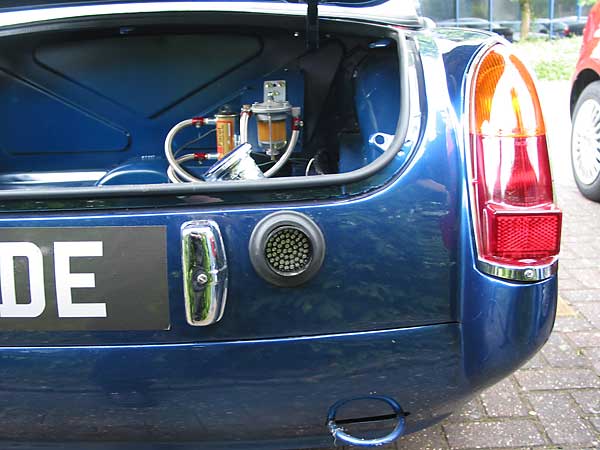 Rear-mounted LED rain light, fiberglass rear valance, and FIA-required tow eye.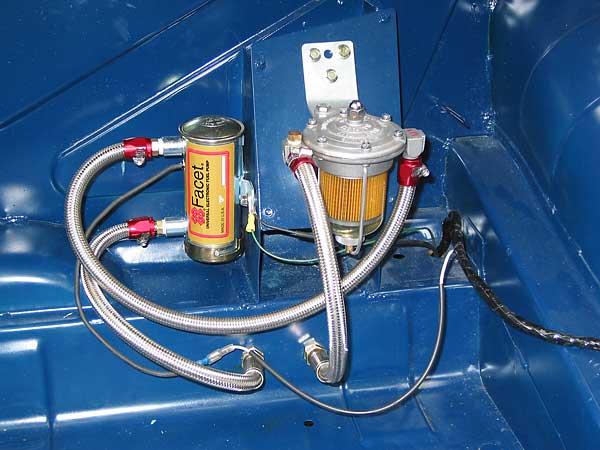 Notice that the seat belt mounting is stiffened and reinforced by the fuel filter bracket.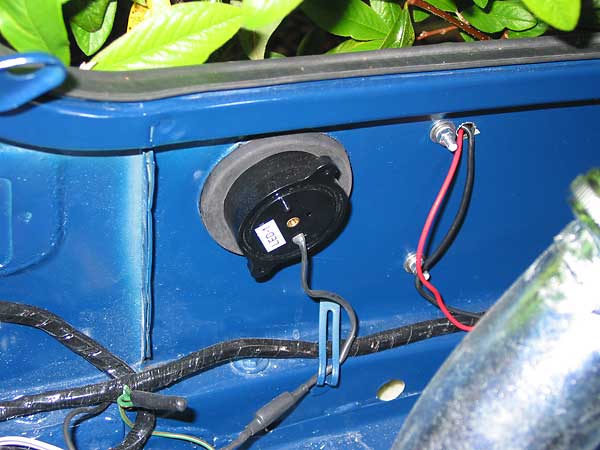 Rear-mounted LED rain light.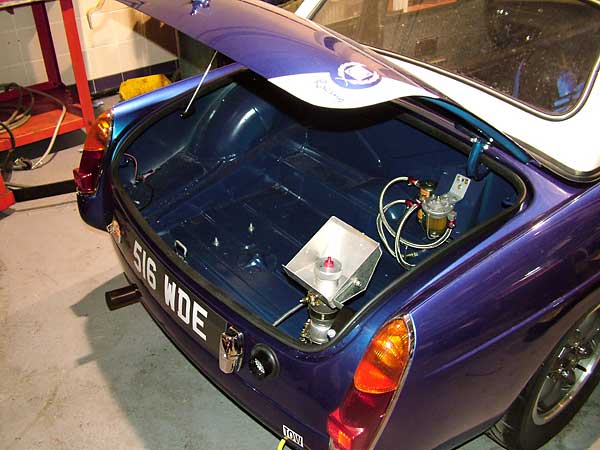 The splash tray is mandatory for the fuel filler neck.
Fuel pump and filter/regulator can be seen mounted to the bulkhead.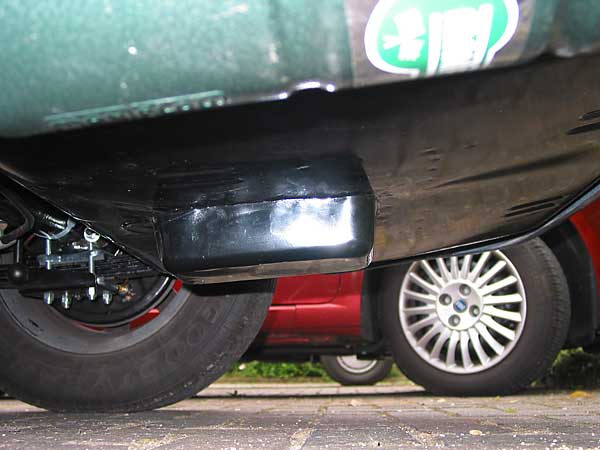 Internally baffled and foam-filled MGB fuel tank.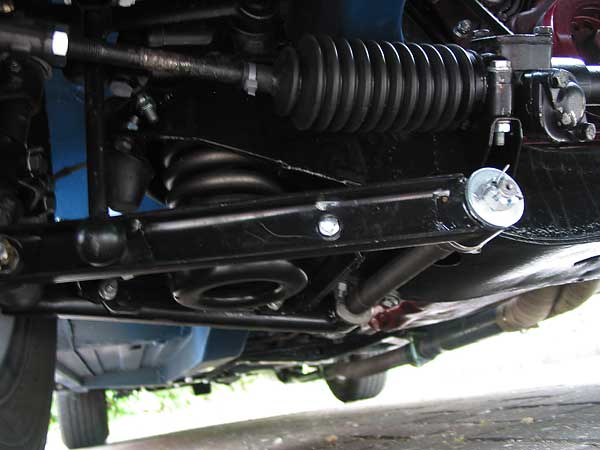 Class rules require essentially "stock" suspension/brakes.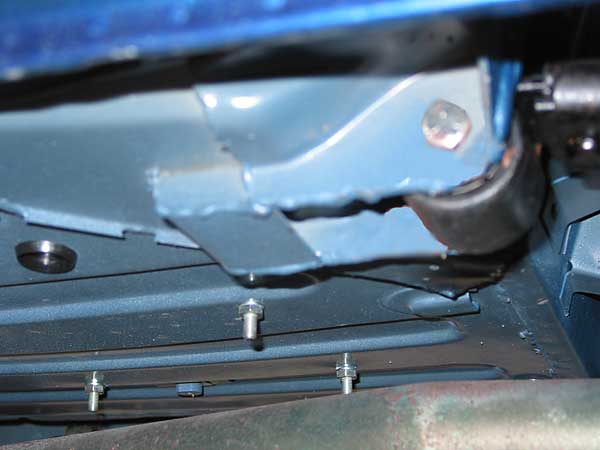 Reinforced leaf spring mounts... and reversed spring-eyes for lowering effect.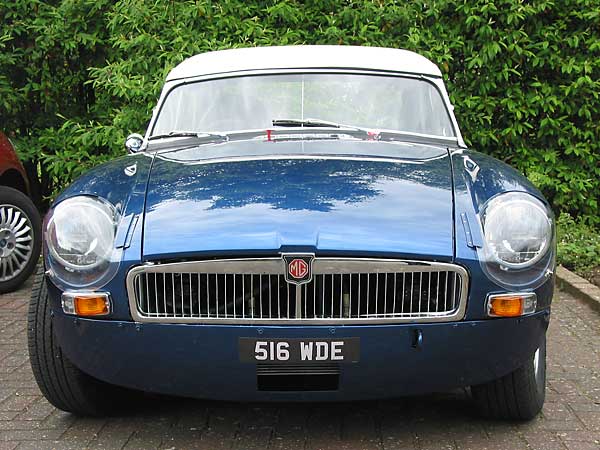 Alloy deep front valance and FIA-required towing eye.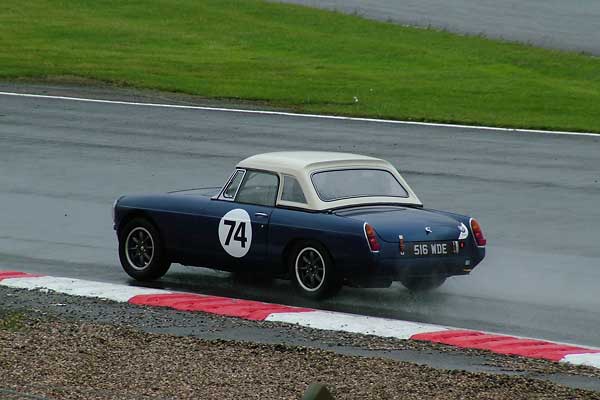 The car's first race meeting at a very wet Silverstone (on the 2.25 mile "International" circuit.)
This was an "Equipe GTS Race Series" event consisting of three thirty minute sprint races.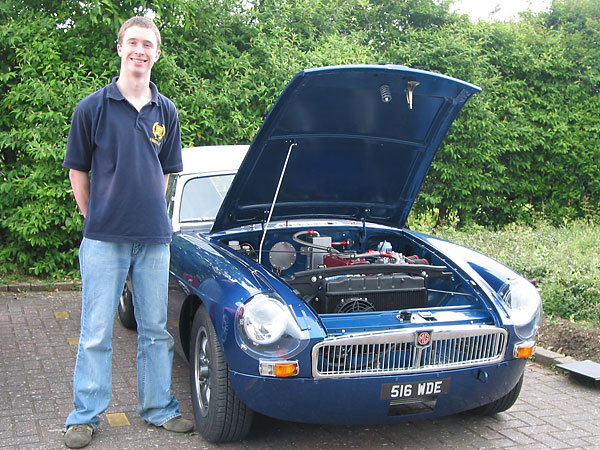 Mr. David Child, Project Engineer.
This article is part of a set of FIVE! If you enjoyed this article, check out:
A Visit to British Motor Heritage
BMH's Exciting New Competition Bodyshell Program
The Building of an MG Midget Body
The Building of an MG MGB Body



Photos by Curtis Jacobson (all rights reserved), except the photographs of racing action, of the installed rollcage, and of the fuel splash tray; which are property of British Motor Heritage Ltd.

Notice: all the articles and almost all the photos on BritishRacecar.com are by Curtis Jacobson.
(Photos that aren't by Curtis are explicitly credited.) Reproduction without prior written permission is prohibited.
Contact us to purchase images or reproduction permission. Higher resolution images are optionally available.