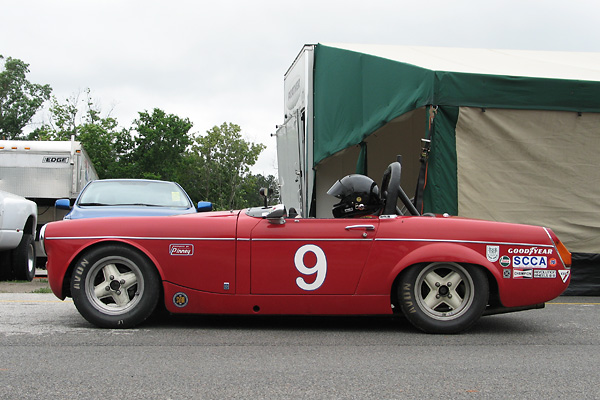 Derek Chima's MG Midget Race Car, Number 9
Owner: Derek Chima
City: Akron, Ohio
Model: 1966 MG Midget
Engine: 1275cc BMC A-Series
Race prepared by: CC Motorsports
History of the Mike Pinney MG Midget
This MG Midget was built by Jim Pinney for his son Mike in 1975. With it, Mike convincingly won SCCA's 1978 G-Production national championship.¹ After the race, Mike sold the Midget so that he could purchase one of the original Huffaker built MGB race cars. The Midget went to a local club racer in northeast Ohio, who only raced it about a dozen times over the course of three seasons. The engine and transmission were then removed and the car was stored from 1981 through 2001, when Derek Chima purchased it.

Cosmetically, the car has hardly changed since 1978. From the front fenders rearward, it hasn't even been repainted. Derek wanted to preserve the look and feel of late-seventies racing, but nonetheless the car needed to be restored and brought up to date with current safety requirements. A few changes were also made to make the car more fun for vintage racing. Derek hired his brother Craig to handle these jobs. He couldn't have made a better choice! Craig has been building and racing Midgets (and other British sports cars) for over twenty-five years. Craig drove his own number-9 Midget to an F-Production SCCA national championship victory in 1994. Craig runs a race prep and restoration shop called CC Motorsports in Akron, Ohio.

Derek's Midget was originally produced in very late 1966. It was one of the last Midgets built with a 1098cc engine. (MG made a running change and began installing 1275cc engines.) Depending on engine size, MG Midgets have mainly raced in three different SCCA "Production" classes. Derek's Midget raced in the middle one: G-Production. For vintage racing, the Chima brothers decided to install a 1275cc engine and thus move up to the F-Production class.

Craig worked closely with George Bauchman of Midwest Motorsports in Toledo to get the engine just right. Over the years, these two friends have dyno tested a lot of engines together. They know what works. Bauchman built the cylinder head and provided the custom camshaft and pistons for Derek's motor.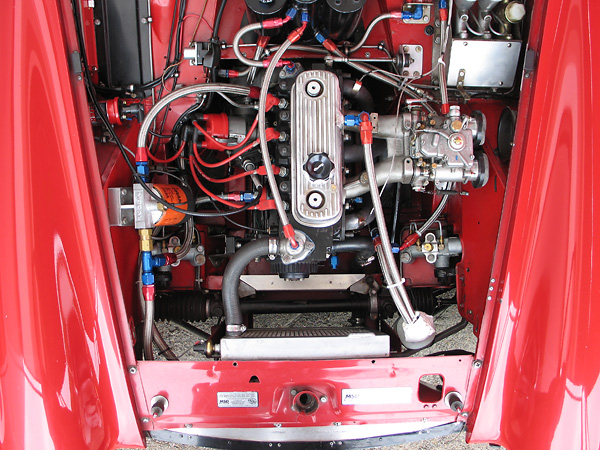 BMC A-Series 1275cc four cylinder engine, with Weber sidedraught carburetor.


Please support the sponsoring companies who make www.BritishRaceCar.com possible, including:

Building an engine always involves a multitude of decisions based on intuition and on the customer's specific needs. For example, if you have a highly skilled driver and ideal gear ratios (in both the transmission and axle), and if you want your Midget to win an SCCA championship, you're probably going to want S.U. carburetors. Craig explains that S.U. carbs will usually produce demonstrably better peak horsepower on a fully race-prepped 1275cc A-Series engine that's turning 7500 or higher revolutions per minute. However, a Weber 45DCOE carburetor makes more sense for Derek's application because it suits a wider variety of conditions. For example, the Chima brothers are running one axle ratio all season long, instead of changing ratios to suit specific racetracks. (Bonus: starting the engine and driving across the paddock is a whole lot easier.)


Enjoying this article? www.BritishRaceCar.com is partially funded through generous support from readers like you!
To contribute to our operating budget, please click here and follow the instructions.
(Suggested contribution is twenty bucks per year. Feel free to give more!)
Craig custom built tuned "long center branch" headers for Derek's Midget. However, these aren't exactly the same headers Craig would install if he were building a Midget for SCCA racing today. The newer fashion is to carefully route the exhaust back through the differential tunnel so that the car can sit lower. (In SCCA racing this is a big advantage because competitors routinely move suspension pick-up points on the chassis to improve suspension geometry, while achieving a very low ride height. Vintage racers are generally required to leave suspension pick-up points on the chassis in their original location.) The custom headers on Derek's car are old-fashioned; they suit its conventional exhaust routing and higher ride height.

In total, it took about a year to restore Derek's Midget to racing condition. The two brothers take it to a lot of races, and simply enjoy playing with the car. In 2009, we saw it run strongly at The Heacock Classic Gold Cup races at Virginia International Raceway and also at The US Vintage Grand Prix at Watkins Glen.


Features and Specifications
Engine:
BMC A-Series 1275cc four cylinder engine. Race prepared cylinder head, custom forged pistons, and custom camshaft by Midwest Motorsports. Weber 45DCOE carburetor, with short velocity stacks and screens, mounted on a Warneford 6" manifold (part# 3047). Mallory Unilite distributor. Mallory spark plug wires. NGK spark plugs. MSD6AL capacitive discharge electronic ignition. MSD Blaster 2 ignition coil. Mocal remote oil filter mount. Fram oil filter. Accusump 2 quart oil accumulator. Aluminum valve cover.

Cooling:
Ron Davis aluminum radiator.

Exhaust:
Craig built the custom long-center-branch exhaust header. Under-car exhaust system.

Transmission:
updated Richmond dog-ring, close ratio, 4-speed transmission.

Rear Axle:
stock housing. 4.22:1 gears. Tran X plate-type limited slip differential.

Front Susp.:
World Wide Imports adjustable racing shock absorbers. Lowered 650#/inch springs. 7/8" front sway bar. Delrin bushings. Aluminum front hubs. Tapered roller bearings (both inner and outer races).²

Rear Susp.:
three leaf gull-wing leafsprings. Panhard bar. Carrera telescoping shock absorbers.

Brakes:
(master) dual Girling master cylinders with bias bar,
(front) stock rotors and calipers.
(rear) stock drum brakes with Winners Circle Kevlar shoes.

Wheels/Tires:
Revolution aluminum alloy wheels with Avon tires.

Electrical:
Duralast lead/acid battery.

Instruments:
(left to right)Westach dual EGT gauge (400-1600F), AEM "UEGO" air/fuel mixture gauge (11-17:1), Smiths mechanical-drive tachometer (0-8000rpm, counterclockwise), Stewart Warner fuel pressure gauge (0-10psi), Stewart Warner water temperature gauge (100-265F), Stewart Warner oil temperature gauge (140-325F), Stewart Warner oil pressure gauge (5-100psi).

Fuel System:
ATL fuel cell. Dual Facet (Bendix-style) electric fuel pumps. Holley adjustable fuel pressure regulator.

Safety Eqmt:
Sabelt 5-point cam-lock safety harness. RCI (Racer's Choice Inc.) low back racing seat. Quick release steering wheel hub (installed on a Momo steering wheel). Firebottle centralized fire suppression system.

Performance:
in the 2009 "Collier Cup" all-MG feature race at Watkins Glen, Derek was lapping the track at 2:26.123, which represents an average speed of 83.766mph over the 3.40 mile circuit. (He finished third in class and sixth overall.)

Weight:
~ 1418 pounds.

Racing Class:
(formerly) SCCA G-Production. (Now) SVRA 1FP.


Engine Installation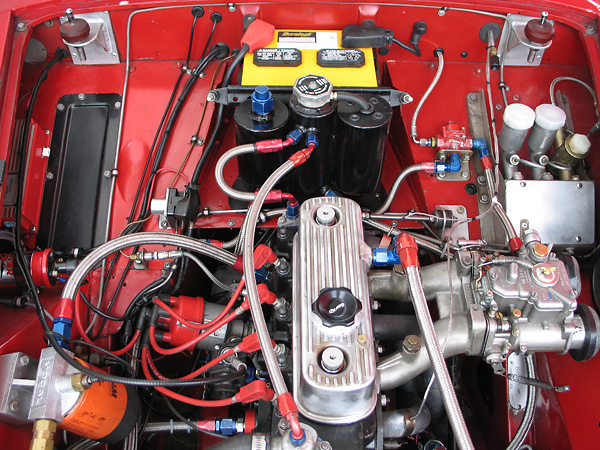 Midwest Motorsports built the cylinder head and provided the custom camshaft and pistons.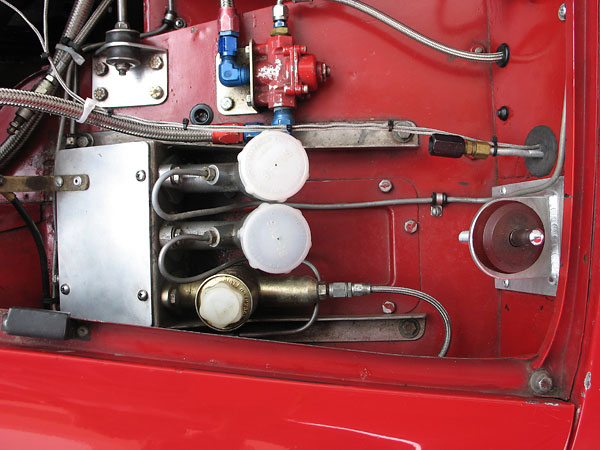 Dual Girling master cylinders with bias bar.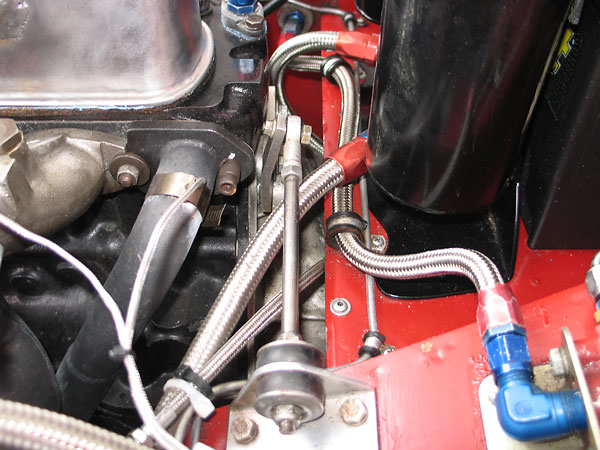 An engine steady bar absorbs torque reaction.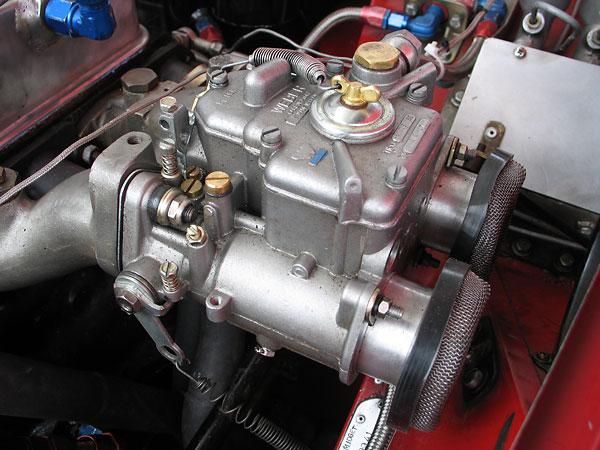 Weber 45DCOE carburetor, with short velocity stacks and screens.



The aluminum intake manifold is a Warneford 6" model (part# 3047). These were made in Australia,
and are no longer available, but the same design is now marketed by Redline Performance.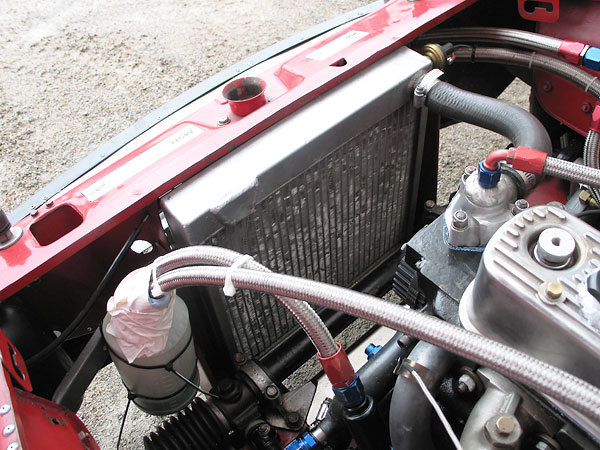 Ron Davis aluminum radiator.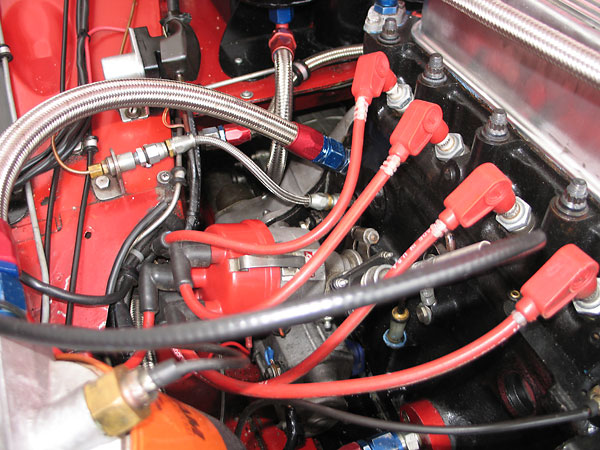 The mechanical tachometer's drive cable comes off the base of the distributor.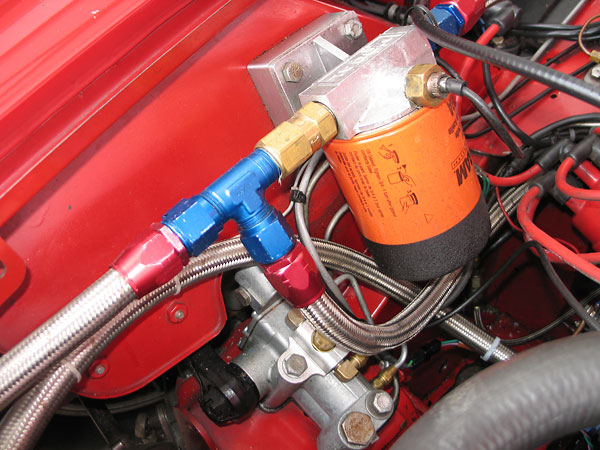 Mocal remote oil filter mount. Fram oil filter.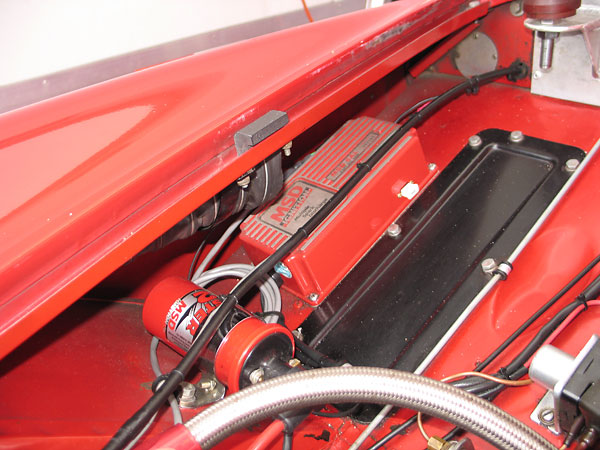 MSD6AL capacitive discharge electronic ignition and Blaster 2 ignition coil.
(Note: the MSD rev limiter was chipped at 6400rpm when we viewed the car at V.I.R.)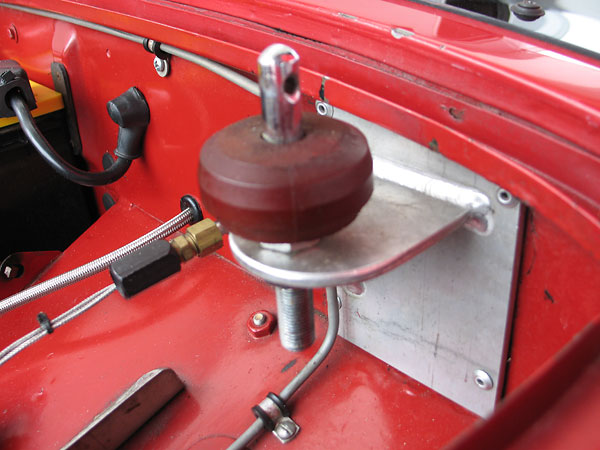 For better engine access, the bonnet is mounted on four hood pins instead of being hinged.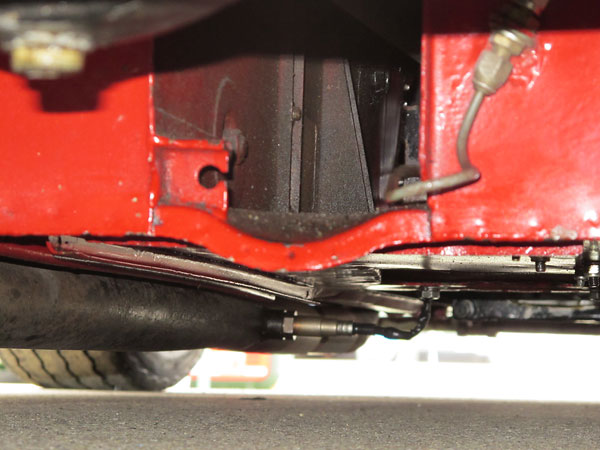 A wide-band oxygen sensor mounted on the exhaust pipe provides valuable data for engine tuning.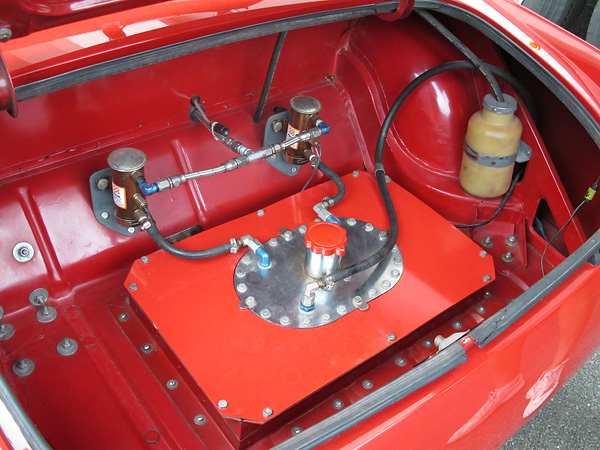 ATL fuel cell and dual Facet (Bendix-style) electric fuel pumps.


Front Suspension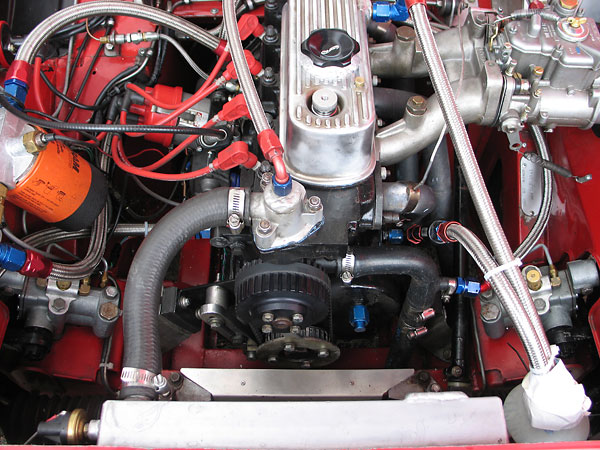 Craig says the World Wide Imports adjustable racing shock absorbers are the best money
can buy for an MG Midget without going outside the rules of vintage racing.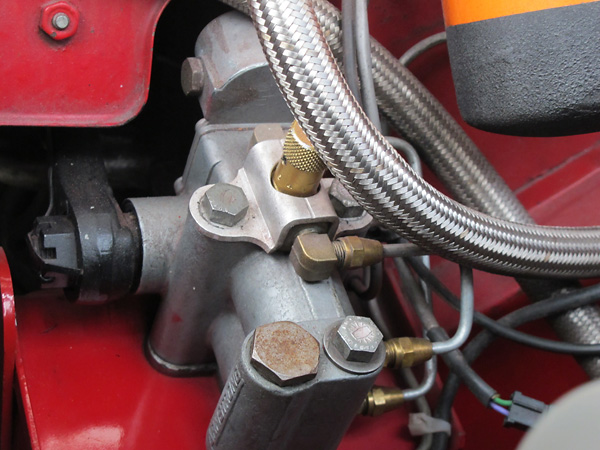 The remote mounted flow control valves have knurled brass knobs. Craig advises they're set rather firm.


Rear Suspension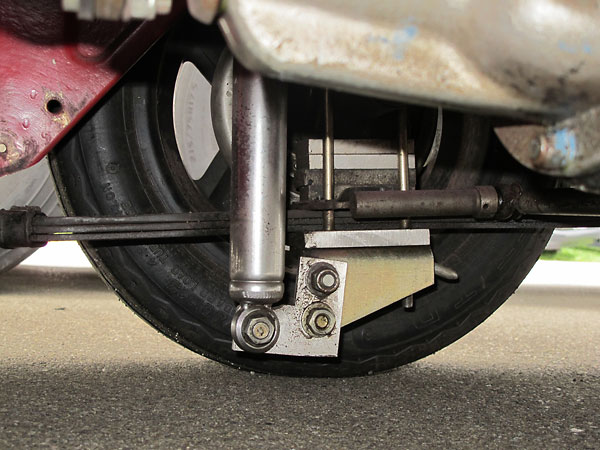 Carrera telescoping rear shock absorbers.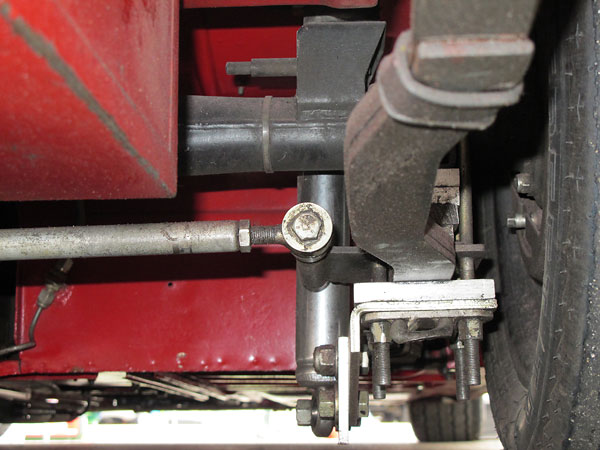 Three leaf gull-wing leafsprings provide needed tire clearance.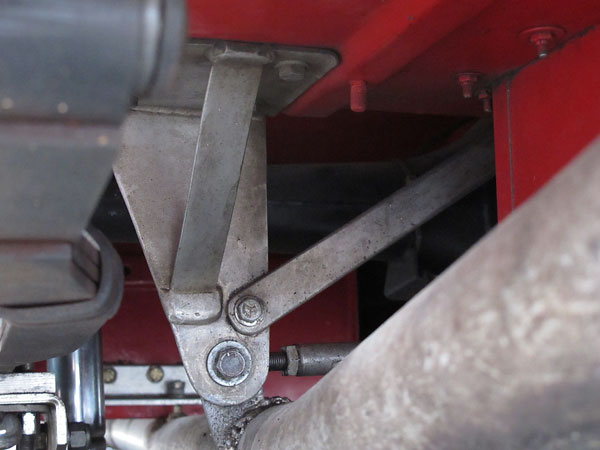 A custom Panhard bar (and brackets) keep the body nominally centered over the rear axle,
and lower the rear roll center. This bracket does double duty: it supports the tailpipe.


Interior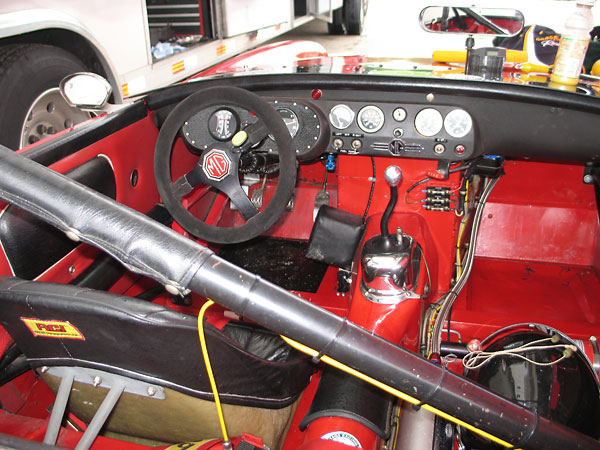 Despite their compact size, MG Midgets are surprisingly roomy to begin with.
For a racecar, this one is especially comfy! Room was left for adding a passenger seat.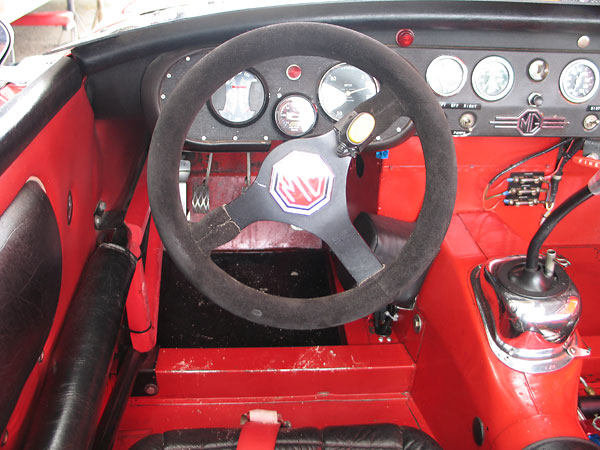 The yellow button on the Derek's Momo steering wheel is for his 2-way radio.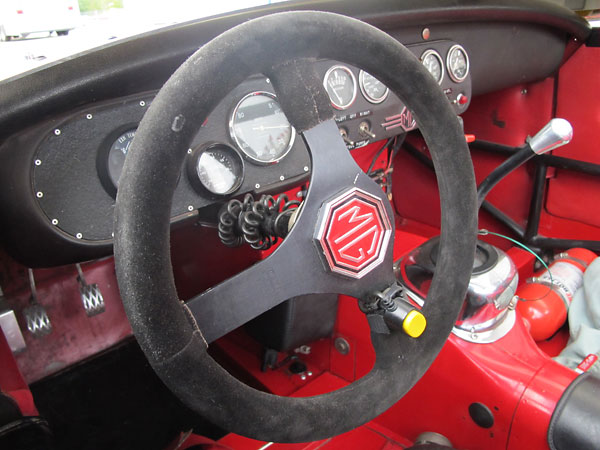 It's a dished steering wheel, reverse-mounted to provide a slightly more comfortable reach for Derek.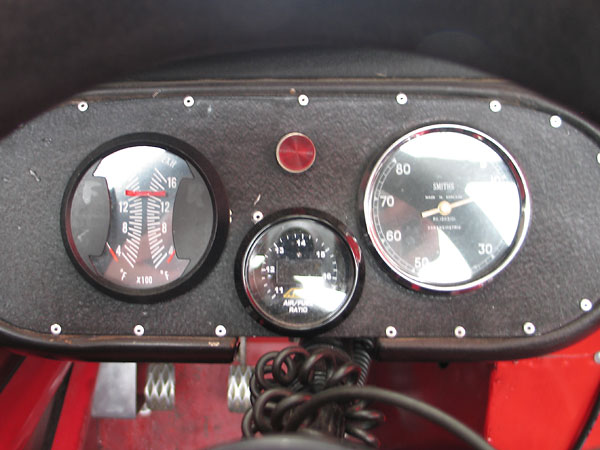 Westach dual exhaust gas temperature gauge and AEM "UEGO" air/fuel mixture gauge
are both very helpful for tuning the engine.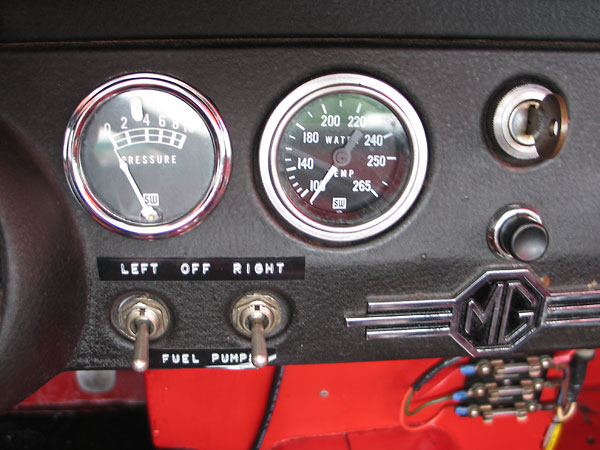 Stewart Warner fuel pressure (0-10psi) and water temperature (100-265F) gauges.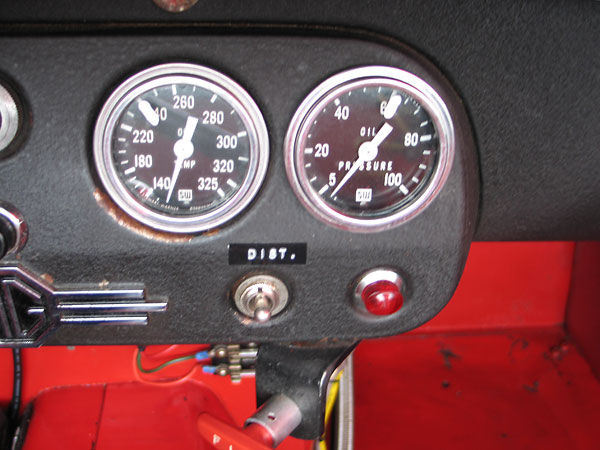 Stewart Warner oil temperature (140-325F) and oil pressure (5-100psi) gauges.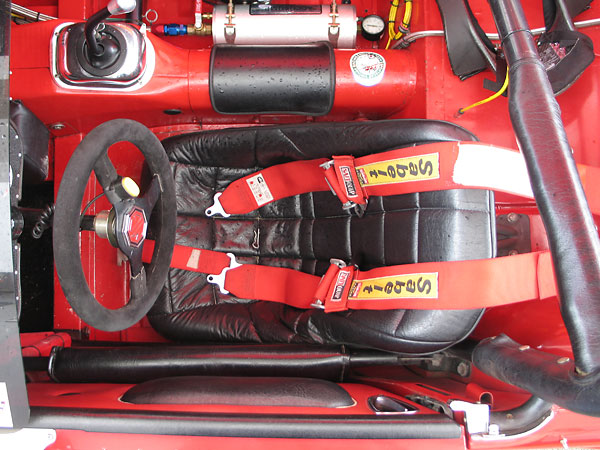 Pads for both elbows! At the top of the photo, you can also see the Accusump oil accumulator.
(It pre-lubricates the engine before starting...)



Gear shifter for the Richmond dog-ring, close ratio, 4-speed transmission.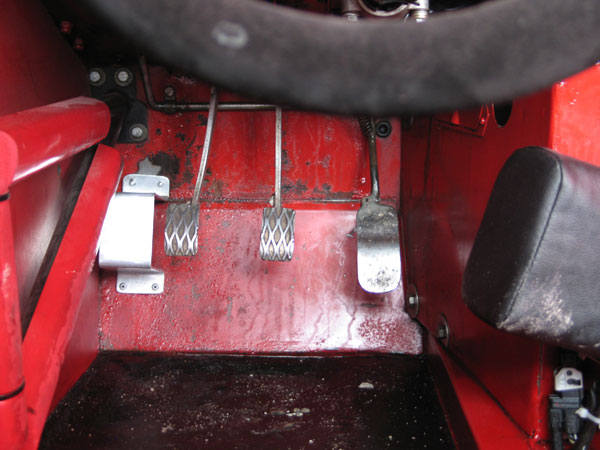 A "dead pedal" for the left foot and a generous pad for the right shin.



Sabelt 5-point cam-lock safety harness. RCI (Racer's Choice Inc.) low back racing seat.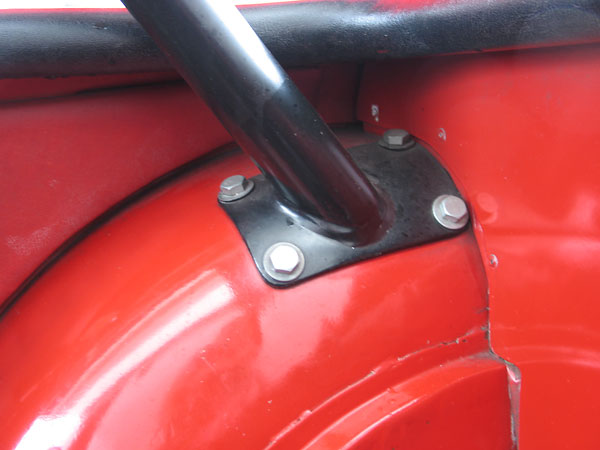 Jim Pinney designed and fabricated this custom roll hoop and its unusual side beams.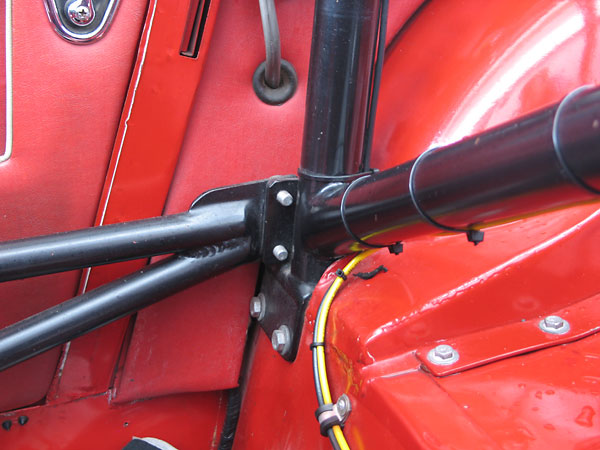 One feature of this safety structure is that it could be unbolted from the car and removed.
Also, the way it's designed, a passenger seat could easily be installed without interference.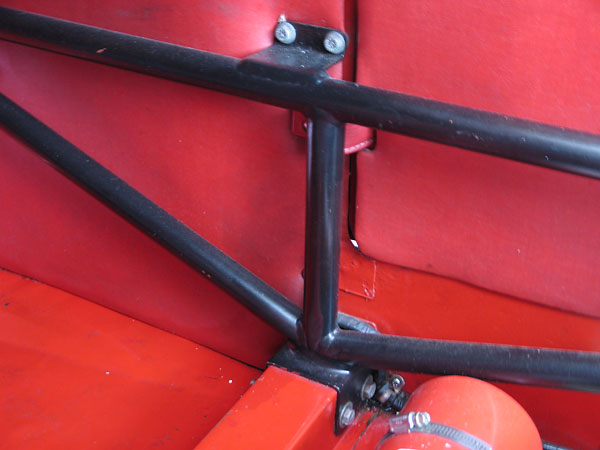 The side beams would provide more side-impact protection if braces were added across the cabin.
A handful of additional tubes could almost certainly significantly enhance torsional rigidity.
That said, obviously the car won a national championship without additional bracing.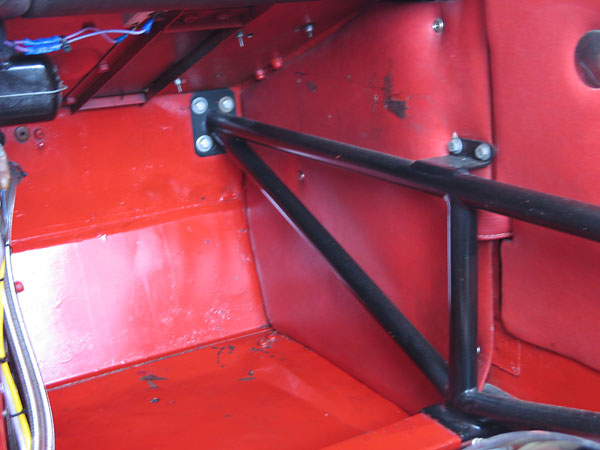 The craftsmanship of the fabrication work is uniformly exceptional.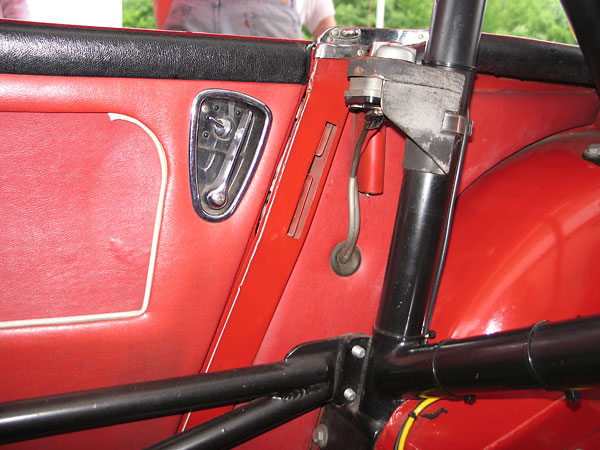 Emergency ignition kill switch.


Exterior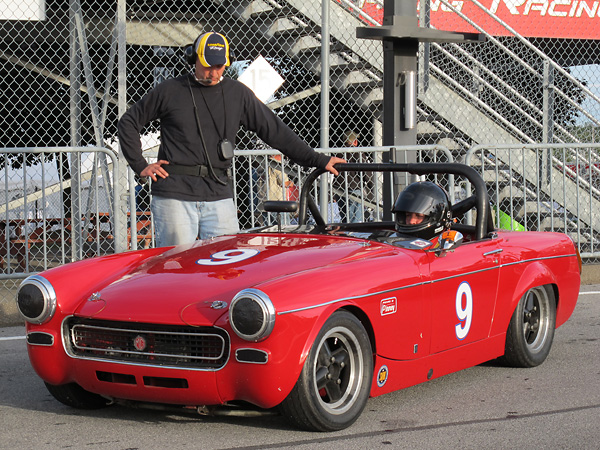 Derek Chima, and his Crew Chief (Craig Chima), ready to race in the 2010 Watkins Glen Vintage Grand Prix.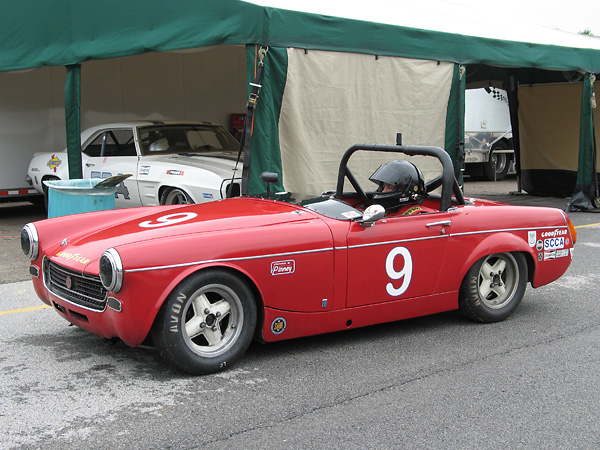 1978 Sports Car Club of America (SCCA) G-Production National Championship winning car.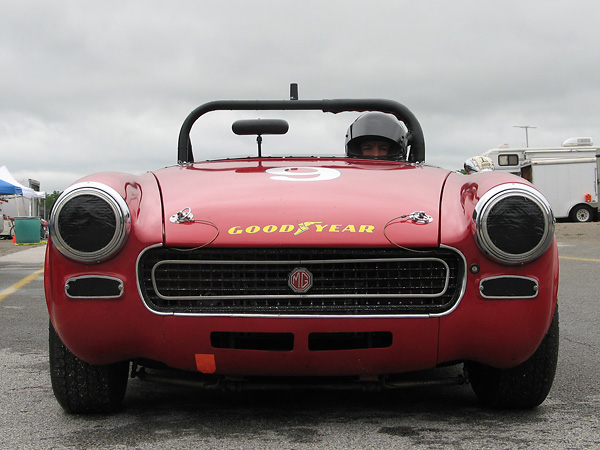 Racecars are so much more fun than concours restorations because racers routinely use their favorite parts.
Here, the grille is of the 1970-1974 style and the valance under it is from a (later) rubber bumper Midget.
(The difference is that it has two openings, whereas the original 1966 valance would have been solid.)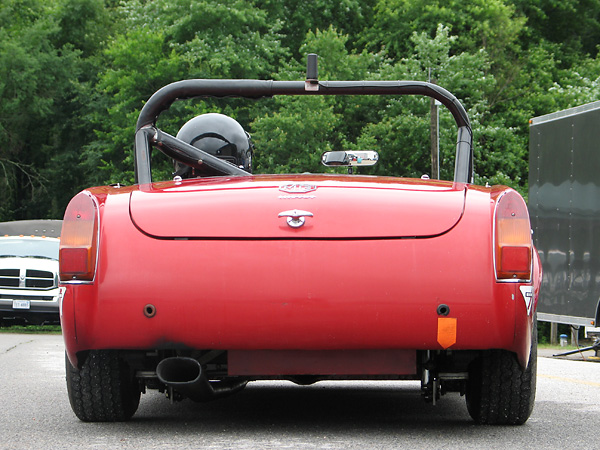 These tail light lenses are from a later model (1970 or later) MG Midget.


Notes:
(1)
After the 1978 run-offs, Mike Pinney switched to racing an MGB with some success. He then took years off to focus on family and career, but racing was evidently still in his blood. He returned to racing in 2001, and won the 2002 SCCA F-Production championship with a 1275cc Midget.


(2)
Stock MG Midget and Austin Healey Sprite front stub axles didn't come with tapered roller bearings! Back in the sixties, they probably didn't really need them. As racing Midgets cornered faster, due to more powerful engines and stickier tires, MG Midget stub axles began breaking. Stub axles should be Magnafluxed once per season to detect cracks early. Upgrading to tapered roller bearings is highly recommended for enhanced safety and durability. The correct way to do the installation is essentially the same way MG did it on the MGB model: a distance tube and spacer shims should be used to assure clearance between the two races of bearings, and the castle nut on the stub axle should be tightened to 60 foot pounds with a torque wrench. Setting bearing clearance by tightening the castle nut snug and then backing it off so many turns (as done on older American cars) is certainly not recommended.


Most photos shown here are from June 2009, when we viewed the car at The Heacock Classic Gold Cup at Virginia International Raceway. Where noted in captions, we've included additional photos from the 2010 Glenora Winery / Watkins Glen Vintage Grand Prix. All photos by Curtis Jacobson for BritishRaceCar.com, copyright 2010. All rights reserved.



Notice: all the articles and almost all the photos on BritishRacecar.com are by Curtis Jacobson.
(Photos that aren't by Curtis are explicitly credited.) Reproduction without prior written permission is prohibited.
Contact us to purchase images or reproduction permission. Higher resolution images are optionally available.