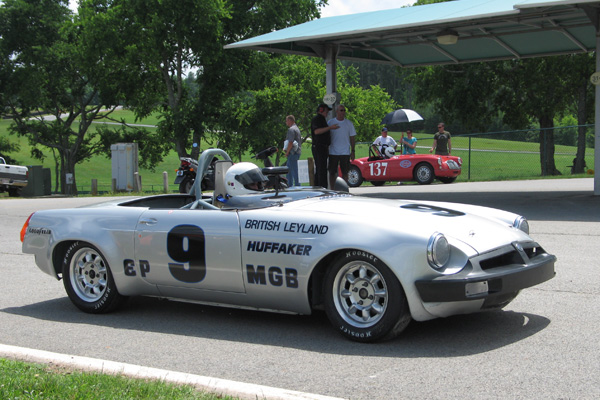 Eddie Beal's 1978 MGB Race Car
Owner: Eddie Beal
City: Lincolnton NC
Model: 1978 MG MGB
Built by: Huffaker Engineering
Restored by: Acme Speed Shop
As Originally Built by Huffaker Engineering...
Eddie Beal's MGB race car was built by Huffaker Engineering for an enthusiastic club racer named Don Martin. It's a replica of the Huffaker Engineering team's own British Leyland sponsored SCCA race cars. Huffaker MGB race cars won the SCCA E-Production national championship in 1975, 1976, and 1977. They also finished fourth at the SCCA runoffs in 1978, but British Leyland had already decided their sponsorship of sports car racing would cease at the end of the 1978 season, so immediately after the runoffs Huffaker Engineering sold their team racecars. Don Martin arrived a little too late to purchase one, so Joe Huffaker Sr. suggested that his shop could build a brand new MGB racecar on the same pattern.

Like the other Huffaker MGB's, "number 9" was built on a new old stock, early (pre-1965) MGB bodyshell. British Leyland specified current "production" appearance for all racecar's they sponsored, so after 1974 all Huffaker Engineering MGB's wore black rubber bumpers both front and rear.

Don Martin raced the number 9 Huffaker MGB in regional events throughout 1979 and 1980. Then, Kenneth Miller purchased number 9 and raced it for one season. It passed next to a young racer named Danny Ross. In 1984, Hap Waldrop of South Carolina bought it for $9000, and raced it for four seasons. Throughout this part of its history, it was painted black. A car collector named Roger Mandeville purchased number 9 in 1989 for $10000, and it was retired from SCCA competition. Eddie Beal purchased the number 9 Huffaker MGB in 2004. He hired one of the car's former owners, Hap Waldrop of Acme Speed Shop to strip the car down to bare metal and do a complete restoration. The restoration was finished in early 2005. The car has subsequently been raced for four years in SVRA and HSR sanctioned vintage events.

In appearance, Eddie Beal's MGB remains very true to how it looked as originally built by Huffaker Engineering and raced by Don Martin. For example, original paint colors were matched perfectly, inside and out. The distinctive single-hoop roll structure is correct, as are the fender flares. Huffaker Engineering still owns many of their original jigs and fixtures; they made the low profile windscreen (shown above) on their original mold, and provided it for the restoration.

Other ex-Huffaker MGB's from the mid-seventies era still exist.¹ Generally, they've been updated to comply with SCCA rule changes and to remain competitive. Currently, Eddie's MGB most closely represents what the Huffaker Team's own British Leyland sponsored MGB's looked like at the height of their fame and glory.


Enjoying this article? www.BritishRaceCar.com is partially funded through generous support from readers like you!
To contribute to our operating budget, please click here and follow the instructions.
(Suggested contribution is twenty bucks per year. Feel free to give more!)
Even vintage racing requires some updates. Some of the most obvious updates to number 9 are driver comfort and safety related equipment such as the steering wheel, driver seat, safety harness, mirrors, and fire suppression system. There are also rules to keep racing affordable and competitive. The Huffaker team ran their MGB race cars on very low and wide racing slicks, whereas treaded "street" tires are usually required for MGB cars in vintage racing. Huffaker used distinctive custom air dams under the front bumpers of their team's race cars, but they're explicitly forbidden now. As shown above, a different panel has been installed under the bumper to fill in the gap.

After we photographed Eddie Beal's MGB at the 2009 Heacock Classic Gold Cup Race, at Virginia International Raceway, we showed Joe Huffaker our photos. We wanted insight into the thought and development that went into Huffaker Engineering's original mid-seventies MGB race cars. Eddie's MGB represents a whole different era of SCCA E-Production racing than we've previously showcased. Our photo captions (below) are largely based on Joe Huffaker's comments. Since we're also interested in how Eddie's car has evolved over the last thirty years, we've included notes about that in the captions too.



Features and Specifications
Engine:
BMC B-Series 1840cc (0.047" overbore, ~12:1 compression ratio.), prepared by Midwest Motorsports.² Carrillo connecting rods. Midwest Motorsports camshaft with steel lifters. Midwest Motorsports prepared cylinder head. Maniflow tubular steel intake manifold. Dual S.U. HS6 (1.75") carburetors with K&N gauze air filters. Stock Lucas distributor with Pertronix Ignitor breakerless module. MSD-6A capacitive discharge ignition controller. Mallory ignition coil. Wet sump lubrication system, with Huffaker Engineering deep sump oil pan. Accusump oil accumulator.

Cooling:
original Huffaker brass radiator.

Exhaust:
original Huffaker long center branch 3-into-1 header. Huffaker oval megaphone muffler.

Transmission:
Quaife Rocket 4-speed dog-ring transmission. Lightened steel flywheel. Tilton 7.25" pressure plate and clutch. Lockheed clutch master cylinder. Tilton annular throw-out bearing (a.k.a. hydraulic throw-out bearing.)

Rear Axle:
modified early-model MGB "banjo" axle housing (with Salisbury style bearings/hubs). Tran-X limited slip differential. Choice of gear ratios.

Front Susp.:
stock MGB, except with higher rate springs, dropped spindles, and steering connections modified to correct bump steer. Re-valved Armstrong lever action shock absorbers. Uprated, adjustable anti-sway bar mounted on aluminum pillow blocks.

Rear Susp.:
three-link rear suspension plus Panhard rod, utilizing (6-leaf) leaf springs. Carrera steel tube telescoping shock absorbers. Custom adjustable anti-sway bar.

Brakes:
(master) dual Girling master cylinders with bias bar and custom remote reservoir.
(front) stock MGB.
(rear) stock MGB.

Wheels/Tires:
Minilite "SportStyle" 14x6 aluminum wheels with Hoosier "Street T.D." P205/60D14 bias ply tires. (When we photographed the car, it was on its spare set of wheels. It usually races on lighter weight three-piece Jongbloed modular wheels.)

Electrical:
Optima red battery. (No charging system)

Instruments:
(left to right) Stewart Warner water temperature (100-265F), Stewart Warner fuel pressure (0-10psi), AutoMeter Sport-Comp tachometer (0-8000rpm), Stewart Warner oil pressure (5-100psi), and Stewart Warner oil temperature (140-325F).

Fuel System:
ATL fuel cell. Dual Carter fuel pumps. Jaz Products fuel filter. Holley fuel pressure regulator.

Safety Eqmt.:
ButlerBuilt aluminum seat. Teamtech Motorsports Equipment safety harness. Safecraft Model RS centralized Halon fire suppression system. Personal anatomical, padded, black suede steering wheel on tilting/telescoping steering column.

Weight:
~1900#.

Racing Class:
originally SCCA "E Production". Currently SVRA "3DP".


Exterior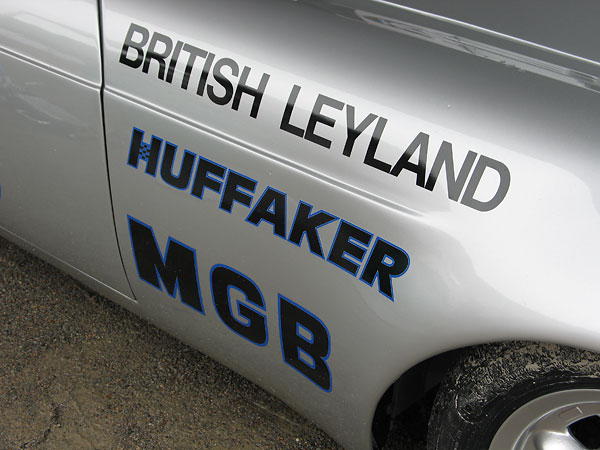 Huffaker Engineering was sponsored by British Leyland as they campaigned MGB race cars
in national level Sports Car Club of America (SCCA) races through the mid-1970's.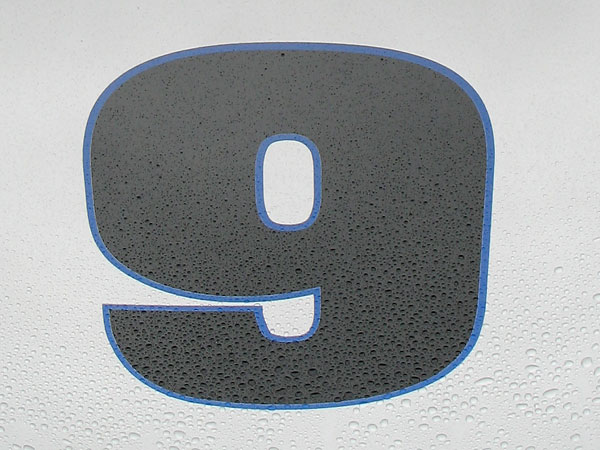 Huffaker Engineering traditionally painted their team's racecars black, with undercarriage and interior
painted dove gray. British Leyland had other ideas, and specified metallic silver for the Huffaker MGB's
of 1975 through 1978. The colors on Eddie Beal's MGB racecar are absolutely authentic to how
Huffaker Engineering originally painted the number car 9 car and also the number 11 car it resembled.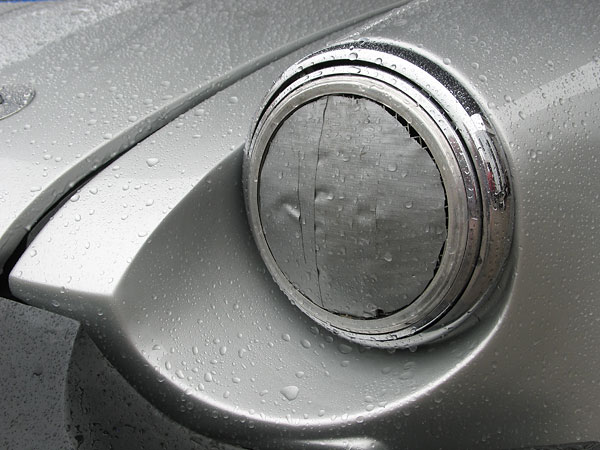 Air inlet for brake cooling duct (shown temporarily blocked due to wet racing conditions.)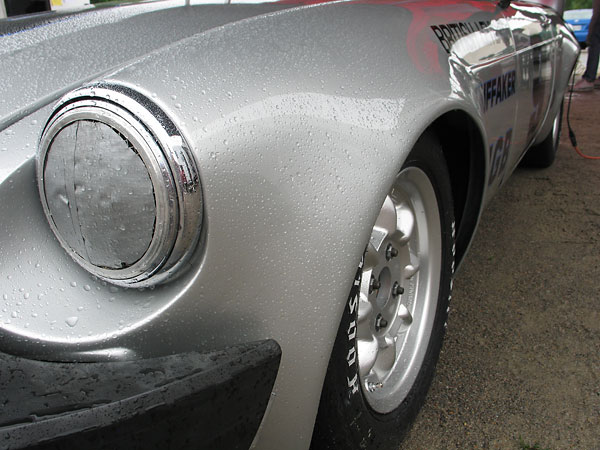 Huffaker's distinctive fender flares historically came in two different sizes. The earlier style was
noticeably smaller than these. It was used on the Huffaker team cars through about 1974. The original
tooling still exists and flare kits are available from Steve Lilves (a former Huffaker employee.) The
larger size flares are still available directly from Huffaker Engineering, and they also offer complete
fiberglass replacement front fenders with integral flares.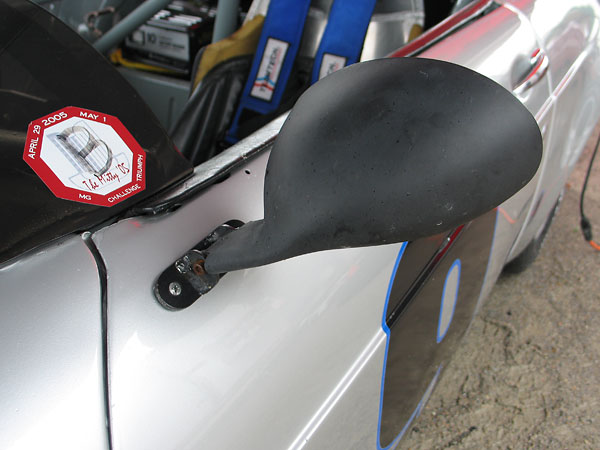 This appears to be a SPA Design mirror. Back in the 70's, Huffaker used Vitaloni "Sebring"
style mirrors, mounted flat to fabricated aluminum brackets.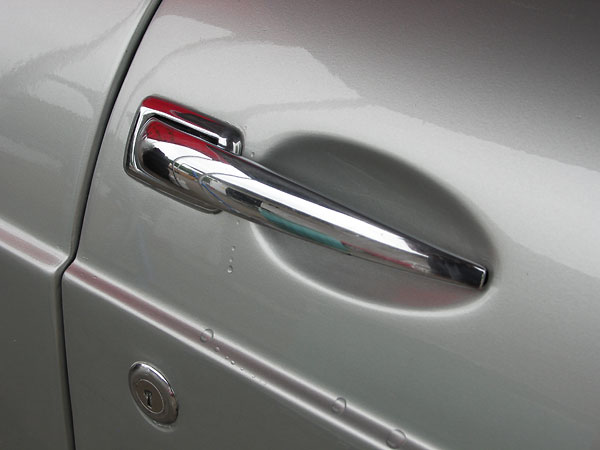 Pull handle doors were used on MGB's until April 1965.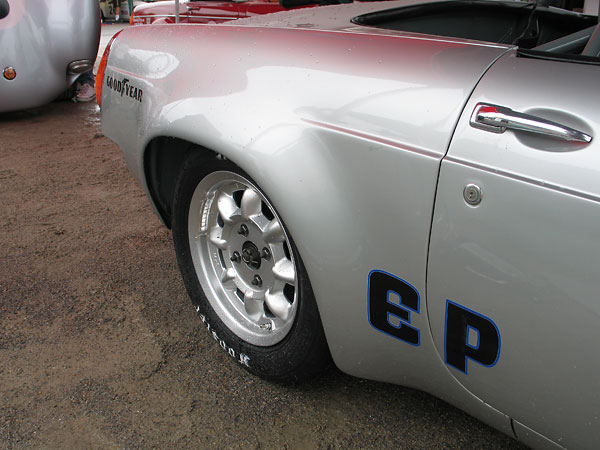 "EP" is painted on the side because this car formerly competed in SCCA's E Production class.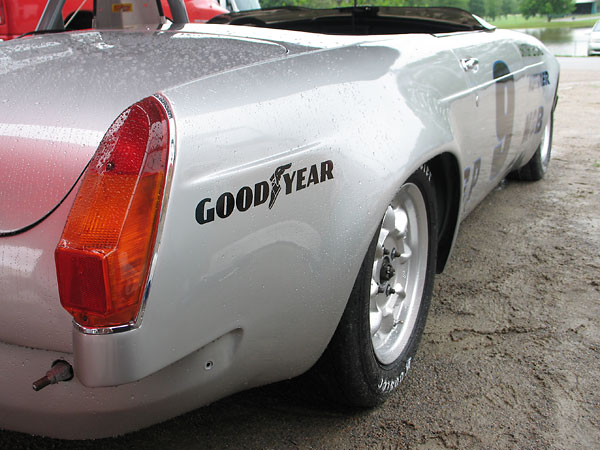 In the mid-seventies, British Leyland's sponsorship agreement required that Huffaker team cars wear
black rubber bumpers, front and rear, to resemble the way MGB cars were built and sold at that time.
SVRA doesn't currently have an appropriate racing class for mid-seventies era SCCA race cars. Their
group 3, class DP rules explicitly forbid rubber bumpers, flared fenders, and air dams for the MGB model
because these features are representative of a more modern era than SVRA races are intended to show.
(A separate, additional group and class for seventies era sports cars would welcome more participants
and might bring literally hundreds of SCCA race cars out of barns.) However, in apparent recognition of
this particular car's unique provenance, SVRA has made many special allowances to permit it to race.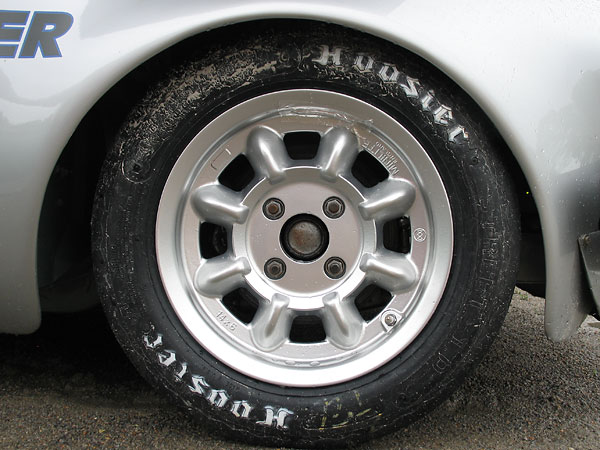 These Minilite "SportStyle" 14" by 6" aluminum wheels are an excellent 1960's era wheel. However,
in the 1970's Huffaker Engineering usually raced on 7" wide Cromodora (Italian) magnesium wheels.
Cromodora Wheels S.p.A. is still in business, but their older wheel models are hard to find.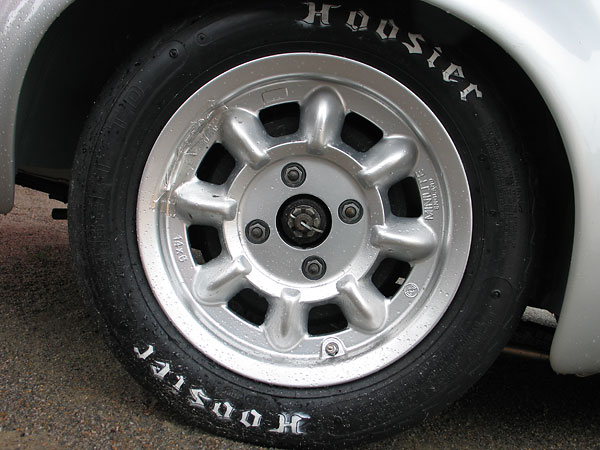 Hoosier "Street T.D." P205/60D14 bias ply tires don't seem to fill the number 9 Huffaker MGB's fender
flares because the flares were designed to suit the wider racing slicks of later SCCA E-Production racing.
In an effort to keep racing relatively affordable and competitive, current vintage racing organizations
tightly restrict tire choices, and wide slicks aren't allowed for MGB's competing in SVRA's 3DP class.


Interior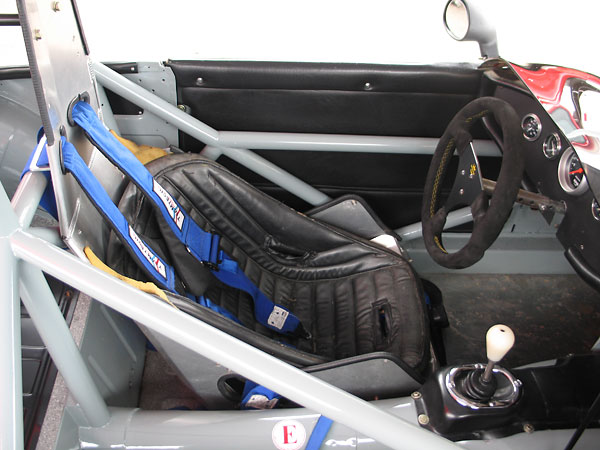 ButlerBuilt aluminum seat. (The original racing seat would have been a fiberglass low-back model.)
Teamtech Motorsports Equipment safety harness.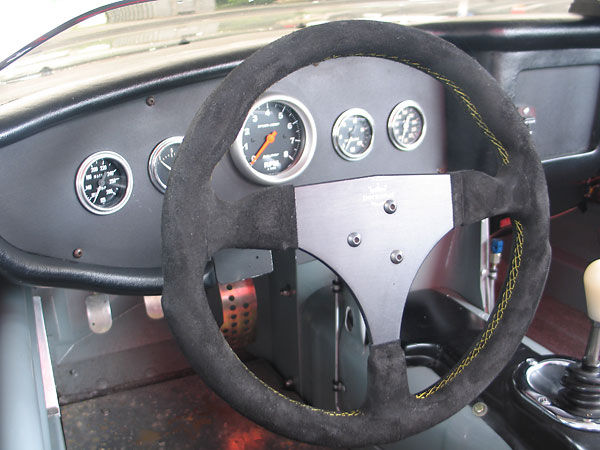 Personal anatomical, padded, black suede steering wheel.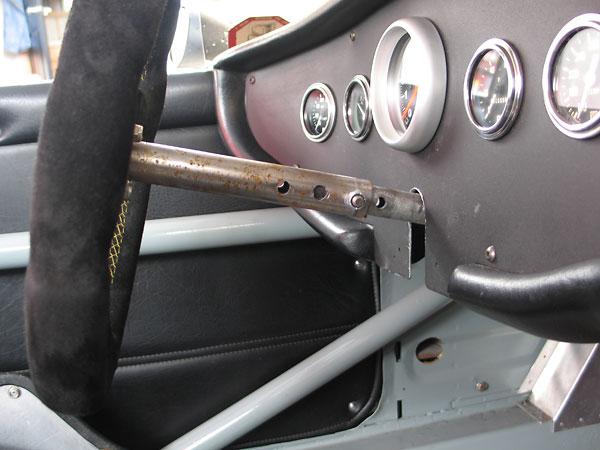 Huffaker MGB's were fitted with custom-fabricated, adjustably telescoping steering columns. However, the
original Huffaker design featured a solid inner bar that extending further rearward toward the steering wheel.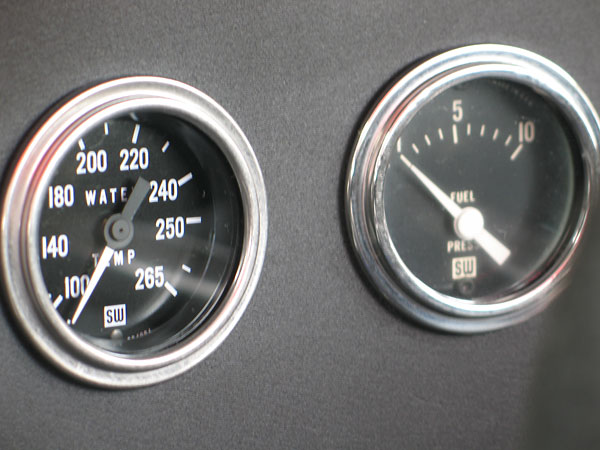 Stewart Warner water temperature (100-265F) and fuel pressure (0-10psi) gauges.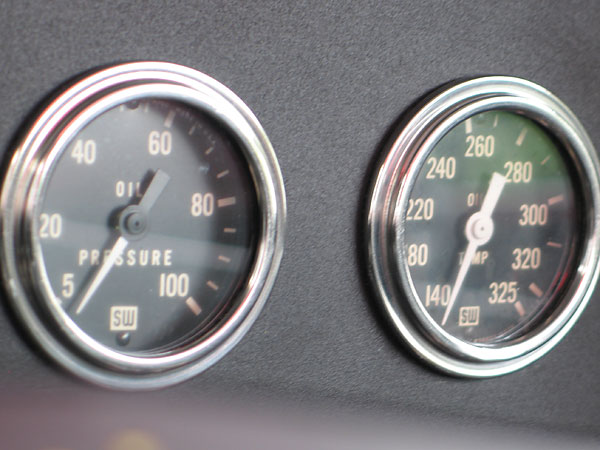 Stewart Warner oil pressure (5-100psi) and oil temperature (140-325F) gauges.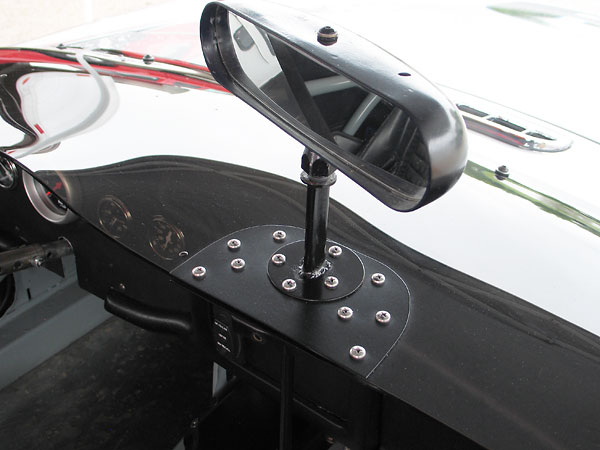 The SPA Design convex sports car mirror is a relatively new addition to the car.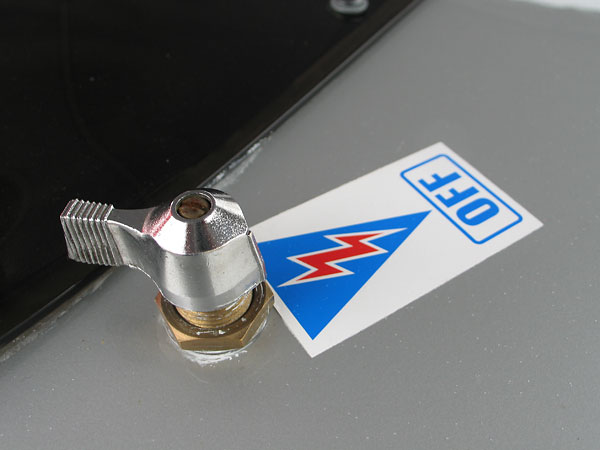 This is the same type of emergency kill switch Huffaker used (from Joseph Pollak Corporation, Boston MA.)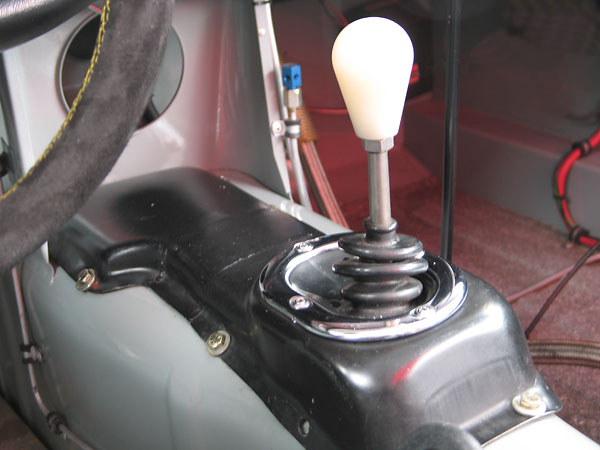 "Three-synchro" transmission tunnel indicates conclusively that this is a Mk1 MGB bodyshell. (Early model
MGB bodies were lightest, and are therefore more desirable for racing.) The large, white nylon shifter knob on a
straight stalk is the only outward clue that the BMC 4-speed has been replaced with a modern Quaife 4-speed.
This quick shifting dog-ring type gearbox is a big performance upgrade; probably worth about 2 seconds/lap.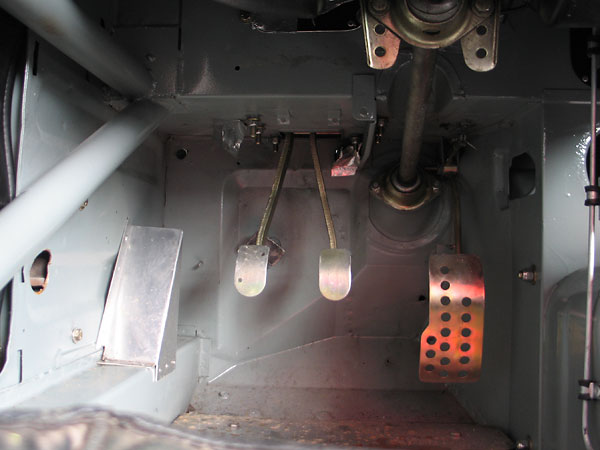 Dead pedal. Note also the provisions for adjusting the height and angle of the steering column.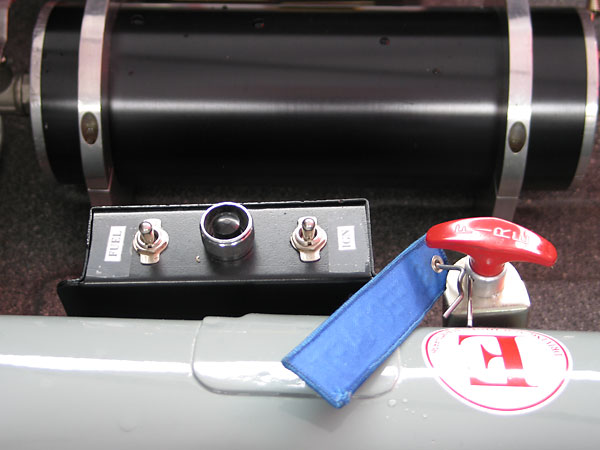 Remote panel for fuel pump, starter, and ignition switches.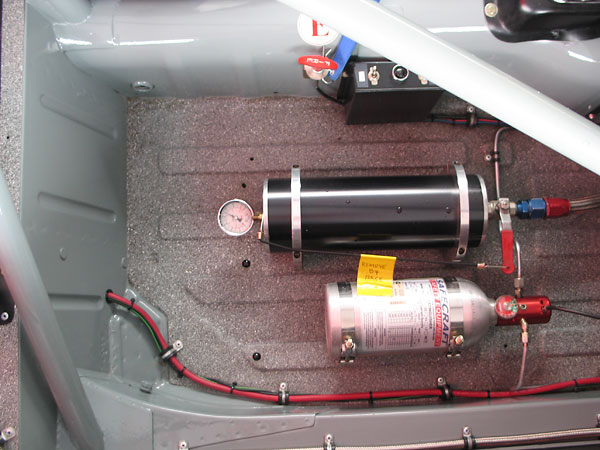 An Accusump oil accumulator (as shown at top) stores pressurized engine oil so it can be released to
pre-lube the engine before start-up. Accusump systems became popular in the 1980's. Although they're
not an authentic period feature, they're very popular in vintage sports car racing because they extend
engine life. The other bottle is part of the Safecraft Model RS centralized Halon fire suppression system.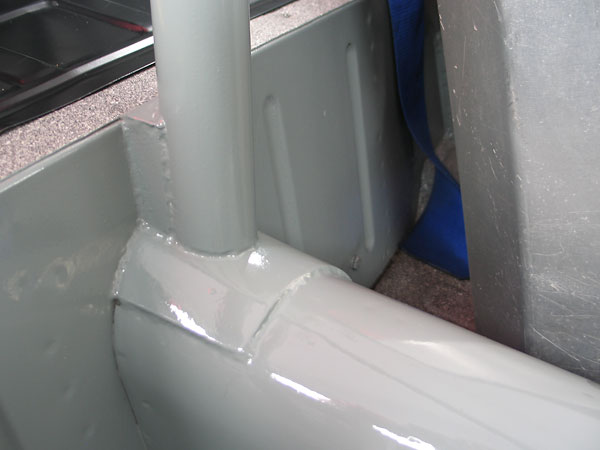 The roll structure is tied into the battery shelf and the top of the driveshaft tunnel. As you'll see below,
this added strength and stiffness to support one of the rear suspension's attachment points.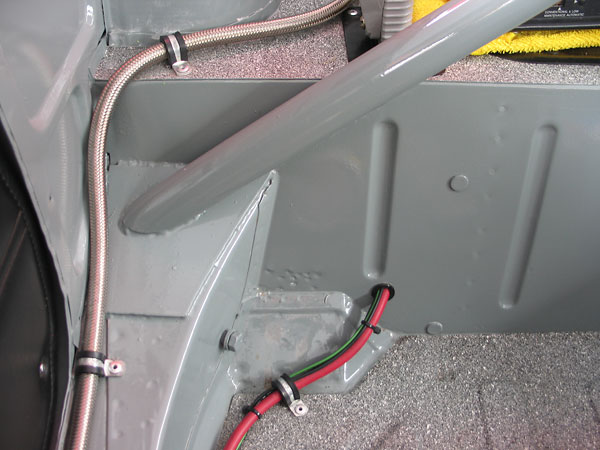 Another roll cage mounting detail.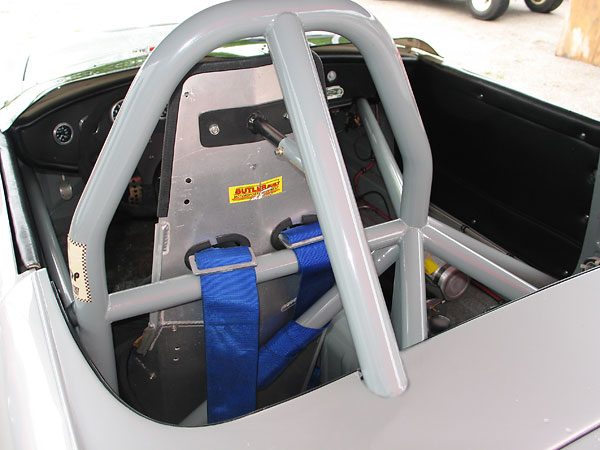 The single-hoop roll structure is period correct. Later SCCA rules would mandate a more complete cage.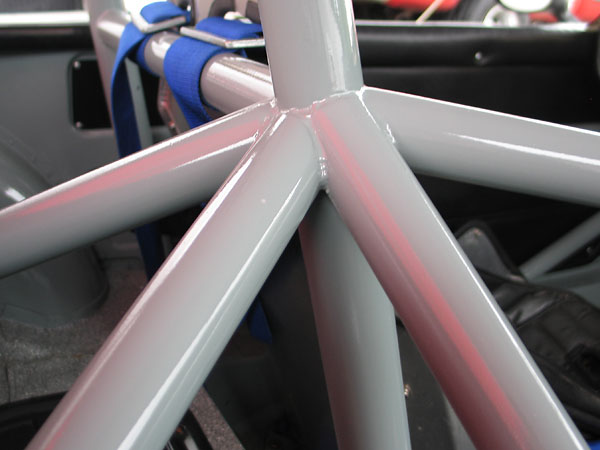 To get good weld penetration, it's absolutely critical that each tube be very precisely trimmed. Joe Huffaker
recalls that they were really fun and challenging to fabricate. He welded-up this joint on the second number
11 MGB, but his friend Jim Lerch got to do the job on the number 9 car. In both cases, the rollcages were
constructed of mild steel and all the joints were TIG welded.


Engine Installation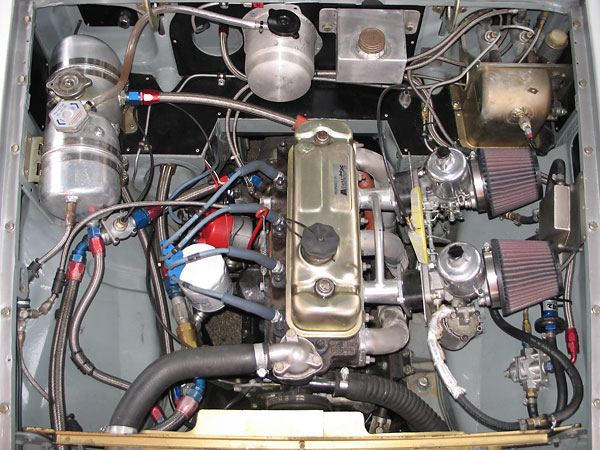 Many aspects of the number 9 Huffaker MGB replicate how the number 11 car was raced, but not engine
compartment plumbing. As Joe Huffaker recalls, the Huffaker team cars had far fewer hoses and connections.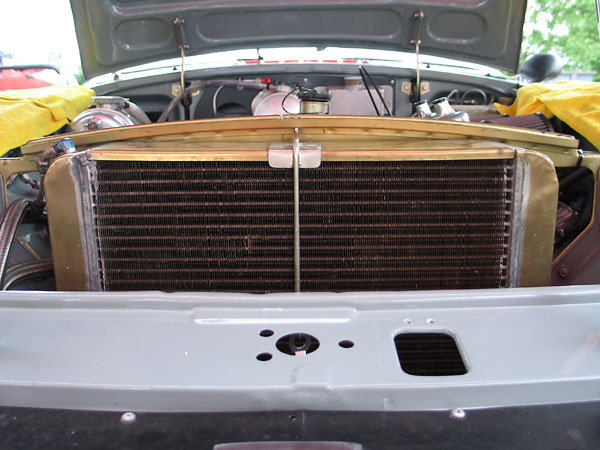 Brass radiators were a Huffaker trademark. They were made to Huffaker specifications by a small, local
radiator shop. These radiators weren't particularly large, but they had thick cores. In the mid-1970's,
aluminum radiators weren't nearly as readily available as they are today.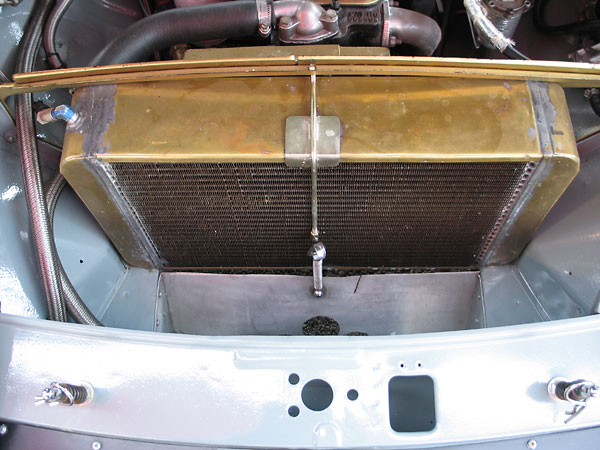 Another Huffaker Engineering trick is that the radiators were clamped down with spring-clips,
so when service is required they can be removed in minutes.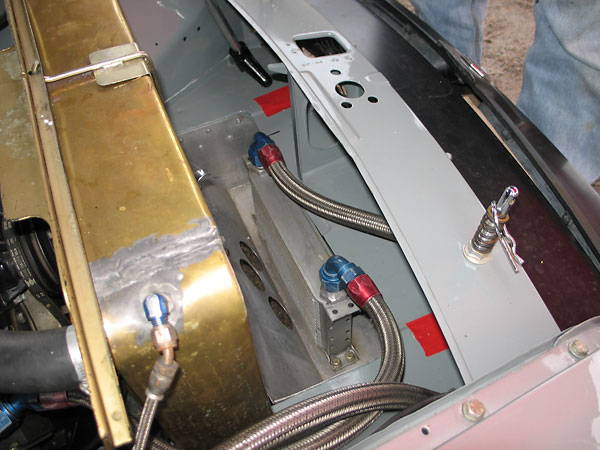 The aluminum oil cooler shelf is believed to be original to the number 9 Huffaker, but it's a different
design from earlier Huffaker team cars. The three chassis-punched holes behind the cooler are newer.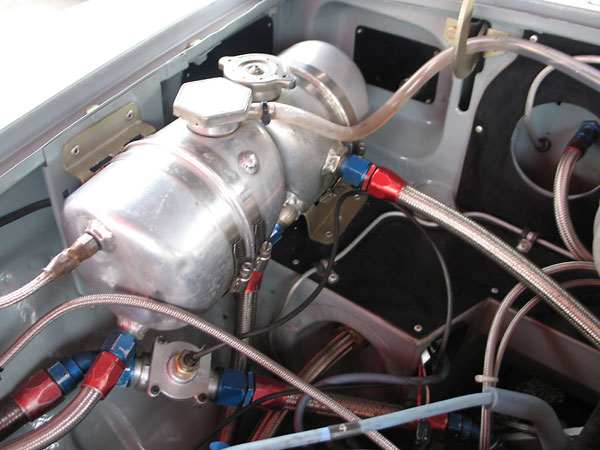 Huffaker used Harrison aluminum coolant header tanks with Stant pressure caps (as shown at left.)
The oil system breather tank (with vent holes drilled in its cap) is believed original to the number 9 car.
An in-line oil temperature sensor fitting is below the header tank. Note also that the ignition coil
has been relocated into the passenger-side footwell, which is a good idea since that keeps it cooler.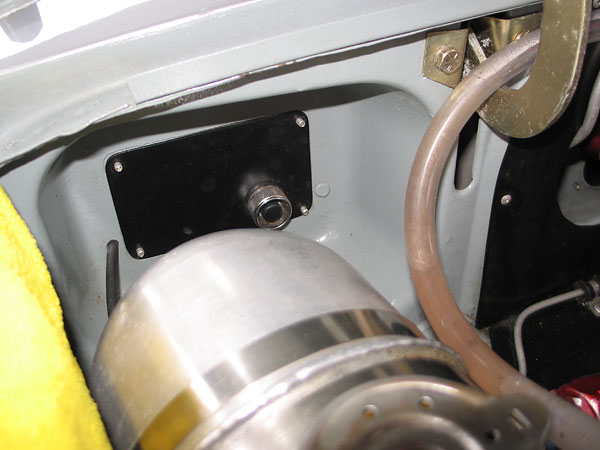 Remote starter switch.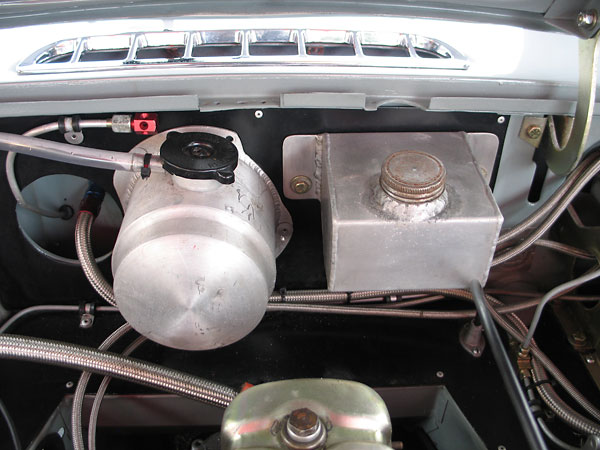 Coolant overflow tank (at left, not a period feature) and brake system fluid reservoir (right). This photo
also shows a subtle demon tweak: Huffaker didn't block heater fan holes. Since the car doesn't have a
steep windshield, the chromed cowl vent is in a low pressure area at speed. Venting air out at the cowl
slightly reduces overall wind resistance and significantly reduces engine compartment temperature.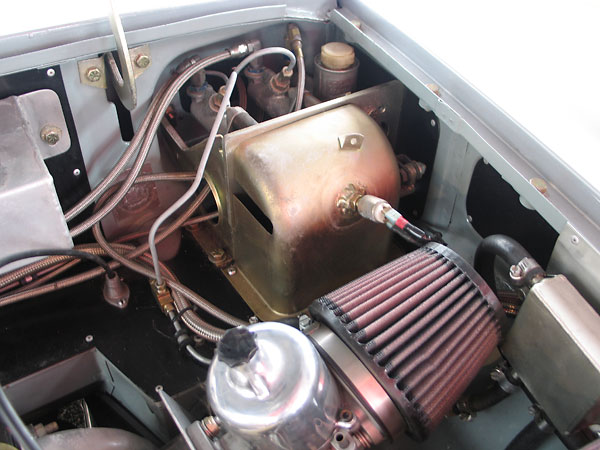 Dual Girling master cylinders with adjustable bias bar, and Lockheed clutch slave cylinder.
(The pedal box cover is slotted for more convenient access to the bias bar.)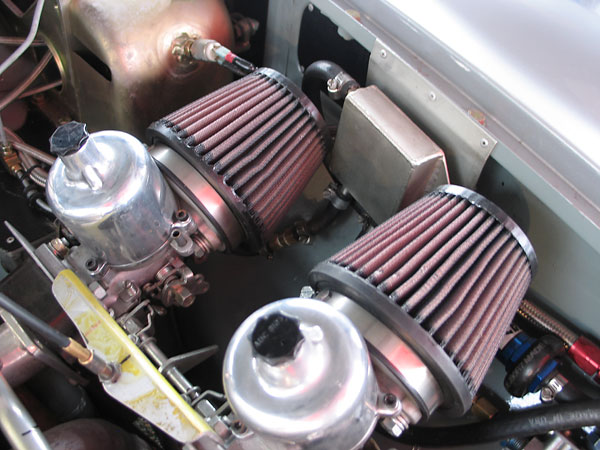 K&N gauze air filters clamp directly to shortie velocity stacks.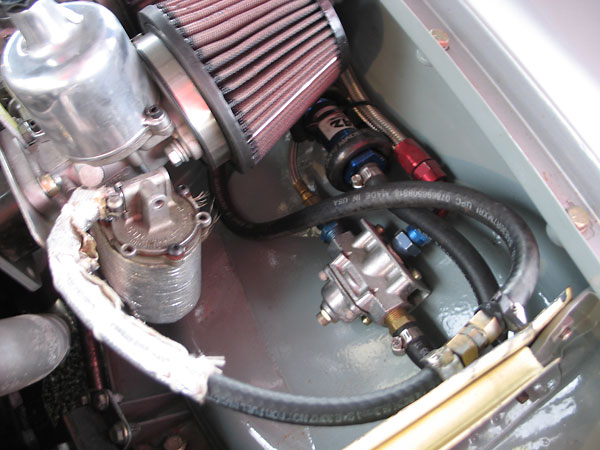 Jaz Products fuel filter and Holley fuel pressure regulator.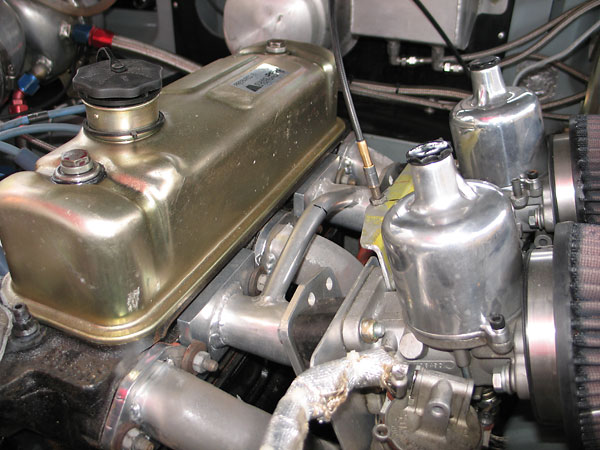 Note the Midwest Motorsports decal on the valve cover, and the Maniflow fabricated intake manifold.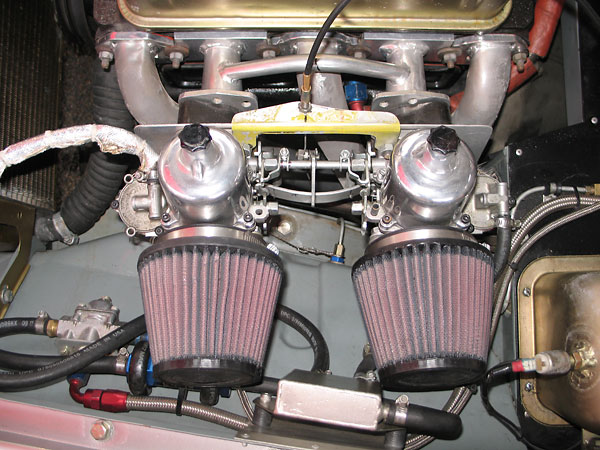 Although a flat aluminum heat shield is installed between carburetors and intake manifold, heat
reflective fabric has also been wrapped around the forward fuel line and carburetor float bowl.


Front Suspension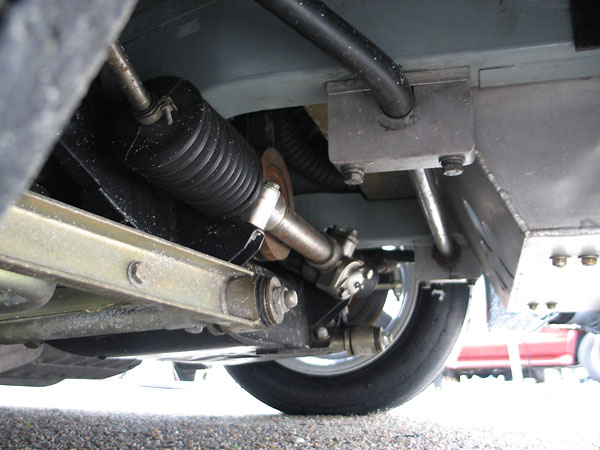 Uprated, adjustable anti-sway bar mounted on aluminum pillow blocks. Spacers between the steering links
and arms (where Heim joints are being used in lieu of tie rod ends) have been installed to adjust bump steer.


Rear Suspension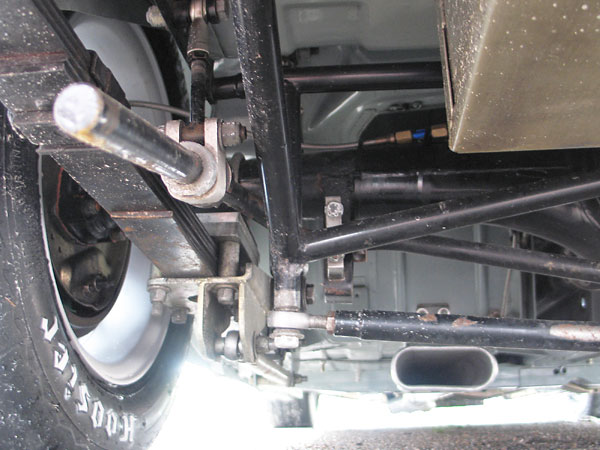 Don't be fooled by confusing terminology or by the appearance of leafsprings: this is in fact what racers
call a "three link" rear suspension. Unlike a stock MGB, these leafsprings DON'T serve to locate the
rear axle longitudinally or laterally. There are three trailing links from the bodyshell rearward to the axle
housing for longitudinal location, supplemented by a Panhard rod for lateral location. For this approach
to work without binding, it's critical that the rear axle can float freely relative to the springs.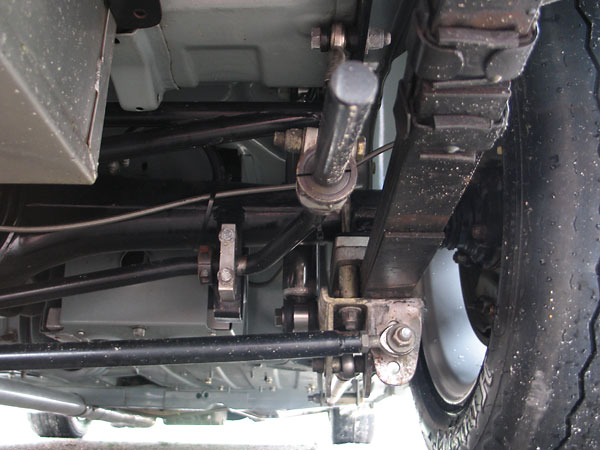 The U-bolts don't clamp tightly to the leafsprings because spacer tubes have been installed between
spring perches and the lower spring plates. In this view you also see where the Panhard rod connects.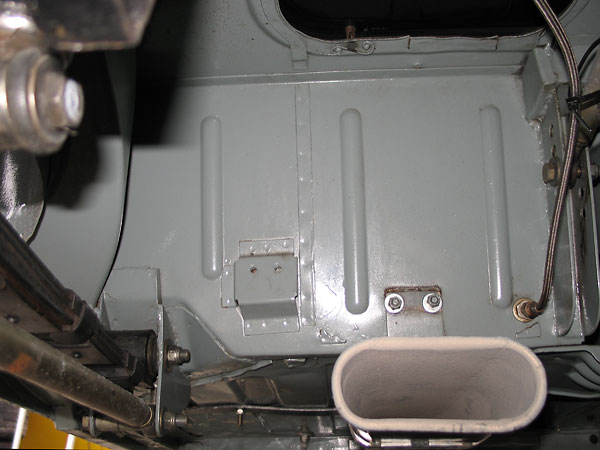 This photo shows the two types of trailing links: two links under the leafsprings plus one above the
differential housing running forward to a mounting plate next to the driveshaft tunnel. The center
trailing link can be mounted at various heights because its mounting angle determines anti-squat.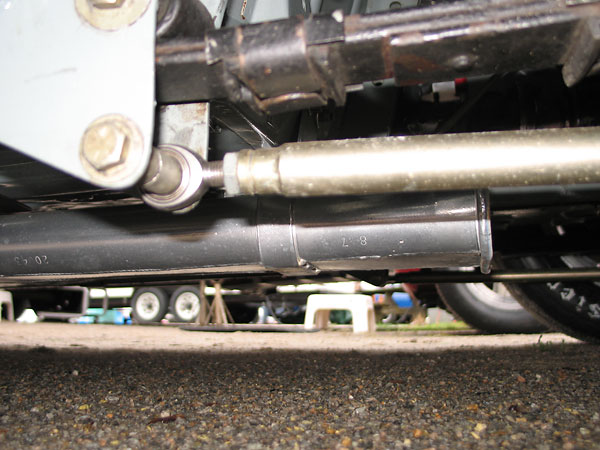 Incidentally... Huffaker made their own distinctive oval megaphone mufflers, usually out of stainless steel
by cutting pieces of tubing lengthwise, prying them apart, and welding-in long triangles of flat material.
The oval shape was for ground clearance. The rolled edge at the rear helped keep the welds from splitting.
Megaphones seem to provide a worthwhile power boost, but they don't provide much muffling effect.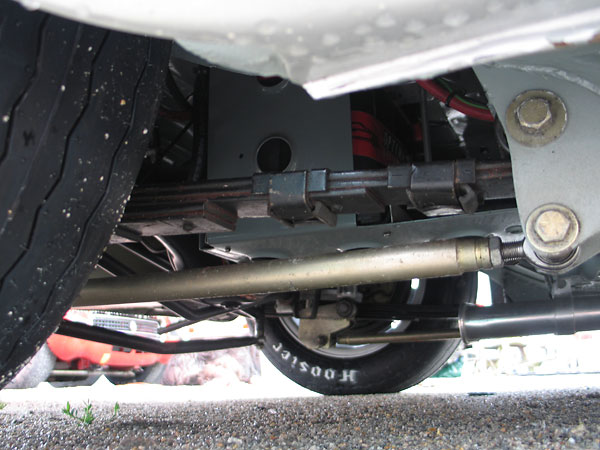 Huffaker put a lot of effort into tuning spring rates and ride height by building up their leafspring
packs in various configurations. (Typically, they ran very soft wheel rates at the rear.)
Any friction or binding in the suspension would jeopardize this careful tuning work.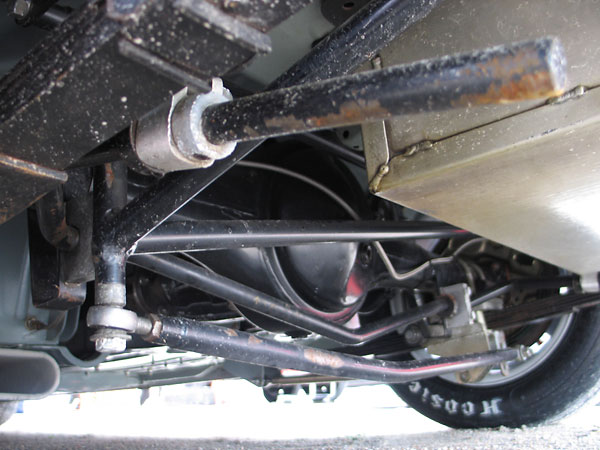 Besides locating the axle laterally, the Panhard rod also determines the rear suspension's roll center.
Huffaker prefers a relatively low roll axis, sloping downward toward the front of the car. The Panhard rod
shown here isn't authentic to how Huffaker built the car. The bend in the middle is very undesirable for
two reasons: stiffness and ease of length adjustment. Normally, radius rods are built with oppositely
threaded Heim joints so that precise length adjustment can be made without disconnection of the rod,
by simply loosening the jam nuts, rotating the rod, and re-tightening the jam nuts. The anti-sway bar
is also bent in the middle, but that's an authentic feature. However, its installation isn't quite correct:
the arms should be parallel to the ground when the car is at static ride height.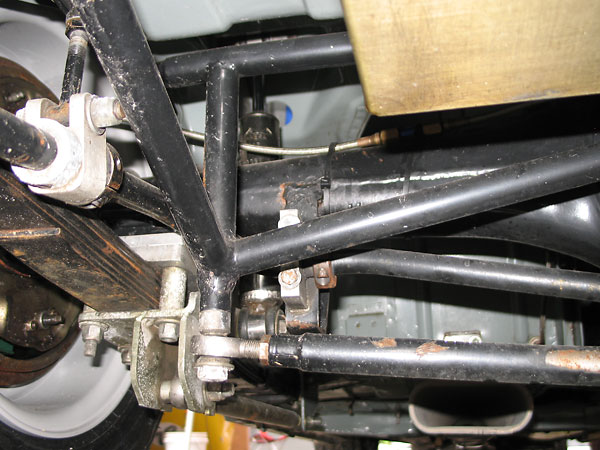 Huffaker designed the connecting links to be free to rotate on the bar so they wouldn't bind as the
suspension worked. Split collar clamps can be shifted to change the effective lever length, and thus
adjust roll stiffness. A corresponding adjustment of the chassis connection needs to be made too.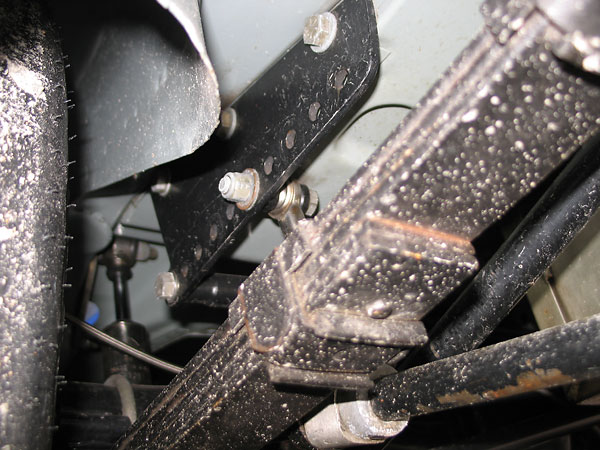 The anti-sway bar chassis brackets have selectable connection points to keep their geometry right.
Connecting links should be perpindicular to the anti-sway bar when the car is at static ride height.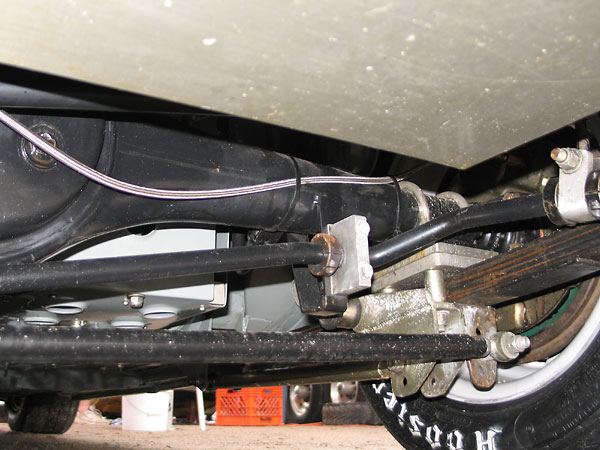 Anti-sway bar mounts on the rear axle housing.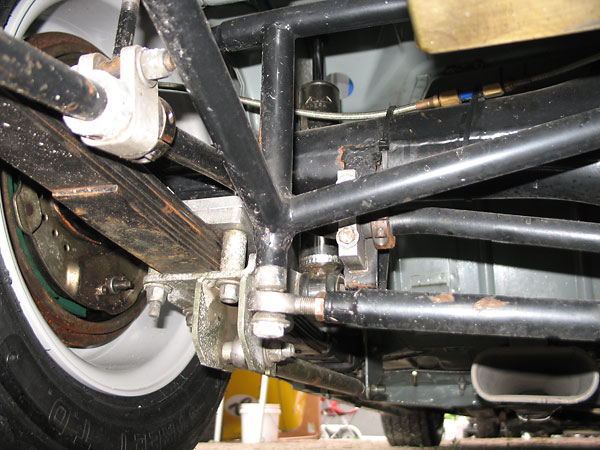 Huffaker Engineering used Armstrong lever-action shock absorbers with special adjustable valves.
World Wide Auto Parts sells modified Armstrong shock absorbers that are similarly adjustable.
However, the number 9 Huffaker currently uses Carrera steel telescoping rear shock absorbers.


Footnotes:
(1)
Terry Visger drove a silver number 11 Huffaker MGB to victory in the 1975 SCCA runoffs. That first number 11 race car was sold to Dwayne Anderson of Whittier California, and subsequently crashed beyond repair. Dwayne Anderson used parts from the first number 11 MGB to build a replacement that looked quite a lot like a Huffaker. Dwayne Anderson's Huffaker-inspired MGB was later driven by Lee Mueller (representing the Huffaker team) to a second place finish in the 1978 runoffs. At the 1978 runoffs, it was red and it wore number 10. Immediately after the runoffs it was sold to Chris Doyle. It's currently owned and raced by Don Dickey.

Joe Huffaker Jr. and Jim Lerch of Huffaker Engineering built up a new (i.e. second) number 11 MGB for the 1976 season, and Terry Visger drove it to championship victory in 1976 and then again in 1977. For the 1978 championship, Terry Visger wasn't available and driving responsibilities instead passed to John Woodner. Woodner drove the silver number 11 Huffaker MGB to fourth place in the E-Production championship race. Immediately after the runoffs, the number 11 Huffaker MGB was sold to Mike Pinney who painted it red and ultimately drove it to a third place finish at the 1981 runoffs. (At some point it has been repainted silver.) The number 11 Huffaker MGB was then owned and raced by Don Small, who finished third at the runoffs in 1984. It currently belongs to Rick Estes of Kansas.

A single-seat-rollcage Huffaker MGB was built to order in the late seventies for Dr. Gary Gienger of Waterloo Iowa. Dr. Geinger ultimately sold that car to Gerry Lamb, who has campaigned it in SCCA events over many years.


(2)
Eddie Beal's MGB is currently equipped with an engine built for reliable service in vintage racing. He has two additional engines which were originally prepared by Huffaker Engineering, and which could be re-installed in the future to restore the car to a more accurate representation of original specification.


All photos shown here are from June 2009, when we viewed the car at The Heacock Classic Gold Cup at Virginia International Raceway. All photos by Curtis Jacobson for BritishRaceCar.com, copyright 2010. All rights reserved.



Notice: all the articles and almost all the photos on BritishRacecar.com are by Curtis Jacobson.
(Photos that aren't by Curtis are explicitly credited.) Reproduction without prior written permission is prohibited.
Contact us to purchase images or reproduction permission. Higher resolution images are optionally available.