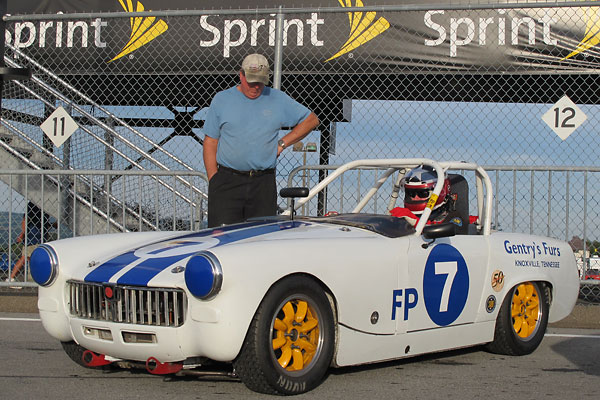 Harry Gentry's 1962 MG Midget Vintage Racecar
Owner: Harry Gentry
City: Knoxville, Tennessee
Model: 1962 MG Midget
Engine: BMC A-Series 1275cc
Prepared by: Harry Gentry, Ralph Tremaine and Gary Johnson


MG Midget Mark One
Fans have been celebrating the 50th anniversary of the MG Midget model throughout 2011. However, when Midget production started in 1961 the car's design wasn't entirely new. Underneath restyled body panels, most mechanical and structural parts carried over from the "bugeye" Sprite which had already been in production for three years. Coincident with introduction of the Midget, the Sprite was updated. The two models differed only in trim details and price. They were both produced on the very same assembly line at the MG factory in Abingdon. With MG emblems, these diminutive sportscars could be offered through a much larger dealer base. Management also believed the MG brand's reputation could command a premium price.

Like the original Sprite, the earliest Midgets were equipped with a 948cc BMC A-series engine (rated 47hp), windowless doors, drum brakes all around, and quarter-elliptic leafspring rear suspensions.

Over time, the MG Midget's design evolved. Engine displacement increased to 1098cc (56hp) in October 1962 and front disc brakes were made standard. Starting with the 1964 model year, the Midget was modernized with roll-up windows and given smoother riding semi-elliptic leafsprings. From very late 1966, engine displacement increased to 1275cc (65hp). Finally, from 1975 through the end of production Midgets were equipped with 1493cc Triumph engines and distinctive black plastic bumpers designed to meet U.S. bumper height requirements.



Harry's MG Midget Vintage Racer: Car Number 7
In the mid-nineties, Harry Gentry purchased two old Midgets from a friend for $800. One of the two is shown here, and the other became a parts car. (A 1979 Midget, the second car contributed later model front suspension and brake components. Its 3.70:1 differential was sold off at a premium price to raise much needed funds.) Harry Gentry's Midget racecar took over five years to build. Most of the mechanical work was completed by Harry and his good friend Ralph Tremaine. Original engine builds have been out-sourced. Harry's Crew Chief, Gary Johnson of East Tennessee Race Prep keeps the engines race ready.

In building this racecar, the first steps were disassembly and then media blasting of the unibody chassis and body panels to bare metal. After that, the car was transported down to R.K. "Bear" Clonts' Bear Essentials race shop in Columbia SC. Harry paid Bear about $10000 to convert a rough bodyshell into an excellent "roller". The conversion required quite a lot of metal work including installing new floorboards, building a roll cage, custom fabricating a telescoping steering column, and procuring and mounting critical components such as a Fuel Safe racing fuel cell, a Kirkey racing seat, and a specially shortened set of Tilton racing pedals.

When Bear Clounts was finished, the car was ready to paint. Finding a cooperative paint shop proved unexpectedly difficult. Despite delays, it did get painted and then Harry called up Huffaker Engineering and ordered an engine. With the new engine installed in 2002, Harry's MG Midget was finally ready to race.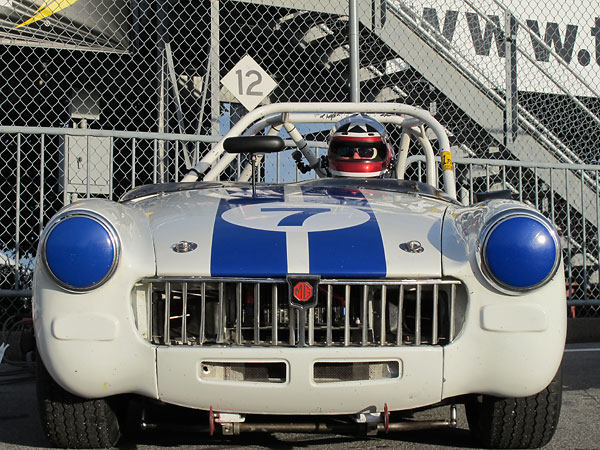 Harry Gentry made the 2513 mile tow to participate in the MG Vintage Racer group's 2011 west coast
focus event at Infineon Raceway (Sears Point) in California. It was certainly worth it! He won the all-MG
feature race outright, defeating a full grid of higher horsepower west coast racers on their home turf.¹


Three of the four engine displacements historically offered in MG Midgets have been popular with racers. Engine choice (not year of production) correlates to racing classes as follows: 948cc cars race in "H-Production", 1098cc cars race in "G-Production", and 1275cc cars race in "F-Production". MG Midgets with the late 1970s era (Triumph) 1.5L engine aren't eligible for competition with most vintage racing clubs. Other rules apply too. For example, per Sportscar Vintage Racing Association, an H-Production MG Midget must weigh over 1380 pounds whereas an F-Production Midget must weigh over 1418 pounds.

Although 948cc, 1098cc, and 1275cc Spridgets race for honors in three different classes, they're typically grouped together. It's extremely rare - almost unheard of - for field sizes to be large enough to justify separating the cars on a weekend's racing schedule.



IMPORTANT ANNOUNCEMENT
BritishRaceCar.com will have to cut back plans for continued growth if we can't find more financial support.
If you like what you've found here, and you want to see more, please click here and follow the instructions.
Readers like you keep BritishRaceCar.com online and growing through voluntary financial contributions.



Harry ran a 948cc engine for his first year and a half, but then decided to make winning SVRA's annual points race his goal. In the early 2000s, SVRA points were awarded for both class victories and overall (group) victories. Realistically, to win a points race he would need to move to the fastest of the three racing classes. Harry called and ordered a 1275cc engine.

In the four seasons spanning 2005 through 2008, Harry Gentry raced in every single SVRA event. Reliably quick, Harry won two SVRA points championships and took second place in the other two.


Features and Specifications
Engine:
1275cc BMC A-Series engine with 0.020" overbore, built by Huffaker Engineering. JE forged pistons. Carrillo connecting rods. Huffaker camshaft and valve springs. Titan roller rockers (1.5:1 ratio.) Mallory Unilite distributor. MSD Soft Touch rev control (part# 8728, chipped at 8500rpm). Lucas sport ignition coil. Custom-modified Taylor Spiro-Pro 8mm spark plug wires. S.U. HS4 (1.5") carburetors, prepared by Huffaker. K&N air filters. Accusump oil accumulator. Winners Circle "Super" oil pan. Canton Racing Products inline oil filter. Canton-Mecca canister oil filter.

Cooling:
Speedwell Engineering single-pass downflow aluminum radiator. Modified aluminum water pump (with every other vane removed.) Setrab 19-row aluminum oil cooler (part# 50-619-7512.) Canton Racing Products aluminum header tank.

Exhaust:
long-center-branch 3-into-1 header. Through-the-tunnel exhaust system.

Transmission:
Taylor Race Engineering rib-case 4-speed dog-ring gearbox. Quartermaster flywheel. Tilton 7.25" single disc clutch.

Rear Axle:
Spridget axle housing, straightened. (No toe-in or camber built in.) Winner's Circle axle shafts. Winner's Circle double bearing hubs. Tran-X limited slip differential. 4.2:1 ring and pinion. (At Lime Rock 4.5:1 gears are used instead.)

Front Susp.:
Winner's Circle 500lb/in coil springs. Armstrong lever shock absorbers, rebuilt with MGB valves. Steering arms modified to reduce bump steer. Speedwell 3/4" hollow front anti-sway bar, mounted on aluminum pillow blocks.

Rear Susp.:
quarter-elliptic leaf springs. World Wide Imports externally adjustable lever shock absorbers. Radius rods (installed above the springs). Panhard rod.

Brakes:
(master) Tilton pedal assembly, modified. Tilton master cylinders. Tilton remotely adjustable bias bar.
(front) stock 8.3" rotors and calipers. Hawk "blue" brake pads.
(rear) stock 7" drum brakes. Shoes re-lined with VelveTouch metallic friction material.

Wheels/Tires:
Panasport Racing 13x6 aluminum wheels. Avon 6.0/22.0/13 racing tires.

Electrical:
Davis Unified Ignition "Dyna-Batt" (7"x6.5"x3", 13.5#) drycell battery. Denso alternator. Gear reduction starter.

Instruments:
(left to right) AutoMeter Pro-Comp 2 Ultra-Lite Memory tachometer (0-10,000rpm), AutoMeter Pro-Comp Ultra-Lite water pressure (0-35psi) and fuel pressure (0-15psi) gauges. dual pyrometer gauge (600-1700F), AutoMeter Pro-Comp Ultra-Lite oil pressure (0-100 psi), coolant temperature (100-280F), and oil temperature (100-280 F) gauges. Also, a low oil pressure warning light (left), an alternator no-charge light (small, in the middle) and a low water pressure light (right).

Fuel System:
Fuel Safe Systems aluminum can fuel cell. Dual Holley "red" fuel pumps. Dual Fram HPG1 fuel filters. Holley fuel pressure regulator.

Safety Eqpmt:
Kirkey aluminum racing seat with accessory shoulder supports installed. Crow Enterprises 5-point latch-and-link safety harness. Kirkey low-back aluminum passenger seat. Splined, quick release hub mounted on a Momo "Race Evo" ergonomic steering wheel. Later-model collapsible steering column. Safecraft RS1301 10# Halon centralized fire suppression system. SPA Design side view mirrors and rear view mirror.

Weight:
1418#.

Racing Class:
SVRA Group 1, F-Production

Engine Installation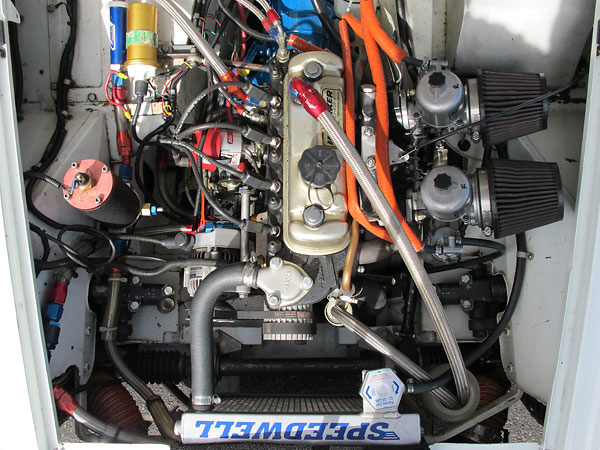 1275cc BMC A-Series engine built by Huffaker Engineering with 0.020" overbore.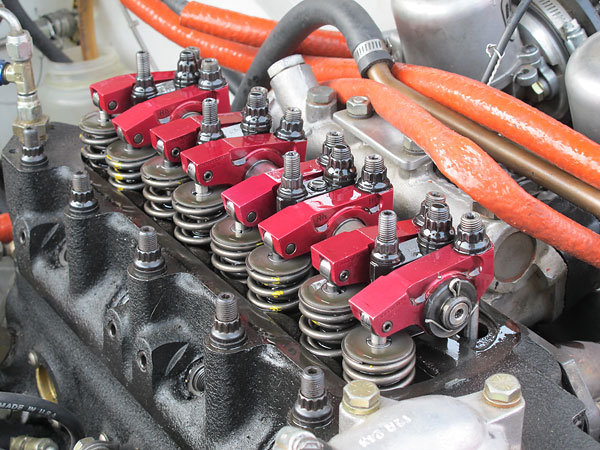 Titan Motorsport & Automotive Engineering Ltd. produces a diverse range of precision
components for racing including roller rockers (shown here), oil pumps, dry sump systems,
and steering racks. Titan started as Charles Lucas Engineering Limited. The name Titan
was originally applied in 1967 to that company's excellent Formula Three racing cars.
(This photograph was taken at the Lime Rock Historic Festival in September 2011,
and it shows Harry has installed a later model U.S.-market anti-smog cylinder head.)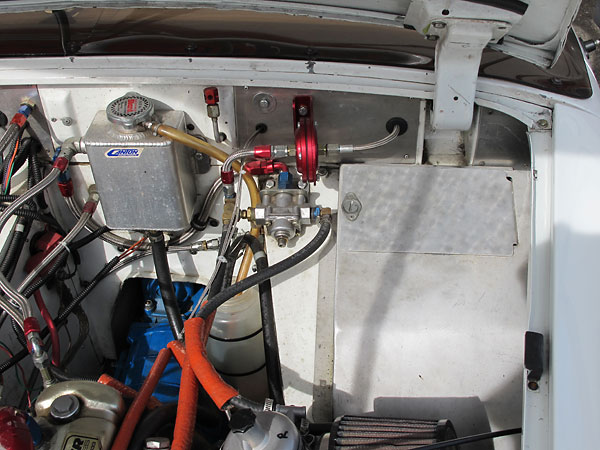 Center: Holley fuel pressure regulator. Top: fuel pressure gauge isolator. An elegant detail:
Harry's master cylinder cover is held neatly in place by only one Dzus quarter turn fastener.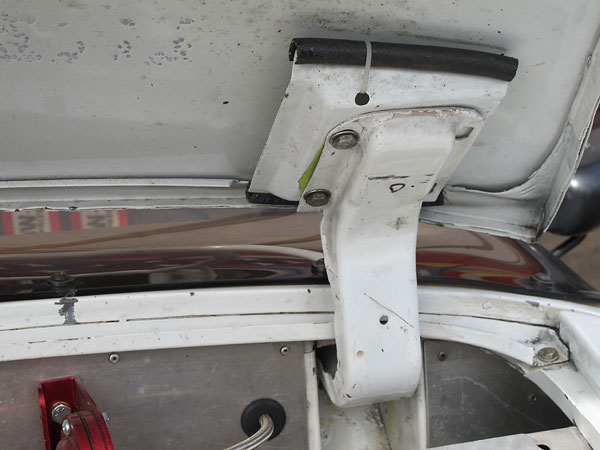 Bonnet hinges are retained for convenience. They're connected to the bonnet with quick-release pins.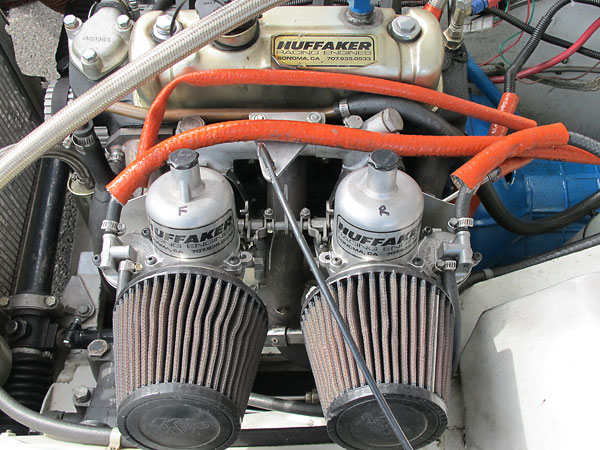 MG normally installed S.U. HS2 (1.25") carburetors on Midgets and HS4 (1.5") carburetors on MGBs.
To use HS4 carbs on this Midget, an MGB intake manifold has been sectioned and rewelded to suit
the Midget's narrower port spacing. The balance tube was plugged too. The carbs themselves have
been through-bored by Huffaker Engineering. In other words, the venturi "bridges" which formerly
improved throttle response have been removed in favor of less restriction at wide open throttle.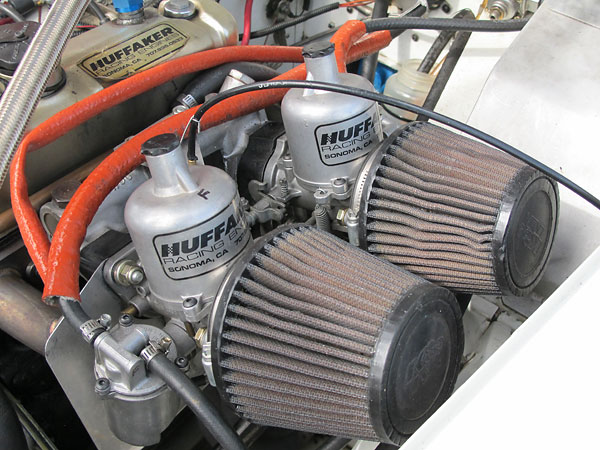 K&N oiled gauze air filters clamp onto lathe-turned billet aluminum adapters which
feature large radius bell mouths, so they function as shortie velocity stacks.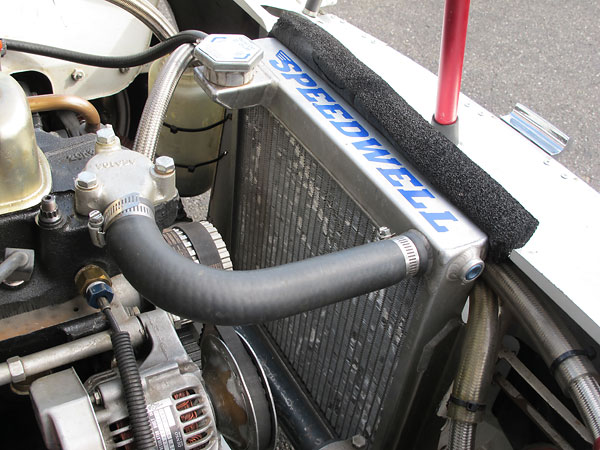 Speedwell Engineering single-pass downflow aluminum radiator.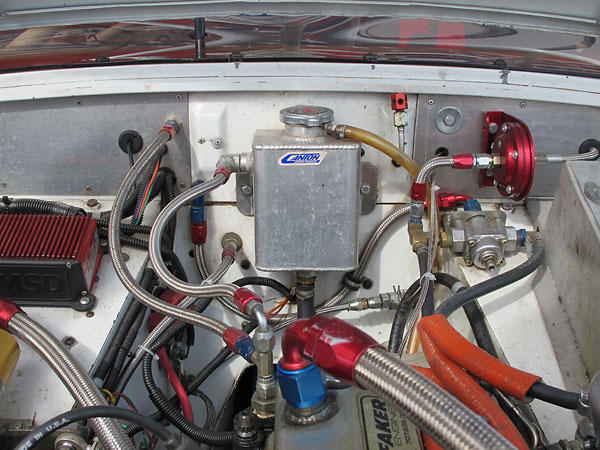 Canton Racing Products aluminum coolant header tank.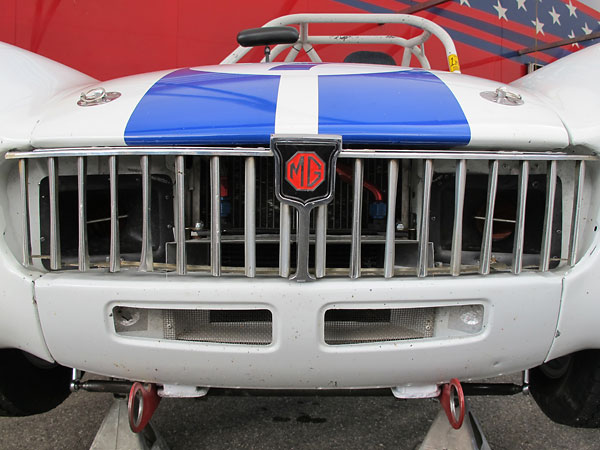 Oil cooler ducting. The valance shown here (with two holes) is from a rubber bumper Midget.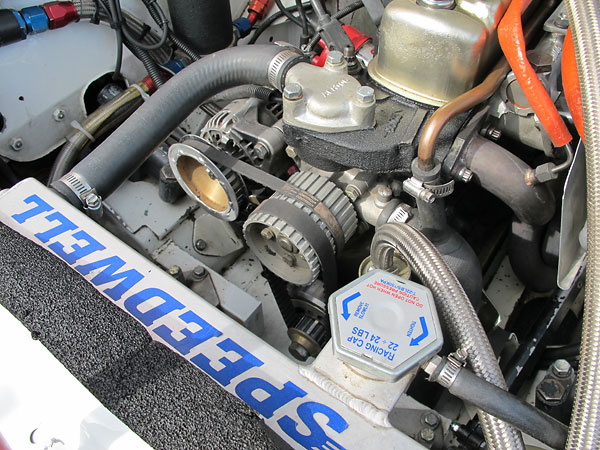 Huffaker supplied crankshaft balancer and water pump pulley.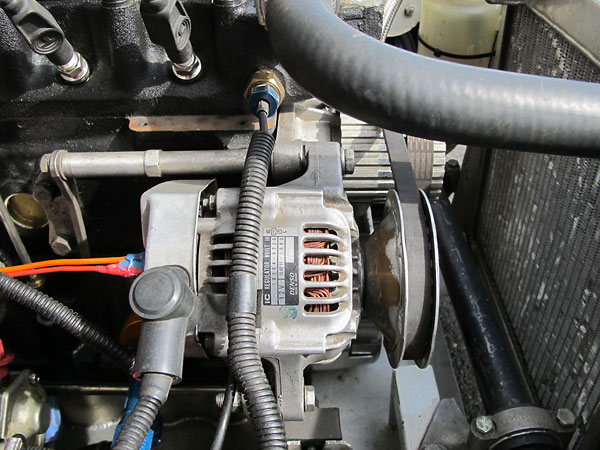 Many racers go without a charging system even though class rules stipulate a 25# weight penalty
for doing so. Since he has an alternator, Harry is especially comfortable saving weight with a tiny
13.5# drycell battery. Note pulley ratio: alternator spins ~3500rpm when engine spins 8000rpm.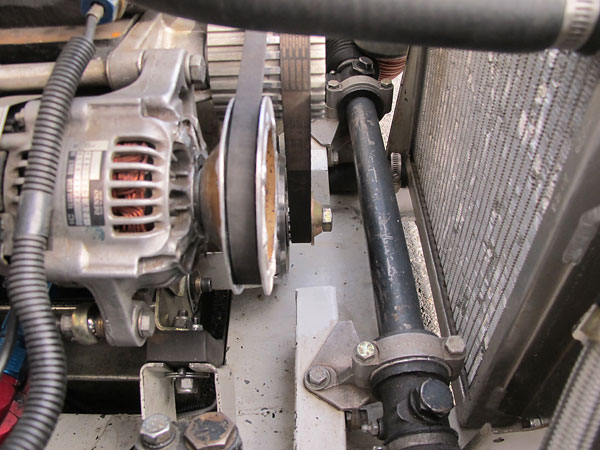 This reliable, lightweight Denso alternator boosts power to the ignition; that's always a good thing.
Furthermore, it can be an important issue for racers who run any sort of electronic ignition or rev
limiter. Harry used to have a generator installed with its field coil supplied through a toggle switch
so he could eliminate its drag on the engine, but he discovered disconnecting the generator caused
his MSD rev-limiter to malfunction. Instant engine miss! We've heard similar reports from racers
who use MSD-6AL ignitions without alternators. They can be cantankerous at low voltage!
(Note that the motor mount has been slotted, which makes engine changes much easier.)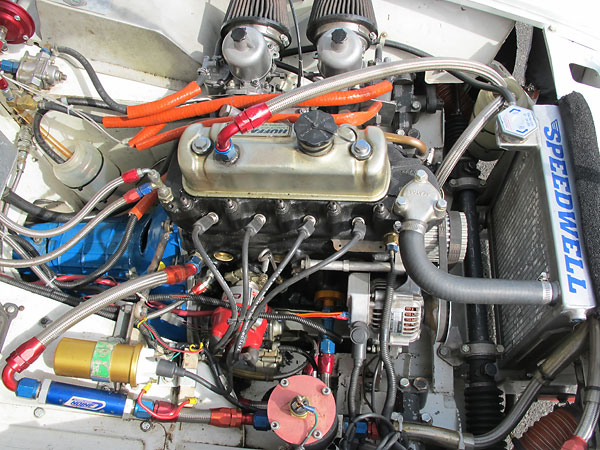 This is the second of two Huffaker-built 1275cc engines Harry has used in his MG Midget.
He also still has the 948cc engine he started with, and he could reinstall it on a whim.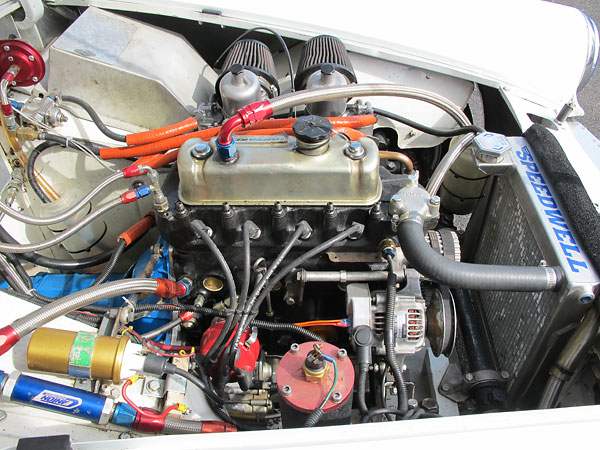 Center-foreground: Canton-Mecca canister oil filter with low oil pressure switch tapped into its top.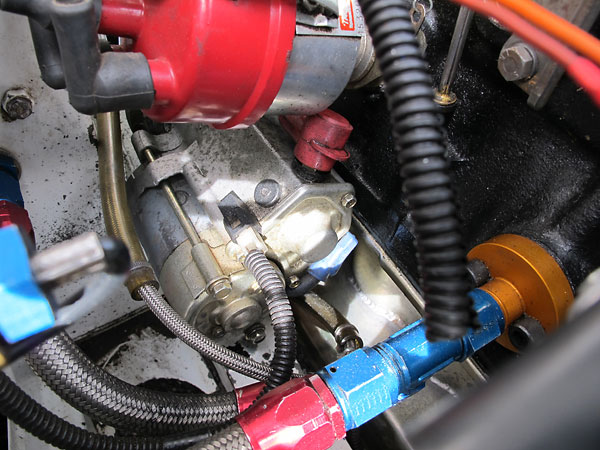 Compact and lightweight gear reduction starter.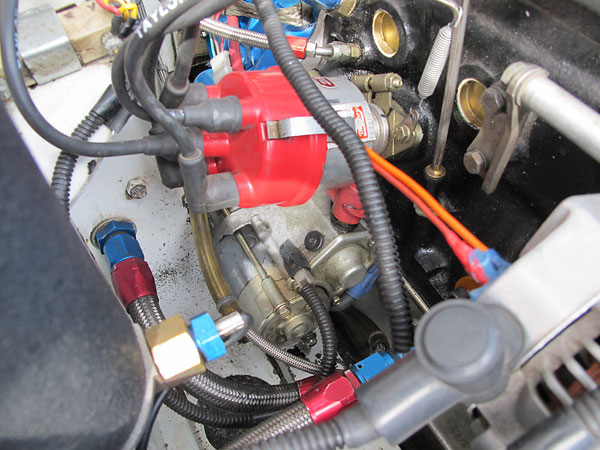 Mallory Unilite distributor.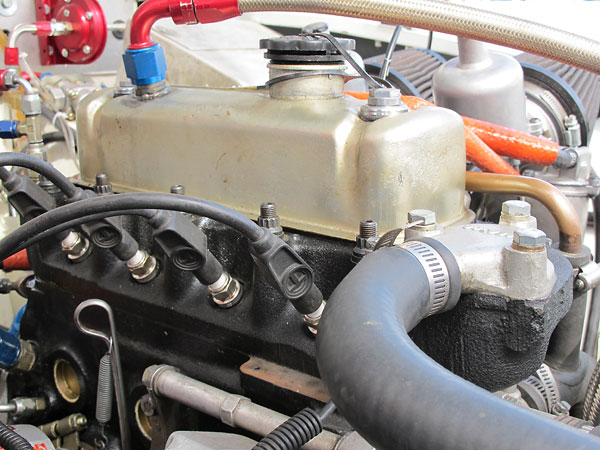 Harry bought a set of Taylor Spiro-Pro 8mm spark plug wires for a V8 installation, then cut
them down and crimped on new terminals to make two sets of wires that both fit perfectly.
He reports this project isn't difficult at all if you have the correct crimping tool, and
the cost savings makes it worthwhile if you're maintaining a couple cars.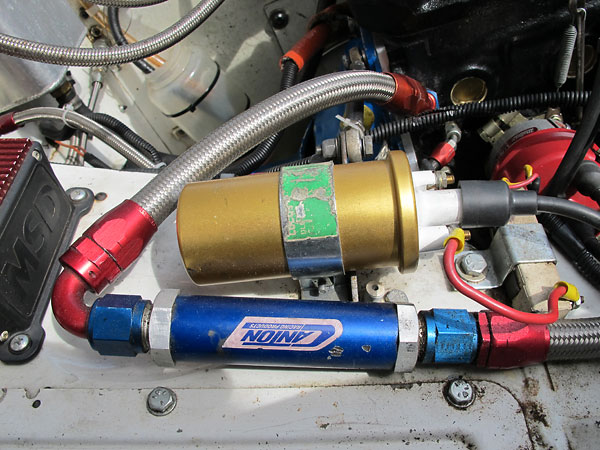 Lucas sport ignition coil, ballast resistor, and Canton Racing Products inline "inspection" oil filter.
(This filter can be quickly checked for bearing debris if there's reason for concern.)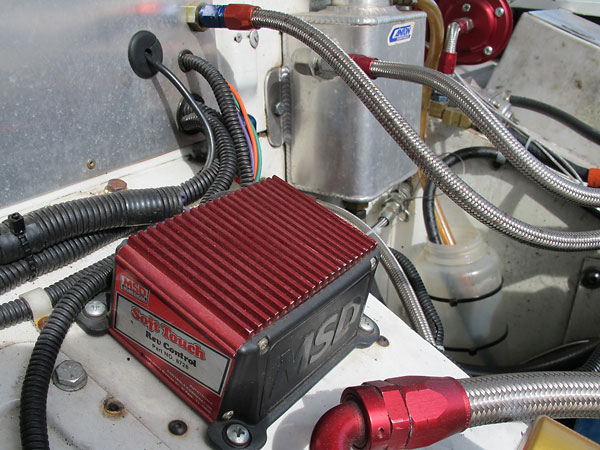 MSD Soft Touch rev control (part# 8728).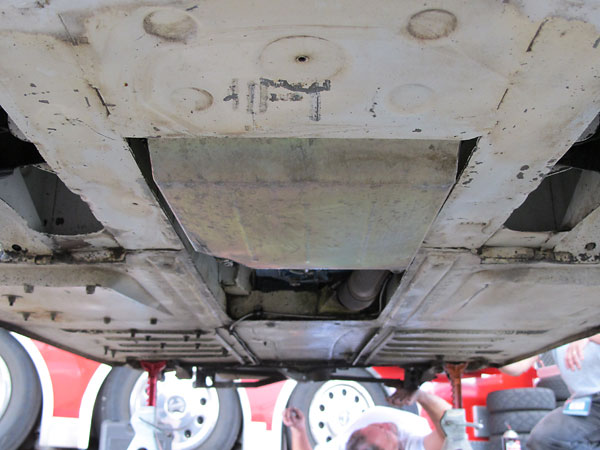 Winners Circle "Super" oil pan.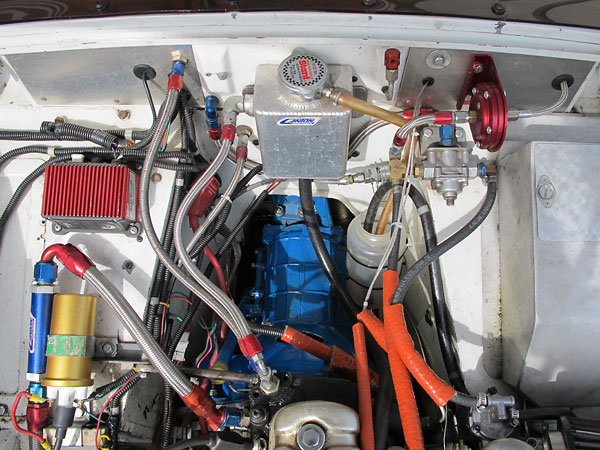 Taylor Race Engineering rib-case 4-speed dog-ring gearbox.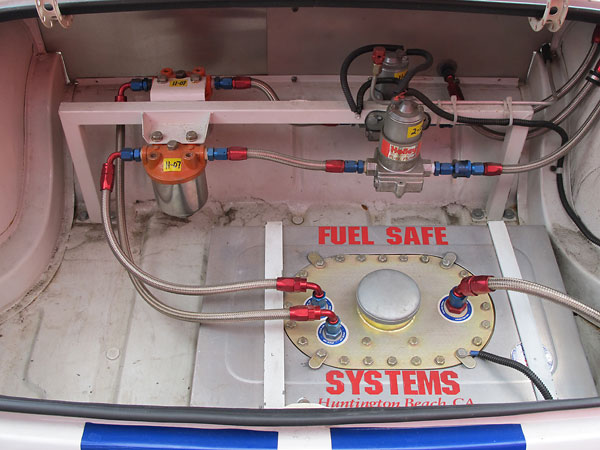 Fuel Safe aluminum-can fuel cell, dual Holley "red" fuel pumps, and dual Fram HPG1 fuel filters.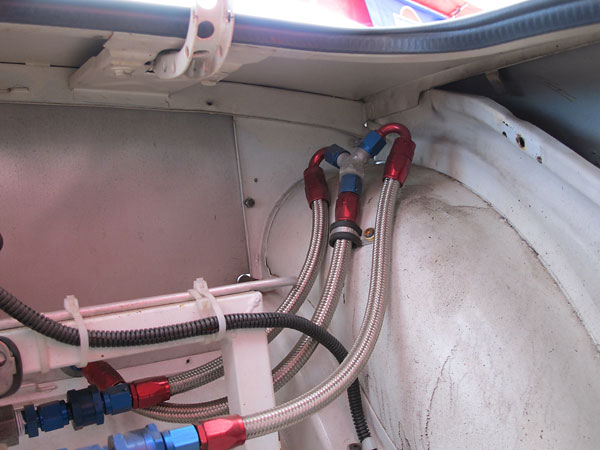 This is just the y-connection that combines fuel from the redundant pickups and fuel pumps.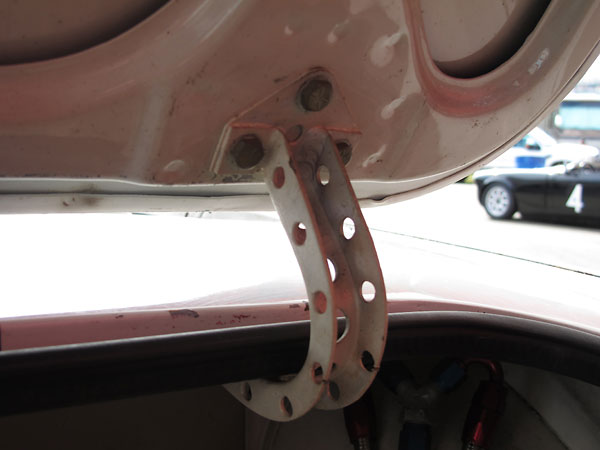 Lightening holes have been drilled into the boot lid hinges.


Front Suspension / Etc.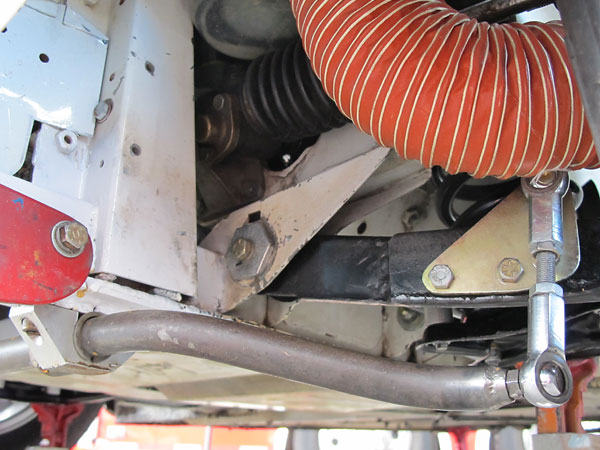 Speedwell 3/4" hollow front anti-sway bar, mounted on aluminum pillow blocks.
See the hexagonal part under the bolthead where the lower control arm mounts?
Harry can adjust camber by rotating that hexagonal part.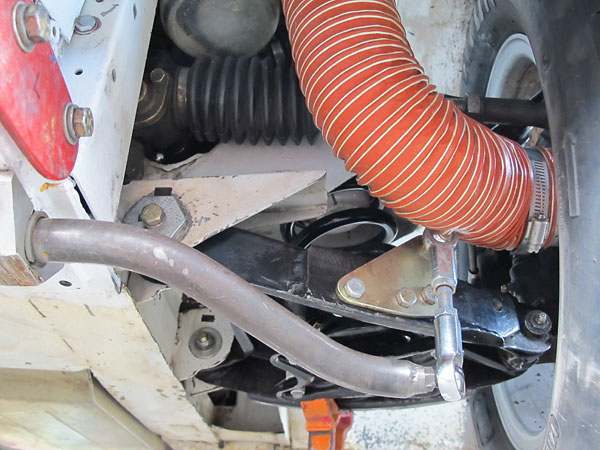 Brake cooling is aided by air ducts which route down from beside the radiator.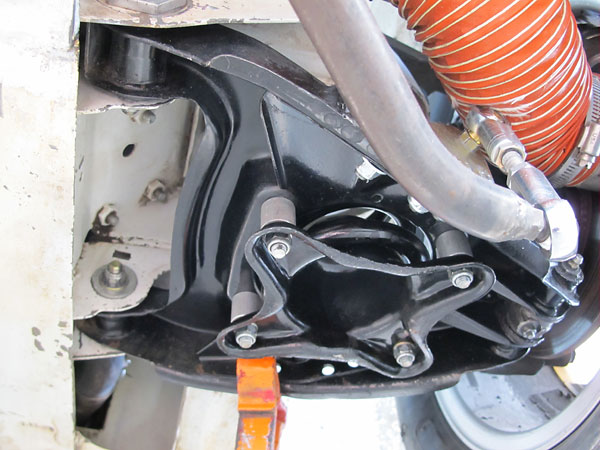 Winner's Circle 500lb/in coil springs, with spacers on the pan to lower ride height.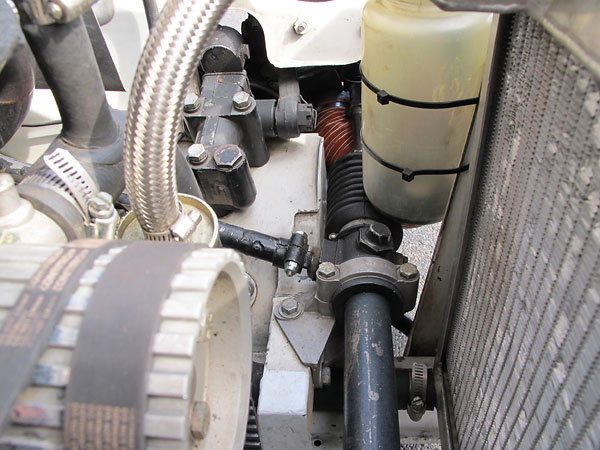 Armstrong lever shock absorbers, rebuilt with MGB valves.


Profiting from this article? Not us! Please help us cover travel and web hosting expenses.
To toss some change in our tip jar, please click here. Doing your part is quick and easy.
We also offer targeted, cost effective advertising options. Please click here to learn more.
Rear Suspension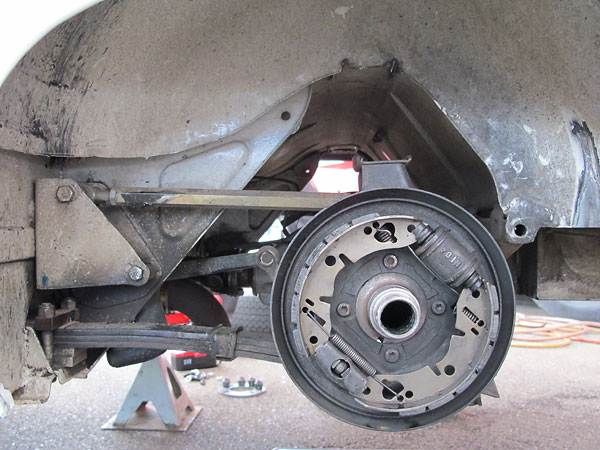 Occasionally, racecars break parts. While Harry replaced a broken axle, we took a snapshot of his low
spring rate quarter-elliptic leafsprings, his Armstrong lever shock absorbers, and the radius rods which
improve rear suspension precision. (They're especially necessary in combination with the softened
leafsprings.) Incidentally, Harry prefers VelveTouch all-metallic brake linings because they're MUCH less
effected by leaked axle lube. Just clean and re-use them. They last longer than organic brake linings too.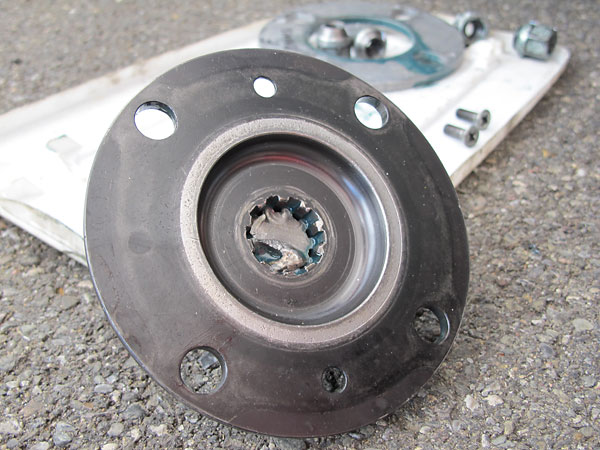 Winner's Circle advertises that their axle shafts and double-bearing hub assemblies provide "close to
a bullet-proof rear axle/hub set up" but axle failures remain a common problem for Spridget racers.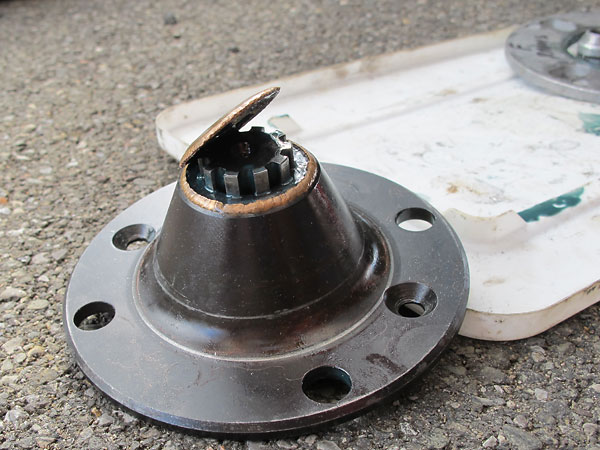 Racing hard with a top flight engine and sticky tires, Spridget axles are only good for about one season.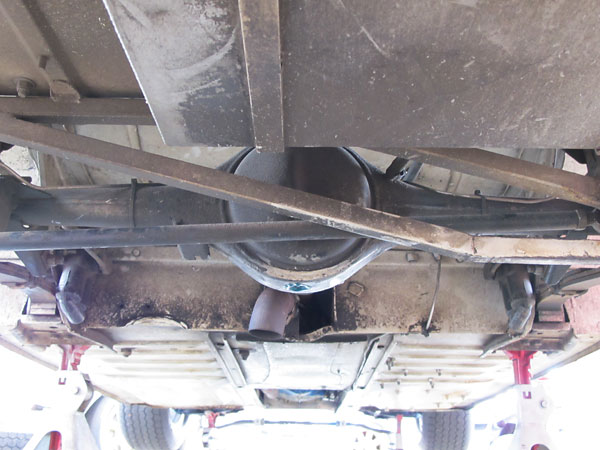 This is a stock Spridget axle housing, running completely straight. Other Spridget racers have experimented
with bending the housing to achieve toe-in or negative camber. Running straight ahead, the seals leak less.
Note also the through-the-tunnel exhaust routing, which is a crucial detail because it permits lowering the
whole car. Especially when it comes to vintage MG racecars, ride height is probably the single best
externally-visible predictor of race finishing order. (You might want to look closely at tires too.)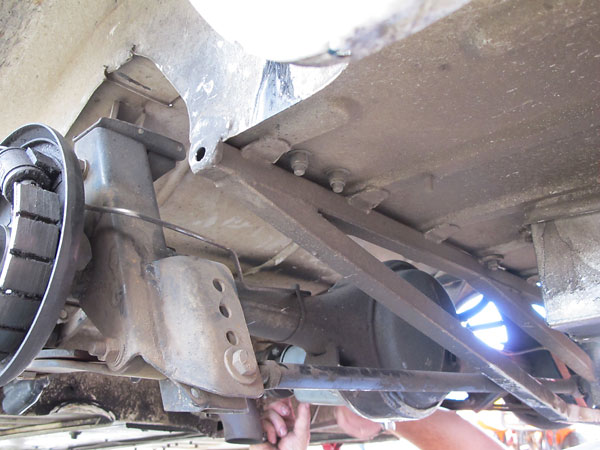 The installation height of the Panhard rod determines the instant center upon which the car's body rolls
side to side relative to the rear suspension. Testing has shown the lowest setting works best on this car.



Interior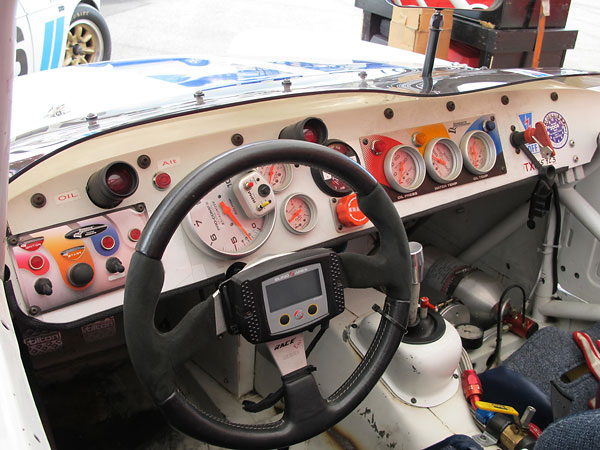 Overview of the instrument panel, shaded by a very low profile windscreen.



The Blind Apex DisplayIT lap timer connects to the same transponder system used by
race officials for timing and scoring the race, so no other set-up is required.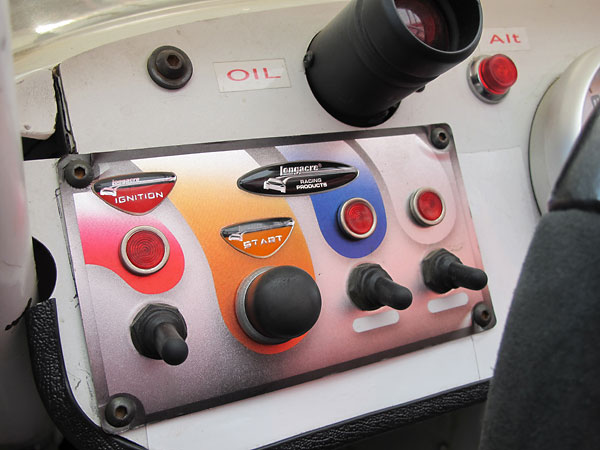 Longacre Racing Products electrical switch panel.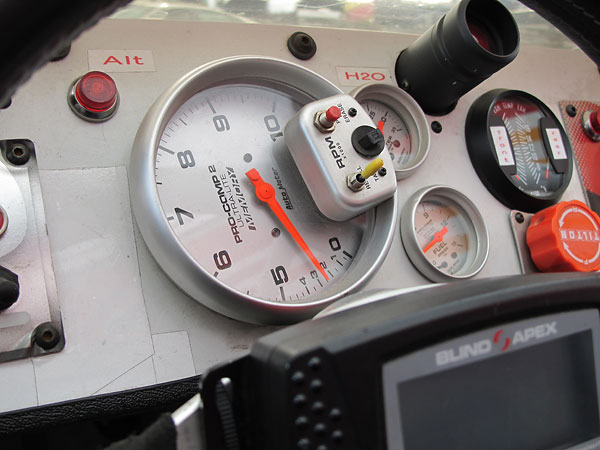 AutoMeter Pro-Comp 2 Ultra-Lite Memory tachometer (0-10,000rpm), Pro-Comp Ultra-Lite
water pressure (0-35psi) and fuel pressure (0-15psi) gauges. The water pressure gauge
and warning light are important. They warn you immediately when you blow a freeze plug!²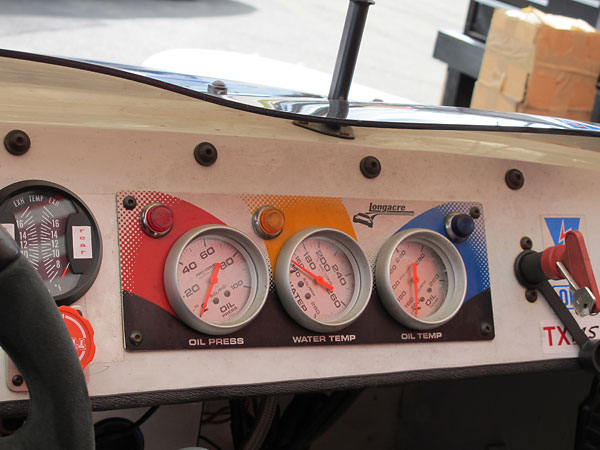 Longacre Racing Products gauge panel with AutoMeter Pro-Comp Ultra-Lite oil pressure (0-100 psi),
coolant temperature (100-280F), and oil temperature (100-280 F) gauges installed.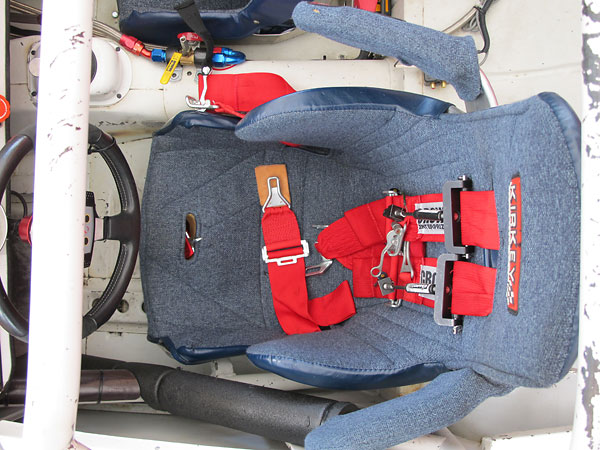 Kirkey aluminum drivers seat (with supplemental shoulder supports) plus a Kirkey low-back aluminum
"vintage racing" seat for passenger use. Per class rules, a 20# penalty is assessed for racing without a
usable passenger seat. Complete with lap belt, Harry is ready to bring a riding mechanic or navigator
along for Watkins Glen's wonderful through-town reenactment.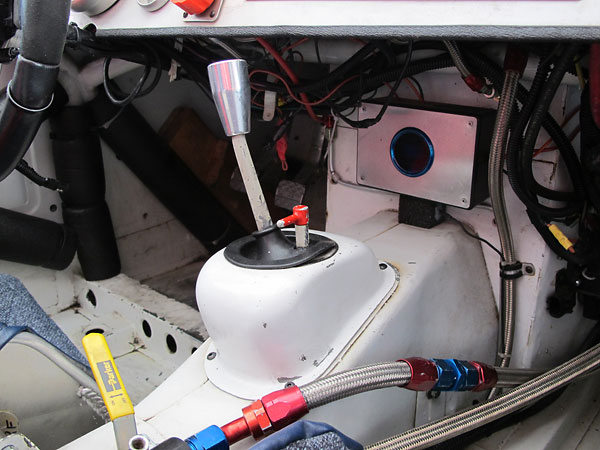 The Taylor dog-ring box has been set up with a tall first gear, so Harry can normally expect to use
all four gears on every lap. He uses first gear twice per lap at Watkins Glen. In selecting gears, he
tries to keep the engine running between 6-8,000 rpm. The red handled pin simply blocks the
reverse gear gate while on track. The blue-rimmed gauge forward of the shifter is a digital voltmeter.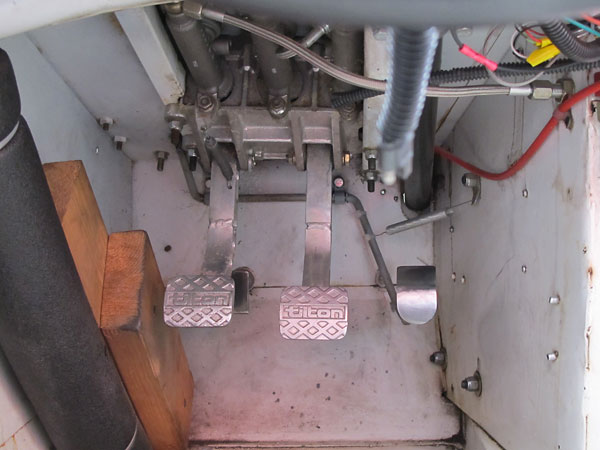 Harry reports that he prefers to use the clutch pedal for every single gearshift.
The Tilton pedals have been cut and welded (i.e. shortened). A dead pedal made of
high technology composite material provides Harry a firm place to brace his left foot.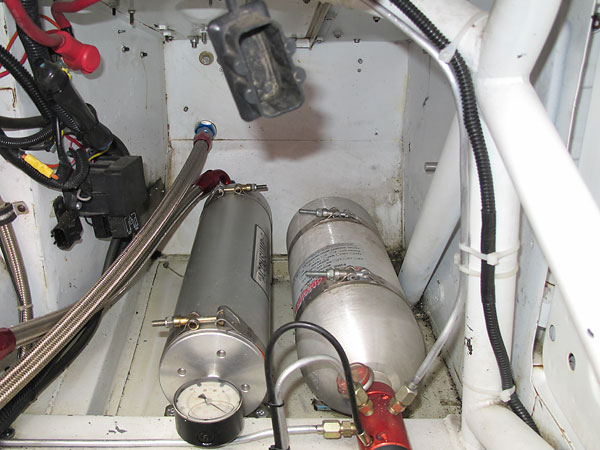 Left: Accusump oil accumulator. Right: Safecraft RS1301 10# fire extinguisher bottle.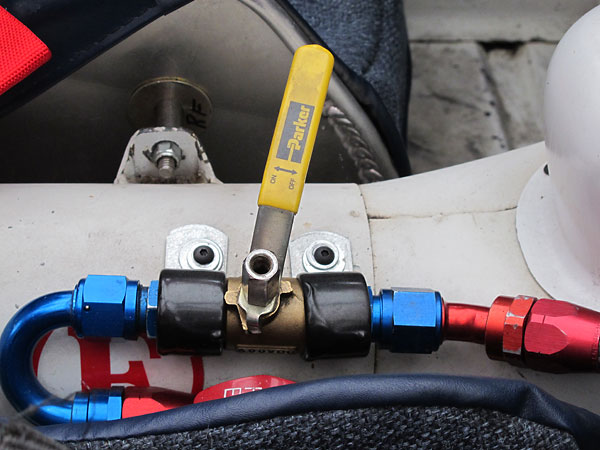 Manually operated valve for the Accusump system.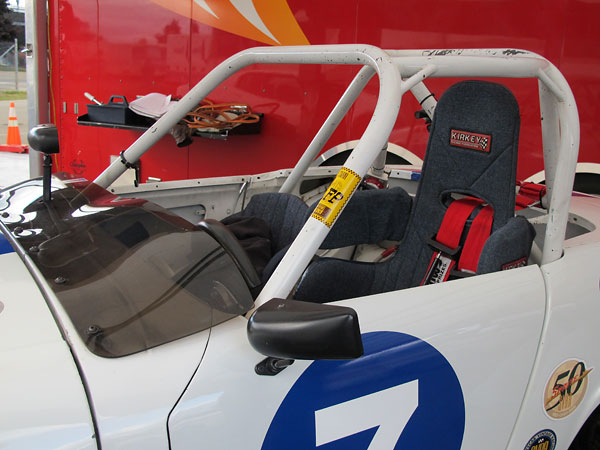 The car has a Tilton brake bias adjustment knob on its dashboard. Harry set it once and has never seen
fit to tinker with it. He doesn't adjust it for changing tire condition, fuel load, track surface, or even rain.
Harry tells us that the Midget's brakes are more than adequate; brake fade is hardly ever noticeable.
His driving style probably has a lot to do with this: he's smooth, and certainly not a "late braker".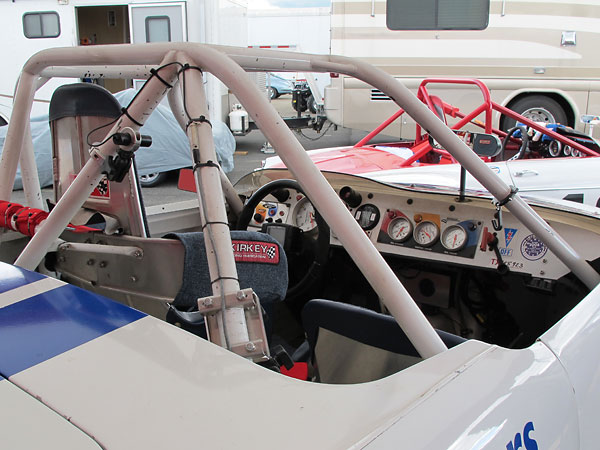 Harry has to be careful to carry enough fuel to finish races above the minimum allowed
weight stipulated by SVRA for an F-Production MG Midget: 1418 pounds.


Exterior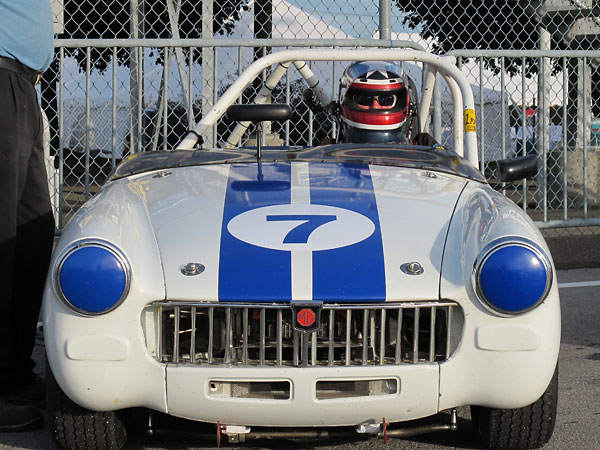 At the Sportscar Vintage Racing Association's 2010 US Vintage Grand Prix of Watkins Glen,
Harry Gentry circled the challenging 3.4 mile circuit with a very quick best lap time of 2:22.101
(~86.136mph) to take 2nd overall to Pat Ryan and 1st among all Spridgets entered in Saturday's
qualifying race. Two hours later, Harry placed 3rd overall in the all-MG 2010 Collier Cup sprint race.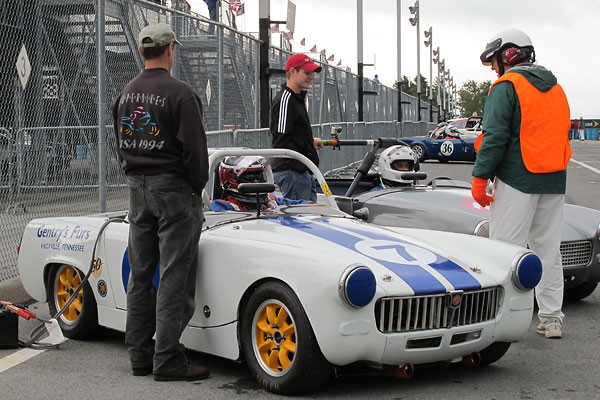 Sunday's Group 1 race started in a light drizzle but ended in pouring rain. Harry was completely
undaunted. He finished first overall wiith a comfortable seven second margin of victory.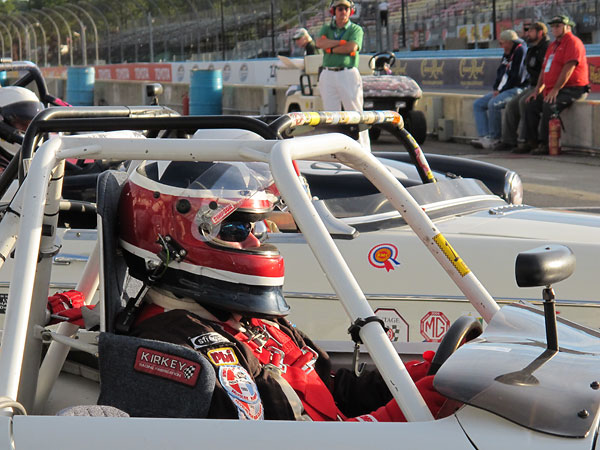 In 2012, Harry plans to shift his focus to campaigning his other race car: a sexy Ginetta G4 S2!
When he's not racing, Harry enjoys driving a rare 1981 Triumph TR8.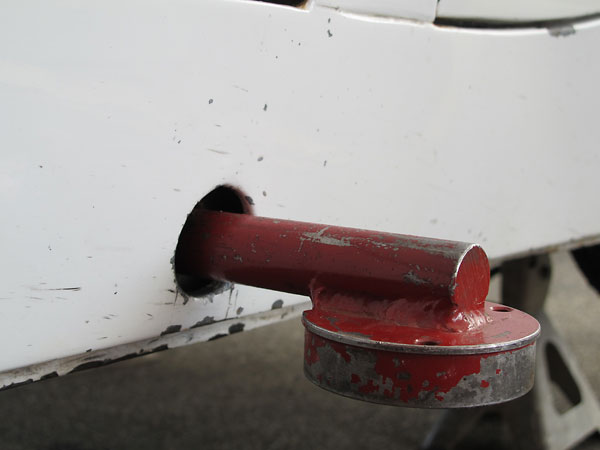 Here's a handy shop-built tool for any Spridget owner to copy: an external floor-jack jacking point.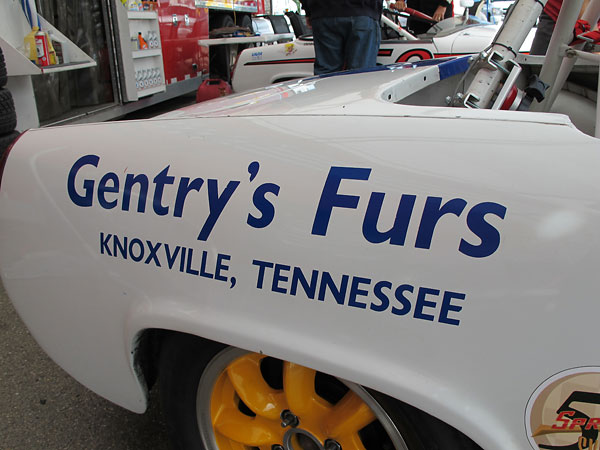 Gentry's Furs, Knoxville Tennessee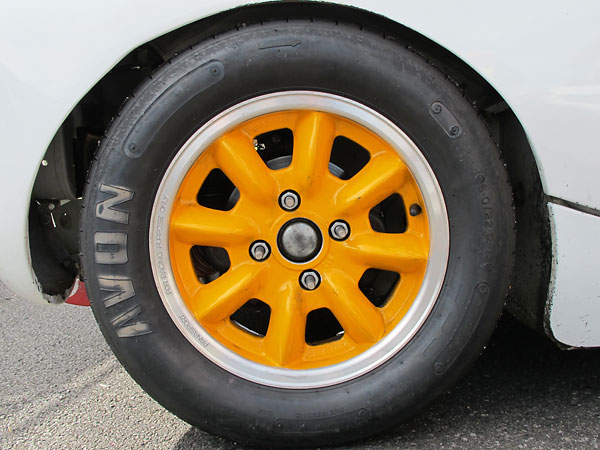 Avon 6.0/22.0/13 racing tires.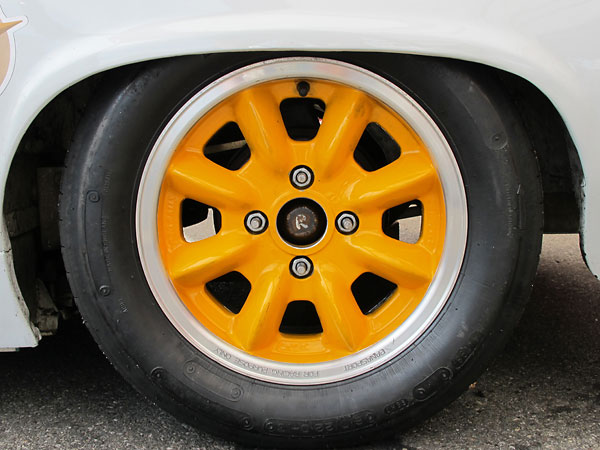 Panasport Racing 13x6 aluminum wheels.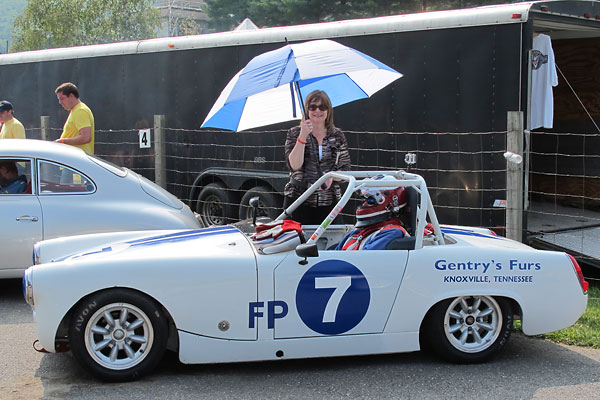 Harry's car as it appeared at the Lime Rock Historic Festival in September 2011.
As shown here, rear wheel arches were "square" on 1961-1971 MG Midgets and also
on 1975-1979 MG Midgets. 1972-1974 MG Midgets had "round" rear wheel arches.


Except where specifically noted above, all photos shown here are from September 2010 when we viewed the car at Glenora Winery's Vintage Grand Prix of Watkins Glen, New York. Photos by Curtis Jacobson for BritishRaceCar.com, copyright 2011. All rights reserved.


Notes:
(1)
In fairness, it should be noted that differing club rules allowed Harry Gentry's Midget at least one significant technical advantage over west coast MG racers. Most importantly, his Taylor dog ring gearbox provides quicker shifts. That difference alone is probably worth one or two seconds per lap compared to any car using a well prepared MG gearbox with old school "straight-cut close-ratio" racing gears.


(2)
The coolant pressure warning light shines whenever system pressure drops below 12psi. The light came on when Harry's Midget blew out a freeze plug during practice at Sears Point this year. He was able to shut down immediately and avoid expensive and time consuming repairs - the difference between a horrible weekend and a triumphant one! A coolant temperature gauge doesn't really do the same job because it's inaccurate when it's reading air instead of water. You can't count on corner workers to black flag you when a freeze plug fails if you're racing in the rain. Incidentally... did you know that 948cc and 1275cc BMC A-Series engines utilize two different types of freeze plug? The smaller/earlier 948cc engines had saucer shaped plugs whereas the larger/later engine blocks take shouldered/cupped freeze plugs. Both engine sizes are susceptible to freeze plug failures under the strain of racing.



Notice: all the articles and almost all the photos on BritishRacecar.com are by Curtis Jacobson.
(Photos that aren't by Curtis are explicitly credited.) Reproduction without prior written permission is prohibited.
Contact us to purchase images or reproduction permission. Higher resolution images are optionally available.