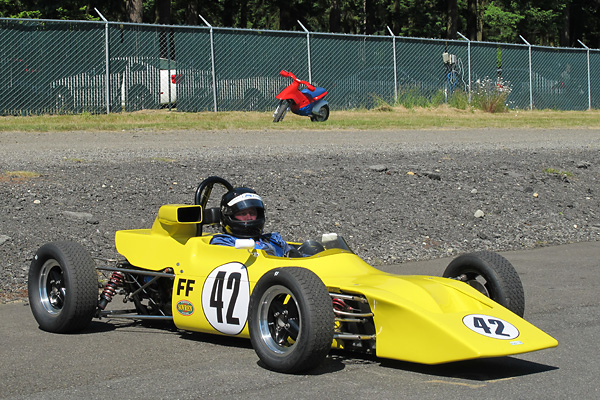 Jim Johnson's 1972 March 729 Formula Ford Race Car
Owner: Jim Johnson
City: Woodinville, Washington
Model: 1972 March 729
Engine: Ford 1600cc four cylinder
Race prepared by: owner.
March Engineering Limited
At the youthful age of 26 years, Robin Herd resigned from a safe career at National Gas Turbines and joined McLaren as Chief Designer, where he would work on Formula One and Can-Am cars just as McLaren was becoming a leading player. Somehow though, McLaren didn't keep Herd busy enough, and he made time for occasional side projects designing this and that for other racing outfits. He dreamed of really focusing his considerable talents on designing Formula One cars. By 1969, Herd was looking to move on and was exploring possibilities with an old school chum named Alan Rees who had managed Winkelmann Racing in close association with Lotus. Rees brought along another friend with automotive parts production experience, by the name of Graham Coaker. Rees imagined managing a Formula One team; Coaker dreamed of managing the construction of racecars. At about the same time, while working on a design modification to Piers Courage's Tasman Series car, Robin became reacquainted with an old Oxford classmate named Max Mosley. Mosley was a barrister turned serious-amateur driver. (He had the advantage of a moneyed background.) Mosley dreamed about all the fun he could have arranging sponsorships and business deals. One thing led to another, and before long Mosley, Alan Rees, Coaker and Herd merged their names and became "March".

March called their first car the "693". Their model numbering system was simple enough to understand: it was a Formula Three car for the 1969 season. Construction of the 693 began in Graham Coaker's shed before any sort of contracts were signed. By the time the young company moved into a 3000 square foot unit at an industrial estate in Bicester (a market town near Oxford and also Silverstone) the team principals were already making plans for a March 701.

March's 693 made its racing debut in the Lincolnshire International Formula Three race at Cadwell Park on September 28. Ronnie Peterson drove it to a third place finish. When the race report appeared in Autosport magazine, Peterson's result was blown up into a huge announcement: a top flight car constructor had appeared from nowhere, and would be dominating Formula One by the following season. Oh, and by the way, they're ready to sell you whatever car you need to be a successful racer too.


March Racecars for the Junior Formulae
The March 693 made exactly three race appearances, and its best finish was its first one. Few people remember the car, but records show that it featured a square-tube spaceframe chassis and quite a few components taken off of a Brabham F3 car. March's 693 was the first spaceframe car Robin Herd had ever designed. It was a prototype in the literal sense, and many of its parts were fabricated before they were drawn on paper. Its success was not the result of testing and development. Put another way: Ronnie Peterson was a ringer, who probably made the 693 look a lot better than it was. However, on the strength of Peterson's performance March sold sixteen Formula Three cars in advance of the 1970 season.

In 1970, Formula Ford racecars still looked a lot like Formula Three cars, minus wings. "Fords" used far less highly tuned engines (making back some of the performance difference with displacement) and they rolled on tall, skinny, radial street tires. It was easy for March to accept orders for Formula Fords, so they did. March records show that they built ten Formula Fords for the 1970 season: eight for the home market plus two for North America. March's Fiberglass bodies were subcontracted to Specialized Mouldings, who supplied most of the market. Their "cigar shape" was hardly what you would call distinctive.

For 1971, March began constructing a second version of their Formula Three car, with a new full monocoque chassis design. Twenty March 713 Formula Three cars were built, nine with spaceframes and eleven of the new monocoque model. With introduction of the new chassis, March also introduced much fresher looking bodywork. Chisel styling was then in vogue, and March went with it. The new bodystyle would eventually carry over to Formula Ford too, but first March built a final handful of cars with cigar-nose styling.¹

March's interest in the junior Formulae was rapidly waning. More expensive cars brought a better return on capital employed. Although twenty monocoque 723 Formula Three cars were built, the spaceframe version was discontinued as was the home market Formula Ford. To continue supplying Formula Fords for the North American market, March contracted with Mitchell Engineering, who ultimately built fourteen additional March Formula Fords. Our article features the very last car of the series.



March's California Connection: Mitchell Engineering
Wayne Mitchell completed an apprenticeship in a machine shop and an engineering degree before moving to England to pursue his youthful dreams: he wanted to be a professional racecar driver. For three seasons he battled in England's (1000cc) Formula Three class against the likes of Emerson Fittipaldi and James Hunt. During these three years, he got to know all the founding members of March. He was a little bit younger than the others, and especially close friends with March's first paid employee: Bill Stone, who had also driven Formula Three cars.

In October of 1969, as Mitchell's money was starting to run out and after he had met and started getting serious with his future wife, Mitchell decided he'd soon have to move back across the pond. He met for dinner and drinks with Bill Stone, who told him: "I want to show you something before you leave, but you can't tell anybody." They left the restaurant and headed to Graham Coaker's house, where Wayne was one of the first people to preview 693's chassis as it was coming together. In fact, Wayne would lend parts from his own Brabham BT21 to the March founders so they could complete 693. Specifically, he recalls lending them rear uprights, drive flanges, and a steering rack.

Fast forward to late 1970. Wayne Mitchell has moved - not home to Manitoba but instead to sunny Southern California. Old friend Bill Stone has traveled to New Zealand and is returning to London with a layover in Los Angeles. Stone looks up his old friend, they get together for some beers, and Mitchell shows Stone the fabrication and machine shop he's set up near San Diego. This friendly visit inadvertently laid groundwork for the outsourcing of March's Formula Ford model. Why outsource? In the early seventies, Formula Ford seemed to be growing faster in U.S.A. than in England. Meanwhile, March was up to its eyeballs in work and Formula Fords were far from their top priority.

Mitchell Engineering agreed to build March branded Formula Fords. March handled sales and marketing. Mitchell drop-shipped to customers. Many basic components were supplied from March's UK facility, including Ford "Kent" engines, Hewland transaxles, front and rear uprights, Girling brake components, Smiths tachometers, and custom-made foam-filled rubber fuel cells. March never provided any frames or bodies; those were made by Wayne Mitchell to March's drawings. In some cases, such as radiators and exhaust headers, March provided sample parts and Mitchell found local suppliers to duplicate them.

Mitchell Engineering built fourteen cars: nominally seven for 1971 and seven for 1972. As Wayne Mitchell explained to me: "There is absolutely no difference between a 719 and 729." From his point of view the only distinction is when they were sold, not when they were built. March's U.S. headquarters in New Jersey sold eleven Formula Fords. In mid-1972, when crates started to back up on Mitchell Engineering's shipping dock, Wayne Mitchell sold the last three March 729 cars to local California customers. None of the U.S.-built March Formula Fords were shipped back to England.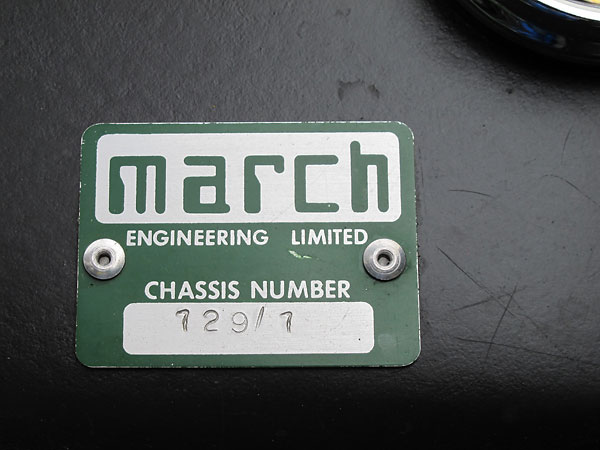 March Engineering Limited / Chassis Number 729/7
(U.K. constructed March racecars have blue chassis plates. Mitchell Engineering built Marchs have green ones.)


One small but interesting difference between U.K. produced March cars and the cars Mitchell Engineering built under contract is that the U.S. cars have green badges. Wayne Mitchell recalls making this choice as he was standing at the counter of the shop who would make them. Asked about color, he answered: "The color of money!"

I asked Wayne to retrospectively analyze the March design. What were its strengths and weaknesses? Firstly, in Wayne's opinion the car's wedge-shaped nose was a giant mistake because it caused lift. The leading edge needed to be much closer to the ground. Secondly, the cars left Wayne's shop with bog-standard engines. Especially in California, there was a lot of cheating going on in Formula Ford. Stock engines were completely uncompetitive. Wayne felt the car's should have been offered with some sort of specially prepared engines so they'd at least have a chance. Thirdly, March didn't seed the market by getting a car into the hands of a really good driver. Had one hot shoe driver shown the car's potential, sales might have come easier and other good drivers might have won their own races. The car may have been a couple pounds heavy, but only a couple. Wayne remembers it as a good solid design, easily tunable and with a lot more potential than was demonstrated on track.

The old saying goes "What wins on Sunday sells on Monday." There's a flip side to that coin. Unfortunately, Formula Ford production didn't turn out to be as lucrative as Mitchell hoped. He had a payroll to meet, and the vagaries of racecar sales made him uncomfortable. For that reason, Mitchell chose to focus on building up his machine shop. Nonetheless, in the thirty years since parting ways with March, Wayne Mitchell has never gotten away from racing. For example, Wayne Mitchell currently serves as tech inspector for two racing clubs: VARA and HSR-West. Mitchell Engineering has long been a favored supplier for specific precision racing parts including for example dog rings for racing gearboxes.

Only a handful of spaceframe March racecars still exist, but Jim Johnson managed to save the last one - 729 number seven - from oblivion. He discovered and purchased it as a basket case, and has been able to document its provenance and complete its meticulous restoration with the help of Wayne Mitchell. Although U.K. records are sketchy, Mitchell has testified that Johnson's 729 is authentic: the last of a rare breed, beautifully presented and quicker than ever.



IMPORTANT ANNOUNCEMENT
BritishRaceCar.com will have to cut back plans for continued growth if we can't find more financial support.
If you like what you've found here, and you want to see more, please click here and follow the instructions.
Readers like you keep BritishRaceCar.com online and growing through voluntary financial contributions.


Features and Specifications
Engine:
Ford Kent 1600cc with iron cylinder head, rebuilt by Ivey Engines, Inc. Burton aluminum valve cover. Weber 32/36 DGAV carburetor. BAT throttle linkage. RamFX foam air filter. Bosch distributor. Bosch blue ignition coil. Taylor Spiro-Pro 8mm silicone spark plug wires. Unlabeled oil pump. Dry sump lubrication system. Peterson engine oil reservoir.

Cooling:
copper/brass crossflow radiator. Custom fabricated coolant swirl tank.

Exhaust:
custom four-into-one header from Ken Dye (DND).

Transaxle:
Hewland Mk8/9 4-speed, with reverse, in a Mk6 case with Webster side covers. Metalastic drive donuts.

Front Susp.:
unequal length wishbones. Alford & Alder forged uprights, with custom fabricated steering arms. KONI double-adjustable, steel-bodied coilover shock absorbers. Eibach coil springs. Adjustable 5/8" anti-sway bar. March proprietary steering rack.

Rear Susp.:
inverted lower wishbones, single top links, and twin radius arms. Proprietary March magnesium uprights. KONI double-adjustable, steel-bodied coilover shock absorbers. Eibach coil springs. Adjustable 9/16" anti-sway bar.

Brakes:
(master) dual Wilwood 5/8" master cylinders with integral reservoirs and adjustable bias bar.
(front) Girling 14LF calipers (casting# HDA21658). Triumph Spitfire solid rotors.
(rear) Girling 12SP calipers (casting# 64321547). Solid rotors (cross-drilled).

Wheels/Tires:
Revolution 4-spoke aluminum wheels (13x5.5). Dunlop Racing "Formula Ford" tires (135/545-13 CR82 front, 165/580-13 CR82 rear).

Electrical:
Odyssey battery (7.0kg) Lucas battery disconnect switch. Tilton Super Starter gear reduction starter. (No charging system.)

Instruments:
(left to right) Stewart Warner water temperature gauge (100-265F), Jones mechanical tachometer (1000-10000rpm), and Stewart Warner oil pressure gauge (0-100psi).

Fuel System:
Fuel Safe wedge-shaped, under-seat, aluminum fuel cell. AC mechanical fuel pump with push-on fittings.

Safety Eqmt:
OMP six point cam-lock safety harness. Mountney of Britain leather wrapped steering wheel, installed on a Troyer quick release steering wheel hub. Phoenix centralized fire suppression system.

Racing Class:
Formula Ford.

Engine Installation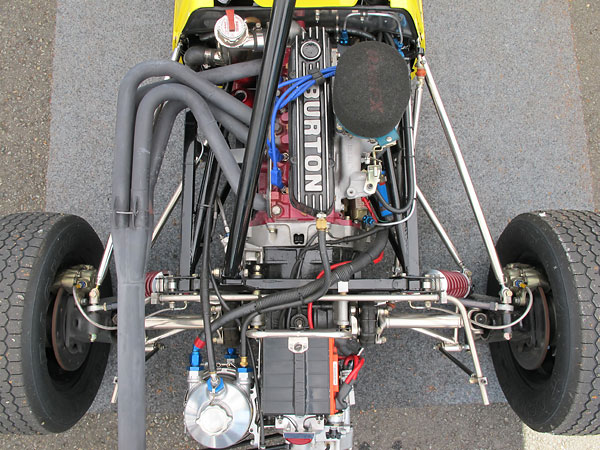 Ford Kent 1600cc with iron cylinder head, rebuilt by Ivey Engines, Inc. - Jim reports: "Jay Ivey does
all of the engine work and is a real prince. If he's at the track, he always drops by to see how things
are running. If something doesn't sound just right, he rolls up his sleeves and fixes it on the spot."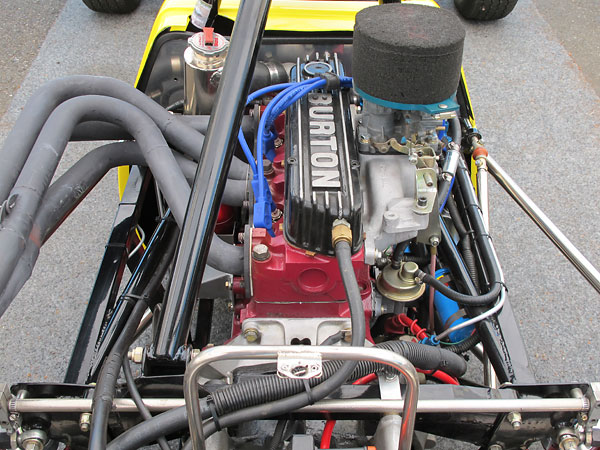 This Burton aluminum valve cover is a period accessory. Jim says it seals better than a steel cover.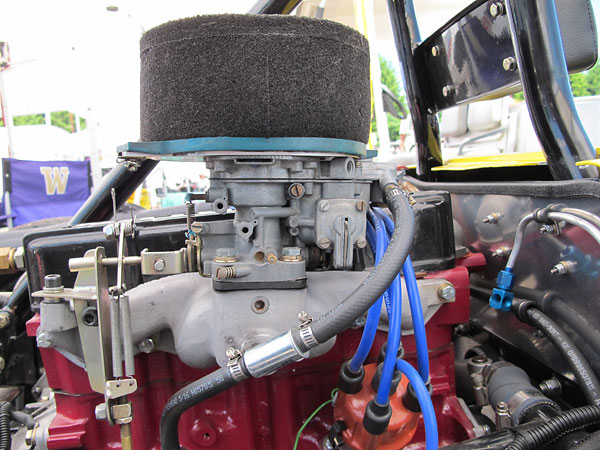 RamFX foam air filter atop a Weber 32/36 DGAV carburetor. BAT throttle linkage.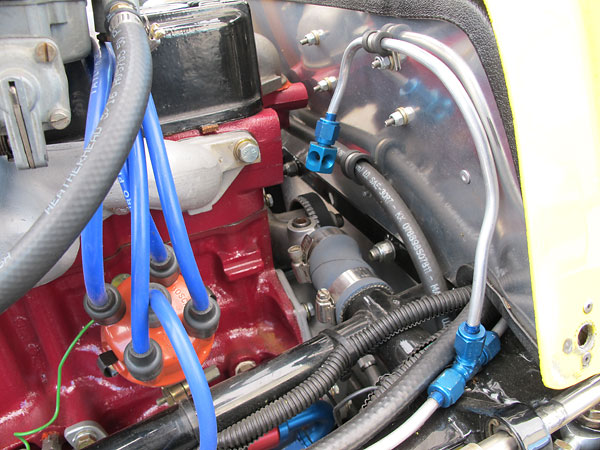 Bosch distributor with Taylor Spiro-Pro 8mm silicone spark plug wires.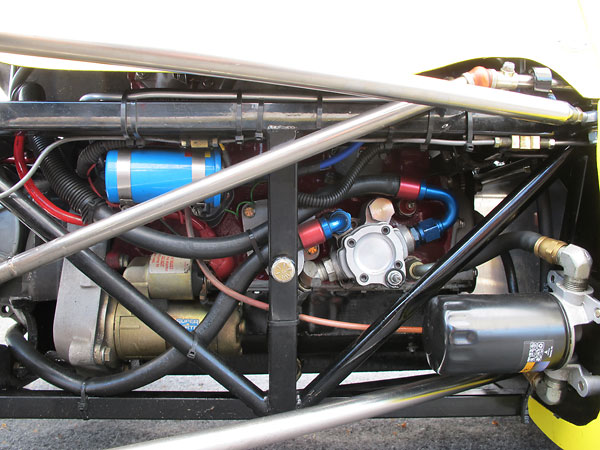 At left, Tilton Super Starter gear reduction starter. At right, Mitchell Engineering's very distinctive oil
filter mounting base. These bases were originally made for another of Wayne's businesses. Wayne
made and sold "Vari-Cam" kits for hot-rodders to update their American V8s with mechanically
variable camshaft timing. He still has inventory of old oil filter mounting bases if you need one.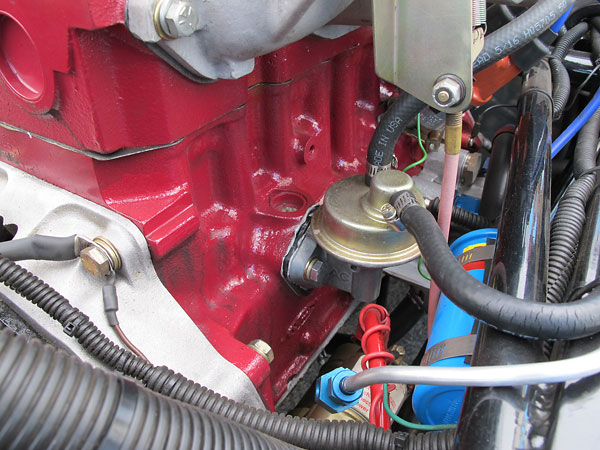 AC mechanical fuel pump with push-on fittings. At right: Bosch blue ignition coil.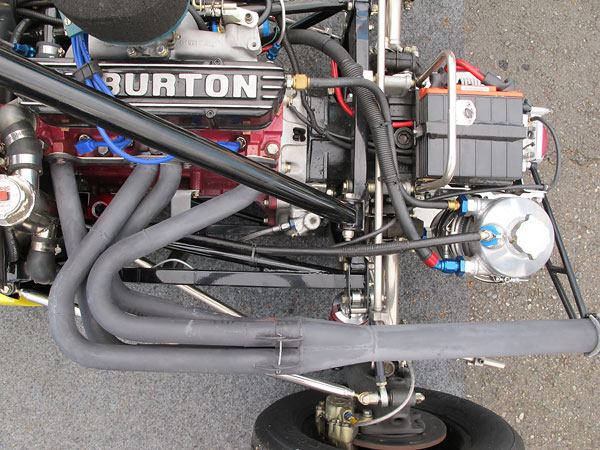 Ken Dye custom made this authentic looking copy of the original four into one exhaust header.
Wayne explained that only one example header was provided to him by March. He turned
it over to a fabrication shop in California and paid them to make duplicates for production.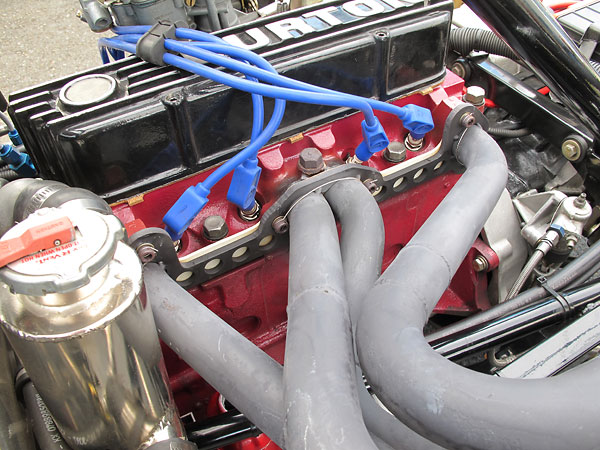 The header tubes were tack welded to the header flange at intervals on this side, and then welded
all the way around their circumferences on the cylinder head side.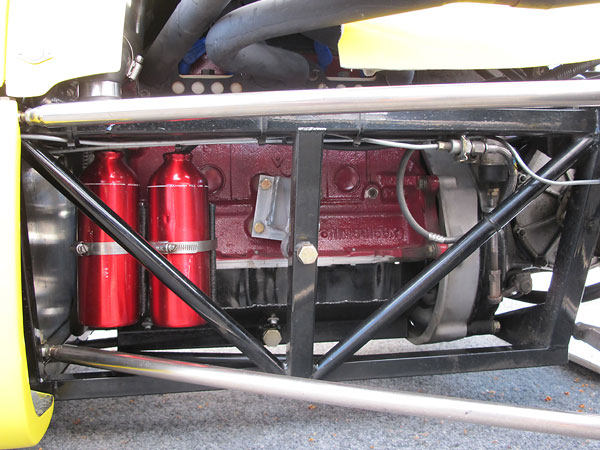 Casting number 711M6015BA indicates that this block is a 1600cc "tall" block with big bearing caps.
(Note: these motor mounts aren't the original style.)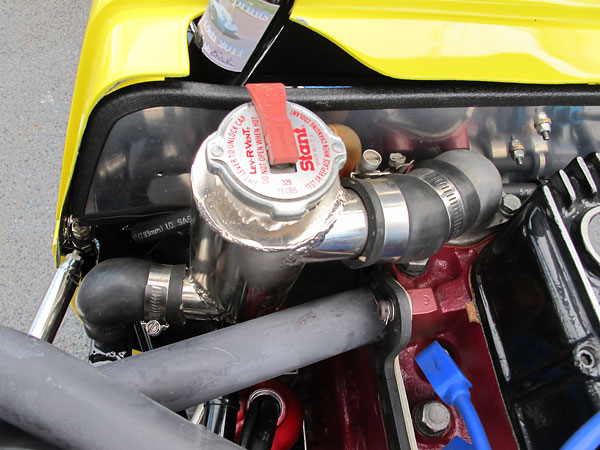 This is either an original Mitchell Engineering fabricated coolant swirl tank or an excellent replica.
The original swirl tanks were mild steel, brazed with nickel-bronze filler rod. How do they work?
the swirling of coolant helps entrapped steam bubbles escape to head space at the top.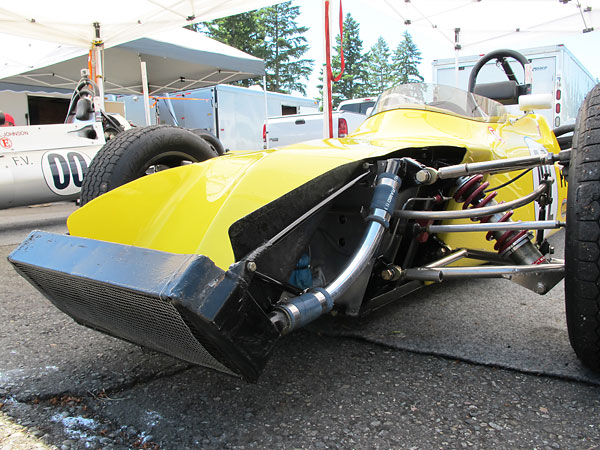 Graham Coaker was a Serck rep, so March always used Serck radiators on their UK produced cars.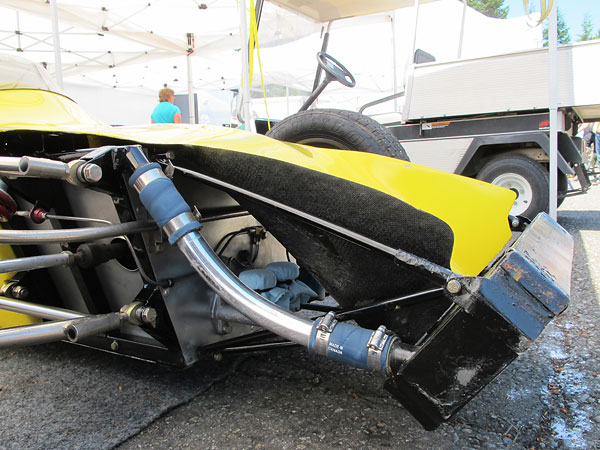 After the first few USA built cars, Mitchell Engineering sourced radiators from a local (California) shop.
In either case the radiators were similar in design, construction, and materials. The only easy way
to tell them apart would be to look for a Serck badge.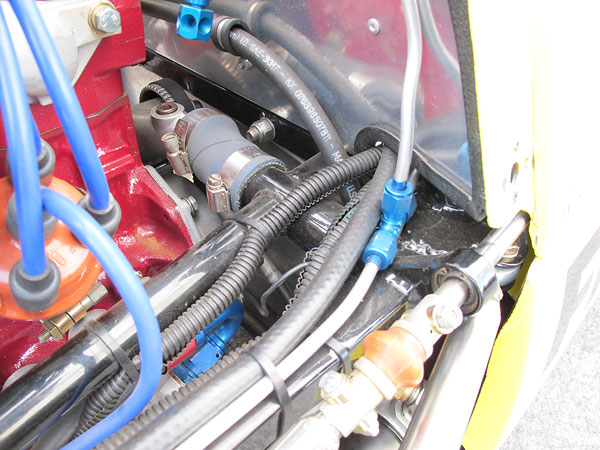 Hose connections between water pump and frame.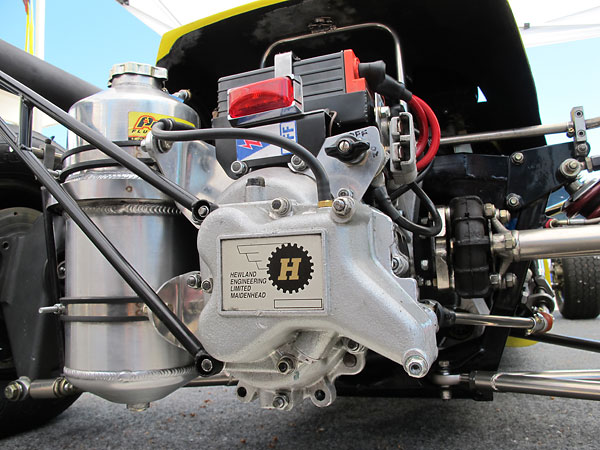 A new Peterson Fluid Systems engine oil reservoir is mounted by the transaxle, whereas March originally
put their oil tanks under the driver's seat. No engine oil cooler is installed! March never put one on, nor
recommended one. Jim has run this car eleven years without overheating and without any oil related
failures. He uses a special blend synthetic oil developed by Jay Ivey and a NAPA Gold oil filter.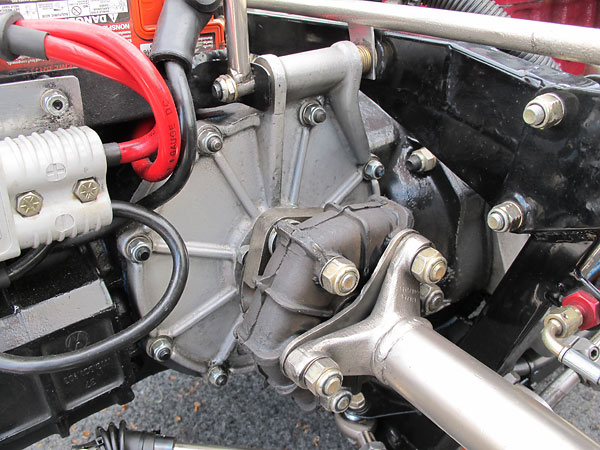 A thick steel adapter is installed so rubber donuts can be used in lieu of CV joints with these particular
transaxle output shafts. Class rules mandate rubber donuts, but appropriate drive flanges for installing
them are getting hard to find for Hewland Mk8 and Mk9 transaxles, so people use various adapters.
Not quite visible in this view, Jim explained one more important construction/preparation detail: "'I've
installed a set of Wayne's Donut Savers. They should really be called 'back end of your car savers'.
They work! I had a donut bolt failure and the joint stayed intact. I found the broken bolt after a
competitor mentioned that my halfshaft had a wobble on the cool down lap."



Notice that someone has added an extra bleed nipple to the end of this Girling clutch slave cylinder.
It's important to get all the air out of the system so the driver will sense a nice, firm pedal feel.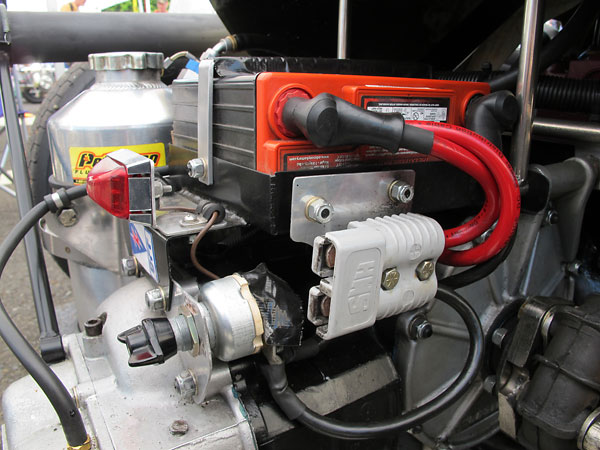 Odyssey battery (7.0kg), HMS jump start plug, and Lucas battery disconnect switch.


Front Suspension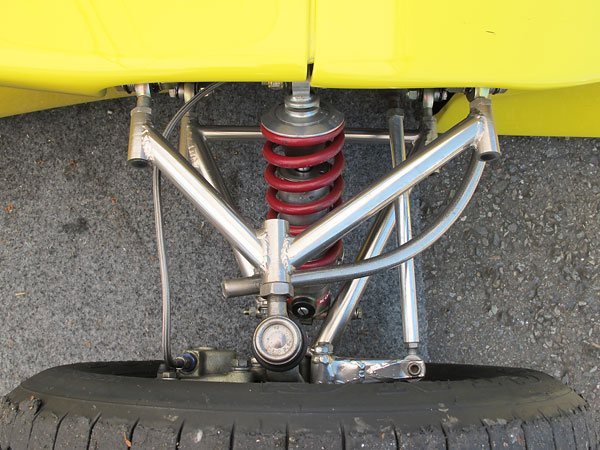 Koni steel-bodied double-adjustable shock absorber. March originally fitted Armstrong single-adjustable
shocks. On these Koni shocks, rebound dampening is adjusted at the narrow horizontal slot seen at the
top while compression is adjusted by a knob on the shocks' bodies. On Armstrongs, valves on the main
body are turned with a blade screwdriver to alter both rebound and compression characteristics at once.
(Mitchell Engineering still rebuilds Armstrong shock absorbers. Very few other shops do.)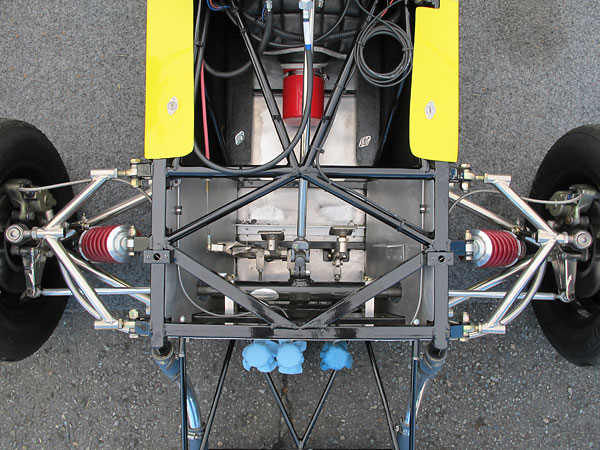 An interesting feature of the March design: the steering rack is located rearward of the front bulkhead.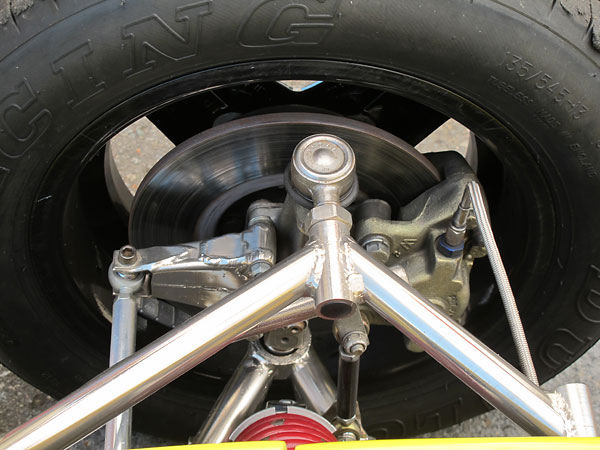 The steering rack lines up with uncommonly short steering arms. The March design called for specially
fabricated steering arms instead of the off-the-shelf parts most other Formula Ford constructors used.
Certainly all the 719 and 729 cars had them. Result: quicker steering.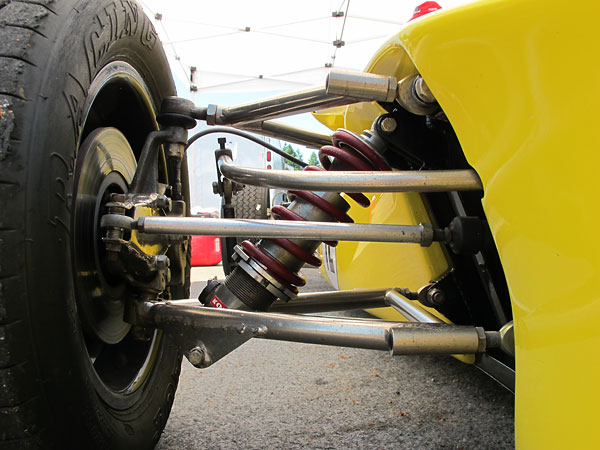 March's custom fabricated steering arms put the Heim joints in double shear (a very good thing) and
also made attachment height more readily adjustable so bump steer could easily be tuned out.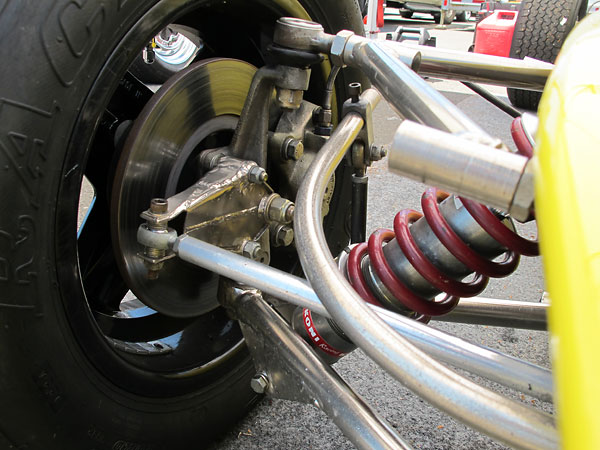 Wayne Mitchell made a variety of anti-sway bars for the March Formula Fords, all fabricated in house, and
all featuring big sweeping curves instead of small radius bends. (This bar appears to be "original".)



Girling 14LF calipers (casting# HDA21658). Solid rotors.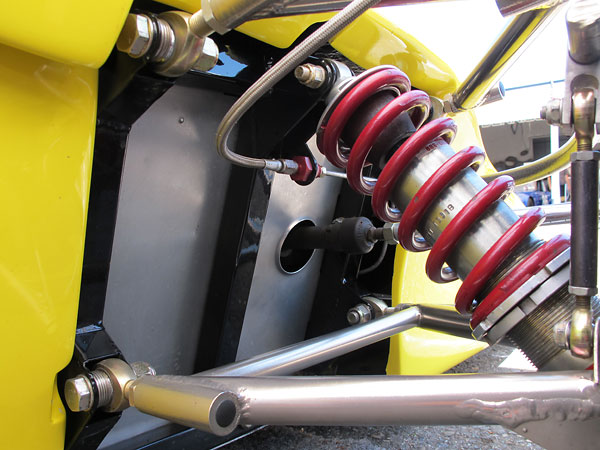 These are steel-bodied shock absorbers. An otherwise identical but lighter weight aluminum-bodied
version is available, but is explicitly prohibited for the vintage Formula Ford racing by most clubs.
(In Jim's club, the aluminum bodied version would be allowed for the Formula B class.)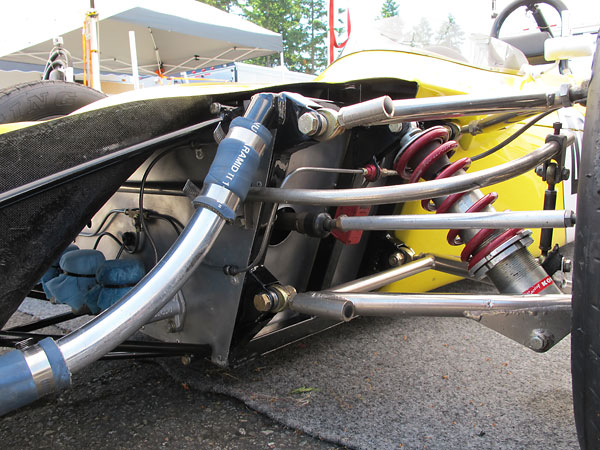 A portion of shock absorber mass moves up and down with the wheel. In other words: it's unsprung weight.
Racers put special value on reducing unsprung mass because it disproportionately affects tire grip (as well as
ride quality.) Generally, aluminum shocks also dissipate heat better, for more consistent performance.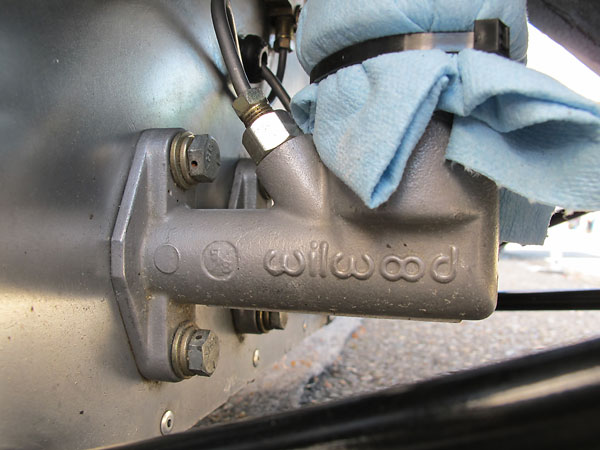 Wilwood replacement brake master cylinder. (This one is marked "5/8", which is its bore diameter.)


Enjoying this article? www.BritishRaceCar.com is partially funded through generous support from readers like you!
To contribute to our operating budget, please click here and follow the instructions.
(Suggested contribution is twenty bucks per year. Feel free to give more!)
Rear Suspension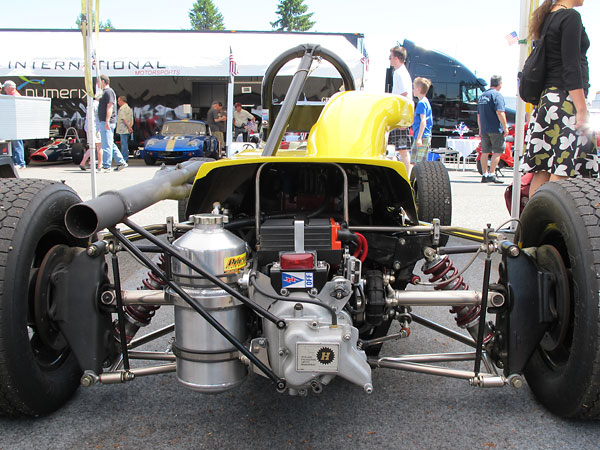 Note that March had their own distinctive magnesium uprights.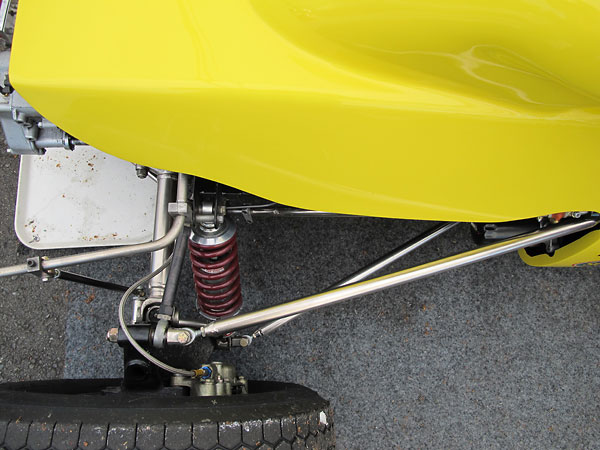 What made Mitchell Engineering built March Formula Fords different from the earlier UK-built version?
One difference was plumbing: Mitchell Engineering installed Aeroquip stainless steel braid reinforced
hoses in lieu of simple rubber hoses.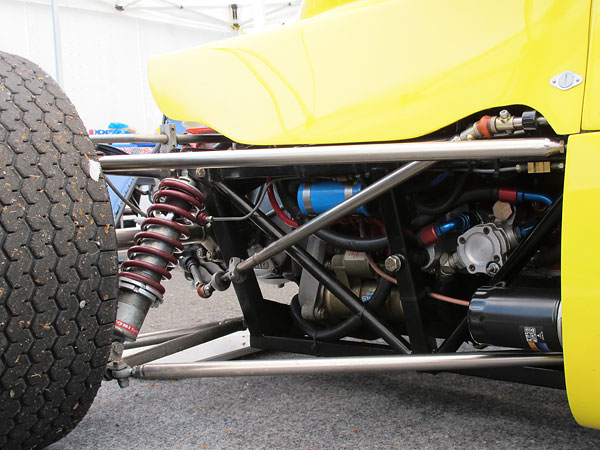 The shifter linkage is routed high as it passes the engine bulkhead to provide clearance to the original
fuel cell placement. March's F3 cars had dual fuel cells, one under each of the drivers elbows. March
Formula Fords were built with similar cells, placed on either the left or right side. (Production varied.)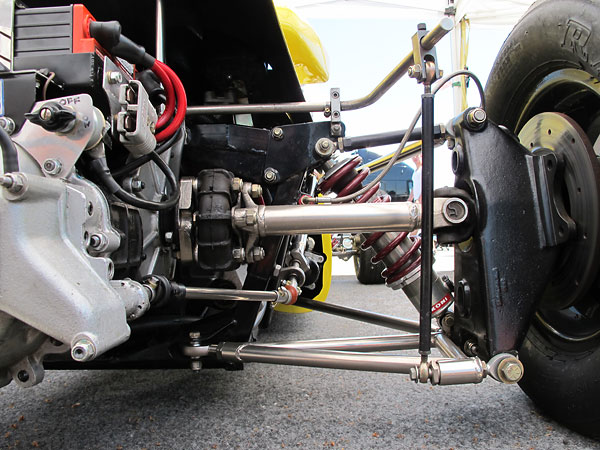 Wayne equipped 719 and 729 Formula Fords with a distinctive clamp of his own invention which made
their shifter linkages infinitely adjustable in both length and rotation. It's a split-block design, and in
this view it can be seen just beyond the Heim joint which is in turn just beyond an Apex u-joint.
Wayne still offers these clamps, and they've been retrofitted to many other Formula Fords.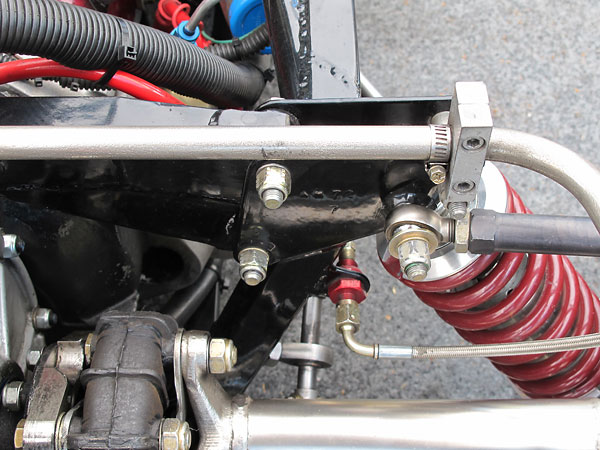 The frame appears to be stamped "AM 72 7" - but don't be fooled. This isn't an Arch Motors constructed
frame. All fourteen 719 and 729 Marchs had frames fabricated by Wayne Mitchell in California. Wayne
stamped his own initials and the date of manufacture into the rear lefthand (not righthand, as shown here)
corner of the frame. Most 729 frames were actually assembled in 1971, and were therefore stamped "71".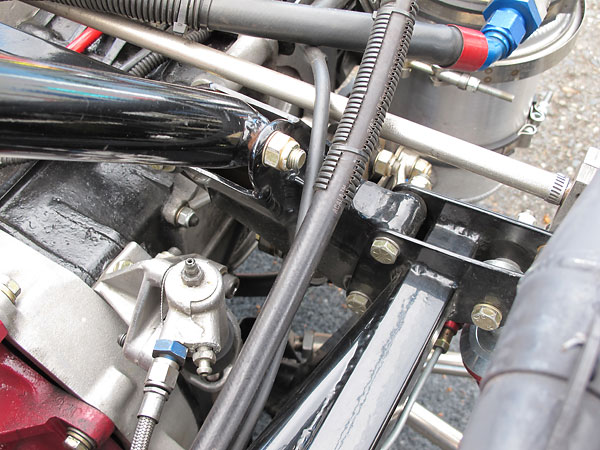 Rear crossmember and roll hoop brace connections.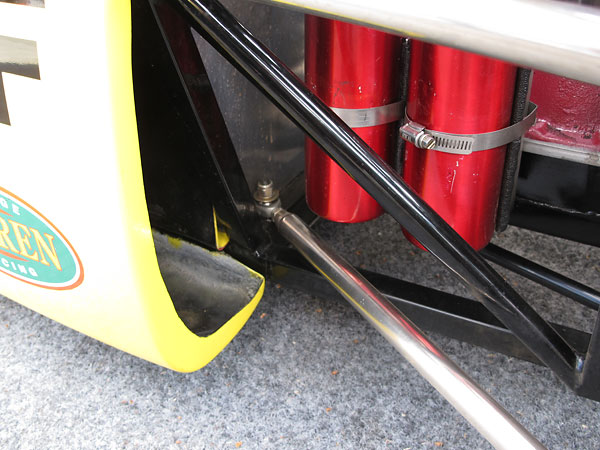 Lower trailing link connection to the frame.


Interior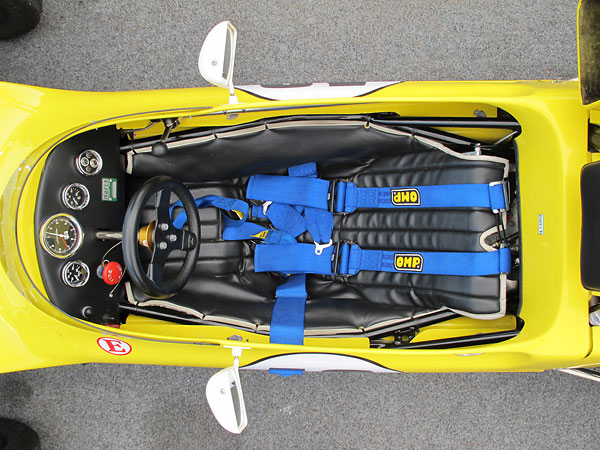 A comfortable and attractive custom drivers seat.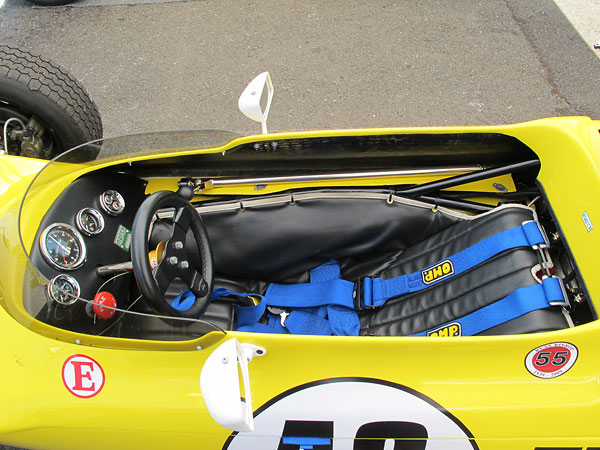 OMP six point cam-lock safety harness.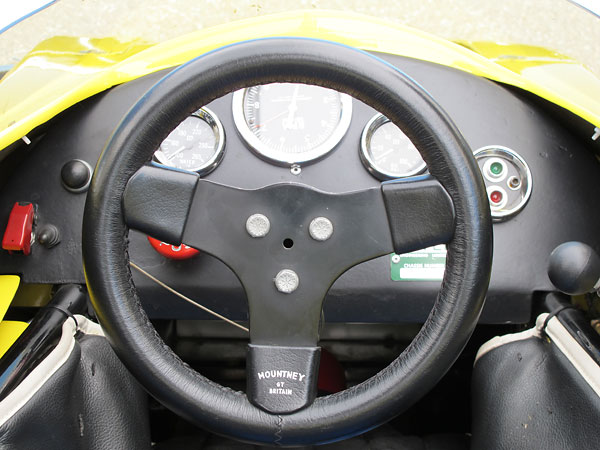 Mountney of Britain leather wrapped steering wheel.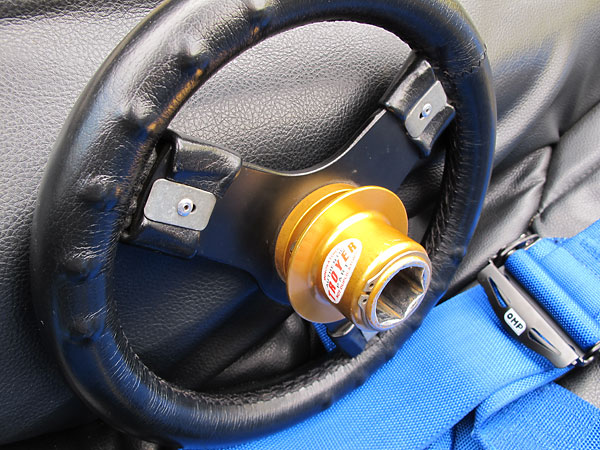 Troyer quick release steering wheel hub. The label says: "Innovation, not duplication."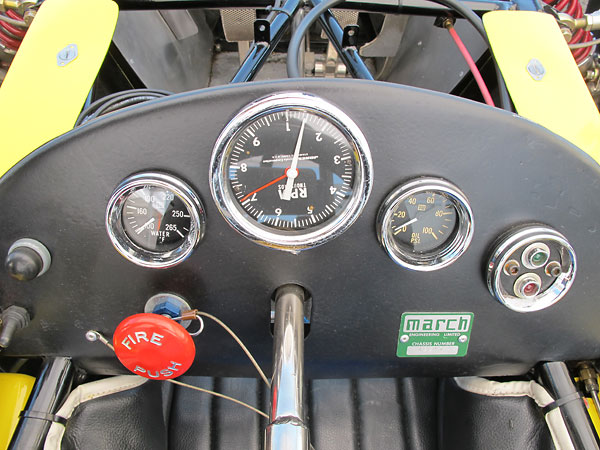 Stewart Warner water temperature and oil pressure gauges, and Jones mechanical tachometer.
Back in the day, March supplied Mitchell Engineering with Smiths tachometers. However, Mitchell
bought Stewart Warner coolant temperature and oil pressure gauges locally. When restoring the
car, Jim contacted Wayne Mitchell to see if he might borrow an original dashboard template, and
instead Wayne mailed him a spare, original aluminum dashboard.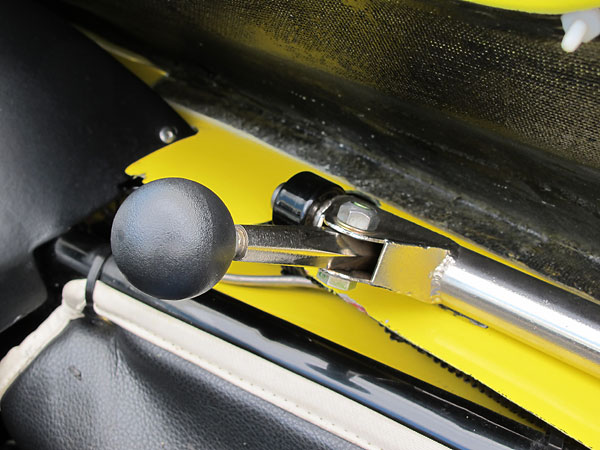 Close-up view of the gear selector mechanism.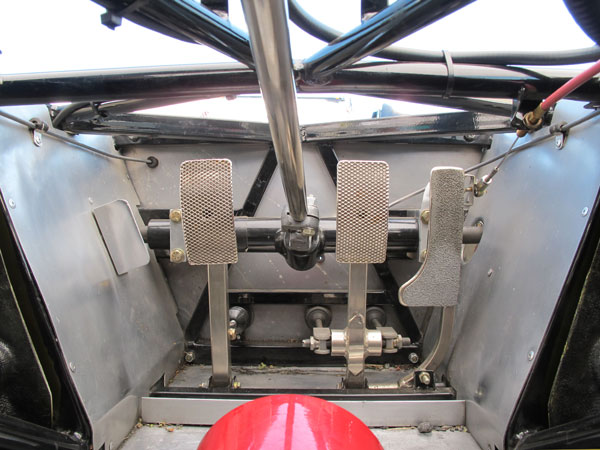 Floor mounted pedals. March used similar pedals for Formula 3. Note also the heel bar and dead pedal.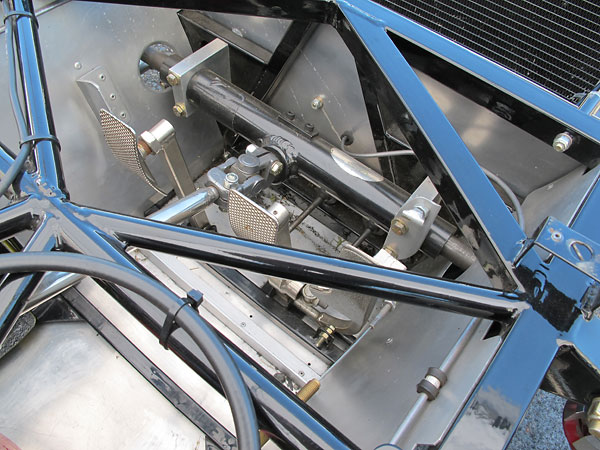 Mitchell Engineering racks are very distinctive. Whereas UK-built (Jack Knight et al) steering racks
typically featured cast magnesium or aluminum housings, Mitchell Engineering fabricated racks
from heavy wall aluminum tubing, heliarc welded and then finally either silver or black anodized.
(Mitchell Engineering still offers custom made racks constructed by this method.)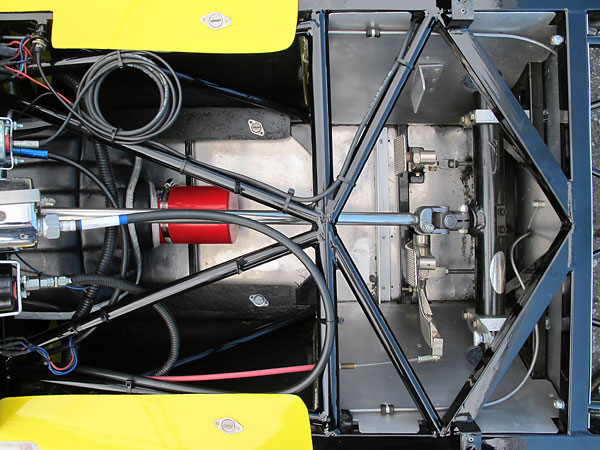 March's Formula Ford frames were stiff, if a little on the heavy side. They were constructed from
a pragmatic mix of round and box section steel tubing. (Note the coolant sensor bung at upper left.)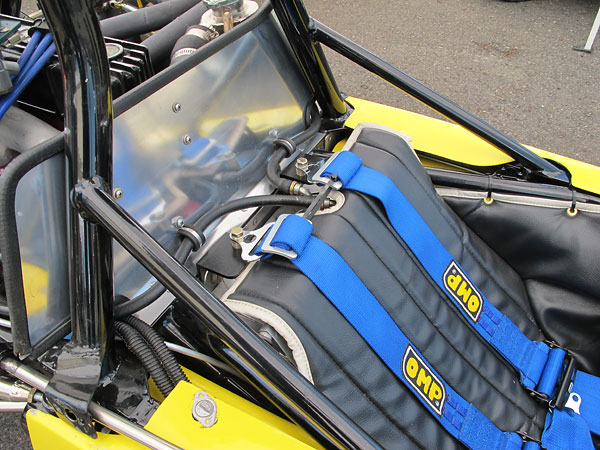 Updated details: roll hoop construction, shoulder harness attachment, and plumbing for under-seat fuel cell.
March provided each Formula Ford with one foam-filled rubber fuel bladder mounted under a side-pod
(usually on the right side), protected only by fiberglass bodywork. An engine oil reservoir was mounted
behind the drivers back. One consequence of this approach was additional heat in an already warm
cockpit so Jim decided to install a new Peterson oil tank out back by the transaxle. This freed-up
room for installing a new wedge-shaped Fuel Safe fuel cell behind the drivers seat.


Exterior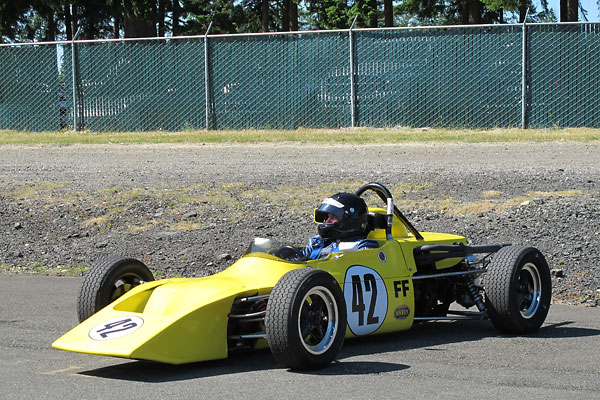 Jim Johnson acquired this rare March Formula Ford as a basket case. Between 1971 and '72,
fourteen of these cars were made for March by Wayne Mitchell (d.b.a. Mitchell Engineering)
in Southern California. The design and many of the parts were provided by March's workshop
in England. Mitchell produced frames, bodies, and many other fabricated and machined parts.
When March sold Formula Fords to American customers, Mitchell drop-shipped the cars.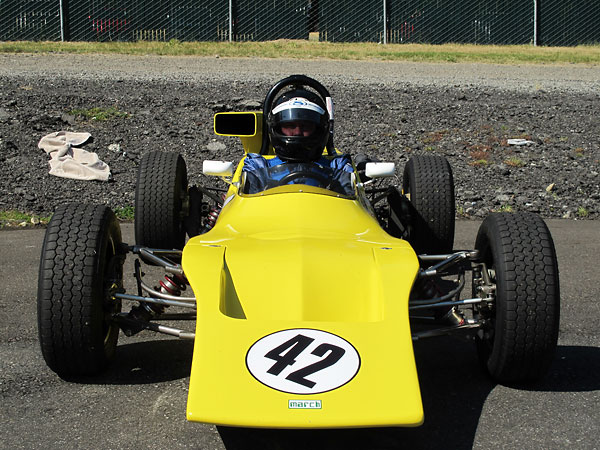 The car's body was missing when Jim got it, so he borrowed bodywork from another March 729 owner.
From the five borrowed body parts, Frank Martinez made new molds and replacement body panels.
Frank Martinez also made a spare body panel set for Wayne Mitchell.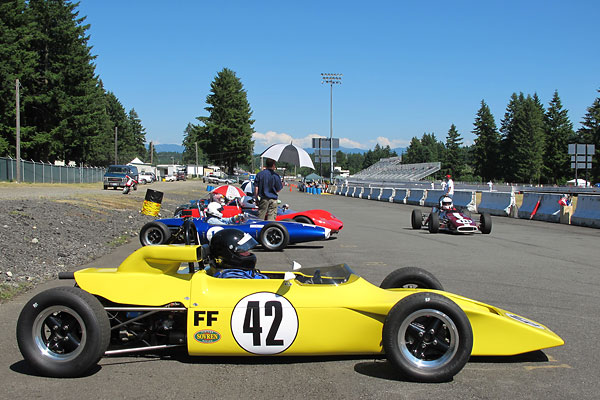 Mitchell Engineering didn't provide engine covers on the March Formula Fords they produced, but
this car had one when Jim bought it. The original source of his cover is unknown, but because of the
engine cover Jim believes his car is probably the same March 729 shown in Steve Nickless' book,
"The Anatomy and Development of the Formula Ford Race Car". (March's early UK-produced cars
came with engine covers, but they were shaped differently.)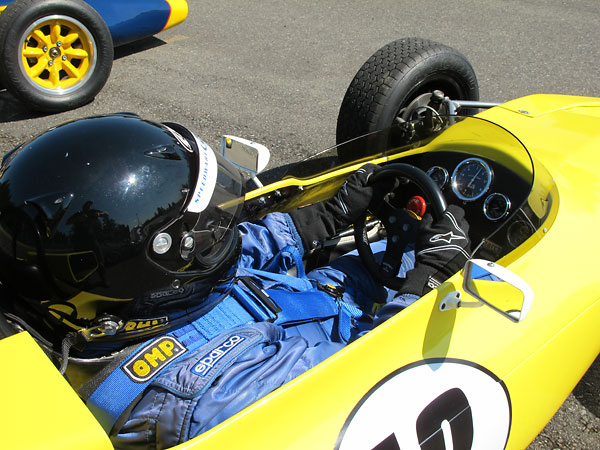 Jim and his daughter are big fans of Douglas Adams, including his "Hitchhikers' Guide to the Galaxy".
When they needed to select a racing number, "42" seemed the right choice.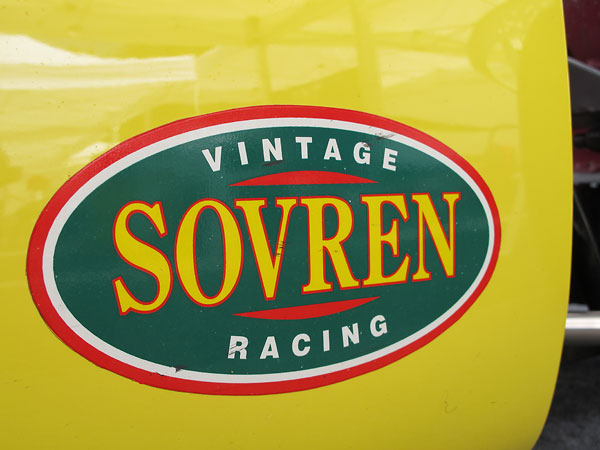 SOVREN (Society of Vintage Racing Enthusiasts in the Northwest) Vintage Racing
Jim wrote: "Al Murray, a fellow SOVREN open wheel racer and past club President was a great
mentor. He talked me through the restoration process when I first got the car 12 years ago."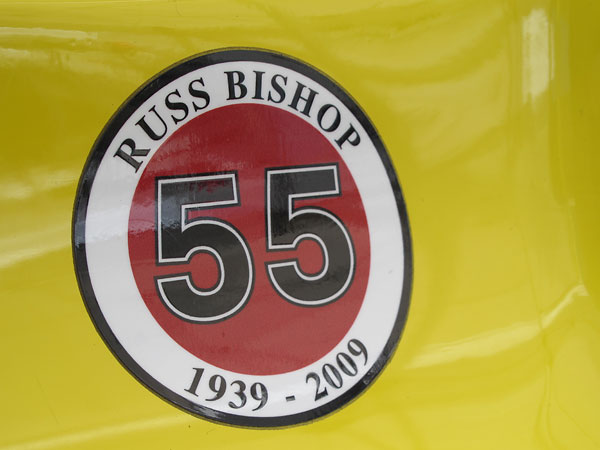 55 - Russ Bishop - 1939-2009
(Russ raced a Formula Ford in SOVREN events over several years.)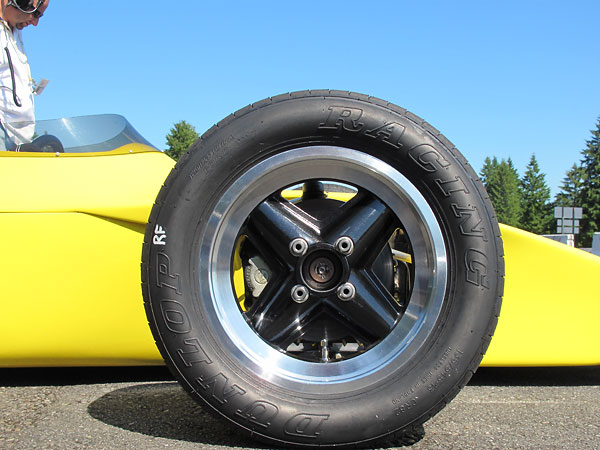 Revolution 4-spoke aluminum wheels (13x5.5). By 1972, aluminum or magnesium wheels would
have been allowed on Formula Fords anywhere they raced in the United States. (Not so in the rest
of the world!) Nonetheless, all March Formula Fords were sold with steel wheels. The performance
difference is large, so any serious racer would certainly have upgraded. SOVREN generally follows
"Monoposto" rules, but they've made a specific exception to allow aluminum wheels.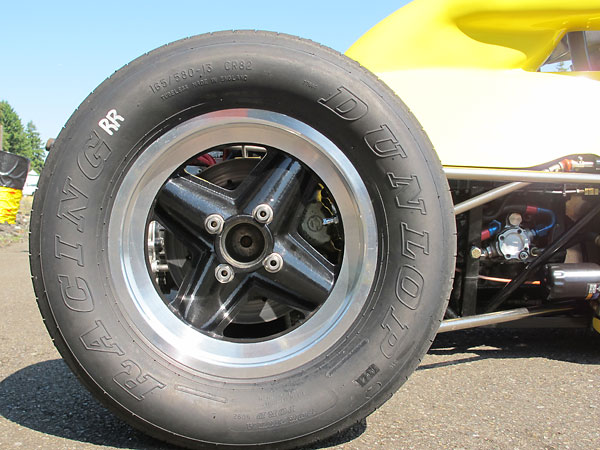 Dunlop Racing "Formula Ford" tires (135/545-13 CR82 front, 165/580-13 CR82 rear).


Notes:
(1)
Per racecar historian Chris Townsend, March's 1971 Formula Ford production was as follows:

718-1: a rebuild of chassis 708-6 for employee Bill Stone's personal use.
718-2: a rebuild of chassis 708-5 for Colin Andrews, UK.
718-3: for Chris Tipping, UK. By 1976 this car was being raced in UK by Willie Moore.
718-4: for Andrew Chatburn, UK.
719-1: for Gordon Dewar, CA.
719-2 (frame AM71-5): for Ric Forest, CA.
719-3 (frame AM71-11): Tom Johnston, CA.

Per Wayne Lee who currently owns 719-2, March updated the design of the cigar noses on UK-produced 719s from previous models by adding a NACA-style duct forward of the instrument panel.
Unless otherwise noted, all photos shown here are from June 2011 when we viewed this car at The Pacific Northwest Historics at Pacific Raceways in Kent, Washington. All photos by Curtis Jacobson for BritishRaceCar.com, copyright 2011. All rights reserved.



Notice: all the articles and almost all the photos on BritishRacecar.com are by Curtis Jacobson.
(Photos that aren't by Curtis are explicitly credited.) Reproduction without prior written permission is prohibited.
Contact us to purchase images or reproduction permission. Higher resolution images are optionally available.