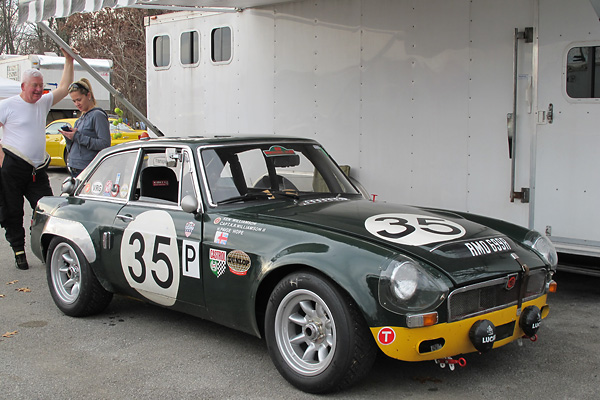 Ken Williamson's 1968 MGC GTS "Sebring" Racecar
Owner: Ken Williamson
City: Bellefonte, Pennsylvania
Model: 1968 MGC GTS
Engine: BMC 2.9L six-cylinder
Prepared by: owner
Extension of the MG Model Range
MG built sports cars in the charming market town of Abingdon, about seven miles south of Oxford and 45 miles west of London. In 1966, Abingdon's production was divided over five models which parent company British Motor Corporation marketed under two different marque names. MG employees had been assembling Austin Healey brand cars alongside MG models for about nine years. The Austin Healey 3000 was the top of line, but it was also long in the tooth. Sales were declining. Styling was beginning to look dated. Its body-on-frame construction was out of line with the factory's other models; all the other cars featured unibody construction. Major investments would be required to keep the Austin Healey 3000 in production, firstly because of looming safety regulations and secondly because the C-series engine used in the 3000 would soon be discontinued in other British Motor Corporation vehicles. The big Healey's days were clearly coming to an end. A replacement was needed.

The MGC was conceived as a premium-priced, six-cylinder variant of the extremely popular MGB. There were already two distinct versions of the MGB: the MGB convertible had been introduced in 1962 and the MGB GT (coupe) had been in production since 1965. Both the MGB convertible and the MGB GT came with 1.8 liter four-cylinder engines. The MGC represented an extension of the MG range into higher horsepower and price classes.

The MGC project ultimately proved unsuccessful because British Motor Corporation didn't have a suitable engine. BMC planned on a brand new six-cylinder engine to be shared between the MGC and an Austin 3-liter saloon. It would be based loosely on the "Blue Streak" engine already used by the company's Australian subsidiary, which in turn was derived from the B-series four-cylinder. The Longbridge engine designers expected that thin-wall casting technology would facilitate making the new engine substantially lighter than either the C-series or the Blue Streak. Although thin-wall technology did allow closer spacing of cylinders for a shorter overall length, they missed every weight target. When a prototype engine finally arrived at Abingdon, it was at least 70 pounds heavier than promised. The MGC's 2.9L six-cylinder weighed 567 pounds - about 207 pounds more than a regular MGB engine - and incidentally about 249 pounds heavier than the Rover 3.5L V8 which was later used in the MGB GT V8 model. They missed their power objectives too. Much of the blame for this has been assigned to the engine's too-conservative seven main bearing crankshaft. (C-series engines had four main bearings.) A bigger problem was that the engine had an unfavorable bore-to-stroke ratio, carried over exactly from the C-series engine.

The engine's height and weight meant a new front crossmember and new front suspension were required. Other differences: larger radiator mounted farther forward, bigger brakes, bigger wheels and tires, and a different steering rack ratio to ameliorate higher steering effort (at the expense of a larger turn radius). One styling change made the MGC easy to spot: a bulged bonnet with a smaller blister for the forward carburetor. Bottom line: the MGC was about 340 pounds heavier than a comparable MGB and it arrived at a budget-breaking cost. In contrast to the MGB and the Midget models, which were produced for eighteen and nineteen years respectively, MGC production spanned less than three. Abingdon ceased production of MGC sportscars in August 1969.


Abingdon Production in the MGC Era
AH 3000
MGB
MGB GT
MGC
MGC GT
MGC Notes
1966
5495
22675
12510
9
4
(prototypes)
1967
3051
15128
11396
82
38
(pre-production)
1968
1
17355
8352
2596
2491
MGC total: 5087
1969
0
18887
12135
1757
1925
MGC total: 3682
(MG Midget and Austin Healey Sprite production figures omitted from table for clarity.)

The MGC GT Sebring Racecars
In the automotive industry, it's important for new models to make strong first impressions. BMC sought to promote their new MGC model through endurance road racing. Specifically, the BMC Competitions Department set its sights on the annual twelve hour endurance race at Sebring Florida. Perhaps recognizing that the MGC's engine would have a power disadvantage in any racing class the car was eligible to enter, the "Comps" team sought to make up for it by reducing weight.

Specially fabricated aluminum body panels were ordered for the MGC "GTS" or "Sebring" racecars. Most of these panels were made on regular production press dies by supplier Pressed Steel. Fenders were a conspicuous exception: they were hand-made and they featured aggressive fender flares to suit oversized tires. The following bolt-on panels were made from aluminum instead of steel: front valance, front fenders, doors skins, and GT hatches. (Aluminum bonnets were already standard equipment.) Aluminum rear fender flares were riveted onto modified steel quarter panels, and the rivets were hidden under body filler and paint. Aluminum roofs were also riveted and glued on. However, the underlying structure of the MGC GTS bodyshells remained essentially stock because these were unibody cars. Strength and stiffness were achieved by spreading stress through spotwelds into thin sheetmetal. Regular mass-produced steel parts were used for most of the cars' structural core: floorpans, transmission/driveshaft tunnels, crossmembers, rocker panels (inner and outer), firewalls, inner wings, rear wheel wells, the heelboards behind the seats, and of course the subframe sections that ran underneath the floorboards.



ARE YOU ENJOYING THIS ARTICLE? WANT MORE?
BritishRaceCar.com will have to cut back plans for continued growth if we can't find more financial support.
If you like what you've found here, and you want to see more, please click here and follow the instructions.
Readers like you keep BritishRaceCar.com online and growing through voluntary financial contributions.


Weight reductions weren't limited to the bodywork. For example, aluminum alloy engine blocks and cylinder heads were specially cast to save weight compared to the iron blocks and heads used on production cars. The Comps team only used an aluminum MGC engine block once (see below) and the results weren't good, but the aluminum heads worked out much better.

How many sets of aluminum Sebring panels were made? By all accounts, enough for six complete cars plus some spare parts.

Only two MGC GTS racecars were ever raced by the Comps Department.

A fascinating wrinkle in the GTS story is that the first GTS racecar debuted with a four cylinder engine and a regular MGB bonnet because the upcoming MGC model was still a well-guarded secret. The occasion was the 1967 Targa Floria endurance race in Sicily. Sadly, it finished far enough behind the winner that its results weren't officially classified. Updated with a six-cylinder engine and MGC style bonnet, this same car was entered at Sebring in 1968 and 1969. These were tumultuous years for MG and for the Comps Department. A corporate takeover had thrown their futures into doubt. In 1969, "British Leyland Motor Corporation" was the official entrant name when MGC GTS racecars were entered in the Sebring Twelve Hour race. This was the last "works" race entry for the MG marque.
VIN No. /
UK Reg. No.
1967 Targa Florio
(720km)
62 started, 22 finished
1968 Sebring
(12hr)
68 started, 22 finished
1968 Marathon
de la Route (84hr)
59 started, 26 finished
1969 Sebring
(12hr)
70 started, 35 finished
ADO52-1060
MBL-546E
(nickname "Mabel")
not classified¹

Drivers: P.Hopkirk & T.Mäkinen
Racing#: 230
10th (32 laps down)
1st in Class 11²
Drivers: A.Hedges & P.Hopkirk
Racing#: 44
6th (28 laps down)

Drivers: A.Hedges, T.Fall, & J.Vernaeve
Racing#: 4
34th (70 laps down)
6th in Class 11
Drivers: B.Brack & C.Hill
Racing# 36
ADO52-1059
RMO-699F
(nickname "Romeo")
DNF (head gasket)

Drivers: R.Enever, A.Poole, & C.Baker
Racing#: 5
15th (44 laps down)
5th in Class 11
Drivers: A.Hedges & P.Hopkirk
Racing# 35
After the 1969 Sebring 12 Hour race, the Comps Department sold ADO52-1060 and ADO52-1059 in America at an advertised price of $4500 each (including spare engine, transmission, and rear axle) instead of shipping them back to England. The two cars remain intact and un-raced in private collections. Since the mid-1980s, due to considerable public interest, both of the original cars have appeared in magazines and in public events. Their provenance and identities are undisputed.

After disappointing race results at Sebring in 1969 and in light of pending discontinuation of MGC production, an executive decision was made to liquidate inventory of GTS bodies and attendant spare parts held at Abingdon. A British racer and well known Healey enthusiast named John Chatham bought the entire inventory. Chatham quickly went to work building up one MGC GTS racecar for himself. With co-driver Alan Harvey, he raced his MGC GTS (U.K. registration VHY-5H) in the 1970 Targa Florio to a 39th place overall finish. Chatham built a second MGC GTS bodyshell into a street car (U.K. registration EHW 441K) for his friend and fellow enthusiast Bill Gardner. It was later sold to Steve Bicknell. Then, Chatham built a third street legal MGC GTS (U.K. registration VHW-330H) for Alan Zafer who worked in media relations for British Leyland at Abingdon. Chatham's biography (Mr. Big Healey: The Official Biography of John Chatham by Norman Burr) mentions that Zafer's car used some parts from a cannibalized production MGC GT due to limited stock of aluminum panels. Starting in 1971, John Chatham started to build a final especially lightweight MGC GTS racecar for British "Modsports" racing in 1972 and 1973. Using one of the special aluminum engine blocks set four inches further back in the chassis, this car set a three-lap record at Silverstone (1:54 per lap).

All six of the MGC GTS racecars mentioned to this point in the story still exist. In fact, all six of them appeared together during an MG Car Club meeting at Silverstone in May 1992.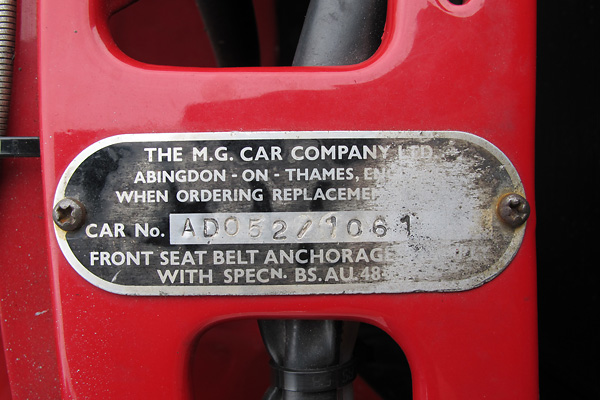 The M.G. Car Company Ltd., Abingdon - on - Thames, England.
When ordering replacements quote car number ADO52/1061.


The Mystery of the Seventh MGC GTS
In late 1979 an English racer and MG enthusiast named Graham Wiseman learned from a friend that a scrapyard in San Jacinto, California had acquired what might be one of the original MGC GTS racecars. At that time, the locations and even the VIN numbers of MBL-546E and RMO-699F weren't widely known. Wiseman traveled from England to San Jacinto to investigate. The car he discovered was well picked over, but it had some distinctive parts such as an aluminum GT hatch. Wiseman purchased what he could. He reportedly shipped about 80 parts back to England including a windshield w/Sebring stickers still attached, a chassis plate bearing VIN number ADO52-1061, and the slam panel that the chassis plate was riveted to. The iconic MGC GTS aluminum flared fenders were not retrieved. Neither was the aluminum cylinder head. In a box of parts that had been with the car, Wiseman reportedly found an oil damaged log book showing ADO52-1061 and U.K. registration RMO-699F. From this, he initially assumed he had found the remains of the car Paddy Hopkirk and Andrew Hedges had driven at Sebring in 1969.

Indeed, Paddy Hopkirk and Andrew Hedges may have driven ADO52-1061. If they did so, it would have been in practice sessions for the big race. Having a back-up or practice car for a major race is certainly not unheard of. Transferring log books and registration numbers between racecars on a works team was common practice, so ADO52-1061 may have worn the registration number RMO-699F concurrently or even before the car that actually raced at Sebring. However, there is no substantive evidence that the car Wiseman found in a California scrapyard was ever raced by the Comps team. Frankly, there's little evidence of a back-up MGC GTS being at Sebring. To our knowledge, no one has ever published a photograph of all three MGC GTS racecars in one location, either at Sebring or at Abingdon.³

After returning home to Sommerset England, Graham Wiseman acquired an MGC GT and began preparing it as a Sebring replica. He installed fiberglass fender flares and rear hatch and full fiberglass doors. Wiseman cut into the bodyshell's cowl vent plenum so that he could mount the MGC engine about six inches further back in the chassis than the engines in either MBL-546E or RMO-699F. In lieu of triple Weber 45DCOE carburetors as the original MGC GTS racecars used, Wiseman installed three Dell'Orto carburetors. Wiseman's MGC GT was painted to replicate RMO-699F as raced at Sebring. On the basis of the chassis plate and the log book he had retrieved from California, Wiseman applied for and was granted rights to use the RMO-699F registration number. He later surrendered that number so that it could be used by the current owner of ADO52-1059.

Graham Wiseman sold his ADO52-1061 to a dealer in the late 1980s. The car was shipped to U.S.A. and was sold at auction by Christies of New York. Derek Durst of Rhode Island, David Dexter of Massachusetts, and Tony Giordano of New York have subsequently owned the car. Since 2003, Ken Williamson of Pennsylvania has owned the car. Of its owners, Ken has been most committed to preparing and driving it as a vintage racecar. Many of his modifications, such as installing Weber 45DCOE carburetors, have moved the car closer to authentic MGC GTS specifications.


Features and Specifications
Engine:
BMC 2.9L six-cylinder engine built by Dennis at DL Automotive & Performance in State College PA. Standard MGC crankshaft, reworked. Pauter connecting rods. JE forged pistons (0.040" over). Iron cylinder head flowed and ported by Ryan at Shady Dell Speed Shop in State College PA. Head shaved 0.050" for about 11:1 compression ratio when used with Fel-Pro composite head gasket. ARP high tensile strength cylinder head studs. English Ford V6 valves. Bronze valve guides. Custom ground camshaft by Delta Camshaft of Tacoma WA. Iskenderian valve springs and pushrods. Alloy valve spring retainers. (Note: Ken usually shifts at 5,500 to 6,000rpm, depending on how hard he's driving.) Triple Weber 45DCOE carburetors. Lucas distributor with Pertronix Ignitor breakerless module. Lucas Sport (gold) ignition coil. Lucas spark plug wires. Custom modified oil pan.

Cooling:
copper and brass radiator. Mocal 13-row oil cooler.

Exhaust:
Downton Engineering 6-2-1 tubular header.

Transmission:
straight-cut, close-ratio, four-speed manual transmission. Laycock electrically-engaged overdrive. Lightened flywheel. AP competition clutch and pressure plate. Girling slave cylinder.

Rear Axle:
Salisbury axle. 3.70:1 ring and pinion. Quaife limited slip differential.

Front Susp.:
uprated torsion springs. Spax adjustable gas pressurized telescoping shock absorbers. 7/8" anti-sway bar mounted on aluminum pillow blocks.

Rear Susp.:
leaf springs. Spax adjustable gas pressurized telescoping shock absorbers. Anti-tramp bars.

Brakes:
(master) dual Girling master cylinders with adjustable bias bar and remote reservoir.
(front) Lockheed MGC 2-pot iron calipers and cross-drilled Brembo solid rotors.
(rear) Lockheed MGB 2-pot iron calipers and Brembo solid rotors. Jamar Park-Lok line lock.

Wheels/Tires:
Minilite 8Jx15 eight spoke alloy wheels. Hoosier Speedster P205/60R15 racing tires.

Electrical:
single 12V lead-acid battery. Lucas alternator. Gear reduction starter. Joseph Pollak battery disconnect switch.

Instruments:
(left to right) Flight Data Systems FC-10 fuel computer (0.6-70 gallons per hour), Smiths dual oil pressure (0-100psi) and water temperature (90-230F), Smiths speedometer (0-140mph), Smiths tachometer (0-7000rpm), Smiths ammeter (-30 to 30 amps), Smiths fuel level gauge (E-F).

Fuel System:
ATL fuel cell. Facet Gold-Flo electric fuel pump. Flight Data Systems FT-60 transducer (to measure fuel flow rate). Holley adjustable fuel pressure regulator with VDO gauge (0-15psi).

Safety Eqpmt:
G-Force Pro Series five point cam-lock safety harness. Kirkey aluminum drivers seat. Moto-Lita steering wheel (installed backwards) on a quick release hub. Erskine Fire Ltd. fire suppression system.

Class:
SVRA C-Production


Engine Installation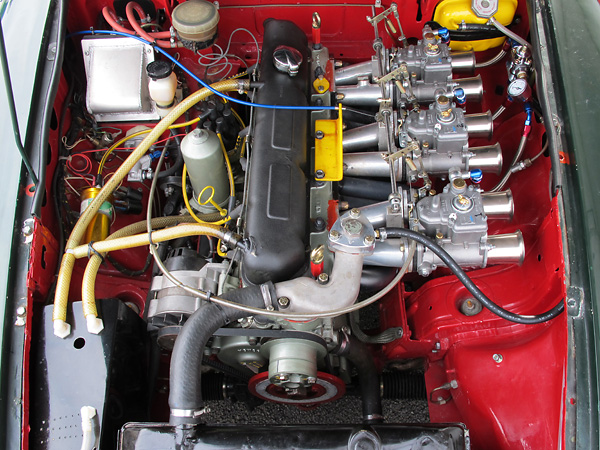 Bore too small, stroke too long, valves too small, and deck too high.
Stock dimensions - 3.28" (83.3mm) by 3.50" (88.9mm) - produced 2912cc.
All production MGC engines started with a modest 9.0:1 compression ratio.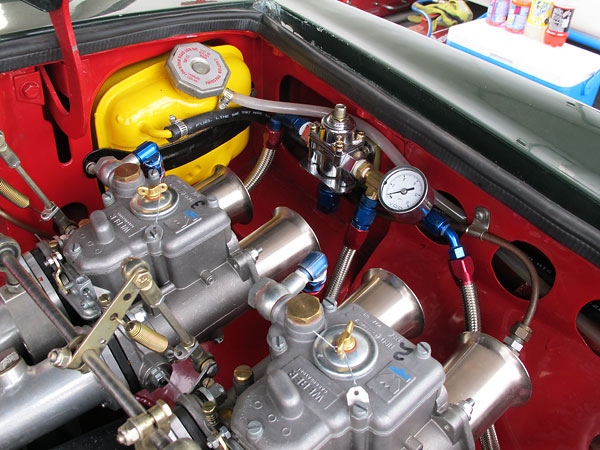 Holley adjustable fuel pressure regulator with VDO gauge (0-15psi).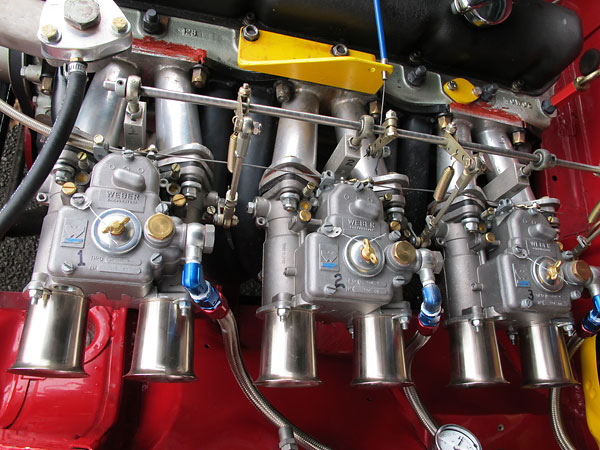 Fabricated intake manifolds.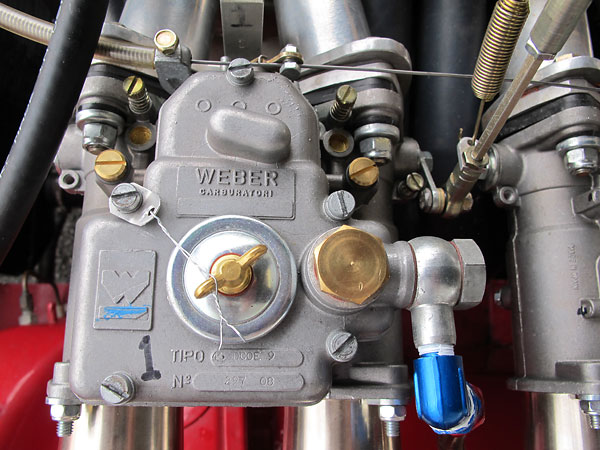 Weber carburatori: Tipo 45 DCOE 9, Numero 297 08.
Jetting is the same as the works team used at Sebring.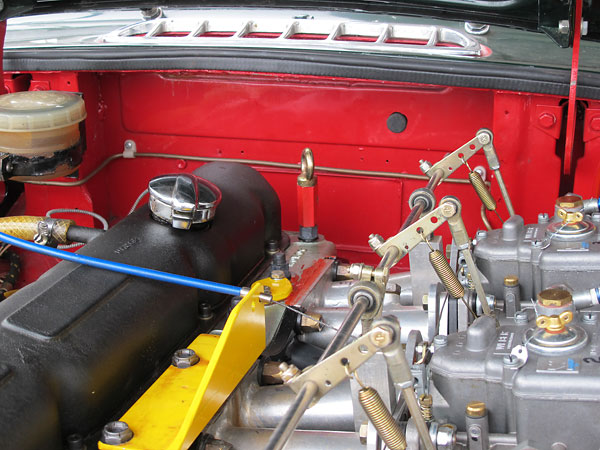 John Chatham and Graham Wiseman did what the Comps Department probably wished it could have
done. They cut away the center section of the firewall, right back into the cowl vent plenum
so they could mount their engines further back in the chassis. As shown here, Wiseman
managed to install the MGC engine fully six inches rearward of its standard location.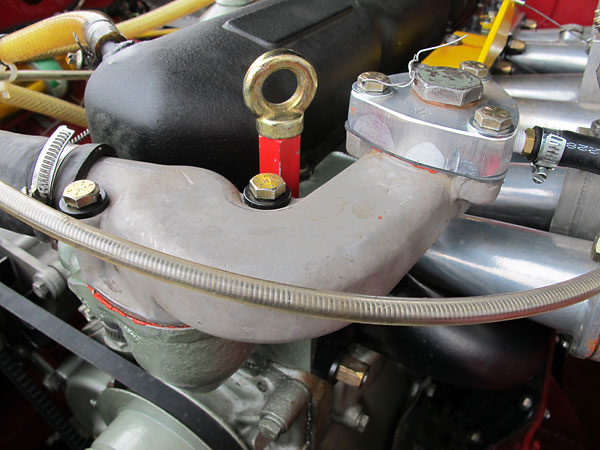 Thermostat housing. Normally, a pressure relief radiator filler cap would be installed at right.
On this racecar, that function has been relocated to a header tank on the firewall.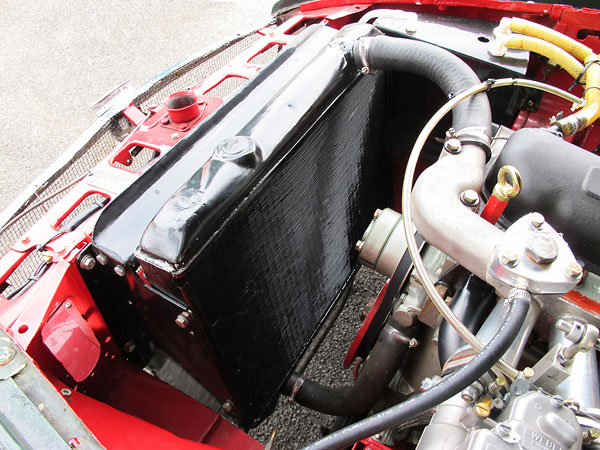 Copper and brass radiator.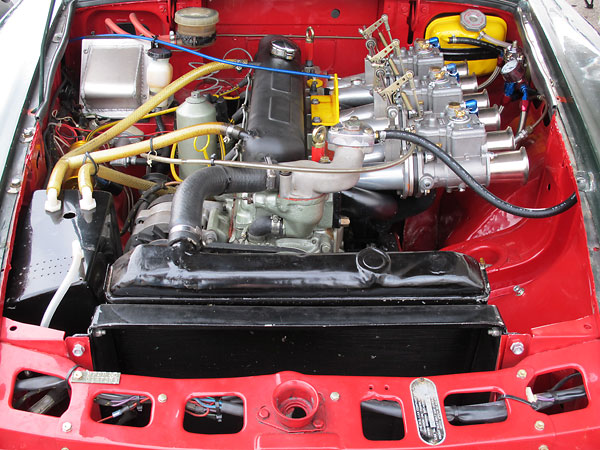 An inconspicuous but very interesting detail: the center portion of the slam panel is bolted into
place whereas original MGC slam panels are one continuous part from fender to fender. This
center section was apparently extracted from the car Graham Wiseman found in California.

Removable slam panels are a popular feature on MGB V8 conversions. They facilitate removal and
replacement of the engine and transmission as a single assembled unit. Jim Stuart deserves
credit for popularizing the idea. Examples implementations may be seen here: 1, 2, 3, and 4.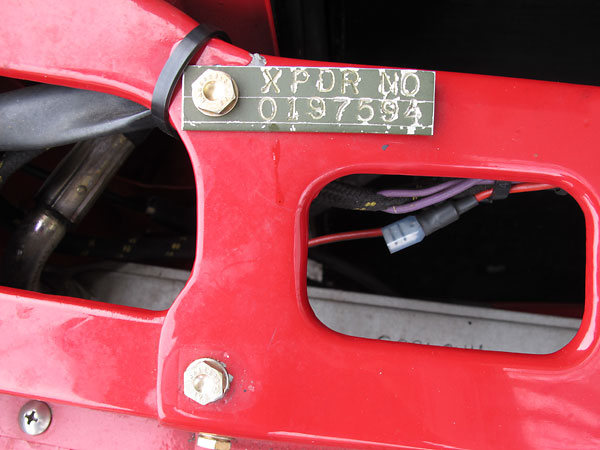 "XPDR NO 0197594" (Electronic transponders are used by automated timing and scoring systems.)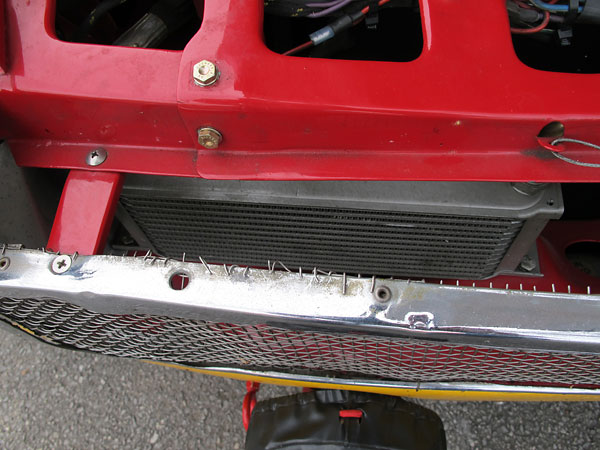 Mocal 13-row aluminum oil cooler.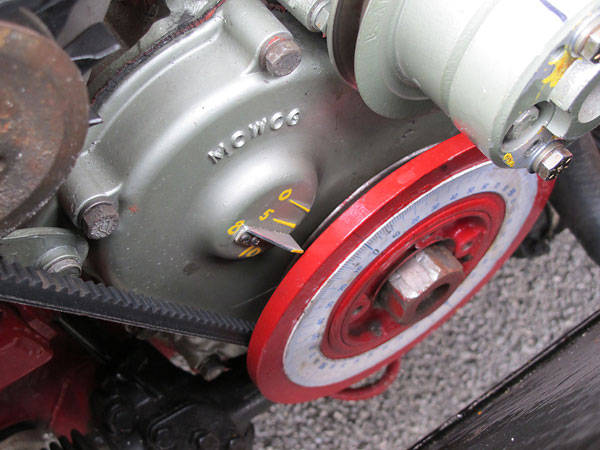 Degree sticker for measuring ignition and valvetrain timing.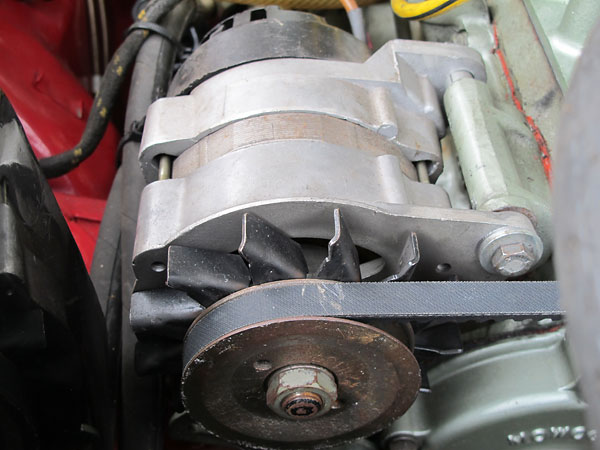 Lucas alternators with external voltage regulators first appeared on MG sportscars in 1968.
In 1969, MG switched from part number 23548 to part number 23716. Both parts were rated to
produce 34 amps, but the later design accomplished this with an internal voltage regulator.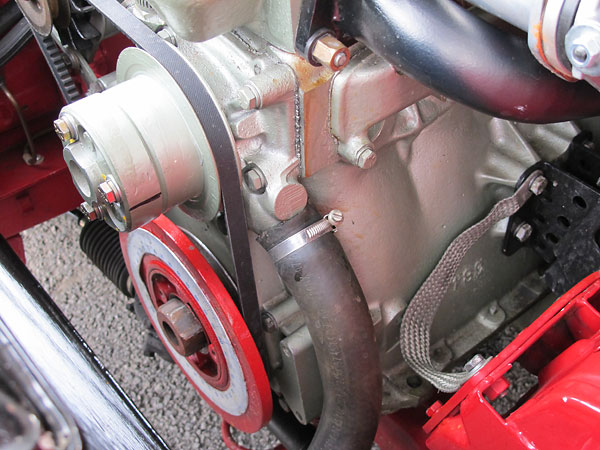 MGC water pump.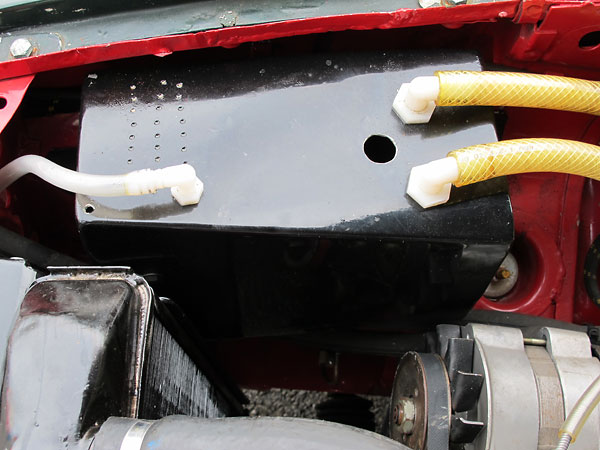 Breather / overflow tank.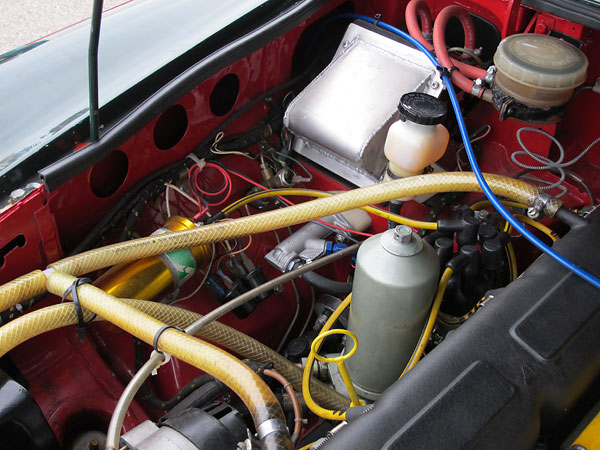 Lucas ignition coil. The original MGC GTS cars raced with two ignition coils installed
side-by-side so they could very quickly change coils in the event of a failed part.
(Ken has a works-style dual ignition coil bracket, but it's not currently installed.)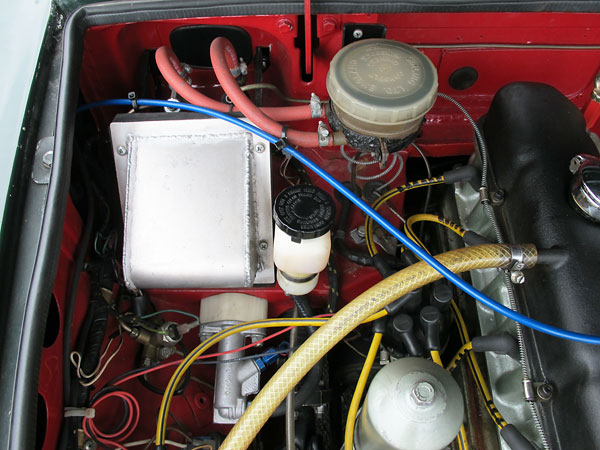 A custom fabricated aluminum cover for the brake master cylinders and bias bar mechanism
was designed by former owner Tony Giordano, and fabricated by Bob Aiken Motorsports.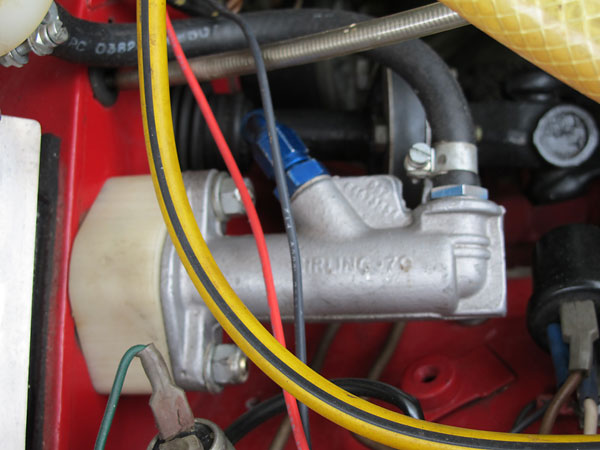 Girling 0.7" bore clutch master cylinder. Its location is different from stock
because it's been moved to make room for a second brake master cylinder.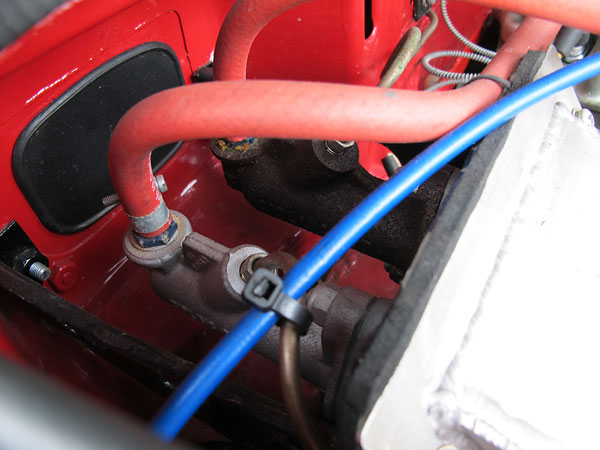 Dual Girling brake master cylinders: one for the front brakes and one for the rear.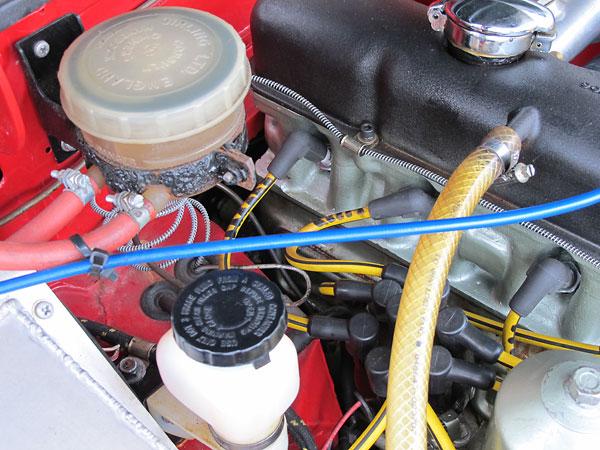 Girling remote brake fluid reservoir.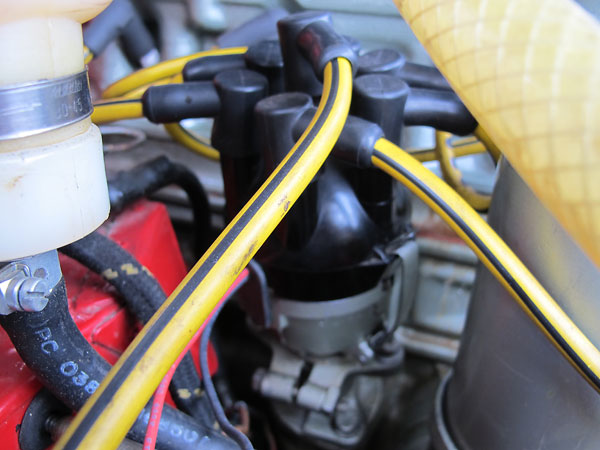 Lucas distributor. Two leads from its aluminum housing (one black and one red)
suggest that its breaker points have been replaced by an electronic module.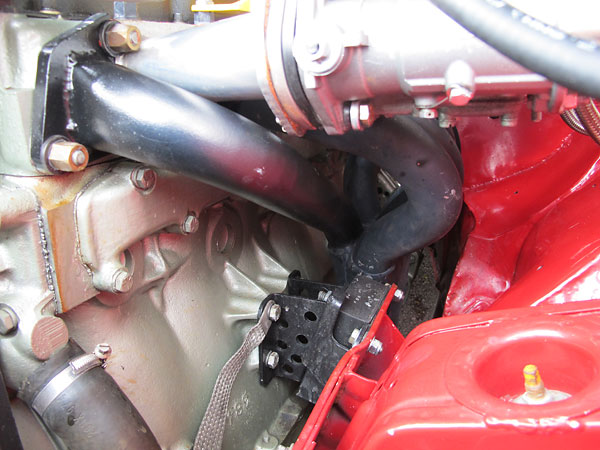 Fabricated tubular steel 6-2-1 exhaust header.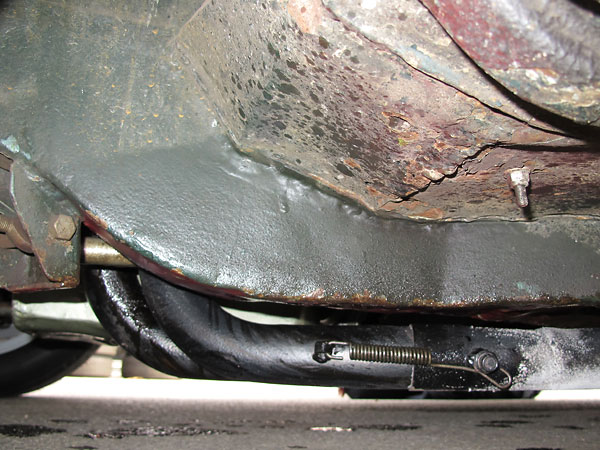 Header collector.



WHO PAYS THE BILLS AROUND HERE?
(1) Readers like you. -- Please take a moment to review our V.I.P. sponsor list.
(2) Businesses you should know about. -- Please review our vendor directory.

Chances are, you or your business should be on one of these two lists.
Find out how: -- Contribute To Our Operating Fund! -- Buy a Banner Ad!


Front Suspension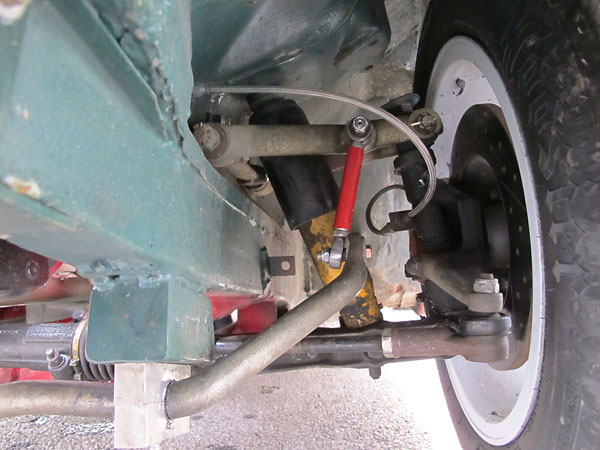 Aside from nuts and bolts, there are no common parts between MGB and MGC front suspensions.
MGC front suspensions used telescoping shock absorbers instead of lever shocks, and they used
torsion springs instead of coil springs. However, both designs utilize old-fashioned kingpins
instead of ball-joint mounted hub carriers.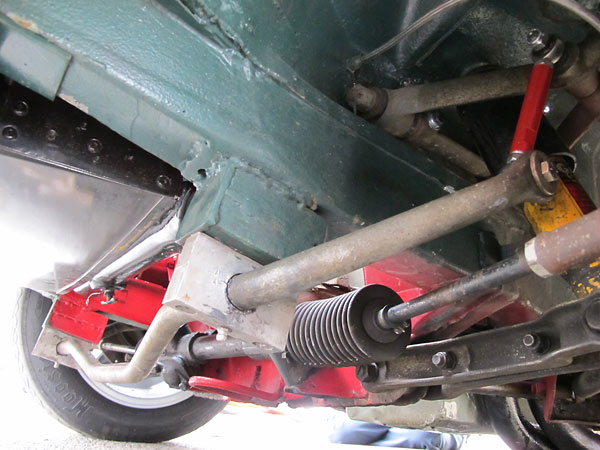 7/8" front anti-sway bar mounted on aluminum pillow blocks.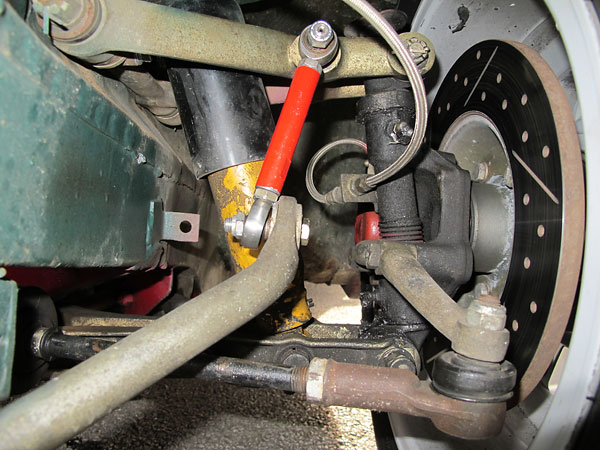 Spax adjustable gas pressurized telescoping shock absorbers.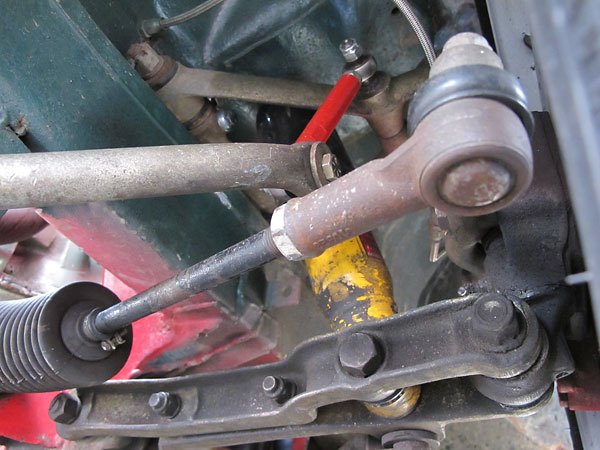 This is a green car with red overspray from when its engine compartment was re-painted. The first
MGC GTS racecar, MBL-546E, was initially painted BMC's signature Tartan red color. MBL-546E was
re-painted green before the 1967 Targa Florio race to differentiate it from Italian racecars. MBL-546E's
engine bay remains red to this day whereas RMO-699F's bay is and always was green.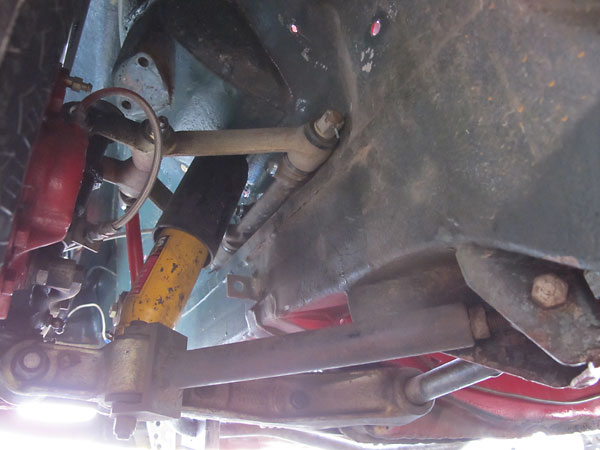 The Comps Department used special Lockheed aluminum 4-pot brake calipers on the front, but for
the time being Ken is using regular MGC iron 2-pot calipers. Jaguar competition hubs are used
in lieu of regular MGC hubs; the splines are the same, but Jaguar hubs are thicker and stronger.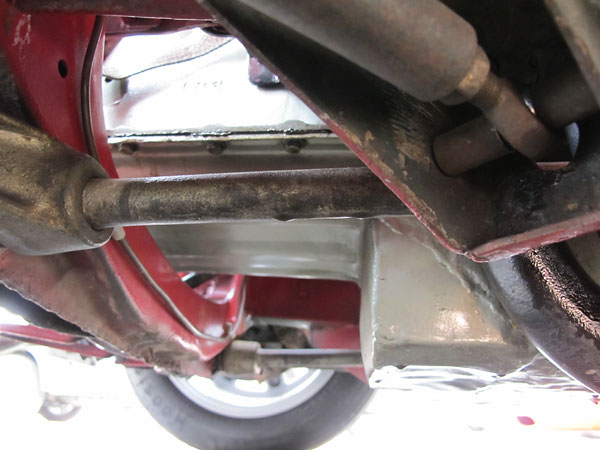 Stock MGC front suspension torsion bars were 9/16" diameter. Stiffer springs are available from
Moss Motors: 3/4" diameter for ~137 #/inch stiffness, 7/8" for ~228 #/inch, and 1" for ~382 #/inch.
Ride height may easily be adjusted at the torsion bar end stops. Background: modified MGC oil pan.


Rear Suspension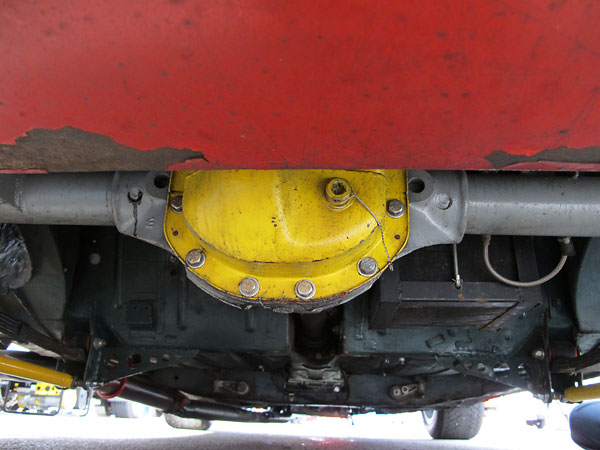 Stock Salisbury axle housing with back cover modified to increase lubricant volume.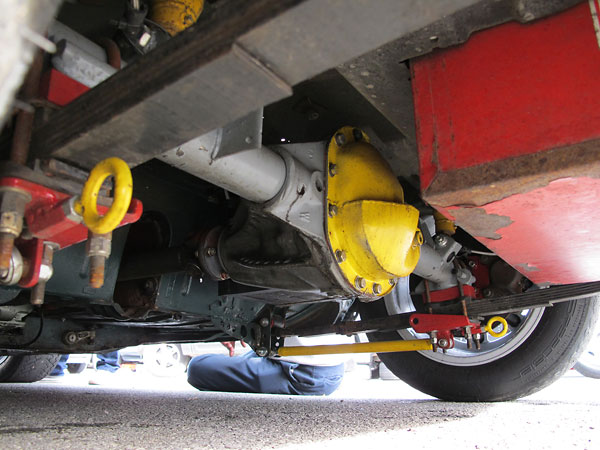 Americans call them traction bars. Brits call them anti-tramp bars. Hot-rodders and drag
racers use them to control spring wind-up and pinion angle change off the line...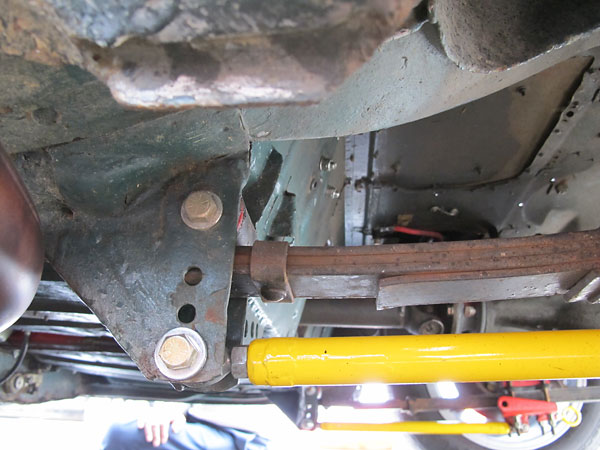 However, when you see horizontal links underneath leaf springs on a road-race car, they're usually
there to alter the suspension's behavior while cornering. Specifically, these links are installed
to cause or to increase the roll understeer characteristic of the rear suspension.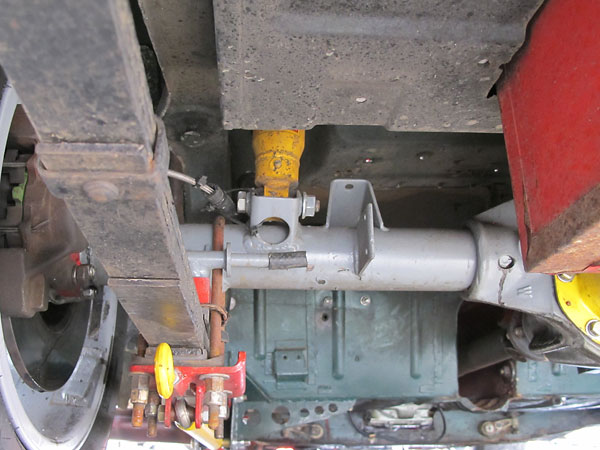 Spax adjustable gas pressurized telescoping shock absorbers. Production MGC GT cars were built with
lever shock absorbers, but the Comps Department installed telescopic shocks on the Sebring cars.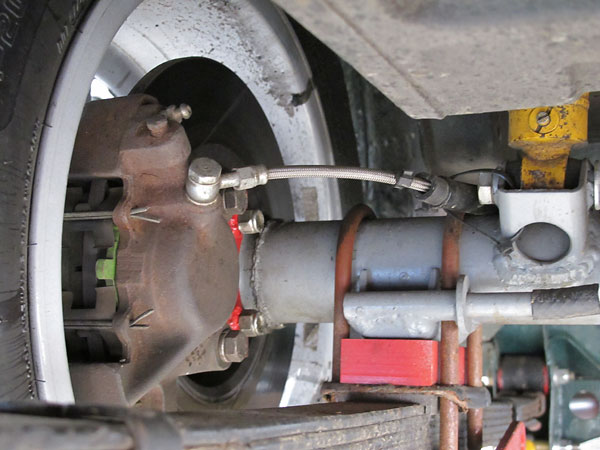 The Comps Department used aluminum Lockheed brake calipers from Jaguar's Mark 2 sedan model,
but they're scarce. For now, Ken is using regular MGB front brake calipers with Brembo discs.
The difference in unsprung weight is significant, and the MGB calipers are larger than needed.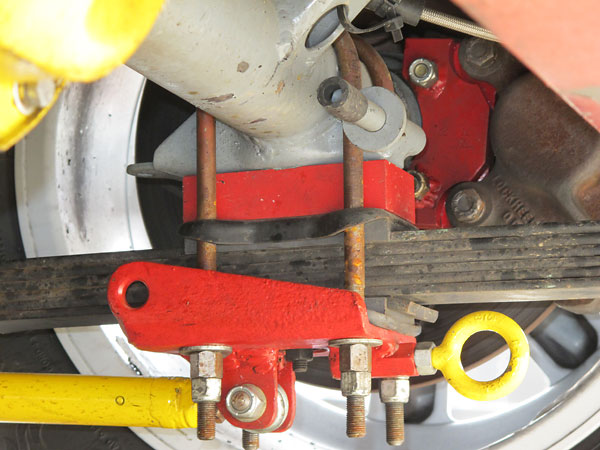 1.25" thick aluminum blocks lower the rear ride height. Eyebolts for trailer tie-downs.


Interior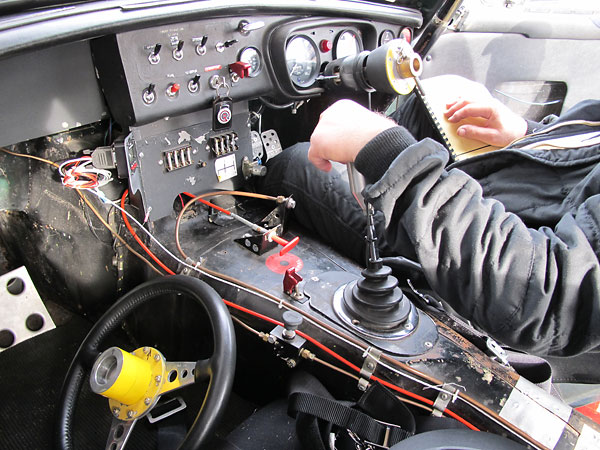 Toggle switches, top row from left to right: spot lights, roof i.d. light, wipers, windshield washer pump.
Second row, left to right: (unlabeled/spare), fan, lights, ignition (key), fuel pump (under switch guard.)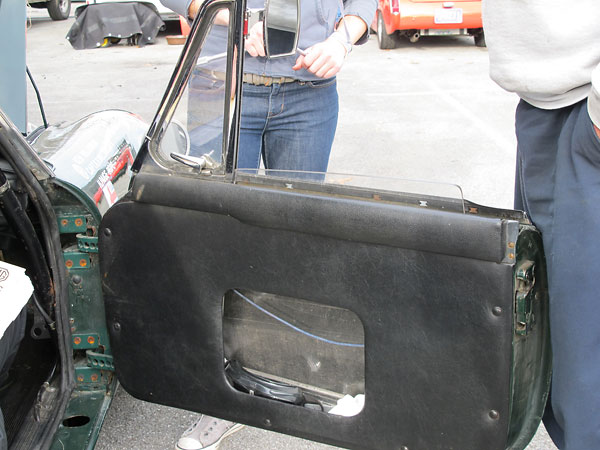 Lightened door hinges.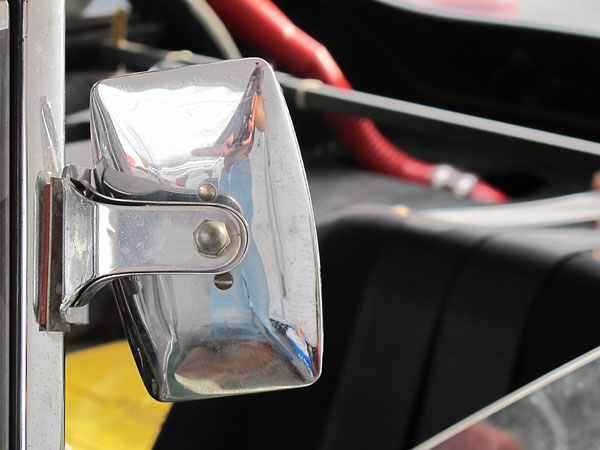 Side view mirror.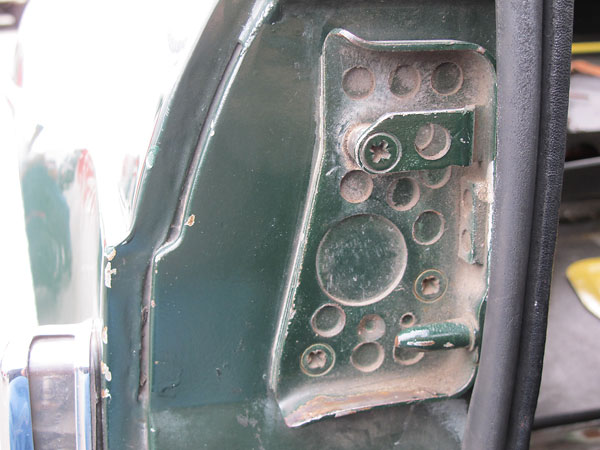 Lightened door strike plate.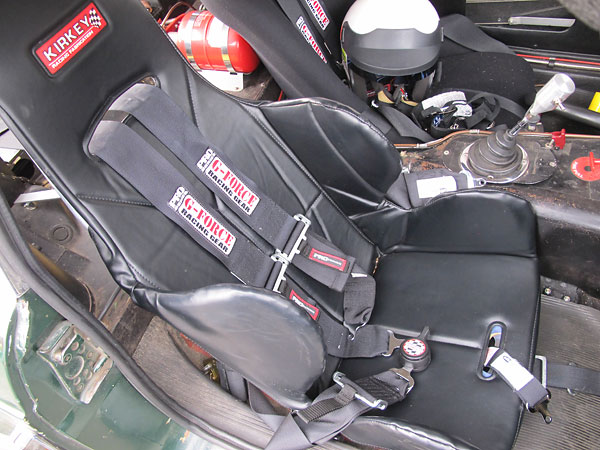 Kirkey aluminum drivers seat with G-Force Pro Series five point cam-lock safety harness.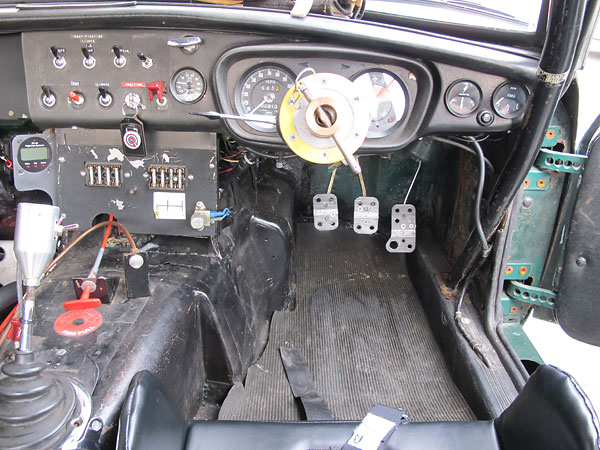 Instruments (left to right): Flight Data Systems FC-10 fuel computer, Smiths dual oil pressure and
water temp, Smiths speedometer, Smiths tachometer, Smiths ammeter, and Smiths fuel level gauge.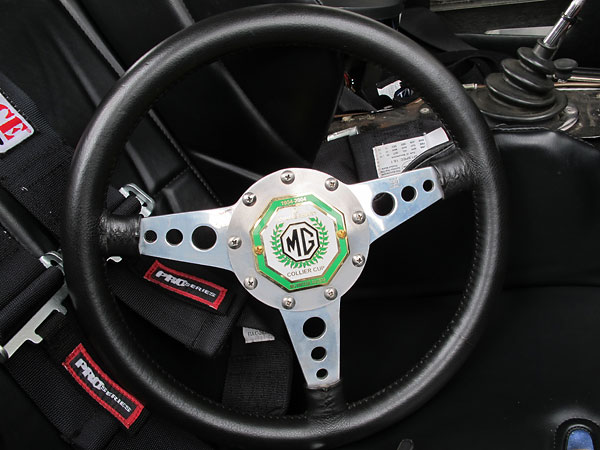 Moto-Lita steering wheel (installed backwards on its hub.)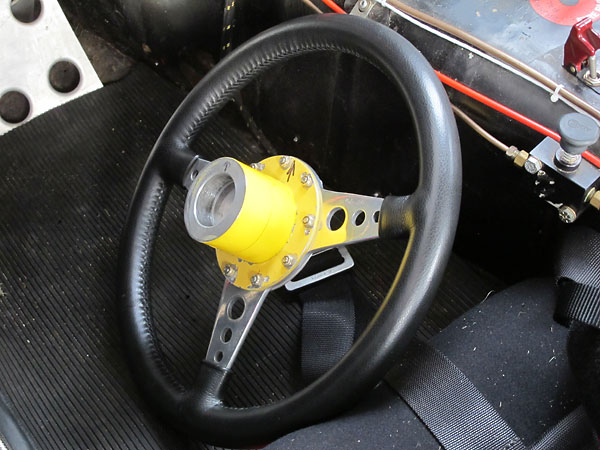 This quick release steering wheel hub probably dates to the 1980s.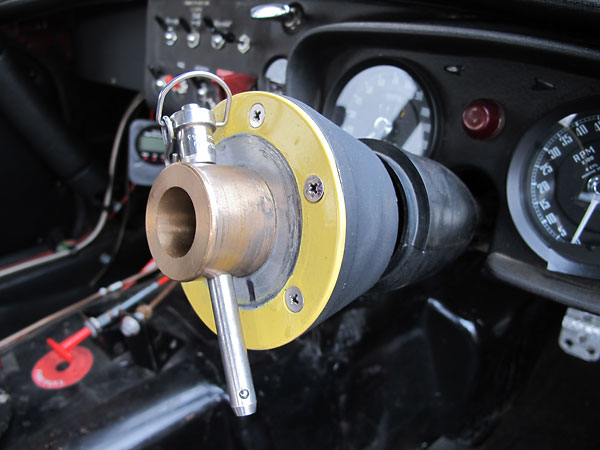 Here's something to double-check before going on track: a large pip pin secures the
steering wheel hub to the steering column, but the joint doesn't feature splines.
Many racing organizations expressly forbid this steering wheel attachment method.



Enjoying this article? www.BritishRaceCar.com is partially funded through generous support from readers like you!
To contribute to our operating budget, please click here and follow the instructions.
(Suggested contribution is twenty bucks per year. Feel free to give more!)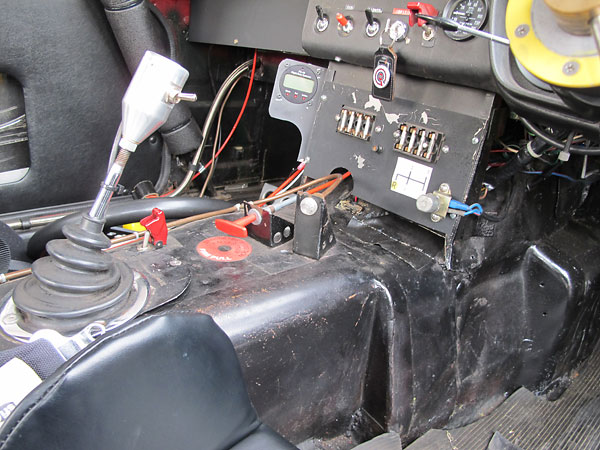 Ken purchased an original Comps Department gear selector knob with built-in electric overdrive
switch several years ago. That shifter knob is kept in safe storage, and he now builds and
sells authentic reproduction knobs. The knob shown here is one of Ken's reproductions.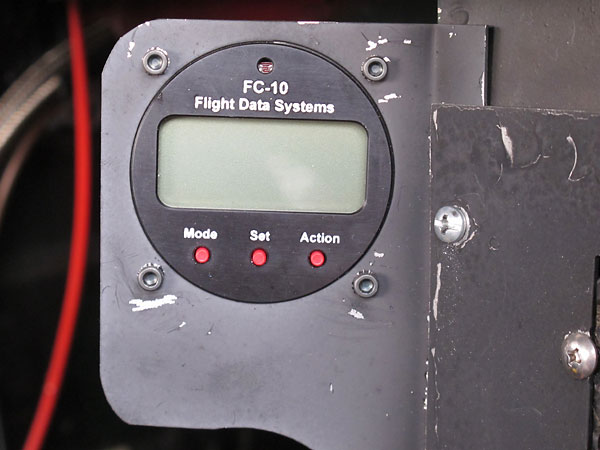 Flight Data Systems' FC-10 fuel computer can display instantaneous fuel consumption rate (from
0.6 to ~70 gallons per hour) or alternatively can display fuel used or fuel level. Developed for
experimental aircraft, this gauge has limited utility for sprint races but it could be helpful
in enduros or rallies. A gauge like this might really help some of the NASCAR teams.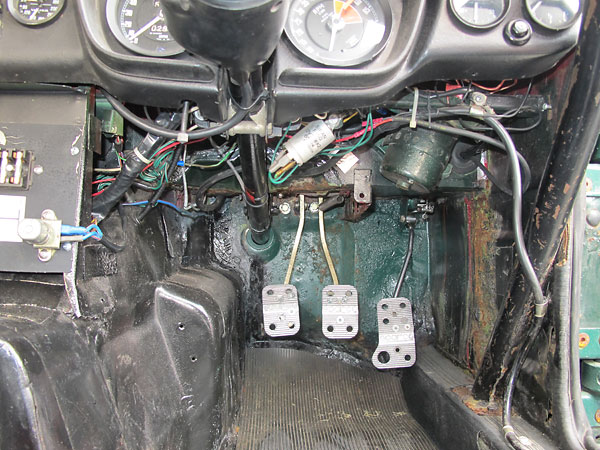 High-beam / low-beam selector. Turn signal flasher. Not so far removed from street use.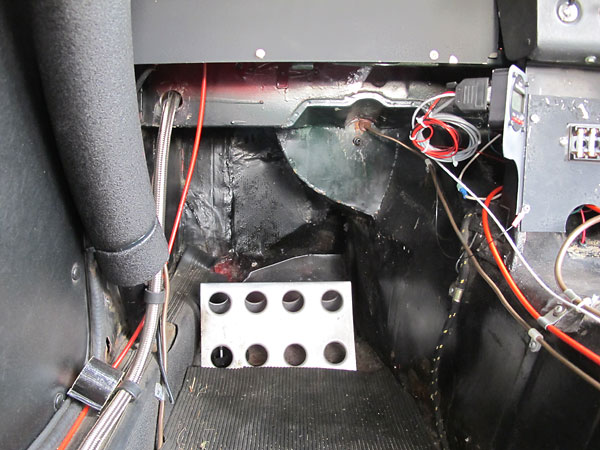 A convenient brace for the navigator's or riding mechanic's feet.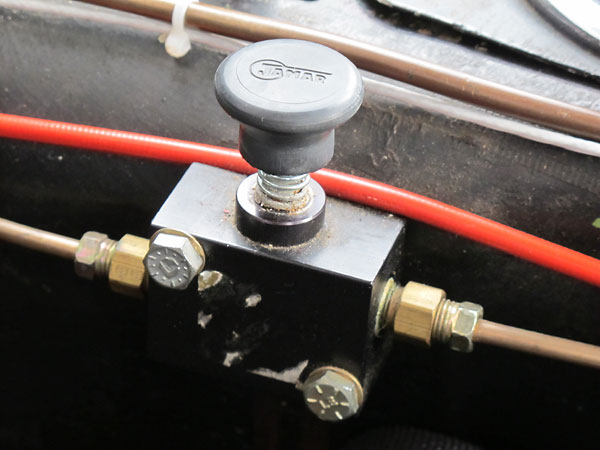 Jamar Park-Lok hydraulic line lock functions as a parking brake. To engage it, the driver
first steps on his brake pedal and then presses the Park-Lok button. The Jamar line lock
automatically disengages when the brake pedal is depressed again.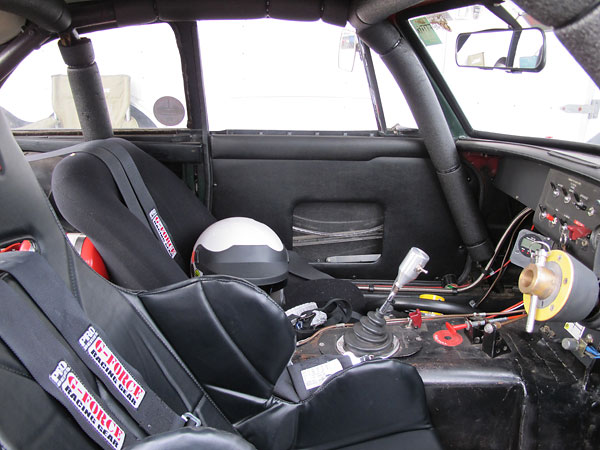 Generously padded passenger seat. Original MGC GTS cars raced with ordinary
production seats mounted on both driver and passenger side.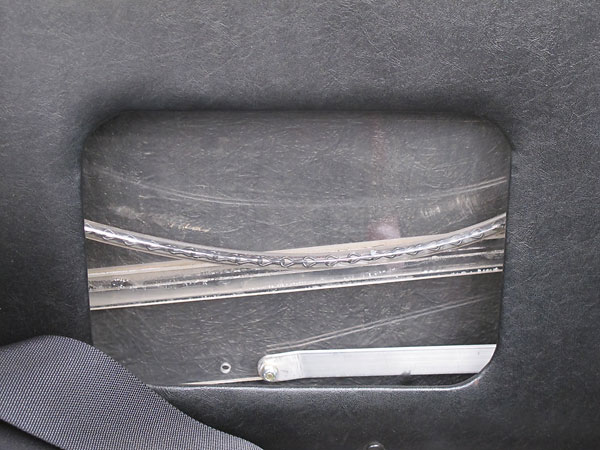 Original MGC GTS racecars came with aluminum doors. These are fiberglass. Fiberglass doors aren't a
major weight reduction over steel in and of themselves. Bigger gains were achieved by replacing
glass with acrylic and replacing heavy steel window regulators with simple aluminum guide bars.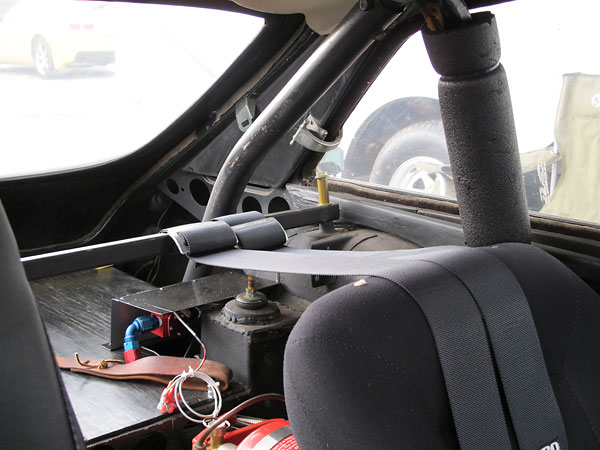 Telescopic shock absorber mounting towers have been welded-in above the rear axle.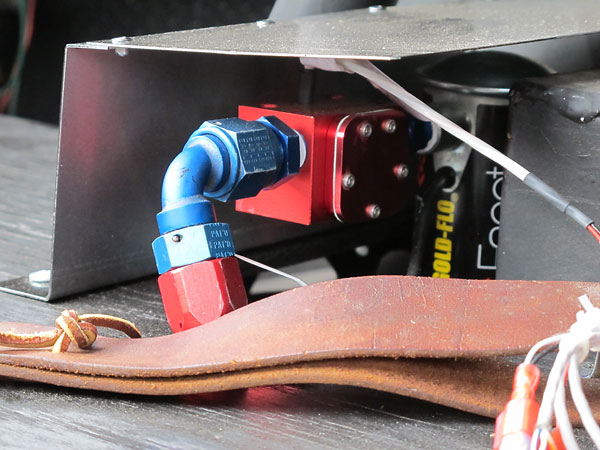 Flight Data Systems FT-60 transducer to measure fuel flow rate. Facet Gold-Flo electric fuel pump.
Original MGC GTS racecars utilized S.U. double-ended (Jaguar style) pumps mounted in a wheel well.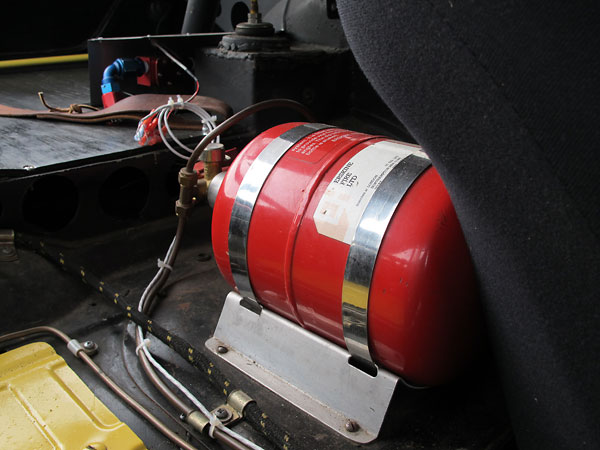 Erskine Fire Ltd. fire suppression system.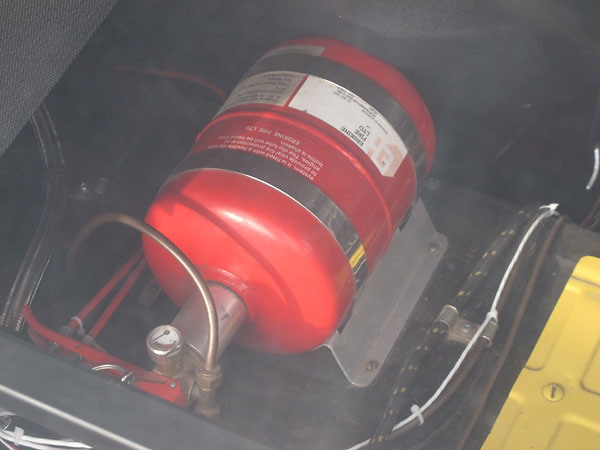 The fire suppression system can be actuated by either of two cables. One cable is for actuation
from the drivers seat. The second cable facilitates actuation by corner workers.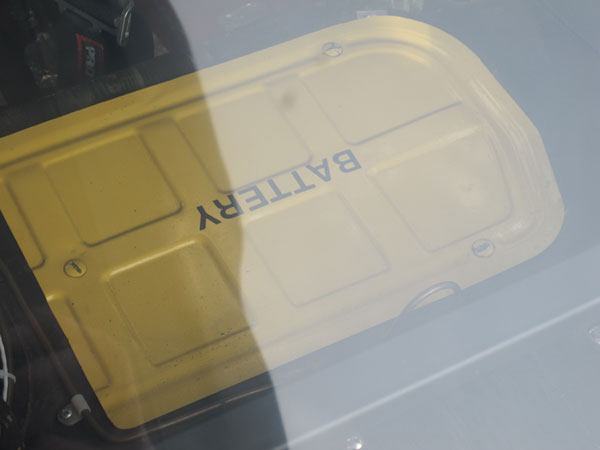 A single 12V lead-acid battery is mounted on the driver's side.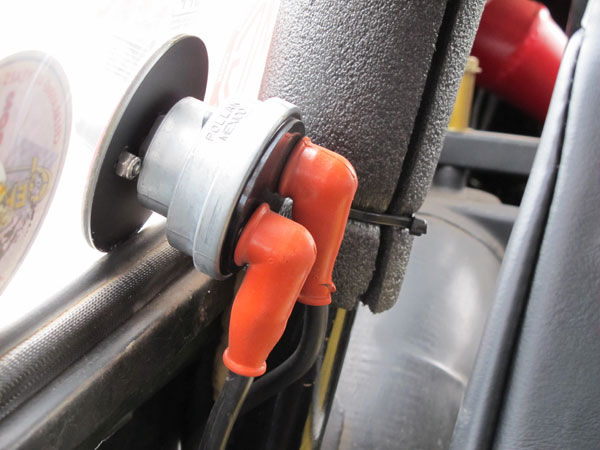 Joseph Pollak battery disconnect switch.


Exterior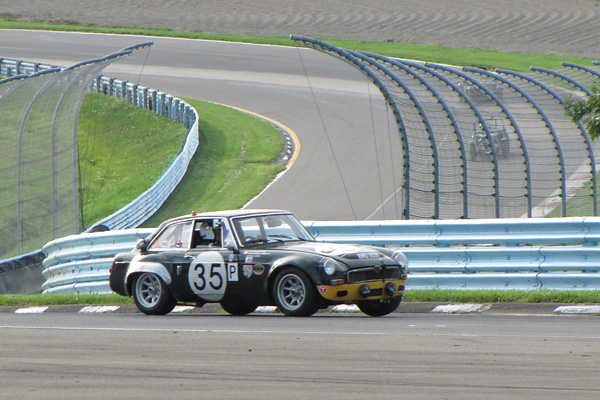 Ken Williamson contests the MG Vintage Racer 2011 Collier Cup all-MG feature race at Watkins Glen.
(Photo by Donnie Moyer for BritishRacecar.com. Copyright 2012, All rights reserved.)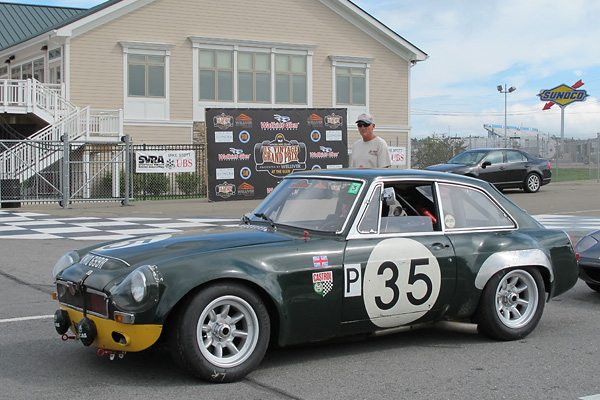 In the Collier Cup race, Ken Williamson circled the challenging 3.40 mile Watkins Glen
circuit with a best lap time of 2:39.339 for an average speed of 76.82 miles per hour.
(An MG Midget won that sprint race with a best lap time of 2:21.724 for 86.37mph.)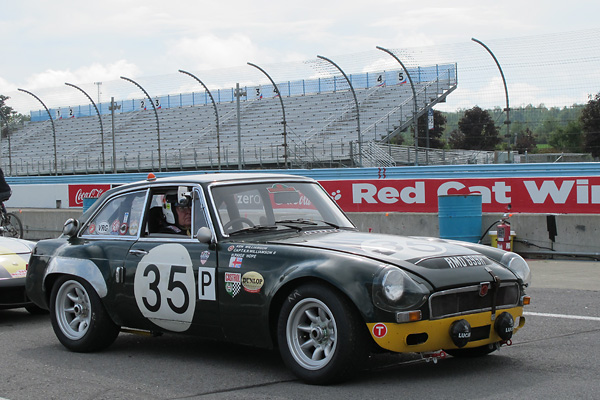 The MGC GTS cars weren't conceived as sprinters. Their strong suit was their capacity to sustain
high average speeds over many hours. Historically, their best performance was achieved in the
1968 Marathon de la Route 84-hour endurance race at Germany's Nürburgring. MBL-546E's
worn out brake pads welded to its rotors during a pit-stop in the 67th hour. Before that
delay, MBL-546E was running third. MBL-546E still managed to finish sixth overall.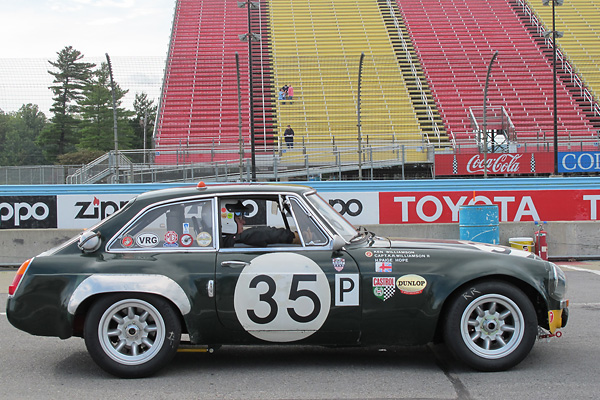 MBL-546E suffered brake problems at Sebring in 1969. Canadian hero Craig Hill recalls that
his brakes faded quite early. He pitted, and the team pumped fresher brake fluid through
the system. An easily fixed problem, but it could just as easily have been prevented.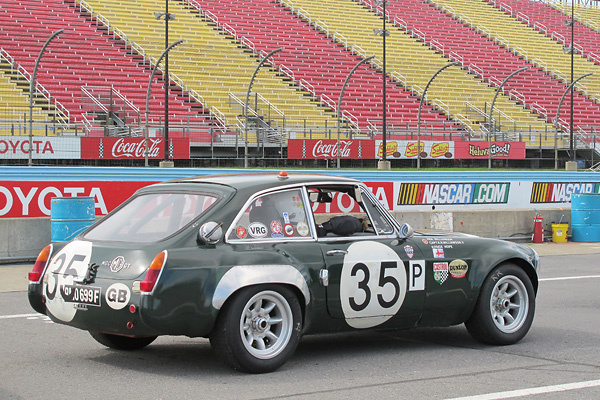 Racing number 35 is the number RMO-699F was assigned for the 1969 Sebring 12 Hour race.
Ken's MGC GTS is the only MGC racecar that's still actively raced in North America, but a
number of MGB GT and MGB GT V8 racers have chosen to replicate GTS styling features.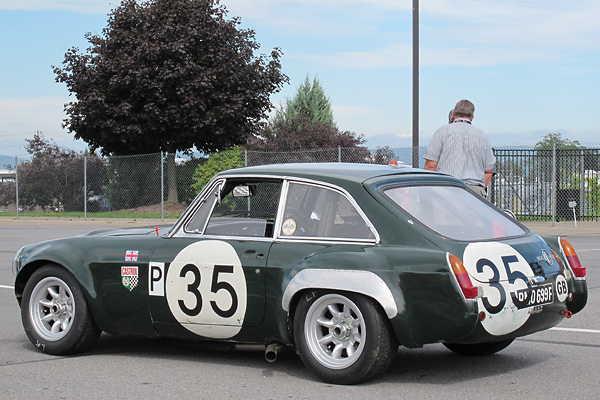 Polished aluminum trim panels over the rear fender flares are a unique feature of this
particular car. The original MGC GTS racecars were built with hand-made aluminum flares
with all seams filled-in and with the aluminum painted body color (i.e. British racing green.)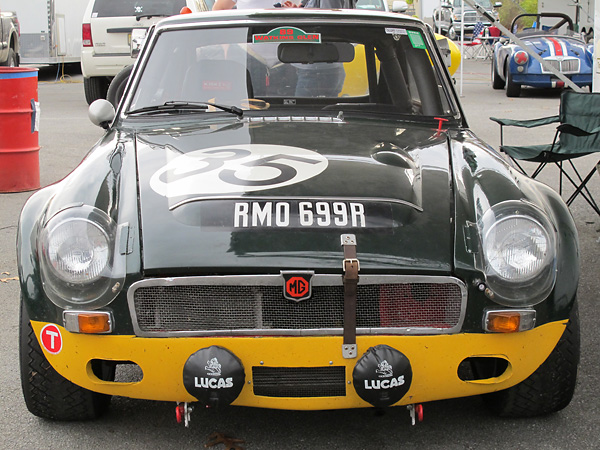 When race teams enter multiple cars in endurance races, it's customary to decorate them with
differentiating details. For example, RMO-699F's front valance was painted bright yellow
whereas MBL-546E's front valance was painted vivid red. Roof mounted marker lamps
were similarly color-coded to improve recognition of the cars during nighttime racing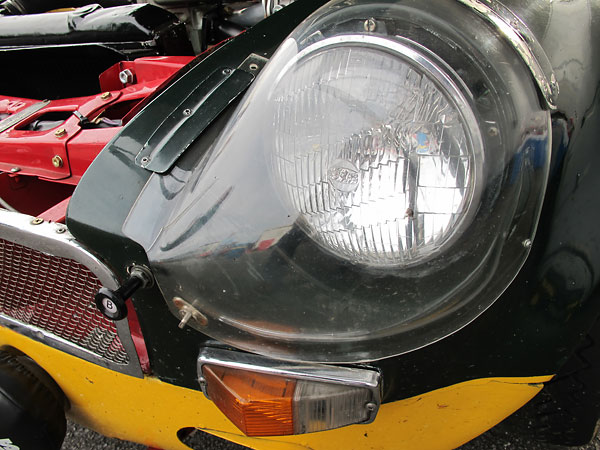 Lucas sealed beam headlights under molded Perspex (acrylic) fairings.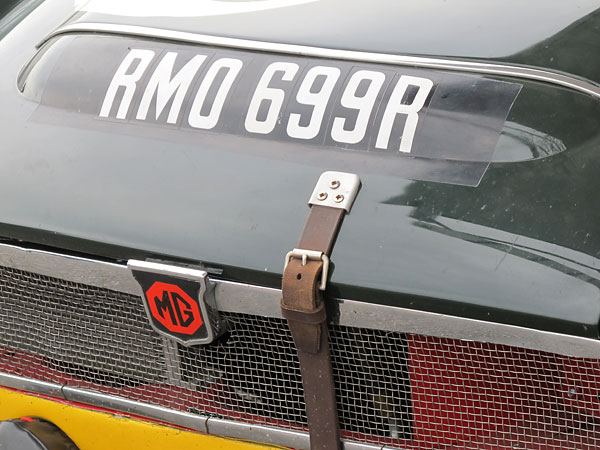 At Sebring in 1969, MBL-546E had a leather hold-down strap at the front of its bonnet,
but RMO-699F didn't. The team had re-mounted RMO's bonnet with hinges at the front!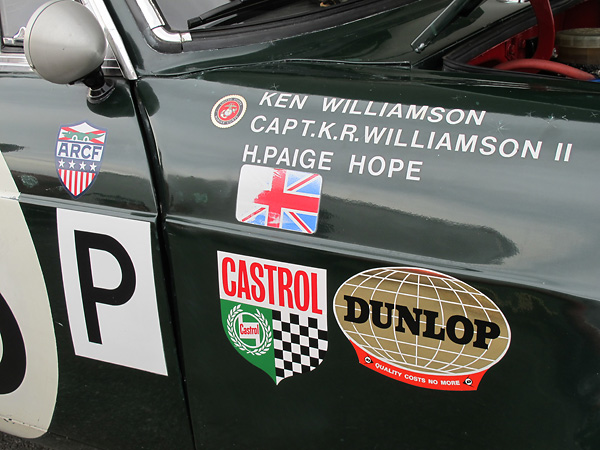 (Drivers) Ken Williamson, Capt. K.R. Williamson II, H. Paige Hope
(Sponsors) Castrol Oil. Dunlop Tires. "Quality Costs No More."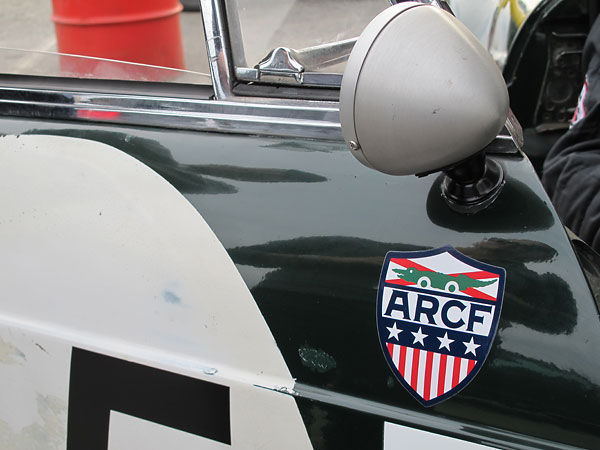 Automobile Racing Club of Florida decal. ARCF volunteers staffed the Sebring Twelve Hour race.



Stickers: United States Marines Corps, Vintage Racer Group, 2004 50th Anniversary of the Collier
Brothers Memorial Race, Pollak master disconnect switch, VRG 2009 Jefferson 500 at Summit Point.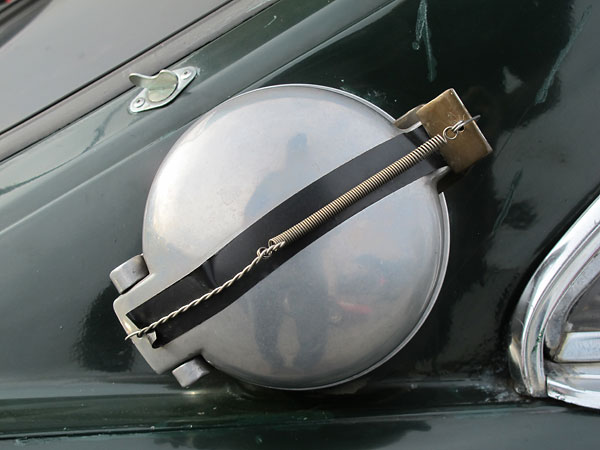 LeMans style fuel filler cap.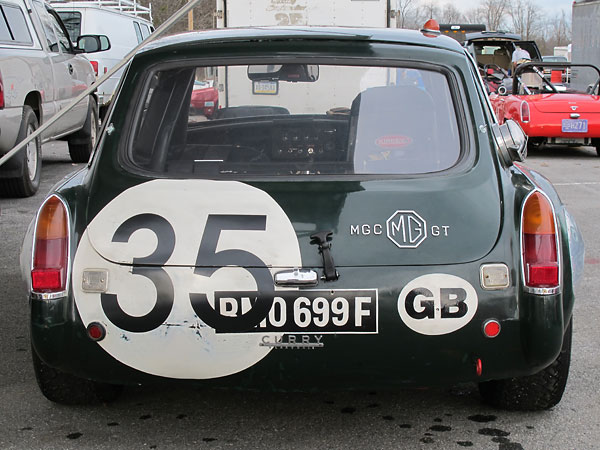 "Curry Scarsdale" under the registration number: the Curry Auto Group operates car dealerships in
the New York City area. They specifically offer Chevrolet, Acura, Honda, and Subaru cars.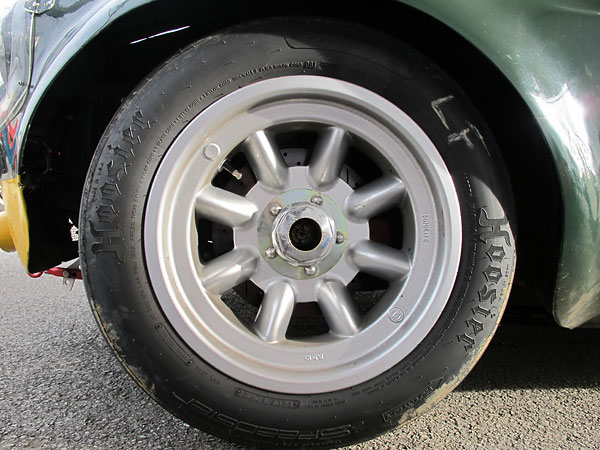 Genuine U.K.-produced Minilite 8Jx15 eight spoke alloy wheels, similar to what the original MGC GTS
racecars used back in the day, except aluminum instead of magnesium. Vent holes in the knock-off
nuts help cool the front wheel bearings. At Sebring in 1969, RMO-699F reverted to spoke wheels.
In his trailer, Ken carries a set up Borrani 15x8 wire wheels with Hoosier tires as a back-up.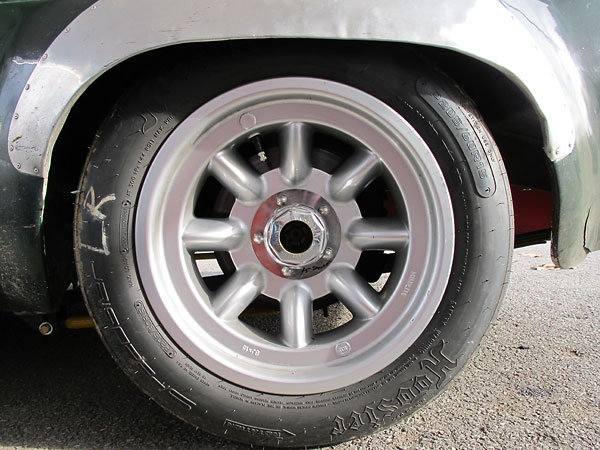 Hoosier Speedster P205/60R15 racing tires. Ken Williamson reported:
"Increasing tire pressures to 30psi (cold) seemed to improve handling a great deal."


Notes:
(1)
Targa Florio officials called time after twenty-two cars crossed the finish line even though three other cars were still running. If they had waited a few more minutes, MBL-546E might have finished 25th overall and third place in the "P +2000" class, which incidentally was the largest displacement "prototype" racing class in the 1967 race. Although race reports show MBL-546E's result as "not classified". The race consisted of ten laps of a 72 kilometer circuit. MBL-546 completed eight laps before time was called. It was a disappointing result.


(2)
When you see coverage of Sebring races from this late sixties, class results can be quite confusing due to ambiguity in the ways that cars were subdivided into groups and classes.

Period BMC/MG magazine advertisements and countless books for MG enthusiasts have reported that the MBL-546E won its class at Sebring in 1968. Only four other cars were entered in Class 11 that year. The #42 Renault Alpine dropped out with timing issues. The #45 Ferrari 250LM failed to arrive. The #76 Howmet dropped out with broken engine mounts. Donna Mae Mims' #85 Yenko Stinger (Corvair) was still running at the finish, but was recorded as "not classified" because she hadn't covered sufficient distance; she was 97 laps behind the leaders.

In 1969, the entry list for Class 11 was entirely different. Twelve cars were entered in the class, and many of them were piloted by world famous drivers. The Ferrari 312P of Chris Amon and Mario Andretti won first in class and second overall. A Porsche 908/02 piloted by Rolf Stommelen, Joe Buzzetta and Kurt Ahrens finished second in class and third overall. Four other Porsche 908/02s were entered. Two finished strongly and two DNF'd. Three fierce Alfa Romeo T33's were entered, but all three broke. The two MGC GTS racecars did remarkably well to finish fifth and sixth place in Group 11, well ahead of a Ferrari 250P driven by Pedro Rodriguez and Chuck Parsons. However, a fifth place finish doesn't make for impressive newspaper headlines.


(3)
An MGB GT racecar registered LBL-591E appears frequently with MBL-546E and RMO-699F in old photographs. LBL-591E can be differentiated from the MGC GTS racecars by its registration number, its MGB style bonnet, its unflared fenders, and its racing numbers. At Sebring in 1969, LBL-591E wore racing number 62.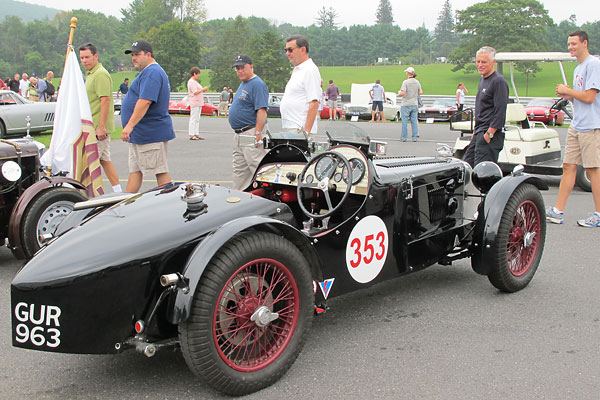 Harry Lester's MG P-type (GUR 963), as photographed by Curtis Jacobson for BritishRacecar.com

Did you enjoy this article? We currently have eighty more in process, featuring about 6000 new photos.
But it takes a lot of time and expense to turn photos into articles, and to publish them on the internet.
Please consider making a contribution. Your donation will help us publish more and better articles!
While you're at it, tell us which racecars interest you most. We value the opinions of our funders.


Photos shown here are from September 2011 when we viewed the car at The US Vintage Grand Prix at Watkins Glen and from November 2011 when we viewed the car at the Vintage Racer Group's annual Turkey Bowl at Summit Point West Virginia. Unless captioned otherwise, all photos by Curtis Jacobson for BritishRaceCar.com, copyright 2012. All rights reserved.



Notice: all the articles and almost all the photos on BritishRacecar.com are by Curtis Jacobson.
(Photos that aren't by Curtis are explicitly credited.) Reproduction without prior written permission is prohibited.
Contact us to purchase images or reproduction permission. Higher resolution images are optionally available.