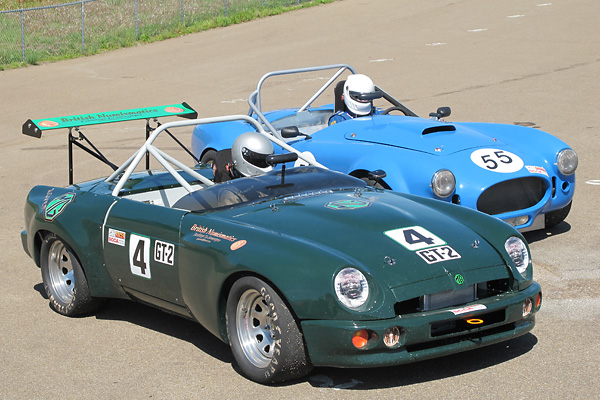 Built For SCCA's GT2 Class: Phil Leonard's MG RV8 Racecar
Owner: Phillip Leonard
City: Kansas City, Kansas
Model: MG RV8 (circa 1992/3)
Engine: Rover 3.5L aluminum V8, built by Bill Davidson
Built by: Clancy Schmidt, Robert Maupins and Scott Mock
Rover Group's MG RV8 Model
The MG RV8 was a low volume, luxury sportscar introduced in 1992. Two thousand were built in a production run that spanned two years. The RV8 was only ever intended to be a limited production model. Rover Group sought to bring the MG trademark back before the car buying public and to do so in the best possible light before returning in force with their upcoming, more modern, and far less expensive MGF model.

The British automotive press generally wrote very favorably about the RV8. As hoped, articles focused on the historic reputation of the MG brand, a badge long synonymous with "sportscar" for so many enthusiasts. Magazine writers especially emphasized the phenomenal and enduring popularity of Abingdon's MGB model. At that time MGB was still the best selling sports car model in automotive history. The RV8 delivered what many MGB owners had wished for; much more power and a more comfortable driving experience topped the list of virtues, but it remained a true open sportscar.

The MG RV8 was only ever produced in righthand drive configuration, and with very few exceptions sales were limited to the British home market and to Japan. It was okay for Rover if sales were extremely limited, so long as interest was piqued. They only wanted to inspire aspiration. Readers would close their magazines thinking: "I wish Rover would introduce an MG sportscar in my price range." or even "I wish Rover would start selling MGs here again." The RV8 was a teaser. The MGF was coming.


Code-named "Project Adder," the RV8 development team worked with a shoestring budget and a tight schedule. They could do so because from the beginning their brief was to utilize the original MGB bodyshell as a foundation. British Motor Heritage had previously collected and restored original MGB press tooling and assembly fixtures and was already building "Heritage" bodyshells for MGB restorers. Heritage shells are actually better than original MGB shells in many respects. For example, corrosion protection is superior due to use of galvanized zinc-coated steel sheet and also due to electrically deposited "e-coat" primer dipping of the assembled bodyshells prior to painting. The new RV8 body was styled by laying clay over a Heritage MGB bodyshell and then sculpting away until the RV8 shape emerged. A muscular bulge in the hood and a substantially wider stance resulted.

What about the drivetrain? That was a no-brainer. Many technical details had already been worked out in advance. MG itself had already produced ~2600 Rover powered, factory-built MGB GT V8 cars in the mid-seventies. Both before and after that, swapping Rover V8 engines into MG's was popular with enthusiasts. Many hundreds if not thousands had successfully completed the swap. Rover electronic fuel injection and Rover five speed transmissions had been installed already. The whole drivetrain was in current production for other Rover models. Technical success in the drivetrain area was a foregone conclusion.

All production MG RV8s were powered by a 3950cc (94mm bore, 71mm stroke) version of the familiar aluminum V8. Static compression ratio was modest at 9.32:1. Lucas multi-point fuel injection provided the engine with refinement. Only one new fuel injection part needed to be developed: a plenum cover with an MG badge on it. Early production RV8s used Rover's LT77 5-speed, but an improved variant of that box came along as a running change. For casual drivers, the principal difference with the R380 5-speed is that Reverse moved from left-side to right in the shift pattern. Changes from original MGB specs include 15" aluminum wheels, telescopic shock absorbers all around, 270mm vented front brake rotors, a limited slip differential, and tapered monoleaf rear springs with torque rods to refine axle location. Arguably, the most interesting new idea introduced to engine swappers was that exhaust headers should exit through the wings instead of hugging the engine block. (Bonus: adding holes in the inner fenders aided cooling.) Advertised power: 187hp at 4750rpm. Advertised torque: 235lb-ft at 3200rpm. 0-62mph in 5.9 seconds. Max speed: 135mph.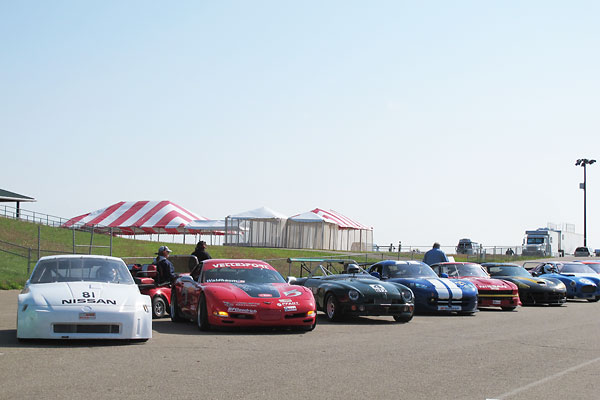 Finally: the door is open for MGs to race with the big boys in SCCA's Grand Touring classes!


The Building of Phil Leonard's RV8
Phil Leonard has been racing an MGB GT at the regional Sports Car Club of America (SCCA) level for several years. As time progressed, getting in and out of the GT became a bit inconvenient, especially with its full roll cage. Phil started thinking he might prefer to race an MGB roadster. Another consideration was that typically MGB roadsters race with low profile windscreens. Between reduced frontal area and reduced weight, MGB roadsters are generally more competitive than MGB GTs in SCCA racing.

Phil recruited a couple good friends to help with his MGB project, including notably Clancy Schmidt and Robert Maupins. They found a suitable MGB to start with, and began stripping it down. The team's original idea was to build their MGB to a "Full Prep" standard and race it SCCA's "F-Production" class. (A less extensively modified "Limited Prep" MGB woulld instead qualify to race in SCCA's H-Production class.) A full roll cage was built and welded into the MGB's unibody bodyshell. Coilover front and rear racing suspensions were installed.

Then the "what if" thoughts started popping up. "What if we could install a bigger motor?" "The MG RV8 was basically just a re-styled MGB with a Rover aluminum V8 engine installed from the factory, so why don't we build an RV8 replica?" These sort of thoughts might have been easily dismissed if Phil and his buddies weren't building up the new racecar a stone's throw from SCCA national headquarters. Did I forget to mention that Clancy actually works for the SCCA? The idea of petitioning SCCA to make a home for MG's low volume RV8 model didn't seem far fetched at all.

In SCCA's "GT" classes, most competitors have severely cut away or even completely eliminated any "unibody" type structure. In other words, body panels are no longer load-bearing; most external body panels are simply "skins" mounted on quick release fasteners. Instead, most GT class racecars are built from the ground up around custom fabricated tubular structures. These structures efficiently provide great strength and stiffness for minimal weight.

Phil's RV8 is only partly consistent with this paradigm. Most of the car's exterior bodywork is composed of lightweight replicas of original steel panels. Under the skin though, most of the original sheetmetal unibody is intact. The rationale here is that SCCA's minimum weight for the RV8 was set high enough that a full tubular chassis wasn't necessary. Phil's RV8 runs right at the minimum allowed weight. On the other hand, if Phil's RV8 had been built with a full tube frame it probably could have been built several hundred pounds lighter and then brought up to the SCCA mandated mininum weight requirement with ballast positioned quite low. With a tubular chassis, suspension mounting points could be optimized far more easily.

Where did Phil get his RV8 body and trim parts? Most of Phil's original MG RV8 body panels came from salvage yards in England. Some other parts came from Ron Davies, a retired Rover factory Competitions Director who had spares left over after administering an RV8-only spec racing series.¹ Finally, after hurricanes hit the Caribbean and destroyed a couple MG RV8 sports cars, Phil was able to purchase some of their parts. From this mix and match assortment of original parts, the team created molds, and now they can create duplicate fiberglass parts as required. The bumpers, bonnet, boot lid, and fenders seen in our photos are all fiberglass replica parts.



IMPORTANT ANNOUNCEMENT
BritishRaceCar.com will have to cut back plans for continued growth if we can't find more financial support.
If you like what you've found here, and you want to see more, please click here and follow the instructions.
Readers like you keep BritishRaceCar.com online and growing through voluntary financial contributions.


Features and Specifications
Engine:
Rover 3.5L aluminum V8 engine, rebuilt by Bill Davidson. 10.3:1 static compression ratio. D&D Fabrications rocker shaft assemblies with reinforcing towers at their ends. D&D Fabrications modified / rebuilt harmonic balancer. Edelbrock Performer 3.5l intake manifold. Holley 600cfm four barrel carburetor, model 0-4224. Edelbrock air cleaner. Delco-Remy (GM/Buick) distributor with Pertronix Ignitor breakerless module. Taylor Pro Wire silicone 8mm spark plug wires. Custom deep sump oil pan. Flotec low profile oil pump base. Earl's 16-row oil cooler (part# 81610). Fram HP3 oil filter, on a Moroso remote mount. Accusump oil accumulator.

Cooling:
custom aluminum crossflow radiator by Saldana Racing Products. Custom remotely mounted aluminum header tank by Saldana Racing Products.

Exhaust:
D&D Fabrications RV8-style (through the fender) four into one headers, with high-temp powder-coat finish. X-pipe.

Transmission:
Borg Warner NWC T5 5-speed, currently with 0.63:1 fifth gear. D&D Fabrications bellhousing. McLeod hydraulic throw-out bearing. Hurst shifter. Wilwood master cylinder.

Rear End:
(as shown in photos below, but used only in the car's very first race)
early MGB banjo-style axle, in stock width but used with hub spacers. 3.909:1 ring and pinion. Open differential, but with gears welded solid.

Rear End:
(as configured for its second race on, from August 2011)
Speedway Engineering "Mini Stock" floater-type custom housing (Ford 8"). Full floating hubs. Rifle-drilled driveshafts. Curry aluminum gear carrier. 3.8:1 ring and pinion. Ford limited slip differential.

Front Susp.:
Fab-tek front suspension, highly modified by Clancy Schmidt. Carrera coilover shock absorbers. Fab-tek anti-sway bar on aluminum pillow blocks.

Rear Susp.:
three bar linkage plus Panhard bar. Koni coilover shock absorbers.

Brakes:
(master) Wilwood pedal assembly, featuring dual master cylinders and adjustable bias bar. Ford brake fluid.
(front) stock MGB (Lockheed) calipers and rotors (solid). Hawk "blue" brake pads.
(rear) Wilwood calipers and solid rotors.

Wheels/Tires:
Spin Werkes 15x7 aluminum racing wheels (~11#/ea. Nearly zero offset.) Goodyear Eagle 23.0x9.0x15, R430 compound racing slicks.

Electrical:
lightweight gear reduction starter from BritishStarters.com.

Instruments:
(left to right) AutoMeter shift light (red), AutoMeter Sport-Comp fuel pressure (0-15psi), AutoMeter Sport-Comp water temperature (120-240F), AutoMeter Autogage programable tachometer (0-8000rpm), AutoMeter Sport-Comp oil temperature (140-280F), AutoMeter Sport-Comp (engine) oil pressure (0-100psi), and AutoMeter Sport-Comp (oil accumulator) oil pressure (0-100psi) gage. An AutoMeter Autogage oil pressure gage (0-100psi) is mounted in the engine compartment.

Fuel System:
ATL Sportsman 22-gallon steel canister fuel cell (part# SP122B). Holley red electric fuel pump. Earl's inline fuel filter.

Safety Eqmt:
Fire Bottle centralized fire suppression system, with three nozzles. Kirkey aluminum racing seat. RJS Racing Equipment five point latch and link safety harness. Sweet Manufacturing steering wheel, mounted on a Sweet Manufacturing quick release hub. S.P.A. mirrors (both rear view and side view). Cole-Hersee battery disconnect switch (model 2484).

Misc.:
Cosmo Racing "Aluminum GT Wing" single deck / single wing spoiler, 130cm (part# W63FSS).

Weight:
2202 pounds, including driver and fluids.²

Racing Class:
SCCA GT2!

Engine Installation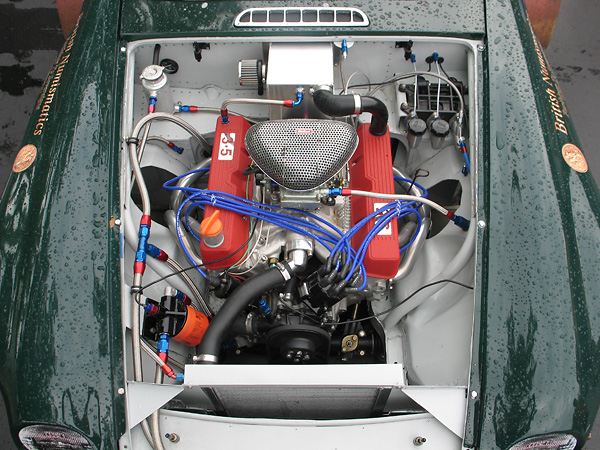 Rover 3.5L aluminum V8 engine, rebuilt by Bill Davidson.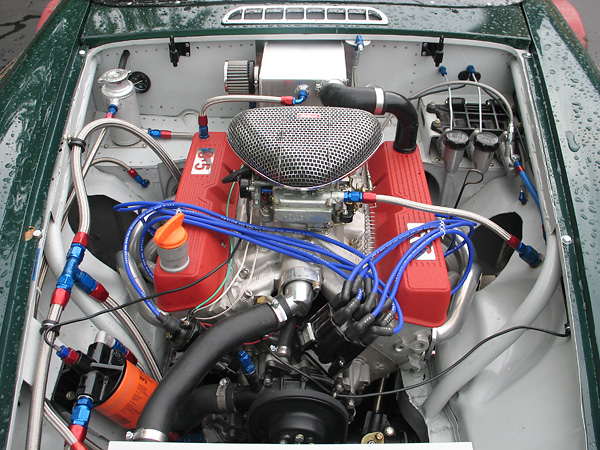 Tubes extend forward from the rollcage, though the firewall and forward to the frame
sections just forward of the motor and front suspension crossmember mounting areas.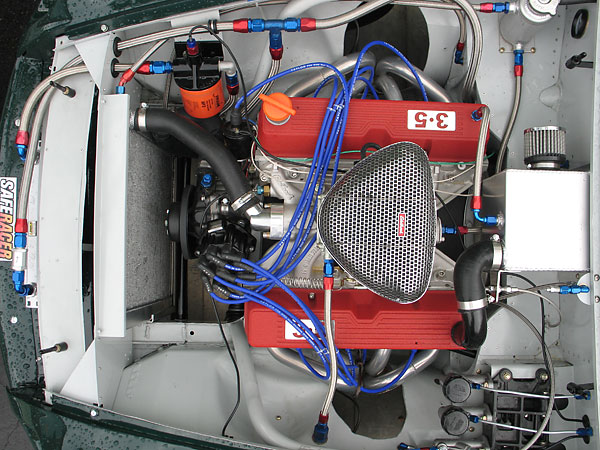 One distinctive feature of the MG RV8 is that exhaust headers were routed out of the
engine bay through holes cut in the inner wings, pretty much just as you see here.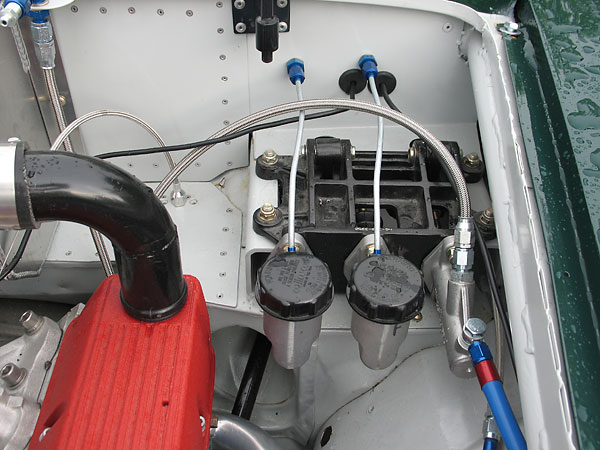 Wilwood pedal assembly, featuring dual master cylinders and adjustable bias bar.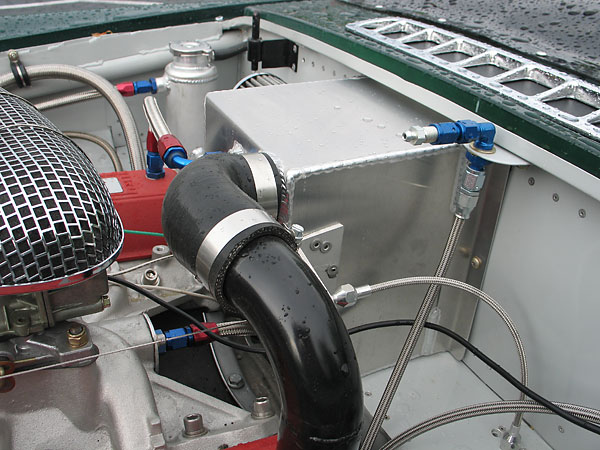 Custom oil breather/overflow tank.
(To the right, bleeder for the "hydraulic throw-out bearing" type clutch slave cylinder.)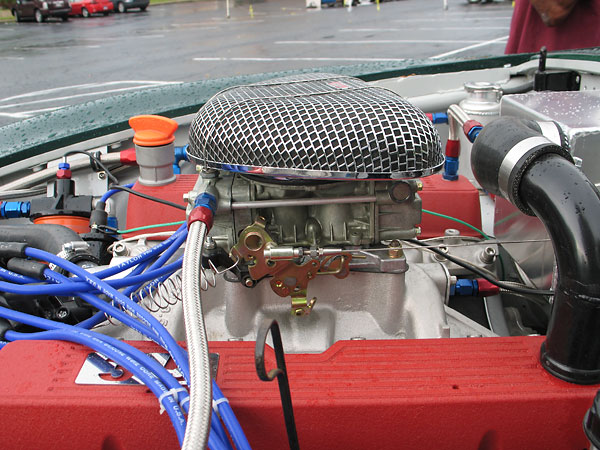 Holley four barrel carburetor atop an Edelbrock Performer 3.5L intake manifold.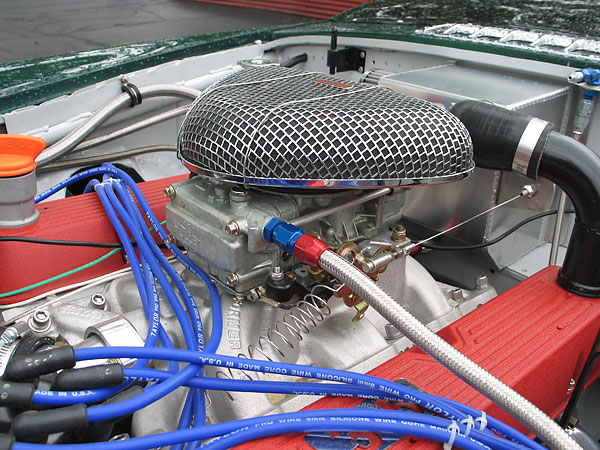 This Edelbrock air cleaner is fine for the paddock, but far to restrictive for serious performance
work. The GT2 rules permit a taller than stock hood bulge, so a large drop-base air cleaner
may possibly be installed at some future date.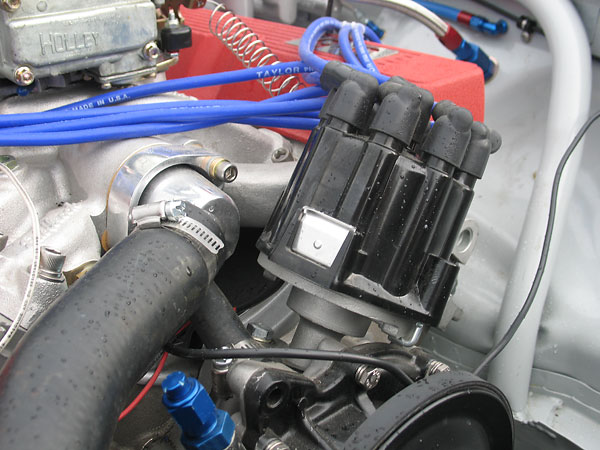 Delco-Remy (GM/Buick) distributor with Pertronix Ignitor breakerless module.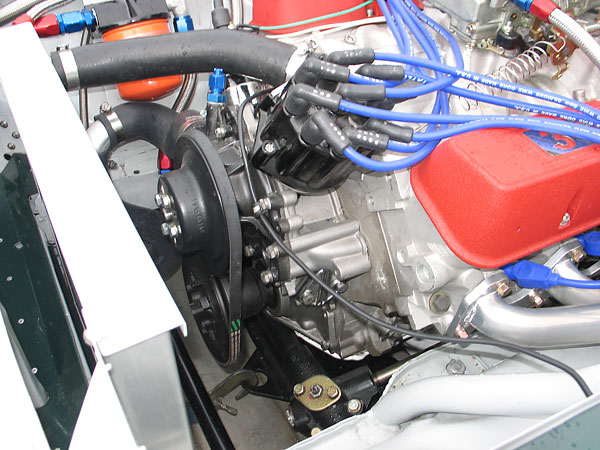 Taylor Pro Wire silicone 8mm spark plug wires.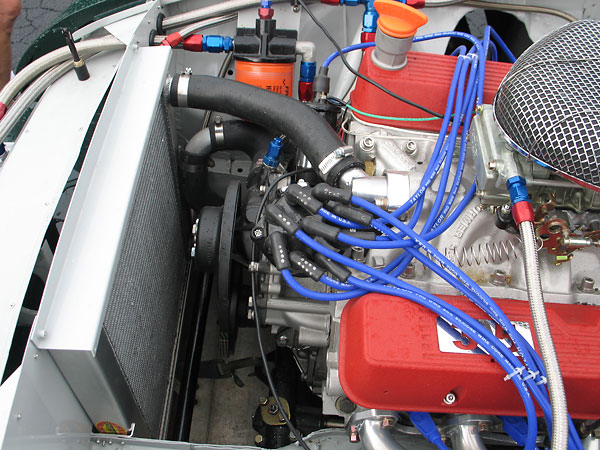 Saldana Racing Products custom aluminum crossflow radiator.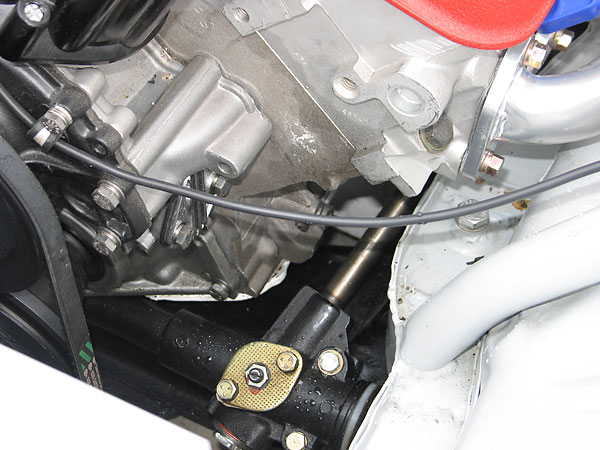 In its first race, oil accumulated under the engine's valve covers, then started migrating out through
the breather/overflow tank. Bill Young has since helped Phil install a new crankcase vent line from
the fuel pump blanking plate on the timing cover all the way to the breather tank. Improving the
ventilation system is good, but it may also be necessary to restrict oil flow to the rocker shafts.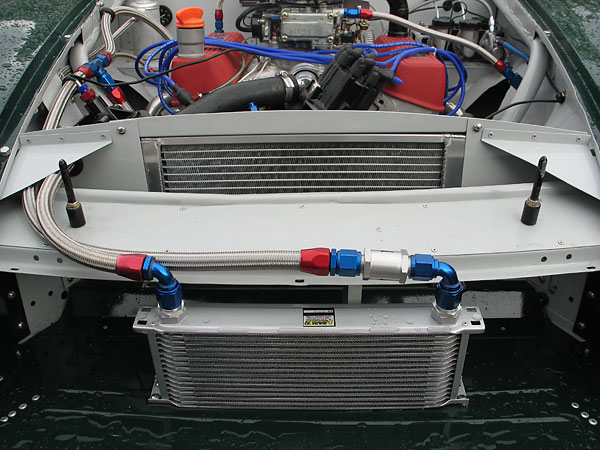 Earl's 16-row oil cooler (part# 81610).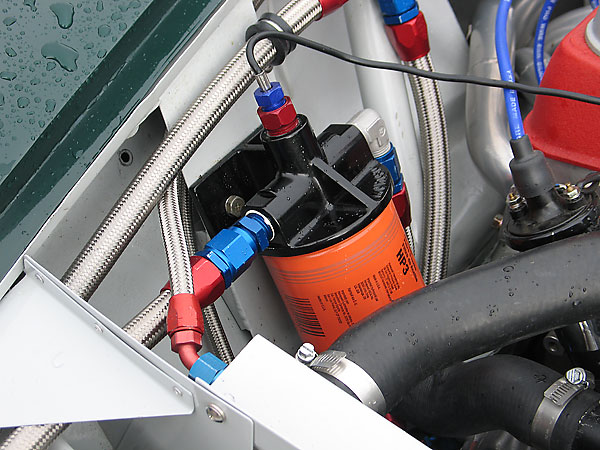 Fram HP3 oil filter, on a Moroso remote mount.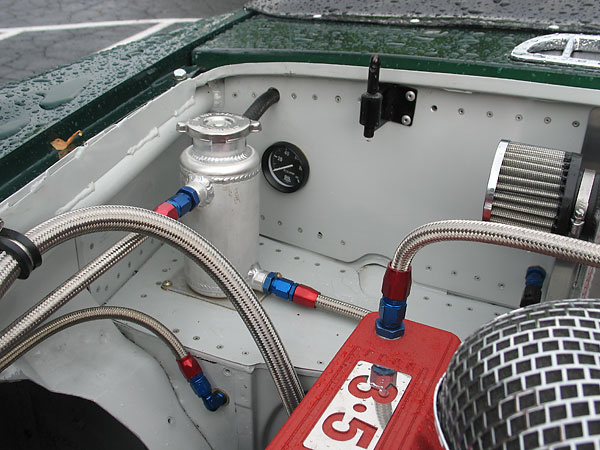 Aluminum coolant header tank. (An AutoMeter oil pressure gage is mounted on the firewall behind it.)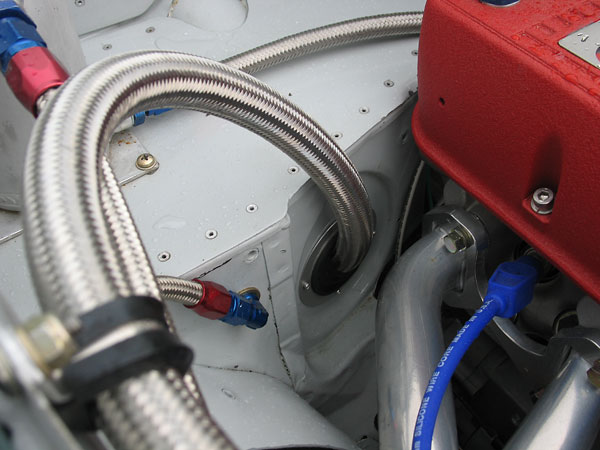 Oil line routing out of the engine compartment and toward the Accusump oil accumulator.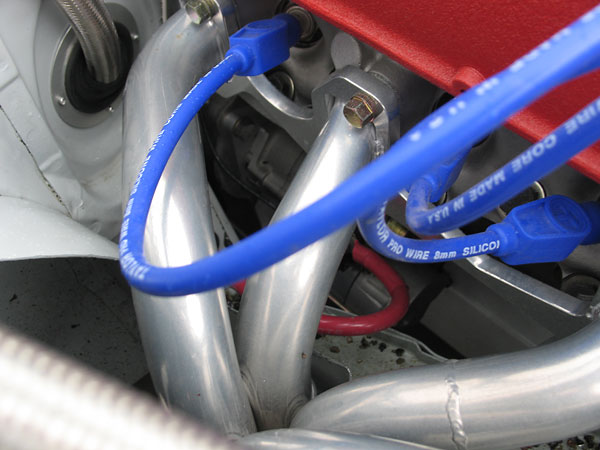 The MG engine compartment provides plenty of room for easy maintenance and repair.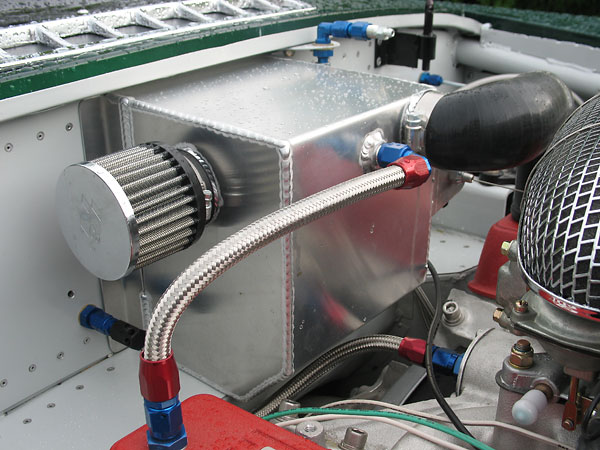 Saldana Racing Products built this breather tank to Clancy Schmidt's drawing.
(To the left, the fire suppression system's nozzle for the engine compartment.)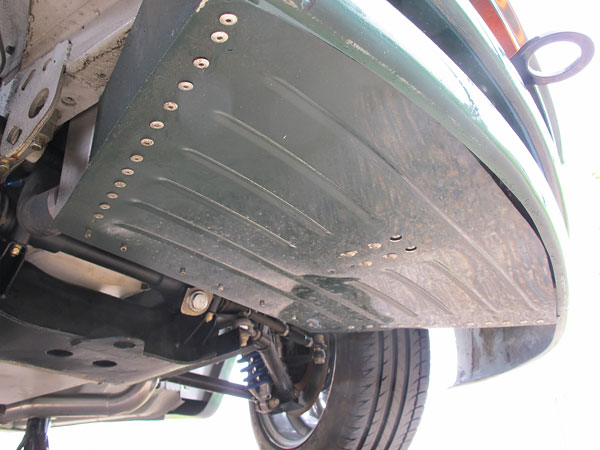 With excellent ductwork, Phil will get full benefit from his radiator..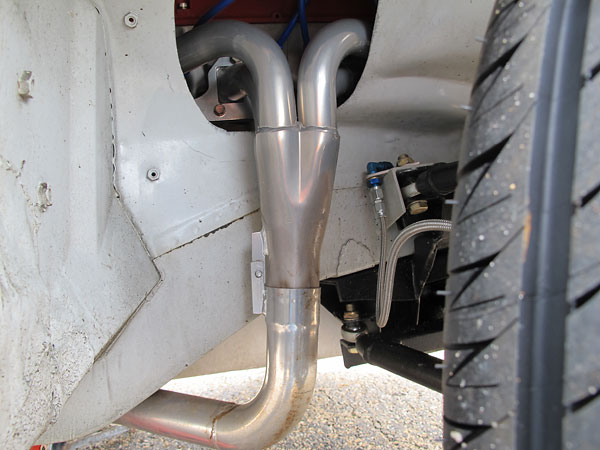 RV8-style (through the fender) four into one headers, ceramic coated.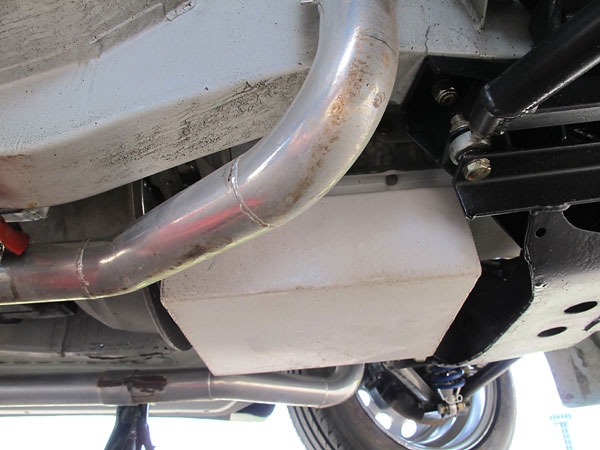 Custom deep sump oil pan.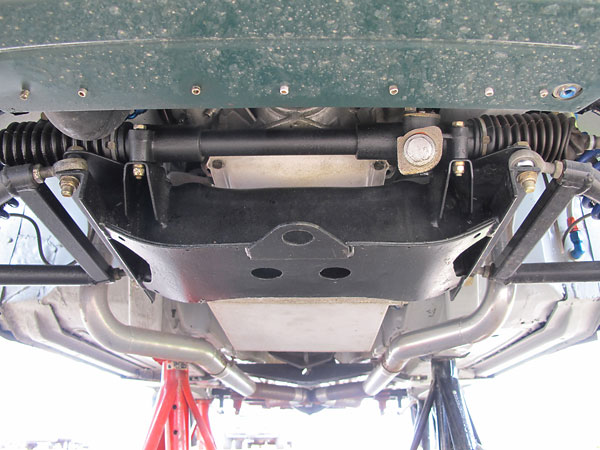 An X-pipe in the exhaust system should both improve performance and mellow the exhaust tone.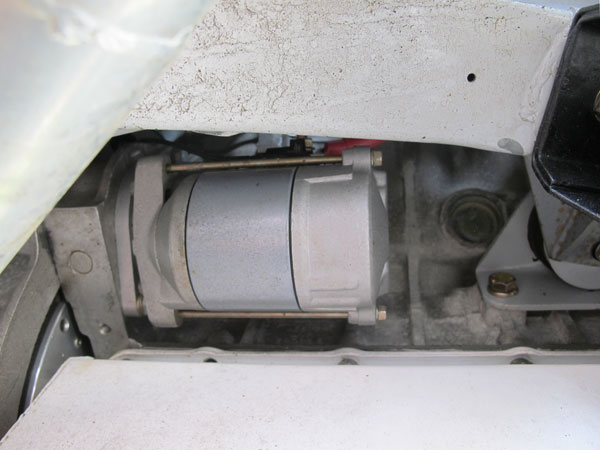 Lightweight gear reduction starter from BritishStarters.com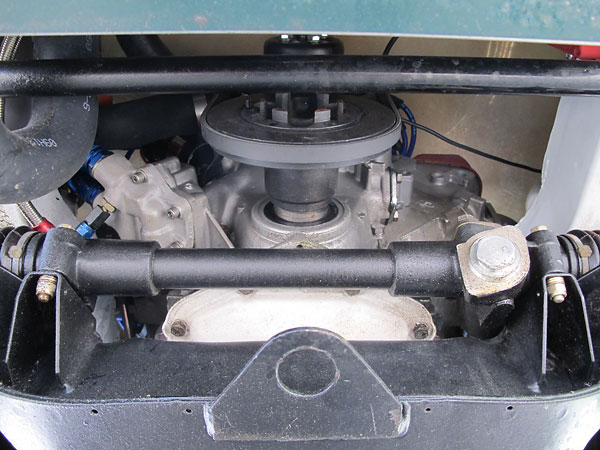 Modifier harmonic balancer. (One groove has apparently been removed from the crankshaft pulley.)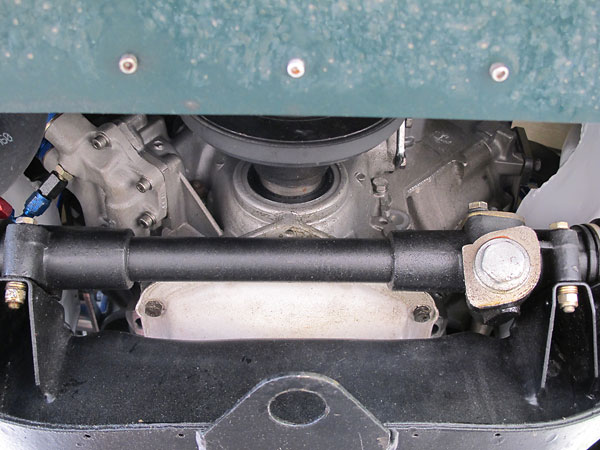 Flotec low profile oil pump base.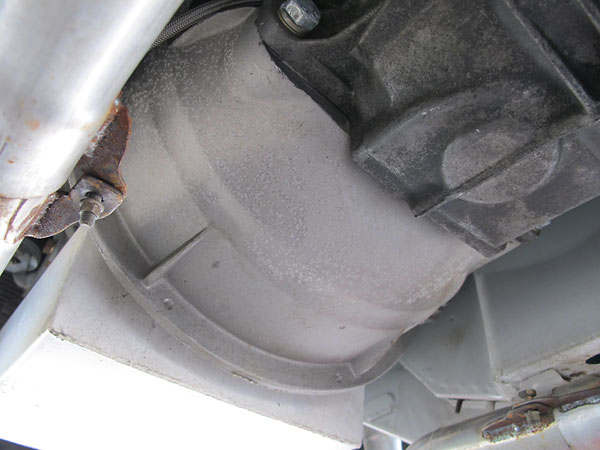 An aluminum bellhousing mates the Chevy-pattern T5 five-speed to the Rover V8's rear flange.


Fuel System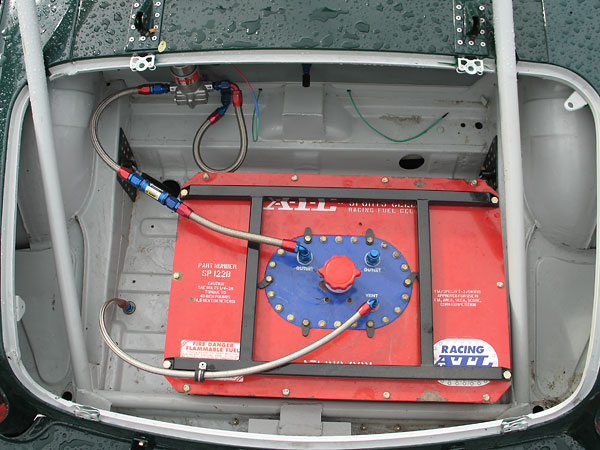 ATL Sportsman 22-gallon steel canister fuel cell (part# SP122B).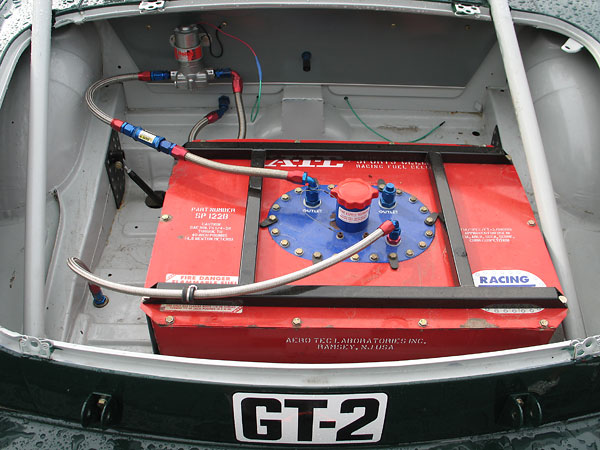 The steel canister isn't deemed enough by itself. A beefy box-tube frame clamps it down.
Note also the black sprayer nozzle of the fire suppression system.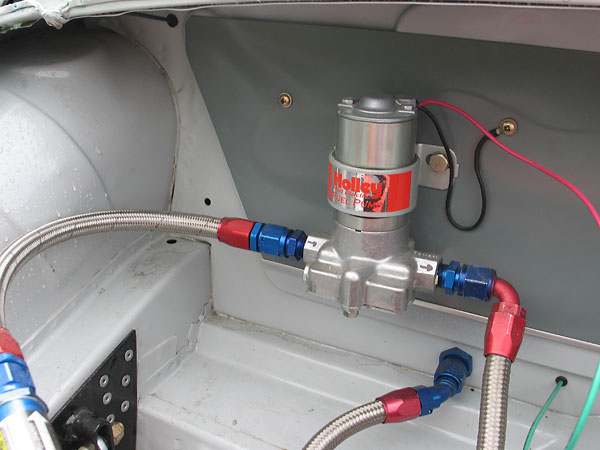 Holley "red" electric fuel pump. (In the photos above, you can see that the car has
also been wired for a second fuel pump which hasn't yet been installed.)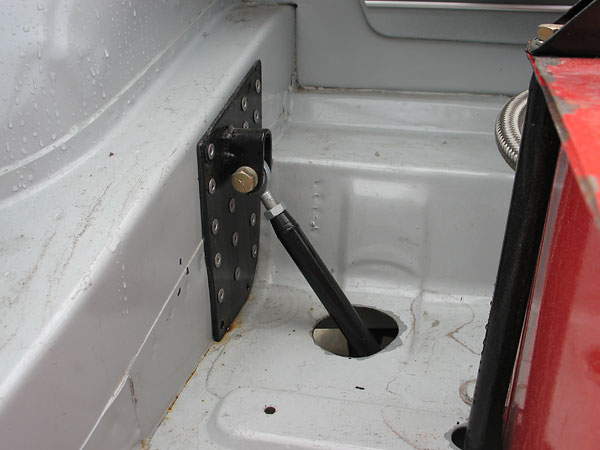 This link seems to reach down to help support the weight of the fuel cell.
More importantly, it reinforces the mounting bracket for a planned anti-sway bar.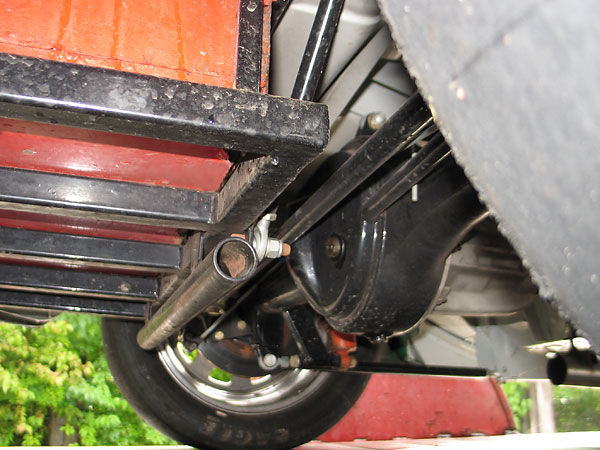 The fuel cell sits atop an exceptionally robust frame. The round tube below the
fuel cell awaits installation of a Schroeder three-piece anti-sway bar.



Front Suspension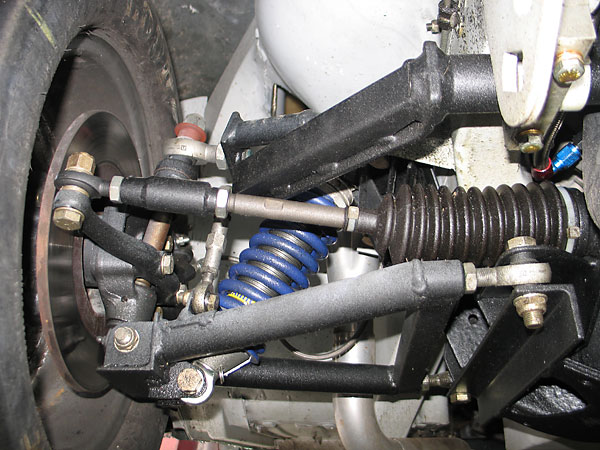 The MG RV8 model's front suspension and brakes were subtantially upgraded from the MGB.
Here, however, we find a racing suspension that only uses a few components from the MGB.
The fundamental geometry of the suspension is radically different, with inboard wishbone
pivots in particular relocated to provide very different camber change characteristics.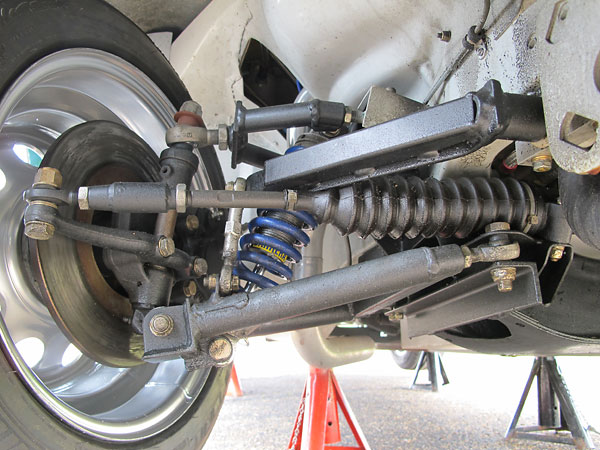 Carrera coilover shock absorbers.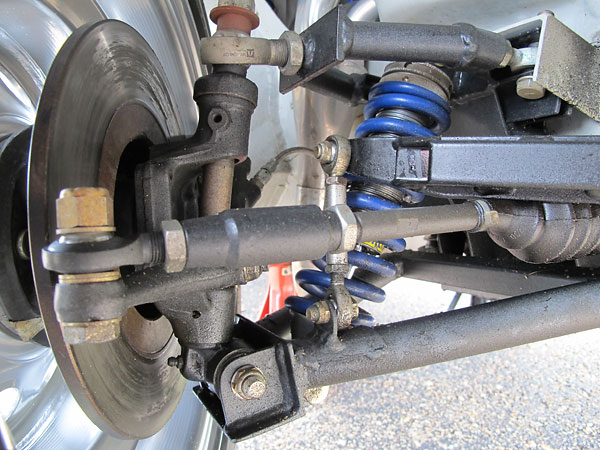 Roll / bump steer adjustment has been facilitated by eliminating the tapered joint between
steering arm and tie rod end, in lieu of a standard Heim joint which may easily be shimmed
upward or downward.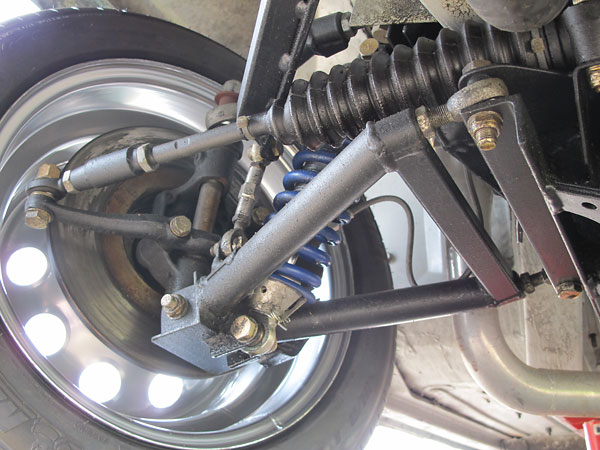 Zerk fittings and grease seals on the upright were missing when we photographed
this car, but they'll be reinstalled soon.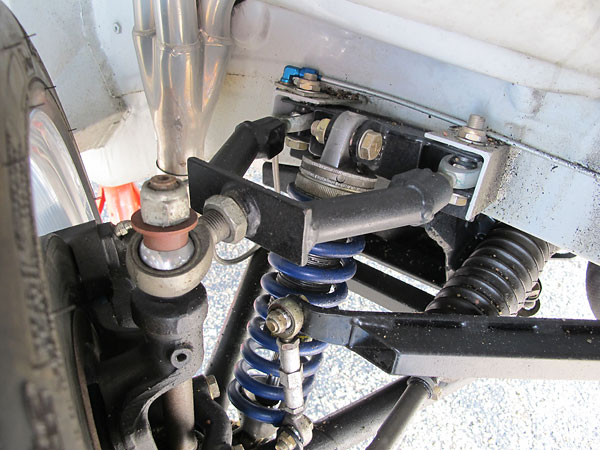 This front suspension was originally made by Dave Headley at Fab-tek, but it's been
extensively reinforced by Clancy Schmidt, particularly both above and below where the
upper control arms mount to the frame. The upper control arms will soon be upgraded to
ones that eliminates the outboard Heim joint (and its inevitable associated stress risors)
in lieu of a more robust design featuring a spherical bearing set into a cup.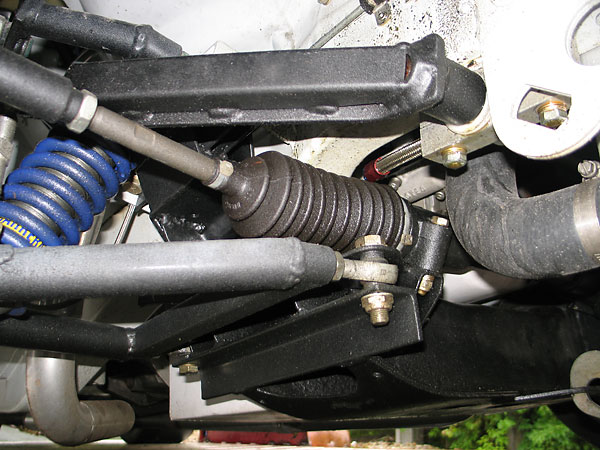 Fab-tek anti-sway bar on aluminum pillow blocks.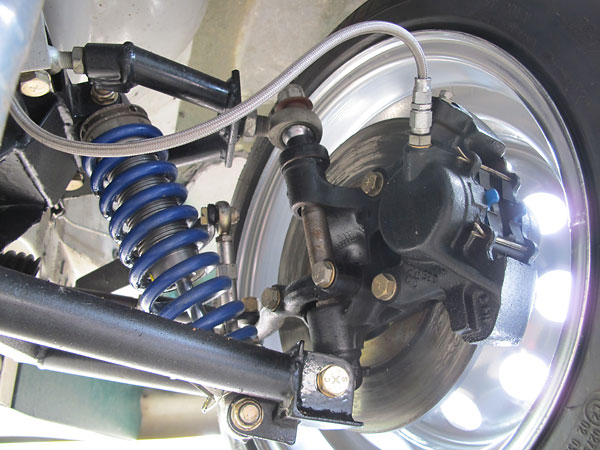 The production MG RV8 had beefy vented brake rotors, and this racecar certainly will too
before many races are run. GT2 rules are particularly unrestrictive with regard to brakes. Here:
stock MGB (Lockheed) iron brake calipers and thin solid rotors, with Hawk "blue" brake pads.
Phil & Clancy plan to upgrade to Wilwood 4-piston aluminum calipers and 10.25" vented rotors.


Enjoying this article? www.BritishRaceCar.com is partially funded through generous support from readers like you!
To contribute to our operating budget, please click here and follow the instructions.
(Suggested contribution is twenty bucks per year. Feel free to give more!)
Rear Suspension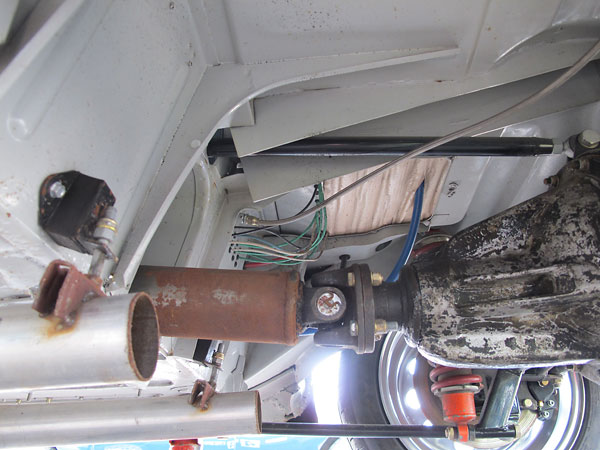 Custom three link rear suspension.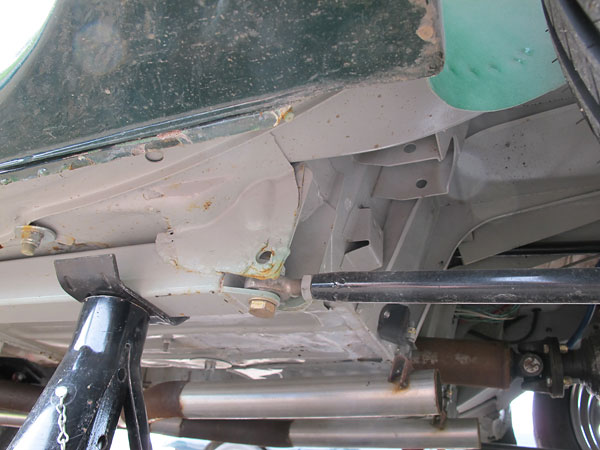 Instead of attaching the lower links to the MGB's stock front leafspring brackets, Clancy has them tied
into stout brackets on the end of 2" box tube reinforcements which continue forward underneath the
floorboards. He says, if he were doing it again he'd orient the mounting bolts on a horizontal axis.
That little change might faciilitate greater suspension travel.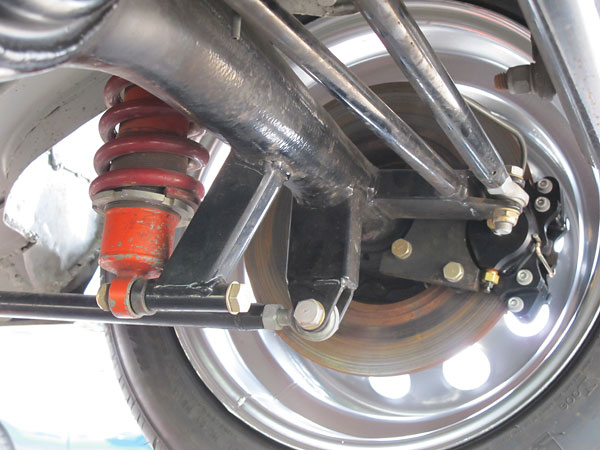 Panhard rod attachment to the MG "banjo" style axle. Banjo axles were used on MGA and on MGB cars,
until the company introduced the MGB GT model in ~1965. They're usually preferred for MGB racecars
because of their light weight. There's no way these axles are robust enough for a V8 powered racecar;
and this banjo axle was replaced with a Ford 8" based axle after just one race weekend.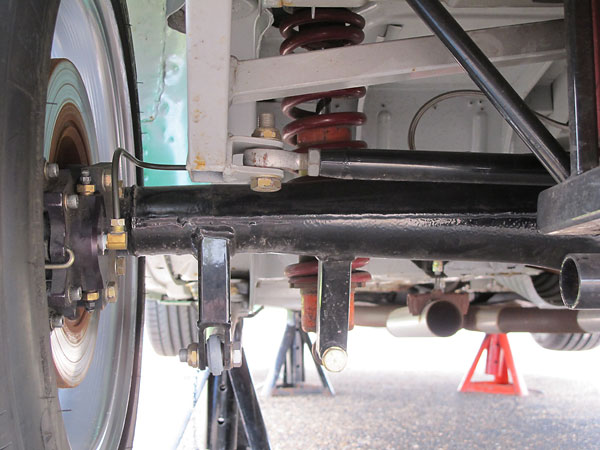 Panhard rod attachment to the MG RV8 bodyshell.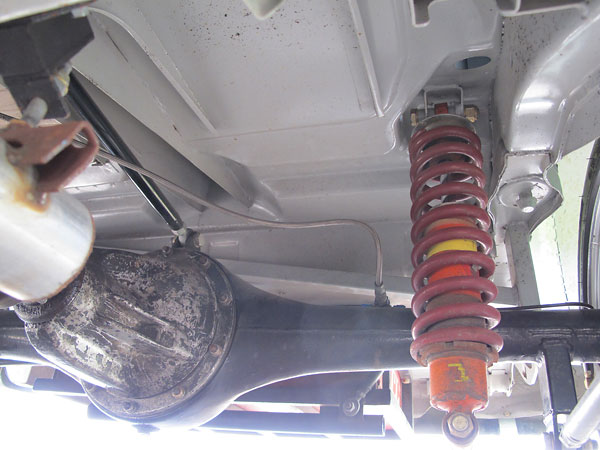 These Koni coilover shock absorbers were adequate for the initial outing, but will be replaced
with new, more adjustable shocks as part of the sorting-out process. Rear anti-sway bar
attachments have been added since this photo. A bar will be installed for the second outing.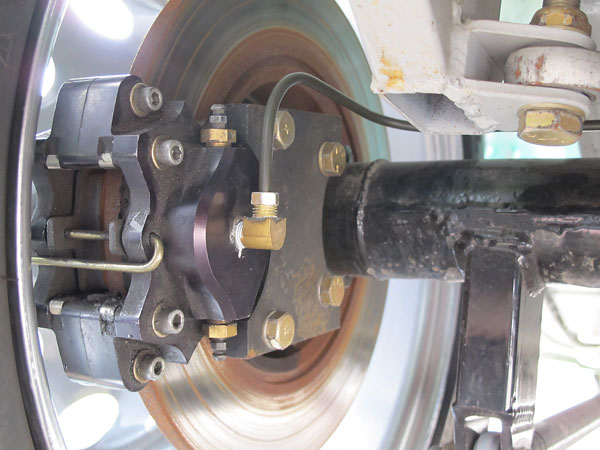 These small Wilwood 2-piston aluminum rear disc brake calipers are a big upgrade over stock MGB
drum brakes, yet Phil and Clancy will go a couple sizes bigger on the new axle. When the current
system was tried-out by Jesse Prather at Heartland Park, it proved well balanced and effective, but
that was over a short sprint. To be competitive through an entire forty-five minute GT2 race, the RV8
will need much more brake capacity than, for example, an F-Production MGB racecar.




The following three photographs have been provided by newly appointed Crew Chief, Bill Young.
(Copyright 2011 by Bill Young for BritishRaceCar.com. All rights reserved.)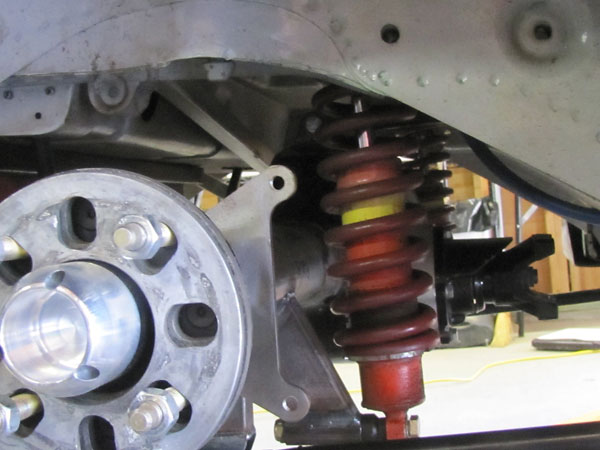 Initial installation of Phil's new Speedway Engineering "Mini Stock" axle. It's nominally a Ford 8" axle,
but lighter and much stronger. It also differs from a passenger car axle in that its lightweight, rifle drilled
driveshafts are splined at both ends and bear no responsibility for keeping hubs and wheels from
moving inward or outward. (The axle will be removed and powdercoated before final assembly.)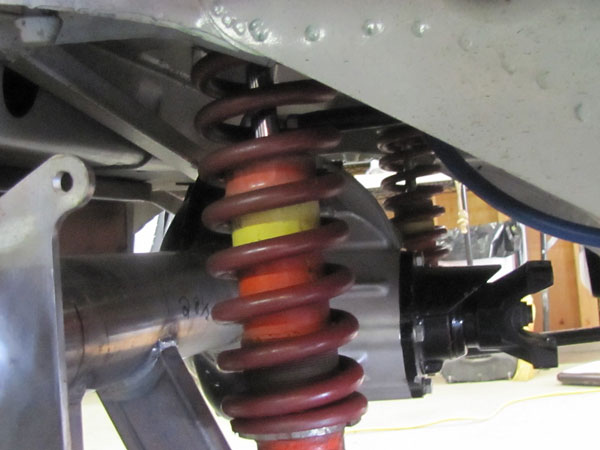 The axle's Curry aluminum gear carrier is lighter than Ford's iron carrier. It currently supports a
3.8:1 ring and pinion set, and a Ford limited slip differential.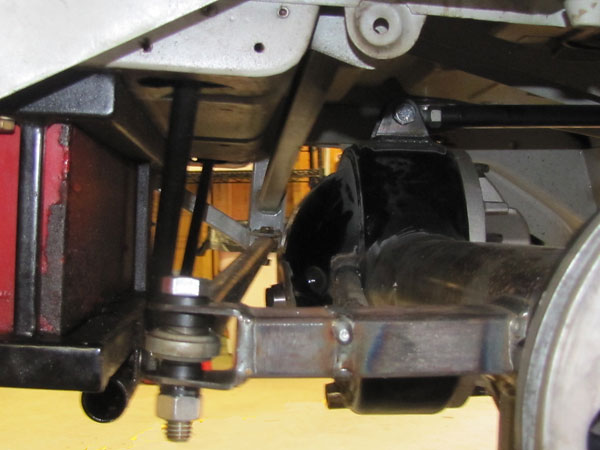 Mounting features are copied over from the earlier axle installation, so the three link suspension and
Panhard rod didn't need to be re-engineered. Shocks, springs and brakes will be updated soon.


Interior / Roll Structure / Etc.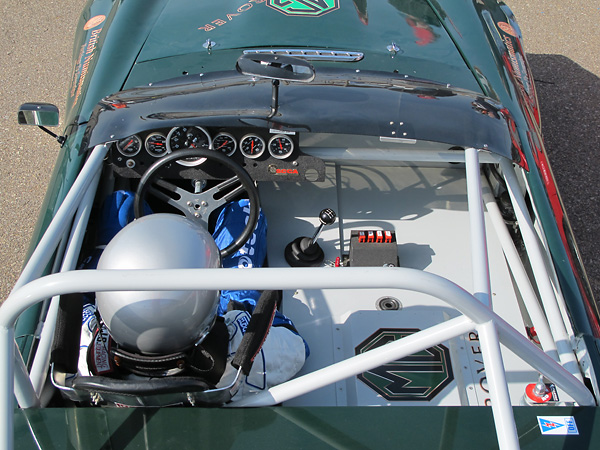 On a modern racecar, safety is of paramount importance. In addition to an SCCA mandated
Head and Neck Support (HANS) collar, here you can see head supports bolted onto the seat.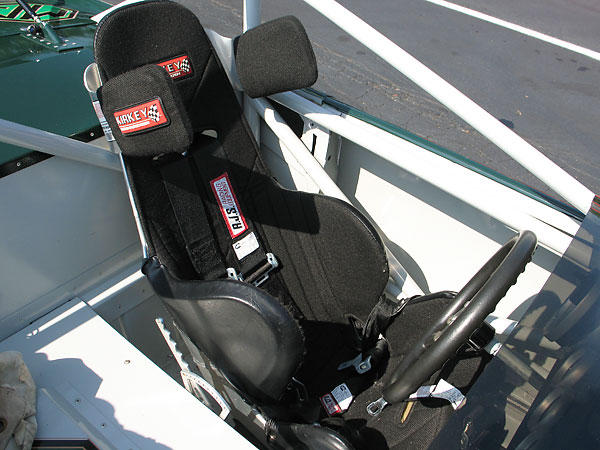 Kirkey aluminum racing seat.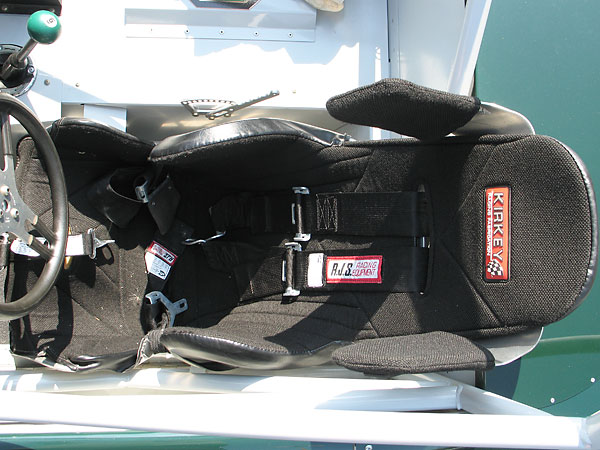 RJS Racing Equipment five point latch and link safety harness.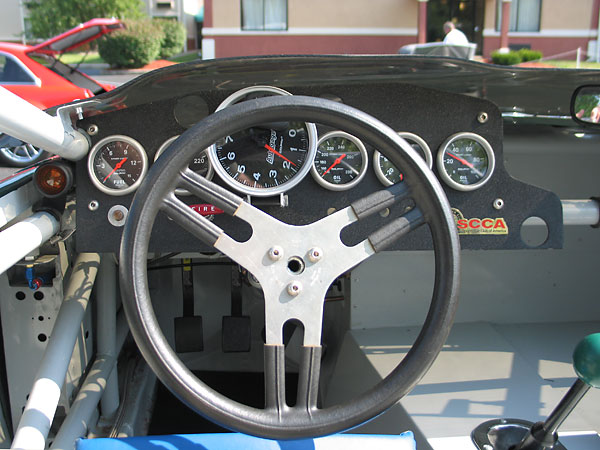 Sweet Manufacturing aluminum steering wheel.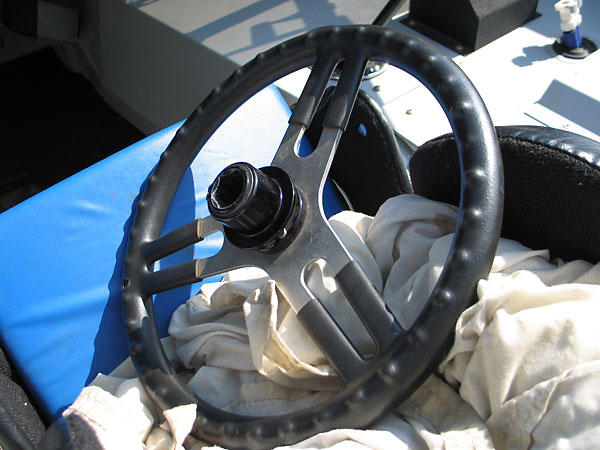 Sweet Manufacturing quick release hub. (This is an important safety feature too!)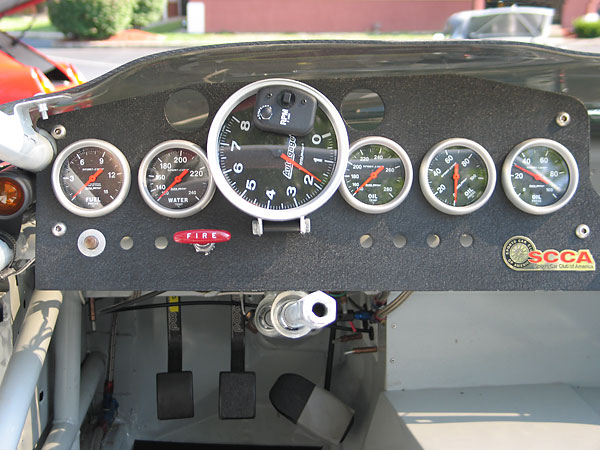 AutoMeter fuel pressure (0-15psi), water temperature (120-240F), tachometer (0-8000rpm),
oil temperature (140-280F), engine oil pressure, and AccuSump oil pressure (0-100psi) gauges.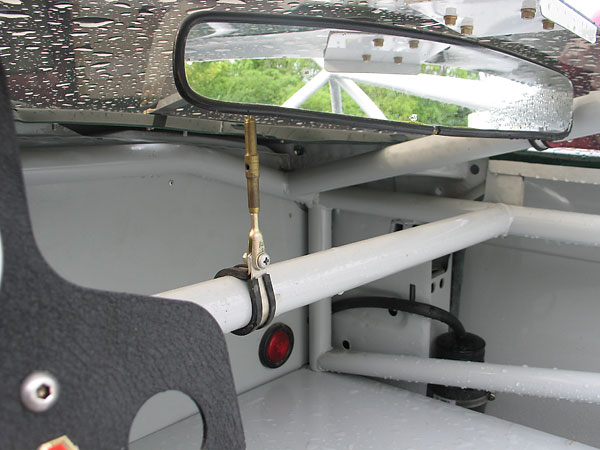 This positioning of the rear view mirror was slick, but it turned out to be too low. Now, a "Sports 2000"
style mirror mounted above the windscreen provides a clearer view. In the background, the red light
indicates "ignition on". Clancy plans to add a second light next to it, to indicate loss of oil pressure.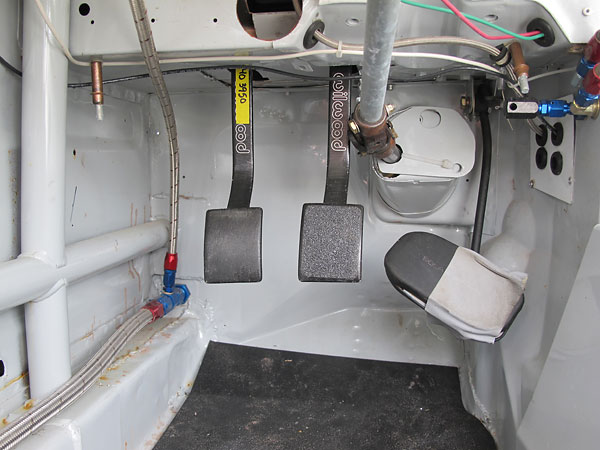 A temporary extension on the throttle pedal makes heel-and-toe driving a little easier.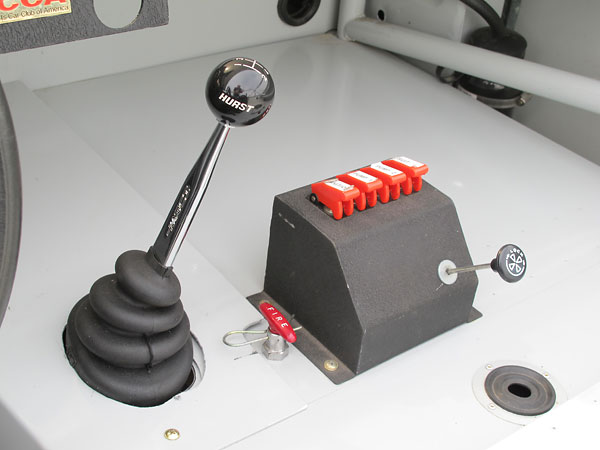 Hurst shifter. Switches, left to right, are for ignition, fuel pump one, fuel pump two, and Cool Suit.
The black knob controls an Accusump oil accumulator (It will soon be replaced with something more robust.)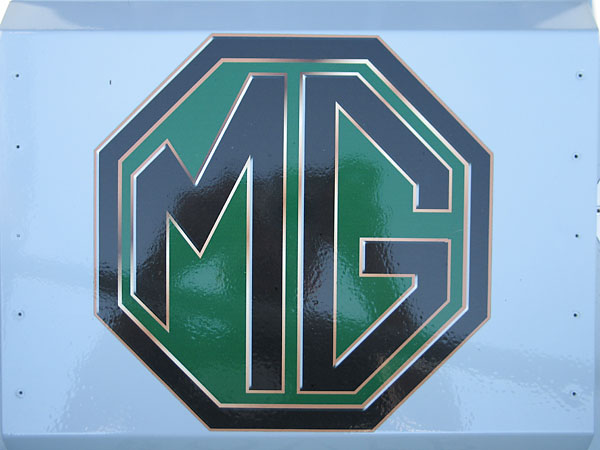 Large MG logo sticker.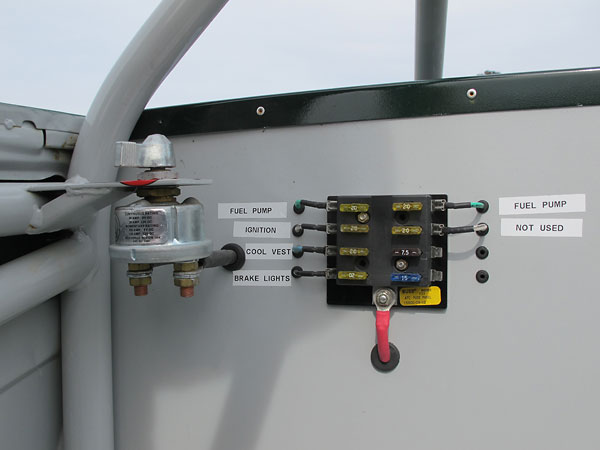 Cole-Hersee battery disconnect switch (model 2484). Buss ATC fuse panel, with fuses for two fuel pump
circuits, the ignition, the Cool Vest, and the brake lights. (Three fuse positions are unused.)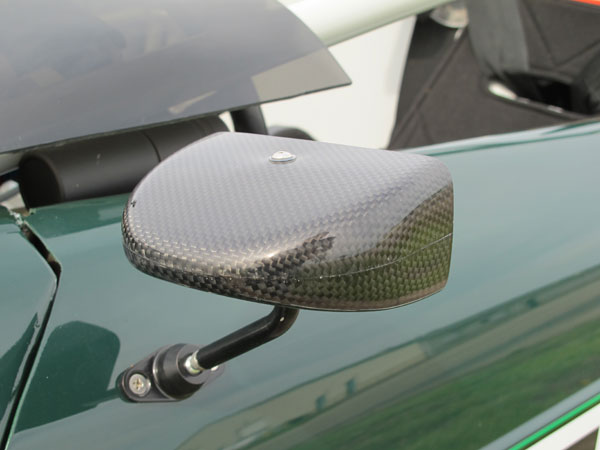 Carbon fiber side view mirror.


Exterior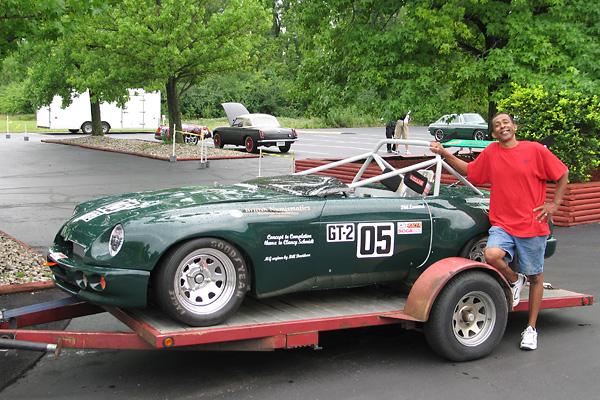 Robert Maupins brought Phil's MG RV8 to the BritishV8 2010 meet in Indianapolis.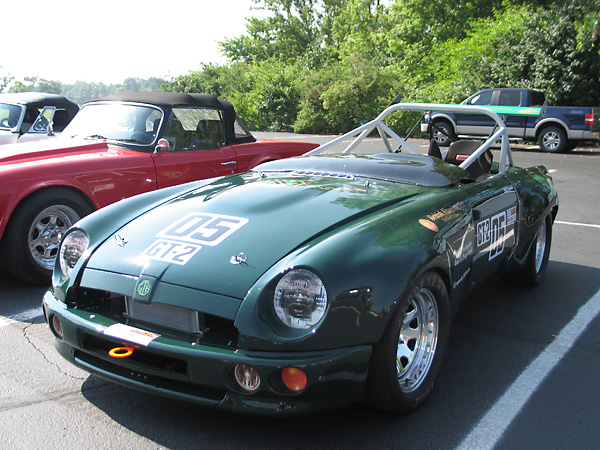 MGBs and RV8s are unibody cars with removeable steel front fenders and welded-in rear quarterpanels.
Phil had purchased a Speedster Body Kit from Dave Craddock of Preform Resources, with generously
flared lightweight fiberglass front and rear fenders. However, the speedster kit was engineered to suit an
SCCA production-class MGB racecar. For GT2, even wider flares are needed. On the other hand, cosmetic
changes were needed to replicate the MG RV8 appearance. Mark Canaday of the A+ Collision bodyshop
in Topeka widened the Preform racing fenders, spliced in RV8-style headlight and taillamp sections, etc.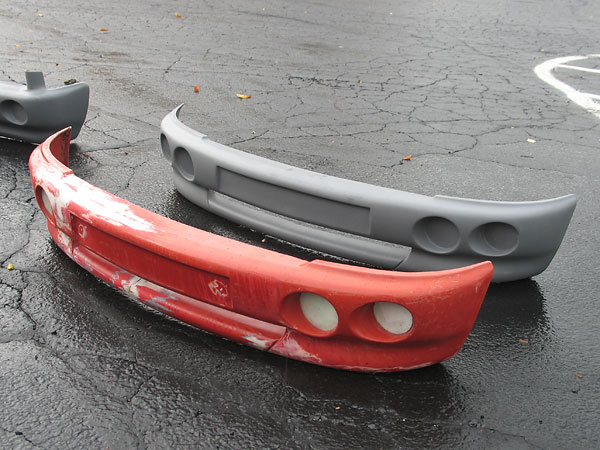 An original (slightly damaged) MG RV8 front bumper, and a fiberglass replica made from it
by Mark Funk of Kansas City, who also replicated the RV8 bonnet extension (shown next, below).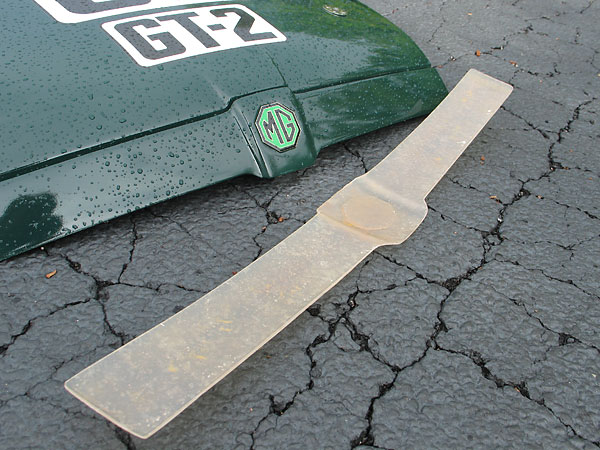 The fiberglass piece in the foreground here is a "negative" of the actual part, shown painted in background.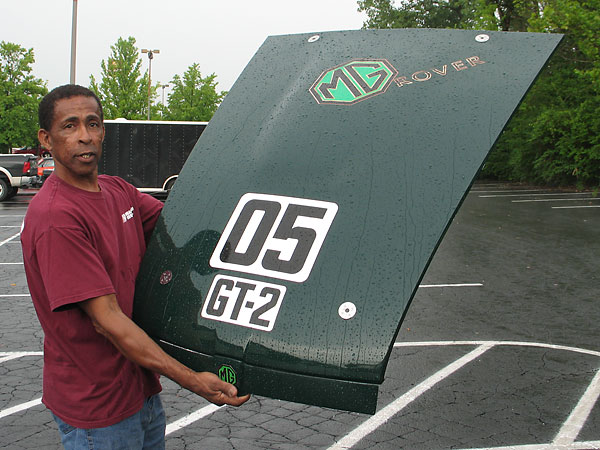 Lightweight fiberglass MG RV8 bonnet, with four mounting holes for hood pins.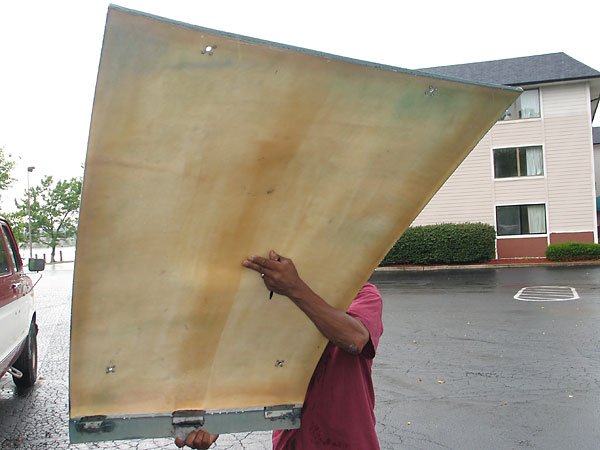 For racing, it's feasible to build body parts like this with very minimal reinforcement.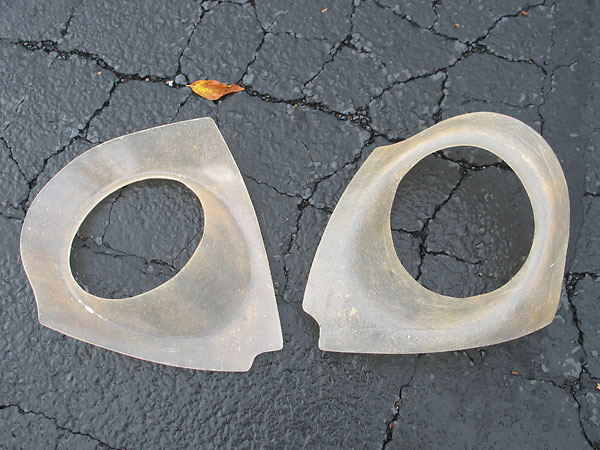 A spare set of headlight surrounds.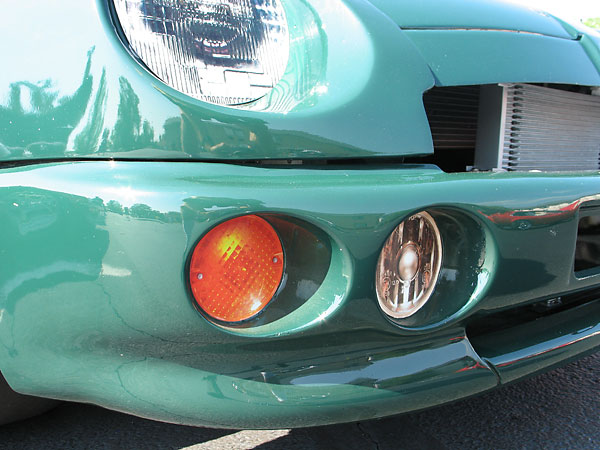 Headlight surround, installed.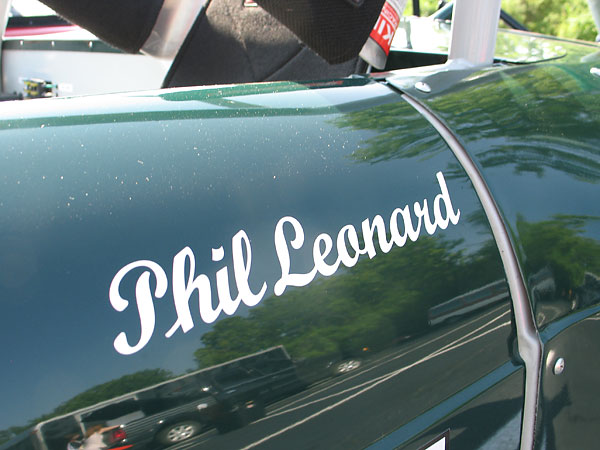 Phil Leonard (owner/driver)
Paint job and lettering by Mark Canaday of A+ Collision of Topeka.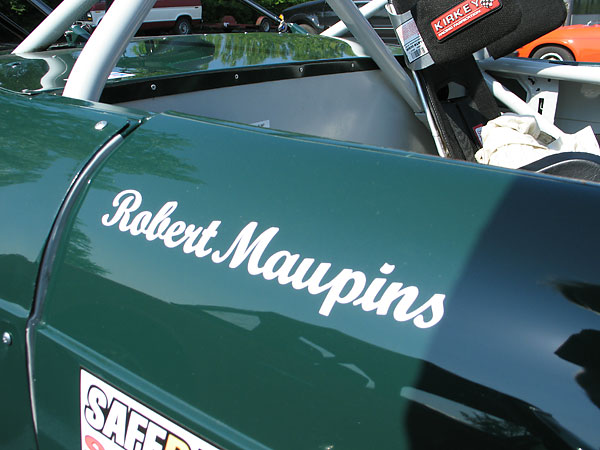 Robert Maupins (driver)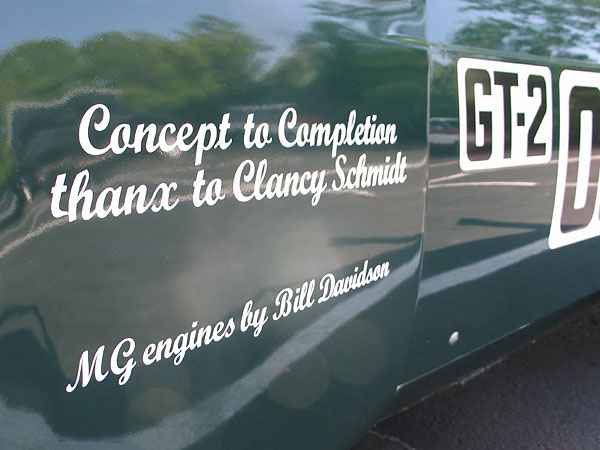 Concept to Completion thanx to Clancy Schmidt,
MG engines by Bill Davidson.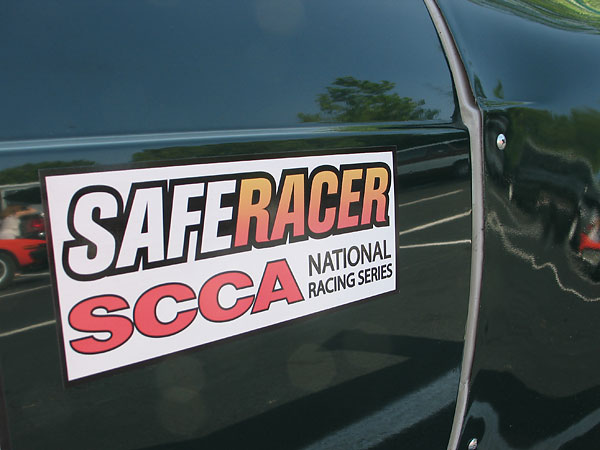 SafeRacer SCCA National Racing Series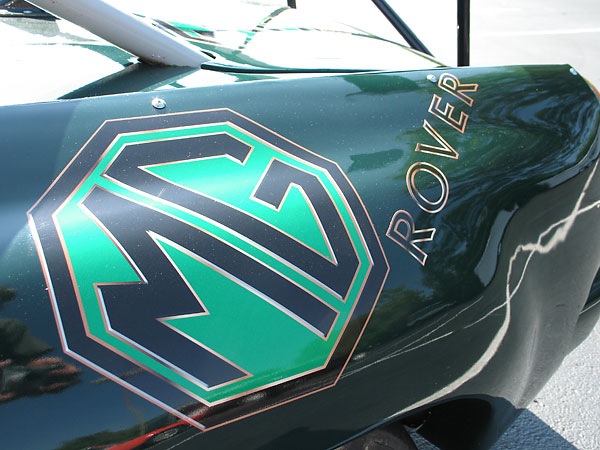 Generously sized fender flares and bodywork made conveniently removeable are two
typical features of SCCA "GT" class racecars.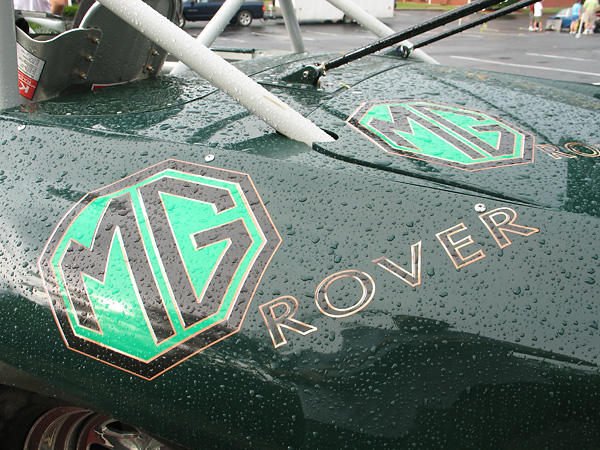 This car's livery was evidently inspired by the MG-Lola EX257 prototype racecars which raced
in the 2002 24 hours of LeMans. MG Rover Group teamed with Lola to create a these full-tilt
endurance racers. Ultimately, EX257 model was actively raced from 2001 to ~2007. The 2002
"X-Power" paint and decal scheme is particularly memorable.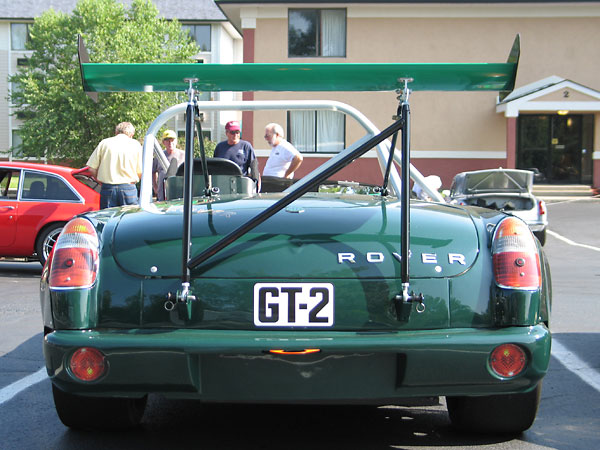 Cosmo Racing "Aluminum GT Wing" single deck / single wing spoiler, 130cm (part# W63FSS).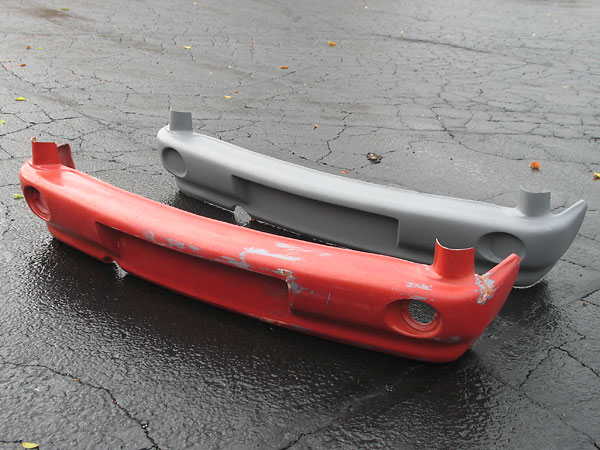 An original (slightly damaged) MG RV8 rear bumper, and a fiberglass replica made from it.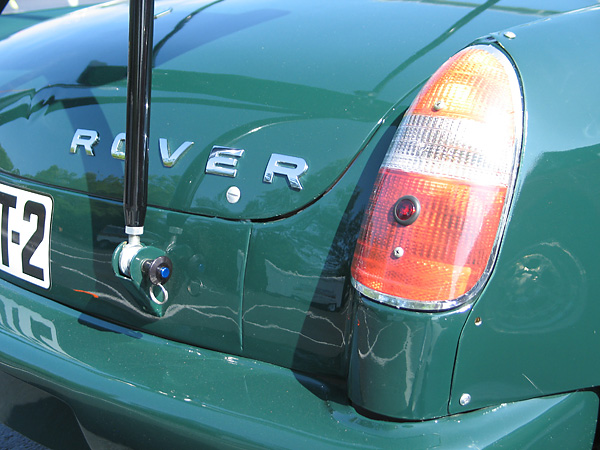 Since original MG RV8 taillamps are scarce and costly, Phil will use homemade replicas for racing.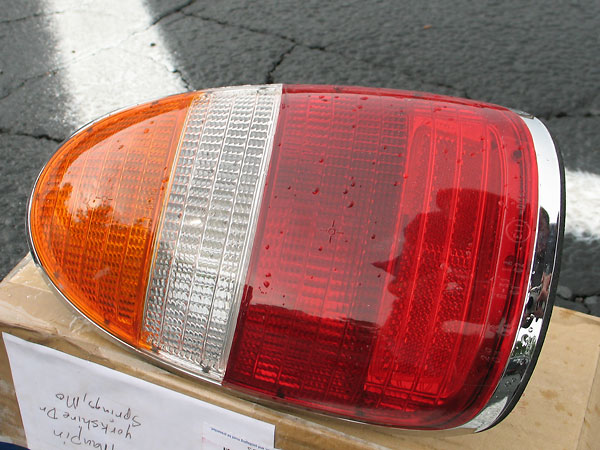 To make authentic replicas, Phil first bought the real deal: complete MG RV8 taillamp assemblies.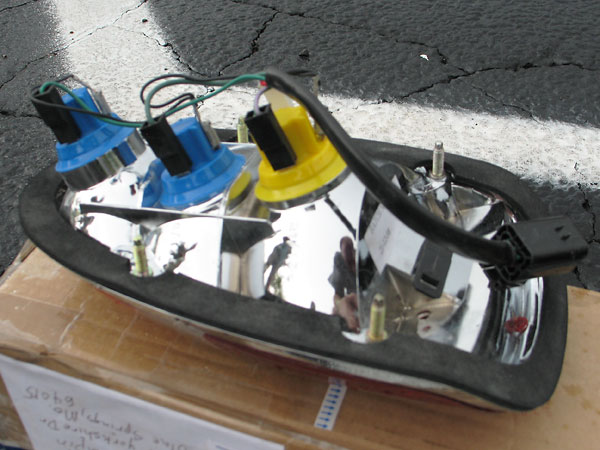 Bulbs are serviced from the rear, without lens removal.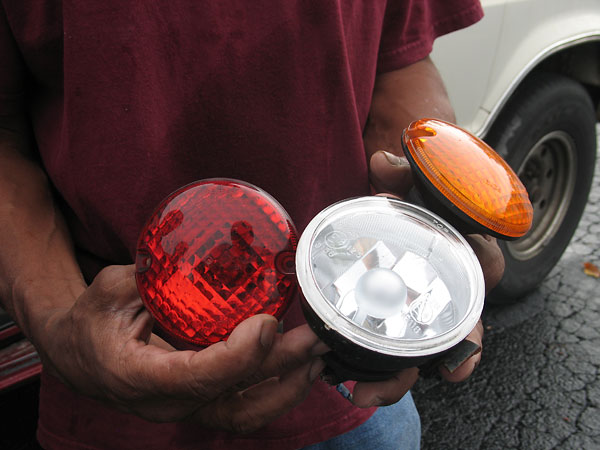 Here's a handful of original MG RV8 parking, turn signal, and driving lights.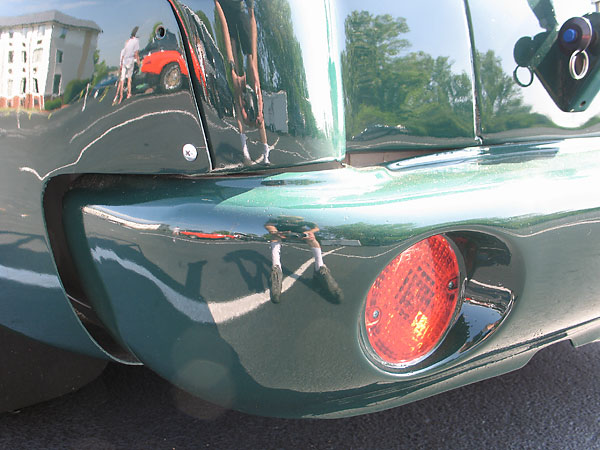 With original RV8 lamps in hand, the team could create accurate and convincing replica decals.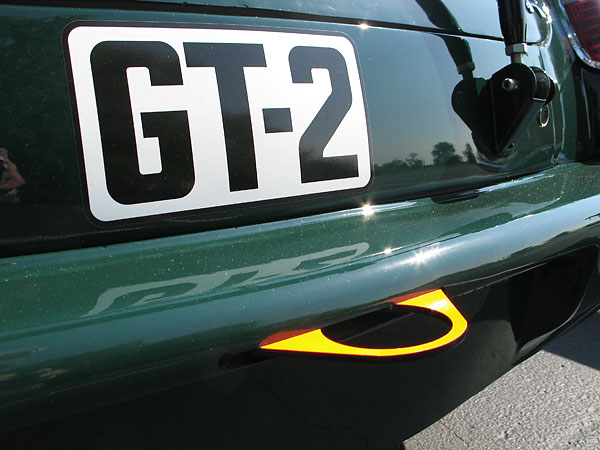 GT-2 decal.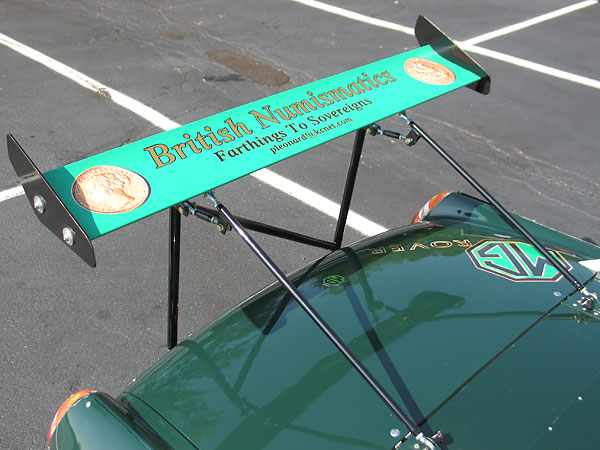 British Numismatics - Farthings to Sovereigns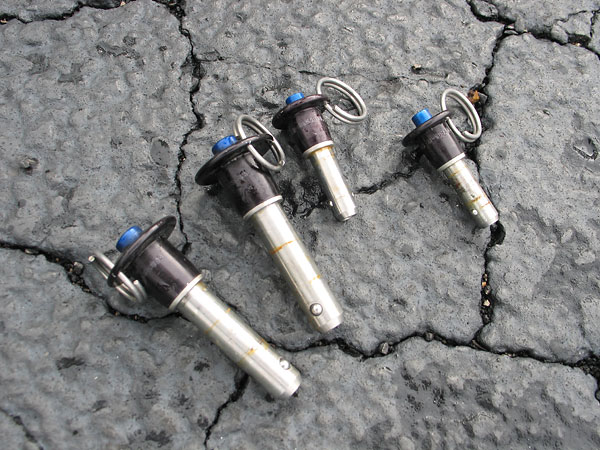 Pip pins.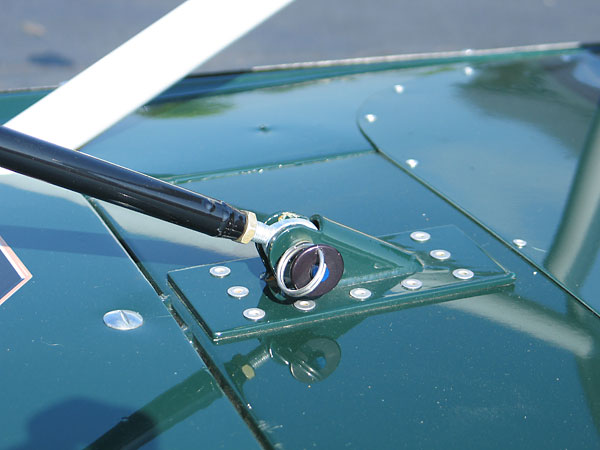 When the blue pushbuttons of these "pip pins" are pressed, they can be installed or removed.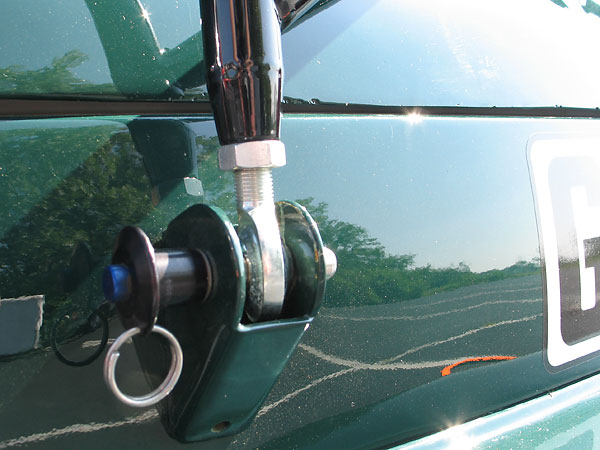 Pip pins are strong in shear, yet quickly removeable.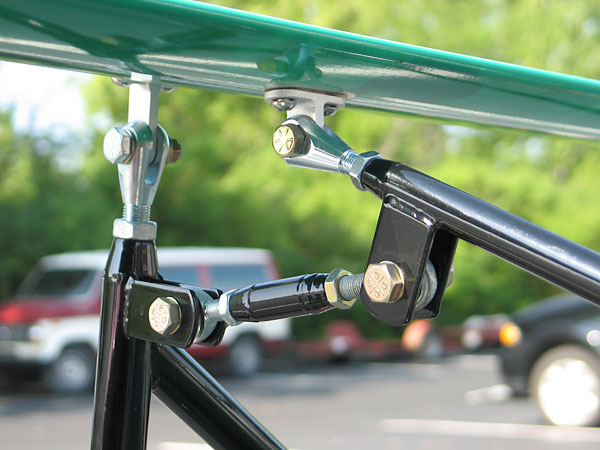 Adjustablity.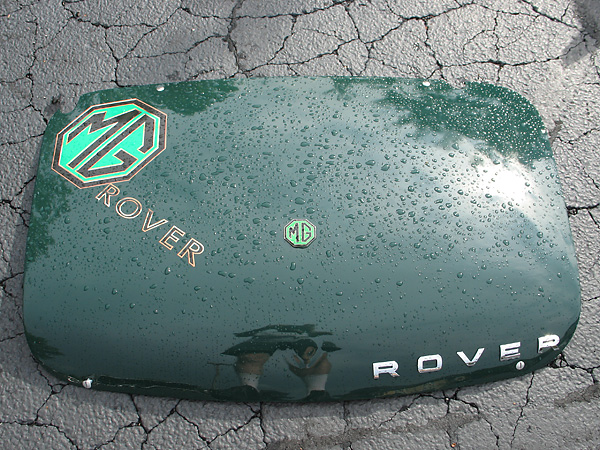 Lightweight fiberglass boot lid.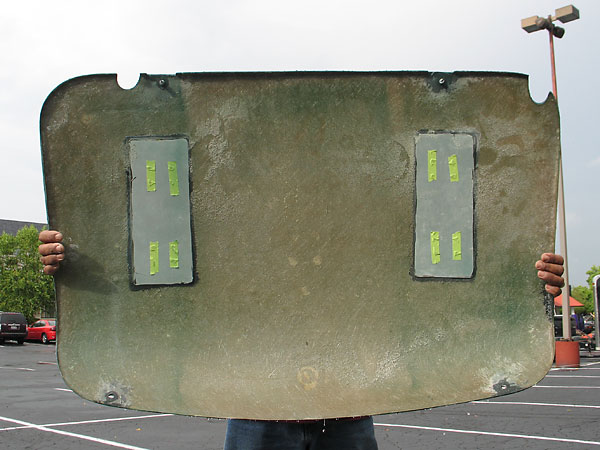 Instead of a pushbutton operated latch and hinges, the fiberglass boot lid is
attached to the car with four quick-release (quarter-turn) fasteners.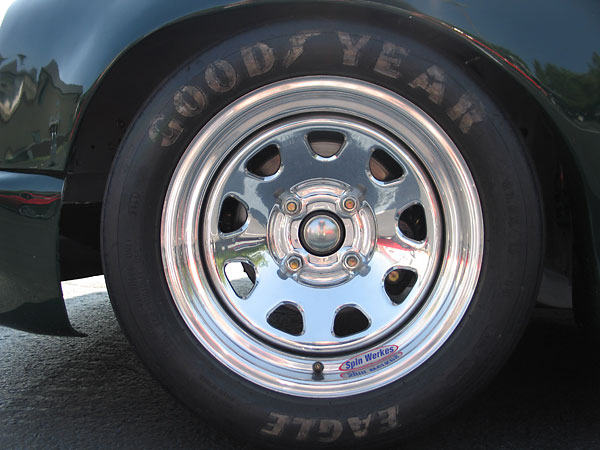 Spin Werkes lightweight aluminum racing wheels.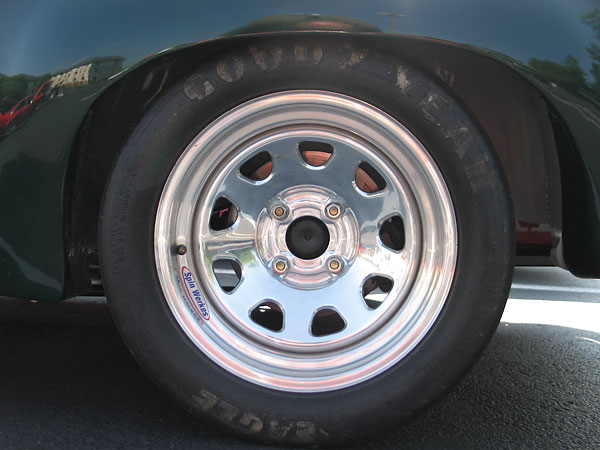 Goodyear Eagle 23.0x9.0x15, R430 compound racing slicks.


First Race Weekend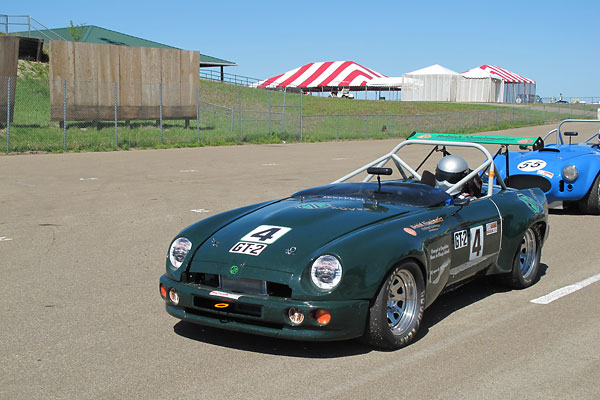 Jesse Prather volunteered to drive the RV8 at it's debut SCCA race at Heartland Park, Kansas.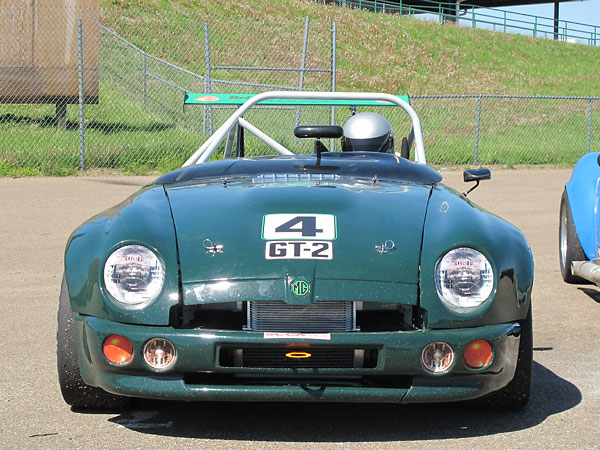 Jesse is a three time SCCA national champion who operates a top-flight Miata race-prep shop.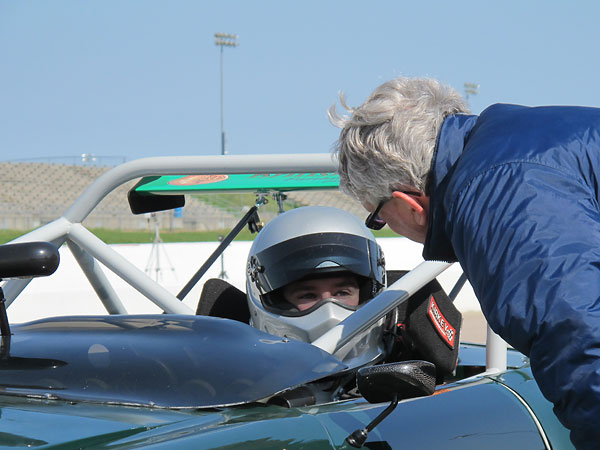 Jesse's comments about the car's set-up have been very helpful. One of the first priorities
after fixing the MG banjo rear axle, which broke the first-time-out, is changing axles. Then
axle and transmission gears will need to be optimized to suit the engine's torque curve.
Jesse also suggested stiffer rear springs and shock absorber valve settings.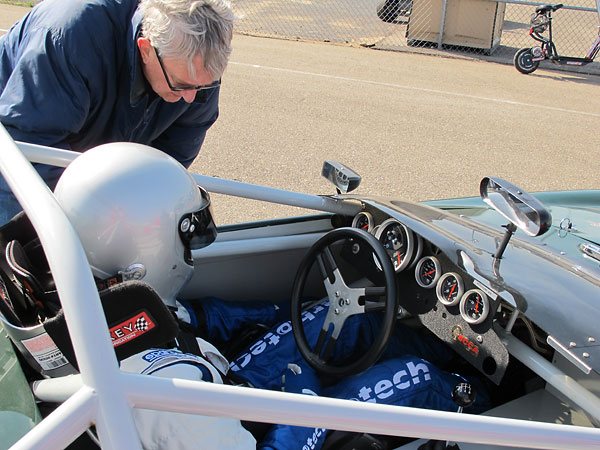 Another concern is the crankcase breather. After this first weekend, the team added an
additional vent location at the front of the engine. Specifically, they'll now vent air
from a port located on the un-used mechanical fuel pump boss (i.e. on the timing cover.)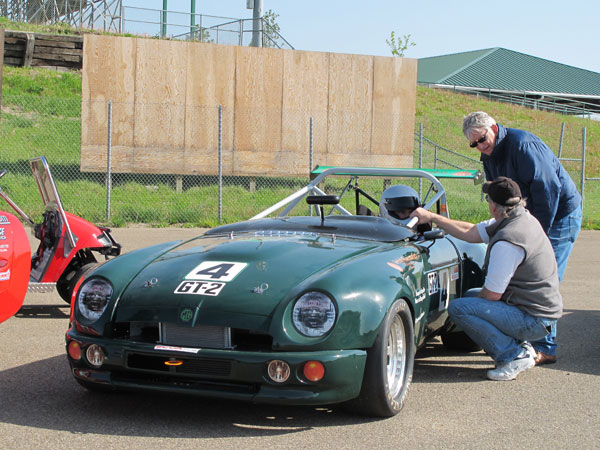 There's little doubt that the car will need bigger brakes too, to dissipate the extra
heat energy of slowing the car from higher speeds upon entry to every single corner.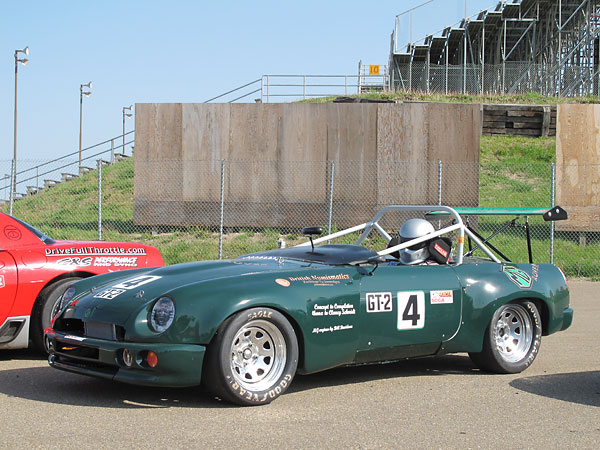 Considering the intake restriction it's currently obliged to run, the RV8's first race appearance
was judged perfectly respectable. As expected, the car does have a power dissadvantage,
but it's not just a "rolling chicane" and it WILL get faster with development. This engine was
conservatively built, the next one will be less so. Once the RV8 finishes races reliably, the
team intends to petition SCCA to increase the mandated restrictor plate size.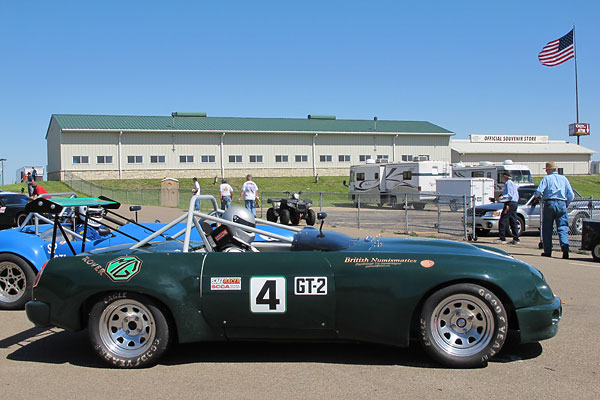 To race in SCCA, MGBs must normally choose between two classes. If they comply with more
restrictive "Limited Prep" rules, they can run in H-Production. "Full Prep" MGBs run in F-Production.
Now there's a third possibility: with RV8 body mods and a Rover V8, MGBs can now run in GT2.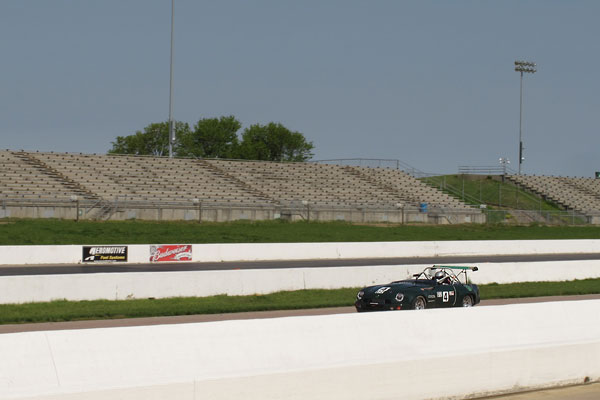 SCCA rulemakers have also added MG's MGB GT V8 model to the GT2 class. The question is
competitiveness. For MG RV8s and MGB GT V8s to be successful in GT2, SCCA will need
to enlarge the induction restrictor plate they require for the Rover V8 engine.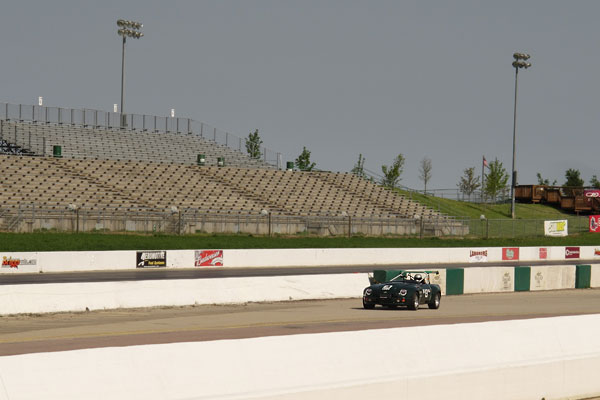 The team is under no illusions. The learning curve toward competitiveness in SCCA GT2
will be steep and long, but even the longest journeys must start with a single step.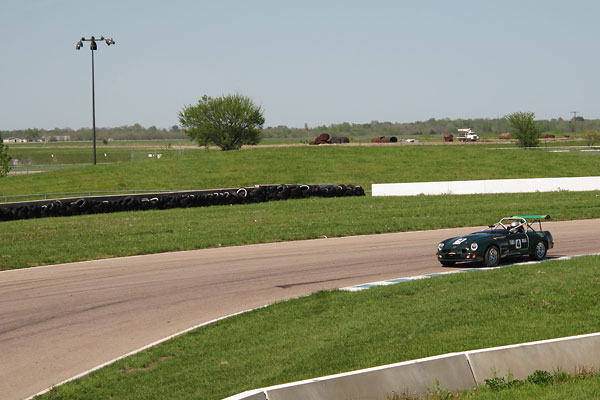 The process of building an MG to contest GT2 races has been exciting so far, and it will be
even more fun and rewarding as the car and the team continue to develop.


Notes:
(1)

British Motor Heritage Managing Director John Yea has campaigned this MG RV8 race car in
England. (Photo by Curtis Jacobson, September 2007.)


(2)
Note: official SCCA mandated minimum weight for a GT2-spec RV8 at race end is 2,280lbs, driver included. However, SCCA's General Competition Rules list two specific relevant allowances: (1) minus 50lbs for use of 15X7 wheels, and (2) minus 1.25% (i.e. 28.5#) for use of a "frictionless" transmission.


Unless specifically captioned otherwise, all photos shown here are from Indianapolis Indiana (taken during BritishV8 2010) or from Heartland Park Raceways in Topeka Kansas. Photos by Curtis Jacobson for BritishRaceCar.com, copyright 2011. All rights reserved.



Notice: all the articles and almost all the photos on BritishRacecar.com are by Curtis Jacobson.
(Photos that aren't by Curtis are explicitly credited.) Reproduction without prior written permission is prohibited.
Contact us to purchase images or reproduction permission. Higher resolution images are optionally available.