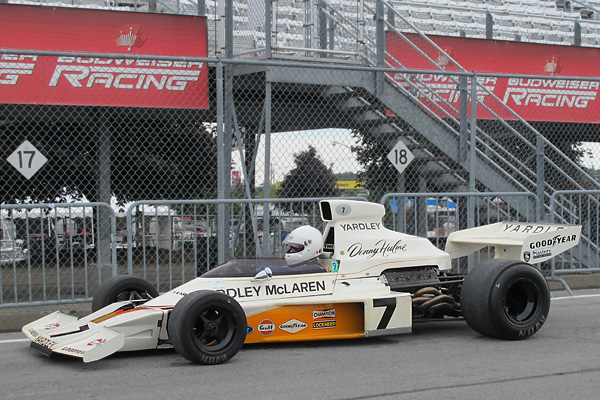 McLaren M23 Formula One Racecar (Serial# M23/1)
Owner: Phil Mauger
City: Christchurch, New Zealand
Model: 1973 McLaren M23
Engine: Ford Cosworth DFV V8 (3L)
Prepared by: John Crawford


Denny Hulme's McLaren M23 Returns to Watkins Glen
McLaren's M23 model is among the most enduringly successful designs in Grand Prix racing history. The M23 was competitive at the top tier of Formula One racing over a remarkable five season career, spanning 1973 through 1977. The M23 delivered Formula One's Constructors Championship to McLaren in 1974. Emerson Fittipaldi and James Hunt drove M23s to Formula One Drivers Championships in 1974 and 1976 respectively.

The very first M23 was completed late and pressed into service after just a couple days of testing. It had already missed the first two races of the 1973 season, but it would be driven by Denny Hulme for the whole balance of the year. That car, "M23/1", was quick right out of the box, achieving pole position at its first two races! At two other races, Hulme posted the quickest laps of any entrant. One of these was the inaugural Swedish Grand Prix, which Hulme won with an exceptionally strong finish. Hulme had been delayed at mid-race when flying sand jammed-up one of his throttle slides, but on his way to the pits it worked itself clear. After losing twenty seconds on the leaders, "the bear" rampaged forward. He finally stole the lead from home-crowd favorite Ronnie Peterson on lap 79 of 80. Hulme's teammate, Peter Revson, drove another M23 to two wins of his own in 1973. All this was against exceptionally tough competition, including defending champion Jackie Stewart in his Tyrrell plus Emerson Fittipaldi and Ronnie Peterson in Lotus 72 racecars. The 1973 Formula One season came to its end at Watkins Glen, where Denny Hulme scored a fourth place finish in the United States Grand Prix.

Almost thirty-eight years later, in September 2011 McLaren M23/1 returned to Watkins Glen to race again. BritishRacecar.com was there with three cameras. Many others have written about the M23 model. We believe we're the first to document the McLaren M23's design and construction with over sixty large, close-up, color photos.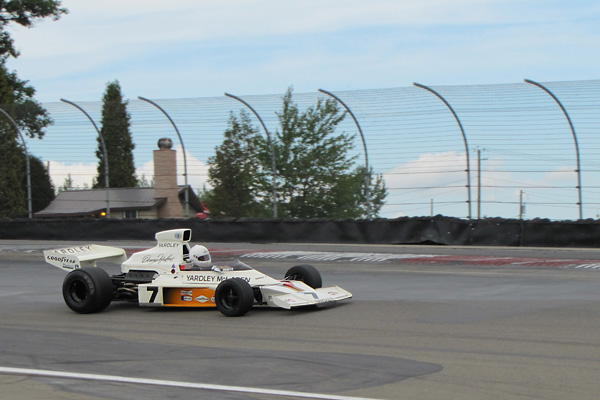 Denny Hulme's McLaren M23 returned to race at Watkins Glen in 2011


About the McLaren M23's Place in History
The McLaren M23 was immediately preceded by a more curvaceous model known as the "M19". The M19 had been designed by Australian engineer Ralph Bellamy, who left McLaren and returned to his previous employer: Brabham. Frankly, it hadn't been a particularly successful design. It hadn't scored any race victories in its first year, and with it the McLaren team had only placed sixth in the 1971 Constructors Championship. 1972 was only a little better: one championship series race victory and third in Constructors points. Like many of its contemporaries the M19 was made obsolete by new Formula One safety regulations. It didn't have sufficient "deformable structure" protecting its fuel cells.

Responsibility for McLaren's new M23 model was assigned to Gordon Coppuck who had previously designed McLaren's Can-Am and Indy cars. Coppuck had most recently designed the 1972 Indianapolis 500 winning McLaren M16. As one would expect, the pragmatically wedge-shaped M16 foreshadowed the M23's design much more than the elaborately bulbous M19. Achieving a low polar moment of inertia had been a design priority; it made the car more nimble. To this end the M16 had featured hip-mounted radiators. On the other hand, an inboard mounted fuel cell spaced apart the driver and engine. One feature of the M19 was carried over intact. The M19's rising-rate front suspension, once developed, had begun to work well. It facilitated a lower front ride height, which was a big aerodynamic advantage. Other than front suspension, the M23 design was pretty much completely new.

As mentioned already, new Formula One rules called for deformable structure to protect fuel cells from side impacts. Coppuck's interpretation of this rule led him to develop non-detachable side pods which channeled air into the dual side-mounted radiators. Interestingly, rather than place the radiators inside the side pods he instead bolted them onto the back. The side pods are an early example of "composite sandwich" construction: between an outer wall of aluminum and an inner wall of fiberglass, Coppuck specified a measured charge of aerosol spray foam and hardening catalyst. Inboard of the side pods, the spaces between inner and outer aluminum monocoque skins were similarly stiffened with two-pack foam.



Modern racers take for granted quick-release steering wheel hubs. The McLaren M23 was one of the first racecars to come standard with this important feature. It was especially needed because the M23 has a very narrow cockpit and because since 1971 Formula One rules had mandated that drivers must be able to be evacuated from the cockpit in less than five seconds.

The McLaren works was located directly across a cul-de-sac from the Graviner fire extinguisher company. Graviner helped McLaren stay on top of fire safety developments, and McLaren helped Graviner become the preferred supplier throughout Formula One racing. McLaren M23/1 is credited as the first Formula One car equipped with a medical air supply plumbed to the driver's helmet and configured to automatically turn on in the event of an accident. It ran with a Graviner life support system at Zolder on May 20, 1973. Graviner had access to and knowledge of the necessary components because they had long been used in high altitude aviation. Similar systems were mandated by Formula One rules starting in 1979.

McLaren's M23 model is credited with twenty championship-qualifying Grand Prix victories. Development problems with its replacement, the McLaren M26, resulted in an extended phase-out for the M23. The McLaren works team entered M23s in eleven of 1977's seventeen races. Second tier teams entered McLaren M23s in fourteen of sixteen races of the 1978 season. Very few racecars have proved as adaptable to the changing technical requirements of their era.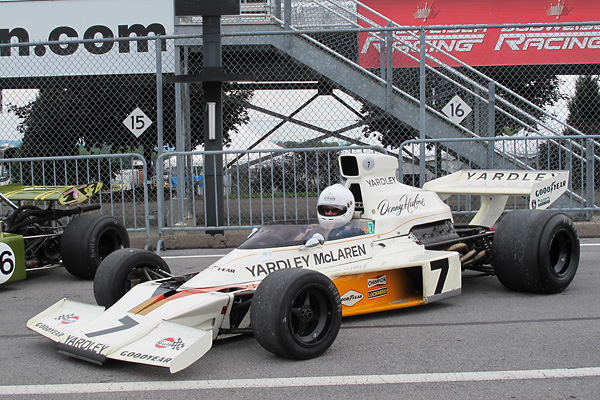 McLaren M23/1 had a two year racing career. In 1973 it was driven by 1967 Grand Prix World Champion
driver Denny Hulme. In 1974 the McLaren team provided Hulme a brand new racecar and M23/1 was
updated to M23B specification for driver Mike Hailwood. M23/1 displayed similar Yardley soap and
cosmetics company livery in both 1973 and 1974, but its racing number was updated from "7" to "33".


1973 Season - Denny Hulme (NZ) in McLaren M23/1
Date
Race Name
Venue
Results
Comments
3/3
South African GP
Kyalami
Q1 F5
Hulme leading until a punctured tire forced pit stop.
3/17
Race of Champions
Brands Hatch
Q1 F2
Hulme leading w/ 5 laps to go when clutch failed.
4/8
BRDC Intl. Trophy
Silverstone
Q5 DNF
(engine failure)
4/29
Spanish GP
Barcelona
Q2 F6
5/20
Belgian GP
Zolder
Q2 F7
6/3
Monaco GP
Monte Carlo
Q3 F6
6/17
Swedish GP
Anderstorp
Q6 F1
Hulme posted fastest lap of race, at 104.04mph.
7/1
French GP
Paul Ricard
Q6 F8
Hulme posted fastest lap of race, at 117.51mph.
7/14
British GP
Silverstone
Q2 F3
Teammate Revson: Q3 F1. (Scheckter: shunt!)
7/29
Dutch GP
Zandvort
Q4 DNF
(engine failure)
8/5
German GP
Nürburgring
Q8 F12
8/19
Austrian GP
Österreichring
Q3 F8
9/9
Italian GP
Monza
Q3 F15
Teammate Peter Revson qualified 2nd, finished 3rd.
9/23
Canadian GP
Mosport
Q7 F13
Teammate Peter Revson qualified 2nd, finished 1st.
10/7
United States GP
Watkins Glen
Q8 F4
World Drivers Championship: 6th Place
1974 Season - Mike Hailwood (GB) in McLaren M23/1
Date
Race Name
Venue
Results
Comments
1-13
Argentine GP
Buenos Aires
Q9 F4
Teammate Hulme won. Teammate Fittipaldi debuted.
1-27
Brazilian GP
Interlagos
Q7 F5
Teammate Fittipaldi qualified fastest & won race.
3-17
Race of Champions
Brands Hatch
Q7 F4
3-30
South African GP
Kyalami
Q12 F3
5-26
Monaco GP
Monte Carlo
Q10 DNF
(shunt)
7-7
French GP
Dijon
Q6 F7
7-20
British GP
Brands Hatch
Q11 DNF
(spun) Fittipaldi qualified 8th & finished 2nd.
8-4
German GP
Nürburgring
N/A
(shunt in pre-race practice)
World Drivers Championship: 10th Place (tied)
note: Mike Hailwood crashed M23/1 heavily in practice for the German Grand Prix, ending the car's Grand Prix career. Hailwood then qualified and raced spare chassis "M23B/7". In this second car, Hailwood crashed again and suffered a serious leg injury. The McLaren team rebuilt M23/1 to a suitable standard for demonstration use and presented it to Denny Hulme. The remains of M23B/7 were scrapped.


McLaren M23 Production History
How many McLaren M23s were built? The serial number sequence starts at one and runs through fourteen, skipping number "13" for luck. (There are two other anomalies in the sequence. When faced with a need to rush a newly-built tenth car through Swiss customs, it proved expeditious to stamp number "8" onto its chassis plate. This small deception was rectified by amending the number 8 with a "dash 2". The original eighth M23 had been wrecked, but it was later repaired and issued chassis plate number "10".)

There are five basic M23 design iterations, which correspond generally to five years of construction. Distinctions between the five specifications are blurry for various reasons, not the least of which is that cars were updated throughout their respective careers. Cars were in fact modified for the unique requirements of almost every race entered. Formula One's habit of implementing rules changes mid-season also complicates issues.

Four M23s were built in 1973, followed by four more in 1974. The 1974 cars feature a longer wheelbase to suit a rule change pertaining to reducing rear wing overhang distance. Other changes for 1974 included modifications to the front suspension, parallel links in lieu of inverted A-arms for the rear suspension's lower connections, and wider rear track.

In 1975, McLaren built two more M23s, which featured revised front and rear suspensions. Other changes for 1975 included a different airbox, addition of a driver adjustable front anti-roll bar, a shorter nose, and altered side pods.

No new cars were built for 1976, but some of the existing cars were updated to a revised specification which included a new low-profile airbox to suit the latest rule change. Other changes for 1976 included addition of a driver adjustable rear anti-roll bar, substitution of an air starter for the previous electric starter, substitution of a six speed gearbox for the previous five speed gearbox, and installation of a different cockpit surround (which utilized Kevlar instead of glass fiber for a substantial weight reduction!)

In 1977, McLaren built three final M23 racecars to a fifth level of specification, which included redesigned front uprights to suit new Goodyear tires.

McLaren briefly flirted with offering a modified version of the M23 for Formula 5000. The essential difference would be with use of production-based 5.0L Chevrolet V8 engines in lieu of race-bred 3.0L Cosworth DFV V8 engines. Exactly one car of this type was built. For various reasons, the debut of McLaren M25/1 was considerably delayed. It only participated in two Formula 5000 races near the end of the 1976 season. M25/1 showed remarkable potential: Bob Evans drove it to a second place finish at Brands Hatch! Then, his engine suffered a broken piston midway through next race of the series. Formula 5000 ceased to exist in England after just three more races, but in an interesting turn of events M25/1 was rebuilt with a Cosworth DFV and was raced in nine "British Formula One" series races during 1977 and 1978. M25/1 has since been rebuilt to F5000 specifications for vintage racing.


Features and Specifications
Engine:
Ford Cosworth DFV V8 engine number 138, as delivered new to McLaren Racing in April 1973, rebuilt by Steve Weeber's Performance Engine Centre Ltd. in Christchurch, New Zealand. (2993cc. 3.373" bore x 2.555" stroke. 11.0:1 static compression ratio. Rated 465bhp @ 10,500rpm.) New cylinder heads sourced from the Cosworth plant in Torrance California. Lucas mechanical fuel injection. Lucas OPUS (Oscillating Pick-Up System) electronic ignition system. Bosch ignition coil. Champion G56R spark plugs. Dry sump lubrication system.

Cooling:
dual radiators. Dual 25-row oil coolers.

Exhaust:
Simpson Race Exhausts custom fabricated stainless steel four-into-one headers.

Transaxle:
Hewland FG400 five speed, rebuilt by BPA Engineering Ltd. Girling master cylinder.

Chassis:
101" wheelbase, 65" front track, 62.5" rear track.

Front Susp.:
wide based lower wishbones with twin-plane triangulated upper control arms. McLaren proprietary magnesium uprights. Pull-rod actuated rockers. Vertical, inboard mounted aluminum-bodied double adjustable KONI model 8212 coilover shock absorbers. Proprietary magnesium uprights with live stub axles. Anti-roll bar, operated by inboard-mounted linkage.

Rear Susp.:
reversed lower wishbones, adjustable top links, and dual trailing links. McLaren proprietary magnesium uprights. Aluminum-bodied double adjustable KONI model 8212 coilover shock absorbers. Custom coil springs designed to become progressively coil-bound under load. Tubular adjustable (5-position) anti-sway bar.

Brakes:
(master) dual Girling master cylinders with integral reservoirs. Bias bar.
(front) Lockheed four piston calipers with 10.5" vented rotors (outboard-mounted),
(rear) Lockheed four piston calipers with 10.5" vented rotors (inboard-mounted).

Wheels/Tires:
McLaren magnesium racing wheels (13x11 front, 13x16-18 rear.) Avon racing tires (10.0/20.0/13 front and 15.0/26.0/13 rear.)

Electrical:
Enersys Powersafe SBS sealed battery. Ark Racing starter motor.

Instruments:
(left to right) Smiths dual fuel pressure (0-160psi) and water temperature (30-120C) gauge, Smiths Chronometric tachometer (0-12500rpm) with tattletale, and Smiths dual oil pressure (0-160psi) and oil temperature (30-120C) gauge.

Fuel System:
custom fuel cell (including rubber bladder and safety foam.) Kinsler cable-driven high pressure fuel pump. Kinsler fuel filter. Electric in-tank high pressure fuel pump.

Safety Eqmt:
Willans six-point cam-lock safety harness. Quick release steering wheel hub. Graviner centralized fire suppression system.

Weight:
~1268# (34/66 front to rear).

Engine Installation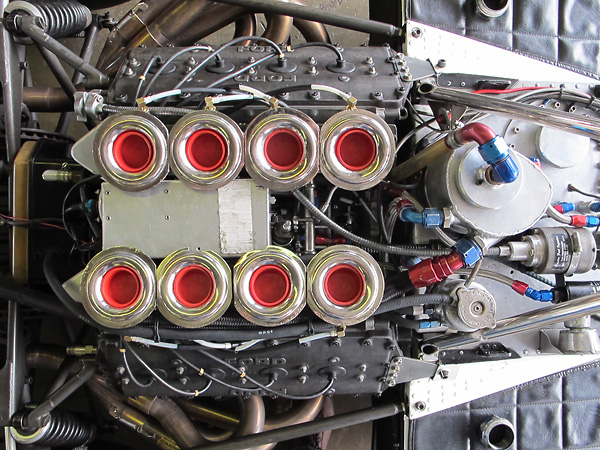 Fifteen of eighteen teams contesting the 1973 Grand Prix championship chose Cosworth's DFV
("Double Four Valve") V8 engines. In 1973 trim, these engines were probably producing about
460-465bhp. That's about 20-25bhp less than the Ferrari flat twelve, but more than BRM's V12.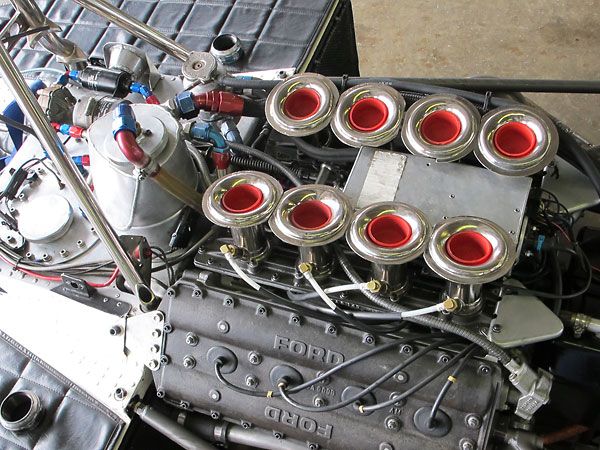 The McLaren M23's fuel cell was located between the driver and the engine, instead of inside
pontoons on either side of the monocoque tub as had been McLaren's previous practice on F1
cars. The new location was reckoned safer and provided less variation in weight distribution as
fuel was consumed. Formula One fuel tank standards had changed rapidly, with rubber bladders
first mandated for the 1970 season and addition of safety foam mandated for the 1972 season.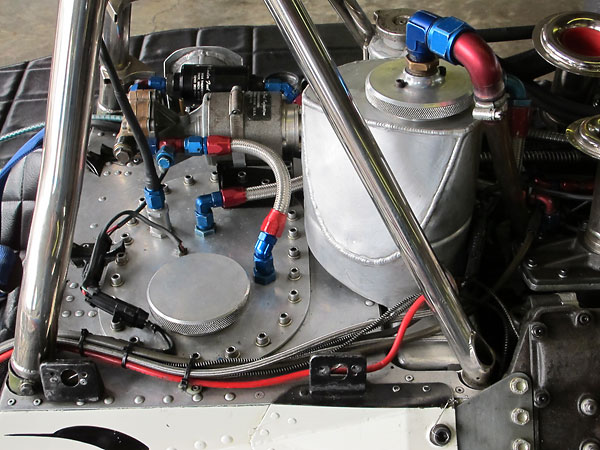 At left: fuel cap. Mid-race refueling wasn't permitted in Formula One races during the M23's era.
At right: engine oil reservoir. Cosworth installation and operation instructions advised:
"Oil tanks should allow for approximate consumption of 6 pints during a G.P."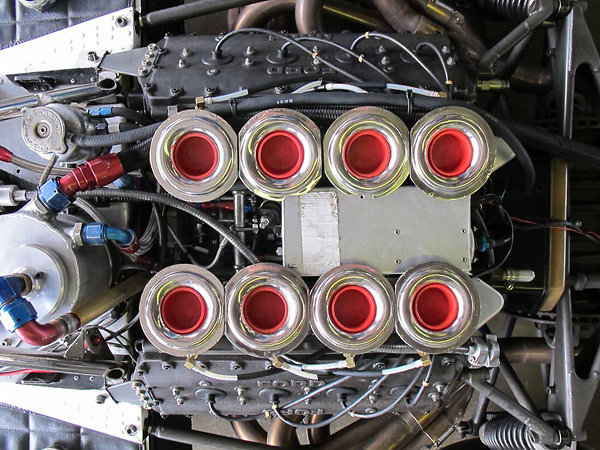 The intake stacks feature a full radius at the top to smooth entering airflow. Outboard of their radiused
section, they have a small flange where the airbox will seal to them. The engine draws its air supply
from a large plenum that's pressurized at racing speeds. More information about that appears below.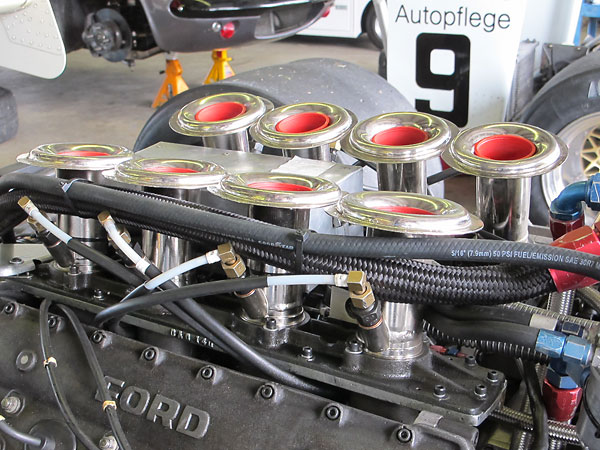 Lucas fuel injection, with one fuel injector per cylinder positioned upstream of a sliding throttle.
The function of Lucas' mechanical/timed nozzles is atomization only (i.e. not metering).
Earlier systems used "constant flow" nozzles, which actually metered fuel delivery as
a function of pressure drop across an orifice on the side of the nozzle.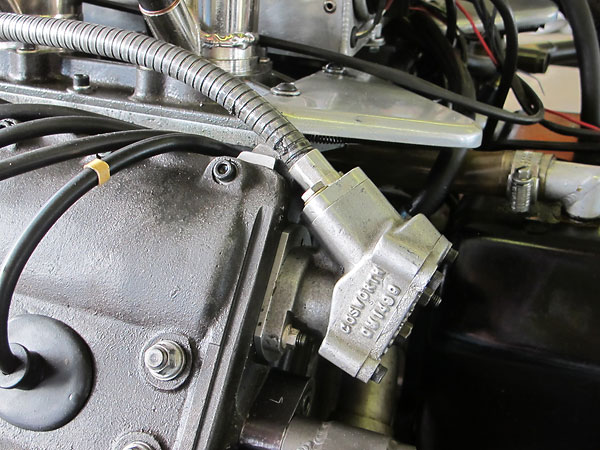 A high pressure mechanical fuel pump is driven via cable from one of the four camshafts.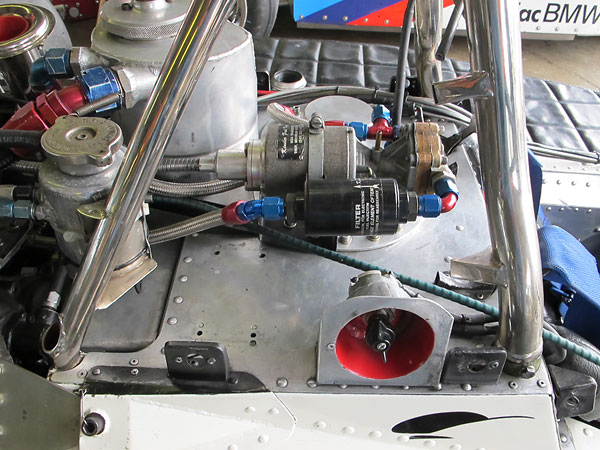 Center: Kinsler high pressure mechanical fuel pump. A high pressure electric pump is
located in series with this one, but it's hidden inside the fuel cell. The electric pump is
only needed for starting the engine. After that, it's turned off.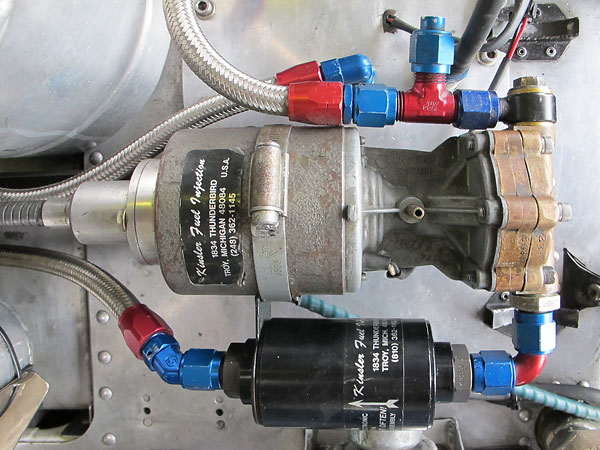 Labels read: "Kinsler Fuel Injection, 1834 Thunderbird, Troy, Michigan 48084 U.S.A., (248) 362-1145"
At bottom: Kinsler fuel filter.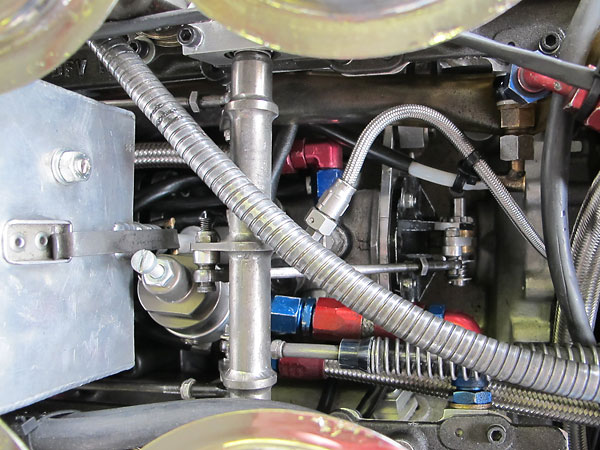 The Lucas Mk1 mechanical fuel injection metering unit is gear driven from off the crankshaft.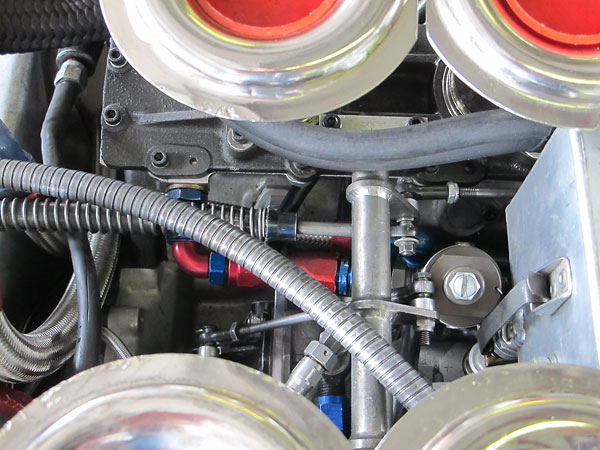 Throttle cable comes in from the left. A fuel pressure regulator can be seen at right.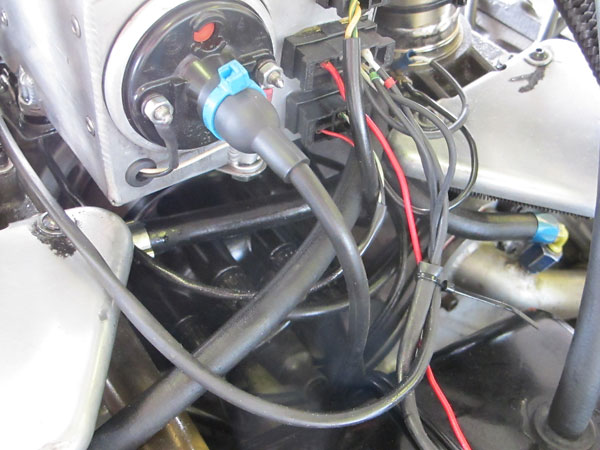 The DFV engine uses a Lucas OPUS ("Oscillating Pick-Up System") electronic ignition with a built-in
rev-limiter set at 10,500 rpm. Ignition timing is fixed at approximately 35° BTDC, triggered by
a variable reluctor sensor and a 40-tooth wheel on the front of the crankshaft. A conventional
distributor mounted in the engine's valley merely directs sparks to the respective cylinders.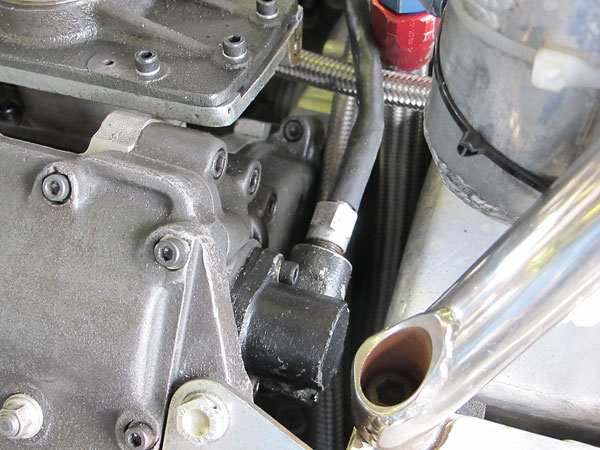 The Smiths tachometer is cable-driven off the front end of one of the camshafts.
Interestingly, Cosworth literature warned: "The engine must not be allowed to idle
under 2000 rpm at any time or else excessive cam and tappet wear may result."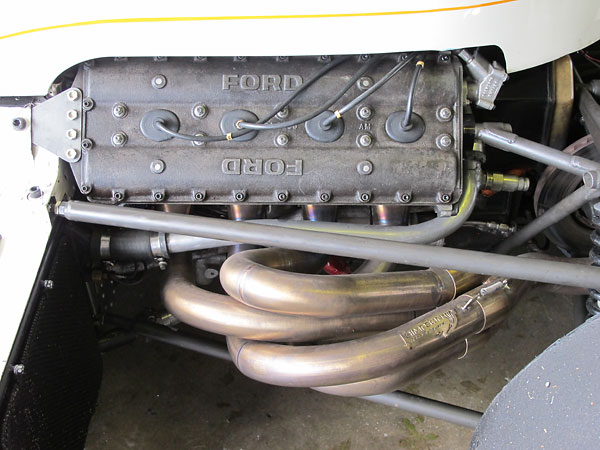 Pause to think about how many fasteners hold the magnesium valve covers to the
aluminum cylinder heads. No matter how you count, it's a lot of fasteners! Cosworth
promotional materials mentioned that their DFV engines were comprised of 3550
discrete parts, and that most of the parts required some amount of hand finishing.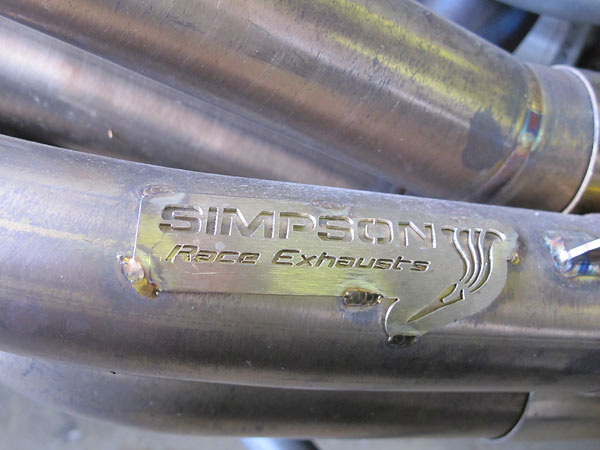 Simpson Race Exhausts custom fabricated stainless steel four-into-one headers.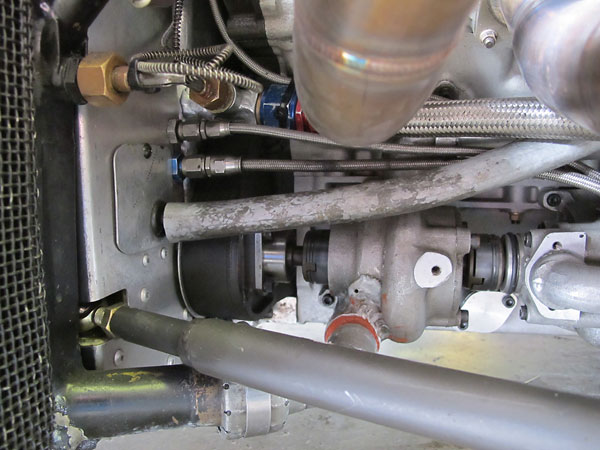 Two water pumps and two oil pumps... all belt-driven at one half of engine speed. This photo shows
one of two centrifugal water pumps. (The other water pump is on the opposite side of the engine.)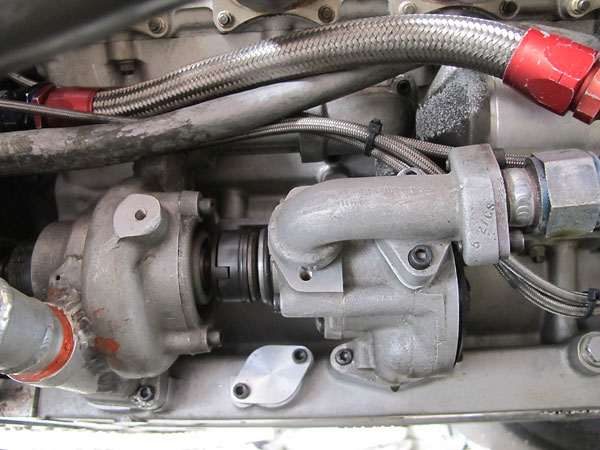 Behind and driven off of the left side water pump, the single-rotor high-pressure oil pump
should produce 80-90 psi at normal running speeds.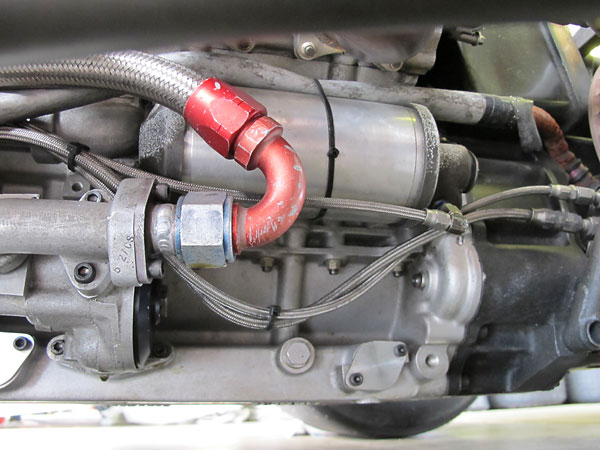 Canister oil filter (accepts Cosworth paper element oil filter part# PP0404).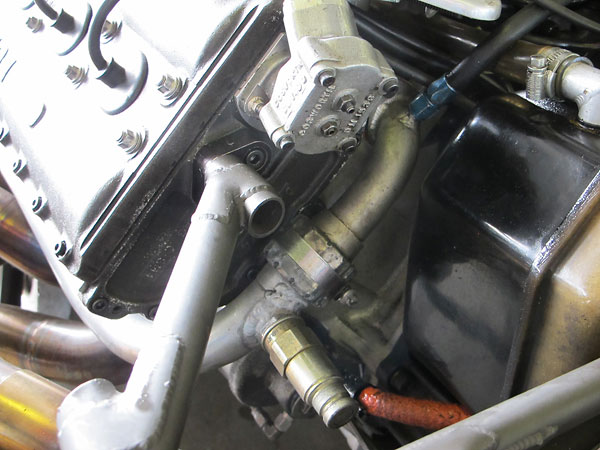 Twin water pumps route water into the sides of the engine block. The water flows upwards to the
cylinder heads through three passages around each cylinder (two by the exhaust ports, one on the
intake side). Water exits the cylinder heads through flanges at the rear. Thermostats are mounted
externally. Water flows around the engine to the radiator through hard tubing.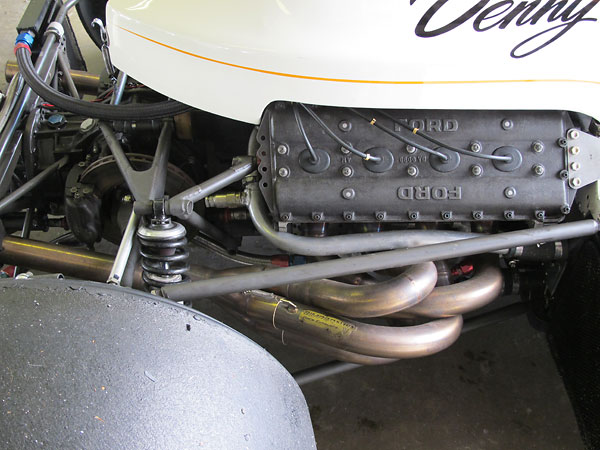 Cosworth recommended ordinary Autolite PG403 or Champion G56R 10mm motorcycle spark plugs.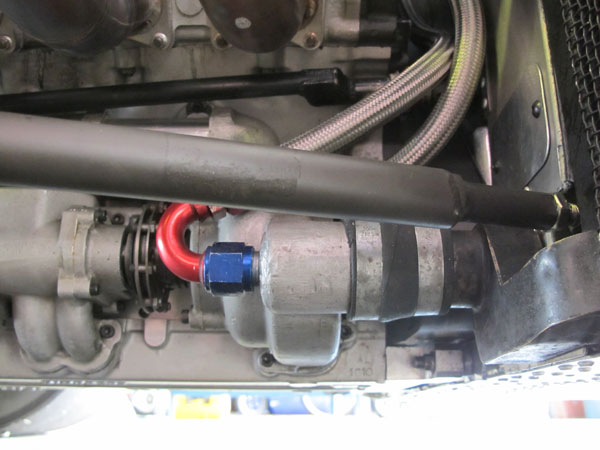 The second of two centrifugal water pumps.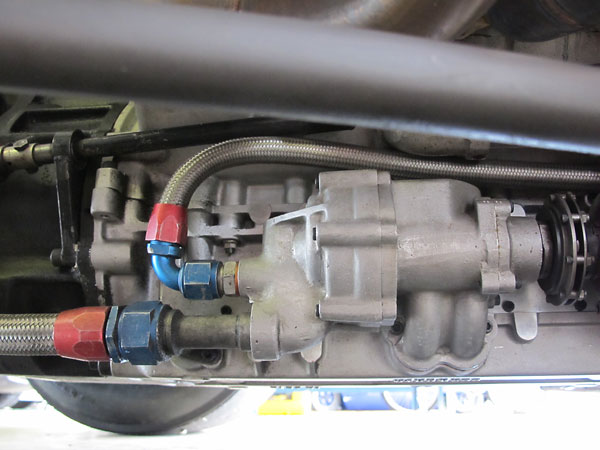 Scavenge oil pump. Beyond it, the dry sump oil system's cast aluminum oil pan which is an important
structurally stressed component of the engine (hence the chassis!) The oil pan features cast-in water
and oil passages, plus three integral main bearing caps (for main bearings 1, 3, and 5). The oil pan is
retained by 18 studs around its perimeter, plus two studs on each main bearing bulkhead.
(Main caps 1 and 4 are retained by 4 studs each.)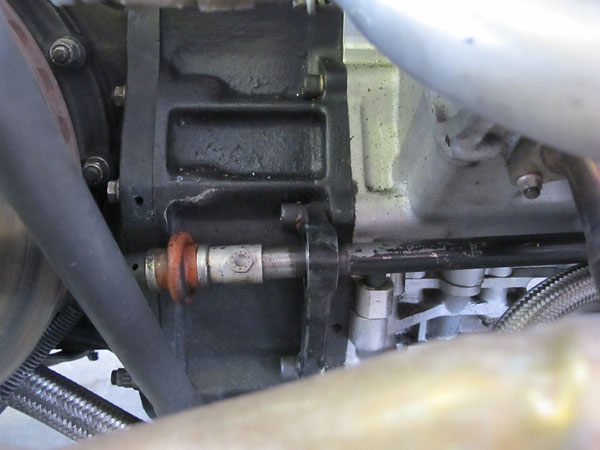 Apex universal joint on the gear shifter linkage. Beyond it, the bellhousing which connects the
Hewland FG400 transaxle to the engine and also houses the clutch assembly and flywheel.
When McLaren needed to meet a 1974 rule change regarding rear wing overhang, they
responded by developing a longer bellhousing. (The distance between wing and engine
stayed about the same, but the rear wheels were relocated several inches rearward.)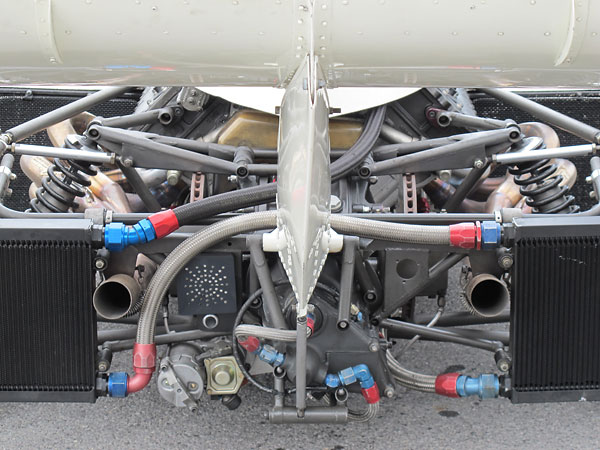 M23/1 was originally built with its oil coolers mounted immediately behind the radiators, but during
practice for its first race (the 1973 South African GP) cooling was determined to be inadequate and
they were moved to the back, where they remained. Left of center: the LED rain light is a modern
part. However, M23/1 would have had a (15W minimum) rain light from day one because they were
mandated by Formula One rules starting in 1972. You can see the original lamp bracket at right.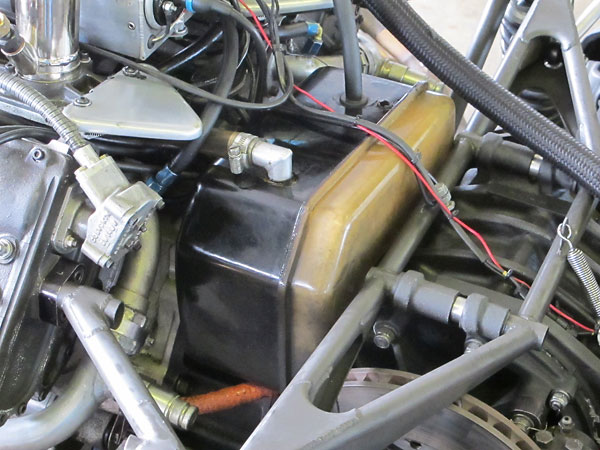 Breather/overflow tank.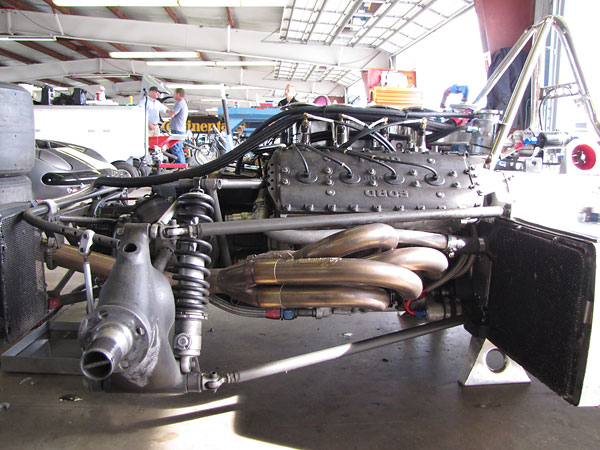 Steve Weeber's Performance Engine Centre Ltd. in Christchurch, New Zealand stripped down
and carefully inspected every part of the Cosworth engine. For the most part, it proved to be in
remarkably good condition, although a decision was made to store the original heads and to
source a new set from Cosworth. Cylinder liners were removed, fitted with new o-rings and
replaced. New piston rings and bearings were installed. So long as engine revs are kept
below 10,500rpm the engine should be good for 15-20 hours between rebuilds.


Front Suspension / Etc.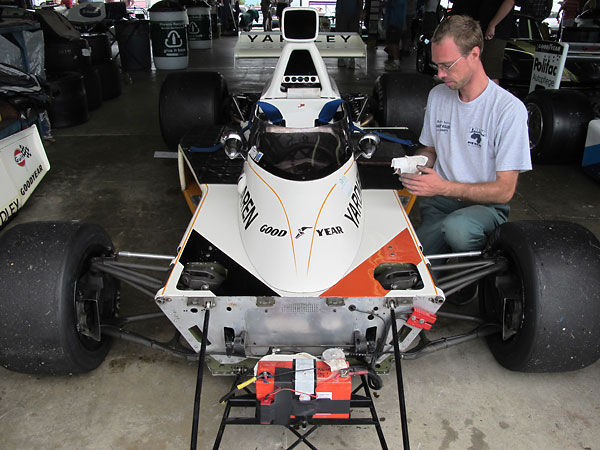 The McLaren M23's monocoque tub was fabricated from 16 gage aluminum. As had been McLaren
practice since Robin Herd's tenure (1965-1968), all panel joints were epoxy bonded. Rivets served
to clamp the panels together while the adhesive cured, but were largely redundant after that.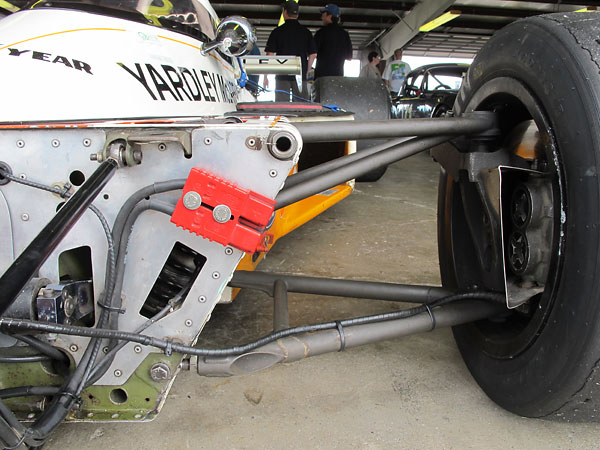 Where you see green or greenish structure behind the aluminum skin, that's steel. The M23 had an
elaborate steel front bulkhead assembly to carry suspension loads, plus steel brackets elsewhere.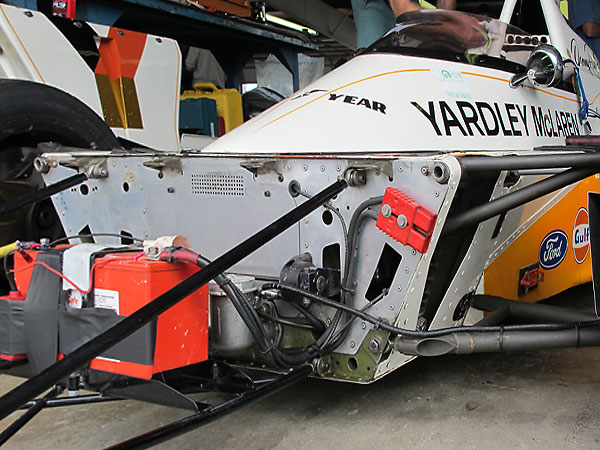 Since inboard-mounted suspension components competed for space.The pedal box is rather narrow.
Pedal adjustments are made from the front through a removable access panel.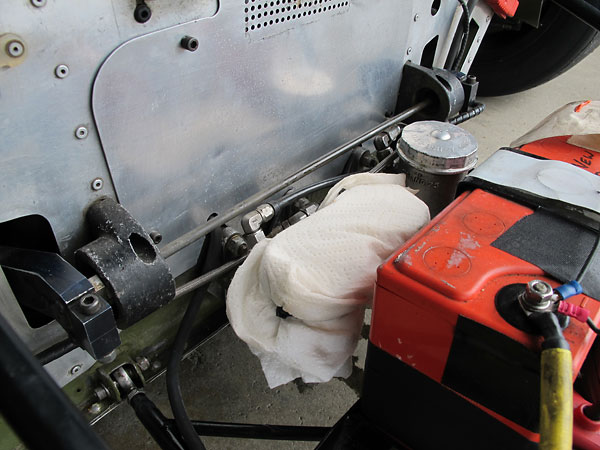 Girling master cylinders. Remarkably robust mounting for a surprisingly lightweight anti-roll bar.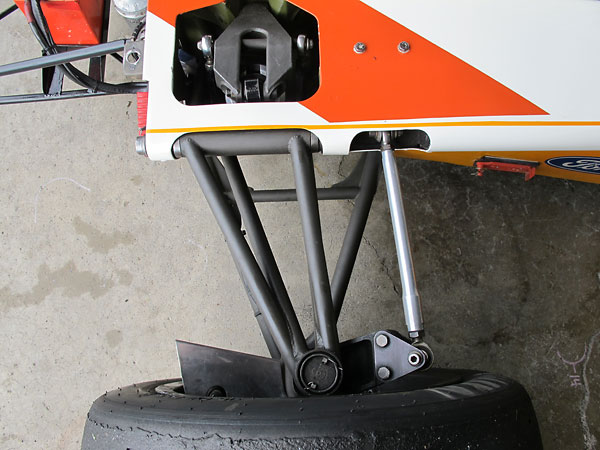 The McLaren M23 carried over the M19's rising rate front suspension. The premise of the design is simpler
than the execution: coil springs are mounted via bellcranks such that they compress further with increasing
wheel travel. Result: for a given energy absorbing capacity, bump travel is reduced and therefore ride
height can be significantly lowered. (Big aerodynamic advantage plus reduced camber change!)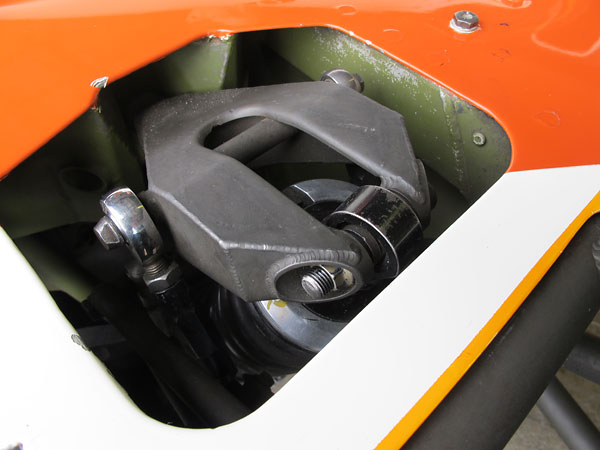 That the coilover shock absorbers and the anti-roll bar are tucked neatly away, entirely out
of the airstream, is another significant additional benefit of the McLaren M23's front suspension.



The McLaren M23 front suspension is remarkably easily serviceable. Notice that spring perch height and
shock absorber valve adjustments are within easy reach. On M23/1 the anti-roll bar isn't so conveniently
adjusted, but in 1975 McLaren introduced a cable-operated driver adjustable front anti-roll bar.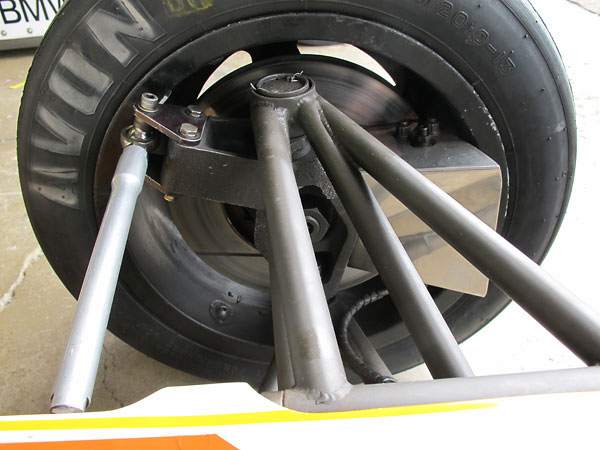 Starting in 1973 Formula One rules forbid chrome plating of steel suspension parts. The electroplating
process had been proven to substantially worsen a phenomena known as hydrogen embrittlement.
Hydrogen atoms are diffused throughout all steel alloys, and various manufacturing processes can
cause them to migrate, become concentrated, and build-up in in pressure to the point where cracks
start from within. Since the problem is worse with chrome plating than other finishing operations
(including nickel plating), Formula One rules singled chrome plating out.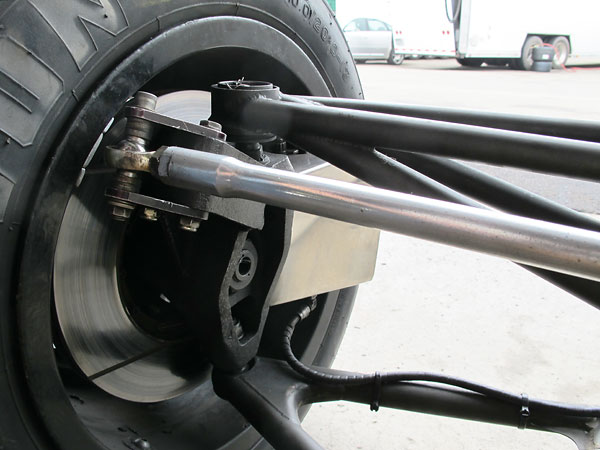 Magnesium front uprights. Note modestly sized brake ducts. Later M23s got larger ones.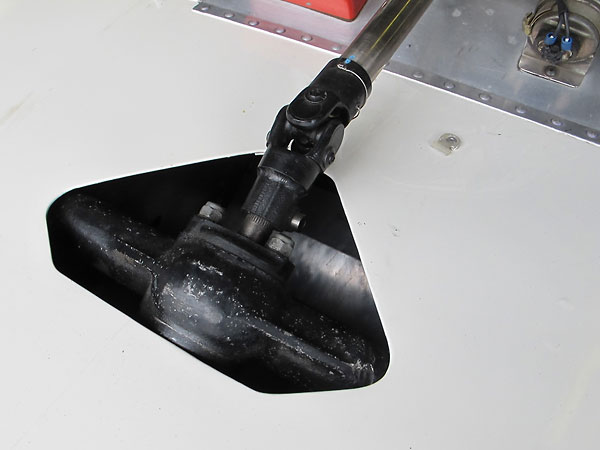 Bespoke magnesium steering rack.


Enjoying this article? www.BritishRaceCar.com is partially funded through generous support from readers like you!
To contribute to our operating budget, please click here and follow the instructions.
(Suggested contribution is twenty bucks per year. Feel free to give more!)
Rear Suspension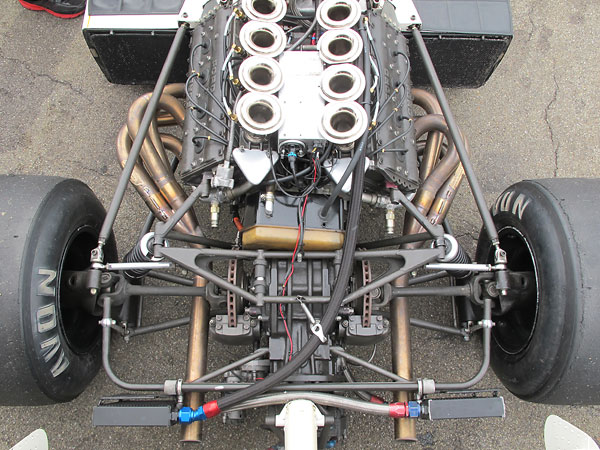 This view emphasizes a key characteristic of the Cosworth DFV engine and of all the racecar
designs that took advantage of its potential as an integral and structural part of the chassis.
Huge forces could be transferred through the DFV engine block, cylinder heads, and oil pan.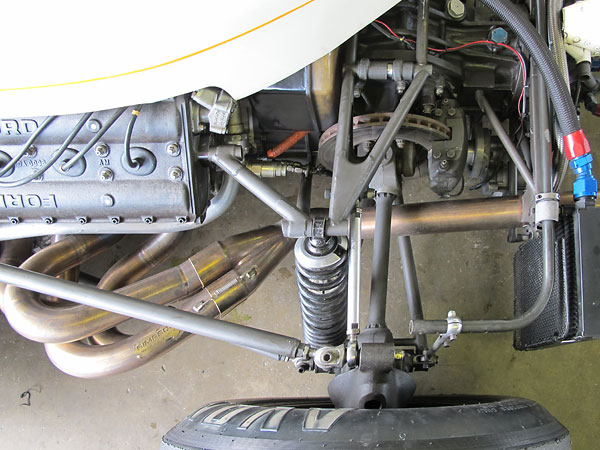 In 1973, Formula One teams spaced rear wings well back behind engines to maximize downforce.
(Two benefits: less turbulent airflow and increased leverage.) The rules changed for 1974, placing
a limit on how far rear wings could overhang rear wheels. Rather than simply move their wings
forward, McLaren cleverly moved wheels rearward. The main difference between an M23 and
an M23B is wheelbase, altered via a spacer at the bellhousing and by revised suspension links.
Reversed lower wishbones, as seen here, were replaced by parallel links from mid-1974 on.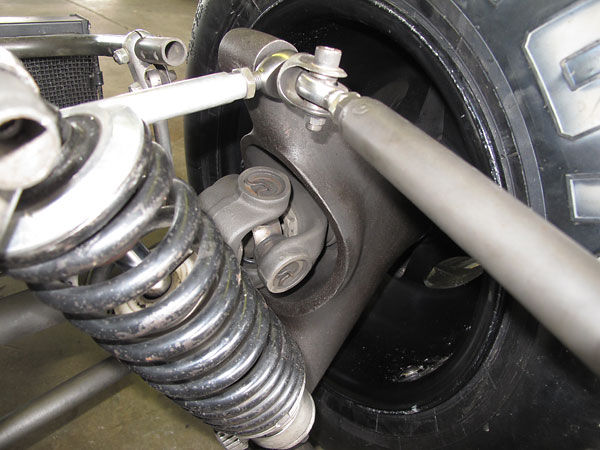 Suspension designers don't need bellcranks and actuating rods to produce a rising wheel rate.
To achieve a rising rate rear suspension on M23, McLaren (a) located upper spring mounts
well outboard, (b) specified denser coil spacing at the bottom of the springs, and
(c) used Silasto bump rubbers at the top of the rear shock absorbers.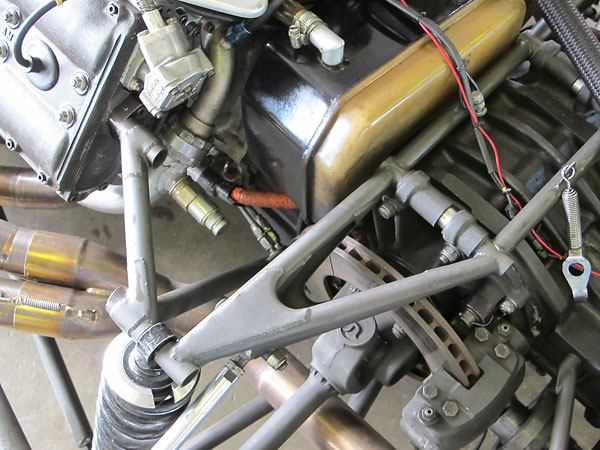 Laid down spring angles as commonly seen on outboard front suspensions tend to produce falling
rate suspensions. More upright spring mounting angles, as shown here, generate rising rates.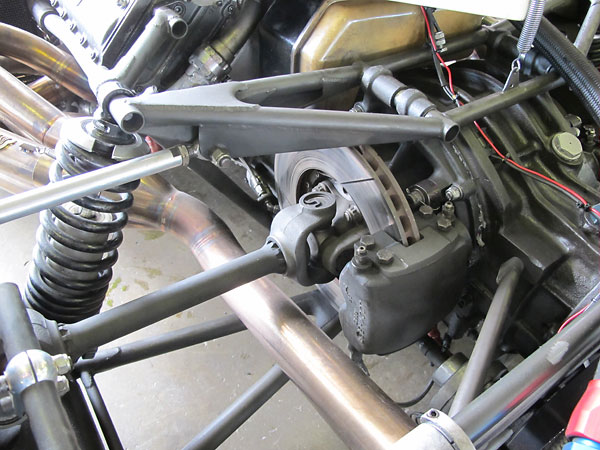 For the M23 rear suspension, Gordon Coppuck specified springs of variable coil pitch. As the
springs compress they progressively bind-up and wheel rate increases accordingly. The trouble
is one of quality; it's a big challenge to produce springs that increase rate as smoothly as desired.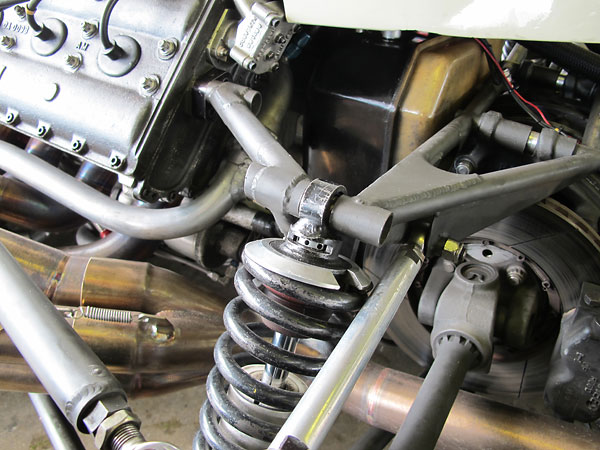 KONI developed and provided a range of special Silasto bump rubbers, and included a set with
these Model 8212 aluminum bodied, double adjustable, coilover shock absorbers. The specially
molded profile and the durometer of the bump rubbers were engineered to provide progressively,
increasing resistance through about 1.8 inches of compression.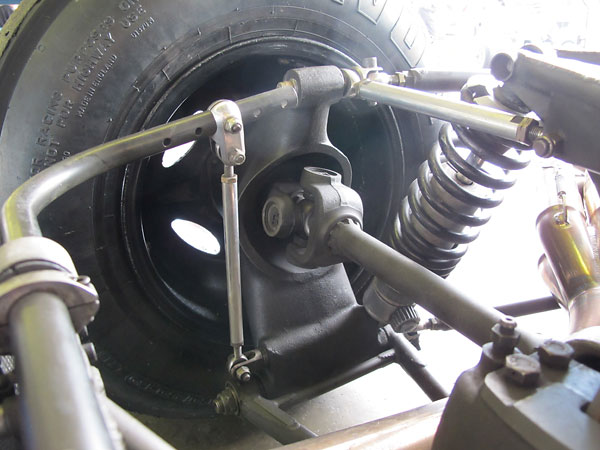 5-position adjustable anti-sway bar. Notice that its tubular construction reduces weight.
(The core of the bar adds little resistance to rotational deflection.)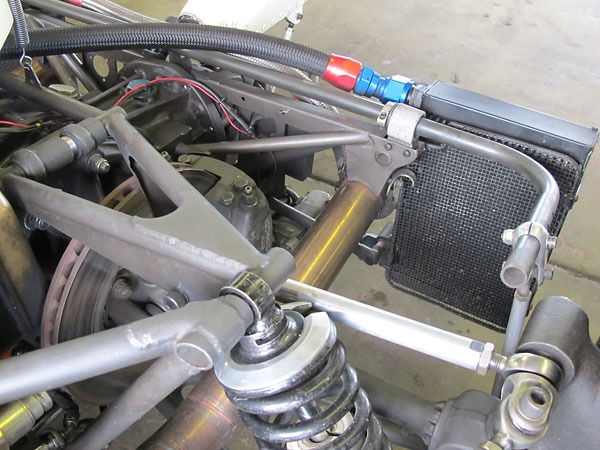 Oil coolers at the rear of a car are vulnerable. You can bet McLaren didn't like putting them there.
In fact, when M23/1 arrived in South Africa for its first race its oil coolers were mounted with its
radiators at the rear of the side pods. Too hot! Before the race, they were moved to the rear.



Lockheed four-piston brake caliper with 10.5" vented rotors, inboard-mounted.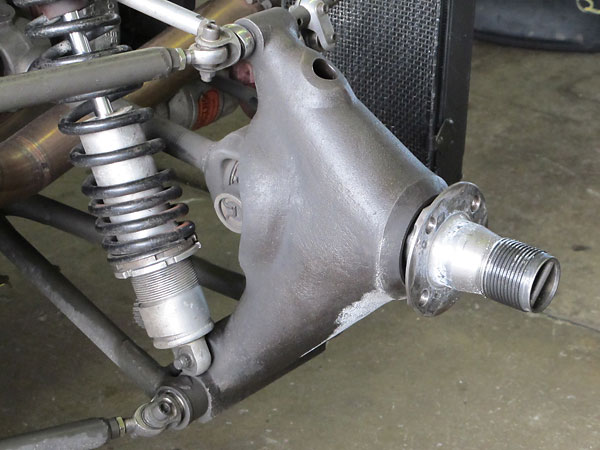 McLaren proprietary magnesium uprights.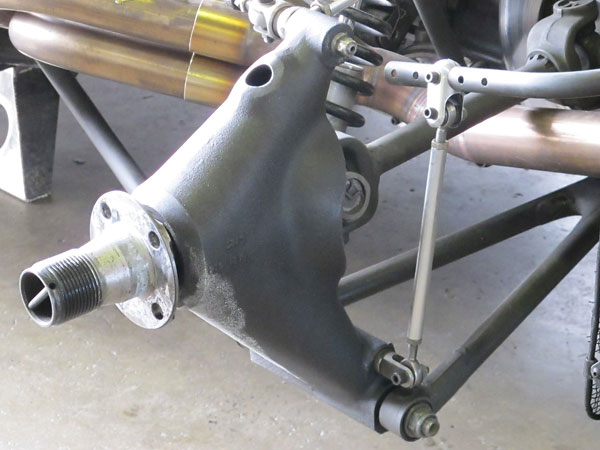 Lightweight double-splined titanium halfshafts were specified along with steel universal joint yokes.
Further weight savings was achieved by eliminating any conventional sort of sliding-spline joint.
Axle plunge was managed by allowing some floating at the hub bearings, inside the upright.


Interior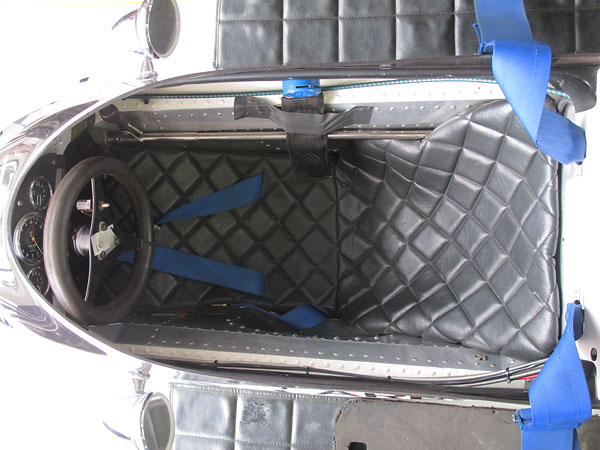 Six point safety harnesses have been required in Formula One racecars since the 1972 season.
The biggest difference between an M19 cockpit and an M23 cockpit is... temperature! Drivers were
very pleased that radiators and air cleaners had been moved rearward and that placement of fuel
tanks behind the drivers seat insulated them from heat radiating off the engine!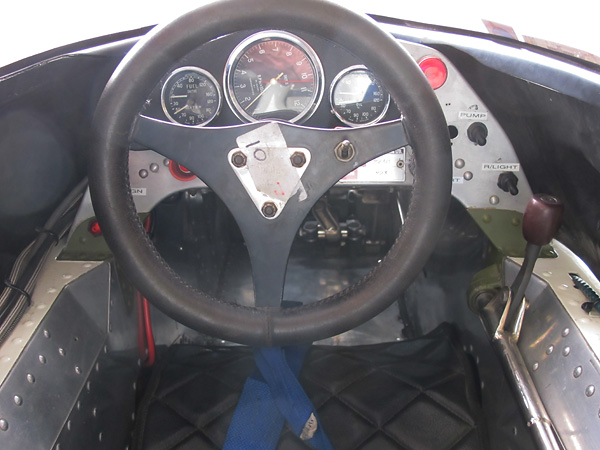 Smiths gauges (left to right): dual fuel pressure (0-160psi) and water temperature (30-120C) gauge,
chronometric tachometer (0-12500rpm) with tattletale, and dual oil pressure (0-160psi) and
oil temperature (30-120C) gauge.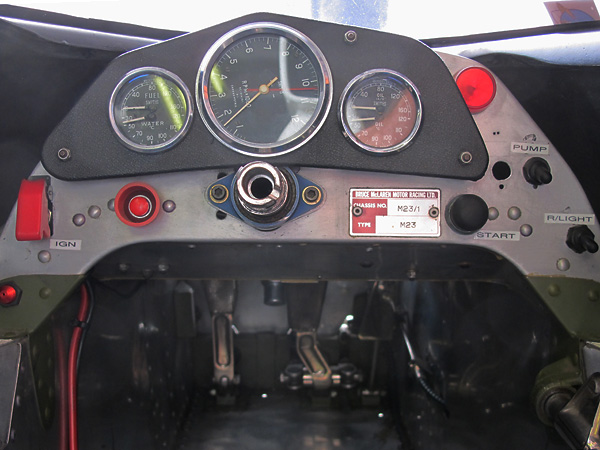 Chassis plate: Bruce McLaren Motor Racing Ltd., Chassis No. M23/1, Type M23.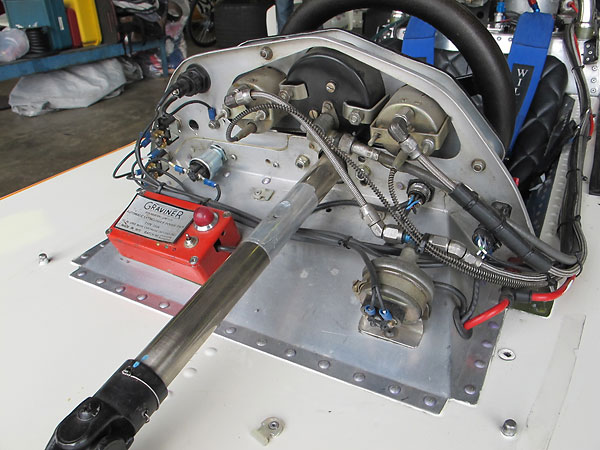 Graviner supplied fire suppression systems to Formula One teams through the 1970s. The company
also developed a life support system which featured breathable air ducted to the driver's helmet.
The Graviner life support system debuted in M23/1 at the 1973 Spanish GP. In this photo, the red
control box at left is labeled as follows: "Graviner Colnbrook Limited - Automatic Extinguisher
Power Pack Type 235A. To be used with cartridge unit 734A only. Made in 1972. Batch No. (?)."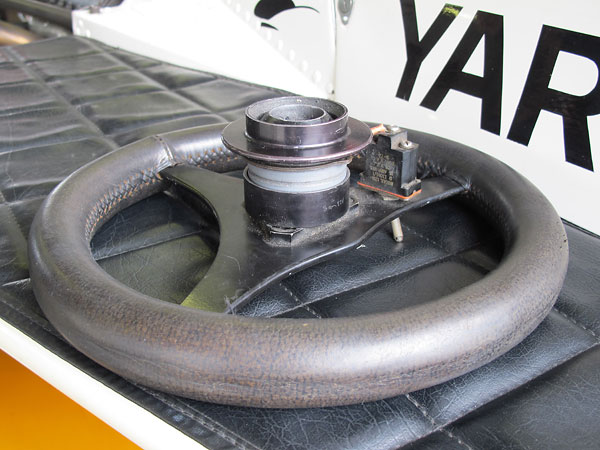 McLaren M23/1 was certainly one of the first, if not the first Grand Prix car to utilize a quick
release steering wheel hub. On one of the steering wheel spokes we see a Rotax Ltd. toggle switch.
It was wired as an emergency engine kill switch. Needs a guard! Emerson Fittipaldi accidentally
turned his McLaren M23's engine "off" during his debut race for the team at Buenos Aires, 1974.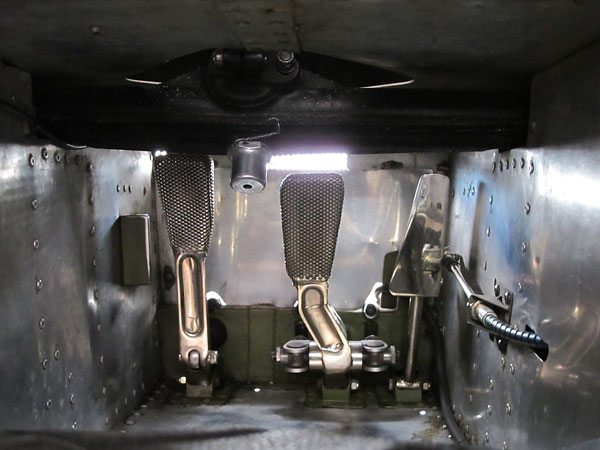 McLaren M23 footbox and pedals.


Exterior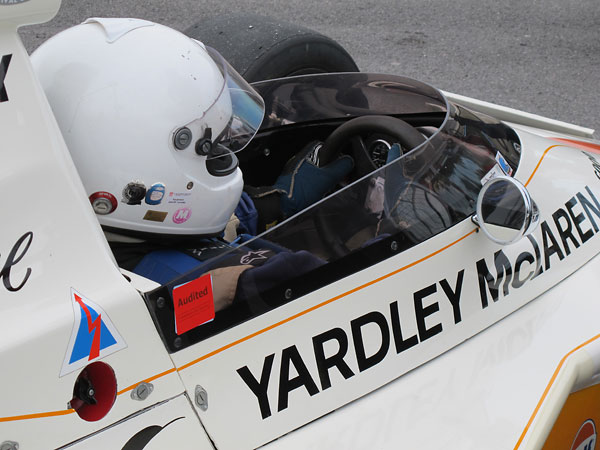 Frank Lyons came over from Ireland to demonstrate McLaren M23/1 at Lime Rock and Watkins Glen.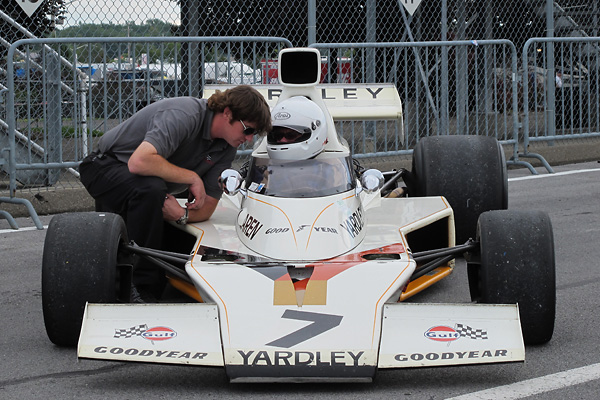 Chuck Golder, a full time mechanic for Lee Chapman racing, told us what he likes about the M23:
"Its simplicity! It's very easy to make adjustments. Everything is easy to get to. The suspension,
mostly carried over from the M19C, is a rising rate design. It has very low unsprung weight."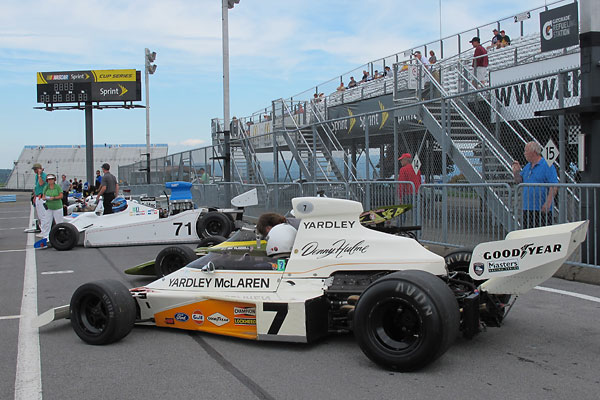 M23/1 has always worn "Yardley McLaren" livery. In 1973, the Yardley soap and cosmetic company was
McLaren's main sponsor. In 1974 the McLaren signed up Marlboro (cigarettes) and Texaco (oil/gasoline).
Through 1974, Denny Hulme and Emerson Fittipaldi drove cars with red and white Marlboro/Texaco livery
but Mike Hailwood took over M23/1 and raced under Yardley livery until his crash at the Nürburgring.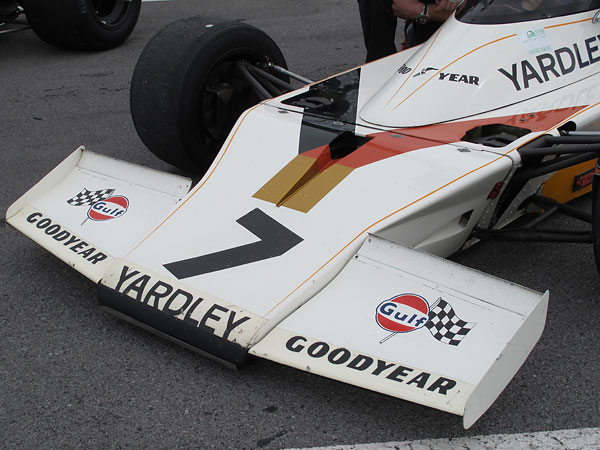 Before Denny Hulme retired at the end of the 1974 season, he arranged to purchase M23/1. Neither
its chassis nor its engine were suitable for front-line Formula One racing, but they'd been restored to
suit occasional demonstration runs at very high speed, and that's exactly how Hulme used the car.
After Denny died in 1992, the car was loaned to the auto museum in Te Puke New Zealand. The
museum closed in 2006, and Denny's wife Greeta sold M23/1 to Phil Mauger in June of that year.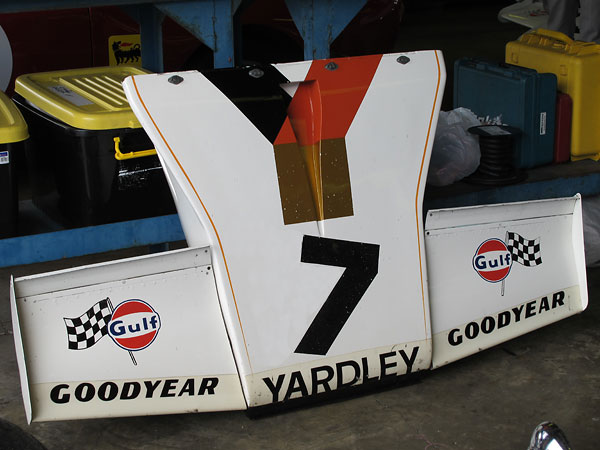 McLaren experimented with a narrower and shorter "winkle picker" nosecone in 1974, but otherwise
basic chisel-shaped nosecones served the M23 model well over its five year career. The design
however evolved quite a bit. It became shorter. The central driver-cooling duct disappeared in later
years. Two small side ducts for shock absorber cooling, remained. By 1976, McLaren switched from
fiberglass to Kevlar composite nosecones and cockpit surrounds for a substantial weight reduction.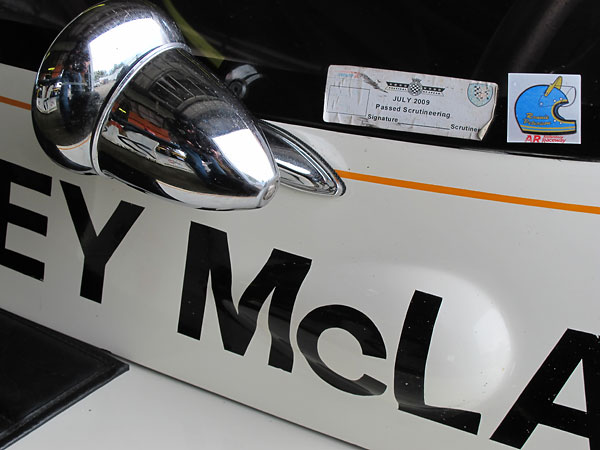 After acquiring M23/1, Phil Mauger commissioned John Crawford of Ruapuna New Zealand to
completely strip down the car and go over it with a fine tooth comb. Every last part was inspected
and the structural parts were all crack tested. Crawford decided to re-use quite a lot of the original
hardware because it was of superior quality and had very little mileage or wear since the McLaren
works had remanufactured the car. Paint was another matter: the car did need to be resprayed.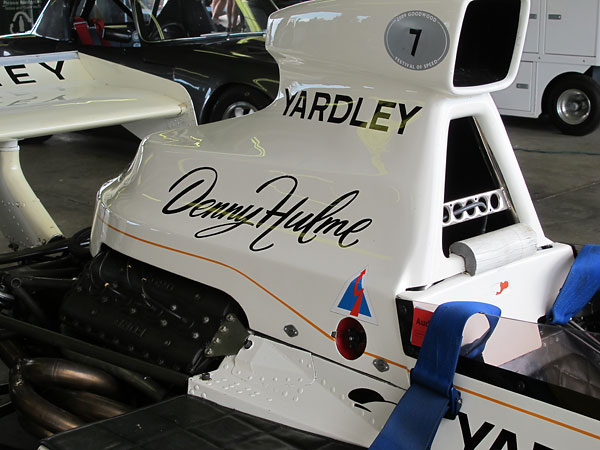 One of the most distinctive characteristics of early 1970s Grand Prix racecars, tall airboxes promised
increased air volume and a cooler/denser charge for the engine. Also, very importantly, airboxes
helped reduce the turbulence of airflow at the rear wing thereby improving aerodynamic efficiency.
Shown: the 1973-style M23 airbox. In 1974 McLaren phased in an even taller airbox with rectangular
opening. In 1976 tall airboxes were banned. After that, induction air was instead drawn from either
side of the roll hoop. (Note: the small decal reads: "2009 Goodwood Festival of Speed" and "7")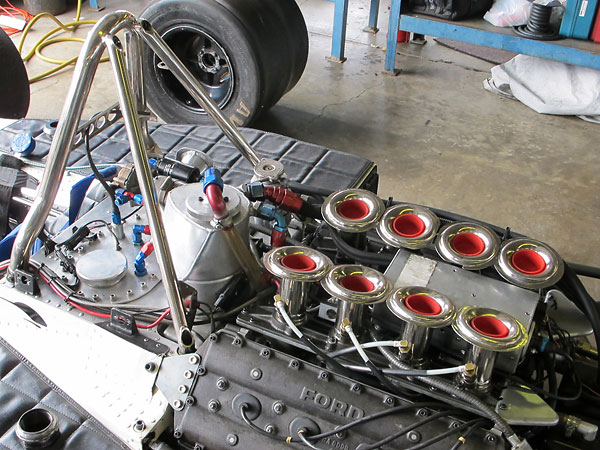 Rubber gaskets on the bottom of the airbox pressed down tightly against the velocity stacks.
Airbox design is a complex art. The internal shape must be contoured properly to ensure even
pressure and distribution of airflow between intake stacks, over the full range of vehicle speeds.



Exterior skins of the side pods were formed from aluminum. Inner walls were shaped in fiberglass.
Twin-pack aerosol foam was sprayed in to fill the (~3/4") gap. We understand two little tricks were
necessary to make this sort of composite sandwich construction work. Firstly, a shaped plug was
inserted to keep the fiberglass walls from distorting under the swelling force of expanding/hardening
foam. Secondly, drain holes were needed so excess foam could escape. The results were great,
but difficult to repair! - Sponsor decals: Champion, AP/Borg & Beck, GoodYear, and Gulf.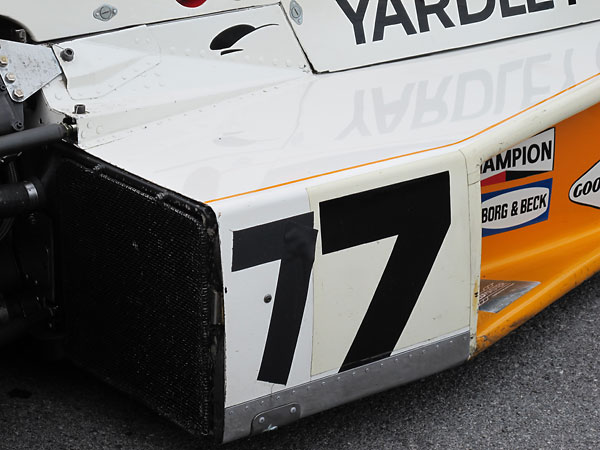 The side pods aren't detachable, so radiators had to be serviced from the rear. It wasn't until the
Dutch Grand Prix, midway through 1975, that McLaren installed extensions on the M23 sidepods.
One further technique to smooth airflow ahead of the rear wing!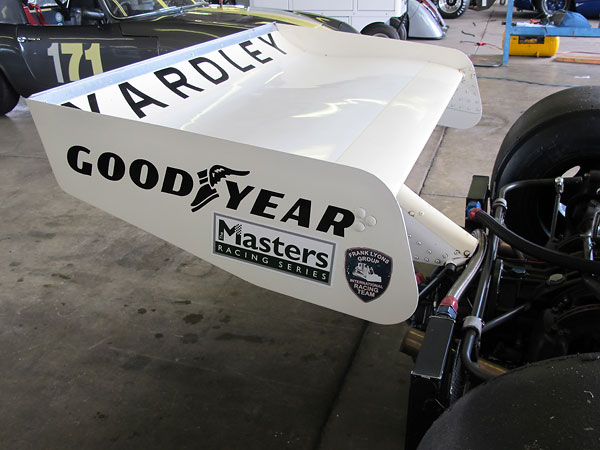 The GoodYear sticker is period correct. The Masters Racing Series is a modern U.K.-based club which
sanctions about a half dozen vintage GP events annually. Frank Lyons Group International Racing Team.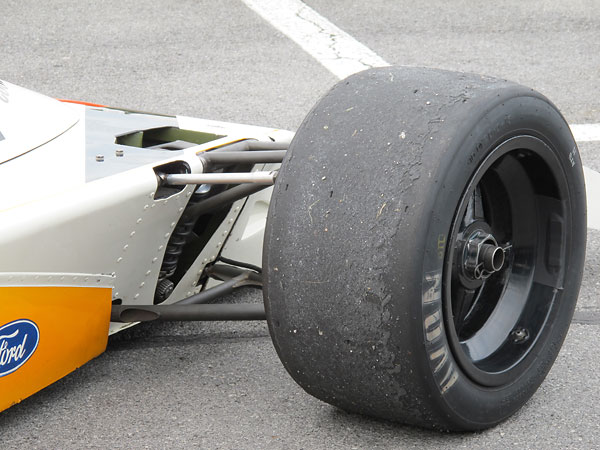 The McLaren team was Goodyear sponsored and ran Goodyear tires throughout M23/1's career.
In 1973, Formula One racing slicks ran softer compounds and lower air pressures than ever
before. Goodyears were judged best for qualifying. Firestones were best for wet races.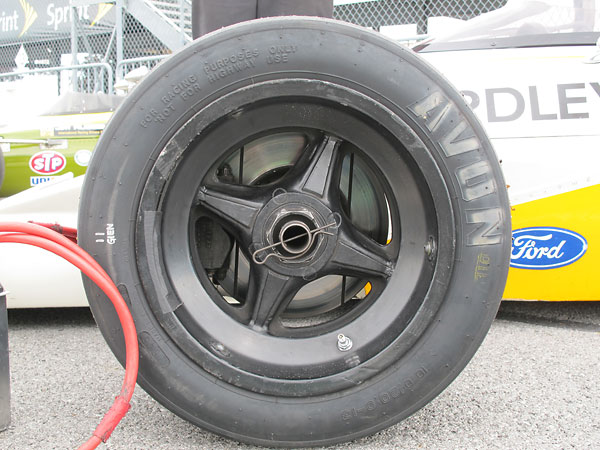 McLaren magnesium wheels.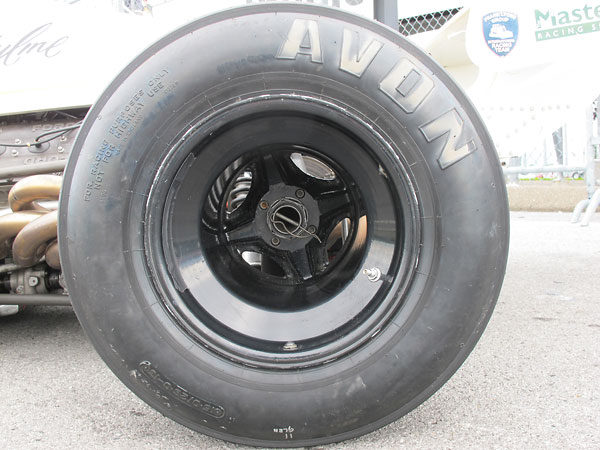 Avon racing tires (10.0/20.0/13 front and 15.0/26.0/13 rear).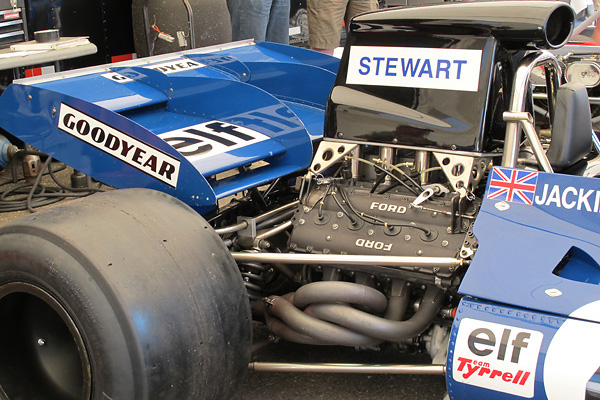 (Tyrrell 004, as photographed by Curtis Jacobson for BritishRacecar.com)

Did you enjoy this article? We currently have eighty more in process, featuring about 6000 new photos.
It's research that slows things down. Please help by making a voluntary contribution to our library fund.
Your donation will help us complete and publish more articles, sooner!


All McLaren photos are from September 2011 when M23/1 appeared at The US Vintage Grand Prix at Watkins Glen. Photos by Curtis Jacobson and Donnie Moyer for BritishRacecar.com. Copyright 2012. All rights reserved.



Notice: all the articles and almost all the photos on BritishRacecar.com are by Curtis Jacobson.
(Photos that aren't by Curtis are explicitly credited.) Reproduction without prior written permission is prohibited.
Contact us to purchase images or reproduction permission. Higher resolution images are optionally available.