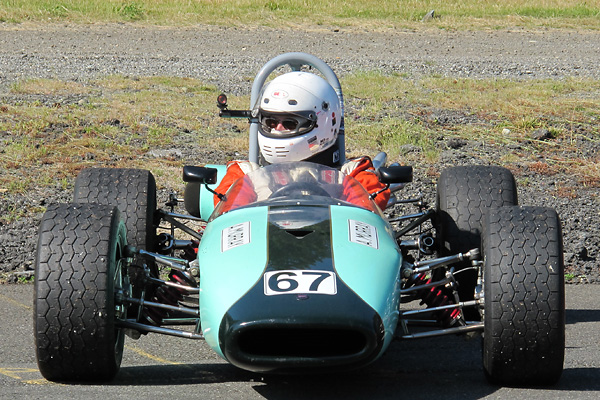 Al Murray's Lotus Twin-Cam Powered Brabham BT21 Racecar
Owner: Al Murray
City: Monroe, Washington
Model: Brabham BT21
Engine: Lotus Twin-Cam
Prepared by: owner


Formation of Motor Racing Developments Ltd.
Motor Racing Developments Ltd. was founded as a 50/50 partnership between Jack Brabham and Ron Tauranac. The two men had met years before, in 1951. Already by that time, Jack Brabham had won an Australian national championship in midget racecars and opened his own light engineering business. Ron Tauranac was building and racing cars too. Ron and his brother Austin Lewis amalgamated their initials into the name "Ralt" and begun applying that name to a series of cars of Ron's design, mostly powered by motorcycle engines.

In early 1955, Jack Brabham left Australia for England where he hoped to shift his racing career into high gear. Shortly after arrival, Brabham met and struck a close friendship with John Cooper; the two gentlemen had much in common and compatable goals. Over the next few years, driving for the Cooper works racing team, Brabham's success depended in part on pitching-in and helping the Coopers refine their cars. Meanwhile, Brabham stayed in touch with Tauranac as a source of valuable and confidential technical advice.

Driving a Cooper, Jack Brabham clinched his first Formula One World Championship at the last race of the 1959 season. By that time, he had already set up his own garage: Jack Brabham Motors in Chessington. The championship secured Brabham's financial situation, and he was finally able to make an impossible-to-refuse offer to his old friend. In early 1960, Jack Brabham convinced Ron Tauranac to come race in England. There were some odd jobs to provide cover, including swapping Climax engines into late-model Triumph Herald street cars, but within weeks Ron Tauranac was secretly at work designing the first Motor Racing Developments race car. It had to be kept secret because Jack Brabham was still driving for Cooper. In fact, he won a second Formula One world championship for Cooper in 1960. He would ultimately win the championship a third time, but in a Brabham instead of a Cooper!

When their first car was ready to unveil, Jack Brabham announced it from a monthly column he wrote for Motor Racing magazine. Brabham initially referred to that car as "the MRD". For marketing reasons, Motor Racing Developments soon began applying the tradename "Brabham" to its products. Once there was a need to differentiate multiple models, MRD assigned numeric designations, all prefaced "BT" (for Brabham and Tauranac respectively.)

The first car, retrospectively known as the BT1, was a Formula Junior. From 1961 through 1963 Formula Junior was really the closest thing to Formula One. Formula Two and Formula Three had been temporarily discontinued, and in their place Formula Junior races were internationally sanctioned by the FIA. The really big difference between Formula One and Formula Junior was driveline cost: compare a mass-produced, 1.1 liter, pushrod four-cylinder engine versus a strictly-for-racing, 1.5 liter, overhead-cam V8.

In 1962 MRD constructed eleven Formula Junior cars for outside customers alongside their first Formula One car for Jack Brabham's use. These were the BT2 and BT3 models, respectively. With the BT3, Jack Brabham became the first driver to score Formula One World Championship points in a car bearing his own name and also the first driver to win a Formula One race at the wheel of an eponymously named racecar. He did so at the 1963 Solitude Grand Prix (near Stuttgart) and again five weeks later at the Austrian Grand Prix, except with a five lap margin of victory! (Both races were non-championship Formula One events.)

Far greater success would come soon. In 1966 Jack Brabham piloted a BT19 to four consecutive championship series victories to earn the Formula One World Championship. Brabhams dominated the constructors championship even more convincingly in 1967 when Denny Hulme and Jack Brabham upgraded to the new BT24 model and scored a one-two finish in the championship series points race.

MRD would ultimately build almost six hundred single-seat racecars, but they built remarkably few sports cars. Two Lotus twin-cam powered sports racers were built in 1963, designated BT5. Body styling from the BT5 was largely carried over to the BT8A of 1964 through 1966. Twelve were built, with a variety of engines including a 2-liter BRM V8, then 2.0, 2.5, and 2.7L 4-cylinder Climax mills. At least one BT8A was re-powered with an Oldsmobile "215" aluminum V8. Finally, a stretched variant of the BT8A (named BT17) was built in 1966. Fitted with wide tires, big brakes, and a Repco-enhanced Oldsmobile engine as used in the BT19 Formula One car, the Brabham BT17 was intended for Group 7. Jack Brabham drove it in exactly one race, and MRD never built another sports racer.

Interestingly, with few exceptions MRD relied on outside help for fabricating frames and bodies. A kit-car builder named Buckler built the very first frame to Ron Tauranac's drawings, and a one-off aluminum body was sourced from a local shop. From the BT2 on, frames were sourced from Progress Chassis Company which had originally been founded by friends of Colin Chapman specifically to build frames for the Lotus Mk6 model. Progress Chassis provided frames through BT16A production (circa 1965). From the BT17 model (circa 1966) until the monocoque era, MRD sourced frames from Arch Motors. (MRD's first monocoque car was the BT33 Formula One car of 1970, and their first monocoque chassis for an outside customer was the BT38 of 1972.) From the BT2 on, fiberglass bodies were made by Specialized Mouldings. With these two key components outsourced, Tauranac could focus keenly on maintaining the exceptional design integrity and meticulous craftsmanship that Brabham racecars have always been known for.



Brabham BT21: MRD's Classic Formula Three Model (circa 1966-1968)
While Jack Brabham primarily focused on running a racing organization, Ron Tauranac was focused on designing and constructing racecars for the Junior Formulae. It was a tough business, but Tauranac thrived in it. Motor Racing Developments was clearly the preeminent constructor of cars for Formula Two's 1.6L era. They were also a leader in one liter Formula Three cars, both in terms of sales and race victories. This success was mirrored in the Sports Car Club of America's Formula B and Formula C classes.

Introduced in 1966, the Brabham BT21 was nominally a Formula Three model developed from the earlier BT18. Virtually all BT21s were powered by Ford-based engines and featured Hewland Mk6 gearboxes. Compared to the BT18, the BT21's spaceframe was "shallower" but noticeably stiffer. The design's track dimension was wider while the body was slimmer.¹ Although the BT21 model arrived late in 1966, it was destined to become Brabham's best selling model. Fifty original BT21 Formula Three cars were built, plus four later variants that brought total BT21 production to 110 cars: (a) BT21A - Formula Libre variant with Lotus-Ford Twin Cam - ten built in 1967, (b) BT21B - a BT21 with 13x7 front and 13x9 rear wheels and heavier duty Hewland FT200 gearbox - 31 built between 1967 and 68, (c) BT21C - a Formula Libre version of the BT21B - 18 built, and (d) BT21X - a works/development car with stiffer spaceframe - 1 built.


Al Murray's Car (Arch Motors frame #177)
As originally constructed, Al Murray's very early BT21 would almost certainly have been fitted with a one liter Cosworth "Modified Anglia Series E" (MAE) Ford four cylinder engine for use in Formula Three. By class rules it would have been fitted with a single inlet restriction and a Weber IDA downdraught carburetor. Despite the restrictions, these engines were remarkably powerful! They produced about 100bhp at 9500rpm. The very high engine speed of Formula Three cars in this era earned them the popular name "Screamers".

This particular car was owned by Marc Bahner at the end of the 1960s, until he sold it to Tom Shanley of Riverside. Tom explained (in December 2007): "This is my old car from the early seventies. I aquired it from Marc Bahner. I raced it with a Cossie SCC, an 1100cc MAE downdraught, a twin-cam, and a BDA at different times. Raced as a Formula Continental a lot of the time and as a Formula B too. I sold the car to Brad Schiere of Burbank in the early/mid 1980s. At that time it was in pieces as we (at British Sports and Exotics in Riverside California) had just rejigged the chassis and installed a taller rollbar, as we were going to update the chassis with a Lucas fuel-injected BDA. The car was sold to Brad with Hewland Mk5 and about 30 gear changes. I also included four or five sets of MRD wheels: 6/8/10 fronts and 8/10/12/14 rears. Not installed were a set of BT23 front upper control arm pieces I got from Pete Halsmer. As I understand it, Brad sold the car to Sperry Valve works a few years later."

From then it sat in storage for about twenty years until December 2005 when Dan Longacre of Dana Point California (just south of Los Angeles) sold it to Al. When puchased, the BT23-style front upper link/trailing arm conversion had been installed, but Al has subsequently restored the car to BT21-style control arms. Only one set of original MRD wobbly wheels (8" front and 9"rear) came with the car. Formula 3 spec Girling AR brakes were installed all around. Everything else about the chassis was "basic BT21". No motor or gearbox was included with the sale, but Al already had a suitable Lotus twin-cam and a Hewland Mk8 transaxle. He later retrofitted a Hewland Mk6. In restoring the car, Al noted that all the body panels seemed to have a matching sequence of thirteen paint layers, which suggests that the bodywork has been intact for most if not all of the car's career.


Features and Specifications
Engine:
Lotus-Ford twin-cam engine. Dual Weber 45DCOE carburetors. Pipercross foam air cleaner. Lucas distributor. Pertronix Ignitor ignition module. (No electronic rev limiter.) Lucas Sport (gold) ignition coil. Taylor Pro 8mm silicone spark plug wires. Dry sump lubrication system.

Cooling:
crossflow copper/brass radiator with integral oil cooler.

Exhaust:
vintage sand-bent 4-into-1 header.

Transaxle:
Hewland (Mk6 case and bearing carrier. Mk5 gears.) Rotoflex drive couplings. Girling master cylinder (5/8" bore). Girling slave cylinder.

Front Susp.:
unequal length wishbones. Alford & Alder (Triumph Herald pattern) forged uprights. KONI shock absorbers. Eibach springs (350 pound/inch). Adjustable 9/16" anti-sway bar. Brabham proprietary steering rack.

Rear Susp.:
inverted lower wishbones, single top links, and twin radius arms. Brabham proprietary magnesium uprights. KONI shock absorbers. Eibach springs (300 pound/inch). Adjustable anti-sway bar.

Brakes:
(master) dual Girling master cylinders (3/4" bore front, 0.7" bore rear) with adjustable bias bar.
(front) Girling AR brake calipers with solid rotors,
(rear) Girling brake calipers with solid rotors.

Wheels/Tires:
MRD wobbly web style magnesium wheels (13x8 front, 13x9 rear.) Avon tires (8.2/22.0-13 front, 10.5/23.0-13 rear.)

Electrical:
Interstate Cycle-Tron (AGM) battery.

Instruments:
(left to right) Smiths dual oil pressure (0-100psi) and water temperature (90-230F), Smiths Chronometric cable driven tachometer (500-9000rpm), and Smiths oil temperature (40-140C) guages.

Fuel System:
Fuel Safe wedge-shaped aluminum under-seat fuel cell.

Safety Eqmt:
Simpson cam-lok six-point safety harness. FireBottle duPont FE-36 filled centralized fire supression system. Mountney steering wheel with quick release hub.

Racing Class:
currently configured for vintage Formula B.


Engine Installation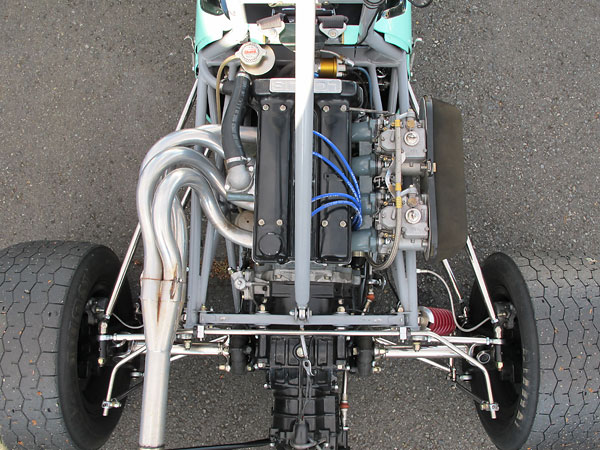 Lotus-Ford twin-cam engine. This car has had at least five different engines in its racing career.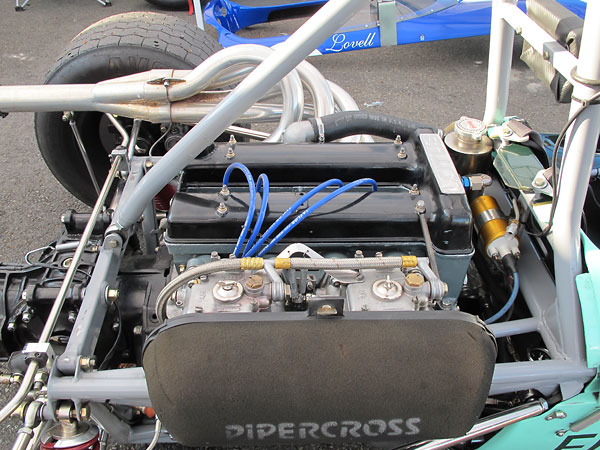 With this engine installed the car is suitable for North American "Formula B" racing.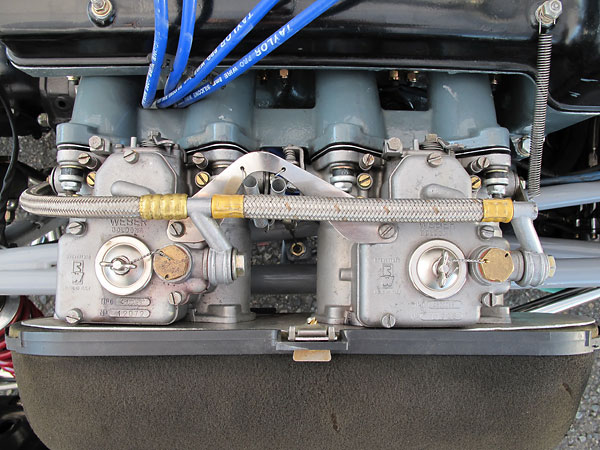 Pipercross foam air cleaner.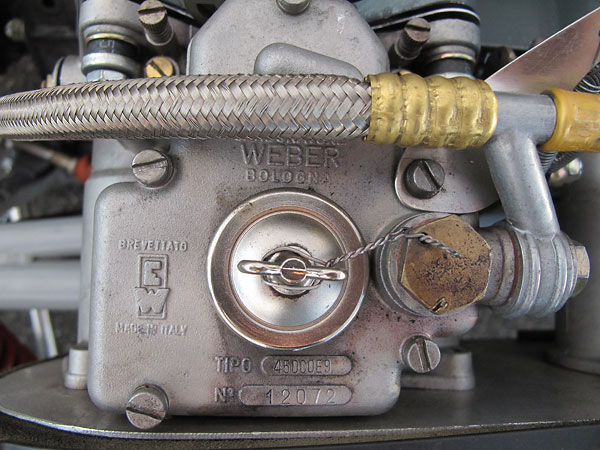 Weber carburetor: type 45DCOE9, number 12072.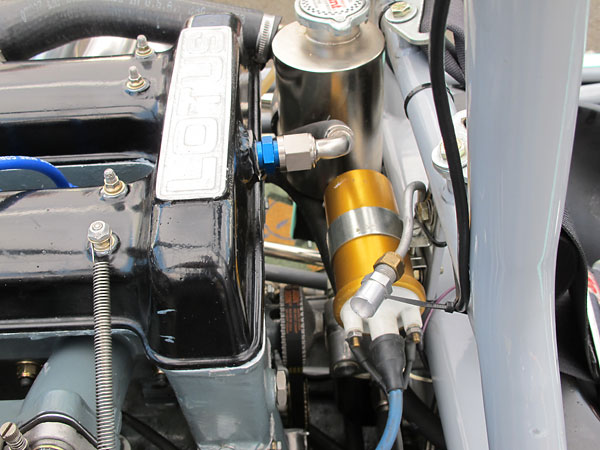 Lucas Sport ignition coil.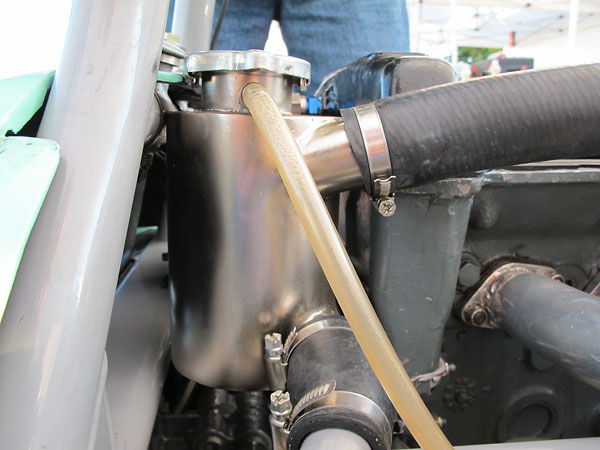 Beautifully crafted steel coolant swirl tank. (Swirling action promotes removal of steam bubbles.)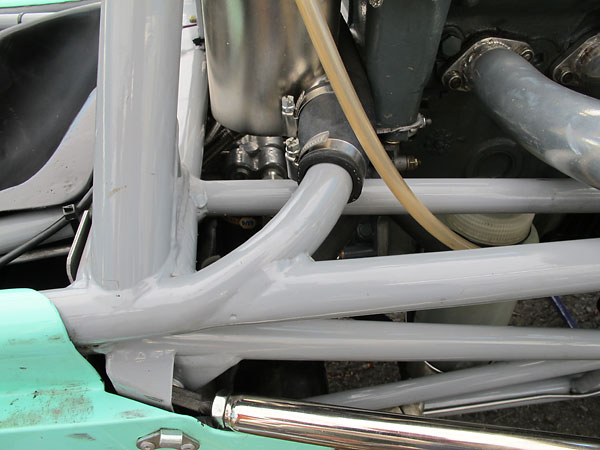 Through the frame coolant plumbing.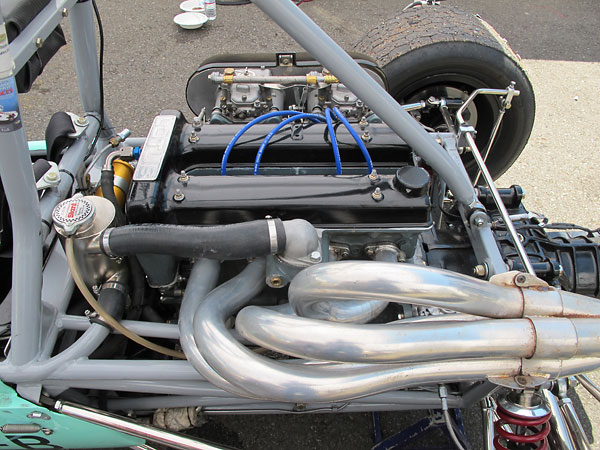 Custom 4-into-1 exhaust header. Three different headers were available on BT21 F3 car
from the factory: a 4-into-2-into-1, a 4-into-1, and an "up and over". All three were
specifically crafted for a Ford MAE engine mounted at 30 degrees from upright.



IMPORTANT ANNOUNCEMENT
BritishRaceCar.com will have to cut back plans for continued growth if we can't find more financial support.
If you like what you've found here, and you want to see more, please click here and follow the instructions.
Readers like you keep BritishRaceCar.com online and growing through voluntary financial contributions.


Front Suspension / Etc.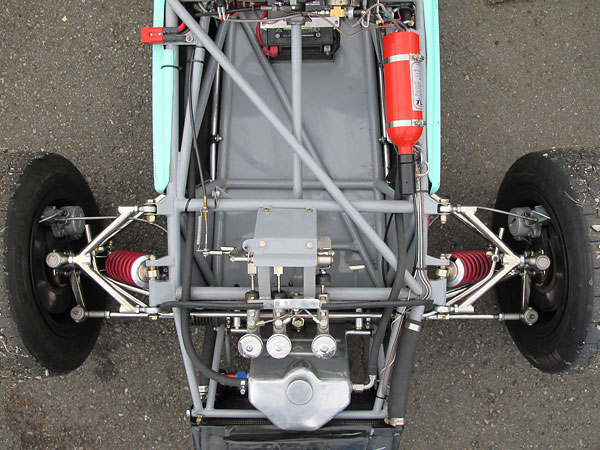 In this view the front suspension appears quite conventional. Two changes since 1966: tires
and spring rates. The most obvious tire difference is generally lower aspect ratios.
Partly as a reaction to that, today's vintage racers (including Al) typically select
springs with up to twice the rates that the constructors originally supplied.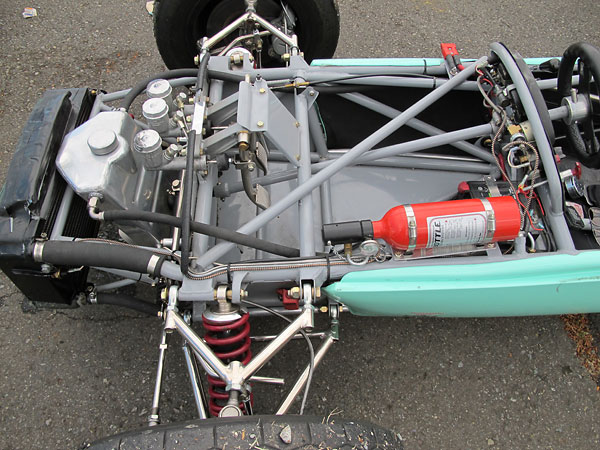 The pedals are mounted on robust brackets. Note the deep cross-section of the bracket castings.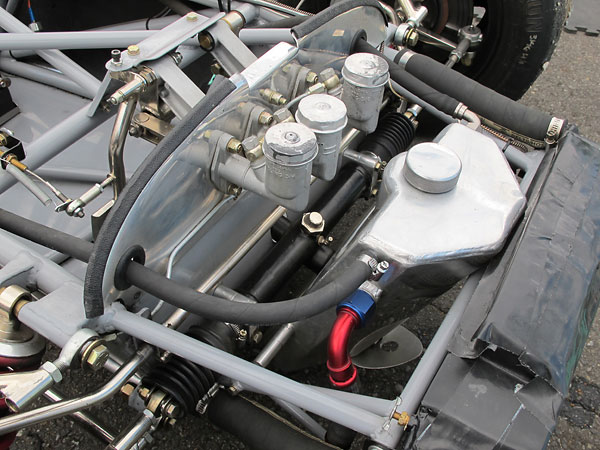 When Ron Tauranac needed a rack and pinion steering box made for the Brabham BT1, he went to
Jack Knight Engineering and showed them exactly how he wanted it made. He even turned over
to Knight a pattern for the housing he'd previously used on Ralt racecars back in Australia.
From that time on, Jack Knight provided the custom steering racks used on Brabham racecars.



These Girling master cylinders are labeled with their bore diameters: 3/4", 0.7" and 5/8".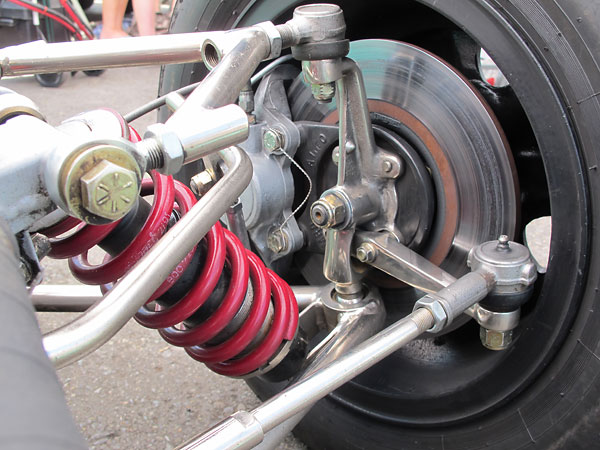 Alford & Alder (Triumph Herald pattern) forged uprights. Note well that MRD machined the bottom
of the upright so they could mate it to a spherical bearing in the wishbone, whereas some other
constructors used a Triumph trunnion. The spherical bearing facilitates castor adjustment and
ultimately makes it easier to dial in some anti-dive. MRD supplied the forged steel steering
arms (as shown here) which were shorter than those available from the Triumph parts bin. MRD
also provided this nifty custom bracket for mounting the Girling brake caliper to the upright.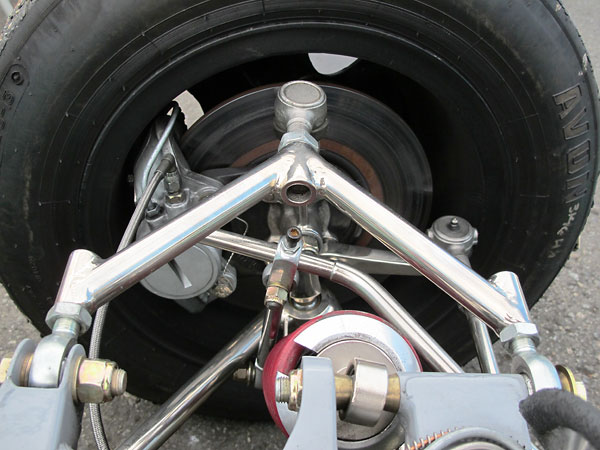 Some drivers complained of vibration in the BT21 front suspension under hard braking, so on
the BT23 model the upper front control arms were redesigned with a wider base. From about
1968, Wayne Mitchell offered a kit to convert BT21's to a similar "trailing link" design.
Fitting the kit required welding bosses onto the frame back near the instrument panel.
Al's BT21 was converted before he purchased it, but he has reverted back to original.



Rear Suspension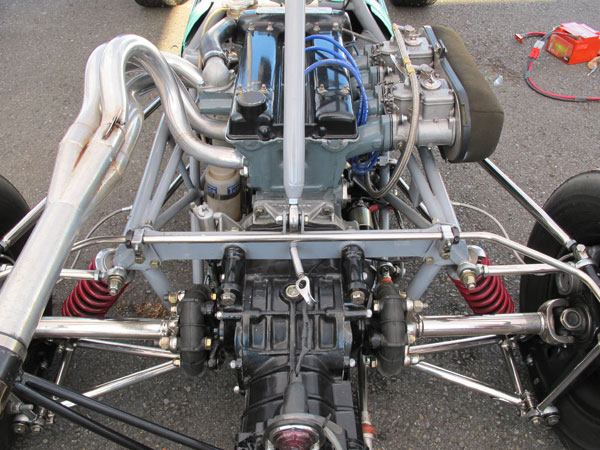 Independent rear suspension featuring inverted lower wishbones, single top links, and twin radius arms.
Too small to see: this frame is stamped "AM 177". Starting with the BT17 model of 1966, Arch Motors
produced Brabham frames under contract. Arch's serial numbers (e.g. "177") don't have any particular
meaning but they can be helpful in identifying specific cars. Frames for most earlier Brabham cars,
through the BT16A of 1965, were produced by the Progress Chassis Company.


Interior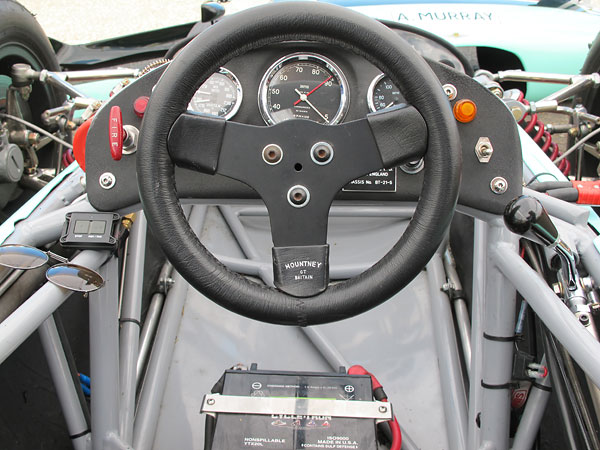 "Mountney GT Britain" steering wheel.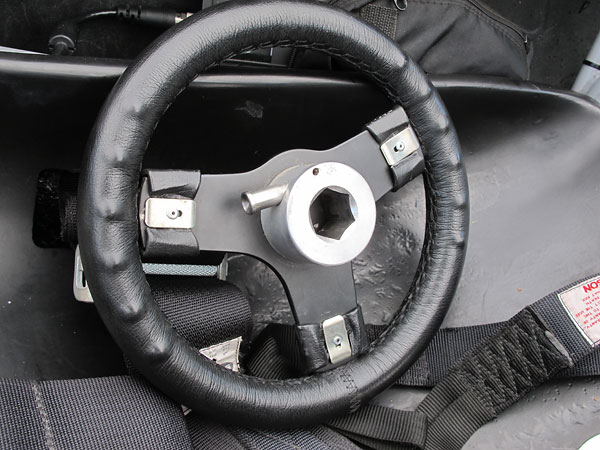 Quick release steering wheel hub.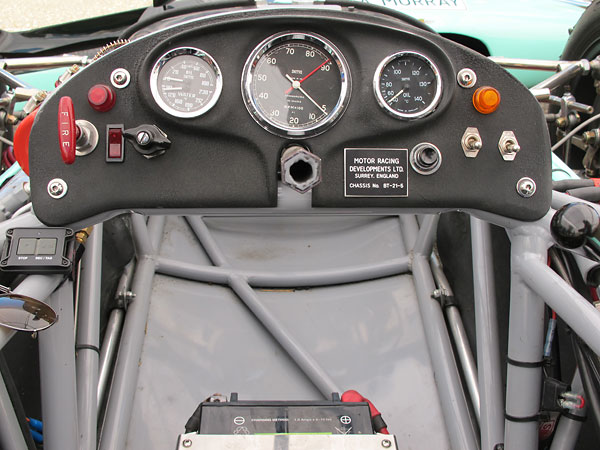 (left to right) Smiths dual oil pressure (0-100psi) and water temperature (90-230F) gauge,
Smiths Chronometric cable driven tachometer (500-9000rpm), and Smiths oil temperature (40-140C) guage.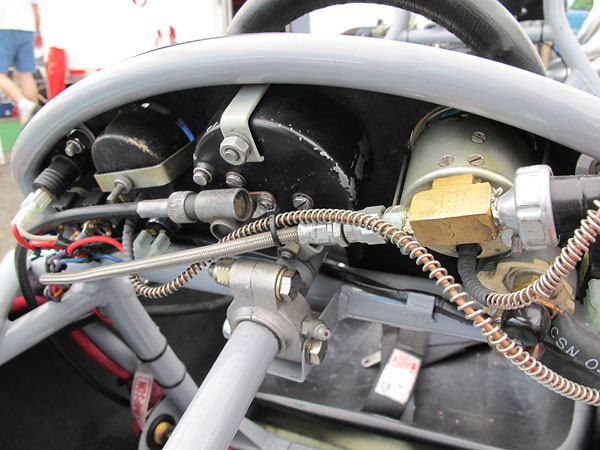 Steering column and dashboard details.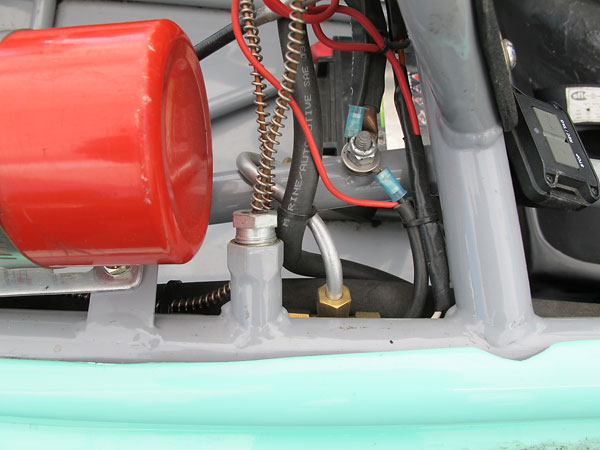 Engine coolant is plumbed through frame tubes, so it's extremely convenient to put
the coolant temperature sensor physically close to the gauge.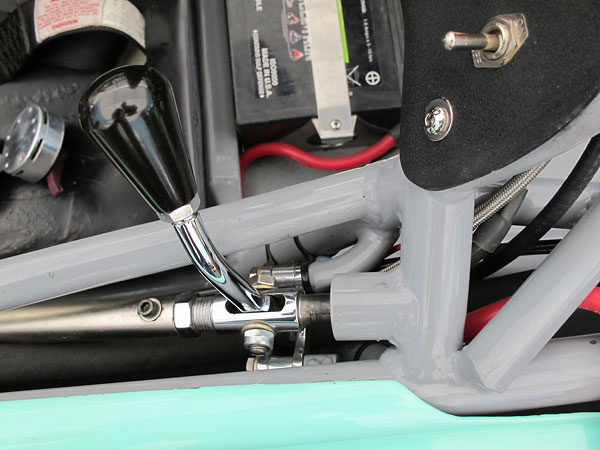 Gear selector mechanism.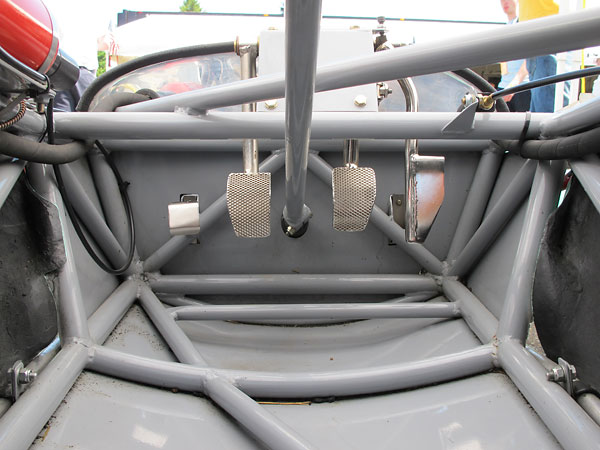 Welded-in steel floorpan: a partial pan was originally installed but Al prefers a full length pan.
Two driver-friendly features - a dead pedal for the left foot and good stout heel bar - but they're
different from how the car was originally delivered! Brabham didn't supply a dead pedal, probably
because car owners could so easily make and adjust one to their own preference. Brabham did
supply the BT21 with a heel bar, but the original one was a cast part which bolted into place.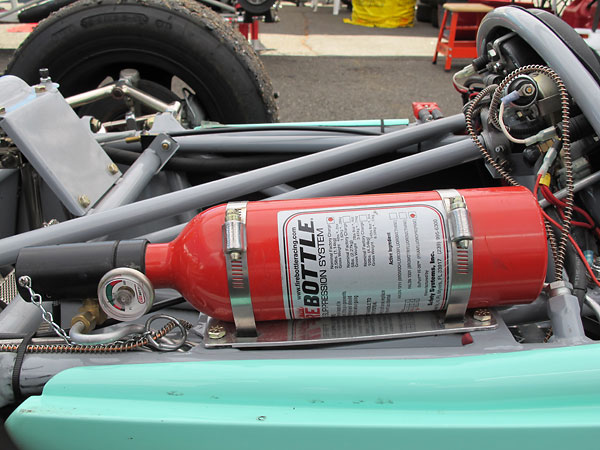 FireBottle duPont FE-36 filled centralized fire supression system.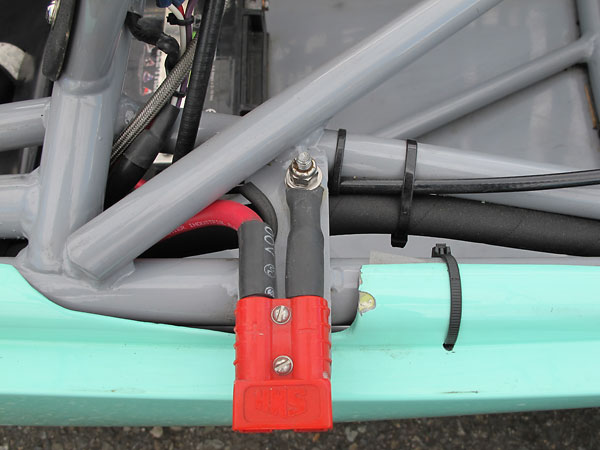 HMS jump start connector.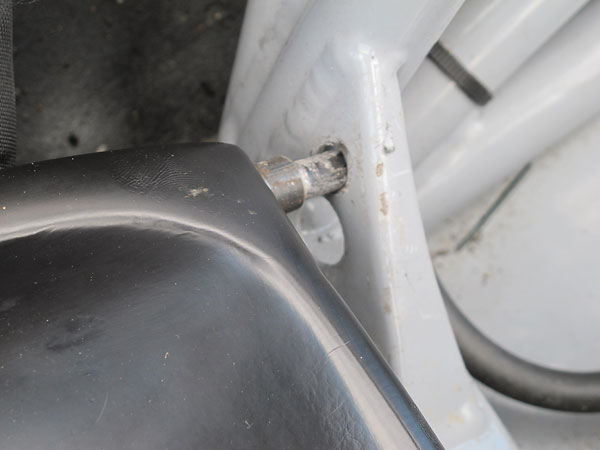 Two nibs on the front of the fiberglass seat plug into brackets on the frame. There are bolted
connections at the engine bulkhead too. (See the fuel-cell photo below.)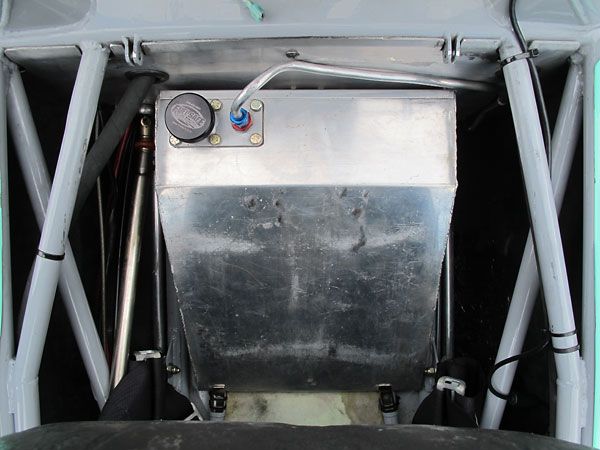 Fuel Safe wedge shaped aluminum under-seat fuel cell.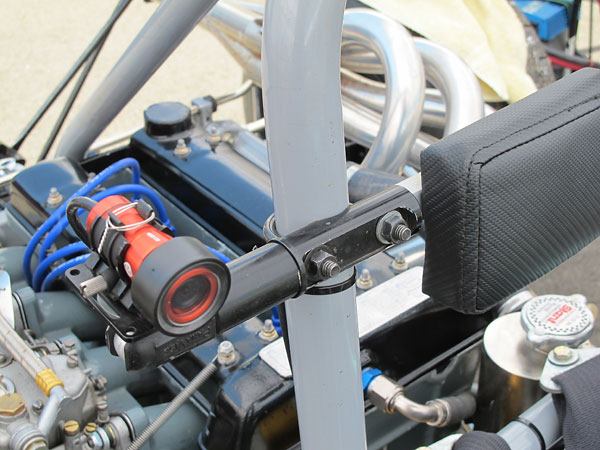 Left: camera. Right: roll hoop height has been raised to meet modern safety requirements.


Notes:
(1)
Compared to the earlier BT15 Formula Three car and the BT14 Formula Libre and BT16 Formula Two cars that shared its frame, both the BT18 and BT21 are longer in the engine bay area and also feature taller uprights which helped their suspensions better accommodate a new generation of wider tires. All of these models bear striking similarities. Like the BT21, the BT15 was a particularly successful model in all respects. 58 BT15s were built, and with them 42 major Formula Three races were won in period.


Unless otherwise noted, all photos shown here are from June 2011 when we viewed this car at The Pacific Northwest Historics at Pacific Raceways in Kent, Washington. All photos by Curtis Jacobson for BritishRaceCar.com, copyright 2011. All rights reserved.



Notice: all the articles and almost all the photos on BritishRacecar.com are by Curtis Jacobson.
(Photos that aren't by Curtis are explicitly credited.) Reproduction without prior written permission is prohibited.
Contact us to purchase images or reproduction permission. Higher resolution images are optionally available.