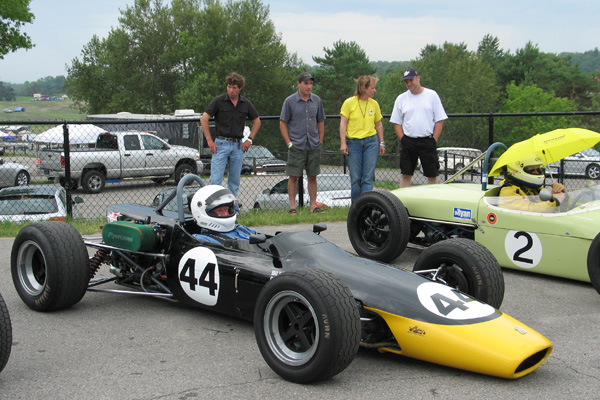 Bill Bovenizer's 1968 Titan MkIII Formula B Racecar
Owner: Bill Bovenizer
City: Ajax, Ontario
Model: 1968 Titan MkIII
Engine: Ford-Lotus twin-cam 1.6L
Prepared by: Britain West Motorsport, Brantford Ontario


Charles Lucas Engineering Ltd. and their Titan Racecars
In 1965, Charles Lucas received an inheritance and decided to invest it in motor racing. Lucas joined with Roy Thomas to form Charles Lucas Engineering Limited. CLE started as a race team by purchasing the three used Brabham BT10 racecars Jack Brahbam, Denny Hulme, and Graham Hill had campaigned throughout the 1964 Formula Two season. It was Roy Thomas' job to rework these cars to the one year old one-liter Formula 3 specifications. Charles Lucas, Jonathan Williams, and Piers Courage would drive. The ambitious young CLE team dominated 1965 European F3 racing to such an extent that Colin Chapman hired them to represent Lotus through the 1966 Formula Three season.

Lotus and their sponsors selected Piers Courage and American driver Roy Pike who had won the 1965 BARC (British) Formula Three championship to pilot the "Charles Lucas Team Lotus" Formula Three cars. The team's brief was to break Brabham's domination as a Formula Three constructor, using Lotus' new type 41 racecar. (With the 41, Lotus Components reverted to a spaceframe chassis.) Though not all-conquering, perserverance paid off and Piers Courage finished the 1966 European season second only to Chris Irwin of the Chequered Flag Team who drove a Brabham BT18. However, for reasons of his own Colin Chapman decided to keep the team's Firestone appearance money to himself. The inequity drove CLE to terminate their association with Lotus and to develop their own car for 1967.



Charles Lucas and Roy Thomas named their new Formula 3 model the "Titan Mk3" and planned its debut for the Formula Three support race at the 1967 British Grand Prix (Silverstone, July 15). Things went well, but not exactly to plan. Driving the Mk3, Roy Pike qualified for poll position. Driving a leftover Lotus 41 upgraded with a CLE-built prototype Ford-Cosworth MAE engine with a downdraft induction system Charles Lucas qualified third. However, a spinout by Lucas removed Pike and his Titan from contention. Lucas recovered for an impressive come-from-behind victory. The result was that CLE received over 100 engine orders by the end of the following day! So it happened that a small racing team became both a car constructor and an engine builder of note on the strength of one successful race.
Bill Bovenizer's Titan Mk3: car 68/306, frame AM-4
Titan Mk3 number 68/306 was originally raced in England by Charles Sawyer-Hoare as a one-liter Formula Three car. It was powered by a Ford 109E based "MAE" engine (Charles Lucas Engineering serial number 68/019) which probably produced approximately 110-118bhp at 9500rpm. Mr Sawyer-Hoare is known to have entered eighteen events in 1968. Of race we results we've found, his best was an impressive victory in the Bristol Trophy race at Castle Combe on April 13, 1968. That's the only podium finish we found for Sawyer-Hoare in 1968; he tied for 31st place in the 1968 BRSCC Formula Three championship.

68/306 was purchased by Tommy Bunn on behalf of Fred Roehr of Portland Oregon. (As a USAF pilot stationed in Germany, Bunn had raced a Lola Mk5 in Formula Junior and Formula Three events in Europe. After returning to the U.S., Bunn drove his Lola in SCCA Formula C races.) Fred Roehr was an American driver who raced the Titan quite successfully in the Pacific Northwest. Roehr placed fifth in the Formula C class and eleventh overall (of 12 and 22 respectively) in the 1969 American Road Race of Champions at Daytona, which doubled as the SCCA championship in those years. Roehr returned and entered 68/306 in both the 1970 and 1971 ARRC events, but failed to finish those two times.

After a major engine failure, 68/306 was purchased by Don Starr who removed the Ford engine and installed a Kawasaki motorcycle engine complete with integral transmission and chain drive. The car then passed through several owners before being discovered by Bob Erickson and Don Snyder who saw its potential for restoration.

We believe Erickson and Snyder converted 68/306 to Formula B specification, complete with Lotus Twin-Cam engine. This specification put the car a more popular race group and very likely reduced operating costs too. (The usual reasoning is that the Twin-Cam engine is less highly tuned than a competitive MAE engine, and thus lasts longer between rebuilds or breakdowns.)

Brad and Dean Baker of Ontario were the Titan's next owners. The Baker brothers raced 68/306 in Ontario over a period of about ten years. Bill Bovenizer purchased this Titan from Dean Baker in February 2004 and has enthusiastically campaigned it ever since.
Features and Specifications (as photographed)
Engine:
Lotus-Ford twin-cam 1.6L engine (~175hp). Dual Weber 45DCOE carburetors. Pipercross foam air cleaner. Lucas distributor. Lucas AB14 electronic ignition amplifier. Lucas ignition coil. Taylor Pro 8mm silicone spark plug wires. Dry sump lubrication system. Mocal 10-row aluminum oil cooler.

Cooling:
custom copper and brass crossflow radiator from Brown Radiator Shop.

Exhaust:
custom stainless steel four-into-one headers.

Transaxle:
Hewland Mk8 five speed. Rotoflex drive couplings. Lockheed master cylinder. Girling slave cylinder.

Front Susp.:
unequal length wishbones. Alford & Alder (Triumph Herald pattern) forged uprights. KONI double-adjustable coilover shock absorbers. Adjustable anti-sway bar. Titan proprietary steering rack.

Rear Susp.:
inverted lower wishbones, single top links, and twin radius arms. Titan proprietary magnesium uprights. KONI double-adjustable coilover shock absorbers. Adjustable anti-sway bar.

Brakes:
(master) Lockheed master cylinders with adjustable bias bar. AP551 brake fluid.
(front) AP Lockheed magnesium calipers. Solid rotors.
(rear) AP Lockheed magnesium calipers. Solid rotors.

Wheels/Tires:
Brabham style 4-spoke magnesium wheels. Avon tires (8.2/22.0/13 front and 10.5/23.0/13 rear).

Electrical:
Odyssey battery. Tilton Super Starter XLT starter.

Instruments:
(left to right) Smiths coolant temperature gauge (0-230F), Smiths Chronometric tachometer (0-12000rpm), and Smiths oil pressure gauge (0-100psi).

Fuel System:
ATL five gallon wedge-shaped under-seat fuel cell. Facet (Bendix type) electric fuel pump. Adjustable fuel pressure regulator.

Safety Eqmt:
Willans six point cam-lock safety harness. Lifeline quick release hub on a Momo ergonomic steering wheel. SPA Design FireFighter centralized fire supression system. LED rain light.

Racing Class:
originally built for Formula Three, but currently configured for Formula B.

Engine Installation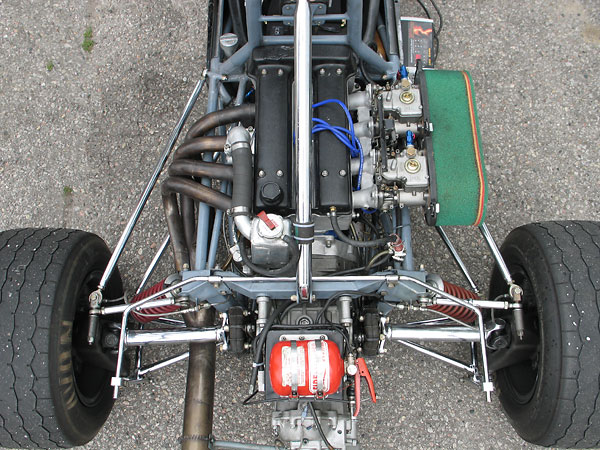 Lotus-Ford twin-cam 1.6L engine.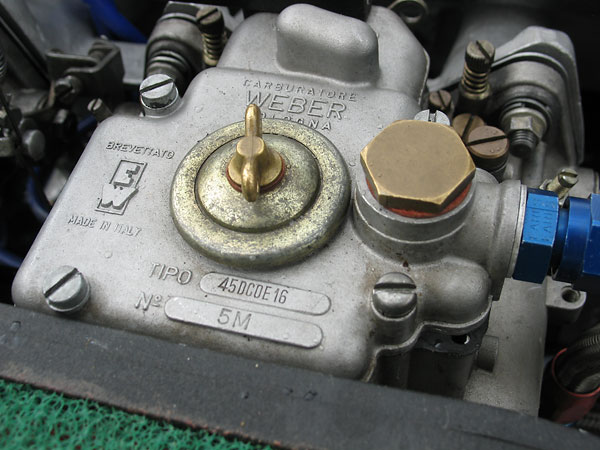 Weber Carburatore Bologna: Tipo 45DCOE16, Number 5M.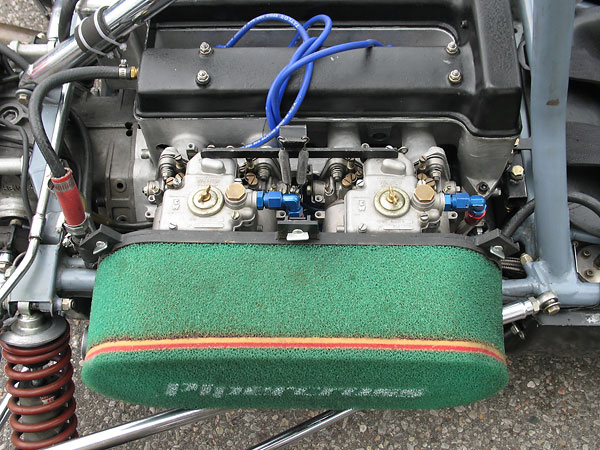 Pipercross foam air cleaner.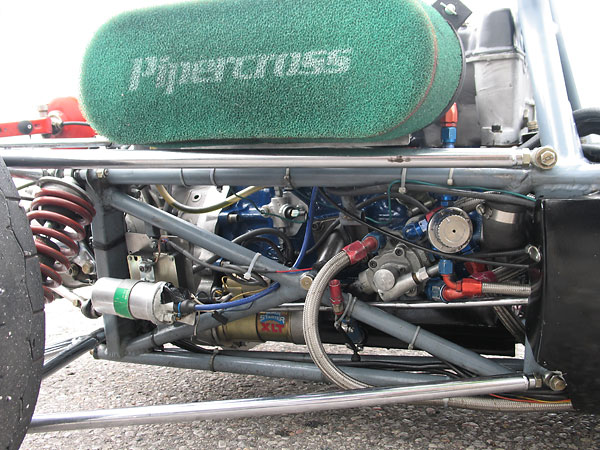 At left: Lucas AB14 electronic ignition amplifier and Lucas ignition coil. The Titan Mk3 was
originally equipped with a Lucus Opus ignition amplifier, but they're notoriously unreliable
and service parts for them are no longer available.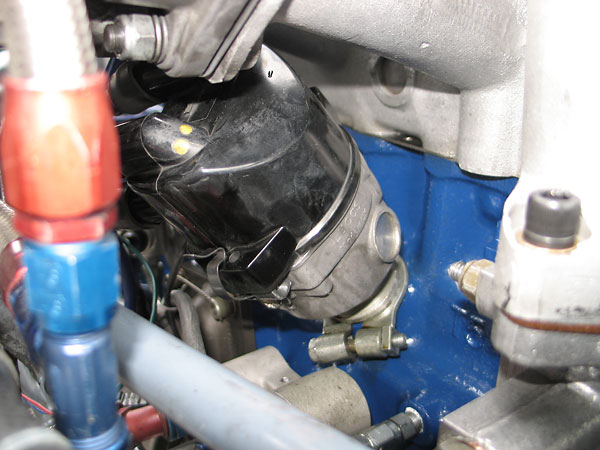 Lucas distributor.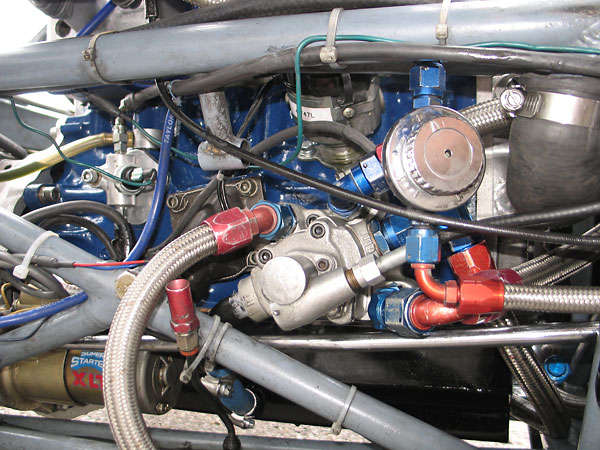 Tachometer drive on the end of the oil pump. At right: dial type fuel pressure regulator.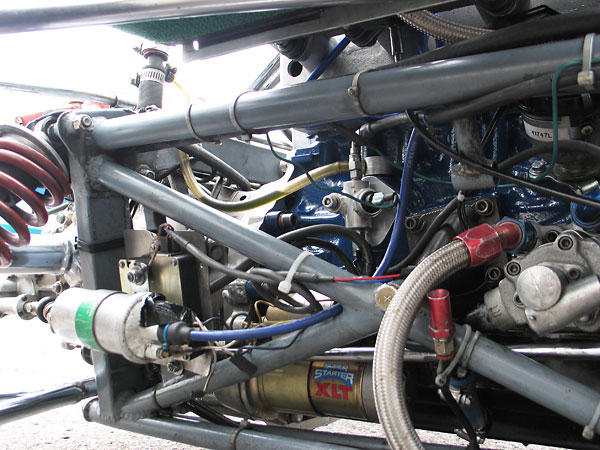 The original Lucas starter was judged unreliable, so a Tilton Super Starter XLT was substituted.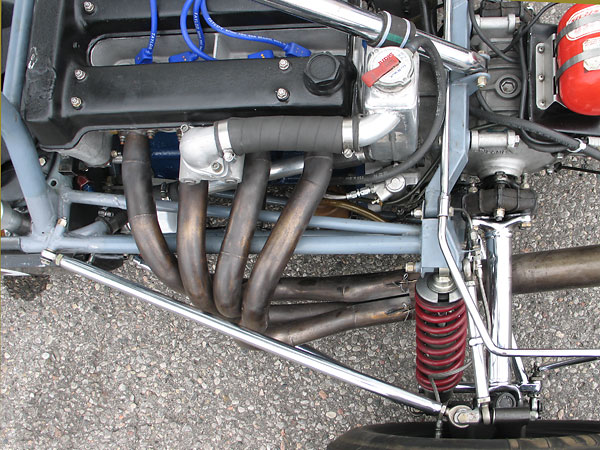 Handsomely crafted custom fabricated stainless steel four-into-one headers.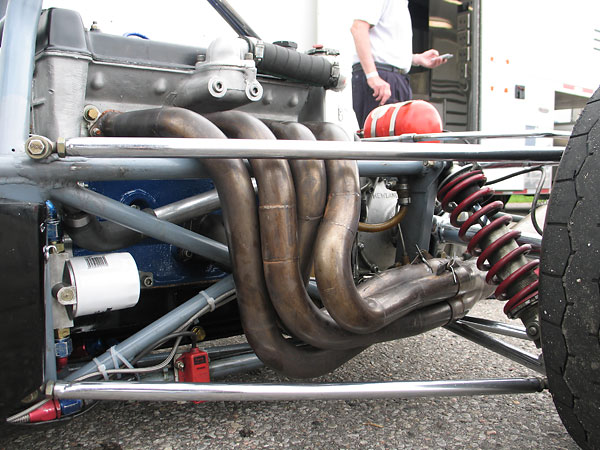 The shape and routing of the header tubes appear to accurately replicate CLE's original routing.
(Of course the original headers mounted to a differently dimensioned cylinder head.)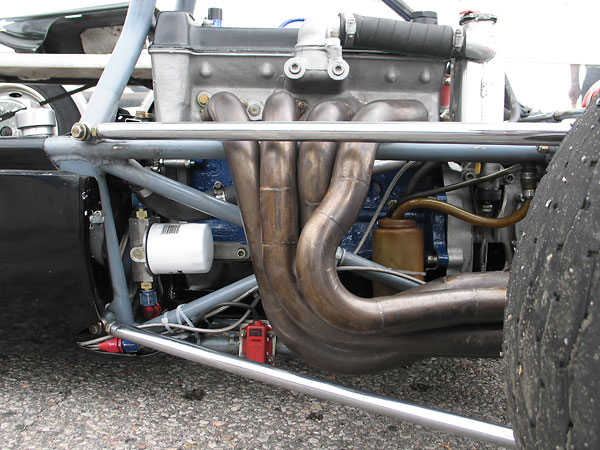 The original headers would almost certainly have been sand-bent out of mild steel tubing.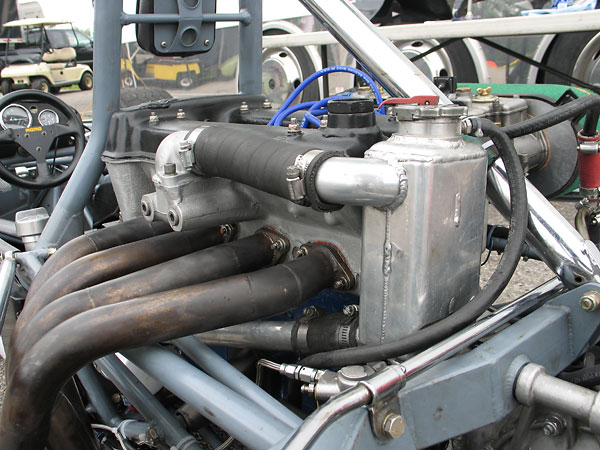 Fabricated aluminum coolant header tank.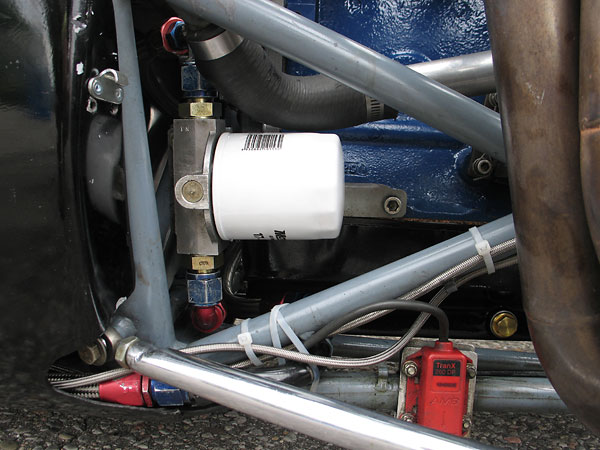 Oil filter.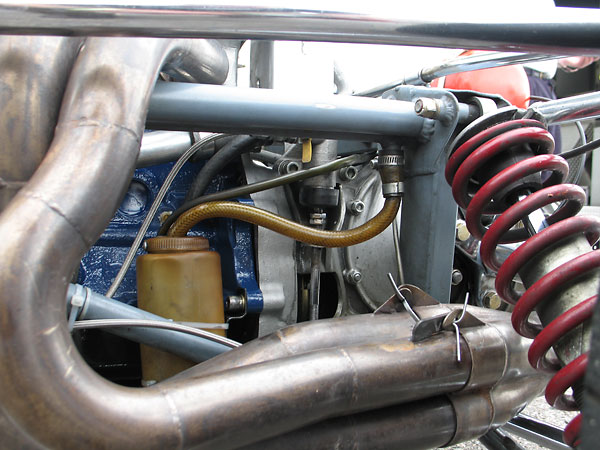 Crankcase breather feeds through frame and comes out at overflow bottle here.
Background: Girling clutch slave cylinder.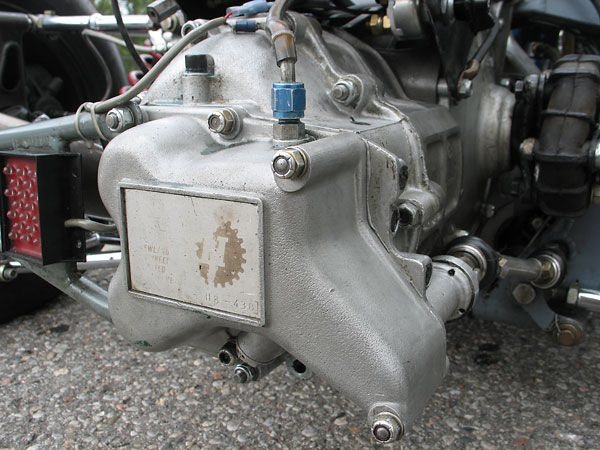 Hewland transaxle, marked "H8-438". Hewland's Mk8 & Mk9 transaxles are variants of a common design.
The Mk8 5-speed is popular with Formula 3 & B racers. The Mk9 4-speed meets Formula Ford class rules.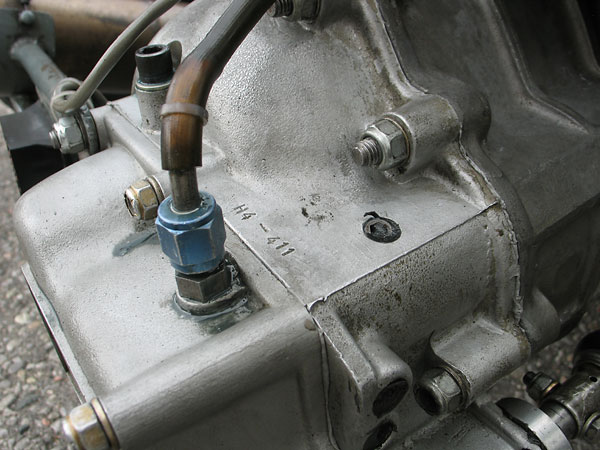 Hewland transaxle, marked "H4-411".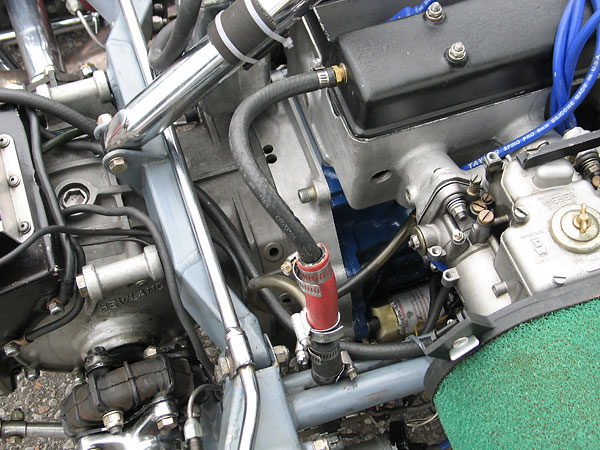 The engine's valve cover is vented through a chassis tube forward to the oil reservoir.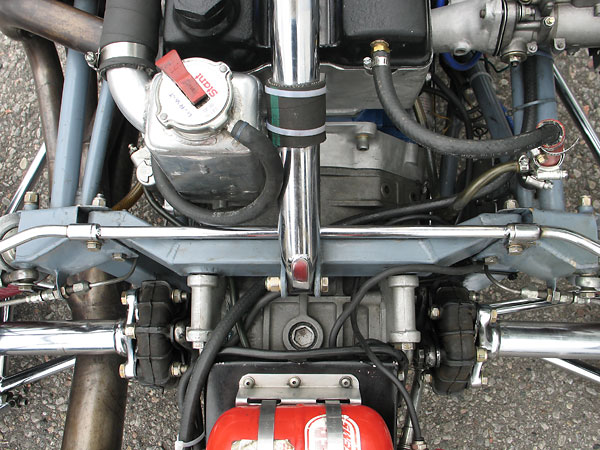 Elaborately fabricated rear crossmember. (The roll hoop brace is a later addition.)


Front Suspension / Etc.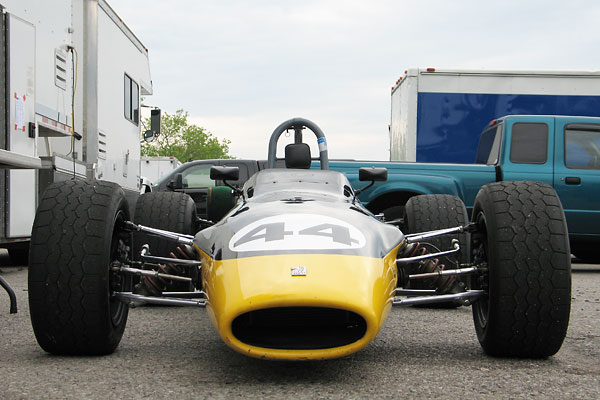 Unequal length, unparallel, dual wishbone independent front suspension.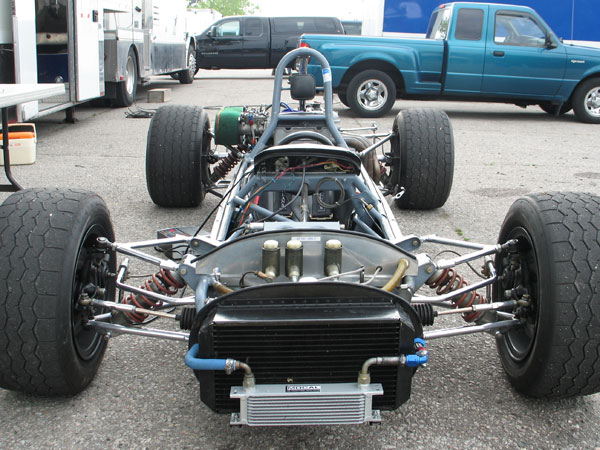 Monoposto Racing's rules for Formula B and Formula Two vintage racecars are very specific
with regard to tire selection. In a nutshell, made-for-racing treaded tires are required.
Tire diameter, width, aspect ratio, tread pattern and tread depth are all restricted.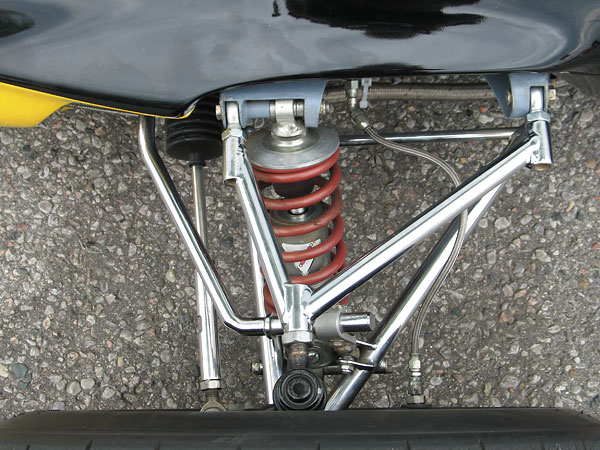 KONI double-adjustable coilover shock absorbers.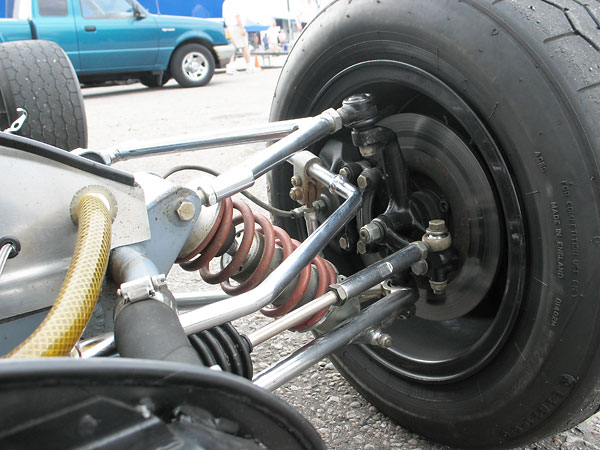 Alford & Alder (Triumph Herald pattern) forged uprights.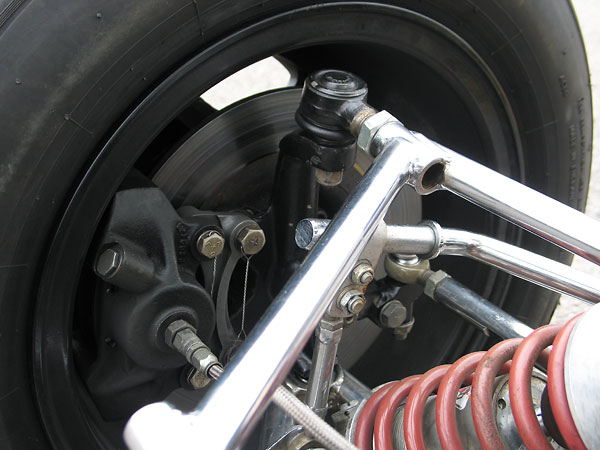 Titan Mk3 racecars were fitted with Lockheed magnesium brake calipers, both front and rear.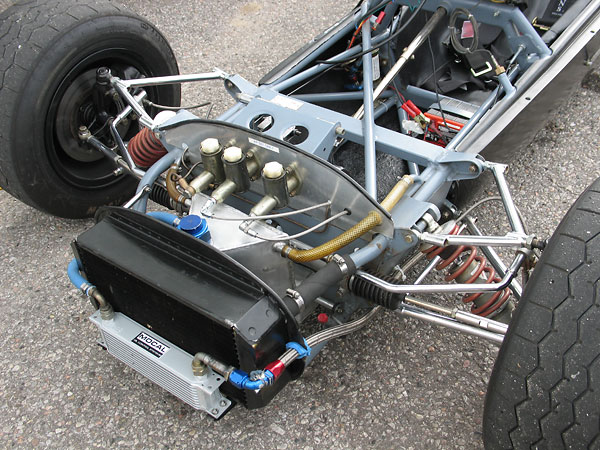 The Titan Mk3 model came with Lockheed steel master cylinders for both brake and clutch.
(Later Titan models and nearly all other purpose-built British racecars of the era used Girlings.)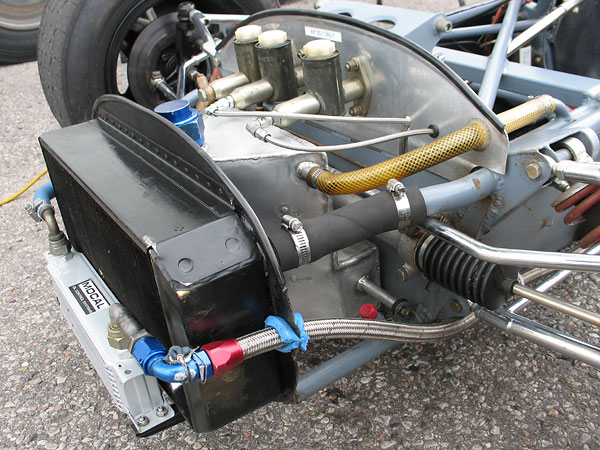 The car's original radiator had a built-in oil cooler. This Mocal 10-row aluminum oil cooler is a
more practical alternative because it's inexpensive to replace. Trying to clean an oil cooler
after an engine failure such as a "spun" bearing is a fool's errand.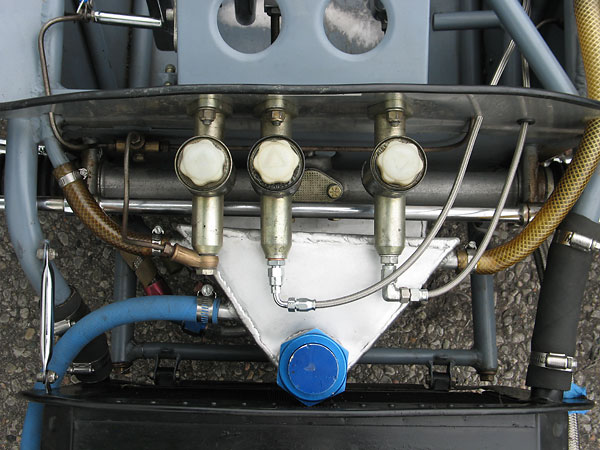 Custom fabricated aluminum engine oil reservoir.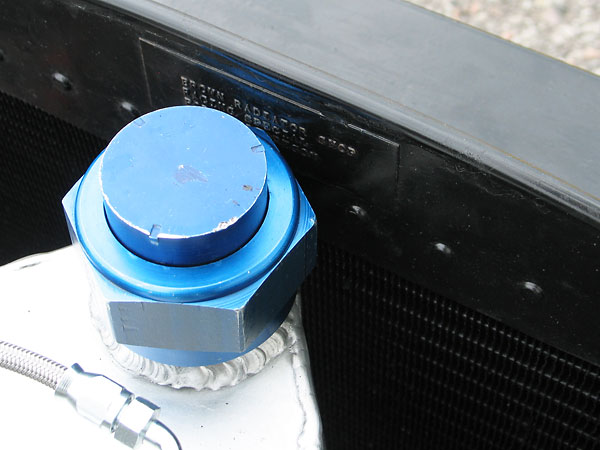 Brown Radiator Shop - Racing Special - Portland Oregon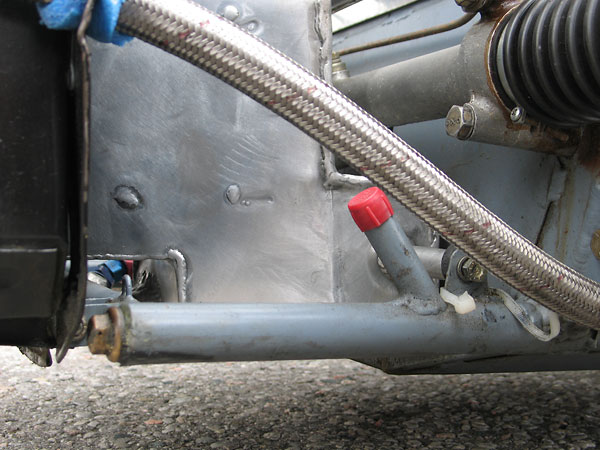 Titan originally routed engine oil to the oil cooler through the lower longitudinal frame tubes.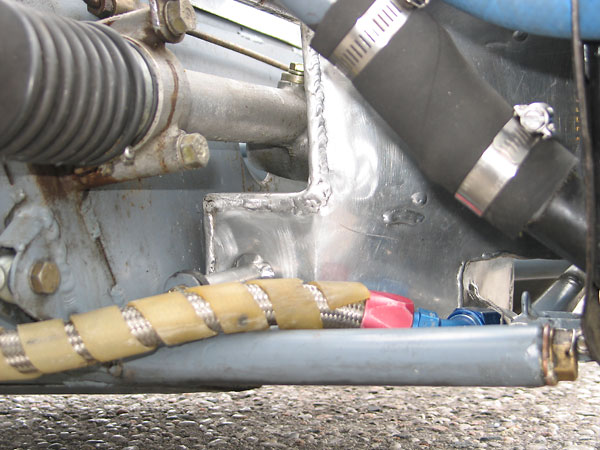 These oil carrying tubes have now been blocked off, in lieu of externally routed oil lines.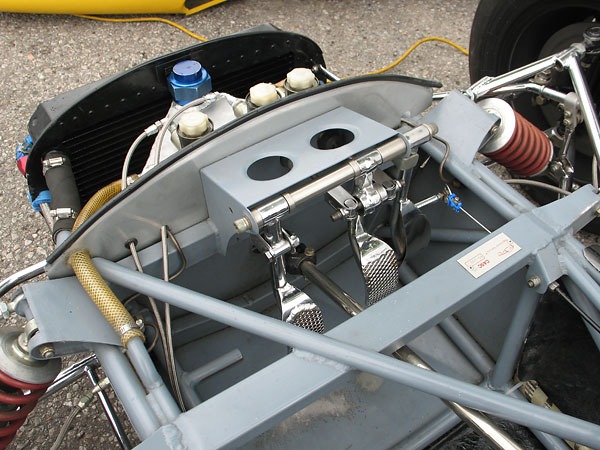 However, other frame tubes are still used for venting the oil reservoir to a breather/overflow tank.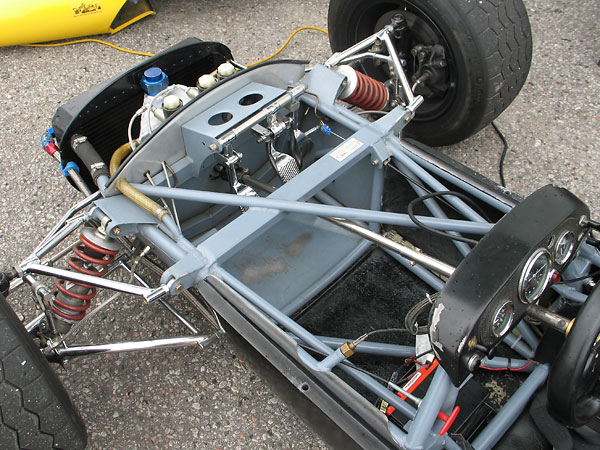 The two larger diameter, upper frame tubes carry engine coolant.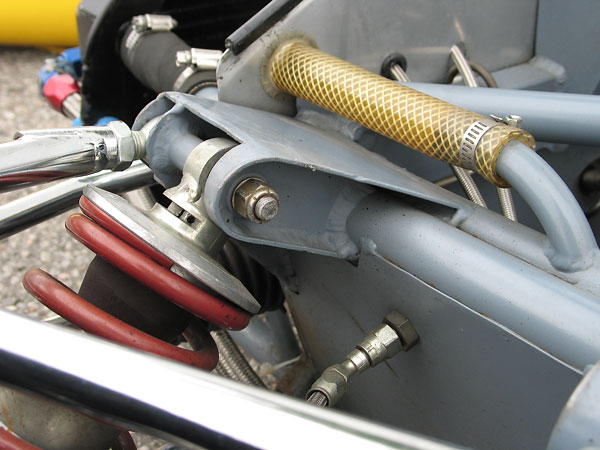 Rebound adjuster at the top of the shock absorber.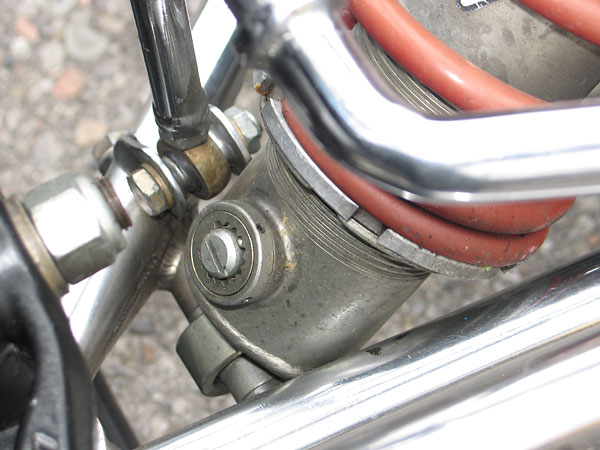 Compression adjuster at the bottom of the shock absorber.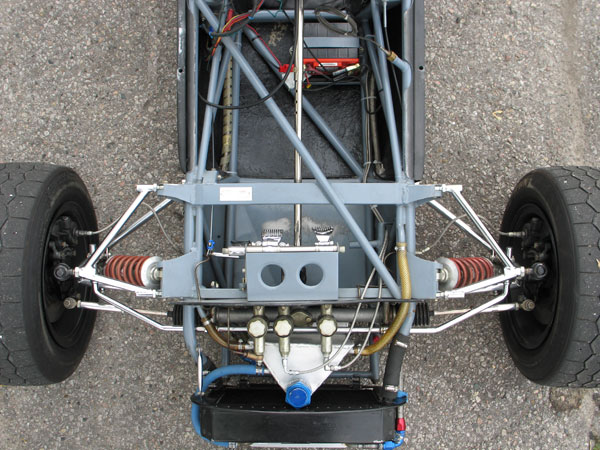 In many ways the Titan chassis bears a strong resemblance to Brabham designs which preceded it.
If it wasn't exactly innovative, the Titan was at least a very well constructed derivative.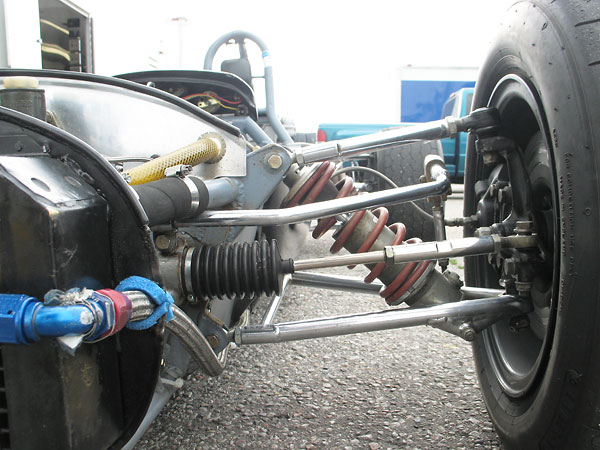 Titan made their own steering racks, and in later years provided racks to other constructors.



IMPORTANT ANNOUNCEMENT
BritishRaceCar.com will have to cut back plans for continued growth if we can't find more financial support.
If you like what you've found here, and you want to see more, please click here and follow the instructions.
Readers like you keep BritishRaceCar.com online and growing through voluntary financial contributions.


Rear Suspension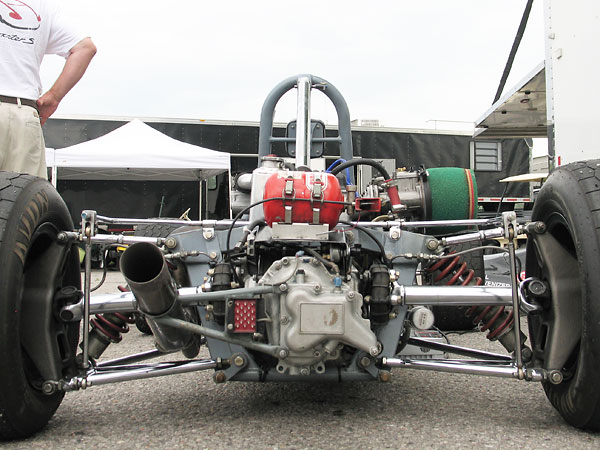 Titan Mk3 rear suspension: coilover shocks, inverted lower wishbones, single top links, and twin radius arms.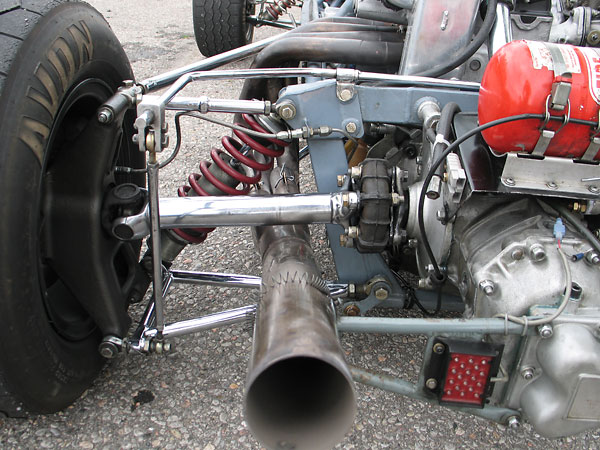 Exhaust packaging. Note LED rain light at bottom right.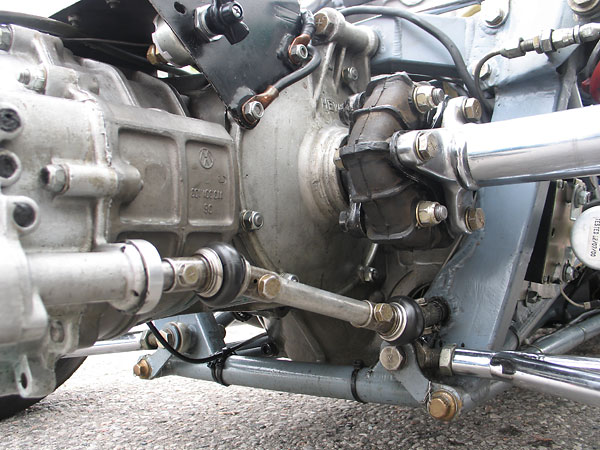 The shifter linkage has been upgraded with Apex universal joints with Neoprene lubrication covers.
Note Lucas battery disconnect switch at top of photo.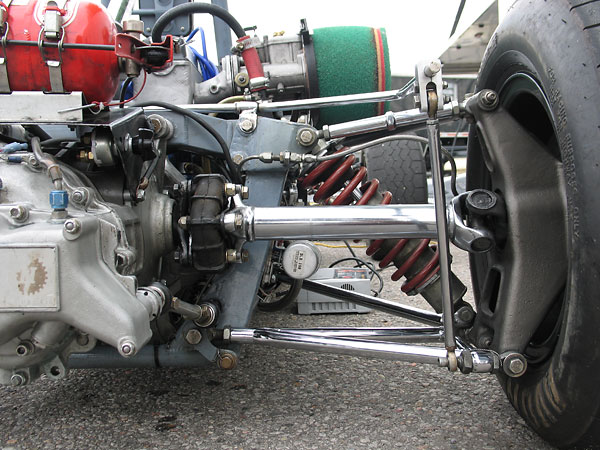 Rotoflex drive couplings.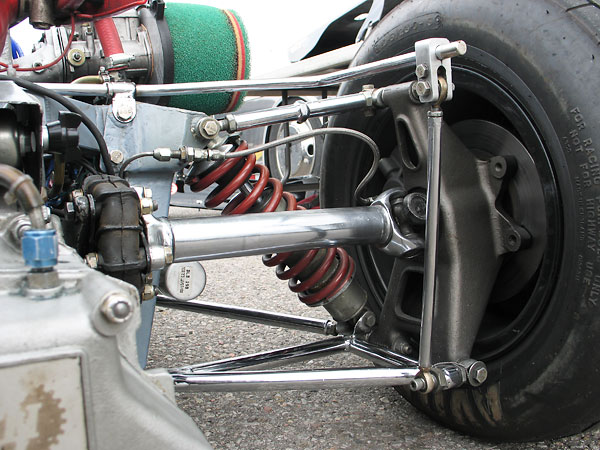 Titan proprietary magnesium uprights.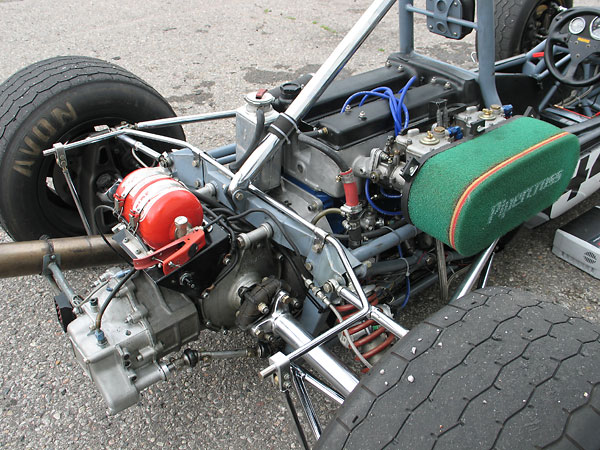 Adjustable rear anti-sway bar.


Interior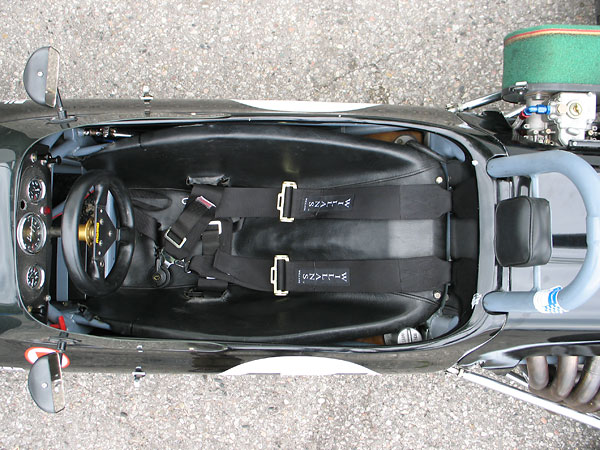 Vinyl covered fiberglass racing seat. Willans six point cam-lock safety harness.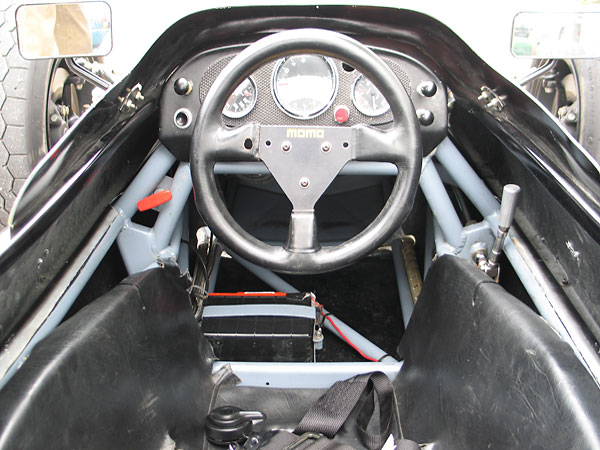 Momo ergonomic steering wheel.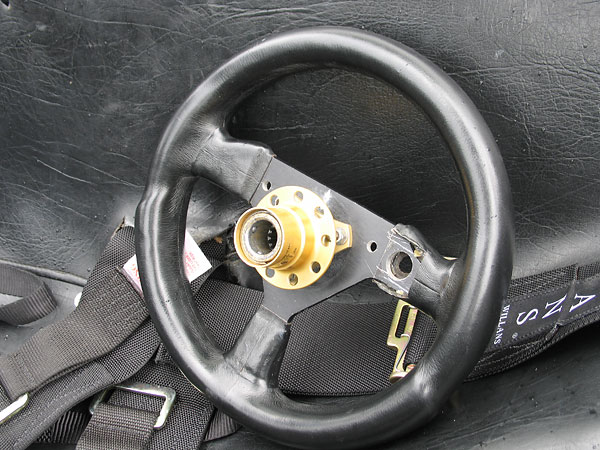 This Lifeline quick release steering wheel hub is an important safety feature.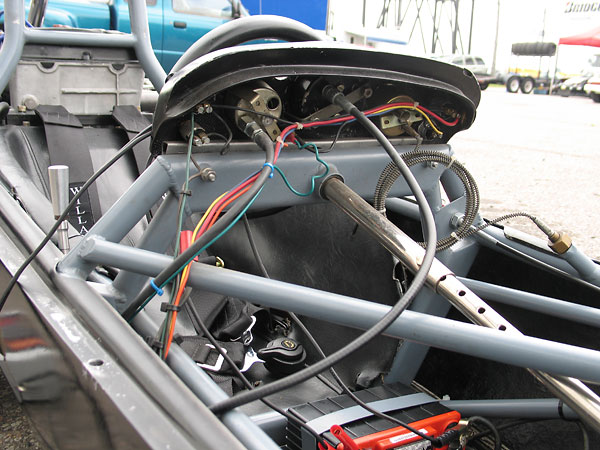 The steering shaft telescopes to suit the driver's comfort.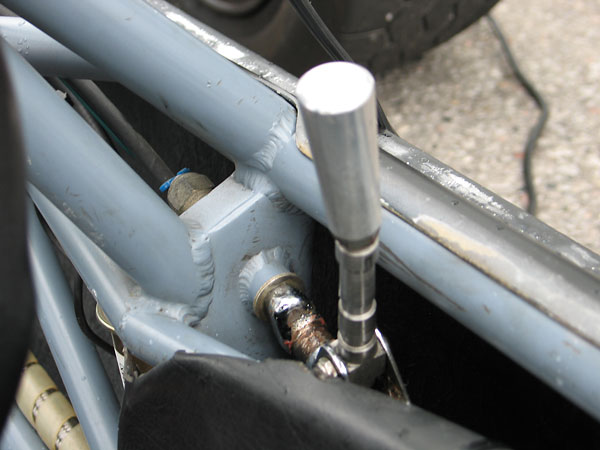 Gear selector.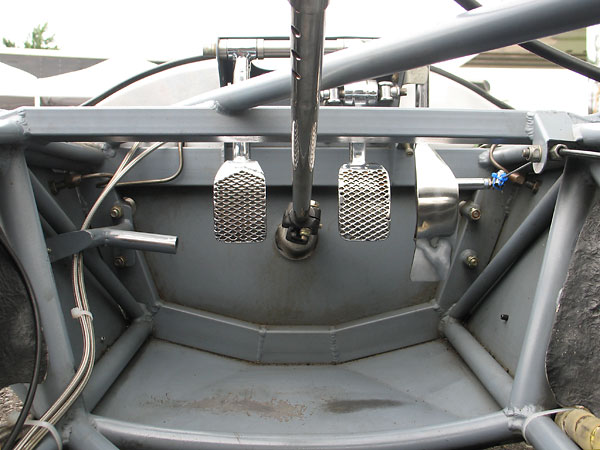 Steel panels reinforce the footbox area.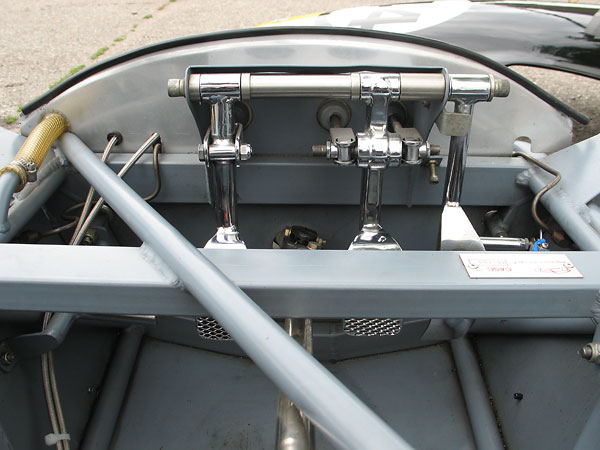 Brake bias may be adjusted by rotating a threaded shaft connecting the two brake master cylinders.
As the shaft turns, a spherical bearing within the pedal is shifted to one side or the other.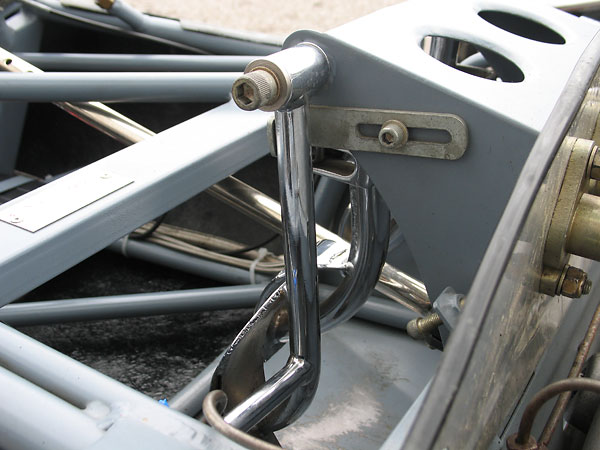 Adjustable positive stops have been installed at both ends of the throttle pedal's travel.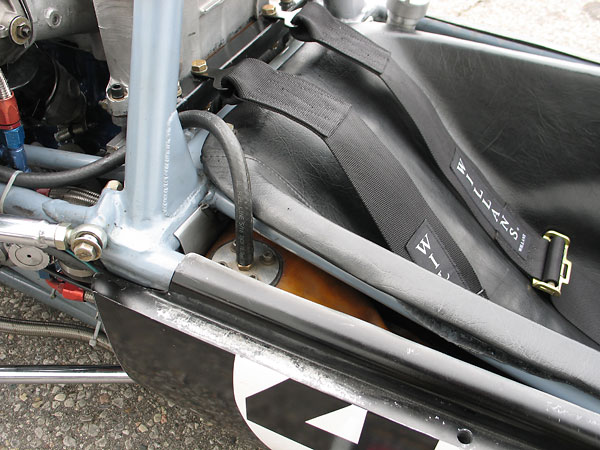 Wedge-shaped under-seat fuel cell.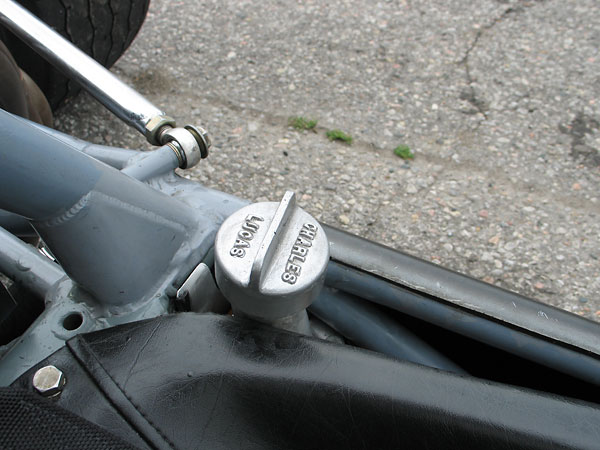 Charles Lucas cast aluminum fuel filler cap.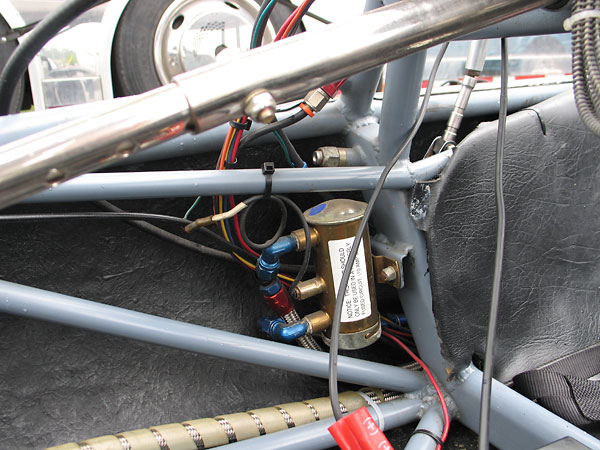 Facet (Bendix type) electric fuel pump.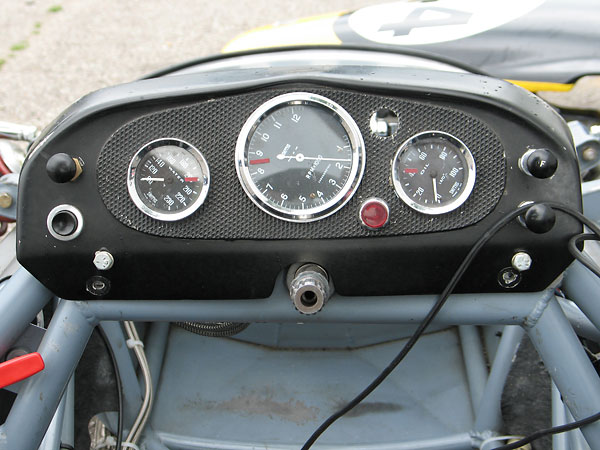 Smiths coolant temperature gauge, chronometric tachometer, and oil pressure gauge.


Exterior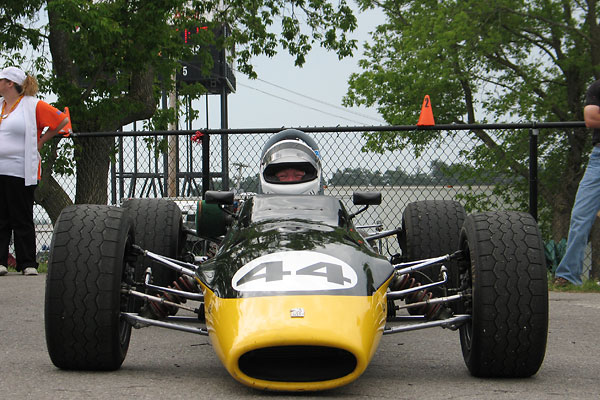 We enjoyed watching Bill compete in VARAC's 31st International Vintage Festival at
Mosport International Raceway on June 20, 2010. He lapped the challenging 2.458
mile circuit at 1:45.218 for an average speed around the circuit of 82.63mph.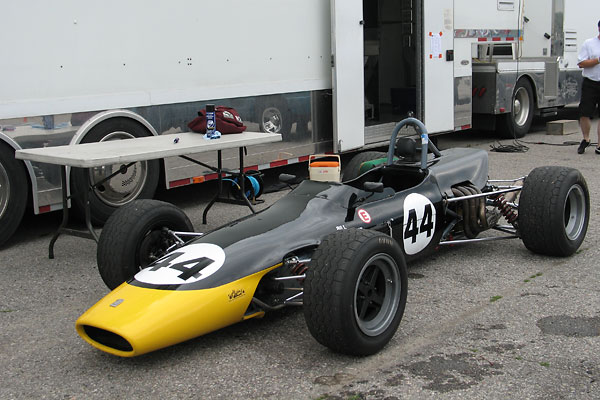 The Mk3 was Titan's first model, and Bill's Mk3 is car number six of only seventeen built.
The Titan Registry is aware of ten surviving Mk3 racecars: two in Scandinavia, three
in Canada, and five in the United States of America.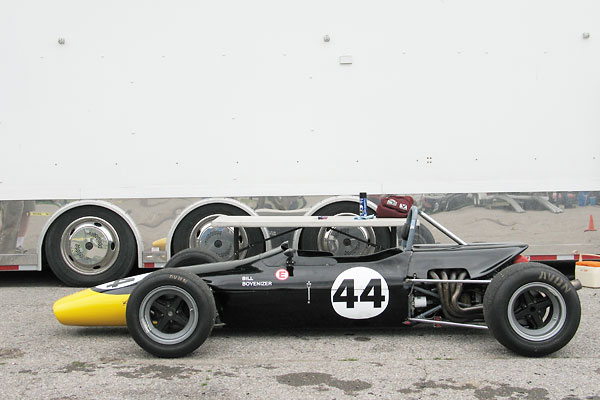 In nine years of production, Titan produced a total of 400 cars (give or take just a handful).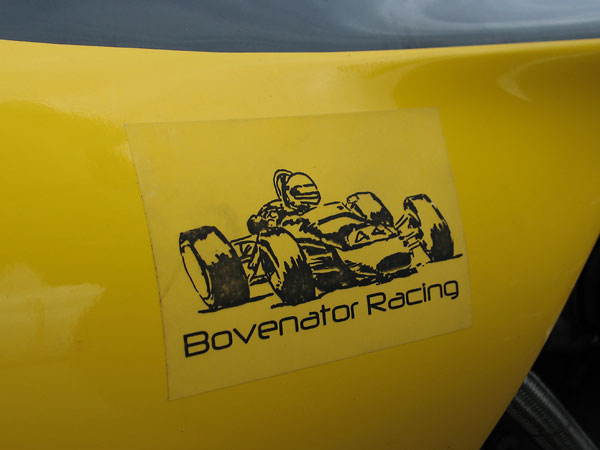 Bovenator Racing.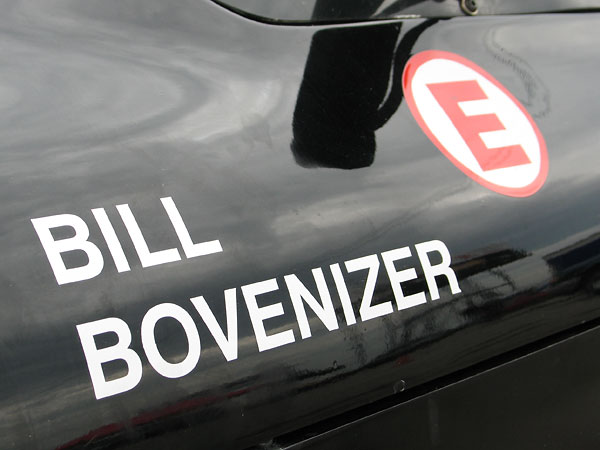 When Bill Bovenizer purchased a Lotus 51 Formula Ford from Sportscars Unlimited in 1968,
he became the first Formula Ford owner in Canada and possibly in all of North America.
Bill raced open-wheel racecars for about a decade before taking a break. He returned
to racing with the purchase of his Titan MkIII Formula B vintage racecar.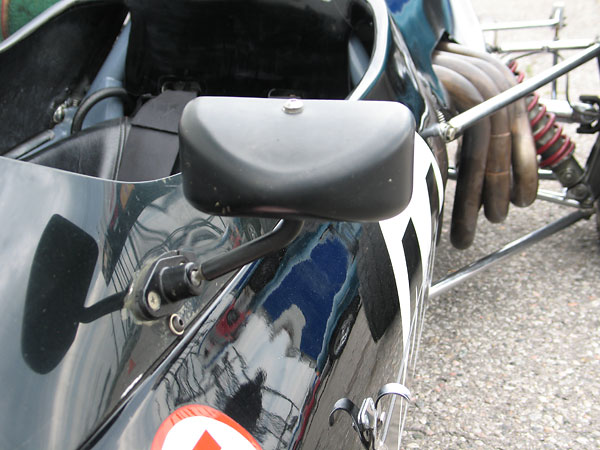 Bill still owns the period-correct mirrors that came with his Titan.
He has found these SPA "F1" mirrors provide a much clearer view.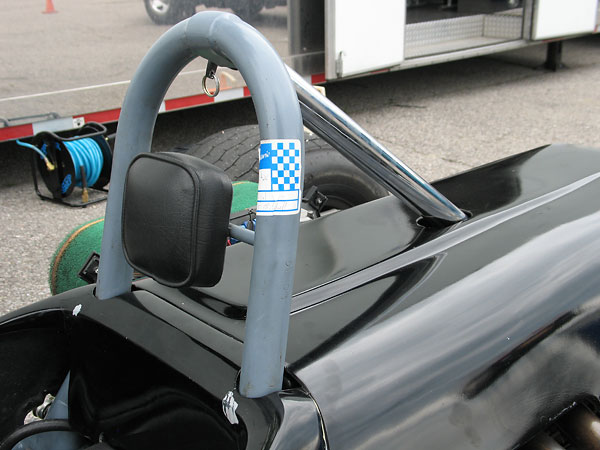 Roll hoop and headrest.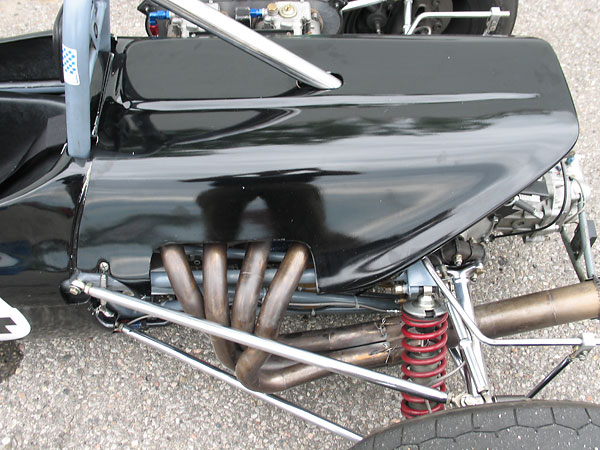 Engine cover, left side view.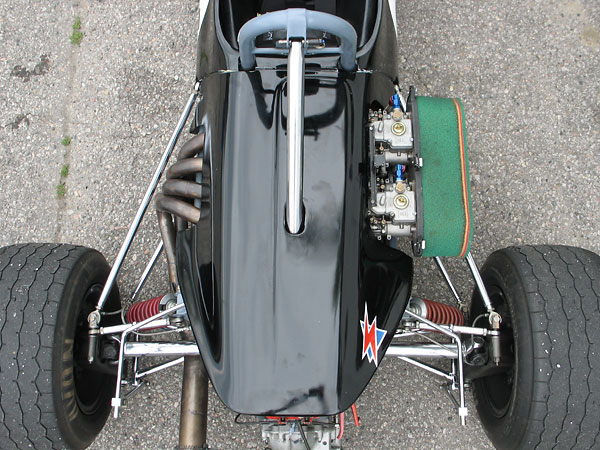 Engine cover, top view.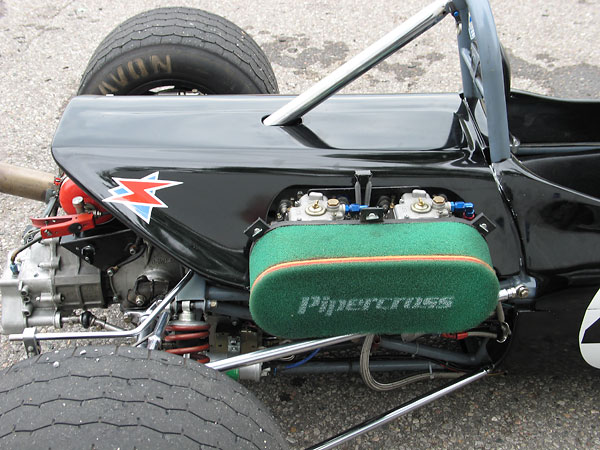 Engine cover, right side view. The sticker points to a Lucas battery disconnect switch.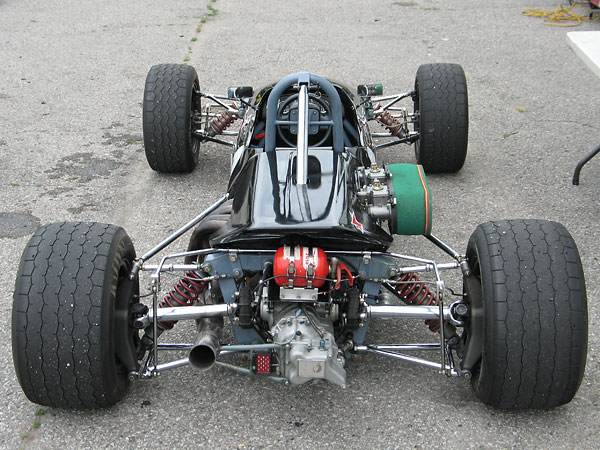 Titan sourced its frames from Arch Motors and its fiberglass bodywork from Specialised Mouldings.
Both were located in Huntingdon, and in the late sixties they were key suppliers to much of the
British racecar industry. Titan's principal rivals used Arch Motors and Specialised Mouldings too.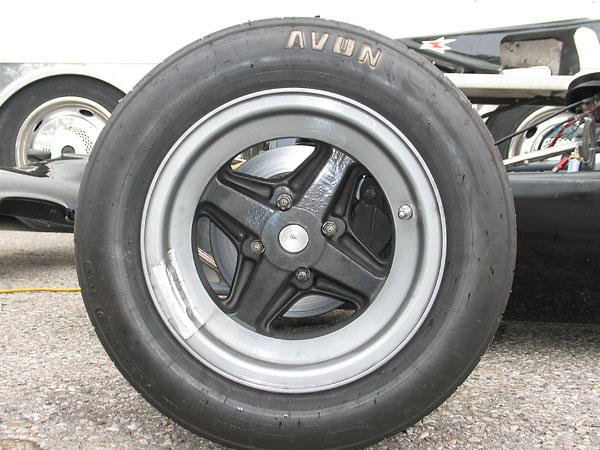 Brabham style 4-spoke magnesium wheels. (Bill has a set of much rarer Titan mags too.)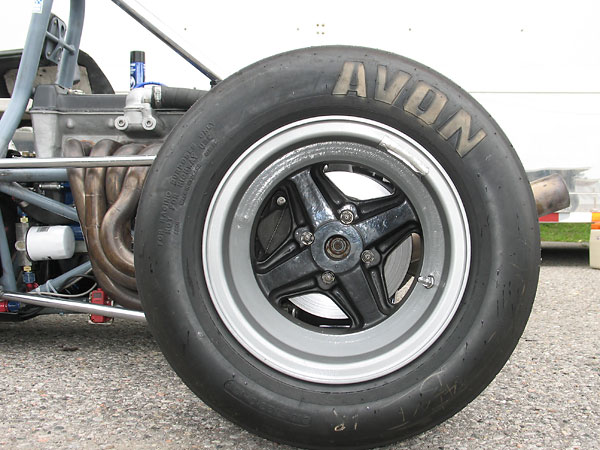 Avon racing tires (8.2/22.0/13 front and 10.5/23.0/13 rear).


All photos shown here are from June 2010 when we viewed the car at VARAC's 31st International Vintage Festival at Mosport International Raceway, near Toronto Ontario. Photos by Curtis Jacobson for BritishRaceCar.com, copyright 2011. All rights reserved.



Notice: all the articles and almost all the photos on BritishRacecar.com are by Curtis Jacobson.
(Photos that aren't by Curtis are explicitly credited.) Reproduction without prior written permission is prohibited.
Contact us to purchase images or reproduction permission. Higher resolution images are optionally available.