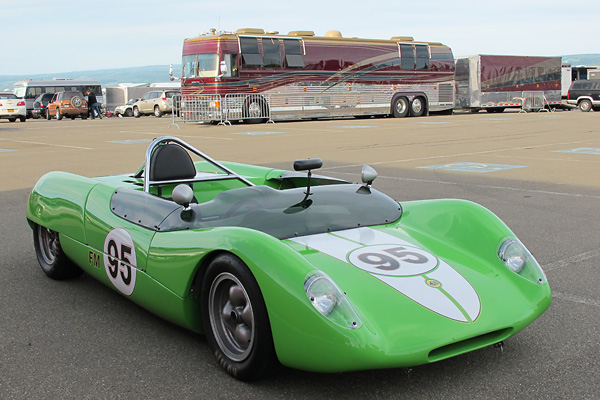 Don Munoz's 1962 Lotus 23B Racecar
Owner: Don Munoz
City: Bloomfied Hills, Michigan
Model: 1962 Lotus 23B
Engine: 1600cc Lotus/Ford Twin Cam
Restored and race prepared by: Don Munoz
The Lotus 23B Model
The Lotus Eleven model had been hugely successful, in both sales and in races. This lightweight, streamlined, low-slung, two-seat "sports racer" tremendously extended Lotus' reputation. However, the Eleven had been launched at the beginning of a period of especially rapid technical development. Soon, tough competitors joined the fight. The next few Lotus sports racers were less notable, until the new Lotus "23" model arrived in 1962 and brought Lotus right back to the top of the class. The Lotus 23 was mainly designed for engines up to 1.3 liters displacement. The Lotus 23B variant, featured here, is similar except for a heavier duty frame to accomodate engines up to 1.6 liters.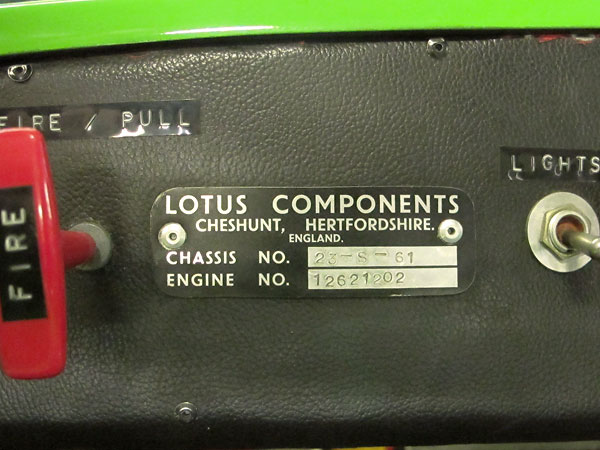 Lotus Components
Cheshunt, Hertfordshire. England.
Chassis No. 23-S-61. Engine No. 12621202.


Don Munoz's Lotus 23B
Lotus 23B serial number 23-S-61 was originally delivered to Ian Phillips of England, painted white with blue stripes. It had been specified with a 1600cc Twin Cam engine and a Hewland 5-speed transmission. It was soon purchased and moved to the United States, where Ed Cicotte raced it actively in Sports Car Club of America's (SCCA's) Central Division throughout the 1960s and 70s. Cicotte changed engines at least twice. For a time, he raced it with a 1.5L Coventry Climax V8 with Colotti transmission. He later fitted a 2.0L BMW engine.

Ed Cicotte sold the car to Ed Dickenson in the 1970s. Dickenson raced the car for awhile with the BMW engine, then began converting the car back to Lotus Twin Cam power in the mid-1980s but didn't complete the project. Dickenson died in 2002, and Don Munuz purchased the unassembled car.

In 2004, Don Munoz completed an extensive restoration of this racecar to original 23B specifications. As shown below, it has been returned to its original configuration with Lotus 1600 Twin-Cam engine. Don has subsequently raced it in three to four Sportcar Vintage Racing Association (SVRA) events per year, before deciding to offer it for sale in 2010.


Features and Specifications
Engine:
MWE-built 1600cc Lotus Twin Cam engine (3.25" bore by 2.864" stroke). Dual Weber 45DCOE carburetors. Lucas distributor. Lucas AB14 electronic ignition amplifier. Lucas Sport ignition coil. Accel 8mm Super Stock radio supression core spark plug wires. Dry sump lubrication system. Brian Hart oil pump. Racor tattletale oil filter.

Cooling:
original copper/brass style radiator. RaceTech aluminum oil cooler. (Water and oil plumbed external to the frame).

Exhaust:
4-into-1 stainless steel exhaust header.

Transaxle:
Hewland 5-speed. Halfshafts have been upgraded to CV joints in lieu of Metalastic donuts.

Front Susp.:
unequal length, non-parallel dual wishbone suspension. Alford & Alder forged uprights. Koni double-adjustable aluminum-bodied coilover shock absorbers. Eibach springs. Adjustable anti-sway bar.

Rear Susp.:
inverted lower wishbones, single top links, and twin adjustable trailing links. Lotus proprietary magnesium uprights. Koni double-adjustable aluminum-bodied coilover shock absorbers. Eibach springs. Non-adjustable anti-sway bar.

Brakes:
(master) dual Girling master cylinders with remote reservoirs.
(front) Girling aluminum calipers. 9" solid rotors.
(rear) Girling aluminum calipers. 9" solid rotors.

Wheels/Tires:
Lotus magnesium racing wheels (13x5 4-lug front, 13x6 6-lug rear). Avon "Historic Formula Ford" tires (5.0/22.0-13 front, 6.5/23.0-13 rear).

Electrical:
Odyssey PC680 drycell battery. Tilton Super Starter XLT gear reduction starter.

Instruments:
(left to right) AutoMeter voltmeter (8-18V), Smiths coolant temperature (30-110C) Smiths tachometer (0-12000rpm), Smiths oil pressure (0-160psi), and Smiths oil temperature (40-140C) gauges.

Fuel System:
center mounted seven gallon custom fuel cell. Facet (Bendix style) electric fuel pump. Holley adjustable fuel pressure regulator.

Safety Eqmt:
RaceTech centralized fire suppression system. Willans six-point cam-lock safety harness. Quick release steering wheel hub, installed on a RaceTech leather wrapped steering wheel.

Weight:
~1000#.

Racing Class:
SVRA Group 5.

Engine Installation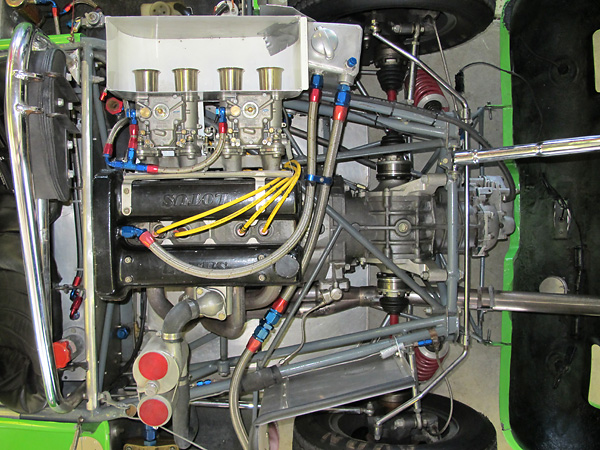 MWE-built 1600cc Lotus Twin Cam engine with less than six hours of use, to date.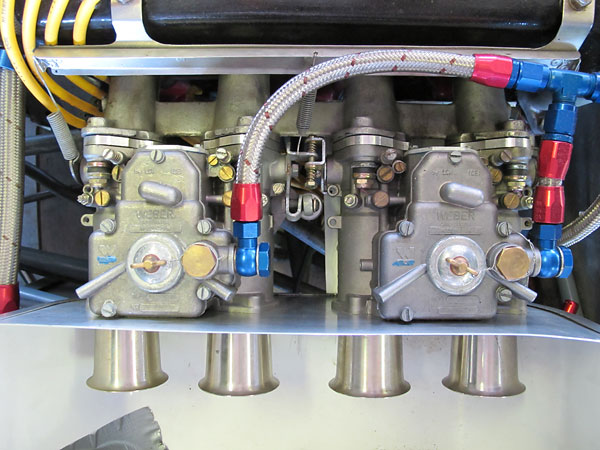 Dual Weber 45DCOE carburetors.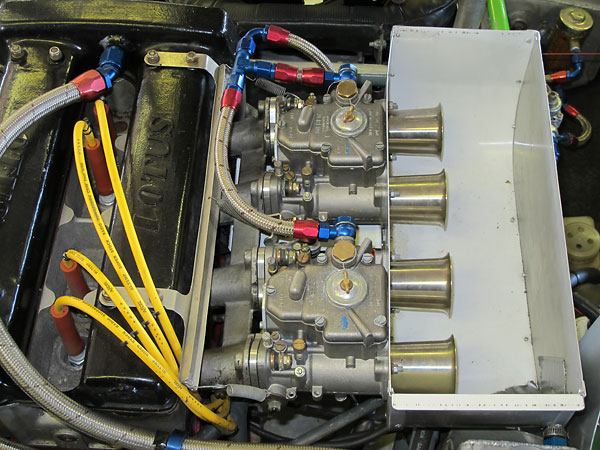 A simple fabricated aluminum box ensures that induction air is drawn from outside the engine compartment.
Cool air is denser than warm air. Therefore, generally, more power can be produced with outside air.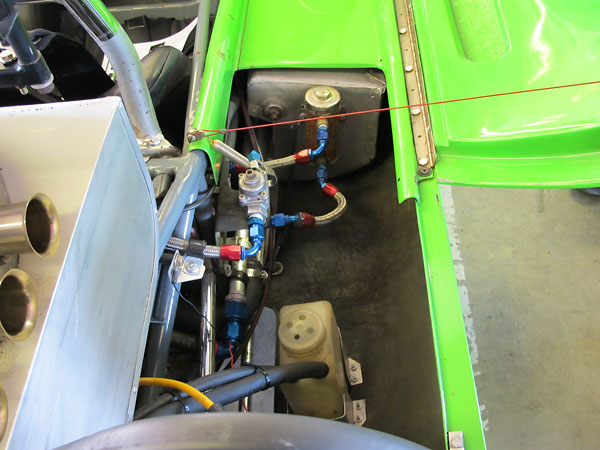 Facet (Bendix style) electric fuel pump. Holley adjustable fuel pressure regulator.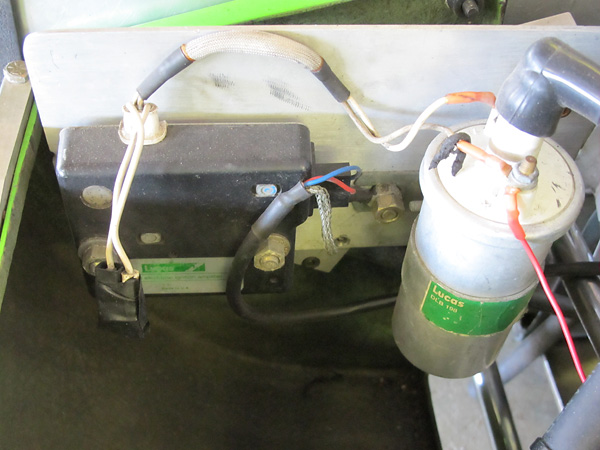 Lucas Sport ignition coil and a Lucas AB14 electronic ignition amplifier. If you were to
open up this box and look inside, you'd find a Lucas condensor, a diode, and a 4-pin
General Motors "H.E.I." ignition module (plus a big aluminum heat sink).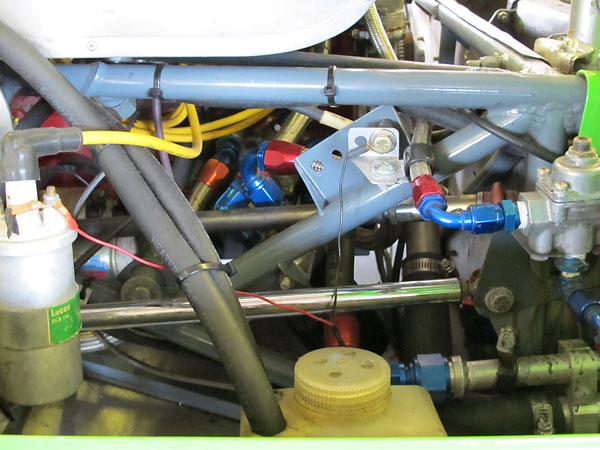 Racing versions of the Ford Kent engine usually have dry sump lubrication systems, with crankshaft
driven oil pumps located on the side of the engine block. Lotus originally plumbed engine oil forward
to a front-mounted cooler through frame tubes. The old connection point can be seen here (top, left).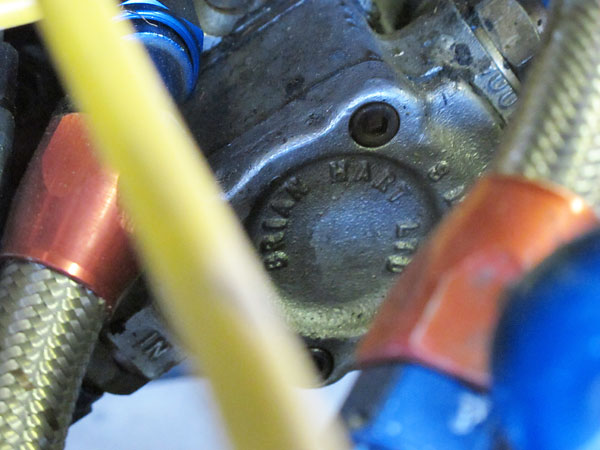 Close-up view of the Brian Hart Ltd. oil pump.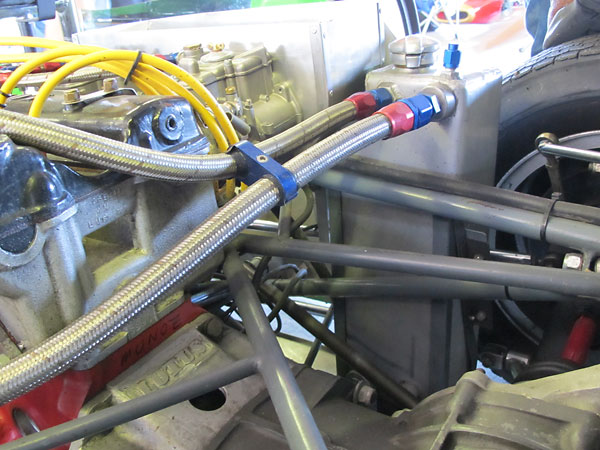 Tall, custom-fabricated aluminum engine oil reservoir.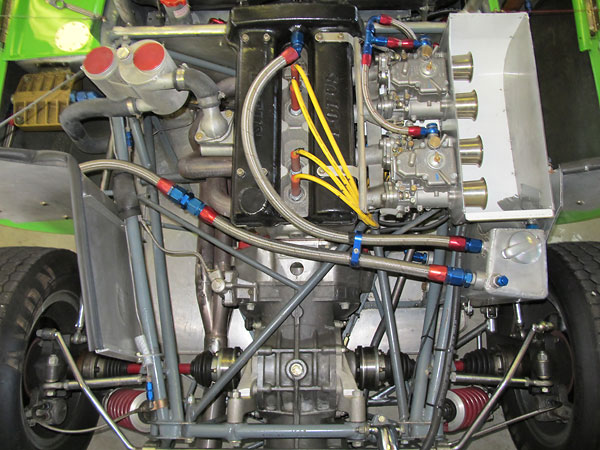 Oil line routing within the engine compartment.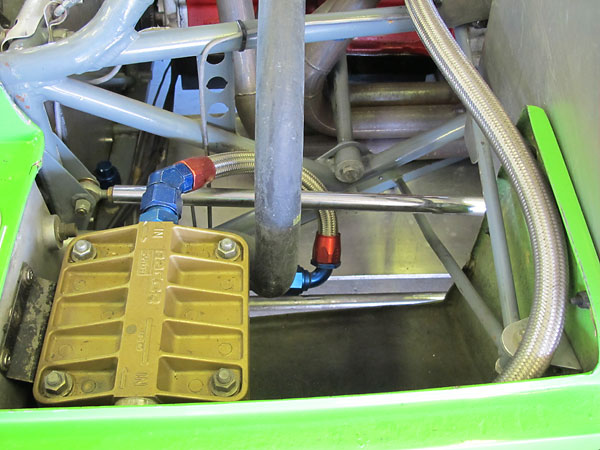 The Racor "tattletale" oil filter has a screen that can be easily checked for bearing debris.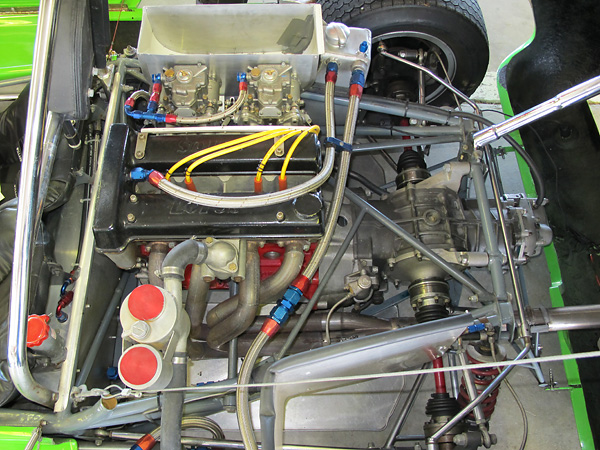 Custom 4-into-1 stainless steel exhaust header.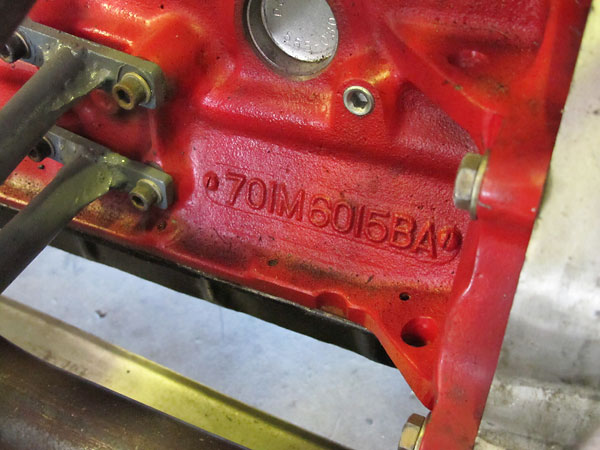 701M6015BA engine block. (This is the correct casting number for a Lotus Twin-Cam.)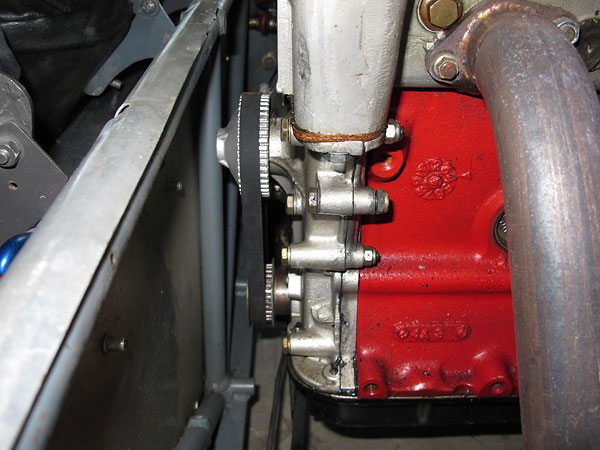 Waterpump drive belt and gears.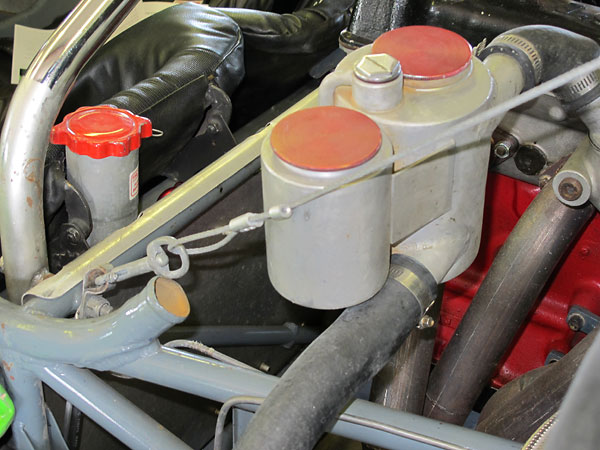 Coolant swirl pot and filler. Note also original connection for through-the-frame coolant plumbing.
Colin Chapman first plumbed coolant through frame tubes on the Lotus 20 (Formula Junior) model,
circa 1961. With the 22 (FJ) of 1962, Lotus took this weight saving idea a step further and began
routing engine oil through frame tubes too. These arrangements carried over from the 22 to the 23.
Now, fluids have been rerouted outboard of the frame to the front mounted radiator and oil cooler.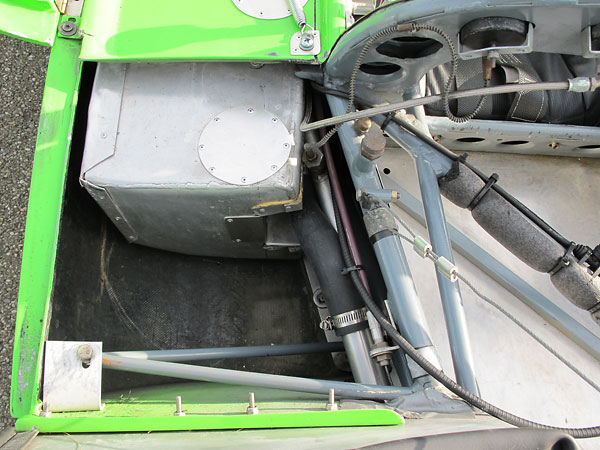 Here you can see where the oil temperature sensor used to mount on the frame tube, and where it
mounts now on external tubing. Below, in another photo you can see how the engine coolant
temperature sensor has been similarly relocated from frame tube to external tubing.
(Note: original outboard-mounted fuel tanks are no longer used.)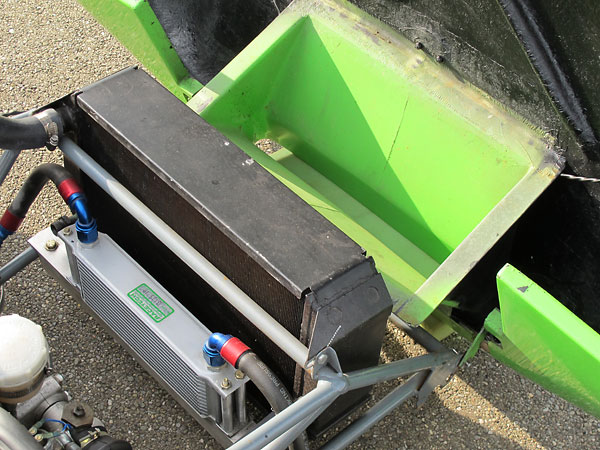 Original copper/brass style radiator, and new RaceTech aluminum oil cooler.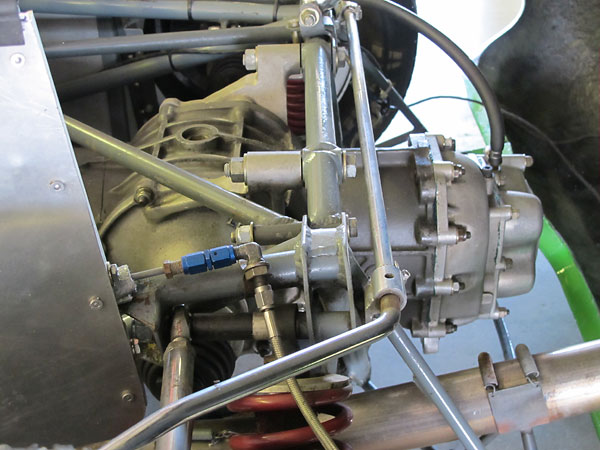 Lotus listed three different transmission options for the 23. Customers could choose 4-speed gearboxes
from either Renault or Volkswagen. Alternatively, they could option up to a superior Hewland 5-speed
transaxle, as seen here. (Hewland built their transmissions within Volkswagen casings.)


Enjoying this article? www.BritishRaceCar.com is partially funded through generous support from readers like you!
To contribute to our operating budget, please click here and follow the instructions.
(Suggested contribution is twenty bucks per year. Feel free to give more!)
Front Suspension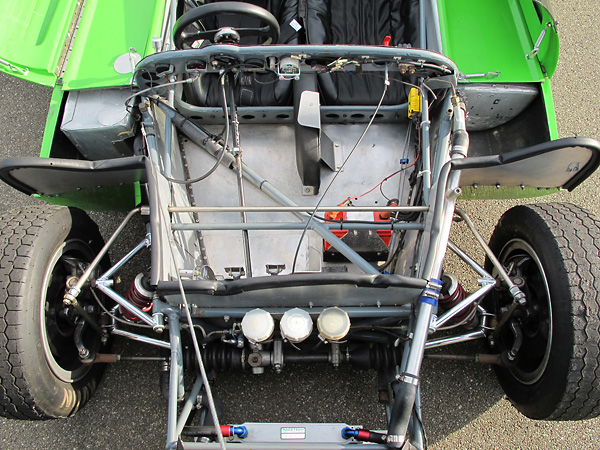 Unequal length, non-parallel dual wishbone suspension.



The Lotus 23 "sports racer" model was derived from an open-wheeled, single-seater Formula Junior model called the Lotus 22. Similarly its predecessor, the Lotus 19 model, had been derived from the Lotus 18 model. (Depending mainly on what engine was installed, the Lotus 18 raced in Formula Junior, Formula Two or Formula One specifications.) In principle, Lotus took the narrow Formula chassis design, widened it, and installed fiberglass two-seagter bodywork. Front suspension parts were carried directly over from the open-wheeled cars but installed differently and with somewhat different vehicle-dynamic effects: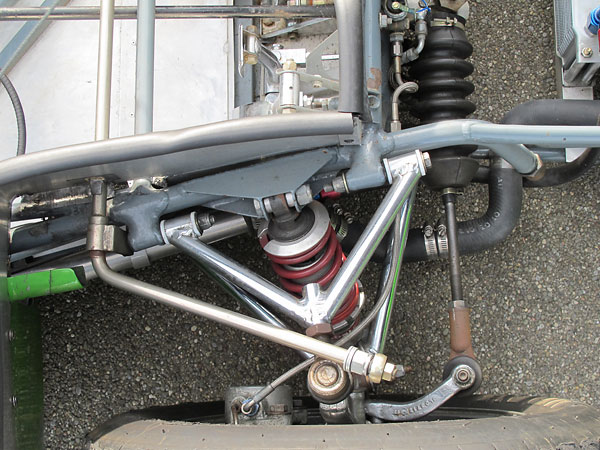 On Lotus 23 the control arm hinge axis converges sharply with the car's centerline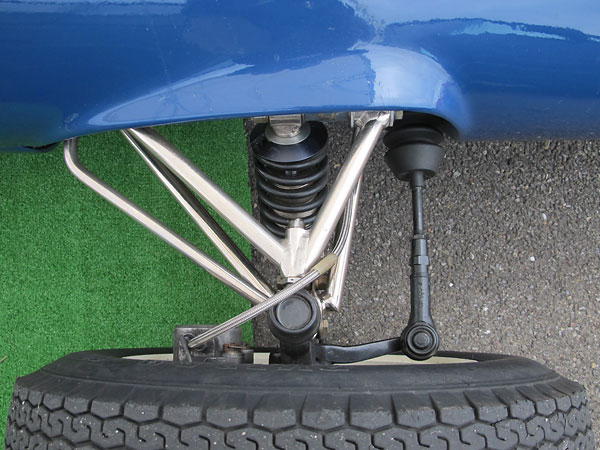 Very similar control arms were used on the Lotus 22, but hinged in parallel to the car's centerline.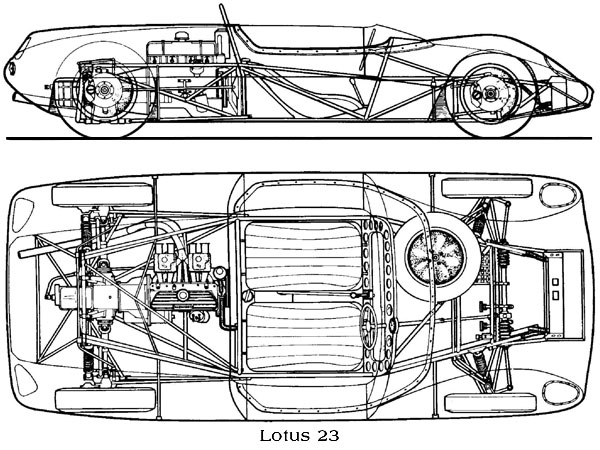 Hinging the axis as on the 19 and 23 would tend to promote dive under braking. However, this is probably partly
counteracted by the mounting height of the pivot points. In side view, the front mounts appear higher than the
rear mounts. Most unconventional by 1962 standards... or any standards for that matter.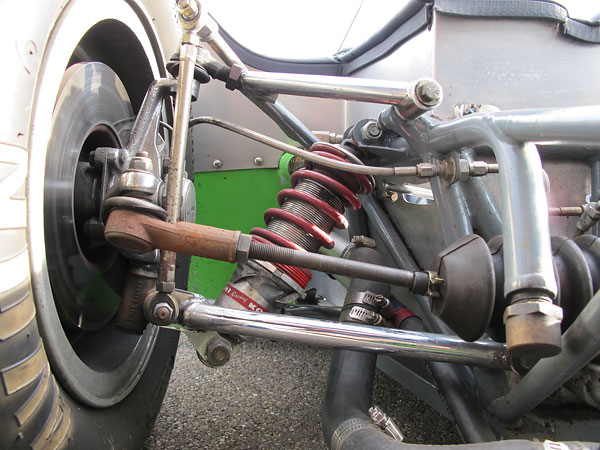 Lotus used lightweight and strong forged Alford & Alder uprights from the Triumph Herald on Formula
Junior racecars and on sports racers that derived from them. The Herald's 4-lug hubs limited front wheel
choice. Lotus preferred 6-lug hubs at the rear because their 6-lug wheels were stiffer. The single spare
carried on the car to meet endurance racing rules logically couldn't service both front and rear wheels.
When ruled against at LeMans, Colin Chapman decided to retrofit 4-lug hubs and wheels at the rear.
The LeMans judges then ruled 4-lug wheels must be inadequate for safety because the 23 had been
designed with 6-lug rear wheels. Enraged, Chapman withdrew from LeMans and never returned.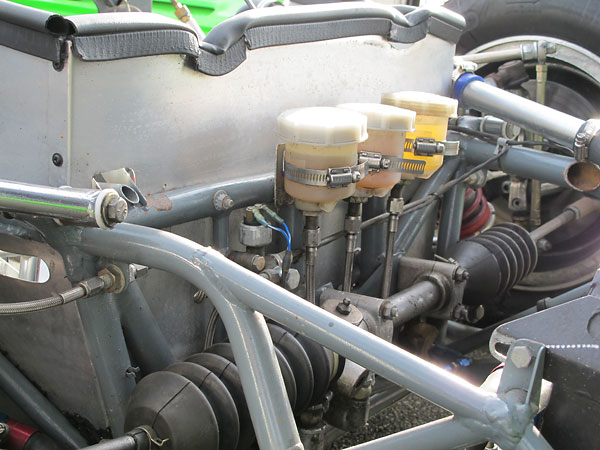 Dual Girling brake master cylinders and clutch master cylinder, all with remote reservoirs.


Rear Suspension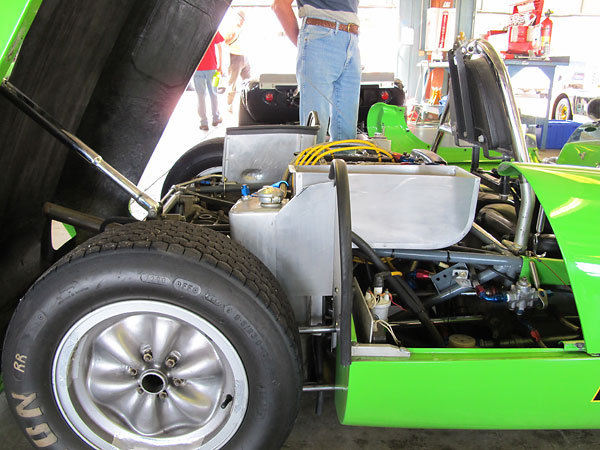 Supposedly, the Lotus 23 rear suspension was completely identical to the Lotus 22 Formula Junior
rear suspension except that spring rates were stiffer and shock absorber valving was different.
(We'd like to carefully examine a Lotus 22 for ourselves before reporting this as fact.)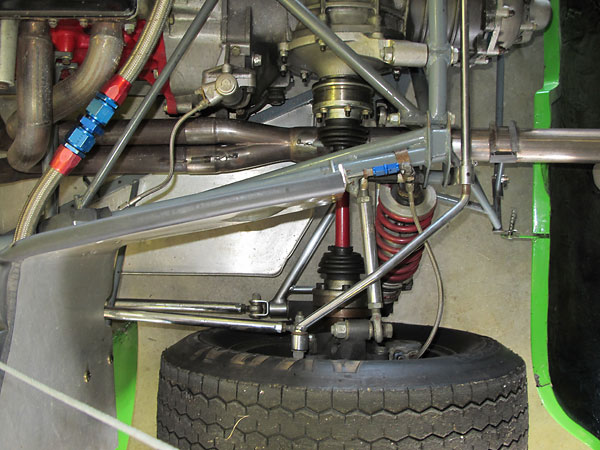 Halfshafts have been upgraded to CV joints in lieu of Metalastik ("Roto-flex") donuts.
This is a non-period modification that's forbdden by SVRA rules, but it's not like anyone
will object because there's no performance advantage except longevity and safety.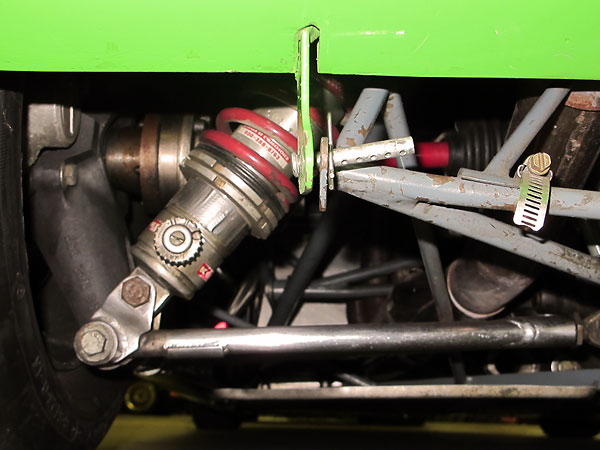 Koni double-adjustable aluminum-bodied coilover shock absorbers, with Eibach springs.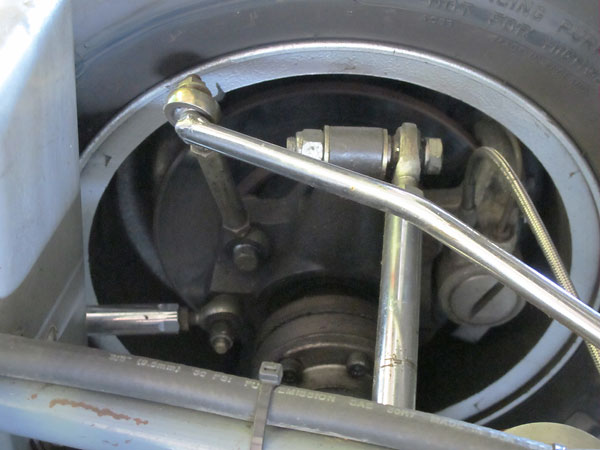 Unusual non-adjustable anti-sway bar connection.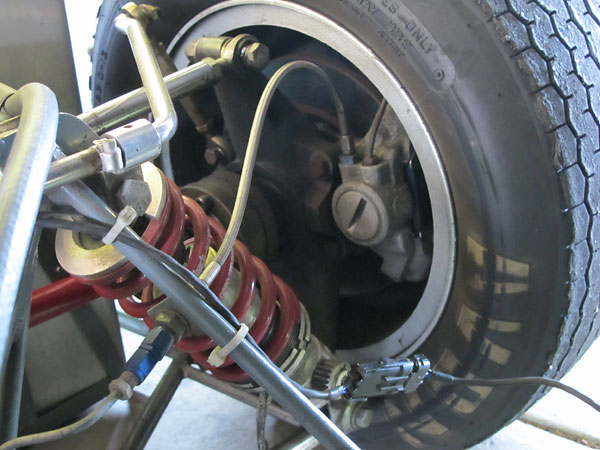 Girling aluminum brake calipers.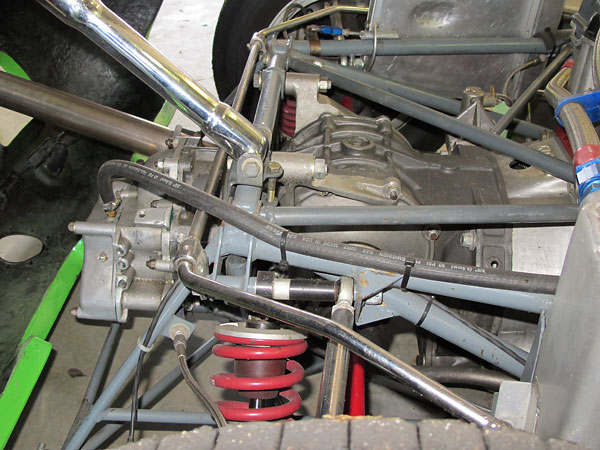 A Hewland MkVI transaxle is internally identical to their MkIV model. The difference is how it mounts.
Mounting features on the side plates were designed to suit the Lotus chassis. Hewland MkV transaxles
are similar too, except for heavier duty layshafts and gears. MkV internals may have been substituted...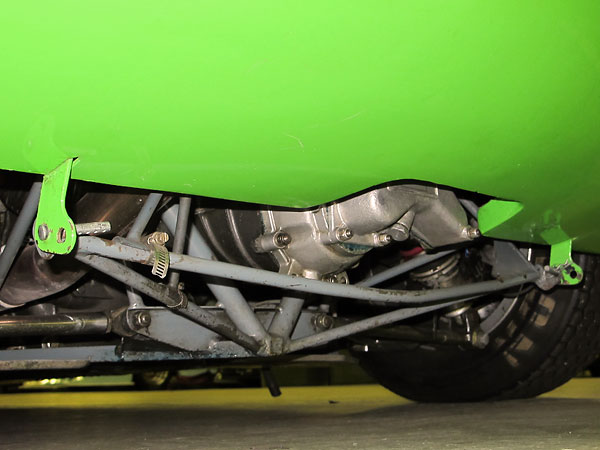 Mounting features for the rear bodywork.


Interior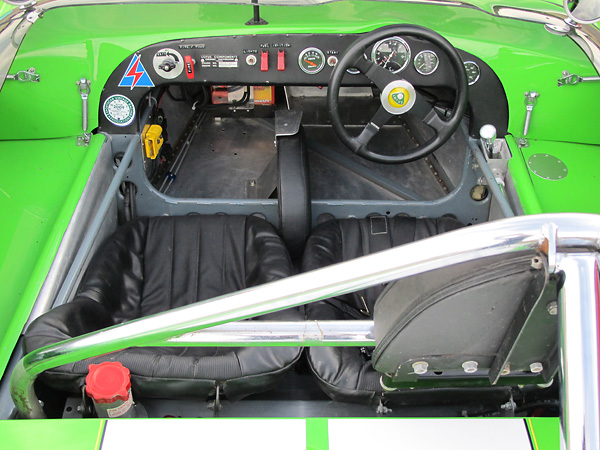 The Lotus 23 model was produced with a simple bolt-in roll hoop. It was well below helmet height and
it had no rearward brace. As racing organizations have progressively upgraded safety requirements in
terms of roll hoop height, strength, shoulder harness requirements, headrest requirements, etc.,
Lotus 23 owners have been in the enviable position of being able to comply with relative ease.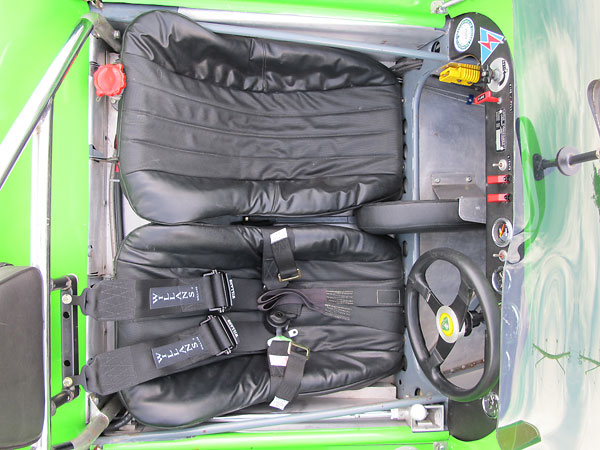 Willans six-point cam-lock safety harness. Note that the shoulder strap attachment has been designed
for relatively easy adjustment of both spacing spacing and height. Strap height is critical to safety
because if it's too low the driver's spine tends to be compressed in the event of a high speed accident.
Shoulder strap height alse affects how well newly-mandatory HANS (head and neck support) devices fit.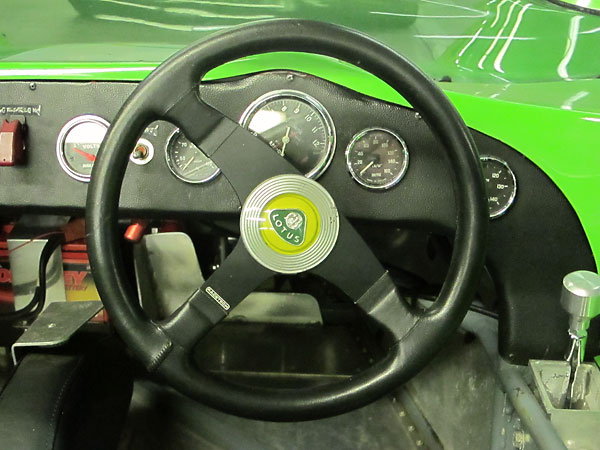 Racetech leather wrapped steering wheel.



Quick release steering wheek hub.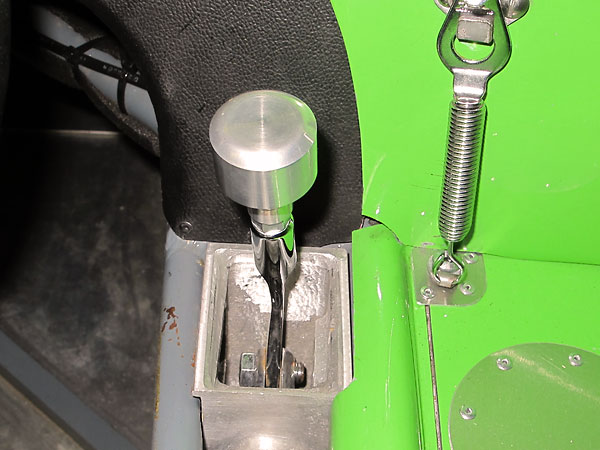 Gear selector.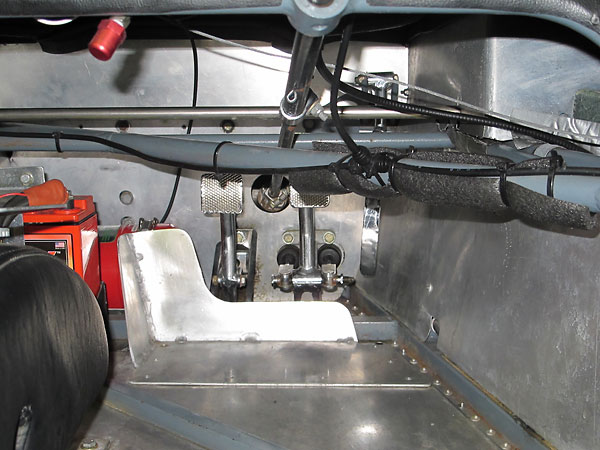 The steering column adjusts telescopically for driver comfort.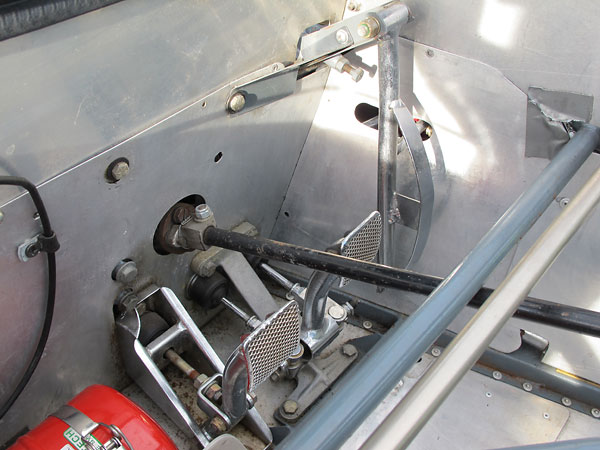 If you're going to really stand on the brake pedal, you want it to be robustly mounted.
This cast aluminum pedal mounting bracket is a subtle but significant upgrade.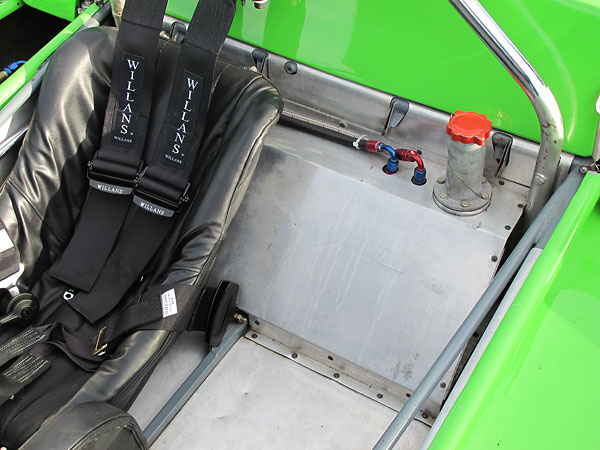 This centrally mounted, seven gallon custom fuel cell meets modern safety requirements. The original
Lotus 23 prototype also had a centrally mounted, wedge-shaped fuel tank. However, all production Lotus
23/23Bs were instead equipped with a 9 gallon box-shaped tank mounted below the passenger side door.
For endurance racing, a smaller second fuel tank mounted on driver's side was also available from Lotus.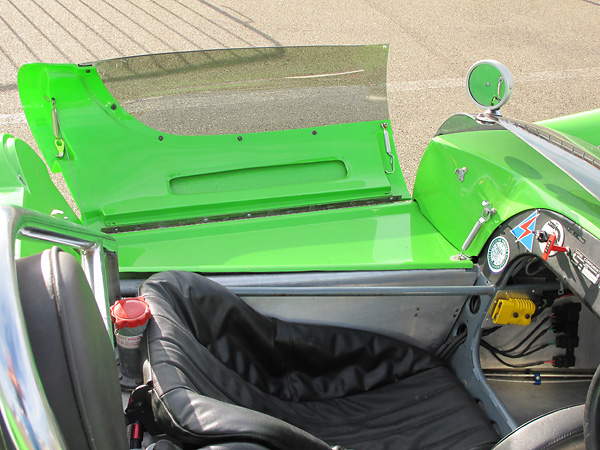 The length of the doors was one dimension that had to be in compliance with FIA Appendix C rules.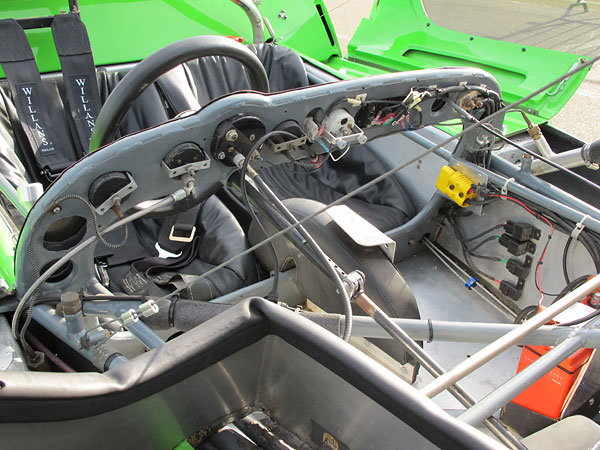 No detail is more characteristically "Lotus" than this pierced-bulkhead! Note: period endurance racing
rules mandated that cars carry a spare wheel and tire. Therefore, the Lotus 23/23B frame was designed
to provide room for one spare wheel behind the passenger side of the dashboard/bulkhead.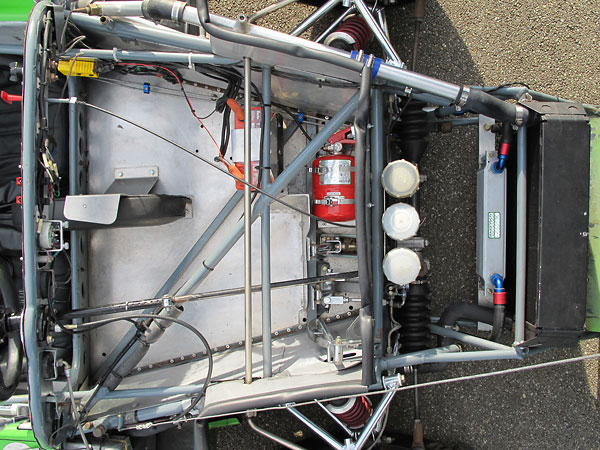 One of the most efficient ways to increase the strength and stiffness of a spaceframe is to add a
stressed skin. This is commonly achieved by riveting sheetmetal to frame tubes. Lotus' practice of
routing fluids through frame tubes made this far less feasible. The 23's 20-gauge aluminum floor.
therefore doesn't give the chassis all the additional strength it otherwise might.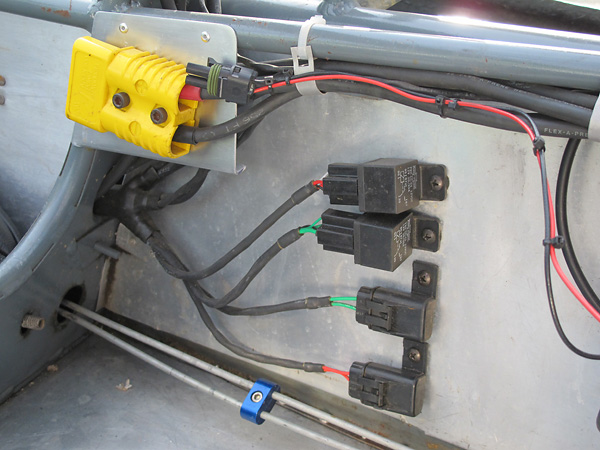 Two inline fuses and two relays.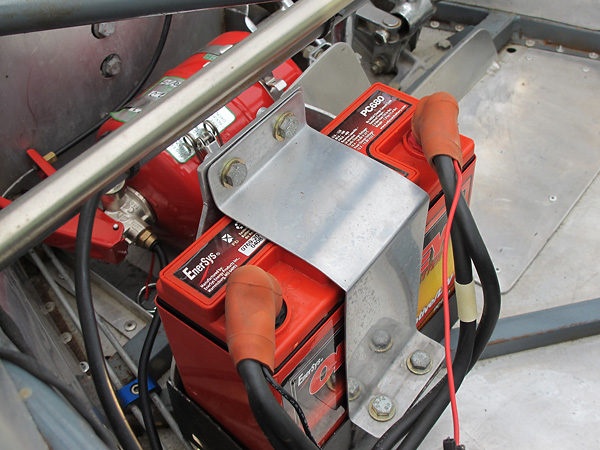 Odyssey PC680 drycell battery.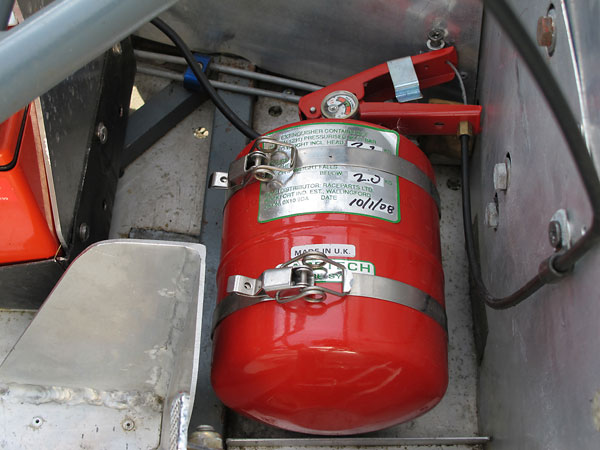 RaceTech centralized fire suppression system.


Exterior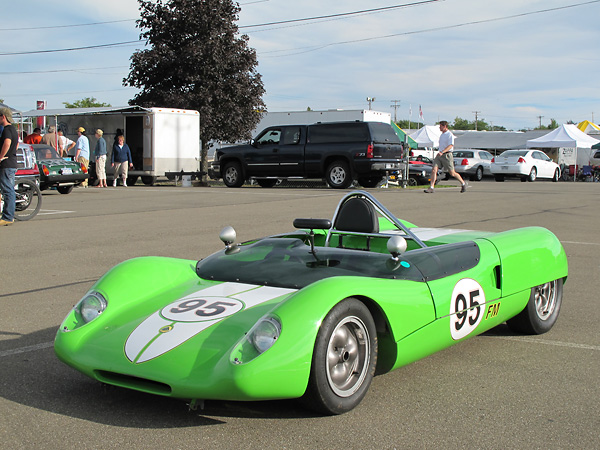 Lotus 23 dimensions, according to original Lotus sales literature: 140" overall length, 59.5" overall width,
27" height, 90" wheelbase, 51.5"/50" front/rear track, 884# (dry) with 1097cc Cosworth Ford engine.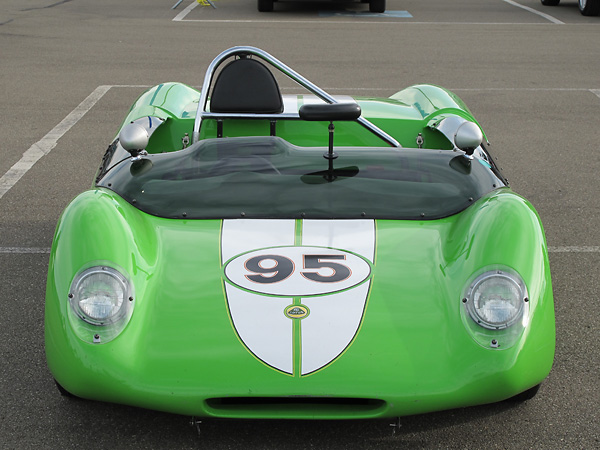 Low, wide, and streamlined!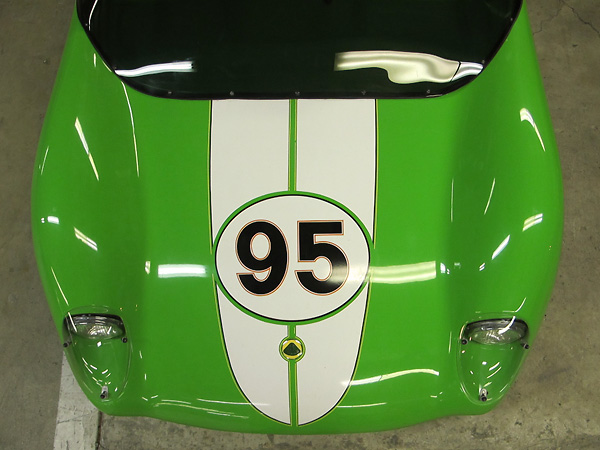 Transparent Perspex headlamp fairings streamline airflow.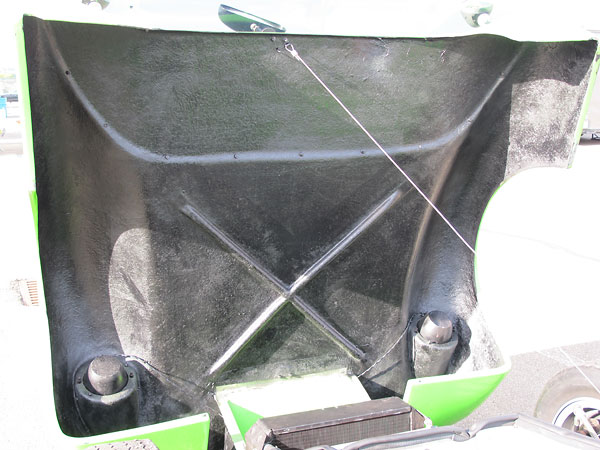 The bottom side of the Lotus 23B bonnet, including molded-in stiffeners.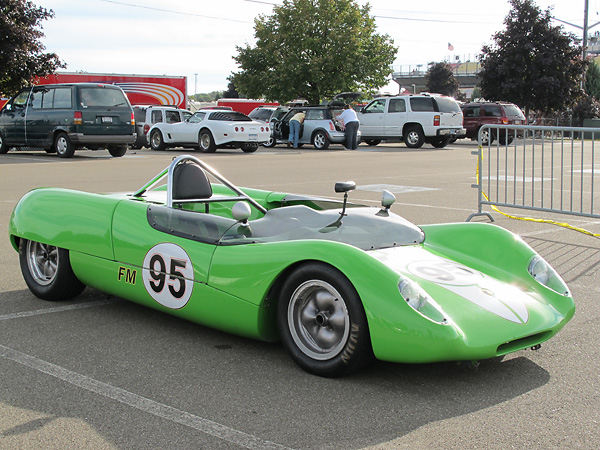 The Lotus 23/23B body was entirely constructed of color impregnated fiberglass. The preceding
sports racer model, the Lotus 19 of 1960, used fiberglass with aluminum panels below the doors.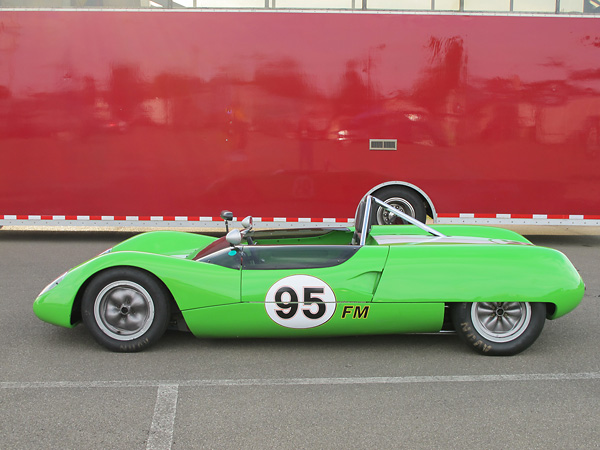 An opening on the passenger-side door evidently helps provide a cooling breeze through the exhaust side
of the engine compartment. Lotus didn't provide any ducting from the opening to a transaxle oil cooler,
engine oil reservoir, or to the brake system. This feature isn't repeated on the driver-side.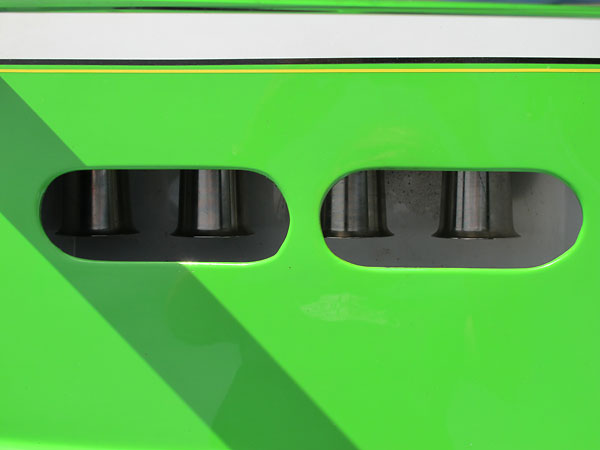 Fresh air for the engine enters through two openings behind the driver's helmet.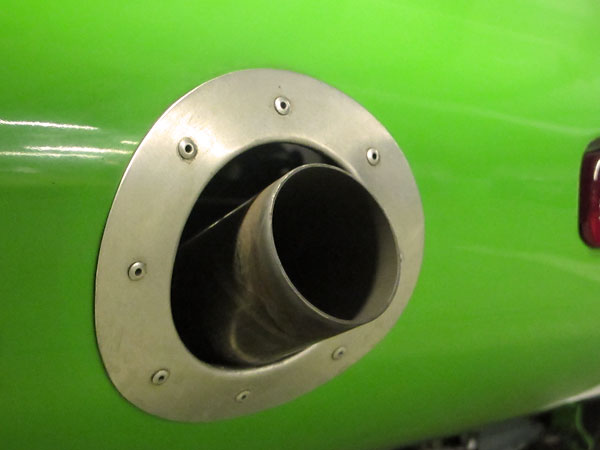 This aluminum flange protects the paint job from exhaust temperatures and soiling.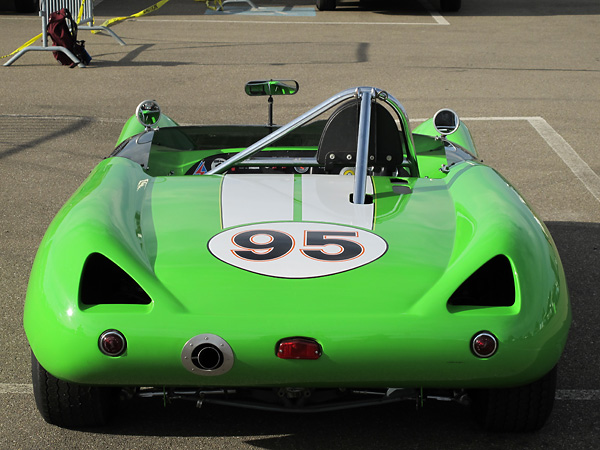 Three lights on the rear with the central one suitable for illuminating a registration plate is part of the
original design, because the Lotus 23 was built to comply with FIA's "Appendix C" (Monte Carlo) rules.
The intent of these rules was to keep participating cars essentially similar to regular street driven
automobiles, complete with full width windshields and functional doors.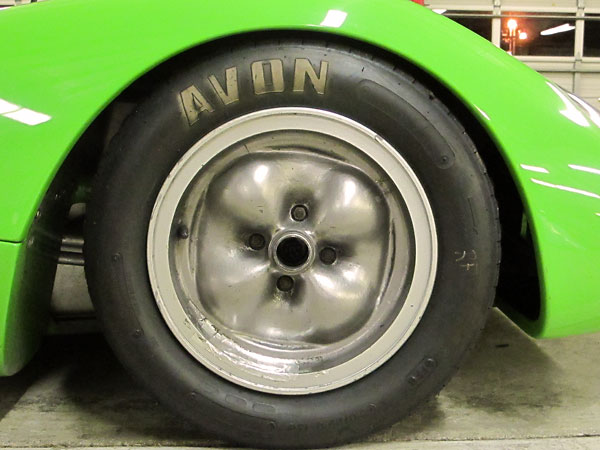 Avon "Historic Formula Ford" tires: 5.0/22.0-13 front, 6.5/23.0-13 rear.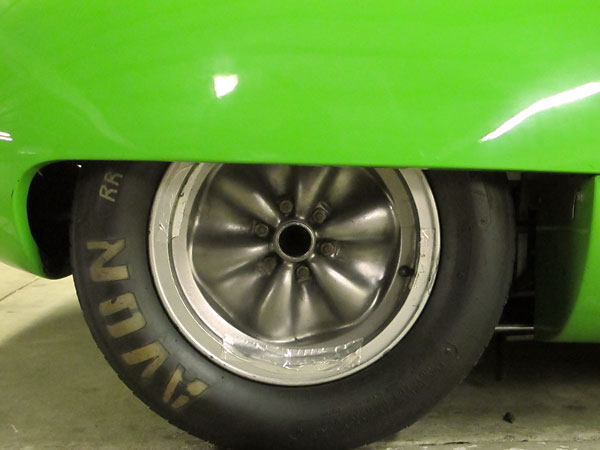 Lotus "wobbly web" magnesium racing wheels: 13x5 4-lug front, 13x6 6-lug rear. Lotus preferred the
greater stiffness of the 6-lug wheel but used a 4-lug wheel on the front because that facilitated using
off-the-shelf Triumph Herald components. In both cases, the beauty of the wobbly web design is that
the thickness of the casting is very thin and very consistant throughout the wheel's center section,
which is favorable for both casting quality and for stiffness-to-weight ratio.


All photos shown here are from September 2010 when we viewed the car at Glenora Winery's Vintage Grand Prix of Watkins Glen, New York. Photos by Curtis Jacobson for BritishRaceCar.com, copyright 2010. All rights reserved.



Notice: all the articles and almost all the photos on BritishRacecar.com are by Curtis Jacobson.
(Photos that aren't by Curtis are explicitly credited.) Reproduction without prior written permission is prohibited.
Contact us to purchase images or reproduction permission. Higher resolution images are optionally available.