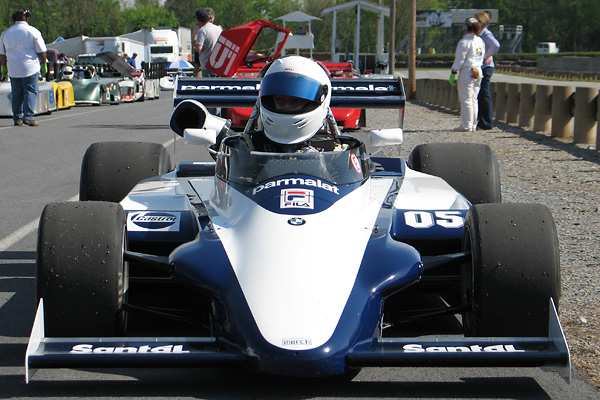 Justin Frick's 1982 March 822 Formula Two Racecar
Owner: Justin Frick
City: Lewisbury Pennsylvania
Model: 1982 March 822
Engine: BMW M12/7 2.0L four-cylinder
Restored and race prepared by: owner
March Engineering Ltd. Was Most Successful in Formula Two
The management of March Engineering Limited wanted it all. They wanted to field works race teams in Formula One, Two, and Three. Simultaneously, they wanted to produce and sell a full range of "customer cars" for these classes and for many others. It's difficult to assess March's success because the scope of their efforts was very broad.

On the one hand, March produced 66 Formula One cars between 1969 and 1989. All those cars taken together only scored three Formula One championship race victories. March was far more successful in Formula Two, where they produced 327 cars which won countless races. Arguably, the Golden Age of March Engineering was 1971 through 1982. In that period, March Formula Two cars delivered six FIA Formula Two World Championships: 1971 with Ronnie Peterson, 1973 with Jean-Pierre Jarier, 1974 with Patrick Depailler, 1978 with Bruno Giacomelli and the Polifac team, 1979 with Marc Surer and the Polifac team, and 1982 with Corrado Fabi.¹

March typically produced an all-new Formula Two chassis design every several years. They made evolutionary and developmental refinements in in-between years. For 1979, March's 792 model was a "ground effects" car, with shaped tunnels under the sidepods and with sliding skirts to seal the car well enough to the racetrack that a significant vacuum could be developed at speed. The 792 model also featured a new, narrow, aluminum monocoque tub reinforced with honeycomb inserts. A single radiator was mounted inside a chisel shaped nose, with narrow wings to either side. The 792's inboard front suspension had rocker arms on top and ordinary wishbones below. For the 802 model, bodywork was modernized substantially. The 802 featured a pointy nose and dual venturi-type radiator sidepods. Side skirts were installed at a fixed height to meet new rules. For the 812 model, March introduced another new monocoque tub and body. Starting with the 812, the rear suspension was of rocker type too. The 822 was a development of the 812, but with a slightly narrower tub, refined aerodynamics, and further improvements to the rear suspension geometry.

By every measure, the 822 model was brilliantly successful. Thirteen examples were built. March's works team drivers finished first and second place in 1982 Formula Two Championship points while racking up eight wins in thirteen races.

Throughout this whole era, March produced variants of their Formula Two cars for export to North America. For the North American market, these racecars could be ordered at two different specification levels, suitably equipped for racing in Formula B or Formula Atlantic classes respectively.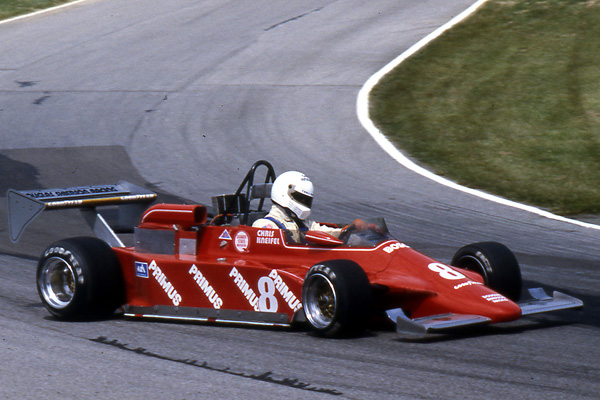 Chris Kneifel driving March 82A-4 for Douglas Shierson Racing in 1982.
(Photo by Mark Windecker. Used by permission.)



March in Formula Atlantic
Through the late 1970s and into the 1980s, Formula Atlantic cars and Formula Two cars were very similar. The key difference was that Formula Atlantic rules restricted engine displacement to 1.6L whereas Formula Two cars could run 2.0L. The effect of this difference is that the Cosworth BDD engine dominated the North American series. Rival car constructors March and Ralt built almost all the chassis. (A couple Tiga racecars joined the battle in 1982.)

In 1981, March's 81A was arguably the fastest car in the field. In an 81A, Jacques Villeneuve Sr. handily won the 1981 Formula Atlantic championship for Doug Shierson Racing. Villeneuve won four of the nine rounds, placed second once, placed third once, and DNF'd three times. (He had previously won the 1980 championship.)

In 1982 Jacques Villeneuve moved on to Can-Am, but Douglas Shierson Racing acquired a pair of March 82A racecars and continued in Formula Atlantic with lead driver Chris Kneifel. Fortunes changed dramatically for March drivers in 1982. Ralt RT4 racecars dominated every round of the 1982 Formula Atlantic season, and swept every podium finish except a single third place trophy scored by a Tiga FA82. The March 82A model wasn't particularly successful in terms of sales either: only five were built.


Chris Kneifel's Results in 1982 CASC Formula Atlantic Series Races
| | | | | | |
| --- | --- | --- | --- | --- | --- |
| | Venue | Date | Qualified | Finished | Notes |
| 1 | Long Beach | April 3 | 11 | 10 | (with a March 81A) |
| 2 | Mexico City | April 25 | 12 | 9 | (first race for 82A-4) |
| 3 | Mosport | June 6 | 10 | 14 | (spun) |
| 4 | Montréal | June 12 | 11 | 17 | |
| 5 | Mid Ohio | June 27 | 9 | 17 | |
| 6 | Road America | July 25 | 29 | DNS | |
| 7 | Westwood | August 22 | DNA | DNA | |
| 8 | Trois Rivières | September 5 | DNA | DNA | |
| 9 | Mosport | September 12 | DNA | DNA | |
After their disappointing 1982 season, Douglas Shierson Racing sold March 82A-4 to Derek McMahon Racing and the car was shipped back to the United Kingdom where it was fitted with a Hart 420R 2.0L engine, re-modeled as a March 822, and painted in the livery of the Daily Express newspaper and the Howett Printing company. In this configuration, 82A-4 was driven by Derek Daly in the Formula Two race at Donington on June 25, 1983. Daly finished ninth of 24 entries. This is the only known race entry for 82A-4 in 1983. Chassis 82A-4 was shipped back to the United States after the Donington race, sans engine, and stored until 1986 when it was re-powered with a Cosworth BDD engine for use as a track day car.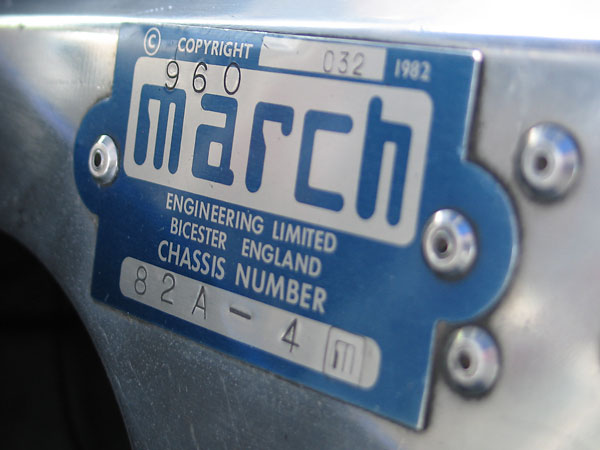 MARCH Engineering Limited, Bicester England
Chassis Number 82A - 4 (M)
copyright 1982 (960 - 032) - 1982


Justin Frick's March 82A / 822
Between 1994 and 1996, Alan Hine of Michigan made a lot of progress with restoring 82A-4 to 822 specification. Specifically, he sourced and installed a BMW M12/7 2.0L engine and he commissioned Preform Resources to fabricate authentic lightweight composite bodywork. Largely complete but unpainted and unsorted, Justin Frick purchased 82A-4 from Alan Hine in January 2008.

Justin stripped the car back down to a tub and a pile of nuts and bolts, and did a complete rebuild. It had been stored in a damp garage, so there were some corrosion issues. Leveraging the resources of his father's automotive restoration shop, Europa Macchina of Lewisbury Pennsylvania, Justin brought the car up to the stunning standard of presentation shown here. Justin reports: "The fit of the body was excellent, but it was built to be VERY lightweight so we found it a little tough to work with."

BritishRacecar photographed Justin's 82A/822 on its initial shake-down weekend. Since that time, he has dialed the car in quite a bit. The biggest change Justin made was installation of more aggressive wings, both front and rear. The new wings were shaped to match original wings from a March 832. Their chord widths and their mounting locations are unchanged from what were on the car when he purchased it, but the new wings provide appreciably more downforce.



Want to see more articles like this? BritishRaceCar.com is funded by readers like YOU.
To contribute to our operating fund, PLEASE click here and follow the instructions.
(Suggested contribution is twenty-five bucks per year. Feel free to give more!)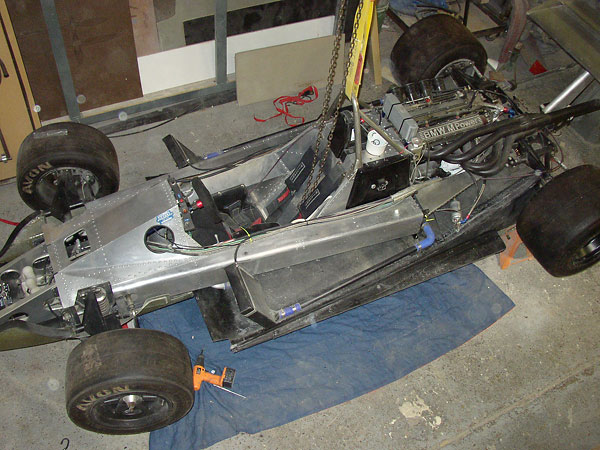 Dave Craddock of Preform Resources in Detroit Michigan completely rebuilt the car's bodywork and
aerodynamic package. The March 822 features a full ground effects undertray to create a very
large amount of aerodynamic downforce at speed.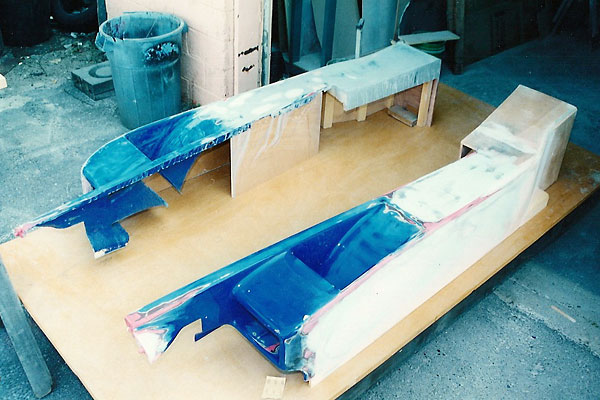 When Alan Hine purchased this car, it came with old Formula Atlantic spec side pods. Preform
Resources didn't just recreate them: they extended the side pods to Formula Two length.
The new bodywork is composed of carbon fiber and E-glass, with epoxy resin.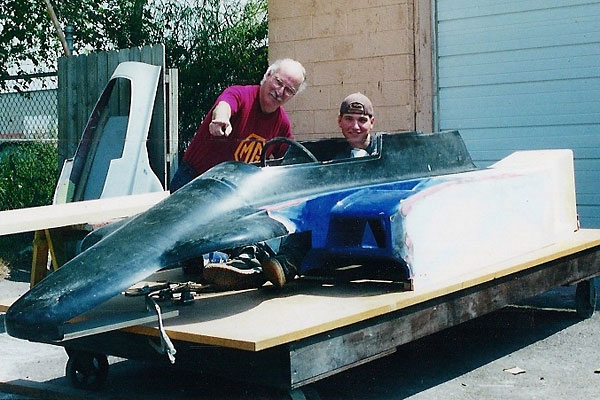 Entirely new nose and cockpit sections, made from carbon fiber.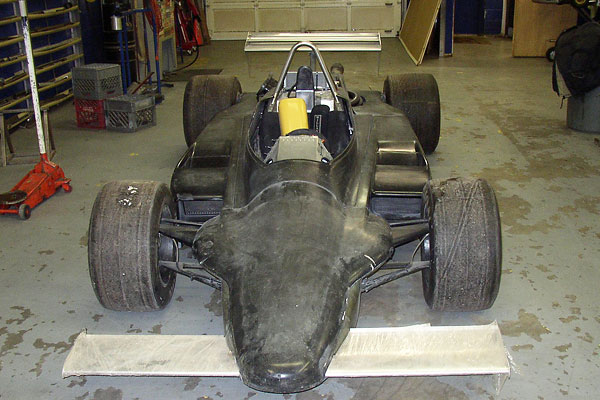 Body fabrication completed, the car was delivered it to Averill Racing for mechanical work.


Features and Specifications
Engine:
BMW M12/7 2.0L four-cylinder. Grey cast iron cylinder block. Forged, single plane crankshaft. Cast aluminum alloy cylinder head. Dual overhead camshafts. Four valves per cylinder. Bosch mechanical fuel injection system. Kugelfisher pump. BMW slide throttle manifold (part number 1304008). Bosch breakerless electronic ignition system. Magnecor Electrosports 70 spark plug wires. Dry sump lubrication system.

Cooling:
dual copper/brass radiators, mounted in side pods. Custom fabricated aluminum header tank. Mocal aluminum 19-row 235mm oil cooler.

Exhaust:
custom four into one header.

Transaxle:
Hewland FT200 5-speed (serial number 1537). Limited slip differential. March bellhousing with integral engine oil reservoir built in. CV joints on inner, u-joints on outer.

Front Susp.:
rocker arm actuated KONI double adjustable shock absorbers. Eibach 900#/inch springs. Adjustable antisway bar.

Rear Susp.:
rocker arm actuated KONI double adjustable shock absorbers. Eibach 1200#/inch springs. Driver-adjustable blade-type antisway bar.

Brakes:
(master) dual Girling master cylinders with cockpit-adjustable bias bar.
(front) Lockheed CP2361 4-pot aluminum calipers and vented rotors, mounted outboard.
(rear) Lockheed CP2361 4-pot aluminum calipers and vented rotors, mounted outboard.

Wheels/Tires:
Jongbloed Racing wheels, featuring cast magnesium centers and aluminum rims. Avon bias-ply tires (9.0/20.0/13 front and 13.0/23.0/13 rear).

Electrical:
electric starter. Xtreme AGM Permaseal battery. Bosch alternator.

Instruments:
(left to right) Racetech dual oil pressure (0-100psi) and oil temperature (40-140C) gauge, Stack electronic tachometer (0-10500rpm), and Racetech dual fuel pressure (0-100psi) and water temperature (30-110C) gauge.

Fuel System:
ATL fuel cell.

Safety Eqmt:
SPA/Lifeline fire suppression system. Schroth 6-point safety harness. (Willans shoulder pads.) Momo MOD.27c steering wheel mounted on a Bicknell Racing Products quick-release hub.

Weight:
1195#, wet.

Racing Class:
Formula Two

Engine Installation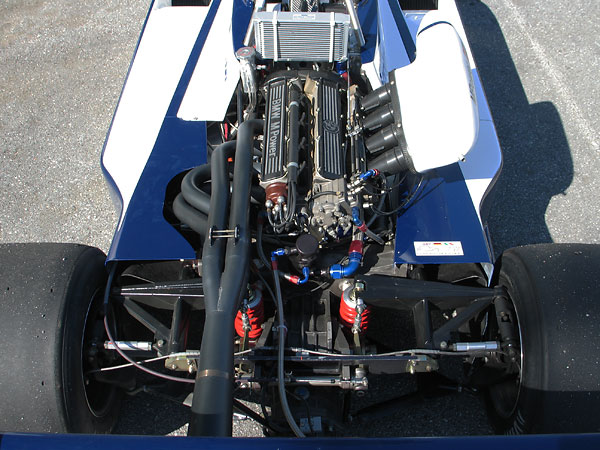 Corrado Fabi won the 1982 Formula Two World Championship with a BMW powered March 822. He
finished first in five of the 13 races. Teammate Johnny Cecotto won three of the remaining races.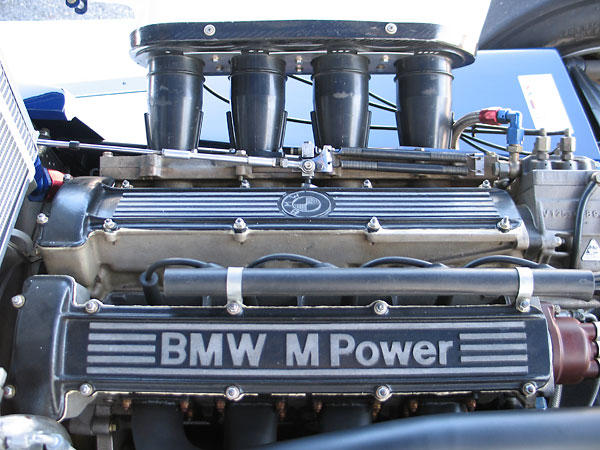 The BMW engine powered drivers to six Formula Two world championships between 1973 and 1982.
(Five in Marchs.) Through that era, BMW powered cars achieved 67 wins in 142 championship
races. By the end of 1982, the BMW M12/7 engine produced 320bhp at 10,000rpm.
In 1984, BMW left Formula Two racing to focus instead on Formula One.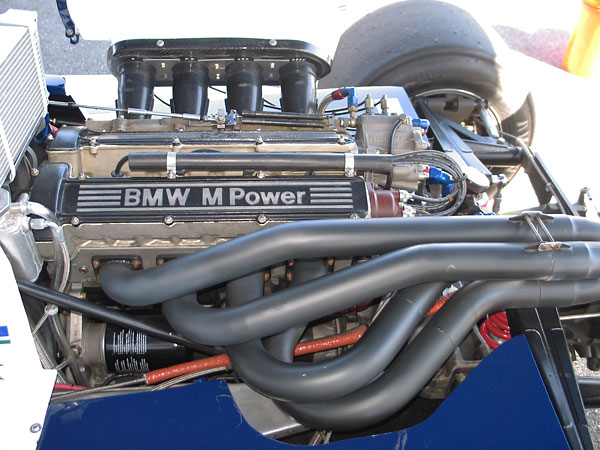 BMW's M12/7 Formula Two engine was remarkably similar to their contemporary Formula One engine.
Differences? 1999cc displacement (89.2mm bore, 80mm stroke) versus 1449cc (89.2mm bore, 60mm
stroke), normally aspirated instead of turbocharged, and mechanical fuel injection instead of digital
electronic fuel injection. At ~1.9 bar boost, the F1 engine produced over 650hp at 9500rpm.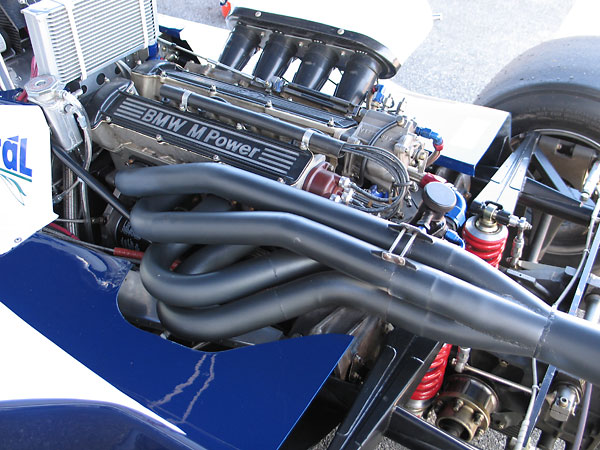 Custom fabricated four-into-one exhaust header.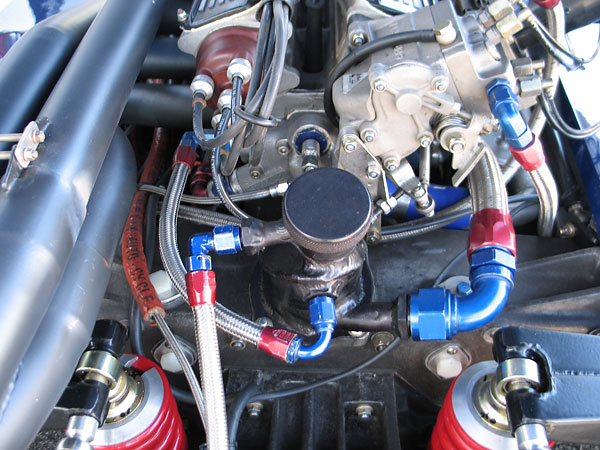 Foreground: to save space, March built the engine oil reservoir right into the bellhousing.
Background: Bosch breakerless electronic ignition. Magnecor Electrosports 70 spark plug wires.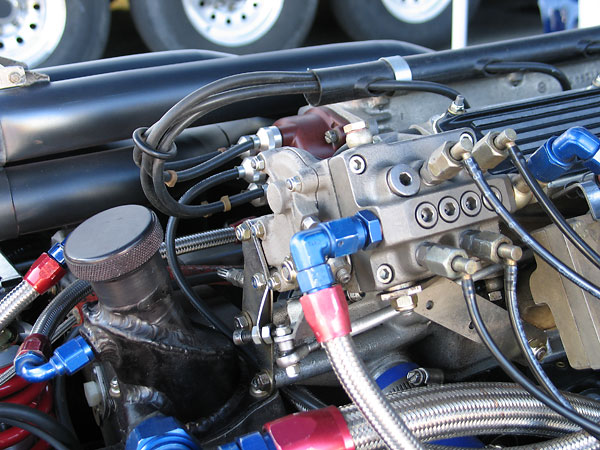 The Bosch mechanical fuel injection system is built around a Kugelfisher pump.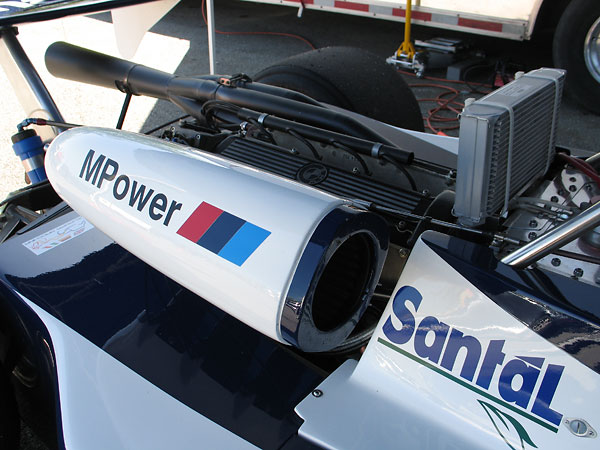 This engine has been rebuilt by Hank Clarkson, of Clarkson Engineering in Lehighton, PA.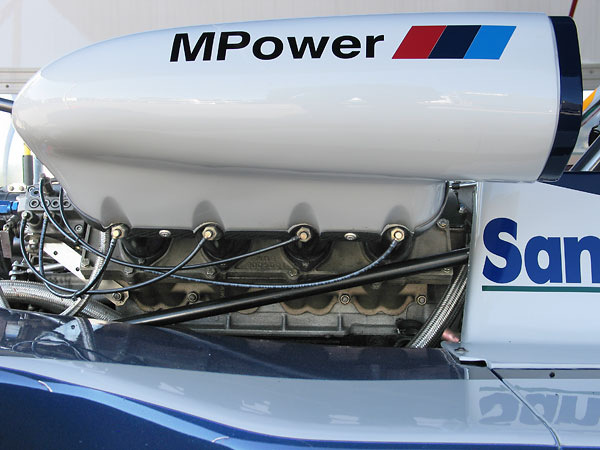 BMW slide throttle manifold (part number 1304008). Note that the fuel injectors are mounted in
the induction trumpets, upstream from the throttle blades. Spacing the injectors further out
generally promotes high end power at the expense of low end torque.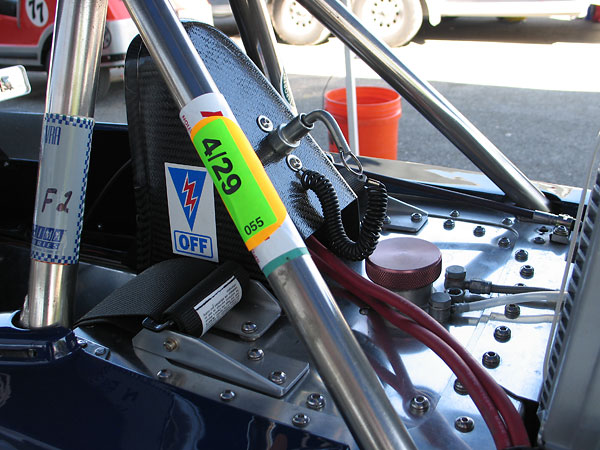 ATL fuel cell, mounted between driver and engine.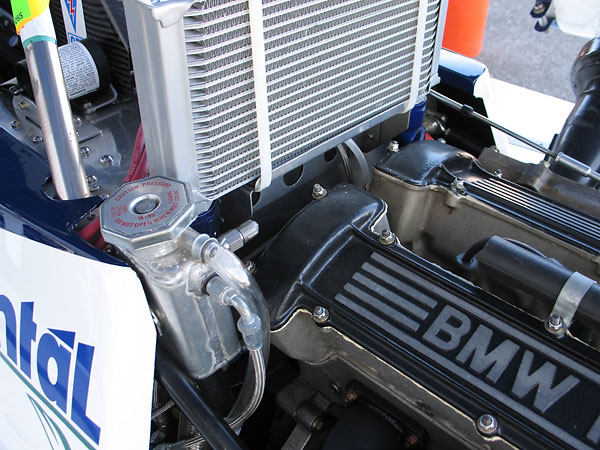 Custom fabricated aluminum header tank. Mocal aluminum 19-row 235mm oil cooler.


Front Suspension, etc.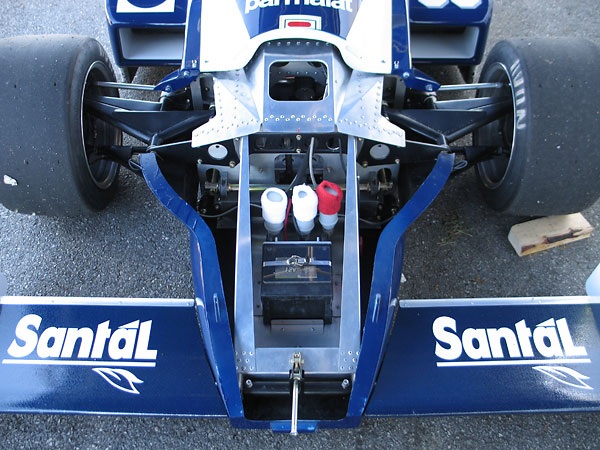 In most respects, the car accurately reflects the features and specifications of Formula Two
racecars of its era. One exception is shown here: a larger and heavier battery has been
installed for vintage racing. Back in the day, Formula Two racecars used air starters.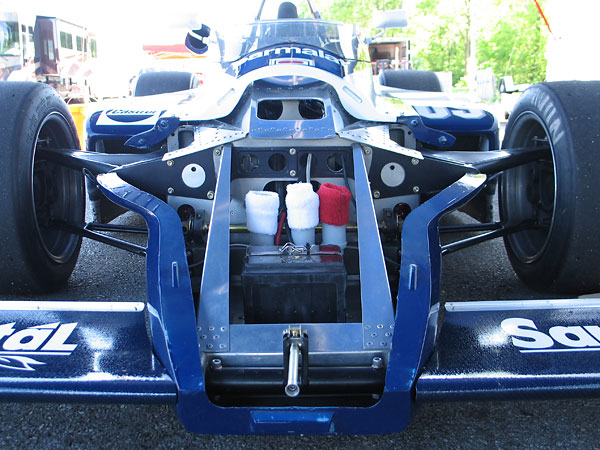 Inboard mounted shock absorbers helped clear the path of airflow to the radiators.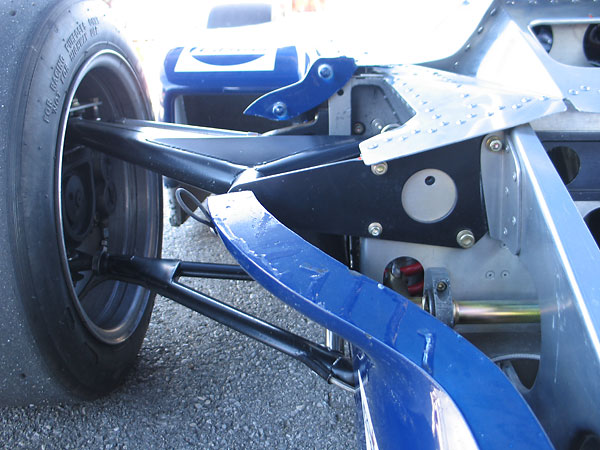 Lockheed CP2361 4-pot aluminum calipers and vented rotors, tucked deeply into the wheels.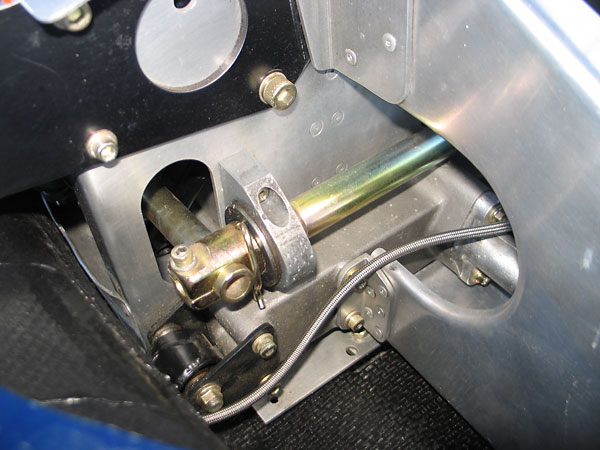 The front anti-sway bar can be adjusted by loosening the pinch bolt and extending or
retracting the lever. Obviously, the car has to be parked to make this adjustment.
The proportion of front-to-rear roll stiffness can be adjusted from the cockpit.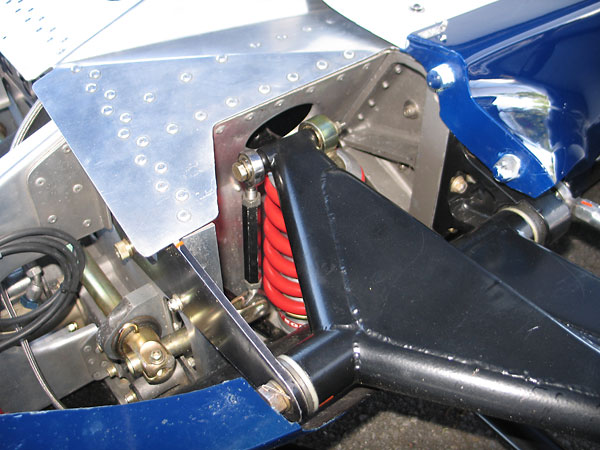 Phil Harris of Truechoice installed internal spacers to shorten the stroke of these KONI shocks.
Deliberate restriction of droop travel - "droop limiting" - is a chassis set-up technique that probably
originated on Reynard Formula Ford 2000 racecars in 1989. It only took about two years for droop
limiting to become standard practice in most of the fast Formula car classes. Soon, constructors
began designing new front suspensions with little or no droop travel.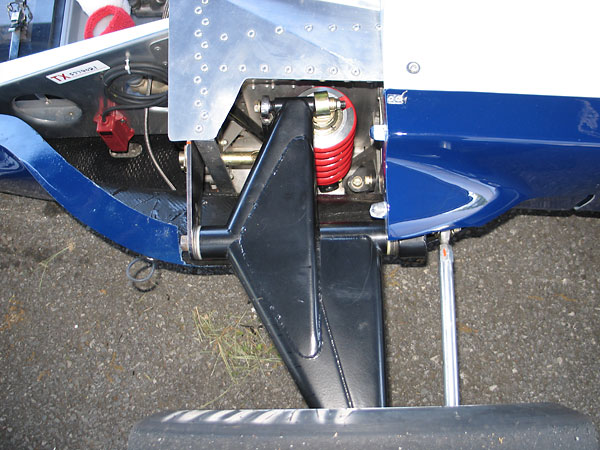 The problem: as "wings-and-slicks" cars grew progressively faster, racers were having persistant
problems with understeer from mid-corner to corner-exit. Biasing aerodynamic downforce toward
the front was an inadequate solution because results varied greatly with speed. High wheel rates
seemed to complicate matters. Some racers tried raising rear ride height (i.e. increasing rake),
but that tended to goof up brake balance and it also compromised the performance of ground
effects systems. Racers needed a way to increase front grip mechanically.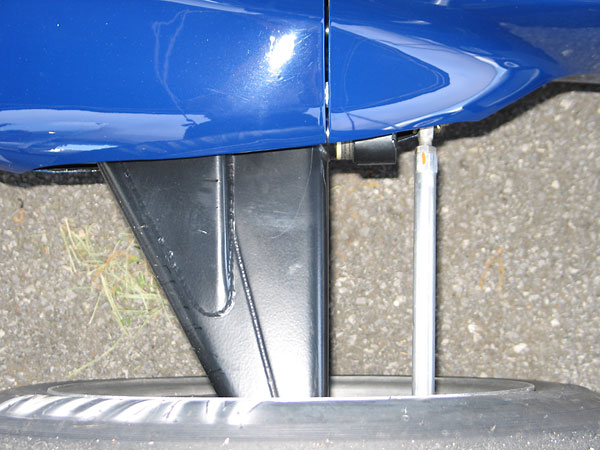 Droop limiting the front suspension helps reduce corner exit understeer through the following process:
(a) while turning, the chassis rolls far enough to engage a mechanical stop (i.e. a droop limiter), (b) as
an immediate result, the front suspension's roll center shifts to the inside tire's contact patch, and (c)
geometric roll resistance increases sharply. Meanwhile, the throttle has been mashed so weight is
transferring to the rear tires and the car is rapidly accelerating forward. Justin says droop limiting
gave him more front-end grip in both low-speed and high-speed corners, and allowed him to adjust
his front anti-sway bar to a softer setting.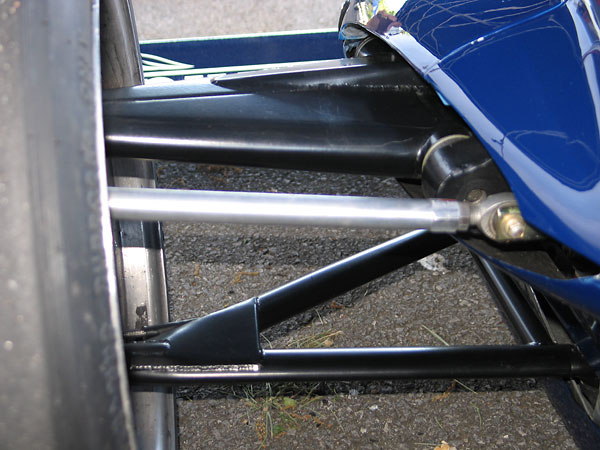 Cars that generate a lot of aerodynamic downforce at speed require stiffer suspension springs.
The wheel rates on Justin's 1195# March 822 are ~800 #/inch (front) and ~950 #/inch (rear)!
Justin reports that the car feels VERY stiff until you get it up to speed. Once there, the
suspension actually works over a larger range of motion than he expected.



Want to see more articles like this? BritishRaceCar.com is funded by readers like YOU.
To contribute to our operating fund, PLEASE click here and follow the instructions.
(Suggested contribution is twenty-five bucks per year. Feel free to give more!)


Rear Suspension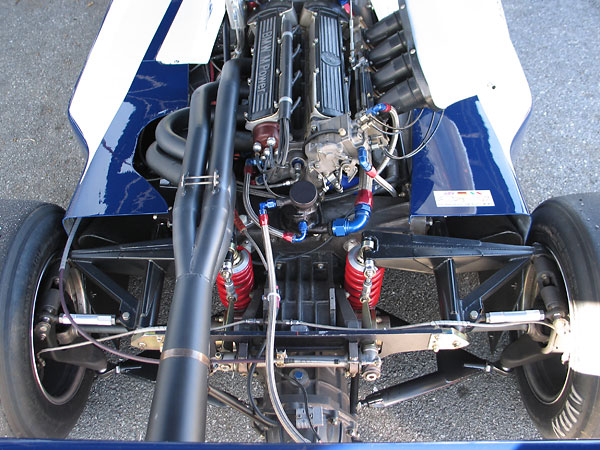 Rocker arm actuated rear suspension.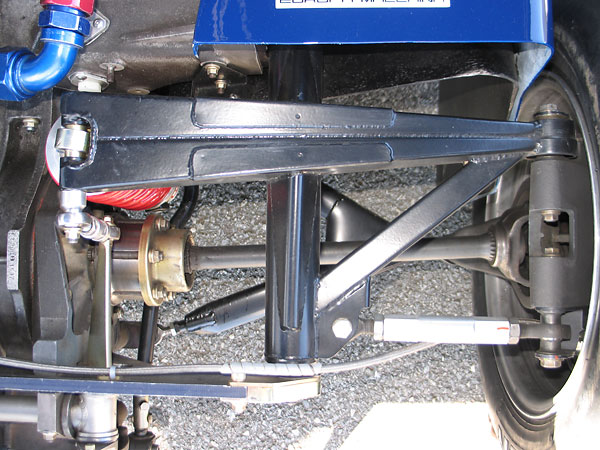 Relocating coilover rear shock absorbers inboard helped to clear the way for ground effects tunnels.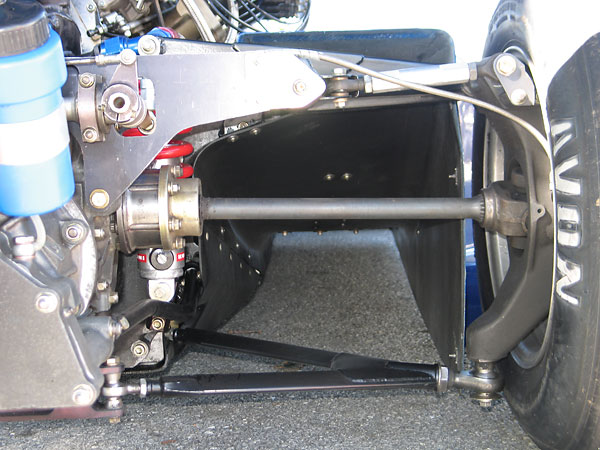 Lockheed CP2361 4-pot aluminum calipers and vented rotors, mounted inside the rear wheels.
With shock absorbers moved inboard, brakes had be located elsewhere.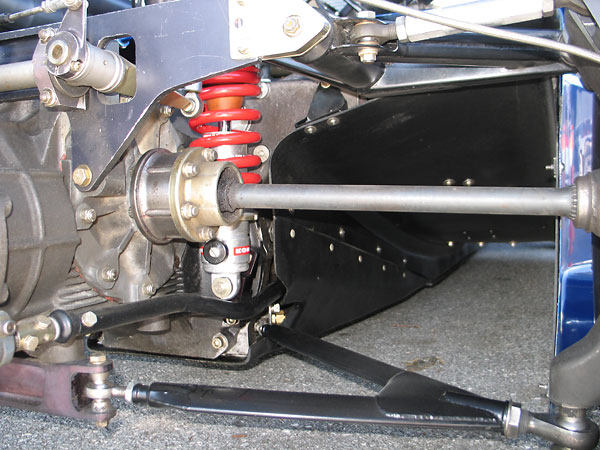 Halfshafts: CV joints on inner ends and u-joints on outer ends.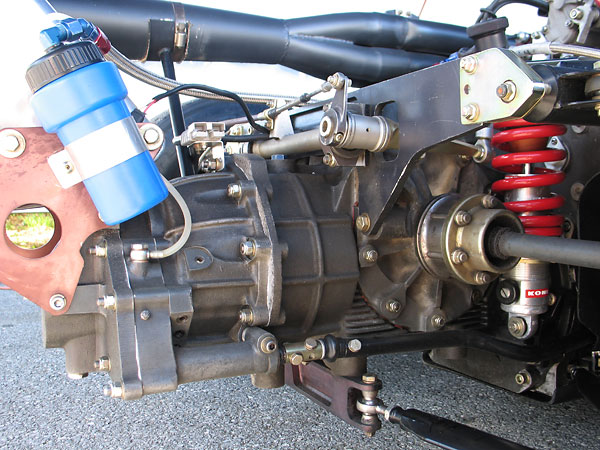 Hewland FT200 5-speed (serial number 1537) with limited slip differential.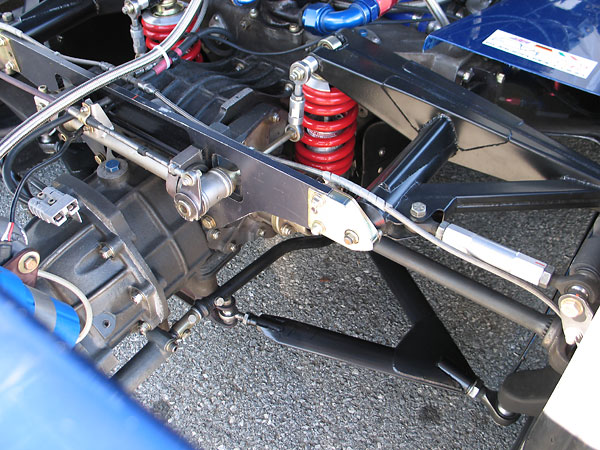 Lower wishbones constructed of airfoil tubing.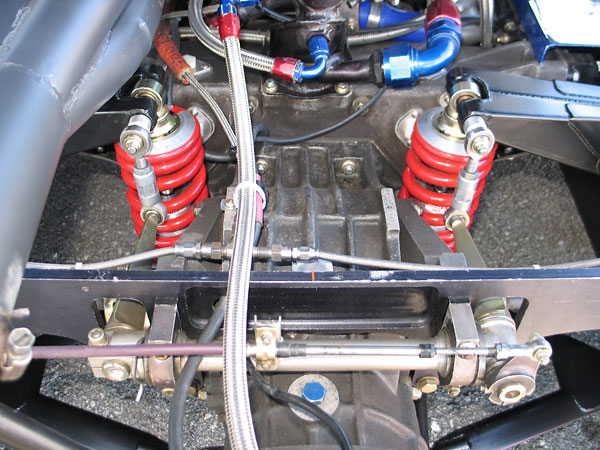 Blade type anti-sway bar with cable adjuster.


Interior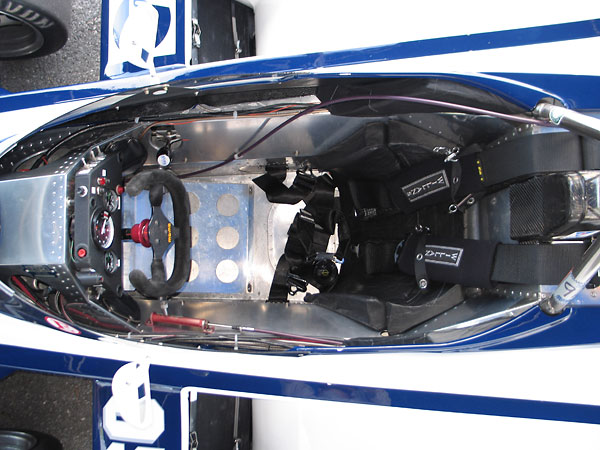 The bottom seat cushion has been removed to accommodate Justin's height.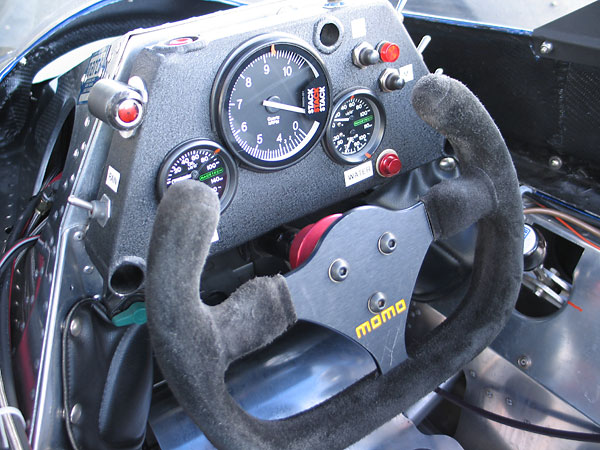 Cable-driven tachometers were standard issue for racecars in the early eighties. "Noisy" ignition
systems would have made that era's electronic tachs behave eratically.² This modern Stack
electronic (0-10500rpm) tachometer has a retro appearance, but offers electronic peak RPM
tell-tale memory, a shift-light, a "fast lap" feature, etc. The push-button labeled "M" is for
accessing Max and Lap Marker features. The "R" button is for Run and Reset features.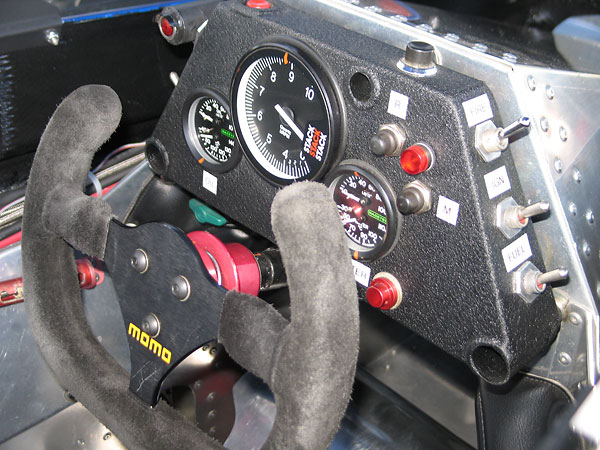 Left: Racetech dual oil pressure (0-100psi) and oil temperature (40-140C) gauge.
Right: Racetech dual fuel pressure (0-100psi) and water temperature (30-110C) gauge.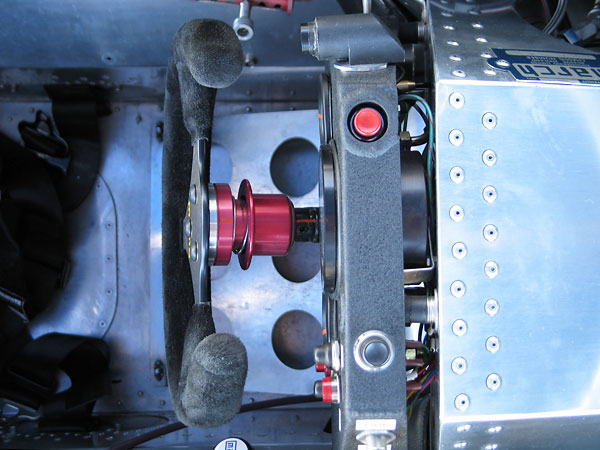 Momo MOD.27c steering wheel mounted on a Bicknell Racing Products quick-release hub.
Recessed red button to activate fire suppression system. Black button for starter.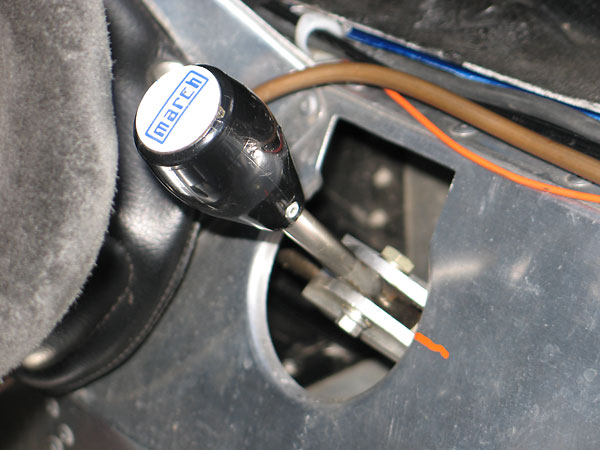 Gear selector mechanism.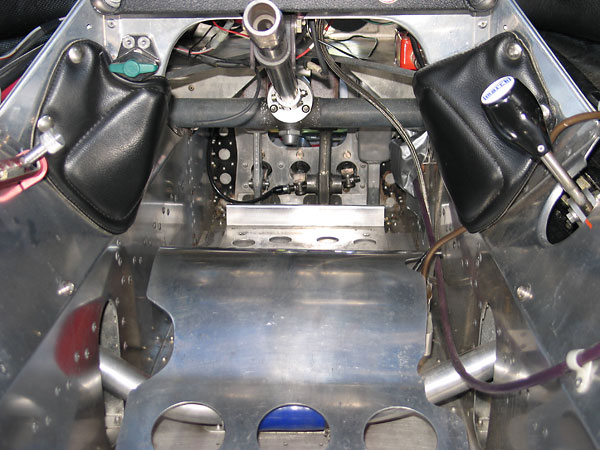 Green knob for front/rear brake bias adjustment.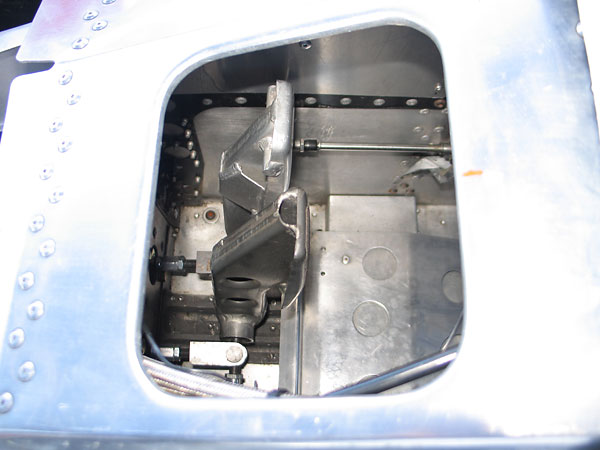 Pedal fabrication details.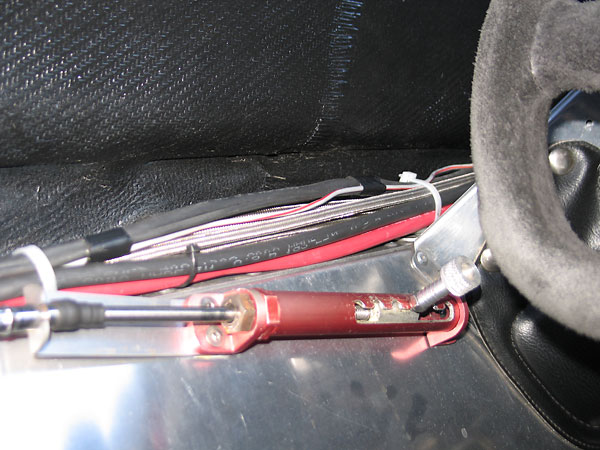 Rear anti-sway bar adjuster.



Schroth 6-point safety harness fitted with Willans shoulder pads. Shoulder strap attachment points
have been moved from the rear bulkhead up to above the fuel cell to accommodate Justin's height.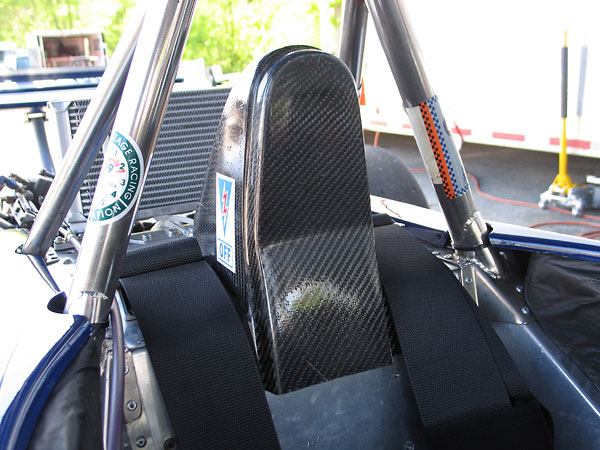 Carbon fiber headrest? Carbon fiber was just coming into use on Formula Two cars in 1982.
March switched from aluminum monocoque to carbon composite tubs for Formula Two in 1984.
Robin Herd explained that carbon tubs were more durable, and that the torsional rigidity of
aluminum monocoque tubs begins dropping appreciably before the end of one season of racing.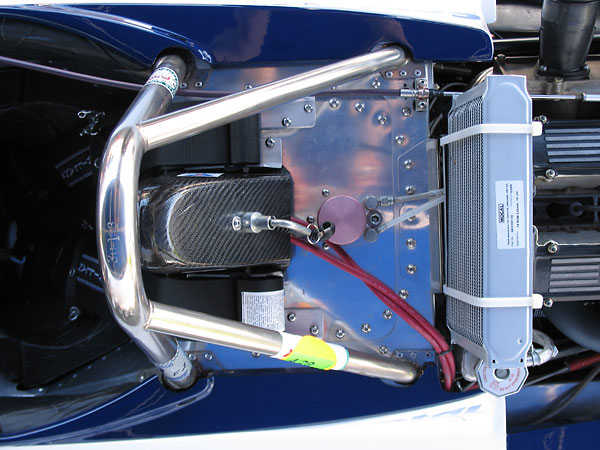 Engine kill switch is mounted inside the headrest.


Exterior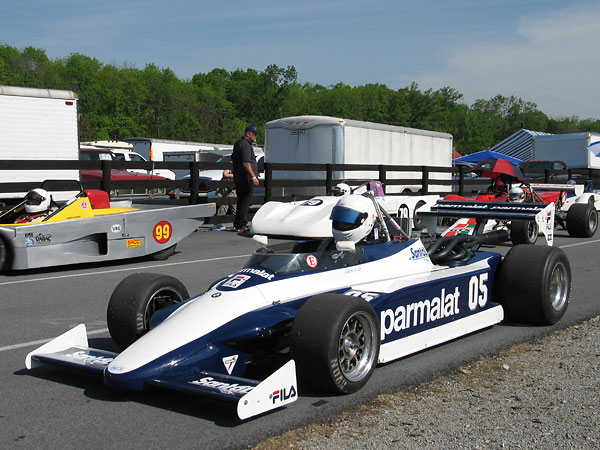 We photographed Justin's March 822 at Summit Point Motorsports Park during Vintage Racer Group's
2010 Jefferson 500. This was the quickest car participating by a margin of over 1.8 seconds per lap.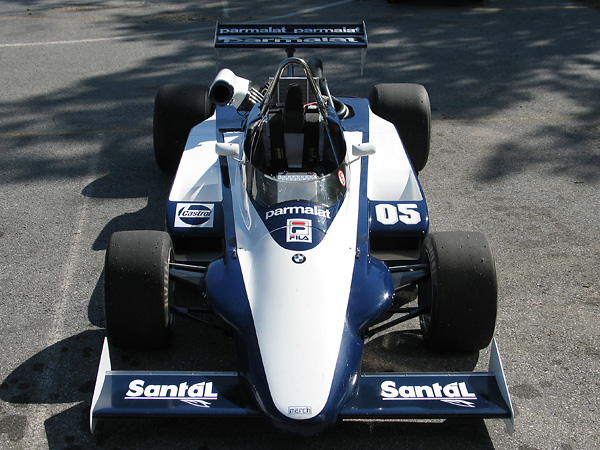 Justin won Saturday afternoon's Charlie Gibson Trophy sprint race by a 23.579 second margin.
His best lap was timed at 1:14.58, which averages out to a stunning 94.65 miles per hour
around that tight and technically challenging 2.0 mile circuit.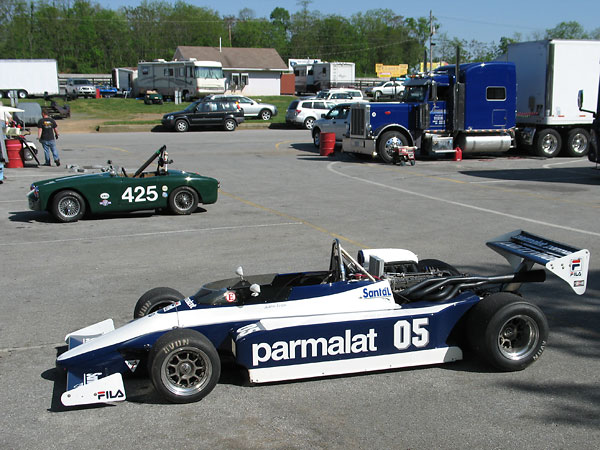 In September 2011, we saw Justin drive his March 822 at Watkins Glen. On that occasion, Justin
circled the 3.4 mile Watkins Glen circuit at 1:51.337, which works out to 109.94 miles per hour!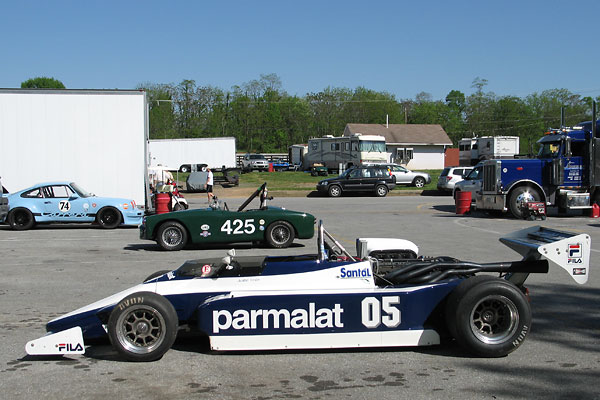 Justin Frick chose Parmalat livery because this 1982 model Formula Two racecar features a BMW M12
engine. Similarly liveried Brabham-BMW cars were competitive in Formula One throughout 1982. In
Formula One trim, the BMW engine was turbocharged. March-Ford racecars were entered in fifteen
of the Formula One championship's sixteen rounds, but failed to score any championship points.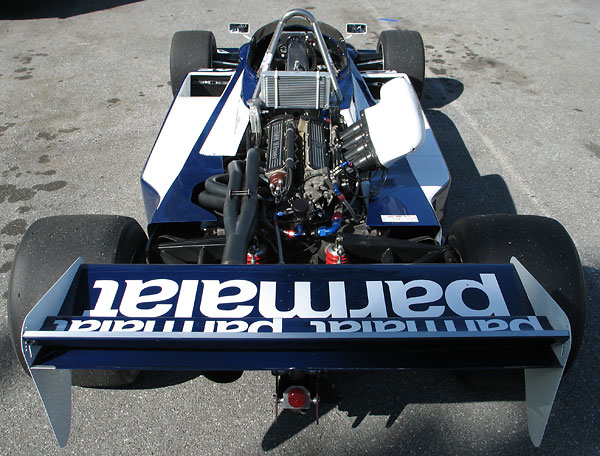 Parmalat was an Italian food company that mastered ultra high temperature pasteurization techniques.
They leveraged the technology to become one of the world's leading suppliers of dairy and fruit juice
products. UHT processing gives milk a stable shelf life of six to nine months, at the expense of flavor.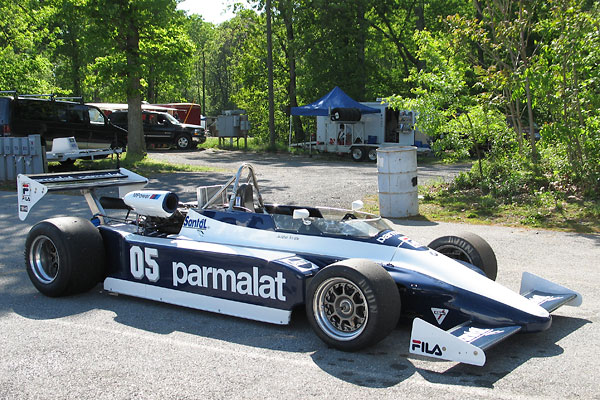 Parmalat became a worldwide brand when Bernie Ecclestone recruited the company to sponsor the
Brabham Formula One team for the 1978 season. Parmalat's funding made it possible for Ecclestone
to woo defending Formula One World Champion Niki Lauda away from the Ferrari team.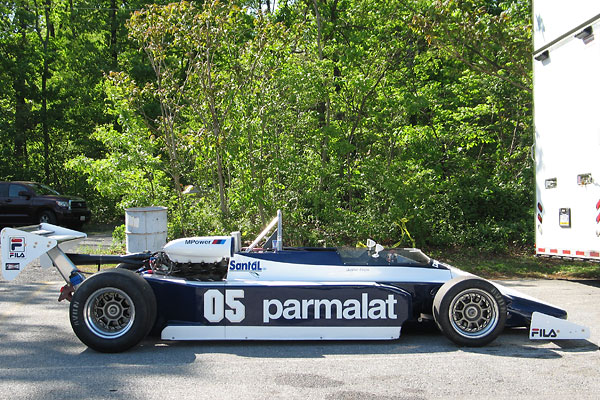 Parmalat was Brabham's principle sponsor through five seasons, while fielding six different drivers,
with five different chassis designs, and with three engine suppliers. In 1982, Nelson Piquet and
Riccardo Patrese drove 1.5L turbocharged BMW powered Brabham BT50 racecars in fourteen and ten
championship series races, respectively. Piquet won the Canadian Grand Prix and Patrese won at
Monoco. With a Brabham-BMW, Piquet won the 1983 championship - but Parmalat had moved on.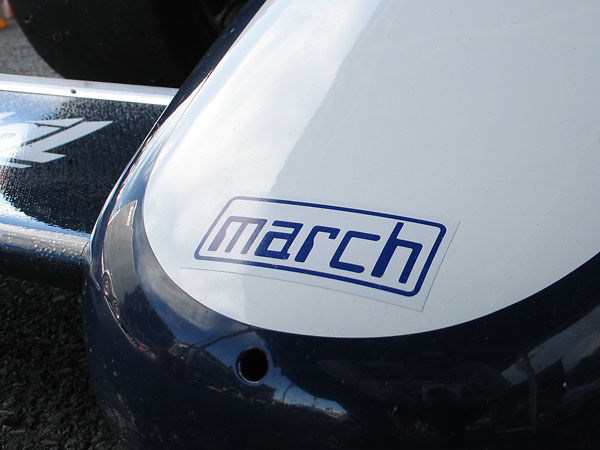 March decal. On the wings: Santál is the tradename that Parmalat uses for marketing
a diverse range of fruit juice products. The Santál brand was launched in 1980.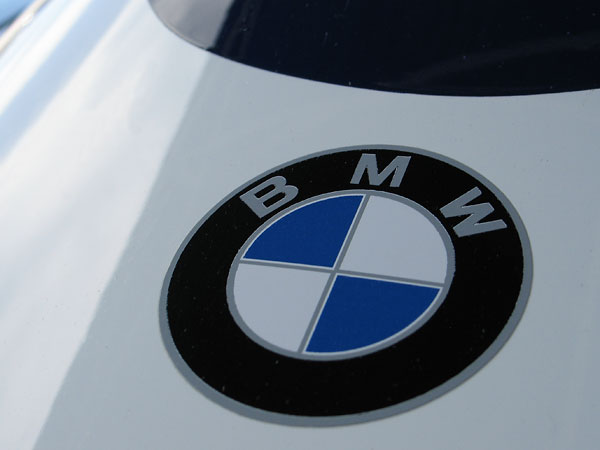 BMW decal, because this racecar is powered by a BMW M12/7 2.0L four-cylinder engine.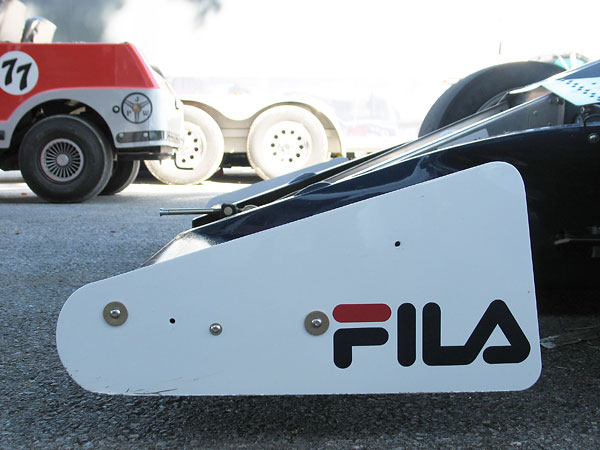 Founded in Italy in 1911, Fila is a leading global supplier of designer tennis and sports clothing.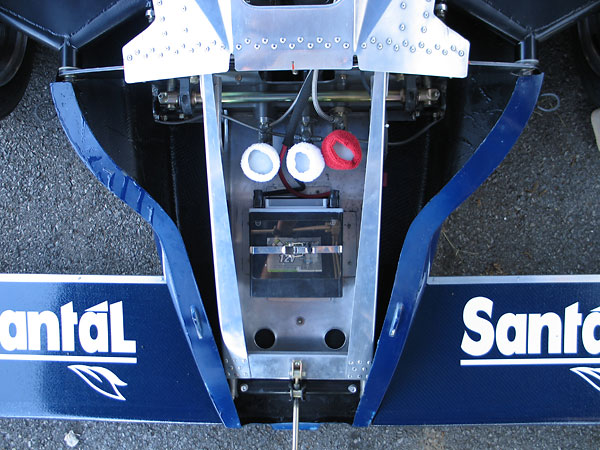 Xtreme AGM Permaseal battery. Absorbed glass mat batteries are sealed except for a pressure relief valve,
so they can be mounted at any angle and they rarely leak acid. Compared to flooded lead acid batteries,
AGM batteries recharge relatively slowly and are less capable of withstanding high temperatures.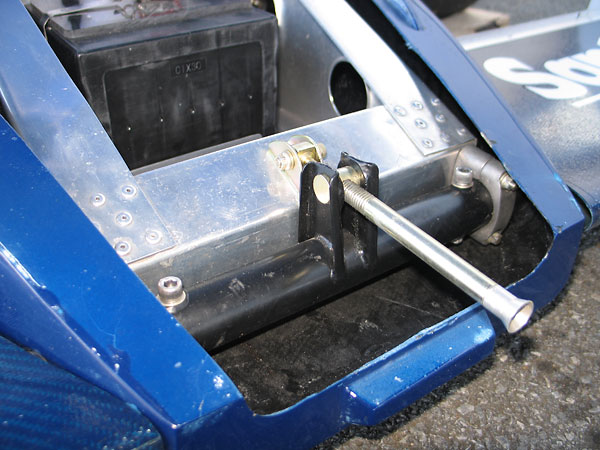 Wing angle adjuster mechanism.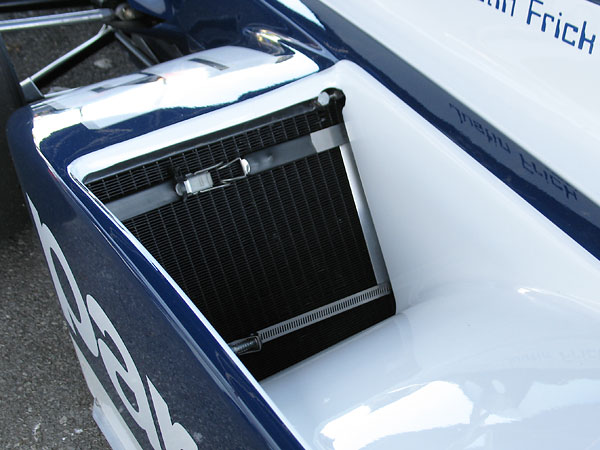 The March 822 features dual copper/brass radiators, mounted in its side pods.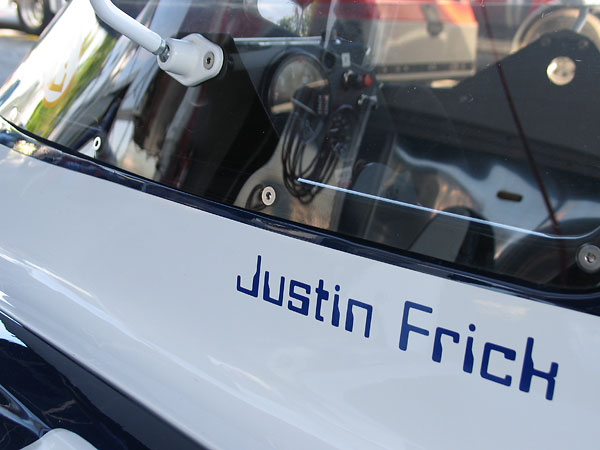 Justin Frick. (This typeface is called "NASA", and it matches the March logo.)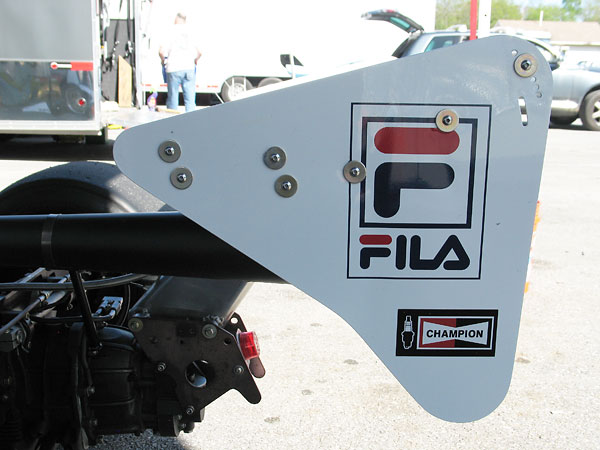 Rear wing endplate detail, including rake adjustment feature.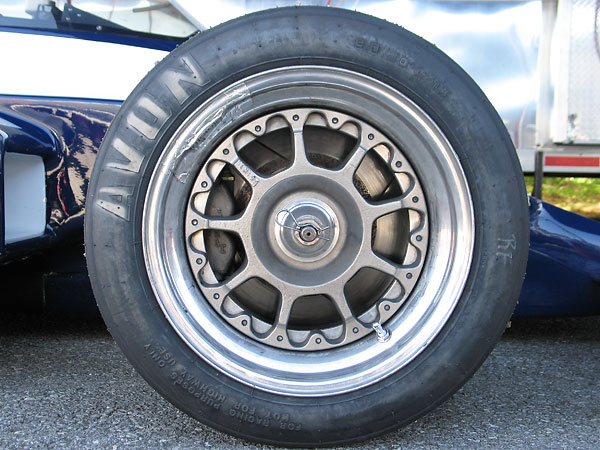 These American made Jongbloed Racing wheels feature cast magnesium centers and aluminum rims.
The March 822 originally rolled on one-piece diecast magnesium wheels, made in England by Dymag.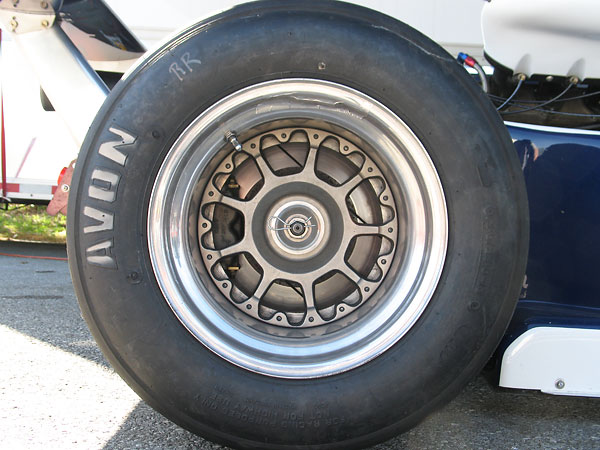 Avon 9.0/20.0 (front) and 13.0/23.0 (rear) bias-ply racing slicks. When this car was built in 1982,
Formula Two cars raced on radial tires. Bias ply tires are more popular for vintage Formula Two
cars because they're more driver friendly and because they warm up quicker.


Notes:
(1)
It would be malpractice not to mention that March Engineering turned its attention to Indianapolis 500 racing in 1980, and that they would come to dominate that form of racing in the mid-1980s. In 1981, March provided 17 of 33 cars on the Indy 500 starting grid. March racecars won the Indy 500 every year from 1983 through 1987. We might consider featuring a March Indy 500 car on this website if you will kindly make a voluntary contribution to our modest little operating fund. Every single dollar helps.


(2)
Ignition systems and brush-type motors inevitably produce radio frequency interence (RFI) and electro-magnetic interference (EMI), also known as "noise". Newer electronic devices are typically less sensitive to and also better shielded from RFI and EMI issues.



(Hans Stuck's March 741, as photographed by Curtis Jacobson for BritishRacecar.com)

Did you enjoy this article? We currently have eighty more in process, featuring about 6000 new photos.
But it takes a lot of time and expense to turn photos into articles, and to publish them on the internet.
Please consider making a contribution. Your donation will help us publish more and better articles!
While you're at it, tell us which racecars interest you most. We value the opinions of our funders.


Except where explicitly noted otherwise, all photos shown here are from April 2010 when we viewed Justin's car at VRG's Jefferson 500 at Summit Point Motorsports Park, West Virginia. Photos by Curtis Jacobson for BritishRaceCar.com, copyright 2012. All rights reserved. The four photos of this car's bodywork being restored are from Dave Craddock's personal collection and are used here by exclusive permission. Copyright 2012. All rights reserved.



Notice: all the articles and almost all the photos on BritishRacecar.com are by Curtis Jacobson.
(Photos that aren't by Curtis are explicitly credited.) Reproduction without prior written permission is prohibited.
Contact us to purchase images or reproduction permission. Higher resolution images are optionally available.