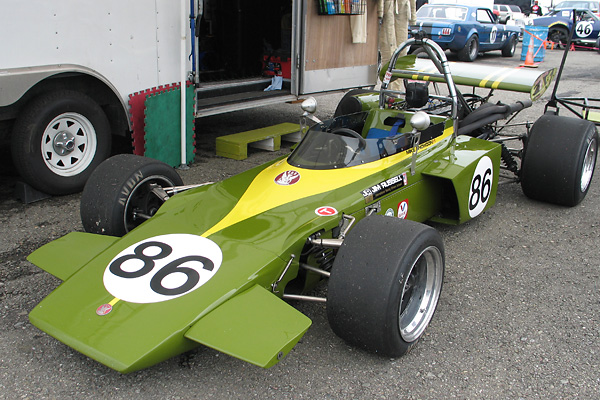 Michael Snowdon's G.R.D. 272 Formula Two Racecar, Number 86
Owner: Michael Snowdon
City: Ile Cadieux, Quebec
Model: 1972 G.R.D. 272
Engine: Ford BDE 1.8L DOHC 16-valve I4
Restored by: Peter Denty Racing
A Phoenix Born from Lotus Ashes
In 1971, Lotus ceased production of race cars for outside customers to focus resources on their road car division: Lotus Cars Limited. The Lotus flag would still be carried in Formula One by Team Lotus, but the team operated independently and the cars it used weren't offered for public sale. Team Lotus had already won the Formula One championships for 1970, and they would continue to win the championships for 1971 and 1972. They continued designing Formula One cars for many more seasons. However, some very talented race car designers and builders lost their jobs with the closure of the race car division: Lotus Components Limited.

Mike Warner, who had long been the chief executive of Lotus Components, looked for a way to resume operations. Partnering with a local engineering company called Griston, he recruited designer Dave Baldwin, and lead technicians Derek Wild and Gordon Huckle to form Group Racing Developments. (Baldwin had designed the successful Lotus 59, 59A, and 69 tubular spaceframe cars. He's also credited with completing the design of the Lotus 73 which was a monocoque chassis Formula 3 car.) Warner also recruited Swiss race car designer Jo Marquart who had worked at Lotus through the sixties before brief stints at McLaren and Huron.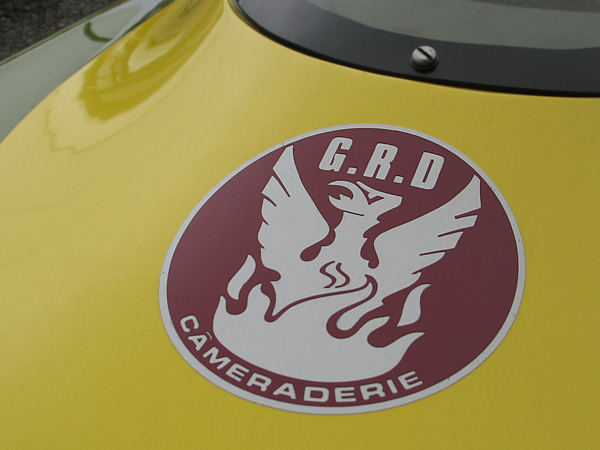 Cameraderie
"Lotus Components Ltd." reorganized as "Lotus Racing" in 1971, but the company soon failed anyway.
Group Racing Developments rose from the ashes of Lotus Racing and took a phoenix as their symbol.


The business picture looked promising at the start. G.R.D. would continue relationships with teams that had previously preferred Lotus cars. Brabham was withdrawing from the market, so there seemed to be great potential for increasing market share. But racing is a difficult and rapidly changing business. Participation rapidly declined after the Arab oil embargo, and the fuel crisis brought racing in England to a near total stop for the 1975 season. Despite a very promising beginning, by the end of 1974 G.R.D. would cease operations. The scattered remains of G.R.D. would be picked-up by the new Van Diemen company, who have subsequently become well known for successive successful Formula Ford models. Van Diemen rebadged the G.R.D. chassis and offered it for awhile to Formula 3 teams.



G.R.D. focused their efforts on two similar racing classes: Formula Two and Formula Three. Perhaps we should review the key racing classes of the period. Formula One was the top class, with engines restricted to 3L capacity (normally aspirated). Formula Two was viewed as the last class before drivers graduated to Formula One. Engine capacity was capped at 1600cc through 1971, rising to 2L from 1972. From 1971, Formula Three engine displacement grew (from 1000cc) to 1600cc but the engines had to breath through a 20mm restrictor. Generally, it was feasible to convert a car from Formula Two to Formula Three or vice versa.

G.R.D.'s model designations are intuitive. They used three digit numbers, with the first digit indicating racing class and the two final digits designating model year. A 272 was nominally a Formula Two car built to race in the 1972 season.

All G.R.D. race cars feature aluminum bathtub monocoques with tubular subframes front and rear and conventional suspensions. The bodywork had a pronounced wedge shape. Side mounted radiators were used on 1972 and 1973 models, but a single front mounted radiator was tried in 1974.

How successful were they? G.R.D. cars clearly won their share of races, especially in Formula Three. Roger Williamson won the Formula Three "Shell/Motor Sport International" Championship in 1972. In the 1973 Formula Three season Alan Jones, Brian Henton and Richard Robarts chalked up 9 wins between them. In 1975 Renzo Zorzi won the Formula Three race at Monaco.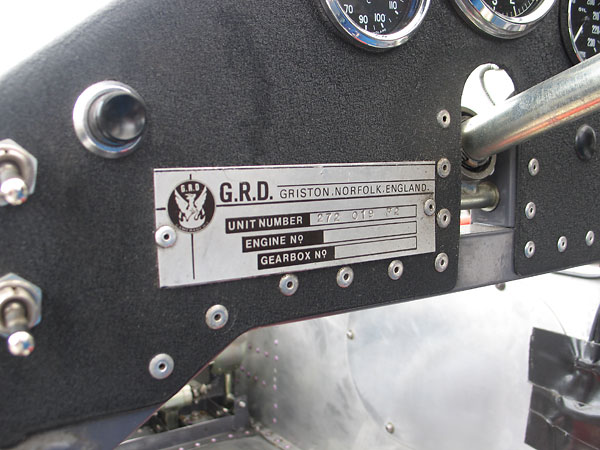 G.R.D. Griston. Norfolk. England.
Unit No. 272 019 F2 - Engine No. (blank) - Gearbox No. (blank)


Michael Snowdon's G.R.D.
Michael Snowdon's 272 has a lot of Canadian history. It was owned by Jacques Couture (1960's racer and husband of Jim Russell's daughter), and it was also driven by Montreal racer Dave McConnell in both the Tasman series and in European events after being temporarily reconfigured to Formula Three requirements.

Michael bought the car in 2005 and sent it back to England for restoration. Peter Denty, who worked at G.R.D. throughout the company's entire run, restored it over the winter and it was ready for North American vintage racing starting in 2006.
Enjoying this article? www.BritishRaceCar.com is partially funded through generous support from readers like you!
To contribute to our operating budget, please click here and follow the instructions.
(Suggested contribution is twenty bucks per year. Feel free to give more!)
Features and Specifications
Engine:
Ford BDE (Belt Drive E-Type) 1.8L DOHC 16-valve inline four cylinder engine. Lucas ignition system. Dual Weber DCOE carburetors. Dry sump lubrication system.

Cooling:
dual side-mounted radiators.

Exhaust:
4-into-1 header.

Transaxle:
Hewland FG400 5-speed. Dual-plate QuarterMaster clutch.

Front Susp.:
double wishbone suspension with outboard coilovers and brakes, and conventional adjustable antisway bar. G.R.D. proprietary magnesium uprights.

Rear Susp.:
dual lower links, single top links, and twin adjustable trailing links. Outboard coilover shock absorbers and inboard brakes. Adjustable antisway bar. G.R.D. proprietary magnesium uprights.

Brakes:
(master) dual Girling master cylinders with bias bar,
(front) AP Lockheed four piston calipers with vented rotors,
(rear) inboard mounted AP Lockheed calipers with solid rotors.

Wheels/Tires:
G.R.D. cast magnesium wheels with Avon 13" racing slicks (9x20 front, 13x23 rear).

Electrical:
Ark Racing starter motor.

Instruments:
(left to right) Smiths dual oil pressure (0-160psi) and coolant temperature (30-120C) gauge, Smiths mechanical tachometer (0-12000rpm), and Smiths oil temperature gauge (90-230F).

Fuel System:
dual side-mounted fuel cells.

Safety Eqpmt:
Willans six point cam-lock safety harness. S.P.A. Firefighter aqueous film forming foam (AFFF) centralized fire suppression system. Quick release steering wheel hub. 50 LED rain light.

Weight:
1020lbs

Completion:
rebuilt 2005-2006 by Peter Denty Racing, near Thetford, Norfolk.

Racing Class:
Formula 2 / SVRA 9FA

Engine Installation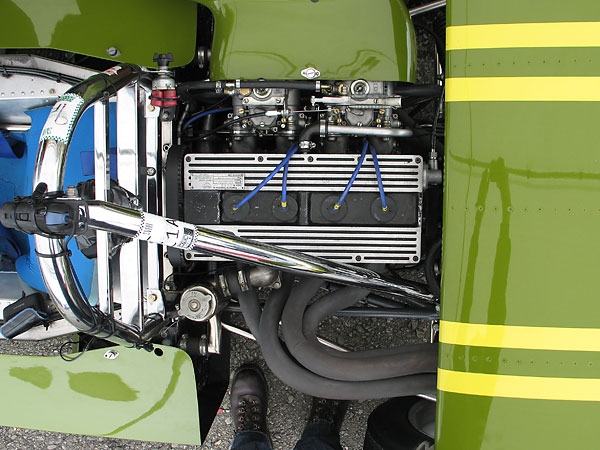 The BD series of Cosworth/Ford belt-driven dual overhead cam engines date from 1969.
This "BDE" engine is the fifth generation of the design.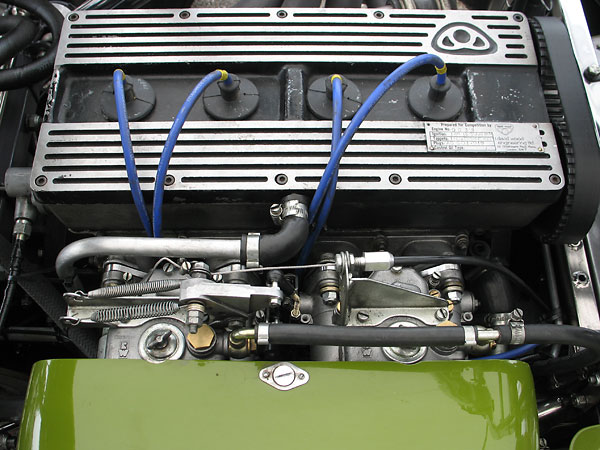 Dual Weber DCOE carburetors.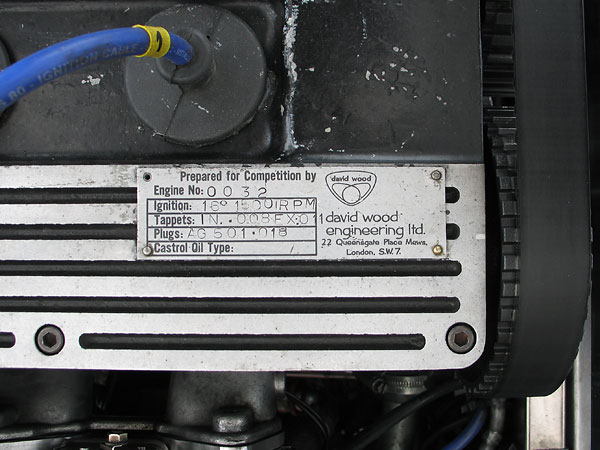 Prepared for Competition by David Wood, Engine Number 0032
Ignition: 16o 1500rpm - Tappets: inlet .008 exhaust .011 - Plugs: AG 501.018
David Wood Engineering Ltd., 22 Queensgate Place Mews, London, S.W.7.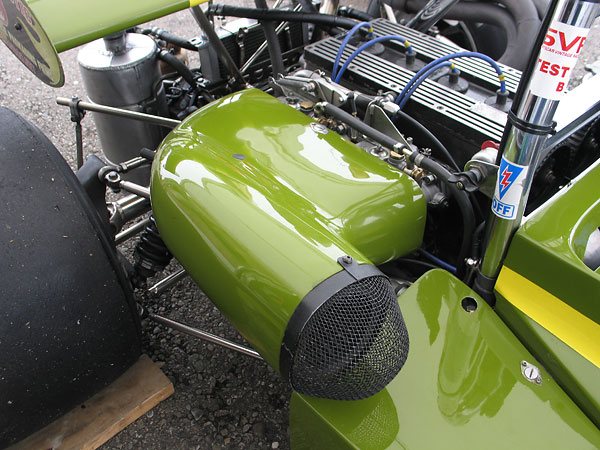 Air intake.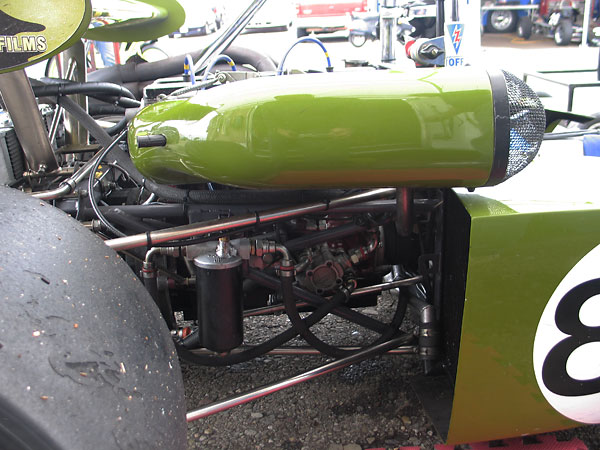 The drive gear for the dry sump oil pump and the distributor are on a jackshaft on this side of the engine.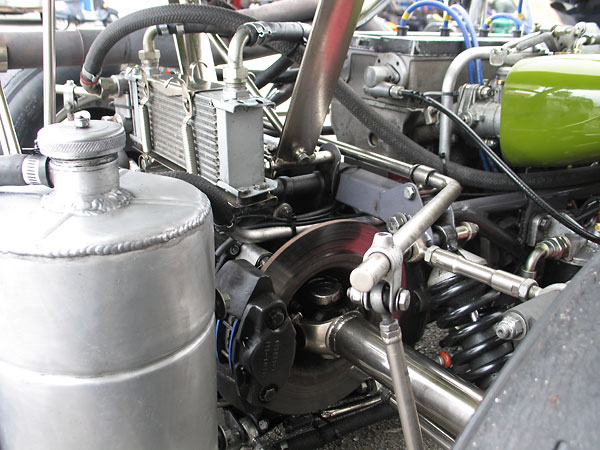 The mechanical tachometer is driven from the back end of the righthand camshaft.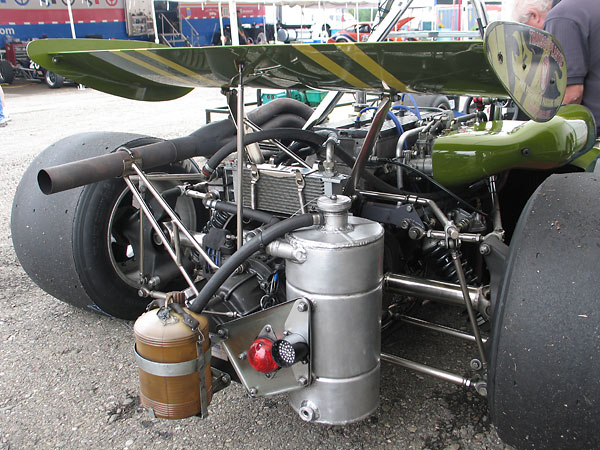 Oil cooler, and the reservoir for the dry sump lubrication system.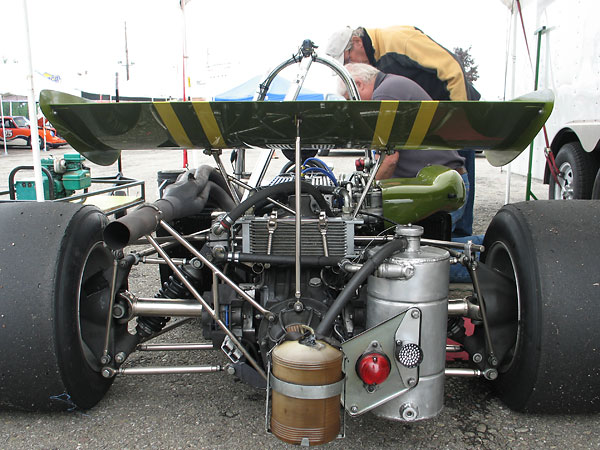 50 LED rain light.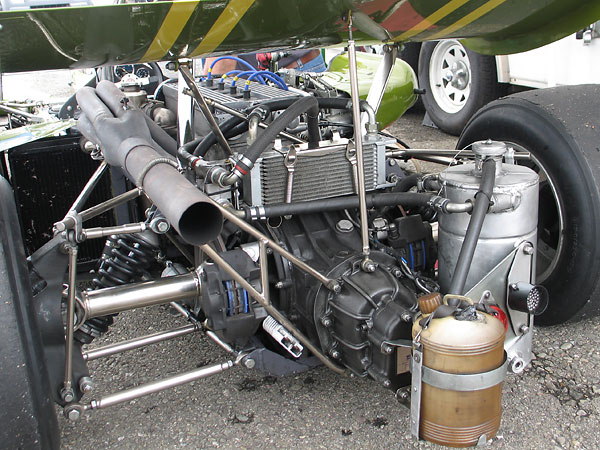 AP Lockheed two-piston brake calipers.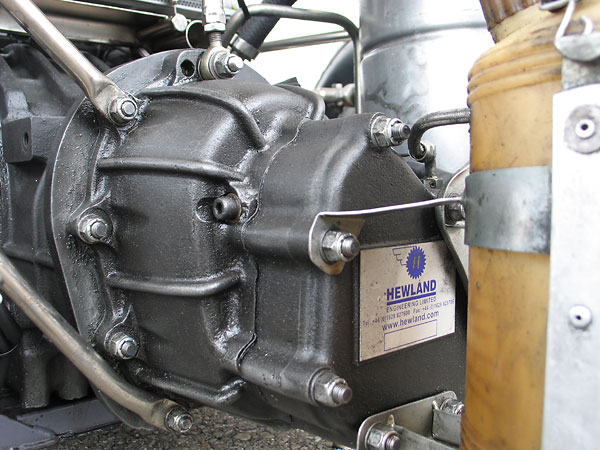 Hewland FG400 5-speed.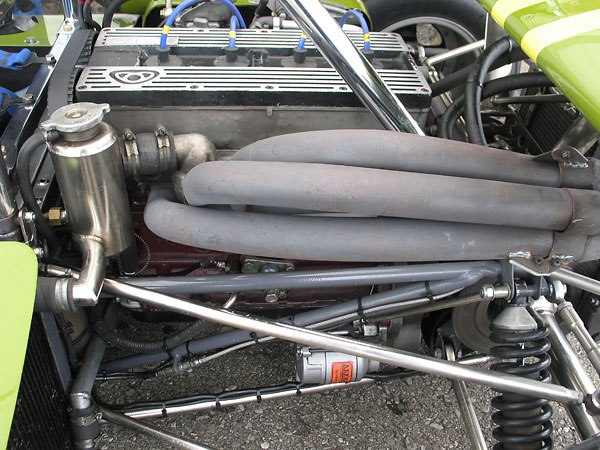 Custom four into one exhaust headers.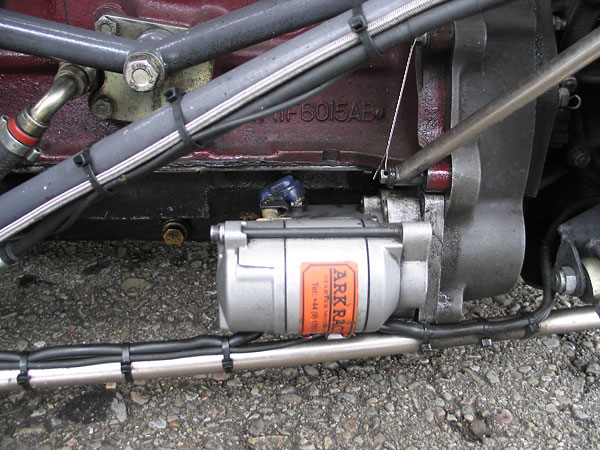 Ark Racing starter motor.



Stainless steel swirl pot helps deaerate the coolant.


Suspension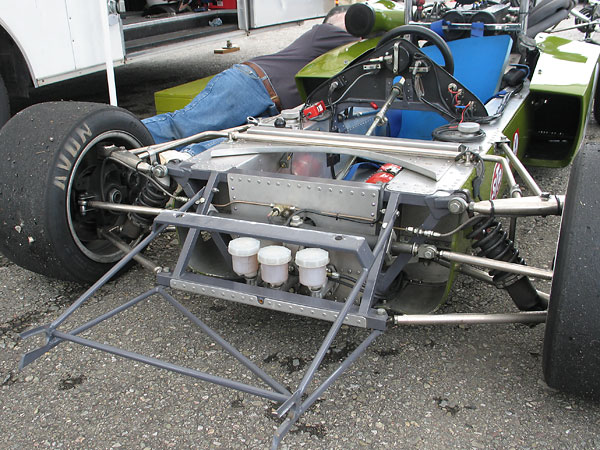 A lightweight frame projects forward from the chassis to support the nose cone.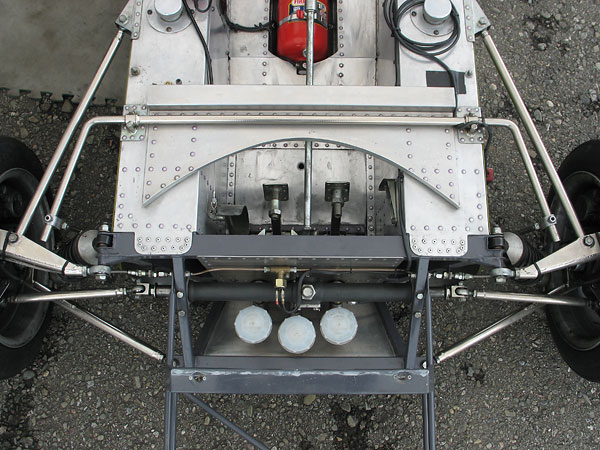 At the front of the tub, a steel subframe provides mounting points for the coilover shock absorbers,
for the forward arms of the upper and lower wishbones, and for the steering rack.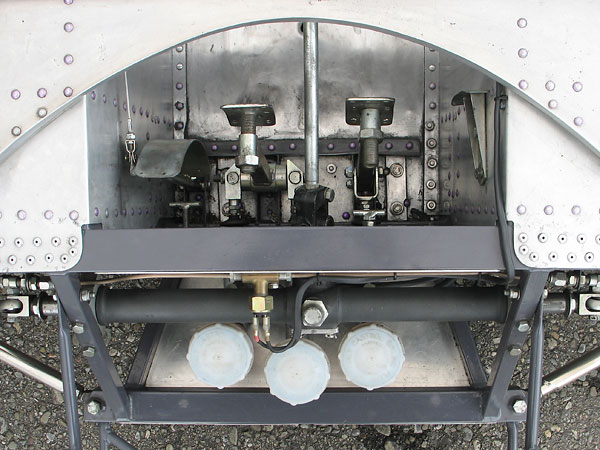 Dual Girling master cylinders with adjustable bias bar.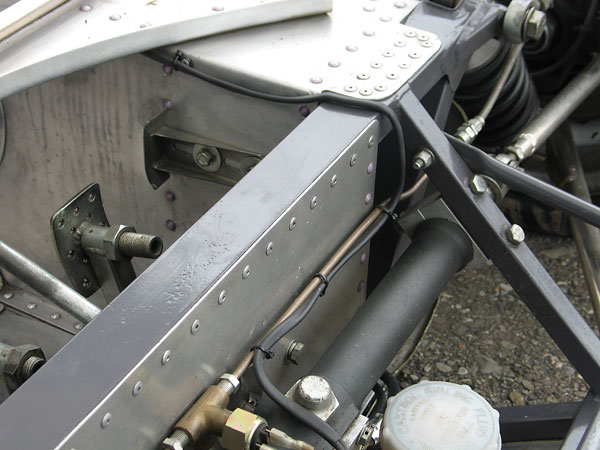 Easily adjustable "dead pedal" for the driver's clutch foot.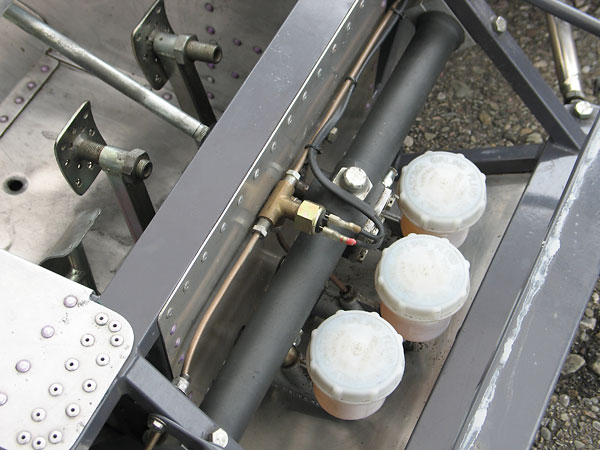 Steering rack and brake light switch.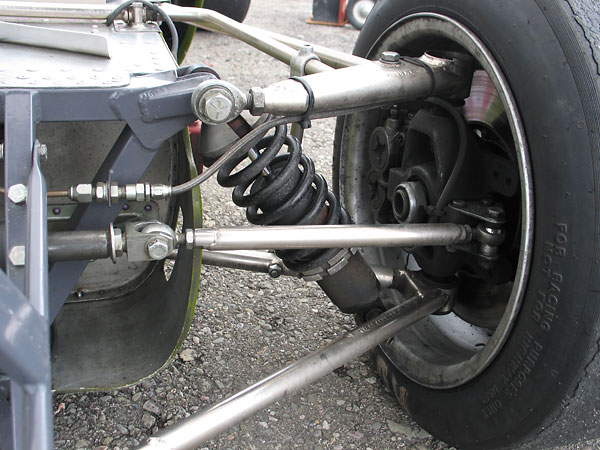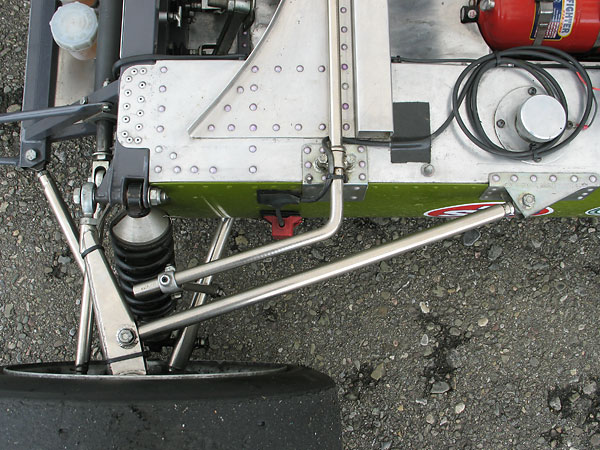 AMB TranX260 direct wire transponder.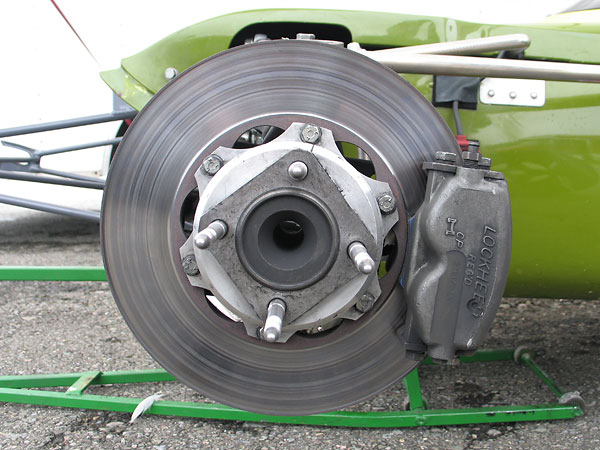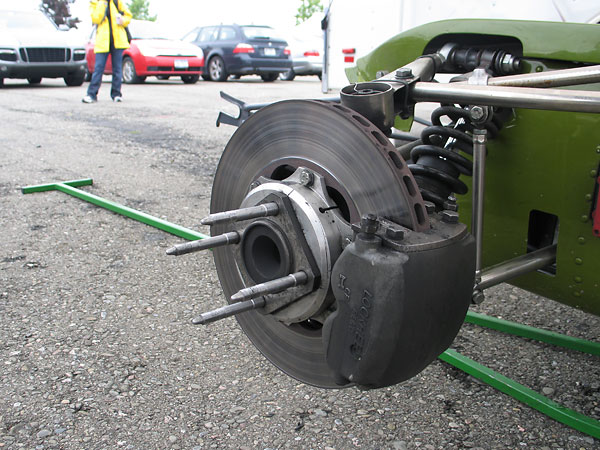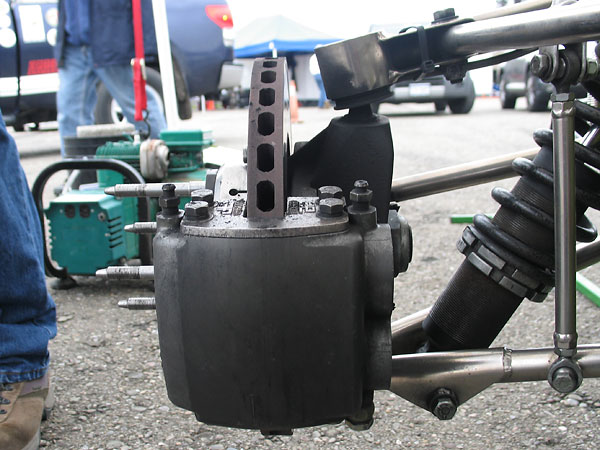 AP Lockheed four-piston brake caliper.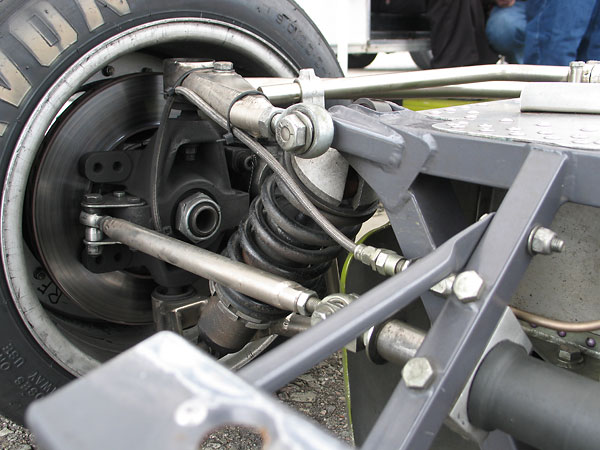 G.R.D. proprietary magnesium front upright.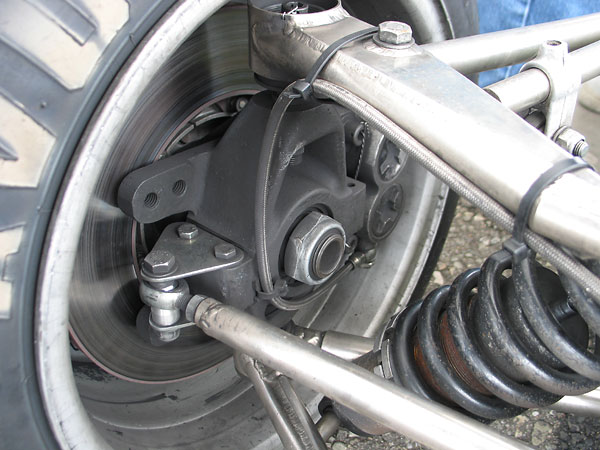 Notice that the uprights are interchangeable, left-to-right.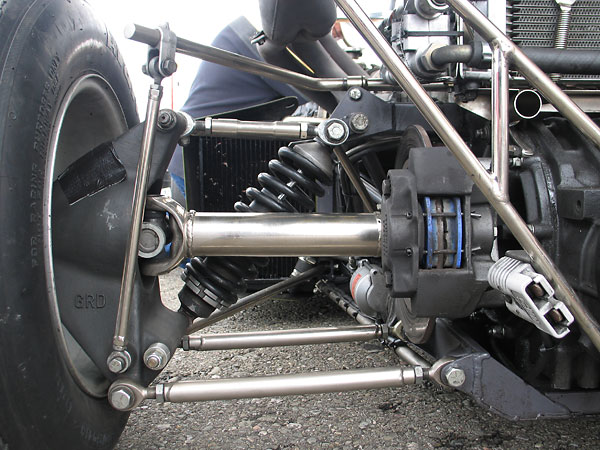 G.R.D. proprietary magnesium rear upright.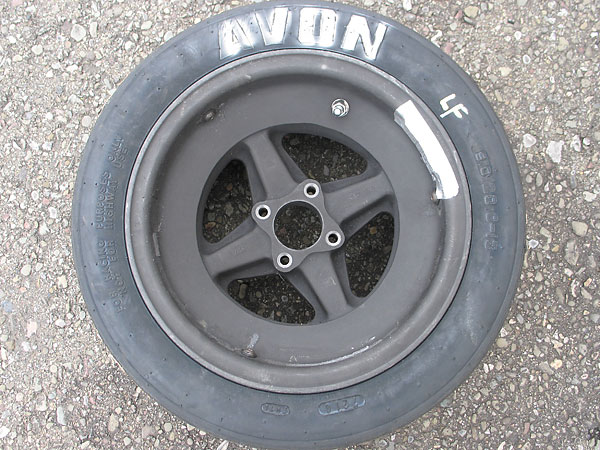 G.R.D.'s own distinctive lightweight cast magnesium wheels.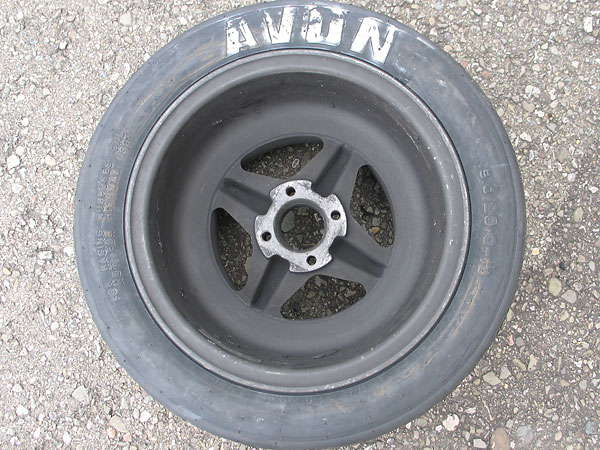 Avon 13" racing slicks (9x20 front).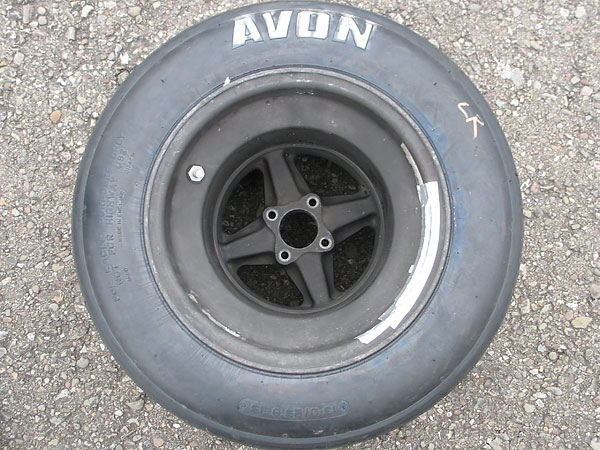 Avon 13" racing slicks (13x23 rear).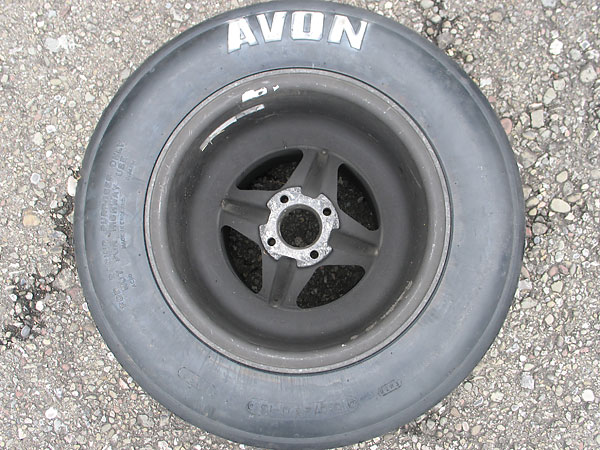 Interior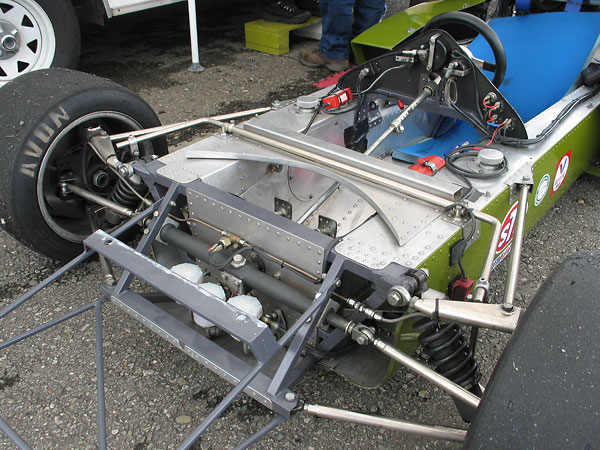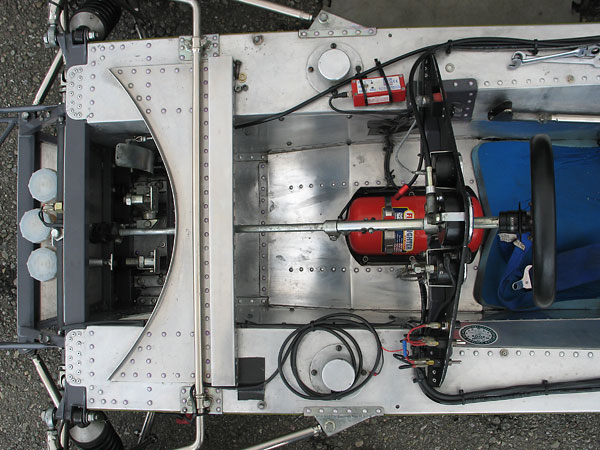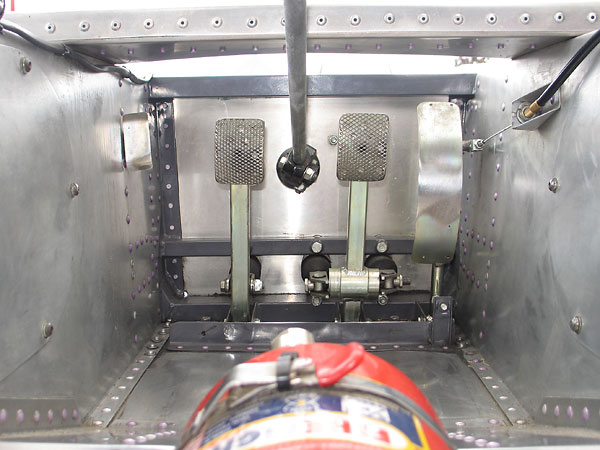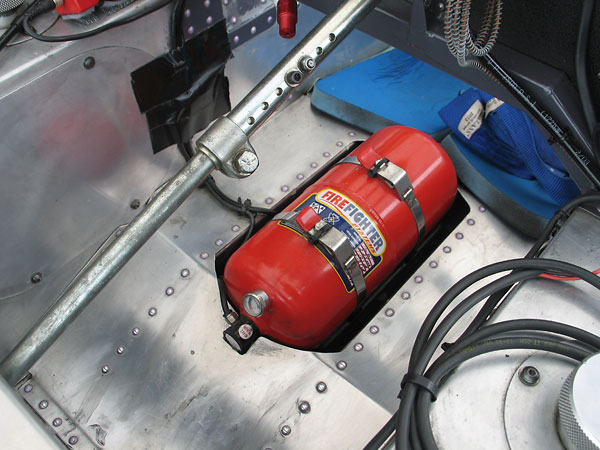 S.P.A. "Firefighter" aqueous film forming foam (AFFF) centralized fire suppression system.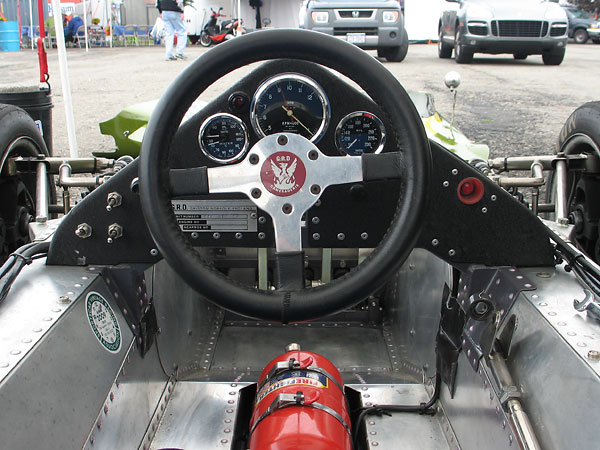 (left to right) Smiths dual oil pressure (0-160psi) and coolant temperature (30-120C) gauge,
Smiths mechanical tachometer (0-12000rpm), and Smiths oil temperature gauge (90-230F).


Exterior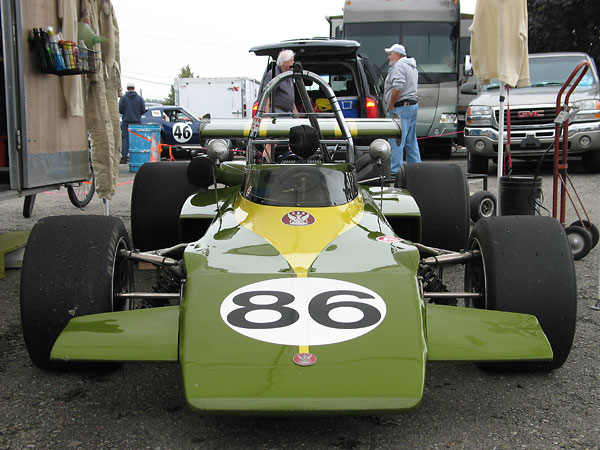 What's the story with this color scheme? These colors were chosen by Jim Russell and used
both on Jim Russell Racing Drivers School's training cars (from about 1969) and also on
racecars they sponsored. Both Jacques Couture and Dave McConnell had JRRDS sponsorship.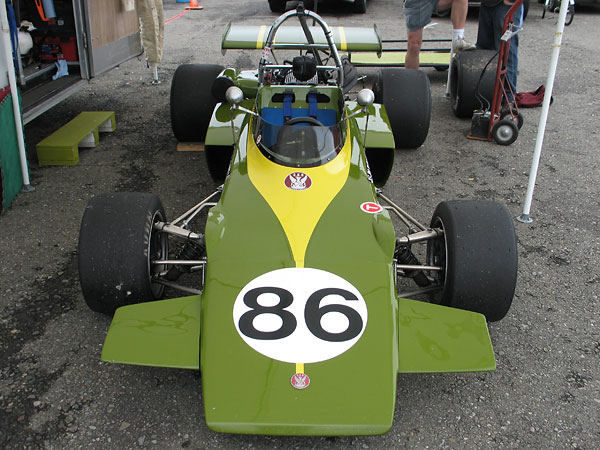 Emerson Fittipaldi, Dave Walker, Carlos Pace and Mo Harness all drove Lotus racecars in
this color scheme. When G.R.D. rose from Lotus ashes, the color scheme carried over.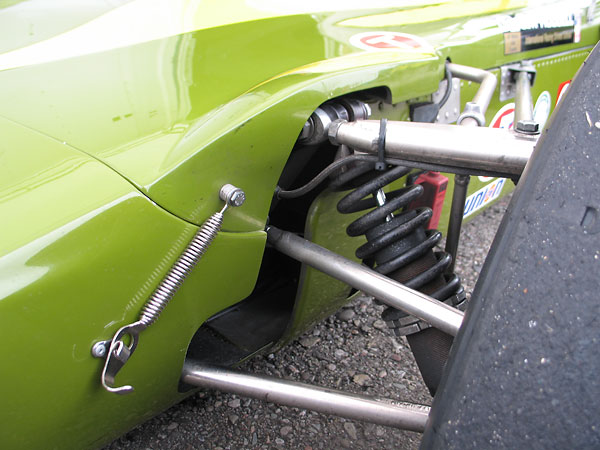 Terry body hold down springs.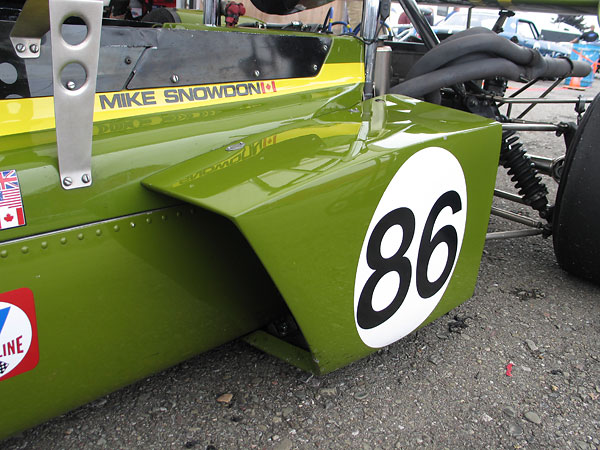 One of two side pods for the radiators.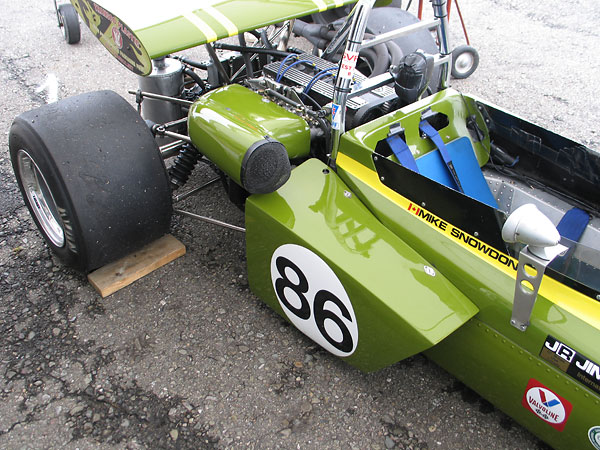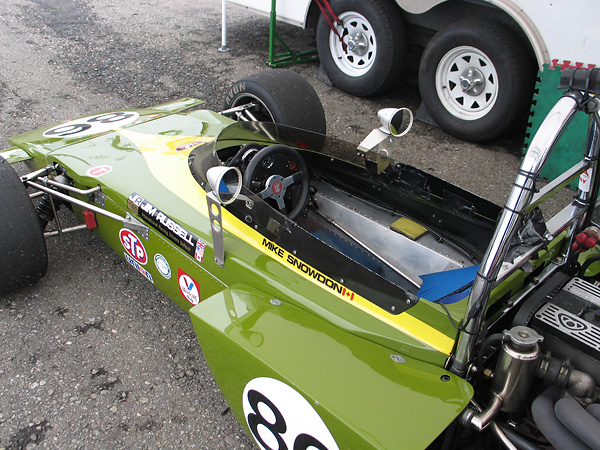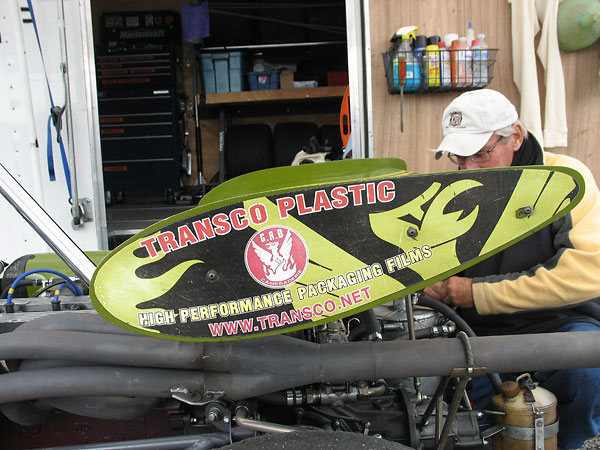 Transco Plastic - High Performance Packaging Films - www.transco.net


All photos shown here are from September 2009 when we viewed the car at The US Vintage Grand Prix at Watkins Glen. All photos by Curtis Jacobson and Don Moyer for BritishRaceCar.com, copyright 2009. All rights reserved.



Notice: all the articles and almost all the photos on BritishRacecar.com are by Curtis Jacobson.
(Photos that aren't by Curtis are explicitly credited.) Reproduction without prior written permission is prohibited.
Contact us to purchase images or reproduction permission. Higher resolution images are optionally available.