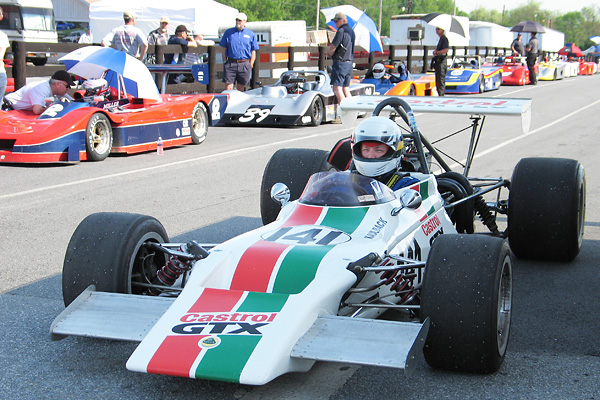 Kyle Kaulback's 1971 Lotus 69 Formula B (Upgraded) Racecar
Owner: Kyle Kaulback
City: Bethel Pennsylvania
Model: 1971 Lotus Type 69
Engine: Ford Cosworth 1600cc BDA
Race prepared by: Powerslide Motorports
Lotus Components Ltd. and the Lotus Type 69
Lotus Components Ltd. was founded to design, build, and sell racecars. Separating out Lotus Components allowed Colin Chapman's core business, Lotus Cars, to focus on passenger car production. Simultaneously Chapman's real passion, Team Lotus, could develop and race Formula One cars without distraction. In so many ways, Lotus Components seemed like a very good idea. The outfit grew and evolved through the sixties, changed its name to Lotus Racing Ltd., and then collapsed in the early seventies. This article is about one of Lotus Racing's final products: Kyle Kaulback's Lotus 69.

Lotus evidently liked the name 69 so much that they applied it to three different car models. Many sources will tell you that variants of the Type 69 were specifically designed for Formula Two, Formula Three, and Formula Ford respectively.¹ Additionally, some of the Formula Three Type 69's were set-up for racing in North America's Formula B class. Exactly one Formula Two Type 69 was bought second hand, heavily modified by its owner, and then entered in two Formula One races. Surely the Lotus Type 69 must have been one of the most versatile racecars ever built, right?

Consider this: the Formula Two Type 69 had a semi-monocoque chassis from the firewall forward whereas Formula Fords weren't even allowed to have stressed skins! Furthermore, Formula Two and Formula Ford Type 69s had entirely different suspensions and brake packages - distinct designs with no shared parts. The Formula Two Type 69 had huge racing slicks on magnesium wheels, whereas the Formula Ford Type 69 raced on skinny treaded street tires and steel disc wheels. Perhaps from some angle the bodywork may have looked similar, but no part of it was interchangeable. The Formula Two body was wide in the middle to house fuel cells, and big wings were attached at both front and rear. Openings for radiators were sized differently. And then there was a Formula Three Type 69: somewhere between the two extremes and truly its own distinct model too. A potential customer (or modern historian) might have great difficulty pinning down an accurate definition of its unique features. We'll try.

How successful were these cars on the racetrack? In his Type 69, Jochen Rindt dominated the first Formula Two race of the 1970 season but focused on Formula One through mid-season. (Rindt died tragically while testing his Lotus Formula One car for the Italian Grand Prix race in September 1970.) In 1971, Emerson Fittipaldi drove a Formula Two 69 to five victories. In summary, the Formula Two 69 proved very competitive when in the right hands, but never scored enough championship points to really shine.

The Formula Three Lotus 69 was introduced a year later, in 1971, and in that year Dave Walker drove his Ford Twin Cam powered Formula Three 69 to 25 wins from 32 starts to win two different Formula Three championships in one year. (Walker was particularly successful late in the season, after a rule change regarding restrictor plates sped up the whole field.)

Evidently sales weren't brisk enough to make the division profitable. Colin Chapman pulled the plug on Lotus Racing Ltd. before the end of 1971, and all the Type 69 models were discontinued. (Incidentally, many core members of the team who created the Type 69 models moved on to form a new company called Group Racing Developments.) Team Lotus developed and raced a Type 73 F3 car in 1972 and a Type 74 F2 car in 1973, but their hearts weren't really in these class; they were a Formula One team.

The Lotus 69 featured in this article is a unique hybrid between the original Formula Two and Formula Three Lotus Type 69 models. This particular specimen combines a Formula Three chassis with bodywork repainted accurately in its original livery, but upgraded with an engine that would have been suitable for Formula Two racing. In this article we'll focus on our specimen, and thus generally on Lotus' Formula Three Type 69.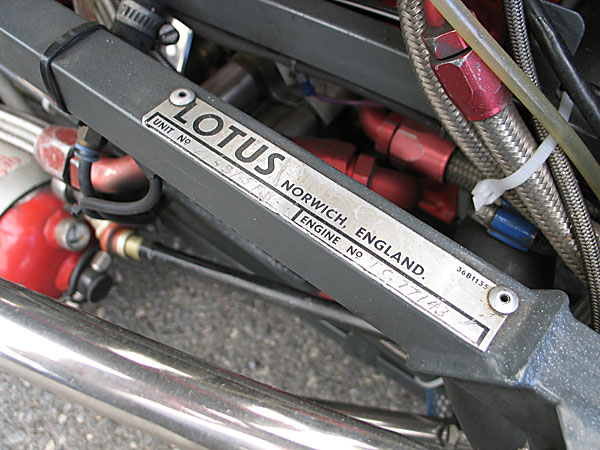 Lotus - Norwich, England
Unit No.: 71/69/5FB. Engine No.: TC77143.


Kyle Kaulback's Lotus 69 Formula B: 71/69/5FB
Kyle's Lotus Type 69 racecar is chassis number 71/69/5FB², which features a Formula Three spec tubular steel chassis. In other words, the frame is basically similar to a Formula Ford frame except reinforced with lightweight aluminum stressed skins. The "FB" part of its serial number designates that it was built up to North American Formula B specifications and delivered complete with a 1600cc Lotus/Ford Twin Cam engine. In Formula B, the car would be more powerful than a contemporary Formula Three car because it wouldn't be required breath through a single small restrictor plate. In its original Formula B configuration Kyle's car would have wings as shown here, but would also have been obliged to wear treaded racing tires instead of racing slicks.

The history of Craig's Lotus 69 started auspiciously: Lotus featured it on their stand at the 1971 Motor Racing Show, in London. After the show, it was shipped to a Canadian driver named Craig Hill. Craig was an important figure in Canadian racing for several reasons, not least of them was that he was the advertising and promotions manager for Castrol Canada. In that capacity he coordinated Castrol's involvement in all forms of motorsport. Craig Hill had also earned special treatment from Lotus by winning Canada's Formula B championship in both 1969 and 1970 as a privateer. Unfortunately, Formula B fizzled out in Canada just as Hill received his Lotus 69. Hill raced the car in an assortment of Formula Atlantic races on both sides of the Canadian / United States border, but with limited success.

Craig moved on, and his Lotus 69 FB passed to Ron Shantz and then apparently through a succession of North American owners. After some years of club racing, it ended up back in England for chassis restoration and installation of a 1600cc Cosworth BDA (i.e. belt drive) engine and Lucas mechanical fuel injection. A German enthusiast named Claudia Neuhaus owned and occasionally raced 71-69-5FB in the late 1990s. Kyle purchased the car from Ms. Neuhaus and had it shipped back across the Atlantic again.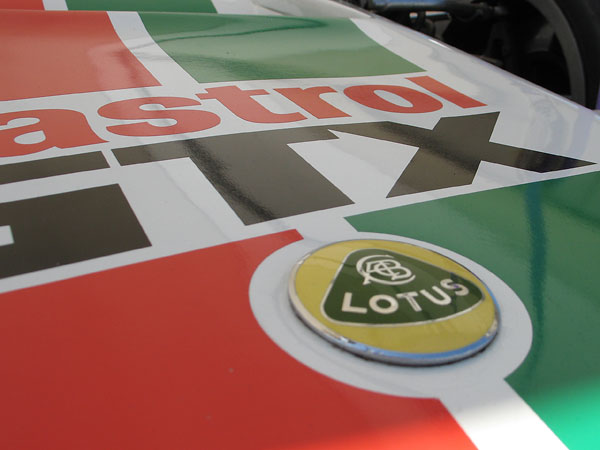 The ex-Craig Hill Lotus 69 Formula B: restored and wearing its original Castrol GTX livery.


Kyle's 69 was yellow with a green stripe when he received it and he raced it in those colors for several years. He had just returned the car to resplendent Castrol GTX livery shortly before we photographed it in May 2010.

Ironically, returning other aspects of the car to original specification would be rather expensive and would simultaneously make the car slower. Different vintage racing organizations have different rules. As currently configured with its very potent powerplant, Kyle's car is eligible to race in Monoposto Racing's "Formula Atlantic" class. This class permits later 1970s era open-wheel cars which produce more downforce, so taking a checkered flag is both a huge challenge and a great thrill. Kyle's victory in The Jefferson 500 at Summit Point in 2009 was just that sort of victory. Kyle explained: "At least I have a good motor. My particular Cosworth BDA makes in the range of 250 horsepower... The 69's lack of downforce relative to a March 79 or Ralt RT1 is at least an advantage on the straights because the 69 has much less aerodynamic drag."





Features and Specifications
Engine:
Ford / Cosworth 1600cc BDA, rebuilt by Marcovicci-Wenz Engineering. Lucas Mk2 mechanical fuel injection. ITG foam air cleaner. Lucas distributor. Lucas ignition coil. Micro Dynamics electronic rev limiter. Magnecor Electrosports 70 (7mm) SS25-200T metallic inductor EMI suppression spark plug wires.

Cooling:
custom aluminum crossflow radiator. Coolant plumbed through frame tubes. Custom fabricated aluminum header tank.

Exhaust:
custom 4-into-1 header, ceramic coated.

Transaxle:
Hewland FT200 5-speed. Metalastic donuts.

Front Susp.:
unequal length wide-based wishbones. Proprietary Lotus magnesium uprights. Koni 3012 double adjustable aluminum bodied coilover shock absorbers, with Eibach springs. Adjustable anti-sway bar.

Rear Susp.:
inverted lower wishbones, single top links, and twin adjustable trailing links. Proprietary Lotus magnesium uprights. Koni 3012 double adjustable aluminum bodied coilover shock absorbers. Adjustable anti-sway bar.

Brakes:
(master) dual Girling integral-reservoir master cylinders with bias bar.
(front) Girling AR brake calipers and solid rotors.
(rear) Girling NR brake calipers and solid rotors.

Wheels/Tires:
Lotus magnesium alloy 4-stud racing wheels (13x10 front, 13x14 rear). Avon racing slicks (9.0/20.0-13.0 front, 12.0/23.0-13.0 rear).

Electrical:
Tilton Super Starter XLT gear reduction starter.

Instruments:
(left to right) Racetech coolant temperature gauge (30-110C), Smiths Chronometric (a.k.a. cable-driven) tachometer (400-12500rpm), Racetech dual oil pressure (0-160psi) and oil temperature (30-120C) gauge, and Racetech fuel pressure (0-160psi) gauge.

Fuel System:
dual side-mounted fuel tanks. Electric fuel pump for starting. Lucas belt-drive mechanical fuel pump for racing.

Safety Eqmt:
Schroth six point cam-lock safety harness. Hybrid Lifeline / S.P.A. (Fire Fighter) electrically actuated centralized fire suppression system.

Weight:
1040#

Racing Class:
currently eligible for Monoposto Racing's "Formula Atlantic" class.

Engine Installation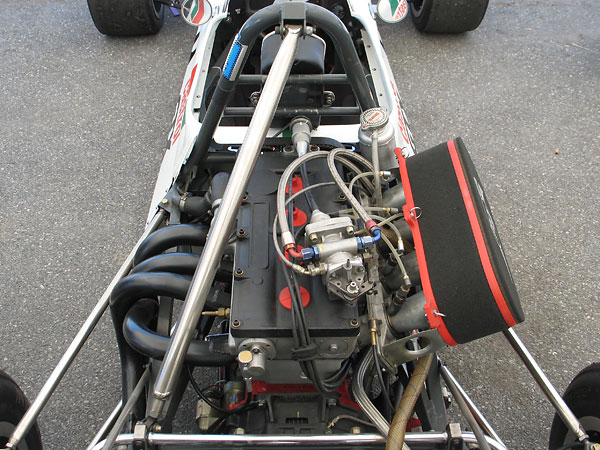 1600cc Ford / Cosworth BDA engine, recently rebuilt by Marcovicci-Wenz Engineering.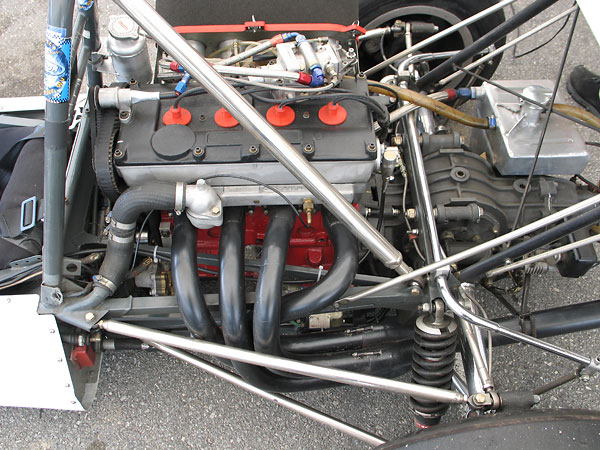 Custom 4-into-1 header, ceramic coated.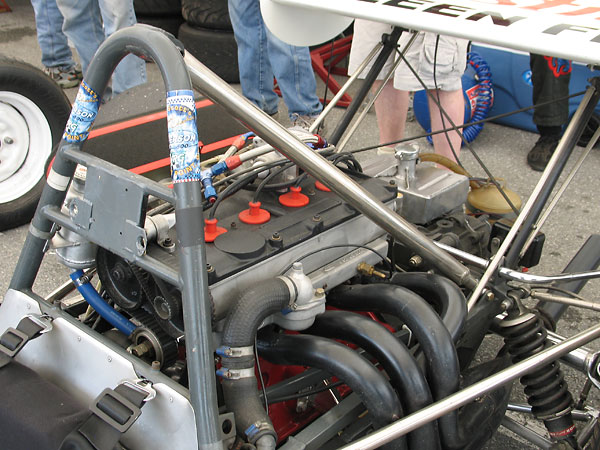 The roll hoop is tall, and its offset rear brace provides generous clearance to the engine.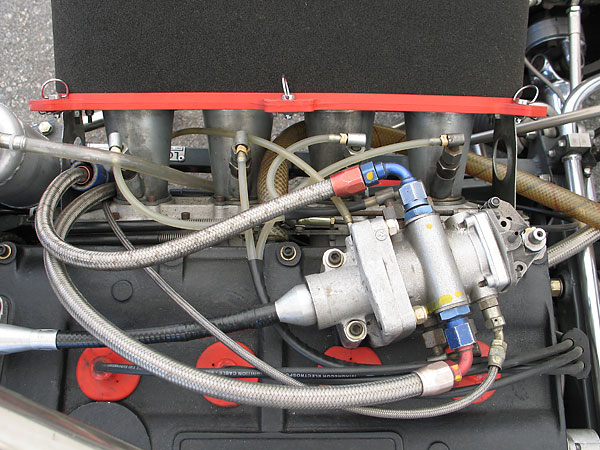 Lucas Mk2 mechanical fuel injection metering valve.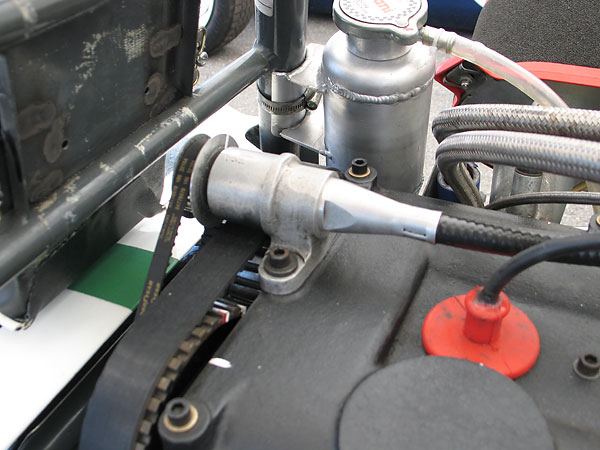 Fuel metering is timed based on a cogged belt driven from the exhaust-side camshaft.
Notice the little painted tic marks that simplify alignment upon reassembly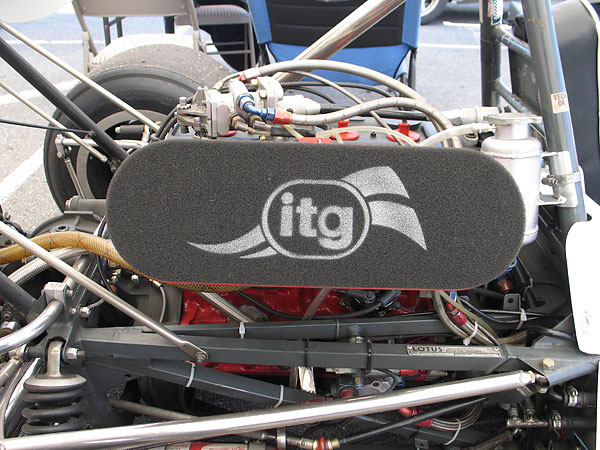 ITG foam air cleaner.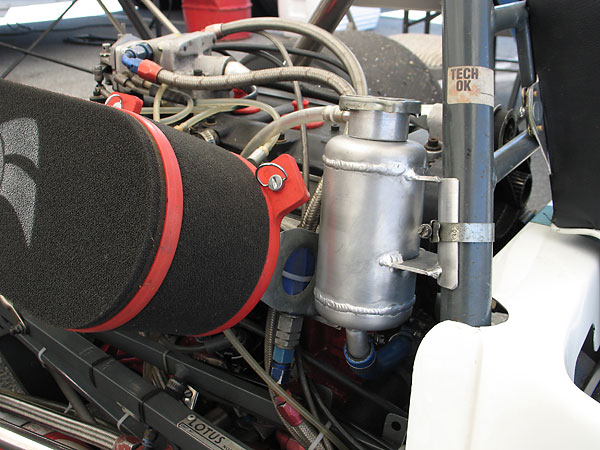 Custom fabricated aluminum coolant header tank.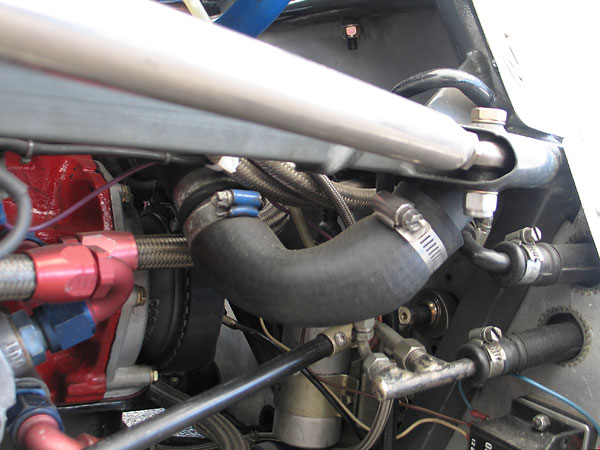 The name "Cosworth" is cast right into the cogged aluminum pulleys which turn dual overhead
camshafts. This part of Cosworth's classic BDA design, where BDA stands for Belt Drive A-Type.
Earlier Cosworth dual overhead camshaft engines utilized gear driven camshafts.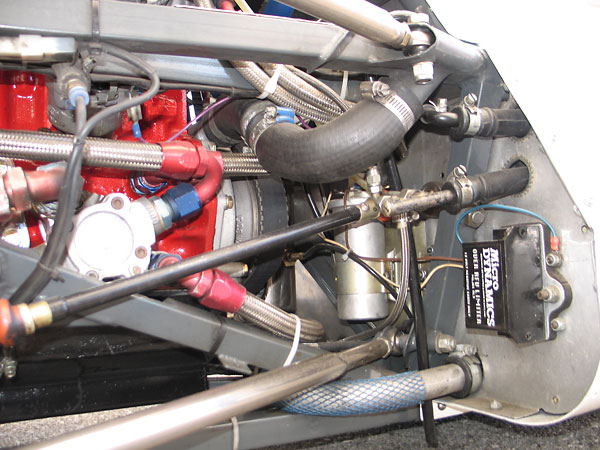 Micro Dynamics electronic rev limiter.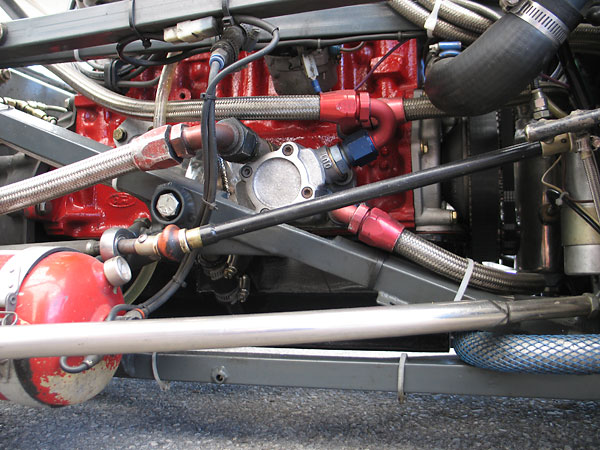 Dry sump lubrication system plumbing, including a special oil pump.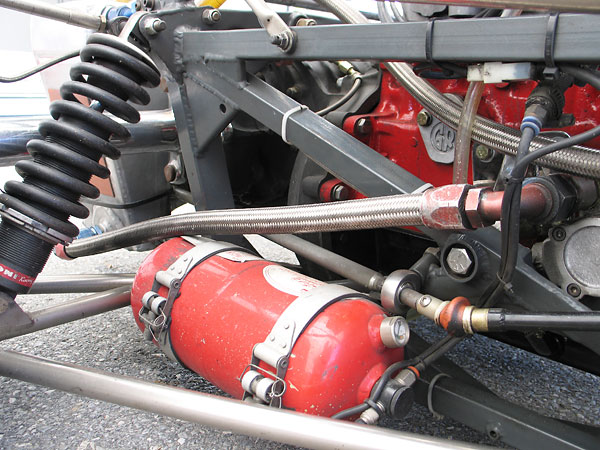 S.P.A. Fire Fighter fire extinguisher bottle. The fire suppression system can be actuated from a button
on the dashboard. It has multiple nozzles, including one located here under the engine's fuel injectors.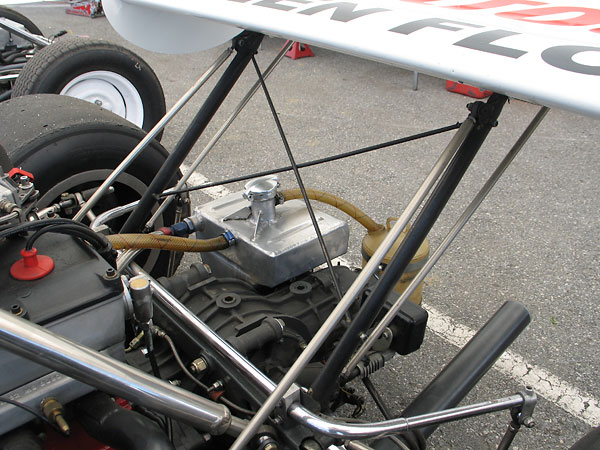 Rear wings are most effective when mounted far rearward, as seen here, because airflow here
is less turbulent and because the wings mounts act as lever arms (i.e. they provide "leverage".)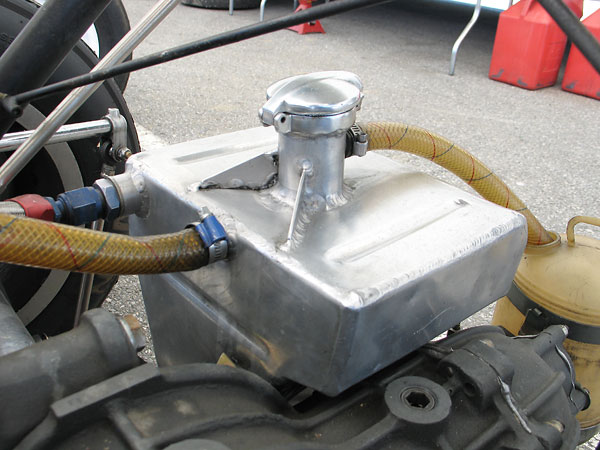 This elaborate fabricated aluminum engine oil reservoir is a distinctive Type 69 feature.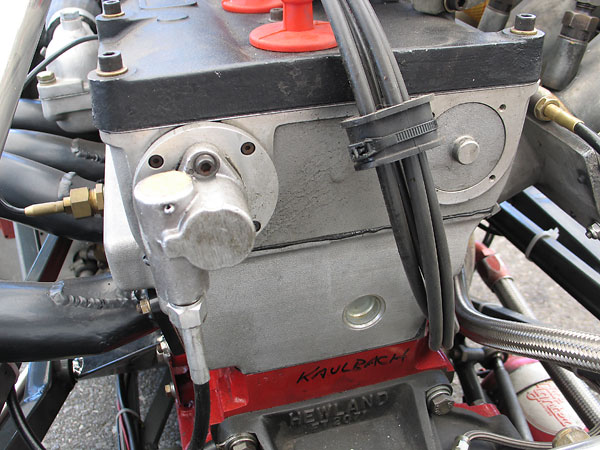 This is the drive for a cable-driven fully mechanical chronometric tachometer.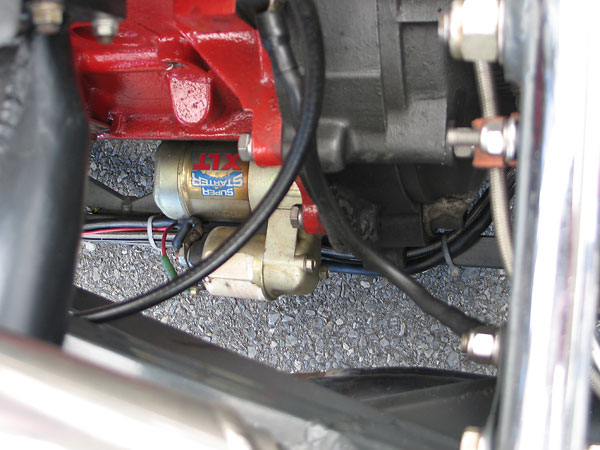 Tilton Super Starter XLT gear reduction starter.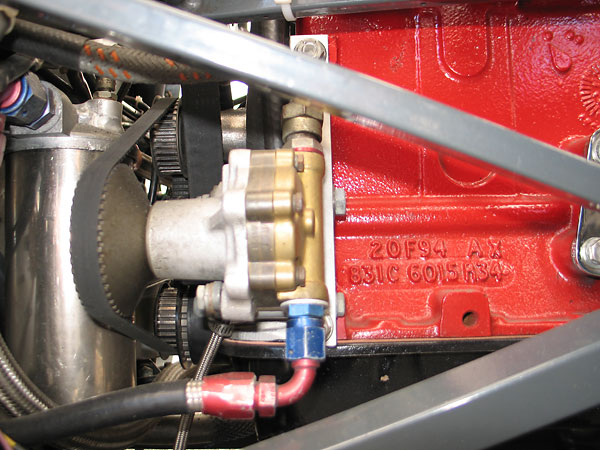 At left: Lucas high pressure mechanical fuel pump. At right: codes on the engine block casting can be
interpreted as follows. 20F94 is a date code that indicates this particular engine block was
cast on February 20, 1994. AX indicates that this is a South African made engine block. (Ford
used these engines in South African built Sierras.) "831c 6015 r34" is basically a part number.
Blocks with this part number were originally designed for motorsport and were originally cast
in England in the 1980s. These blocks weigh ~10# more than other Ford Kent crossflow blocks.


Front Suspension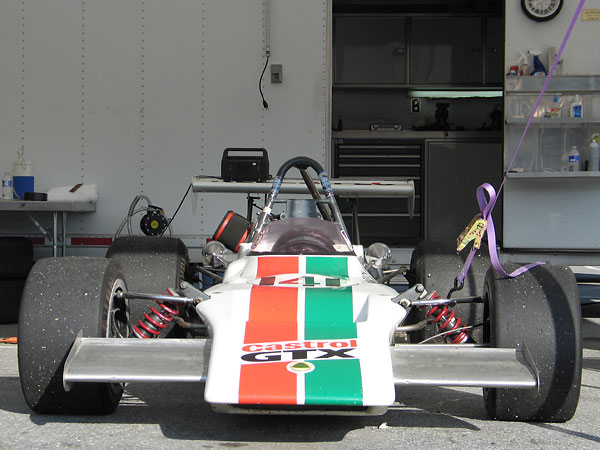 Wide tires widely separated.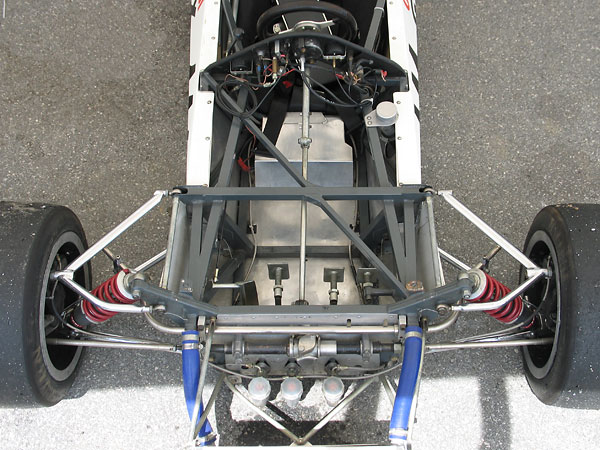 A variety of square and rectangular box tubing sizes were used in Type 69 F3/FF frames. Whereas
round section tubing is stronger and more weight efficient for a pure spaceframe, box tubing can
be a smart compromise in many situations. For one, it's much easier to attach sheetmetal panels to.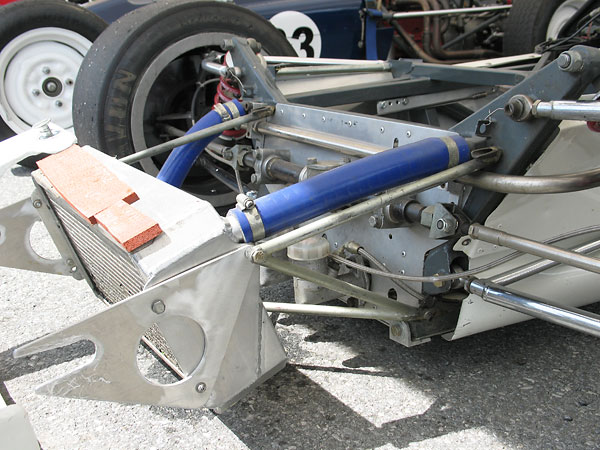 Now that's a thick radiator core! Note also a sacrificial "skid plate" at the corner of the frame.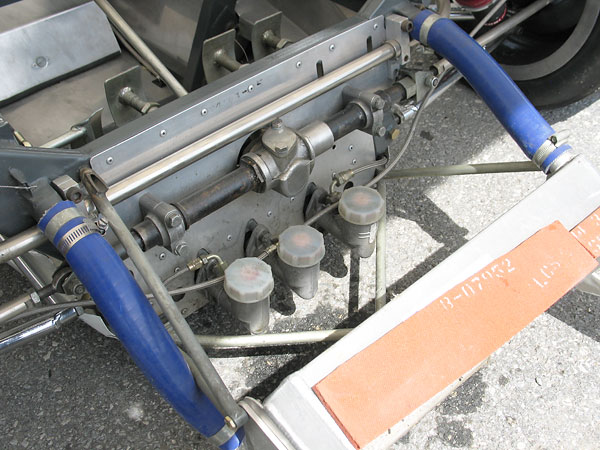 Girling master cylinders.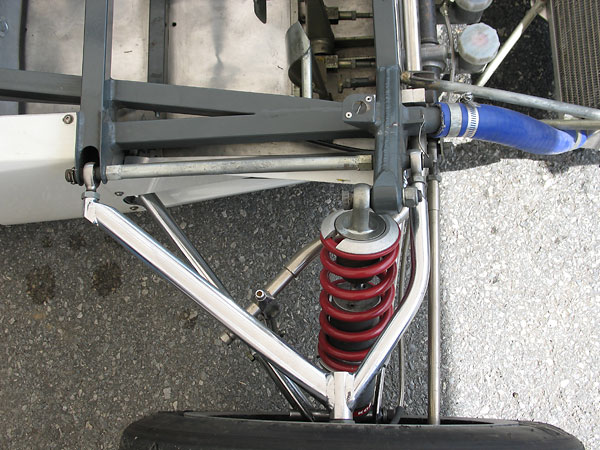 Koni 3012 double adjustable aluminum bodied coilover shock absorbers, with Eibach springs.
Note: mounting bolts for the upper wishbone screw into opposite ends of a removable bar.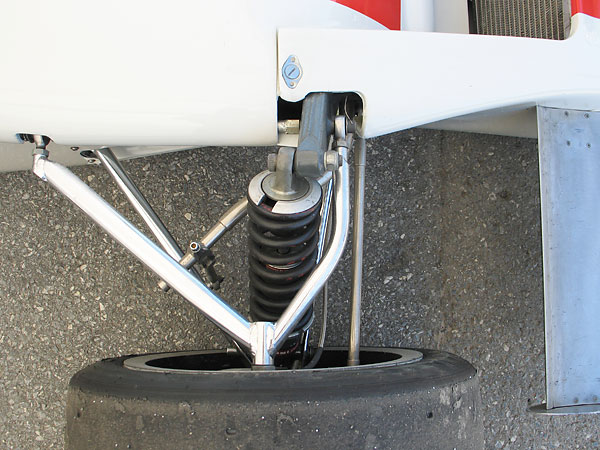 (These stiffer springs were installed on the car when it arrived at Summit Point.)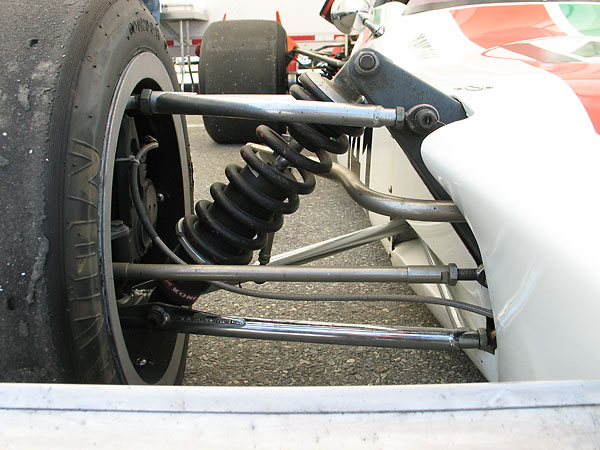 Interestingly, a third member connects the inboard arms of the wishbone yet the
anti-sway bar connection is at mid-span and is in single shear.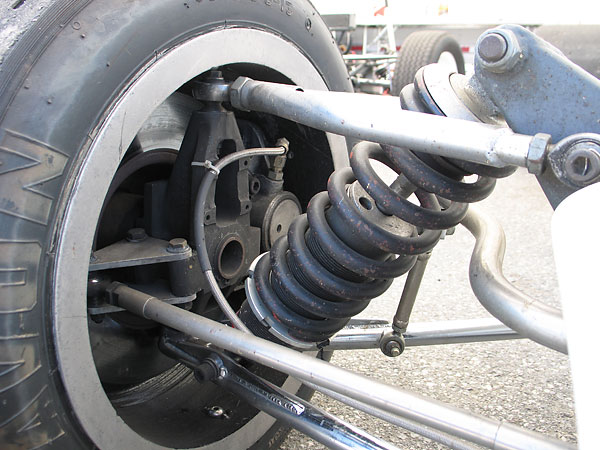 Bespoke magnesium uprights. Notice how the steering connection is both strong and easy
to adjust up or down as required for tuning out bump steer.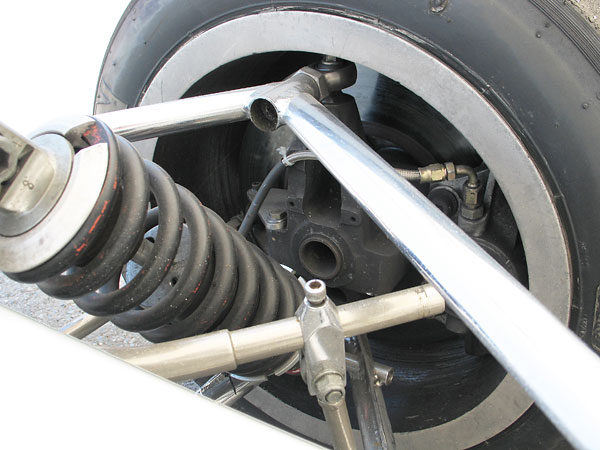 Why does the anti-sway bar step down in diameter at its ends? Probably it's a lightweight tubular
bar with solid sections at both ends to take adjustment clamp pressure without distorting.


Enjoying this article? www.BritishRaceCar.com is partially funded through generous support from readers like you!
To contribute to our operating budget, please click here and follow the instructions.
(Suggested contribution is twenty bucks per year. Feel free to give more!)
Rear Suspension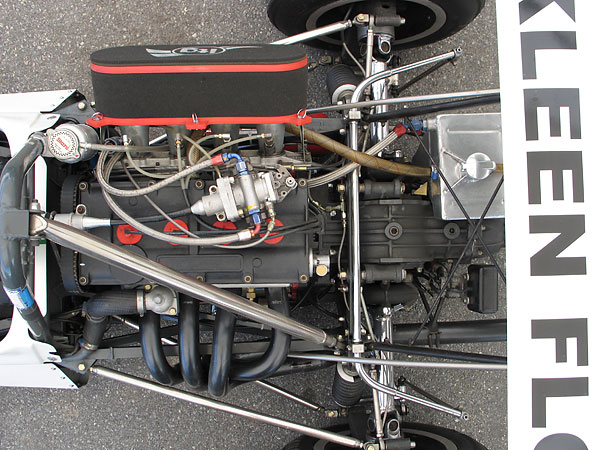 Inverted lower wishbones, single top links, and twin adjustable trailing links.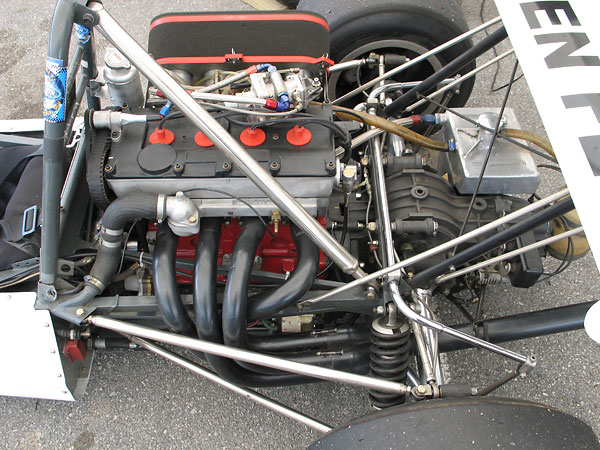 Hewland's FT200 transaxle looks so svelte in this view, but inside it's quite robust.
Introduced in 1966, FT200 boxes have backed up generations of mid-range formula cars.
Nominally rated for 300hp, they can in fact support much more (~500hp!) depending on
what ring and pinion ratio is selected and which differential is used.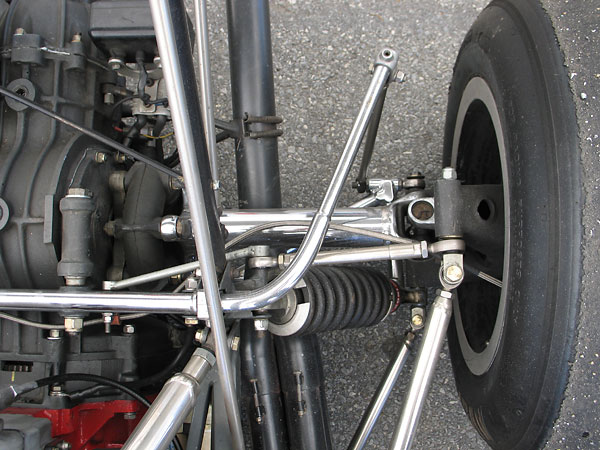 The rear anti-sway bar has been adjusted to its absolute softest setting.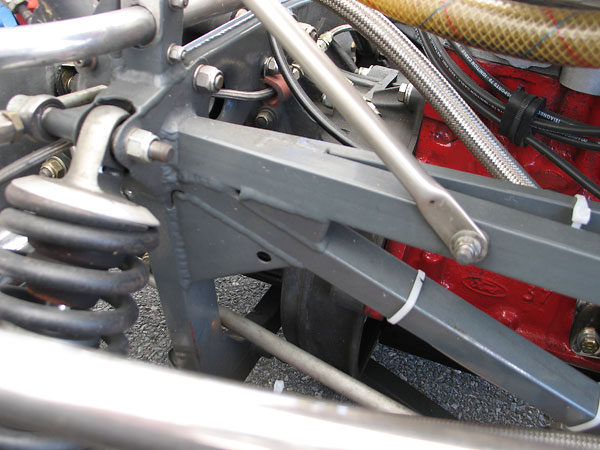 Michael Costin's influence on early Lotus chassis designs is echoed here in the perforated
member that reaches across the transaxle. Costin's design approach was very elegant and theoretical,
whereas Lotus 69 designer Dave Baldwin's use of gussets and box tubing was all about practicality.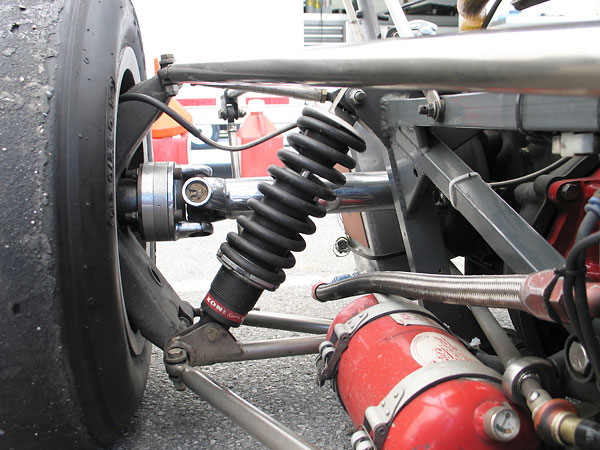 Koni 3012 double adjustable shocks can be adjusted for rebound on the car by "sweeping" a
recessed adjustment pawl at the top eye from side to side. Adjusting compression requires
removing the shocks and extending them to their full length, then rotating the shaft.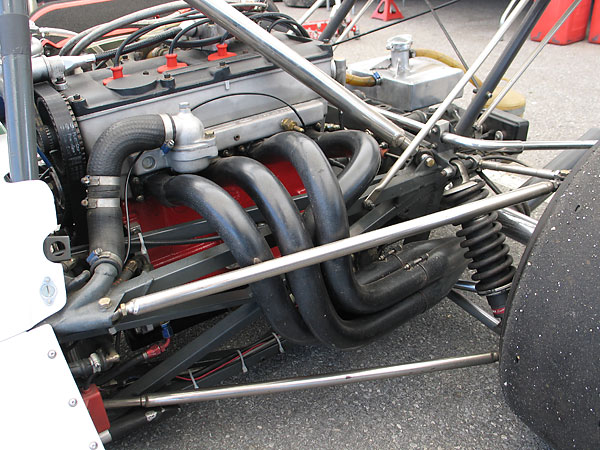 Another view of the trailing links...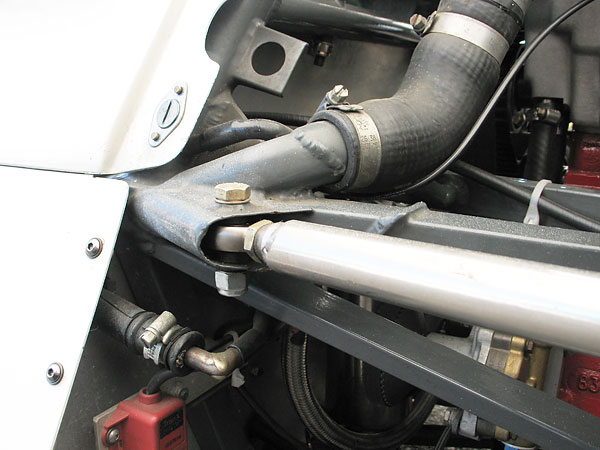 To run engine coolant through square section frame tubes, round tube sections needed to be
spliced on. Note also the diagonal splice, where fluid is blocked off from rearward flow.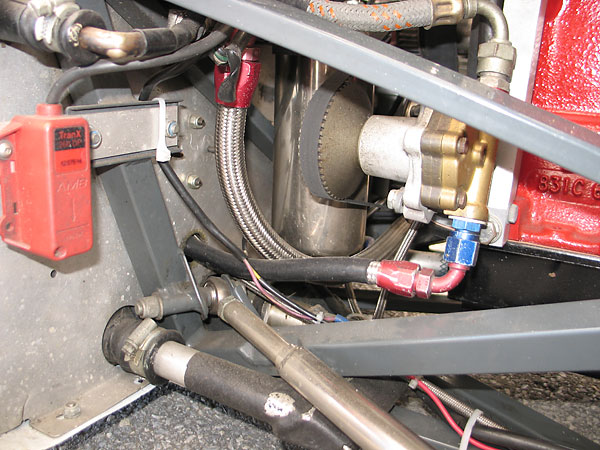 Someone knew exactly where they wanted this suspension pivot point, and went to a great deal
of effort to make it happen. Note also an elaborately fabricated triangular tube evidently
equalized fuel level between the dual fuel tanks.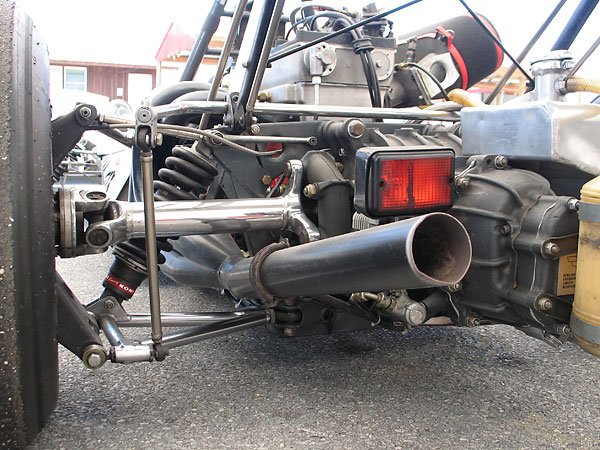 Metalastik couplings transfer power smoothly and simply.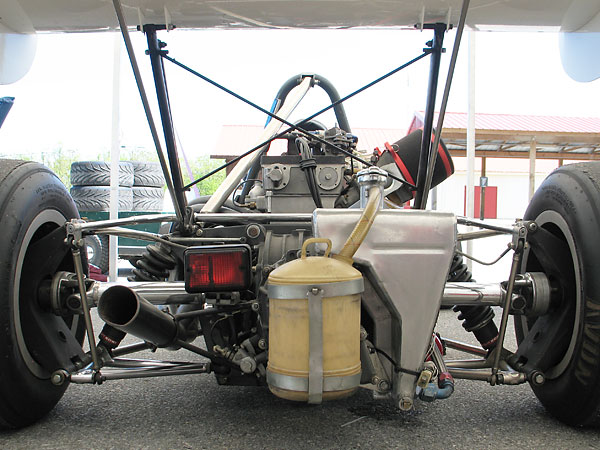 The Lotus 69 F3 engine oil reservoir is exceptionally distinctive.


Interior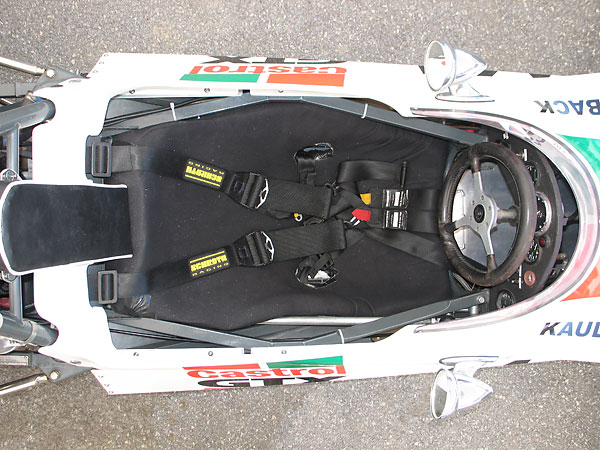 Schroth six point cam-lock safety harness.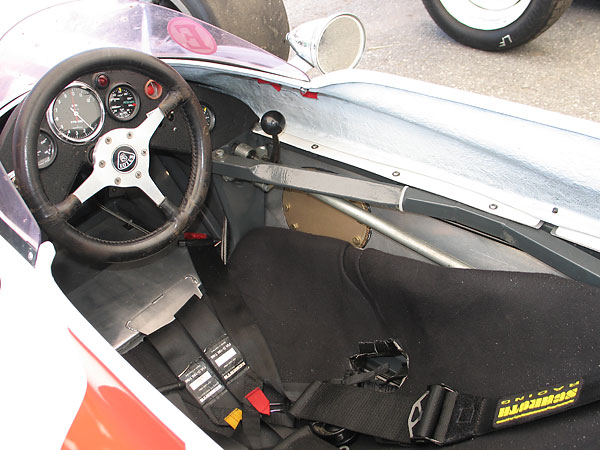 A recessed red button on the dashboard activates the fire suppression system.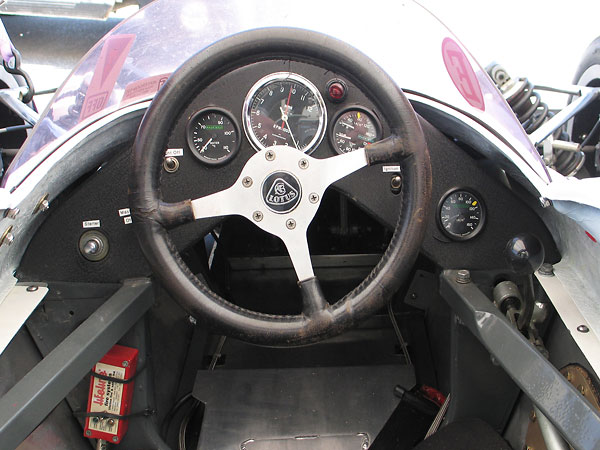 (left to right) Racetech H2O temp gauge, Smiths Chronometric tachometer (400-12500rpm),
Racetech dual oil pressure and oil temperature gauge, and Racetech fuel pressure gauge.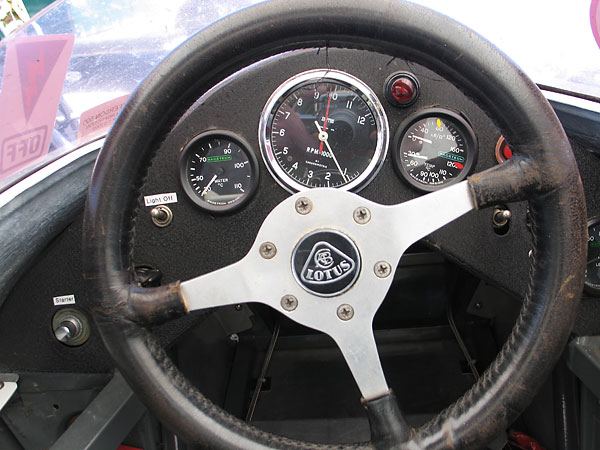 The tell-tale needle on the tachometer indicates that the engine has seen ~9750rpm recently.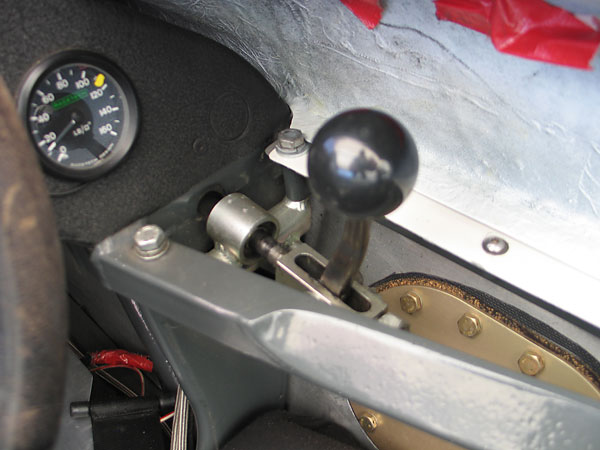 The fuel pressure gauge is marked at 110psi. Cars with mechanical fuel injection generally have
two pumps. An electric pump is used for initially starting the engine. An engine driven pump
is used during actual racing conditions.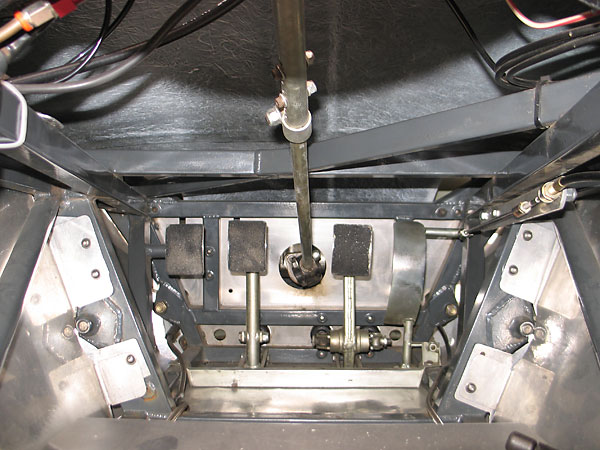 Two driver-friendly features: a stout dead pedal and a telescoping steering column.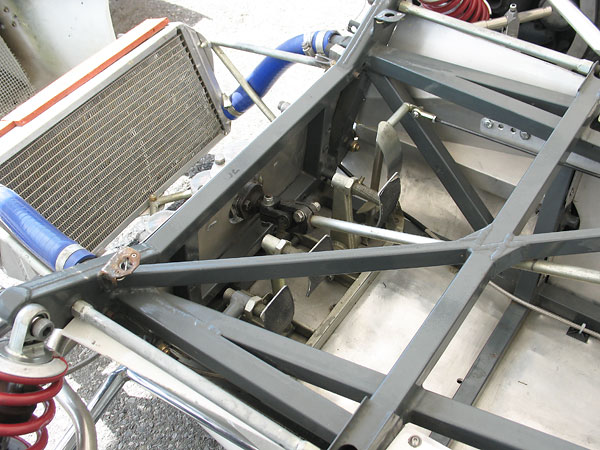 A high quality feature: finely and relatively easily adjustable pedals.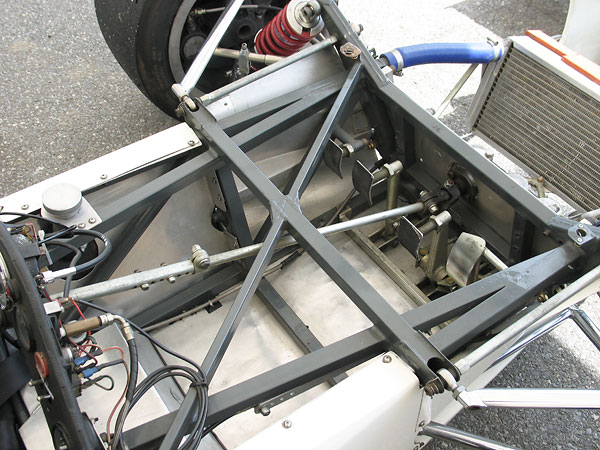 Telescoping steering column.


Exterior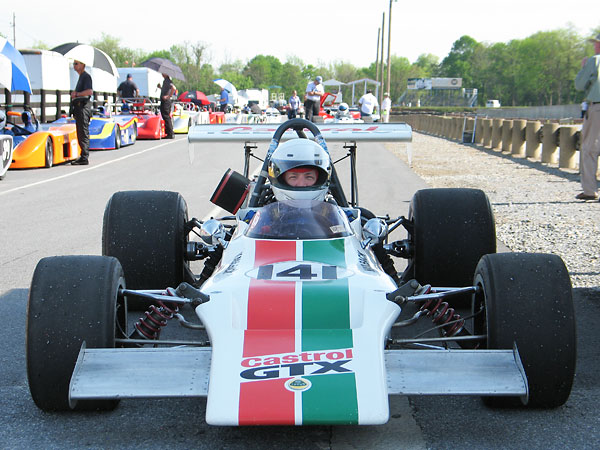 Kyle Kaulback at Summit Point, contesting the 2010 Jefferson 500.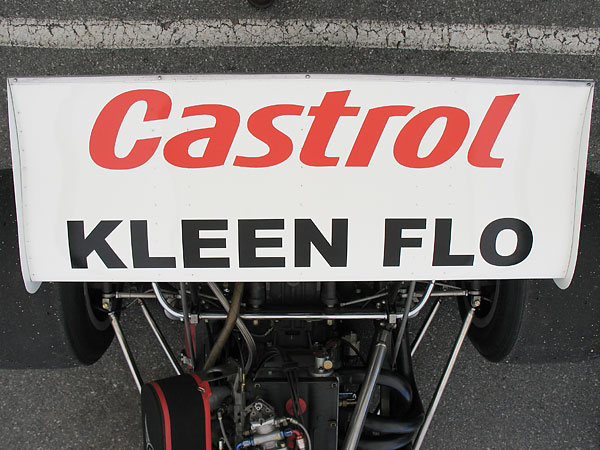 Castrol Kleen Flo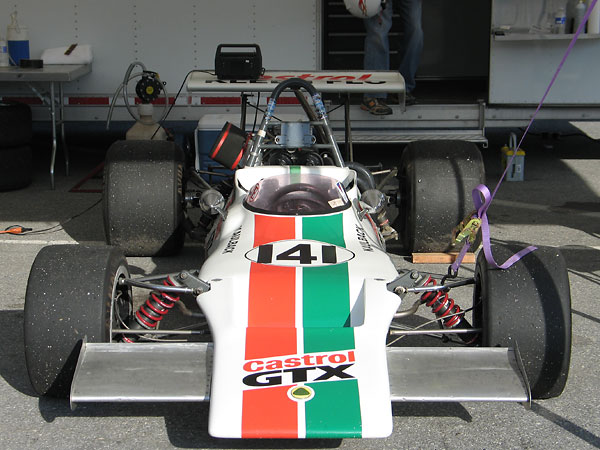 Dave Baldwin gets credit for designing the Type 69 models, and also for designing
the Type 59 models from which they were derived.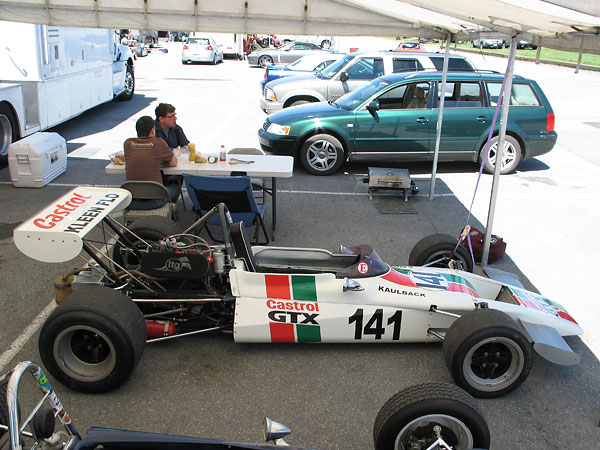 How many were produced? The usual estimate is 57 racecars, if you combine all variants.



This looks Like an original windscreen; shape and tinting match period photos we've studied.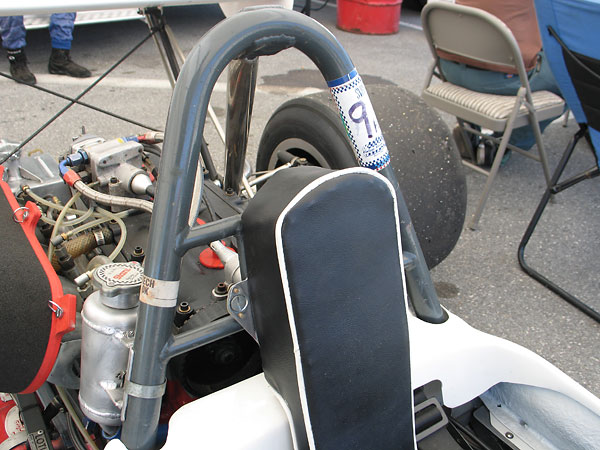 This appears to be the original roll hoop, but with a larger and more elaborate headrest.
Notice that it's removable by turning two Dzus quarter turn fasteners.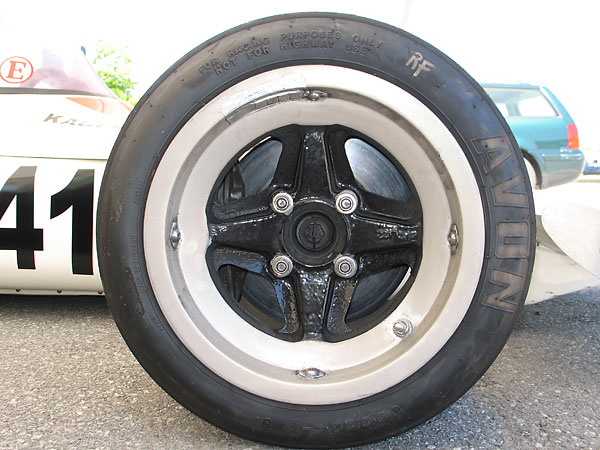 Lotus magnesium alloy racing wheels (13x10 front, 13x14 rear), These are mounted on studs, whereas
original F2-spec Type 69s came with knock-on hubs. The code "L122" cast into one of the spokes
indicates the specific magnesium alloy used. (L122 is 92% magnesium plus 8% aluminum.)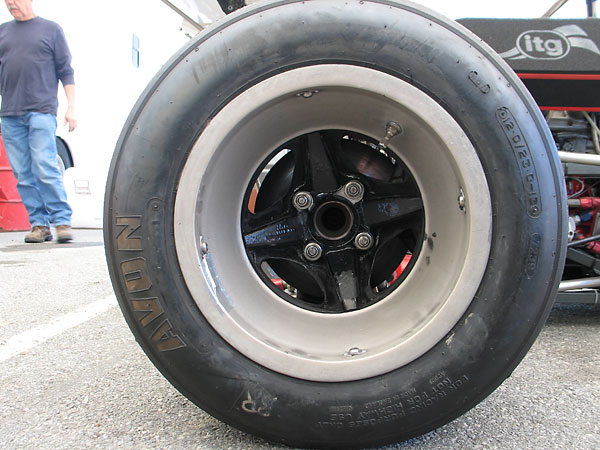 Avon racing slicks (9.0/20.0-13.0 front, 12.0/23.0-13.0 rear. ~$950/set)


Notes:
(1)
Engine restrictions are one of the main differences between racing classes.

F2: from 1967 through 1971, Formula Two cars were permitted to run 1.3 to 1.6 liter engines. By far the most popular and successful 1.6 liter F2 engine was the Cosworth FVA which featured gear-driven dual overhead cams and four valves per cylinder, atop a four cylinder Ford Cortina engine block. Generally featuring Lucas mechanical fuel injection, these engines typically gave at least 220bhp at 9000 rpm. From 1972, 2.0 liter production-based engines such as the Cosworth BDA (shown above) were allowed.

F3: Formula Three cars were restricted to one liter displacement engines through 1970. Their highly tuned and highly strung little engines screamed as they produced about 125bhp. Starting in 1971, F3 teams were allowed to use larger (1.6 liter) engines if 20mm induction restrictor plates were fitted. The Lotus/Ford Twin Cam seemed like the motor to have. Four throttle bodies would typically draw air from a common plenum. Air entered the plenum through a single inlet. Clever teams realized this inlet should be a "converging/diverging nozzle" and that the geometry of its construction was important. In actual racing conditions, the original 20mm restriction was soon found to be too small. The newly allowed 1600cc engines were only producing about 110bhp! (The cars were about four seconds per lap off their previous pace, which wasn't the intent of the rules.) In mid-August of 1971, the rules were altered and the diameter of the air inlet restriction increased from 20mm to 21.5mm, where it stayed through 1973.

FF: by class rules all Formula Fords used essentially stock versions of the 1600cc Ford engine, with Weber downdraught carburetor, iron crossflow cylinder head, and single camshaft operating valves via pushrods. In this era, a very well prepared Formula Ford engine would produce 105bhp at ~5900rpm.


(2)
Chassis number 71-69-5FB shouldn't be confused with chassis number 71-69-5F2, which was Emerson Fittipaldi's Cosworth FVA powered, semi-monocoque chassis Formula Two car for 1971. Incidentally, Lotus built twelve cars with "71-69-xFB" chassis numbers, versus seven cars with "71-69-xF2" chassis numbers. In both cases, "71" in the chassis number designated build year 1971. Lotus is generally believed to have also built seven Type 69 Formula Two cars in 1970; their chassis numbers followed the pattern "69.F2.x".


All photos shown here are from April 2010 when we viewed the car at VRG's Jefferson 500 at Summit Point Motorsports Park, West Virginia. Photos by Curtis Jacobson for BritishRaceCar.com, copyright 2011. All rights reserved.



Notice: all the articles and almost all the photos on BritishRacecar.com are by Curtis Jacobson.
(Photos that aren't by Curtis are explicitly credited.) Reproduction without prior written permission is prohibited.
Contact us to purchase images or reproduction permission. Higher resolution images are optionally available.