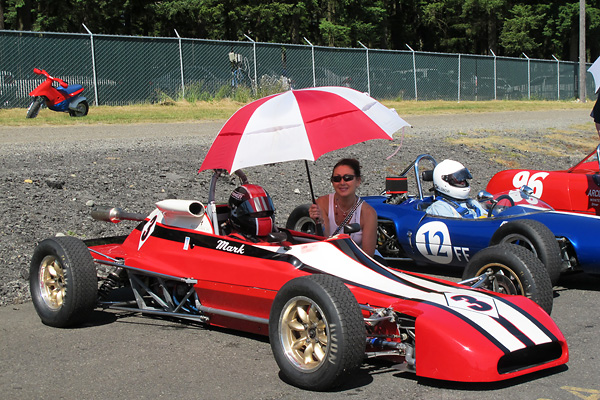 Mark Weatherup's 1979 Crosslé 35F Formula Ford Race Car
Owner: Mark Weatherup
City: New York, NY
Model: 1979 Crosslé 35F
Engine: Ford 1600cc four cylinder
Race prepared by: Roland Johnson
Crosslé Car Company Ltd.
John Crosslé built an 1172cc Ford powered racecar for himself in early 1957 and raced it through two seasons on the grass motorcycle tracks of Northern Ireland. From that humble beginning came a series of progressively more successful 1172cc Ford class racecars, Formula Junior racecars, Sports Racing cars, and Formula B racecars. By the time the Formula Ford class came into existence, Crosslé Car Company Ltd. seemed to be focusing its attention on high-powered classes such as Formula A and Formula 5000.

Meanwhile, through 1967 and 1968 the Formula Ford class grew. In 1969, Crosslé finally joined the long list of Formula Ford manufacturers with the introduction of their 16F model. Forty 16F racecars would be produced between 1969 and 1970, of which thirteen went to America. These were fairly successful cars right from the beginning: Gerry Birrell used a 16F to win the European Formula Ford championship in 1969. Crosslé continued Formula Ford production with the 20F, and then found commercial success with the chisel-nosed 30F model of 1975/76 which proved popular with driving schools, most notably including the brand new Skip Barber Racing School in U.S.A.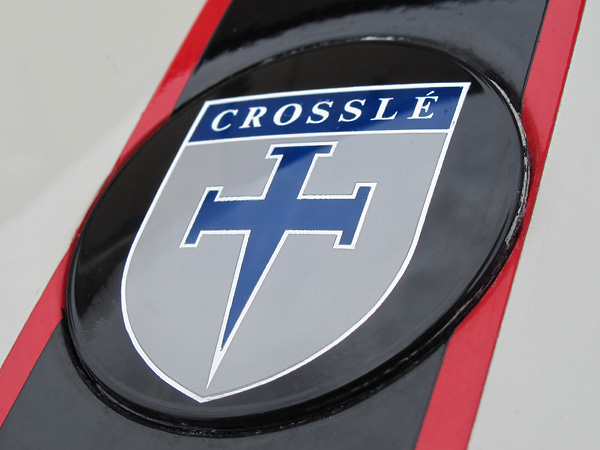 CROSSLÉ (pronounced "kroz lee")


Crosslé's single most popular model was the 32F Formula Ford, of which 140 were built in 1977/78. Of these, 101 were exported, mostly to the United States.

The 35F model was Crosslé's update of the 32F for 1979. It was very similar, with the most important difference being bodywork changes around the cockpit to make the car more comfortable for larger drivers. 58 were built, of which 51 were exported. Twenty-two 35Fs went to the Skip Barber Racing School.

The 32F and 35F share a distinctive wide nose which serves the car well in terms of aerodynamic drag and downforce, and improved engine cooling. Compared to earlier Formula Fords, the 32F and 35F provided good driver protection, particularly in that they included a roll hoop over the instrument panel. Out of the box, the chassis isn't especially stiff. It lacks any sort of removable brace over or through the engine bay. Many owners have strengthened their cars through the middle by adding bracing around the cockpit area.

Many successful drivers started their racing careers in Crosslé cars. Nigel Mansell owned and raced Crosslé 32F chassis number 37.

Two more iterations of this series of Formula Fords were 1980's 40F (30 built, 22 exported) which had a narrower track width for greater straight-line speed at some expense of cornering potential, followed by 1981's 45F (24 built) which returned to the easier-to-drive wide-track suspension geometry of the 35F. (There were also Formula Ford 2000 versions of these car models, called 41F and 46F respectively.) After these, Crosslé went to a whole new chassis with inboard-mounted shock absorbers and with radiator mounted behind the driver's seat.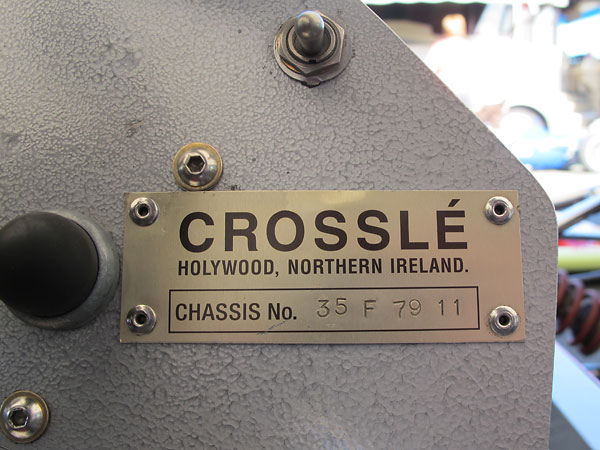 Crosslé
Holywood, Northern Ireland.
Chassis No. 35 F 79 11


Features and Specifications
Engine:
Ford Kent 1600cc with aluminum cylinder head, rebuilt by Ivey Engines, Inc. in early 2011. Weber 32/36 DGAV carburetor. Bosch distributor. Pertronix Ignitor breakerless ignition module. Bosch blue ignition coil. Taylor Spiro-Pro 8mm silicone spark plug wires. Titan oil pump. Dry sump lubrication system.

Cooling:
Howe aluminum crossflow radiator. Bicknell Racing Products aluminum coolant surge tank (model 570).

Exhaust:
Hytech Headers stainless steel tri-Y headers featuring patented anti-reversion chambers. (A Coast Fabrication lightweight stainless muffler is used as required to meet sound rules.)

Transaxle:
Hewland Mk9 4-speed, with reverse. CV-jointed half shafts.

Front Susp.:
unequal length wishbones. Penske double adjustable coilover shock absorbers, with remote reservoirs. Eibach coil springs. Adjustable 9/16" anti-sway bar. Alford & Alder forged uprights.

Rear Susp.:
inverted lower wishbones, single top links, and twin radius arms. Penske double adjustable coilover shock absorbers, with remote reservoirs. Eibach coil springs. Proprietary Crosslé (25F-72/03) magnesium uprights. Adjustable 9/16" anti-sway bar.

Brakes:
(master) dual Girling master cylinders with remote reservoir and remotely adjustable bias bar.
(front) ICP20 leg-mount calipers. Solid rotors.
(rear) inboard mounted. Lockheed calipers. Solid rotors.

Wheels/Tires:
Panasport 8-spoke aluminum wheels (13x5.5). When photographed in 2010: Dunlop Racing "Formula Ford" tires (135/545-13 CR82 front, 165/580-13 CR82 rear). When photographed in 2011: Avon "ACB9" tires (135/545-13 front, 165/580-13 rear).

Electrical:
(No charging system.)

Instruments:
MyChron3 XG LOG multi-function display and data acquisition system.

Fuel System:
Facet electric fuel pump.

Safety Eqmt:
Willans six point cam-lock safety harness. MOMO suede 250mm flat-bottom, cut-off top steering wheel with Racetech quick release steering wheel hub. FireBottle centralized fire suppression system.

Racing Class:
Formula Ford.

Engine Installation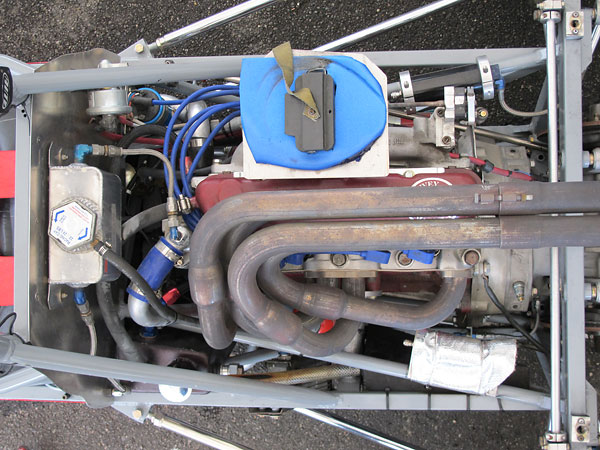 Ford Kent 1600cc engine with aluminum cylinder head, rebuilt by Ivey Engines, Inc.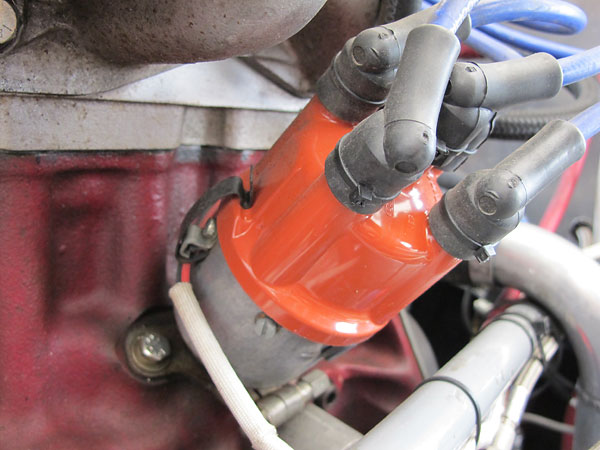 The two leads coming out of this Bosch distributor are your clue that a Pertronix Ignitor
breakerless ignition module is installed inside.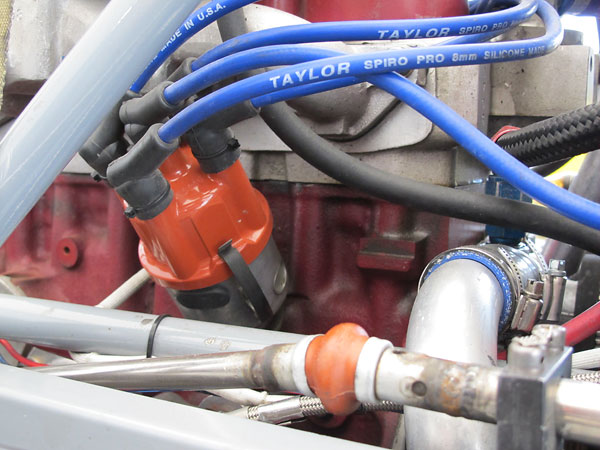 Taylor Spiro-Pro 8mm silicone spark plug wires.
(Nylon tie-wraps over cable boots are a nice detail.)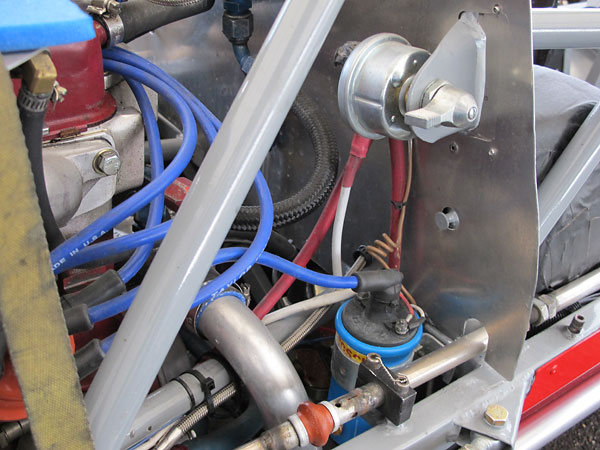 Bosch blue ignition coil.



Titan oil pump.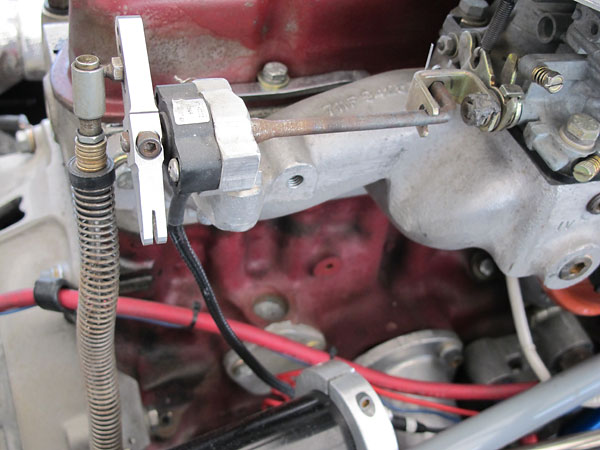 This throttle position sensor simply provides information to an onboard data acquisition system,
which the driver will download to a PC after the race and use to improve his driving strategy.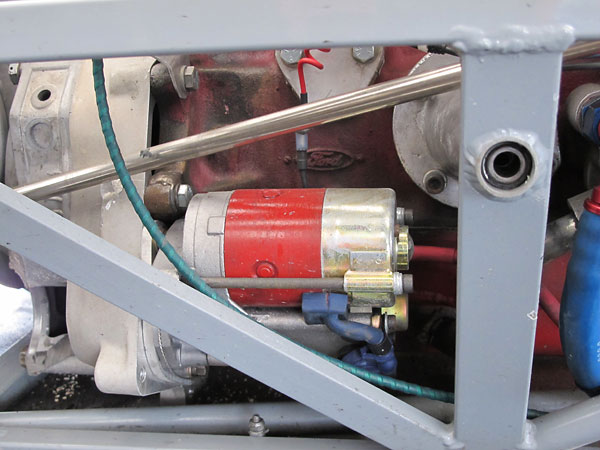 Starter motor.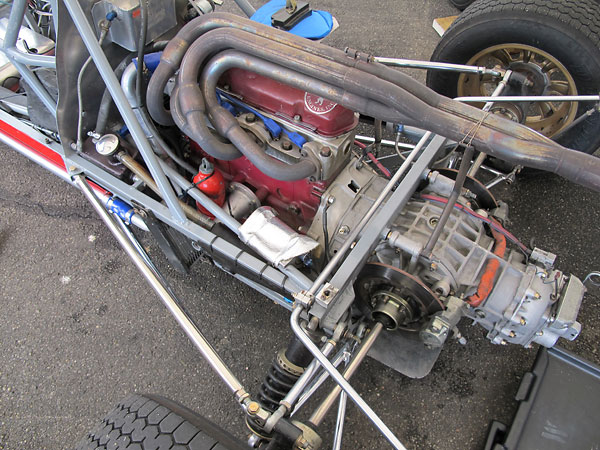 Hytech Headers stainless steel tri-Y exhaust header.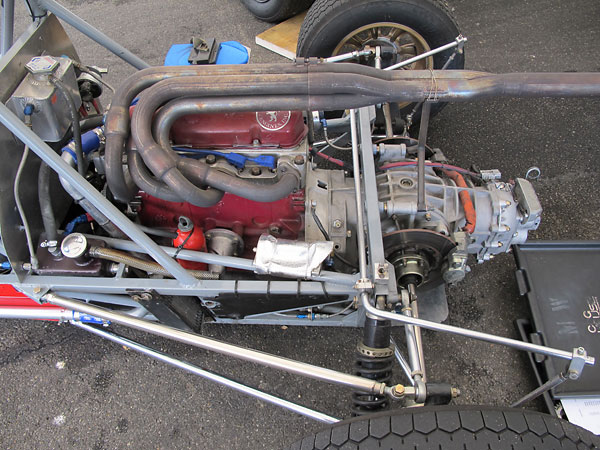 Based on extensive testing, Hytech advocates (non-traditional) sequential cylinder pairing.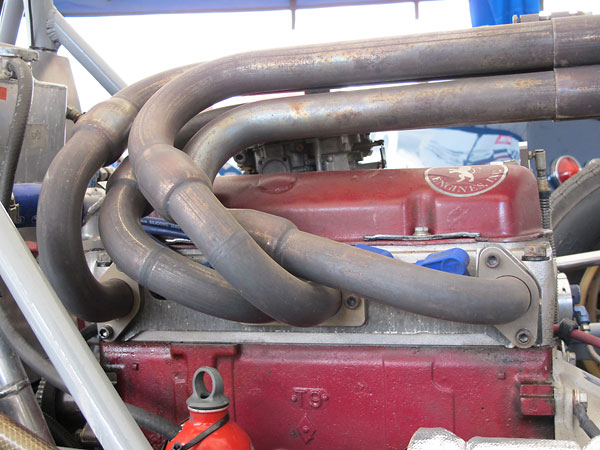 Hytech's patented anti-reversion chambers.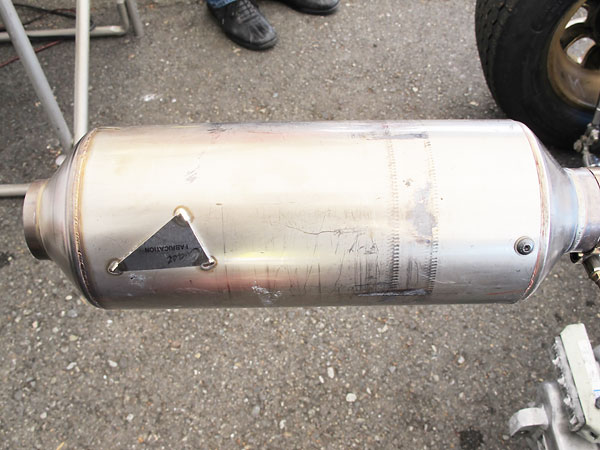 Where stricter sound control rules apply, Mark uses an unrestrictive
ultra-lightweight stainless steel muffler from Coast Fabrication.



Howe aluminum crossflow radiator.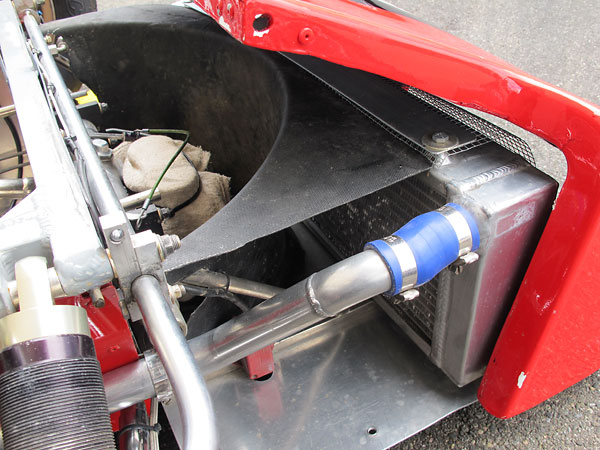 After passing through the radiator, airflow exhausts to the sides.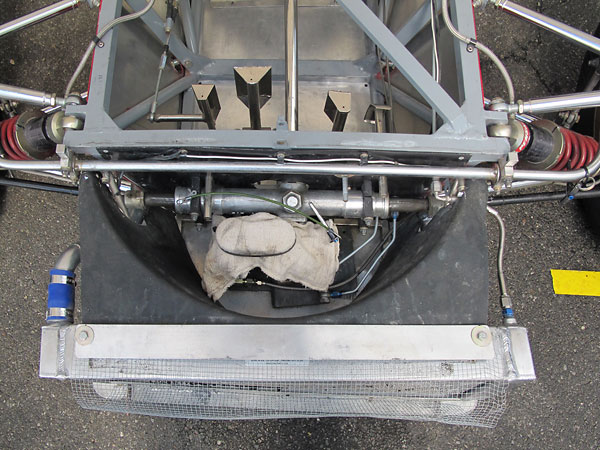 Master cylinders.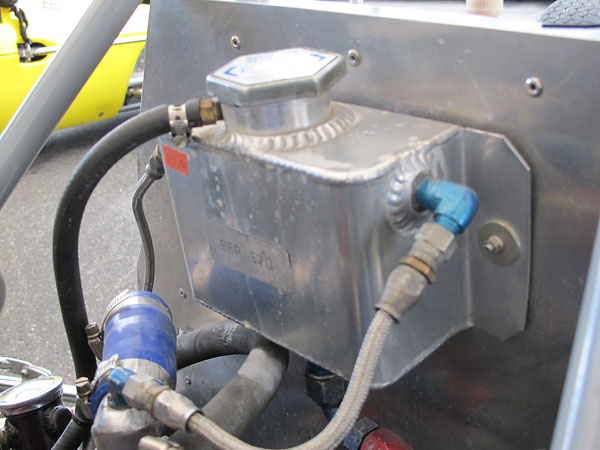 Bicknell Racing Products aluminum coolant surge tank (model 570).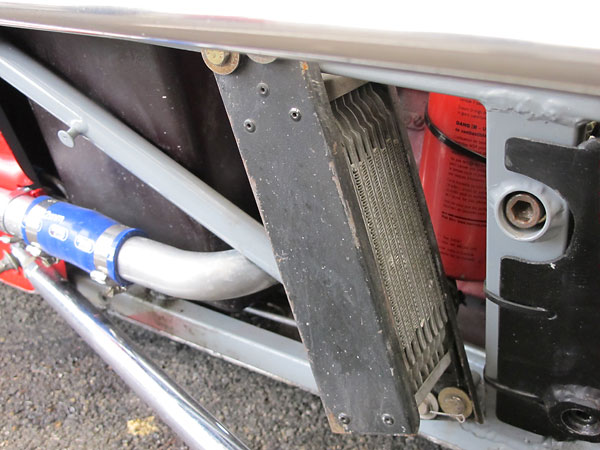 Aluminum oil cooler.


Front Suspension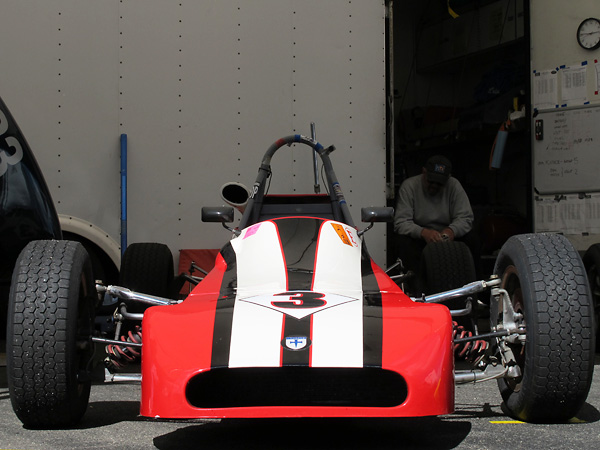 The Crosslé nose cone serves as a fairing for the car's externally mounted coilover shock absorbers.
This design approach would quickly become obsolete. In the early eighties, springs and dampers
moved inside the frame, uprights were tucked deeper into wheels, and radiators were relocated to
behind drivers' seats. The era of serious Formula Ford streamlining was just about to begin!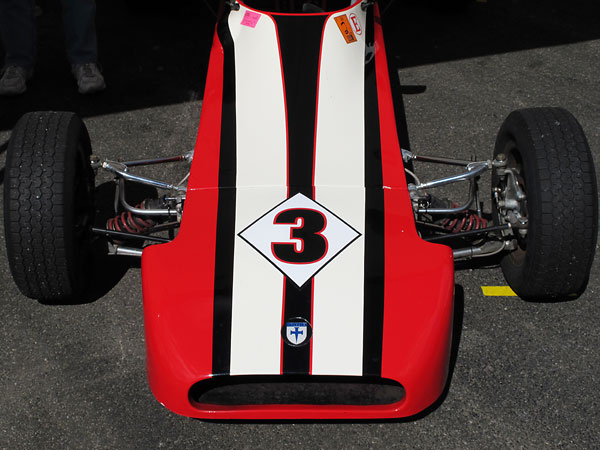 1600cc Formula Ford class rules have always forbid use of wings to produce aerodynamic downforce.
Clever designers have nonetheless put a lot of attention, beyond streamlining, into achieving some
measure of downforce without accumulating excess drag force. Crosslé 32F and 35F cars are some of
the most recognizable in Formula Ford due to their distinctive noses, which illustrates this balance.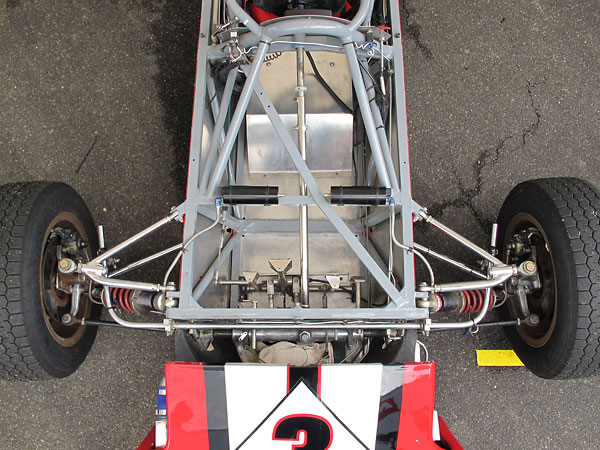 Front suspension pick-up points are strategically placed at nodes in the frames layout.
(Note: the diagonal brace above the footbox has been replaced. The original was straight, not bent.)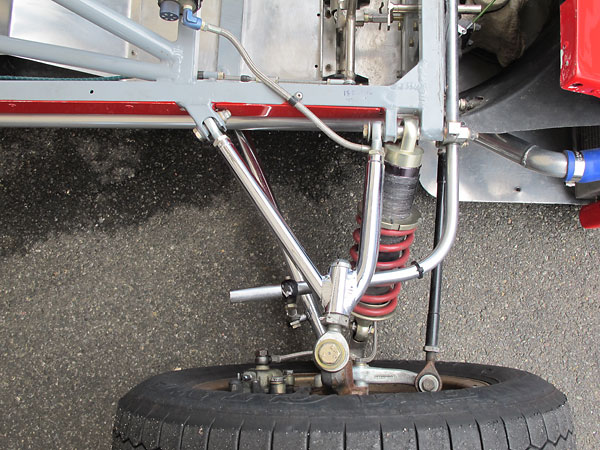 An unusual arrangement: outboard shock absorbers are usually oriented perpendicular to a car's
longitudinal axis, designers usually prefer as wide a base for suspension wishbones as feasible,
and bends along the legs of wishbones are usually avoided. What were they thinking?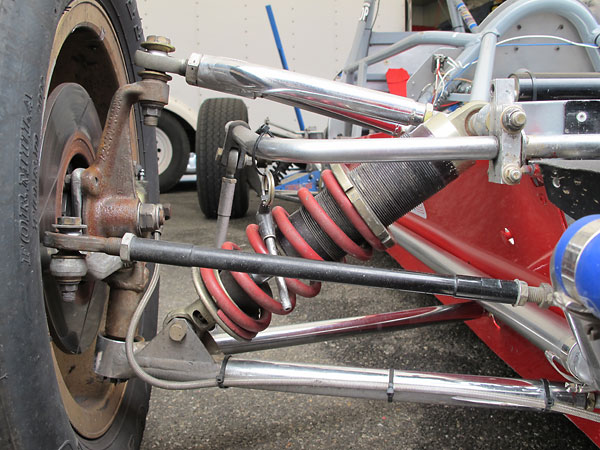 Notice that the Penske shock absorbers are mounted "upside down" in that the shaft end is downward.
(These are nitrogen gas-filled shocks, so they can be mounted in any orientation. There's less unsprung
weight when mounted this way.) Rebound adjustment is made at the bottom end of the shaft by inserting
a thin screwdriver into the small opening and "sweeping" an internal shaft clockwise or counterclockwise.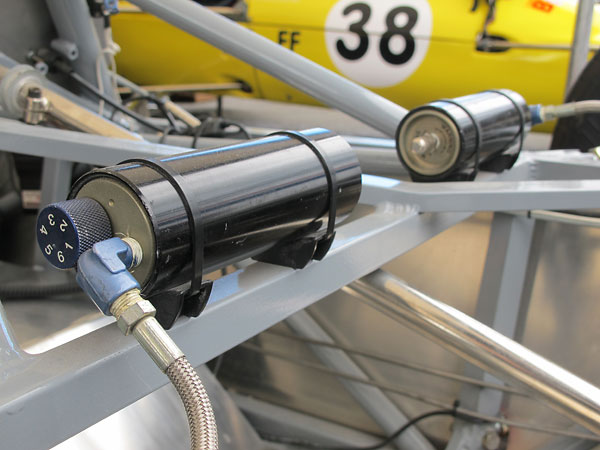 Penske 8100 Series remote shock absorber reservoirs. A piston within each reservoir separates the
oil-filled (dial) end from a charge of nitrogen gas. Compression adjustment is made via a dial on the
remote reservoir which selects one of six orifice sizes. ("One" is largest and thus softest.) Gas pressure
is typically about 175psi, but altering the gas pressure provides additional adjustment.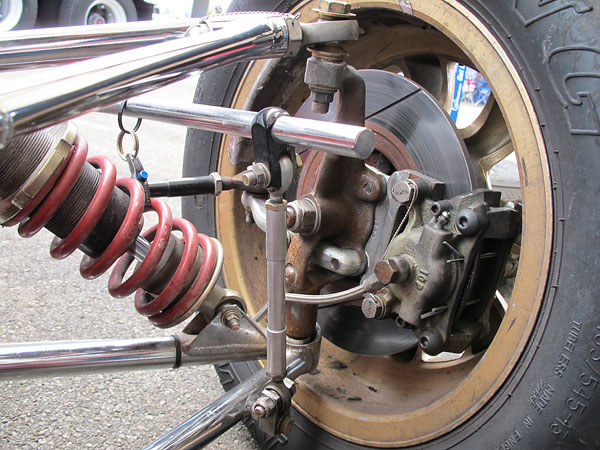 ICP20 leg-mount iron brake calipers squeeze iron solid brake rotors.


Enjoying this article? www.BritishRaceCar.com is partially funded through generous support from readers like you!
To contribute to our operating budget, please click here and follow the instructions.
(Suggested contribution is twenty bucks per year. Feel free to give more!)
Rear Suspension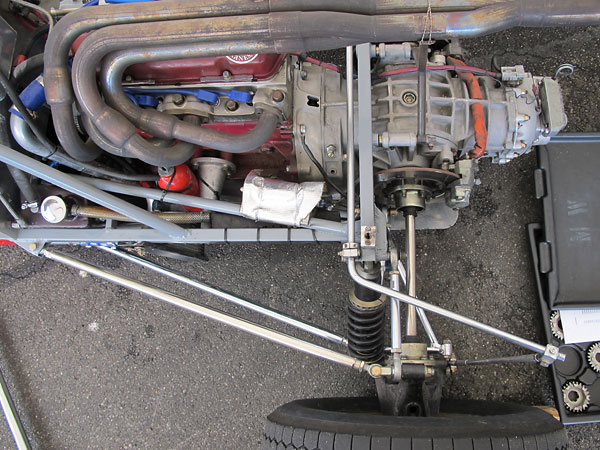 For racing on a damp track the rear anti-sway bar has been adjusted to its softest setting.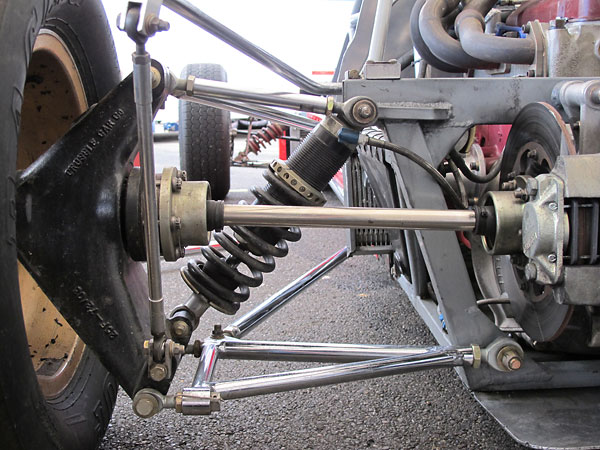 Beginning in the 70s, constant velocity joints became commonplace and cost effective with increased
popularity of front wheel drive economy cars. By 1979, Crosslé was installing CV joints on new
Formula Ford racecars. Despite a premium initial cost, these parts are reckoned maintenance free
for the life of the racecar (unless contaminated by grit.) Earlier vintage Formula Fords are required
by class rules to instead use Metalastik rubber drive "doughnuts".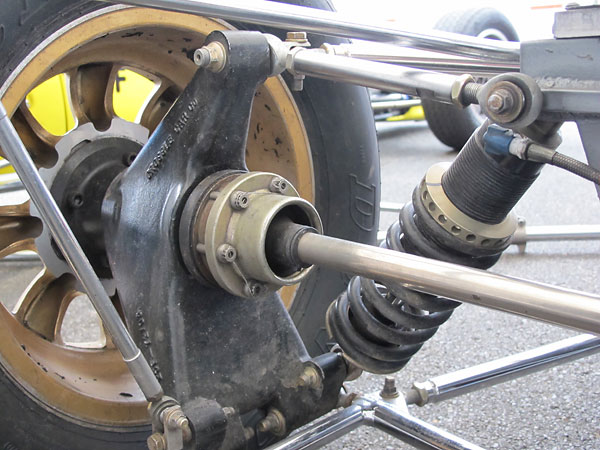 Proprietary Crosslé (25F-72/03) magnesium uprights.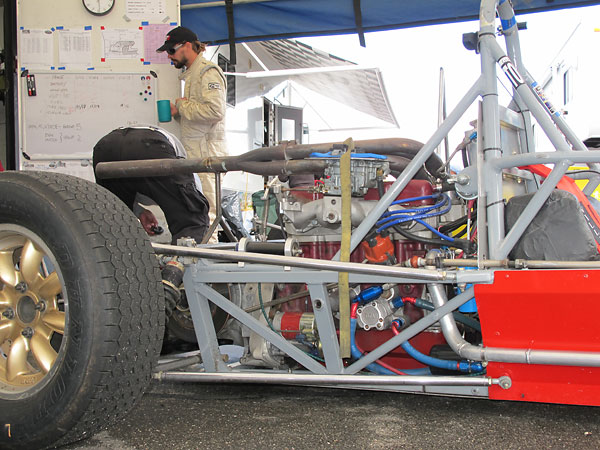 Long upper and lower trailing links were a ubiquitous feature of British open-wheel racecars
since about 1960. In the early eighties this began changing. Crosslé traded-in upper links
for a rocking lever arm design in 1985 on their 60F model. Lower trailing links stayed much later.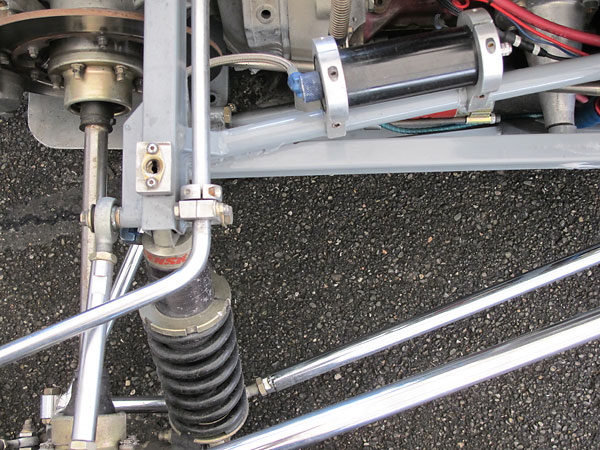 Penske Racing Shocks (PRS) shock absorbers with remote reservoirs.



Inboard mounted rear brakes, featuring lightweight Lockheed calipers.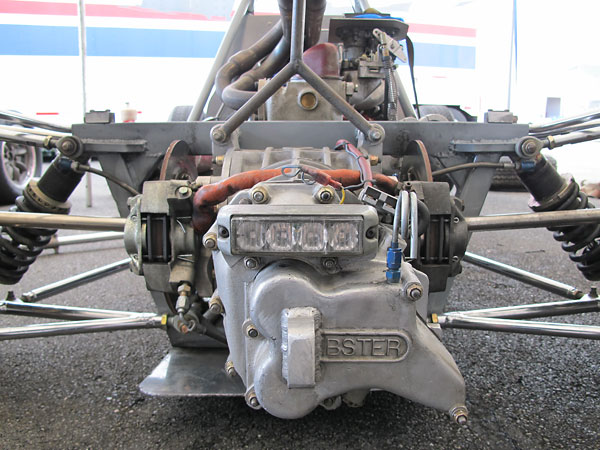 Webster Gears is an American company that has produced replacement parts for Hewland
transaxles since 1976. They've also produced complete custom gearboxes.



Taylor Race Engineering: 99106
Hewland: H9/2410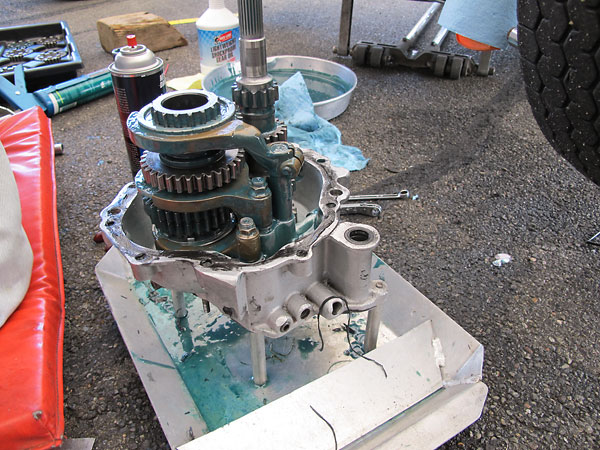 Until a racecar is driven at speed on a particular racetrack, it's very difficult to anticipate what
combination of gear ratios will suit best. Hewland transaxles makes gear swaps easy.


Frame Reinforcement

Substantial modifications have been made to this Crosslé 35F's frame. The forward roll hoop has
been replaced with one of similar height, but with braces attached on either side, instead of at the top.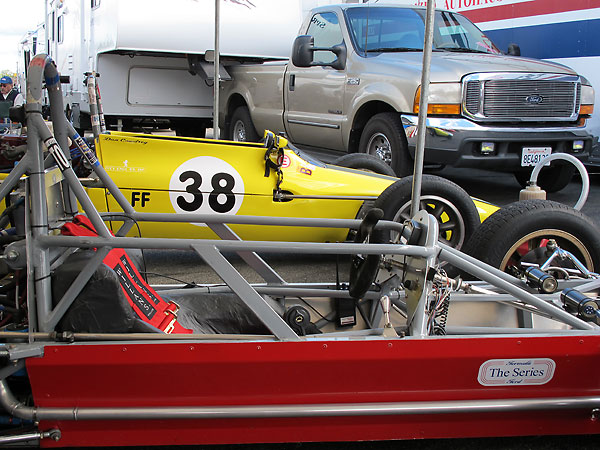 More importantly, two long curved tubes have been added around the cockpit opening.
This popular modification improves the frame's rigidity and its crashworthiness.


Interior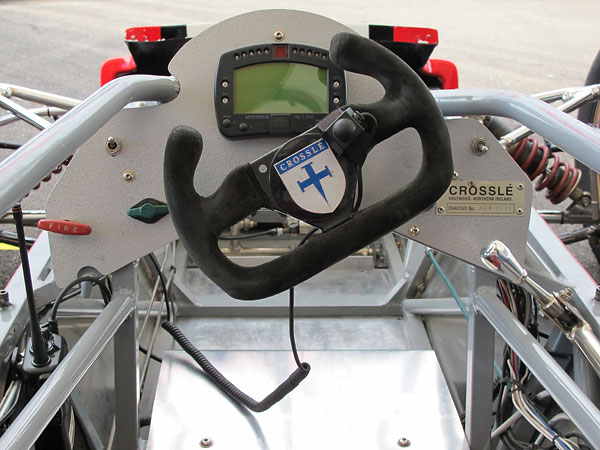 MOMO suede 250mm flat-bottom, cut-off top steering wheel.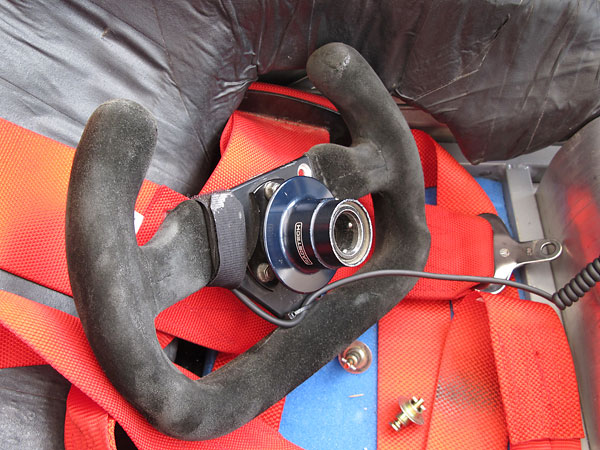 Racetech quick release steering wheel hub.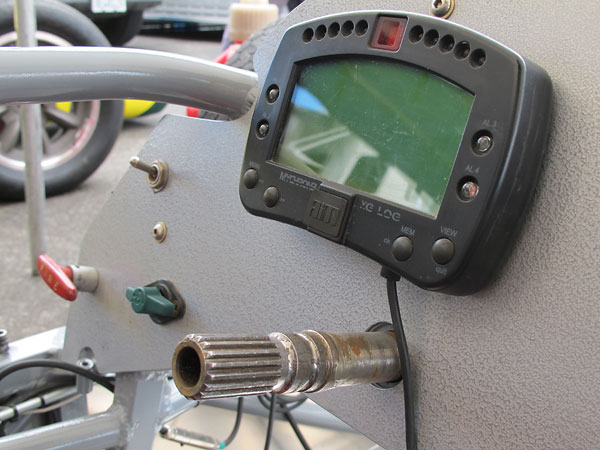 The MyChron3 XG LOG is more than digital instrumentation; it's the hub of a sophisticated data
acquisition system with five fully configurable input channels plus a built-in lateral G-sensor. The
data logger features a 200Hz sampling and recording rate, and stores data in an 8MB buffer. The
user can connect sensors for temperature readings, fluid pressure readings, potentiometers (e.g.
suspension travel, pedal displacement, steering angle, roll angle, etc.), Lambda air/fuel ratio values,
etc. The G-sensor helps users correlate other data to track position. Using powerful included
software, the system automatically creates a virtual map after data is downloaded to an offboard
personal computer.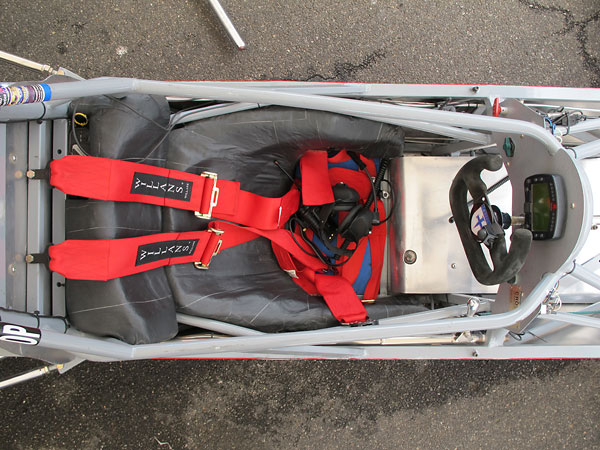 Willans six point cam-lock safety harness.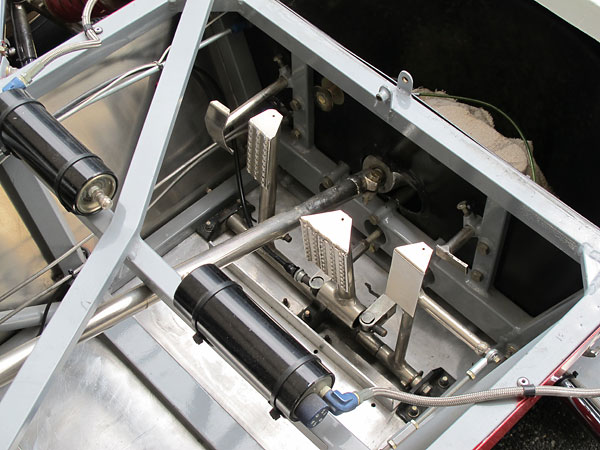 All the pedals pivot on a common bar, and the driver's heels rest against a common stop.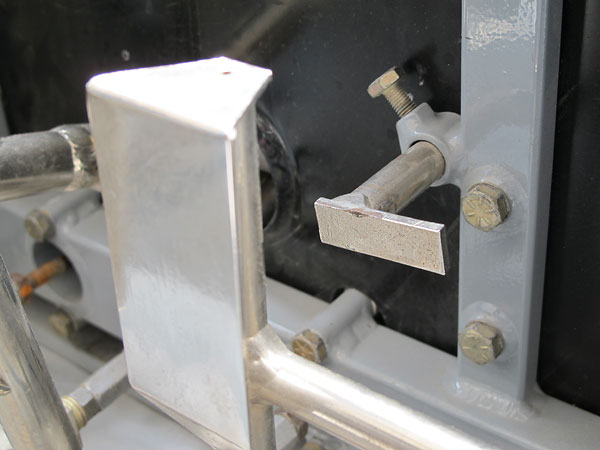 A pedal stop on the throttle pedal. This can be carefully adjusted so that the throttle opens fully
yet never goes over center. Installed at this end of the cable, not at the carburetor, the
throttle cable won't be stretched if the driver puts his weight on the pedal.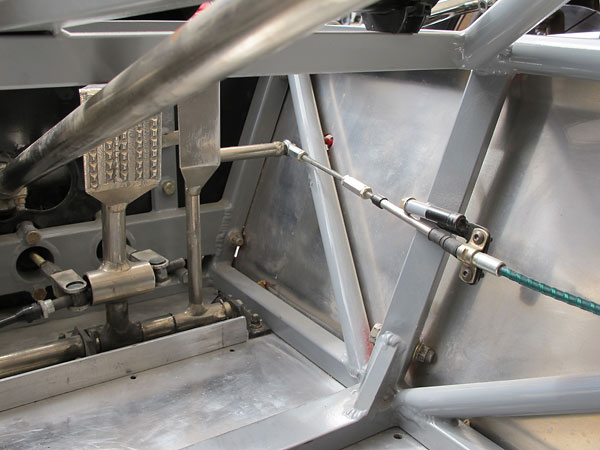 Throttle pedal/cable connection.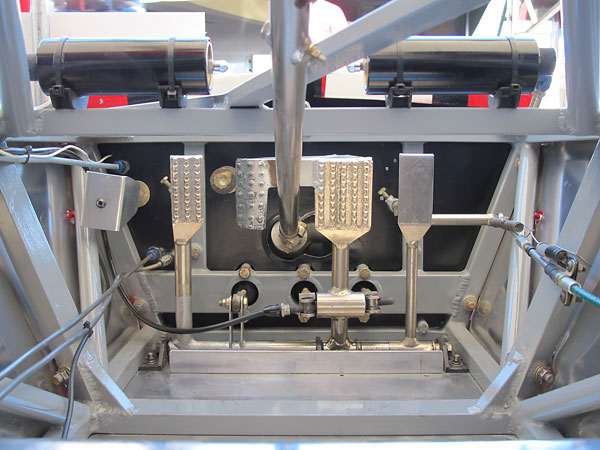 Between our two photography sessions, Mark has had one aspect of the chassis updated: it's now set-up
for left foot braking. The clutch and brake pedals have both been modified. Now the brake pedal can be
reached by the driver's left foot without him having to move his foot across underneath the steering column.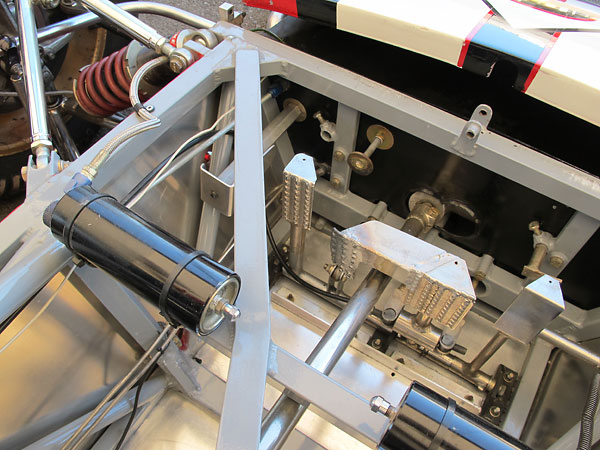 A new dead pedal for bracing the left foot has been added, although only needed when right foot braking.
The revised clutch pedal is no longer aligned with its old positive stop. The usual reason for having such a
stop in the first place is to protect the clutch slave cylinder from seal damage due to hyperextension.
(Depending on the mechanics of the system, a positive stop may be unnecessary.)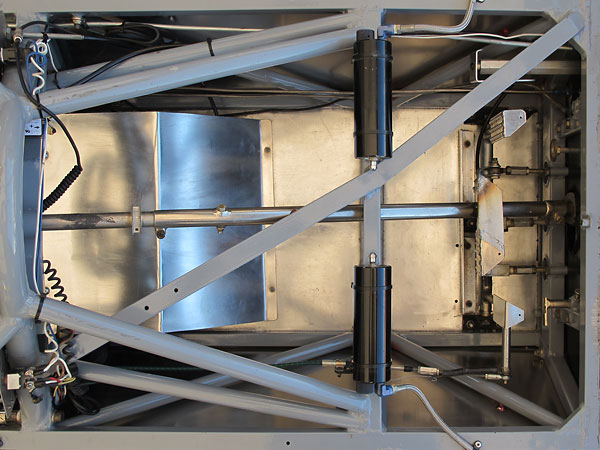 A simple aluminum panel hides and protects the battery and the fire suppression system bottle.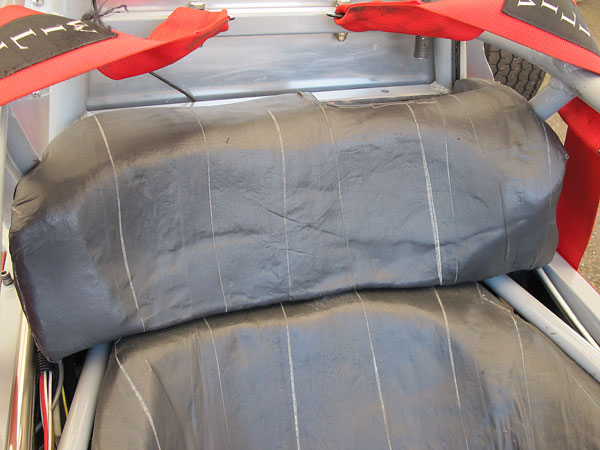 Comfy, custom-molded two piece foam backrest.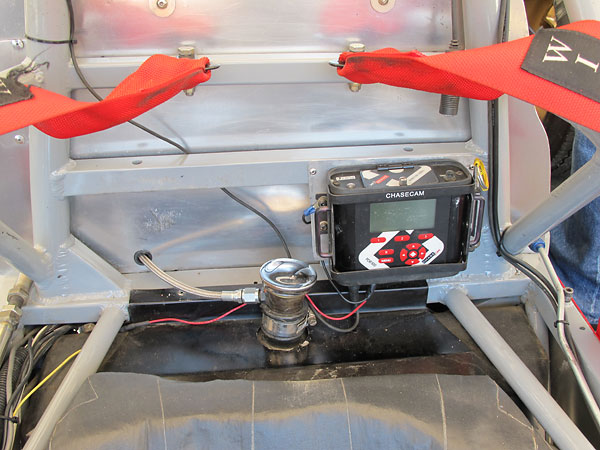 A Chase Cam PDR100 digital recorder has been mounted above the fuel cell, and discretely
behind the driver's backrest This device stores camera data, for playback after the race(s).


Exterior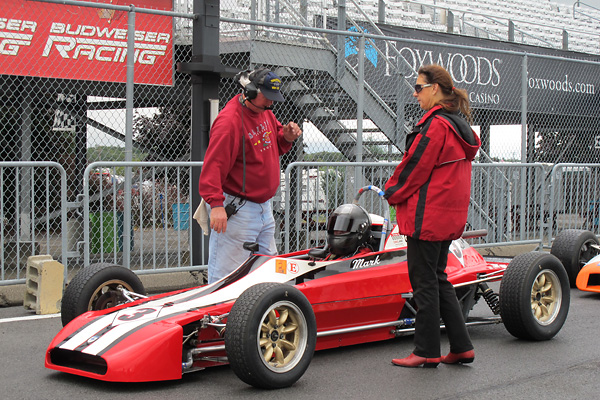 Roland Johnson prepares Mark Weatherup and his Formula Ford for each race.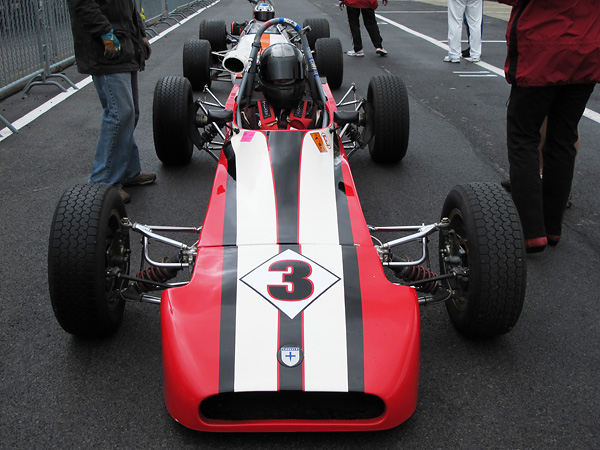 A similar nose - except much wider - was used on Crosslé's 33F Formula Ford 2000 model.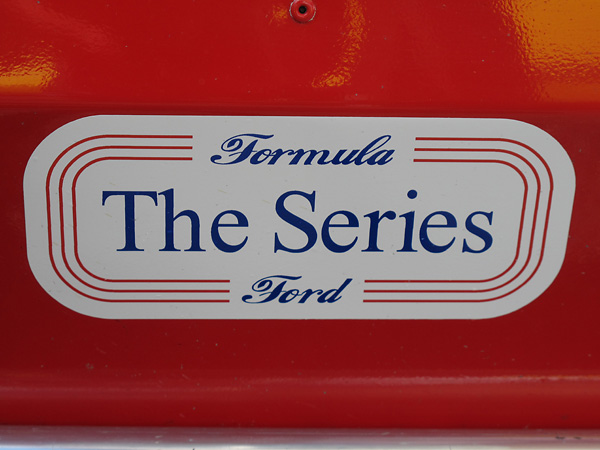 Formula Ford / The Series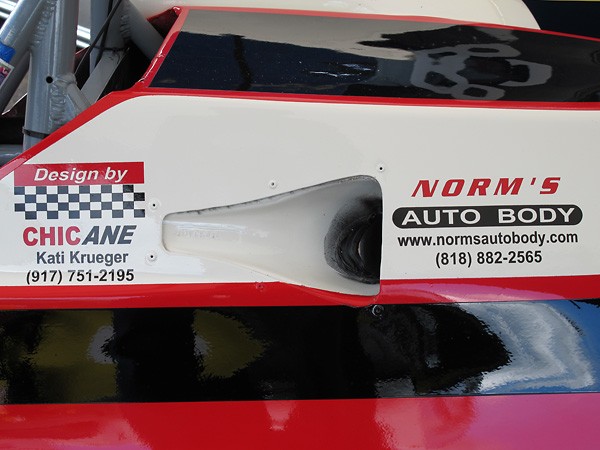 Design by CHICANE - Kati Krueger - (917) 751-2195
Norm's Auto Body - www.normsautobody.com - (818) 882-2565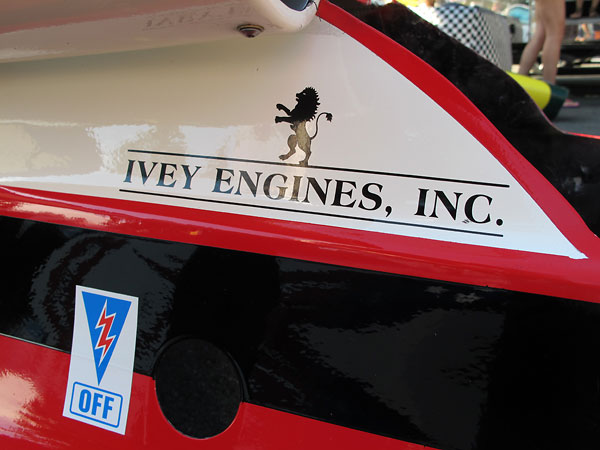 Ivey Engines, Inc.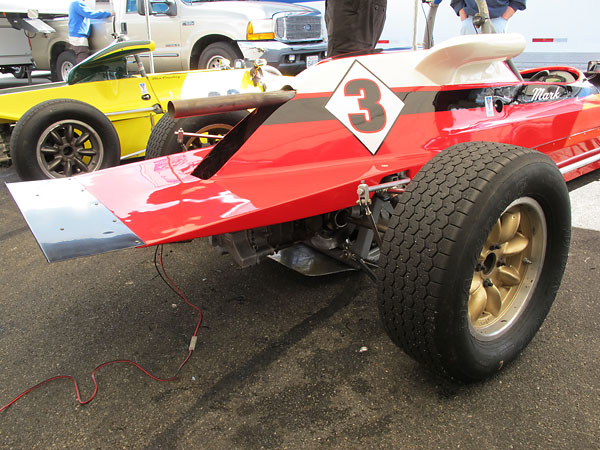 This extended engine cover isn't really a wing... but it may produce a little downforce.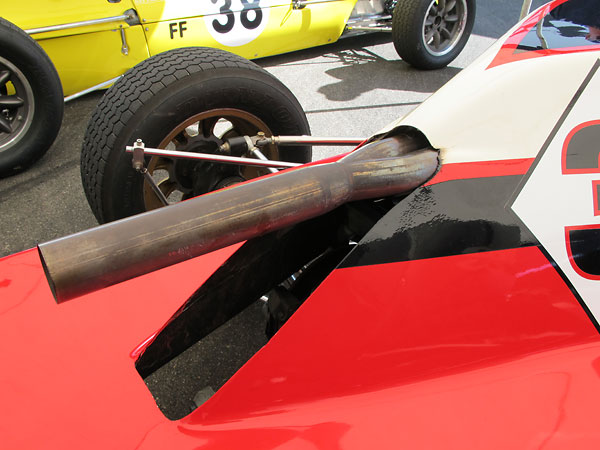 Normally the exhaust on a Crosslé 35F comes through the bodywork on the lefthand side,
but this modification - with exhaust coming straight out the back - sure looks nice!


Unless otherwise noted, all photos shown here are from September 2010 when we viewed the car at The US Vintage Grand Prix at Watkins Glen. All photos by Curtis Jacobson for BritishRaceCar.com, copyright 2011. All rights reserved.



Notice: all the articles and almost all the photos on BritishRacecar.com are by Curtis Jacobson.
(Photos that aren't by Curtis are explicitly credited.) Reproduction without prior written permission is prohibited.
Contact us to purchase images or reproduction permission. Higher resolution images are optionally available.