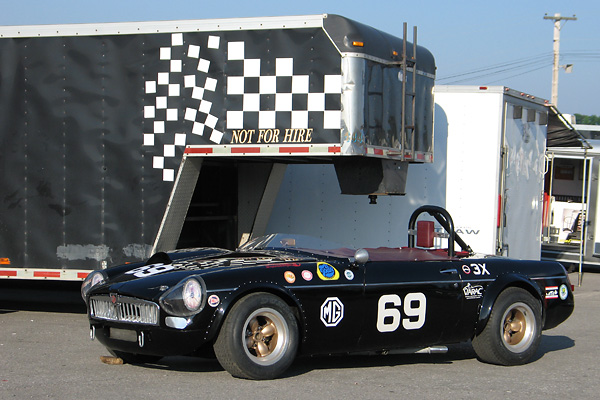 The Mike Adams / Al Pease Supercharged 1962 MGB Racecar
Owner: Mike Adams
City: Regina, Saskatchewan
Model: 1962 MG MGB
Engine: BMC 1.8L, supercharged
Built by: Al Pease
Restored by: Mike Adams
The Dark Horse
In preparation for the 1963 Sebring twelve hour endurance race, MG and the BMC Competitions Department prepared three "Ecurie Safety Fast" works racecars.¹ Due to bad weather through the autumn months, BMC had only minimally tested and tuned these racecars in England. From MG's factory in Abingdon, the Sebring cars were shipped to an MG dealership in Hamilton Ontario. The dealership was challenged with continuing their preparation before the cars were transported to Florida. Along with the Sebring MGB's, the factory shipped crates of spare parts including specially hand-crafted aluminum body panels. Few MG enthusiasts know it, but these first famous MGB endurance racecars had a stable mate. A fourth MGB was shipped from Abingdon at about the same time and to the same dealership.

A Canadian graphic artist named Al Pease had previously distinguished himself as an exceptional driver by piloting his Twin Cam MGA to many club-racing victories. Pease's driving skills were matched by his natural charisma. The MG factory quietly decided to sponsor Al Pease's racing team by providing a brand new MGB, free of charge.² The car shipped to Pease was never issued a VIN plate, and unlike the Sebring cars it never wore a registration number. Initially, it didn't wear any sponsorship decals either, because they were prohibited by the Canadian Automobile Sport Clubs (CASC). However, Al Pease's distinctive black MGB would eventually become the most famous, recognizable, and successful MG in the history of Canadian racing.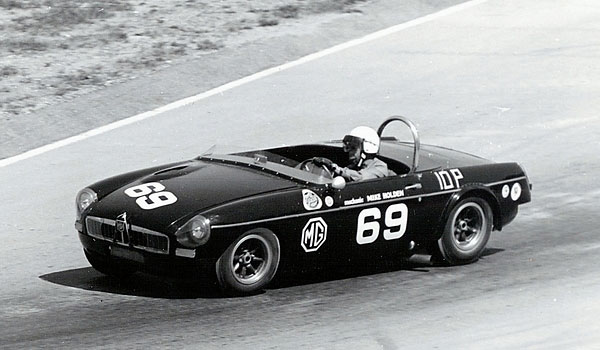 Mosport 1963: bulged hood, headlamp fairings, low profile windscreen, aerodynamic partial tonneau cover,
and rear fender flares to accommodate oversized tires on Cooper 8-spoke magnesium wheels.


Perhaps You Were Expecting Something More Subtle?
Those familiar with MG's "factory" MGB racecars of the 1960s will recall that they wore bright paint colors and looked basically stock. They almost always raced with factory-option hardtops installed. No hood bulges. No fender flares. They even retained production dashboards and vinyl covered interior trim panels. Inside the engine bay, S.U. carburetors³ were mounted on the same side of the engine as the exhaust, just like your mother's MGB.

Comparing Al Pease's MGB to the factory's endurance racecars is like comparing a pirate ship to a Ship-of-the-Line. When Pease's team, "The Al Pease Racing Partnership" took delivery of their brand new black MGB, the first thing they did was aggressively cut away dead weight. In a series of detailed photos below, we show for example how front crossmember and suspension components were "swiss-cheesed". Pease was able to trade some of the MGB's original steel body panels for hand-crafted aluminum panels from the Sebring spare parts crates. (Exactly when body panels were upgraded is unclear; it may have been after several races.) Other aluminum parts were custom fabricated for the car by Pease and by a skilled fabricator in Toronto, Mike Lewis. The Al Pease MGB reached a fighting weight of under 1800 pounds, wet.




Al Pease's lightened front crossmember, as viewed from below during restoration.


Traditionally, pirates didn't stop at throwing dead weight overboard. They also tried to optimize sails, rigging, and sometimes even the keel. Al Pease's close friend, Mike Holden, carefully rebuilt the MGB engine for racing. For the 1963 season, an HRG Derrington crossflow cylinder head and dual Weber 42DCOE carburetors were installed. (Besides adding horsepower, the aluminum cylinder head reduces weight by about eighteen pounds.) Al Pease hired a young former Derrington employee named Bob Egginton to custom port the cylinder head and to assist Holden with tuning. As Bob recalls, custom flat top pistons were sourced from a manufacturer in U.S.A., and were mated to MGA Twin-Cam connecting rods which were preferred because they had solid small eyes instead of split eyes. "We always used Bosch distributors and coils as Al had some kind of deal with them and we thought their steel bodies were less likely to distort at high revs than the Lucas items. Likewise, we used Bosch plugs although these did give some problems as at the time they did not have the large range of heat variance of the available Champions." The engine was fitted with a Twin Cam oil pan, which was deeper than a stock MGB pan. A limited slip differential was installed in the rear axle.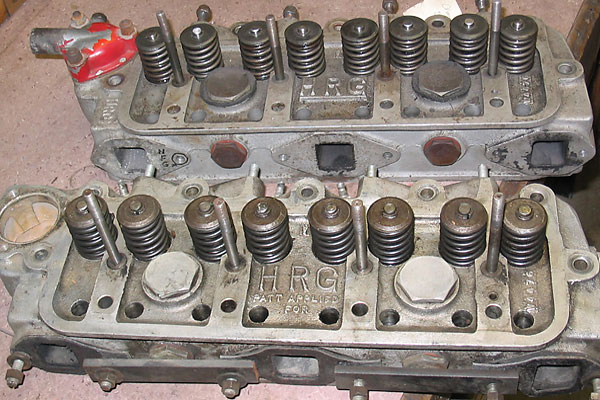 Two specially modified HRG-Derrington aluminum crossflow cylinder heads.


To slip through the water air with less resistance, the Pease team created a low profile Perspex windscreen and an aluminum partial tonneau cover. They also raided the BMC parts bin for Perspex headlamp fairings and a deep-section aluminum front valance. Pease fabricated and installed anti-tramp bars, long before they were fashionable. His black MGB demonstrates many similarly innovative construction and preparation details.

Al Pease had an amazingly successful 1963 racing season. The supporting races held at Mosport during the Players 200 weekend are a great example: in his MGB Pease won the "Production Sports Cars" group 15-lap race, and later that day he won the Sedan group race in his BMC-sponsored Austin Mini Cooper over a Pontiac GTO! (These "group" races included multiple classes, as determined by engine displacement. In both races Pease won outright over whole classes of competitors with larger engines.) At the conclusion of the year, Pease had racked up enough points in his MGB to be named The Canadian Racing Drivers Association's 1963 National Champion for Class 10. He also won CRDA's National Championship in the "Modified Sportscars Under 1600cc" class with his Lotus 23.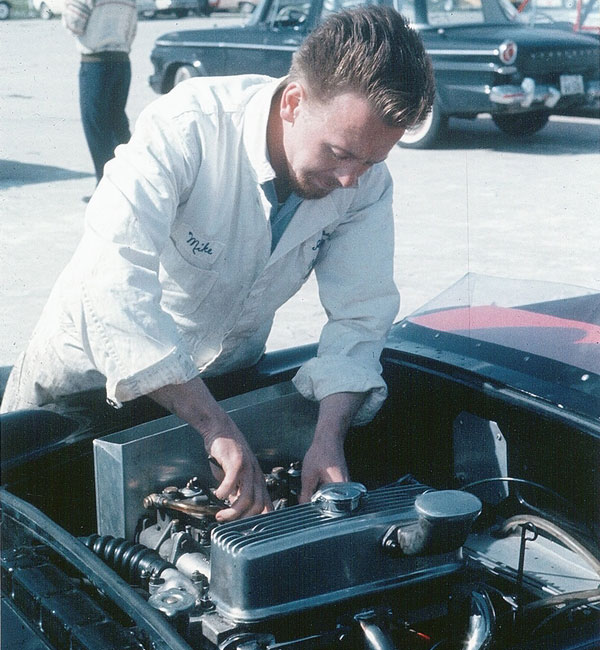 Mosport 1963: Mike Holden sets-up dual Webers 42DCOE carburetors on the HRG Derrington crossflow head.


Enjoying this article? www.BritishRaceCar.com is partially funded through generous support from readers like you!
To contribute to our operating budget, please click here and follow the instructions.
(Suggested contribution is twenty bucks per year. Feel free to give more!)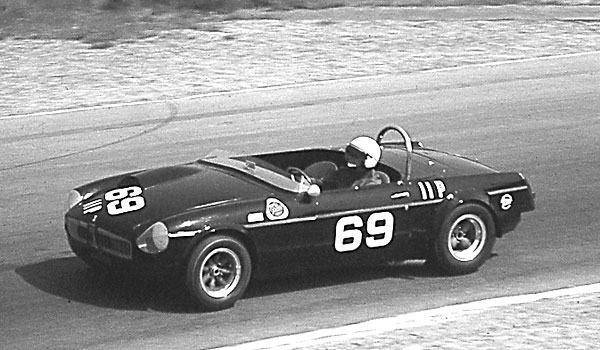 Mosport 1964: the modest hood bulge of 1963 has been replaced with a much larger air scoop. Earlier, small rear
fender flares have been relocated forward and replaced with larger rear flares, for wider wheels and tires.
Weight reduction efforts have apparently continued; notice that headlights have now been removed.


For 1964: Custom Supercharger and Wider Tires
In preparing for the 1964 racing season, The Al Pease Racing Partnership set its sights high. Their goal was to defeat the fastest "Production Sports Cars" in Canadian Automobile Sport Clubs competition, regardless of displacement. To achieve this goal, they took a page from the MG playbook of decades past: forced induction combined with exotic fuel blends in lieu of regular gasoline!

To learn about superchargers, Al Pease made contact with engineering friends at Chrysler and apparently also at the Detroit Diesel division of General Motors, makers of the famous 6-71 supercharger. In particular, Pease and Holden worked closely with John Camden to construct and optimize a blower to the needs of a less-than-two-liter racing engine. Camden is believed to have originally created two prototype superchargers from cut-down 6-71 parts. One of Camden's prototypes was installed on Al Pease's MGB, via a custom cast aluminum intake manifold also created for the installation by John Camden. (The second supercharger was reportedly installed on a Volvo racecar by Werner Gudzus.) Camden would ultimately move to Phoenix to start his own aftermarket supercharger manufacturing business which remains in business under new ownership and management, to this day.

Bob Egginton ported and reshaped the combustion cavities of a second Derrington cylinder head to lower the engine's static compression ratio as required for use with a supercharger. By mid-season, Egginton left the team to pursue more lucrative employment. Later in his career, Egginton would serve as Head of Production at John Surtees' Formula One team.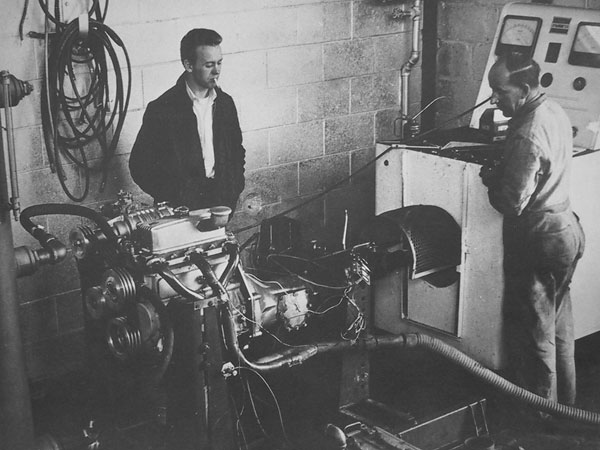 Dave Munroe of Nova Scotia discovered this vintage photo on the wall of a British car shop in Phoenix Arizona.
He arranged to photocopy it, front and back. A typed label appeared on the photo. It read:
"1964 271 H.P. MGB 5 MAIN BRG. - BUILT BY CHIEF MECHANIC MIKE HOLDEN"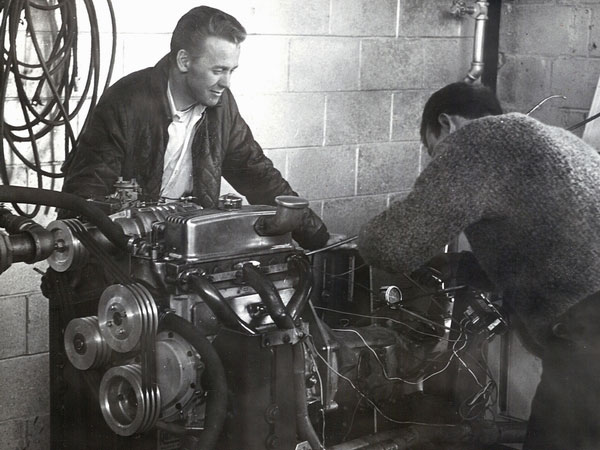 Mike Holden (left) and Bob Egginton (right) tune the newly supercharged engine on a borrowed dyno.
According to Bob's memory, the engine didn't excede 200hp on that first weekend. Bob also doesn't
recall running the Super-B on anything but Sunoco 5-star gasoline, whereas an exotic fuel cocktail has
been mentioned by several other sources. The 271hp figure (quoted above) would almost certainly require
a fuel with higher energy content than pump gas. The question is "Can an B-Series mill stand that strain?"


Mike Holden initially installed the supercharger on the engine with triple V-belts and with pulleys selected to turn the blower at twice the engine's crankshaft speed. At this ratio, the supercharger produced about 20 p.s.i. of boost. In combination with the boost, the team would utilize a custom mixture of benzene, toluene and aviation fuel. Fuel was initially metered by a single-barrel Carter carburetor. Extensive dynamometer testing was needed to tune the supercharger installation. Bob Egginton helped Mike Holden interpret dyno results and tune accordingly.

On account of its supercharger, Al Pease's MGB was given a new nickname: "Super-B".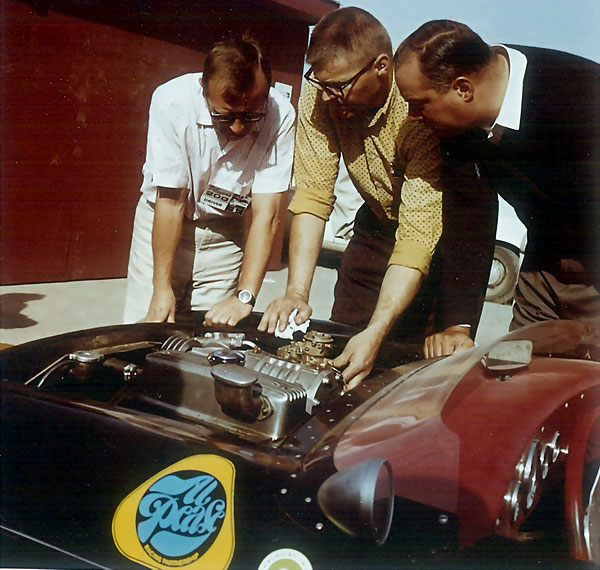 John Camden (center) helps Al Pease (left) dial in the Carter carburetor for the 1964 Player's 200 race.


Al Pease won dozens of trophies in 1964 on his way to a second consecutive Canadian Driving Championship title. Among his most notable appearances that year: Pease drove the Super-B to victory in the Class 10 sprint race that supplemented the Canadian Grand Prix. During the brand-new Mont Tremblant racetrack's inaugural race weekend, Pease won the 1300-2500cc race in his Super-B, and later that day he won the sedan class in his Austin Mini Cooper. In 1964's CASC/BEMC (British Empire Motor Club) Spring Trophy race, the Super-B finished first in class and third overall in the "Production Sports Cars Over 1600cc" race, behind a Corvette Sting Ray and an AC Cobra. Pease again entered supplemental races that supported the Players 200, finishing third in the "Production Sports Cars Over 1600cc" race (which was won by an AC Cobra) and second in the sedan class with his Mini Cooper (behind a Ford Mustang). Driving the Super-B, Pease easily won the Sundown Grand Prix of Endurance. (This is an annual night race at Mosport. In 1964, competitors raced from 7pm until 11pm.) That same weekend, Pease won the Production Sports Car sprint race in his MGB and the Sedan sprint race in his Mini. Pease wrapped up his 1964 season with a Class 10 victory at the CASC/BEMC Indian Summer race. Through BMC's contingency awards program, Pease won a great deal of cash in 1964. He reinvested many of the cash awards into improvements to the Super-B.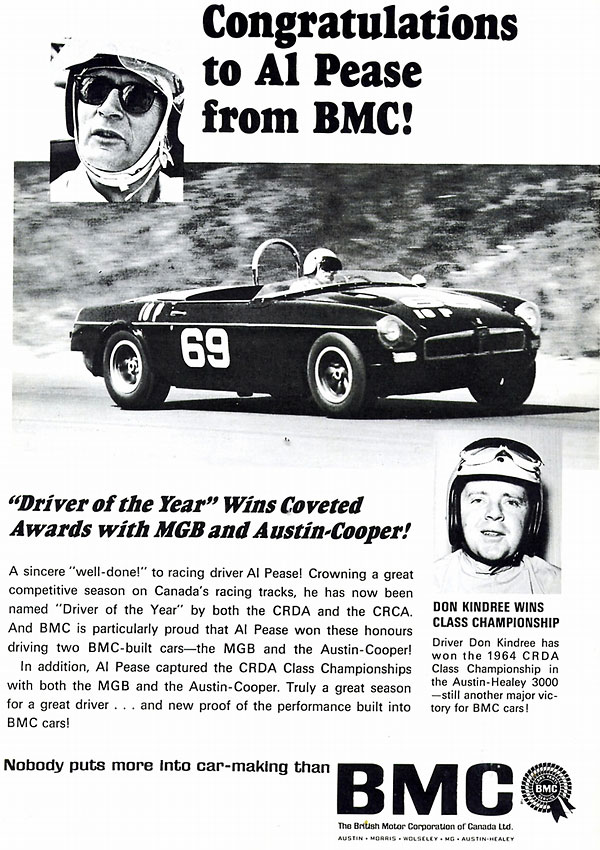 BMC congratulates Al Pease for taking CRDA and CRCA "Driver of the Year" titles in 1964.
(The Canadian Race Communications Association was an organization of race marshalls, corner workers, etc.)


Continued Success Through the Mid-Sixties
Although the initial supercharger installation worked well, actual racing experience provided information for continued development. Major improvements were made in two technical areas. Originally, three V-belts were specified to transfer power (~30 h.p.) from the crankshaft to the supercharger. However, rapid changes in engine speed - particularly in high r.p.m. ranges - tended to sweep the belts from their pulleys. By upgrading to a newly available Raybestos "Poly-V" 8-rib belt, the team found they could reliably utilize smaller pulleys, achieve a greater pulley ratio, and simultaneously utilize substantially lower belt tension. In a Raybestos trade journal advertisement, John Camden provided the following details: "Almost 50% manifold pressure increase added 10 mph to the MGB's top speed. National Canadian Production Car Champion Al Pease of Montreal won sixteen successive races in his MGB after the Poly-V Drive installation. And despite the total track time in these events, plus countless practice laps, the Poly-V 'K' belt shows virtually no wear." Even greater gains are rumored to have accompanied the team's switch from a one-barrel Carter carburetor to a two-barrel Holley carburetor. With these changes made, the Super-B was ready for continued success through 1965 and 1966.

Throughout this period, Al Pease was poised to move up from racing his own cars to driving professionally for internationally known teams. However, the opportunities that presented themselves were with uncompetitive racecars. Pease co-drive a works Austin Healey Sprite in the 12 hour endurance race at Sebring with Donna Mae Mimms, but they retired with a broken axle after just nine laps. In 1965, Pease returned to Sebring to co-drive a works MGB (registration "DRX 256C"). Pease and Ricard qualified sixth in class and 50th overall, and they ultimately finished sixth in class and 32nd overall, but the top five positions in the Grand Touring 2000 class were all driving Porsche 904 GTS racecars, and four of these five purpose-built Porsche racecars were entered by the Porsche factory.

Returning home and driving the Super-B, Pease dominated the Production Sports Cars support race of the June 4, 1966, "Players 200" by defeating George Eaton in a Shelby Cobra and Horst Kroll in a Porsche 904 GTS, among many others. (Bruce McLaren won both heats of the USRRC feature race that weekend, in his Oldsmobile-powered McLaren M1B.)

In fact, in 1966 Al Pease beat Comstock Racing's Ford V8-powered Cobras with his humble little four cylinder MGB on several occasions. This wasn't in the script. Before the season ended, Pease was advised by race officials that his supercharged MGB would no longer be allowed to compete in Production class racing. Pease decided to sell the Super-B and move on. His professional racing career would include three Formula One race starts (again, unfortunately seated in a very uncompetitive racecar) plus victories in both Formula 5000 (driving a Lola T140) and Formula A (driving Brabhams). Al Pease was inducted into the Canadian Motorsports Hall of Fame in 1998.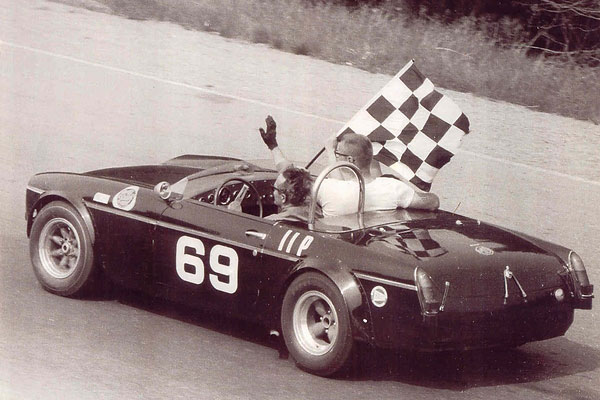 Pease drives a victory lap, following the 1964 Players 200. (Pease would repeat this victory in 1966.)
Al Pease drives, while John Camden and an unidentified flag-bearer ride along.


After Al Pease sold the Super-B, it passed through three owners who raced it successfully in western Canadian regional races without making significant changes to the car: Barrie Bratt of Regina Saskatchewan (1967-1968), Oran Genoway of Regina (1969), and Tom Atkinson (1970-~1973). Atkinson stored the Super-B from the mid-seventies until 1984 when it was sold to a young and inexperienced driver. In that driver's hands, it apparently completed about half of one race before the engine failed and the car went back into storage. The MGB ultimately moved from outdoor storage lot to outdoor storage lot, before ending up parked in a farmyard for about fifteen years. Mike Adams finally managed to convince the farmer/owner to part with the Super-B.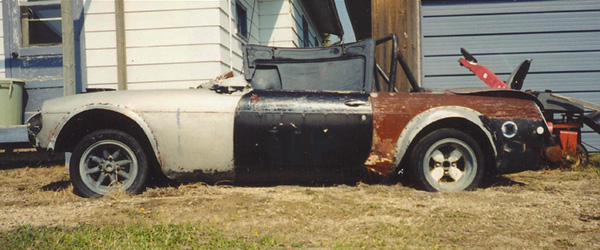 2001: Mike Adams purchased the Super-B in this neglected condition. (Notice that the front fenders
and the riveted-on fender flares are aluminum, although the door skins and rear fenders are steel.)


The Restoration
Restoration of the Super-B took Mike Adams about 5 years, working steadily but only part-time because of his career in commercial architecture. The pace of restoration was also affected by the historic significance of the car: Mike put a high priority on restoring the car to a very authentic presentation and to backing it up with extensive documentation. Mike is quick to point out that Al Pease was contacted quite early on, and that he's been a great resource for making the car correct. Pease provided early photos, and exchanged many letters and phone calls with Mike.

When Mike purchased the Super-B, one critical component wasn't included; at some point during the car's longterm storage its original supercharger was stolen! Now, considering how specialized this supercharger was for its installation, it seems unlikely anyone but an MGB owner would be able to use it effectively. Furthermore, whoever removed the supercharger left behind its one-of-a-kind cast aluminum intake manifold. Mike hoped that he might find the blower collecting dust in someone's shop.

As the rest of the restoration moved forward Mike decided to temporarily install dual Weber carburetors, just as Al Pease had done for the 1963 season. Other aspects of the car were also temporarily returned to 1963 spec. An old Bendix electric fuel pump fed gasoline from an original MGB steel fuel tank. Old fashioned breaker points and a condenser were installed in the distributor. In 2006, the newly restored Al Pease MGB returned to Mosport and ran a few demonstration laps. For this weekend, the Super-B wore its original Cooper 8-spoke magnesium wheels, with period Dunlop tires. Actually racing on fifty year old magnesium wheels isn't recommended because magnesium castings can degrade quite badly from the inside out and fail without warning. After this initial unveiling, Mike installed aluminum American Racing wheels of the same "Libre" model and sizes that Al Pease used later in the Super-B's career.

While campaigning his MGB with twin Weber carbs, Mike continued searching for the original supercharger. When he ran out of leads, he searched for an appropriate replacement and ended up buying a second generation Camden blower off of eBay. This blower's housing required substantial machine work just to mate to the MGB's custom intake manifold. Mike managed to make it all fit together, and the Super-B raced in 2008 with its eBay blower. The set-up wasn't right though, and before long the motor threw a connecting rod. Mike removed the eBay blower and sent it to Camden in Washington State for measurements. From those measurements, they were able to build a special new supercharger that would better suit the Super-B and mate to the original manifold. There were just a few more details to work out, including a mid-season problem with snout seal retention. With the one-to-one ratio pulleys that are currently installed, the new blower should produce about 10psi of boost. Mike has recently swapped to a second vintage Derrington cylinder head with smaller combustion cavities, to achieve an increase in static compression ratio from about 8:1 to about 8.7:1. (This is in combination with custom fabricated pistons.) Instead of a high-test benzene/toluene/av-gas cocktail like Pease ran in the car's hey-day, Mike uses VP C-13 race gas. He plans to swap pulleys to increase boost as his confidence in the installation grows. Mike, a fearless champion Formula Ford racer and a competition driving instructor, notes that the Super-B is already "plenty fast enough to have great fun."

Since 2006, Mike has raced the Super-B about four weekends each year. Since Mosport was Al Pease's home track and so much of the Super-B's history was made there, it's always particularly fun to return there. However, the drive from Regina Saskatchewan to Mosport (east of Toronto) takes over thirty hours!

What class does the Super-B compete in? It depends on the racetrack and on who is sanctioning the race. At Mosport, the restored Super-B has raced three times in a special class for historically significant Canadian race cars. In Western Canada, with current closed-wheel grids, the Super-B runs in a catch-all Vintage class. On one occasion, Mike took the restored Super-B to a race weekend in Portland Oregon but wasn't allowed to race because the (apparently rather stodgy) local club wasn't able to figure out how to classify this amazingly well documented, historically noteworthy, and authentically restored MGB racecar.

Mike is crewed by Gary Tholl and Gord Leach of Blurred Vision Racing.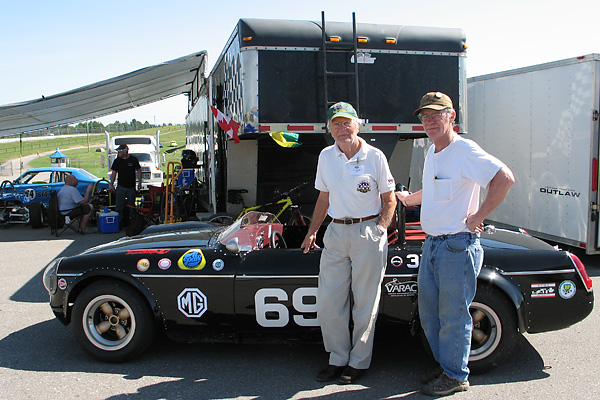 Al Pease and Mike Adams reunited at Mosport in June 2010.
(Mike's crew, Gord Leach and Gary Tholl of Blurred Vision Racing appear in the background.)


Features and Specifications
Engine:
BMC 1.8L four cylinder engine, bored 0.040" over. (5 main bearing block.) Carrillo connecting rods. Custom JE pistons, with Total Seal rings. Kent Cam camshaft, tubular push-rods, standard tappets and rockers, and adjustable cam timing gear. HRG-Derrington 7-port crossflow aluminum cylinder head. Custom cast aluminum intake manifold. Custom Camden supercharger. Goodyear Gatorback Poly-V drive belt. Holley model 2300 (500cfm) two barrel carburetor. Moroso air cleaner. 123ignition electronic distributor (with sixteen selectable advance curves.) Lucas Sport ignition coil. Cobalt spark plug wires. Custom deep sump, baffled oil pan. Morris Garage 21" 12-row oil cooler. Uprated oil pump. Remotely mounted oil filter. Aluminum transmission adapter plate. Lightened flywheel.

Cooling:
stock MGB brass/copper radiator, re-cored and with relocated ports. Custom fabricated aluminum venturi / air duct. Remote-mounted brass header tank (from a 1950's Ford).

Exhaust:
original Derrington long-center-branch tubular exhaust header (with a slight kink added to provide clearance to the steering shaft). No muffler. Pipe exits in front of driver-side rear wheel.

Transmission:
MGB 4-speed transmission with straight cut, close ratio gears. Borg & Beck clutch. Standard MGB driveshaft.

Rear End:
re-cambered MGB banjo axle. Limited slip differential. Various gear sets, depending on the track.

Front Susp.:
MGB racing-spec 600lb/in coil springs, cut for lower ride height. Armstrong lever-type shock absorbers. Lightened lower A-arms, spring pans, and front crossmember. Lowered steering rack. Modified uprights to suit non-stock brake caliper. MGB GT V8 bushings. 3/4" anti-sway bar.

Rear Susp.:
stock MGB leafsprings, de-arched and with one leaf removed. Koni telescoping shock absorbers. Custom anti-tramp bars.

Brakes:
(master) later model (dual circuit) MGB master cyclinder.
(front) stock rotors (with lightening holes cut in bell section). Girling AR3 aluminum calipers.
(rear) MGB drum brakes with lightened backplates.

Wheels/Tires:
American Racing "Libre" aluminum wheels (13x8 front, 13x10 rear). Dunlop Racing tires ("Formula Ford" 165/580-13 CR82 front, 5.50-M-13/CR65/204 rear).

Electrical:
no charging system. MotoMaster Eliminator lead/acid battery. Nippondenso gear reduction starter. No headlights.

Instruments:
(left to right) ammeter (-60-60 Amperes). coolant temperature gauge (0-280F). Smiths tachometer (0-7000rpm). oil pressure (10-80psi), and boost gauge (0-20psi) gauges. (Note: the ammeter isn't hooked up; it's just there to fill the hole.)

Fuel System:
ATL 8 gallon fuel cell. Holley "blue" (9-14psi) fuel pump. Holley adjustable fuel pressure regulator.

Safety Eqmt:
Pyrotect 6-point cam-lok safety harness. Amerex handheld fire extinguisher. Raydyot mirrors.

Misc.:
original MG-supplied aluminum front fenders, hood, and trunk lid. Original custom fabricated aluminum fender flares (see below for explanation). Custom fabricated aluminum inner door skins (new) and door hinges (original). Custom fabricated aluminum bucket seats (one original and one new). Original custom fabricated aluminum front valance Fiberglas replacement rear valance. Replacement aluminum half-tonneau cover (which hides most of the upgraded roll hoop structure). Custom Perspex (acrylic) windshield. Sebring-style acrylic headlight fairings. Grant "Challenger" steering wheel.

Weight:
under 1800 pounds.

Racing Class:
various. (See above.)

Completed:
early 1963, and the restoration was completed in 2006. The car has participated in about four race meets each year since its restoration.


Engine Installation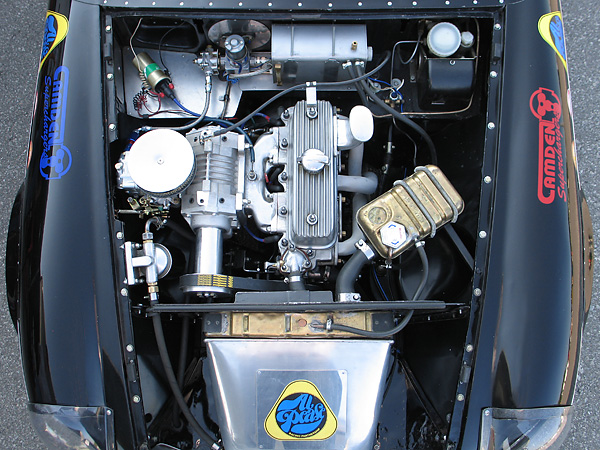 Al Pease's Chief Mechanic, Mike Holden, was always given credit for the engine's exceptional performance.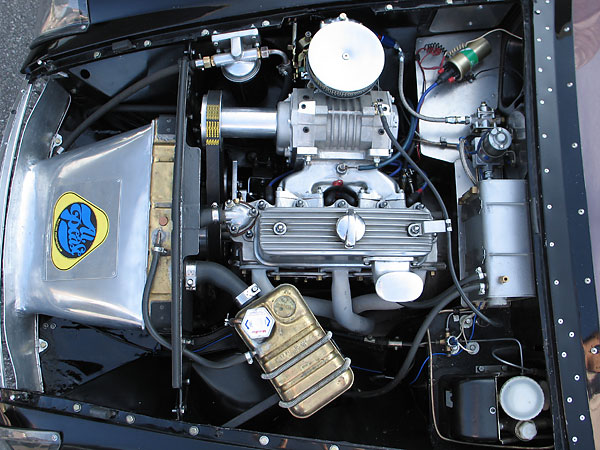 Before restoration, while the Al Pease MGB languished in various storage lots its original supercharger
was stolen. Researching and finding a replacement supercharger was one of the most challenging aspects
of the restoration.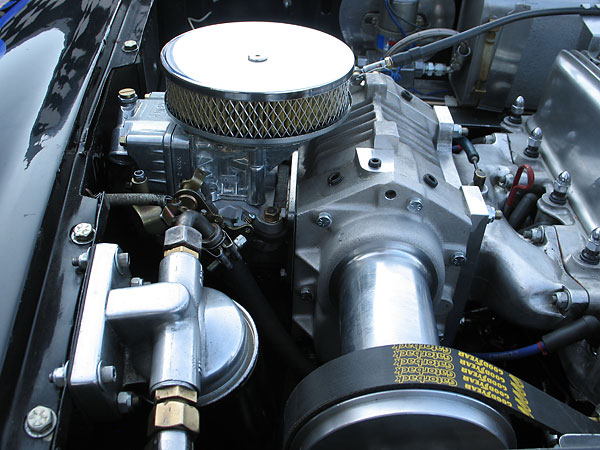 John Camden of Camden Superchargers had worked with Al Pease to develop the original Supercharger.
Although that fine old company was sold and relocated to Washington State, they're still in business.
A new Camden 5" supercharger was purchased and custom modified for the MGB's restoration.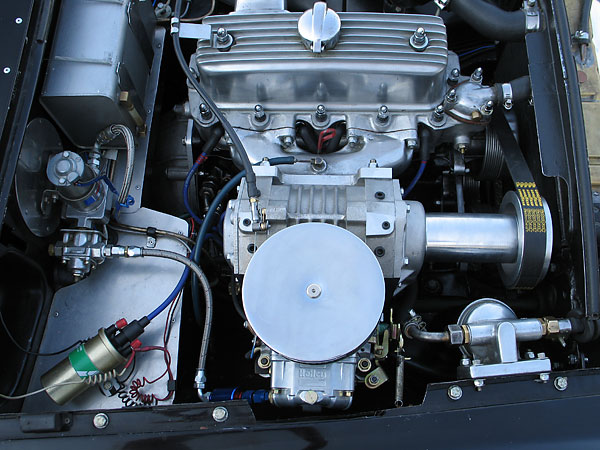 Originally, the Camden supercharger was installed with a smaller pulley and spun at twice the engine speed.
Back in the day, Camden had problems with conventional fan belts slipping and flying off so they worked
with Raybestos-Manhatten in a pioneering application of the "Poly-V" / serpentine fan belt. Raybestos
then prominently featured the Al Pease MGB in trade journal ads for their Poly-V product line.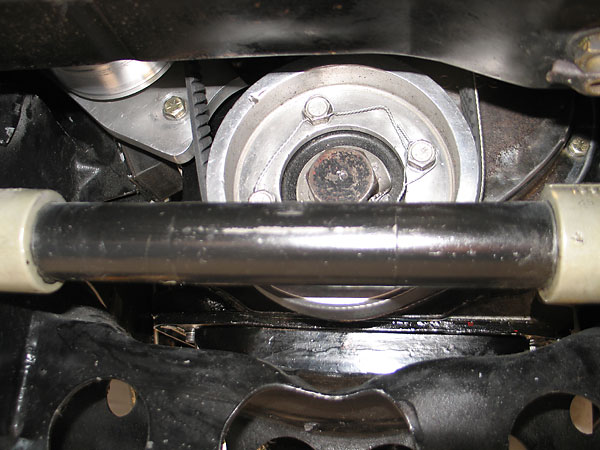 5.25" 8-rib aluminum crankshaft pulley, to suit the serpentine fan belt.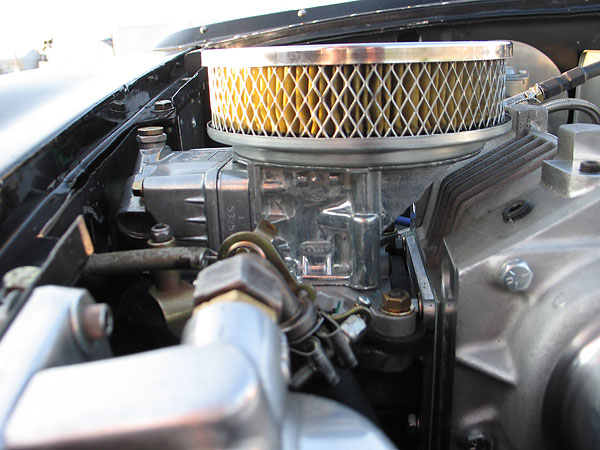 Moroso air cleaner, viewed from front.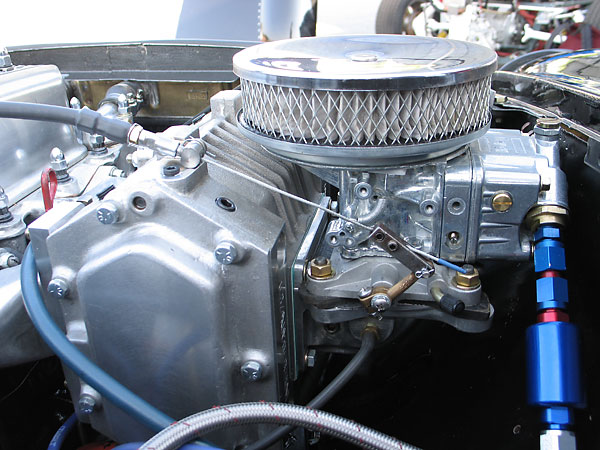 Holley model 2300 (500cfm) two barrel carburetor, viewed from rear.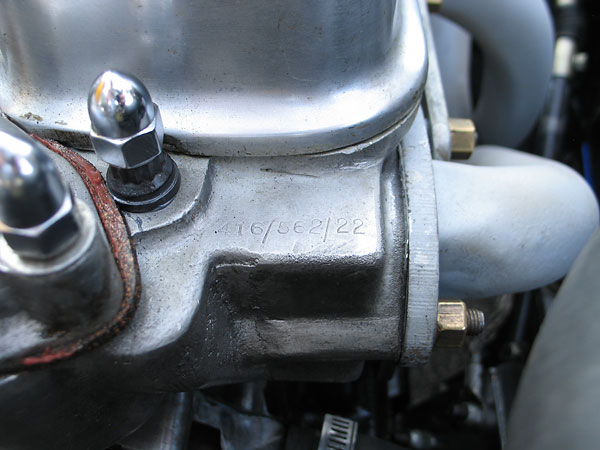 HRG-Derrington 7-port crossflow aluminum cylinder head, stamped 416/562/22.
(In other words: serial number 416, produced in May 1962, model variant 22.)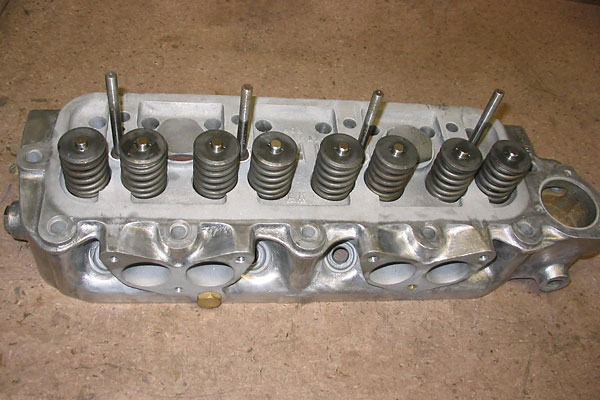 Two HRG-Derrington crossflow cylinder heads were specially prepared for Al Pease's MGB:
one for normally aspirated use and one for use with a supercharger.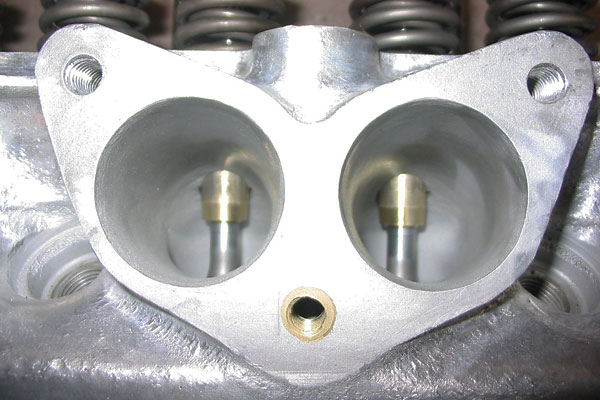 In both cases, the intake ports were enlarged and reshaped for improved flow (as shown here).
Combustion chambers of the supercharged version were enlarged too, but no photo of that is available.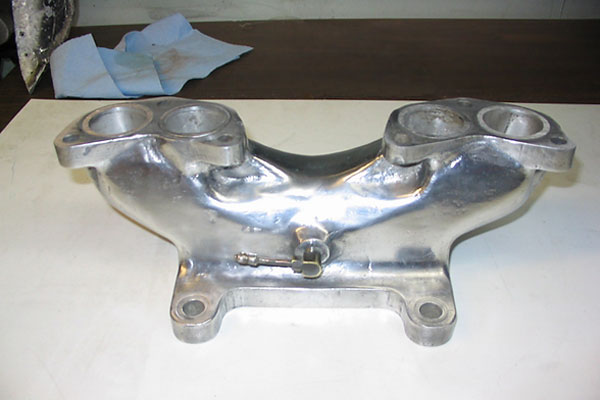 John Camden designed this intake manifold and had it sand-cast for the Super-B.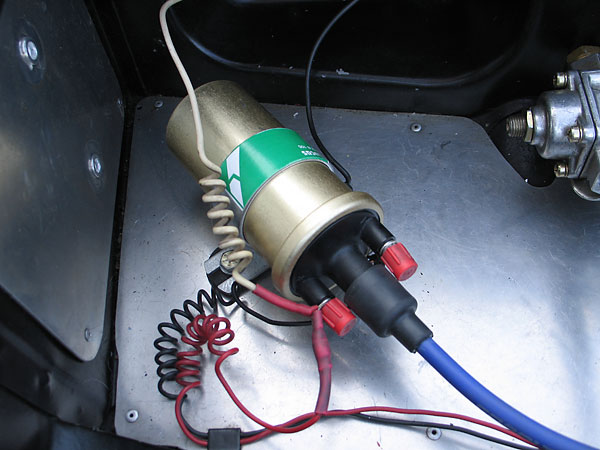 Lucas Sport ignition coil.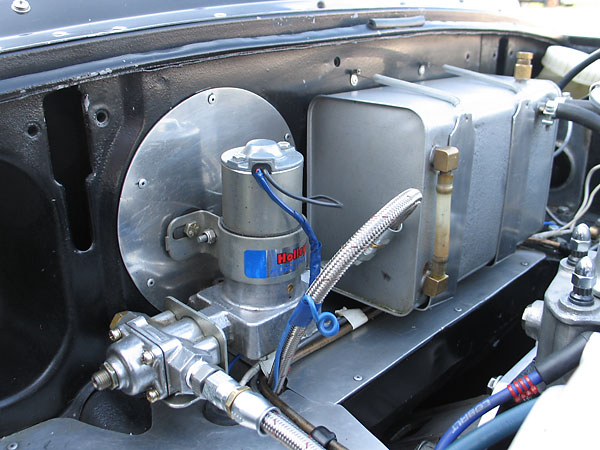 Holley "Blue" (9-14psi) fuel pump. Holley adjustable fuel pressure regulator.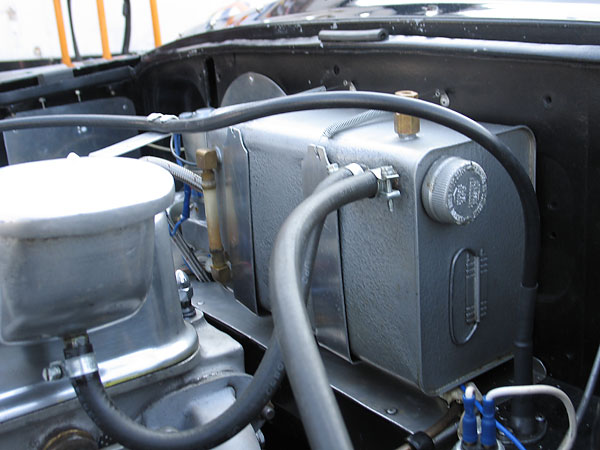 Breather tank fashioned from an old one gallon turpentine can.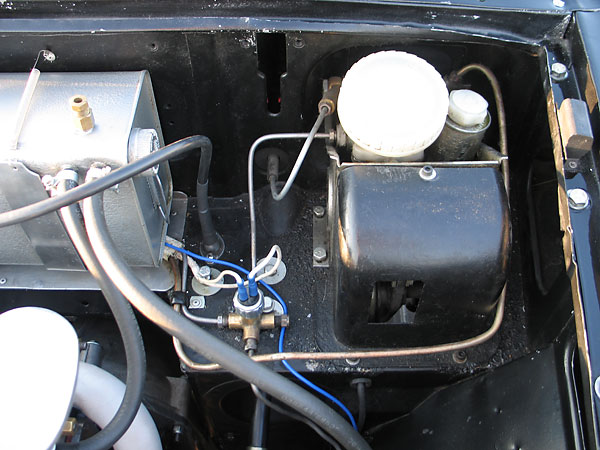 This is an MGB master cylinder, but it's from a later era. (Dual circuit brake systems were
mandated by the United States' Safety Act of 1967.)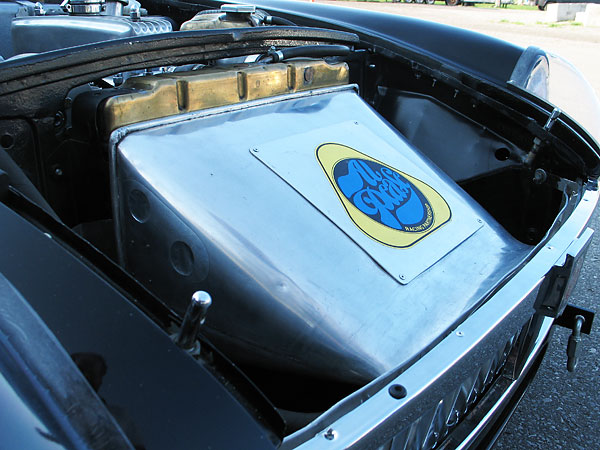 Streamlining airflow into the radiator core is one of the most basic and effective ways to
enhance a car's engine cooling capacity. This ductwork also keeps air from passing around
or over top of the radiator.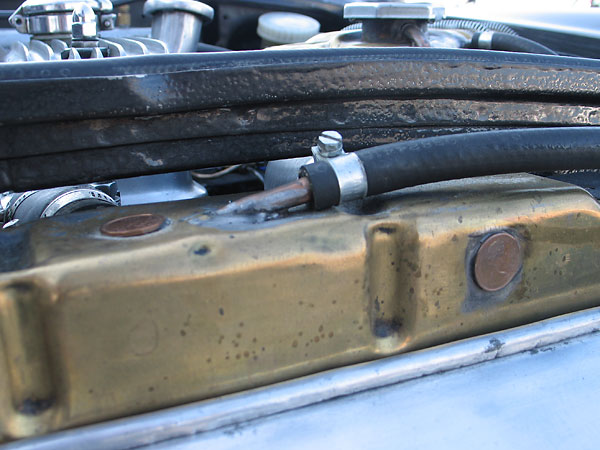 (Pennies were soldered onto the radiator during restoration to repair small holes.)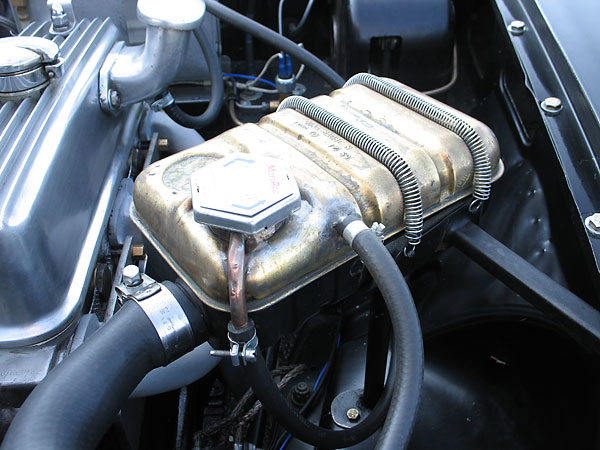 Long Manufacturing Ltd. brass header tank. (Note date code: 12/59.)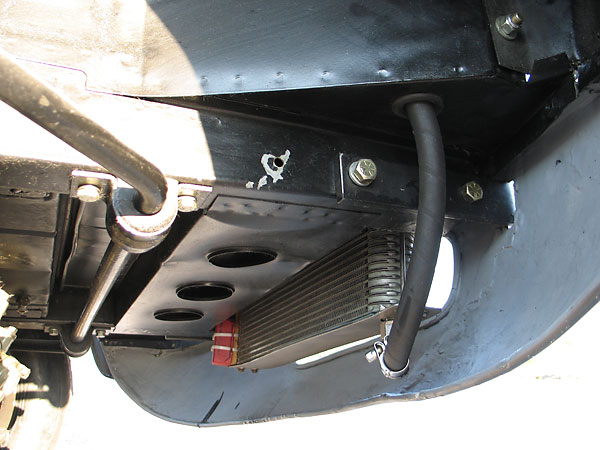 It's believed that this Morris Garage oil cooler has probably been used on the Al Pease MGB since its
first race back in 1963. It's twenty-one inches long and has twelve rows and a baffled header tank. Oil
enters at the top, flows across the top of the cores, back across the bottom cores, and out the same
header tank at the bottom. Mike says that despite a long search, he hasn't been able to find a spare.



One of the original selling points of HRG crossflow cylinder heads was that they were compatible
with standard MG exhaust manifolds or popular aftermarket headers.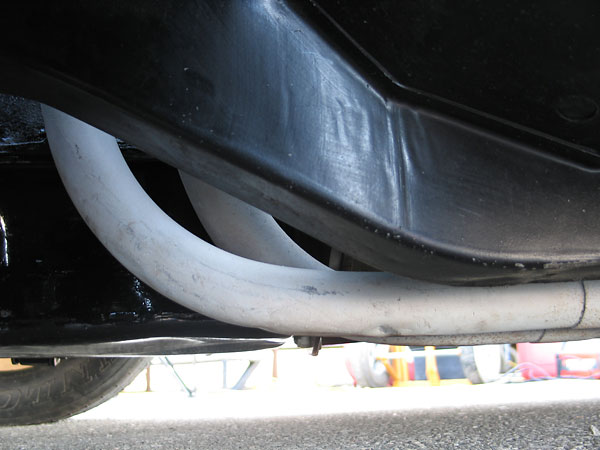 Derrington is believed to have also made these vintage long center branch headers.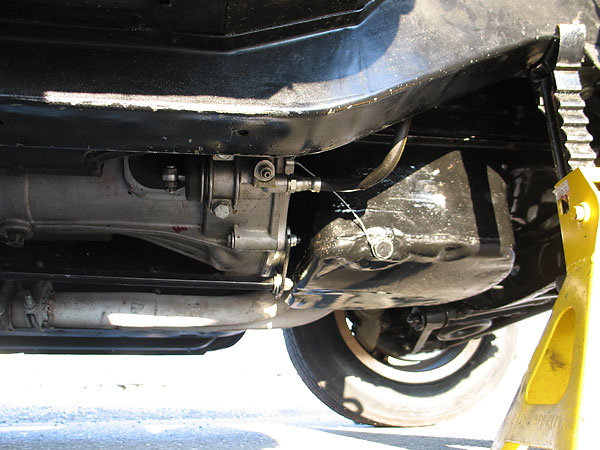 Originally Al Pease used an MGA Twin Cam oil pan for its deeper sump.
At some point it was replaced by this custom modified MGB oil pan.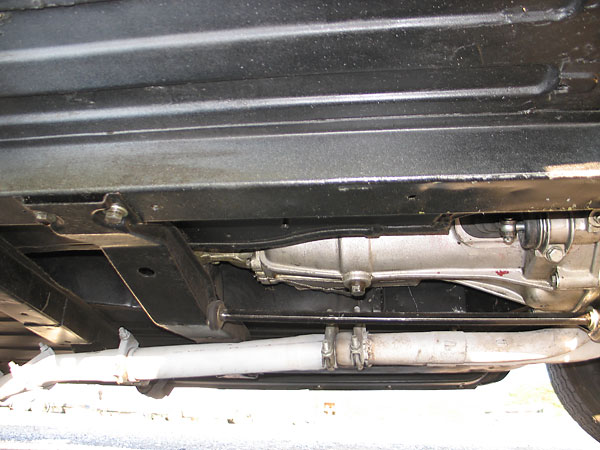 A stay rod keeps the engine from moving rearward.



Nowadays, this ATL eight gallon fuel cell usually contains VP C-13 race gas. Back in the sixties,
the Super-B carried dual MGB Mk1 fuel tanks one-atop-the-other just like the factory's Sebring
endurance race cars. Through the mid-sixties Al Pease burned custom mixtures of benzene, toluene,
and aviation fuel, which allowed him to get the most from higher supercharger boost pressures.


Front Suspension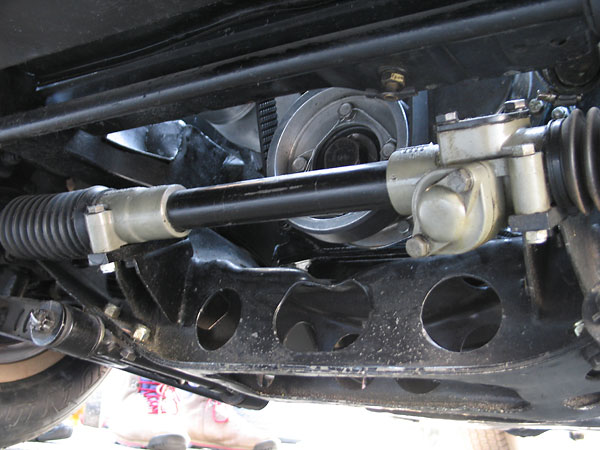 The Al Pease MGB has survived and won countless races with this radically lightened front crossmember.




During the restoration, Mike Adams inspected every lightening hole in the crossmember.
None of the holes showed any significant distortion.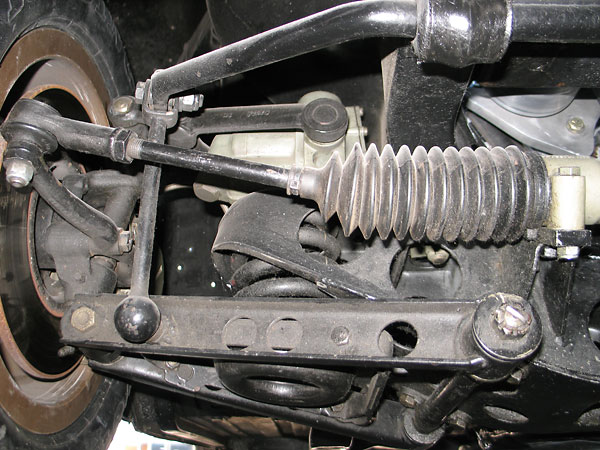 3/4" anti-sway bar.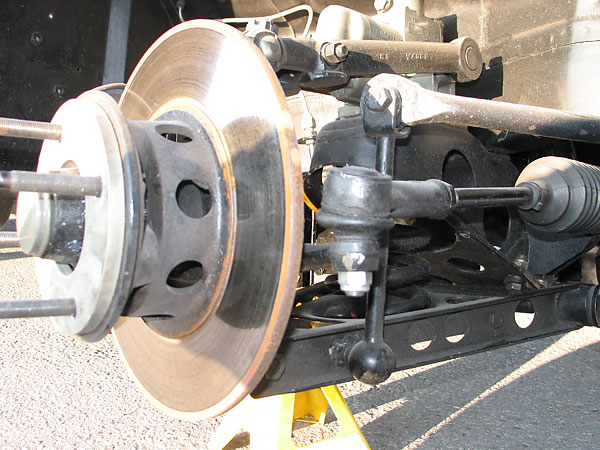 Al Pease's team put a lot of work into lightening the front suspension!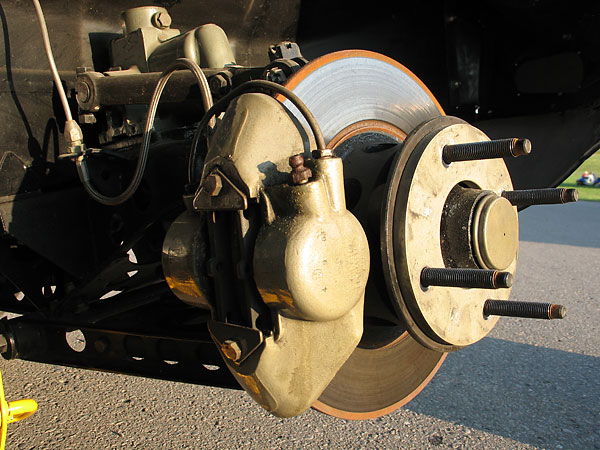 Girling model AR3 aluminum calipers (date stamped "4 9 63".)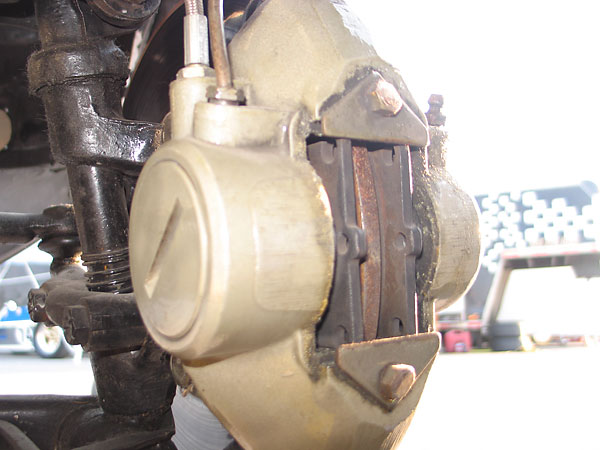 The front uprights were slightly modified to support the Girling brake calipers, but they
weren't modified to lower the car. (In other words, "dropped spindles" aren't installed.)


Rear Suspension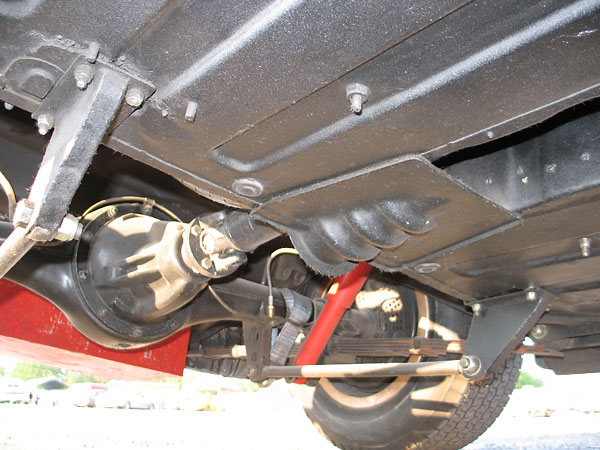 These anti-tramp bars were fabricated and installed by Al Pease in 1963.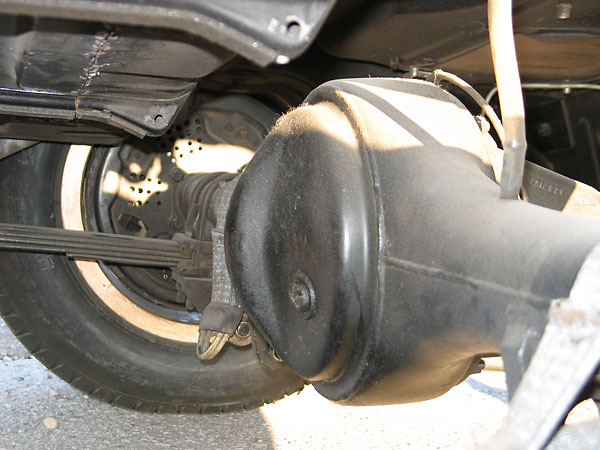 MGB drum brakes with lightened backplates.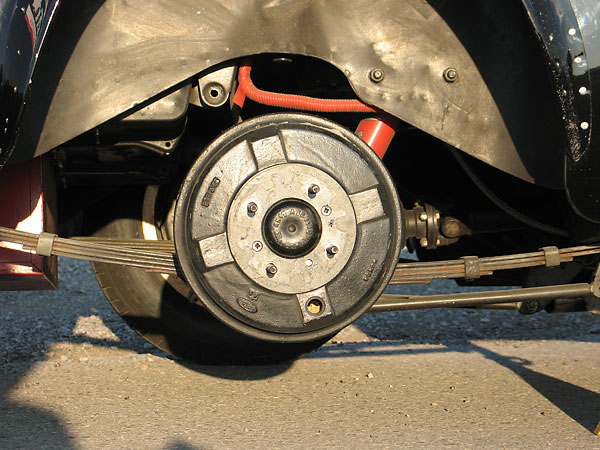 Stock MGB leafsprings, de-arched and with one leaf removed.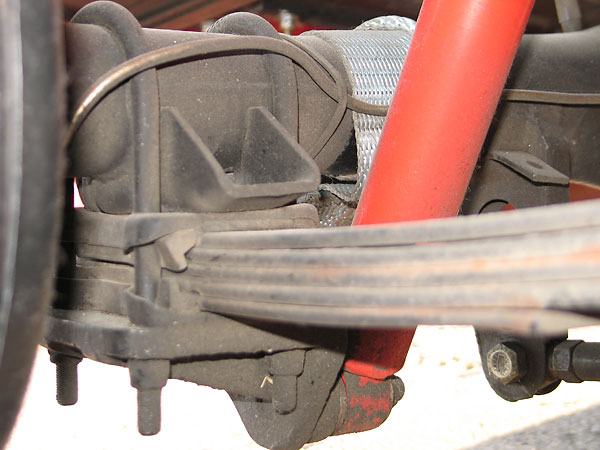 Al Pease fitted Koni shocks quite early on, to achieve a weight savings of about three pounds.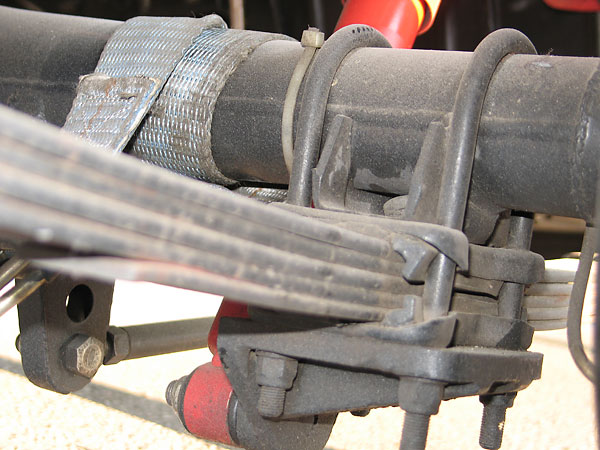 Pease also lowered his MGB about 1.5" by removing one leaf and de-arching the remaining leafs.


Interior / Roll Structure / Etc.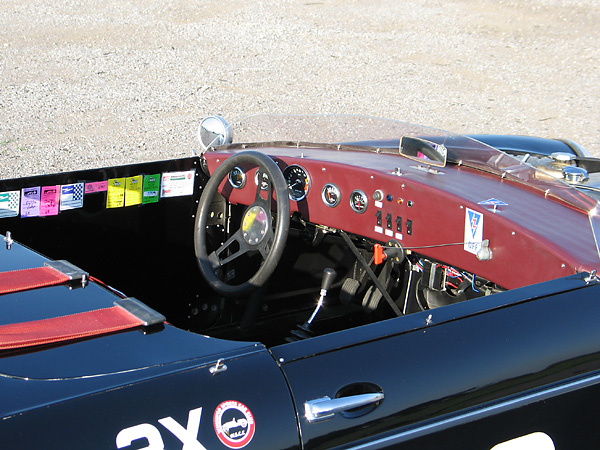 Both interior door panels were custom formed out of aluminum.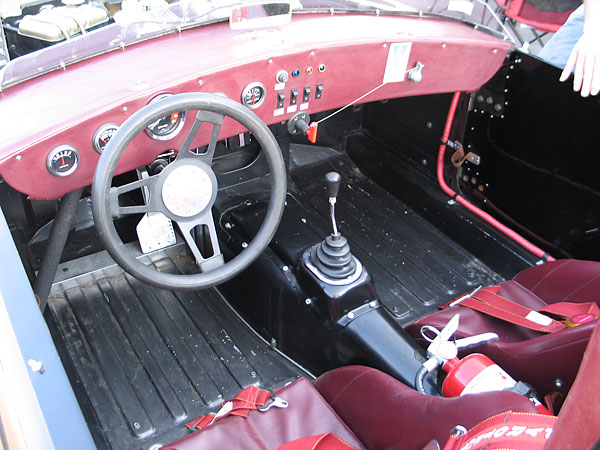 Custom fabricated aluminum bucket seats (one original and one new).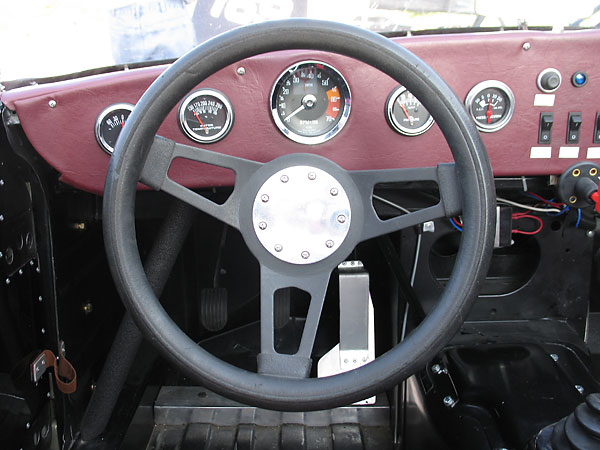 Grant "Challenger" steering wheel.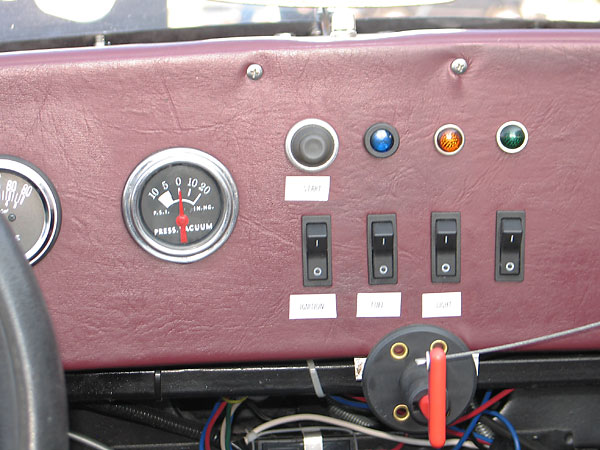 Start pushbuttom. Left-to-right: "Ignition", "Fuel", "Light" and electric fan (used in the pre-grid only) rocker switches.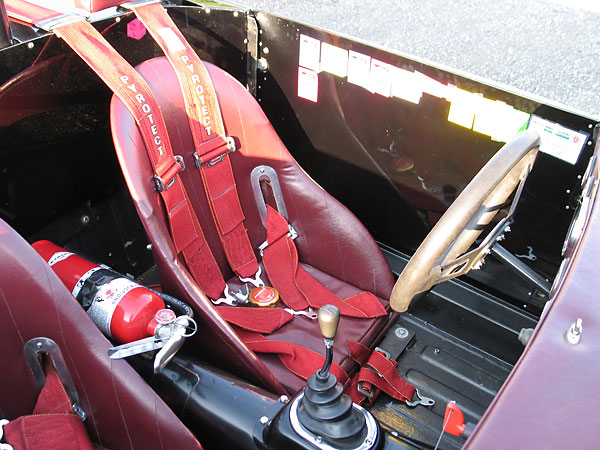 Pyrotect 6-point safety harness.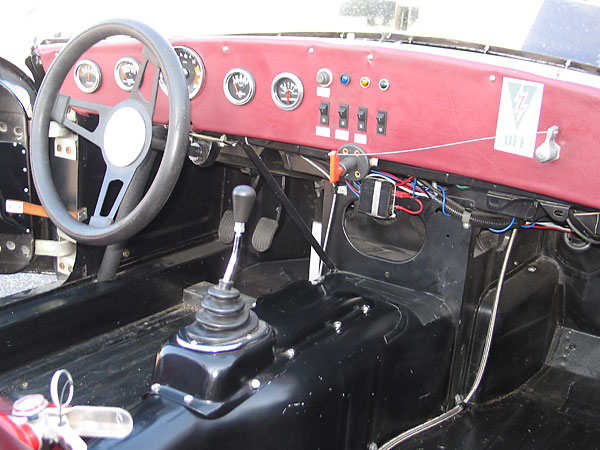 The original master cut-off switch was too far away for Mike to reach while strapped in, so a simple
slap cable extension (to a dummy switch) was added.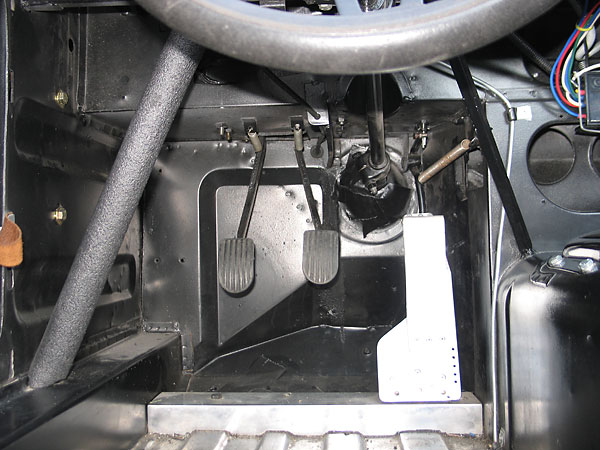 A heel-bar helps the driver keep his feet securely in position relative to the pedals.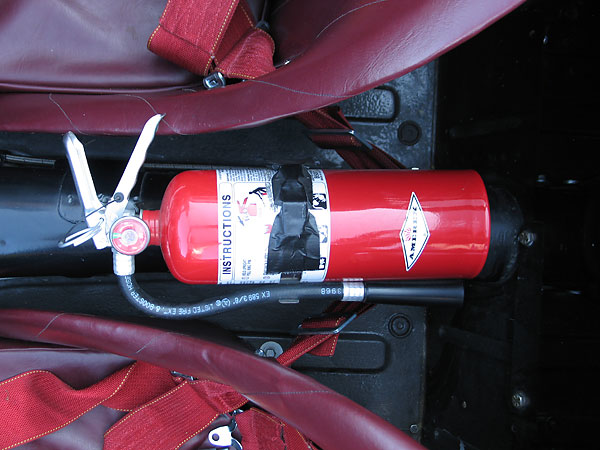 Amerex handheld fire extinguisher.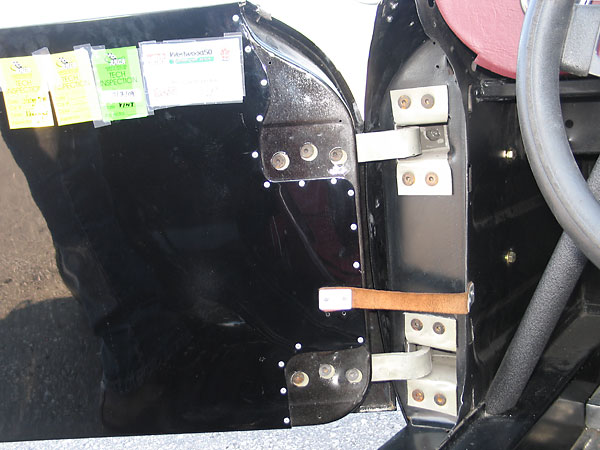 These lightweight aluminum door hinges were among the many special parts fabricated by Al Pease.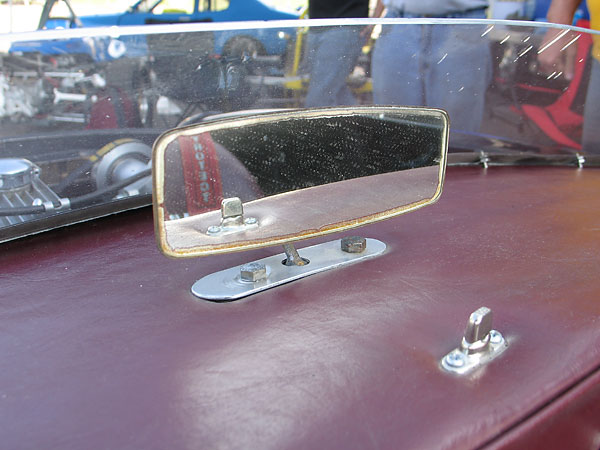 Rear view mirror.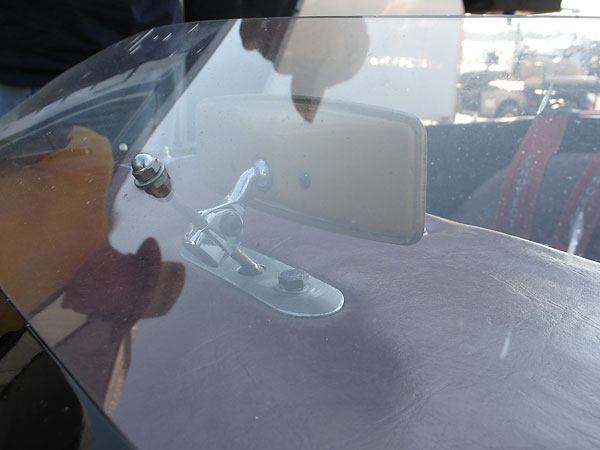 Rear view mirror mounting bracketry.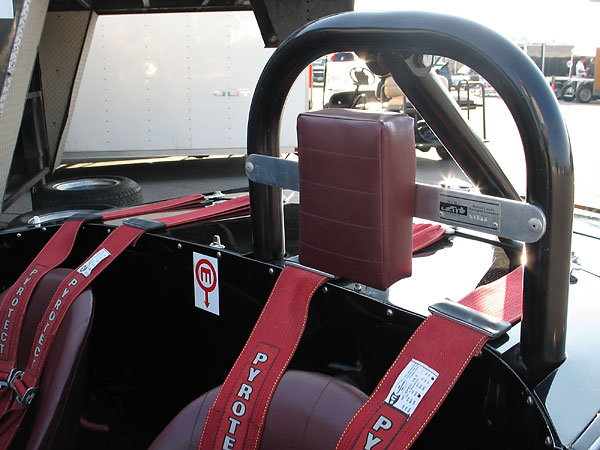 From the beginning, the Al Pease MGB featured a small single roll hoop and also an
aluminum partial tonneau cover. The rearward roll hoop brace is a modern addition.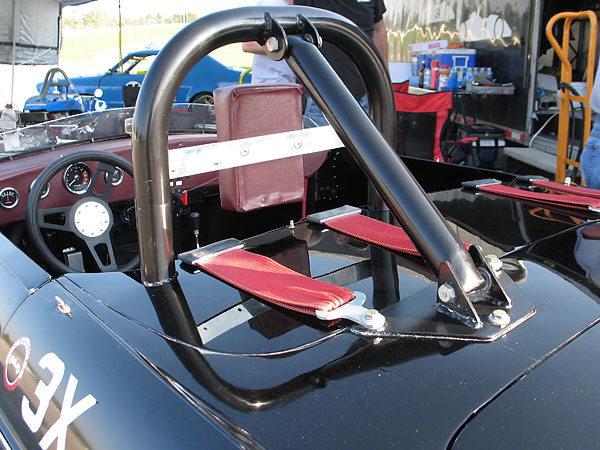 Varying from 1963 construction, Mike Adams had a much stronger tubular safety structure
installed. It's hidden very discretely under the aluminum partial tonneau cover.


Exterior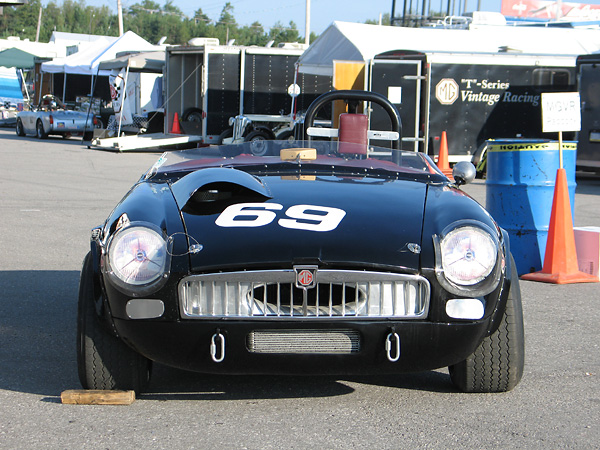 Removed slats from the front grille are a trademark feature, as is the aluminum "venturi" radiator air duct.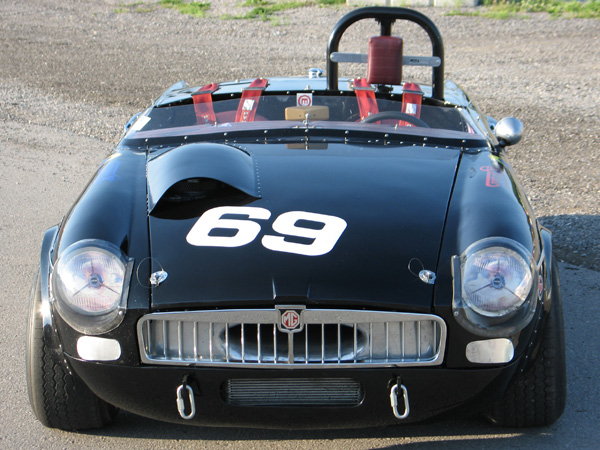 This carefully-straightened aluminum front valance is believed original to the Al Pease Racing Partnership years.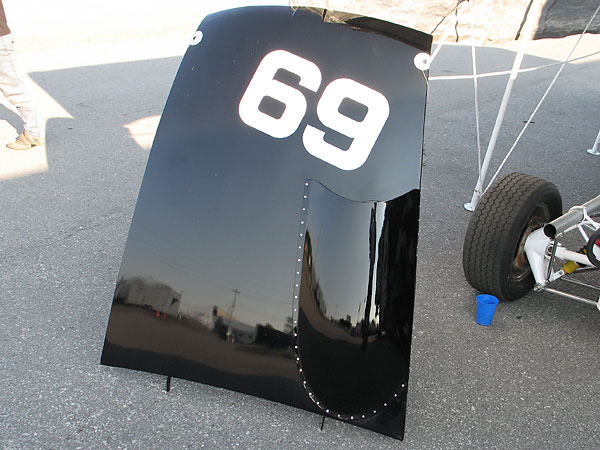 For the restoration, Al Pease leant Mike Adams the original cardboard pattern for cutting the car's number (69).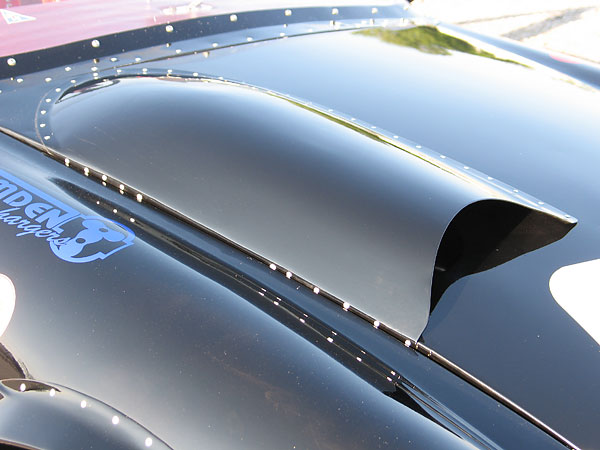 For 1963, dual Weber DCOE carburetors were installed on a Derrington crossflow cylinder head.
To accomodate the Webers, Al Pease's MGB originally sported a performance blister.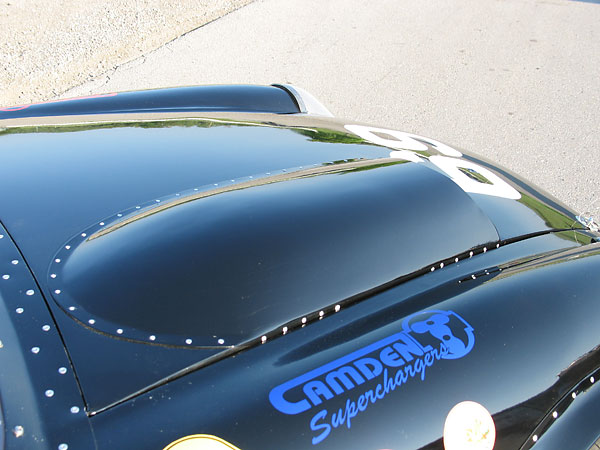 For 1964, to accomodate a supercharger the original performance blister was replaced with an air scoop.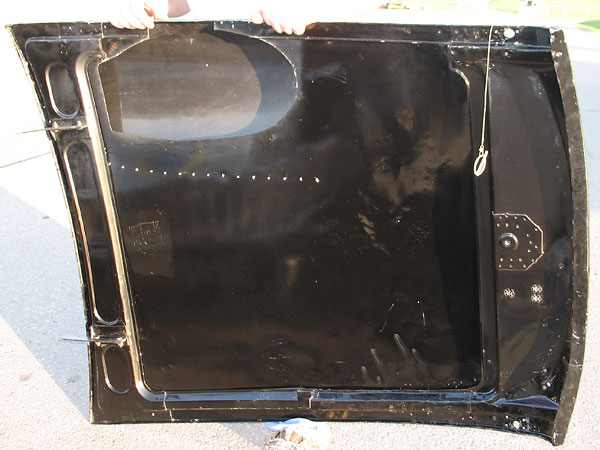 The hood scoop was custom formed out of aluminum sheetmetal.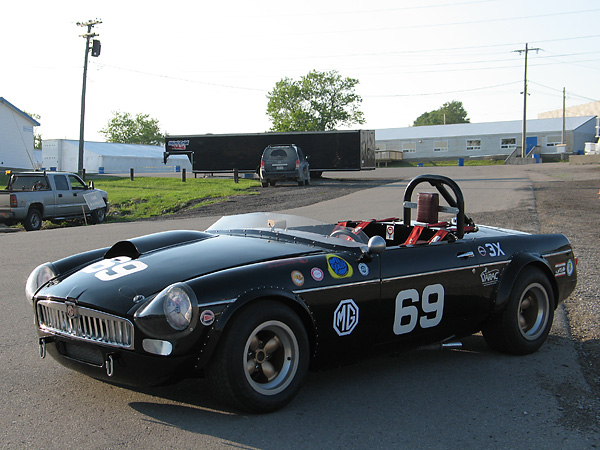 Al Pease's MGB had rear fender flares from its first race in 1963.
Front flares were added for the 1964 season.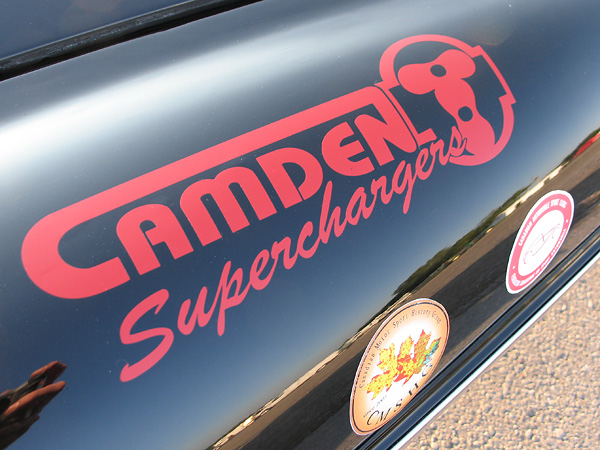 Camden Superchargers decal.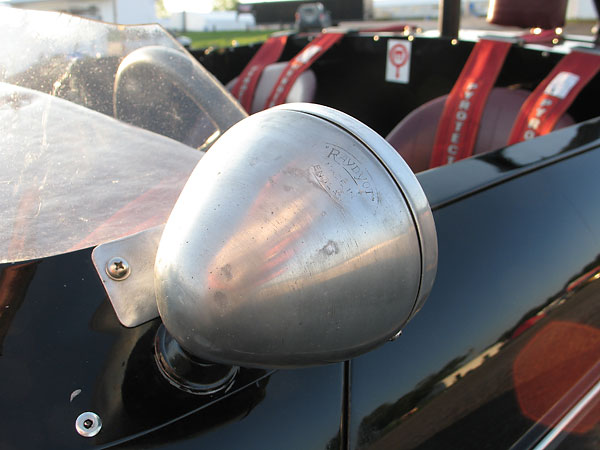 Raydyot (Made in England) aluminum side view mirror.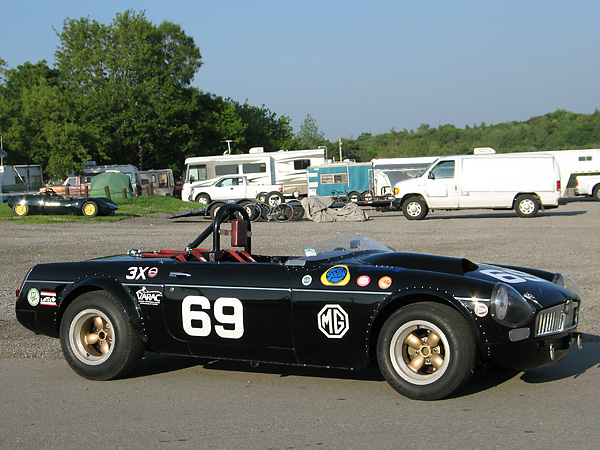 Both front and rear fender flares were custom formed out of aluminum sheetmetal.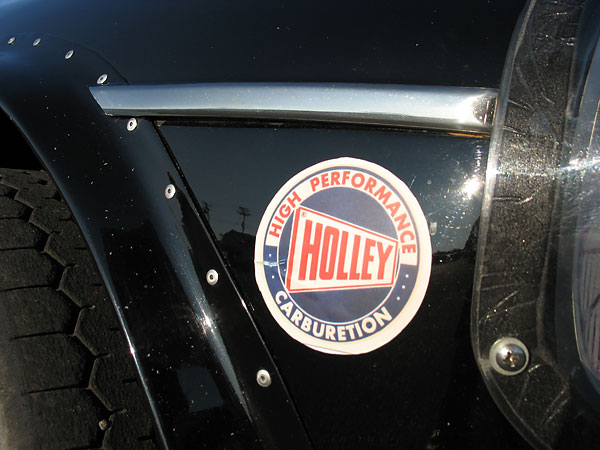 Holley High Performance Carburetion sticker.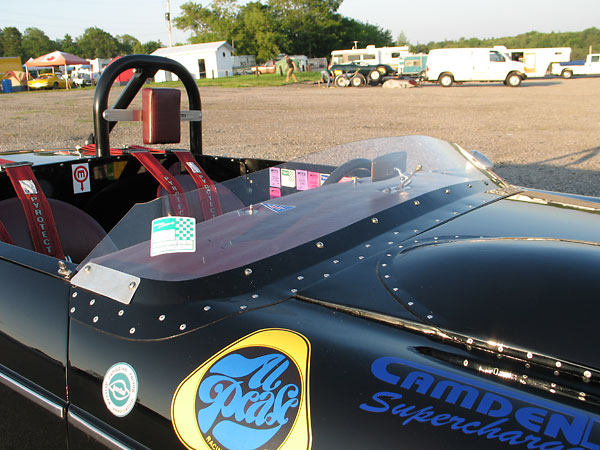 Molded acrylic low-profile windscreen.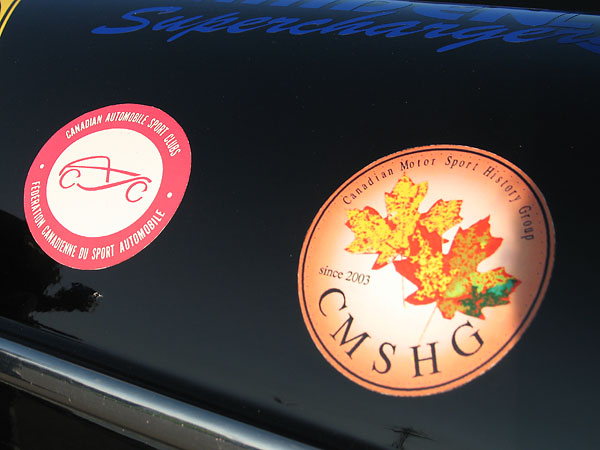 CASC: Canadian Automobile Sport Clubs / Federation Canadienne Du Sport Automobile sticker.
(CASC is the Canadian equivalent of U.S.A.'s "Sports Car Club of America".)
CMSHG: Canadian Motor Sport History Group (since 2003) sticker.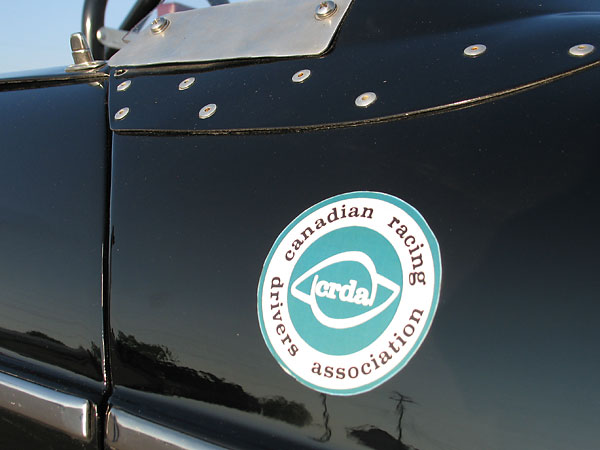 CRDA: Canadian Racing Drivers Association sticker.
(CRDA was an exclusive invitation-only club for especially successful drivers and for long-time drivers.)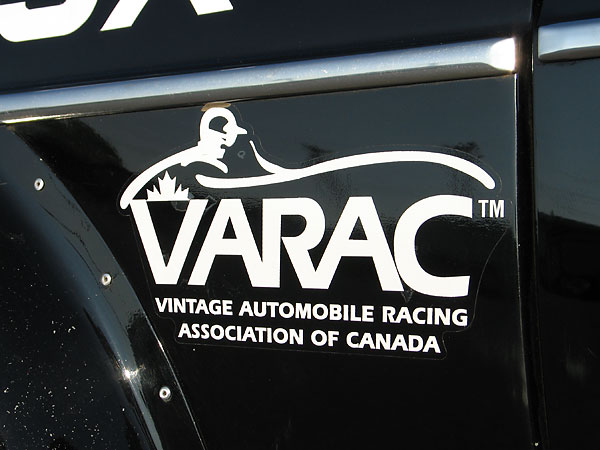 VARAC: Vintage Automobile Racing Association of Canada decal.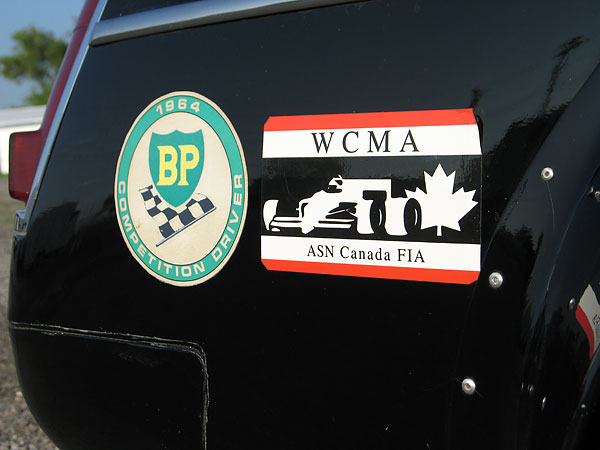 (left) BP 1964 Competition Driver sticker.
(right) Western Canada Motorsport Association sticker, an affliate regional club under ASN Canada FIA.
ASN: Autorité Sportive Nationale. FIA: Fédération Internationale de l'Automobile.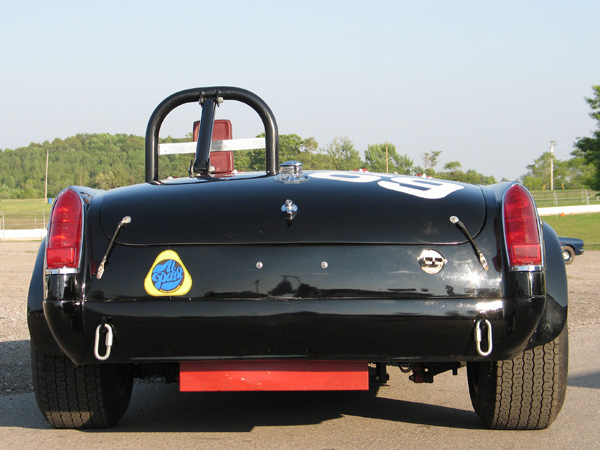 All of the Super-B's special body panels are aluminum except this modern fiberglas rear valance.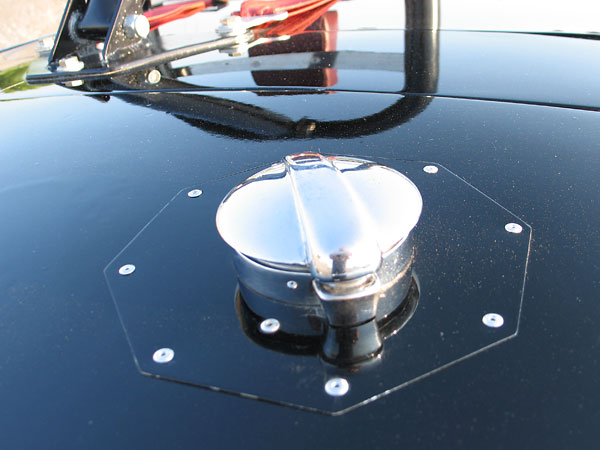 LeMans style fuel filler cap. (Isn't the octoganal plate a nice detail!)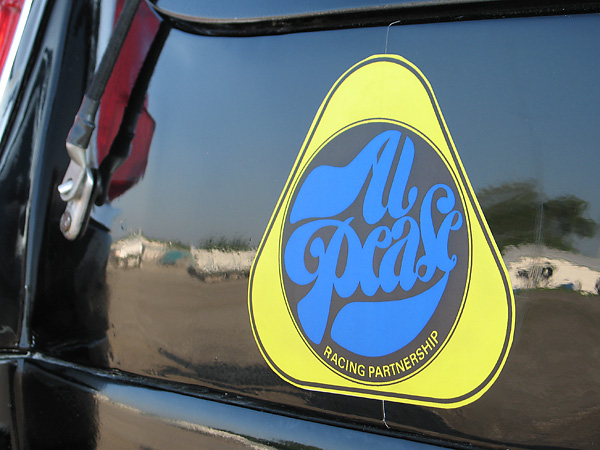 Al Pease Racing Partnership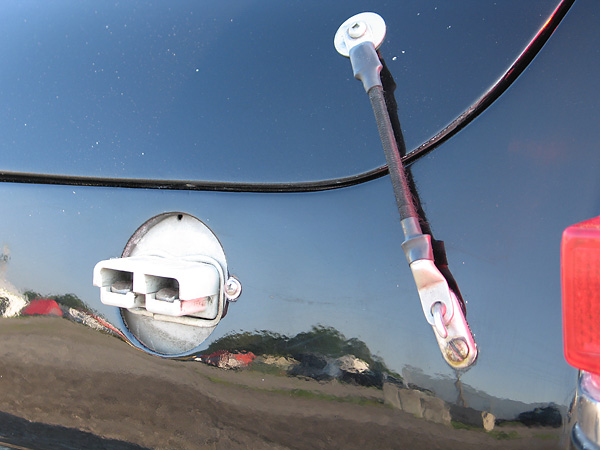 Battery charger connections. / Al Pease used elastic straps to hold down the boot lid.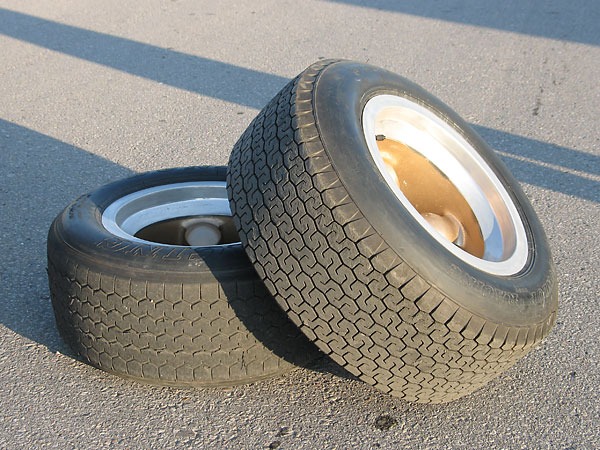 Dunlop Racing tires ("Formula Ford" 165/580-13 CR82 front, 5.50-M-13/CR65/204 rear).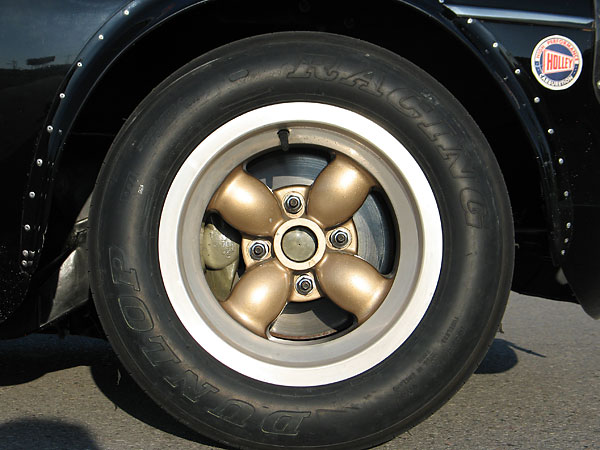 American Racing "Libre" aluminum wheels.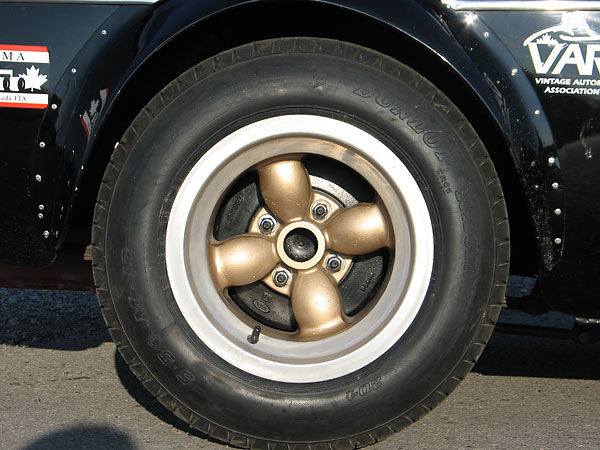 "CR65" is the tread pattern. "204" is the rubber compound. (It's a "dry" compound.)


Notes:
(1)
Three MGBs were prepared for 1963's Sebring 12 hour endurance race, but only two actually raced. "6DBL" wore racing number 48 and was co-driven by Denise McCluggage (USA) and Christabel Carlisle (GB). "7DBL" wore racing number 47 and was co-driven by Jim Parkinson (USA) and Jack Flaherty (USA). According to race reports, both factory sponsored MGB's dropped out because of failed engine bearings. "8DBL" was taken to Sebring and driven in practice, but wasn't entered in the race. 7DBL also raced in the 1963 24 hours of LeMans, the 1963 Tour de France car race, and was driven to GT Class victory in the 1964 Monte Carlo Rally. 8DBL raced in the 1965 Brands Hatch 1000, and returned to Sebring in 1966 to be raced by Paddy Hopkirk and Andrew Hedges.


(2)
The Al Pease Racing Partnership was a multi-car team. From 1962 through at least 1964, Al Pease owned and raced a Lotus 23. The MGB arrived well before the first race of the 1963 season. BMC also provided the team with a Mini Cooper and an Austin Healey 3000 at some point later that year. According to team member Bob Egginton's recollection, the Healey had previously been raced by BMC at Sebring, then raced for a year by Grant Clark, before being provided to the Pease team. Bob also recalls that the Healey came with aluminum fenders, which had to be swapped for steel before it could be raced within Canadian club rules. Although Al Pease drove the Mini Cooper, the Healey was driven by team member Don Kindree. These two cars were actively campaigned through the balance of 1963 and through 1964, but didn't prove quite as competitive as the MGB. The BMC sponsorship deal dissolved after 1964, and Al Pease bought all three cars for one Canadian dollar. He kept and continued to race the MGB for two more seasons, but he sold the Mini and the Healey. Some records indicate that Pease raced an Alfa Romeo TZ-1 and also an Austin 1800 rally car in this period, but specific details aren't known and are well beyond the scope of this article.


(3)
BMC Competitions Department MGB racecars used single Weber DCOE (dual venturi) carburetors in lieu of dual S.U. (single venturi) carburetors on at least one occasion.


Seven vintage photos were provided for this article by Mike Adams. (Original photographers unknown.) Mike Adams' pre-restoration photo of the Super-B is used by express permission, as are his six photos of restoration details. Web-optimized digital versions of these fourteen photos are copyright 2010, by BritishRaceCar.com. All rights reserved. All other photos shown here are from June 2010 when we viewed the car at VARAC's 31st Intl. Vintage Racing Festival at Mosport Motorsports Park, in Ontario Canada. Photos by Curtis Jacobson for BritishRaceCar.com, copyright 2010. All rights reserved.



Notice: all the articles and almost all the photos on BritishRacecar.com are by Curtis Jacobson.
(Photos that aren't by Curtis are explicitly credited.) Reproduction without prior written permission is prohibited.
Contact us to purchase images or reproduction permission. Higher resolution images are optionally available.