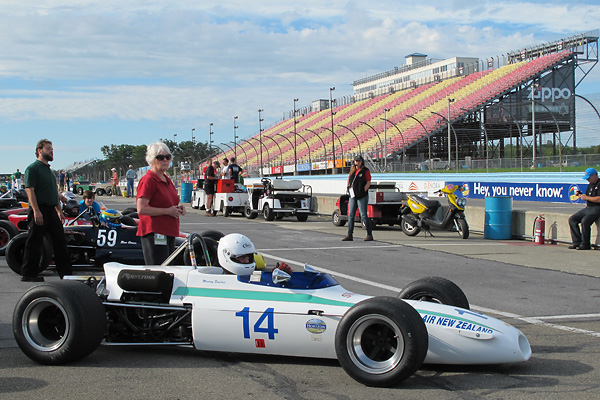 Murray Sinclair's Brabham BT29 Racecar
Owner: Murray Sinclair
City: Christchurch, New Zealand
Model: 1969 Brabham BT29
Engine: Ford FVA 16V DOHC four cylinder
Prepared by: Murray Sinclair and Rod Collingwood


Upgraded to Tasman Standards
Between 1969 and 1970, Motor Racing Developments built twenty-nine Brabham BT29s for North America's popular 1.6 liter Formula B racing class plus twenty-six Brabham BT30s for the international 1.6 liter Formula Two class. The two models were similar, but there were also very important differences: cylinder heads, fuel tanks, bodywork through the mid-section... and the Formula Two cars got wings! The BT29 we're featuring in this article was extensively modified during its original racing career and could possibly be mistaken for a BT30, but in fact it exhibits a different set of modifications.

After a long and busy 1970 season of Formula B racing, this particular Brabham BT29 was shipped from U.S.A. to New Zealand to participate in the Tasman Series. Over forty years later, it has finally returned. In 2011, Murray Sinclair brought BT29-23 back to the United States to participate in two back-to-back vintage race weekends. We met Murray at the Watkins Glen Vintage Grand Prix, and learned about his car's history. We'll tell that story here. With photos and captions we'll document interesting details of his Brabham BT29's original design and of its subsequent modifications.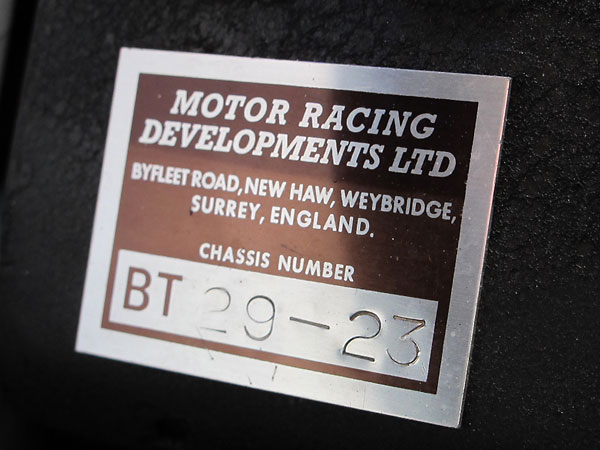 MOTOR RACING DEVELOPMENTS LTD
Byfleet Road, New Haw, Weybridge, Surrey, England.
Chassis Number BT 29-23


Race Results in 1970 and 1971
Fred Opert imported BT29-23 for a young driver named Evan L. Noyes Jr. of Indianapolis, who drove it throughout the 1970 Formula B season in U.S. and Canada. Like all competitive Formula Two cars of its era, Noyes' BT29 was equipped with a 1.6L Lotus Twin-Cam engine. Noyes placed second in the 1970 SCCA Central Division Formula B championship and was the Formula B class runner-up at the 1970 American Road Race of Champions. Representing Fred Opert Racing and wearing race number 72 atop a flashy blue paint scheme, Noyes also entered every round of SCCA's professional 1970 Continental Championship series.


Evan Noyes / 1970 SCCA Continental Championship for Formula B
| | | | | | |
| --- | --- | --- | --- | --- | --- |
| | Date | Race Name | Venue | Results | Comments |
| | | | | | |
| | 4/19 | (round 1) | Riverside CA | 21st of 35 | |
| | 5/24 | (round 2) | Edmonton AB | 5th of 11 | |
| | 6/7 | (round 3) | Seattle WA | 17th of 28 | (retired) |
| | 6/14 | (round 4) | Laguna Seca CA | 21st of 33 | |
| | 6/28 | (round 5) | Sears Point CA | 7th of 31 | |
| | 7/5 | (round 6) | Dallas Intl. TX | ? | (not classified) |
| | 7/18 | (round 7) | Elkhart Lake WI | 22nd of 42 | |
| | 8/1 | (round 8) | Mont-Tremblant QC | 12th of 33 | |
| | 8/16 | (round 9) | Brainerd MN | 4th of 24 | |
| | 9/7 | (round 10) | Lime Rock CT | 23rd of 29 | (stalled) |
| | 9/13 | (round 11) | Mosport Park ON | 16th of 25 | |
| | 9/27 | (round 12) | Mid-Ohio OH | 29th of 32 | (shunt) |
| | 10/25 | (round 13) | Sebring FL | 17th of 22 | (retired) |
| | | | | | |
| | | | | | |
After racing in the northern hemisphere wound down for winter, Evan Noyes decided to travel to New Zealand and race in The Tasman Series. At that time, the series grouped two classes of cars together in hour long, hundred mile races. The two classes were (1) Formula 5000 cars which ran "production engines" up to five liters and (2) typically lighter weight racecars featuring "racing engines" up to two-liters.

For the Tasman Series, Noyes' BT29 was updated with a 1.85L Cosworth FVC engine. The FVC was a newer, stroked version of the Cosworth FVA (1598cc) engine which dominated Formula Two racing, as supplied in Brabham's BT30 model racecars. The FV cylinder head design is one generation more sophisticated than the usual Formula B spec "Twin Cam" engine. The FVA and FVC also featured state-of-the-art fuel injection and electronic ignition.

Even with such a sophisticated engine, the three liter displacement gap meant Noyes' BT29 wouldn't be one of the quickest cars in the field. On the other hand, the attrition rate of the Formula 5000 cars was often high. Also, the smaller and more fuel efficient engine meant the BT29 would complete races without stopping to refuel whereas five liter cars would have to make pit-stops.

Noyes also installed Brabham BT30 style (i.e. Formula Two spec) front and rear wings.


Evan Noyes / 1971 Tasman Series
| | | | | | |
| --- | --- | --- | --- | --- | --- |
| | Date | Race Name | Venue | Results | Comments |
| | | | | | |
| | 1/2 | 12th Levin Intl. | Levin NZ | 8th of 14 | |
| | 1/9 | 18th New Zealand GP | Pukekohe NZ | DNF | (tire puncture) |
| | 1/16 | 20th Lady Wigram Trophy | Wigram Airfield NZ | DNF | (out of fuel) |
| | 1/23 | 14th Teretonga Intl. | Teretonga Park NZ | 8th of 11 | |
| | 2/14 | Warwick Farm 100 | Warwick Farm AU | DNF | |
| | 2/21 | Sandown Park Cup | Sandown AU | DNA | |
| | 2/28 | Surfer's Paradise 100 | Surfer's Paradise AU | DNA | |
| | | | | | |
| | | | | | |
After contesting the first four races of the 1971 Tasman series, Evan Noyes loaned his Brabham BT29 to New Zealand racing star Graeme Lawrence for one weekend. Lawrence used it to place second in a Gold Star Championship race at Timaru on January 30, 1971. With that race, Lawrence clinched his title in the series. (Lawrence's usual car up to that point had been Chris Amon's old Ferrari 246T.)

Noyes and Lawrence then traveled to Warwick Farm in Australia to contest round five of the Tasman Series. Neither racer finished the Warwich Farm race, and Noyes decided to call it quits. Instead of taking his BT29 home with him, he sold it to Lawrence. Though it hadn't been a particularly successful trip, Noyes must have had fun because he returned for the 1972 Tasman series to campaign a Chevy powered McLaren M18 Formula 5000 car.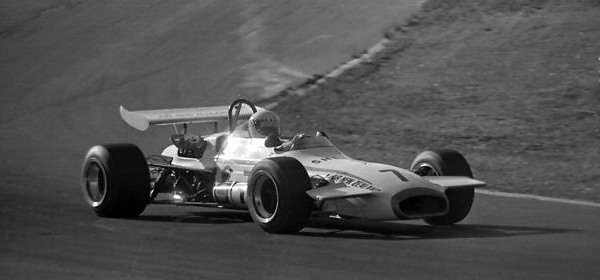 Graeme Lawrence in route to a second place finish in the Angus & Coote Diamond Trophy race at
Oran Park, Australia in June 1971. This was the second round of Australia's Gold Star Championship,
so it drew a very strong field of competitors. However, since Lawrence didn't carry an Australian racing
license he wasn't eligible to win championship points. (Photo by Lynton Hamer. Used by permission.)



Graeme Lawrence was sponsored by Air New Zealand, so he repainted the BT29 in their white and blue color scheme, just as it appears today. He also procurred and supplied a second engine. Over the course of the year, he would switch back and forth between a 1.6L Lotus Twin Cam engine and the 1.85L Cosworth FVC engine as rules and competition required.

Lawrence was successful with his Brabham right from the start, with victories in both the Singapore Grand Prix and the Kuala Lumpur Grand Prix. For the Japanese Grand Prix he re-installed the 1.85L Cosworth FVC engine and placed fourth. At that point, he put the car up for sale, but when the sale fell through Lawrence decided to enter the second round of the Australian Gold Star Championship at Oran Park - where he placed second. (Race winner Max Stewart had a two liter Ford engine with Waggott Engineering 16-valve cylinder head in his Rennmax "Mildren" racecar. The quickest Formula 5000 car finished third.)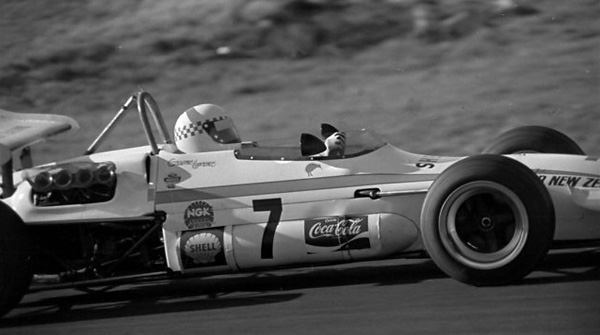 Graeme Lawrence set a new lap record at Oran Park while fighting to come from behind
after spinning out. He finished second. (Photo by Lynton Hamer. Used by permission.)


Lawrence reinstalled a Twin Cam engine in his Brabham BT29 for the Malaysian Grand Prix of September 5th. After that, the Australian Grand Prix was the last big race for Lawrence in 1971 and his fourth place finish at Warwick Farm was a major success considering that five liter cars were in their element. He defeated five of the eight Formula 5000 cars entered. Round three of the New Zealand Gold Star Championship was icing on the cake. Lawrence won that last outing in the BT29 without trouble, then moved on to a five liter Lola.


Graeme Lawrence / 1971 Southeast Asian Races
| | | | | | |
| --- | --- | --- | --- | --- | --- |
| | Date | Race Name | Venue | Results | Comments |
| | | | | | |
| | 4/11 | Singapore Grand Prix | Thomson Road circuit | 1st of 7 | |
| | 4/18 | Kuala Lumpur Grand Prix | Shah Alam circuit | 1st | |
| | 5/3 | Japanese Grand Prix | Fuji Intl. Speedway | 4th of 14 | |
| | 6/27 | Angus & Coote Trophy | Oran Park AU | 2nd of 16 | (spun. Set lap record coming back!) |
| | 9/5 | Malaysian Grand Prix | Shah Alam circuit | 5th | (spun. Quickest practice & race laps.) |
| | 10/3 | NZ Gold Star Ch. - Rnd.1 | Pukekohe NZ | 2nd | |
| | 11/21 | Australian Grand Prix | Warwick Farm AU | 4th of 21 | (fastest 2L car & just 4s off podium!) |
| | 12/3 | NZ Gold Star Ch. - Rnd.3 | Levin NZ | 1st | (set fastest race lap, at 45.7s) |
| | | | | | |
| | | | | | |
Later History and Restoration
After Graeme Lawrence's use, the BT29 was updated and raced by several owners. At one point it was powered by a Fiat engine, then a Cosworth BDA, and reportedly it was even set up as a Formula Ford for awhile. The original bits were separated, and then ultimately hunted down and put back together. Around 1986, David Sharp did a meticulous job on the restoration of BT29-23. Sharp also acquired and restored Graeme Lawrence's Lola T332 Formula 5000 racecar. When health issues ended Sharp's racing, he put both cars up for sale. Sharp last raced the BT29 in 1993, then it sat unused for over a decade. Murray bought the T332 and raced it for awhile, then sold it and bought the BT29.

BT29-23 is currently presented with a Cosworth FVC engine (with 681F6015-A engine block) that Murray purchased from a seller in Sweden. Murray also has a Brian Hart built "416B" (1970) motor, which is similar to the 1600cc Twin Cam Lawrence also used.

Murray maintains the Brabham himself, with the assistance of his friend Rod Collingwood. He explains that Rod is "the quality control guy" and also his preferred engine builder.


About Cosworth FVA and FVC Engines
At the instigation of Colin Chapman, Ford Motors commissioned Cosworth to design a three liter Formula One engine. The agreement stipulated that to prove Cosworth's proposed cylinder head design a four cylinder Formula Two cylinder head should first be developed for an existing Ford engine block. Formula Two rules stipulated that mass production engine block castings be used; Cosworth selected Ford's existing "120E" engine block.

Keith Duckworth started designing the Cosworth FVA (Four Valve type A) cylinder head in July 1965, and a prototype was ready for bench testing by March 1966. The FVA engine first raced at a small club event in July.

Duckworth's key design idea for the project has come to be called "barrel turbulence." Simply put, inlet flow is largely aimed at the far side cylinder wall to produce a circular motion in the plane of crankshaft rotation. This rotation increases in velocity during the compression stroke. Cosworth selected the maximum bore size feasible within the 120E engine block, and then calculated the stroke that would bring displacement right up to the 1.6L Formula Two class limit. With a bore of 3.375" (85.725mm) and a stroke of 2.722" (69.139mm), displacement came to 1596cc and bore-to-stroke ratio was 1.24:1. Woods type tappets were used. (These are tappets located above valvesprings to facilitate oil-cooling.) Lucas fuel injection and transitorized ignition were presupposed, and a (nearly) fully skirted piston design was selected. Cosworth planned to use a tri-y (4-2-1) header. In testing, a rather long overall length was found to be critical to performance.

The Cosworth FVA proved a great success. FVA powered cars won four of five Formula Two championships between 1967 and 1971, and won about 78 percent of races in those years. In 1972 the Cosworth FVA was made obsolete by its successor: Cosworth's BDA (Belt Drive type A) engine.

The Cosworth FVC engine is a stroked version of the FVA for classes with a larger displacement limit.


Features and Specifications
Engine:
Ford FVC 16V DOHC four cylinder engine. (681F6015-A block.) Lucas mechanical fuel injection. Pipercross foam air cleaner. Pertronix Ignitior breakerless ignition module. Electronic rev limiter (set at 9000rpm). Bosch Super Sports inductive core spark plug wires.

Cooling:
original style copper and brass radiator, with integral oil cooler.

Exhaust:
custom fabricated four into one header.

Transaxle:
Hewland FT200 five speed. Metalastic (rubber) drive donuts.

Front Susp.:
unequal length wishbones. Brabham proprietary magnesium uprights. Armstrong non-adjustable coilover shock absorbers. Faulkner helper springs. Adjustable anti-sway bar. Brabham proprietary steering rack.

Rear Susp.:
inverted lower wishbones, single top links, and twin radius arms. Brabham proprietary magnesium uprights. Armstrong non-adjustable coilover shock absorbers. Adjustable anti-sway bar.

Brakes:
(master) dual Girling master cylinders with remote reservoirs and adjustable bias bar.
(front) Girling AR Mk3 aluminum dual-piston calipers, and solid rotors,
(rear) Girling AR Mk3 aluminum dual-piston calipers, and solid rotors.

Wheels/Tires:
Brabham magnesium racing wheels (13x10 front, 13x12 rear).
Avon racing tires (10.0/22.0/13 front, 13.0/23.0/13 rear).

Electrical:
Odyssey PC535 battery (200CCA, 12.0#). Tilton Super Starter XLT.

Instruments:
(left to right) Smiths dual fuel pressure (0-160psi) and water temperature (30-120C) gauge, Smiths Chronometric tachometer (0-10000rpm) with tattletale, and RaceTech Design dual oil pressure (0-160psi) and oil temperature (30-120C) gauge.

Fuel System:
optional-equipment high capacity (~11 gallon) Brabham fuel tanks. Lucas high pressure electric fuel pump, for starting. Lucas high pressure belt-driven fuel pump, for racing. Facet (Bendix style) low pressure electric fuel pump, for filling the make-up tank. Kinsler diaphragm type adjustable fuel pressure regulator.

Safety Eqmt:
Willans 6-point cam-lock safety harness. Moto-Lita steering wheel. Talbot mirrors. Chubb-Flameguard fire extinguisher.

Weight:
480 Kg (1058 lb) dry.

Engine Installation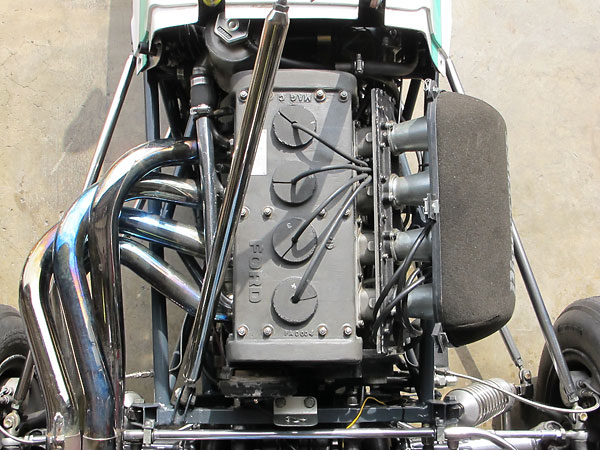 Ford FVC 16V DOHC four cylinder engine.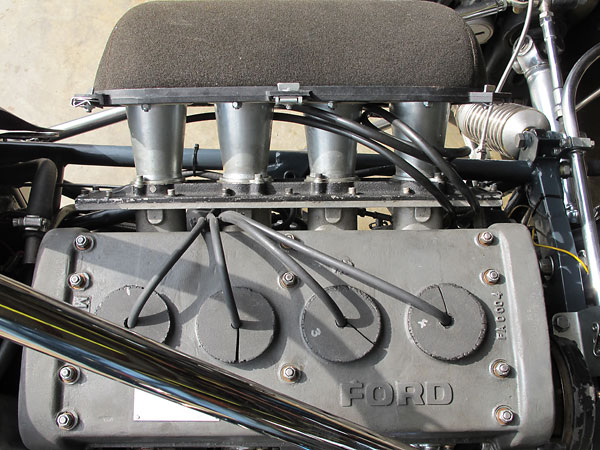 With their longer stroke (77.6mm vs. 69.4mm) and thus larger displacement (1790cc vs. 1598cc),
Cosworth's FVC engines produced about twenty horsepower more than the preceding FVA model,
as used in Formula Two racecars. The two engines were rated 235bhp and 218bhp respectively.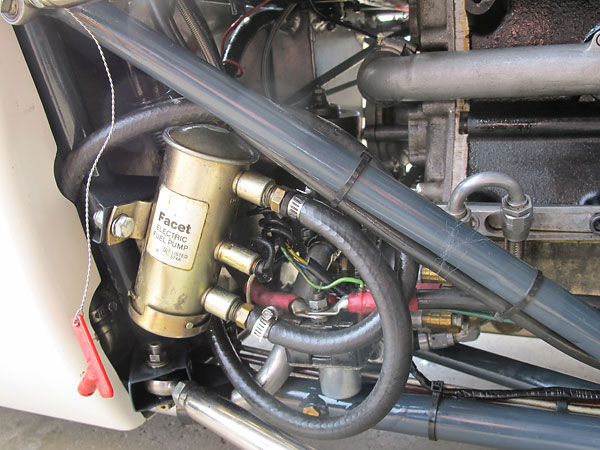 This Facet electric fuel pump just fills the aluminum "make-up tank" which you can just see in the
background here. It's a low pressure pump, and the fuel injection system requires high pressure.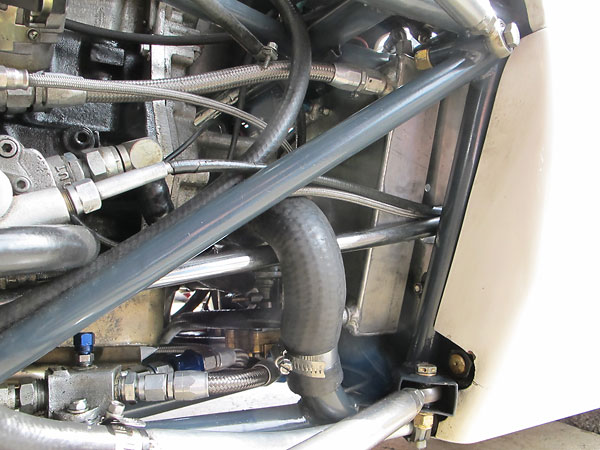 In this view, you get a better view of Murray's fuel make-up tank. Also, you can see that,
as on so many racecars of its era, engine coolant and oil are routed through frame tubes.
(A dual purpose radiator/oil cooler and an aluminum oil tank are located under the nose cone.)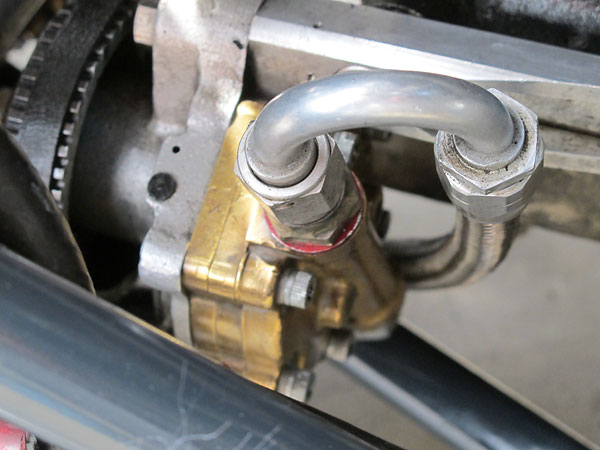 Engine driven high pressure fuel pump. (These produce about 100psi.)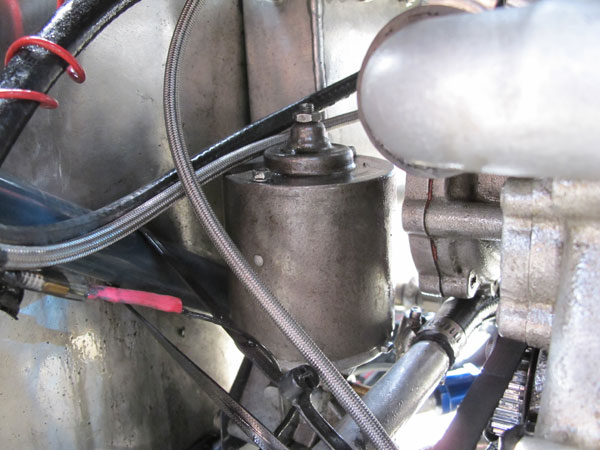 Since the engine driven fuel pump won't develop enough fuel pressure to start the engine,
an electric high pressure fuel pump is also needed. Actually, the two pump mechanisms
are similar, except the "electric" one is driven by a Lucas windscreen wiper motor!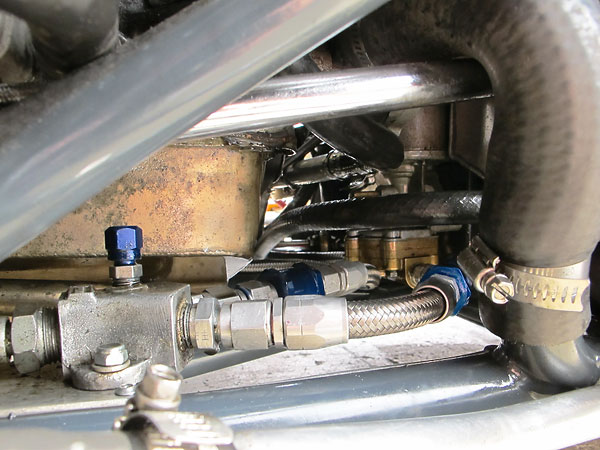 These Lucas fuel pump mechanisms were originally developed for Triumph "2.5 PI" cars
(i.e. "2.5 liter petrol injection".)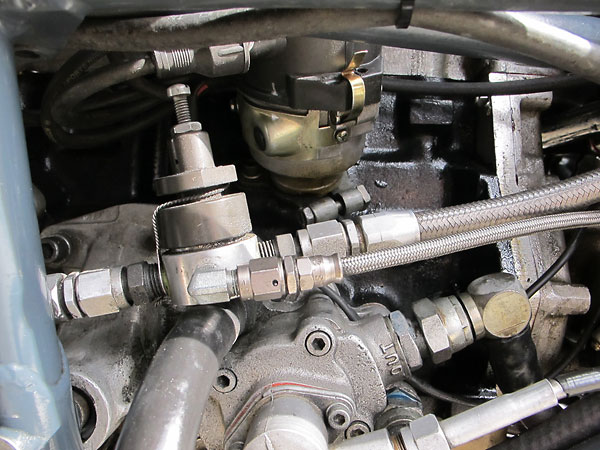 This Kinsler diaphragm type adjustable fuel pressure regulator is on the return line between
the fuel injection metering unit and the make-up tank. (Fuel supply lines are shown above.)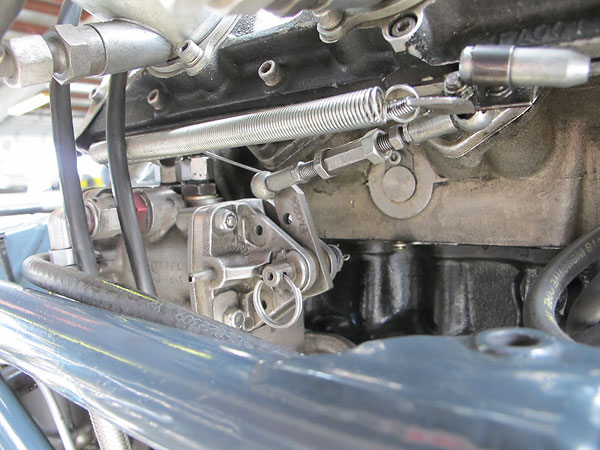 The throttle cable (upper right corner) pulls open the sliding four-aperture throttle plate.
It's also connected via linkage to the fuel injection metering unit. In fact, the base of the
connecting lever has a cam profile selected or modified to suit fuel mixture requirements.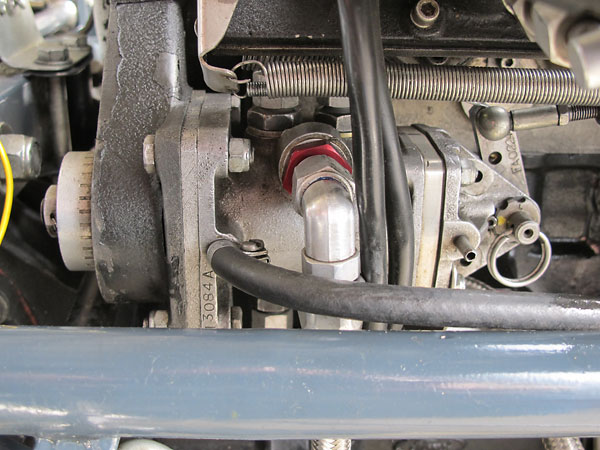 Lucas fuel injection metering unit.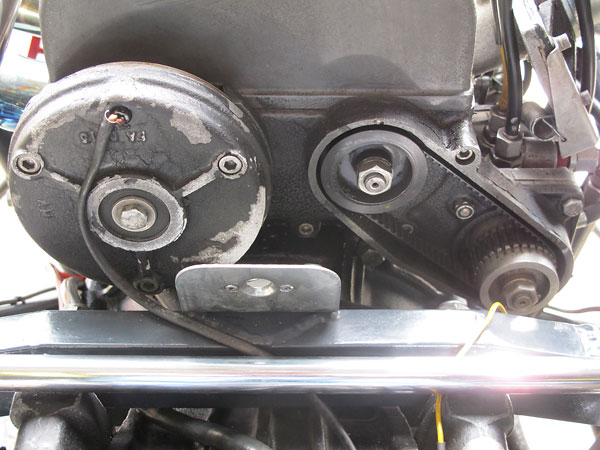 Left: an alternator. Right: belt drive for the Lucas mechanical fuel injection metering unit.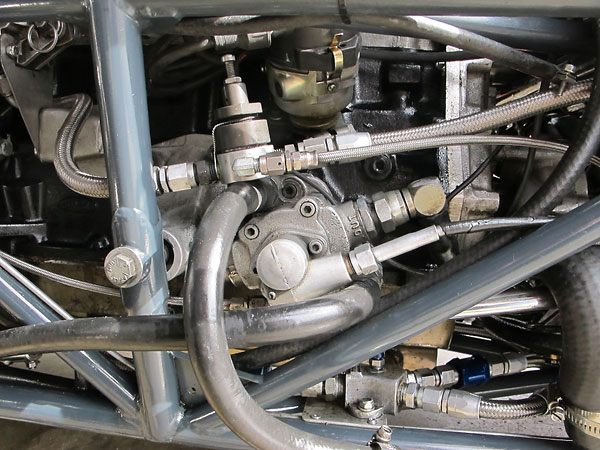 A mechanical tachometer is driven by cable off the end of the oil pump. (The back end of
the exhaust camshaft might have been used if an alternator weren't already fitted there.)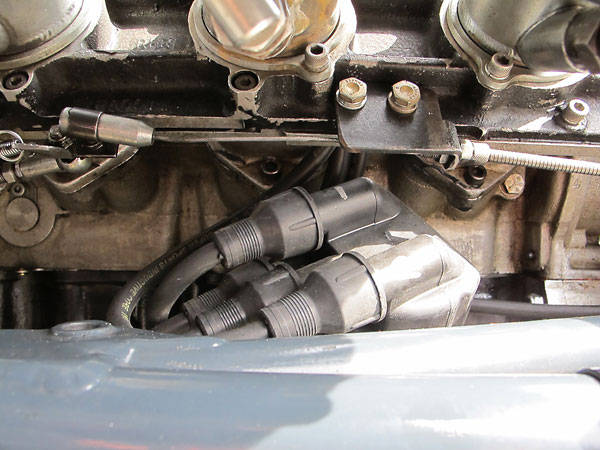 A Lucas Opus ignition system would be period correct for this engine, but service parts are
scarce and they're famously unreliable (at least compared to more modern ignitions.) Murray is
currently using a Pertronix Ignitor breakerless ignition module within a conventional distributor.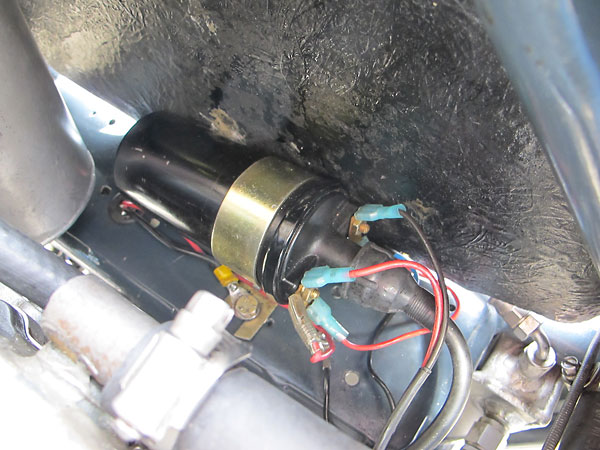 Red and black leads (at top of picture) route to the Pertronix Ignitor. What are the other extra
connections to this ignition coil? They're your clue that an electronic rev limiter is in use.
Murray generally shifts at 8000rpm, and has his rev-limiter set at 9000rpm.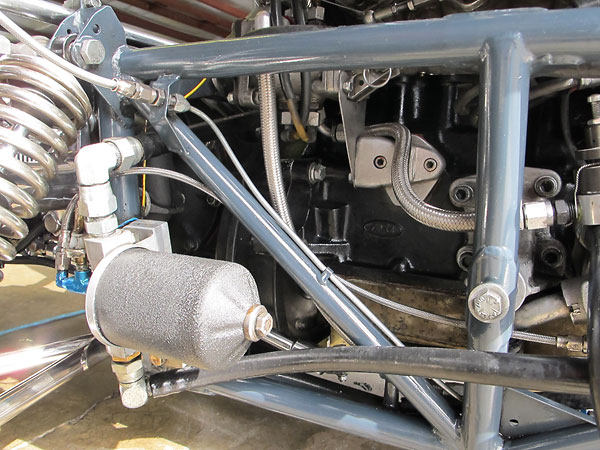 Engine oil filter.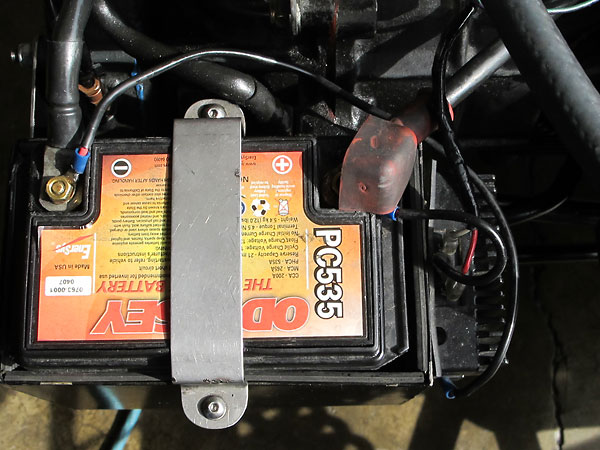 Odyssey PC535 battery (200CCA, 12.0#).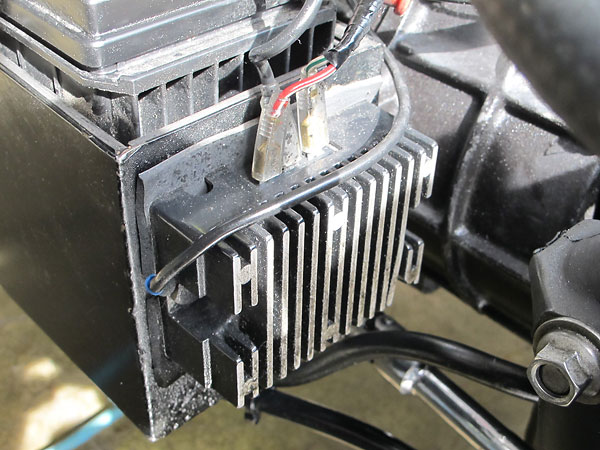 This electronic box is a transformer that converts AC to DC power.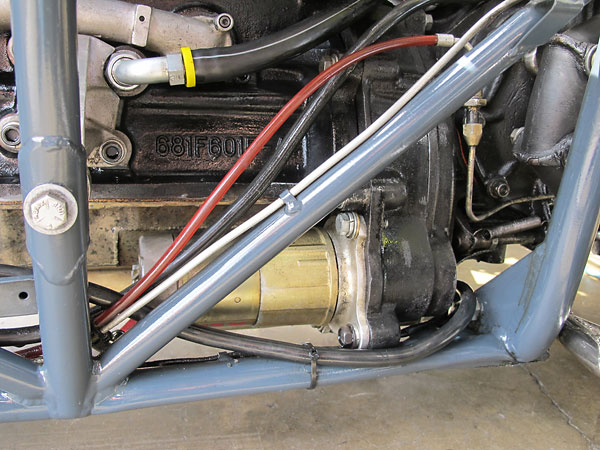 Tilton Super Starter XLT. (681F6015-A engine block.)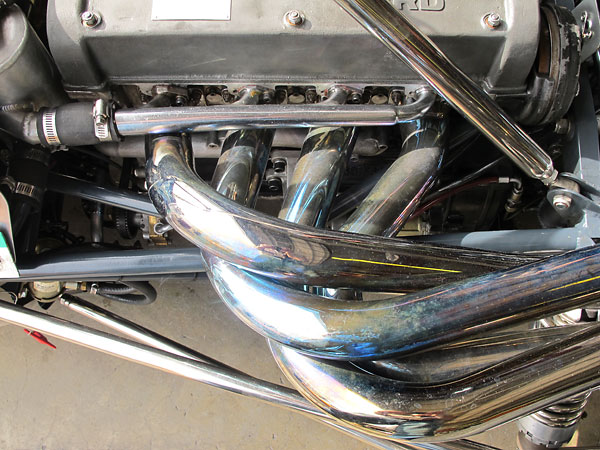 These headers are the same size as what Murray received from Sweden. They performed
well when dynomometer tested, so Murray decided to duplicate their dimensions.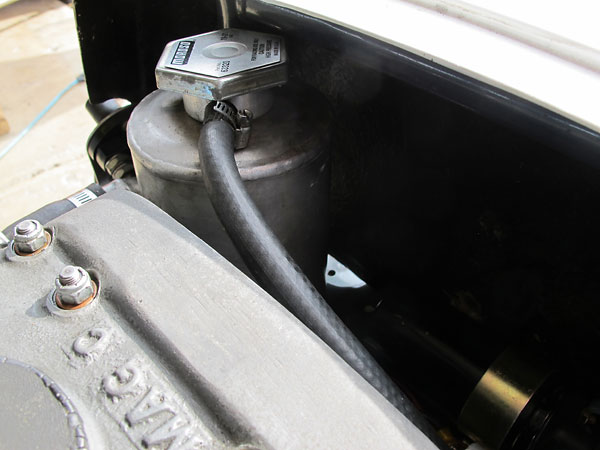 This coolant header tank is more than just a reservoir: coolant swirls within it
and the swirling action helps remove vapor (steam) bubbles.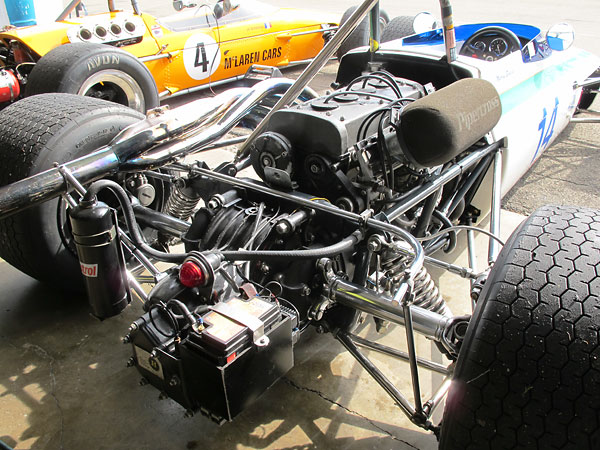 Brabham frames were fabricated by Arch Motors and their bodies were made by Specialised Mouldings.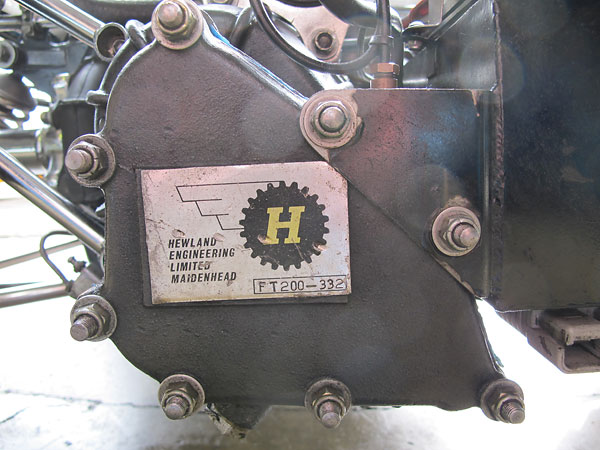 Hewland Engineering Limited, Maidenhead - FT200-332.
Hewland built over 2000 of these tough little transaxles.


Front Suspension / Etc.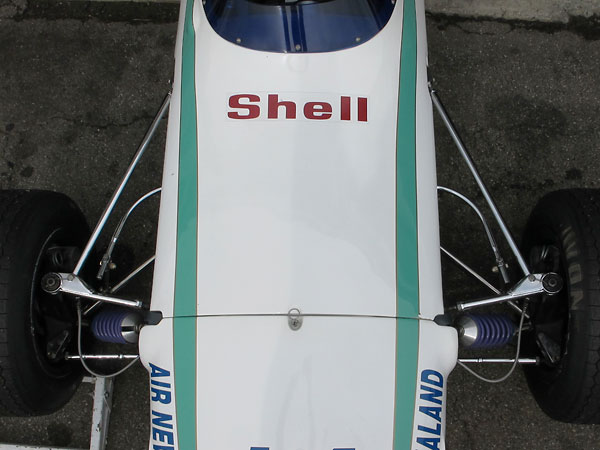 The rear leg of the upper A-arms are braced back to the cowl. Brabham Grand Prix cars had been
built this way since their introduction in 1962 but for the junior classes narrow-base A-arms had
been tried (e.g. on the Brabham BT21) and abandoned (on the Brabham BT23).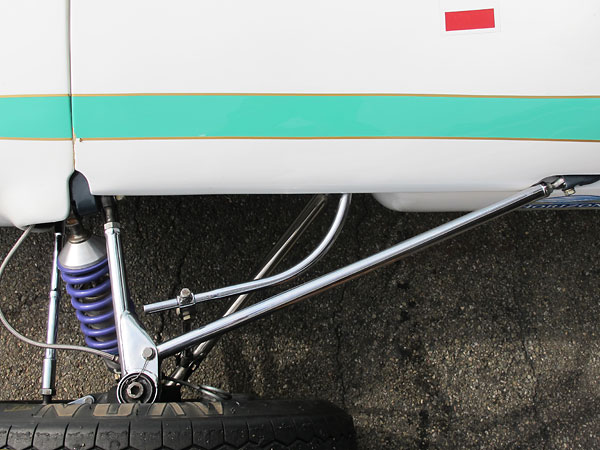 The conventional wisdom is that wide-based A-arms offer reduced vibration during hard braking.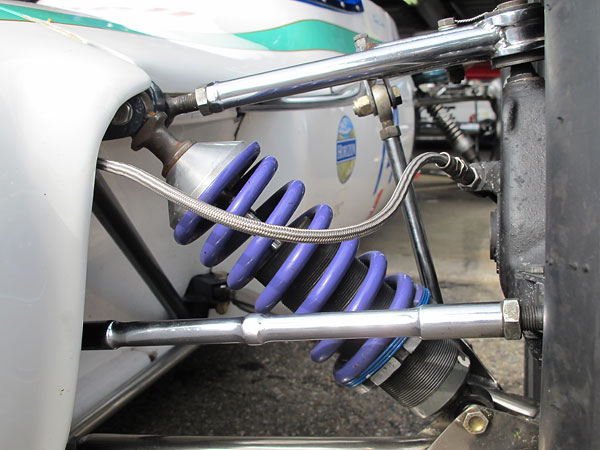 A thin Faulkner helper spring prevents the main spring from rattling loose when the suspension
is at full droop. Otherwise, it has little effect because its spring rate is only 4lbs/inch
(so most of the time it's fully compressed to about ~8mm thickness.)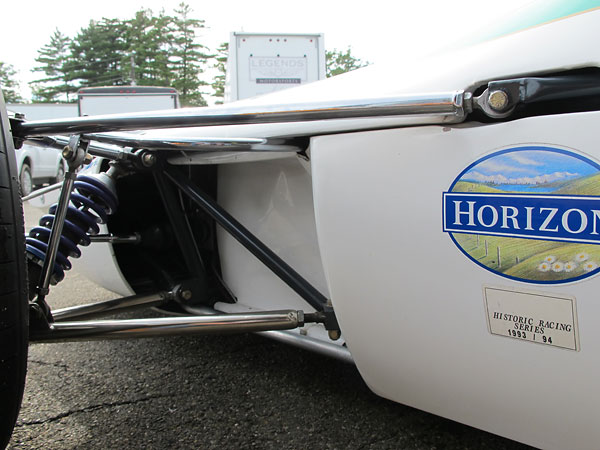 After passing throught the radiator, air exhausts to the sides behind the suspension. On both
BT29 and BT30, the front bulkhead and footbox were made narrow to maximize cooling airflow.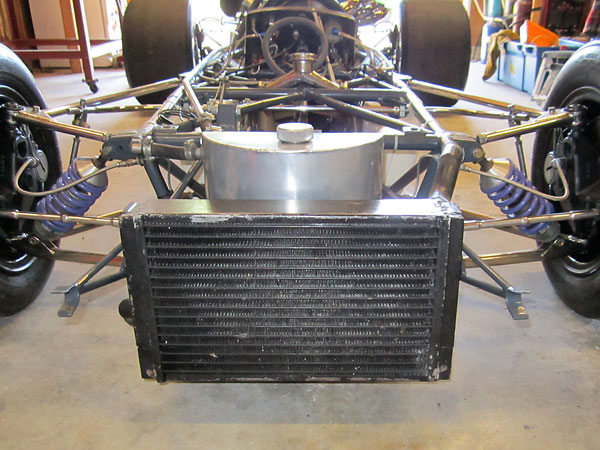 Original style copper and brass radiator. (Photo: Murray Sinclair. Used by permission.)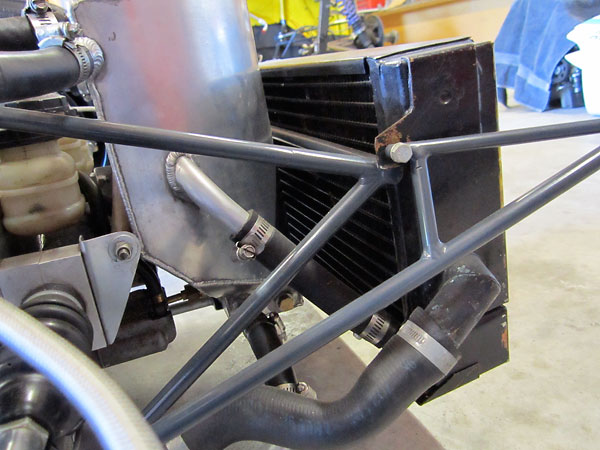 An oil cooler is integrated into the radiator assembly. (Photo: Murray Sinclair. Used by permission.)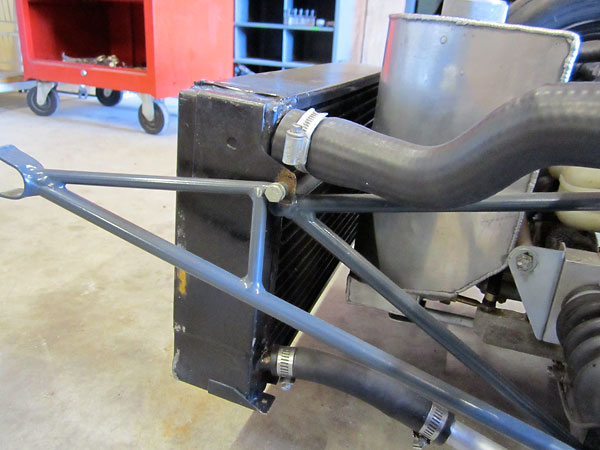 Lightweight tubular structure to support nose & front wings. (Photo: Murray Sinclair. Used by permission.)



IMPORTANT ANNOUNCEMENT
BritishRaceCar.com will have to cut back plans for continued growth if we can't find more financial support.
If you like what you've found here, and you want to see more, please click here and follow the instructions.
Readers like you keep BritishRaceCar.com online and growing through voluntary financial contributions.


Rear Suspension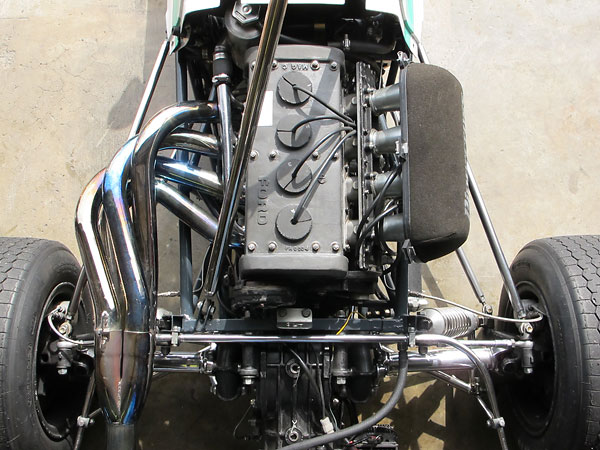 Power is transferred from the Hewland FT200 five speed through Metalastic (rubber) drive donuts.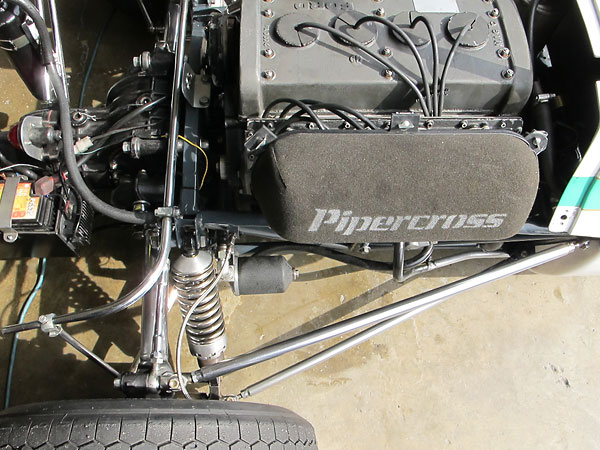 Coilover shock absorber, an inverted lower wishbone, a single top link, and twin trailing links.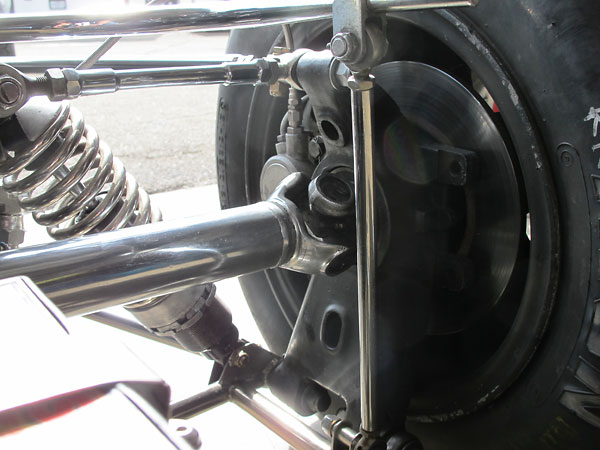 Brabham proprietary magnesium uprights.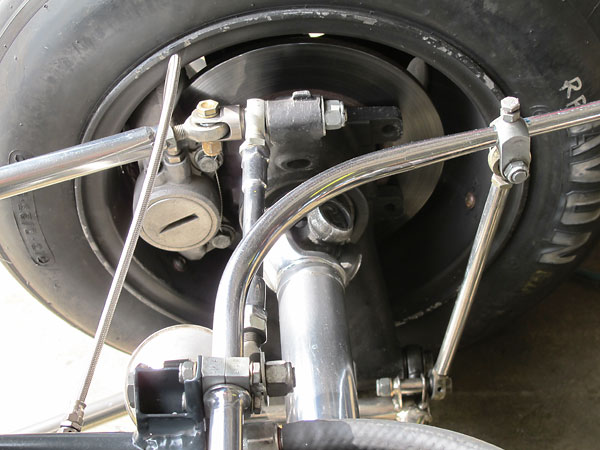 Adjustable anti-sway bar mounted on aluminum pillow blocks.


Interior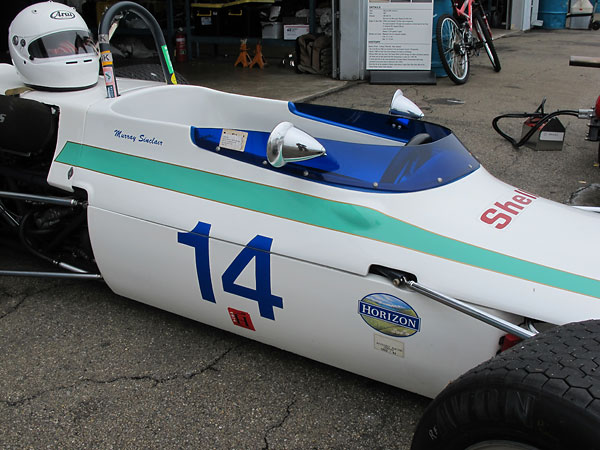 This paint scheme is very similar to the livery Graeme Lawrence used in 1971, but in that era this
car had an untinted windscreen and Vitaloni "Sebring" style (low profile, black plastic) mirrors.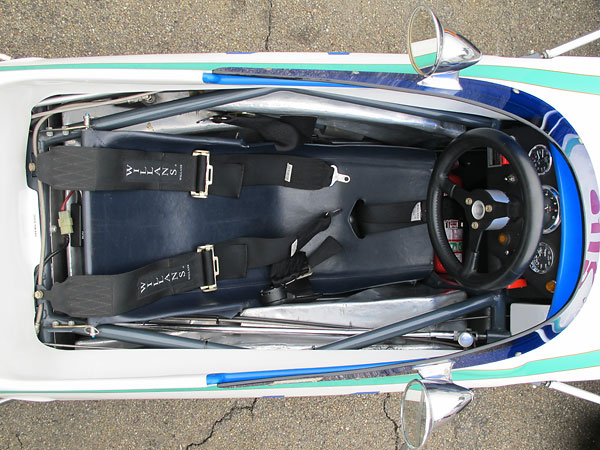 Fiberglass seat and Willans six point cam-lock safety harness.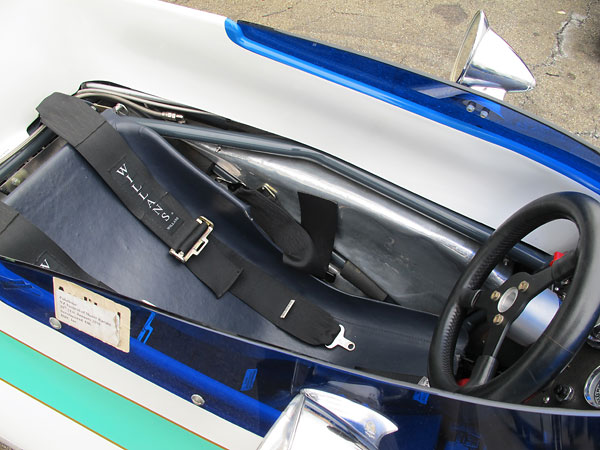 Murray says he finds the Brabham BT29 cockpit to be surprisingly roomy and comfortable.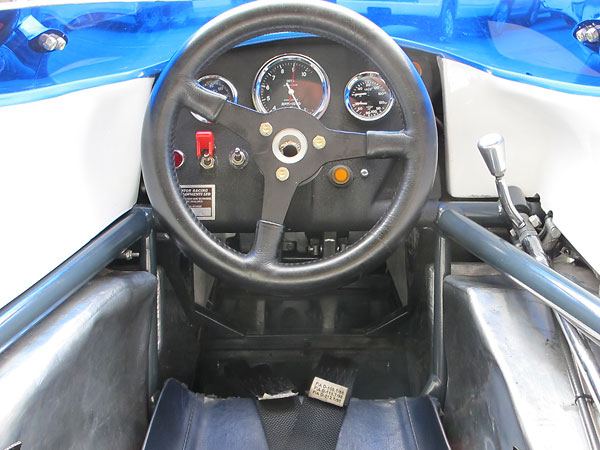 Designed to wrap around various frame tube, these elaborately fabricated aluminum fuel tanks gave
BT29-23 the capacity (~11 gallons) to complete endurance races without pit stops. These are NOT
similar to the tanks on Brabham BT30 Formula Two racecars. Formula Two rules mandated fuel cells
with rubber safety bladders, so BT30 tanks were more simply shaped and mounted further outboard.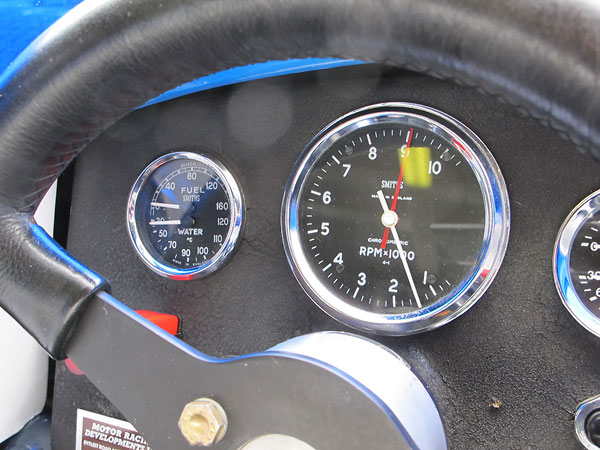 Smiths dual fuel pressure (0-160psi) and water temperature (30-120C) gauge, and
Smiths Chronometric tachometer (0-10000rpm) with tattletale.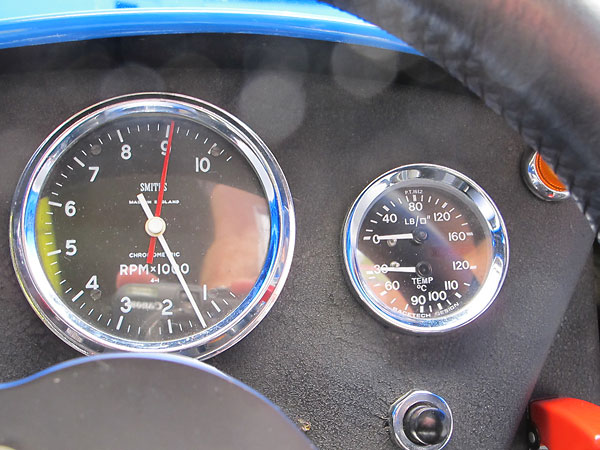 RaceTech Design dual oil pressure (0-160psi) and oil temperature (30-120C) gauge.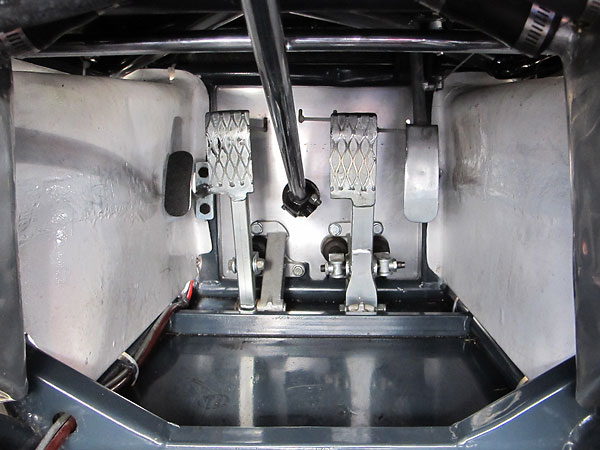 The Brabham frame is considerably stiffened by its steel floorpan. Usually BT29s also have a brazed-on
steel sheetmetal front bulkhead, but this particular car appears to have an aluminum bulkhead.


Exterior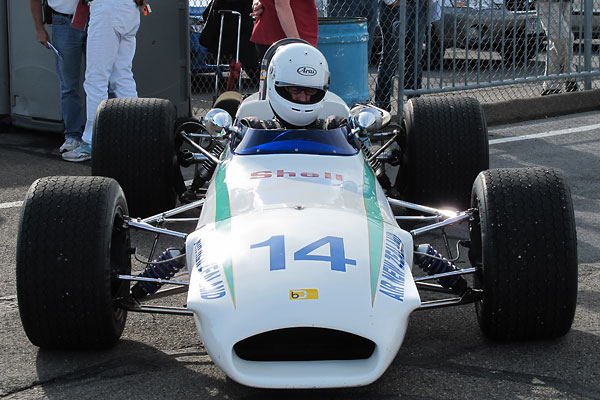 Murray Sinclair's Brabham BT29 racecar wore racing number 14 and Air New Zealand / Shell Oil
livery when Graeme Lawrence drove it in the 1971 Australian Grand Prix.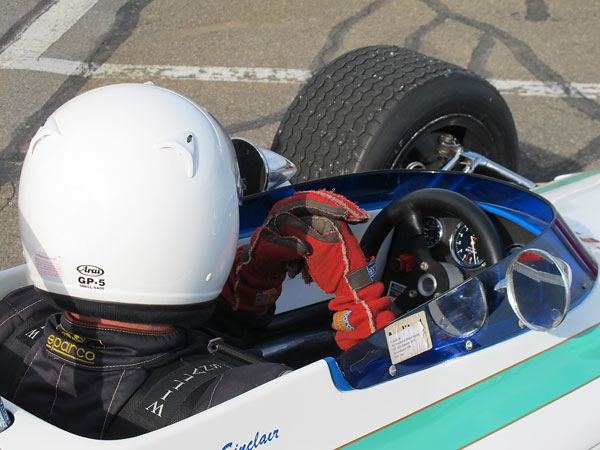 Murray Sinclair describes the Brabham chassis as "very progressive" and "easy for amateur
drivers to drive well". The BT29 is also reckoned to be an especially strong, serviceable car.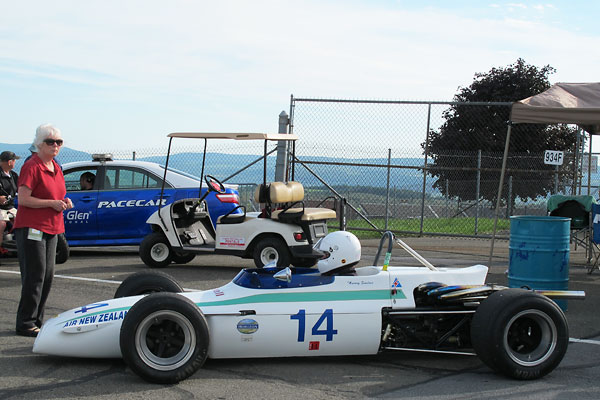 This is a later engine cover, as used on Brabham's BT36 model, circa 1971.
Original BT29/BT30 style engine covers slope downward all the way back.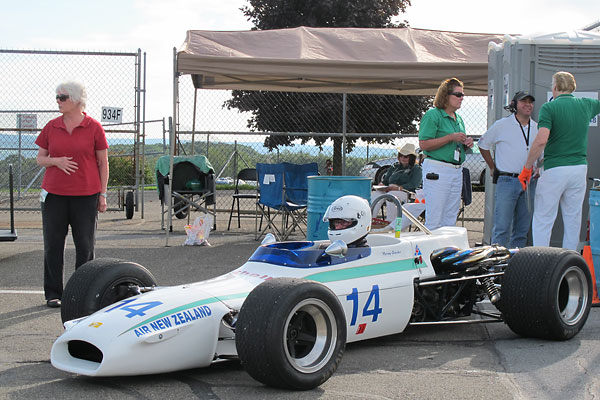 With rear wing completely removed and with only the vestiges of front wings
the car has less aerodynamic drag and is thus faster in a straight line.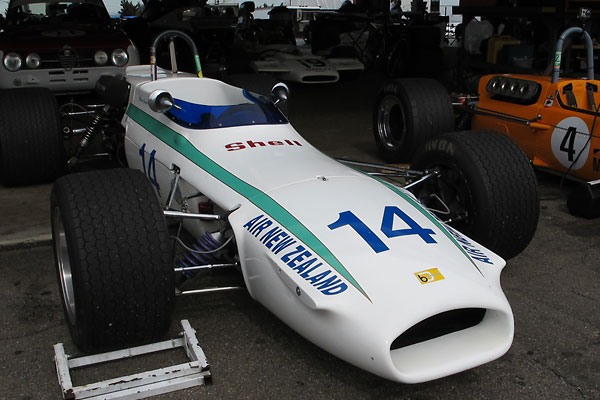 That's right... even though it has lost its wings through evolution, this kiwi really flies!


Except where explicitly noted to the contrary above, all photos shown here are from September 2011 when the car appeared at The US Vintage Grand Prix at Watkins Glen. Photos by Curtis Jacobson for BritishRaceCar.com. Copyright 2011. All rights reserved.



Notice: all the articles and almost all the photos on BritishRacecar.com are by Curtis Jacobson.
(Photos that aren't by Curtis are explicitly credited.) Reproduction without prior written permission is prohibited.
Contact us to purchase images or reproduction permission. Higher resolution images are optionally available.