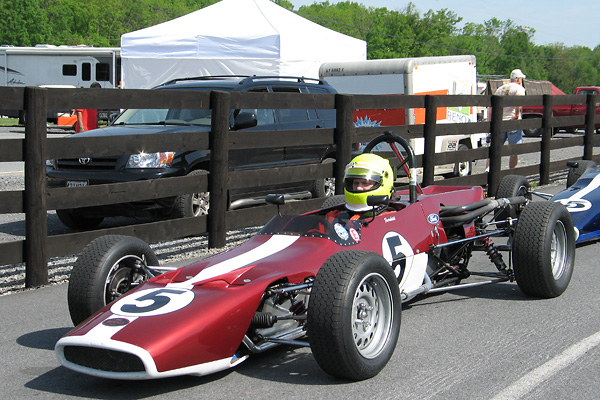 Scott Fairchild's 1972 Royale RP3-A Formula Ford Racecar
Owner: Scott Fairchild
City: Powhatan Virginia
Model: 1972 Royale RP3-A
Engine: 1.6L Ford four-cylinder
Race prepared by: owner
The Early History of Royale Racing Cars
The Royale story starts with an enthusiastic amateur racer named Bob King, who built a small performance shop behind his home. When business warranted, King moved his shop to a rental unit under the railway viaduct arches at Wembley and renamed his business "Racing Preparations Ltd.". Racing Preparations quickly developed a sterling reputation for excellence in tuning Coventry Climax engines.

In 1964, to increase production capacity so they could meet demand for their new V12 engine, Jaguar bought the Coventry Climax engine company. Jaguar then decided to liquidate Climax's non-production assets. Bob King found himself in the right place at the right time, and bought out the whole inventory of Climax engines and parts and also rights to the firm's designs (not including the V8). Selling Climax engines and spares made a nice side business for his young company, but King also continued providing all sorts of tuning and modification services for local racers.

In early 1968, an Alexis Formula Ford arrived at the Racing Preparations shop for service. This particular Alexis was one of the early 1500cc cars (from 1967), and it belonged to a man named Bill Tooth, who coincidentally had a young driver named James Hunt driving for him. Tooth had brought his Alexis to Racing Preparations to have the engine dry-sumped. Ever on the lookout for new business opportunities, King observed that although Alexis seemed to be selling a lot of Formula Fords, their chassis had obvious shortcomings. He was particularly critical of its apparent lack of rigidity and he felt that he could probably develop and market a better car. He further reasoned that he already had business relationships with all the appropriate suppliers, including Arch Motors for frames (which Royale would use for many years, on all but their first few cars) and Specialised Mouldings for fiberglass bodywork.


Bob King hired Bob Marston on a freelance basis to design the new Formula Ford and then the sports racer that followed it. (The sports racer was for a short-lived racing series called "F100" which was sponsored by the Firestone tire company. Royale cars dominated the series through its two year existance.) At the beginning of this period, Bob Marston was working for the Cooper race team but he was willing to work on other design projects in his spare time. Cooper was focused on Formula One, Two and Three - so there was no conflict of interest. As Bob recalls: "Later in 1968 I joined John Surtees from Coopers but when he moved his factory to Edenbridge in Kent at the back end of that year I resigned and joined Lola where I stayed for the next 13 or so years. To be honest, I seem to have been credited with much more Royale design work than I actually did! I think what actually happened was that any basic design that I did which was subsequently updated (to become next year's model), retained me as the named designer even though the updates were initiated and carried out by Bob King / Alan Cornock with maybe a verbal input from me."¹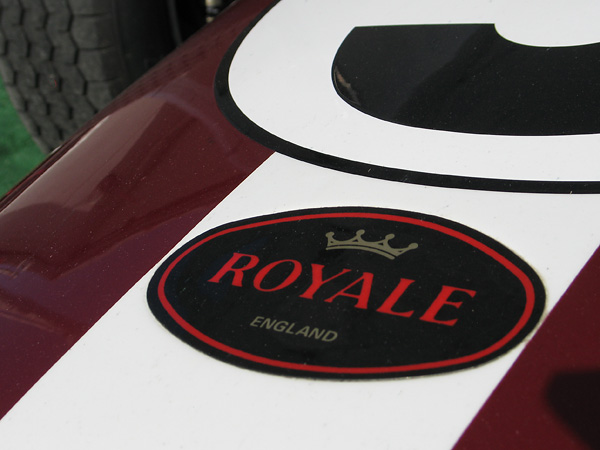 Bob King chose to be "Royale" the tradename for racecars produced by his company, Racing
Preparations Ltd. He chose the name based on his own surname. Soon after starting Formula Ford
production King decided to relocate his company to the Park Royal neighborhood of London, and that
reinforced customer association with the name. The original company name was soon dropped in favor
of the more memorable brand name.


Bob Marston continued: "I seem to remember that even in those early days I identified chassis stiffness as possibly the most fundamentally important reqirement for any design and hence the emphasis was put on that. So far as suspension geometry, weight distribution, etc., and all the other myriad of details that go into a design, I don't recollect any details whatsoever although come to think of it I do seem to remember Bob King having a stipulation for driver comfort."

There are many aspects of the Royale design that differ dramatically from contemporaries. The spaceframe is more elaborate, with tubes of various diameters and particularly more small diameter tubing. Royale never embraced the briefly fashionable idea of circulating engine coolant through frame tubes. Recognizing that the cockpit opening is inevitably the weakest part of any open car, they minimized its size rather more than most. The top of the engine bay is similarly challenging; like contemporaries Royale provided a bolt-in brace, but their's connects all four corners of the bay and is symmetrical. In terms of specification, the early Royale's were rather deluxe. For example, use of adjustable Heim joints at suspension joints where others used simple bushings drove up build cost, but made Royale suspensions both easier to adjust and also more precise. The result of these design decisions is that early Royale Formula Ford racecars sold at a premium price and were rarely deeply discounted.

To potential customers, design features are one thing and race victories are another. The marque that wins on Sunday, sells on Monday. Royale was successful, but frankly home market sales were less impressive than export sales. Royales sold strongly in North America where race wins reinforced their reputation for quality. In 1969, Bill Scott won the "World Championship of Formula Ford" in Sebring Florida with his RP2, and finished second place in that year's SCCA runoffs to Skip Barber. (Scott later won several Super Vee championships in Royales.) In 1970, driving the new RP3 model, Dick Allen won the SCCA's NE Division Formula Ford championship and Jim Aronson won the SE Division championship. In that same year, SCCA records show that Royale Formula Fords scored 37 wins, 16 second places, 11 third places, and set 10 new track records.
Royale's Early Formula Ford Production by Model
Model
Years
# Built
Notes
RP1
1968
1
The original prototype. Later sold, raced, and eventually destroyed.
First track test: August 7, 1968.
First race: January 19, 1969.
RP2
1969
30
19 of the 30 were built for U.S. customers.
(18 of the 19 were sold by Bill Custer of Illinois.)
U.K. price was £1050, less engine.
RP3
1970
12
8 of the 12 were built for U.S. customers.
(All eight of these were sold by Bill Scott).
2 for Canadian customers.
RP3A
1971/72
20
9 of the 20 were built for U.S. customers.
(8 of the 9 were sold by Bill Scott.)
2 for Canadian customers, including the car shown here.
1971 U.K. price was £1175, less engine.
Great results in the home market would follow in time - earned by racing victories and by successive car designs.

This is the wrong place to tell the rest of Royale's history. Although Royale cars competed in many racing classes, their reputation was earned in Formula Ford and that's where they found their greatest and most enduring success. Between 1968 and 1987, Royale produced 735 racecars, 502 of which were 1600cc Formula Fords.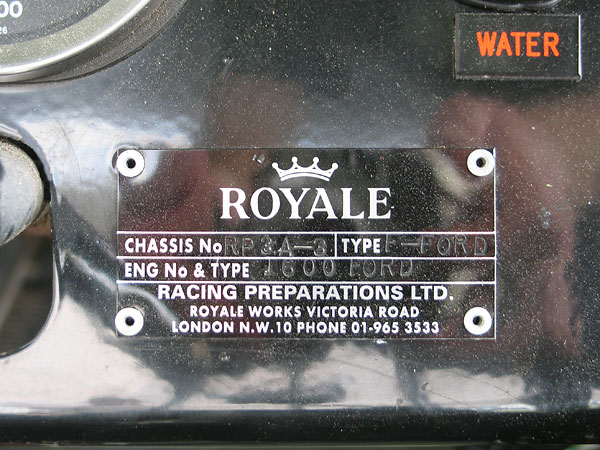 Royale
Chassis No.: RP3A-3, Type: F-Ford
Eng No. & Type: 1600 Ford
Racing Preparations Ltd.
Royale Works, Victoria Road
London N.W.10, Phone 01-965 3533


Scott Fairchild's Royale RP3-A
Royale company records indicate that chassis RP3A number 3 was originally purchased by Bryan Evans of Canada. Little is known about the early history of this car, except that in 1974 Bryan Evans used it to handily win the 17th running of the famous Knox Mountain Hillclimb in Kelowna, British Columbia.

Scott Fairchild bought Royale RP3-A serial number 3 in December 2005. The Royale was already restored to excellent condition and it was exceptionally clean. The previous owner had just treated the car to a new basecoat/clearcoat paintjob, and the car largely retains the appearance of when it was purchased. However, Scott enjoys race car preparation and has made many subtle improvements to the Royale set-up while maintaining a very active racing schedule over the following years. Scott primarily races with the Sportscar Vintage Racing Association (SVRA) and with the Vintage Racer Group (VRG).
Enjoying this article? www.BritishRaceCar.com is partially funded through generous support from readers like you!
To contribute to our operating budget, please click here and follow the instructions.
(Suggested contribution is twenty bucks per year. Feel free to give more!)
Scott's father owns and races a 1969 Merlyn 11A Formula Ford, which is the subject of a future BritishRaceCar.com article, and Scott has had a lot of time to reflect on the two respective designs. In some ways they're remarkably similar: wheelbase and track measurements, for example, are within 5/8" on the two cars.

(Paraphrased because I couldn't write notes quickly enough...) "Right out of the box, the Royale was very friendly to set-up. Very neutral. One of the most critical decisions is spring rates, front and rear. I've raced the car on 150# fronts and 250# rears, but it's much better on 200# fronts and 300# rears. On the other hand, the car doesn't seem to be very sensitive to shock absorber tuning. We measure and set all the suspension dimensions carefully. We work carefully to get the corner weights set right - both cars have their cross-weights to within two pounds. One of the last details is anti-sway bars. The Royale spaceframe is relatively stiff, and small changes to the anti-sway bars make a noticeable and predictable difference. I like a racecar to be relatively neutral, whereas dad prefers a bit more understeer and we can get just what we like with the bars. We have the two Formula Fords and a sports racer, and we've made custom seats for all three of them. You really need a custom seat so you can feel the car's reactions. I'm a little smaller than dad so I can use his seat, but for the Royale I have my own seat that fits like a glove. (I also have the original seat that came with the car. It's leather or vinyl covered... and its even narrower than my custom seat. The Royale is generally a tighter fit all the way around though. You couldn't be much bigger than me and fit in it."

Scott added one more piece of advice that applies to driving any Formula Ford: "These cars want to be driven at the limit, and they're more comfortable there."

Earlier this month at SVRA's 2010 Heacock Classic Gold Cup, in Sunday's Group Two sprint race, Scott finished 6th overall of 26 cars. Group Two included Formula B cars. He finished first-in-class among twelve "vintage" Formula Fords and quicker than all seven "club" Formula Fords, with a best lap time of 2:13.245 over Virginia International Raceway's 3.27 mile circuit to achieve an average speed of 88.349mph.



Features and Specifications
Engine:
1.6L Ford four-cylinder, built by Quicksilver RacEngines. Weber 32/36 DGV carburetor. K&N air filter. Bosch distributor. Pertronix Ignitor breakerless ignition module. Bosch blue ignition coil. Taylor Spiro Pro 8mm spark plug wires. BAT oil pump. K&N HP2004 oil filter. Mocal 13-row oil cooler.

Cooling:
custom 21-row crossflow aluminum radiator.

Exhaust:
BAT "Crossle-style" four-into-one header.
(Note: headers have been Jet-Hot ceramic coated since these photos were taken.)

Transmission:
Hewland Mark 8 4-speed with reverse, rebuilt by Taylor Race Engineering. Open differential. Tilton 7.25" clutch.

Front Susp.:
unequal length wide-based wishbones. Triumph (Alford & Alder, forged) uprights. Koni steel bodied double adjustable coilover shock absorbers. Eibach springs (200#/inch). Adjustable 5/8" anti-sway bar.

Rear Susp.:
inverted lower wishbones, single top links, and twin adjustable trailing links. Royale magnesium uprights. Koni steel bodied double adjustable coilover shock absorbers. Eibach springs (300#/inch). Adjustable 5/8" anti-sway bar.

Brakes:
(master) dual Girling master cylinders (5/8" front, 0.700" rear) with bias bar. Cast aluminum mounting bracket.
(front) Girling 14LF calipers. Brembo rotors. Hawk "blue" pads.
(rear) Girling 12SP calipers. Brembo rotors. Hawk "blue" pads.

Wheels/Tires:
Weller steel disc wheels. Dunlop Racing "Formula Ford" tires (135/545-13 CR82 front, 165/580-13 CR82 rear).

Electrical:
DMS/Varley red top battery. Tilton Super Starter XLT. Traqmate GPS data acquisition system.

Instruments:
(left to right) AutoMeter oil temperature gauge (140-280F), Royale / Icknield Instruments tachometer (0-8000rpm), Racetech dual oil pressure (0-100psi) and coolant temperature (30-110C) gauge. AutoMeter hour meter (mounted behind dashboard).

Fuel System:
Fuel Safe fuel cell. FF1600 fuel pump with repositionable 6AN fittings. K&N billet aluminum fuel filter.

Safety Eqmt:
Custom-fitted drivers seat. Willans six-point cam-lock safety harness. Centralized Halon fire extinguisher system. Quick release steering wheel hub, on an Alpha D-shaped steering wheel. SPA mirrors.

Weight:
925 pounds.

Racing Class:
Formula Ford.

Engine Installation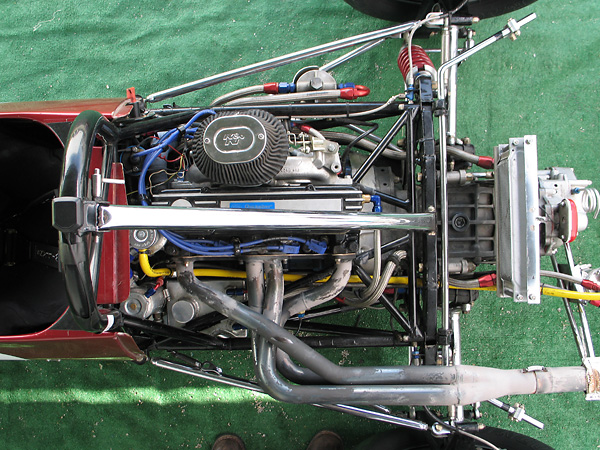 1.6L Ford four-cylinder, built by Quicksilver RacEngines.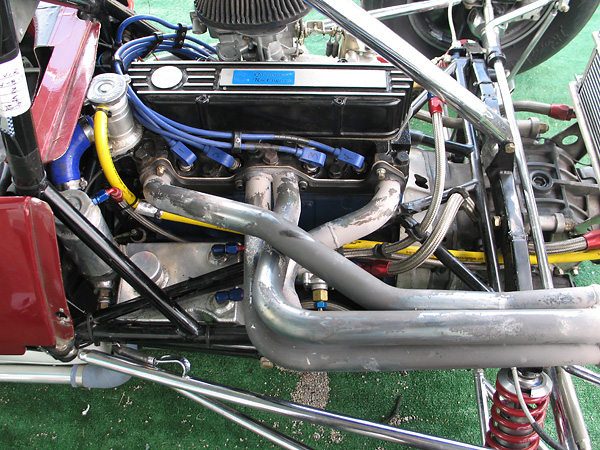 This exhaust header assembly was newly and temporarily installed when we saw it. Its design is neither
representative of an original Royale design nor of how this particular Royale RP3-A is usually raced.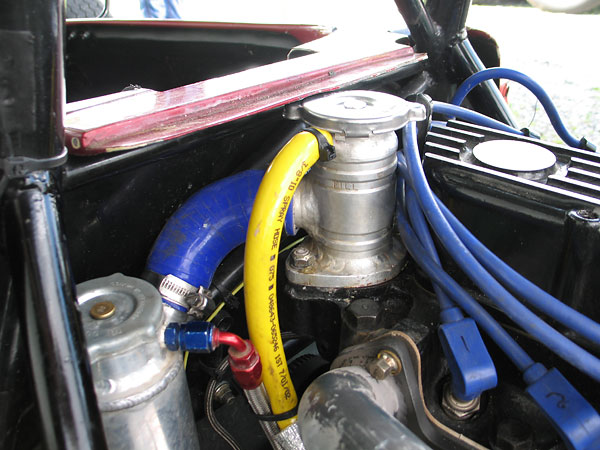 Scott made this special tall water filler neck to ensure completely filling of the cylinder head.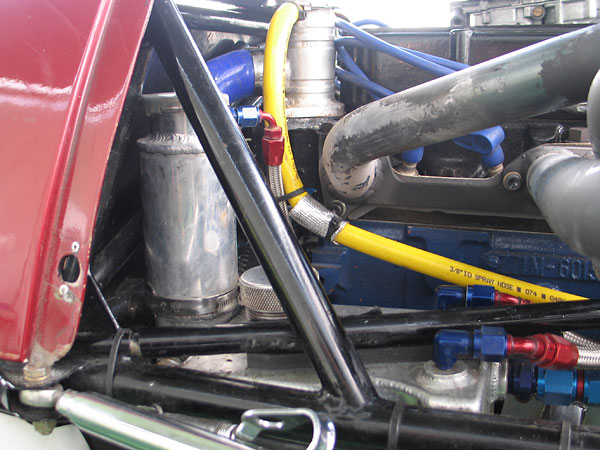 This aluminum swirl pot is original to the car. Both filler neck and swirl pot have 16# filler caps.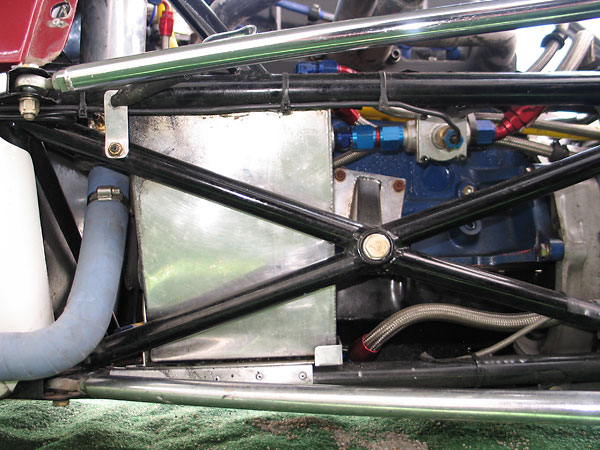 This oil reservoir tank is necessary because the engine is dry sumped. The engine is mounted so low
that it's really important that the flywheel be protected from contact with the ground by a skid plate.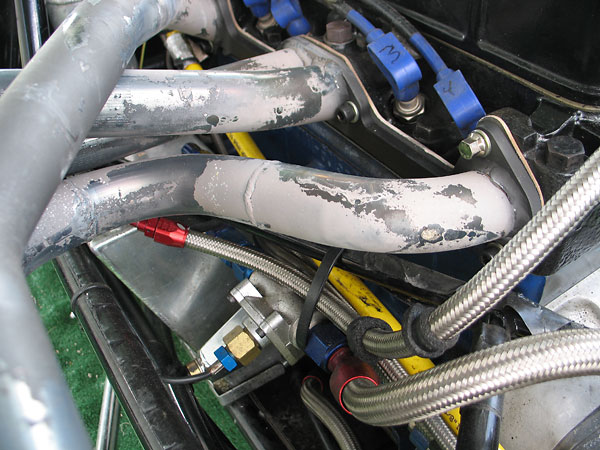 Oil temperature sensor.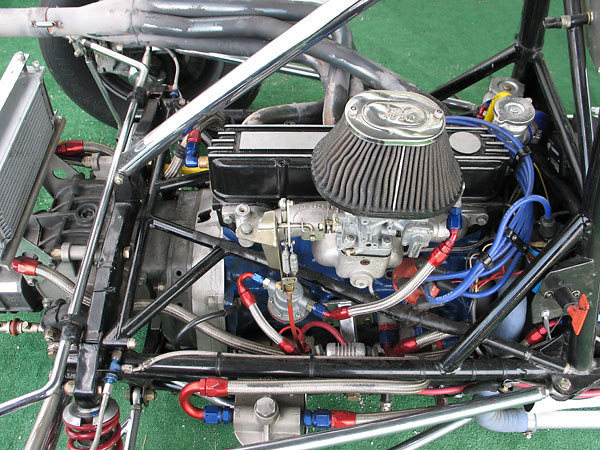 K&N air filter.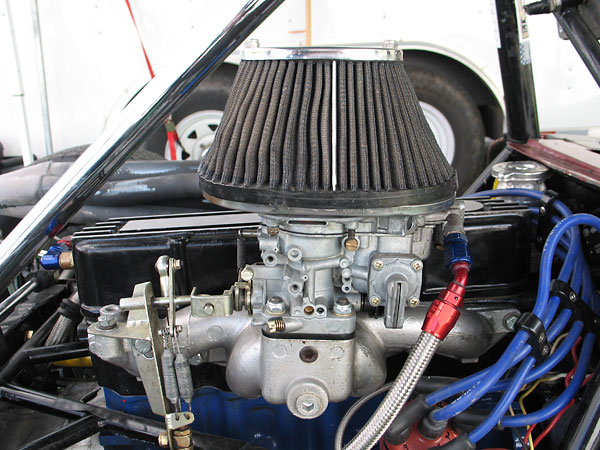 Weber 32/36 DGV carburetor.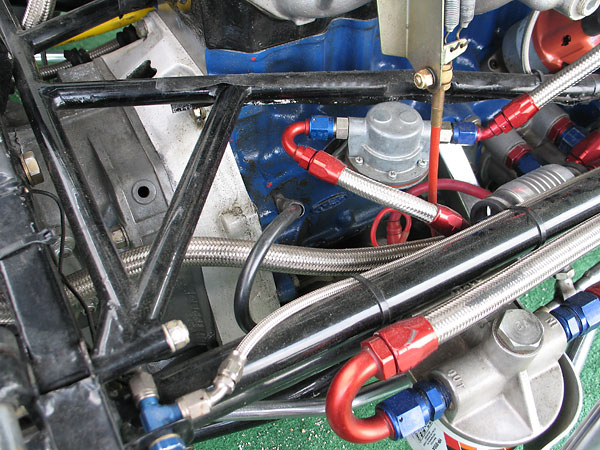 FF1600 fuel pump with repositionable 6AN fittings. K&N billet aluminum fuel filter.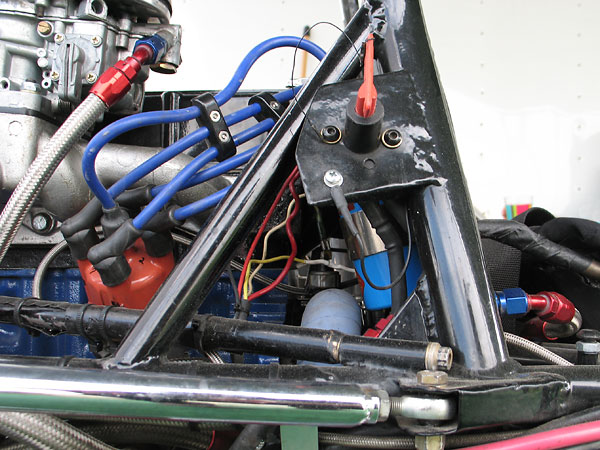 Bosch distributor (with Pertronix Ignitor inside) and Bosch "blue" ignition coil.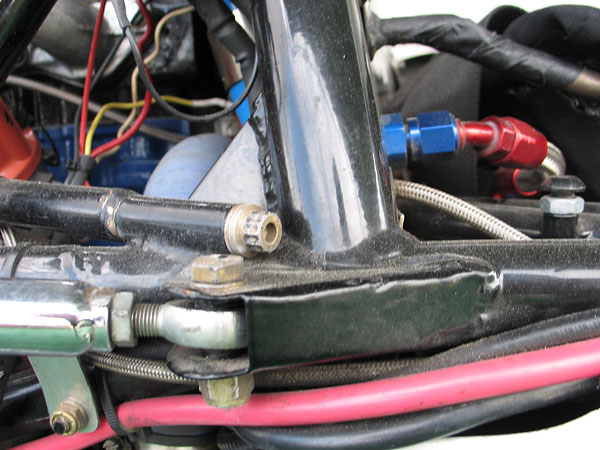 The RP3-A features an elaborate engine bay brace comprised of nine pieces of steel tubing.
It attachs at all four corners of the bay and adds significantly to chassis stiffness.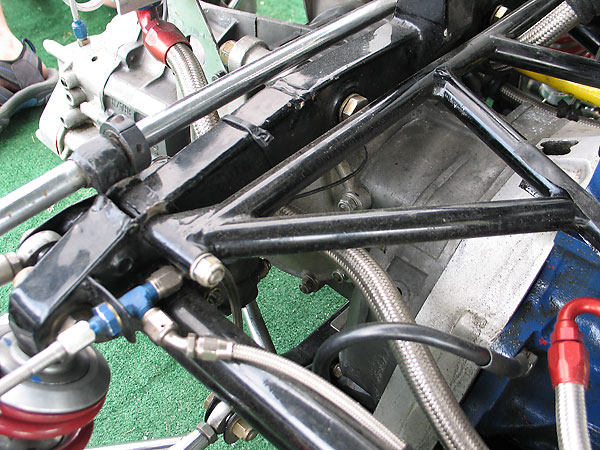 Close-up view of the engine bay brace (right-rear connection point).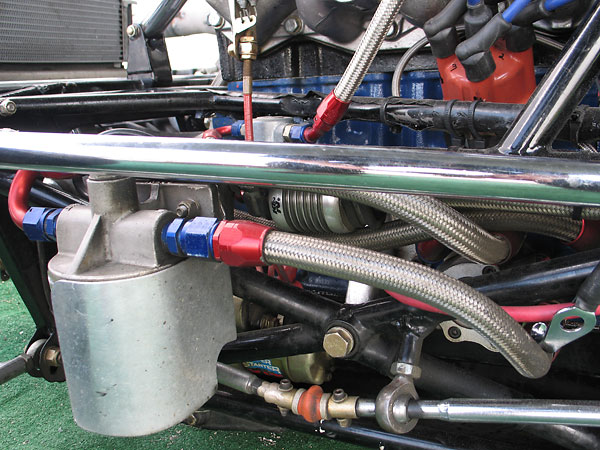 Tilton Super Starter XLT.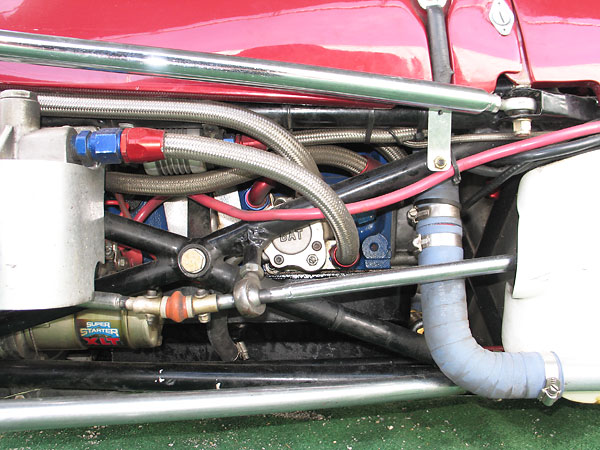 British American Transfer is an importer of Mocal, Setrab, and Laminova oil system products.
They also brand and distribute this style Formula Ford oil pump under their own name.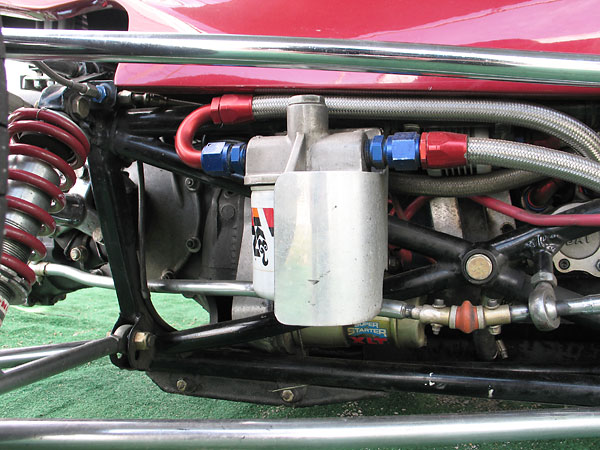 A simple aluminum shield protects the K&N HP2004 oil filter.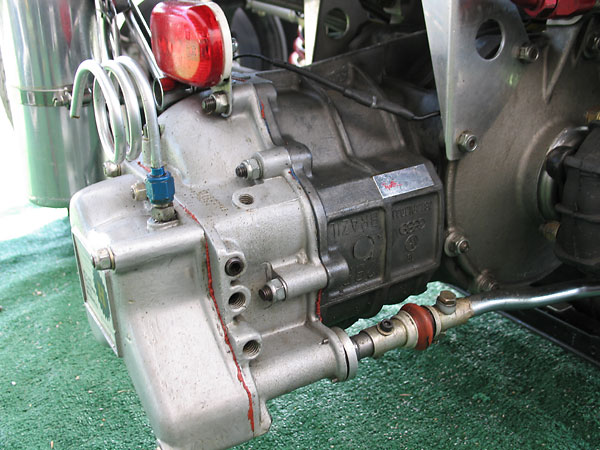 Hewland Mark 8 4-speed with reverse, rebuilt by Taylor Race Engineering.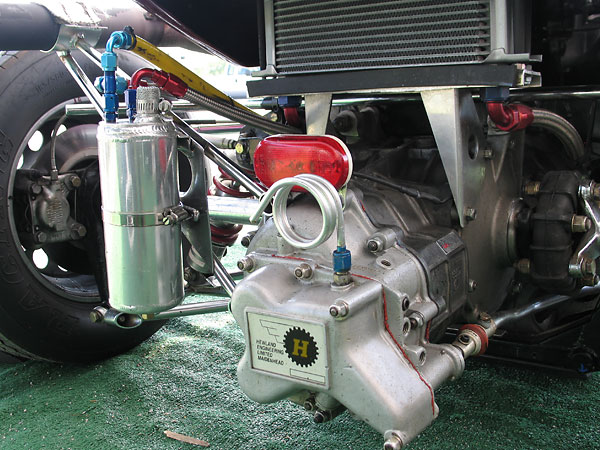 One of the most strictly enforced rules in this racing class is that cars must use rubber drive donuts
unless the car owner has convincing evidence the car was originally constructed without them.


Front Suspension, etc.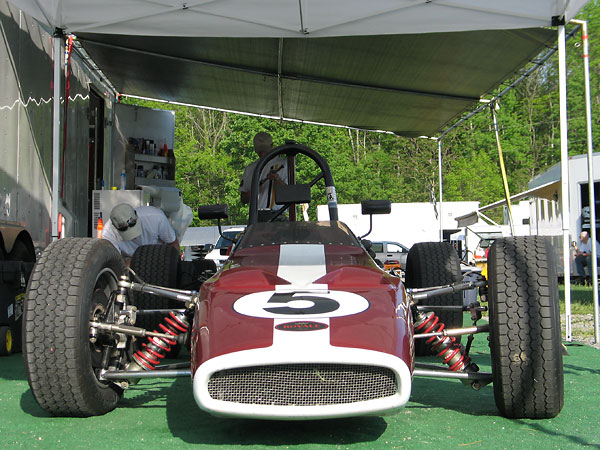 Balance! When tuning the suspension, Scott carefully sets cross-weights. The sum of diagonally paired
tire loads (left-front plus right-rear vs. right-front plus left-rear) is within two pounds, with driver installed.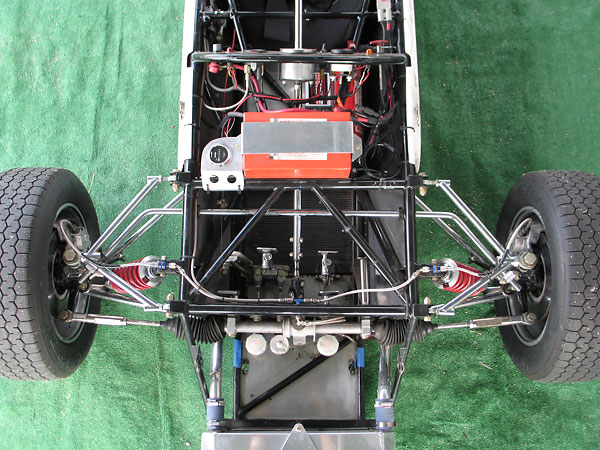 Dual Girling master cylinders (5/8" front, 0.700" rear) with bias bar.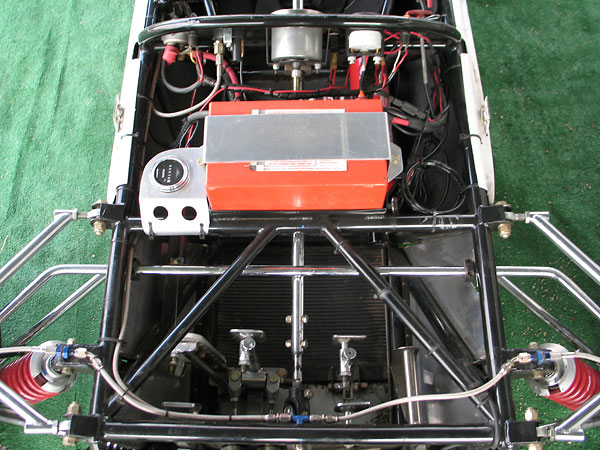 When Bill Scott imported Royale RP3/RP3A cars into U.S.A., he added two small diameter tubes to
reinforce their frames. This particular RP3-A wasn't imported by Scott, so they're not here.
Where would they be? From the multi-tube connection under the battery, they'd extend outward and
rearward about 30º to connect mid-span between existing connections on the frame longitudinals.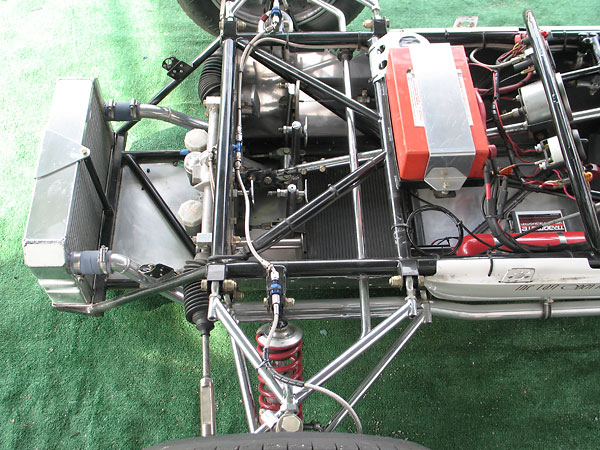 Royale differed from other early Formula Fords by not routing engine coolant through frame tubes.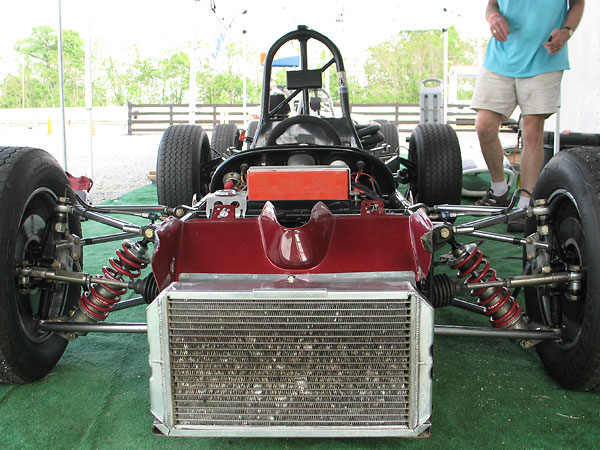 Custom 21-row crossflow aluminum radiator.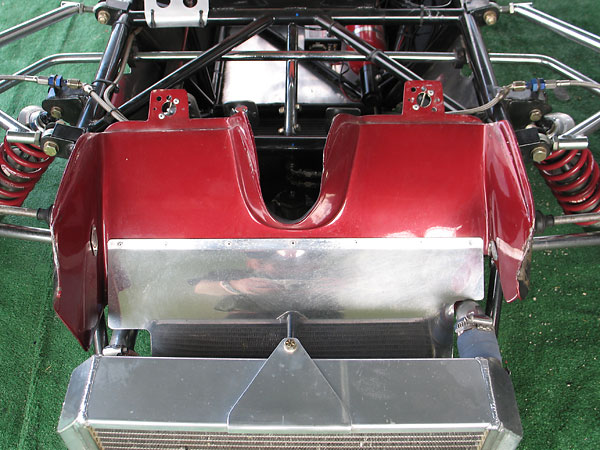 This radiator ductwork is secured in place by two Dzus quarter-turn fasteners.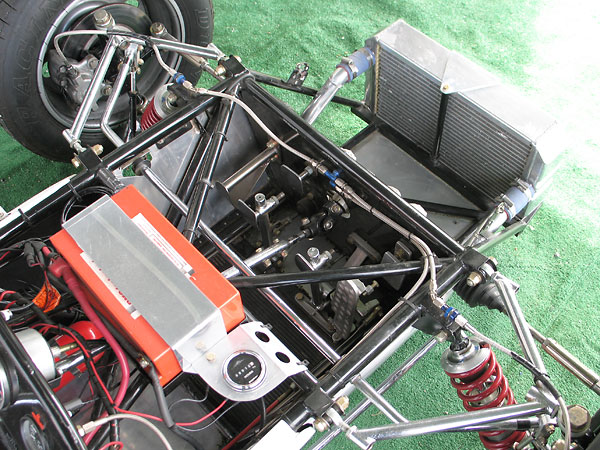 AutoMeter hour meter. The engine had been run about sixteen hours when we viewed the car. Competitive
vintage Formula Ford engines can be expected to run about forty hours before needing to be "refreshed".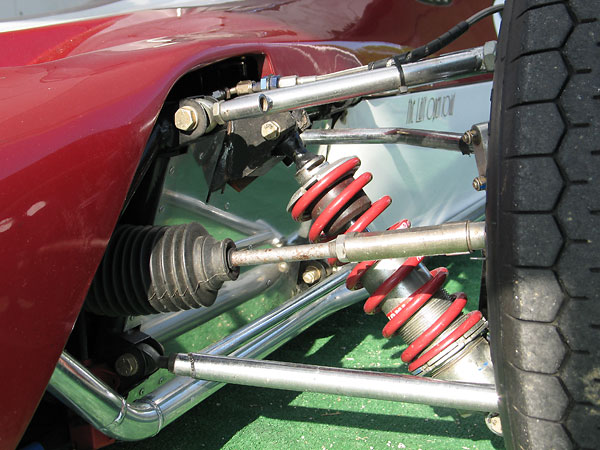 Koni steel bodied double adjustable coilover shock absorbers. Eibach springs (200 pounds per inch).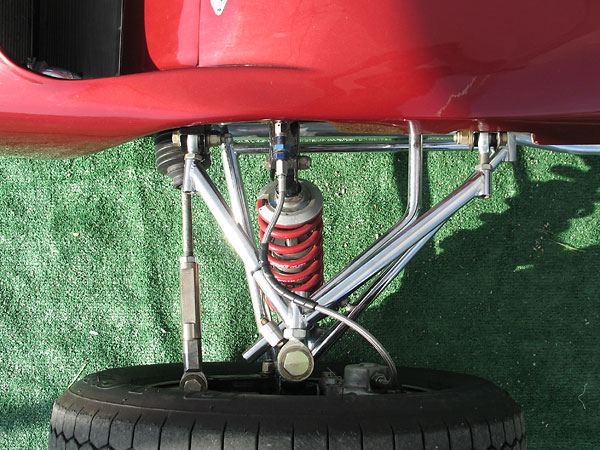 Steel-bodied shock absorbers are required by Monoposto vintage racing rules.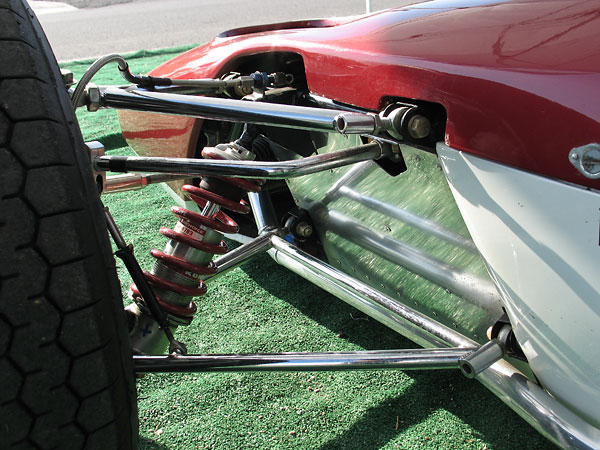 Royale used Heim joints instead of simple bushings for inner mounting points on both upper and lower
front control arms. This is one important way in which the early Royale Formula Fords are more
easily and more precisely tuneable than competitive cars like the Merlyn 11A and the Lotus 61.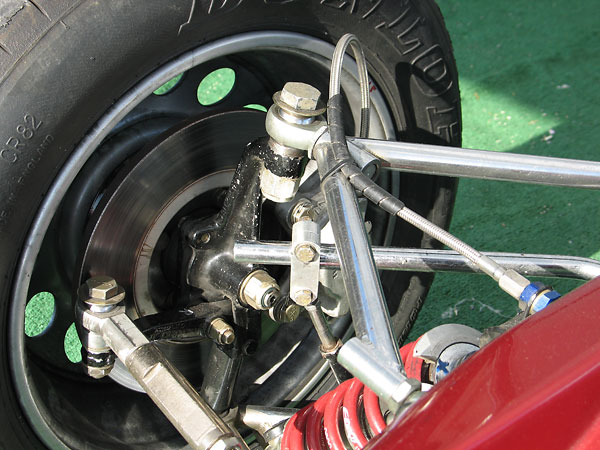 Triumph (Alford & Alder) forged front upright. Note that a carefully selected aluminum spacer is
installed between steering arm and the Heim joint type tie rod end to eliminate bump steer.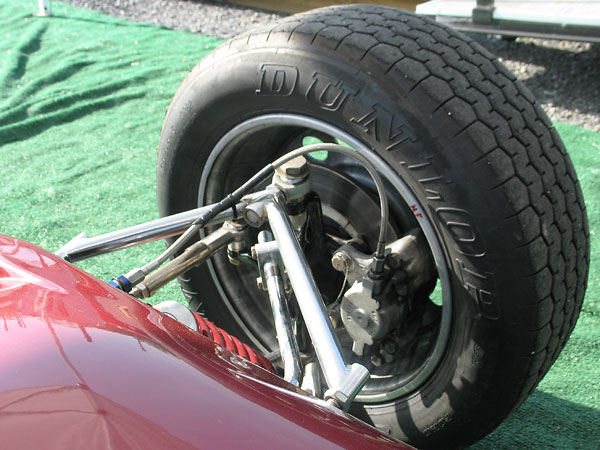 This Royale came with one size larger front brake calipers (Girling 14SP) than some contempories.


Rear Suspension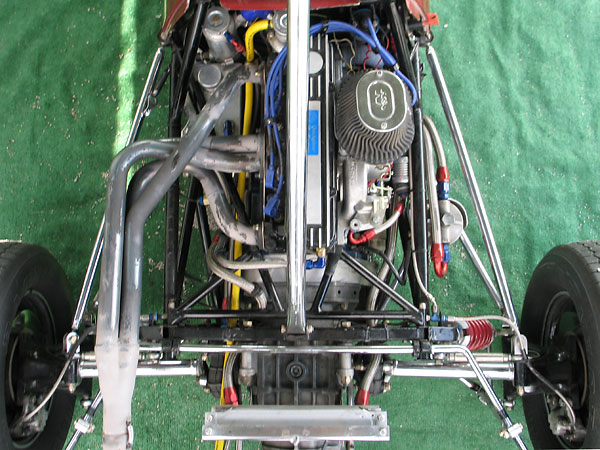 Elaborate symmetrical removeable bracing across the top of the engine bay to enhance chassis stiffness.
(Most competitive cars had a simpler dog-legged brace connecting one pair of opposite corners.)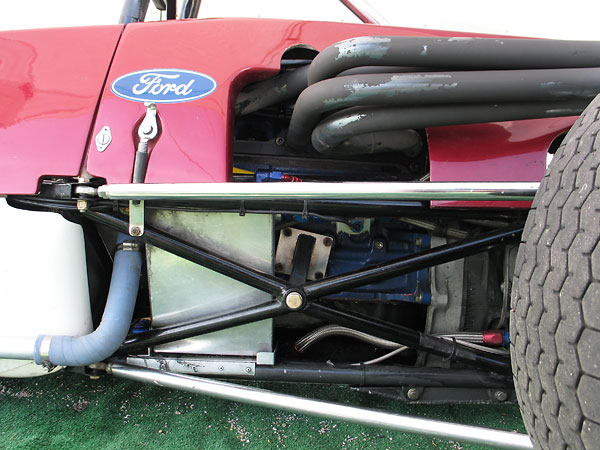 Oppositely threaded (left-hand/right-hand) Heim joints facitate easy adjustment of trailing link length.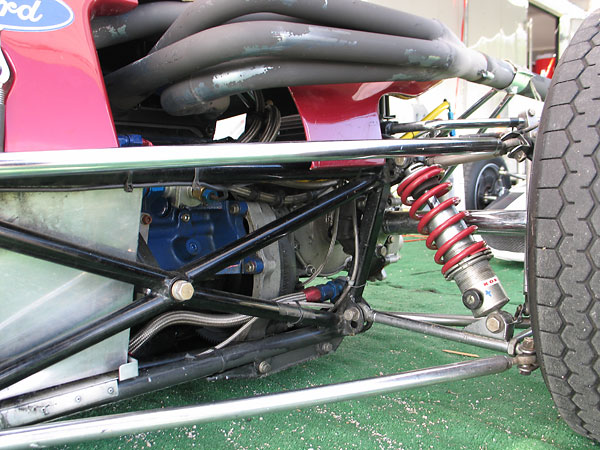 Koni steel bodied double adjustable coilover shock absorbers. Eibach springs (300#/inch).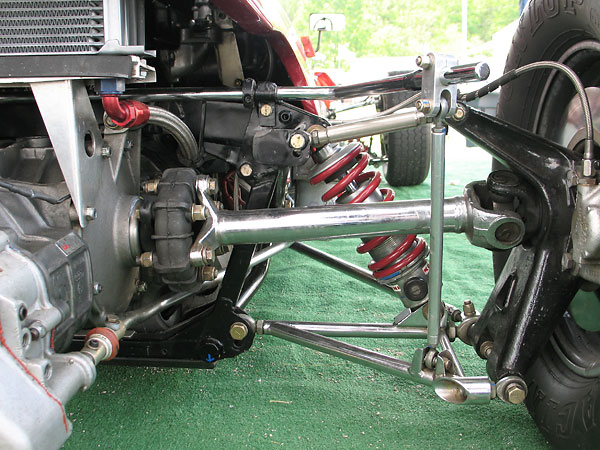 After using Lotus uprights on the original ("RP1") prototype, Royale
had magnesium rear uprights cast to their own design.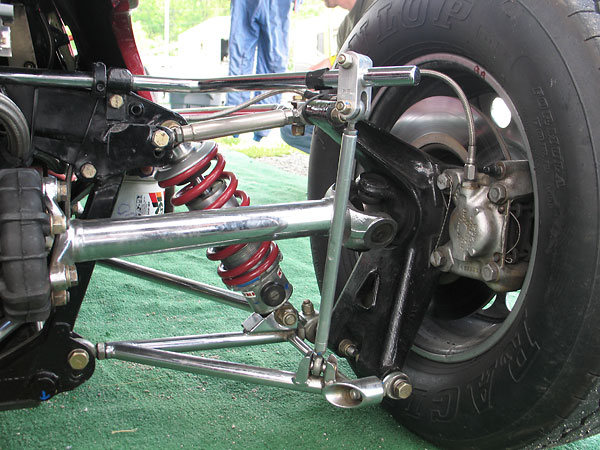 The early Royale Formula Fords came standard with Heim joints installed at both ends of the rear-lower
control arms. As on the front-upper control arms, this is a tangible technical advantage over competitive
cars such as the Merlyn 11A or the Lotus 61 because it facilitates both easier and more precise
suspension tuning. Rear toe-in is adjustable with minimal disturbance of caster and wheelbase settings.


Interior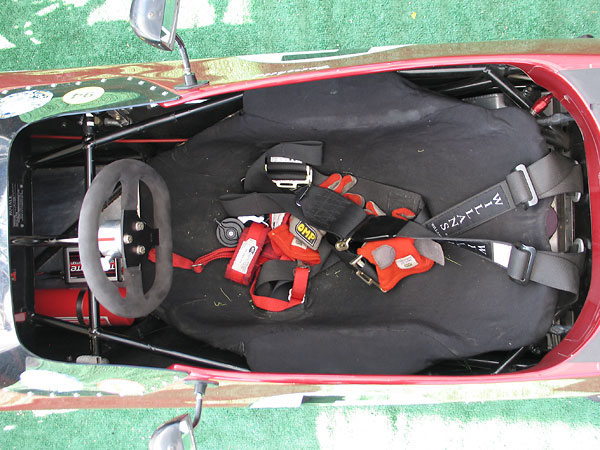 Custom-fitted drivers seat. Willans six-point cam-lock safety harness.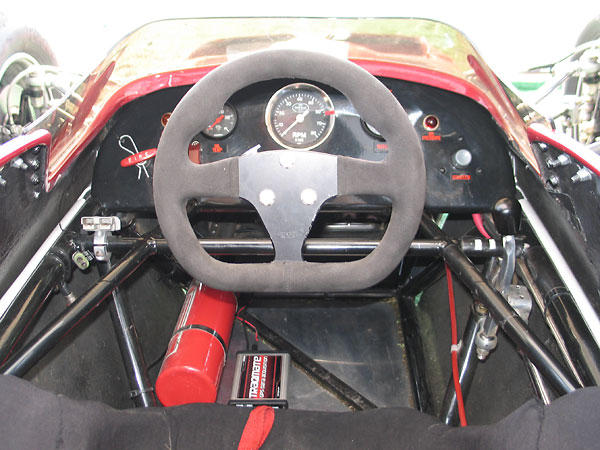 Royale-labeled (0-8000rpm) tachometer was made in England by Icknield Instruments.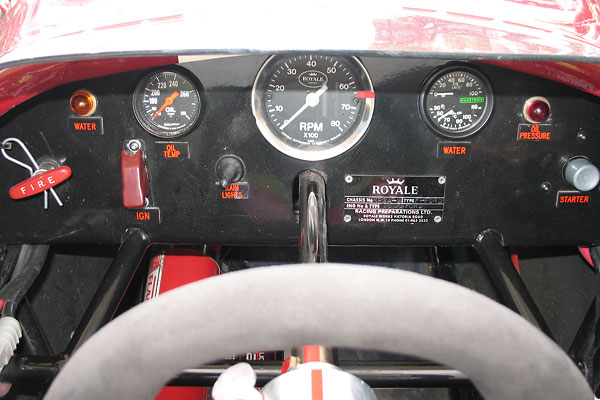 AutoMeter oil temp (140-280F) gauge. Racetech dual oil pressure (0-100psi) & coolant temp (30-110C) gauge.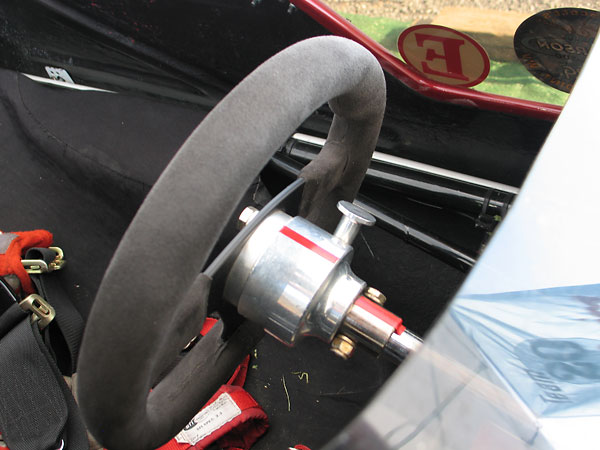 Quick release steering wheel hub, on an Alpha D-shaped steering wheel.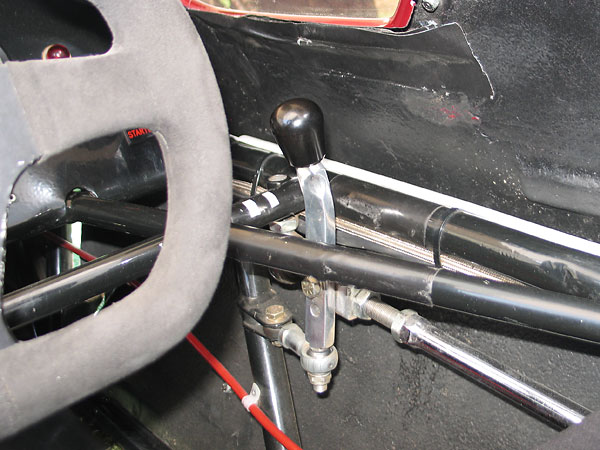 Shifter lever.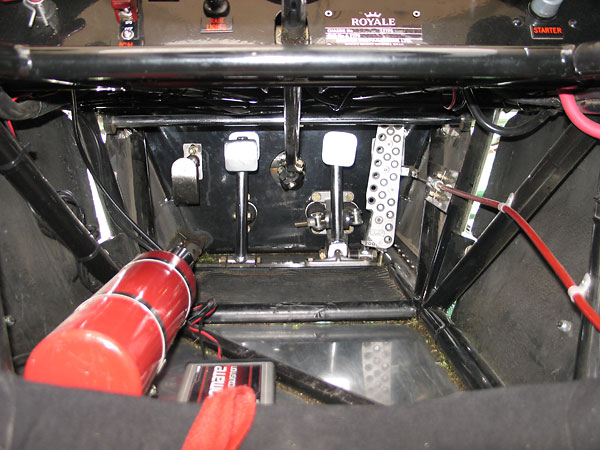 Halon fire extinguisher.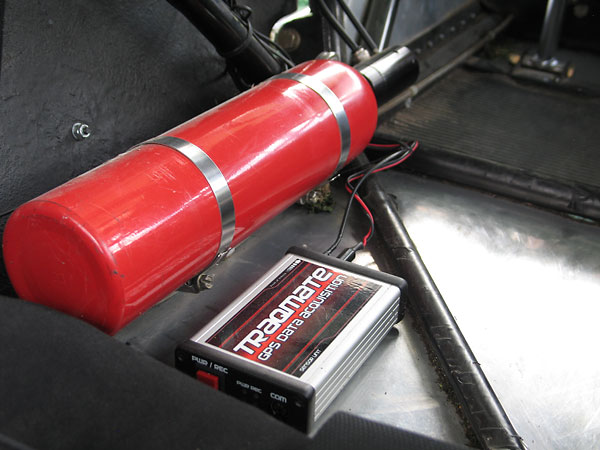 Traqmate GPS data acquisition system.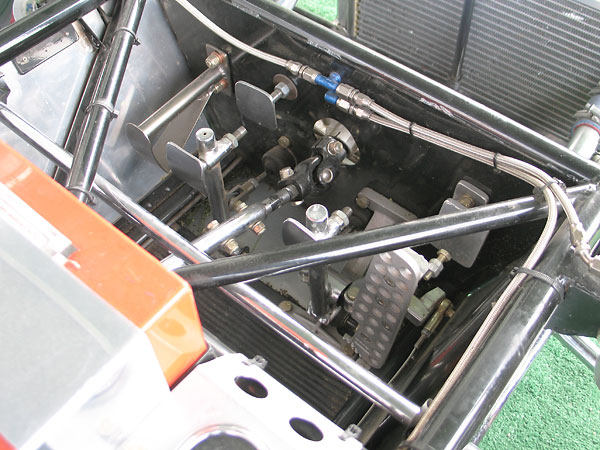 The pedals have been updated. Note the robust cast aluminum brake pedal bracket and the large,
adjustable pedal stops. The OMP cast aluminum throttle pedal is a modern addition too.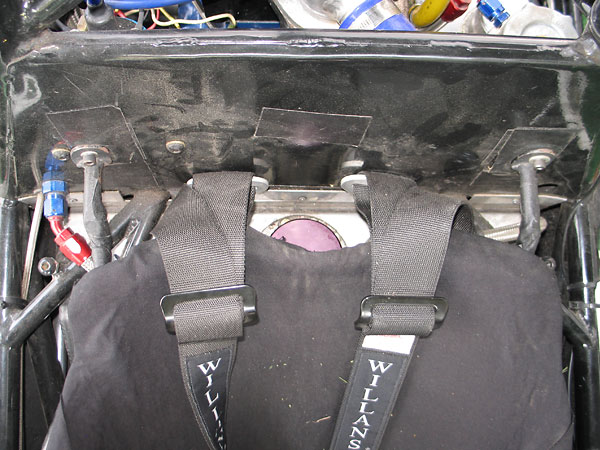 Custom Fuel Safe aluminum fuel cell, mounted under drivers seat.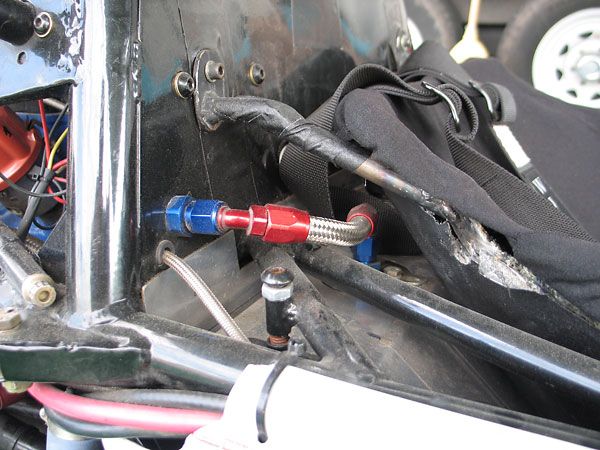 Driver seat brackets to the firewall, and hold-downs that secure the under-seat fuel cell.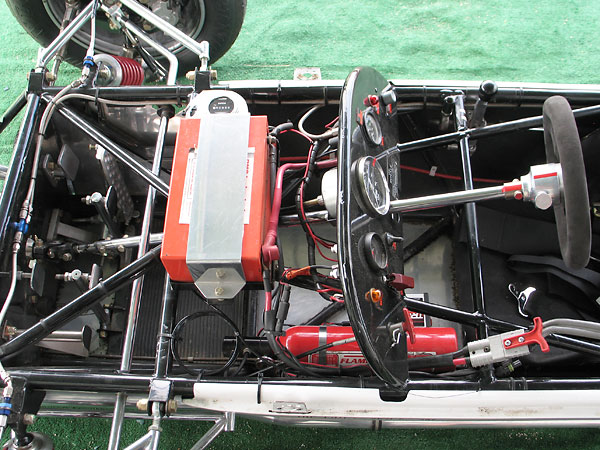 DMS/Varley "Red Top" battery. Note the auxiliary battery connector, opposite the gear selector,
which is used for connecting a battery charger and for quick and easy jump starts.


Exterior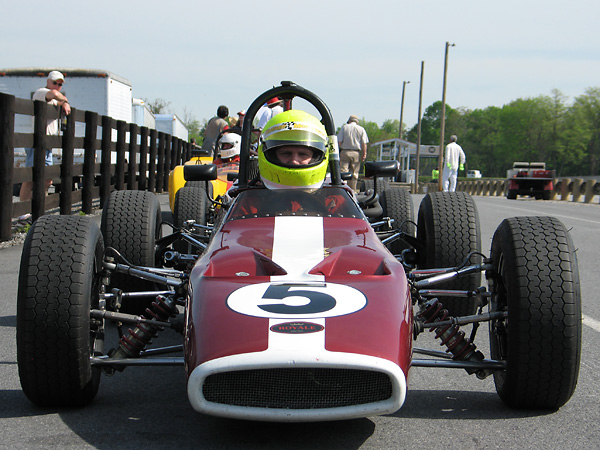 Royale relied on Arch Motors for tubular frames and on Specialised Mouldings for fiberglass bodywork.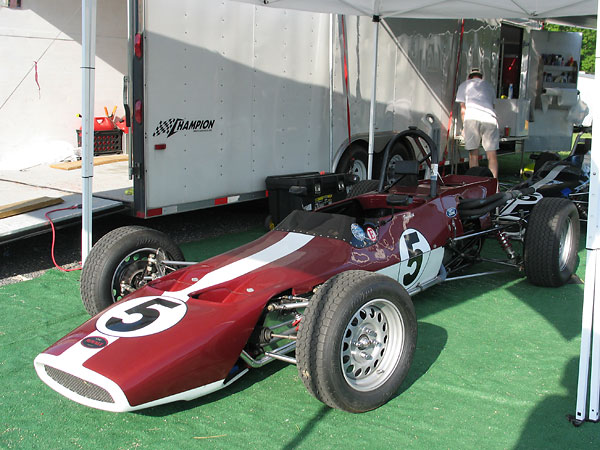 The most apparent differences between the RP2 and RP3 models were updates to bodywork. There were
also minor changes to the suspension, but RP2 owners could update their cars with RP3 parts.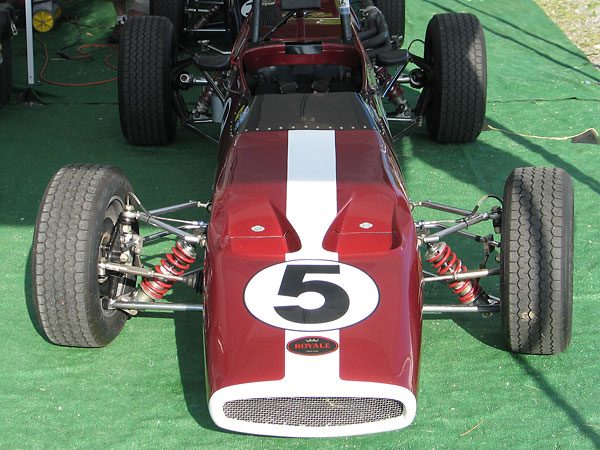 On the Royale RP2, cooling air exited through the openings for the front suspension.
On the RP3 and RP3-A this airflow was ducted upward through "nostrils".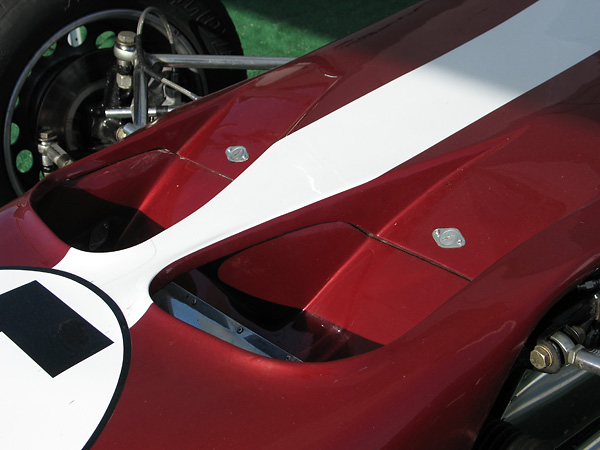 Close-up view of the nostrils that are distinctive of the RP3 & RP3-A models.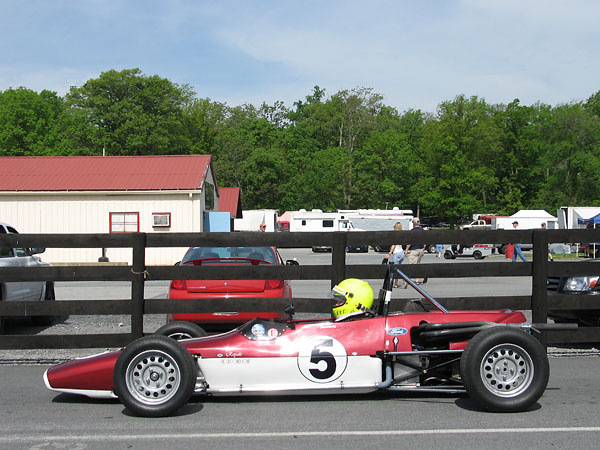 Another bodywork difference was a longer tail section on the RP3 and RP3-A, compared to the RP2.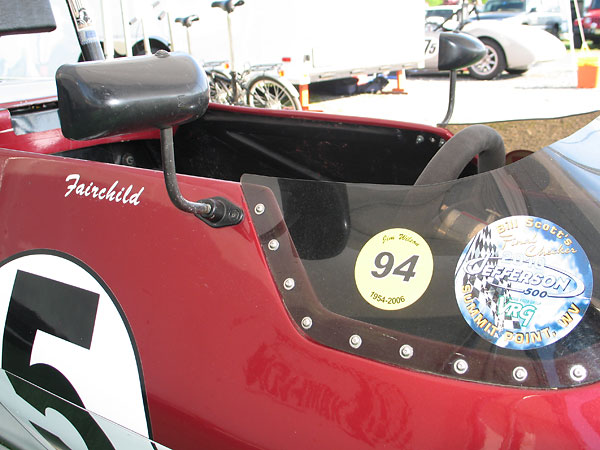 The tagline for this year's Jefferson 500 race weekend at Summit Point Motorsports Park was "Bill Scott's
Final Checker." As we honored the huge role Bill Scott (1938-2009) played in advancing motor racing in
North America, it was fitting that this outstanding Royale racecar on hand. Bill Scott's success and
the success of the Royale company were closely linked, particularly from 1968 through the early 1970's.
(SPA "F1" mirrors with black nylon housings. Scott custom made the extra long mirror mounting arms.)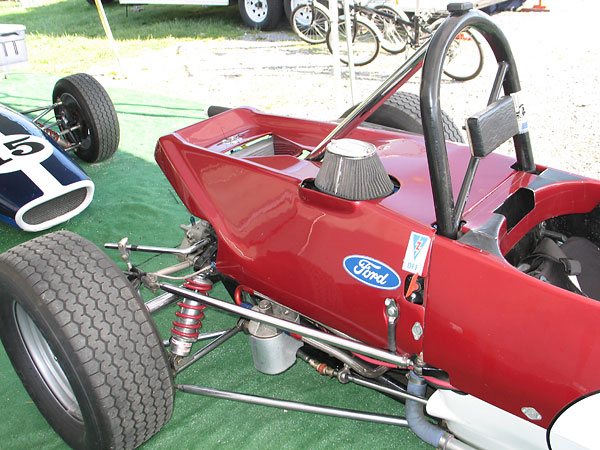 To comply with more rigorous modern safety standards, we often see that rollhoops have been updated.
The original Royale rollhoop design didn't include a headrest, and the hoop was somewhat narrower.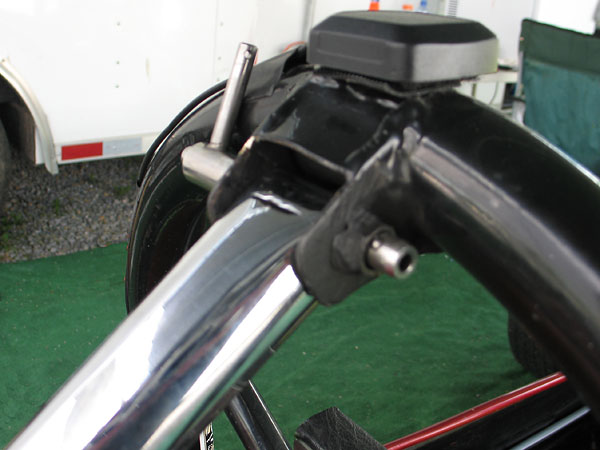 In the original design, the rearward rollhoop brace was smaller diameter and ended in Heim joints.
(This photo shows the antenna for a GPS based data acquisition system.)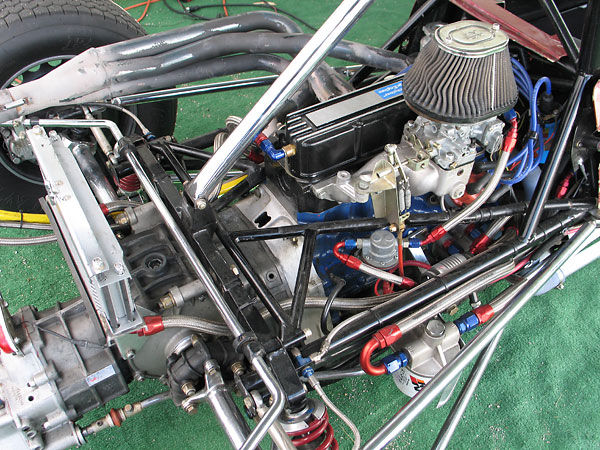 Close-up of the brace's lower attachment. Note also that the Mocal engine oil cooler isn't bolted down
tightly. Experience has shown that for longevity it's important that these oil coolers be "shock-mounted".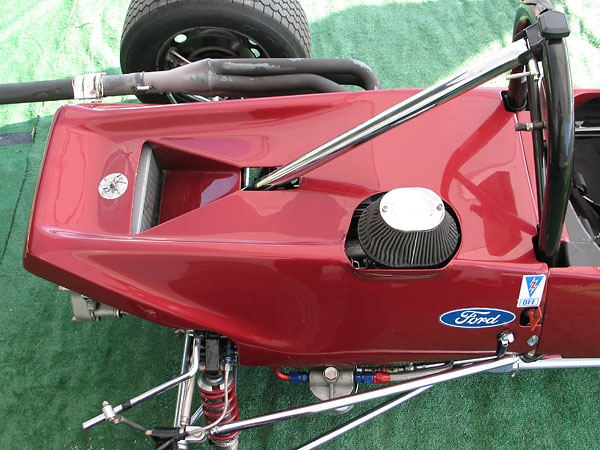 This rear body section has a bigger hole for the air cleaner than Royale originally provided.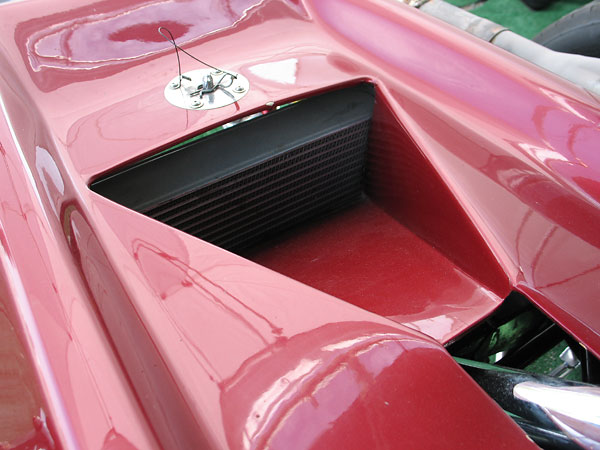 This nicely detailed oil cooler duct is a modification of this particular Royale RP3-A.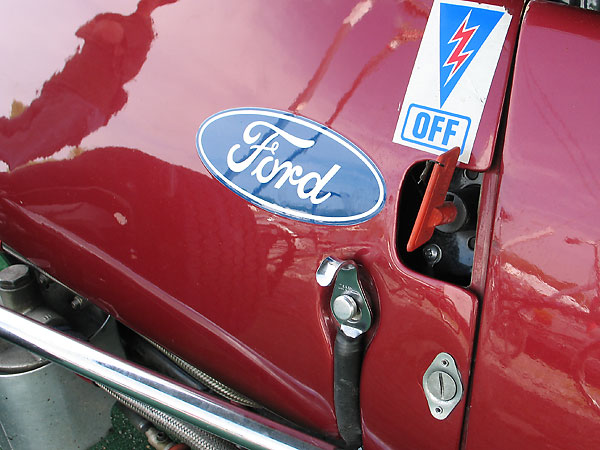 Emergency kill switch (battery disconnect) and also the hold-down clamp for the rear bodywork.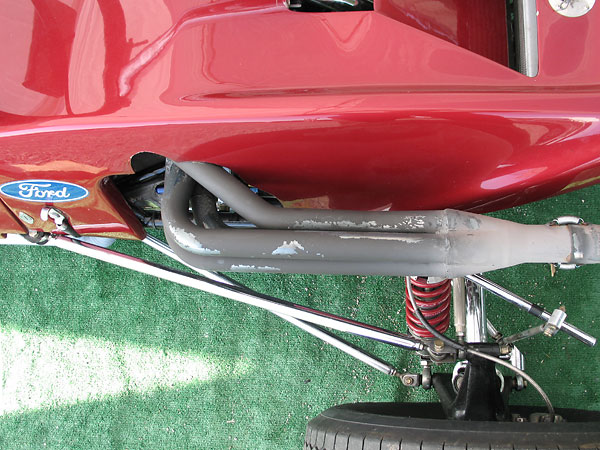 This is a two day old BAT "Crossle-style" exhaust header. Since this photo was taken, the header
has been Jet-Hot (ceramic) coated and it's now much more attractive and also cooler running. The
photo shows how bodywork has been trimmed back slightly to suit the header's installation.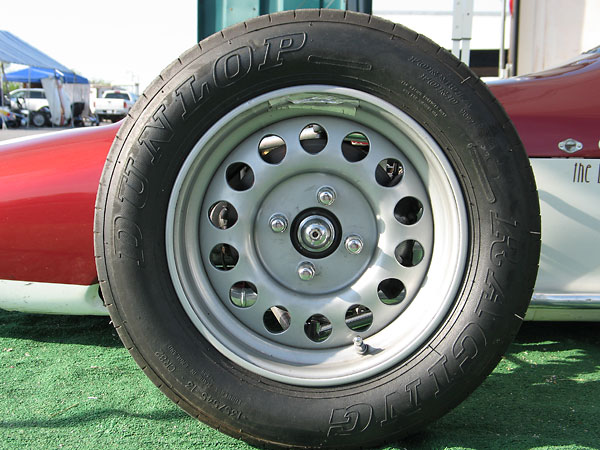 Weller steel disc wheels are popular for Formula Fords because they're relatively lightweight.
(Cast aluminum and magnesium wheels are strictly forbidden by vintage Formula Ford class rules.)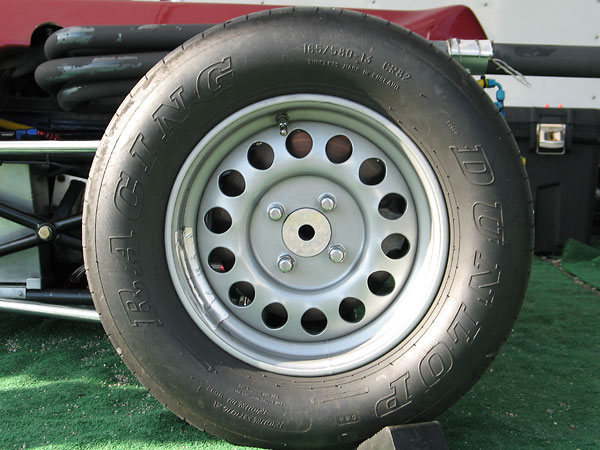 Dunlop Racing "Formula Ford" tires: 135/545-13 CR82 front / 165/580-13 CR82 rear.


Addendum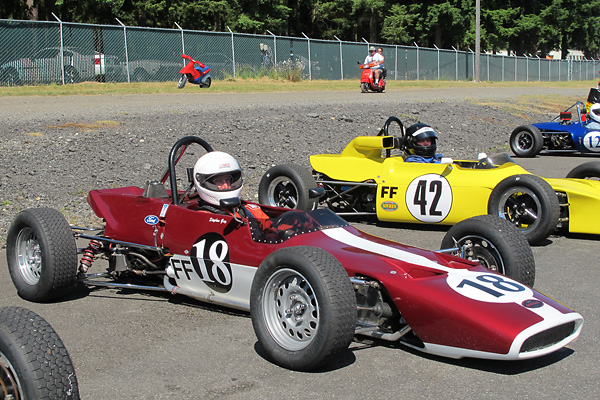 Since this article as originally published, Steve Guy has purchased the Royale RP3A.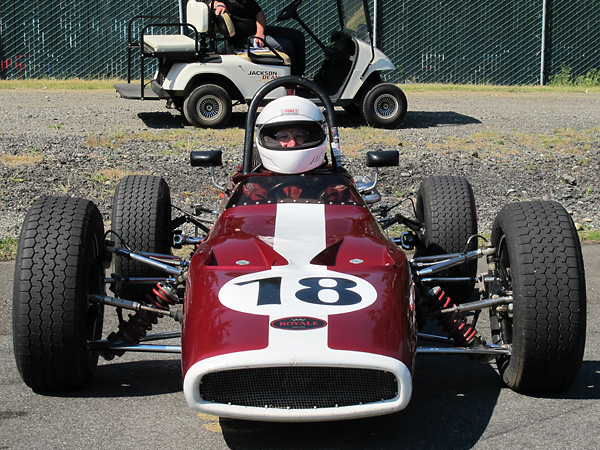 Steve will be campaigning the car in the from his base in Idaho. We enjoyed meeting Steve
and seeing him race at SOVREN's "Pacific Northest Historics" in July 2011.


Notes:
(1)
Later in his distinguished career, Bob Marston briefly rejoined Royale as Technical Director. In 1981 he designed their highly successful Sports 2000 racecars, and also their 1982 and 1983 Formula Ford 1600 and 2000 cars before leaving racing for a second career in the aerospace industry.


Unless otherwise noted, all photos shown here are from April 2010 when we viewed the car at VRG's Jefferson 500 at Summit Point Motorsports Park, West Virginia. Photos by Curtis Jacobson for BritishRaceCar.com, copyright 2010. All rights reserved.



Notice: all the articles and almost all the photos on BritishRacecar.com are by Curtis Jacobson.
(Photos that aren't by Curtis are explicitly credited.) Reproduction without prior written permission is prohibited.
Contact us to purchase images or reproduction permission. Higher resolution images are optionally available.