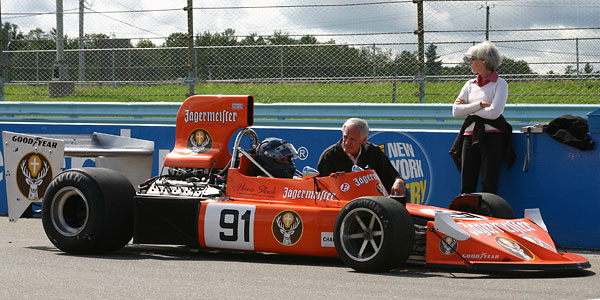 Steve Cook's March 741 (1974 Formula One) Historic Grand Prix Car
by: Curtis Jacobson
Owner: Steve Cook
City: Yountville, California
Chassis: March 741 serial number 1
Engine: Ford Cosworth DFV 3.0L V8
Race prepared by: Steve Cook and Doug Peterson
Background: March Survived a Disastrous 1973 F1 Season
Ronnie Peterson placed second overall in the 1971 Formula One World Championship. Despite being consistently quick, he spent most of his season chasing Jackie Stewart's Tyrrell. In 1971's eleven races, Peterson never managed to qualify quickest or finish first. Hungrier and hungrier for victory, the 1972 season brought Peterson increased frustration and disappointment. In this second season at the March F1 team, Peterson sank to ninth place in championship points. Colin Chapman of the Lotus F1 team came along and offered a contract. In August 1972, March Engineering directors Robin Herd and Max Mosley learned Peterson would be moving on.

March's reaction was to begin courting Chris Amon for a proposed one-car F1 effort. It seemed a contract was certain until late December, but Amon wouldn't be signed without any retainer whatsoever. March F1 Team Manager Pete Kerr explained the fallout of failed negotiations to Autocourse editor Alan Henry: "From that moment on, the F1 team was completely ignored by Max and Robin who were concentrating their efforts on the BMW-supported F2 program."

That's the better known side of the coin. I asked Robin Herd to preview a rough draft of this article and he provided me with a little bit of the back-story: "Max was the F1 race engineer for 1972/73/74 because by contract I had to devote my time to BMW. People laugh at the idea of Max being the F1 engineer, but as ever they do not know. He was better than numerous well known 'professional' race engineers that I could mention."

Nevertheless, development over the winter months seemed unambitious. In April, March publicly displayed their "new" 731 racecar, but anyone who looked very close could discern it was Niki Lauda's 721G (serial number 4) with deformable structure added down the sides to comply with new rules applicable from the first race of the 1973 European season. Forward facing braces supplemented the roll hoop. Narrower front and rear track would make the car faster on straightaways. Denis Jenkinson of Motor Sport magazine reported that two additional March 731 cars were assembled: "both virtually new, but constructed from 1972 parts, either used or unused, depending on whether they originated from the workshop floor, under the bench or from the stores."

Robin explained: "Sadly, March's F1 program was for its eight years always limited in a draconian manner by a congenital inability to get F1 sponsorship. Our main racing was inevitably the European F2 Championship using BMW's money... We should not really have taken part in F1, but that was where I started my motor racing life (at age 25!) as McLaren's first F1 designer, and we all loved F1."

To fill the 731's seat, March F1 looked to their F2 team and specifically to French driver Jean-Pierre Jarier. Jarier would prove to be an excellent driver by delivering March-BMW the 1973 European Formula Two Championship. Unfortunately, he didn't prove anything in F1. Jarier entered ten of fifteen 1973 Formula One World Championship rounds, yet scored just one eleventh-place finish. Henri Pescarolo had better luck. Brought in as a substitute driver for the Spanish Grand Prix, Pescarolo managed an eighth place finish. Another substitute driver, Roger Williamson might have brought March even greater success but his life ended horrifically during the Dutch Grand Prix. A tire failed, a fuel cell ripped open, and fire marshals stood by as flames grew around his overturned car.

Despite all the setbacks, March's 1973 season ended on a hopeful note. Driving for Hesketh Racing, James Hunt used a Harvey Postlethwaite prepared March 721G to dog Ronnie Peterson all the way around Watkins Glen, lap after lap. One of F1's most memorable races came down to just 0.668 seconds. After that, there was no question of March dropping out of F1. With a little development and with the right driver, March could expect better results in 1974.



March's New Model for 1974
Although it featured a new aluminum monocoque tub, March's Formula One chassis for 1974 was really quite similar to its predecessor. In fact, all March F1 cars from the 721G model through the 771 were essentially developments of the 712M chassis with which Ronnie Peterson had won the 1971 European Formula Two Championship. Development was almost entirely driven by the F2 program, and F1 designs were updated to keep current. However, greater fuel load requirements kept some aspects of the F1 cars on a different path.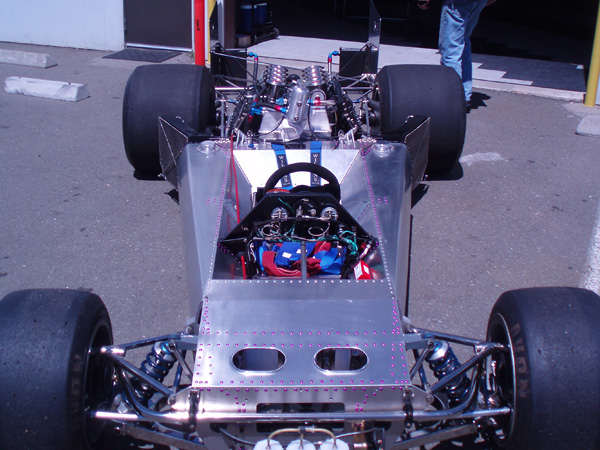 March 741 aluminum tub: wide at the engine bulkhead and tapering inward through the cockpit area.
(Photo by Steve Cook. Used here by exclusive permission.)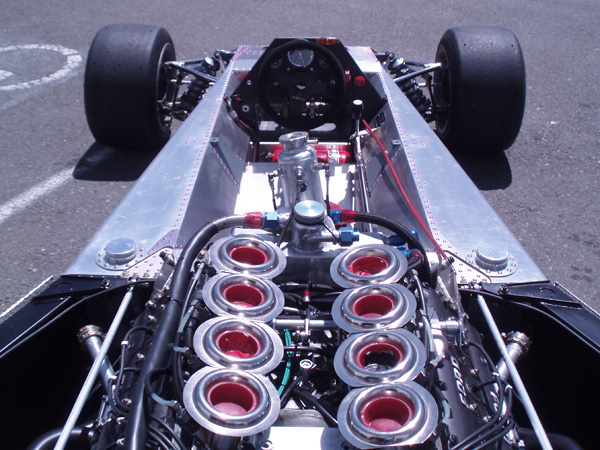 Although you can't see it well in this view, a single sandcast aluminum rear bulkhead carries engine
mounts, roll hoop mounts, shoulder belt attachment points, and both upper and lower trailing
link attachments. (Photo by Steve Cook. Used here by exclusive permission.)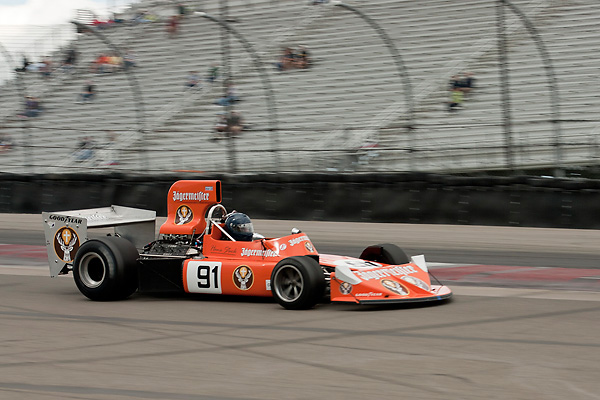 March 741 bodywork evolved from race to race. One constant was the car's full-width unducted
sportscar nose. Dual radiators were mounted forward of the rear tires, without any bodywork
around them. Up above, three very different airbox shapes were tried during the 1974 season.


Eighteen of the twenty constructors whose cars contested the 1974 Formula One Championship built up their cars around Cosworth's mighty DFV V8 engine. (The only exceptions were Ferrari and BRM.) March mated the 741's Cosworth engine to a Hewland FG400 transaxle.¹

March's F1 and F2 cars were designed to be simple, robust, and easily tunable. Wishbones and outboard mounted coilover shock absorbers were employed both front and rear. At the rear, single top links and parallel lower links were paired with twin radius arms to comprise de facto wishbones. Brakes were mounted outboard at the front and inboard at the rear. (More exotic configurations were utilized by higher budget teams. Examples: McLaren's M23 model used a pull-rod front suspension configuration to achieve a rising wheel rate. Lotus' 72 and 76 models used inboard-mounted front brakes to reduce unsprung weight.)

One of the most distinctive features of the 741 was its rear wing, which featured uncommonly large side plates. The wing itself wasn't particularly large: F1 wings through this era were restricted to 1100mm wide. From 1974, rear axle overhang was limited to 1000mm.

With budgets perpetually tight, the ability of respective drivers to attract sponsorship factored heavily on seat assignments. Robin explains: "Howden Ganley was our choice of driver, as Max and I had to pay for it out of our own pocket! And he was a bloody good driver - not universally recognised by the outside world. The lack of detail build time soon showed up, but Howden went well, as expected. After two races, and in no part due to promise shown in those two races, sponsorship and another driver arrived. (It was Howden who introduced me to Bruce when I was working on Concorde at Farnborough, so he started the whole McLaren, March, et cetera, adventure. I guess this is responsible for my mild bias towards him ever since!)"

Italian driver Vittorio Brambilla had persuaded an Italian manufacturer of professional grade handtools named Beta Utensili SPA to extend their sponsorship from F2 to F1. Brambilla retained this sponsorship and his seat on the March F1 team through the 1976 season.

German driver Hans-Joachim Stuck brought digestif formulator Jägermeister in as an F1 sponsor, but just for the German Grand Prix. They had already agreed to sponsor his entire F2 season. Stuck raced without sponsor livery through the balance of the F1 year: he started the 1974 season with plain green paint and ended with plain orange.

March only built two cars for the 1974 season, but due to shunts both cars had to be rebuilt on multiple occasions. By the end of the season, Stuck's March 741 had been rebuilt on new tubs twice and Brambilla's car had been rebuilt on new tubs three times.² At the time, March didn't retire serial numbers nor issue new numbers for extensively rebuilt cars.


March 741 Formula One Championship Series Results (1974-5)
Race
Date
Chassis #741-1 (three different tubs)
Chassis #741-2 (four different tubs)
1
Argentine GP
Jan 13
(1) Hans-Joachim Stuck Q23 Ret (transmission)
(1) Howden Ganley Q19 8 (fuel)
2
Brazilian GP
Jan 27
(1) Hans-Joachim Stuck Q13 Ret (driveshaft)
(1) Howden Ganley Q20 Ret (ignition)
3
S. African GP
Mar 30
(1) Hans-Joachim Stuck Q7 F5
(1) Vittorio Brambilla Q19 F10
4
Spanish GP
Apr 28
(1) Hans-Joachim Stuck Q13 F4 (puncture)
(1) Vittorio Brambilla DNQ (shunt in practice)
5
Belgian GP
May 12
(1) Hans-Joachim Stuck Q10 Ret (clutch)
(2) Vittorio Brambilla Q31 F9
6
Monaco GP
May 26
(1) Hans-Joachim Stuck Q9 Ret (shunt)
(2) Vittorio Brambilla Q15 Ret (shunt)
7
Swedish GP
June 9
(2) Reine Wisell Q16 Ret (suspension)
(2) Vittorio Brambilla Q17 F10 (engine)
8
Dutch GP
June 23
(2) Hans-Joachim Stuck Q22 Ret (shunt)
(2) Vittorio Brambilla Q15 F10
9
French GP
July 7
(2) Stuck DNQ / Brambilla F11
(2) Brambilla Q16 (shunt after qualifying)
10
British GP
July 20
(2) Hans-Joachim Stuck Q9 Ret (shunt)
(3) Vittorio Brambilla Q16 Ret (fuel system)
11
German GP
Aug 4
(3) Hans-Joachim Stuck Q20 F7
(3) Vittorio Brambilla Q23 F13
12
Austrian GP
Aug 18
(3) Hans-Joachim Stuck Q15 F11 (suspension)
(3) Vittorio Brambilla Q20 F6
13
Italian GP
Sept 8
(3) Hans-Joachim Stuck Q18 Ret (chassis)
(3) Vittorio Brambilla Q13 Ret (shunt)
14
Canadian GP
Sept 22
(3) Hans-Joachim Stuck Q23 Ret (fuel system)
(4) Vittorio Brambilla DNQ
15
U.S. GP
Oct 6
(3) Hans-Joachim Stuck DNQ
(4) Vittorio Brambilla Q25 Ret (fuel system)
1974 Season results:
Hans-Joachim Stuck 16th (5 points)
Vittorio Brambilla 18th (1 point)
1
Argentine GP
Jan 12
N.A.
(4) Vittorio Brambilla Q12 9
2
Brazilian GP
Jan 26
N.A.
(4) Vittorio Brambilla Q17 Ret (engine)
3
S. African GP
Mar 1
N.A.
(4) Lella Lombardi Q26 Ret (fuel pressure)
Note: driving for the Hesketh team, James Hunt drove a March in the first two rounds of the 1974 championship season. He retired early at Argentina but finished 9th in the Brazilian Grand Prix. He had previously driven the same car, chassis number 721G/3, in the final seven rounds of the 1973 season. A 721G resembles a 722 from nose to rear bulkhead, but resembles a 721 from engine bulkhead rearward. Six of the twelve March 721s featured this hybrid design.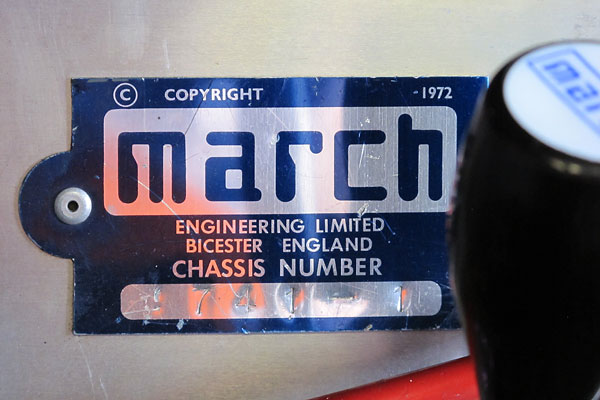 MARCH Engineering Limited, Bicester England - copyright 1972
Chassis Number 741-1


Provenance of Steve Cook's March Racecar (chassis 741-1)
Steve Cook's March 741 is unique: it's the only one with an FIA Heritage Certificate. The provenance of Steve's 741 is very well documented from when March raced it right up to today. Although it has been restored with many new components, it has always cast a shadow as March 741 serial number 1. Furthermore, its Heritage Certificate was signed by Max Mosley himself.

Steve's 741-1 was purchased from March Engineering in 1976 by the baronet Sir Nicholas Frederick Hedworth Williamson for use in RAC hill climb events. He used it to win the 1976 Bouley Bay Hill Climb.

Roy Lane, who had previously won the 1975 and 1976 British Hill Climb Championships with a modified McRae GM1 Formula 5000 racecar helped Williamson arrange the purchase and traveled with him to pick up the car. In November 1976, Lane purchased March 741-1 from Williamson. Lane modified 741-1 and used it in the RAC Hill Climb series through the 1977 and 1978 seasons. (After that, Lane owned and raced March 771 serial number 1.) Before he passed away in 2009, Lane had the opportunity to inspect Steve's car and positively confirm its identity as the one he bought and raced.

In 1979 Lane sold 741-1 to Simon Riley of London who entered it in the 1979 British Sprint Series. Riley achieved one outright victory with 741-1. In August 1981 the car was sold to David Render. Render used it as a back-up car and with it he scored valuable points toward his 1983 British Sprint Series championship victory.

When Steve bought his 741-1, it was in rough shape. The car's original monocoque tub was straight but tired. Steve has had the tub partially rebuilt. The original bulkheads, fabricated steel braces, and outer panels were all left alone. An engine and transaxle were included with the sale, but the engine had been converted to short stroke / big bore configuration for hillclimb events, so it needed to be rebuilt to original specification to comply with vintage racing rules. The original March magnesium uprights were all okay and are still in use. All of the car's original fiberglass bodywork was gone, so new bodywork needed to be fabricated from scratch. A single, front-mounted radiator had been installed instead of the original side-mounted radiators. A March 761 center-post rear wing had been installed.

Steve purchased copies of March's original engineering drawings from the "Marchives" and used them to make replacement front control arms, a new roll hoop, new rear suspension links, an accurate duplicate of the original rear wing, new rear wing mounts with some modifications for safety (see below), various cooling system components, etc.

Steve completed the restoration of his March 741 in 2008.

Since restoration, Steve has entered his March 741 in about four vintage race events per year. In 2012, he decided to travel east to try Lime Rock and Watkins Glen. Steve reports that Lime Rock was immensely enjoyable. The Historic Grand Prix cars had a great race there: "If you were really racing hammer and tongs it would be dangerous, but for a vintage race it was great fun." He also particularly enjoyed Watkins Glen, but for different reasons. His car seemed to be in its natural element: "It's as close to a European track as you're going to find here. You really feel like you're going somewhere." Yeah. In a hurry!



IMPORTANT ANNOUNCEMENT
BritishRaceCar.com will have to cut back plans for continued growth if we can't find more financial support.
If you like what you've found here, and you want to see more, please click here and follow the instructions.
Readers like you keep BritishRaceCar.com online and growing through voluntary financial contributions.


Features and Specifications (as currently presented)
Engine:
Ford Cosworth DFV V8 serial# 233, most recently rebuilt by Phil Reilly in California. (2993cc. 3.373" bore x 2.555" stroke. ~11.0:1 static compression ratio. Rated 480 HP at 10,500 RPM.) New crankshaft. New cylinder liners. New pistons and connecting rods. Rebuilt cylinder heads. New valve guides and seats. New valves, springs, and springs retainers. New camshafts. Lucas mechanical fuel injection. Lucas Capacitor Discharge Ignition System.

Cooling:
dual C&R side-mounted radiators. Dual Setrab 50-625-7612 25-row aluminum oil coolers.

Exhaust:
custom 4-into-1 headers.

Transaxle:
Hewland FG400 5-speed. Salisbury limited slip differential. AP 7.25" twin-plate clutch. CV-jointed halfshafts.

Front Susp.:
dual wishbone front suspension. March magnesium front uprights. Coilover KONI model 8212 double adjustable shock absorbers. Eibach springs. Adjustable (7-position) tubular anti-sway bar. 5/32" toe-out.

Rear Susp.:
single top links, parallel lower links, and twin radius arms. March magnesium rear uprights. Coilover KONI model 8212 double adjustable shock absorbers. Hypercoil springs. Helper springs. Adjustable tubular anti-sway bar. 1/16" toe-in.

Brakes:
(master) dual AP Racing master cylinders with plastic reservoirs. Adjustable bias bar.
(front) Lockheed CP2361 4-pot aluminum calipers and outboard-mounted vented rotors.
(rear) Lockheed CP2361 4-pot aluminum calipers and inboard-mounted vented rotors.

Wheels/Tires:
reproduction March magnesium racing wheels. Avon racing tires (10.0/20.0/13 front by 15.0/26.0/13 rear).

Instruments:
(left to right) Smiths dual oil pressure (0-160psi) and oil temperature (30-120C) gauge, Smiths tachometer (0-12500rpm) with tattletale, and Smiths dual fuel pressure (0-160psi) and water temperature (30-120C) gauge.

Electrical:
Odyssey Extreme Racing 30 AGM battery. Lucas alternator.

Safety Eqmt:
Willans six-point cam-lock safety harness. SPA Design quick release steering wheel hub. ? centralized fire suppression system.

Dimensions:
58" front track. 58" rear track. 98" wheelbase.
1297 pounds (~588kg) with driver and ~5 gallons of fuel. Approximately 36:64 weight distribution.
235# front left, 230# front right, 415# rear left, 417# rear right.


Engine Installation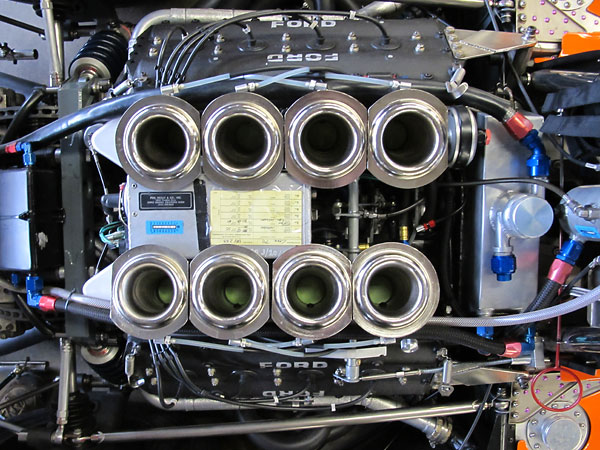 Ford Cosworth DFV V8 serial# 233, most recently rebuilt by Phil Reilly in California.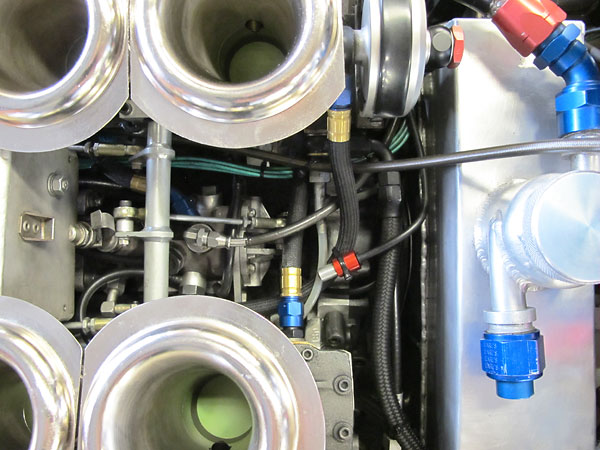 The Cosworth DFV's Lucas fuel metering unit is centered in the vee of the engine. The cylindrical
item at upper right in this view is the second of two fuel filters plumbed in series. Another
fuel filter is mounted beneath the driver's backrest, with the electric fuel pump that's used
exclusively for starting up the engine.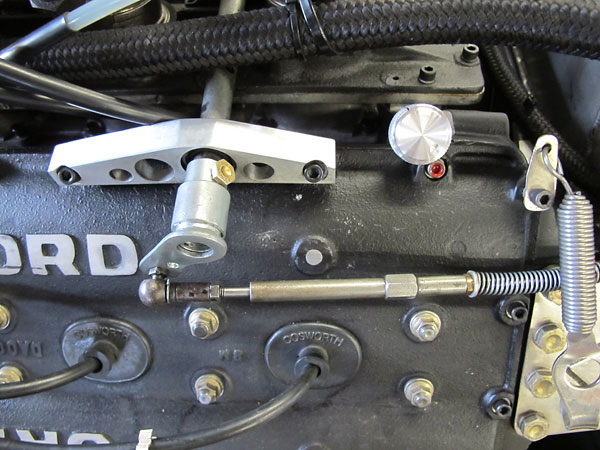 Throttle cable and linkage details. The aluminum knob at upper right is for selecting fuel
mixture. It's connected via rod to the mixture cam of the Lucas fuel injection metering unit.
(The engine doesn't have a choke.) Press the knob and set it all the way to the richest of
five positions until engine oil reachs ~50°C, then turn it to an intermediate position to finish
warming up. When it's turned to its racing position, the engine's idle will be very rough.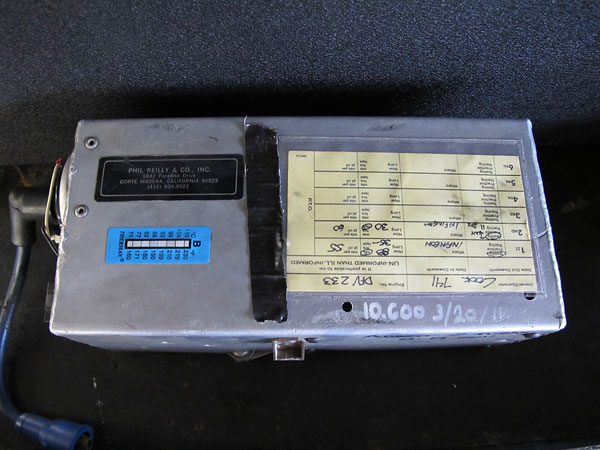 Temporarily removed for inspection: an early Lucas ignition box. (Note fabricated enclosure.)
Black: "Phil Reilly & Co., Inc., 5842 Paradise Drive, Corte Madera, California 94925, (415) 924-9022"
Blue: Thermax irreversible temperature indicator sticker. Beige: engine service note card.
White: "10,600 / 3/20/2011" appears next to the rev-limiter adjustment set screw.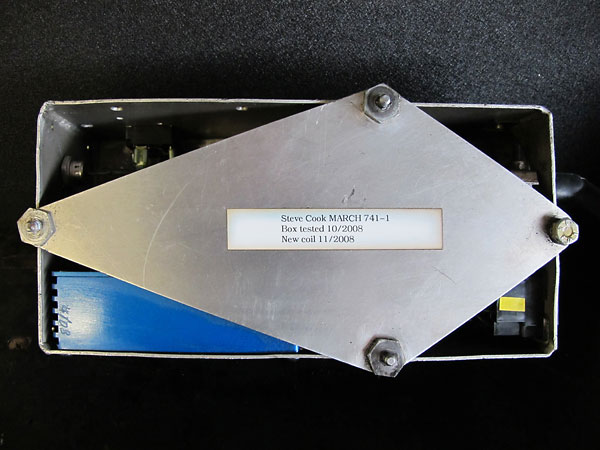 Steve Cook MARCH 741-1 - Box tested 10/2008 / New coil 11/2008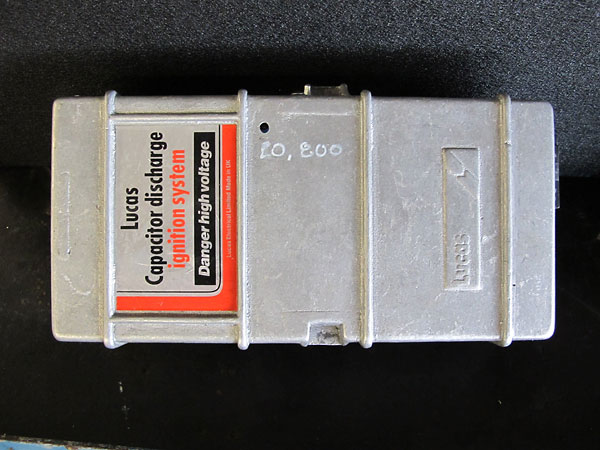 Steve carries this later model Lucas ignition box as a spare. (Note cast enclosure.)
Decal: "Lucas Capacitor Discharge Ignition System
Danger High Voltage - Lucas Electrical Limited, Made in UK"
White: "10,800" appears next to the rev-limiter adjustment set screw.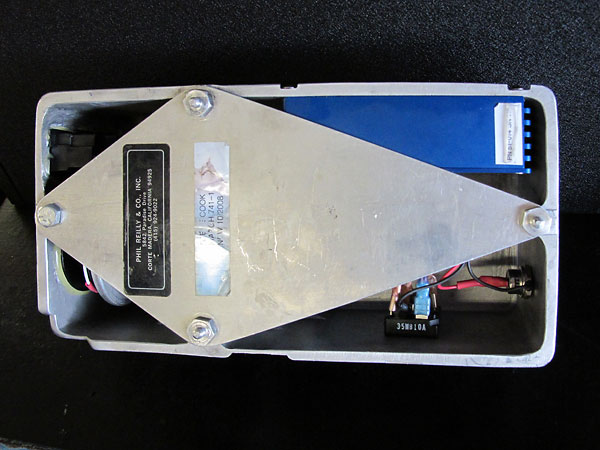 Cosworth DFV engines have a small dynamo mounted between their fuel metering unit and their
distributor. A Zener diode inside the ignition box (lower righthand corner of this photo) is used
as a voltage regulator. Note: blue anodized electronic spark box (at upper right) is a modern
component which enhances reliability. Most Historic Grand Prix cars are similarly equipped.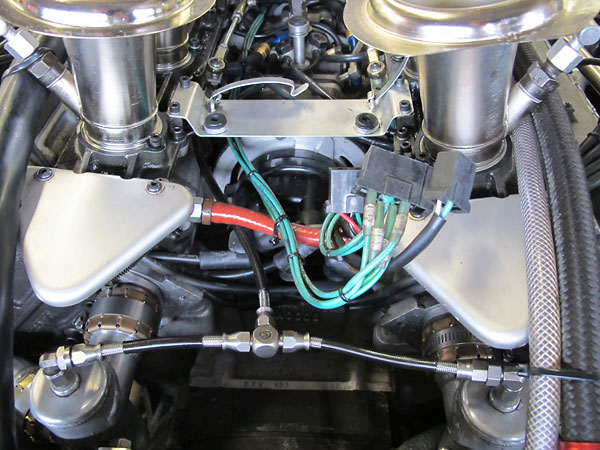 Green braided wire insulation is an authentic detail.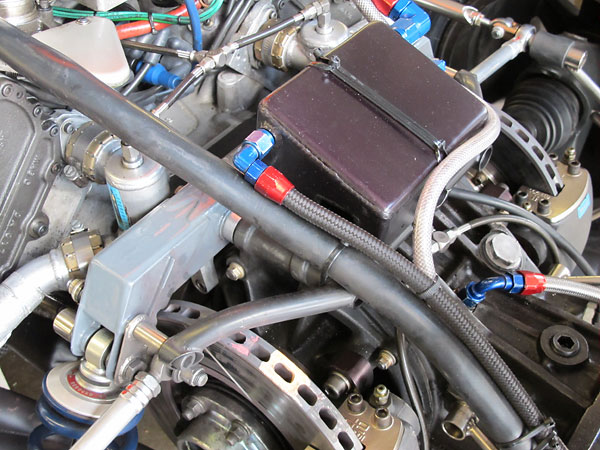 An aluminum catch tank was fabricated to match old photos of later year catch tanks.
During the 1974 season, catch tanks weren't required. A combination of heat and
age have turned its anodized surface from jet black to a deep purple color.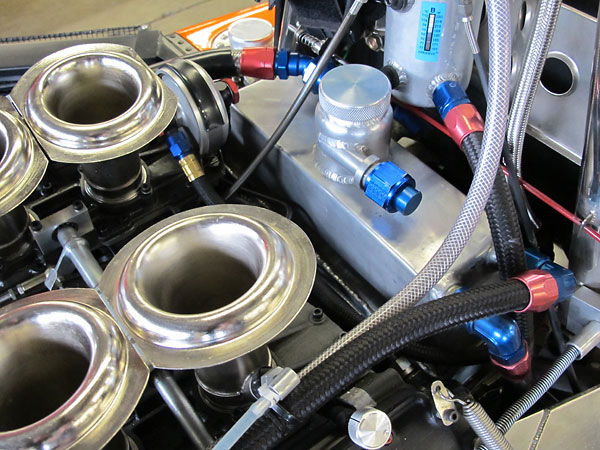 The is the original March engine oil reservoir with built-in swirl pot. (It's actually
larger and more elaborately shaped than you might think from this photo.)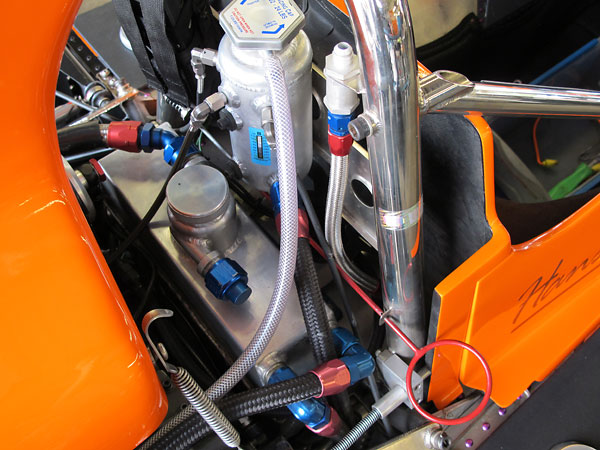 This large red pull-ring mechanically engages two ordinary toggle switches. Per article 298(b):
"Provision for a clearly indicated external emergency handle which can be actuated easily by
the circuit rescue personnel even at a distance with a hook. This emergency handle shall
simultaneously initiate the fire extinguisher, cut off the engine and isolate the battery..."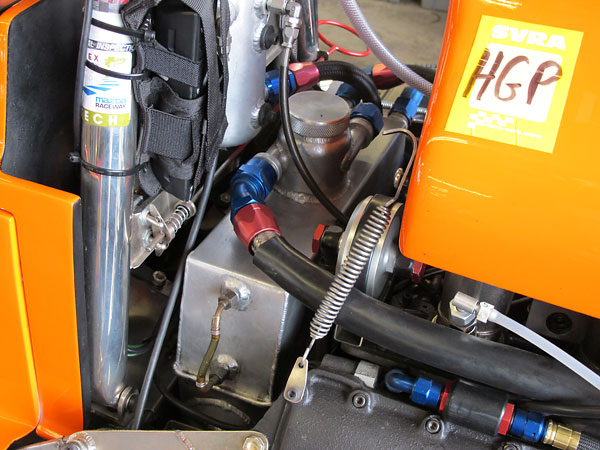 Left: the two toggle switches (see above). Note: the clear tubing on the oil tank
at right is used to gauge volume in the integral catch reservoir.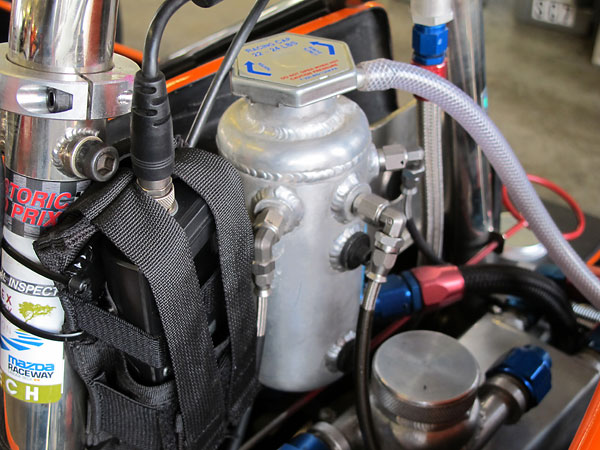 Coolant header tank.



The large, rectangular K&N oiled gauze air filter is a modern addition.
Note also the two small holes through which excess air blows down onto the
Lucas Capacitor Discharge Ignition box when the airbox is pressurized.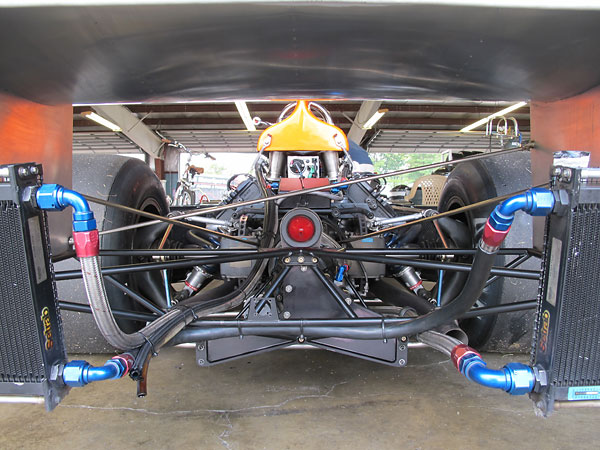 Authentic hose routings.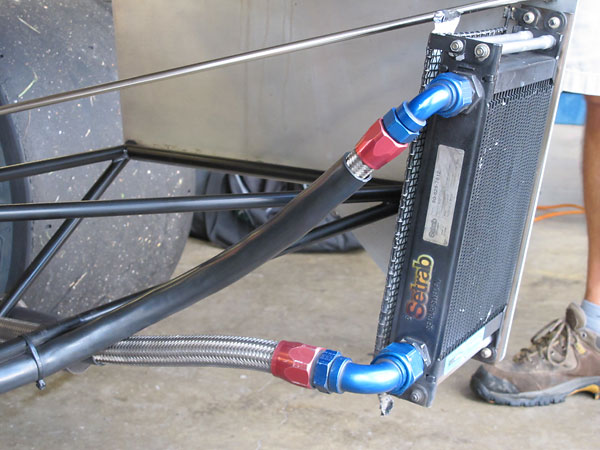 One of the two Setrab 50-625-7612 25-row aluminum oil coolers.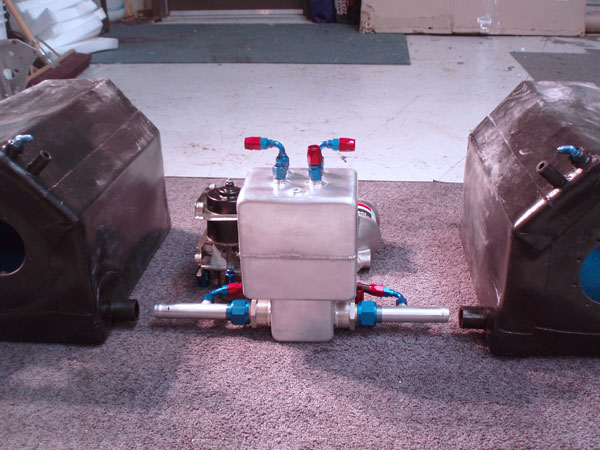 The 741's sidepods served two functions: they house dual fuel cells (~22 gallons each)
and they provide side-impact protection to the extent required by 1974 era FIA rules.
(Photo by Steve Cook. Used here by exclusive permission.)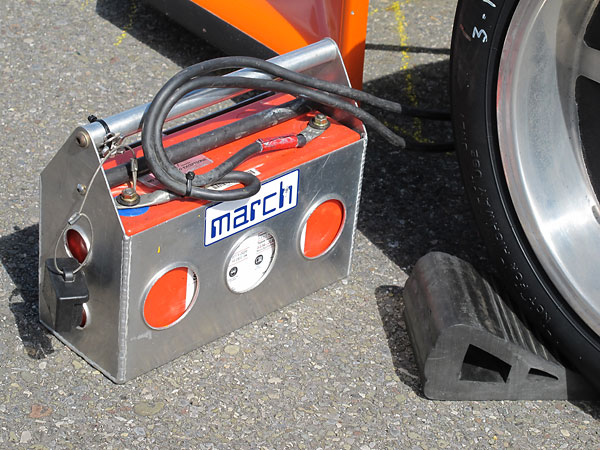 Jump start battery. Incidentally, the F1 cars of this era all had electric starters. Air
starters came along later, when constructors were making room for ground effects tunnels.


Front Suspension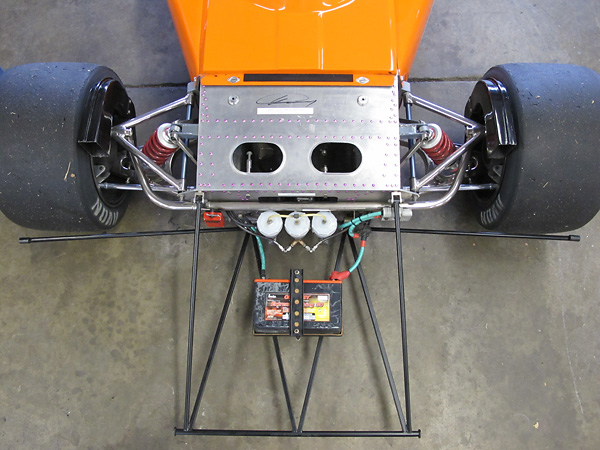 The March 741 front suspension shares basic layout and key components including
cast magnesium uprights with March's Formula Two racecars of its era.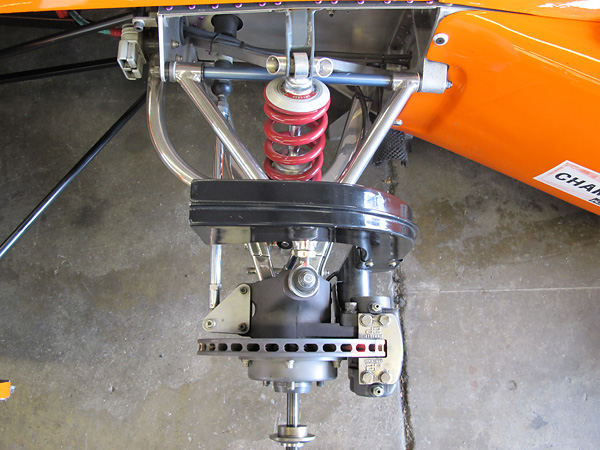 At right, one of the monocoque tub's three sandcast aluminum bulkheads. Two small mirror-image
bulkheads are here at the front, and there's one very large and elaborate bulkhead at the rear.
None of these bulkheads were replaced when the tub was re-skinned by Marc Bahner Engineering.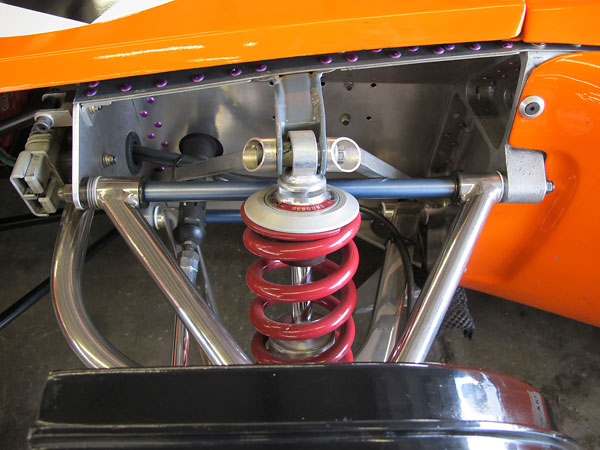 These square section braces for the front shock absorber mounts are believed to have originated
during 741-1's hillclimb carrier. They've recently been replaced with correct round-tube versions.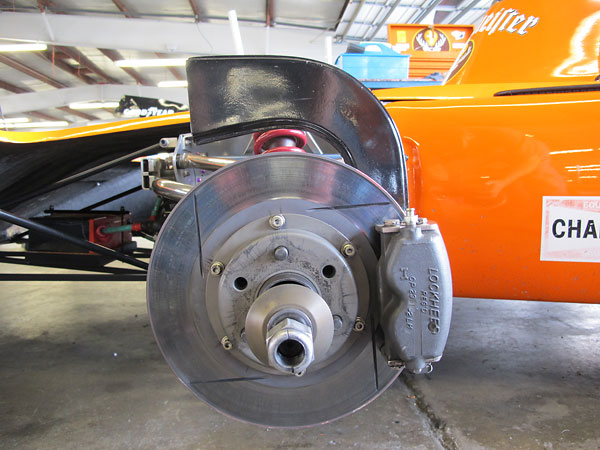 Outboard-mounted brakes simplify service at the expense of unsprung weight. With increased
unsprung weight, racers typically have to set-up the suspension stiffer than they'd prefer.
Some of the heat generated at the brakes transfers through the wheels and into the tires.
During the season March and some of their rivals suffered from excessive front tire
degradation and blistering. Outboard brakes may have been a contributing factor.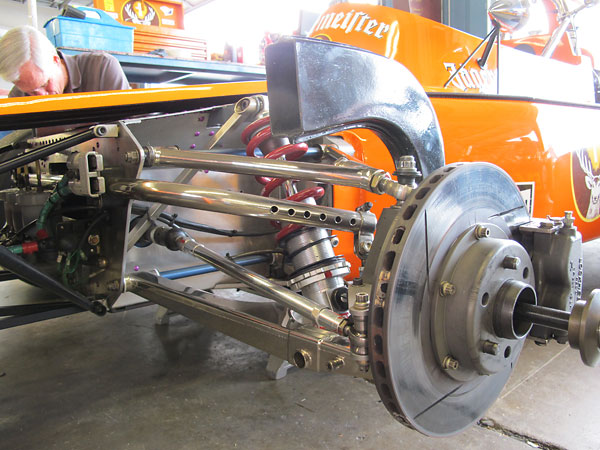 Per March's original engineering drawings, 741-1's new control arms and other suspension
components were mainly fabricated from Chrome Moly alloy steel and then nickel plated.
Lower front control arms were especially difficult and time consuming to make.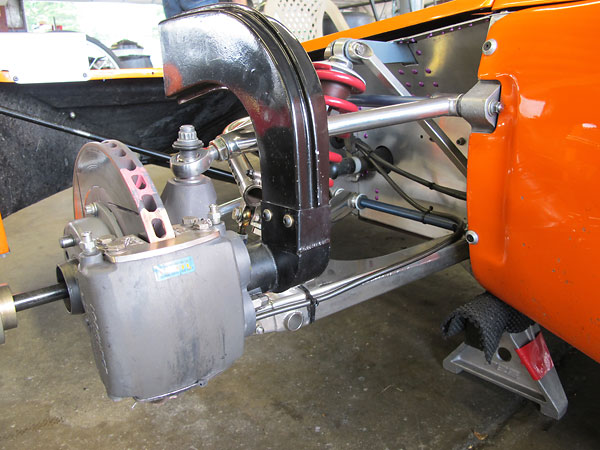 These front brake ducts are March's 1975-1977 style. (Since this photo was taken, they've
been replaced with the correct 1974 style.) They aren't particularly efficient, but they
certainly help. Steve built molds and then laid them up himself.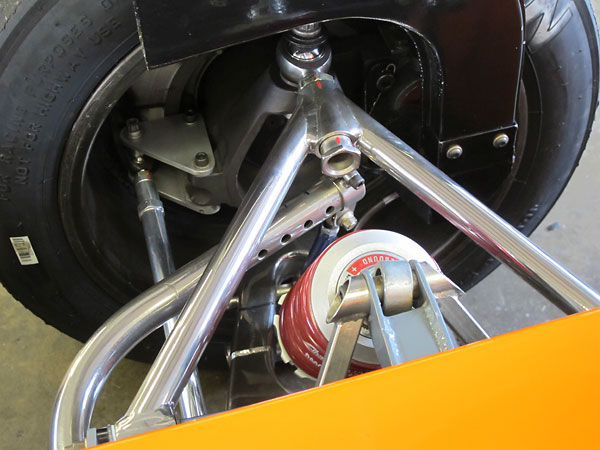 March 741-1 had serviceable cast magnesium front and rear uprights when Steve bought it.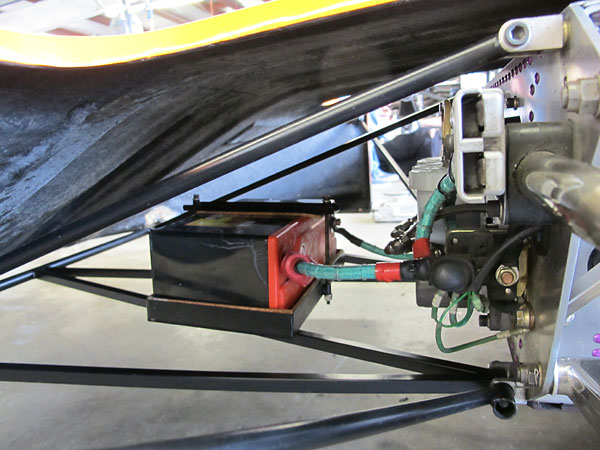 Odyssey Extreme Racing 30 absorbed glass mat battery.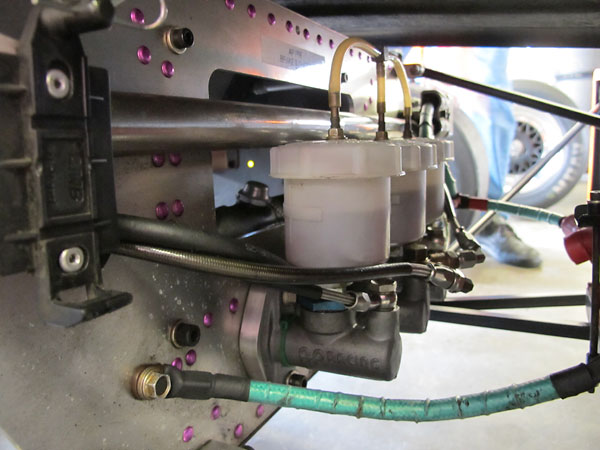 AP Racing master cylinders with plastic reservoirs. Label reads: "AP PRF Brake and Clutch".
AP PRF 600 fluid has a dry boiling point of 608 degrees. Green braided insulation on
battery cables and other wiring elsewhere on the car is an authentic detail.


Enjoying this article? www.BritishRaceCar.com is partially funded through generous support from readers like you!
To contribute to our operating budget, please click here and follow the instructions.
(Suggested contribution is twenty bucks per year. Feel free to give more!)
Rear Suspension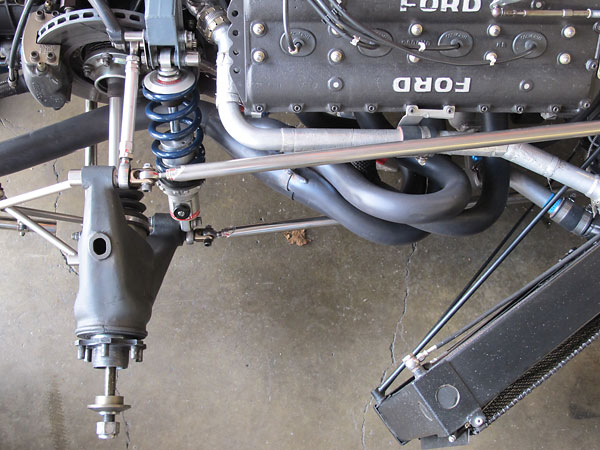 KONI model 8212 double adjustable shock absorbers are period correct.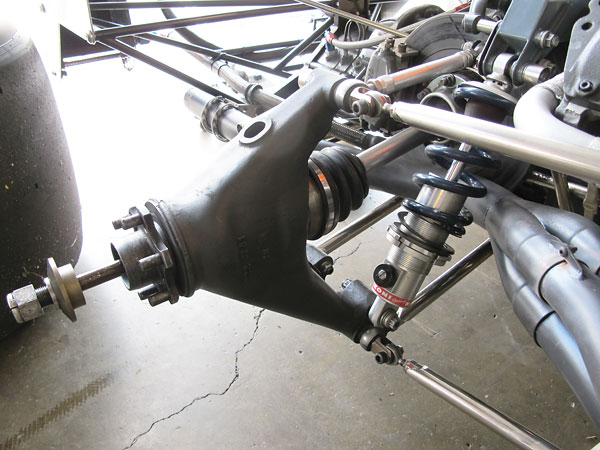 Steve and Doug have tried a wide variety of spring rates.
The suspension seems to work best with fairly soft springs.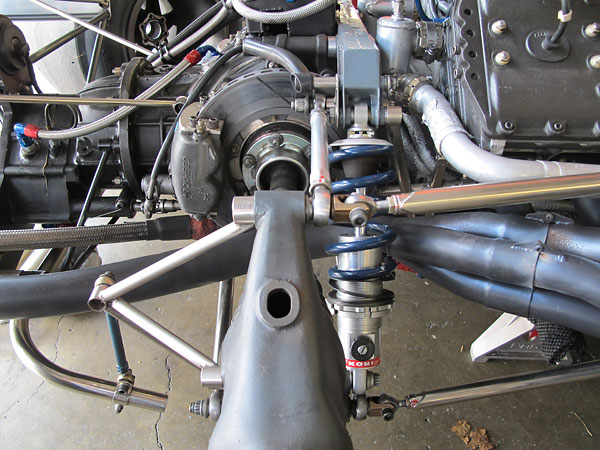 Helper springs help the main coils stay engaged with the spring perchs in droop. Easily
compressed, they have no effect on wheel rate over the suspension's working range.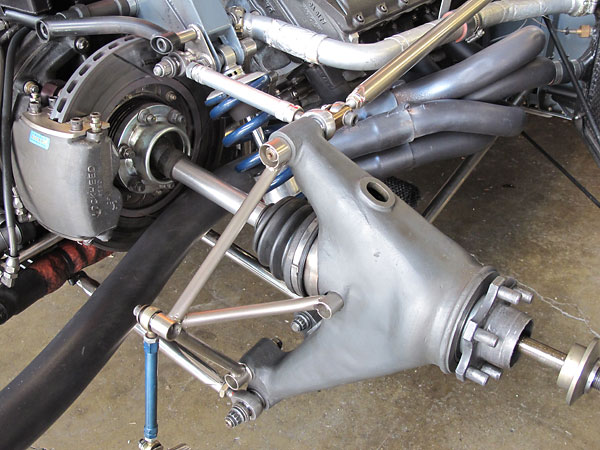 These exhaust headers came with the car when Steve purchased it.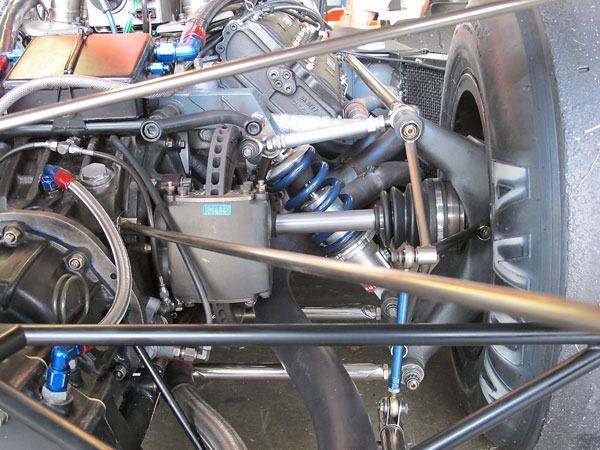 Generally, Steve likes to run relatively soft anti-sway bar settings for a lot of feel.
They have front and rear bars with various wall thicknesses, and both front and rear
bars are adjustable on the car too.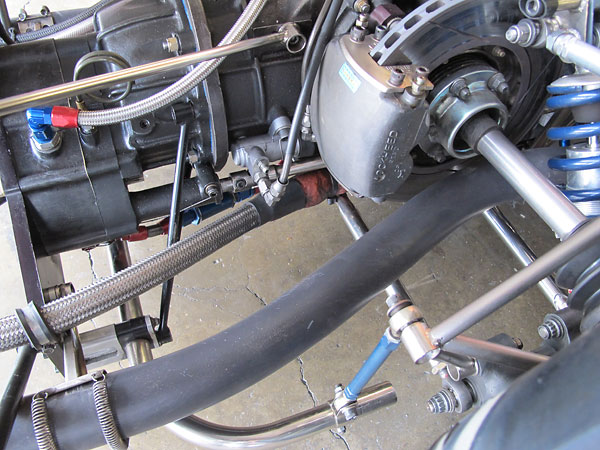 Lockheed CP2361 4-pot aluminum calipers and inboard-mounted vented rotors.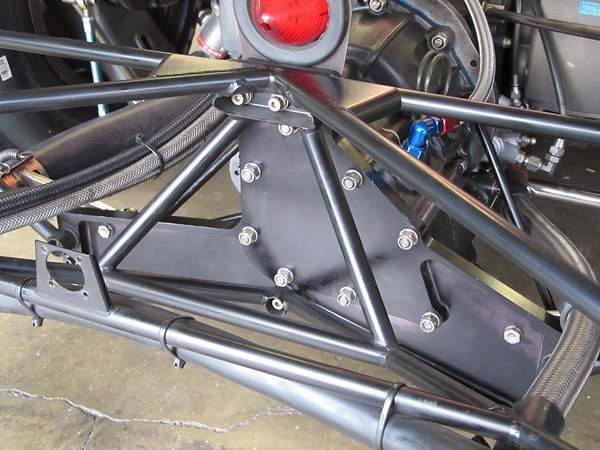 The rear wing mounting is based on March's original engineering drawings, but
with two modifications for extra safety. Where you see three bolts immediately
below the rain light there was originally only one. Two nickel-plated diagonal
support rods to the sides of the transaxle have been added.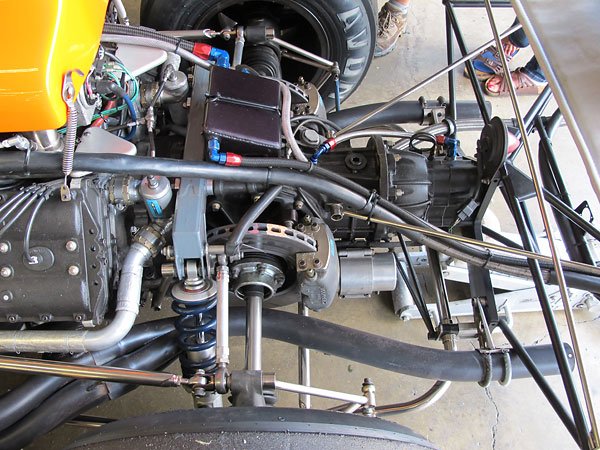 Notice that the brake rotors have been striped with temperature indicating paint:
green, orange, and red stripes turn white at ~750°F, ~1000°F, and ~1250°F respectively.


Interior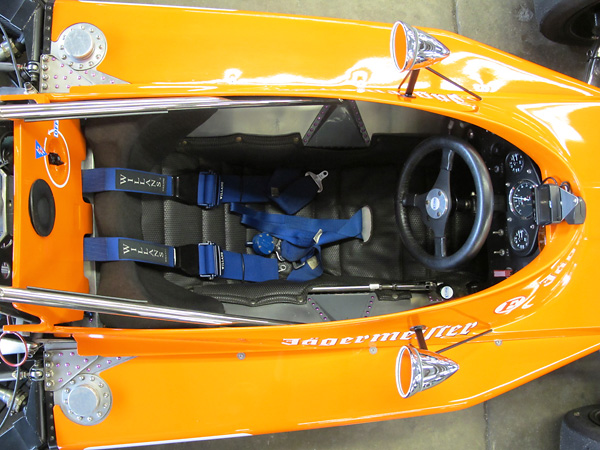 Willans six-point cam-lock safety harness.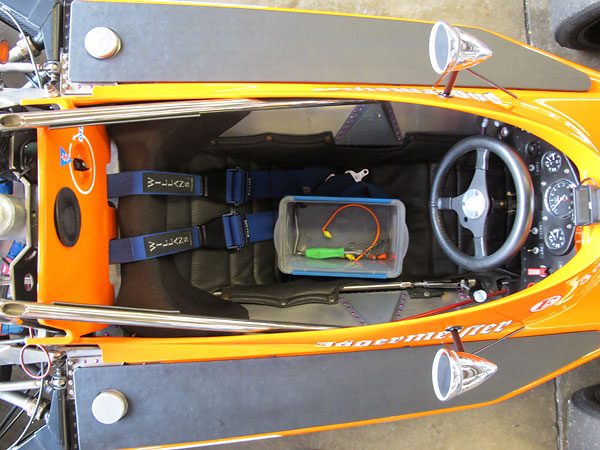 Foam rubber pads protect mechanic elbows and side-pod paint during routine service. Note also
the shallow rectangular recess in the fiberglass panel between shoulder harness straps. That's
where Specialised Mouldings originally put their sticker. Through the 60s and 70s, Specialised
Mouldings was the principal British fabricator of fiberglass racecar bodywork.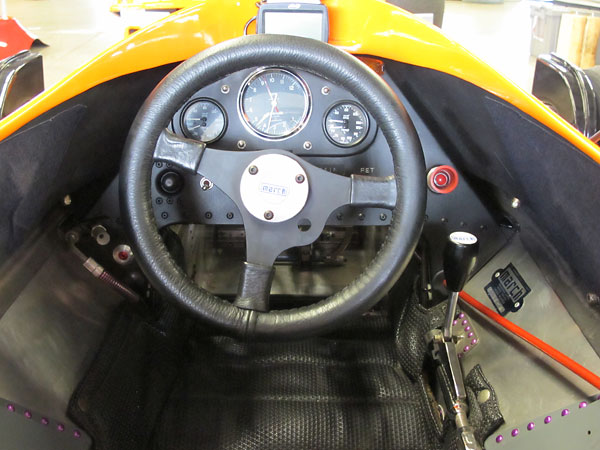 March 741 cockpit.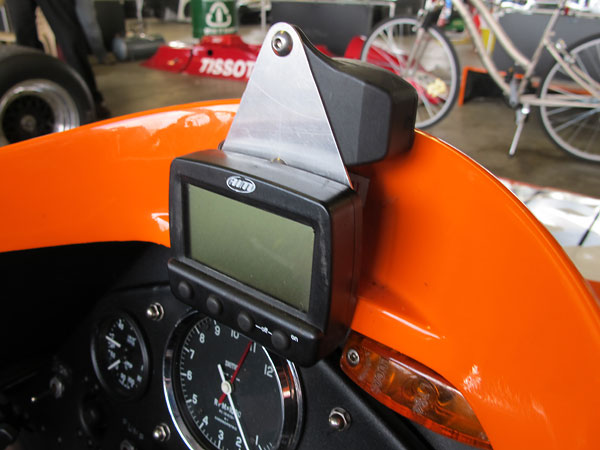 AiM Sports LLC's MyChron Light TG lap timer.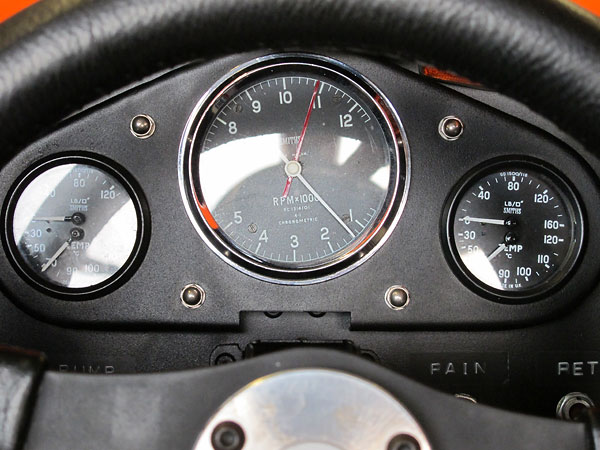 Smiths dual oil pressure (0-160psi) and oil temperature (30-120C) gauge, tachometer (0-12500rpm)
with tattletale, and dual fuel pressure (0-160psi) and water temperature (30-120C) gauge.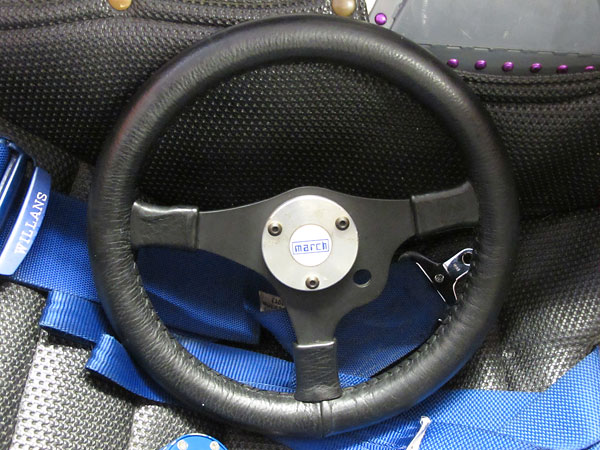 Steering wheel.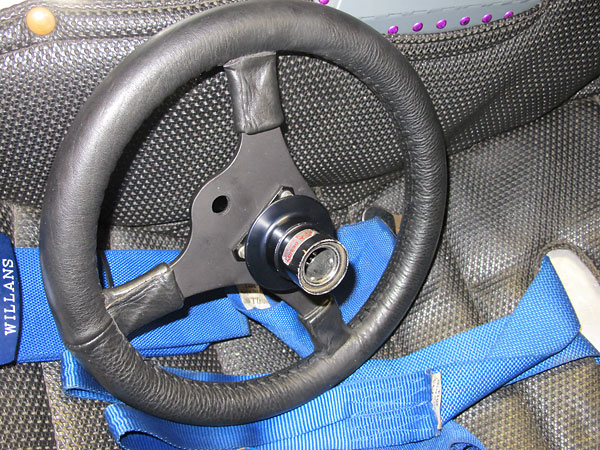 SPA Design quick release steering wheel hub.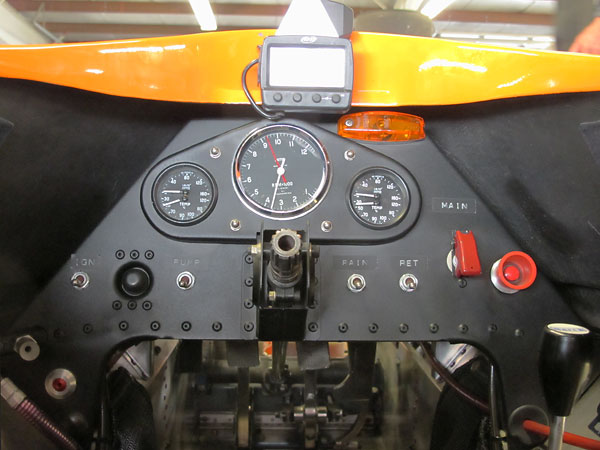 Dashboard switches (left to right): ignition, starter, fuel pump, rain light, retard, main, and fire.
The retard switch shifts ignition timing for engine start-up. (The distributor has no advance mechanism.)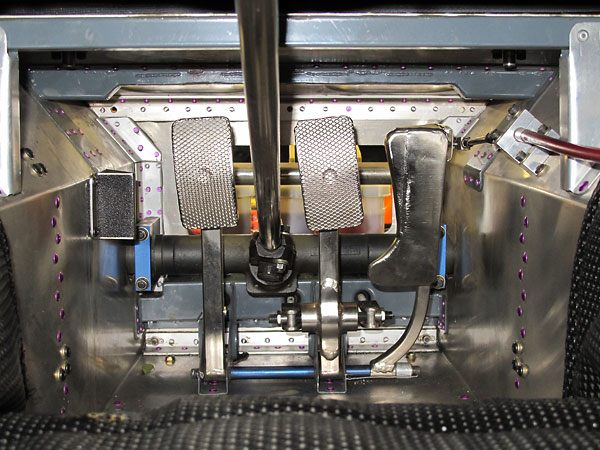 The pedal box and pedals are all original.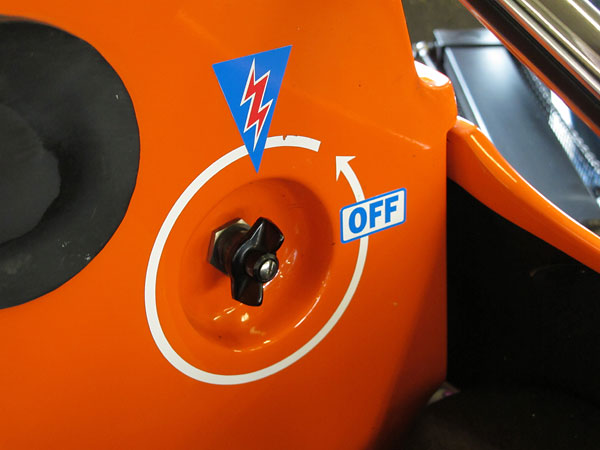 Per article 297(f): "...the fitting of a general electric circuit-breaker, clearly indicated, is mandatory
for all cars taking part in speed races. For Formula cars, the circuit-breaker must be indicated
by a blue triangle with a spark and be easy to reach from inside as well as from outside the car."


Exterior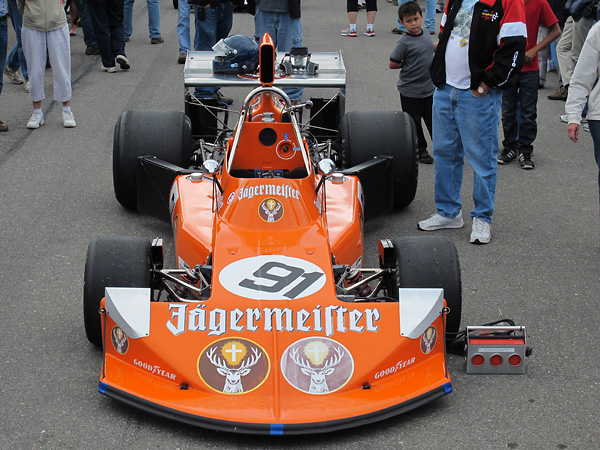 For the first races in 1974, March 741-1 was dark green with only small sponsor decals for
Goodyear, Champion, and Valvoline. Through mid-season it was dark green with orange side
pods and airbox. At the Swedish G.P., 741-1 wore Levi's Jeans and Västkust-Stugan logos.
Jägermeister livery only appeared on 741-1 for the German G.P., which was round 11 of the
the 15 round Championship Series schedule. After that, 741-1 was orange from stem to stern
with "MARCH" printed in large letters across its sports car style nose.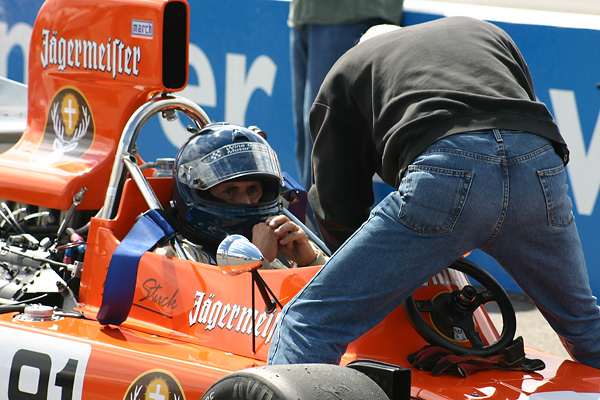 The shape of the side pods obscures the actual shape of the monocoque tub.
Without the body, in plan view, the tub looks like a big arrow head.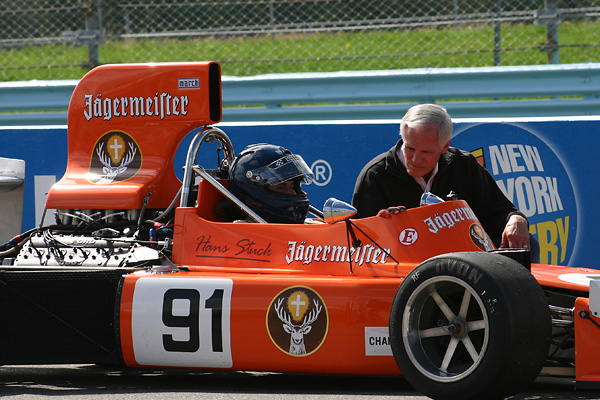 Steve's March 741 body panels were all made in U.S.A, but they were made to the authentic
shape by applying correct processes and materials (i.e. E-glass and polyester resin).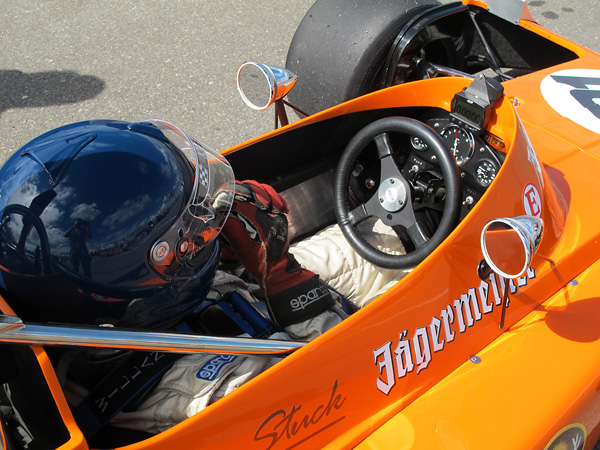 From 1973, Formula One rules required deformable structure to absorb side impacts.
Like its rivals, the March 741 used two-pack foam... For the restoration, Steve and
Doug substituted aluminum honeycomb panels. March installed large fuel cells
(~22 gallons each) on both sides. Since it's only used for sprint races now,
Steve installed one small fuel cell on the lefthand side.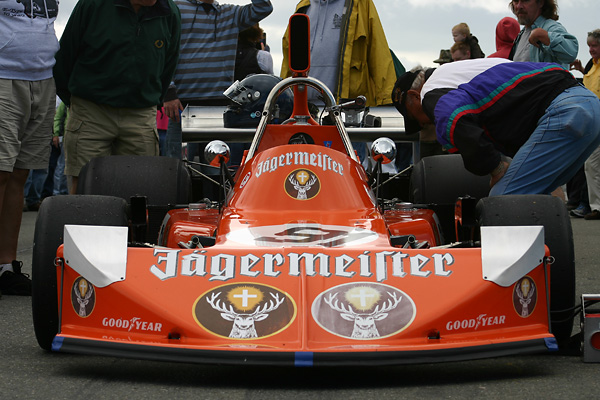 March sourced fiberglass bodywork from Specialised Mouldings in Huntingdon, Cambridgeshire.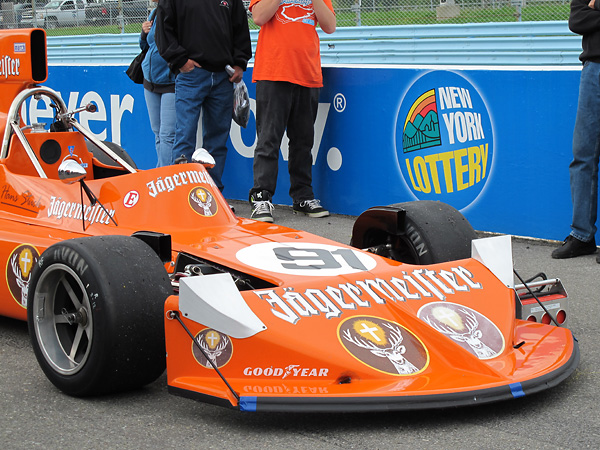 At their debut, March 741 racecars had a flat fiberglass panel up to the peak of the roll hoop.
Opening that area up fixed a big problem. Howden Ganley has commented that once excessive
wind buffeting was cured early on, his March 741 was a very pleasant racecar to drive.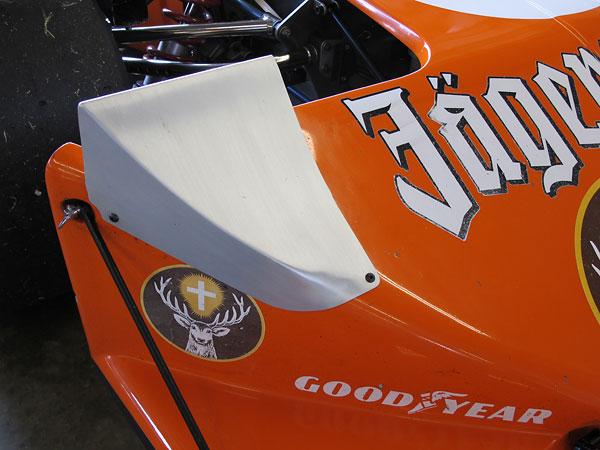 Fixed-height aluminum extensions on the nose act as fairings for the front tires.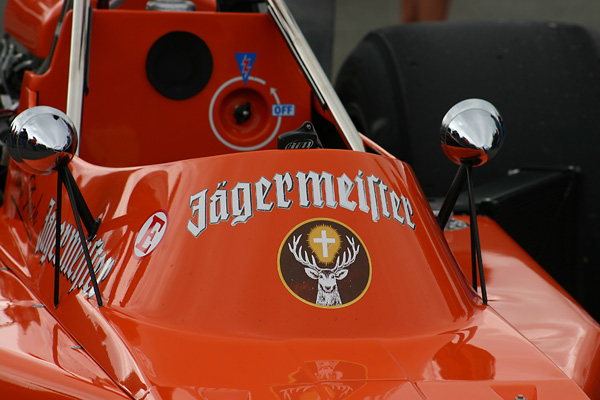 March originally mounted the 741's mirrors on pedestals which extended down to the
monocoque tub. Steve and Doug found them very inconvenient to work around while
servicing the car. They created these tripod mounts to the fiberglass cowl.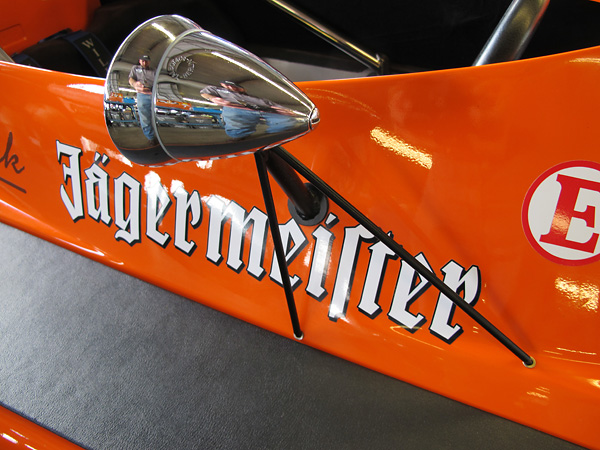 Talbot & Company, Berlin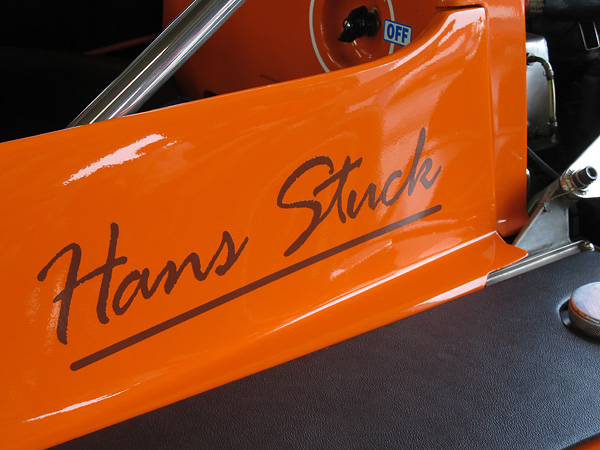 "Hans Stuck" - March promoted Hans-Joachim Stuck to a Formula One seat after Jean-Pierre
Jarier decided to move on. Hans junior (whose father won four Grand Prix races while driving
Auto Union racecars in the pre-war years) started his racing career in BMW 2002s. Driving
for the Alpina team, he won the 1971 Nürburgring 24-hour race at age 18. Stuck shared a
Ford Capri with Jochen Mass in the 1972 Spa 24-hours, then paired with Chris Amon in
1973 to contest the European Touring Car Championship and win the Nürburgring 6-hours.
Stuck was entered in five Formula Two races by the March-BMW team in 1973.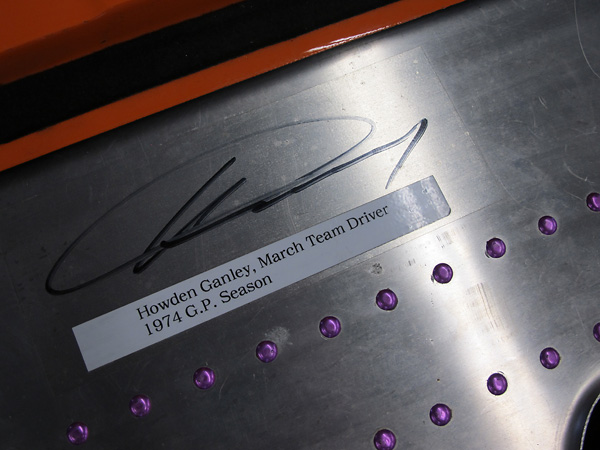 "Howden Ganley, March Team Driver, 1974 G.P. Season" - March was excited to recruit this veteran
driver for 1974, but he left after just three races due to financial reasons. Best result: 6th at the
non-championship G.P. of Brasilia on February 3rd. Later in 1974, Ganley drove for Japan's Maki
works F1 team, but was unable to qualify their car at the British G.P. and was badly injured in
practice for the German G.P. The ill-fated Maki Formula One car only finished one race, ever.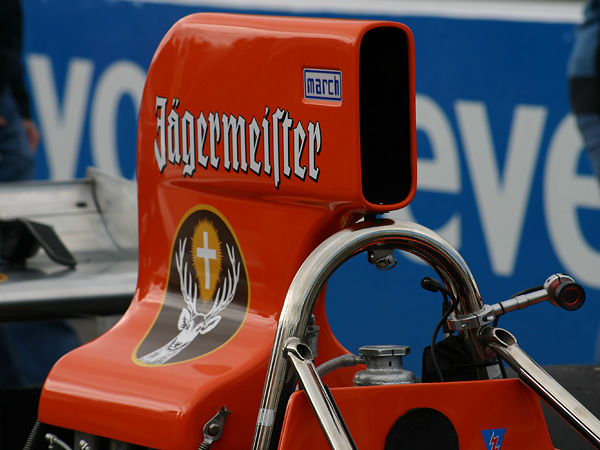 March used three distinct airbox designs in 1974; this is the final one. The first was
anvil shaped with an oval opening. The second was huge, tall, and boxy.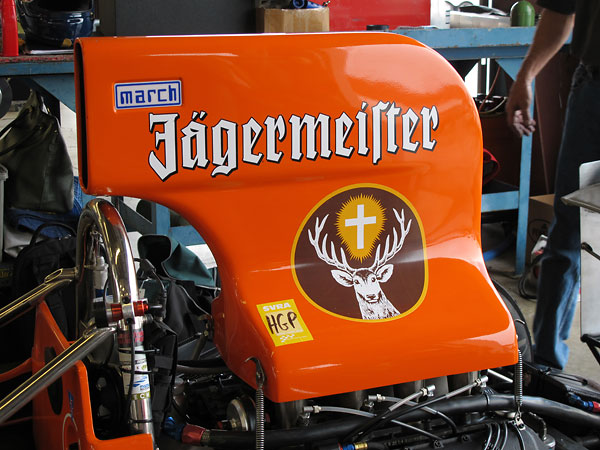 Jägermeister is a sweet and complex digestif with herbs, fruits, roots and spices. The recipe
includes anise, citrus peel, ginger, ginseng, licorice, poppy seeds, saffron, and juniper berries.
In German, jägermeister means "gamekeeper".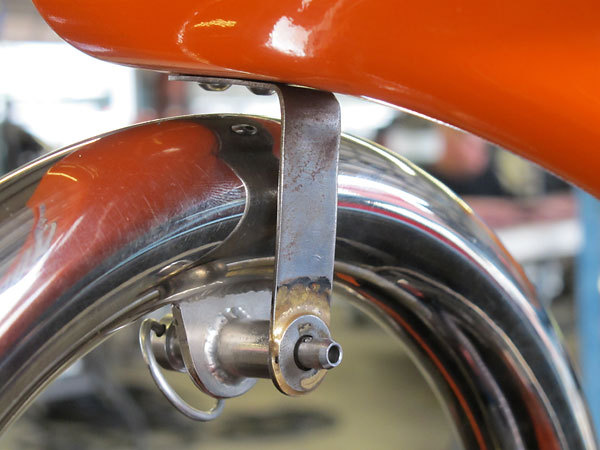 The airbox is held on by one pip pin at the front plus four spring-loaded clamps.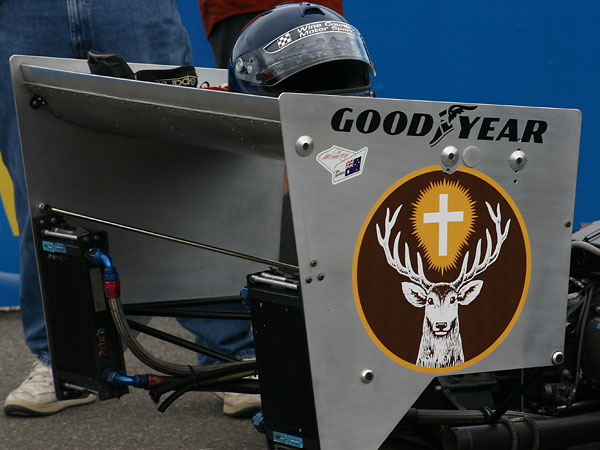 Sticker: "In memory Ian Gordon" with a New Zealand flag, on a rear wing motif.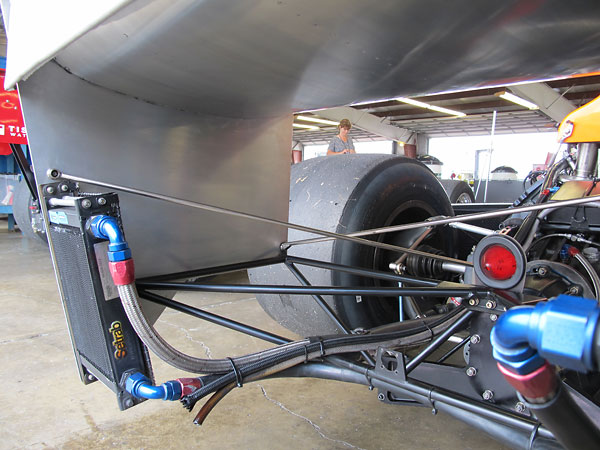 Two engine oil coolers are installed in the authentic positions, and fluid lines are
routed exactly as documented in period photos. No transaxle oil cooler is installed.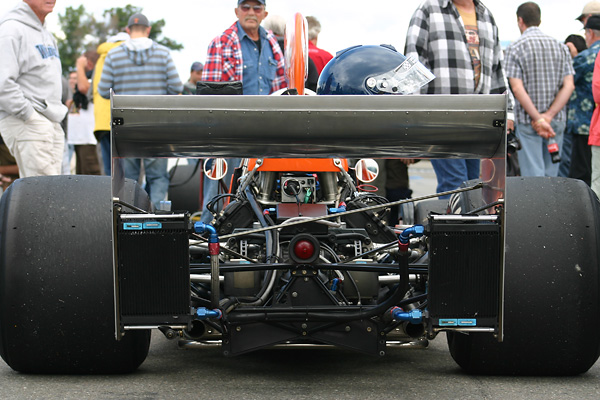 This wing was reproduced to original engineering drawings. Its large end plates
are a distinguishing features of March's 741 model. In 1975, March downsized
end plates and began mounting rear wings on a single central pylon.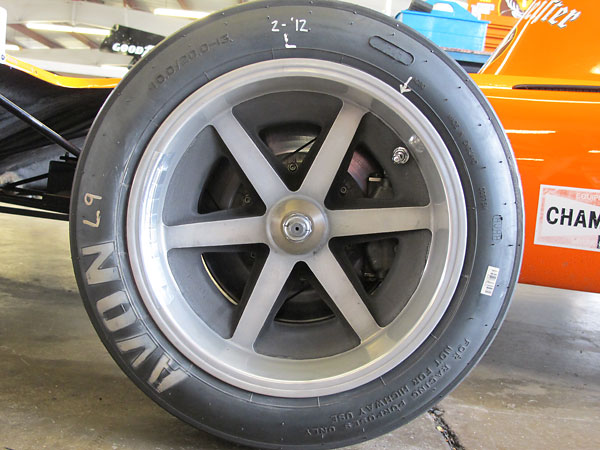 Steve Cook had reproduction magnesium wheels cast in U.S.A. to match March's original drawings.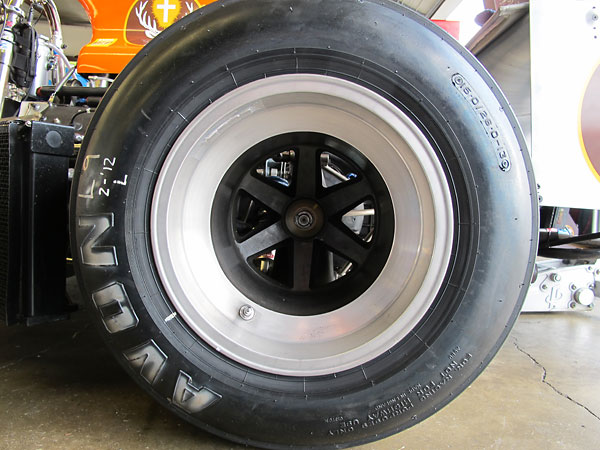 Firestone and Goodyear battled each other through the 1974 Formula One Championship season.
After Goodyear shod cars finished first in every race, Firestone dropped out of Formula One.
Currently, Avon Tyres Motorsport is the sole supplier to vintage "wings and slicks" classes.


Notes:
(1)
The Hewland DG300 transaxle had been used earlier in the DFV era. It was also used for F5000, but the inertia of its relatively massive gears made for slow gearchanges. The DG300 became increasingly outdated as Cosworth increased the DFV's engine RPM. Hewland's FG series (FG400, FGA, FGB, and FGC) were built to use smaller gears originally developed for the FT200 series. March specifically used FG400 transaxles in their 721, 721G, and 731 racecars. The ill-fated 721X project initially utilized an Alfa gearbox mounted insides a bespoke housing, but even the 721X ended up with an FG400 for its last race, the 1972 Oulton Park Gold Cup.


(2)
At Monaco, Hans-Joachim Stuck crashed 741-1 heavily after an incident with James Hunt. A replacement tub was required. Reine Wisell drove the retubbed 741-1 in Sweden, while Stuck was away at Hockenheim in Germany contesting the fifth round of the Formula Two Championship season. (Stuck qualified fastest and finished fourth. Ultimately, he would finish 2nd in F2 championship points.) Stuck failed to qualify in the French Grand Prix, where his teammate Vittorio Brambilla qualified 16th and then wrecked chassis 741-2 in practice, so Brambilla borrowed 741-1 for the main event. Stuck had another ugly accident at Brands Hatch, so 741-1 needed to be rebuilt on a new tub. Here's the beauty part: this third tub for 741-1 was 741-2's second tub, straightened after being damaged in Brambilla's most recent accident!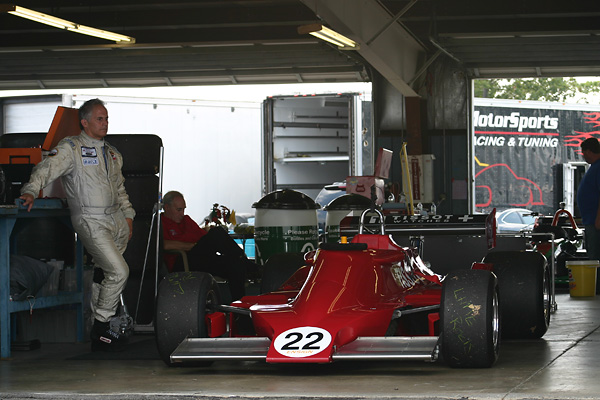 (Bud Moeller's Ensign N177, as photographed by Curtis Jacobson for BritishRacecar.com)

Did you enjoy this article? We currently have eighty more in process, featuring about 6000 new photos.
But it takes a lot of time and expense to turn photos into articles, and to publish them on the internet.
Please consider making a contribution. Your donation will help us publish more and better articles!




Except for three photos explicitly credited to Steve Cook in their captions above, the photos in this article are all from September 2012 when we viewed March 741-1 at The United States Vintage Grand Prix at Watkins Glen International in New York. Photos by Curtis Jacobson and Don Moyer for BritishRaceCar.com, copyright 2013. All rights reserved.



Notice: all the articles and almost all the photos on BritishRacecar.com are by Curtis Jacobson.
(Photos that aren't by Curtis are explicitly credited.) Reproduction without prior written permission is prohibited.
Contact us to purchase images or reproduction permission. Higher resolution images are optionally available.