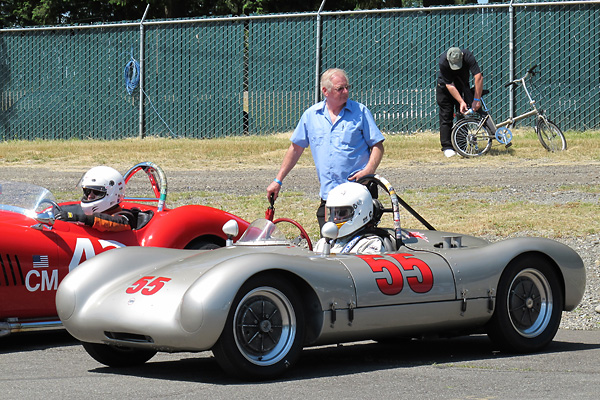 Cameron Healy's Cooper-Porsche ("Pooper") Racecar
Owner: Cameron Healy
City: Portland Oregon
Model: Cooper Mark VII (circa 1953, rebodied in 1954)
Engine: 1720cc Porsche four cylinder


Development of the Cooper "500" Chassis
John Cooper returned from service in the Royal Air Force and joined his father Charles in business. The business was Cooper's Garage of Surbiton, a southwest London suburb. As a diversion, John and his friend Eric Brandon decided to build a pair of racecars. The announcement of a brand new 500cc Formula racing class gave them an immediate and practical objective. Those first two cars were successful. With Charles' help and facilities, the two friends continued building racecars, and year after year the Coopers made countless incremental technical improvements as they advanced to the top rung of the sport. Ultimately, the Cooper Car Company would produce two Formula One World Championship winning racecars.

The premise of 500cc racing was that racecars could be economically built around motorcycle engines. "JAP" (J. A. Prestwich) single cylinder engines were most popular. However, only about a dozen Cooper racecars were built before a customer special-ordered a slightly longer chassis to accommodate a 1000cc JAP V-twin engine. From 1949, Coopers were offered in short and long versions, for 500cc and 1000cc competition respectively.

In November 1949 the FIA announced creation of a new class of international racing which would adopt essentially intact the British 500cc club's rules. It would be called "Formula 3". Effective immediately, the market for Cooper Car Company's products expanded throughout Europe. Cooper company records show six of their MkV cars were shipped to U.S.A. in 1951. (Cooper's 1952 and 1953 records are largely missing.) SCCA records show Cooper F3 cars competing occasionally in 1952 and 1953. In 1954 there were enough F3 cars that SCCA awarded a national championship trophy to a Mr. Harry Whitney of Pennsylvania. Alexis duPont and Rowland Keith tied in points for second. All three drove Coopers.

Generally, the Cooper Car Company redesigned its Formula 3 cars annually. For 1951, body panels were streamlined and made completely detachable, though upper panels were mounted on hinges for convenient access. In 1951, Cooper also created a "special" of their own with streamlined body for record attempts. In 1952, Cooper abandoned box section, ladder frames in favor of upper and lower longitudinal chassis tubes of 1.5" diameter with perforated sheetmetal vertical braces between tubes. The Mk7 model of 1953 featured relatively minor updates, including improved shock absorbers and a lower-mounted steering rack.



Three Particular Chassis Features
Much has been written about John Cooper's decision to put engines behind drivers. Originally, the main reason to do this was that it simplified power transmission, especially since chain-drives were being utilized on the earliest Cooper cars. The mid-engine format also facilitated reduced weight and decreased frontal area. Once Cooper went that way, there was no reason to turn back!

Another characteristic Cooper design feature was transverse leafsprings. The first Cooper 500cc cars utilized Fiat 500 Topolino (1936-1955) suspension components. On the Topolino, a transverse leafspring was used for the front suspension only. John Cooper reasoned that the same spring could be used for both front and rear. As on the Fiat, leafsprings served to locate the upper ends of Cooper's hub carriers. This approach was used through 1957, even as Cooper dominated the new "Formula Two" racing class by winning eight out of ten of the major races. Finally in 1958, when Cooper began contesting Formula One races, they developed a dual wishbone coilover front suspension and at the rear they supplemented the transverse leaf spring with upper wishbones for more precise handling.

Cast wheels with integral brake drums are a third distinctive and notable feature of early Cooper cars. The concept had previously been employed by Bugatti, at least as early as 1924. From 1948, Cooper's earliest bespoke wheels were cast from aluminum alloy. Starting in 1949, Cooper used and offered customers similar wheels except made of extra-light Elektron™ magnesium alloy. (The weight advantage of magnesium would have been at least 20% and thus over 3#/wheel, depending on specific alloys employed.) For lightweight racing classes, integral brake drums worked well and were cost effective. Excellent heat transfer away from cast-in iron hoops translated into reduced brake fade during longer races. Integral brake drums also made the wheels especially rigid and simplified access to brake shoes. Studying old photos, it's evident Cooper produced many different wheel designs in the 1950s (including multi-component wheels as shown below) but with integral brake drums as a common feature until 1958 when Cooper began installing Girling disc brakes. At that time, Cooper designed distinctive new 8-spoke alloy wheels with more curvature in the hub section to achieve the desired stiffness. Cooper's 8-spoke alloys evolved into the ubiquitous Minilite™!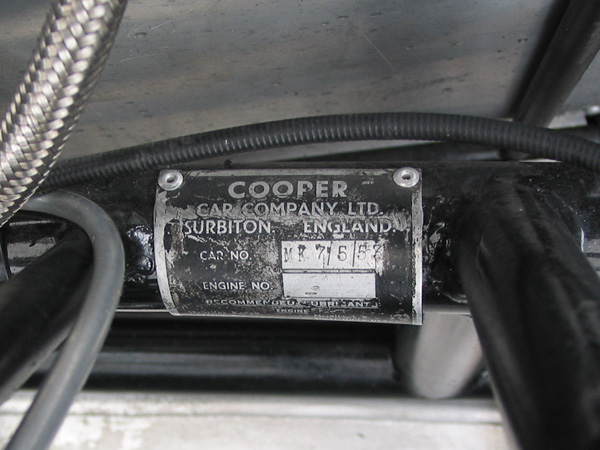 COOPER CAR COMPANY LTD. Surbiton. England.
CAR NO. Mk7/5/53, ENGINE NO. (blank)
RECOMMENDED LUBRICANTS
ENGINE: Essolube Racer, Mobil Oil R, Castrol R, Shell Super Heavy, Price's Energol Racing
GEARBOX: Essolube 50, Mobil Oil R, Castrol Grand Prix, Golden Shell, Price's Energol SAE 60


A Race to Build the first Cooper-Porsche
The fifth Cooper Mk7 produced was purchased by an American customer named Gordon "Tippy" Lipe. (Note: Lipe rhymes with "stripe".) Lipe raced his 500cc Cooper at least once; he used it to win a first-in-class trophy at the Giant's Despair hillclimb in Wilkes-Barre PA on July 24, 1953. We find no other race results for Lipe in 1953. As far as we know, he may have come home from Pennsylvania and immediately started working on re-powering his Cooper with a Porsche 1500cc engine. In this, he was assisted by Robert Harbinson and by Bill Lloyd, a cousin of Briggs Cunningham. Interestingly, Briggs Cunningham was SCCA's current (1953) national champion in the F-Modified class, which is the very same class Lipe evidently intended to contest. Bill Lloyd operated an auto body shop in Westport Connecticut, and also enthusiastically raced a Ferrari in D-Modified.

The name Gordon C. Lipe appears in official race results from the Florida National Sports Car Races held at MacDill Air Force Base on January 31, 1954. Specifically, in the Imperial Polk County Trophy Race (50 miles, for all Modified cars under 1500cc) he is listed as having driven a Porsche to 5th place overall and also fifth place in the F-Modified (1000-1500cc) class. In the Governor Dan McCarty Memorial Trophy Race (200 miles, all classes) Lipe won a trophy for 3rd place in F-Modified. Although the official race results are slightly ambiguous, we firmly believe Lipe was still driving a Porsche chassis at McDill.

The first specific reference to a "Cooper-Porsche" that we find in published literature is in a photo caption from coverage of the 1954 Giant's Despair hillclimb which was held July 22-24, 1954. Is this a different Cooper-Porsche? We've found no other record of "Lyeth" or his racecar. (See photo.)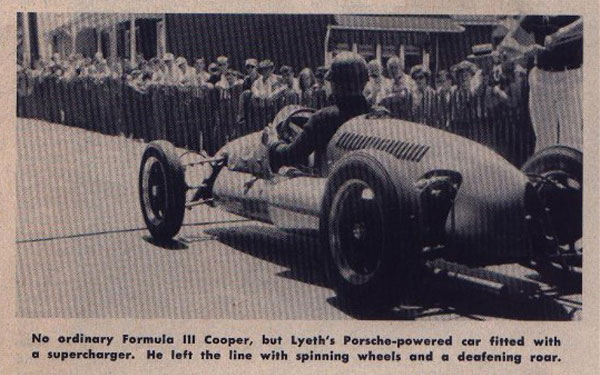 (From the 1954 Giant's Despair hillclimb race report. Photo by Ozzie Lyons.)


Another much better known Cooper-Porsche was built and very successfully raced by Pete Lovely. "The Lovely Pooper" with which Pete Lovely won SCCA's 1955 F-Modified national championship, certainly deserves its own article. We don't have sufficient photos or information to do it justice here. Suffice it to say that Mr. Lovely arranged to buy an aluminum-bodied "streamliner" from Cooper and then set about installing a Porsche engine into its MkVIII(R) chassis. Now owned by Denny Aker of Seattle, the ex-Lovely Cooper-Porsche is still vintage raced to this day, and occasionally races with Cameron Healy's ex-Lipe Cooper-Porsche.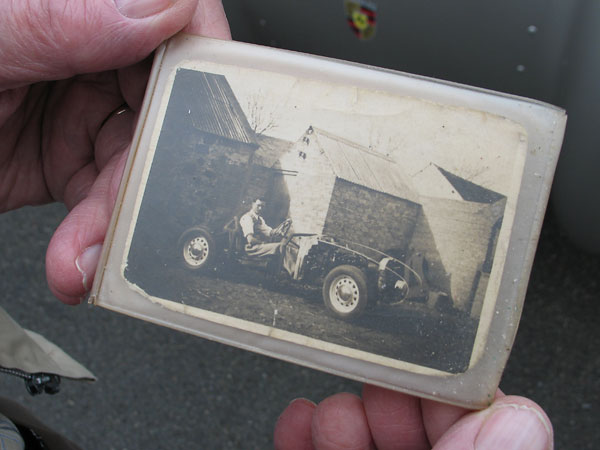 In process: Robert Harbinson's own sports car which he built in 1951 before leaving Northern Ireland.
(Robert Harbinson showed us his original snapshots when we visited with him at Watkins Glen in 2009.)


Robert Harbinson's Custom Aluminum Bodywork
In 1951, shortly after completing training to become a Certified Welder, Robert Harbinson built a one-off aluminum sports car body and installed it on a Singer Nine Bantam chassis. A compact radiator was sourced from Bobby Baird which allowed Harbinson to keep the bonnet line low. That first Singer Special was only ever intended for personal recreational use. The satisfaction of building the car and the fabrication skills honed would stay with Harbinson long after he left his home to "see the world".

In early 1954 Harbinson bought a one-way ticket to New York City and made plans to continue from there to Minneapolis. No one seems to know what happened to the Harbinson Special, but it was featured in the January 1954 issue of Britain's venerable MotorSport magazine. That brief article reached New York City before Harbinson did. Shortly after he landed, Tippy Lipe tracked down Harbinson and offered him a commission to build a second sports car body. Minneapolis would have to wait!

Per Lipe's instructions, Harbinson created a body specifically designed to meet the letter of SCCA rules for the Modified sports car classes. For this reason, it was originally equipped with a passenger seat, lights, horn, etc.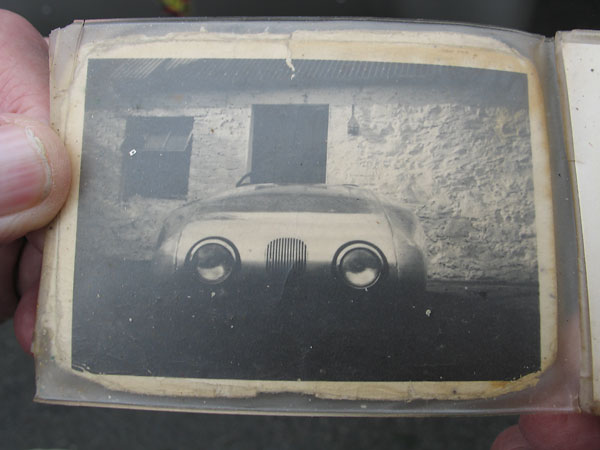 Self taught in the art of metal forming, Robert Harbinson built his first aluminum car body with hand tools
in lieu of specialized machinery such as English wheels, motorized planishing hammers, etc.


Racing History of the Tippy Lipe "Pooper"
The first unambiguous mentions of Tippy Lipe's Cooper-Porsche we could find in SCCA race results are from the September 5, 1954 meeting at Thompson Raceway in Connecticut. In the Unrestricted class race Lipe's Cooper-Porsche took the lead immediately but retired early with brake failure. (Ensley in a Kurtis came back from running eighth to steal victory from Cade in a Maserati-Chrysler.)

Soon behind Thompson came the September 17-18, 1954 Watkins Glen Grand Prix weekend. In the race program, Gordon C. Lipe of Fayetteville NY is listed as having entered a 1486cc Cooper. Sports Illustrated magazine mentioned Lipe's Cooper-Porsche in their report: "In the Seneca Cup (11 laps, 50.6 miles for unrestricted cars and sports cars of all classes) the favorite among 34 starters was Gordon 'Tippy' Lipe whose temperamental, supercharged Porsche-Cooper can outaccelerate almost anything. Lipe got clean away from the field for two laps, pursued by Phil Cade in a veteran Maserati, and by that phlegmatic sportsman, Dr. M. R. J. Wyllie with a C-Type Jaguar. However, the Cooper-Porsche lost its verve after two laps and quit on the fourth. Wyllie took the lead on lap 3 and held it to the checkered flag. Paul Timmins was second in his Hansgen-Jaguar Special, and Alan Patterson II placed third with an Allard. Wyllie averaged 76.2 mph."

Tippy Lipe's greatest success with the Pooper came on May 15, 1955 at Cumberland, Md. where he won first place over a tough field of F, G and H Modified cars which included a works Porsche 550 Spyder driven by Herbert Linge. Lipe finished first in class and sixth overall in the Mt. Equinox (Vermont) hillclimb, held on June 19. On July 4th at Beverly Massachusetts in The Tea Party Trophy Race, ALL the modified classes ran together; Phil Hill won the overall victory in his Ferrari but Lipe finished first-in-class with his Pooper. Later that day, Lipe won the Clippership Trophy Race outright, over more realistic competition. At Thompson Connecticut on September 4, Lipe finished 6th in class. Overall for the year, Lipe finished third in a hotly contested SCCA F-Modified national championship points race.



IMPORTANT ANNOUNCEMENT
BritishRaceCar.com will have to cut back plans for continued growth if we can't find more financial support.
If you like what you've found here, and you want to see more, please click here and follow the instructions.
Readers like you keep BritishRaceCar.com online and growing through voluntary financial contributions.


In 1957 Tippy Lipe sold his Cooper Special to Ed Walsh of St Louis, sans engine. Knowing that Carroll Shelby was traveling in Italy, Walsh contacted him and asked if Shelby would help him to procure an OSCA 750cc engine for the car. With the OSCA engine installed, Walsh won the H-Modified (500-750cc) class of SCCA's June Sprints at Road America two years in a row (1959 and 1960). In a letter outlining the Pooper's history, Walsh described one reaction to the car: "Roger Penske asked me if he could copy it, to which I agreed, as he was going to run in a higher class. That was his famous Zerex Special that was so successful."

At the end of 1961 Ed Walsh sold the Cooper-OSCA to a racer named Mack Barlow. Barlow raced occasionally until 1969, when it was stored in a barn in Wichita, Kansas. There it sat, until August 1991 when "Duck" Waddle of Hutchinson Kansas bought the car from Virginia Barlow, Mack's widow. Mr. Waddle put the unusual old racecar up for sale. In December 1991, John Muller of Kansas City bought the Pooper from Duck. John Muller commissioned Brian Haupt of Carriage & Motorworks to restore the car to replicate its original configuration. John Muller raced the Pooper extensively between 1993 and 1999, at which point he decided to restore it again and then sell it. The frame-off restoration was completed in February 2001. In August 2001 Cameron Healy of Portland Oregon (founder of the Kettle Foods Inc. potato chip company) purchased the car. Healy has raced the Lipe Cooper-Porsche with great enthusiasm and success ever since.


Features and Specifications
Engine:
Porsche 1720cc four-cylinder horizontally-opposed engine, built by Cox Racing. (Approximately 170hp.) SCAT billet crankshaft. Carrillo connecting rods. 40mm stainless steel intake valves. Sodium-cooled exhaust valves. Dual Solex 40mm twin-choke carburetors with long velocity stacks. Bosch distributor (with breaker points). Bosch "blue" ignition coil. Ultra Hi-Temp Silicone Copper Core spark plug wires. Oberg 600 tattle-tale oil filter.

Cooling:
Setrab 19-row aluminum oil cooler.

Exhaust:
custom fabricated four-into-one header.

Transaxle:
original-style Volkswagen 4-speed case, updated with Hewland racing gears.

Chassis:
85" wheelbase. 42.5" track width. Fully restored and powder-coated frame.

Front Susp.:
transverse leaf springs. Carrera steel bodied shock absorbers. Adjustable anti-sway bar. Fabricated steel front suspension uprights. Cooper proprietary steering rack (magnesium housing).

Rear Susp.:
transverse leaf springs. Carrera steel bodied shock absorbers. Cooper proprietary cast magnesium uprights.

Brakes:
(master) Tilton floor mount pedal assembly, dual master cylinders with remote reservoirs, and remote bias adjuster.
(front) drum brakes,
(rear) drum brakes.

Wheels/Tires:
15x3.5 hubless wheels bolted around the circumference of Elektron (magnesium) alloy brake drums. Dunlop Racing CR48 4.50L-15 (front) and Hoosier Vintage TD 5.00-15 (rear) tires.

Electrical:
Optima red top battery.

Instruments:
(left to right) Equus coolant temperature gauge (130-280F), Racetech oil pressure (0-100psi), and VDO tachometer (0-8000rpm).

Fuel System:
authentic replica aluminum fuel tank, with safety bladder built in. Holley fuel pressure regulator.

Safety Eqmt:
Sparco six point cam-lock safety harness. Centralized fire suppression system (mounted under passenger seat).

Weight:
1100 pounds.

Engine Installation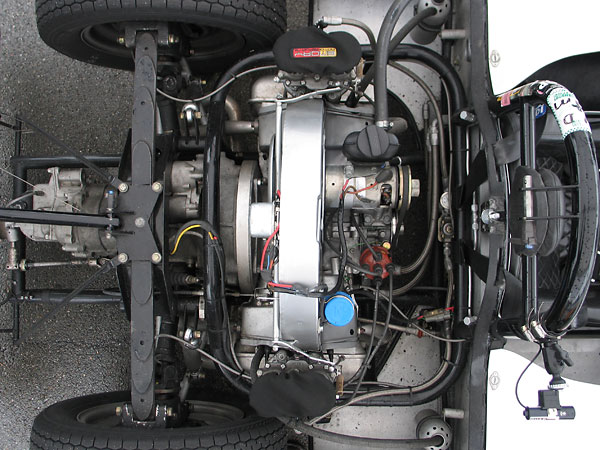 Porsche 1720cc four-cylinder horizontally-opposed engine. (Approximately 170hp.)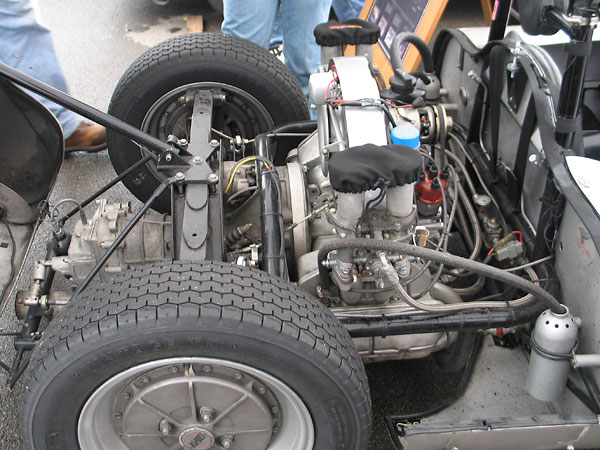 Bosch distributor (with breaker points). Bosch "blue" ignition coil.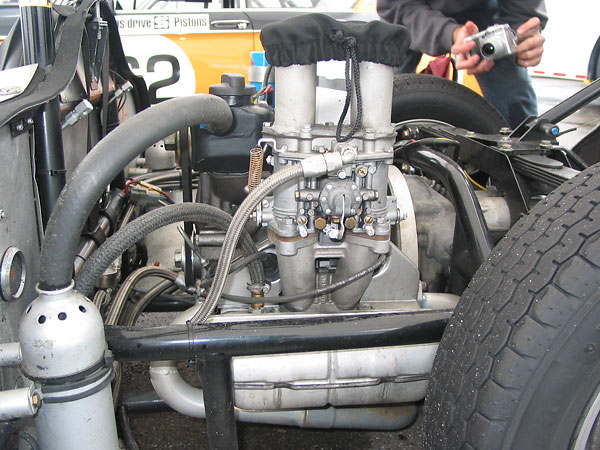 One of the engine's two Solex (French made) carburetors.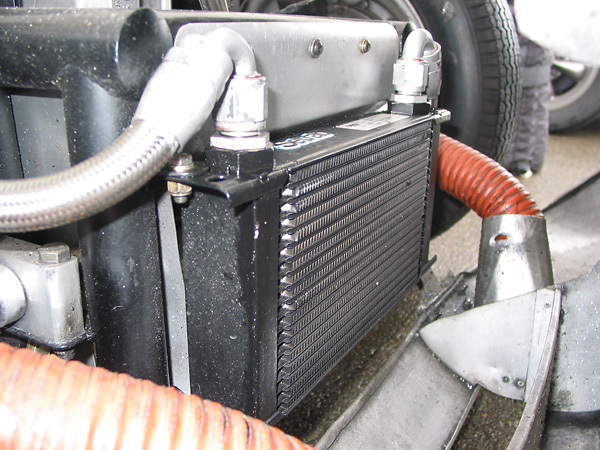 Setrab 19-row oil cooler.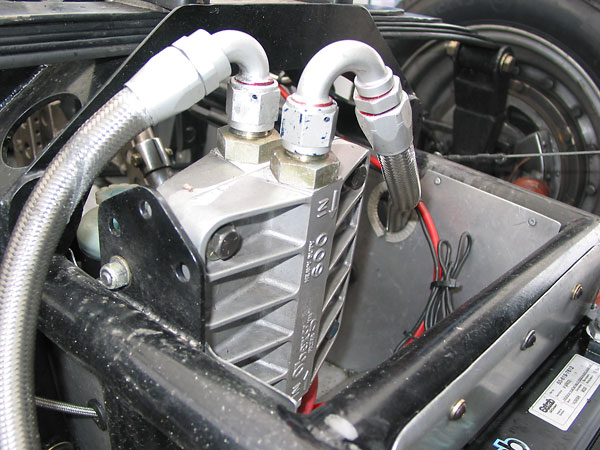 Oberg 600 tattle-tale oil filter installed in a relatively inconvenient location for servicing.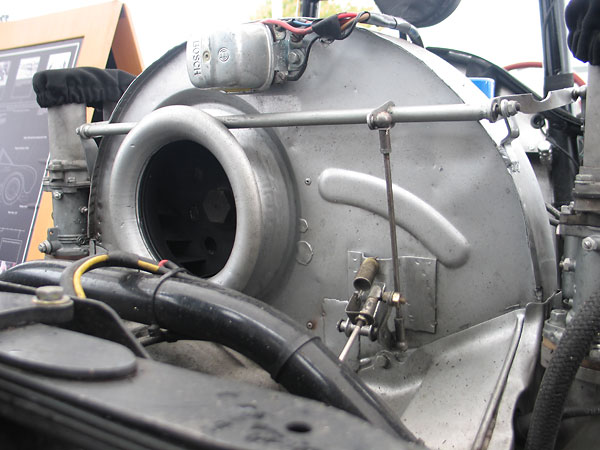 Fan shroud: old Porsche and VW engines are air cooled via great big fans.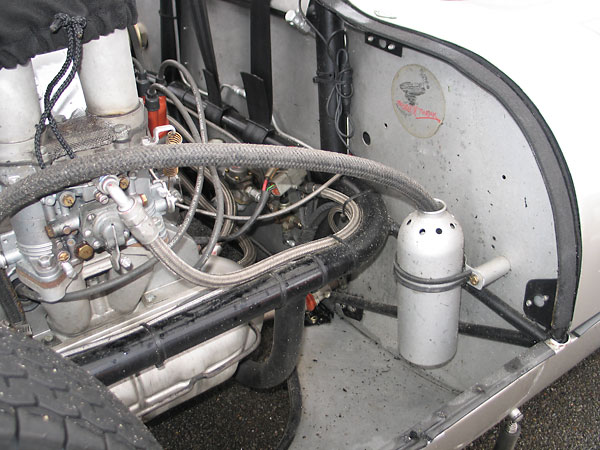 Charles Cooper was a big advocate of bent frame tubes.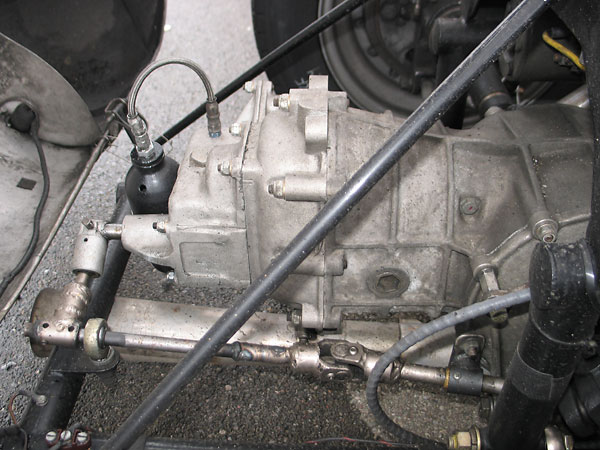 Volkswagen 4-speed transaxle with reverse.


Front Suspension / Etc.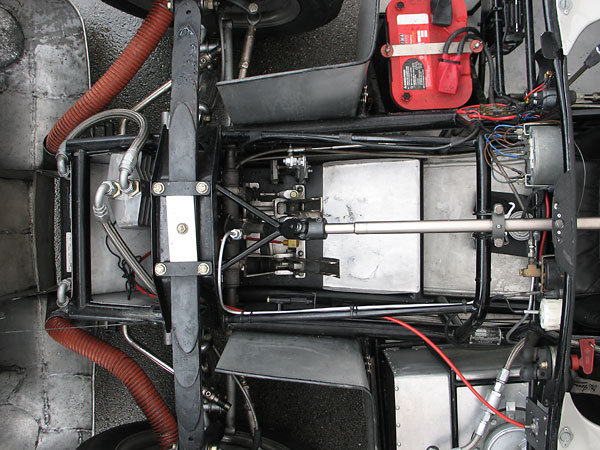 A transverse leafspring locates the top of the suspension uprights in three dimensions.
Repeated at the rear, this is the trademark feature of 1950's Cooper suspension designs.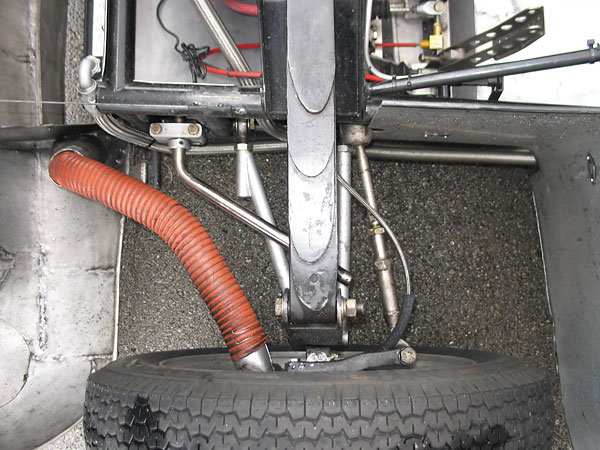 It's an unsophisticated and imprecise suspension design, but it served quite well in context:
very lightweight but relatively low-powered rear-engined cars shod with tall, narrow tires.
Cooper racecars were competitive because they were usually lower and lighter than competitors.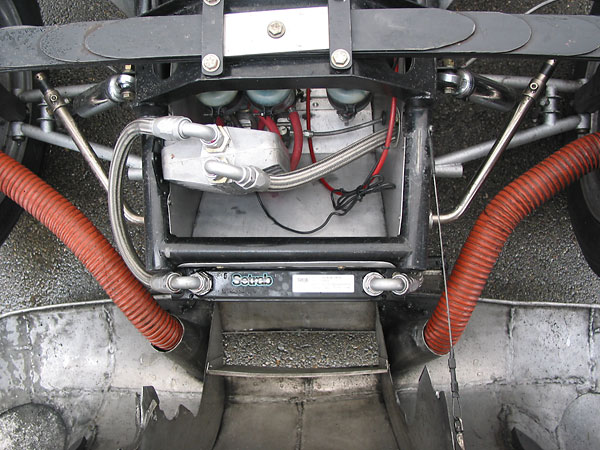 With relatively few and large tubes meeting at nearly right angles, Cooper frames were simple
to fabricate. On the other hand, they were far heavier than they needed to be. No triangulation
anywhere! As Cooper moved into faster racing classes and especially when Lotus cars arrived
as competition, Cooper was compelled to produce more sophisticated and elaborate frame designs.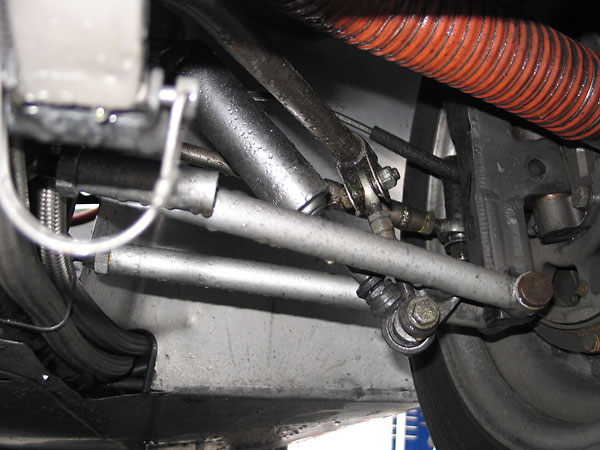 Carrera steel bodied shock absorber... layed way over to fit underneath the leafspring.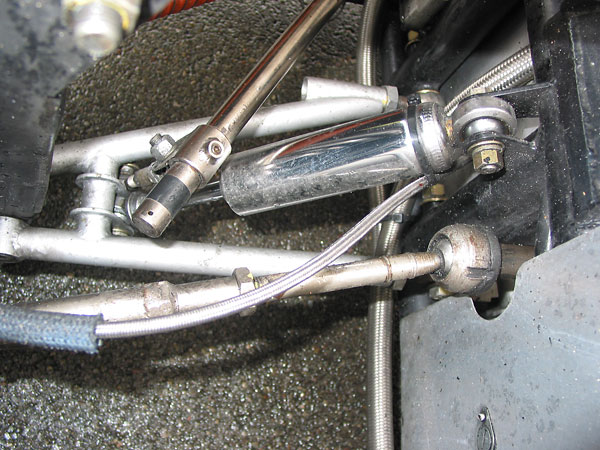 Adjustable anti-sway bar.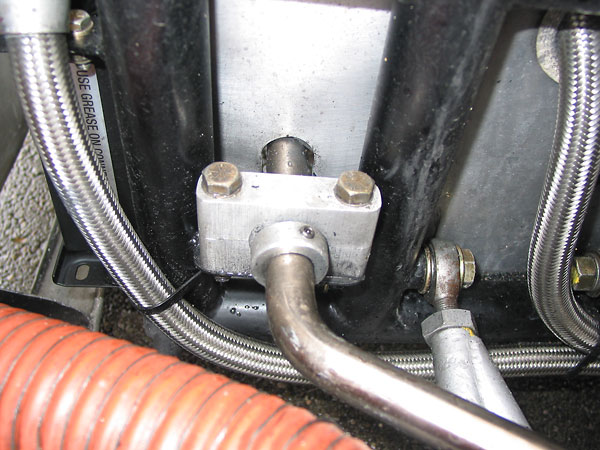 The front anti-roll bar attaches to the chassis via these simple aluminum pillow blocks.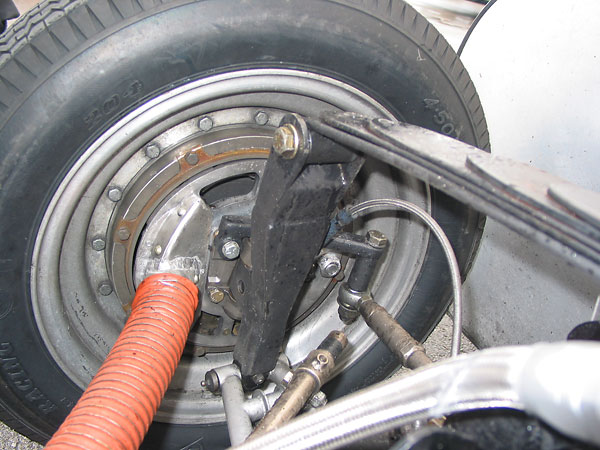 Fabricated steel front suspension uprights.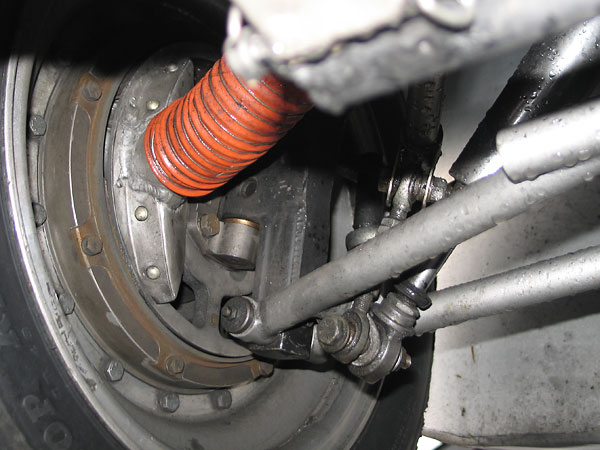 Note how disc brake backing plates have been modified to receive cooling airflow. Brakes
have always been this car's Achilles heal. Severe brake fade forced Tippy Lipe to retire early
from race after race. Apparently later owners have found ways to improve the brakes.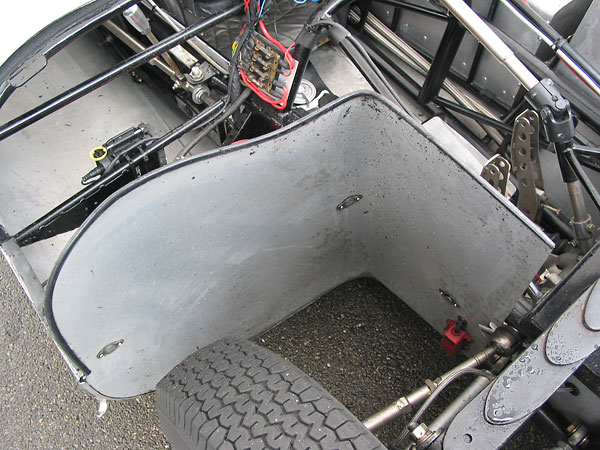 Inner fender.


Enjoying this article? www.BritishRaceCar.com is partially funded through generous support from readers like you!
To contribute to our operating budget, please click here and follow the instructions.
(Suggested contribution is twenty bucks per year. Feel free to give more!)
Rear Suspension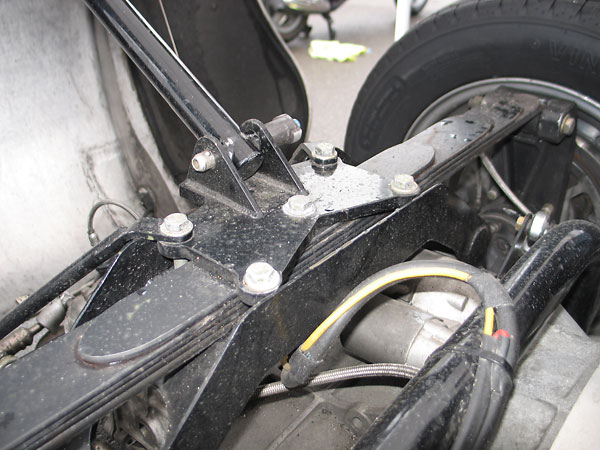 A transverse leafspring locates the top of the suspension uprights in three dimensions...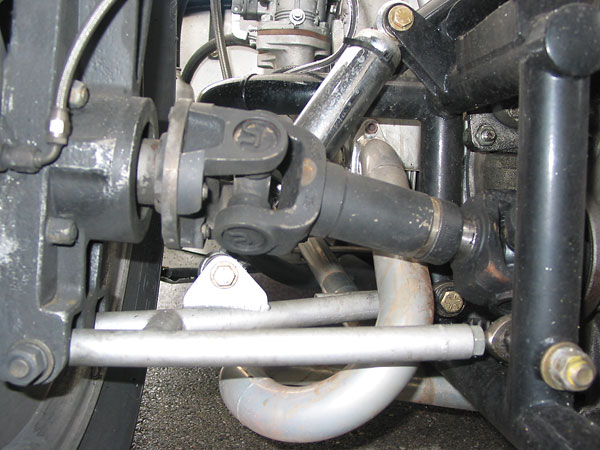 Heavy duty halfshafts with a sliding coupling to accomodate plunge.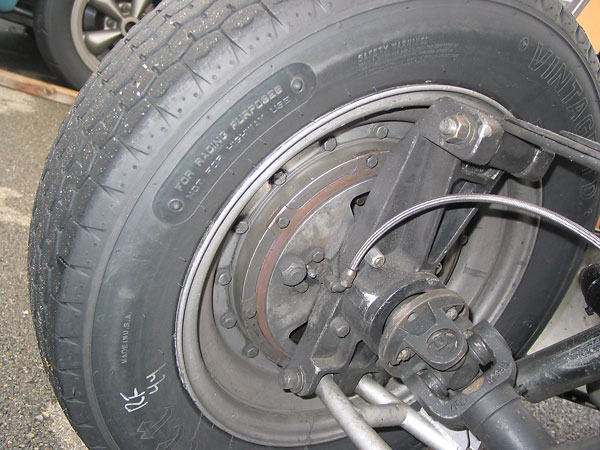 Cooper proprietary cast magnesium rear uprights.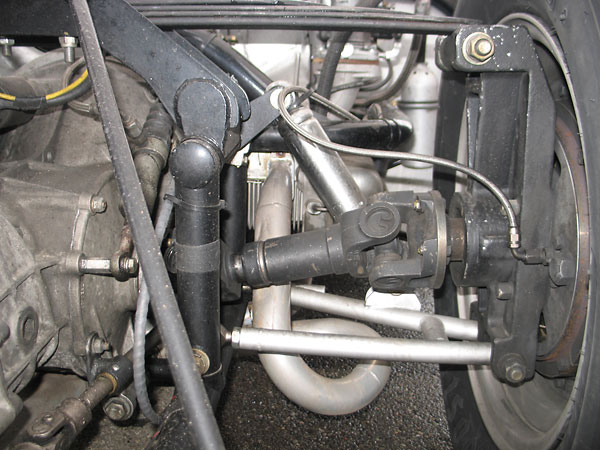 Carrera steel-bodied shock absorbers are popular with vintage racers.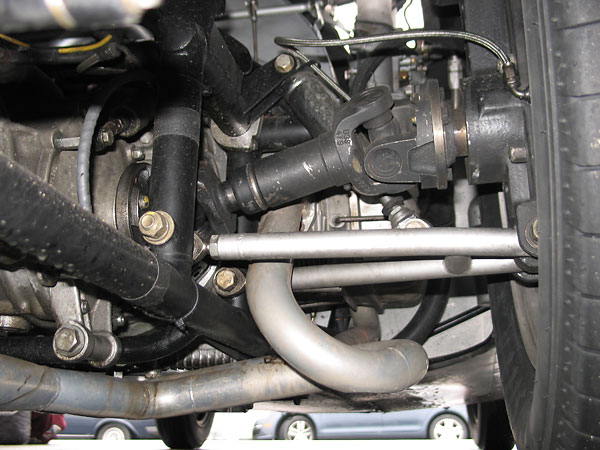 Custom four-into-one exhaust header.


Interior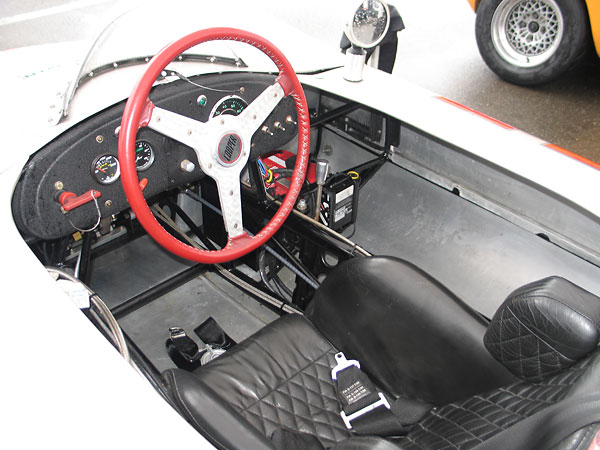 Comfy custom seat.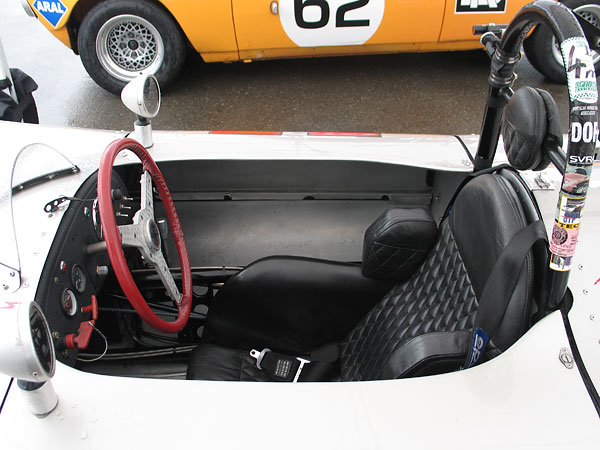 Roll hoop tall enough to meet modern height requirements.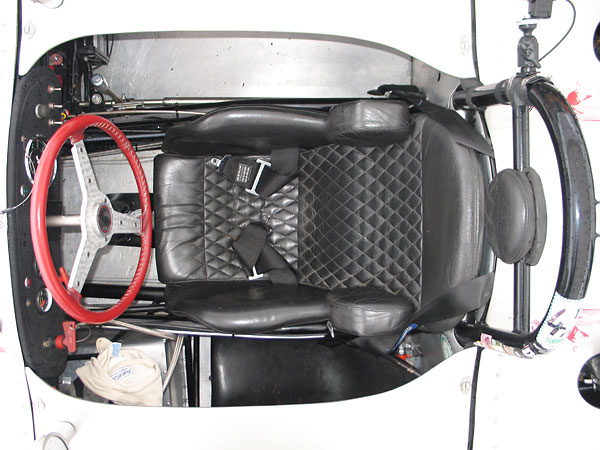 Sparco six point cam-lock safety harness.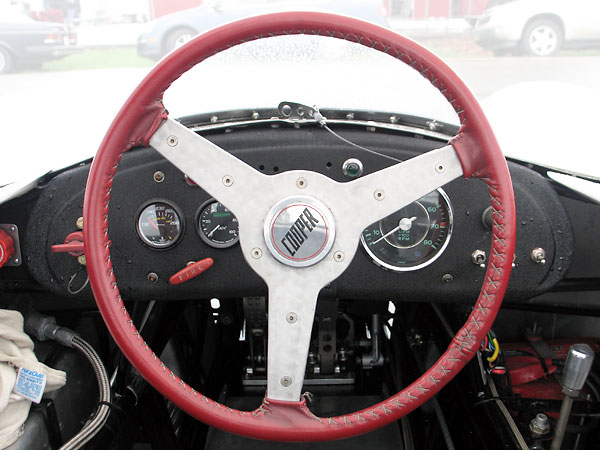 Leather wrapped aluminum steering wheel.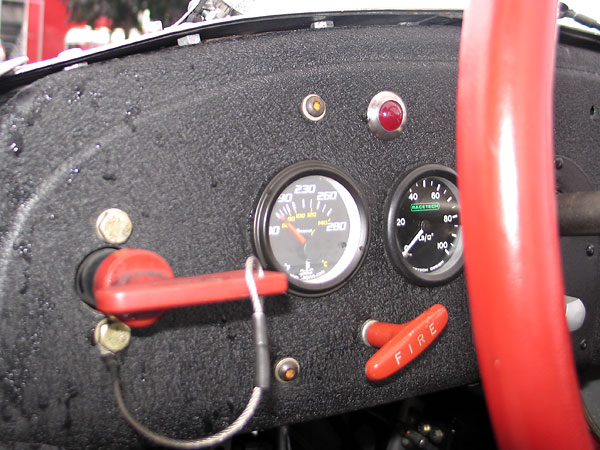 Equus coolant temperature gauge (130-280F). Racetech oil pressure (0-100psi) gauge.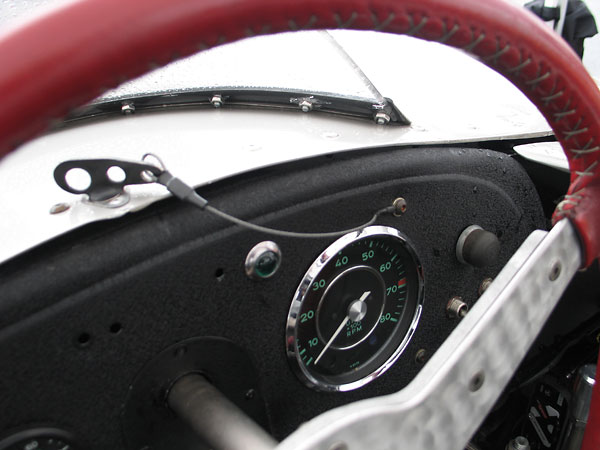 VDO tachometer (0-8000rpm).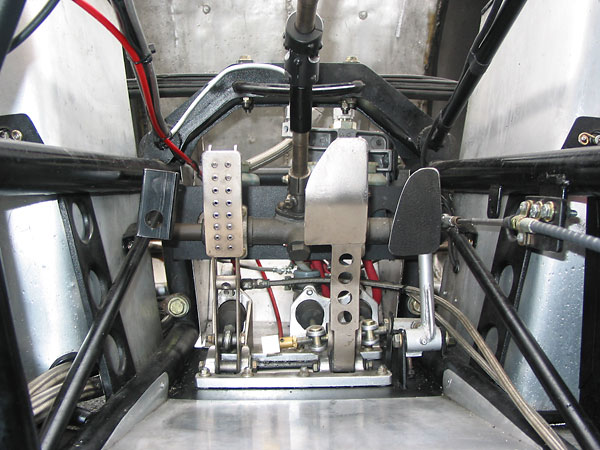 Tilton floor-mount, two-pedal pedal assembly. This is an obsolete model, but it's similar
to current offerings. Tilton offers them with either fabricated steel or cast aluminum pedals.
As you can see, the brake pedal has been modified to provide clearance to the steering shaft.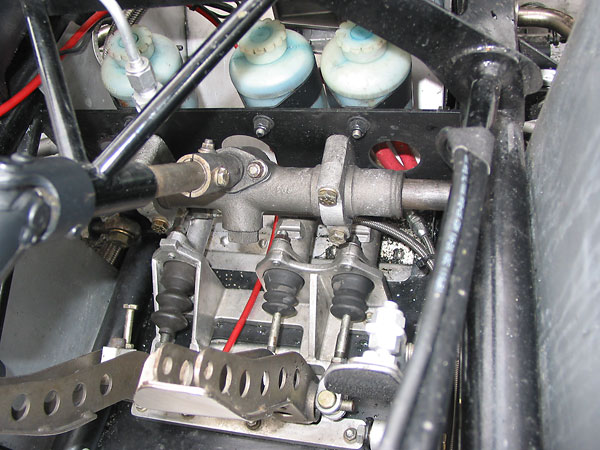 Cooper's own proprietary steering rack with cast magnesium housing.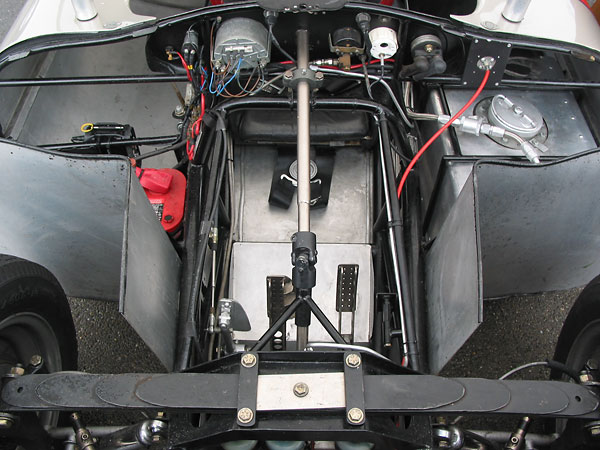 Steering shaft installation details.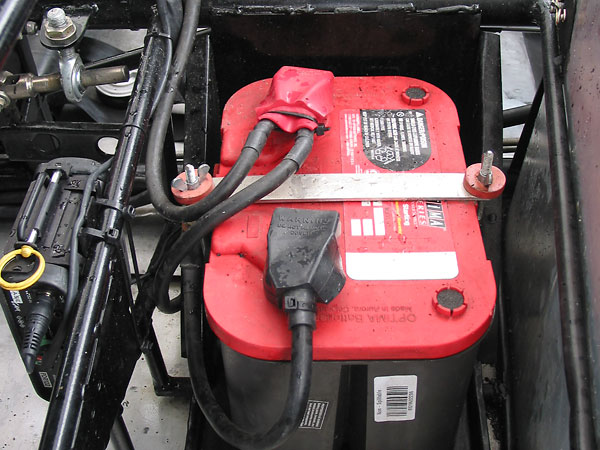 Optima "red top" battery.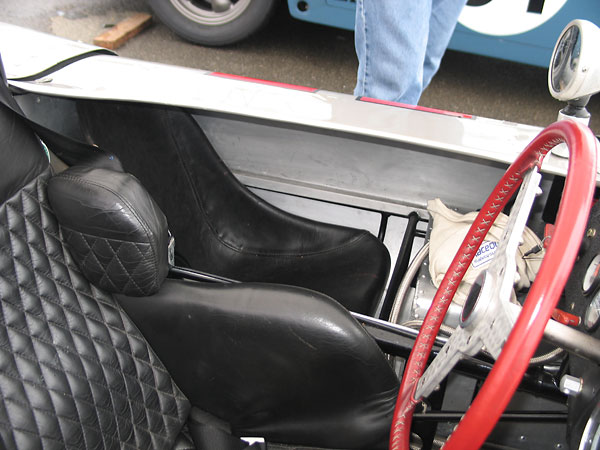 This strictly nominal passenger seat may have met the letter if not the spirit of 1955 sports
car class rules. Even if an adult torso might somehow squeeze under the bodywork, there's
no room at all for a head or legs. A fuel tank fills the space in front of the seat.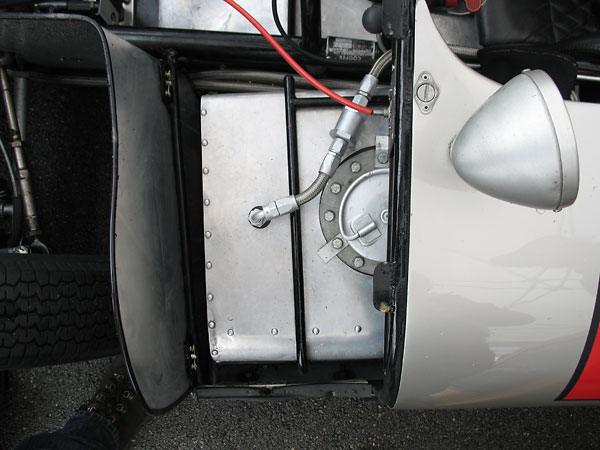 Authentic replica aluminum fuel tank, with safety bladder built in.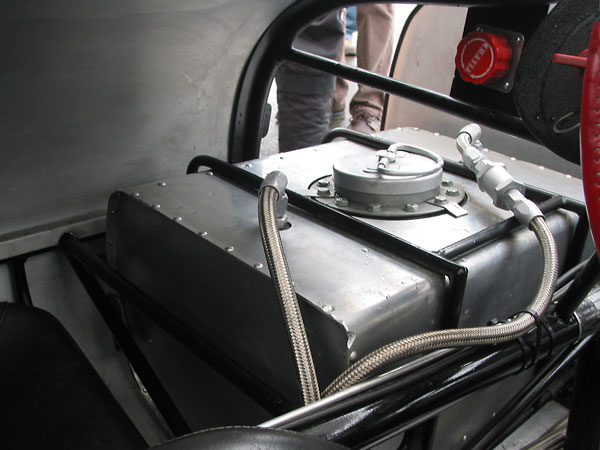 Tilton remote brake bias adjustor knob (mounted on lefthand side of dashboard.)


Exterior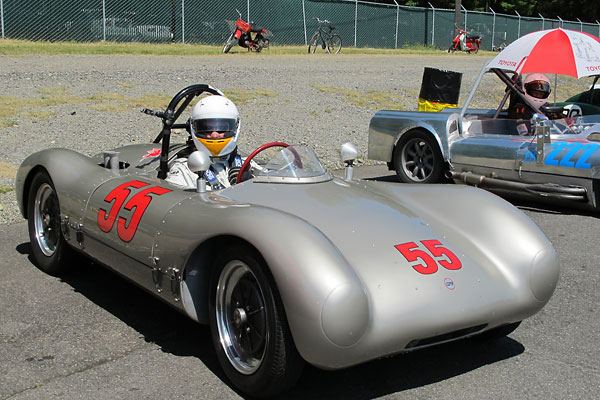 We're told that Porsche calls this paint color "linen silver metallic."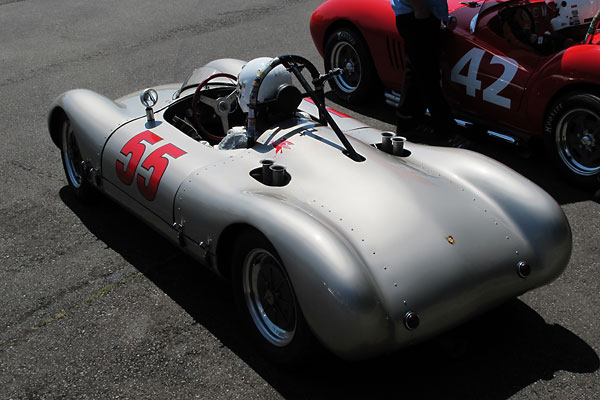 We went to the Pacific Northwest Historics at Pacific Raceways in Kent, Washington to get
photos of Cameron Healy's Cooper-Porsche on a bright sunny day!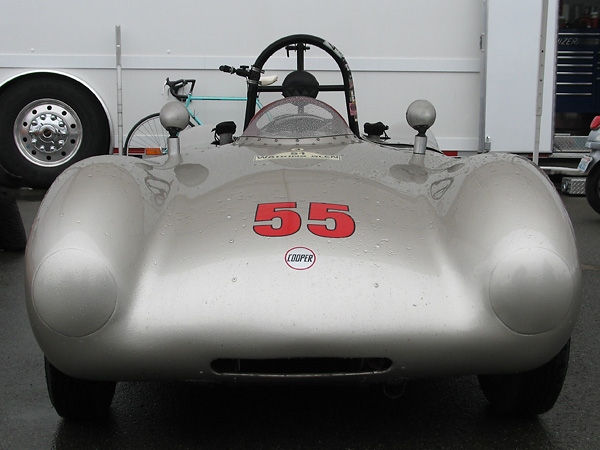 We had previously inspected the vintage Pooper during chilling rain at Watkins Glen.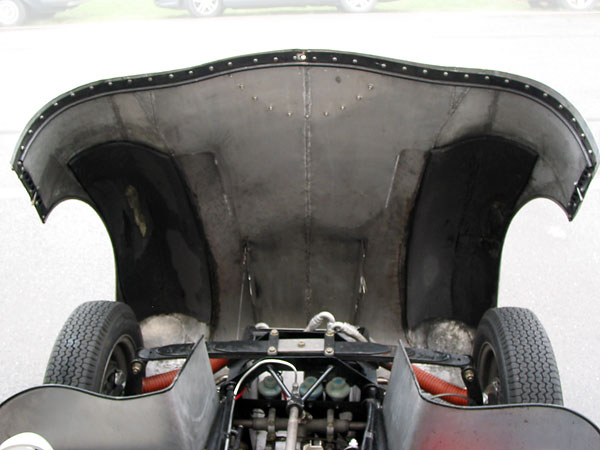 At some point in the car's history, its original working headlights went missing.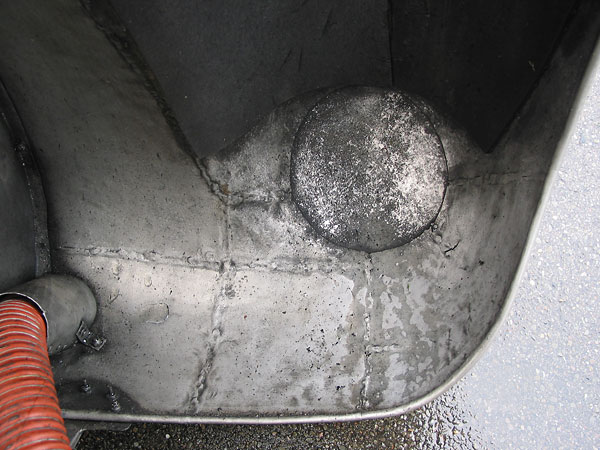 Welds are visible from the bottom side.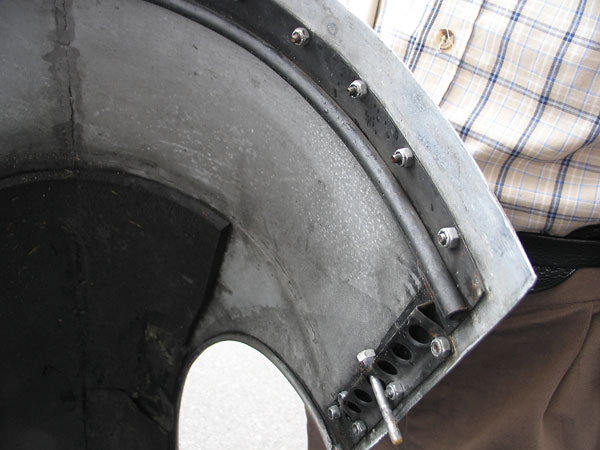 Bonnet reinforcements.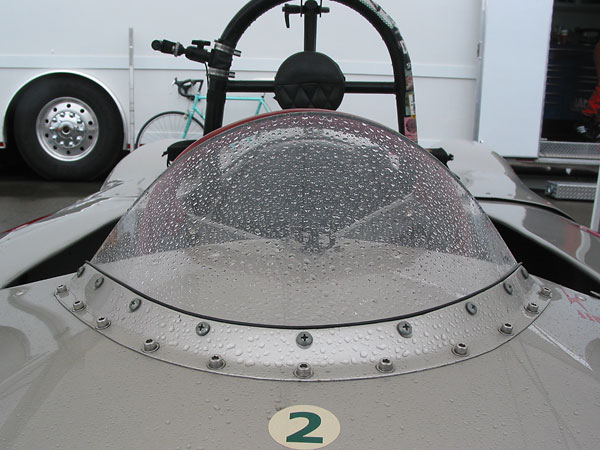 Perspex windscreen.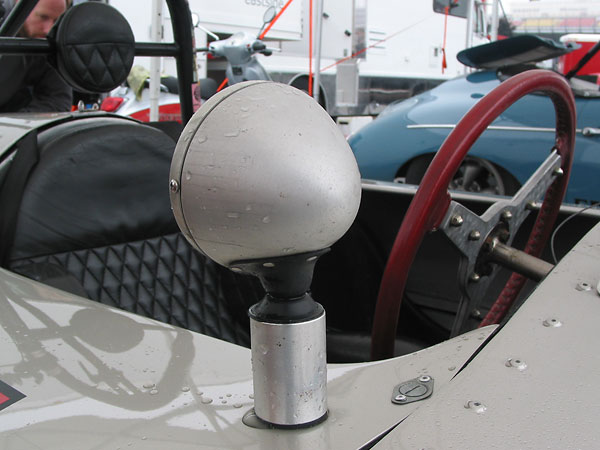 Steering wheel reinforcement.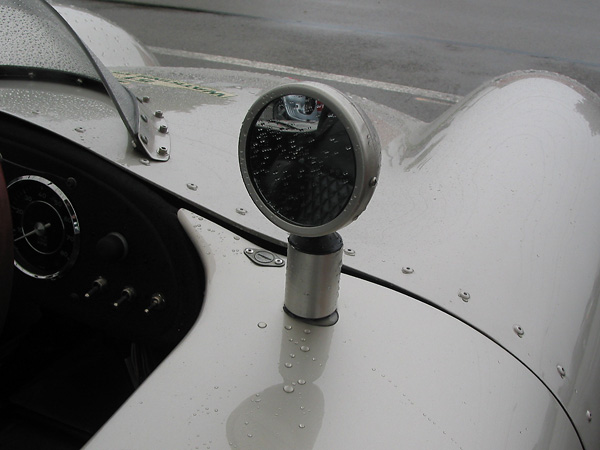 GT Classic mirror.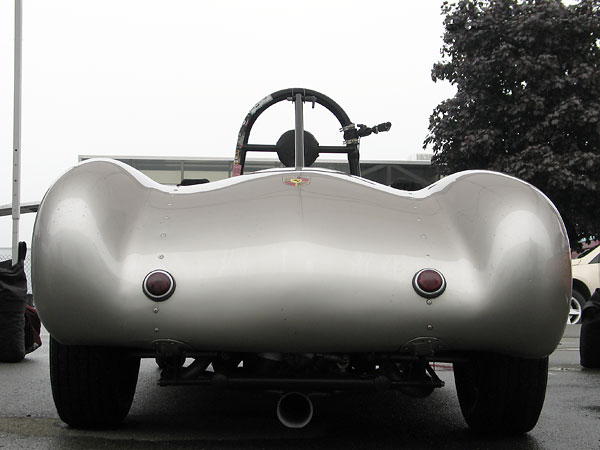 Single exhaust.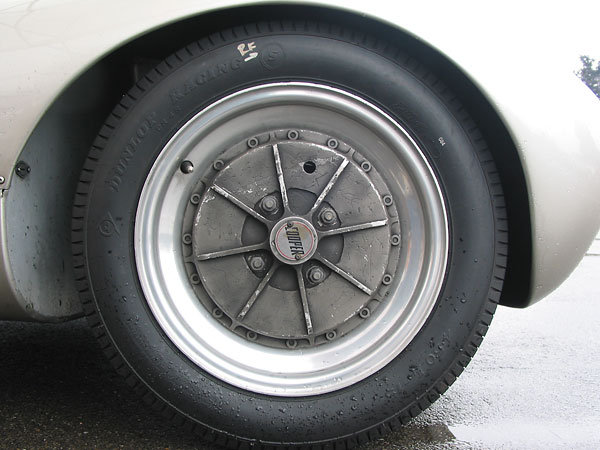 Hubless wheels bolted around the circumference of light alloy brake drums. (We believe
this design approach was pioneered on Issigonis' Lightweight Special, circa 1938).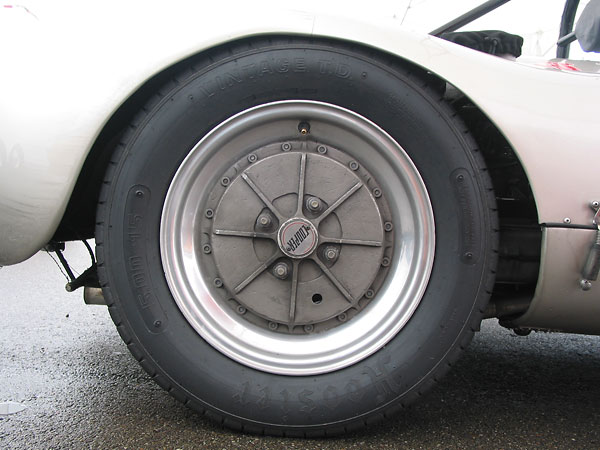 Dunlop Racing CR48 4.50L-15 (front) and Hoosier Vintage TD 5.00-15 (rear) tires.


All photos shown here are from September 2009 when we viewed this car at The US Vintage Grand Prix at Watkins Glen or from June 2011 when we viewed this car at The Pacific Northwest Historics at Pacific Raceways in Kent, Washington. All photos by Curtis Jacobson and Don Moyer for BritishRaceCar.com, copyright 2011. All rights reserved.



Notice: all the articles and almost all the photos on BritishRacecar.com are by Curtis Jacobson.
(Photos that aren't by Curtis are explicitly credited.) Reproduction without prior written permission is prohibited.
Contact us to purchase images or reproduction permission. Higher resolution images are optionally available.