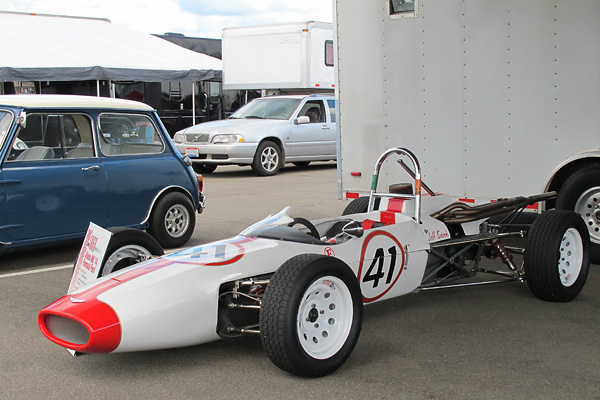 Jeff Snook's Alexis Mk14 Formula Ford Race Car, Number 41
Owner: Jeff Snook
City: Bowling Green, Ohio
Model: Alexis Mk14 (1968)
Engine: Ford Kent 1600cc
Race Preparation: (see below)
History of Alexis and the "Russell-Alexis" Formula Ford
In 1959 Alexis Cars Ltd. was founded in Birmingham by two partners, Englishman Alex Francis and Australian Bill Harris. Francis was a building contractor who enjoyed constructing and racing trials cars. Harris was more interested in road racing. Leveraging Harris' design and mechanical skills, the new partnership became a two car racing team which built and sold cars on the side. They focused initially on Formula Junior and moved on to Formula Three (F3) when Formula Junior declined. Before long, they were building Formula Two (F2) cars too. The partners scored some wins, but sales were slow. Harris left the firm in 1965, shortly after completing design of the Alexis Mk8 (F2/F3) model. Through the Bill Harris years, Alexis produced about a dozen cars for roadracing, plus about fifteen trials cars.

Although Alex Francis remained Managing Director, a junior and part-time employee and hardcore racing enthusiast named Allen Taylor accepted a promotion and stepped up to the task of running the race team. He did more than that. Allen Taylor deserves credit for taking Alexis from obscurity to becoming a class-leading supplier of racing cars. Taylor accomplished this with a little help from former Grand Prix driver Jim Russell.

The Jim Russell Racing Developments motor racing school was located at Britain's Snetterton race circuit. (A second Jim Russell school was located in California). Russell's school was locked in tight competition with the Motor Racing Stables school, at Brands Hatch. Russell was keenly aware that Motor Racing Stables was working with Lotus on a new model and a new class: the Lotus 51 for Formula Ford. Formula Fords would be similar to Formula Three cars, but with restrictions to keep purchase and operating costs much lower. Russell didn't just want Alexis to provide cost effective cars for his school, he also wanted to market "Russell-Alexis" Formula Fords to anyone who would race in this promising new class.

Although Lotus was first to offer Formula Ford cars for sale, the Lotus 51 was just a re-powered and cost-reduced version of the Lotus 31 F3 car. Other early Formula Ford models (e.g. Merlyn's 11/11A) were also re-powered F3 cars. The Russell-Alexis Formula Ford was different. It was the first car designed specifically for the new Formula Ford racing class. In fact Alexis advertised that their new suspension was specifically designed for radial tires, whereas F2 and F3 cars raced on bias-ply racing slicks. In Britain, the Formula Fords of 1967 and 1968 used Firestone "F100" radial fully-treaded street-car tires. (In fairness, the Russell-Alexis did resemble to the Mk9 F3 car of 1966, but most dimensions were different and anyhow only one Alexis Mk9 was ever built.)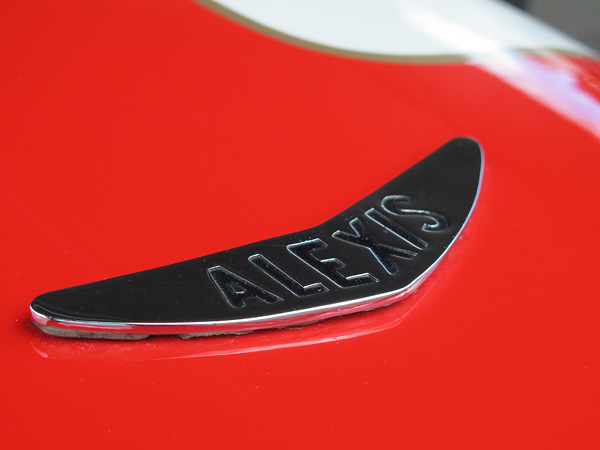 In 1959, Alexis Cars Ltd. was founded in Birmingham England.


The Russell-Alexis Formula Ford was first seen on track in Autumn 1967, and it was best in class for 1967. A 22-year-old architecture student from Belgium, Claude Bourgoignie, was selected from JRRD's recent graduates and given factory sponsorship. He drove the Russell-Alexis Formula Ford to eight race wins in 67, plus lap records at four circuits. Despite a late start to the season, Claude Bourgoignie won the Formula Ford Register's 1967 Driver of the Year award. Victories didn't stop there. For example: Australian driver Dave Walker won both the 1968 Duckhams Championship and the 1968 Scottish Formula Ford Championship in his Russell-Alexis. Seventies Formula One star James Hunt was the most famous driver to start in a Russell-Alexis.¹

Production of the Russell-Alexis Formula Ford continued through October 1968, when Russell and Alexis decided to part ways. The partnership had built and sold about 57 cars. Although Jim Russell wouldn't have called the Russell-Alexis an "Alexis Mk14" back in the day, that designation has been used since Alexis announced the Mk15 model for 1969. Alexis sales would never match the Mk14's build rate again. Allen Taylor bought Alexis Cars Ltd. from Alex Francis at the end of 1969. In March 1971 he moved Alexis from Birmingham to Coleshill, Warwickshire. The company continued building Formula Ford racecars through 1976.


Enjoying this article? www.BritishRaceCar.com is partially funded through generous support from readers like you!
To contribute to our operating budget, please click here and follow the instructions.
(Suggested contribution is twenty bucks per year. Feel free to give more!)
Factory Advertised Dimensions of the Alexis Mk14 Model
| | | | | |
| --- | --- | --- | --- | --- |
| | | | | |
| | Overall length: | 137.5" | Front track: | 53.75" |
| | Overall height: | 31.5" | Rear track: | 55.125" |
| | Overall width: | 62.5" | Wheelbase: | 91.5" |
| | Body width: | 23.5" | Weight: | 884# (with oil and water) |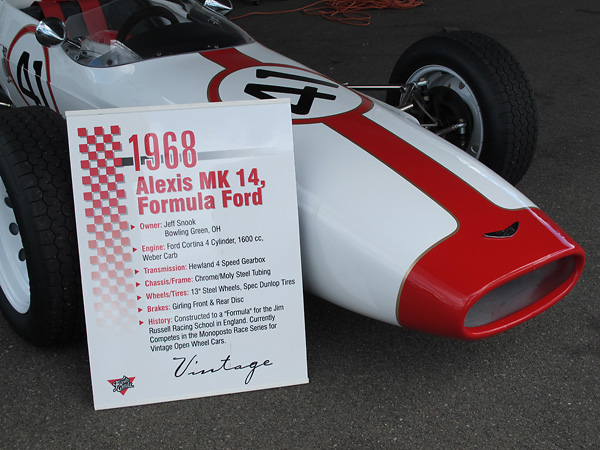 Jeff Snook's Alexis Formula Ford, chassis serial number AT51.
("AT" for Allen Taylor, followed by a sequentially assigned number...)


Jeff Snook's Alexis Formula Ford, chassis number AT51
Jeff Snook had plans to race his Triumph TR3 on eleven weekends in 1997, but they were scuttled at the first race when his TR3 rolled over. The Triumph was repairable, but the job would take time. Not wanting to miss a whole racing season, Jeff quickly started making new plans. Jeff decided he'd like to own and race an early Formula Ford.

In terms of cars, very few racing classes compare with Formula Ford for value, competitiveness, and variety all at the same time. The "Class of 1968" alone included Lotus, Alexis, Merlyn, Dulon, and Crossle. Jeff particularly admired the Alexis Mk14 for its place in history as well as aesthetic considerations. (Its cigar-shaped nose is especially elegantly proportioned.) Before long, Jeff discovered and purchased the Alexis shown in this article: number 51. There was one little hitch. It was still in the process of restoration by Lead Motorsports of Ohio. While Jeff waited for Lead Motorsports to finish their work, he leased and drove a couple other Formula Fords.

Original Formula Ford frames weren't constructed to last thirty years. In addition to wear and fatigue, corrosion is a particular concern because engine fluids were routed through frame tubes. Lead Motorsports crafted an entirely new frame out of chrome-moly steel tubing.

Jeff took delivery of his new Alexis and completed a race weekend with it, but he soon began learning two things: perfecting a Formula Ford requires a fair amount of track testing and also the focused attention of a Formula Ford specialist. Jeff worked with Adkins Racing Services of Avon, Indiana and later with Lindstrand Motorsports of Darien, Wisconsin. When it was time to strip the Alexis down and restore it again in 2008, Jeff entrusted Bruce Lindstrand of Lindstrand Motorsports.

As of November 2010, Jeff has driven his Alexis on 36 race weekends. He has enjoyed it at Grattan Raceway, Gingerman Raceway, Mid Ohio, Road America, Road Atlanta, Roebling Road, and Watkins Glen. We had the pleasure of photographing Jeff's Alexis at Watkins Glen's 2010 Historic Grand Prix.


Please support the sponsoring companies who make www.BritishRaceCar.com possible, including:

Features and Specifications
Engine:
Ford Kent 1600cc with dry sump, rebuilt by Marcovicci-Wenz Engineering (MWE) in 2005. Motorcraft distributor. Taylor spark plug wires. Weber 32/36 DGAV carburetor. Pipercross foam air cleaner. Minister Racing oil pump. Wix 51516 oil filter. Jaz 1qt oil overflow tank. Electric engine oil pre-warmer.

Cooling:
original combined oil and water copper/brass radiator. (Oil cooler isn't in use.)

Exhaust:
Hytech Headers stainless steel tri-Y headers featuring patented anti-reversion chambers.

Transaxle:
Hewland Mk9 4-speed, with reverse. 9/31 ring and pinion. Metalastic rubber "doughnuts" on the halfshafts.

Front Susp.:
unequal length wide-based wishbones. Carrera "Hyper-Charged" coilover shock absorbers. Eibach coil springs. Adjustable 9/16" anti-sway bar. Alford & Alder forged uprights (sourced from '62-'67 Triumph Spitfires). Highly modified Triumph Spitfire steering rack.

Rear Susp.:
inverted lower wishbones, single top links, and twin radius arms. Carrera "Hyper-Charged" coilover shock absorbers. Eibach coil springs. Proprietary Alexis magnesium uprights. Adjustable 9/16" anti-sway bar.

Brakes:
(master) dual Girling master cylinders with remote (AP Lockheed) reservoir and adjustable bias bar.
(front) Girling 14LF calipers. 9" iron rotors.
(rear) Girling 14LF calipers. 9" iron rotors.

Wheels/Tires:
Diamond Racing Wheels 13x5.5 steel disc wheels, in white powdercoat. (These are the 15# rolled-rim version.)
Dunlop Racing "Formula Ford" tires (135/545-13 CR82 front, 165/580-13 CR82 rear).

Electrical:
Tilton Super Starter, part# F23MS. Glass Mat Technology sealed racing battery (180cca). Joseph Pollak Co. master disconnect switch. (No charging system.)

Instruments:
(left to right) AutoMeter Phantom 2-5/8" mechanical coolant temperature gauge (120-240F), AutoMeter Phantom 3-3/8" tachometer (0-1000rpm), and AutoMeter Phantom 2-5/8" mechanical oil pressure gauge (0-100psi).

Fuel System:
custom Fuel Safe 3.5 gallon fuel cell, mounted behind seat. Mechanical fuel pump with push-on connections.

Safety Eqmt:
custom molded driver's seat. Simpson 6-point cam-lok safety harness. Alpha 10" flat-bottom suede-covered steering wheel, mounted on a quick release hub. FlameCrusher Halon 1211 5.5# centralized fire suppression system.

Weight:
~850 pounds.²

Racing Class:
Formula Ford

Engine Installation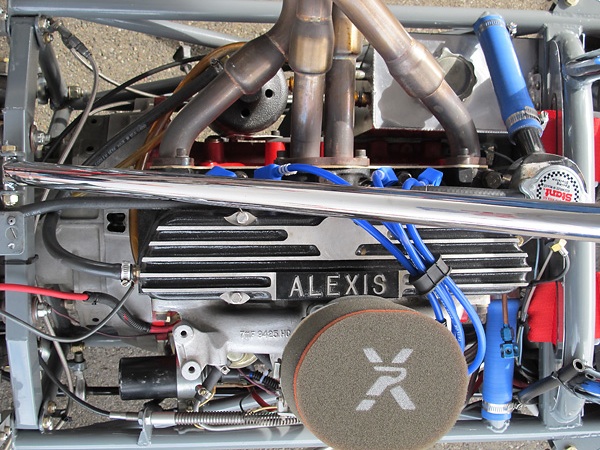 Ford of England's "Kent" 1600cc engine provides very good performance at a modest cost. An excellent
bore-to-stroke ratio and a well-flowing crossflow cylinder head are key advantages of the design.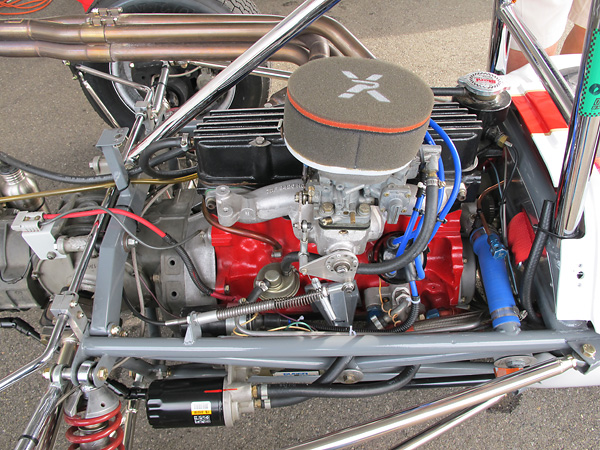 Formula Ford rules tightly restrict alterations of engine internals. Furthermore, in the early days of
British Formula Ford racing, competitors were empowered to purchase any rival's engine at the end
of a race for £150. (We don't have any information on how often this right was exercised.)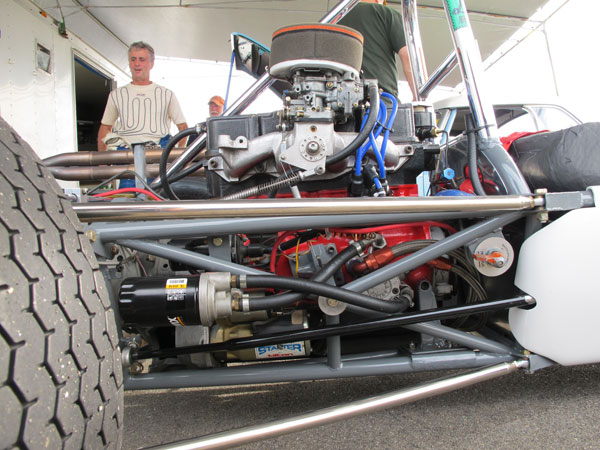 More extensive mods are allowed to the engine lubrication system. All competitive Formula Ford
racecars have dry sump lubrication systems to facilitate mounting the engine very low in the car
while providing more consistant and reliable oilflow to critical components.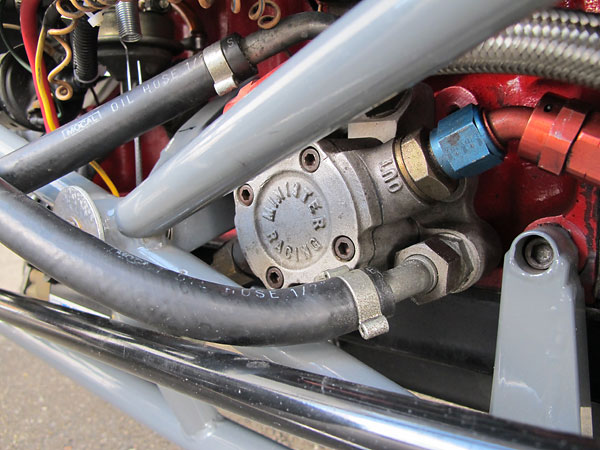 Minister Racing oil pump. (Dozens of companies have put their names on Formula Ford oil pumps.)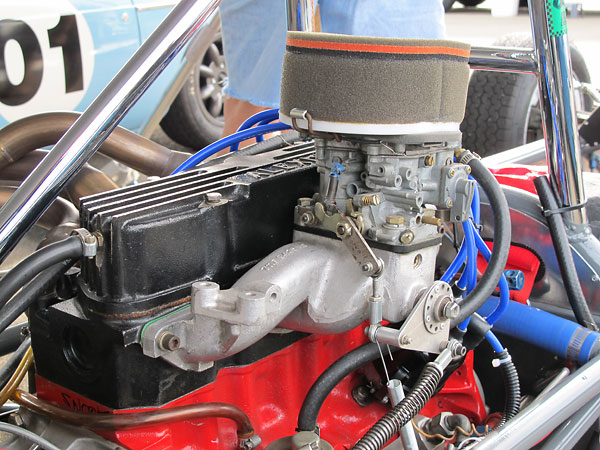 Weber 32/36 DGAV carburetor. Pipercross foam air cleaner.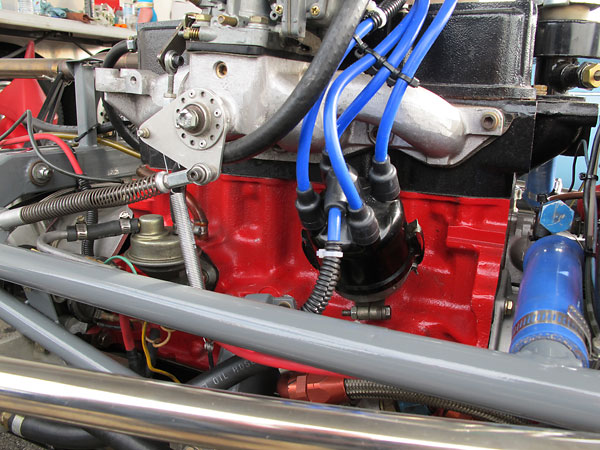 This is a Motorcraft distributor, but Lucas and Bosch alternatives are readily available too.
All are permitted. There's evidently no consensus on which distributor performs best.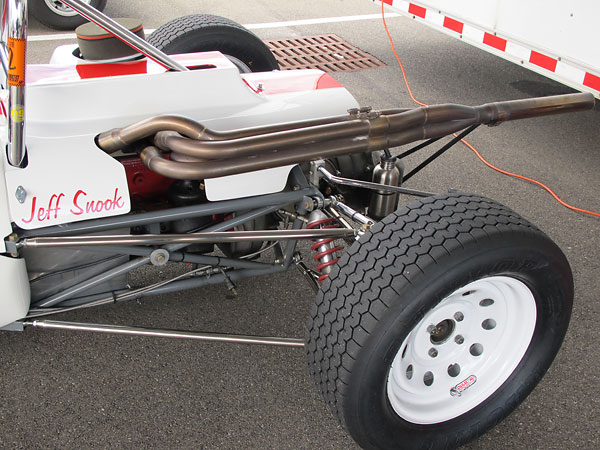 Following Ford tradition, and uniquely different from its competitors, the Kent engine's firing order
is 1-2-4-3. You might not guess that from these unorthodoxly arranged tri-Y exhaust headers: their
tubes were arranged for "sequential cylinder pairing". Tri-Y headers are used to isolate pulses
of gas pressure between cylinders while maintaining the speed of gases through the system.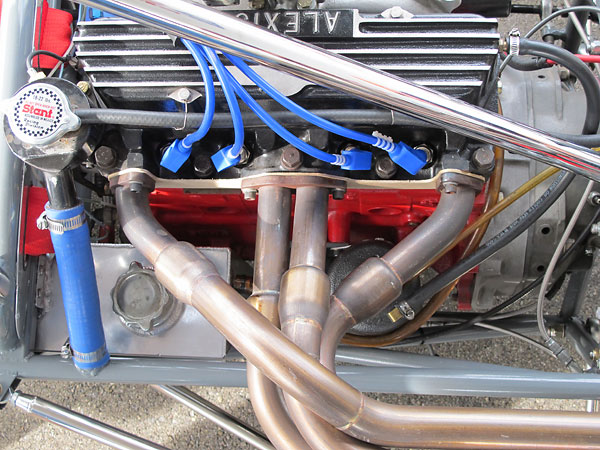 Another avant-garde feature of these HyTech Headers is their use of anti-reversion chambers in
combination with stepped-up primary tube diameters. The intent here is to keep exhaust gas from
flowing back into the cylinders where it would contaminate the fresh intake charge.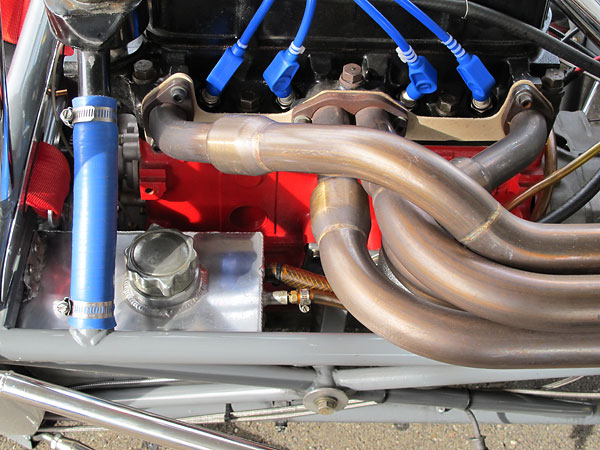 Early Formula Fords used sand-bent and oxy-acetylene welded mild steel headers.
These modern headers by HyTech are mandrel bent out of stainless steel tubing.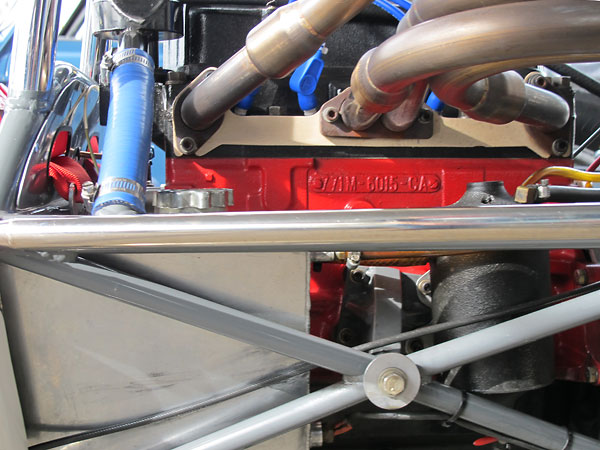 Custom fabricated aluminum engine oil reservoir. Jaz plastic overflow bottle.
Note the engine casting number - 771M-6016-CA - indicates a Ford Fiesta ('76-'83)
engine block has been substituted for the original Ford Cortina engine block. The Fiesta
version weighs about 4 pounds more, but is more substantial around the bearings.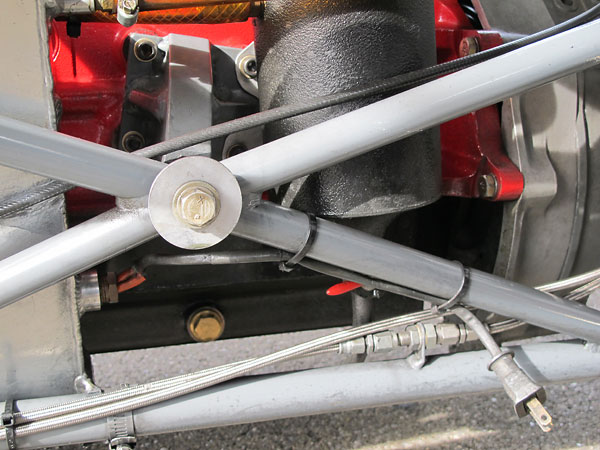 An electric oil heater is a smart feature for people who occasionally race in cold weather.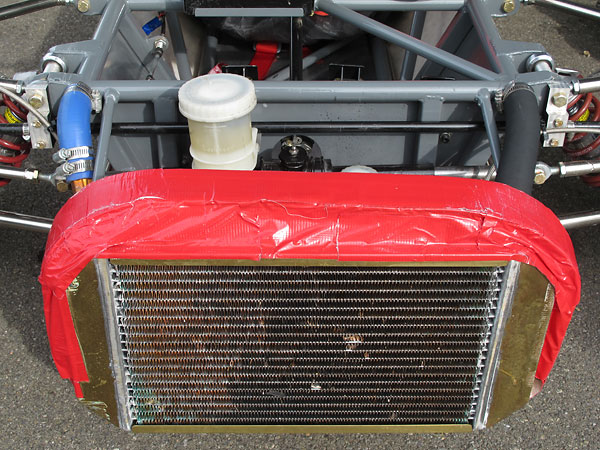 Alexis Mk14s came with combined water and oil copper/brass radiators. (Here, the oil cooler isn't in use.)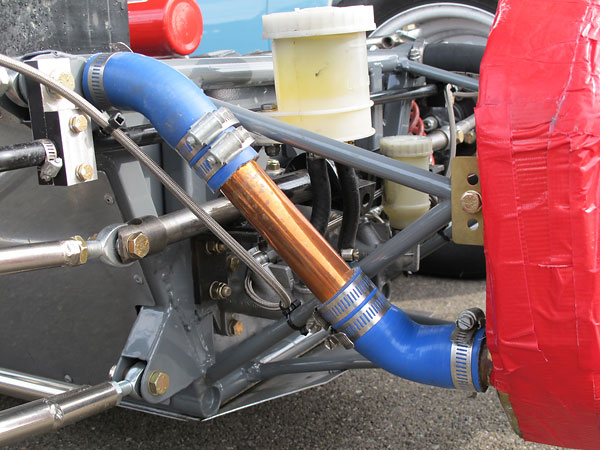 Engine coolant is routed through the upper longitudinal frame tubes. Engine oil was
originally routed through lower longitudinal frame tubes. However, as explained above
this particular car has a replacement frame and the lower tubes are plugged up.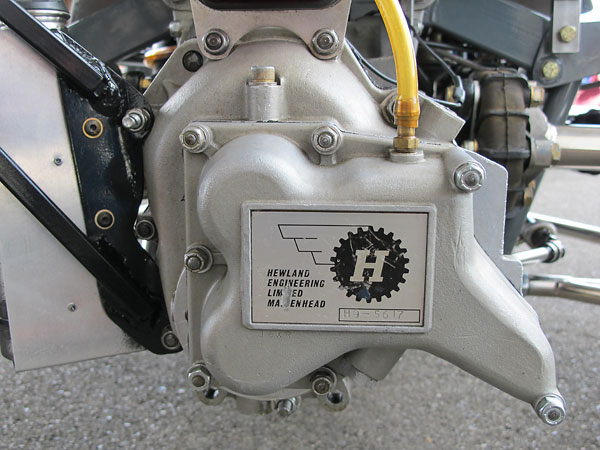 Hewland transaxle (H9-5617). The Alexis Mk14 was immediately successful over the Lotus 51.
Probably its single biggest advantage was that Alexis used Hewland transaxles from the beginning,
whereas the first generation Lotus 51s came with inferior Renault transaxles.


Front Suspension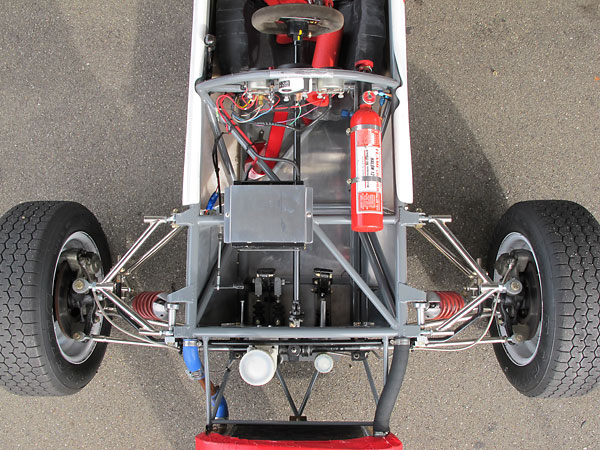 Just like Lotus, Alexis sourced steel spaceframes for the Mk14 from Arch Motors. Frames were
constructed of 16 SWG mild steel tubes with nickel-bronze joints and with baked enamel paint.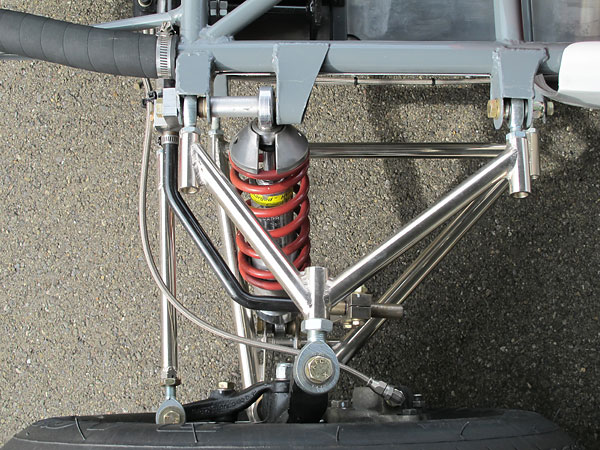 Original Russell-Alexis Formula Fords were equipped with Armstrong steel-bodied, single
adjustable coilover shock absorbers. (Seen here: modern Carrera "Hyper-Charged" shock absorbers.)
Alexis promotional literature pointed out that their suspensions came fully rose-jointed for adjustability.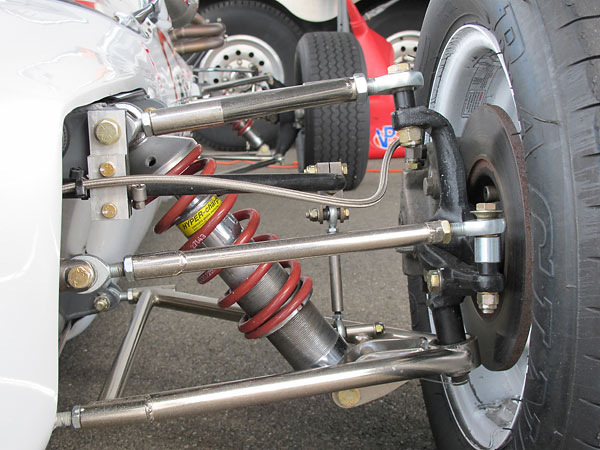 Alford & Alder forged steel uprights are nearly ubiquitous on early Formula Fords. (Versions of
these uprights had been used on various Standard Triumph cars back to the 1940s.) In this photo
we can also see that steel spacers have been inserted both above and below the uprights.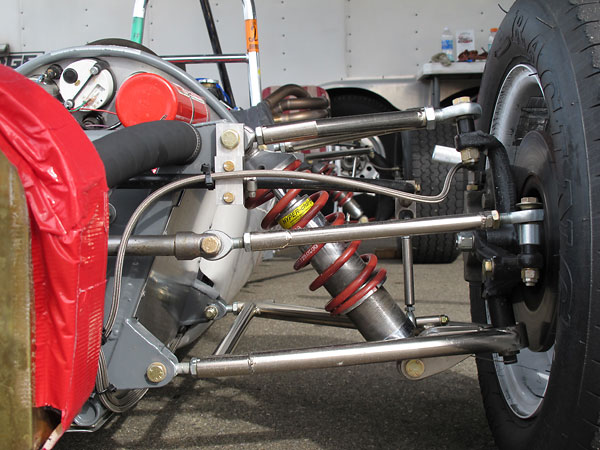 Where the steering link connects to the steering arm, we see a cylindrical aluminum spacer.
No doubt the thickness of this spacer was carefully selected to minimize bump and roll steer.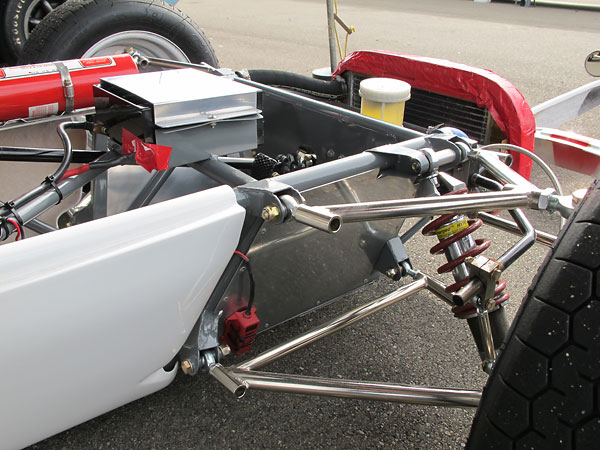 Jeff's control arms have been electroless nickle plated. In the late sixties and early seventies
it was popular to chrome plate control arms, but then people realized that chrome plating made
steel more susceptible to fractures through a chemical process called hydrogen embrittlement.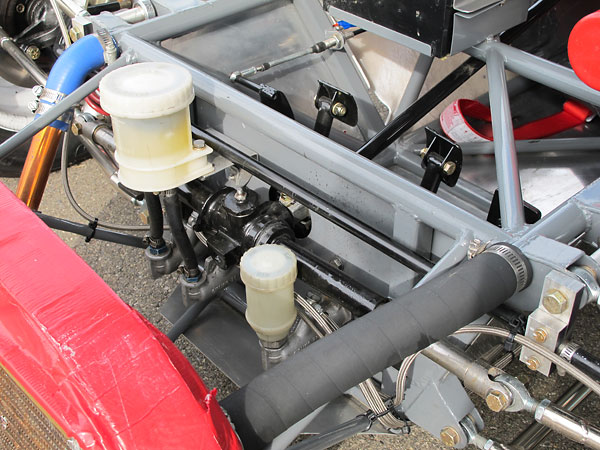 Highly modified Triumph Spitfire steering rack.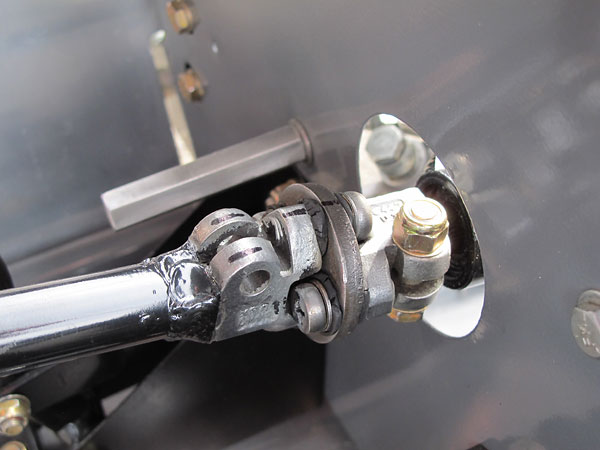 Slightly flexible steering coupling, in lieu of a universal joint.


Rear Suspension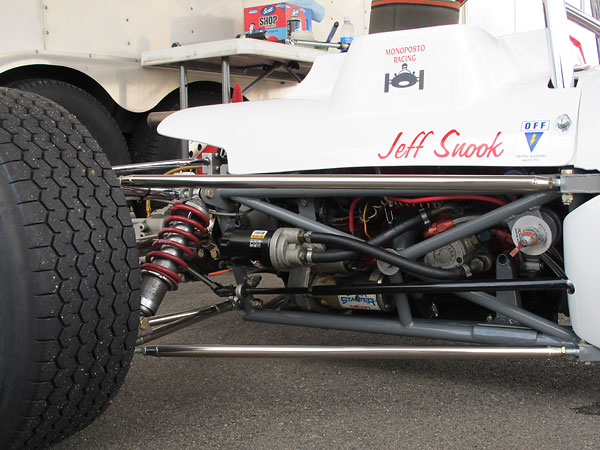 Among features and advantages Alexis identified in their early literature: fully rose jointed
(i.e. "Heim jointed") suspension and steering components for service and fine adjustment.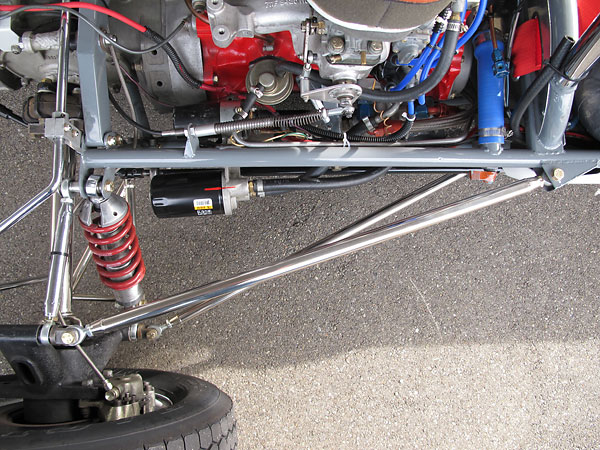 One very distinctive design feature of the Alexis Mk8 was its short frame. The spaceframe ended
before the driveshafts! Alexis carried this unusual feature over into the Formula Ford era.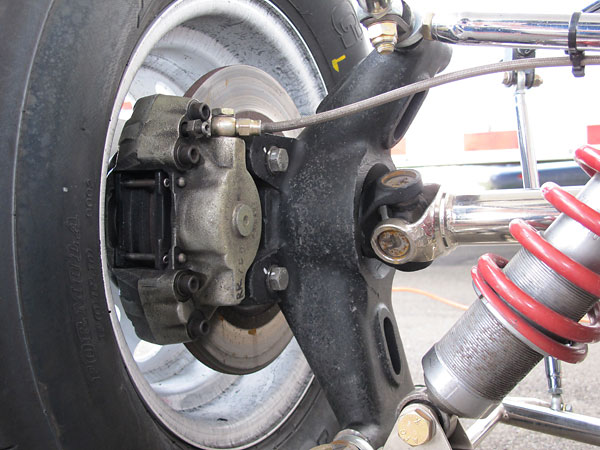 Girling 14LF brake calipers squeeze 9" iron rotors. Have you ever wondered why vintage Formula Fords
always have iron brake calipers? Aluminum calipers were expressly prohibited to keep costs down.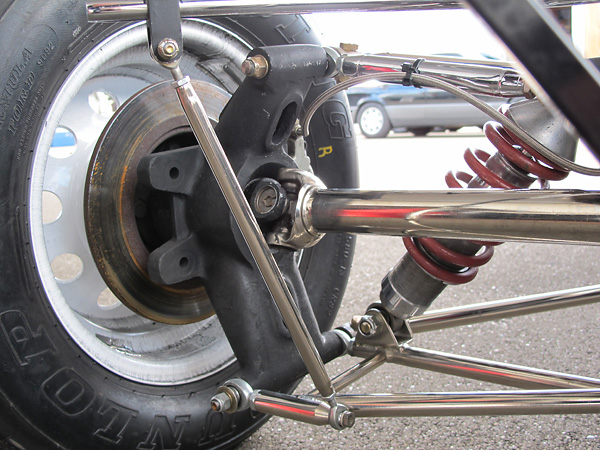 Alexis cast magnesium rear uprights (i.e. "hub carriers") are interchangeable from left to right.


Enjoying this article? www.BritishRaceCar.com is partially funded through generous support from readers like you!
To contribute to our operating budget, please click here and follow the instructions.
(Suggested contribution is twenty bucks per year. Feel free to give more!)
Interior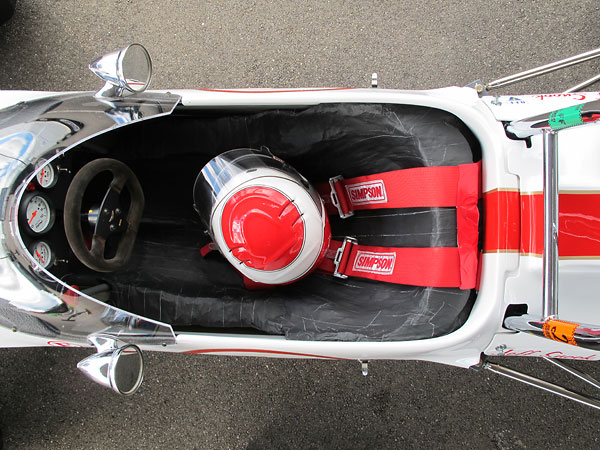 Custom molded driver's seat and Simpson 6-point cam-lok safety harness.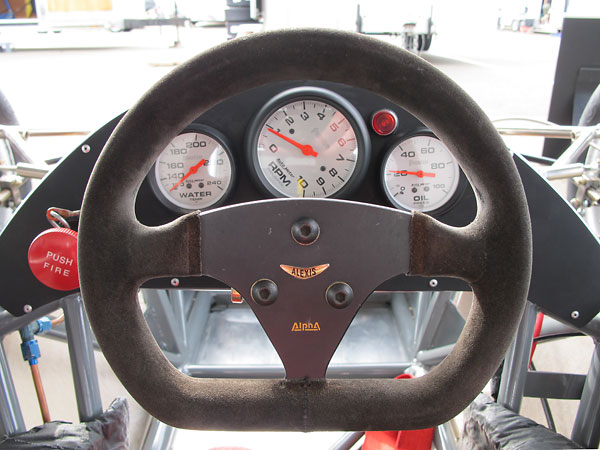 AutoMeter "Phantom" coolant temperature gauge, tachometer, and oil pressure gauge.
(Original Alexis standard equipment: Smiths versions of the same three basic gauges.)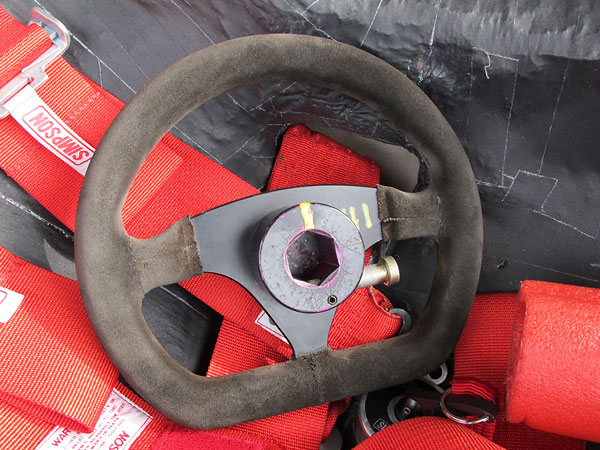 Alpha 10" flat-bottom suede-covered steering wheel, mounted on a quick release hub.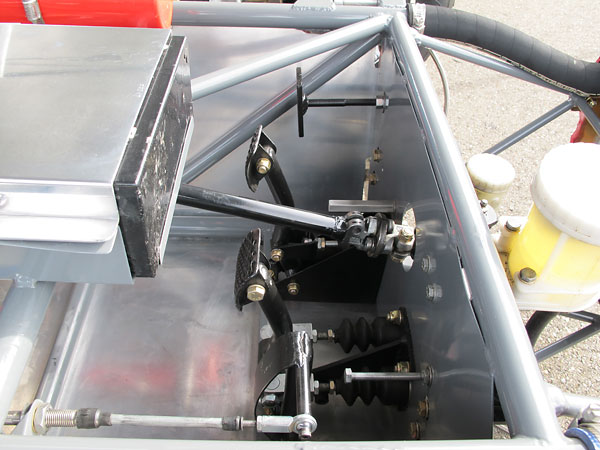 The front bulkhead is steel sheetmetal, secured in place with stitch welds.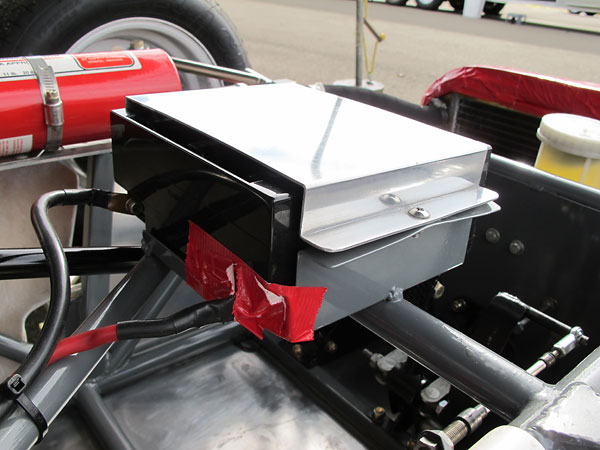 Glass Mat Technology sealed racing battery (180cca).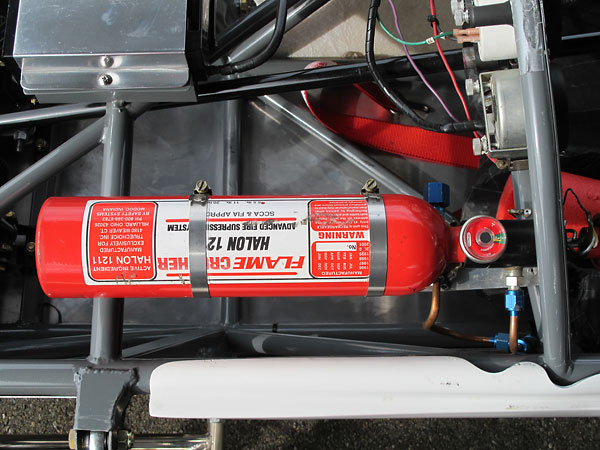 FlameCrusher Halon 1211 centralized fire suppression system.


Exterior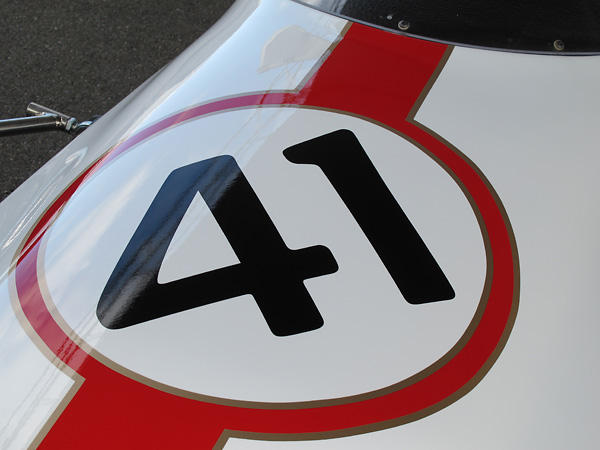 Jeff uses number 41 on all of his race cars. There's no special significance to the number.
It was simply available with all of the organizations he thought he might race with.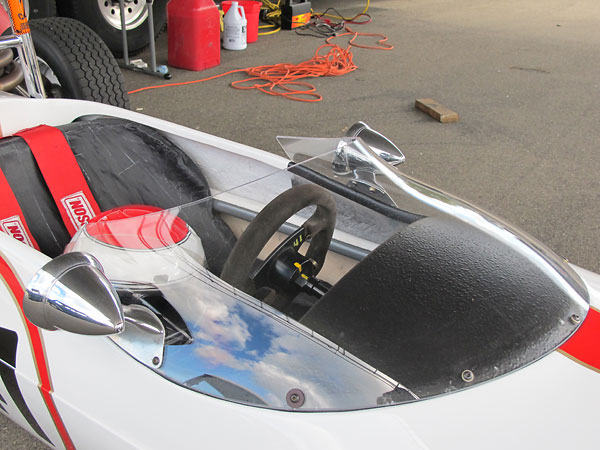 The original Russell-Alexis windscreen extended rearward to beyond the drivers shoulders.



Since we photographed Jeff's Alexis, these Talbot race mirrors have been removed
and replaced with a pair of white rectangular "F1" mirrors for improved visibility.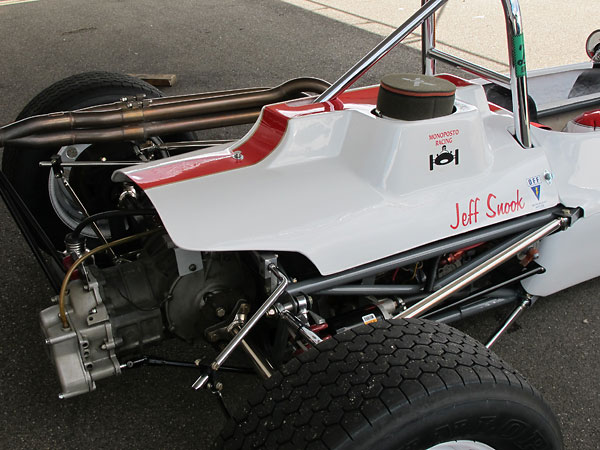 Monoposto Racing is a North American Club for vintage open wheeled, single seat race cars.



The original Russell-Alexis roll hoop was narrower, but it's uncommon to find any currently raced
1960s car with an unchanged roll structure because safety expectations have changed so greatly.
This is a mandrel bent hoop, and bend radius was probably determined by what mandrel was available.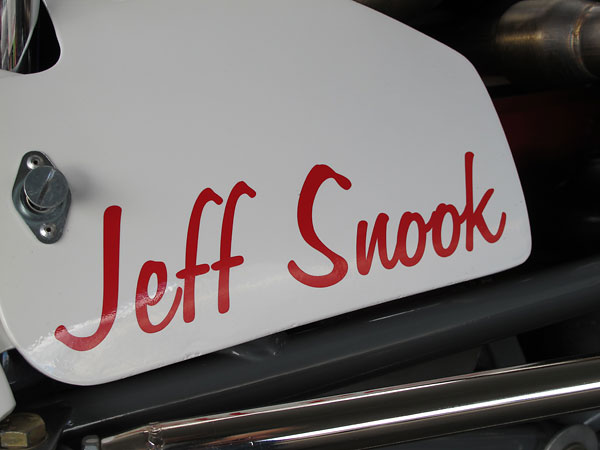 Wet track conditions kept speeds down when we saw Jeff race the Alexis at this year's Watkins Glen
Vintage Grand Prix. Jeff Snook's best ever Watkins Glen laptime in the Alexis remains 2:14.634.
That averages out to 90.9mph around the challenging 3.4 mile circuit.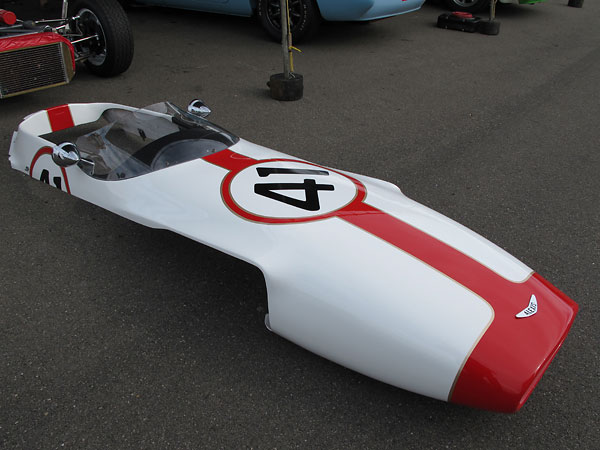 Just like Lotus, Alexis originally sourced Mk14 fiberglass body parts from Specialized Mouldings.
Ben Beasley of Ohio made the replacement body panels Jeff used for his car's restoration.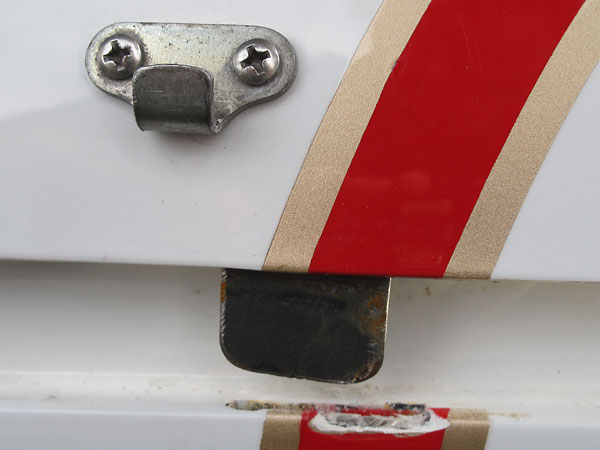 Alignment of the nose/cowl section with the belly/sides section is managed by these metal tabs.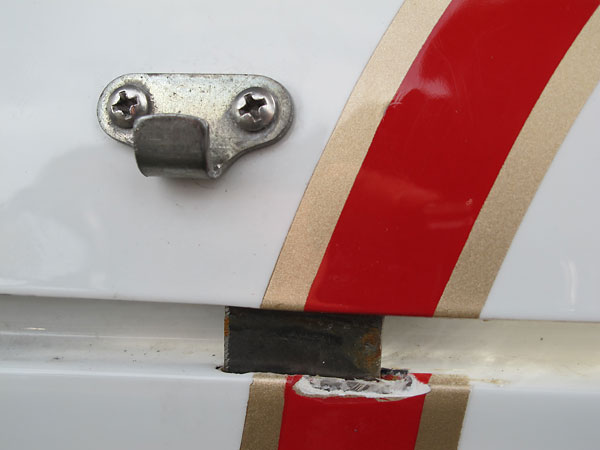 (Another view of the tab on the nose/cowl panel being lowered into the slot of the side panel.)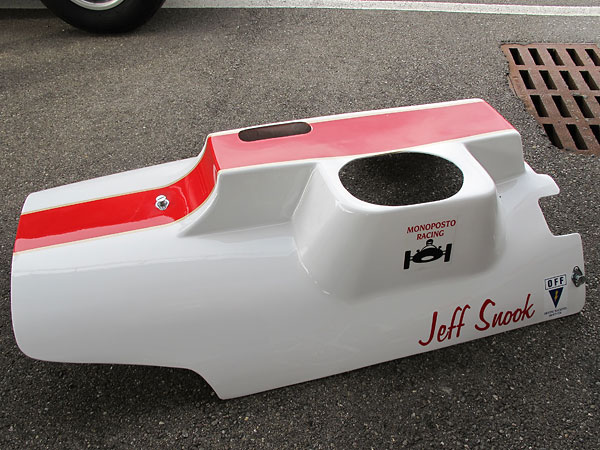 Jeff has been unable to find a source for replacement Alexis Mk14 engine covers, so for the
time being he's using a Mk15 engine cover made by Ben Beasley. However, Jeff does have an
original Alexis Mk14 engine cover, and he plans to make a mold from it at some future time.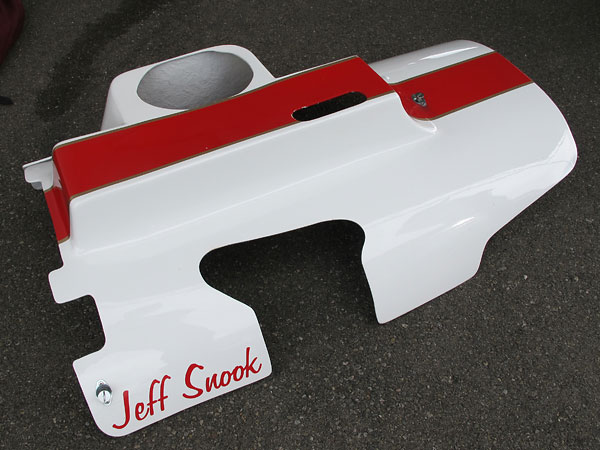 This Alexis Mk15 engine cover has been neatly trimmed to fit Jeff's air filter and exhaust headers.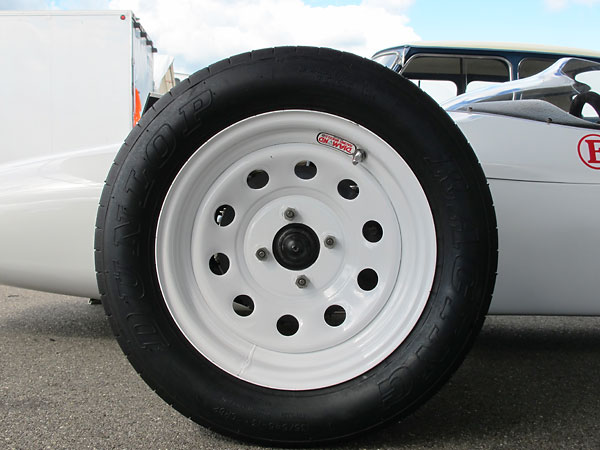 Diamond Racing Wheels Inc. 13-inch steel disc wheels, in white powdercoat.
(See the weld seam opposite the valve? These are the heavier rolled-rim version.)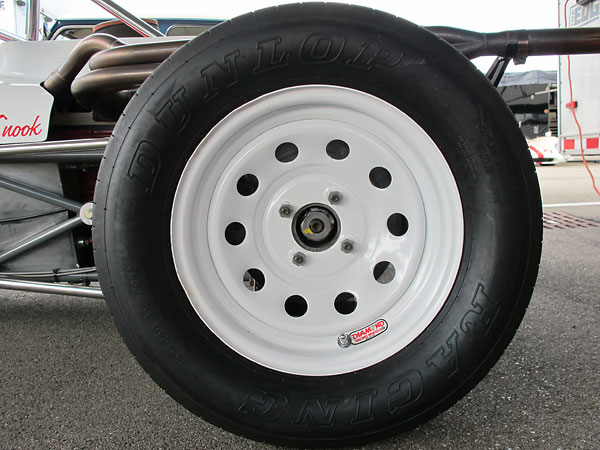 Dunlop Racing "Formula Ford" tires (135/545-13 CR82 front, 165/580-13 CR82 rear).


Notes:
(1)
Many sources have reported that James Hunt started his racing career in an Alexis Mk15. However, the Alexis Mk15 wasn't introduced until after Hunt's first recorded race on September 2nd, 1968. Hunt won exactly one race in his Alexis (on September 9, 1968 at Lydden). Hunt switched to a Merlyn 11A for 1968 and won exactly one race in the Merlyn on May 5th, 1969. Hunt wrecked his Merlyn at the end of May and decided to move up to wrecking Formula Three cars.


(2)
Jeff races in Monoposto Racing's "Historic Formula Ford" class. Their rule book states: "The minimum weight is: 925 lbs. (including coolant and lubricants, but no driver and fuel). Note: This is approximately 5 percent above the original rules. The intent is to encourage the use of all safety related items. The use of full height rollbars, with additional fore and aft braces, dash hoops and fire systems should not be omitted for fear of a weight penalty." Racers typically add ballast to comply with this sort of weight requirement.


All photos shown here are from September 2010 when we viewed the car at The US Vintage Grand Prix at Watkins Glen. All photos by Curtis Jacobson for BritishRaceCar.com, copyright 2010. All rights reserved.



Notice: all the articles and almost all the photos on BritishRacecar.com are by Curtis Jacobson.
(Photos that aren't by Curtis are explicitly credited.) Reproduction without prior written permission is prohibited.
Contact us to purchase images or reproduction permission. Higher resolution images are optionally available.